I last spoke about this back in May, when we were in the middle of what felt like a thousand projects at once. Then the bad news came and we had to put a halt to everything.
Now that we're financially able to continue, we're jumping right back into our master bathroom reno. And I'm excited. Very, very excited for this one.
First of all, let me show you how horrific our bathroom currently is.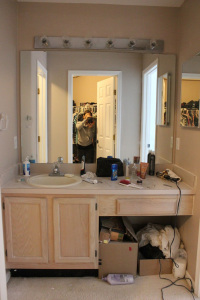 This was taken back when we were still moving in… excuse the mess.
It's small, so it's hard to capture all in one picture, but basically it's 3 rooms: a vanity/sink area, a closet, and a toilet/shower room. I'll definitely take some better before's before demo starts.
The color scheme is beige everything. Walls, carpet, vanity, tile, even the toilet! It's not a good situation.
We left off trying to decide which color scheme to go with…. beige/green/blue, or white/grey/blue…
And we've finally decided…. the winner is…. the greys!
This mosaic tile had me at hello.
And here's my vision…
This is the floor tile we chose:
It's part of the Bambu series in Grigio, found here.
We're going to lay the 12×24″ tile in a brick pattern on the floor (throughout the whole space, closet included).
We'll be tiling the entire vanity wall with the mosaic marble/glass, up to the ceiling. We're also going to run an accent strip along the floor step into the shower.
This tile can be found here.
The tile is not available for purchase directly though, we went to a wholesale club and purchased through our installer to get the discount (50% off). We ended up getting the floor tile at $3.70/sf and the mosaic for $9.73. Total cost came to $808.40 out the door, which I think was a great deal.
As for the vanity…. it had been a struggle to find something we loved that didn't totally break the bank. Originally we were thinking of using two separate vanities, but I couldn't find any in our style, with enough storage, with drawers (a must!) and in our budget.
So I began looking for single vanities to fill our 60″ space. I came across this 59″ vanity on ebay and fell in love:
It was the right color, style, price and had everything included. We knew we wanted white vessel sinks, so this was perfect. I also love how it's a floating vanity so it will make the space seem larger. We haven't purchased this yet, but I'm about to make an offer. I'll let you know the price as soon as the deal is done 🙂
The only thing I don't love about this is the frameless mirrors and chrome faucets. Once I see what I'm working with, I may try to frame the mirrors out with trim myself… or I'll just pick up some new framed ones (you can find them cheap at HD/Lowes, usually under $70).
I also have my eye on some ORB faucets… like these on Amazon:
That will take care of the chrome fixture problem.
F
or lighting, we'll be installing recessed lights in the ceiling in each area. In ceiling speakers may or may not be added at this time as well (we skipped them when we were installing them in the rooms, but it would be nice to have).
And, maybe my favorite part of this whole room…. we'll be removing the big horizontal bulb bar and installing one of these over each mirror:
I'm so in love with the rustic/nautical feel of these, and I think it will be a great way to incorporate the beachy theme from the rest of the house into this modern space, without being too over the top.
We'll keep the space light and muted by painting the walls a soft grey. Haven't picked out the exact color yet, but it will have to complement the gray tile.
As for the almond-tiled shower… in a perfect world we'd rip it all out and install some beautiful white marble subway tile. But we're not quite that wealthy at the moment, so I want to try to reglaze it ourselves. In our LA home, we paid someone $350 to reglaze our bathtub and loved the results. I know there are DIY kits though which might be worth checking into, so I'll keep you updated.
I think that about covers it for now. Our tile will be here in a few days, then it's demo time, and tile installation begins in a couple more weeks. In the meantime I need to get everything ordered and ready to go… be back next time with updates!