March is moving right along and a sense of urgency is in the air as my team and I go full steam ahead to get this master bathroom finished! I haven't had the opportunity for a detailed post yet, as I'm waiting for the tile work to be finished so I can show the full process. Work has been stalled for the past few days because we're missing a key part from a local glass company (the channel that the glass panel will sit into) but as of the time this post is published on Wednesday, labor should be resumed!
There wasn't a lot of progress made on the house two weeks ago so Episode 6 was on the lighter side, but I made up for it this week with half of the bathroom getting tiled and three days spent building DIY barn doors. A few of you were curious about the tiling process for the pebble sheets, and I'll go into more detail on that in the next post but for now you can watch the process in the vlog—click the image below to watch!
I will say that I'm beyond happy with my pebble tile from The Tile Shop and know it's going to look ah-mazing once it's all installed and grouted.
Here are some stills from the episode: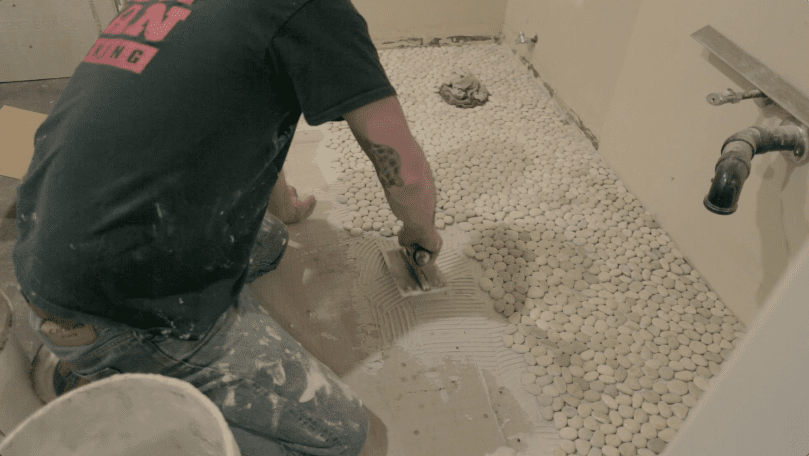 The barn door with the diagonal piece is for the master bathroom, and the two smaller doors will frame the home theater room downstairs. I have full plans, measurements and process details coming for that soon!
If any of this is new to you, don't forget that I'm constantly posting updates on instagram and especially Snapchat lately (@ jennasuedesign)—including real time video tutorials, shots around the house and general daily activities. Snapchat is so much fun and the best way to connect and reach me instantly! Here's a few updates from social this past week…
While I was covered in sawdust and paint most of the weekend, I did manage to take a break to get dressed up and attend a local Speakeasy Soirée fundraiser which was one of the best nights I've had in a while. There's a bit of footage in the vlog from that night as well. A girl's gotta have balance 🙂
Alright friends, it's back to work. This next month or so should be pretty content heavy, as I'll have several projects in the works to get this house on the market (including staging a guest room and downstairs area!) So much to do… but the finish line is near and I've got this. See you next week,