Well friends, I'm back at it again.
If you follow me on instagram you may have caught that I put in an offer last week on a house. It was House #5 from the first house hunting post. Unfortunately, the sellers and I couldn't come to a number we both agreed on so that was the end of that. It's okay, life goes on.
On Sunday I made the drive back up for a quick visit and tour of a few more houses. Here's what I found…
House 1
I didn't plan to see this place because it's out of my price range, however it's next door to my parents house and has been on the market a while so we decided to take a peek inside.
Talk about a farmhouse dream!
It sits atop a hill on almost an acre of useable land, with a few sheds and a large detached lofted barn.
I would go crazy decorating the inside of this barn…
There's a large foyer with an amazing brick wall:
A decent sized living room:
With an adjacent dining area:
And a small closed off kitchen. It's a terrible layout.
Walls would have to be knocked down and rooms gutted.
Off the kitchen is an open bonus room of sorts…
And that leads to an awkward narrow bathroom…
And a laundry room.
There's also a tiny room (not counted as a bedroom) downstairs by the front door:
Upstairs you'll find three bedrooms.
And a bathroom:
Verdict: This is a property I'd love to buy, renovate slowly over time and keep in the family for generations. It has so much character, it's in a great quiet setting and has the potential to be worth quite a bit if completely remodeled, but it would easily cost well over 100k to bring it to that level. And apparently the seller won't budge on the price. Not worth writing an offer at this point.
House 2
I spotted this on the MLS a month ago but assumed something was very wrong as it's a 6 bedroom and still in my price range. I had to see it for myself…
Can you just imagine how stunning it would be cleaned up with some fresh paint?
And a few adirondack chairs on this southern style covered porch…
Yep, this place had my heart right away.
Inside, the walls and ceiling are covered in pine, with the living room on your left and kitchen on the right as you walk in.
The stairway is in the center which unfortunately can't be moved to really open up the space. But I've already figured out a new floor plan in my head.
The home is 60 years old and I'm assuming there's wood under those carpets.
The windows are all updated, so all it really needs is white paint to brighten it up (and lights that work, sorry for the dark photos).
There's a full bathroom next to the kitchen:
As soon as I reached the top of the stairs, that was it. I was sold.
I mean, look at these bedrooms…
There are two larger rooms on opposite ends of the hallway.
Wood beams and trim in every room.
And there are four small bedrooms, similar in size and layout: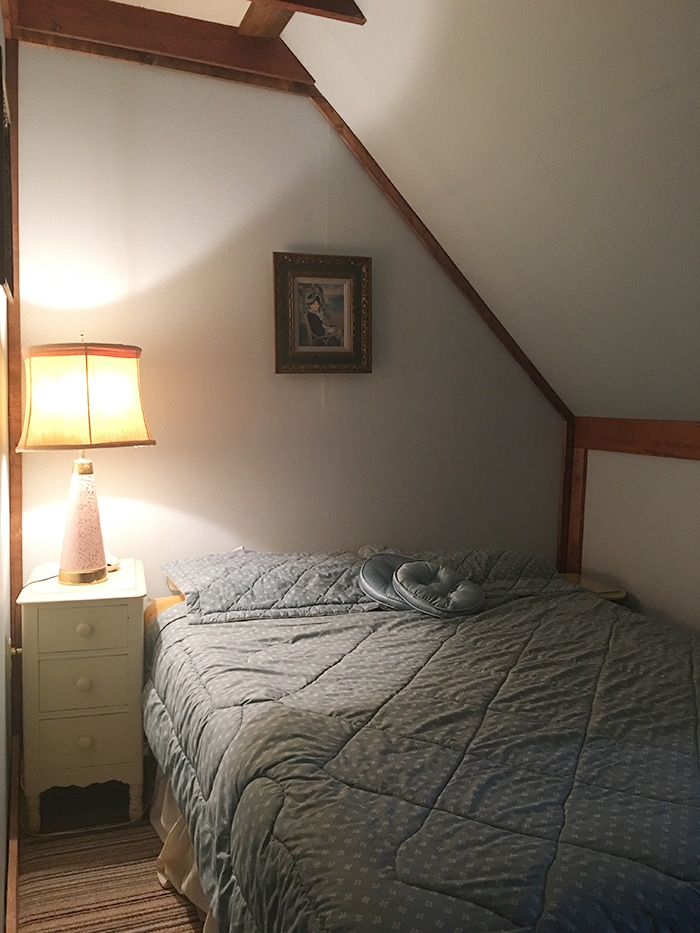 Look at that sweet window nook!
Bedroom #3:
I don't even mind the wallpaper. (Not that it would stay, but it completely adds to the storybook charm)
Bedroom #4:
How fun would this be for a family vacation home?
Bedroom #5
And finally, #6:
It feels like you're in a dollhouse in the trees. There's just a feeling about this place.
And the bathroom just needs paint and a vanity—look at that gorgeous woodwork and clawfoot tub:
The ten different types of wallpaper is a little much, but that's easily fixable…
Verdict: In love. Possibly even more than House 5 from last time. Another place I could see myself keeping for family vacations one day. However, it is more than I wanted to spend and there's obvious exterior issues, probably some structural as well, that may come at a high cost.
House 3
This one is on the same street as House 2 from my last house hunting post, and the floor plan is very similar.
The deck is new and of course I love those A frames.
However, the inside is underwhelming.
The ceilings are great but the walls have cheap paneling and texture… it just felt flat and pieced together.
Another small kitchen that can't be opened up unless you remove a bathroom.
The deck space off the kitchen was nice though:
One bathroom downstairs…
And a bedroom next to it.
Upstairs there are two more bedrooms…
But one is more of an enclosed loft and it's pretty strange:
And one more bathroom:
The verdict: I spent no more than five minutes in this place, knowing pretty much right away it wasn't the one. Nothing about it spoke to me. Too bad, because it was the lowest price!
House 4
I was sure this one would be my favorite before seeing any of the houses that day. Great location, price, and pictures…
Problem is, the location wasn't as great as I thought. And the deck is rotted and falling apart.
But the inside was much better, with an open floor plan, wood planks and pitched ceiling:
Divided by the stairwell, there's a living space on one side…
And a dining on the other.
From the front door you walk into the small kitchen.
And there's a bedroom on the other side:
Across the living room there's a hallway with another bedroom:
A laundry closet, and a bathroom:
Downstairs there's a den with the second bathroom:
The verdict: I like the interior but it's not a very private or quiet location (we could hear the neighbors dogs barking the whole time) and it's pricier per square foot. I wouldn't completely rule it out, but it's not at the top of my list.
After my offer fell through last week and I found and fell in love with my sweet storybook House #2, I decided to put an offer in on Tuesday. As I write this now (Tuesday evening) it has only been a few hours so I'm still awaiting their response. I'll be sure to update on instagram, facebook & snapchat (@ jennasuedesign) with any breaking news and post a blog update once I have the details.
Exciting times ahead… send some positive thoughts my way! Oh, and if anyone knows a great deal on a house… drop me a message. I'm keeping my options open 😉