There's nothing like being taken out of your natural habitat and exposed to incredible design from all over the world to re-energize your batteries. After spending most of last year immersed in cultures I'd only dreamed about—from ancient Greek civilizations to the Renaissance masters to iconic Asian temples, you can bet I took a ton of notes and inspiration back with me.
Of course, I also kept an eye on what was happening back home (thank you Instagram & Pinterest) and the result has birthed a new design style—an extensive catalog of images that have caught my eye fused with mental snapshots from around the globe.
Truly, I've never been more pumped about interior design in my life (absence makes the heart grow fonder?) and I am chomping at the bit to get started on a new project.
I needed a place to collect my thoughts and inspiration, so I created a 2018 Design Pinterest board and today I want to share the top 10 design ideas & trends I'm most excited about for the new year!
1. Mosaic & Patterned Tile
If there's one thing that consistently stood out throughout every single country we stepped foot in, tile was it. I'd go as far as saying that it's the most universal design element. Even in the most lackluster places, you can find hidden gems in tile with unexpected colors, patterns and placement.
The moment that sparked it all for me was walking into Pompeii in Italy, the archaeological site that was essentially frozen in time when Mount Vesuvius erupted in 79 A.D. We're looking at mosaic tile that was laid in the 6th century BC, folks. I was completely captivated.
Tiny bits of stone carefully placed to create these intricate designs that tell ancient stories—how could you not be inspired from the civilization that started this trend? I spent hours on the hunt for these masterpieces, running around snapping photos of every tile floor I could find. You bet I'll be replicating some of these in my future work. Even outside the village in the city of Pompei, you'll find mosaic on the sidewalks:
The pattern possibilities are endless!
One trend that has particularly caught my eye are words/numbers, specifically in an entrance:
So fun, right? Unique touches like these are really what make a place special and memorable. Even without taking that extra step to spell something out, I'm loving the idea of "tile carpets" or sections of floor with a tile inlay, particularly in entrances or bathrooms (bonus points if it's mixed with wood!)
Beyond that, I'm always on the hunt for show-stopping tile like this:
Except that I have yet to find anything like this that isn't outrageously expensive… if you have a source, please let me know!
2. Molding/trim details
I've always been vocal about wall/ceiling trim and molding being the holy grail in the bang-for-your-buck category, and my conviction in that has only been strengthened after traveling. Now I want to take it a step further, past the shiplap, beadboard and traditional moldings. It'll be an uphill battle to achieve the look I want on a limited budget, but it's a fight I'm willing to stay in 'til the end.
I blame Morocco and India for these new high standards. You can't walk a block without passing beautifully carved wood and plaster accents covering every building. Square edges just don't cut it for me anymore.
With that said, I don't see myself figuring out a way to recreate an entire Moroccan riad on the cheap anytime soon, so I'll have to start small and work my way up. Even something as simple as adding a wood appliqué to a small section of wall or furniture makes a world of difference (spoiler alert, I already have a project in mind!)
Ceiling medallions are an easy and fairly inexpensive way to add architectural interest (tip, you can apply them to more than just ceilings):
I just love how creative you can be with this! Just think of all the flat and plain surfaces that can be transformed. Ahh, the smell of possibility…
3. Non-traditional cased openings/doorways
You know you've seen too much when the sight of a plain doorway wrapped in drywall and paint makes you die a little inside. I don't wanna live that kind of life anymore. It's time to step up our game in 2018, folks.
I know, this is one of those things that your house was either blessed to be built with or not. I plan to seek out homes that specifically have these unique details, but I understand they'll be few and far between. I haven't priced out what it would cost for a contractor to do that sort of custom work, but there are other ways to add interest to those plain openings. Like a transom window hung horizontally and/or vertically, for instance:
And the ever popular reclaimed wood:
I'm a huge fan of this casing that incorporates carved corbels, rosettes and an aged paint technique. I can see this being a fun and relatively easy DIY!
Even something as simple as a rounded or arched doorway—if you can swing the cost, it will elevate the look and feel your room tremendously.
4. Non-traditional doors
Sticking with this architectural interest theme, I'd be crazy to leave out doors. Transforming boring doors has been my mission for years (remember my DIY door tutorials here, here, here, here, here, here and here?) and now the bar is set even higher.
You know how I said that tile was what most consistently stood out in every country we visited? Well, I just changed my mind. Doors win that title, hands down. I love you America, but the rest of the world is killing it with their doors.
These aren't just the doors of fancy churches or palaces either—they're typical homes and abandoned buildings and everything in between. Every door is unique and has history and character. That's what we should aim to bring into our homes.
I'm particularly drawn to arched doors, but of course those are exponentially more expensive (both materials & labor) so I may have to curb my expectations on that for a while.
Not just exterior doors, but in unexpected places like a cabinet pantry:
Places like salvage yards and flea markets are the perfect hunting grounds for these pieces, but they often don't come cheap and I'd imagine the labor costs involved will be even more. Anyone have experience with something like this? I'd love your feedback on the costs!
5. Special sinks
I'm pretty sure every sink I've ever purchased has been a classic white vessel or farmhouse, but in 2018 I'm looking to break out of that pattern. Leave it to Greece, perhaps my favorite country in all the land, to make me change my ways. Rustic and stone is all I dream about now…
There are so many amazing possibilities once you leave the world of white ceramic. Concrete is something I've been considering for a while…
This mediterranean style beauty has me wishing I was back in Portugal…
Or how about something completely outside the box, like an outdoor garden basin?
I could sink shop all day long. The trickier part will be striking that balance between price, form and function. I'll be designing real life houses, on a real budget for real people, so something's gotta give. It'll be interesting to see how it all plays out!
6. Built-in ranges & hoods
Have you noticed the trend of large wall surrounds being built around stoves? I can't get enough of it.
Maybe it's not a new thing and I've only just caught on, but I'm obsessed. Talk about a focal point in the kitchen.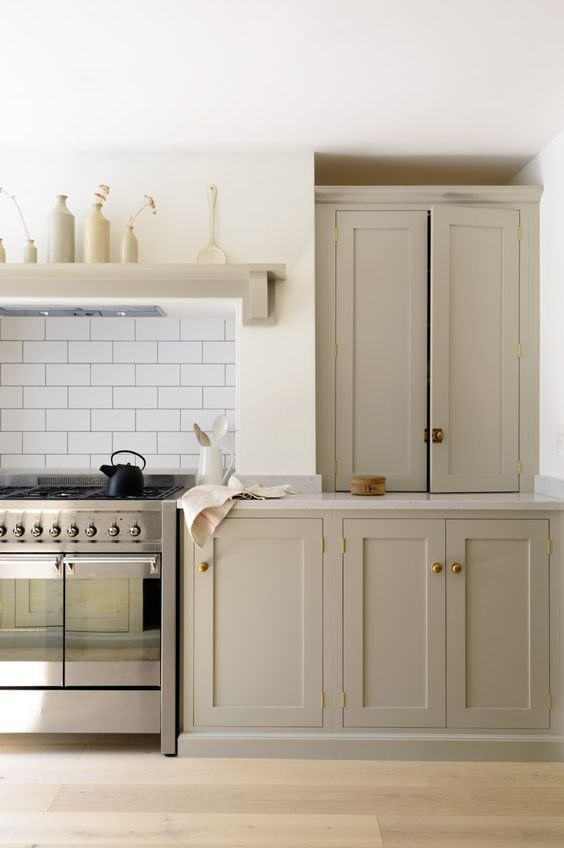 There's so many different ways you can play around with this arrangement and style—including hidden storage on the inside, rustic or fancy molding or shelving on the outside, or a simple and clean smooth finish. I can not wait to implement this.
7. Integrated/custom appliances
I'll just lay it out there: I'm over stainless steel. I've never really been much of a silver girl, but the general US population has demanded stainless for the past decade so that is what we do without thinking twice. But you know what SS? It's 2018 and your time is up!
Ok, I wish it were that easy. It'll take a lot more than one person to change the minds of a collective nation, so in the meantime I'll look for ways around it. Unfortunately, the ways around it = big bucks, so I'll have to ride out this stainless steel wave until manufacturers start providing affordable options, or I win the lottery and can afford $7,000 stoves.
But in the meantime, a girl can dream…
Lacanche, help a sister out!
Colored ranges are my jam. How are we able to choose every color and style of flooring, cabinets, counters and tile under the sun—but we're stuck with giant boxes of reflective metal that don't match anything? This is an epidemic, people.
Beautiful ranges are one thing, but then we still have refrigerators and dishwashers to worry about. In a perfect world, those would all be integrated (faced with panels that match your cabinets):
Of course, this is also quite expensive and I have yet to find an affordable alternative. Hopefully this post will start a movement, or at least a call to action for the manufacturers to provide options to those of us on a budget. If nothing else, I'm putting this energy out into the universe and maybe it will manifest… 😉
8. Antique glass mirrors
Those mercury glass style mirrors have always stopped me in my tracks, and I was able to try it out for myself with a DIY project at the Cottage House Flip: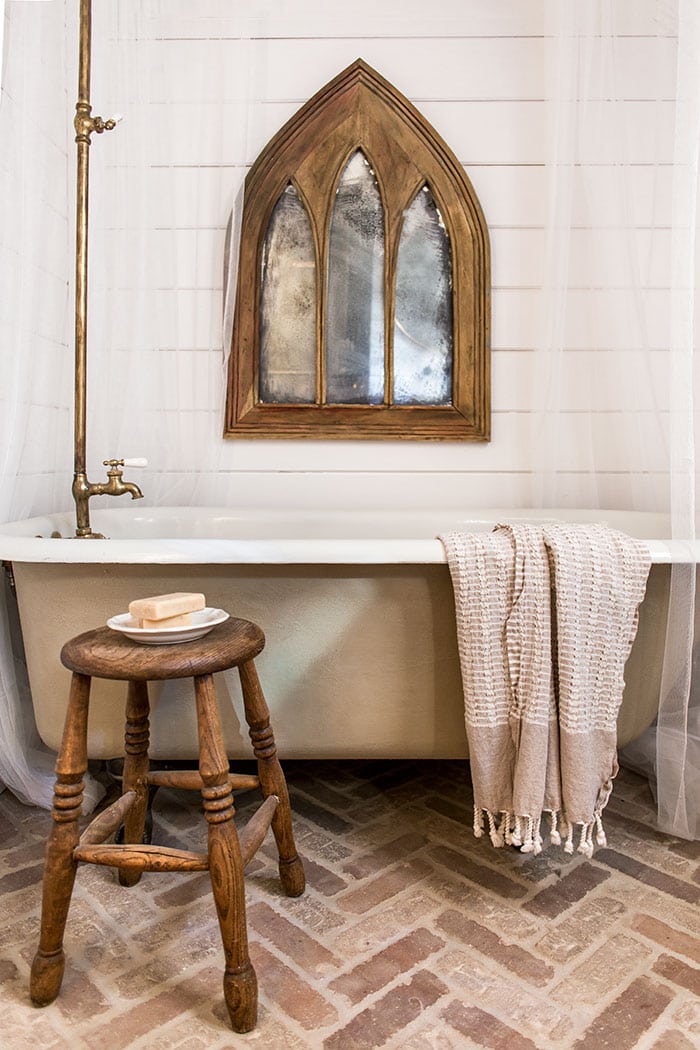 It turned out to be my favorite mirror of all time and I was completely sold on this antique finish look. There's plenty of DIY tutorials out there, and the greatest part is that you can even turn any window into an antique mirror! If these photos aren't enough to make you run to your nearest hardware store to grab the supplies, I don't know what is.
I like them in unexpected places, like built into a bar area:
Or behind a night stand:
And how insanely good is this copper beauty?
You're only limited to your imagination!
9. White walls + Gray trim
Ok, so I might have stolen this one from Mrs. Joanna Gaines… or maybe I did this in the Cottage House Flip last year before she did? Classic chicken and egg situation 🙂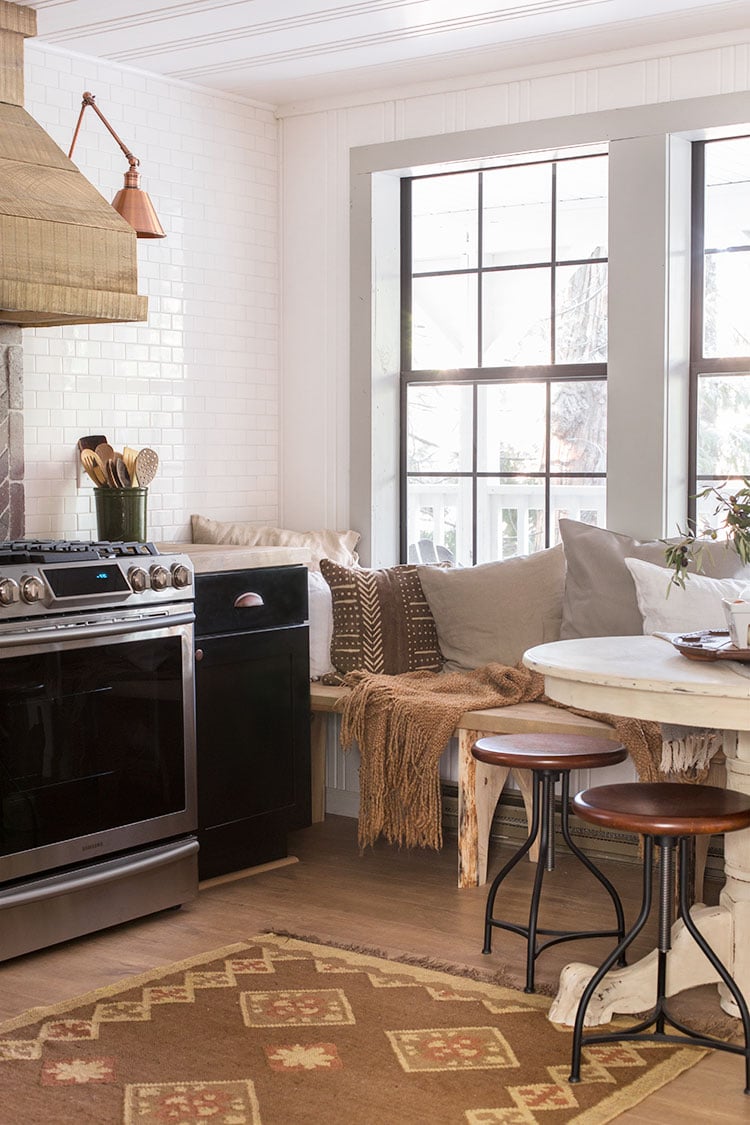 But watching it appear time and time again on latest season of Fixer Upper has me sold. Gray walls & white trim have been the default for the past several years—why not switch it around? In the words of the wise Sheryl Crowl, I think a change will do you good.
Isn't it a breath of fresh air?
The gray accent doesn't have to be limited to the trim—it can carry over to doors, shelving and other accents. It doesn't have to even be limited to gray either, but I'd caution choosing a non-neutral color because painting over trim if you change your mind later is a huge time commitment.
10. Brick + Stone
If you followed the Cottage House Flip, you may remember what a big impact those brick pavers made: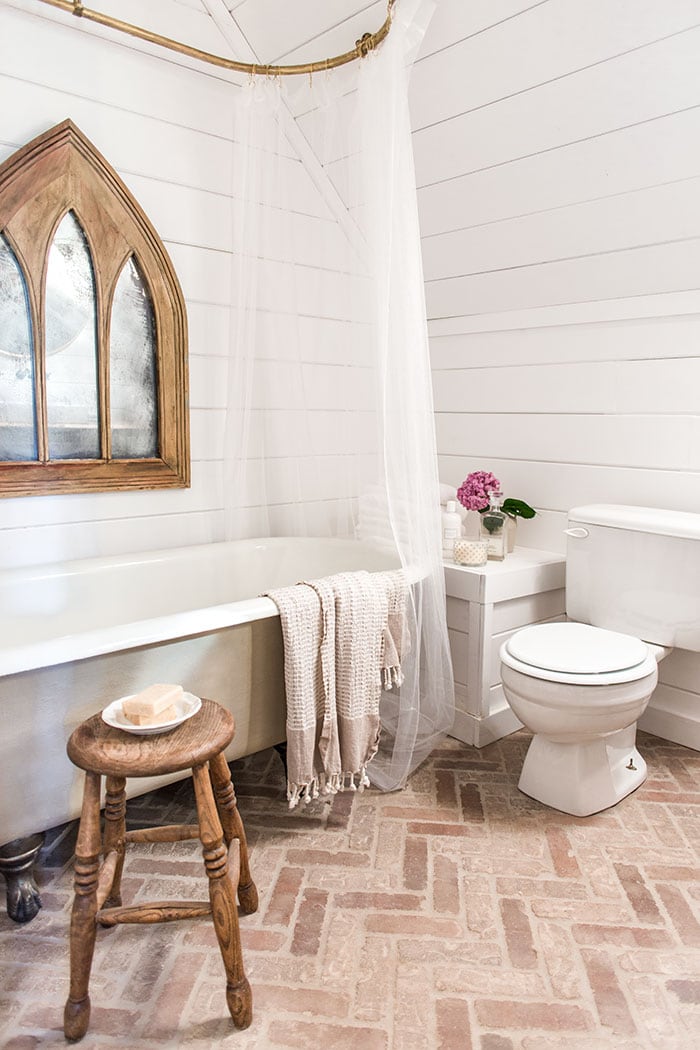 I used them in a bathroom, laundry room and even the kitchen… and I could have kept going! The pavers are great because they're thin and you can lay them anywhere, just like tile. They work well in any room too, both indoor and outdoor. You'll see a lot more of these in my future.
Another material I've dabbled a bit with in the past is stone, in the form of pebble tiles in my old bathroom: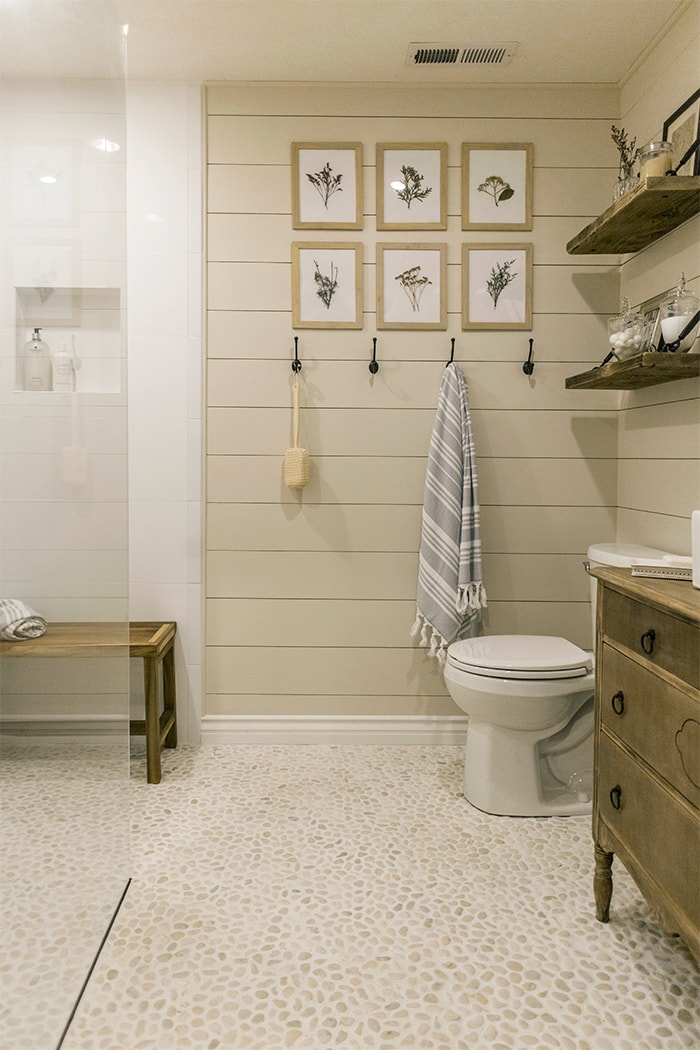 I can't get enough of that earthy look so those will also be making a comeback at some point.
For future designs, I want to experiment with new materials, like the rough stone walls I fell in love with in the south of France:
I'm all about chunky, textured, imperfect surfaces. These work beautifully in small doses or as accent walls, in any room:
Budget will likely be a big factor in how well I can execute my vision, but if the option is there, I'm taking full advantage!
It was hard to narrow this list down to 10—I could go on all day about everything I'm obsessing over! A few more things I'm loving right now are brass, mixed metals, natural wood tones, black and white, vintage oriental rugs, antique furniture, carved wood anything, wallpaper, and minimalist fireplace mantels.
And just for fun, here are a few colors that are high on my list for 2018…
Woodlawn Colonial Gray is the accent color I used all throughout the Cottage House Flip. It took a lot of trial and error to find that perfect shade of pale gray, so I'm sticking with what works! I also used Dark Kettle Black on all of the doors, and it was the richest black I could find. I loved the results!
Tender Shell is an interesting one—a photo of a subtle pinkish-taupe door caught my eye the other day, and I can't get it out of my head. This color would be fun on a piece of furniture or an accent somewhere.
I'm all about the sage greens this year, both dark and light. I haven't tried these two colors out in person yet, but will be experimenting with that soon!
I've also been on the hunt for a pale mushroom gray, just like the cabinets from DeVol kitchens I posted under #6 above, and Brown Buzz looks like it could be a worthy candidate. I want to try these on kitchen cabinets myself, or any piece of furniture, perhaps even walls.
If you've used any colors that are a close match to any of the ones listed above, please let me know! It's always helpful to see results from others first.
Whew… how's that novel for my first design related post in forever? I'm finally able to let out some of that pent up inspiration over the past 10 months! This is just the beginning, my friends.
Coming up next, the debut of our new vlog! We've kept the camera rolling these past few weeks as we packed up & moved from California to Florida, and officially launched our real estate business here in Tampa. There's so much to talk about! In the meantime, you can catch me over on instagram & facebook and stay in the loop about everything. Make sure you're following my 2018 Pinterest board for more design inspiration, and don't forget to subscribe to my YouTube channel so you'll be the first to know when our vlog goes live later this week! <3