Another summer month gone, and here we are in August! Watch below for the latest on all three properties, including the wonderful details on our first eviction (yep… already!):
The video explains it all so this post will be brief, but here's a recap:
1. The Heights House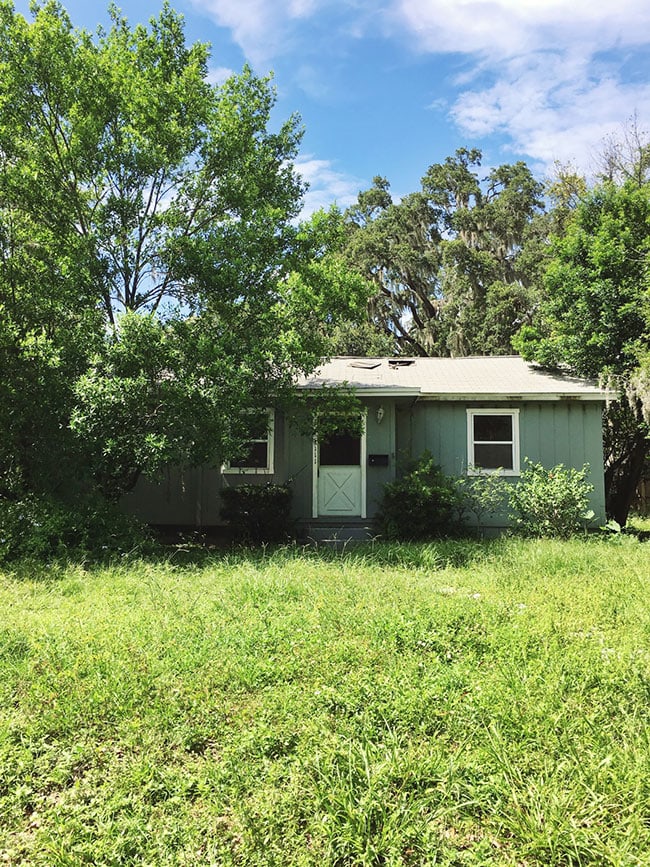 This is old news if you follow me on Instagram, but the heights house is officially NO MORE!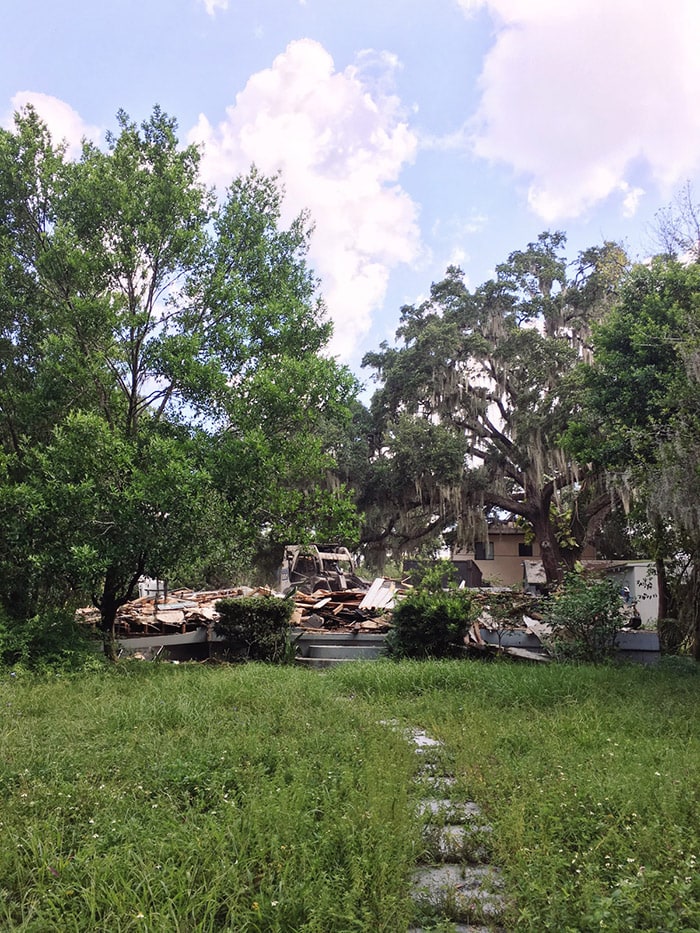 I watched as it was demolished two weeks ago, and now the rubble has been cleared and we've got a clean lot to build on.
There's just one problem: we STILL don't have our build permit! Last week they dropped the bomb on us that we are required to add sidewalks and a driveway to the tune of an additional $12-13k—even though the rest of the neighborhood has no sidewalks.
After talking with our builder, architect and several folks at the permit office, we have "settled" on adding a sidewalk on just one side of the house, and paving a skirt for the driveway. This will still cost us several thousand dollars that we did not budget for. Insert sad face here.
Our architect had to modify and resubmit the plans, and we were told that this would be the last hurdle before approval (but we've heard that before). Going on six + weeks now since first submitting this thing, so hopefully we'll be able to start building soon.
2. The Riverside Retreat
You saw our new bedroom last week, but the rest of the house still looks like this:
We haven't really unpacked yet because this place is only temporary, we have no furniture to put things away in, and everything will just be constantly shuffled from room to room anyway as we start DIYing. There's also a chance we're replacing the floors sooner than later *fingers crossed* so we're waiting to see what happens. For now, boxes are fine with us!
This weekend I want to get some paint samples up on the wall and start that process, so tune into my Instagram stories for live updates!
3. The Bungalow
We jumped right into the deep end of landlording with this one. When we inherited this property last month, we inherited the problems that came with it.
The biggest problem being one tenant (who shouldn't have been approved to live there in the first place) who wasn't paying rent and had a disconnected number. We tried calling and knocking on the door every day for several days with no response.
Left with no other choice, we posted a 3-day notice to pay or vacate on her door—sure enough, still no response.
I spent a day at the court filing the eviction papers and arranging for a sheriff to serve her the summons. Last Monday, the eviction was served and she had another week to respond. Did she? Of course not. So this past Tuesday we made another trip to the court to close the case, and now we're waiting on a judge to sign off. Once that happens, the sheriff will deliver a Writ of Possession at which point she'll have a couple days to leave (if she isn't gone already), and the final step is for us to meet the sheriff at the property to change the locks.
This eviction is costing us thousands in unpaid rent, court fees, plus the repairs & cleaning required to get the property rent ready again. I'm a little nervous about what we'll find when we walk in that door next week. The apartment wasn't exactly in tip top shape when we viewed the property several months ago, so I have a feeling these repairs won't be quick and easy.
Hopefully I'm wrong, we'll see. These are unchartered waters for us, and we're just doing our best to navigate them and stay afloat.
But these little challenges are good—they keep us on our feet, learning, and there's never a dull moment around here! I wouldn't have it any other way 😉
Hope your August is off to an exciting start! Next week I should have a paint update for you, and a fun DIY project as well!