Checking in with a quick update this week before we fly out today for our wedding! Tomorrow we'll be married, and this past week has been non-stop as you can imagine, trying to balance DIY projects with last minute wedding prep.
While we're relieved the new floors are installed and we won't have to come home to a complete construction zone, we weren't able to cross the laundry room off our to-do list—partly because the washer and dryer didn't arrive until yesterday which didn't leave us enough time to wrap up and do a photoshoot.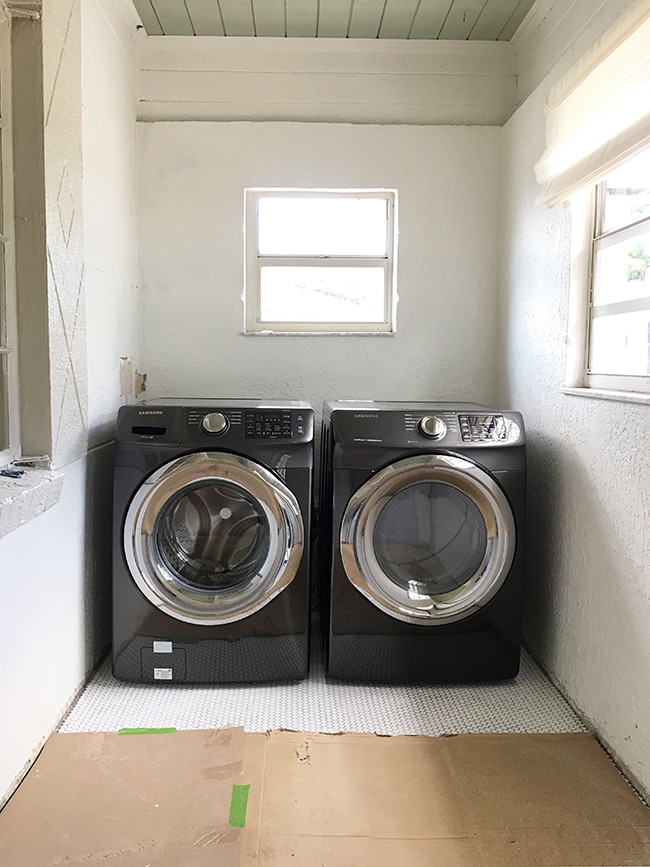 We're better off waiting anyway though—we would have been killing ourselves pulling all nighters to try and finish on time, and who wants that added stress before their wedding? Not this girl.
At least the hardest part is out of the way—that floor tile! Our bodies took a week to recover but oh it was so worth it. You can check out highlights of the installation on my IG stories in case you missed it (I'll recap it in the laundry room reveal post as well).
We also put up an MDF wall and my new favorite wallpaper…
How gorgeous is this pattern?
This was a relatively easy & fun project (I'll go into more detail in the laundry room reveal post). We still need to add trim on the sides to conceal our crooked walls.
And how about the new door color? It's a match made in floral heaven (yes we're replacing the brass doorknob).
The color is Sherwin William's Accessible Beige, and I may have found my new favorite greige ❤
We also installed this fabulous brass chandelier…. can you believe it's under $100?!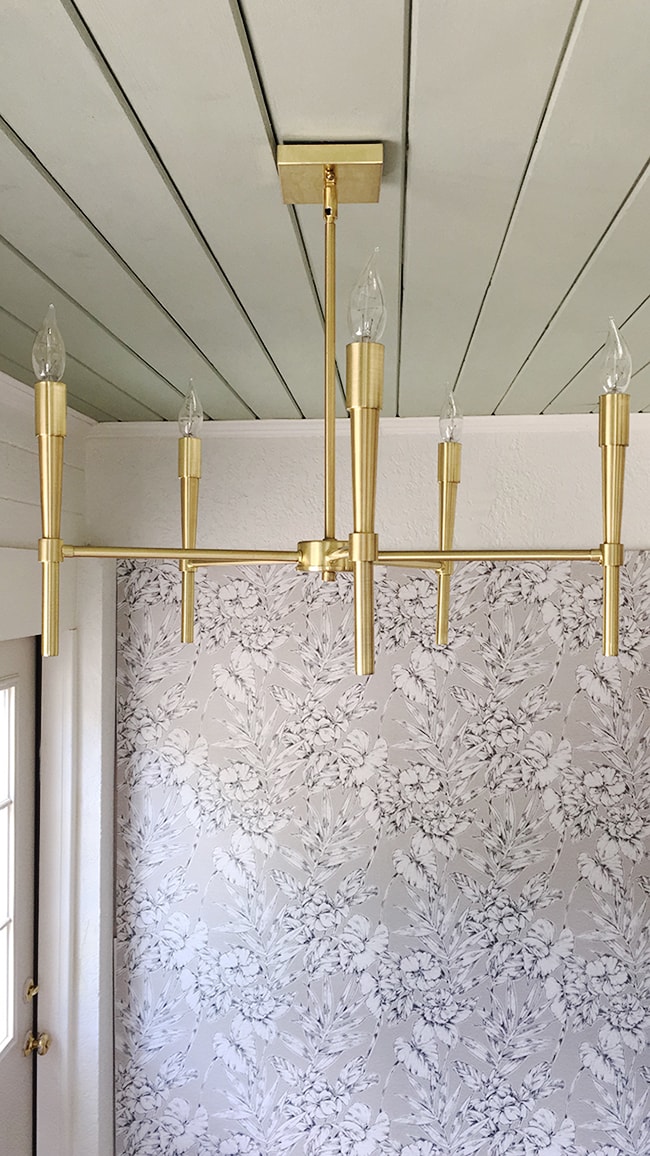 A touch of gold just makes every room better, don't you agree?
All that's left to do in here is install the custom butcher block counter & shelves, trim, patch & touchup paint, bring in some storage/accessories and do the photoshoot. Aiming to wrap this project up by the first week of October and the big reveal shortly after!
In other news… our living room is quickly becoming my favorite in the house:
My emerald velvet dreams have come true with this gorgeous mid-century sofa from Inmod:
I'll be slowly adding & sharing more about this room soon!
And the dining room has finally made some progress as well, with the addition of our first piece of furniture (if you follow me on Instagram you already know):
It's the Geome Sideboard from Article, and I can't get enough of this texture detail:
It's looking a little lonely right now but I'm working on a few accessories to bring this wall to life!
And after months of scouring the internet, we finally have our centerpiece of the room—behold the dining table:
I found this carved beauty in Facebook Marketplace and talked them down to $180, paid $130 to have it delivered from Orlando, and now she's ALL MINE! It's the pineapple that did it for me, really. And the fact that it seats 8 people. I'll be painting her white (otherwise there'd be way too many different wood tones going on in here, you wood purists) and adding pink velvet chairs. YUM. The goal is to complete this room by the end of November.
That's about it for our Riverside Retreat updates, but my builder has been hard at work on the new Heights House!
The foundation has been poured, plumbing roughed in, windows have been ordered and the walls are going to start going up any day now. I know it's not a very pretty photo but we're celebrating every milestone over here and still pinching ourselves that we get to go through this process.
2018 hasn't been the smoothest year for us, but we knew the best was yet to come, and it's finally here—these are the happiest days of our lives. I may have taken a different path than I thought to get here, but I wouldn't trade this journey for the world. Or this boy.
Now if you'll excuse me, I've got some marrying to do!