Well, we figured a worldwide pandemic was just as good a time as any to share a vlog update!
I didn't anticipate letting over four months go by between vlogs, but I also didn't realize just how difficult it would be to get anything done with a baby around. Largely because we've been relentlessly working to finish The Riverside Retreat, with Lucas spending most nights and weekends there while I watch Esmé.
Now with worldwide travel shut down and so much uncertainty in the industry, the rush to get this place up and running hasn't been quite as urgent. Some cities have placed a 30-day ban on all hotels and vacation rentals, and we worry we'll be next. A lot of homeowners and property managers are in a really tough situation right now. And here we are, under contract with another vacation rental…
Our closing date was originally set for today, but due to the pandemic it has been pushed back. We've had to make some very difficult decisions over the past couple weeks and the deal was so close to falling through, but we're choosing to stay optimistic and move forward with the plan, keeping faith that things will turn around and the economy won't completely fall apart in the next year.
It's a scary time for a lot of us, but there are silver linings and opportunities everywhere. I feel more connected to the world now more than ever, because we're all going through this together. All of humanity is affected and tied together by the same thing. When has that ever happened in history? It's really an unprecedented time, and especially interesting to watch unfold in this digital age.
Have you been feeling the same positive, uplifting energy? What are you doing to make the most of this situation? Here's what has been keeping me afloat:
1. YouTube yoga: I try to do a quick practice each morning while Esmé plays on her mat alongside me, including her in some stretches and poses. Many days it's the only physical activity I'm able to get, and more convenient than getting outside (it's already in the upper 80's here!) My favorite channel to follow is Yoga with Adriene.
2. Meditation: So important for our mental health, now more than ever. Lately I've been focusing on gratitude which has helped immensely to keep everything in perspective. If you're having trouble falling asleep at night, this practice can really help with that too. Find a quiet spot outside for even just a few minutes each day, or if you prefer guided meditations, I love the free app Insight Timer. And sort of related, but if you need a good book to read, The Power of Now changed my life and permanently reframed my way of thinking when I was at my lowest.
3. Virtual parties: Zoom is one company who definitely isn't hurting right now! Virtual hangouts are popping up everywhere, from Facebook group happy-hours to live-stream DJ sets and worldwide digital dance parties—you can hop online at any time and join in on the fun. We've been playing Drawful 2 with family (they're giving it away for free right now!) and always laugh 'til we cry. Even when the quarantine ends, we're making these parties a regular thing.
4. #Stayathome movement: Between the creative new ways people and TV shows have adapted to provide content, hilarious memes circulating on Instagram, and a more intimate look into our everyday lives/homes, the internet is a goldmine of entertainment right now. One of my personal favorite initiatives is the #togetherathome series, where musicians invite you into their homes with a live broadcasted concert. It was kicked off by Chris Martin of Coldplay, which I could watch all day on repeat—he's so good! And don't miss the hilarious John Legend/Chrissy Tiegen. I'm doing my part by spreading a little cheer in the form of Daily Esmé Instagram stories 😉
5. Hobbies/crafts: If you find your to-do list shrinking, there's really no time like the present to get back into that hobby you've been putting off, or try out a new one. I was inspired to start learning a song on the guitar so I've been practicing a bit each day (Esmé loves to listen and wiggle along). I can't remember the last time I picked up a paintbrush (a hobby I used to love) so I just ordered some acrylic paints to get back into it. My most recent DIY chalkboard project was a fun distraction, and a great way to provide a small sense of accomplishment in a day that might otherwise not feel very productive. These creative outlets are a break of calm within the storm, and hopefully we can stick with them long past the quarantine days.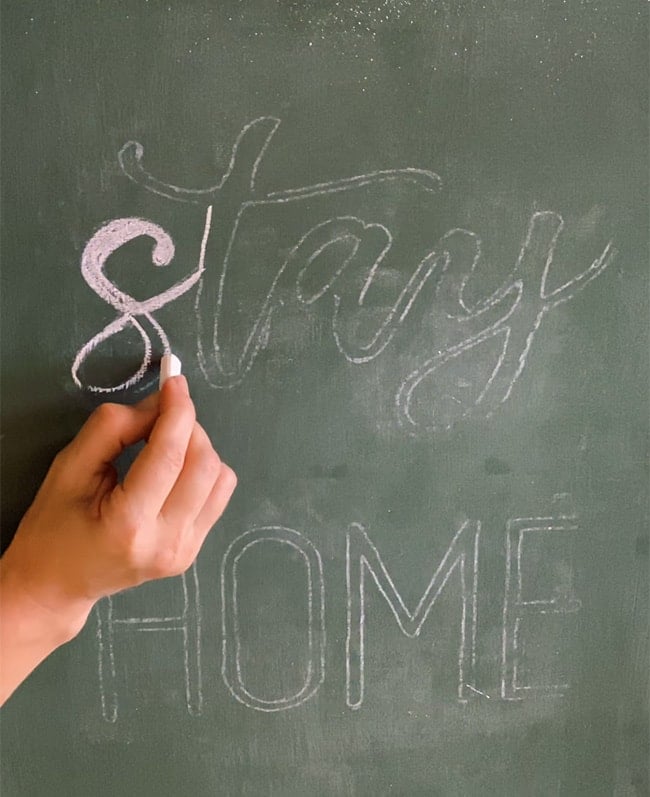 6. Planning for the future: Not unpleasant things like doing your taxes or writing your will (go for it if that's your jam!) but exciting things like vacations and home renovations. We all need a little hope right now, and something to look forward to. Taking the time to gather inspiration and research can take our mind off today's reality, and remind us that life will resume after the dust settles. It will also make us feel more confident about our decision when the time comes, since we've had more time to plan and think it over. So many of us have had to cancel our trips this year (looking at you, Ireland ?) and even if we aren't sure when we'll be able to take our next one, it's a fun mental escape to dream. For a more immersive experience, you can transport yourself right now and watch a live cam of places from around the world, including the Northern Lights. Psst… if you want a little destination inspo, check out our travel video series!
7. Make a photo book: I started a yearly family photo book tradition with our travels in 2017, and plan to keep it going! I can remember looking through old family photo albums as a child and how important it was to me then, to know all about our family's history, unique stories and memories. We all have collections of pictures on our phone/computer, but there's something about turning the pages of a physical book that makes them feel more special. Plus, they keep our photos organized and easy to flip through anytime. I use Blurb and wait until their 40% off sale (it happens throughout the year), and always choose the 8×10″ layflat hardcover. Their pre-made templates make it easy to drag and drop photos, add captions and titles. The books also happen to make great coffee table decor! I'm currently working on 2019's book, enjoying the distraction and feeling sentimental about all the good times…
And there you have it—a look at our lives two weeks into this pandemic. Can you believe it has only been two weeks since things really turned into a crisis here? I wonder how much the world will change in two more weeks… there are so many unknowns, and that's the scariest part of it all. Our county just issued a stay at home order effective tonight so we're making the best of it! Are you quarantining too?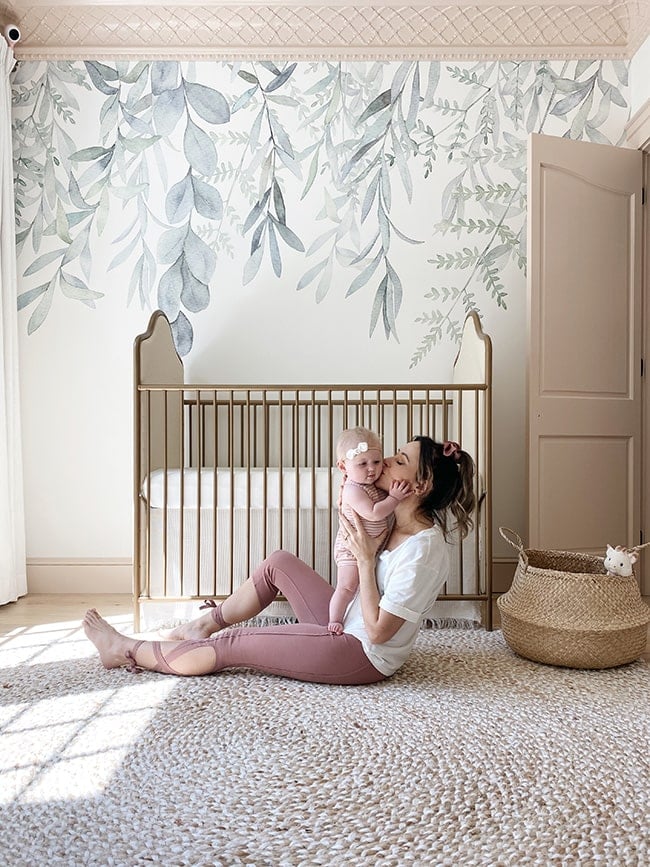 I think I speak for everyone when I give my sincere thank you to those who are sacrificing their health, their time and safety to protect us and keep the world going. I know many of you have been directly affected by this for one reason or another. If you or someone you know is really struggling right now, please feel free to share your story in the comments and let me know if there's anything that we, or anyone else here in the community can do to help.
We'll all get through this together! Please stay safe, and stay home ❤️