This Father's Day will be extra special for our family as we welcome Lucas into the new dad's club. I've never published a Father's Day gift guide since I try to share products I can personally recommend from experience, so this year I enlisted Lucas' help to pick his favorite (mostly DIY related) items that he uses regularly and loves (and that would make great gifts for dads, who are notoriously difficult to shop for!)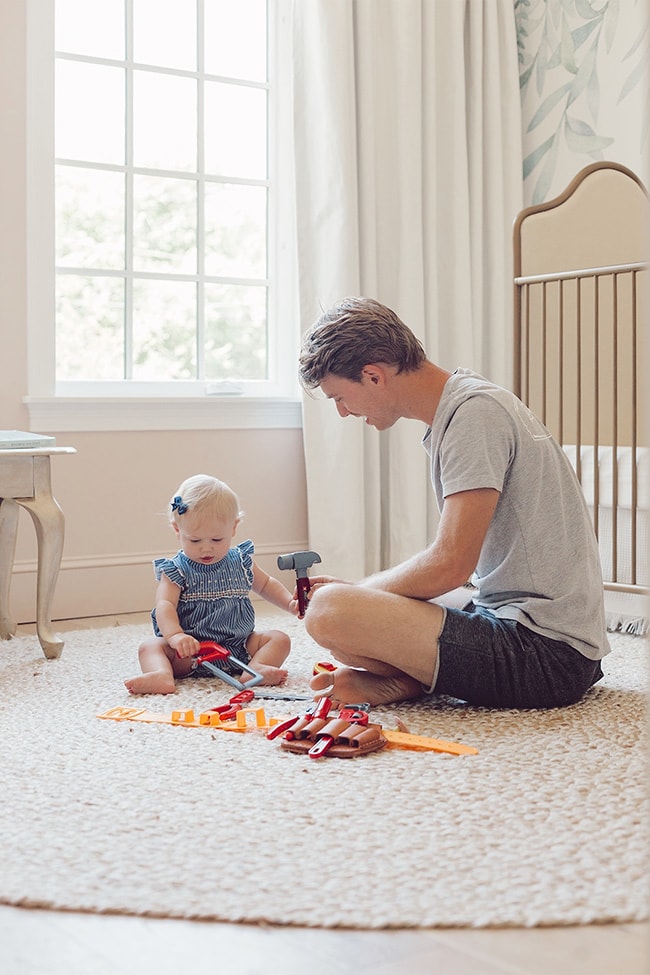 Here's Lucas' top 15 gifts for DIY dads: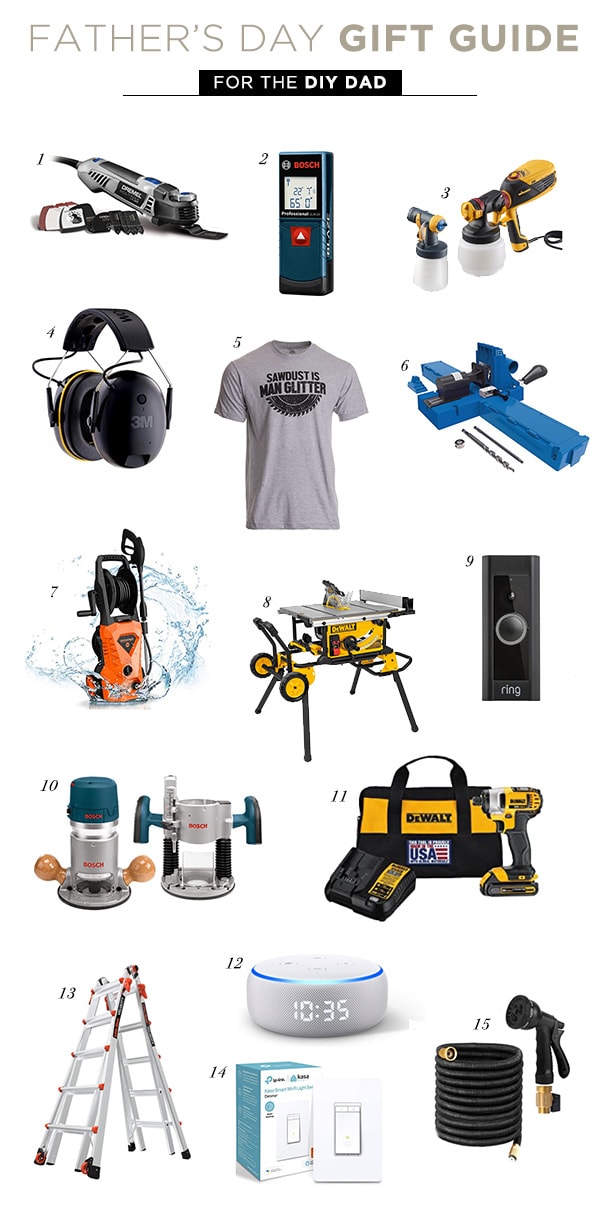 This little tool is a fairly recent discovery, and come in handy more times than we can count. It has endless uses, is simple to use, and its both of our top picks on this list if dad doesn't have one yet!
This tool was Lucas' favorite gift this past Christmas. It instantly measures any distance up to 65′, eliminating the need for clunky tape measures and allowing you to quickly measure entire rooms or tricky angles.
This is the paint sprayer Lucas used to paint our Riverside Retreat kitchen cabinets, and he found it very easy to work with as a beginner. A good paint sprayer is a must-have if you want a smooth, professional finish on your next paint or stain project.
3M sent us a set of these to try out, and we were both extremely impressed. They're headphones that double as soundproofing/hearing protection and entertainment, since you can connect them directly to your phone or bluetooth device. Lucas uses them while working in the yard or on DIY projects, where he can jam out to Spotify while still getting text/call notifications. This is another one of our top choices for dads!
This was another Christmas gift from a couple years back, and it has become Lucas' official 'work' uniform. It has been put through the ringer (and washer) for countless projects and still looks great. Surprisingly comfortable and good quality for only $13—you can't go wrong!
If dad is ready to advance his carpentry skills, he needs this tool! I've used this myself for years, and now Lucas has discovered the joy of pocket holes. We consider it a staple for most furniture-building projects.
We finally bought ourselves a pressure washer this spring and have no idea how we ever lived without one. It single handedly transformed our old patio furniture to look new again, and it's the only way we've been able to clean the exterior of our houses. Lucas spent some time researching and found one with the best ratings + highest PSI at the best price, and we've been really happy with it. Truly, everyone with house needs one!
If you want to surprise dad with something he'll get use out of for years/decades, this Dewalt table saw is as good as it gets. We've learned (the hard way) that it's worth investing in quality tools—this table saw is a staple in our garage and we wouldn't have been able to do half of our DIY projects without it.
Not DIY related, but definitely one of the coolest and most useful features on our home. We love being able to check in on our front porch/yard anytime, from anywhere (mostly to see how many Amazon packages are piling up ;)) and monitor the activity. If dad doesn't have one yet, it's a great gift idea!
If dad already has the basic tools covered, this is a great one to add to his arsenal. It has many uses in intermediate/advanced-level woodworking that no other tool can do. Plus, it's fun to use!
Small and compact, this tool easily drives in any type of screw. We often use it in conjunction with our Dewalt drill to save time. Unlike our drill, it easily drives fasteners into dense material (like our concrete walls). This is a must-have tool for the majority of our projects
Another non-DIY related item that deserves a spot on the list as one of our most frequently used items. It's packed with features, but we mostly use it to play music throughout the house, and to command our other smart home features. It is the best $55 you'll spend to make life more convenient!
This was a wedding gift added to our registry after lots of research, and it's easily the most versatile ladder we've owned. Lucas has been able to use it on our staircase, install a second story window box and clean our gutters to name a few. If you have a second two house, this is ladder will get a lot of use!
This is the single most important smart home feature for us, and if you have a smart hub, you NEED this (especially for $23!). We almost never have our lights on full blast, and this smart dimmer allows us to set the perfect ambiance for any room, via voice command or with our phone (from anywhere). It's one of those things you don't know you need until you have it.
Once you get one of these expandable hoses, you'll never go back to a 'regular' hose again! This is made out of some kind of woven magic that's super lightweight, fits in a small bag when not in use, but then expands up to 50ft when filled with water. It doesn't get tangled or tripped over, and it's not a giant eyesore on the side of your house. Best invention ever.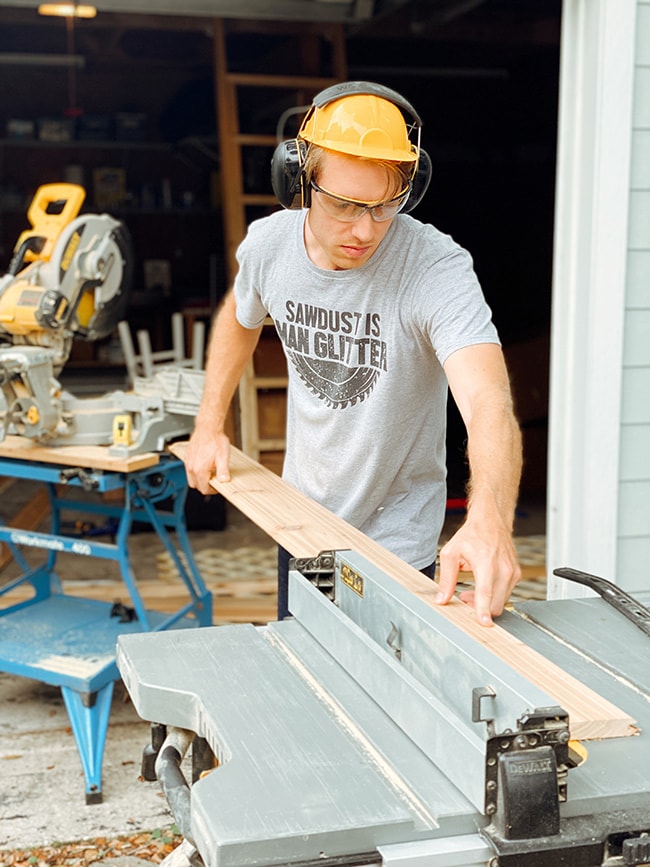 With the recent #BlackLivesMatter movement and my commitment to share and amplify the black community, I've also put together a second guide highlighting 15 black-owned businesses, and my handpicked gift from each. Purchasing something from this list is a great way to show your support while finding something unique for dad this year: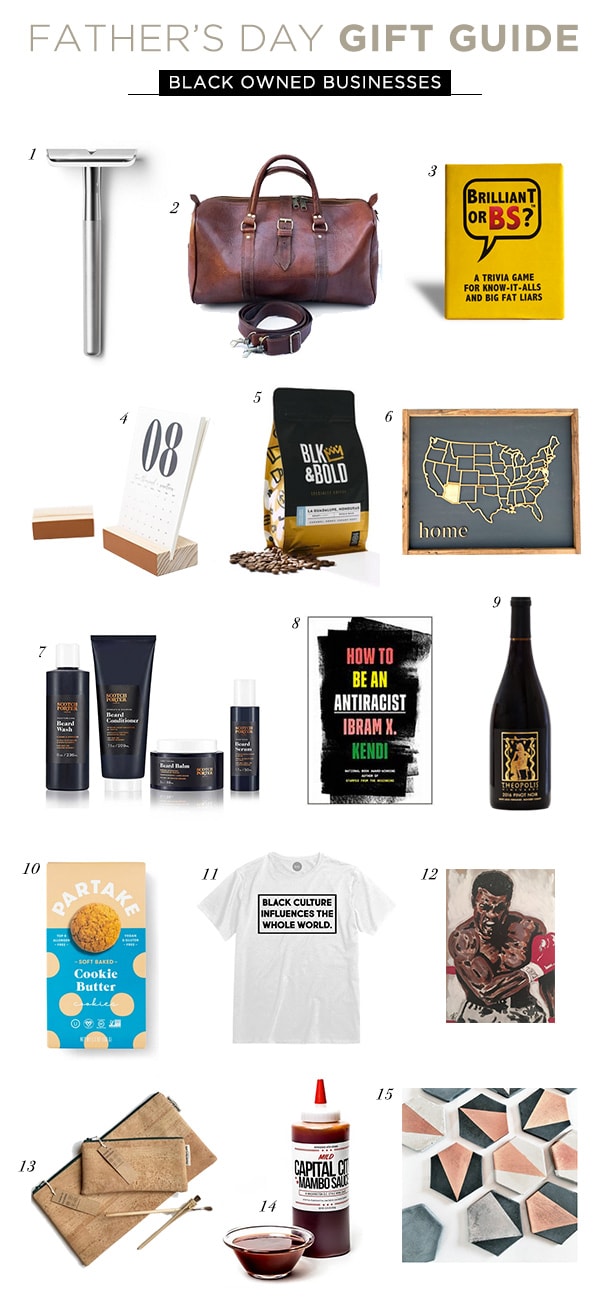 1. Bevel
A men's grooming company, specializing in razors and skin care. Safety Razor, $49.95
2. Made Leather Co.
Classic handmade leather bags and accessories for business and travel use. Aviator Weekend Bag, $365 Get 20% off with CODE "shoppeblack"
3. Brilliant or BS?
A family-friendly trivia party game for 4-6 players, $19.99  Use CODE "SB15" for 15% off for the entire month of June.
4. The Heart Department Co.
Handcrafted wooden displays for the home office. Painted print + calendar stand, starting at $6.25
5. BLK & Bold
Specialty certified fair trade coffee and teas. 12 oz signature blend, $14
6. Morning Joy Co.
Custom laser-cut wood signs and home decor. US Map wood sign, $79
7. Scotch Porter
Men's grooming products with all-natural ingredients. Superior Beard Collection, on sale for $72
8. Mahogany Books
An independent family-owned bookstore specializing books written by/for people of the African Diaspora. How to be an AntiRacist, $27
9. Theopolis Vineyards
A small, hand-crafted winery in vineyard in Mendocino County, CA. 2014 Anderson Valley Pinor Noir, $42
10. Partake Foods
Gluten free, vegan, and allergy-friendly cookies. Soft baked cookie butter cookies, $14.99
11. Black Vibe Tribe
A lifestyle apparel brand aiming to connect, uplift and build melenated communities. Black Culture Men's Tee, $30
12. Culture Greetings
A customized greeting card company focusing on diverse themes and POC. Great One Father's Day card, $4
13. Mind the Cork
Naturally made cork accessories for urban living. Eiras faux vegan cork leather case, starting at $29
14. Capital City
The official wing sauce of Washington D.C. Mambo Sauce, $6.99
15. Made by Rheal
Handmade concrete and marble goods, based out of Oakland CA. Charcoal Hexagon Coaster Set of 4, $28
Between both lists there should be something for everyone, and I hope something catches your eye. Let's spoil the dads in our lives this year—they deserve it! Next week I'll be revealing a special Father's Day DIY we've been working on, and I'll be sharing all the details on Instagram starting Monday (including a challenge you can participate in too!) Stay tuned, it's a fun one…