Did Christmas sneak up on anyone else this year, or am I the only one still shopping for last minute gifts?! I wasn't planning on sharing another gift guide (check out my Favorite Things of 2019) but in my recent search for stocking stuffers, I came across a handful of affordable options I thought I'd pass along in case you're still looking! Everything below will arrive BEFORE CHRISTMAS if you order today (*with Amazon Prime)!
On this first list are items I've personally bought for myself and am loving this year. They'd make great stocking stuffers for anyone like me: DIYer, new mama, hostess, creative and homebody.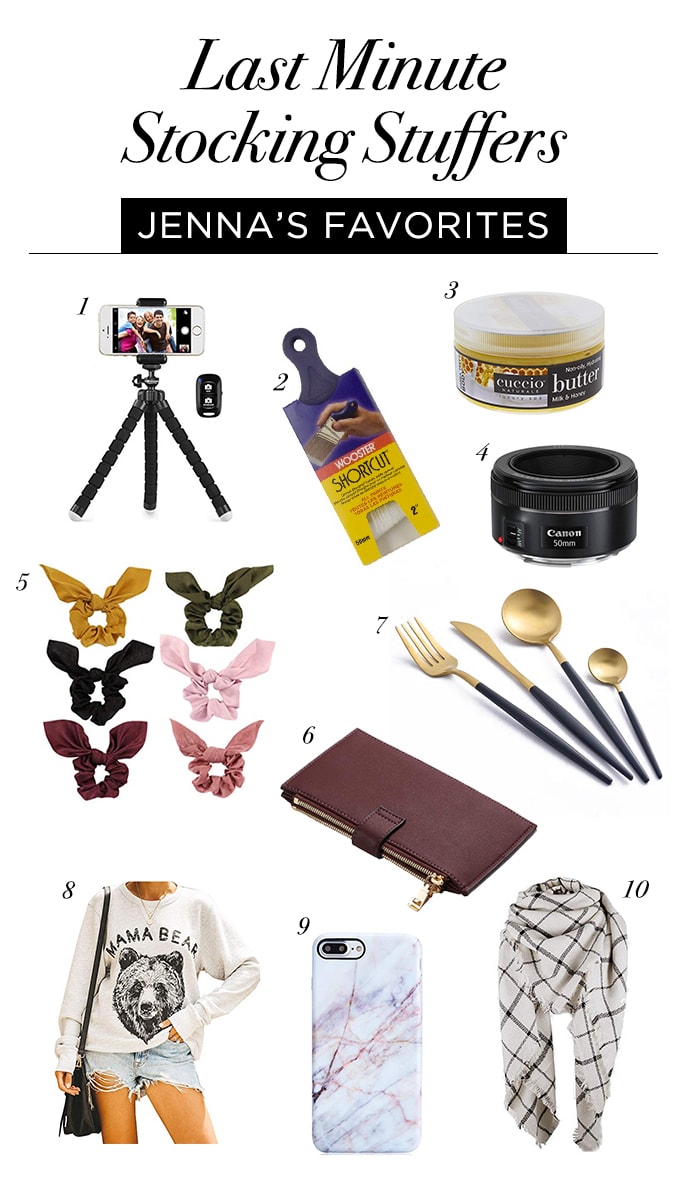 1 / 2 / 3 / 4 / 5 / 6 / 7 / 8 / 9 / 10
1. Phone tripod: A must-have for anyone who wants to take their photo/video skills to the next level. I recently purchased this to use for timelapses, but it's also great to set up still shots (it works on bluetooth and has a remote to control your phone's camera). So many uses, and for only $14, it's a no-brainer!
2. Short angle brush: I linked this in my last gift guide but it's worth repeating because it makes the perfect stocking stuffer for people of all ages! Get this bad boy and stop using painter's tape for cutting in ?
3. Cuccio body butter: My sister got me hooked on this stuff earlier this year. Now my go-to moisturizer, it's super rich and makes your skin so soft. It's one of those small luxuries I make sure to include in my daily routine that's now filled with unglamorous mom duties!
4. 50mm lens: The majority of the non-iPhone photos on this blog are taken with my 50mm prime lens. I use the 1.4mm version, but the 1.8mm "nifty fifty" is a close second and perfect budget lens for beginners looking to drastically step up their game. The quality is night and day from the kit lens, and you honestly will not find a better lens for the price!
5. Bow scrunchies: I've always had a love for bows, and now that I'm a girl mom, I'm all in on this bandwagon. I bought this cute bow scrunchie set for just $9 and wear them pretty much every time I leave the house (I match them to Esmé's outfits ?) These make a great gift for all ages and they work with both casual and dressy looks!
6. Leather wallet:  The #1 best seller on Amazon for women's wallets, I replaced mine earlier this year after being sold on the 5,000+ nearly 5 star reviews. There's plenty of space to keep all of my cards organized, and love the double zippered pockets for cash and other smaller items. Tons of colors to choose from and only $20!
7. Gold flatware set: This was a Christmas gift last year and I whip these beauties out every time we entertain. They're solid and heavy, make for a beautiful presentation and dishwasher safe too. At just $12 a set it's the best deal on this style that I've found.
8. Mama bear sweater: A cute and comfy sweater for mamas of all ages (mine just arrived in the mail this week!) It's lightweight and perfect for Florida winters, so you can find me rocking this for the next few months (with my scrunchie bows, of course ?)
9. Marble iPhone case: No lie, I've had this case for almost three years and it's still going strong. It protected my phone through eight months of backpacking in some rough conditions and it still looks great—crazy impressive for an $8 case. Lucas got the black/white marble at the same time I did and still loves his too!
10. Blanket scarf: I've also had this black + white scarf for years and it's the first thing I reach for when the temps drop below 65º. It looks just as cute hung on a coat rack as it does worn, and even works as a shawl or lightweight blanket in a pinch. Comes in tons of colors/patterns for different looks, and at just $15 you can afford to buy several!
Need more ideas? Try these other gifts that caught my eye, all under $30 and delivered by Christmas: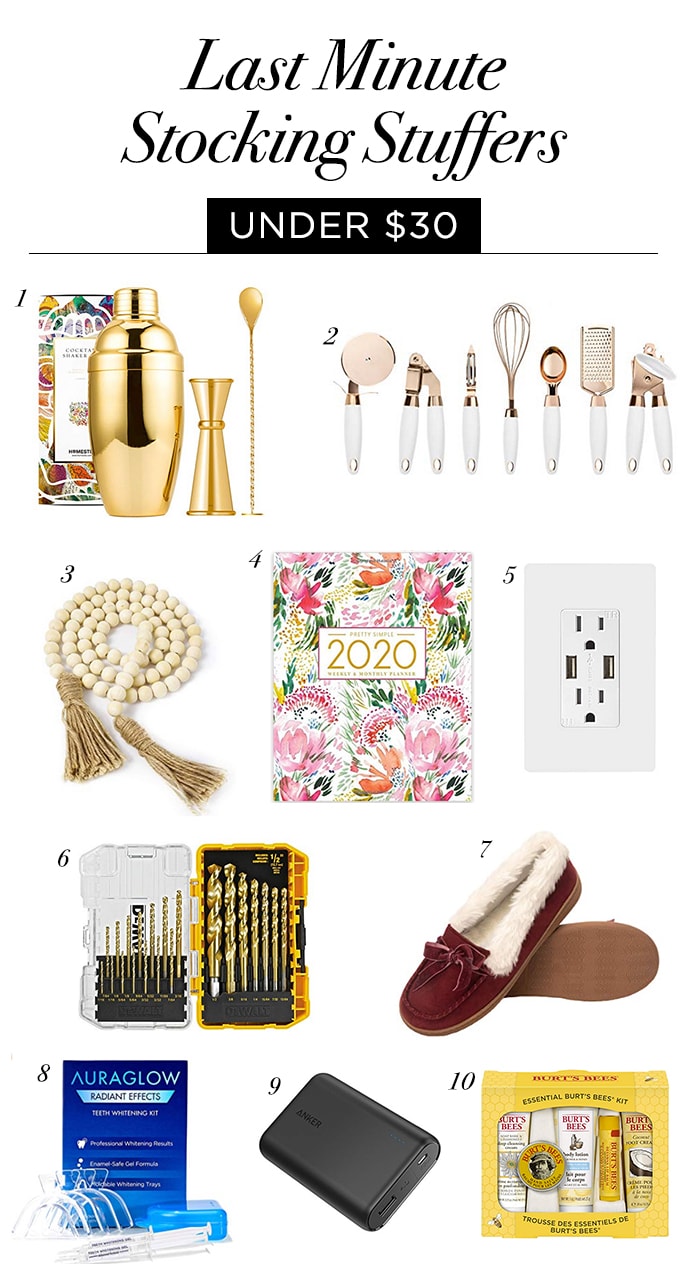 1 / 2 / 3 / 4 / 5 / 6 / 7 / 8 / 9 / 10
1. Gold cocktail shaker set: For the host/hostess with an eye for detail, this gold shaker set is a gift they'll want to keep out on display all year (we gifted one to a friend this year who loved it). It will make any mixed drink feel like a special occasion!
2. Copper kitchen gadget set: I can't believe the price for this entire set! It's available in multiple colors and would look great stashed in a utensil crock. A perfect gift for the new homeowner.
3. Tassel garland: These wood bead garlands have been popping up everywhere lately, and make a great tabletop décor accent. They double as swag for holiday decorating as well, and you can't beat the price at $14 for two!
4. 2020 Planner: For the detail oriented person who loves good old fashioned handwritten reminders, this planner is both stylish and functional. It's an Amazon best seller and the price is right at just $8 shipped.
5. USB charger outlet: For the electronics lover who always needs to charge their devices (or just the hard to shop for person who has everything, because we could all use this!) this handy USB outlet allows you to keep your chargers plugged in separately, freeing up those valuable receptacles. We each have one behind our night stand where we keep our phones charged at night.
6. Dewalt titanium drill bet set: Dewalt has been our tool brand of choice for a while and we've been slowly upgrading all of our tools to this brand. Their drill bit quality is no exception, and these titanium bits work with all kinds of surfaces. Perfect for the DIY'er and all those hard to shop for men in your life.
7. Suede moccasin slippers: These indoor/outdoor memory foam slippers look so luxurious, and the little bow is just the icing on the cake! I would live in these things during winter if was colder here. Available in four different colors, though I'm partial to the 'wine' shade.
8. AuraGlow Whitening Kit: This is the teeth whitener I swear by, and it has the same active ingredient you can find in dentist whitening treatments at a fraction of the cost. I've done it both ways and have found the results to be identical. Now I only use the gel once every two weeks or so to maintain my color (I'm a big coffee and wine drinker!)
9. Anker Power Bank: Anyone with a phone needs a power bank, and this small and lightweight model is the top rated on Amazon (over 15,000 nearly 5 star reviews). This thing was our lifeline while traveling, and we make sure to bring it every time we go on day trips or work on DIY projects where we're using our phone heavily for music/photos.
10. Burt's Bees travel set: You can't go wrong with these Burt's Bees favorites, great for guys and gals of all ages. Quality products, high ratings and under $10 to finish off your stocking gifts.
And that's a wrap, folks! Hopefully something from these lists caught your eye and helped you finish off the last of your gift shopping for the year. Now it's time to sit back, relax, and enjoy the season with our loved ones. I'll be back after Christmas with a fun recap of all the highlights from 2019 including your favorite posts and projects.
Have a warm and wonderful holiday week, my friends! See you soon,