Welcome to the first edition of Marketplace Monday! If you missed my Furniture Flip Friday post, make sure to go back and read that first. I put out a call for city submissions on Instagram and got a ton of responses—thank you! Hopefully I'll be able to get to them all eventually, but there were definitely a handful of places that stood out. Atlanta was one of those (according to my Google and Instagram analytics, it's where most of my readers/followers live so no surprise there!) I set the search to the greater Atlanta area so some of these will be in the burbs.
I started browsing for deals on Saturday night and by Sunday, the best ones were sold, so I'm expecting a few to be gone by the time I post this Monday morning… you've been warned! Let's get em while they're hot! Click on the photo or price for the listing:
Coffee table – $60
This solid wood piece just needs some patching and painting, and you've got a gorgeous (large) coffee table! It was listed a week ago and the seller says they're willing to negotiate, so offer $50. Flip it and make some cash or keep it for yourself.
Fireplace mantels – $25-$125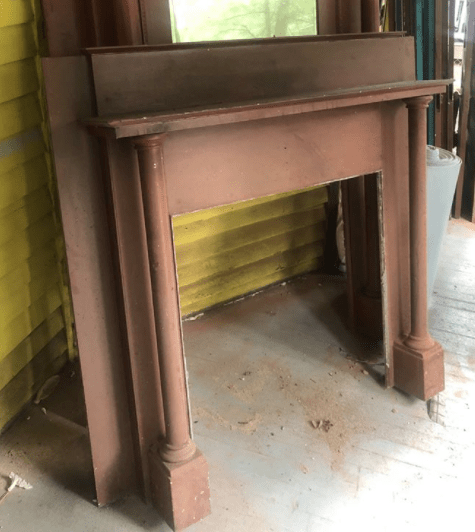 Have an empty wall and wish you had a fireplace? Here's your chance to DIY your own! Pick up an electric insert and follow the tutorial we used for our living room. It's a total game changer!
Glass cabinet – $40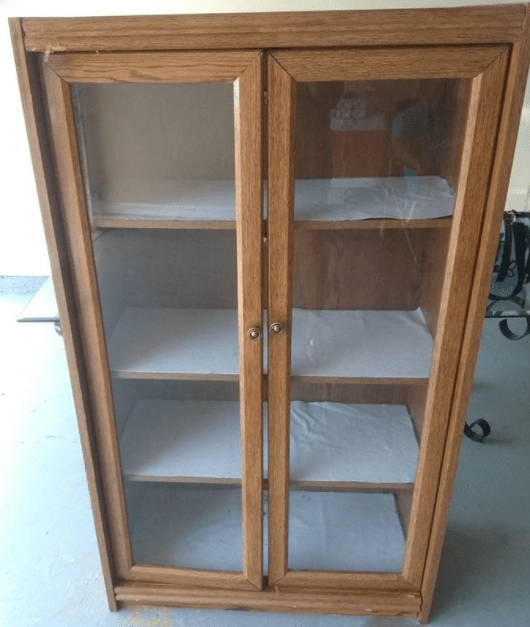 This cabinet has so many different uses, and looks like it just needs a quick paint job. It would make fun accent cabinet for a kitchen (we used two repurposed wood cabinets in ours) or a quick sale after staging and a few nice photos.
Vintage oval frames- $15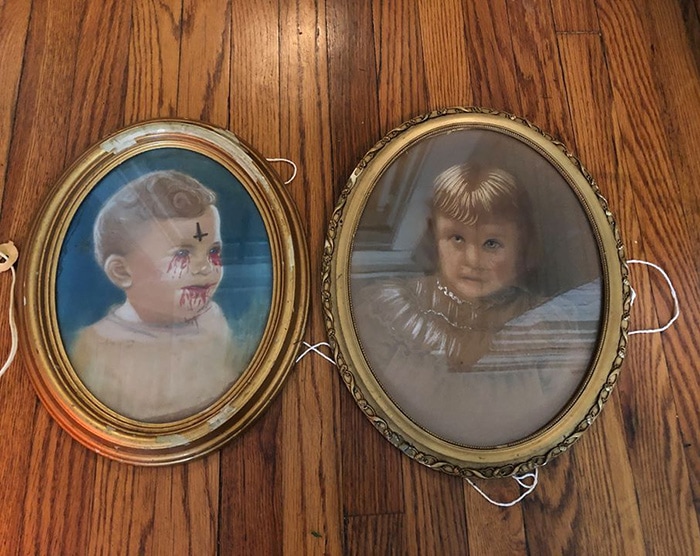 Look past the creepy zombie children and you have a couple lovely vintage oval frames (with a little TLC and Rub n Buff). These beauties aren't a very common find, and they look so charming hung on a wall with Victorian style black and white silhouettes of your babies. $15 and I bet you can talk them down!
Dresser – $55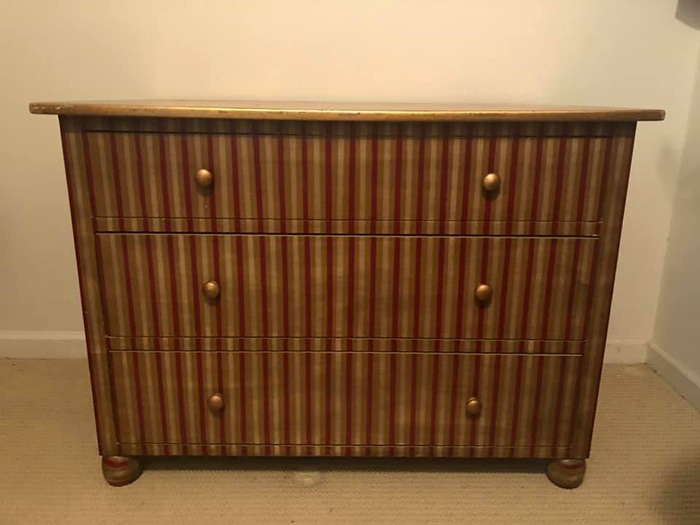 My heart skipped a beat when I spotted this, thinking it was a fluted dresser at first glance (is anyone here following my DIY fluted dresser makeover right now?!) but alas, it is simply a (very unique?) paint job. It appears to be solid wood with plenty of potential (it would be a great candidate for DIY fluting!) The bad paint job means there's less competition and it has been listed for over a week, so offer $40.
Dresser – $50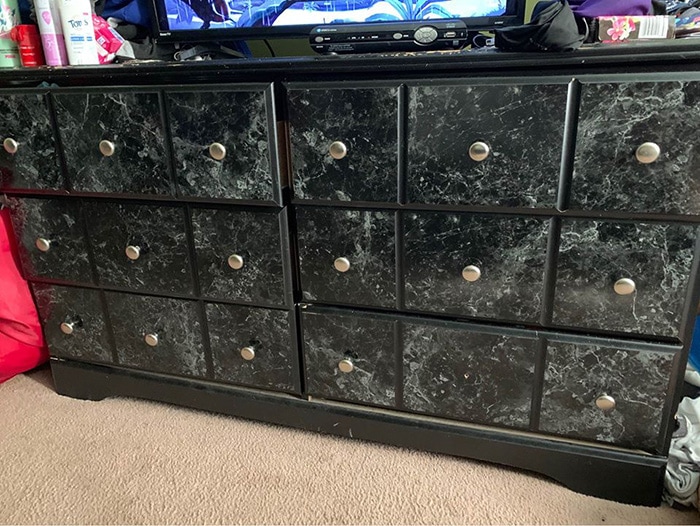 I know what you're thinking… but apothecary DIY makeover, anyone?? Up for grabs is a dresser, chest and night stand (assuming $50 for all?) and I'm not sure if the fronts are actual marble, but it's worth an attempt at sanding, priming and painting for that price. Someone please make this over and report back to me!
Faux fur rug – $5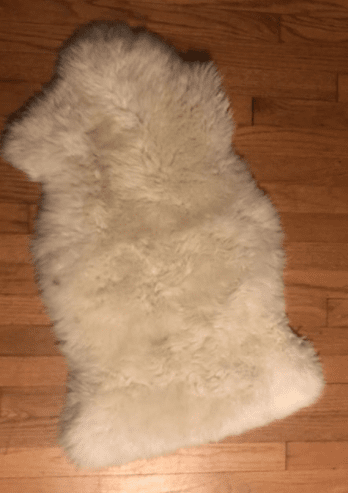 These sheepskins are perfect for layering over chairs—I own 5 of them myself. And it's $5, people!!!
Armoire – $150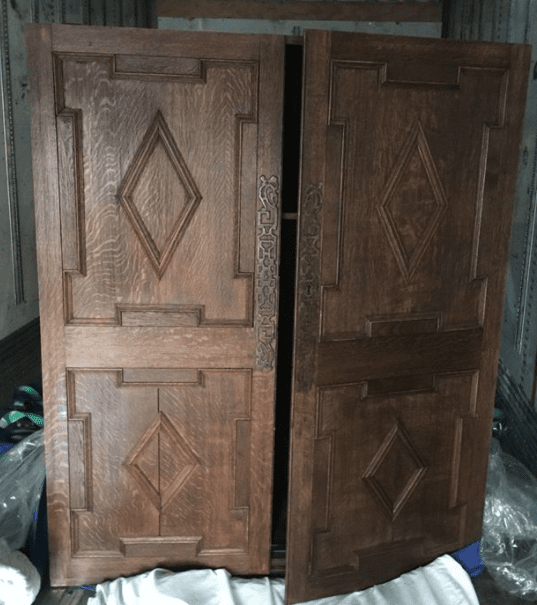 This armoire is so unique, I've never seen anything exactly like it. The wood is nice enough that you don't even have to paint it. And if you don't need an armoire, you could repurpose those doors (headboard, perhaps?)
Full size antique bed – $50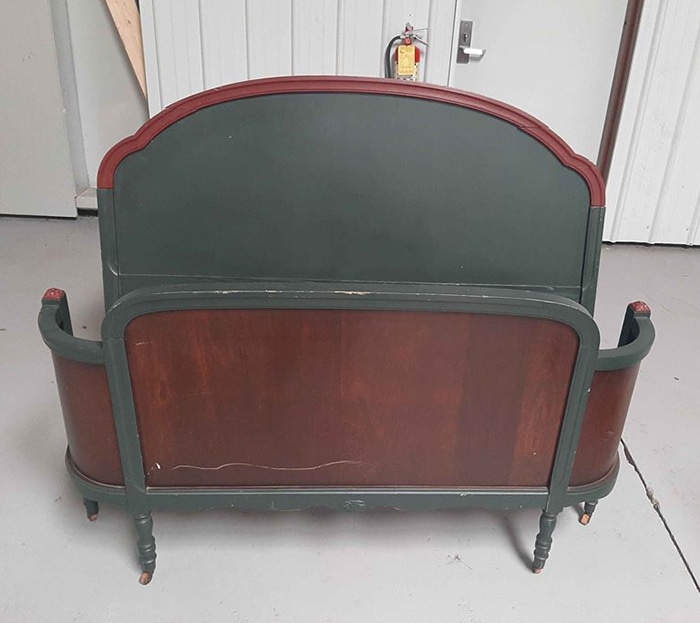 Isn't the shape of this just gorgeous? I'll be a little surprised if it's still available by the time this is published—I hope one of you can snag it!
Jewelry organizer – $40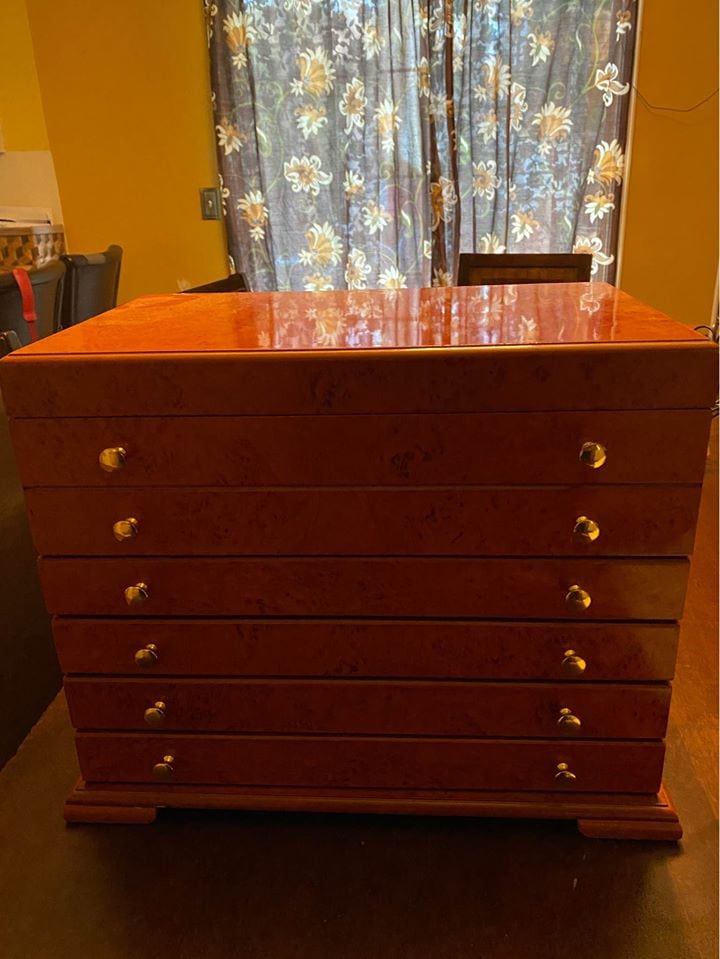 This is one I'd keep for myself! Apart from being super functional, this piece would look divine with chalk paint and a little Rub N Buff to age the knobs. It reminds me of a mini version of those antique letter file cabinets (without the insane price tag).
Framed World and Celestial maps – $20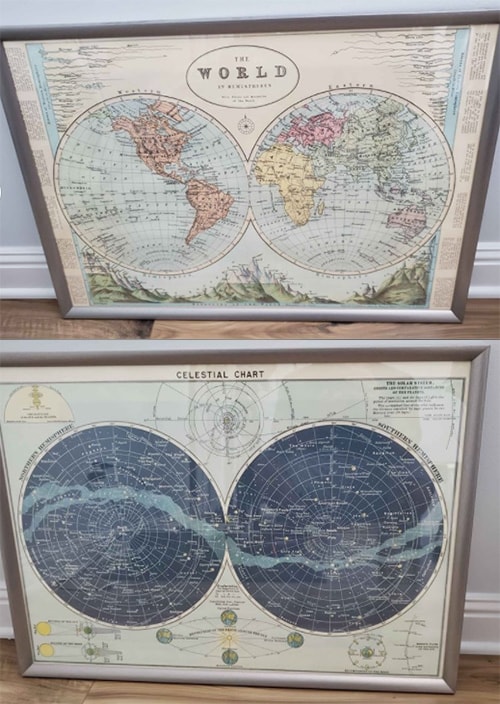 If you love vintage art and maps like I do, you might want to grab these! I'd make the frames gold and hang them as a set. Can't go wrong at that price (but still offer $15 first).
Antique wood sideboard – $195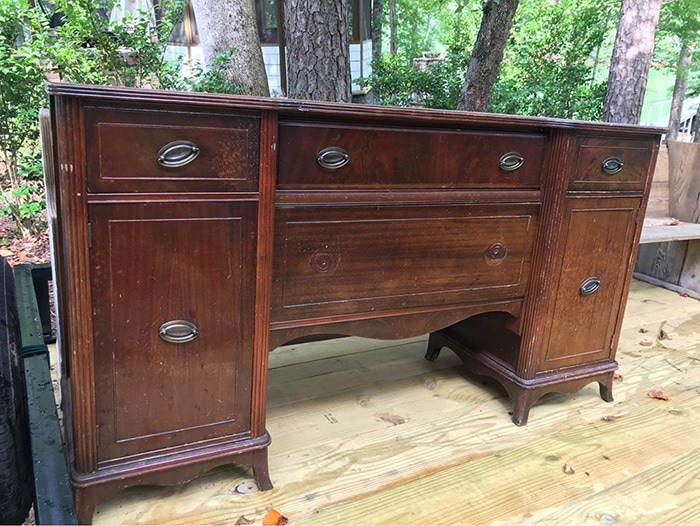 Not exactly a bargain (Atlanta, your antiques are pricey!) but this would be the perfect candidate for a one-of-a-kind bathroom vanity (you know I'm all about those). Double check the height first (ideally 30-34″), give it a fresh coat of paint and either keep/lacquer the existing top, or replace it with stone. Boom. I'd see if they'll take $150.
Carved wood platter – $10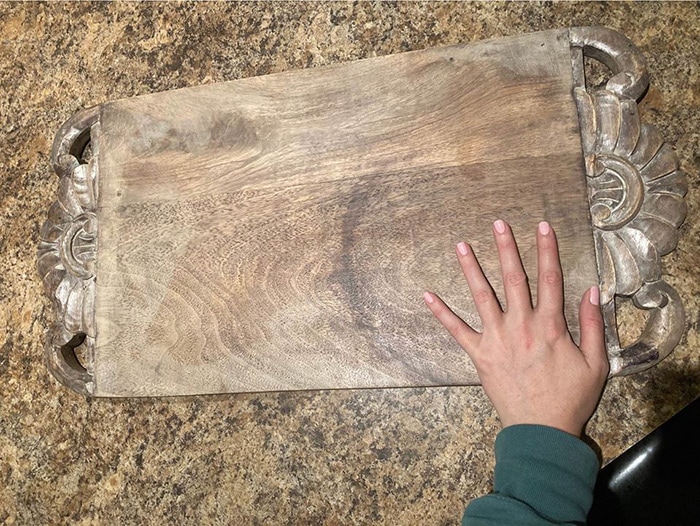 I can see this displayed on open kitchen shelving, on the counter or as a fun serving tray for parties. $10 is a bargain!
Wood storage chest – $15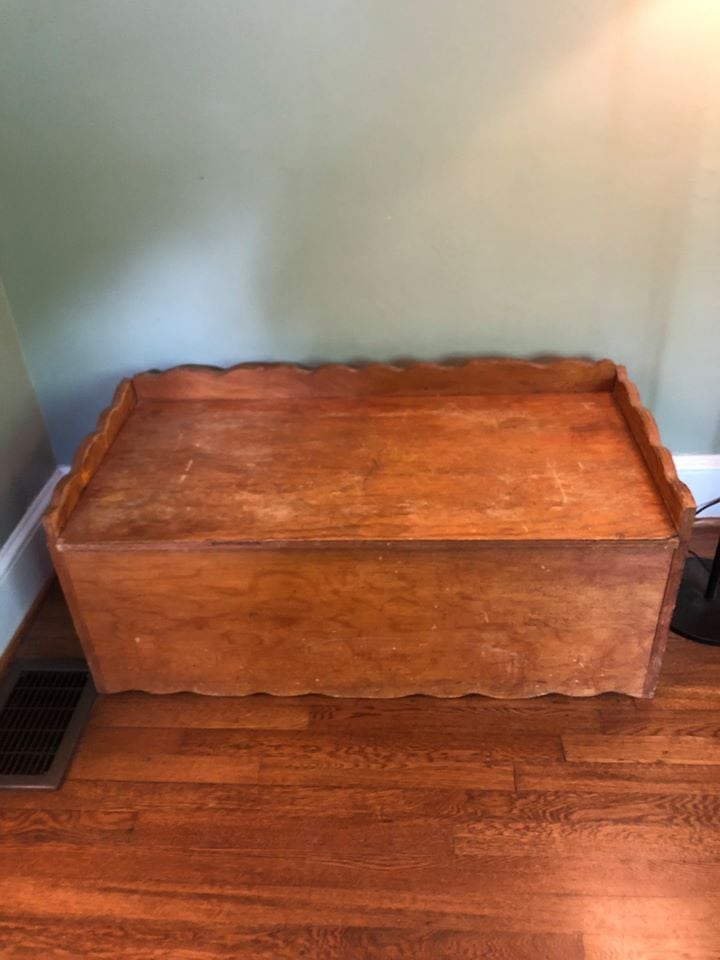 If you have a girl's nursery/bedroom, GET THIS now! It would be perfection with a little paint, a decorative appliqué on the front, and/or a cushion on top to turn it into a bench. Plus, functional toy storage. I'm a little obsessed with this little diamond in the rough.
Antique wood and mirror armoire – $250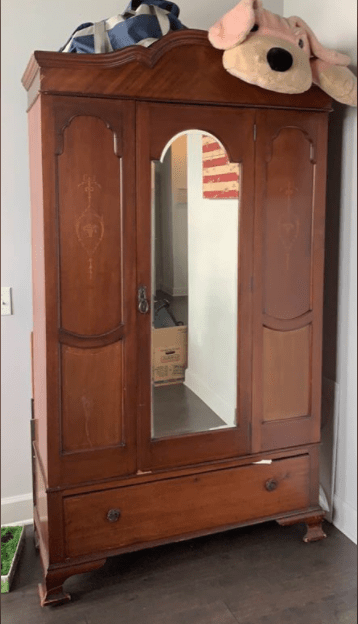 The price is a little steep for furniture flipping but what a beauty. We have something very similar in our bedroom (FB marketplace find) and it's one of my favorite pieces of furniture. I would paint it (gasp, I know) and keep it for myself. It has been listed for a month so you can definitely talk them down.
Narrow framed art – $10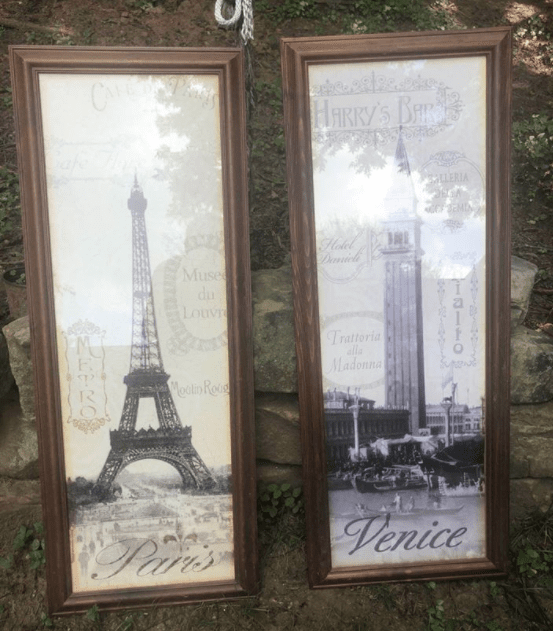 Obviously the art has to go, but these narrow frames are easily worth more than $10! Hang them horizontally with vintage photographs like Liz Marie.
Vintage framed art – $5
I'm not sure if these are still available, but she's practically giving them away at $5. These are really nice gold frames (one of them is huge!) and you don't have to do anything to them. Even the artwork is nice (though I'd swap out the mat on the first one).
Full size metal bed – $50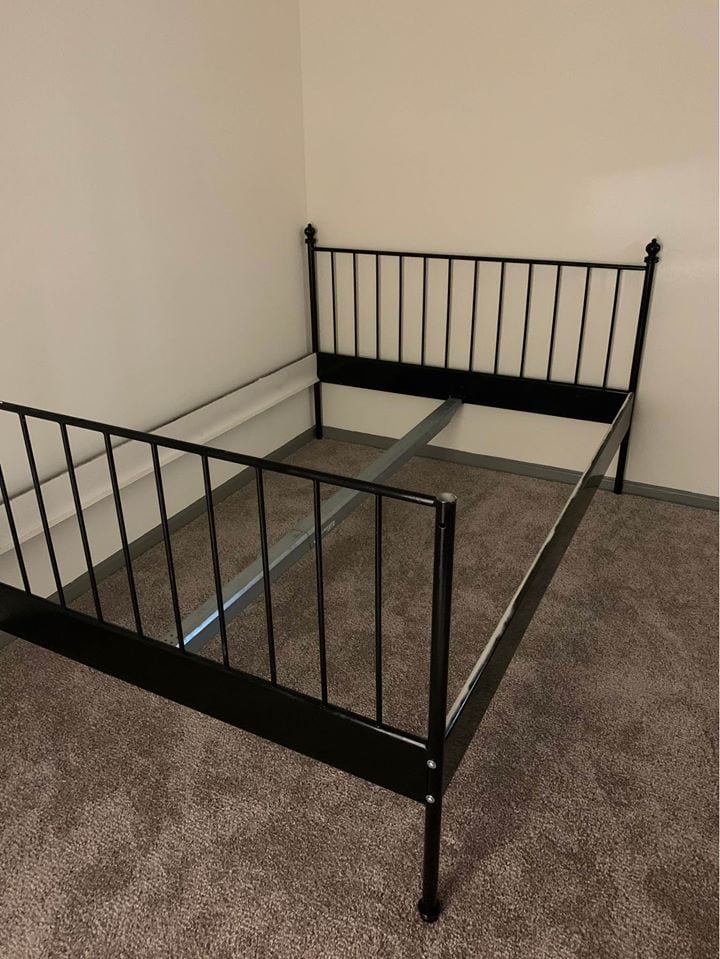 This is a nice, solid bed and it definitely won't last long at $50! Furniture flip alert (all you have to do is stage and take nice photos, and sell to the right audience).
Wood dresser – $100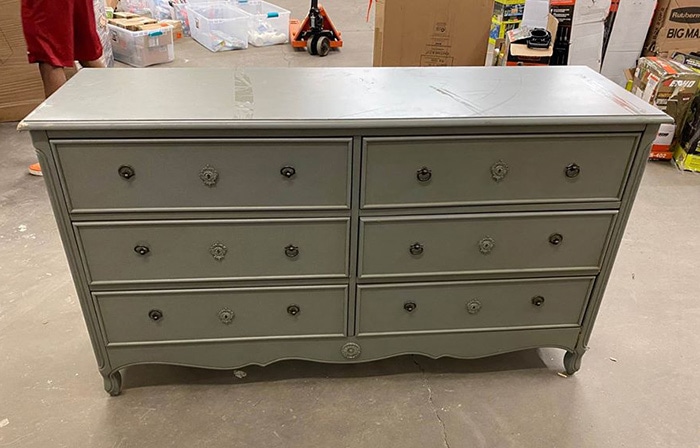 Here's another nice dresser that has the potential to be used as a double sink bathroom vanity (if it's the right height, not mentioned). The top has some damage so I'd swap it out for a stone counter for a unique piece that looks like it cost thousands.
Restoration Hardware candle holders – $35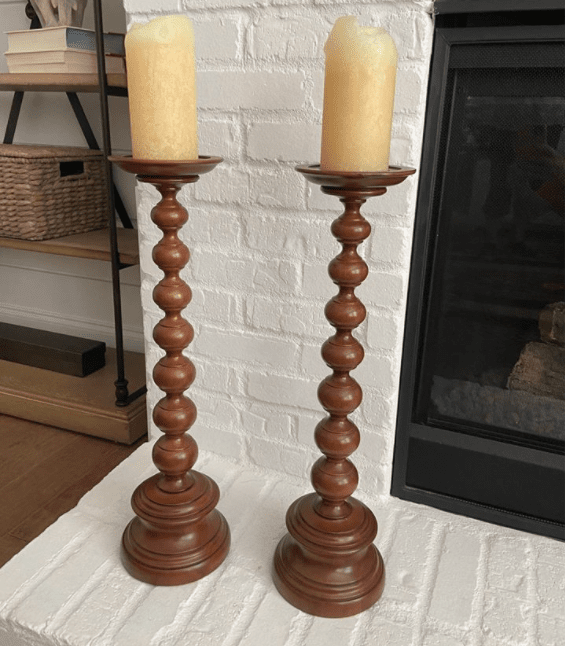 In need of new versatile fireplace/dresser decor? Here you go! You can keep them wood or paint them. Decor like this is usually harder to sell and this has been listed for a week, so you should be able to talk them down.
Wood dining table – $60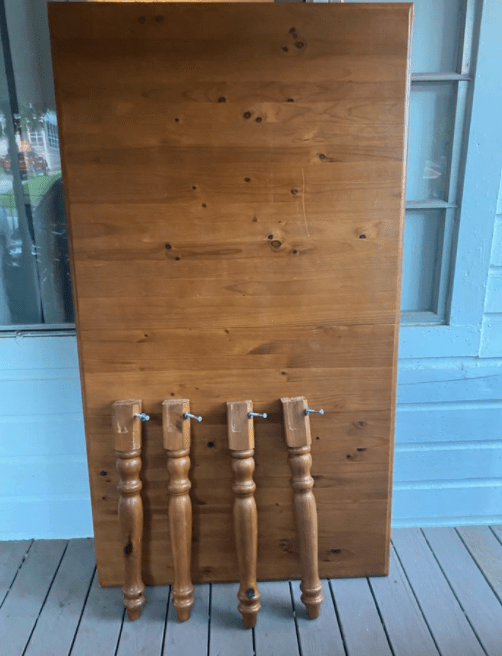 Want to copy my DIY kitchen island table? Here you go! This one is nice and big, too. You just need paint (or a good sanding/stain/sealer) and caster wheels.
Ethan Allen night stand – $?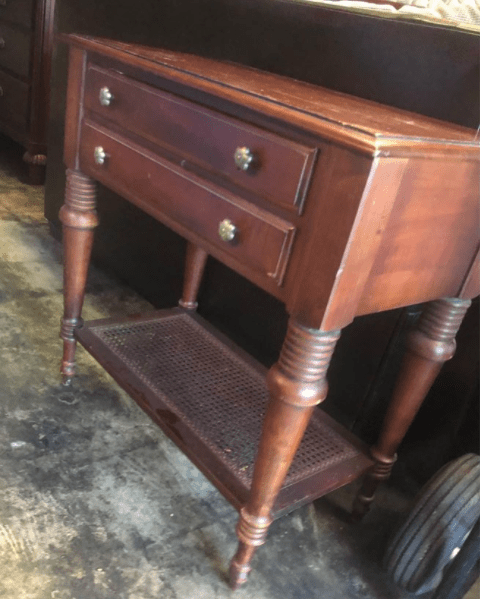 It appears there's one night stand being sold as a set with a dresser and mirror all for $170, but see if you can split it up because this night stand is everything! I'd paint it black.
Persian Rug Runner – $80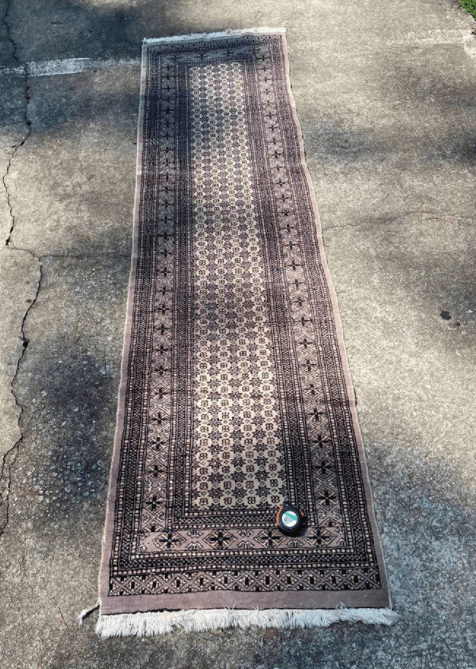 This one shows a little wear but wow what a beautiful rug. I'm not sure of the age, but I think $80 is a sweet deal (I'd still offer lower!)
Vintage chest – $70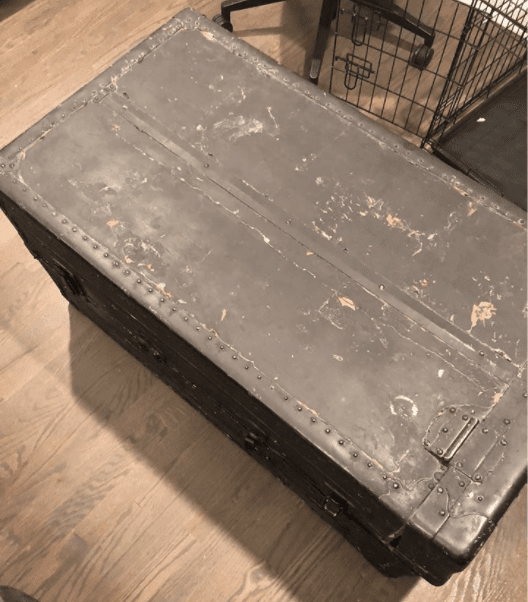 Everyone always asks where I find my vintage chests… well here you go! Use it as a coffee table, end table or night stand. $70 is pretty reasonable but maybe offer $50 and see what happens.
Pendant lights – $50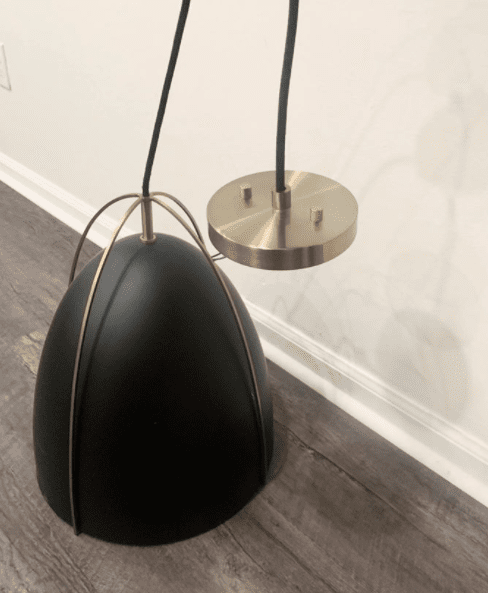 Available in both black and white, these pendant lights are new and retail for $170. This wouldn't be a furniture flip but you could score them for yourself!
LED Message light box – $10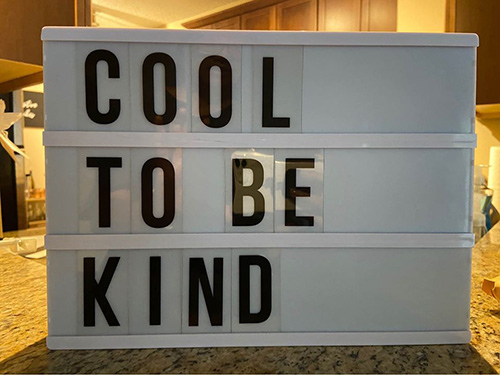 This would be really fun if your style is more eclectic… or give it to your kid, I'm sure they'd love it!
Savoy House Light – $75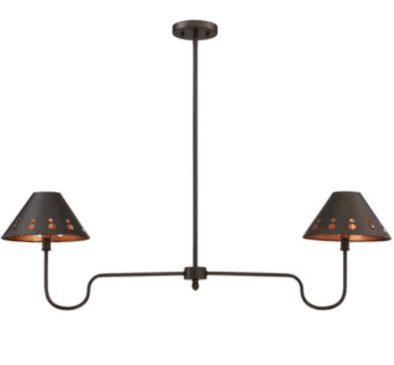 New in box, retails for over $200. Looks really high end. I'd see if they'll take $50.
Leather bar stools – $50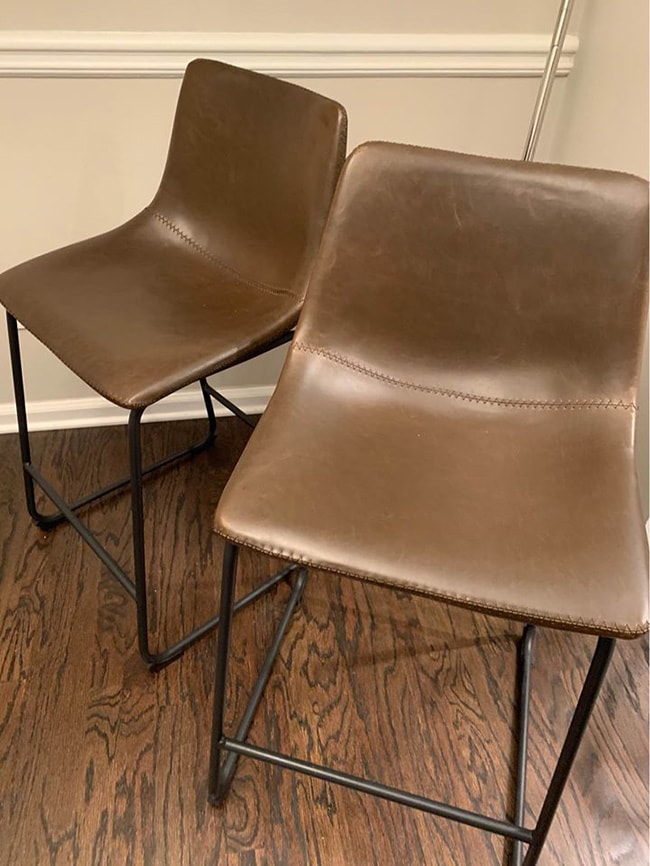 There's three available at $50/ea ($80 new) so not a bad deal if you're in the market.
Alrighty friends, that's about all I have time for tonight! Was this fun? I had fun! I'm on FB Marketplace all the time anyway so might as well bring some value to you guys. Let me know in the comments if you enjoyed it (I think it's fun to see what's out there even if you don't live in Atlanta) and we'll keep it going with another city in the near future.