This post is part of a paid collaboration with Lowe's Home Improvement. All opinions are my own.
It has been a while since I've shared an update on the Riverside Retreat kitchen (we've been a little distracted around here) but I'm happy to report that progress is being made! When we left off, the kitchen had been completely gutted…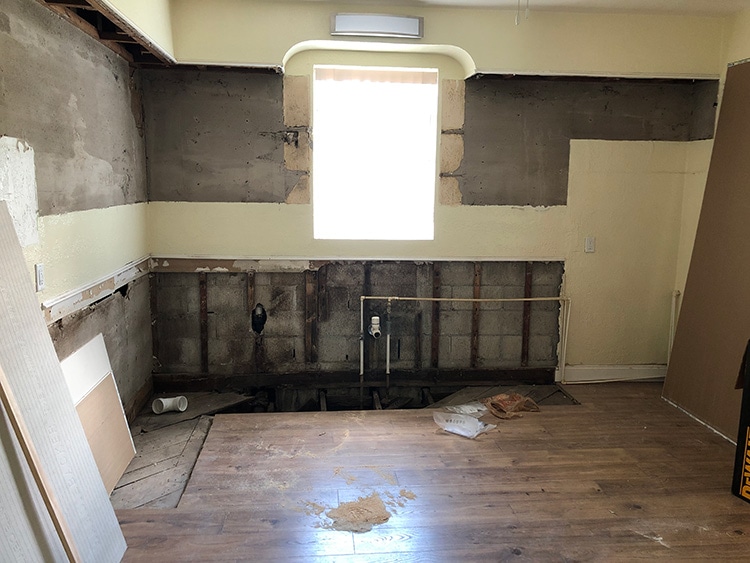 Last month we had a crew in there to finish demo, redo the plumbing, fix a few damaged joists and repair the subfloor, run new wiring for new outlets and recessed lighting, and install smooth drywall over the textured ceiling.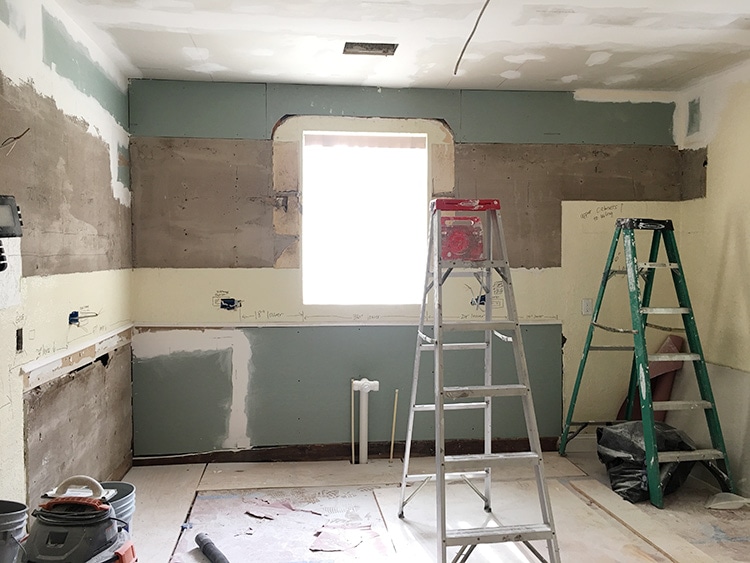 Then they assembled the cabinets, leaving the doors off of the lowers since those will be painted.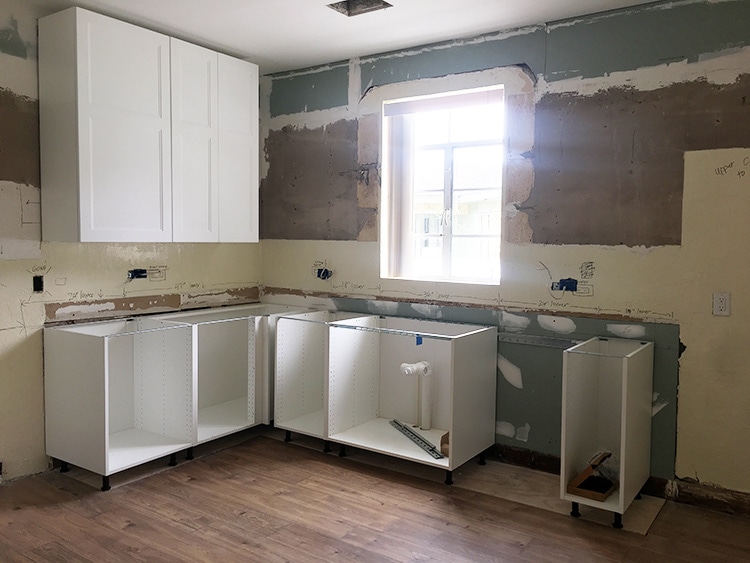 You can find more details about the cabinets we chose in the kitchen plans post.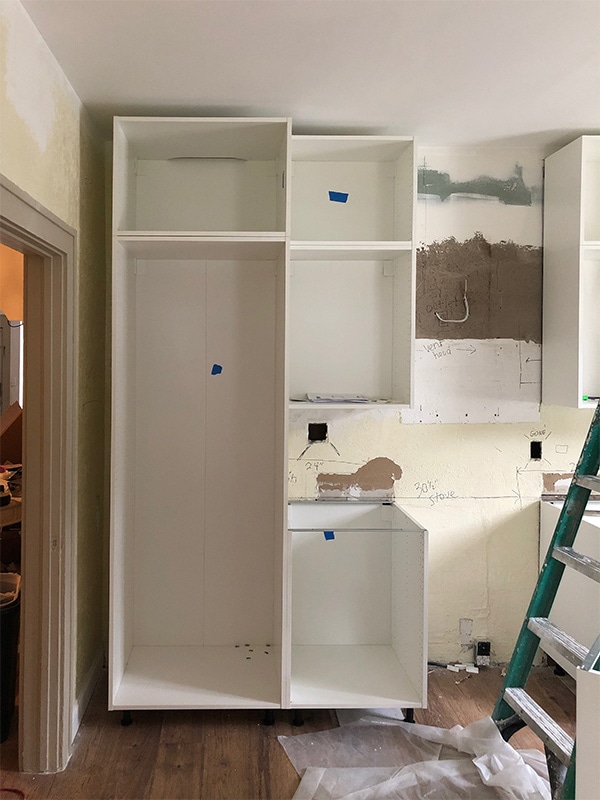 Now that the cabinet boxes are in place, Lucas has taken on the challenge of custom carpentry work to make everything look built-in. There's a lot that needs to go into it— including fridge panels, filler pieces, toe kicks, a custom hood, crown molding and decorative trim (not to mention sanding, priming and painting!)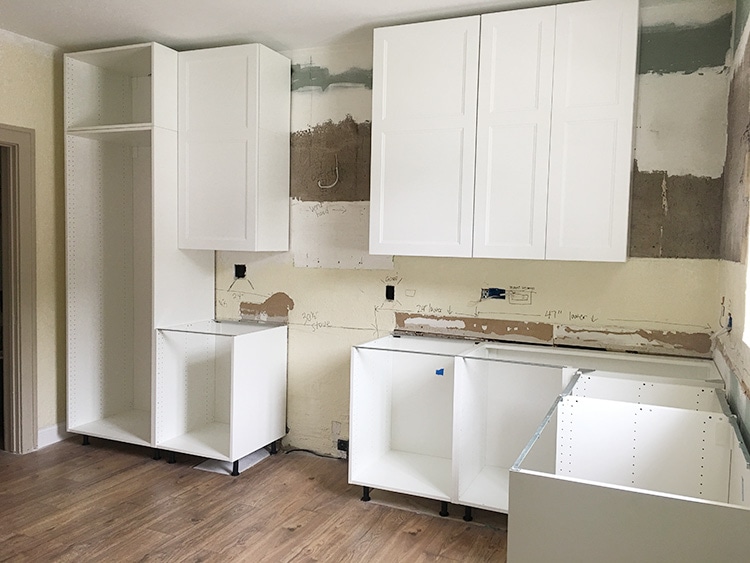 He'll be spending the next couple weeks there getting as much done as possible before going back to work. We're hoping to have the whole room finished by the end of October, but we're also allowing ourselves some flexibility because taking care of our newborn comes first!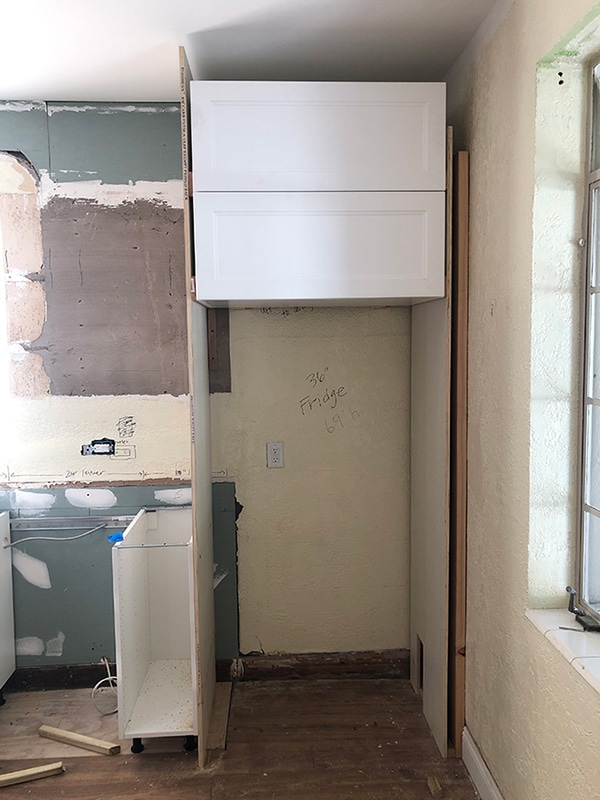 One of the most important decisions for this kitchen was choosing the appliances. In my last post I shared that I had decided on Whirlpool's Sunset Bronze line, and in this post I'll explain why I chose it along with a comparison of the other options I was considering.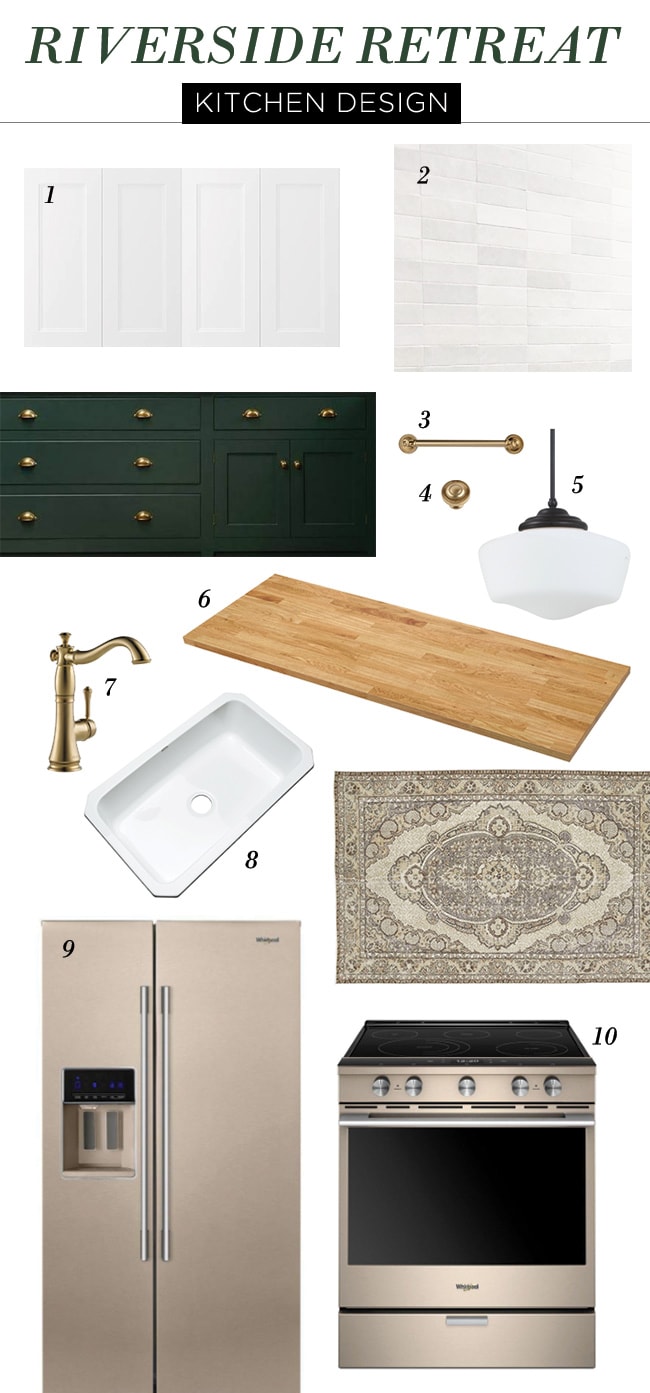 It's no secret that I'm 100% on board with the non-stainless appliance trend. I've been sold on it for years and couldn't wait to completely banish stainless in our Heights House kitchen. This kitchen was no exception, however it came with the caveat of a much smaller budget. Since this house will be a vacation rental and investment property, we have to be more frugal (and creative) with our renovation dollars while still making sure each room feels fresh, timeless and unique.
Choosing appliances in general can feel overwhelming, especially today when there are more non-stainless options than ever before (finally!)—so I've rounded up my favorite colored appliance sets available at Lowe's to help narrow down your search. Heads up: everything is on sale right now!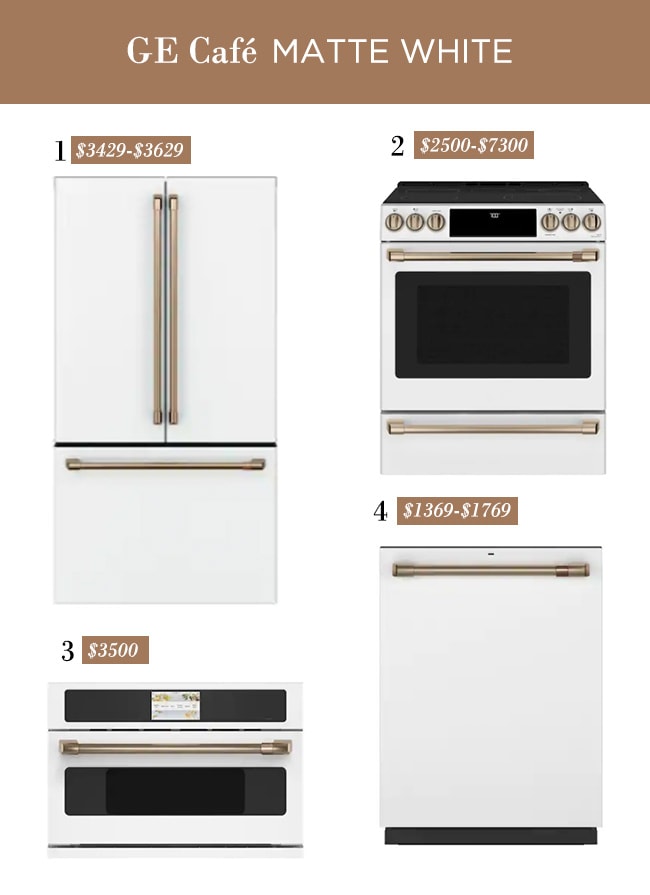 I'm sure you've all seen these pop up in your Instagram/Pinterest feed over the past year, and for good reason. They're drop dead gorgeous, you can customize the hardware, and they're made by a trusted name and innovator in the space for over 125 years.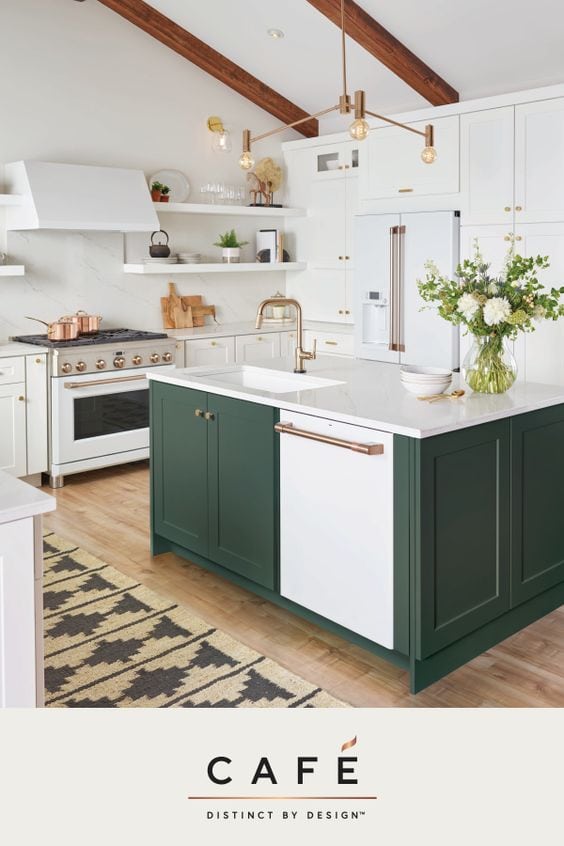 The GE Café is a complete line of coordinating appliances including refrigerators, dishwashers, wall ovens, microwaves, dishwashers, ranges and range hoods. The styling is both clean and modern but with a nod to vintage details as well—they really look beautiful in any kitchen.
From what I've read and seen online, the consumer ratings are positive and they seem to be a solid investment. You can customize the hardware which is a unique feature to this line, and a major selling point if you're particular about finishes like I am. When it comes to appliances, you'll come across strong opinions/experiences on both sides no matter the brand, so it's important to do your own research on the specific model before purchasing.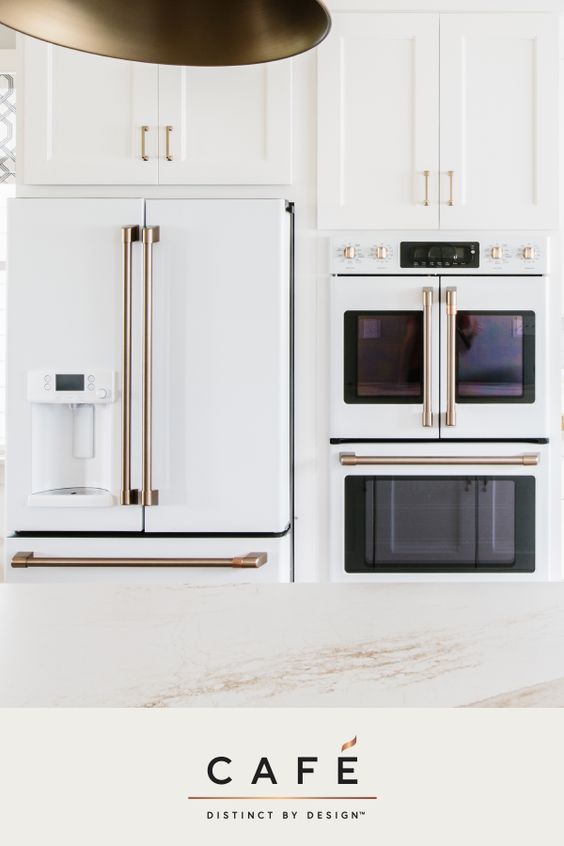 If money were no object, I'd get these in a heartbeat (and I certainly wouldn't hesitate if it were my own home—I did even consider going this route at the Heights House for a minute). For this lower budget kitchen remodel I can't justify the added expense, but I'd strongly recommend considering these for your own kitchen if you can swing the cost. You can view the full GE Café line at Lowe's here.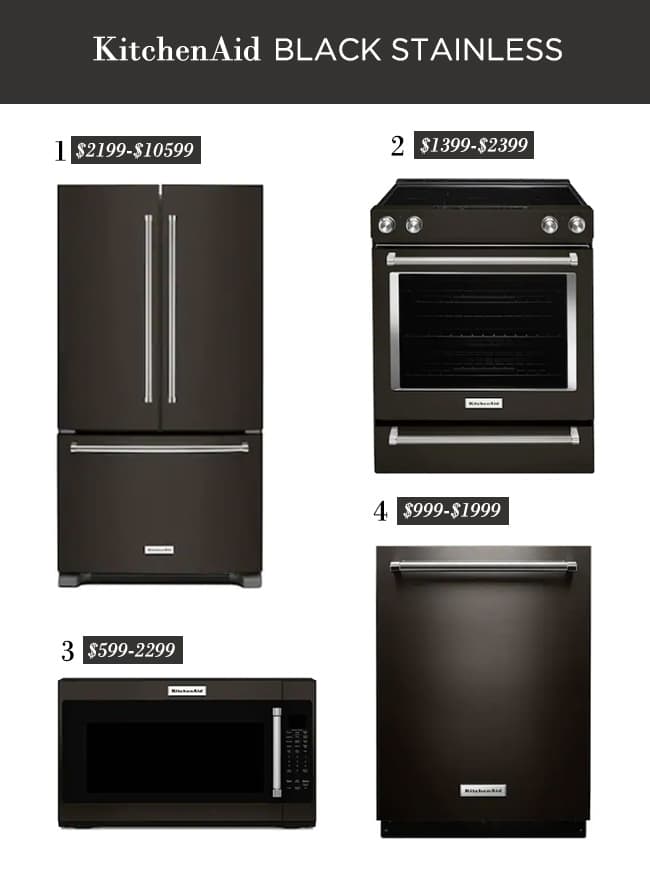 Next up is the striking KitchenAid Black Stainless suite. This is the most comprehensive line, offering the widest range of refrigerators, plenty of dishwasher options and several range and oven configurations. The design is actually very similar to the GE Café collection, but it has a fingerprint-resistant metallic black sheen rather than a matte finish.
I highly recommend going to see the appliances in person first, but that's not always possible, especially with these specialty colors. Fortunately, there's plenty of photos online which is also a great way to help you visualize them next to different cabinet colors and styles (and don't forget to look through the ratings/reviews section for customer photos as well!)
If I had black cabinets, I'd definitely look into this suite as an option. It's a more affordable alternative to the GE Café line, and there's a wider selection to choose from. We also love the KitchenAid fridge in our Heights House and wouldn't hesitate to order from this brand again. Check out the full line at Lowe's here.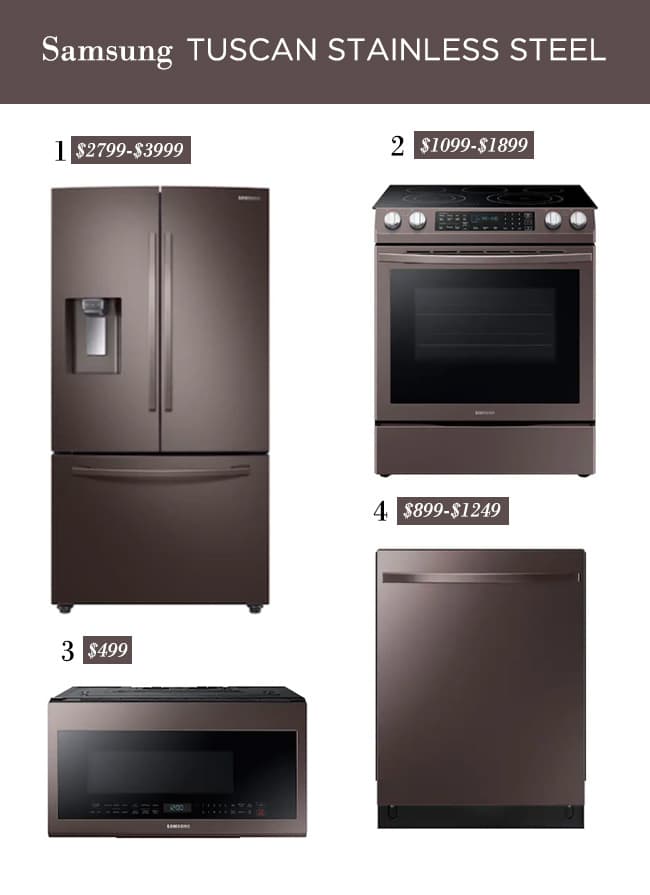 This appliance suite popped up onto my radar when browsing the non-stainless options at Lowe's. I was immediately drawn to the rich bronze color and began researching more.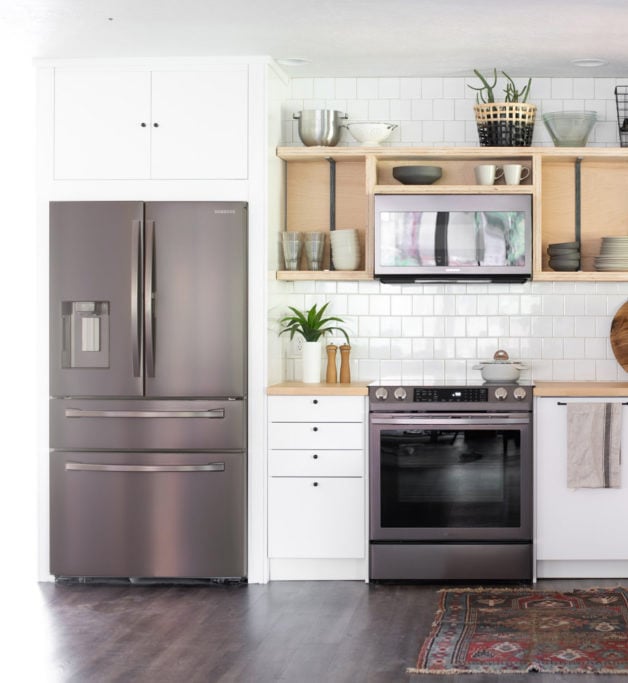 The Tuscan Stainless Steel finish doesn't offer quite as many options as the other brands and it's certainly not as popular, but I was able to find one "real-life" kitchen example via Mandy at Vintage Revivals. The color is very unique and the metallic sheen does change quite a bit in different lighting.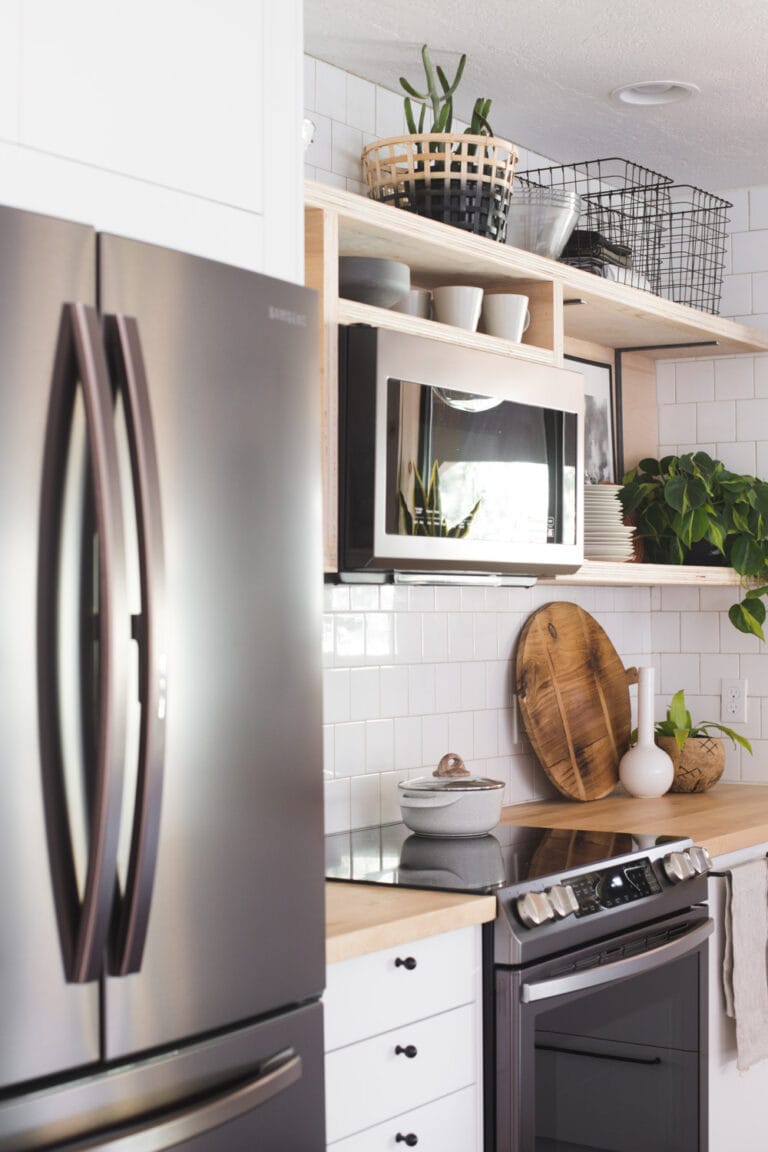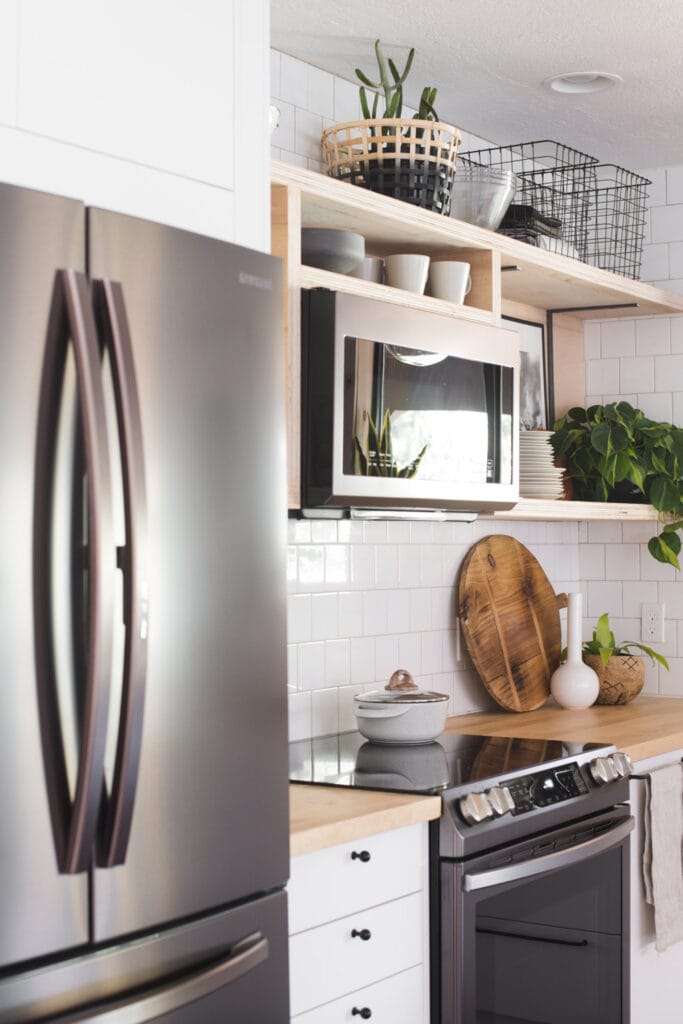 Samsung also offers the Family Hub smart technology with a built-in refrigerator screen, if that's something that interests you. The customer reviews are solid across the board for this line, making it a worthy candidate to consider. For my kitchen, the price point was a little too high, but if you're in the market for something bronze, there's nothing else out there quite like it!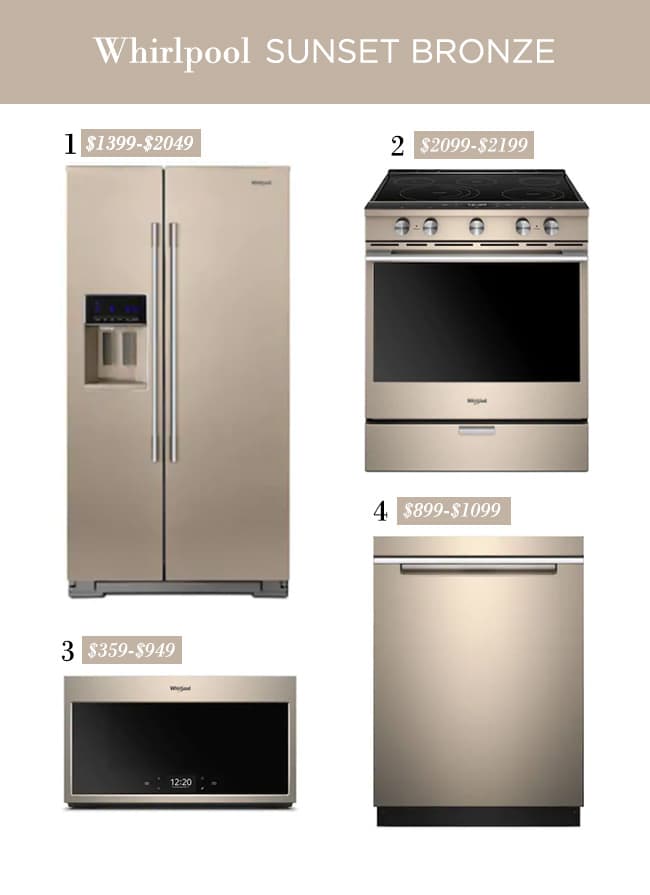 Finally, we have Whirlpool's Sunset Bronze suite (and what I ultimately chose for our kitchen!) In the end, the final decision came down to price (this was the most affordable counter-depth refrigerator option) but all else being equal, I was most drawn to the elegant champagne color. I think it will be a nice compliment to the gold hardware and add warmth to the room.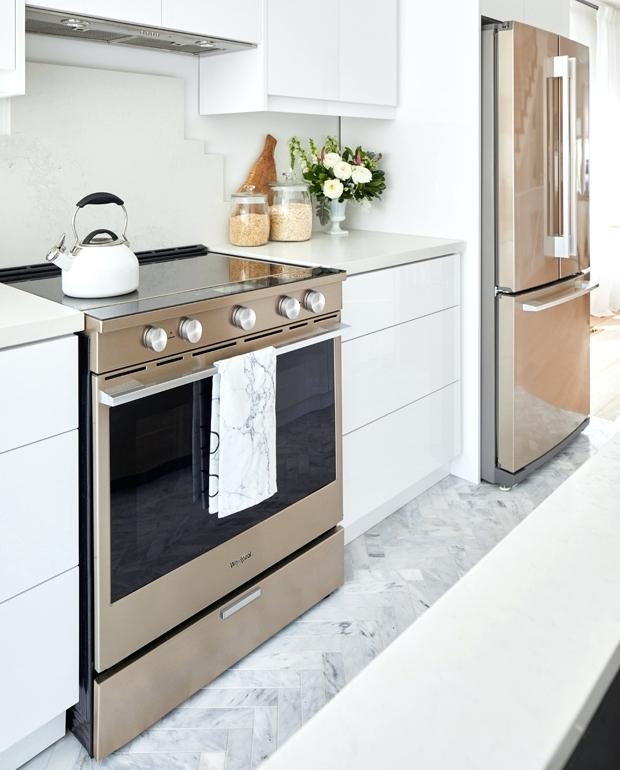 With this being a relatively new color launch, I had a difficult time locating many real life examples online to get a true idea of the color. From what I did find, there was quite a bit of color variation and I think a lot of it had to do with the surrounding room and what was reflected in the metal. Fortunately, I found these great shots from Jo Alcorn's kitchen reveal which sealed the deal.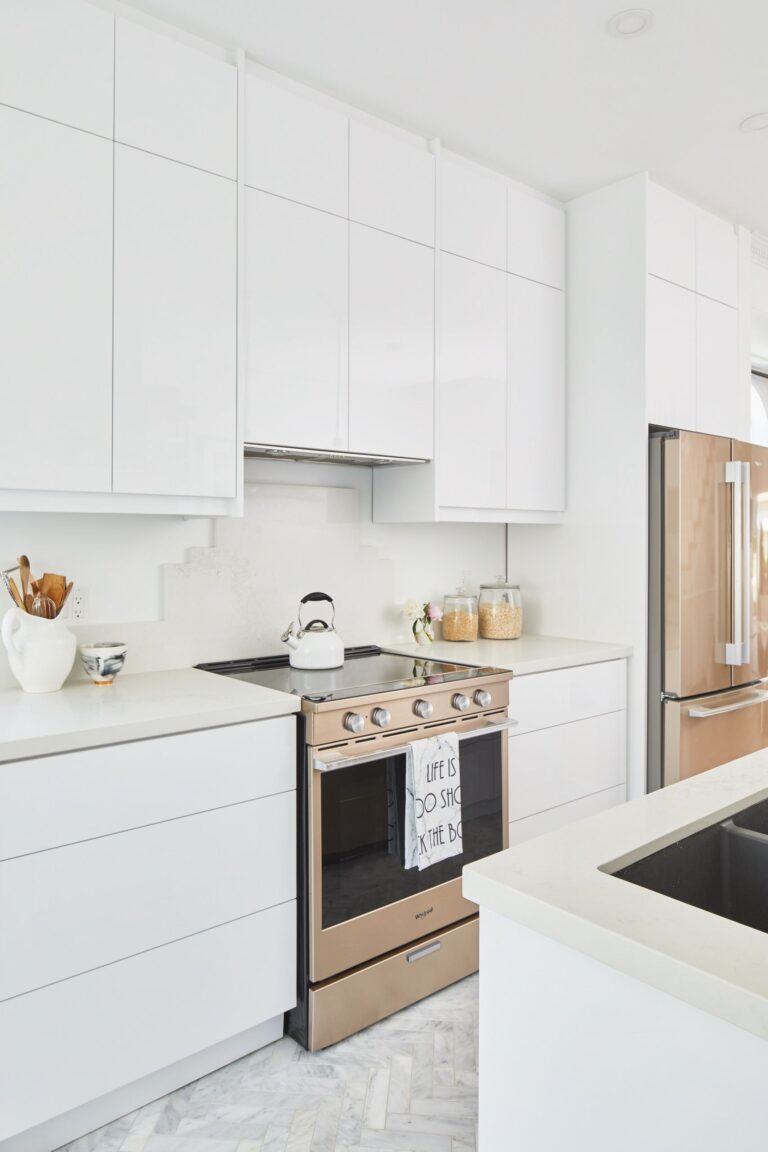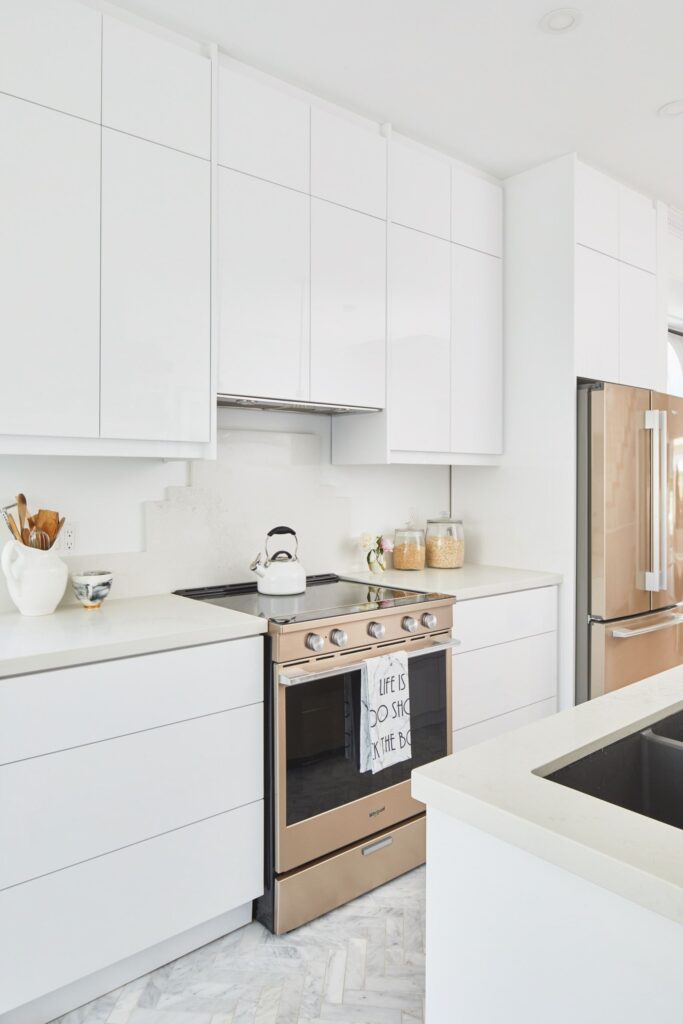 The Sunset Bronze line isn't as extensive as the GE or KitchenAid offerings, but all I needed was a counter-depth fridge and slide-in electric range. Bonus: the finish is fingerprint resistant (great for a rental) and the range has Wifi enabled smart technology—not sure if we'll ever use that but it's a nice feature to have! The 20.5-cu ft counter-depth fridge I chose has a smaller footprint which is suited for our modest sized kitchen, and practical for a short term rental where there won't be a ton of cooking.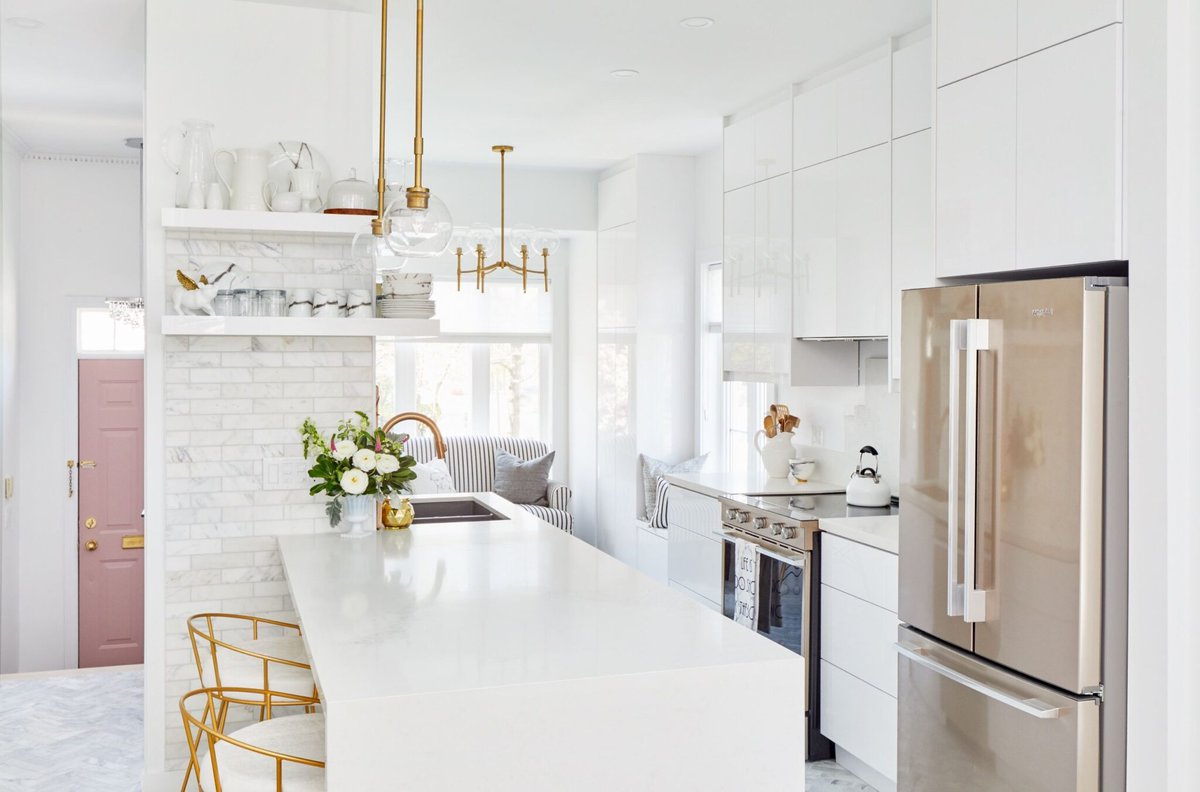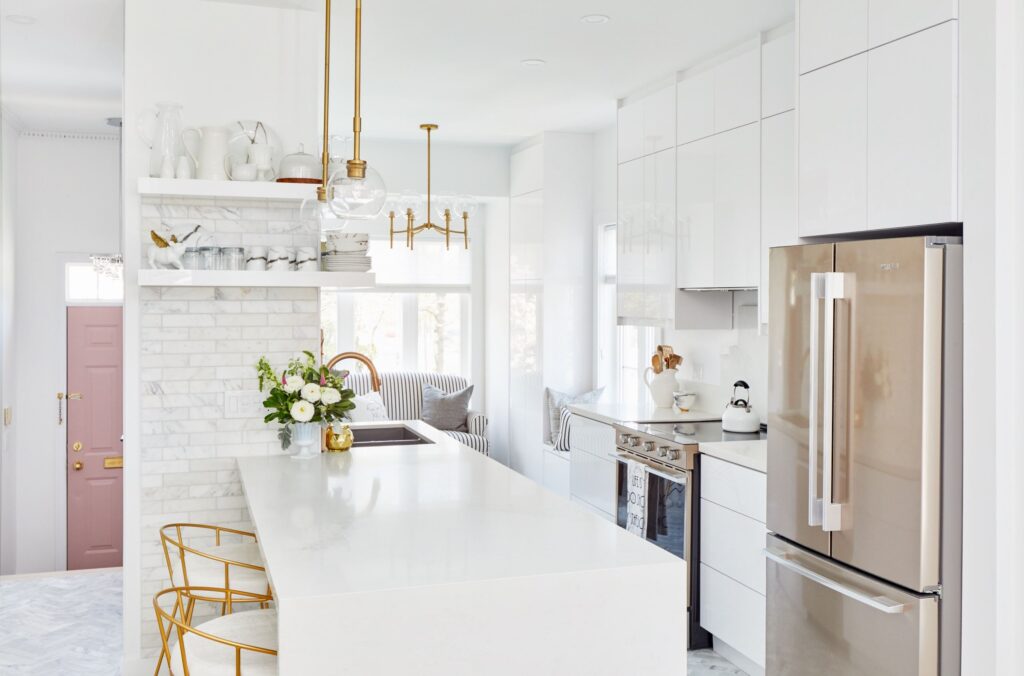 In my extensive search for actual photos of the Sunset Bronze, I came across this YouTube review along with a YouTube video of Jo Alcorn's kitchen reveal. From what I've seen and read online, I feel confident that these appliances are the right choice for this kitchen remodel and I can't wait to see them in person!
I hope this post was helpful to those of you on the hunt for non-stainless steel appliance alternatives at a range of price points. It's a major decision that should be planned out during the initial design stage, right alongside your cabinet color and style.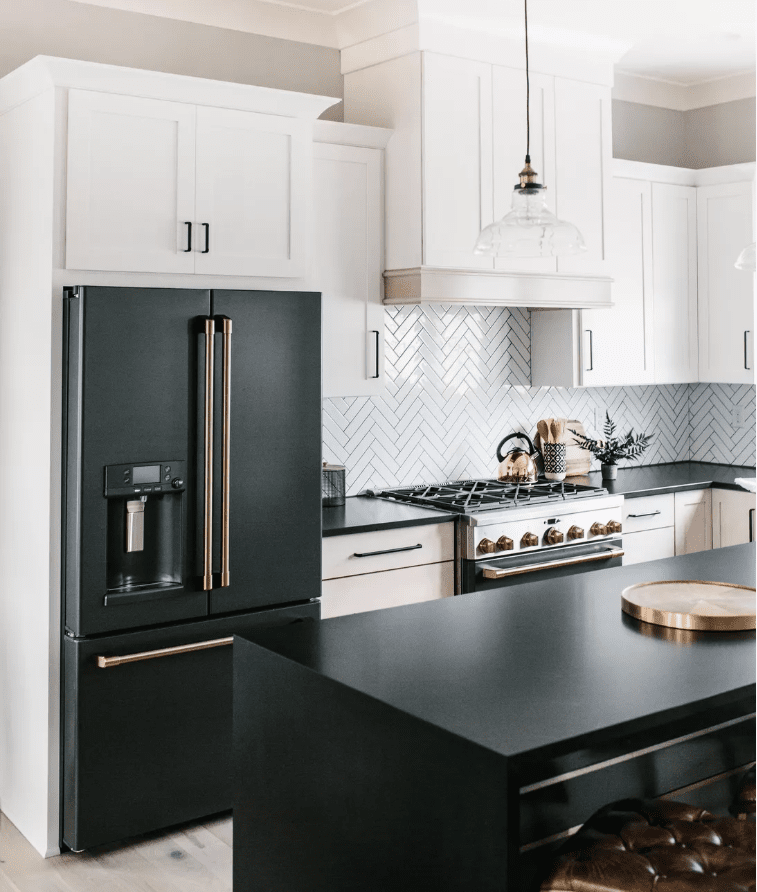 Keep in mind that you certainly don't have to go out and purchase a full set of matching appliances! I personally prefer to keep their visual presence limited in kitchens (we're using a panel-ready dishwasher to blend in with the cabinets) but those can be quite costly. I'd recommend matching at least the primary color and finish of your main appliances so they look cohesive. Smaller items like the microwave can be hidden behind a cabinet/pantry or in an island, so that can be one way to save on costs if you don't have the budget or need to replace everything at once. Matching your cabinet color to your appliances is another way to help them blend in without interrupting the flow of the room.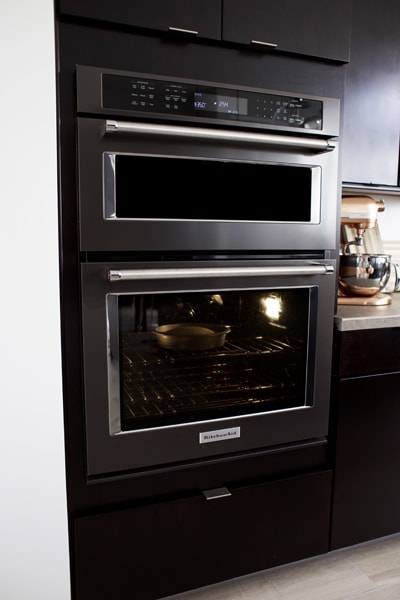 Have you ever purchased or considered colored appliances? Do you think stainless steel has ended its reign as the status quo in kitchen remodels? I'm hoping more manufacturers get on board with these new looks and start offering them at affordable price points—can you imagine the design possibilities with a full range of color coordinated customizable appliances? Raise your hand if you agree (and help me DM every major appliance brand to tell them what the people want!)
If you're hosting for the holidays this year and looking to update your appliances, now is a good time to start planning so you're all set before the big rush (how is it only 12 days until October?!) Keep in mind that Lowe's can take care of the installation and hauling away your old appliances so you have one less thing to worry about!
Our new Sunset Bronze fridge and range are scheduled to arrive 10/1, and I'll be sure to share updates in my Instagram stories ASAP. Join me over there to watch the kitchen progress over the next month…