I was going to post this past weekend, but I was here instead…
We road tripped to a little beach town on the Florida panhandle called Destin. I thought I had been transported to the Caribbean… I was blown away. Absolutely love this place.
Anyway, back to where we left off.
Let's rewind to phase 1: More desk space in my office.
In the past year I've quickly outgrown my double Ikea desk setup, as evidenced by the piles of boxes and equipment:
Lots of wasted space and a huge lack of a work area. After some brainstorming, I had a lightbulb moment and figured I could just shift the desks to the right and add another one against the right wall to form an L shape. Luckily, it fit perfectly under my map!
Gotta love those cheap & easy solutions. I could still use another 2-3 of these desks in a perfect world, but this is 100 times better than before.
Because everything shifted a couple feet to the right, I had this empty space between my computer desk and the wall that I had to put to use.
What I really needed was a place to hang my stuff, as the floor had become a collecting area for purses/flip flops/blankets/sweaters. So I scoured the aisles of Hobby Lobby looking for inspiration, and found it:
Okay—so the JS is more decorative than functional. I was trying to figure out how to incorporate them into a coat hook somehow, but decided they'd be better off just painted a fun color to add some dimension and personalization to the space.
I also scored this large woven basket for half off ($12!):
Into the spray chamber they went (along with my key holder template from my last post)
Once dried, I taped off the sides and sprayed the face of the letters with a coat of Valspar's Exotic Sea (leftover from my Target sunroom table). All it took was a bit of double sided sticky foam tape and they were on the wall. I then centered my hooks below them and secured them into the wall with walldog screws, and I had myself a purse hanging area:
I love how it matches my binder labels and file folders.
And my basket fits in the space perfectly.
Yay for functionality!
Here's the wide angle of everything: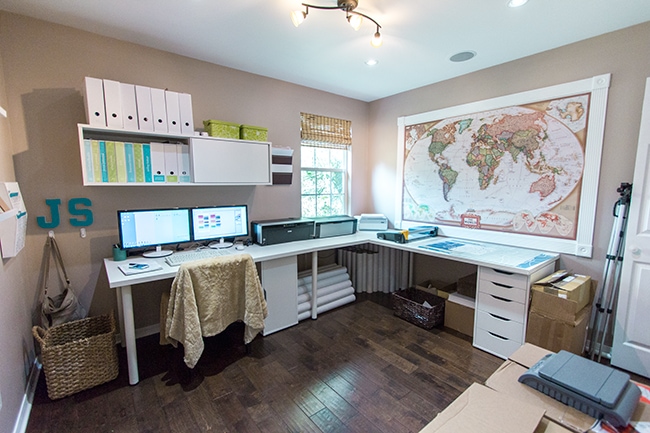 But I'm not done yet.
There's something that is just not working for me… can you guess what it is?
Here, I'll narrow it down a bit…
If you guessed the two big boxes being used as a cabinet, you would be correct.
But I've got the perfect solution…
Of course, this won't look anything like its current state next time you see it. I'm taking a break from my typical paint it blue/white and distress it procedure and trying something new. Without giving too much away: it involves wallpaper.
With that said, I'm anxious to get started so I'm signing off to go grab my supplies. Tune in next time for the reveal 🙂