Last week while we were hard at work planking and painting the studio, the cabinet guys were installing our new cabinets!
I talked a bit about our kitchen design back in November—you can read about how we decided and planned it all out in this post.
Here's a quick recap: it was between Ikea and Lowe's. We originally figured Lowe's would be way too expensive, but after all of the sales/rebates and the fact that they would do everything for us, eliminating most of the headaches and reducing our timeline, we decided it was worth paying more (maybe if Ikea was a lot closer we would have reconsidered…)
Their 3d drawings were fun.
Back to the install…
It took two guys around 10 hours or so (over two days).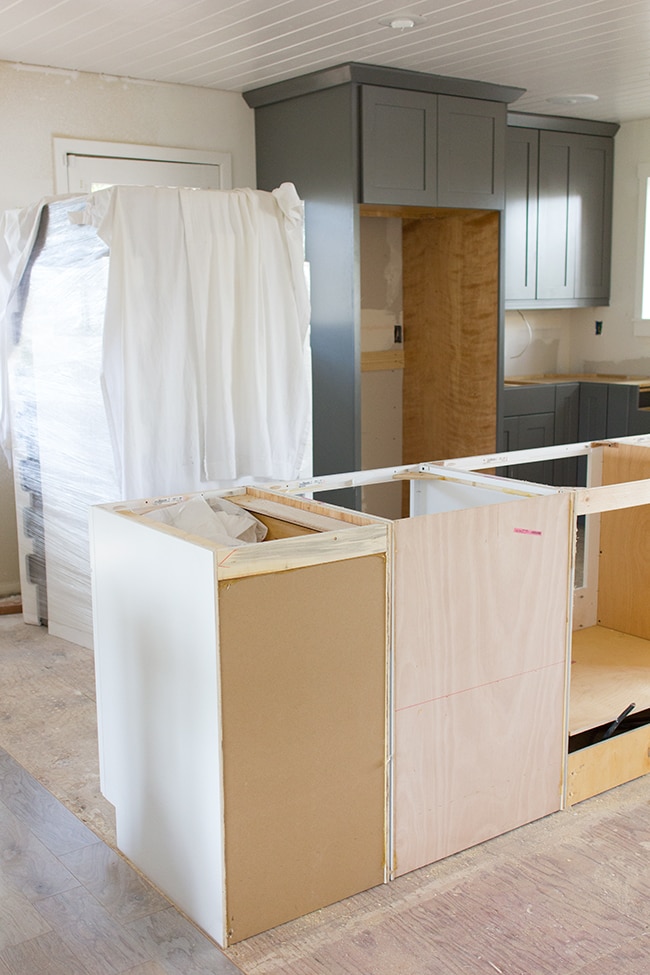 Pin
We love it.
And then the floors went in!
Remember my first post about the floors and how we were disappointed to discover that a ton of it was unusable? Well, unfortunately there was so much waste that we had to buy six more boxes to complete the kitchen. We called them up and they agreed to send the replacements at no cost, we just had to pay the shipping charge of $170. Still worth it.
Check out this bad boy!
I'm going to have so much fun organizing it.
We bought all of our appliances at Lowe's on Black Friday, with the exception of this microwave we found on Amazon:
I plan on building a shallow shelf for it to sit on so there's no gap.
Here it is in the island—the oven and cooktop will be in the gap to the left.
The oven opening is actually too small and needs to be cut to fit our oven—we didn't know this until our electrician went to install it last Friday, so now we're going back and forth with Lowe's to try and get it resolved. Hopefully it's taken care of before we move in Saturday!
Just to the left of the oven is one of my favorite parts…
I've always wanted a slide out garbage—I feel so grown up now.
This knife block is awesome too. My cutlery drawer is always a mess… not anymore!
Here's where the sink and dishwasher will sit. The counters will need to be installed (~2 weeks) before they can go in.
And speaking of the sink… Brad wanted to use the free stainless steel one that came with the counters, but I protested for a farmhouse sink.
And I won.
It was definitely a big splurge at over $400 (still cheap for a farmhouse) but I totally would have regretted not going for it. And I need to break up all the stainless steel.
I'm looking forward to filling these deep drawer
s… we're going to need to buy more cookware!
We had to fill a small gap between the sink and corner cabinets, and this pull-out spice rack was the perfect fit:
Unpacking this kitchen might actually be enjoyable… imagine that. I'll be sure to follow up after everything is all put away and organized!
I've already picked out our door hardware, now I just need to order it before I get caught up in the million other things we have to do and forget.
A review of our Ikea trip coming up next…