We've been busy bees in the last week! Let's talk about where we're at now… starting from where we left off last week:
Right after that post went up, so did our mantel…
Unfortunately, and I didn't realize this until it went up, but the wood isn't perfectly straight. It a little twisted which means one side isn't exactly level…
See how it angles upwards? It bums me out but unfortunately at this point there's nothing I can do—short of driving back to the lumber yard, attempting to find a perfectly straight chunk of wood (does that even exist?) spending another $70, refinishing it and pushing back our timeline. Not going to happen, so we'll embrace the imperfection by chalking it up to being more rustic. There ya go.
The TV will be sitting on this and we realized our tv base is wider than we thought, so we had to extend the mantel by adding a few inches to the back of it (which our handyman secured with huge lag bolts). This will all be hidden by the framing and stone.
Here's a shot from the bottom:
Still figuring out how I'm going to hide the side where the bare wood is… either wood putty to blend the two and stain or veneer.
After the mantel was in, the framing went up (using 2×4's):
Then Brad ran some cables to where the TV will be.
I asked him to give a writeup of what he did in case anyone is curious (I could never explain it):
Clear as mud? Great, lol. Moving along…
For our ceiling, I found a painter at the last minute and explained to him our situation with the pine knots bleeding through despite using shellac based primer. He decided to use something called PVA Primer which is used to seal porous surfaces (drywall) and apparently contains a plastic-like quality that should block the tannin from bleeding through.
The painters sprayed a couple coats of the PVA primer followed by two coats of paint (Kelly Moore's Swiss Coffee in a low sheen)…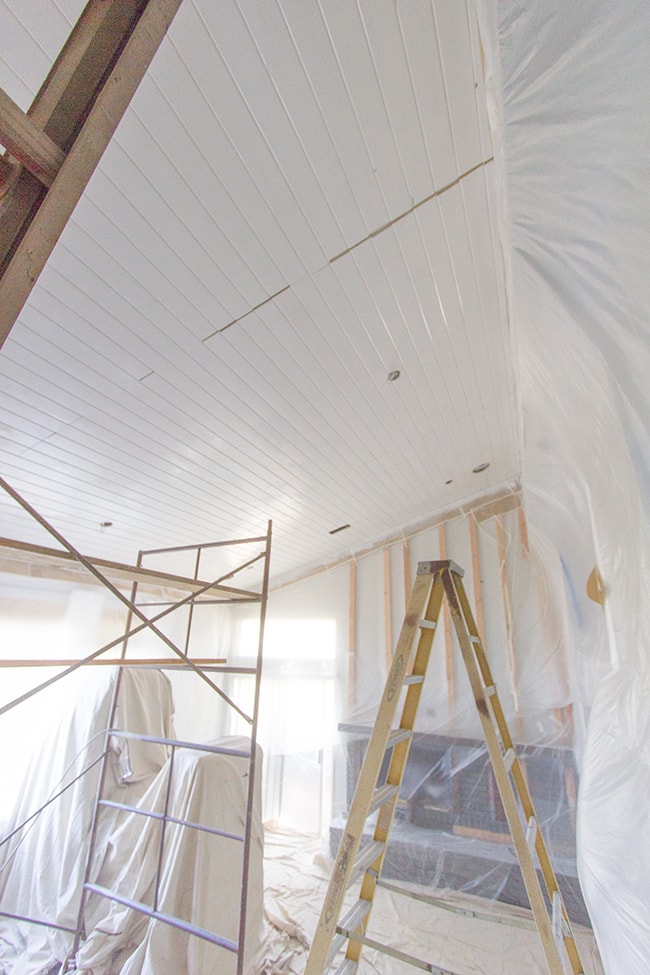 Don't forget, the beams will hide the ceiling seams.
The ceiling looks great but I'm still not convinced about the knot bleed through. We'll find out soon enough, I guess.
After the paint was dry, Brad got up into the attic and finished wiring the lights and speakers.
It sounds so good in there! Now we can have music playing in every room. Fun stuff.
And the lights….
Lighting is one of the most important aspects of design. Don't neglect it!
We have six on the ceiling and three along the soffit. They're warm LED bulbs on a dimmer so we can change the mood with one touch of a button.
Here they are on the lowest setting. Kinda hard to tell from the photos but we love being able to control the mood.
While all of this was going on, I was giving our sideboard a little makeover…
I know not everyone agrees with me on this, but I've lived with it for a while now and it just wasn't working out. Something about the glass bothered me and I just don't like lacquered furniture. It also wasn't some expensive rare piece in perfect condition so it's not like I am modifying anything super valuable.
Why keep something around if you don't love it, right? No harm in switching things up to suit my needs.
I started by removing the glass which was held in by thin pieces of wood… super easy to remove:
Here's what we were working with after removing the shelf:
It was brought outside for sanding. I used 80 grit paper (on my mouse—best sander ever):
The sanded areas look lighter because of the dust but it's darker once you wipe it down. I spent a few days on this… sanding is a lot of work! Especially when there's a lot of little details.
I didn't know exactly how I wanted to finish it, but it started looking a lot like my au naturale dresser I recently made over in our master bedroom…
And I loved the way that turned out, so I decided to do the same for this one. That means no poly, no wax, just wipe it down and it's good to go.
I may very well change my mind in the future and add a coat of wax to it if I feel it needs it, but I'm digging the raw wood look.
These inspiration photos for the doors pretty much sealed the deal on chicken wire:
Don't you just love these? I have no chicken wire in my house and it's about time. Luckily, my dad had a roll leftover from his coop and gave it to me…
I didn't have any specially designated wire clippers, so I used workman's pliers and soldiered through it:
It's not the most fun material to work with.
Starting at the top, I used my hand stapler to secure them in place, working my way around the perimeter.
Many times the staples didn't secure completely against the wire so I had to hammer them down. Soon after, I had this:
I like how subtle it is. It's not in your face chicken wire.
Repeat on the other side, and this sideboard is (almost) done!
One of the knobs was missing when I bought is so I still need to find replacements. It's times like these when I miss living near a Hobby Lobby.
I was going to fill it back up and shoot it all finished and styled, but then I started to pull out my fall decorations and decided to rearrange everything, so that's worthy of it's own post. I should have a post ready Monday. I promise, it looks a lot more exciting now than it does empty!