Day 149-150: Athens
If there were a heaven on earth, it would surely have been created by the Greek Gods. Turns out this place does exist, and it can be found in the islands of Greece.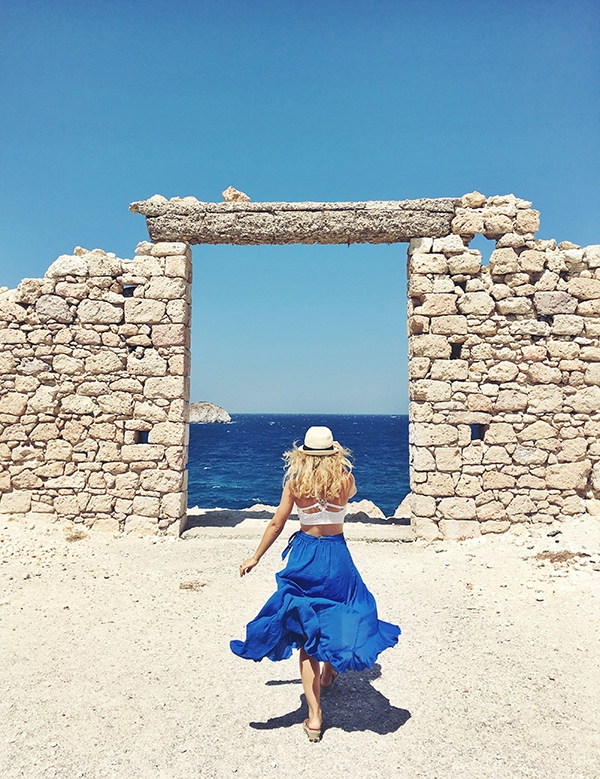 Pin
We landed in Athens after a short flight from Malta, where we planned to stay just a couple nights before catching a ferry to Milos.
With Greece's capital city so deeply rooted in history, I expected it to be more along the lines of Rome—rich in culture with an abundance of ruins, museums and sightseers.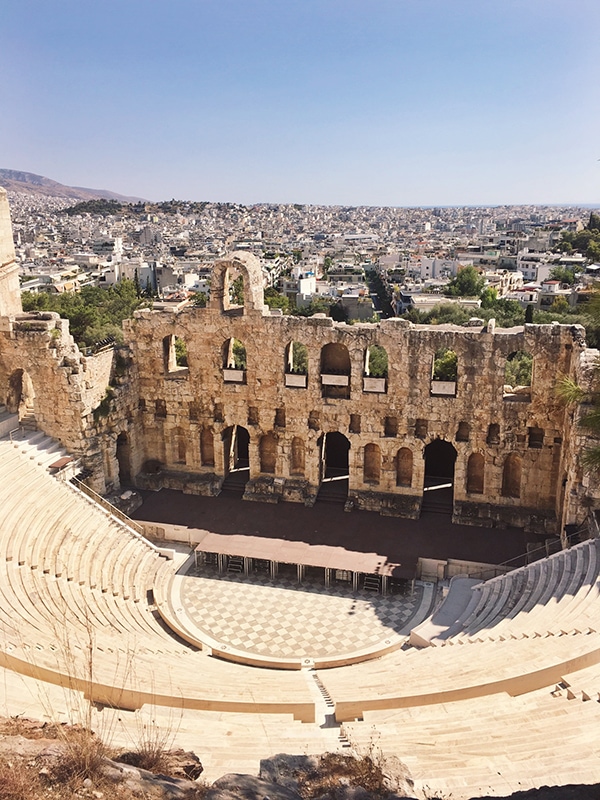 Pin
Instead, it felt more like a sprawling modern city with rows of trendy restaurants and shops. There was no shortage of charming streets lined with bars and cafes, and the dinner/nightlife scene was one of the best I've seen anywhere.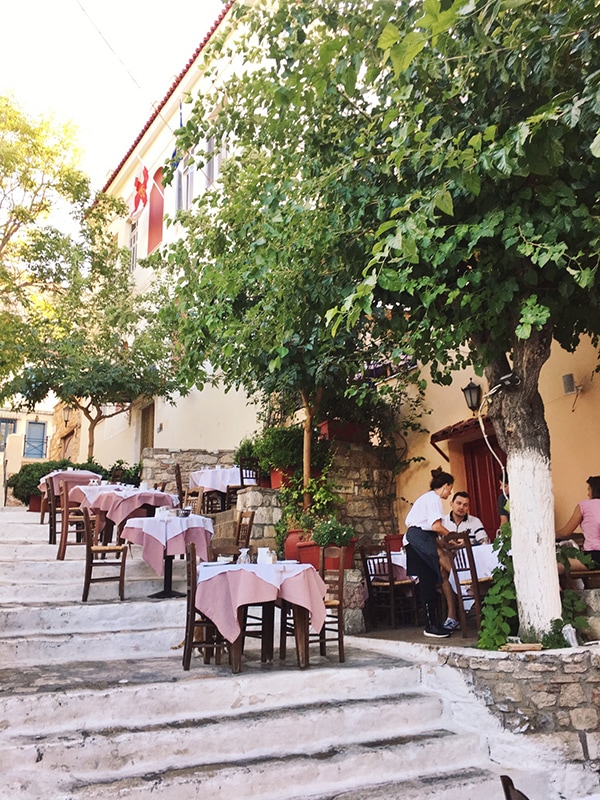 Pin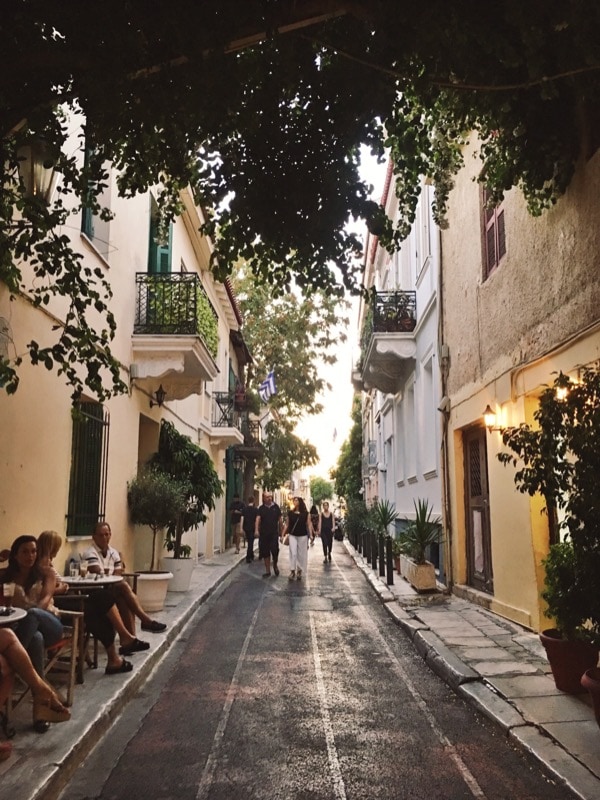 Pin
On the first night we hiked up to the viewpoint at Lykavitos hill for sunset. With an unobstructed view of the Acropolis surrounded by a glowing sprawling city, sea and the sun setting over distant islands, it was pure magic. This photo does it no justice, but it's hands down the best vantage point in Athens.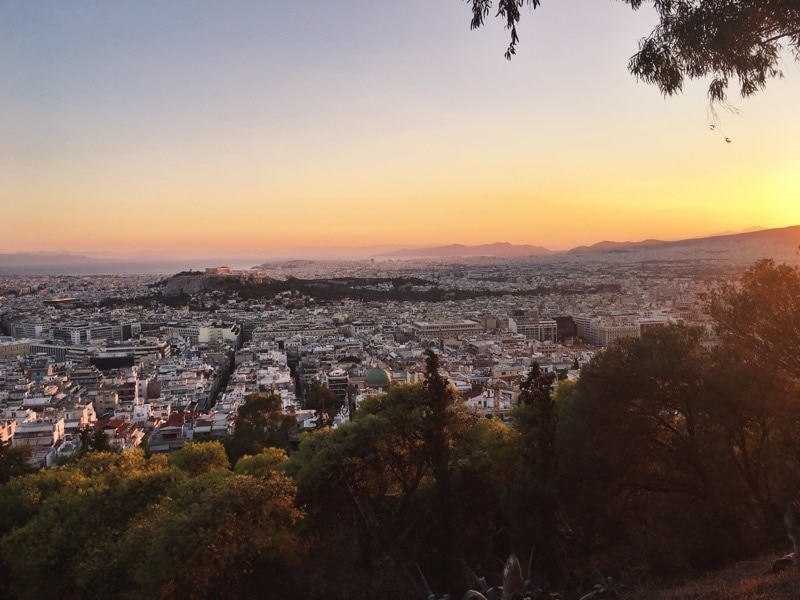 Pin
Visiting the Acropolis up close? Not quite as spectacular. Most of the ruins had been rebuilt or were currently under construction, and while the scale of the monuments were impressive, I couldn't help but compare it to the Forum in Rome which we both found far more interesting. To us, the Acropolis wasn't worth the €20 entrance fee, especially when you can see it all from the top of the hill next to it for free.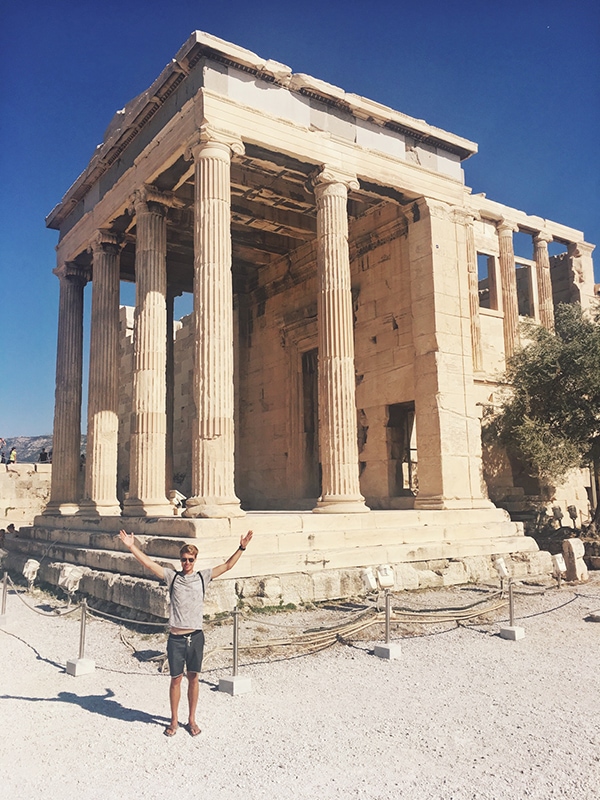 Pin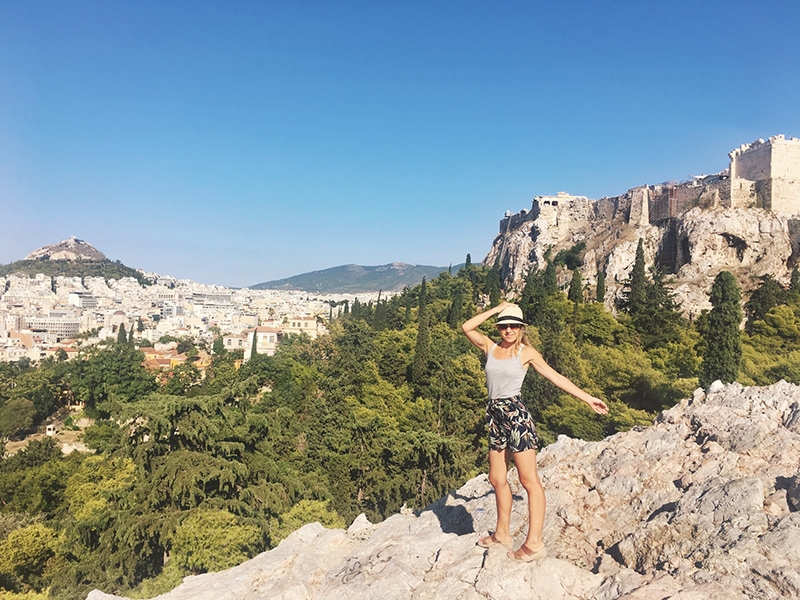 Pin
Our best moments in Athens were spent at the restaurants. I'd been anxiously awaiting healthy Greek cuisine after months of pasta and carbs, and this country does not disappoint. Since Day 1 we haven't had a mediocre meal, and we've eaten our weight in greek yogurt, honey and Greek salads on a daily basis—it never gets old!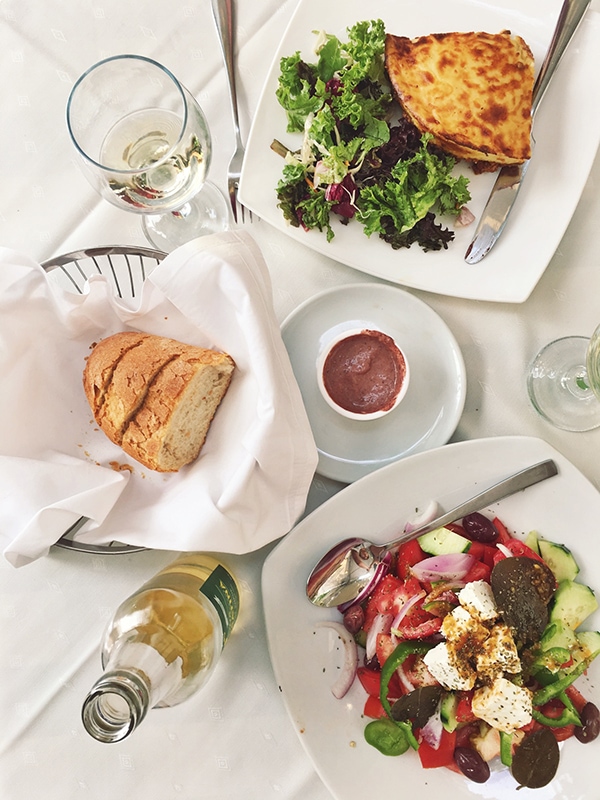 Pin
With only two nights in Athens, we barely scratched the surface. My overall impression is that it's a wonderful place to eat, shop, and get an introduction to Greek hospitality. If you're coming all the way to Greece though, you'd be remiss not to visit the places that make this country one of the most loved in the world—the islands.
Day 155-159: Milos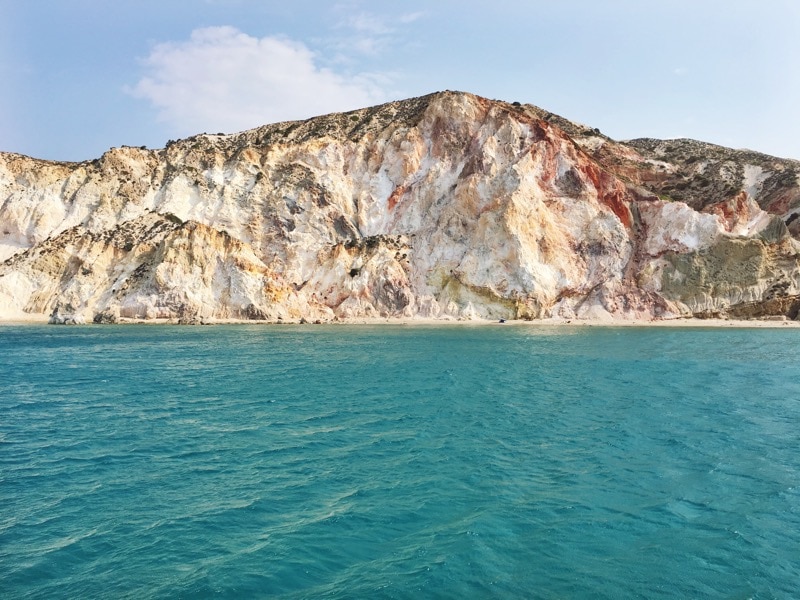 Pin
Milos was brought to our attention by more than one traveler we'd met over the past several months. They praised the island for its natural beauty and simple way of life. Largely untouched by technology and tourism, this small destination is ideal for a peaceful and more local Greek experience. It's so local that the streets have no names, which makes giving directions tricky as every house is "the white one with the blue door." But every one of its 5,000 inhabitants knows everyone else, so somehow it works.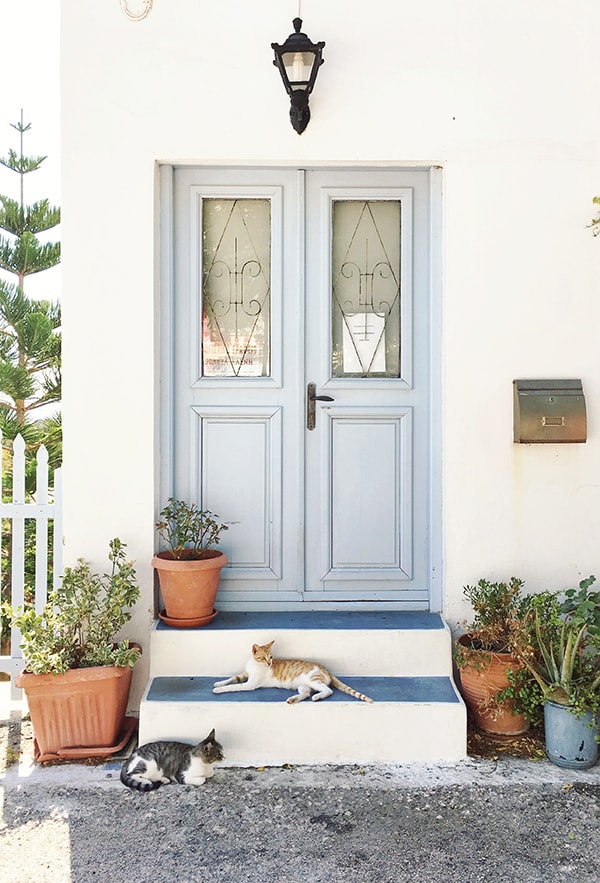 Pin
The beaches are Milos' claim to fame, so we found the top rated boat tour on Trip Advisor and squeezed in at the last minute after a cancellation. How lucky we were, as it ended up being our favorite experience in Greece.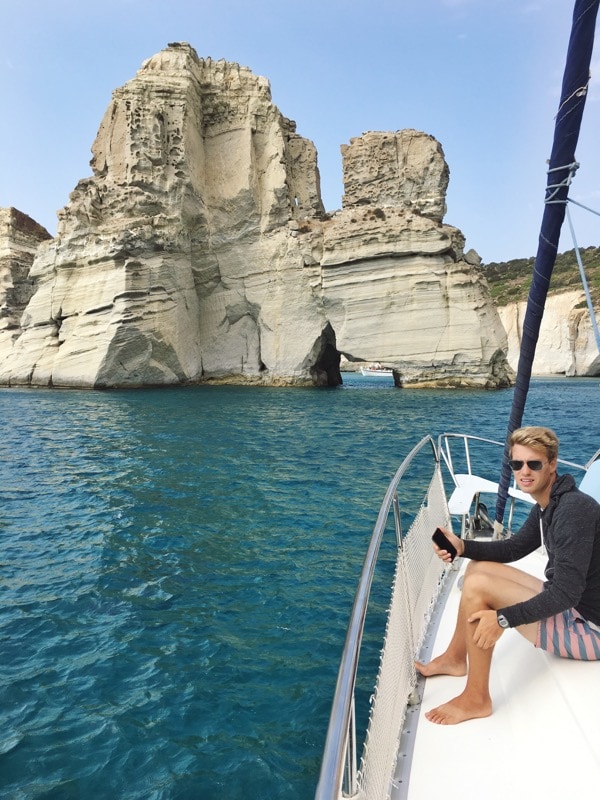 Pin
There was a small group of us, mostly couples, including awesome newlyweds from Washington DC who we bonded with right away.
Our captain Elias was welcoming, full of energy and took us to the best spots while teaching us of their history along the way. It was a very windy day with a chilly ocean, but the water was crystal clear and made for great cave exploring and snorkeling.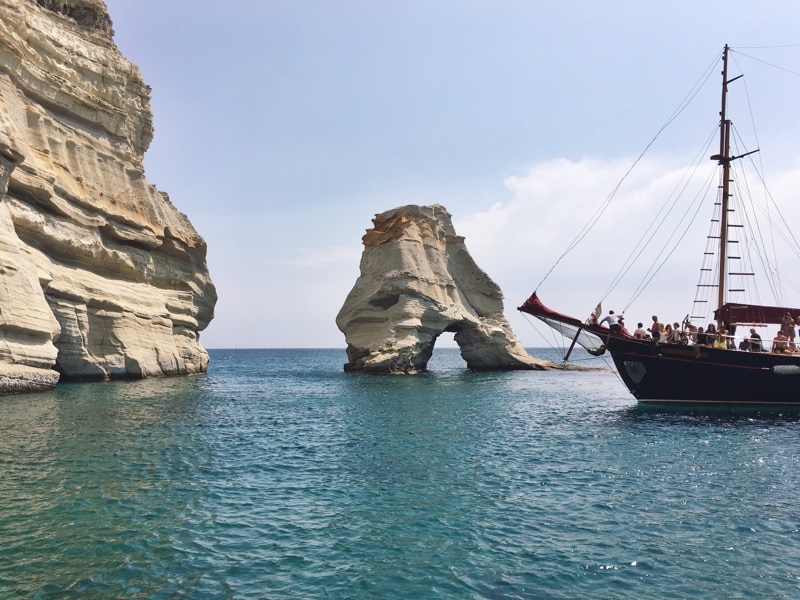 Pin
We cruised by a handful of other boats including an enormous fancy yacht, hoping John Stamos would come out and start feeding us Oikos yogurt. Sadly, no such luck, but our captain had prepared his own gourmet feast on board. Greek salads with fresh veggies from his family's garden, homemade wine his Uncle made, fresh shrimp and octopus they'd caught and grilled on board, and bottomless bottles of Ouzo. We toasted and danced in circled around the boat as Elias shared jokes and stories of Greece.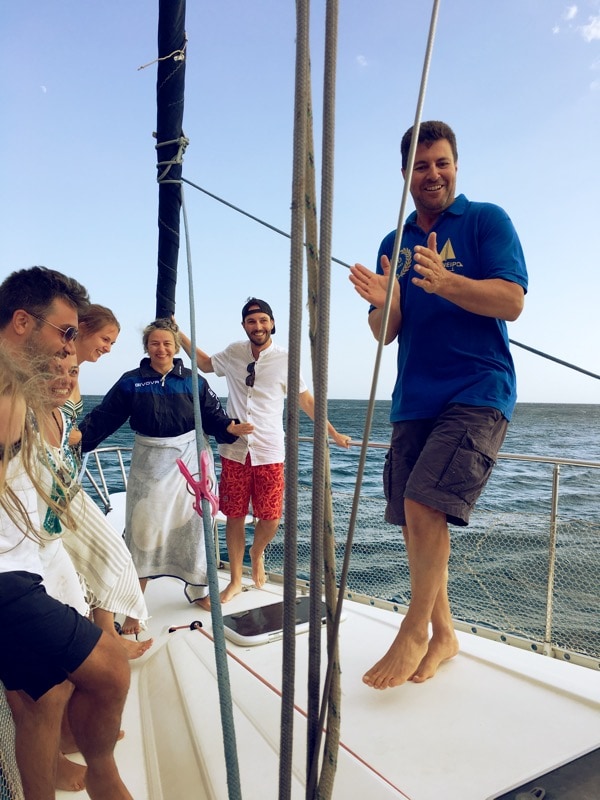 Pin
Another full day was spent on an ATV—apart from a boat, it's hands down the best way to explore the island. Many of the roads are dirt and some beaches only accessible by off roading.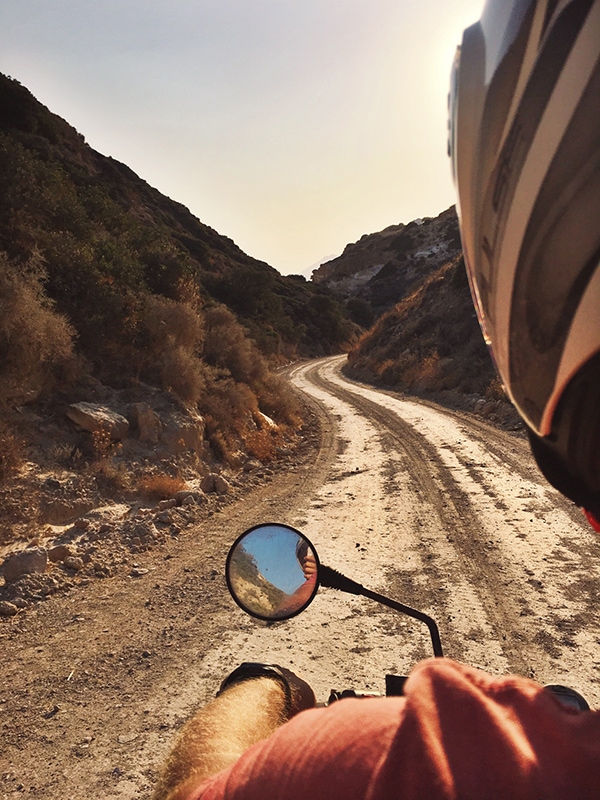 Pin
We covered a lot of ground, driving past tiny churches and men walking their goats, stopping all along the coast and visiting each village. Sarakiniko is the top rated beach, and reminded us a lot of Sicily's Scala dei Turchi with its white glacier-like cliff formations.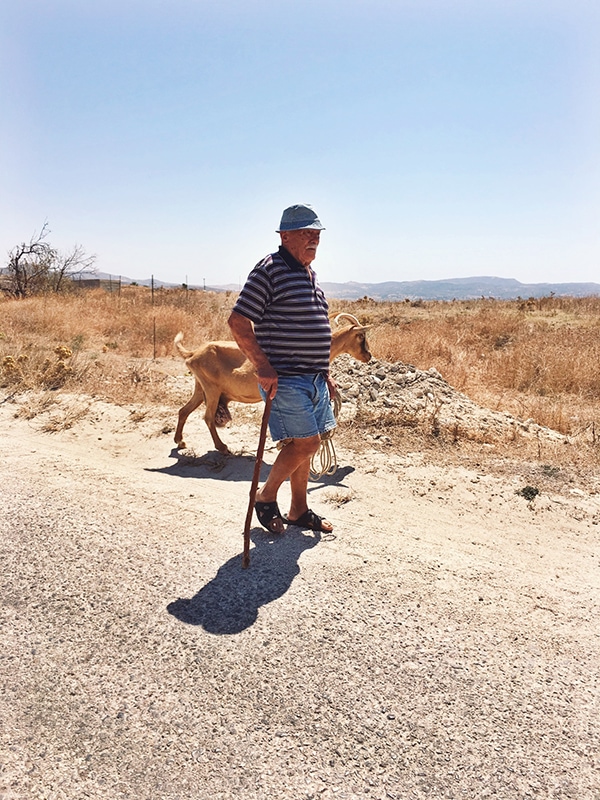 Pin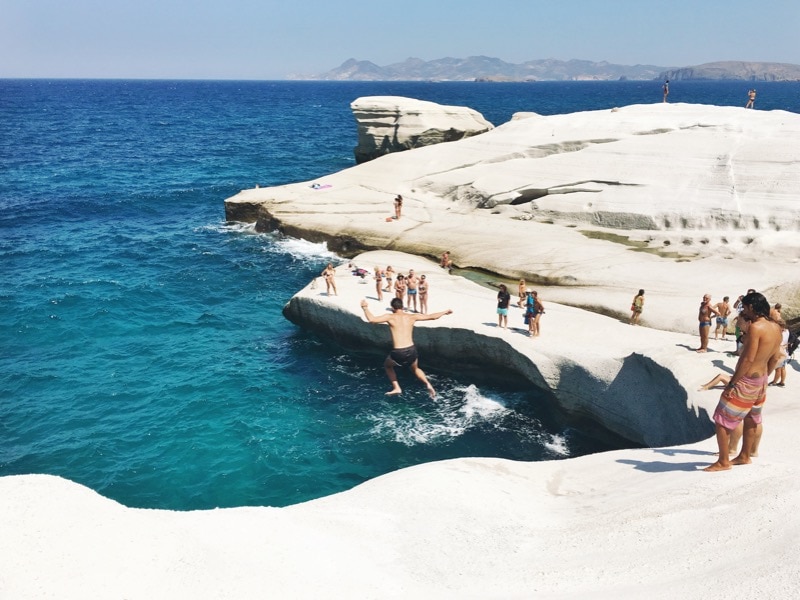 Pin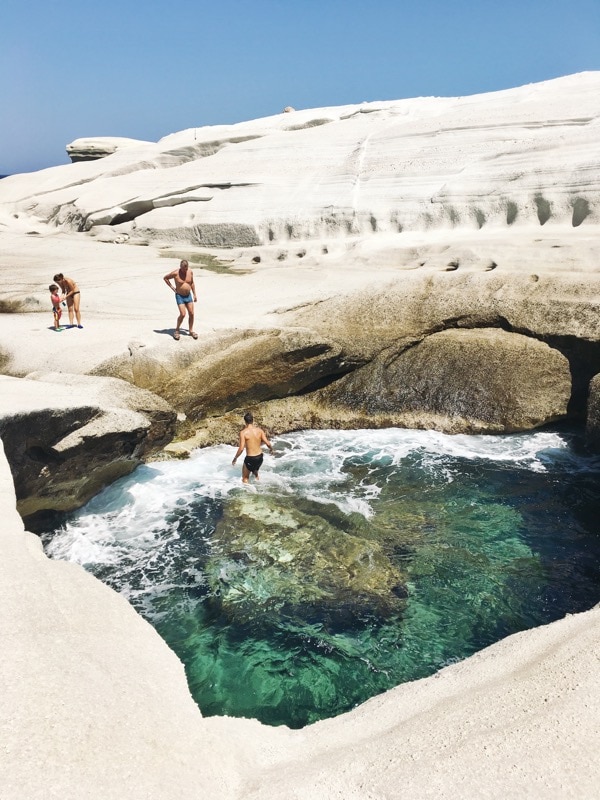 Pin
Every beach offered something unique, from private black sand coves to an abandoned sulphur mine with red cliffs and sand.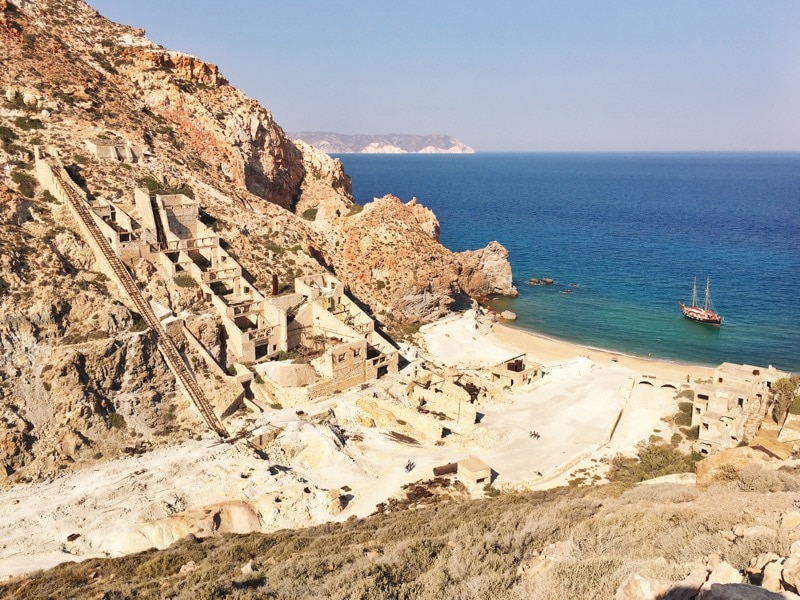 Pin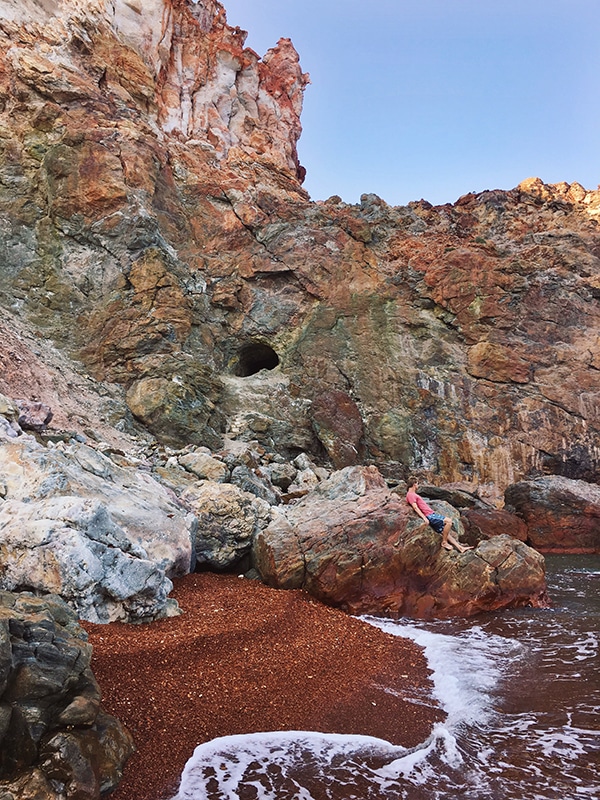 Pin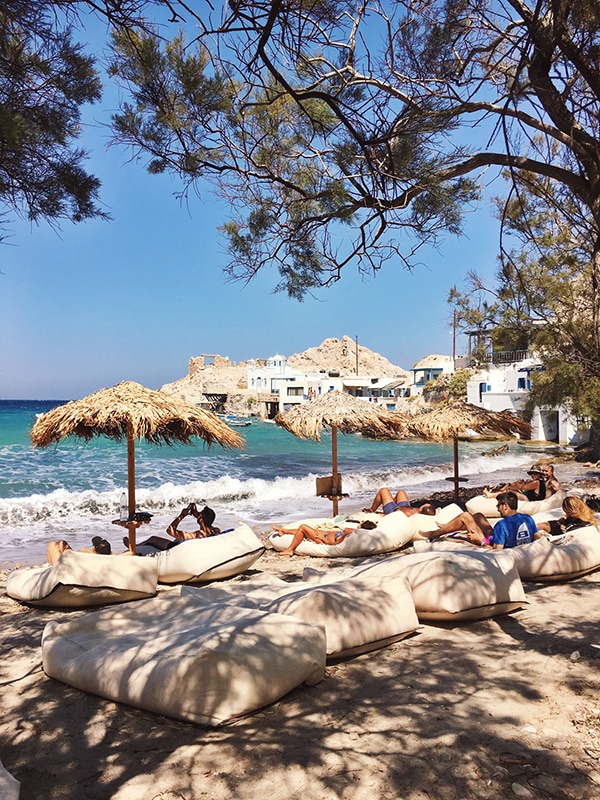 Pin
A small fishing village by the name of Klima stood out with its brightly painted homes lining the waterfront.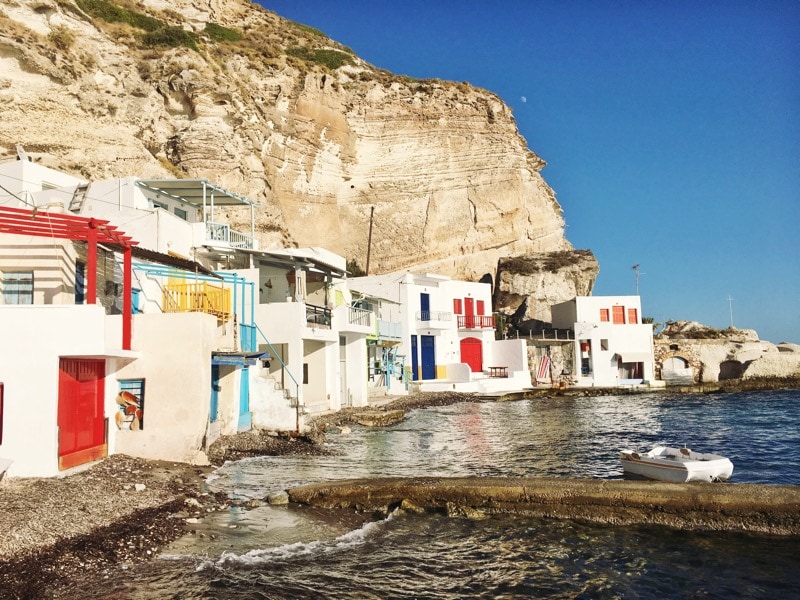 Pin
Plaka, the main town near our hotel, was full of charm with classic Greek streets covered in outlined stone and pink bougainvilleas overhead.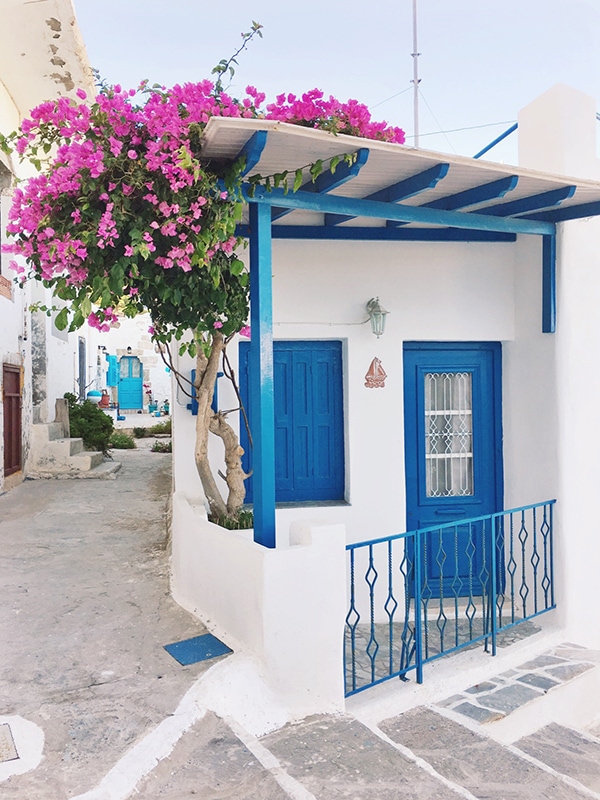 Pin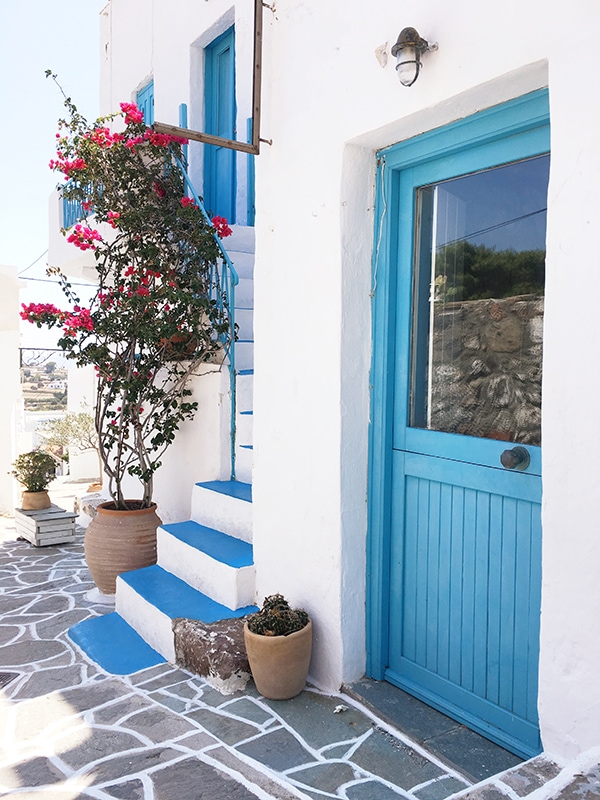 Pin
Pin
At sunset, everyone climbs to the top of the church to watch the fiery orange ball dip behind distant islands and the white buildings light up below. Greece has some of the best sunsets.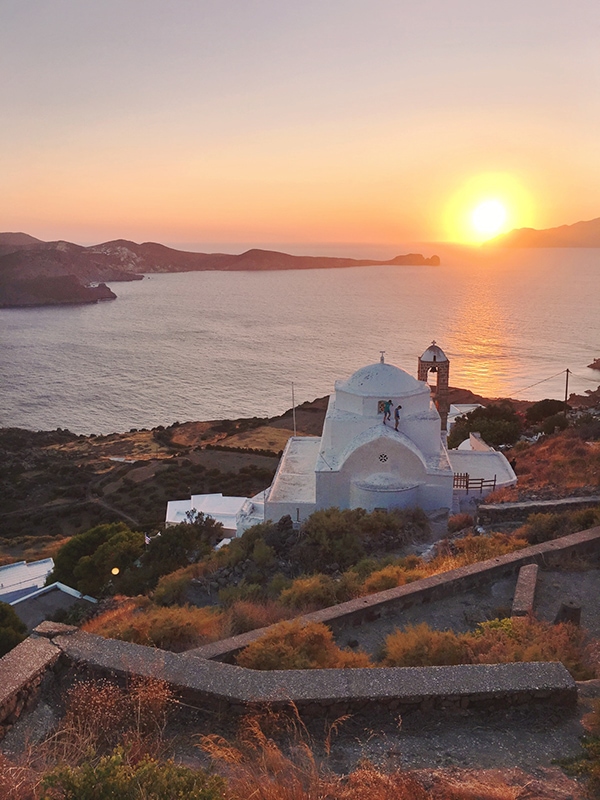 Pin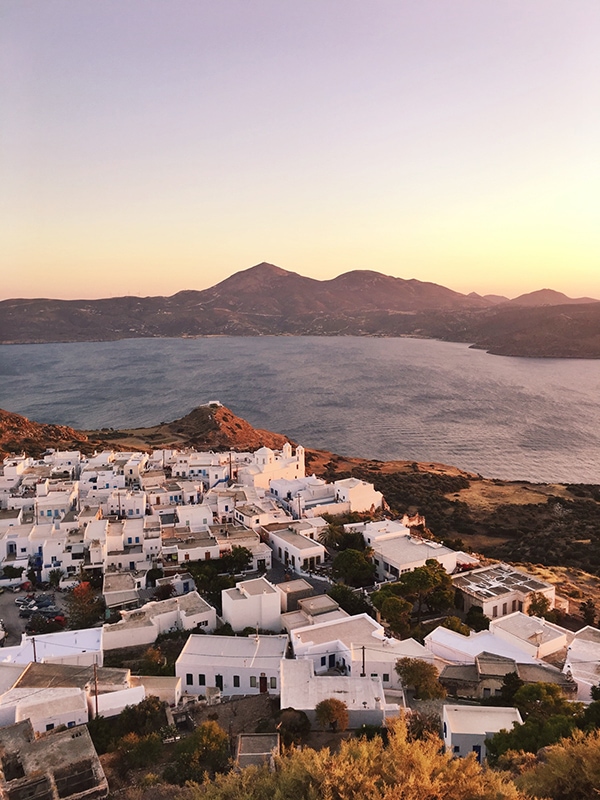 Pin
Milos was our first spotting of the famous blue domes. The mostly barren landscape is dotted with tiny blue and white domed churches, and I couldn't get enough.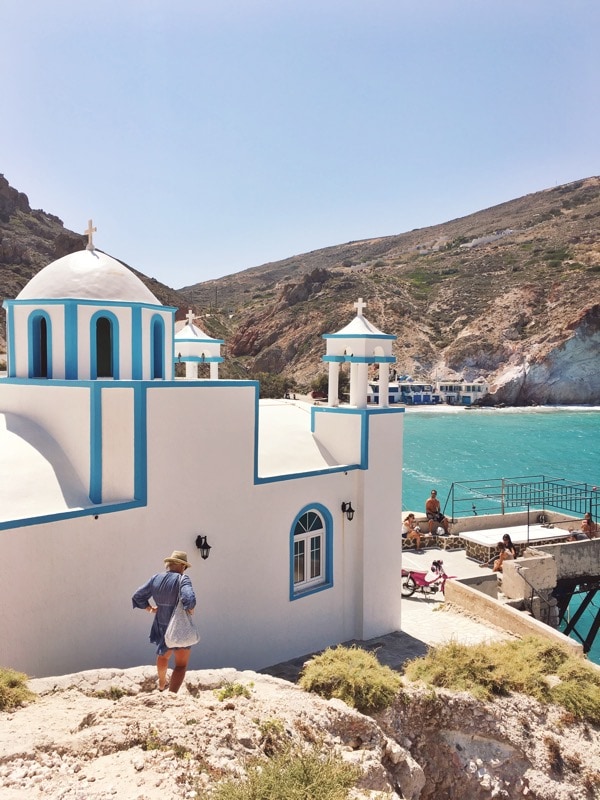 Pin
The abundance and location of these churches are a bit baffling to us—there must be one church built for every few people, and many are built into the mountain accessible only by a small overgrown path in the middle of nowhere. And they're always empty. Who is going to these churches? Regardless, they're fun to admire and a big part of Greece's unique charm.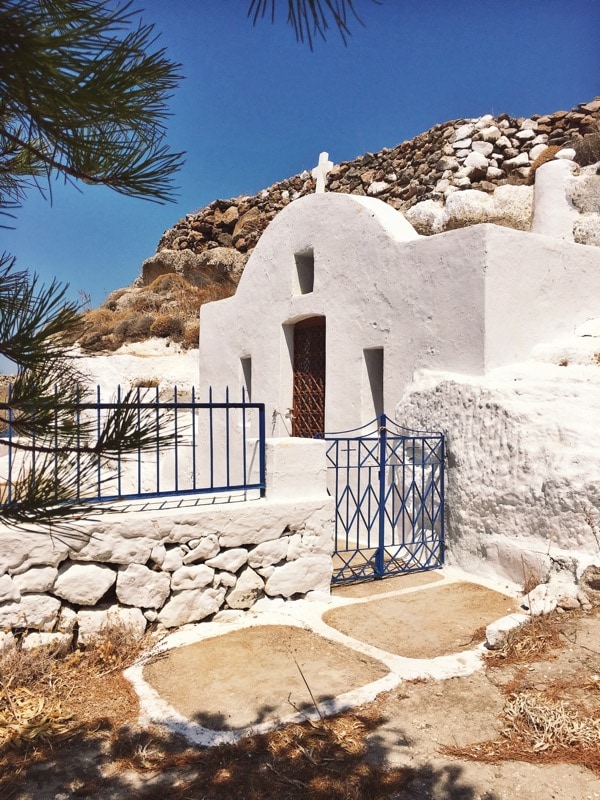 Pin
On this sleepy island, our nightly entertainment consisted of watching kittens play in the street and staring at the harvest moon from our balcony. But our last night in Milos, we found out the locals were having their official end of summer celebration known as the Fire Festival. Our new honeymooner friends from D.C. invited us to join them, and we followed the sound of music until arriving at the town square.
Packed with locals, we were among just a few tourists to show up. Before long, we were joining hands and dancing around in a circle as a live band played traditional music in the main square until the wee morning hours.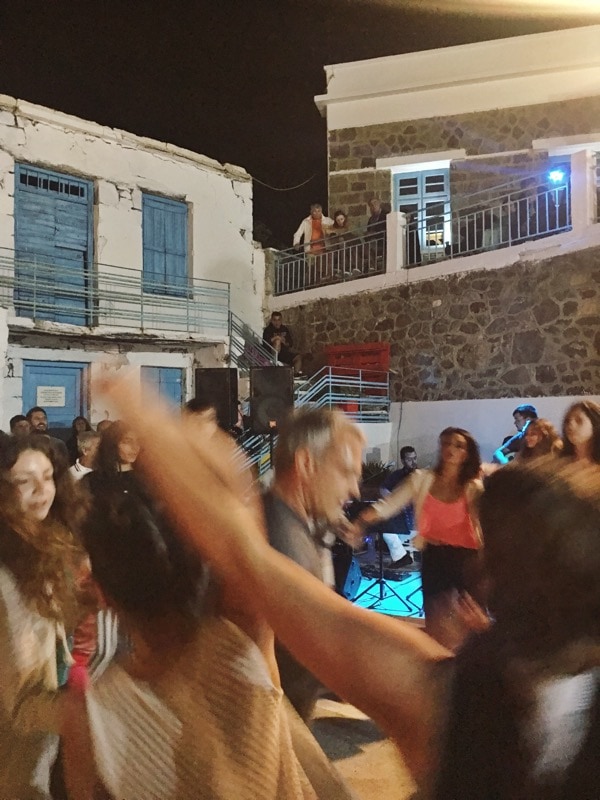 Pin
Greek tradition says that if you jump across the fire three times, you'll bring the heat of summer with you and stay warm all winter. Everyone from toddlers to the elderly took their turn, so of course we had to participate! Lucas singed some hair off but hey, it'll grow back.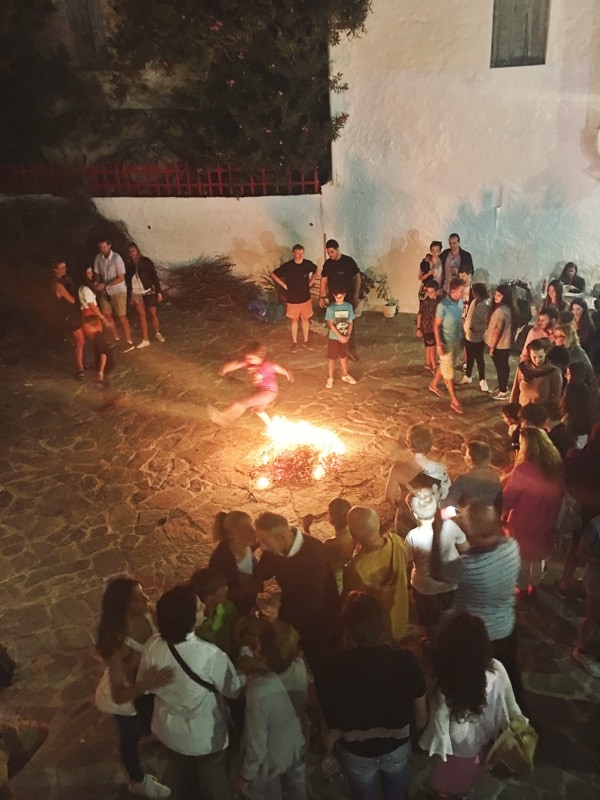 Pin
The festival was one of our most memorable nights of our entire trip, and the perfect note to end our five days in Milos.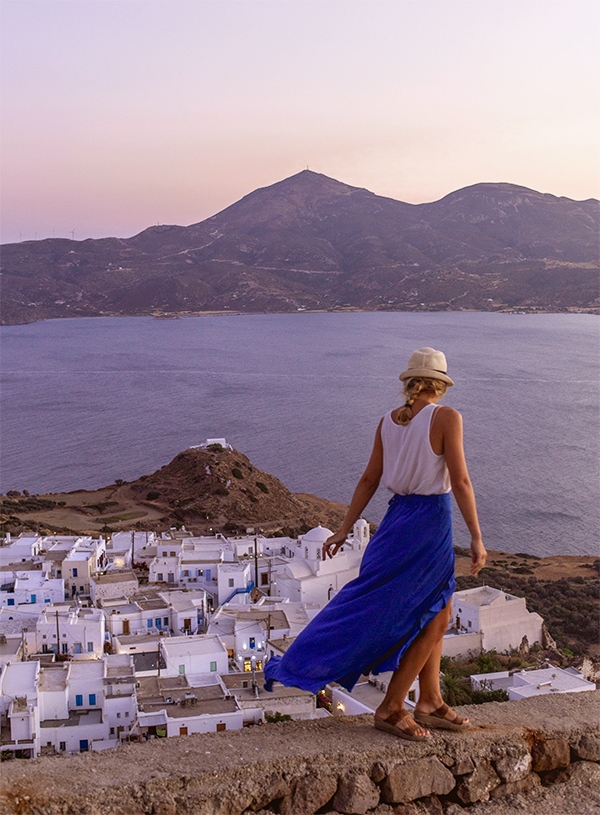 Pin
Day 160-162: Santorini
No trip to Greece is complete without a visit to Santorini. A caldera formed by an ancient volcano, Santorini is only around 10 miles wide so we planned for just three nights to explore.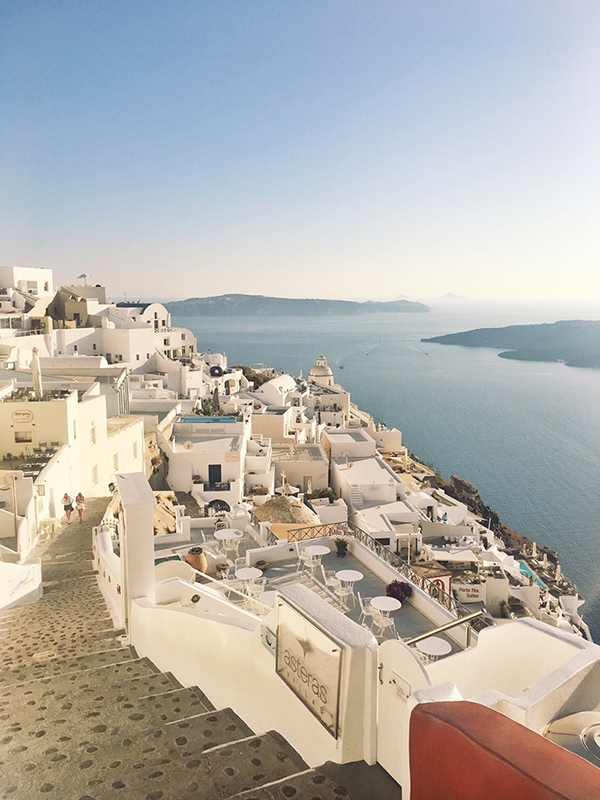 Pin
Being one of the most desirable vacation destinations in the world comes at a cost that is not backpacker budget friendly, so we found a hotel on the southern tip of the island for a very reasonable $60/night. It was in the middle of nowhere (think fields of donkeys), but at least it had a heart shaped pool…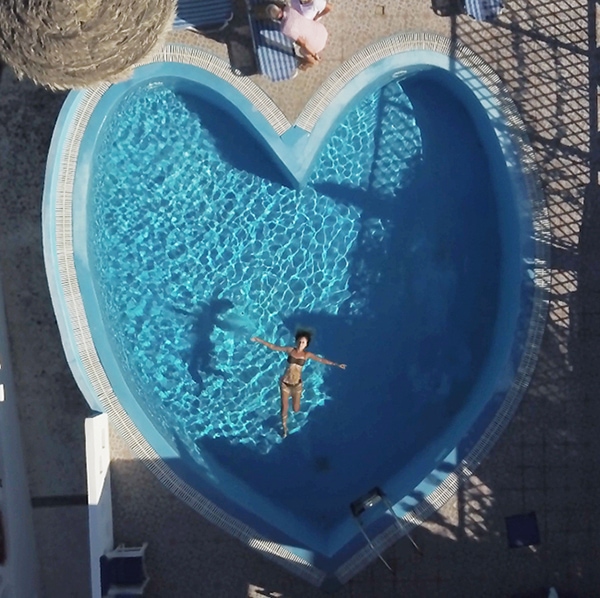 Pin
Like most places in Greece, ATV's are the best way to see the island. We spent our first day cruising through the rocky landscape, pulling over at cliffs to admire the expansive view across the bay, and checking out some of the lesser known beaches.
Let's be clear on one thing: Santorini is not known for its beaches. The volcanic land is comprised of black sand, red cliffs and rocky shores of ash and stone. Beautiful in their own way, but not the inviting turquoise waters of neighboring islands.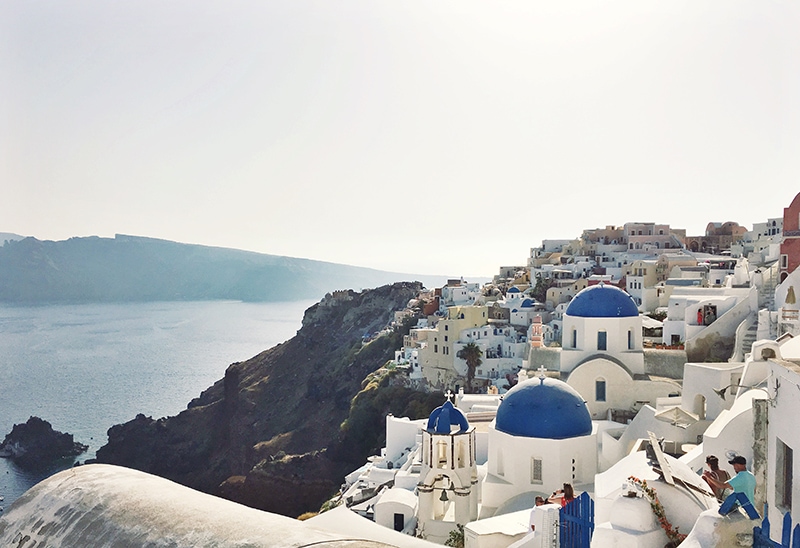 Pin
What Santorini does best is picturesque cliffside villages. The blue domes of Oìa have become the official symbol of Greece, and for good reason. We spent two evenings walking through the main cities of Thira and Oìa, and as breathtaking as they are in photos, they're even more romantic in person.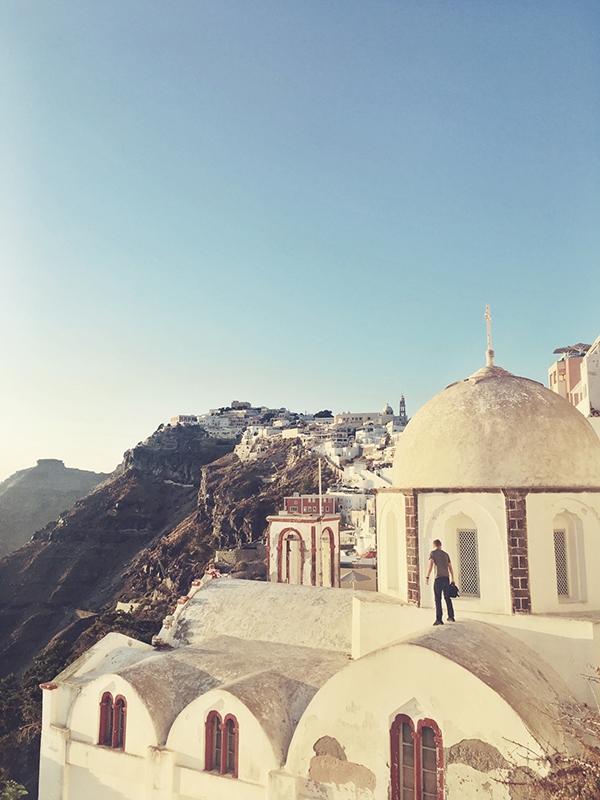 Pin
Thira is the largest town on the island and known to be the liveliest, but isn't quite as photogenic as Oìa. It's also much less crowded, which makes it worth a sunset visit.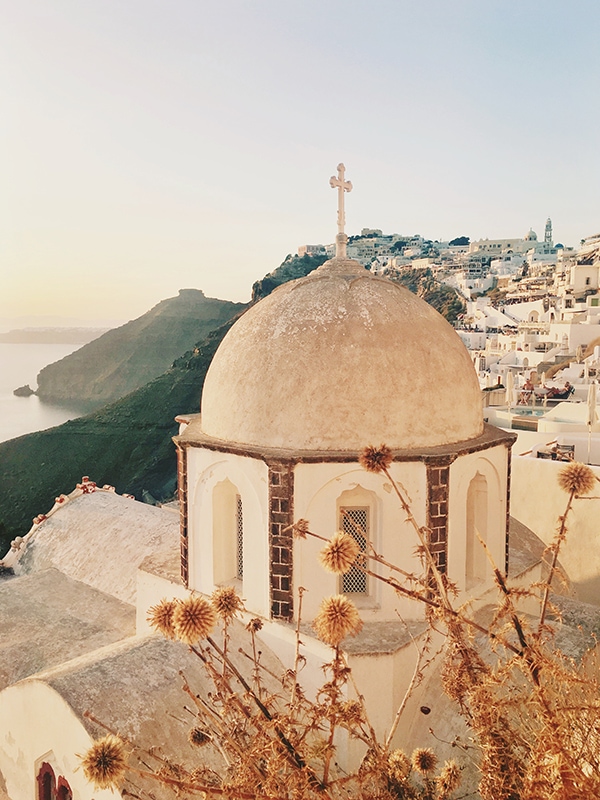 Pin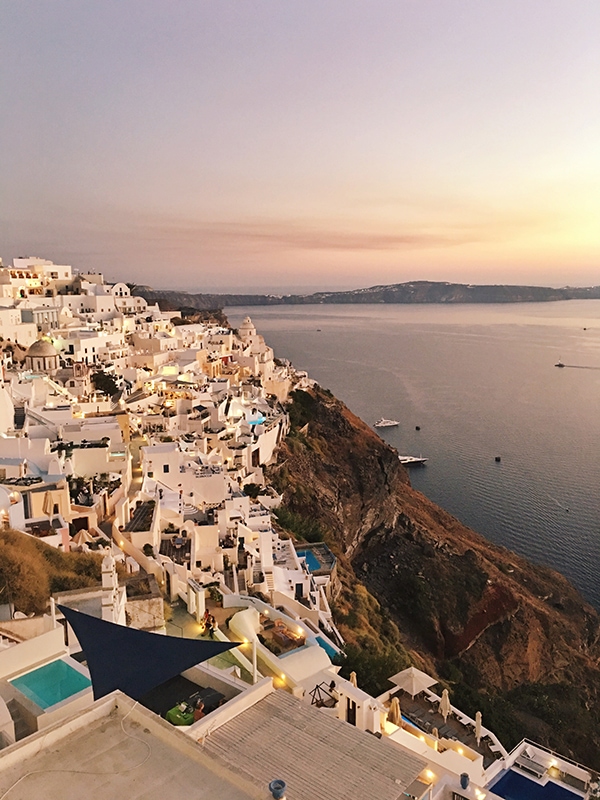 Pin
For our last night, we booked an Airbnb for $95 in Finikia, a quiet village just outside of Oìa—where you can't get a room for triple that price. We loved that it was a cave house, which is a common thing to find here.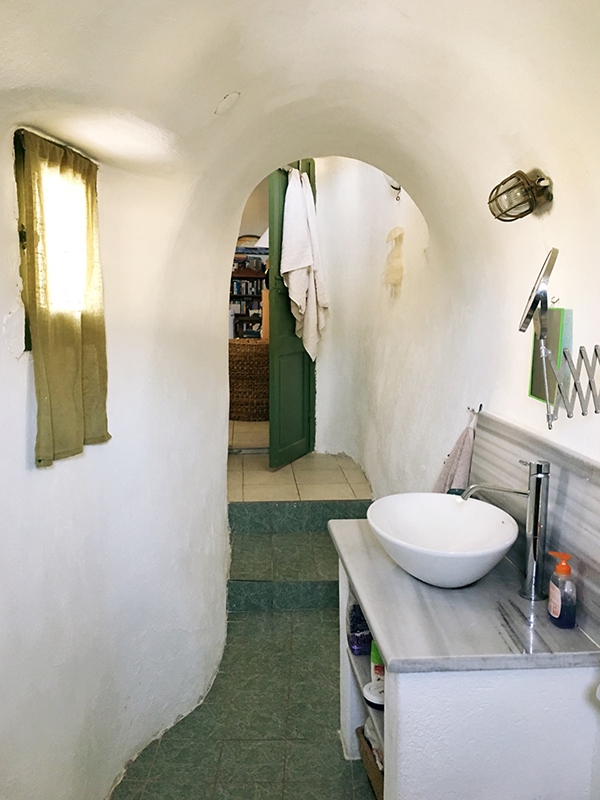 Pin
The discounted price was the trade off for a 20 minute hike uphill to get to Oìa, and once we spent some time walking around, we realized why people pay the steep price tag to stay there.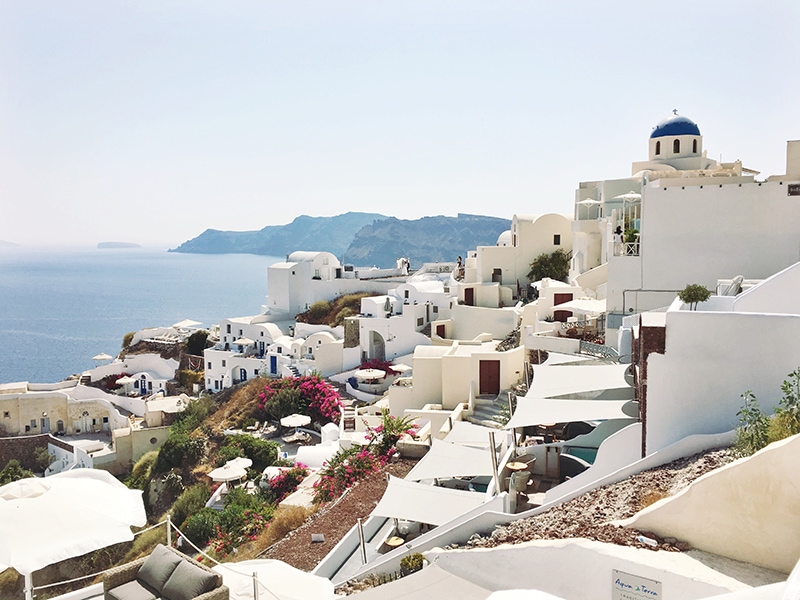 Pin
As soon as dusk approaches, the narrow streets are packed with people clamoring to get a photograph and shoving their way up the hill to catch the perfect view of sunset. Oìa is a small place, and most of the roads along the main cliff are accessible only to hotel guests. Those hotel rooms are prime real estate and the best place to view the town or snap that coveted photo. Many rooftop restaurants are fully reserved or won't let you in unless you order dinner, so unless you are splurging on a hotel room, reserve a table ahead of time or claim a spot along the wall hours in advance, you won't get to experience Santorini in its full sunset or sunrise glory (and take that iconic postcard photo). And it's popular for a reason!
We opted out of fighting through the sunset crowds and instead snapped a few photos while it was still bright outside. Fortunately, it's hard to take a bad photo of this place…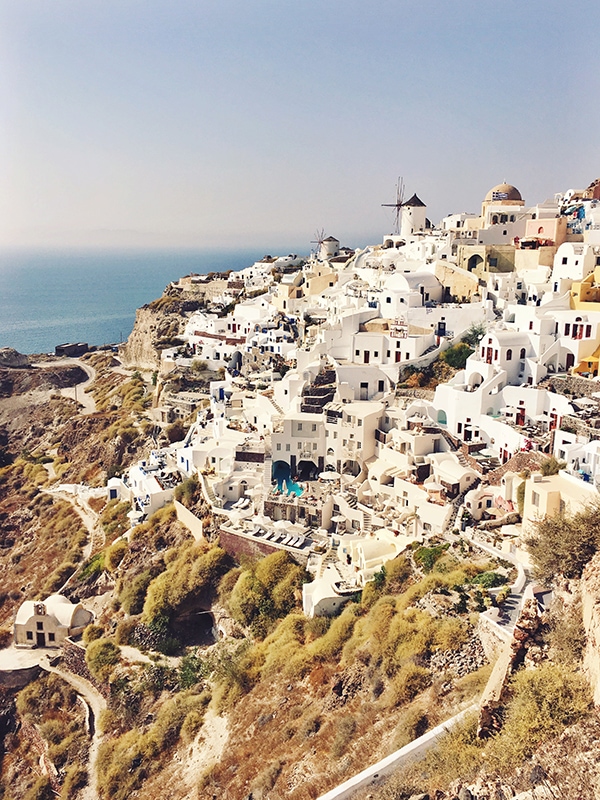 Pin
After sunset, we had dinner plans with our honeymooner friends whom we'd met in Milos, and they invited us back to their luxury suite for a drink first. Lucky us! It was fun to see how the other half lives and get a taste of what we were missing out on. If you have the means, staying in the heart of Oìa is certainly the best way to do it. We still had an absolutely wonderful and memorable time on a budget, and now have one more reason to work extra hard towards our goals so we can come back and splurge one day 🙂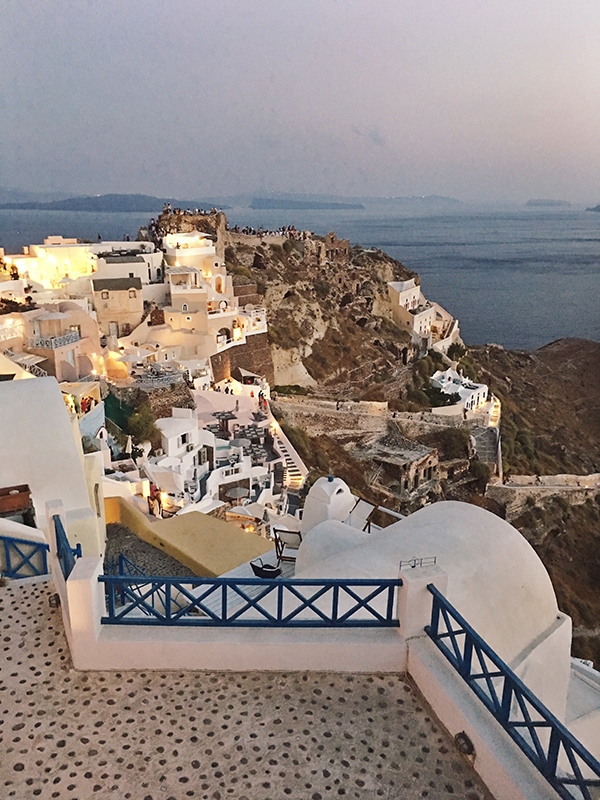 Pin
Day 163-165: Paros
Our final stop in Greece was an island by the name of Paros—a last minute decision after seeing a photo of it on Instagram.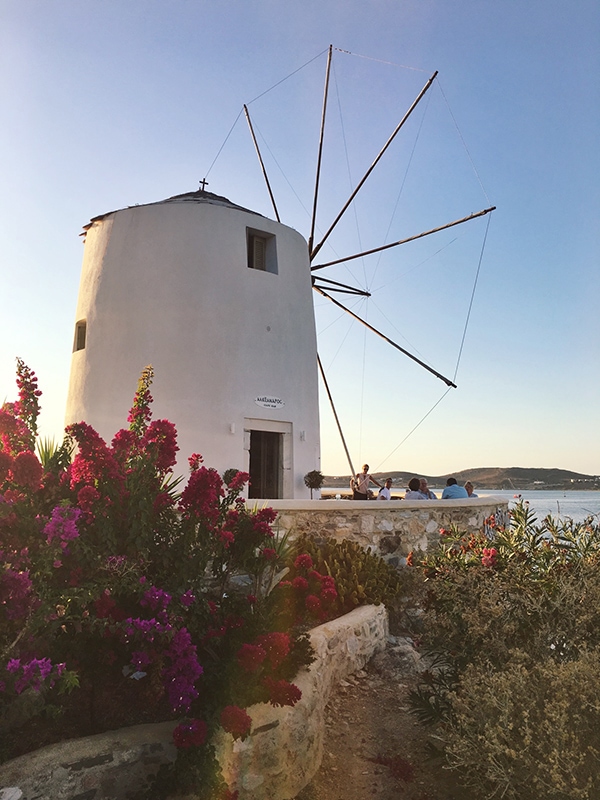 Pin
It was a short ferry trip from Santorini, promised beautiful beaches and had an airport to get us back to Athens, and that was all it took to make up our mind.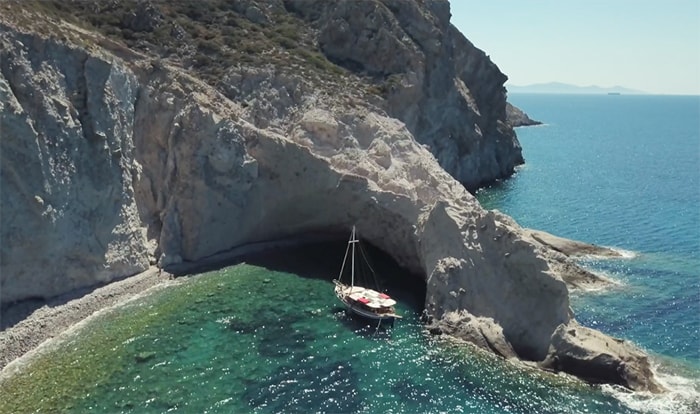 Pin
Plain and unassuming on the outside, Paros lacks the dramatic cliff coastline of Santorini, but you can't judge a book by its cover. Just beyond the ferry port lies a hidden gem waiting to be discovered…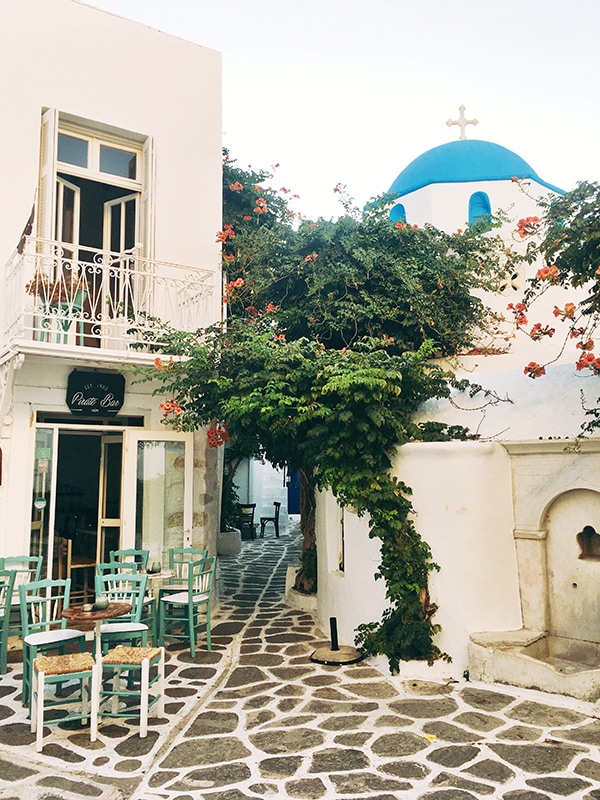 Pin
I was pleasantly surprised by the quaintness of the main town, Parikia, and it's narrow streets lined with upscale boutiques and shops. You could get lost meandering through the passageways of white and blue buildings, covered with bougainvilleas in every color. Every new corner was another picture perfect scene.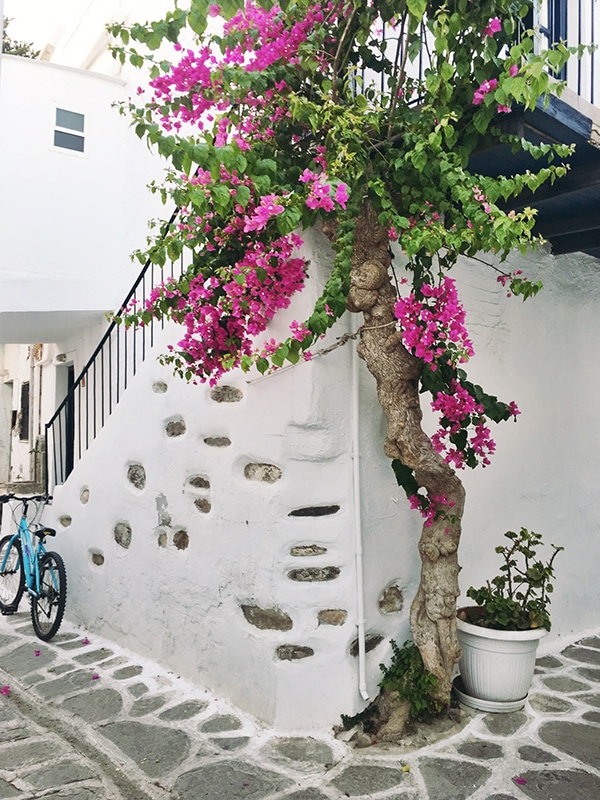 Pin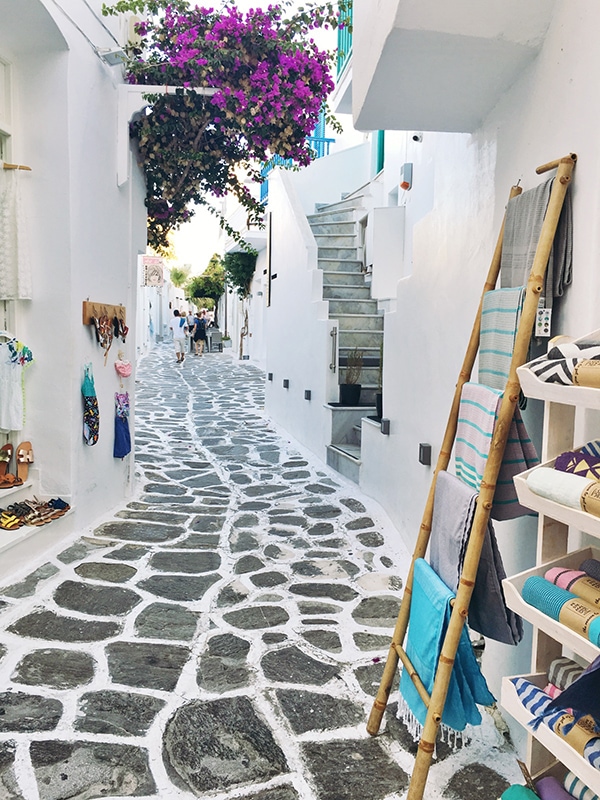 Pin
One day in an ATV is all that's needed to circle the perimeter of the island and discover the best spots. We even made two new mini horse friends along the way—Milky and Muffin: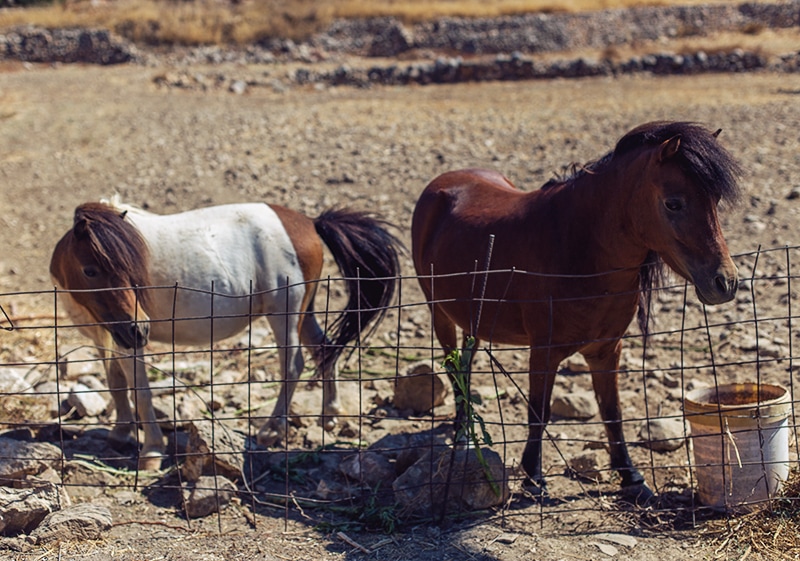 Pin
The village of Lefkes, nestled in a valley in the center of the island, was perhaps the most picturesque of them all. We ended up walking there after our ATV died and left us stranded, stopping for a Greek salad at an empty cafe overlooking the countryside and sea.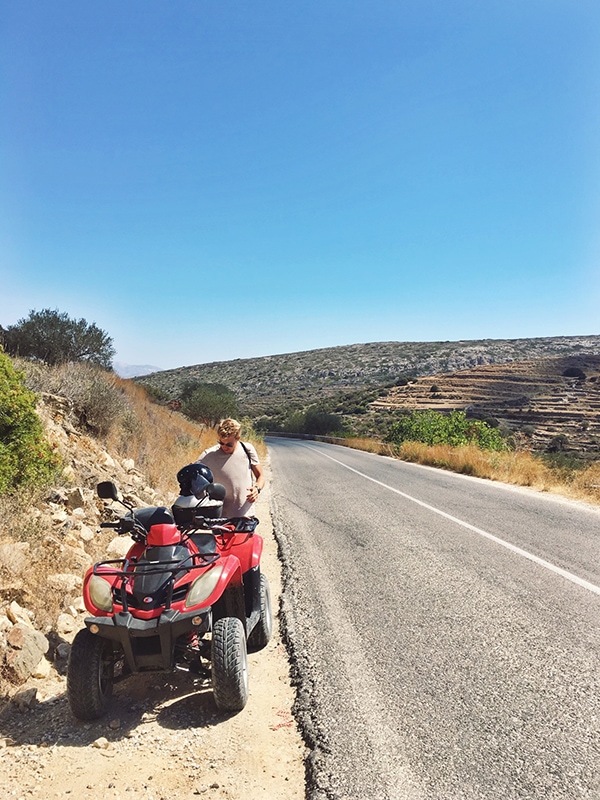 Pin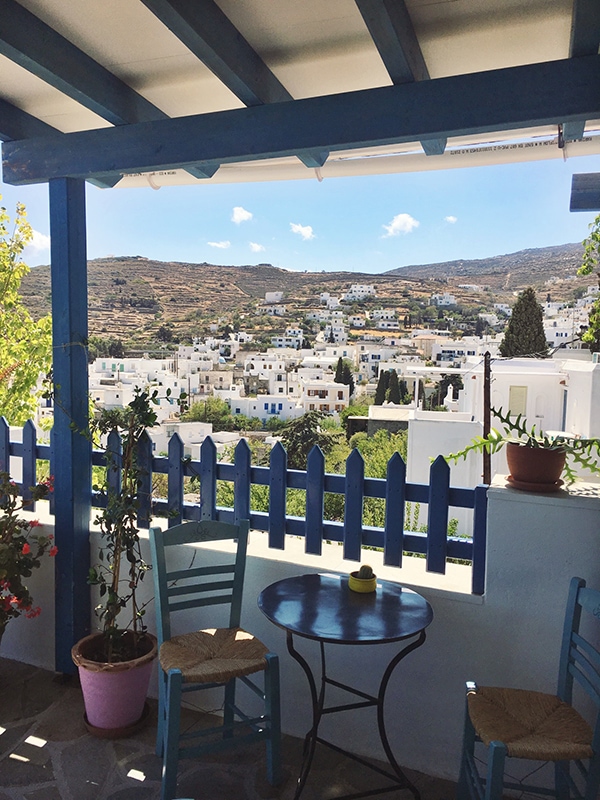 Pin
We walked past a house with a rooftop balcony and sea view selling for €110k… it took everything I had to not call them up and make an offer.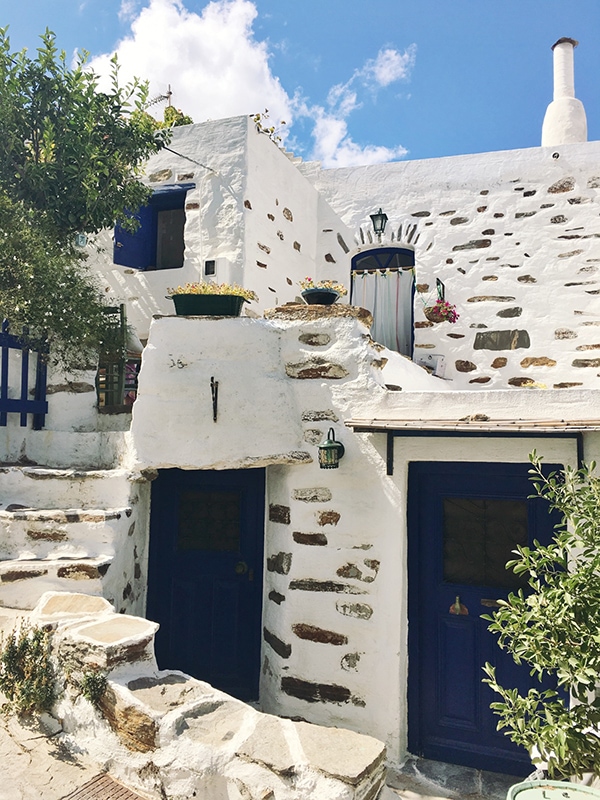 Pin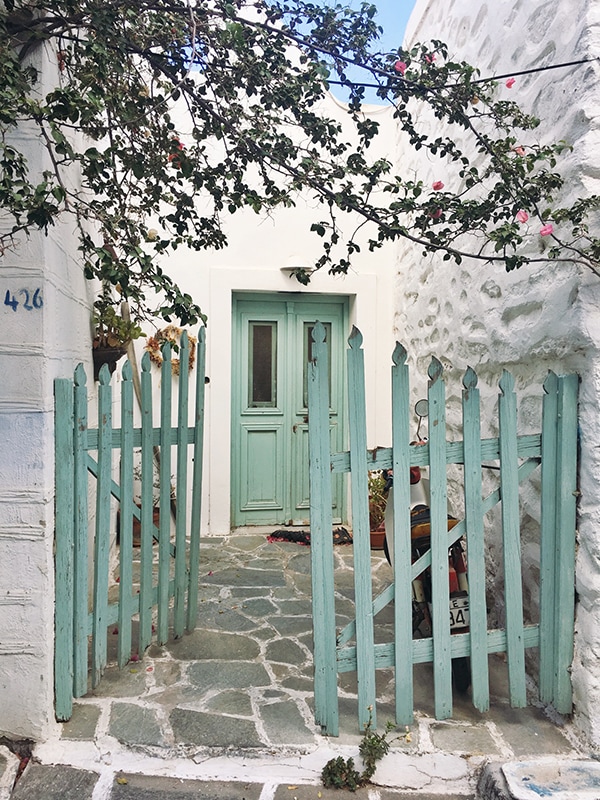 Pin
Fortunately we got a replacement ATV and finished circling the perimeter of Paros before the days' end, stopping at a handful of gorgeous beaches.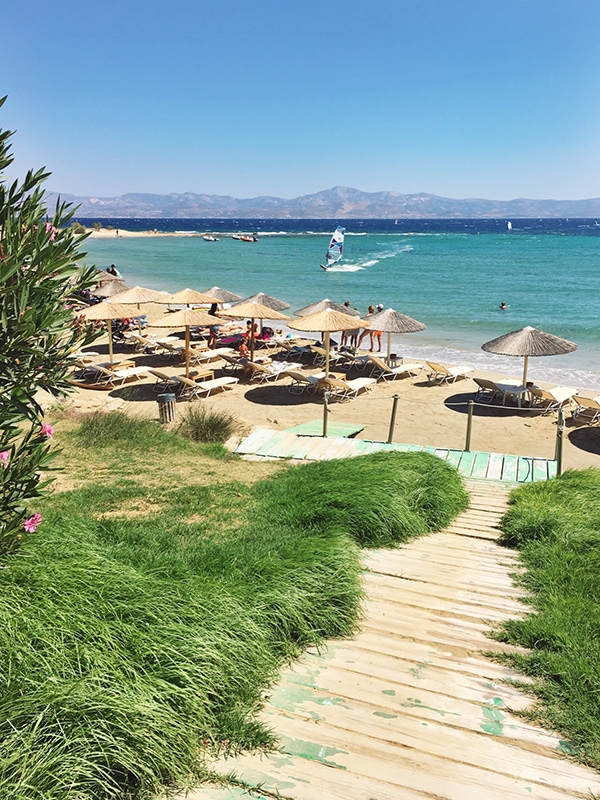 Pin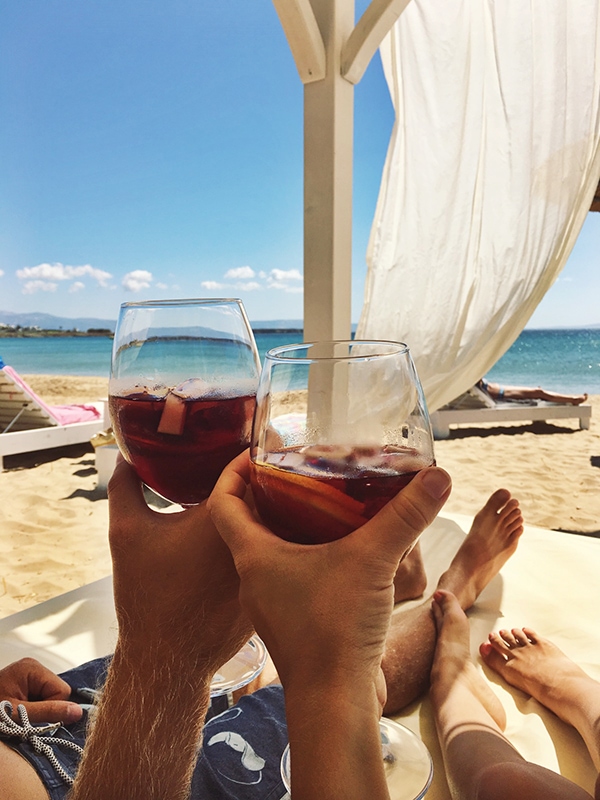 Pin
To reach the best swimming spots, we also booked a full day boat trip around the neighboring island of Antiparos.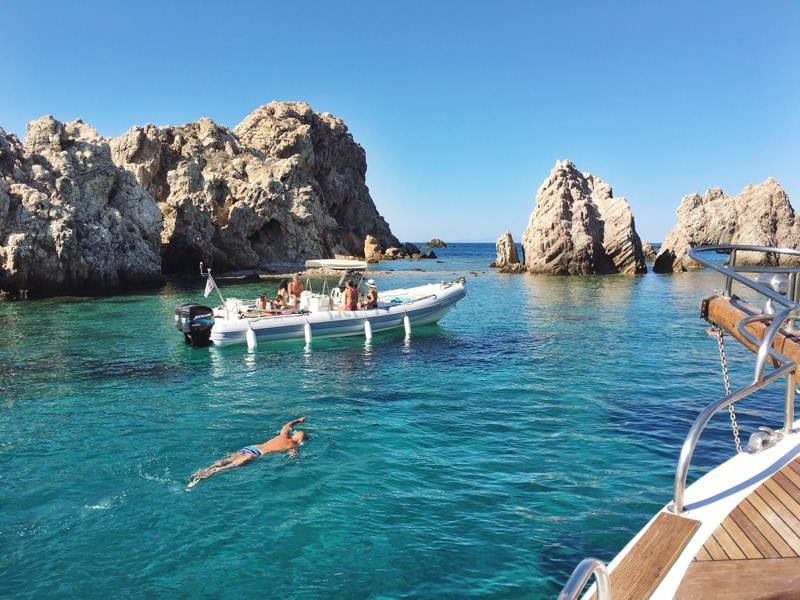 Pin
Our boat crew brought out instruments, playing acoustic Greek music as they cooked up a mouthwatering buffet of local foods. Antiparos has some of the best water in the Aegean sea.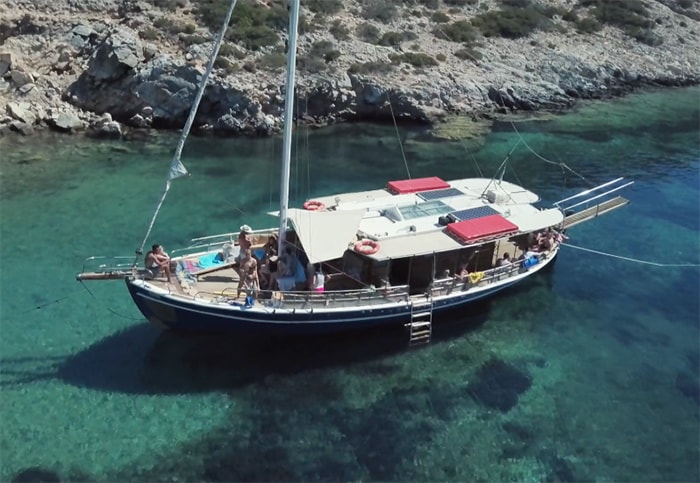 Pin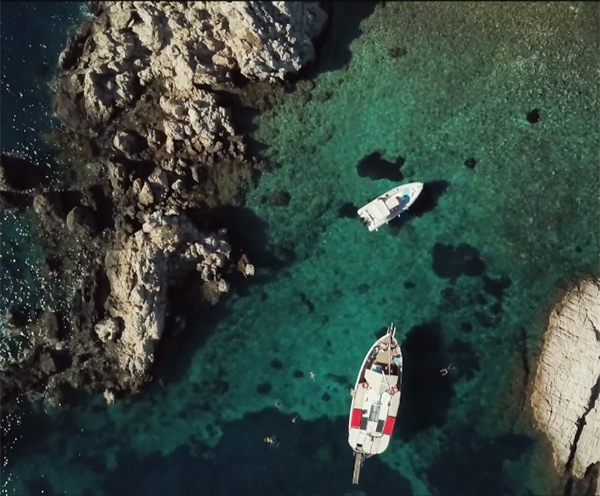 Pin
Our last night was bittersweet as I could have stayed for weeks more, island hopping and finding new treasures that are plentiful in every one of Greece's 6,000 islands.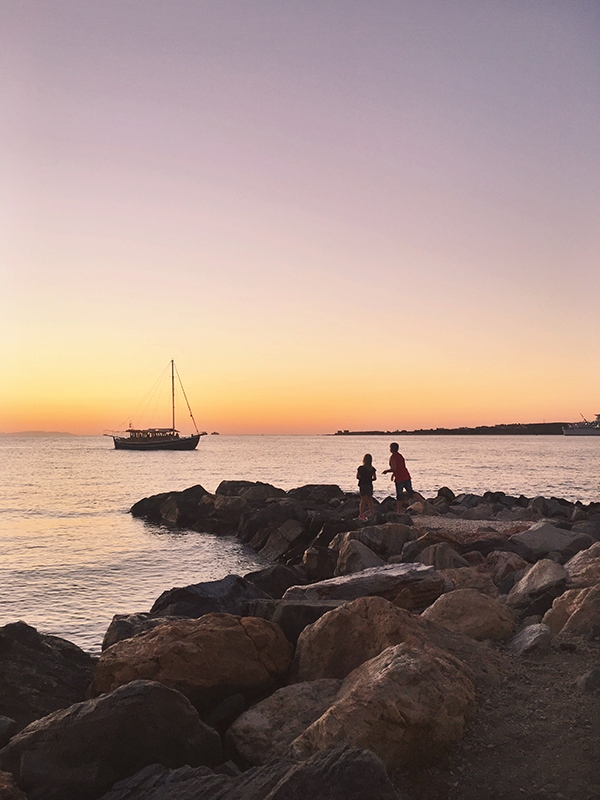 Pin
Between the incredible beaches, delicious food, charming blue and white palette, abundance of cats and the welcoming people—this country and culture speaks to me in a way that no other has. I'm pretty sure I was Greek in another life. If there's anyone from Greece reading this, can you adopt us? Not even kidding. We'll work for food.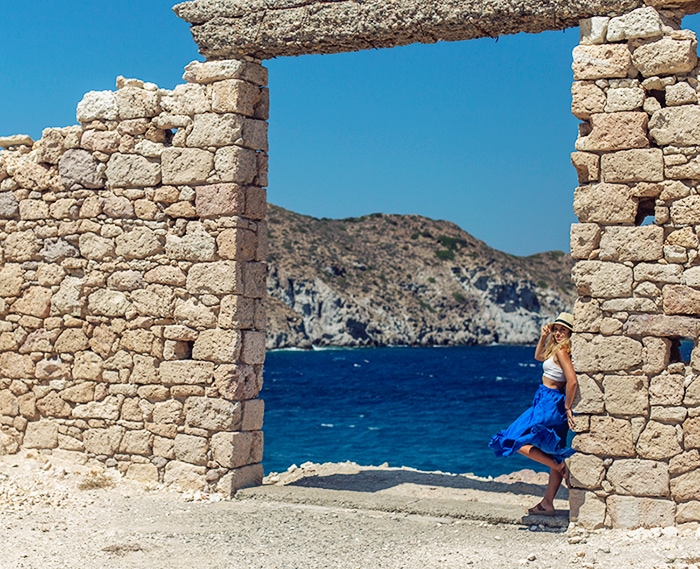 Pin
Four islands down, only 5,996 more to go… Greece, we're coming back for you!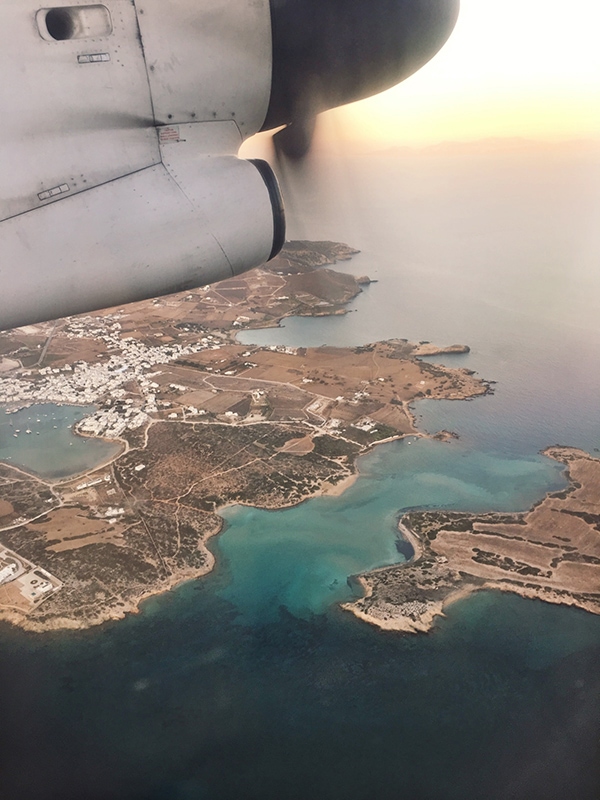 Pin
As I type this now, we've just landed in Dubrovnik, Croatia where we plan to spend the next 17 days working our way up to Germany for Oktoberfest. We spent so much time out and about in Greece that I'm backed up with video editing, but I plan to take some time to pause and finally finish the Italy video within the next week (I'm really pushing my editing skills with this one, so hopefully it's worth the wait!)
As always, you can connect with me as I share our adventures on my instagram stories and facebook, as well as the occasional snapchat @jennasuedesign. Less than three months to go on this round the world trip of ours… hope you're still enjoying the recaps, photos and videos! Let me know if you have any questions/comments and I'm happy to answer anything about our experience! Signing off now, time to go catch my first Croatian sunset…