Last month I had the opportunity to decorate the patio at the Riverside Retreat for fall, and it made me wish we had an outdoor entertaining space at our own home. Now that the weather is starting to cool down in central Florida, we've been craving more outdoor time as a family. When I received my October assignment from BHG Live Better, it was an easy choice to refresh our patio!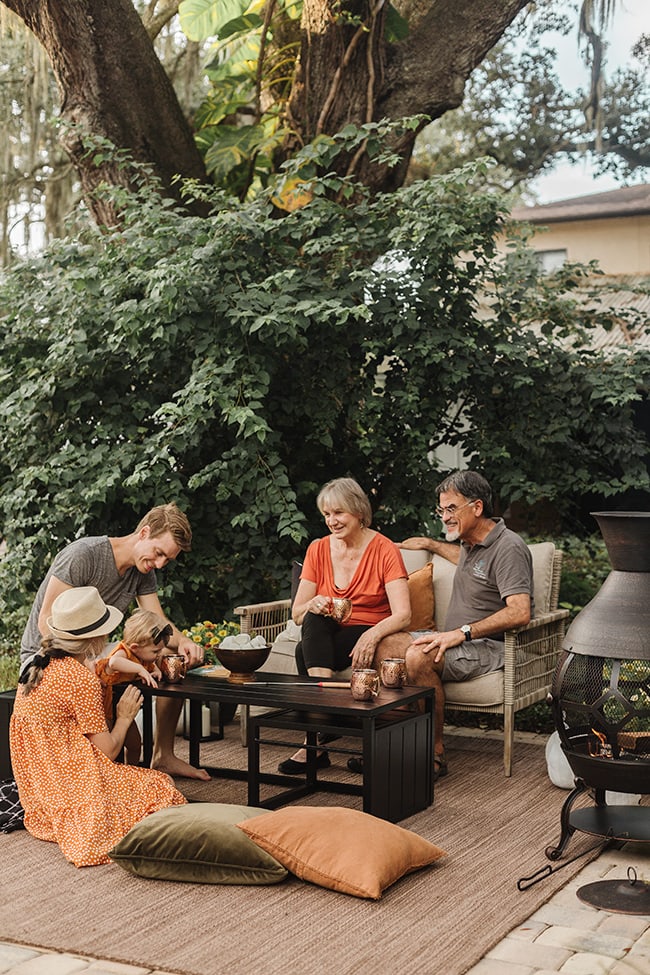 If you're new here, I recently announced that I'm now a member of the BHG Live Better influencer network, and each month I'll be participating in a different design challenge showcasing Better Homes & Gardens affordable line of products at Walmart.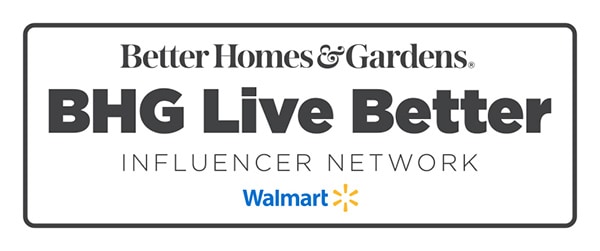 This month's challenge is to share a favorite family fall activity at home. If you know me, you know that I live for holidays and everything that comes along with it, especially decorating and family traditions. This year is extra special now that we have a daughter and get to start our own traditions.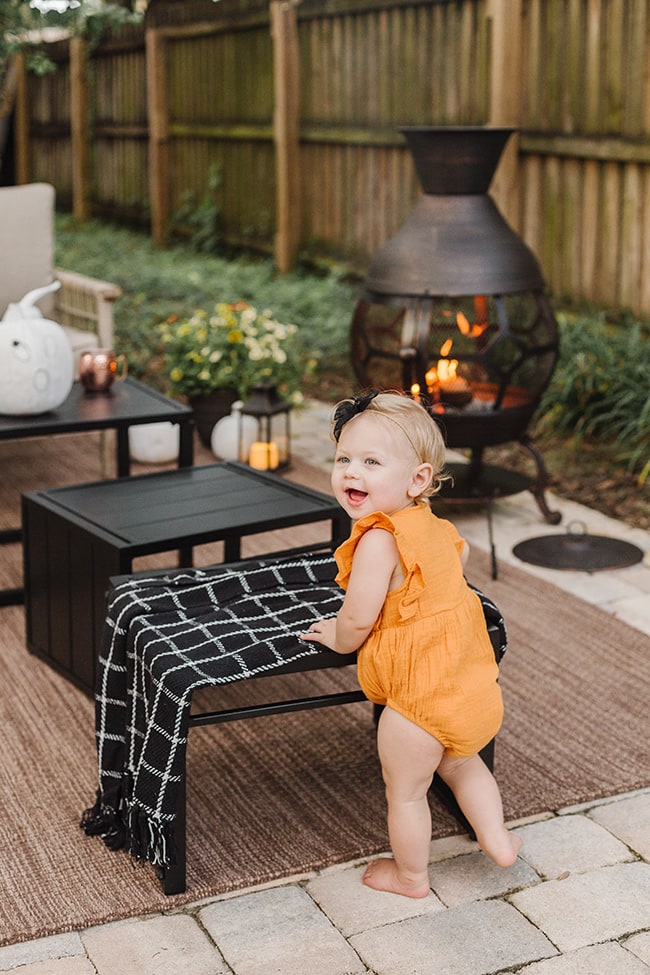 One tradition I can't wait to carry on is pumpkin decorating. Growing up that meant pumpkin carving, and I can still remember sitting around our dining room table as a family, scooping out the slimy pulp and carefully cutting out my jack-o-lantern. Those moments will stay with me forever, and I want to create the same anticipation and excitement for Esmé. Of course, she's too young to remember any of this, but that's why documenting everything is so important!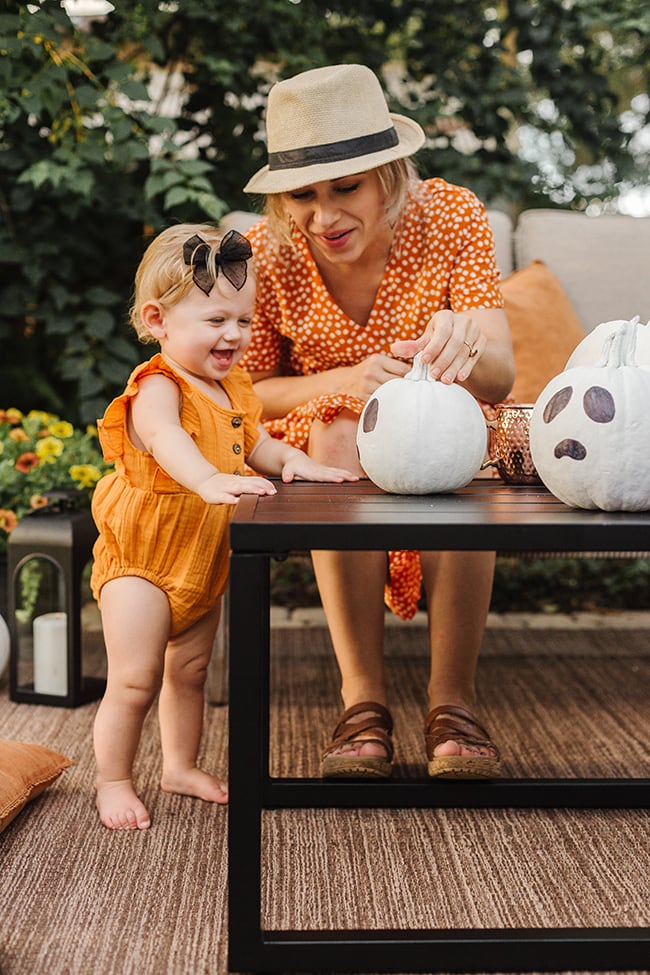 Just last week our patio was completely empty (we moved all of our furniture back to the Riverside Retreat a few months ago) so I picked a nice shady corner under the oak tree to set up our lounge spot. Warning: we haven't tackled our backyard yet so it's nowhere near photo-ready or "Pinterest worthy", but that won't stop us from enjoying it now!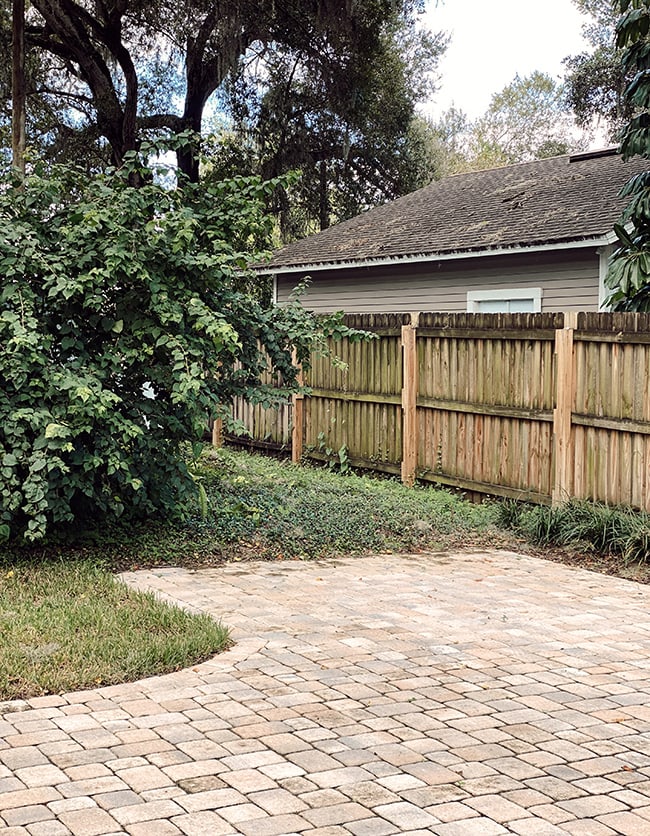 We pressure washed the pavers and rolled out a nice big indoor/outdoor area rug for Esmé to crawl around on. It's very thick, soft underfoot, easy to hose off and I'm hoping it will last many years out here!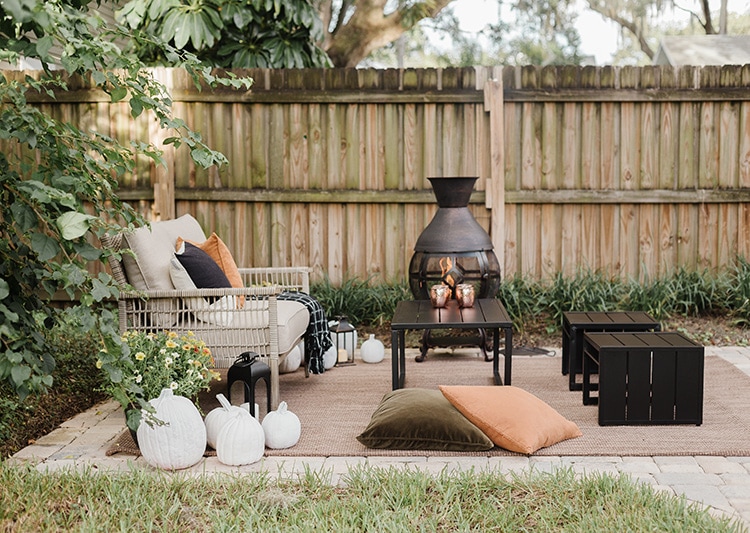 The main seating is this wicker + cushion love seat that I couldn't pass up. Unfortunately it's out of stock now, but I double checked and they're restocking next season, along with the matching chairs I plan to order!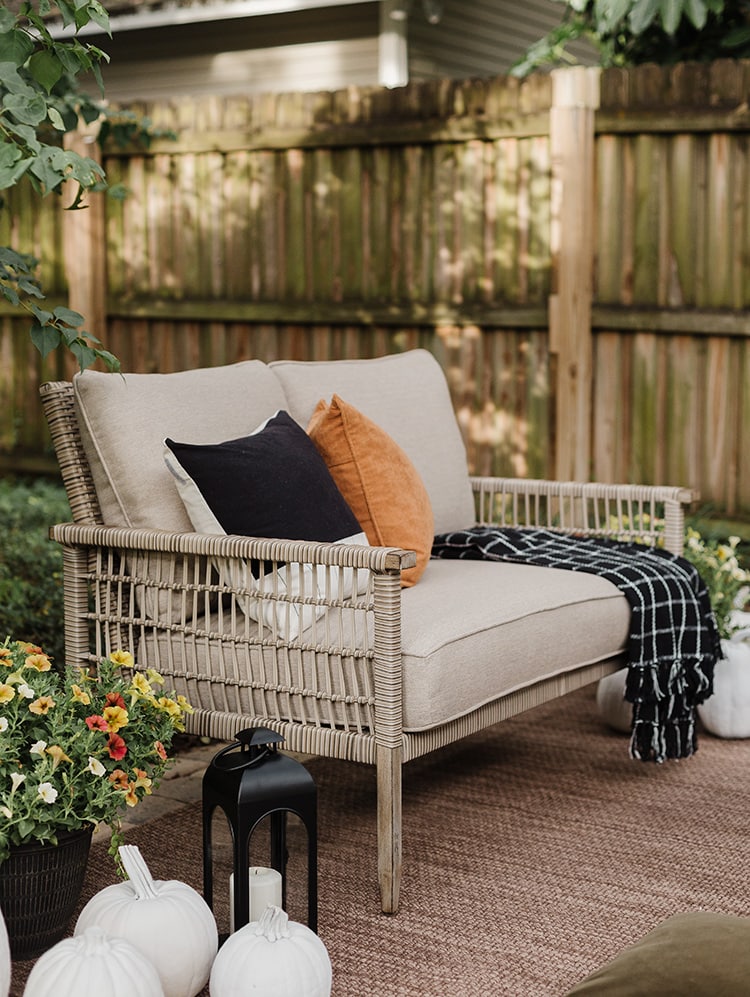 We don't plan to host any large gatherings for a while, and only need space for four adults (the grandparents live in the neighborhood and we see them all the time) But usually it's just the three of us out here, so a love seat and table is perfect…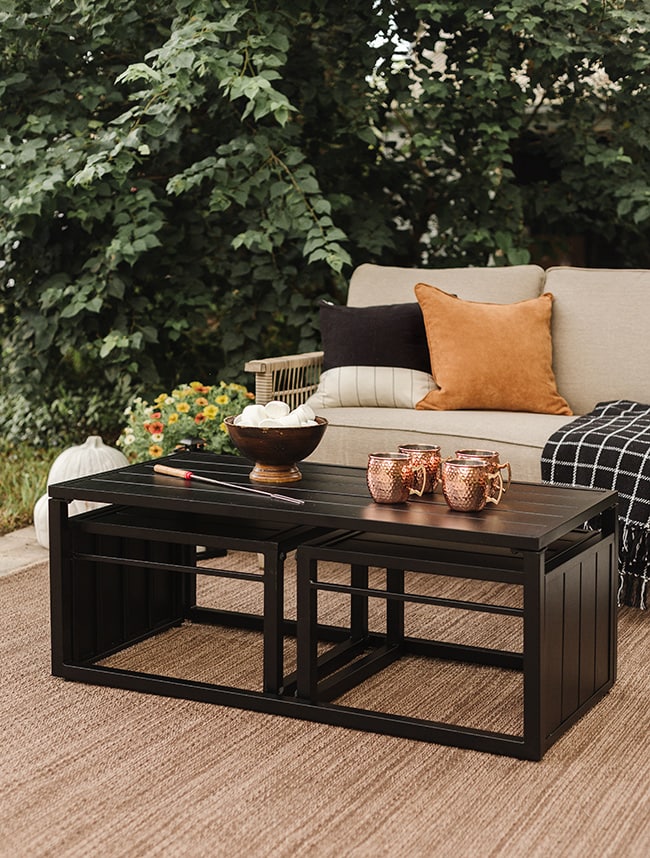 But look—it's a nesting coffee table with two seats that pull out!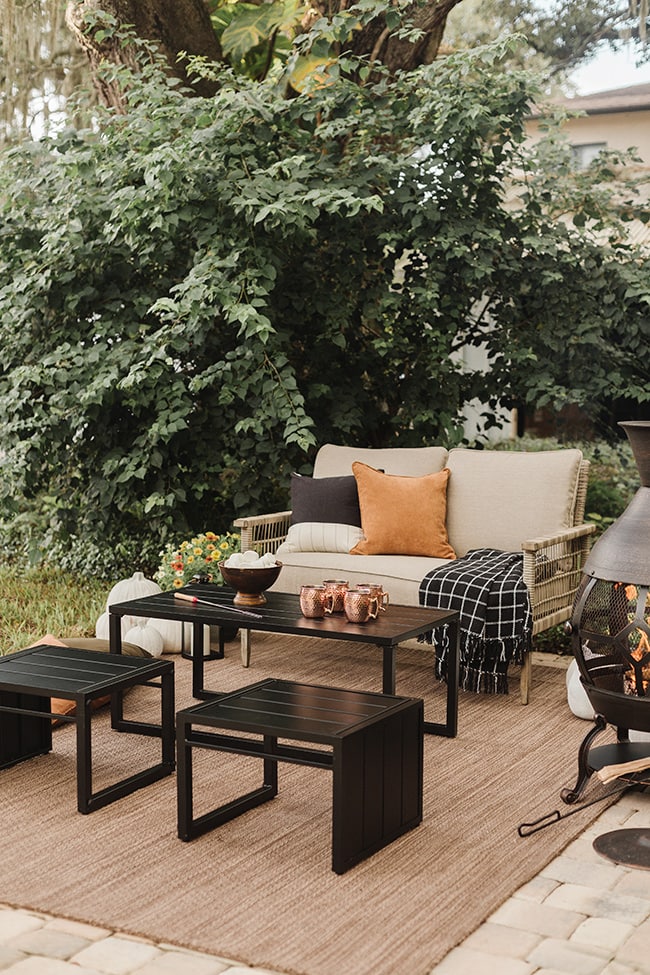 I thought that was so clever, and perfect for our entertaining needs.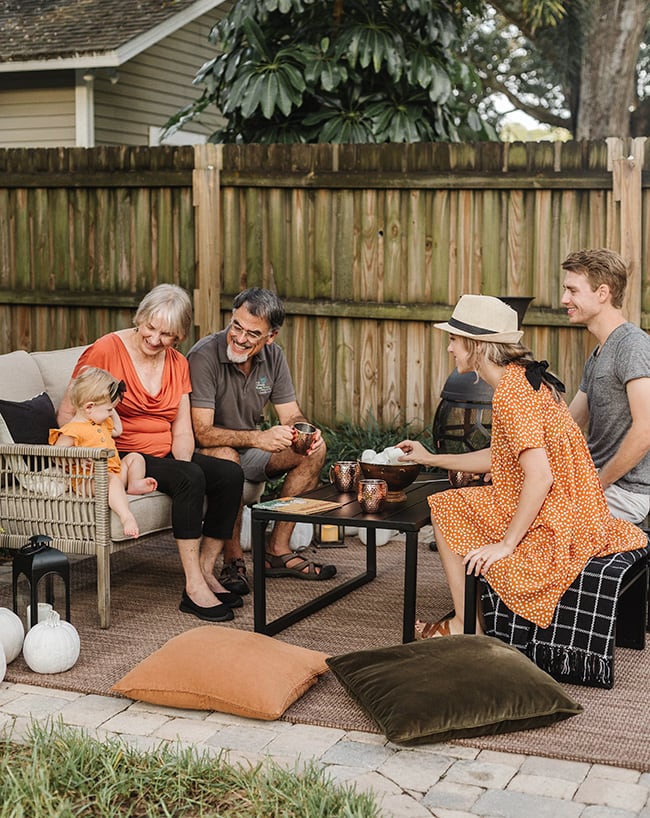 I think my favorite part of this whole space is our new chiminea: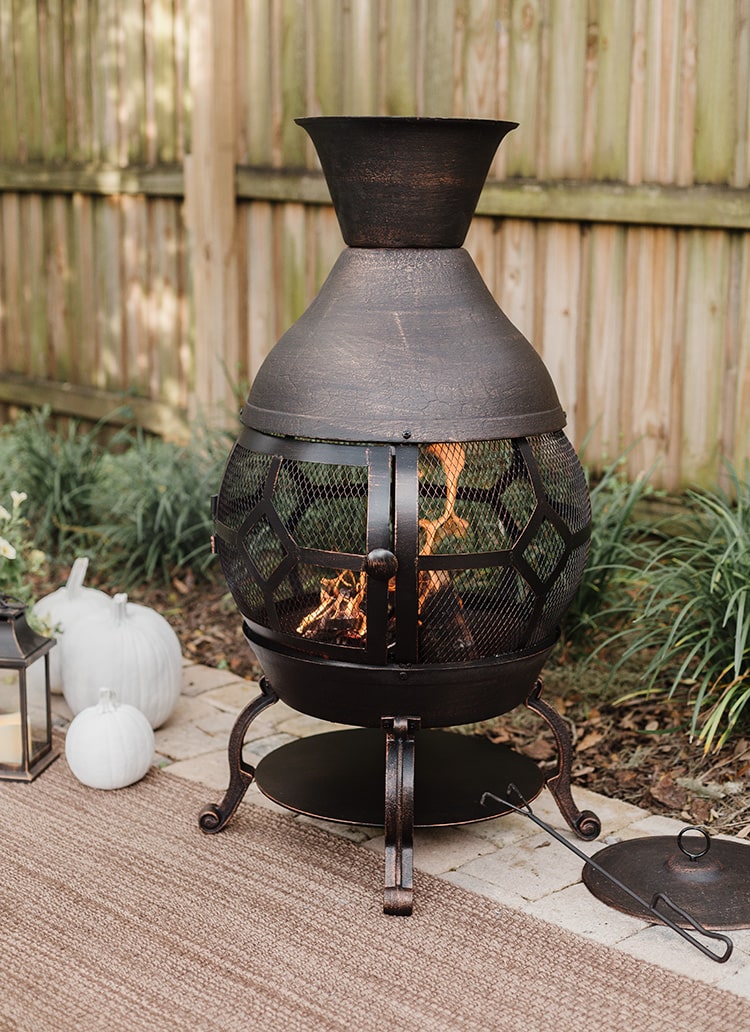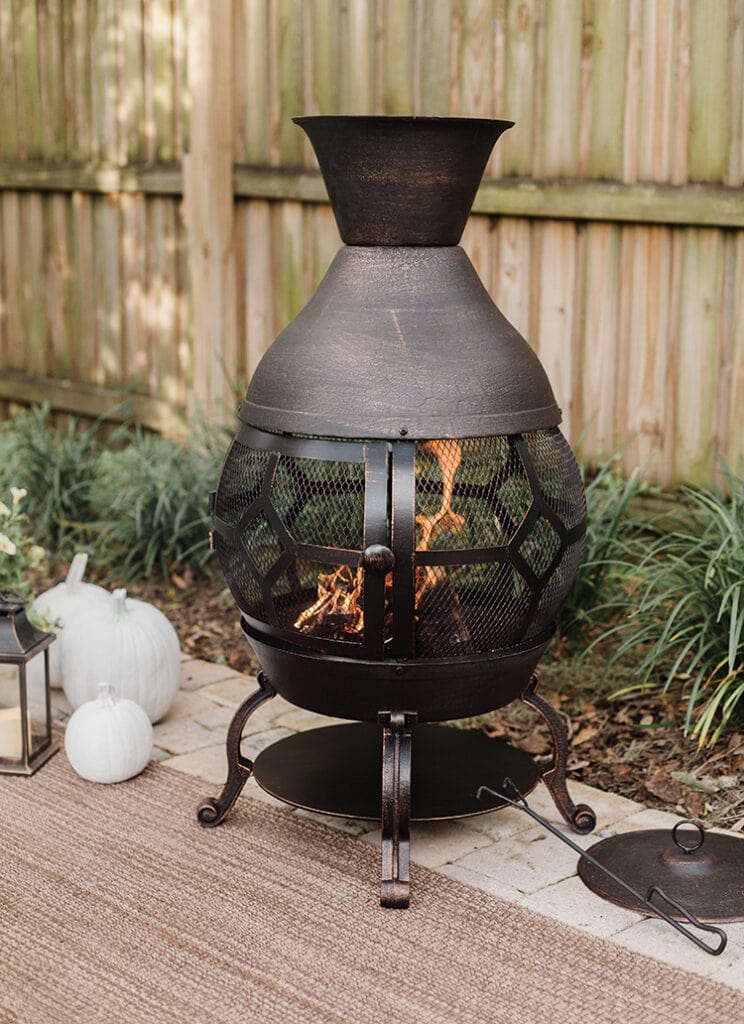 I considered getting a fire pit instead, but thought this was a unique and fun alternative (and under $100!) And it's great for roasting marshmallows.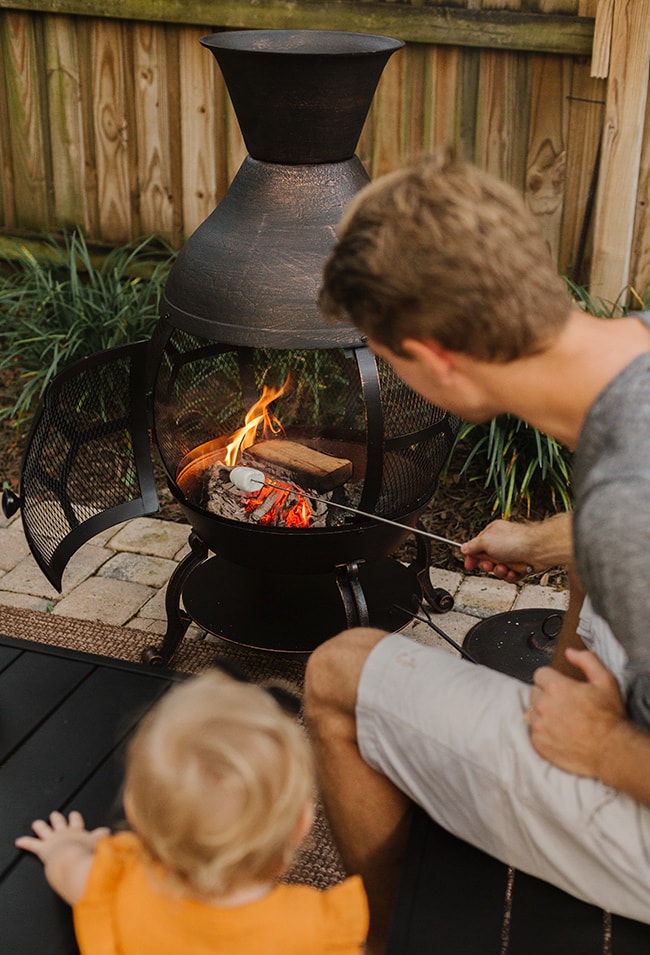 I predict many more cozy fall family nights out here on the patio…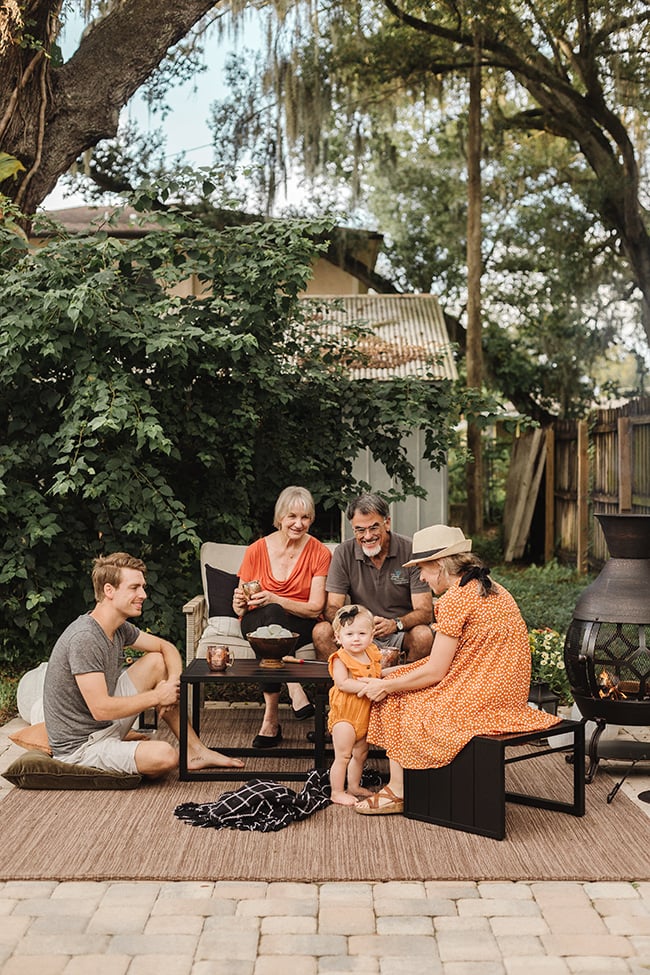 This was the perfect opportunity to kick off our first family fall tradition: pumpkin decorating!
The original plan was to carve the pumpkins, but once I began preparing and researching jack-o-lantern tips and tricks, I realized that maybe wasn't the best idea. Even with all the pumpkin preservation techniques, there's no way these pumpkins would survive 4-5 weeks in the direct sun in Florida. We'll be setting these out on our (uncovered) front porch and I need them to last through Halloween, so I changed gears and decided to paint them instead.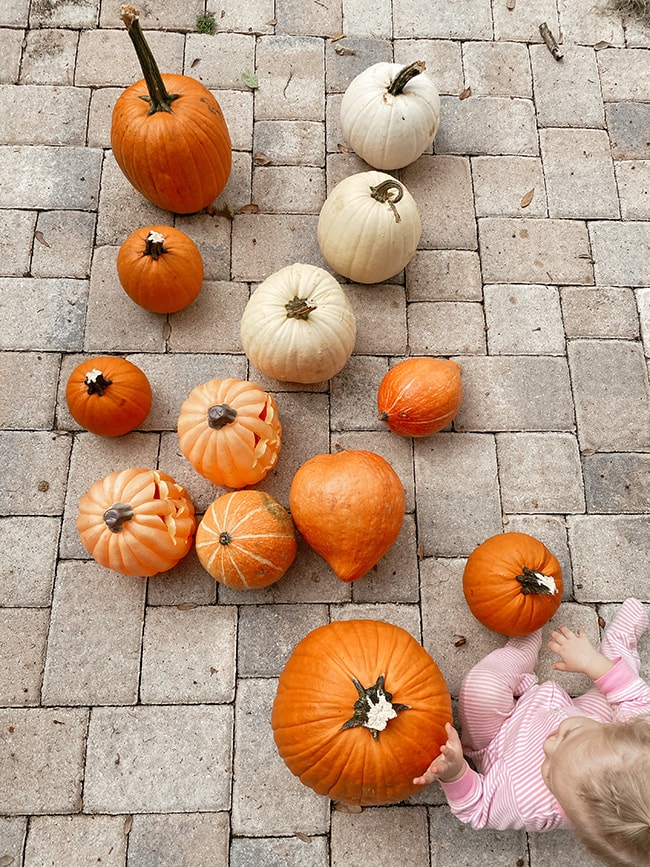 After washing the pumpkins with water and dish soap, I sprayed them with white primer (this Kilz oil based is the best and Walmart has the best price) followed by white chalk spray paint (you can use any type of white paint).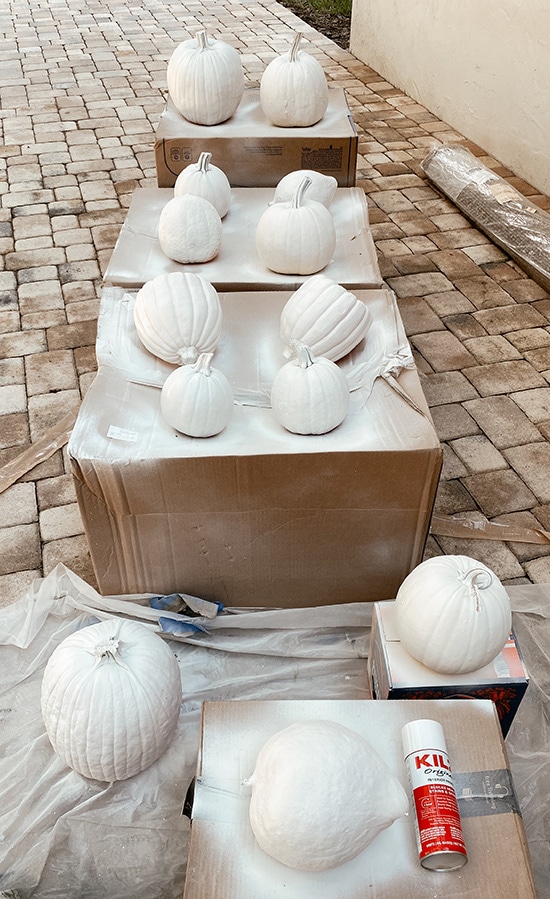 Then I drew spooky eyes and mouths (with a permanent marker), turning them into ghosts…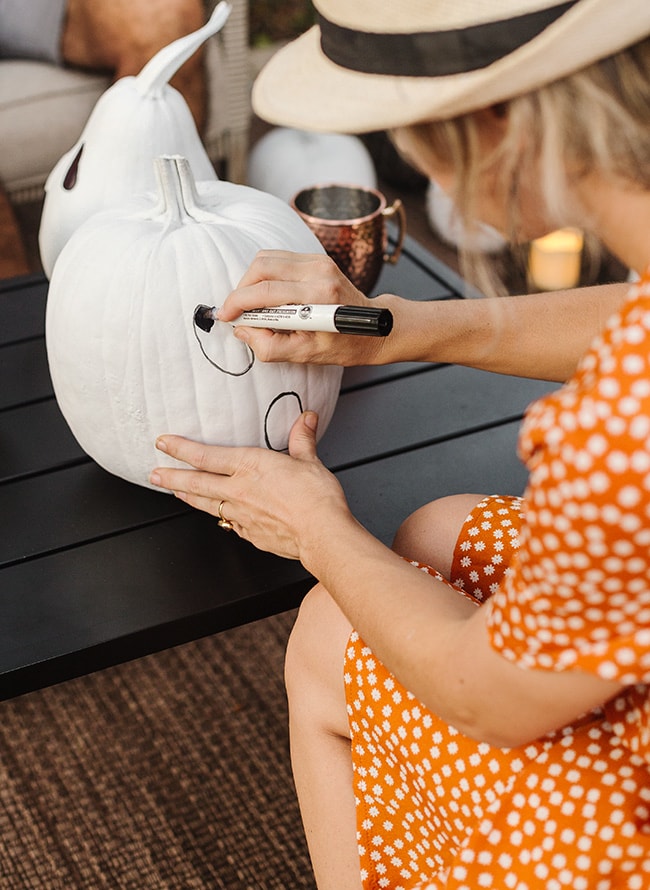 I can't wait to see how they look out on our front porch! Here's a few finished pumpkins but there are more on the way…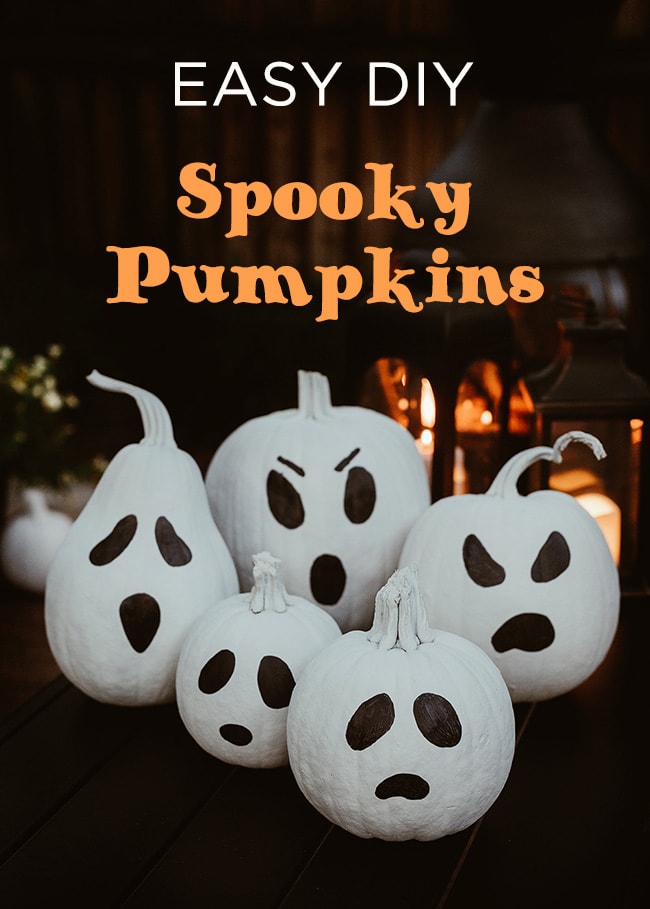 I landed on this theme after falling down a rabbit hole on Pinterest and convincing myself we must decorate our front yard for Halloween (this is what happens when you're on Pinterest for too long!)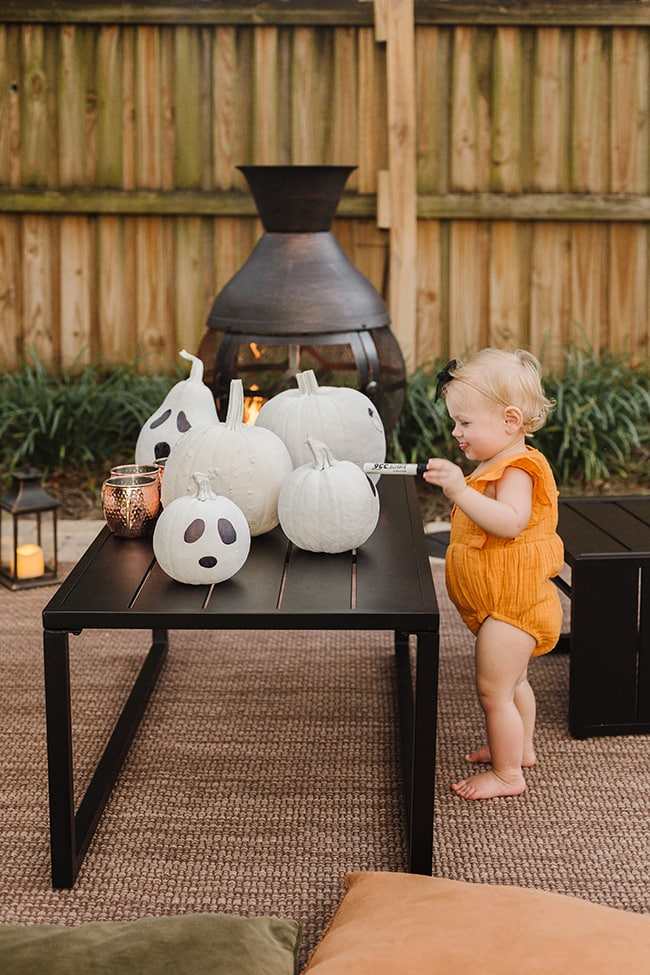 I can't wait to share more with you, and will be revealing our spooky front yard next week on the blog! This is the first time I've ever decorated my home for Halloween specifically, and I've had the MOST fun planning it all out, family costumes and all. I love getting creative with my costumes each year, and it's even more fun with a family! Are you dressing up this year?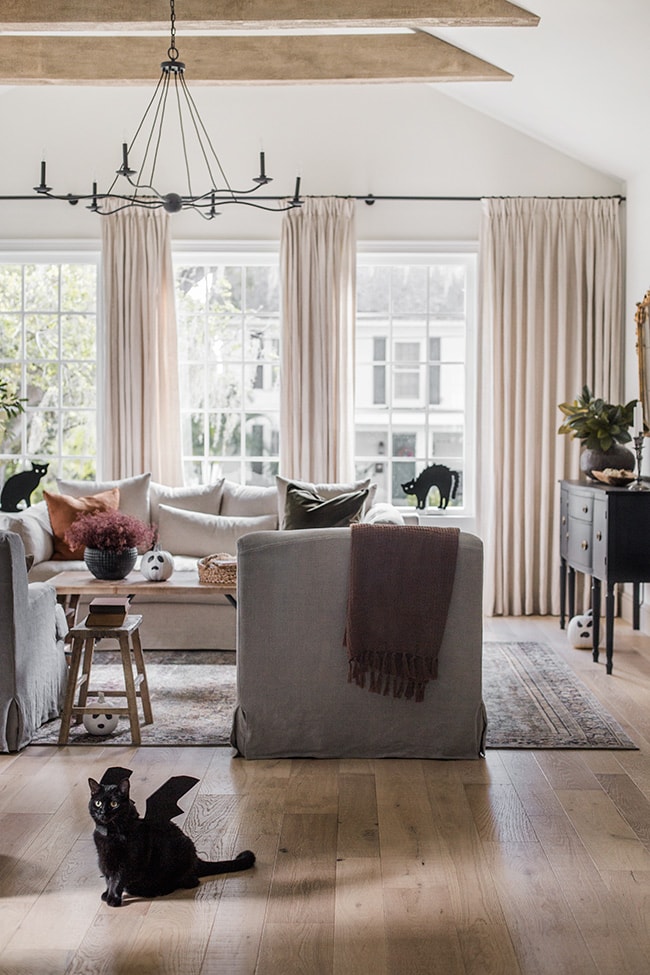 Before I sign off, let's play a little game! Below are Halloween costumes from the past, but one of them isn't my photo. Can you guess the decoy?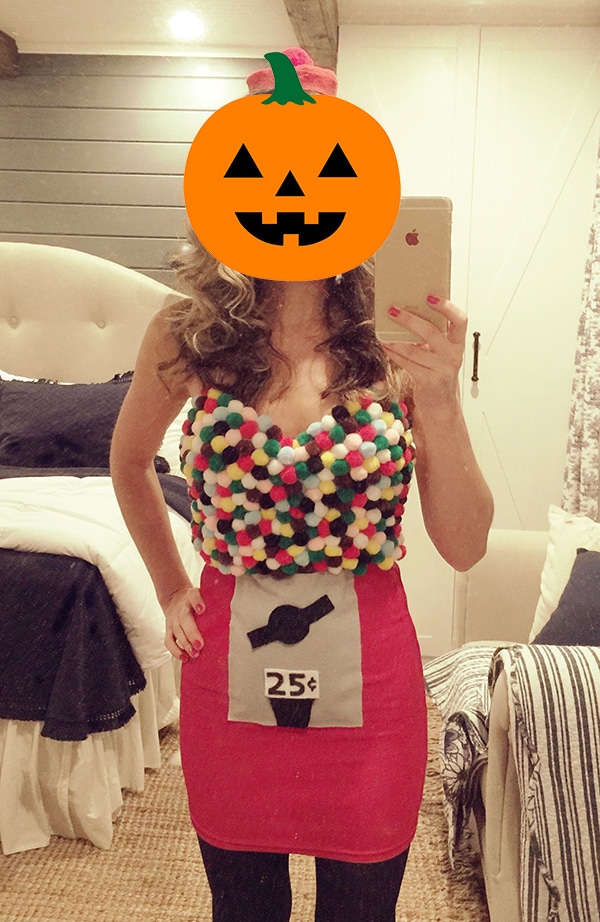 Take your guess and answer below! I'm posting the real ones today in my Instagram stories (don't cheat!) so you can check there to find out if you're right. One more sleep til October! ?