For the last couple weeks, I've been focusing my attention on finishing our master bedroom (finally, after living here for over a year!) and we're JUST about there. Still waiting on a few more pieces (hopefully they'll arrive this week) but in the meantime, I wanted to give you a little preview and share some exciting news…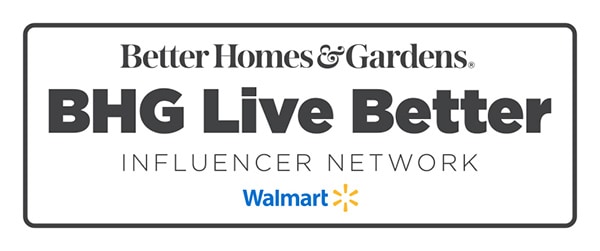 I'm thrilled to announce that I've partnered with Better Homes & Gardens on a new blog series! Each month I'll be participating in a different design challenge, using affordable Better Homes & Gardens products available at Walmart to style a variety of spaces and show how you can achieve designer looks at a fraction of the cost. Decorating on a budget has always been my jam, and the best part is these items are available in-store or online for everyone to recreate the same look. I hope you'll find some inspiration and ideas from these posts, and enjoy them as much as I enjoy putting them together!
Without further ado… let's kick off the first design challenge! Better Homes & Gardens asked us to refresh a room using something new to us—whether it was a design style, color, pattern or trend we haven't tried. I normally like to experiment with different styles (hello, Riverside Retreat) but for our own house I have kept things pretty neutral with earth tones. I thought it would be fun to try a few different bedroom looks with a new color: pink!
When decorating with any prominent color (or pattern), I like to layer in plenty of neutrals to keep the design grounded. I looked through Better Homes & Gardens at Walmart bedding selection and found my favorite dusty pink sheets, pillows and a quilt for these looks—plus a fun patterned sheet for good measure.
Look One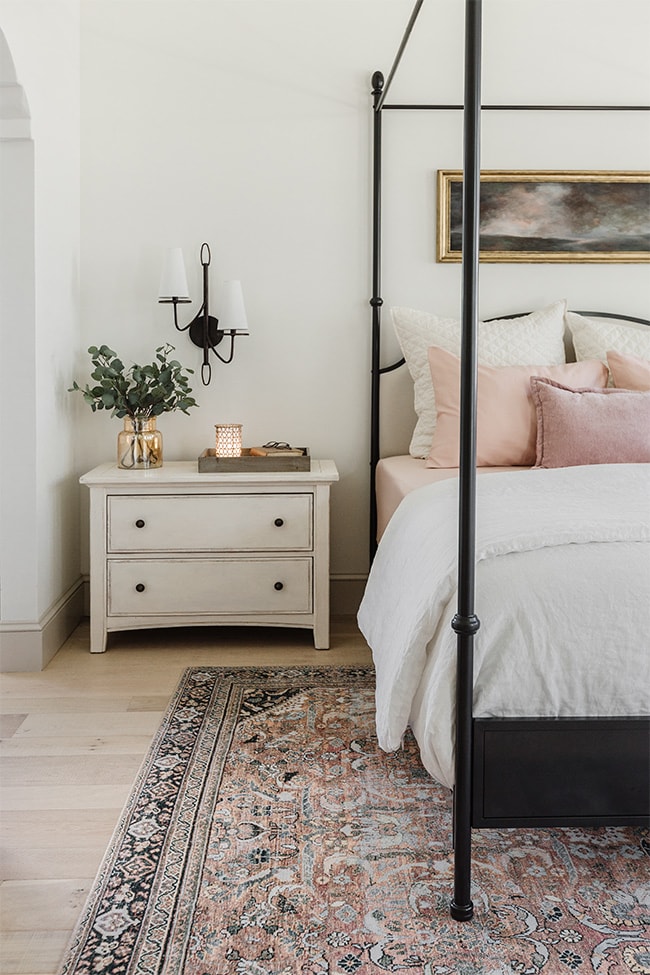 For this look, I used soft peachy-pink sheets and a blush lumbar pillow.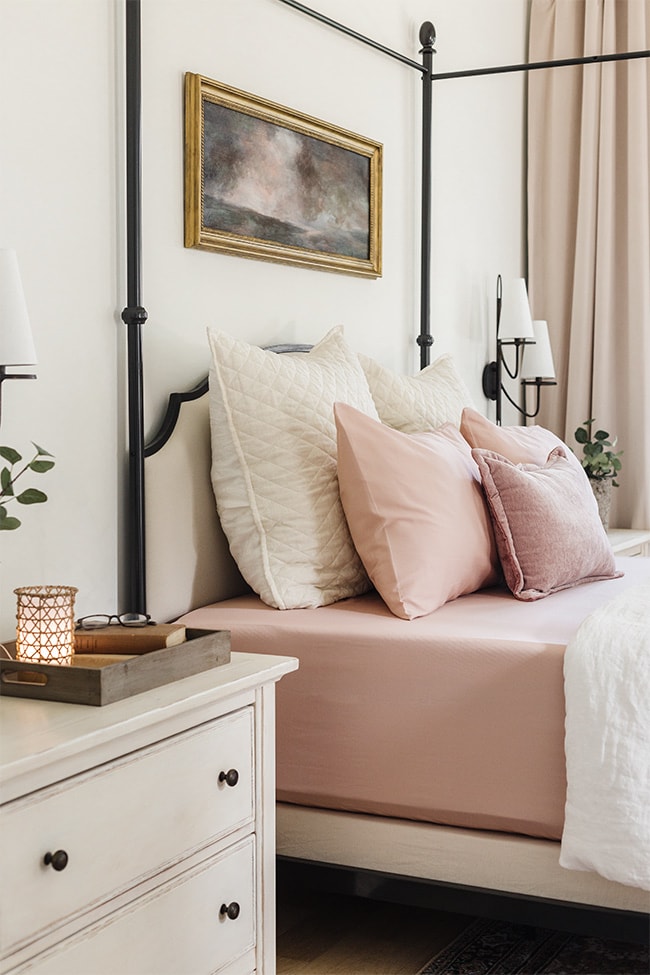 The key to mixing different tones of the same color is to keep them desaturated so they become more neutral. The lumbar pillow is nice because it's reversible, with a darker pink on one side and lighter pink on the other.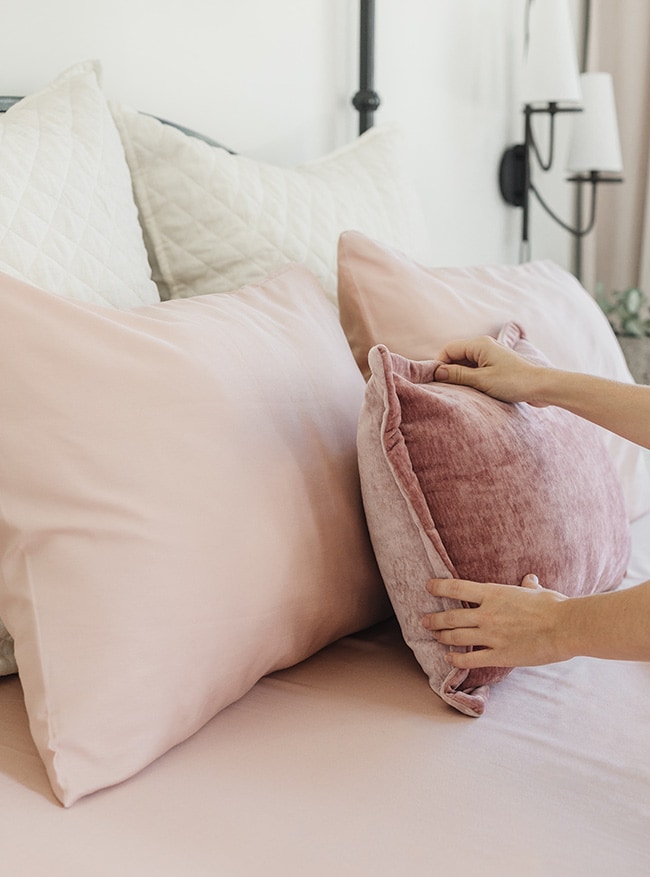 Our nightstand also got a few new goodies, like an inexpensive wooden tray to corral belongings and protect the surface. And in the spirit of 'trying something new', I figured I'd take this challenge as an opportunity to explore the world of essential oils. To be honest, I just loved the look of this woven rattan aroma diffuser and wanted to see what all of the hype was about (Esmé loves that it lights up and changes colors!)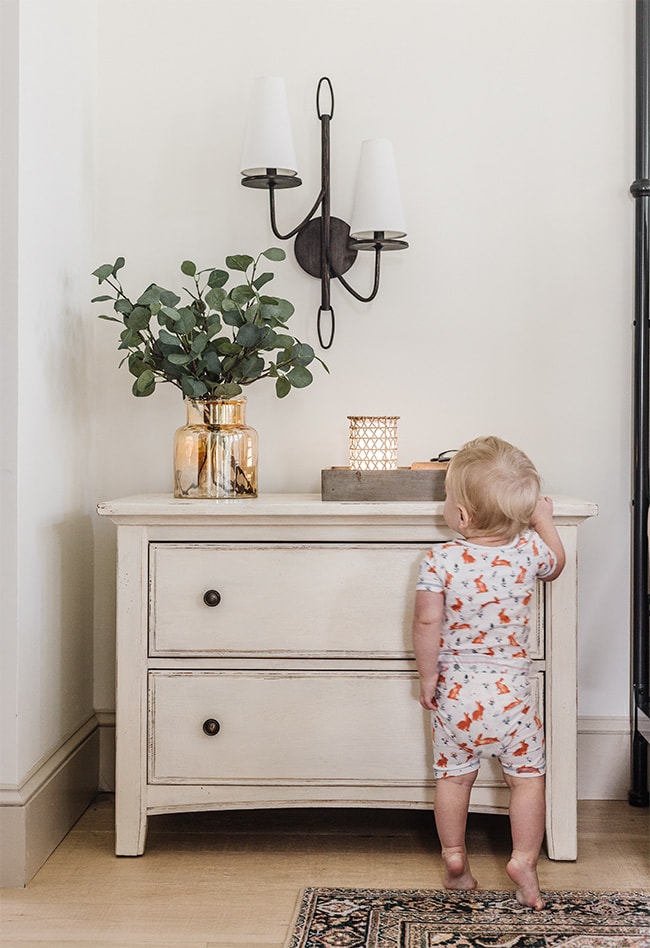 Scents in the home are very important to me, and I love using them to set a mood and reflect the season. It's not officially fall until pumpkin and cider candles are burning on repeat (who's with me!?) Since I'm not quite ready to let go of summer, I grabbed an oil set of lavender, lemon and sweet orange.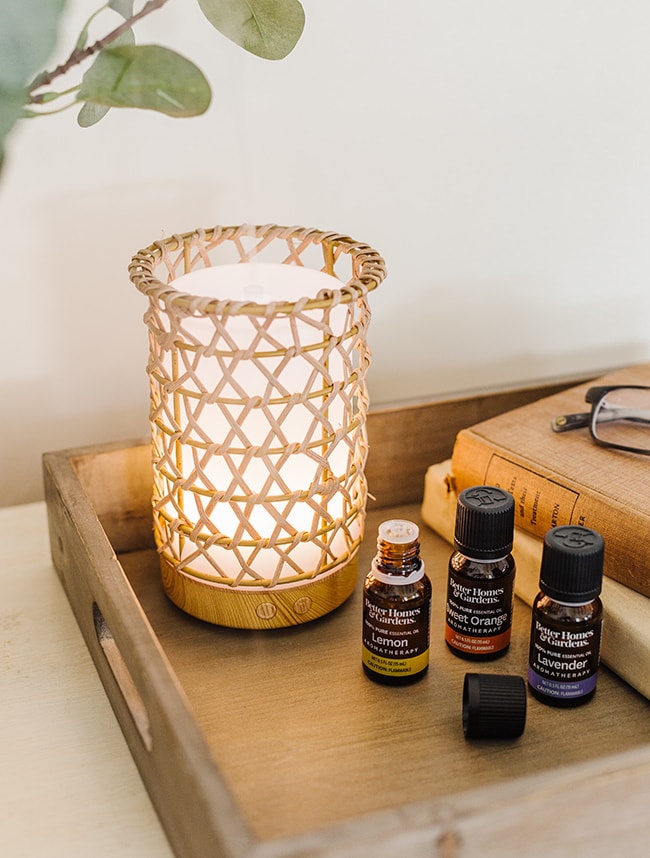 I think the lemon is my favorite, as it reminds me of August in Italy a few years ago, wandering the streets in the Isle of Capri tasting all the limoncello. Sigh…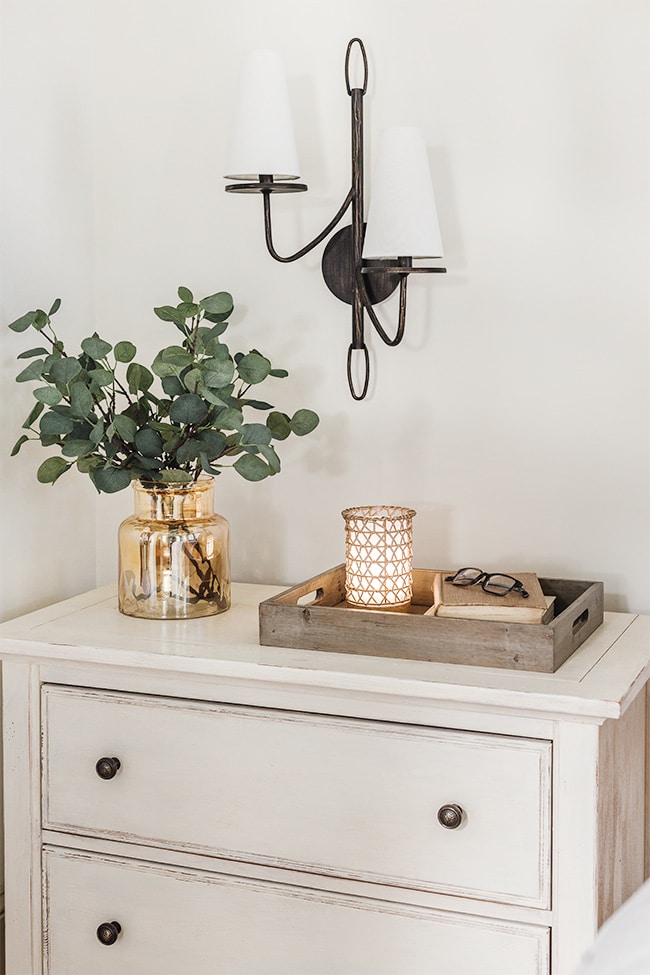 Oh how I miss traveling. It's wild how scent is so closely tied to memory—I can close my eyes and feel like I'm still there. Are you on team candle, diffuser, wax melt or all of the above?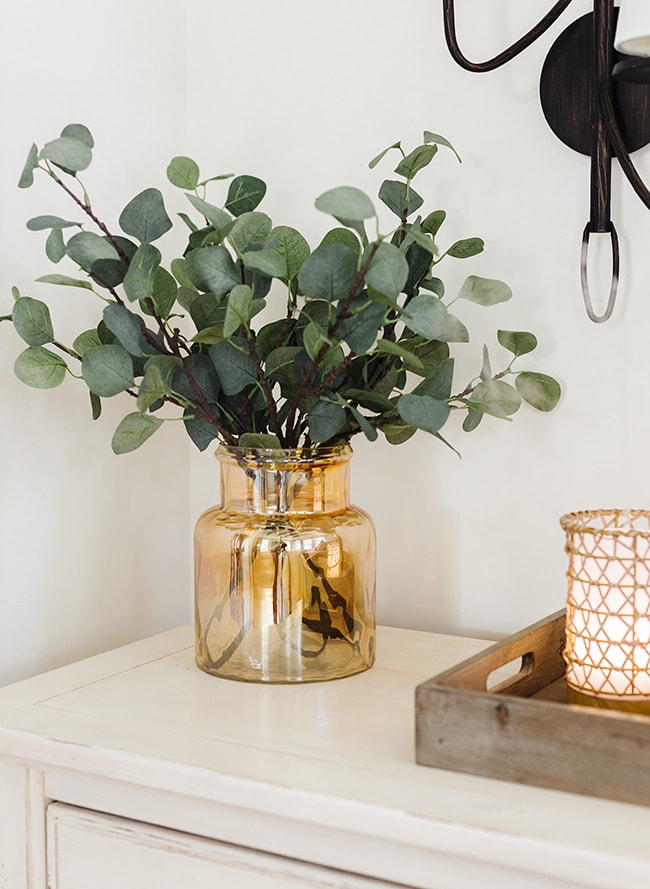 I added this $15 vase to my cart the second I saw it. How gorgeous is that amber glass? It works great for both summer and fall, and it's the perfect size/shape for branches and bouquets.
Look Two
For look two, I decided to switch it up with diamond patterned sheets and pink pillows.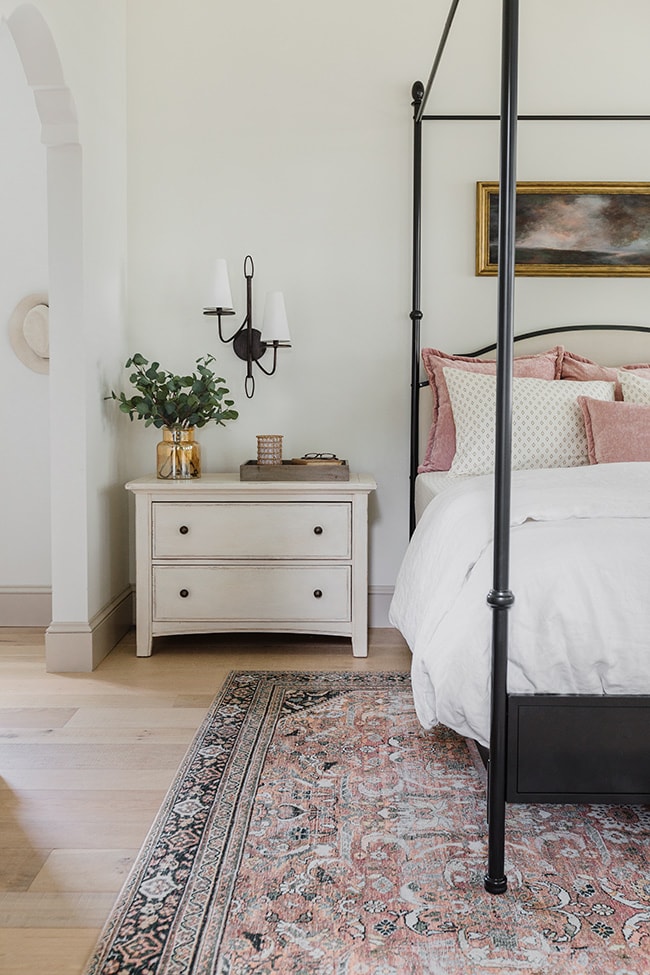 I used three reversible 22×22″ pillows in the back, followed by two queen pillows, and the same chenille lumbar pillow in the front.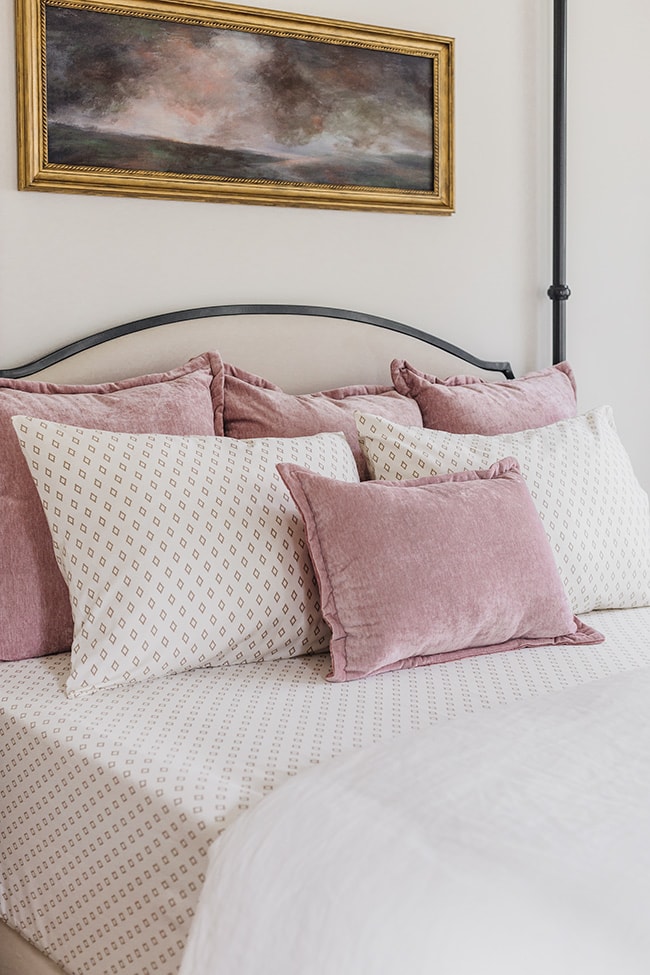 These sheets are the same 100% cotton fabric as the pink sheets, and I especially love that they're wrinkle resistant!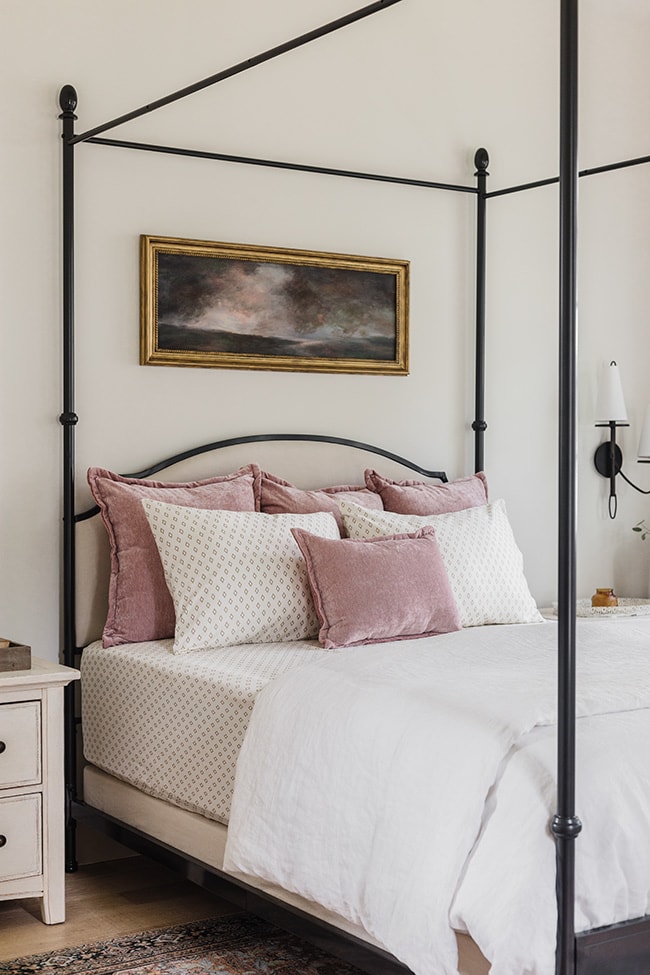 Did you notice the new painting above the bed? That's my latest thrifted DIY makeover and I'm thrilled with how it looks in here. I shared the process last Friday in my Instagram stories (you can still watch it if you click to the end of this highlight) but I've decided it deserves its own blog post, so I'll be sharing more details soon!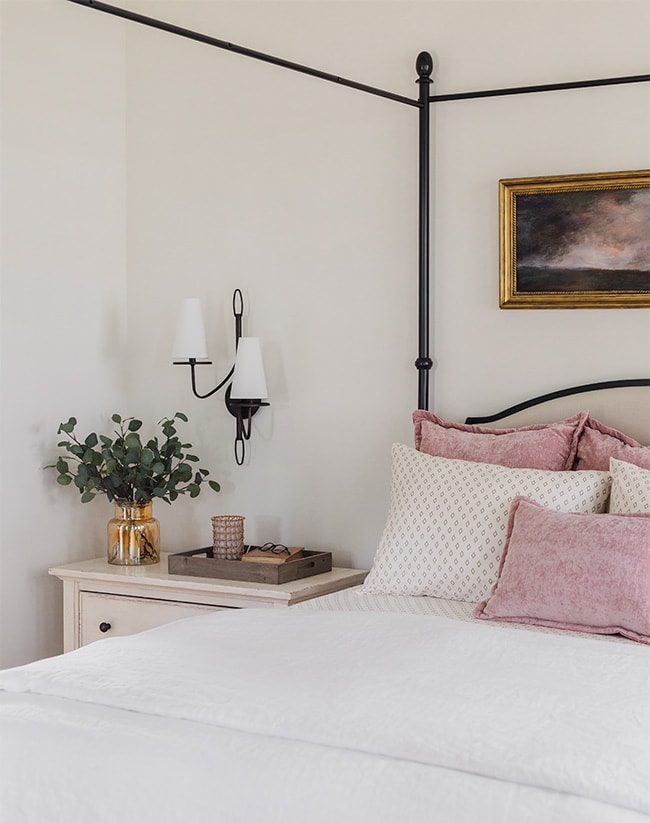 Look Three
I kept the patterned sheets for this look, and swapped out the chenille pillows with these velvet quilted shams and matching quilt.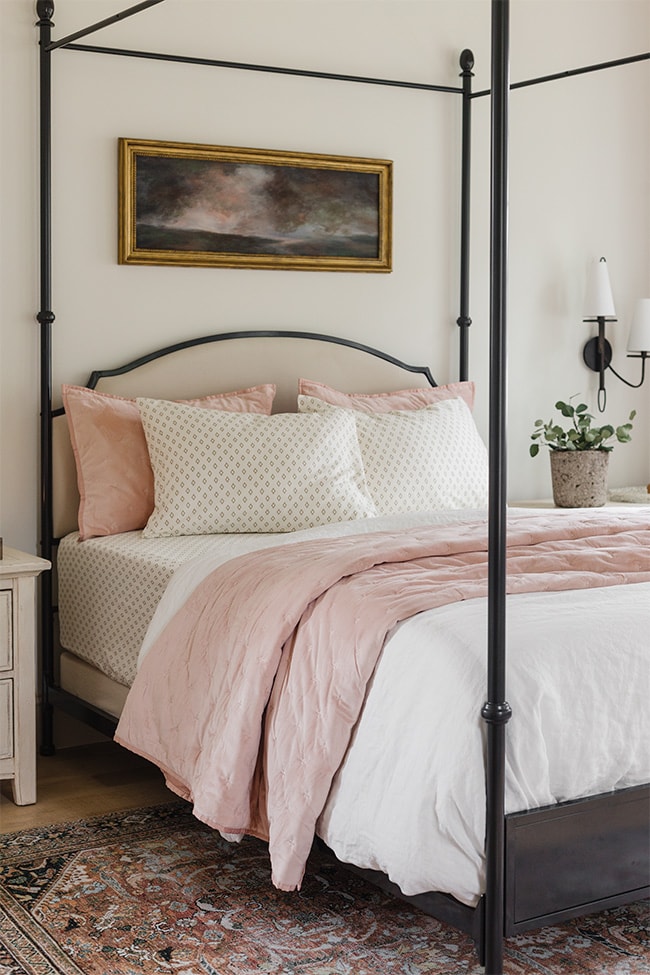 Oooh… I think this combination is my favorite. This velvet is SO soft and dreamy.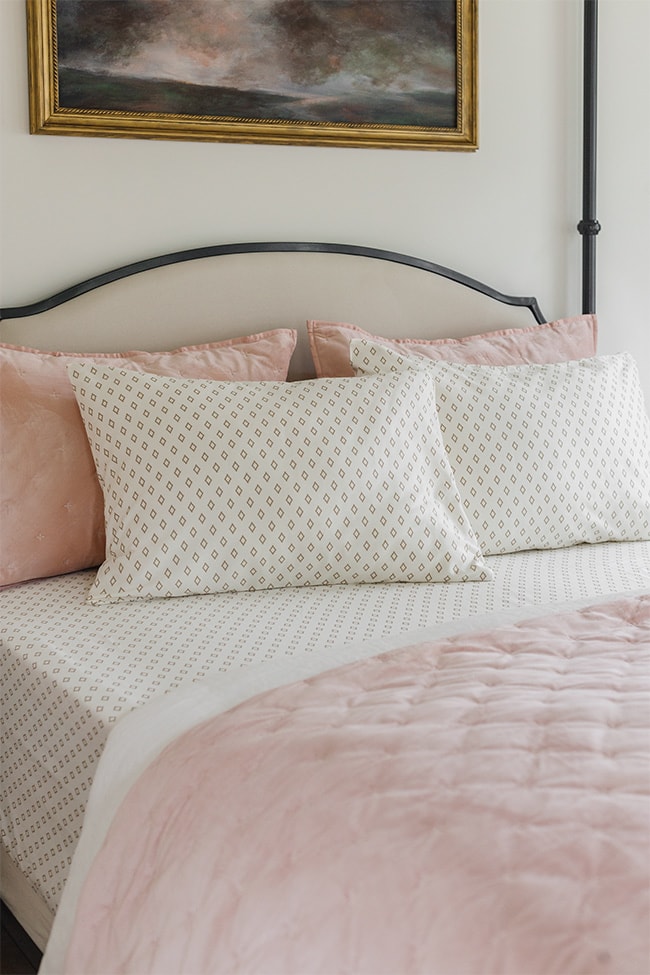 I love living in Florida, but sometimes I wish it was colder so I could have a cozy, layered bed like this!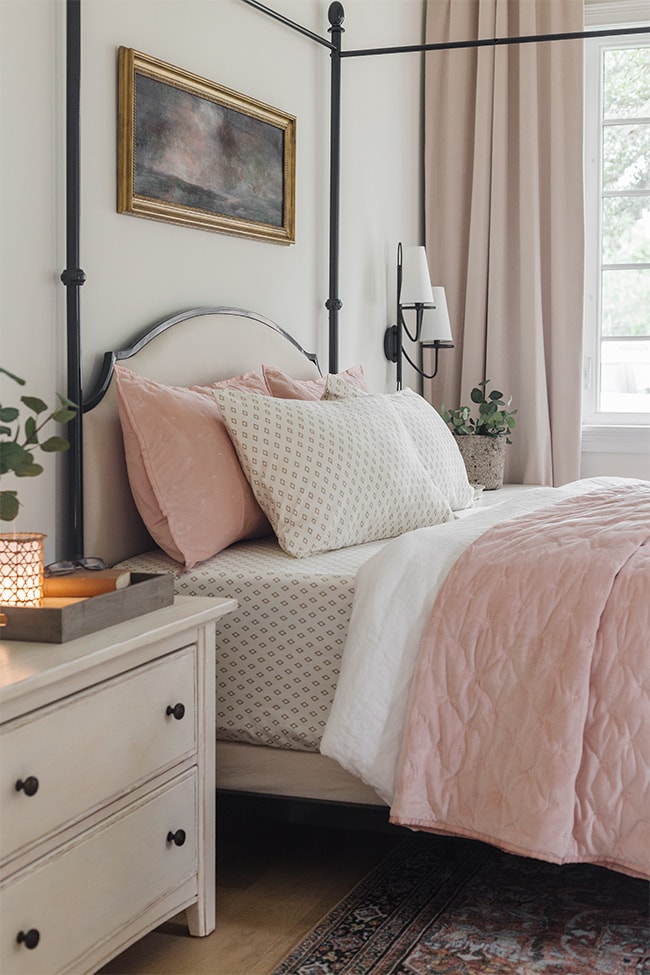 At least I get opportunities like this to play make-believe and style up rooms for fun (thank you, Better Homes & Gardens and Walmart!)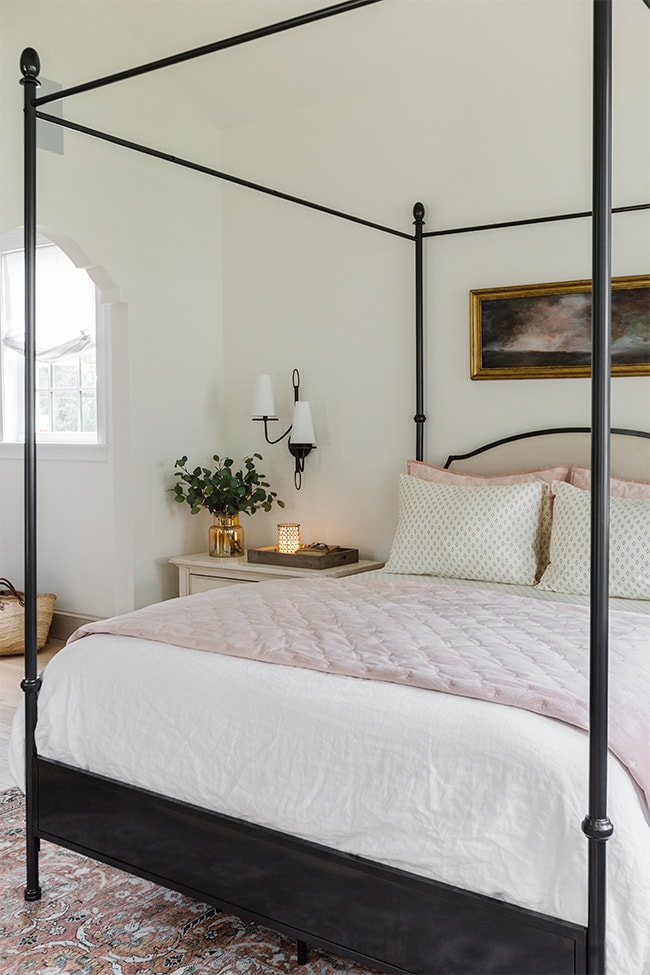 Do you have a favorite look? I forgot how much I love pink, and you'll be seeing this color regularly in our room now that it's in our new rug! I linked to the rug yesterday on my Instagram, but I'll have more details on this beauty along with the official bedroom reveal and links to everything very soon—hopefully next week if all goes well ?
Now for a blast from the past! Better Homes & Gardens assigned us with a 10-year challenge, where we share an old photo showing how our style has evolved in the last decade. In 2010 I was living in my first home in Burbank, CA on a fresh-out-of-college budget, so everything came from Ikea… except for this sweet headboard that I made using spray painted tree branches. This house was my first introduction to DIY and design in the pre-blogging days, and I was hooked!
I still love black, white and green, but I think my current style is slightly more sophisticated.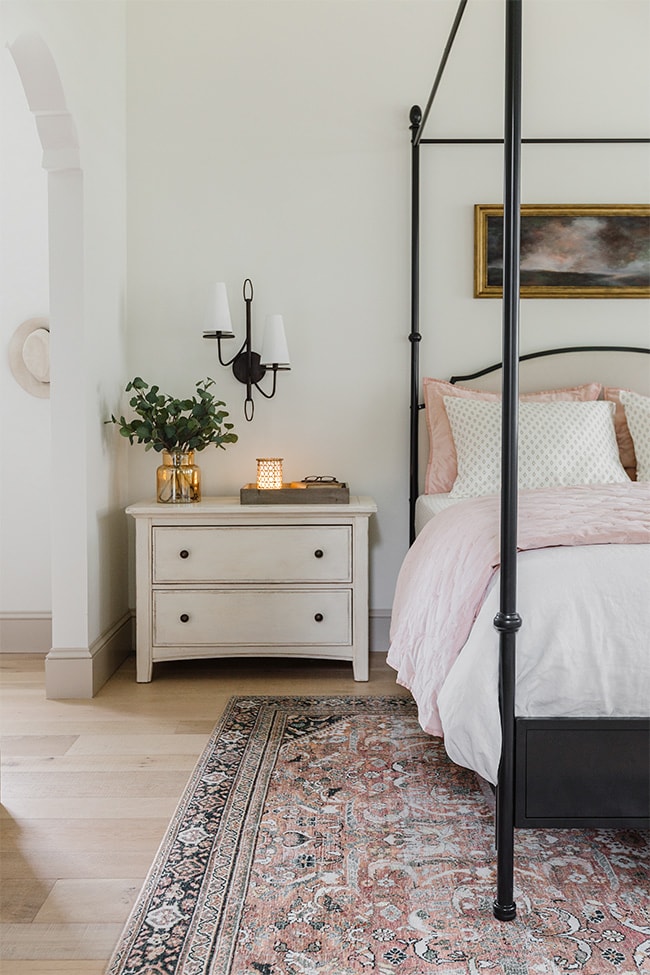 Is it too early to start decorating for fall? I might switch it up a bit for next week's official master bedroom reveal. I have a few autumn-esque goodies on the way and I won't be able to stop myself from using them… fair warning. Hey, we all want this year to hurry up and end anyway, right? 😉