If you missed Part 1, be sure to catch up here.
One thing we learned from the first tile job we did was that sealing your grout was a huge pain. So tedious and time consuming for a large area. This time around we knew it was worth to pay extra and get the grout and sealer in one. Lucky for us, the TEC Power grout was on clearance at Lowe's for just $11/jar: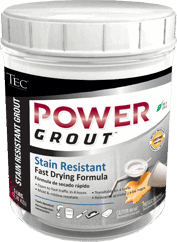 Pin
I wanted the grout lines to blend in as seamlessly as possible, so we chose Pearl which is a soft beige color that was very close to the lighter veins in the tile.
Pin
Brad got to work Monday afternoon while I was busy launching the new site, and it took him pretty much all evening (including having to run to Lowe's for another jar because we ran out right at the end)…
Pin
There was a lot of haze which he got rid of after several passes with a wet sponge and buffing with a vinegar + water mixture the next day. Now that he's recovered, we're loving the new floors (and the fact that we don't have to look at plywood anymore!)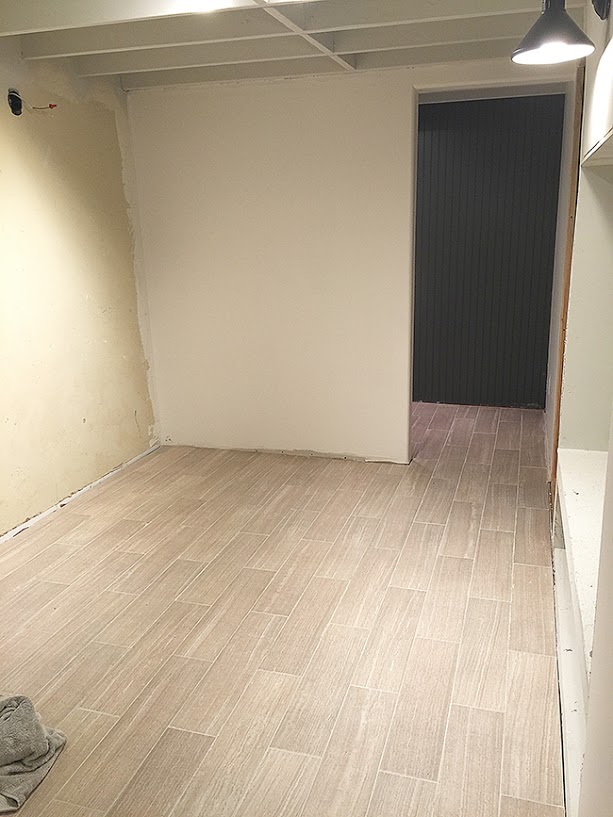 Pin
Excuse the horribly white balanced iPhone photos…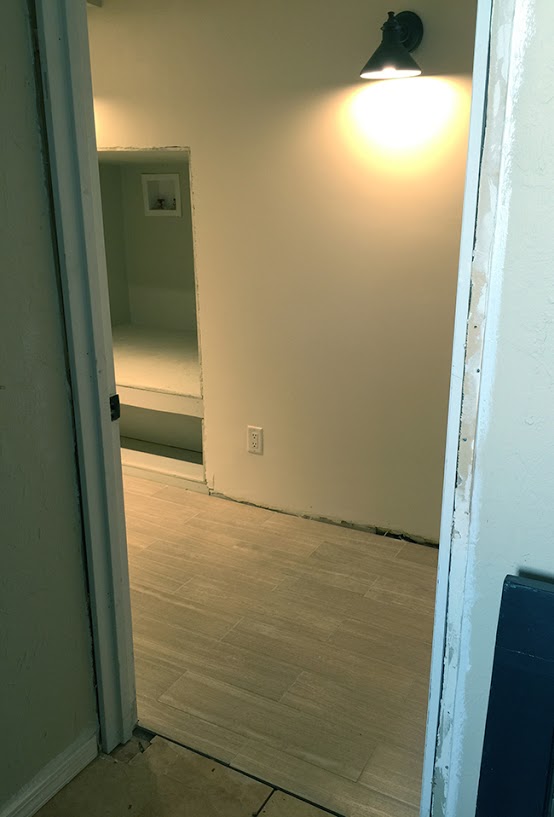 Pin
I know the coloring varies in each photo, but this one is a pretty accurate representation:
Pin
Still more gray than I had envisioned, but I think it will look warmer once the cabinets are in.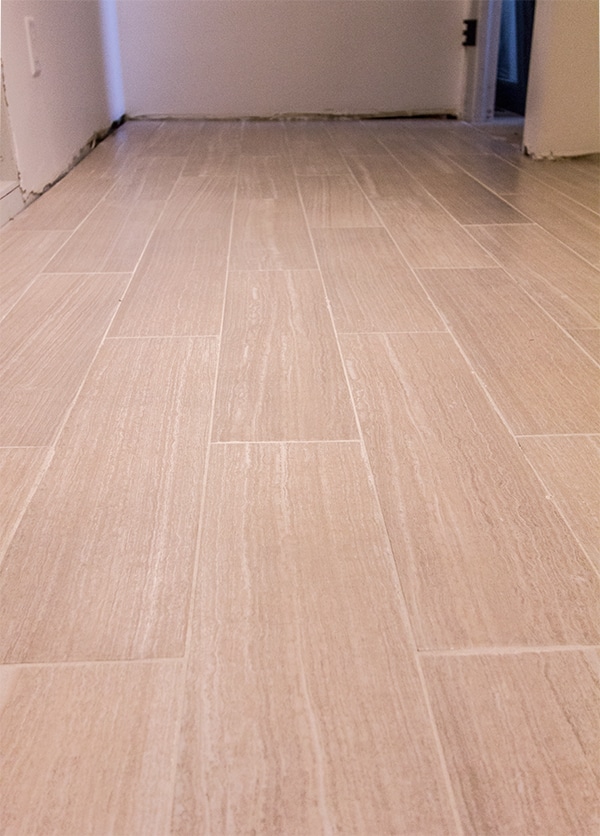 Pin
Here's the last remaining untouched surface left in the room, waiting patiently for cabinets: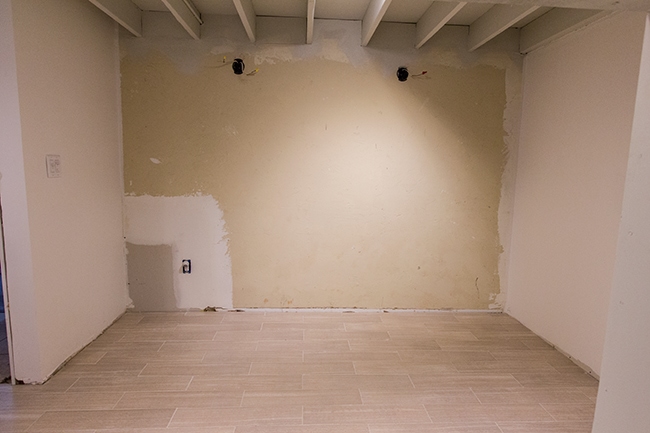 Pin
This is my favorite angle of the room so far… can't get enough black and white lately.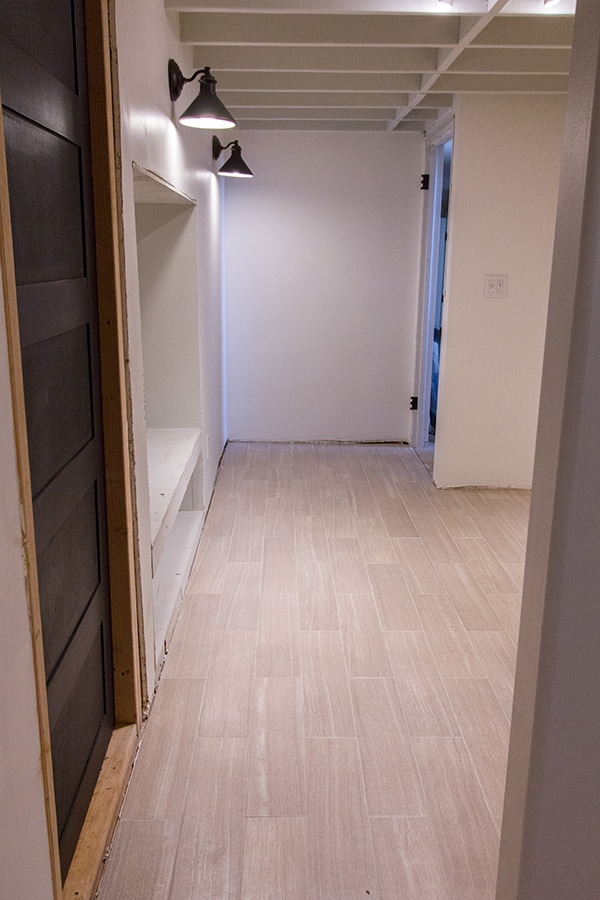 Pin
One week from now this little closet will have lots of built in shelving and storage! (please ignore the ridiculous lens distortion)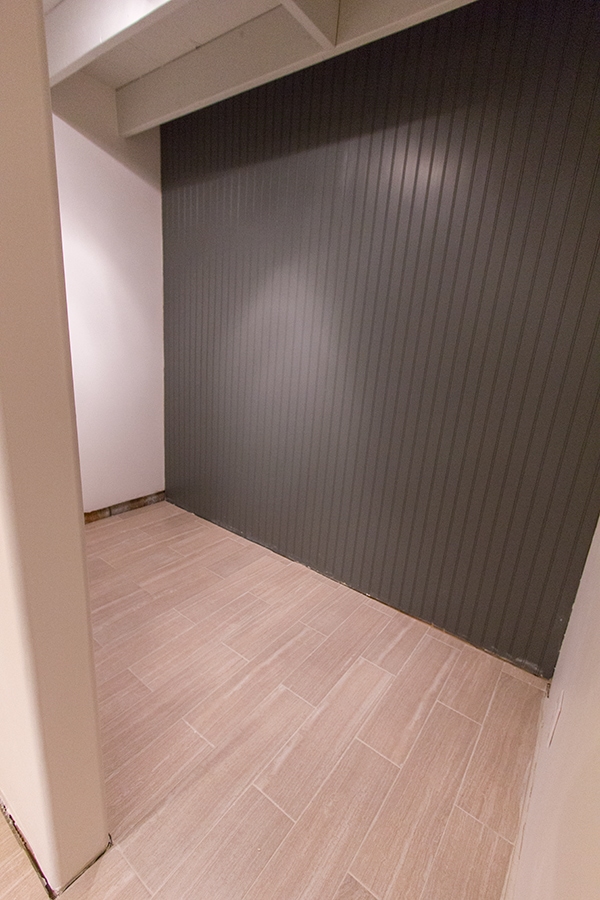 Pin
Last night I bought the lumber and today I plan to stain it. This weekend I
hope to get everything installed and I should have two posts next week
sharing some easy rustic DIY storage solutions. I'm so relieved that the whole dirty, messy construction phase is over and now it's all about rebuilding and making things pretty & functional. Whew—made it to the halfway point! Now if it would only go this smoothly from here on out… (that would be a miracle). See you next week!