Exactly one week from this moment I'll be chopping apples, basting a turkey, stirring cider and preparing stuffing for a room full of some of my favorite people. This is exactly what I envisioned for our dining room—the reason we built a massive 9 foot table that can easily fit our party of 10 on Thanksgiving.
Yesterday I put the finishing touches on our table setting and now we're ready for the big day. I'm going to call this style "simple cozy country casual meets refined rustic"… so many adjectives, I can't choose.
Since I plan to spend a lot of time and effort on Christmas decorating this year, I decided to keep it simple for Thanksgiving and use mostly what I had. I think I spent around just $30 for everything.
The jumping off point was this table runner—2 yards of $3 fabric from fabric.com (looks like it's not available on their website anymore, bummer!). No sewing involved, just cut it in half, folded and ironed the edges and plopped it down. Easy peasy.
Then I layered a super inexpensive (I think it was $5 or $10?) runner I found at Walmart in the candle/home/wedding section…
I had all but two of the woven Ikea placemats, so I picked those up last weekend. I already had the dishes (scored them at our flea market—$30 for a full set!)
The wood box centerpiece was a DIY project from this past spring, and I filled it with pine clippings, berries and pinecones from the yard, along with pillar candles and candlesticks.
A few mini pumpkins were added to keep things festive, along with some branch wood coasters I purchased for a steal on Ebay earlier this year.
I didn't want another pattern to compete with the plaid runner so I found these brown cloth napkins at a wedding supply store for just 53 cents each! I'll definitely be using them again in the future.
I was gifted my Grandma's silverware set so this was the perfect occasion to break it out—a simple twine bow holds them together.
The name tags were printed on card stock, cut and hole punched, and wrapped around more pine clippings from the yard.
Instead of wine charms, I bought a package of gold alphabet stickers for a couple bucks on Ebay and added each guests' intials.
And in lieu of a thankful tree, guests will write what they're thankful for on blank tags. Then I'll age them and hang them on our Christmas tree as ornaments to enjoy until next year (I'll make sure to post that later!)
Neutral pillows and blankets line the bench seat for added coziness.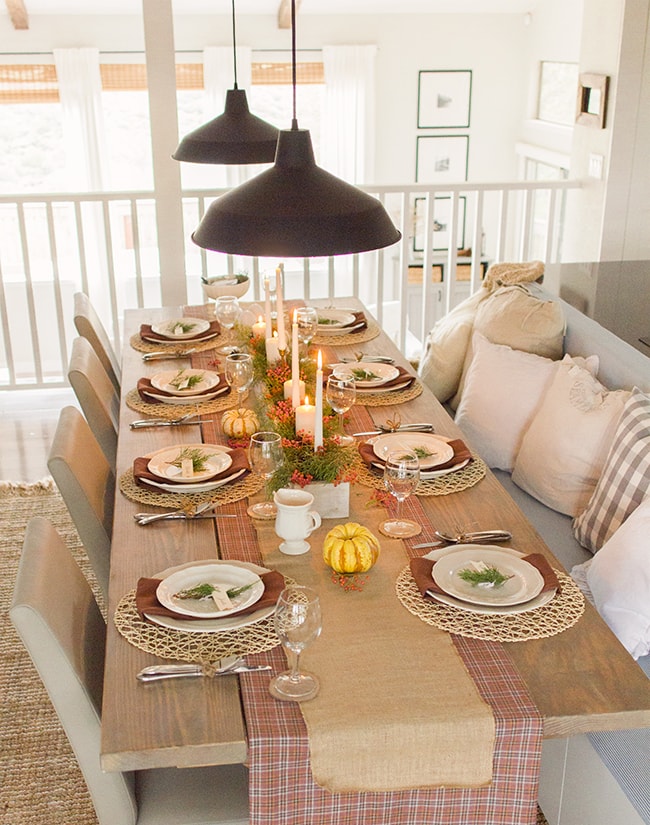 Pin 
I set the table for 8 for these photos, but we'll be adding one person to each end of the table on the big day.
You may also notice the lack of slipcovers on our chairs. We've actually been living without them for months now (per Brad's request) and I kind of like it this way, so they'll stay for now.
Can't forget the chalkboard DIY…
And that's that! My very first Thanksgiving table and first time ever hosting Thanksgiving. Fingers crossed we don't burn the turkey 🙂
I have a special treat for you all next week… something that has been in high demand—my free printable planner for 2015! I'll be working on it this weekend and should have it up early next week. I'll also be getting a head start on my Christmas crafting, so keep an eye on instagram for sneak peeks!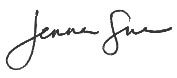 Pin