One week ago I jumped into a mini-van with ten other backpackers and watched the streets of Chiang Mai turn to rural land on the 3.5 hour drive to Pai. I was eager to leave the urban lifestyle for the country—two days in Chiang Mai confirmed that city life, while fun to visit, is not for me. Take me back to nature.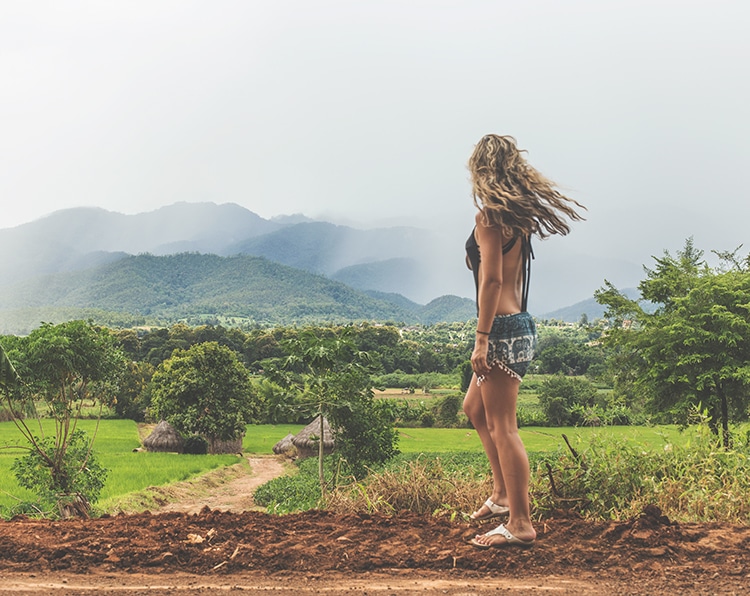 Pin
The path to Pai, just 25 miles outside the Myanmar border in northern Thailand, is full of steep and windy mountain roads. About an hour in I began to feel ill. Motion sickness is rare for me but with the combination of stuffy van, 90's love song tracks on repeat and the girl next to me eating what I can only assume to be dried squid flakes, it hit me hard. Crap—2.5 more hours of this? I closed my eyes as Celine Dion's My Heart Will Go On filled the van and visualized a young Leonardo DiCaprio's love scenes to ease the discomfort.
At the halfway point, the driver pulled over at a small market and set us free. I ordered a delicious $1 iced espresso, made some new Australian and Spanish friends and mentally prepared for round two.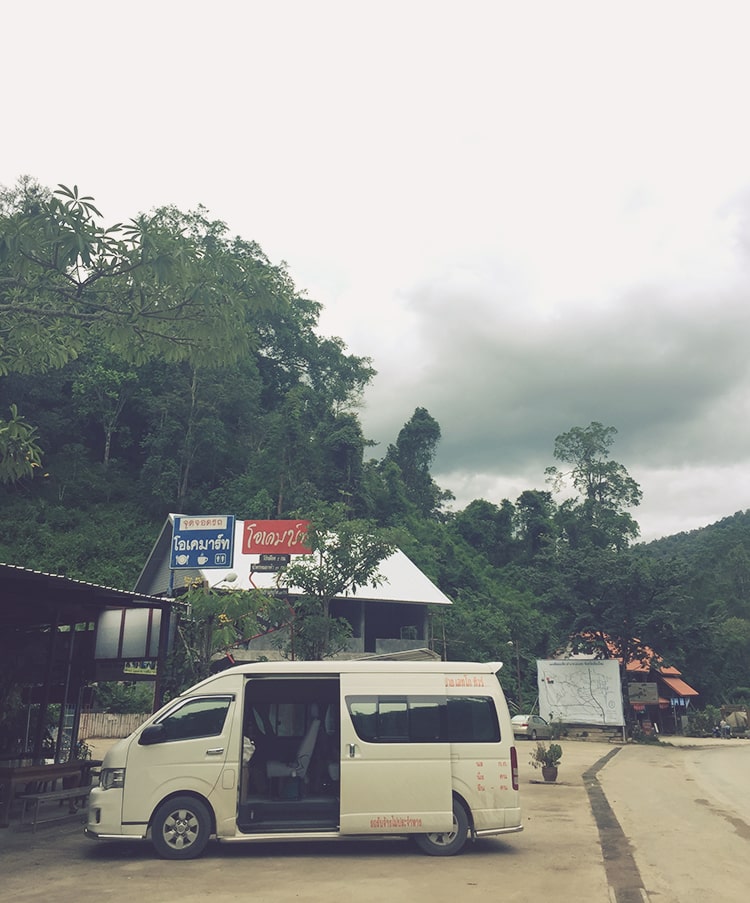 Pin
Surrounded by mountains, I almost felt like I was back home, except in a much more dense and lush forest of trees and fields as far as the eyes could see. Traces of civilization began popping up and I could sense the end was near. We turned a corner and stopped just feet short from an elephant taking up the road—the first I've seen in Thailand. The landscape opened up as we entered the valley, surrounded by steep hills on both sides.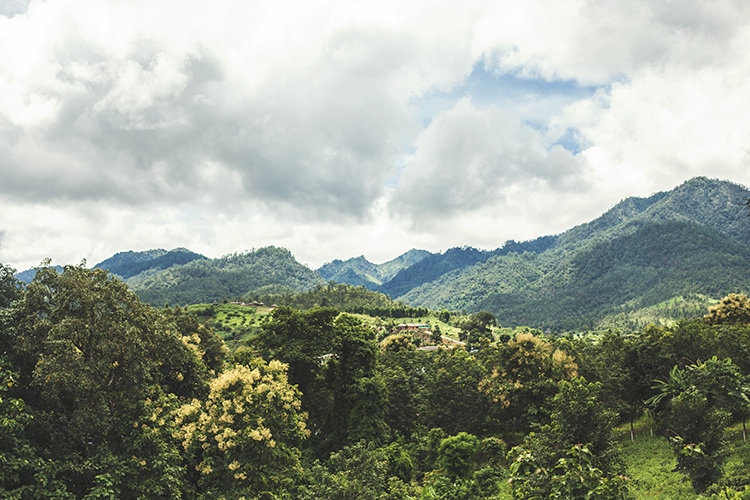 Pin
A wall of clouds hovered over the mountain range, dancing across the peaks and seeping into its maze of crevices. Beams of sunlight pierced through the breaks—a moving spotlight highlighting pockets of rice fields and villages below.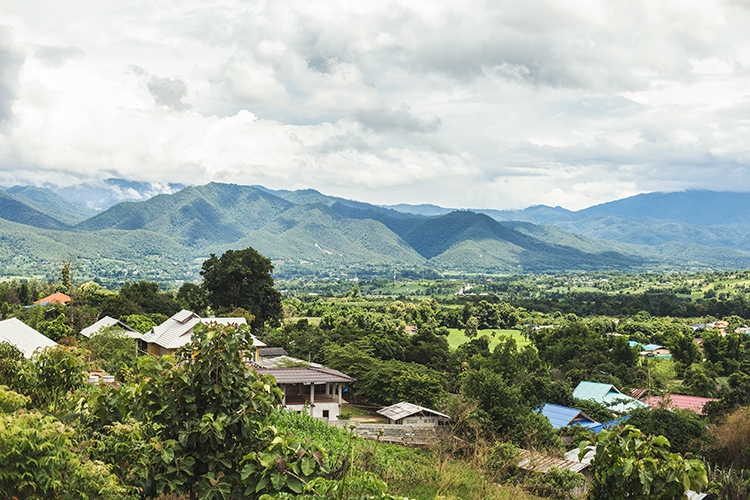 Pin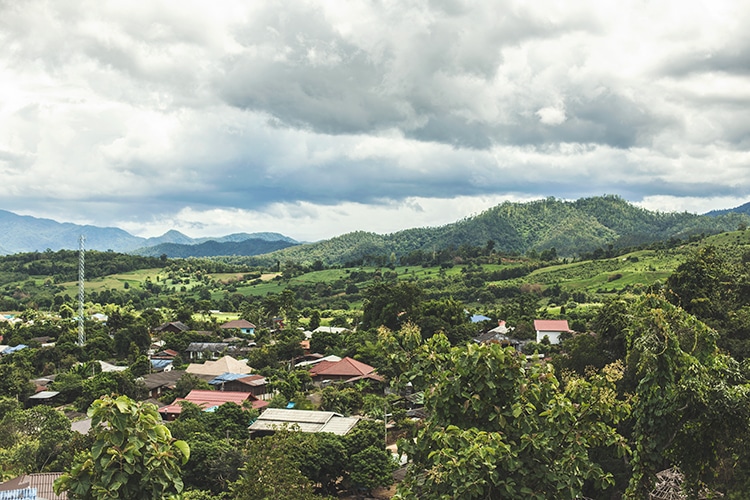 PinIn awe of the idyllic storybook setting, I was taken back to the same feeling experienced in Koh Tao when I first stepped onto the beach and life didn't feel real. Something told me I'd be calling this place home for a while.
The van dropped us off in the middle of town, where I caught a bicycle taxi ride to my hostel. Spicypai had been recommended by others I'd met in Chiang Mai and the excitement began to build as the driver pulled into a gravel road in front of a rice patty field with sweeping views of the forest and mountains. There was a compound of bamboo and straw huts, an open air loft at the center with people swinging in hammocks and strumming guitars.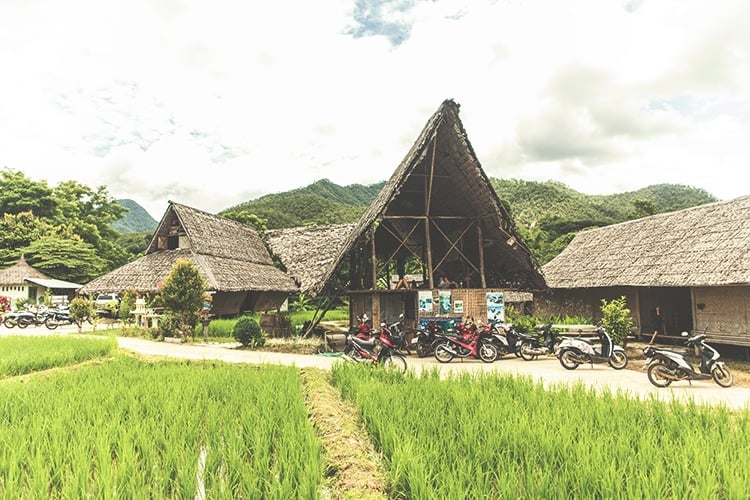 Pin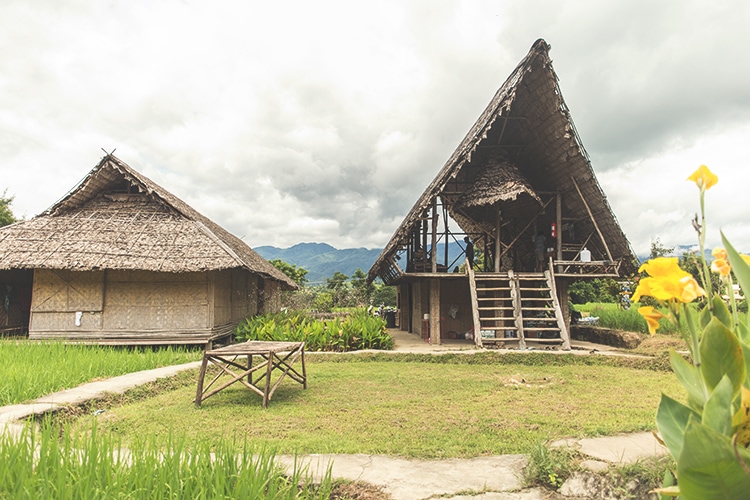 Pin
A friendly Thai girl collected my rent for the night and directed me to my hut. We navigated through moats and bamboo bridges and concrete paths, and as we arrived she stopped and yelled "Look!" and proceeded to pull a large black crab from the pond. "Dinner!" she laughed as she captured her find and brought it back to another hut. I threw my backpack onto the bed and knew I'd made a good choice at just $5/night.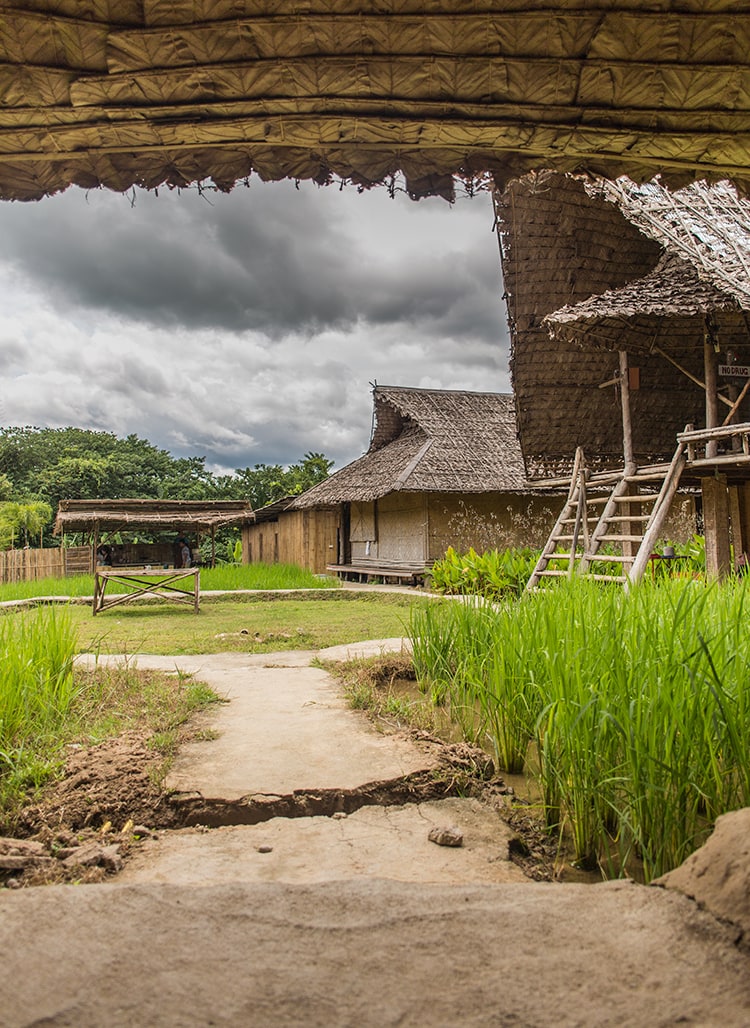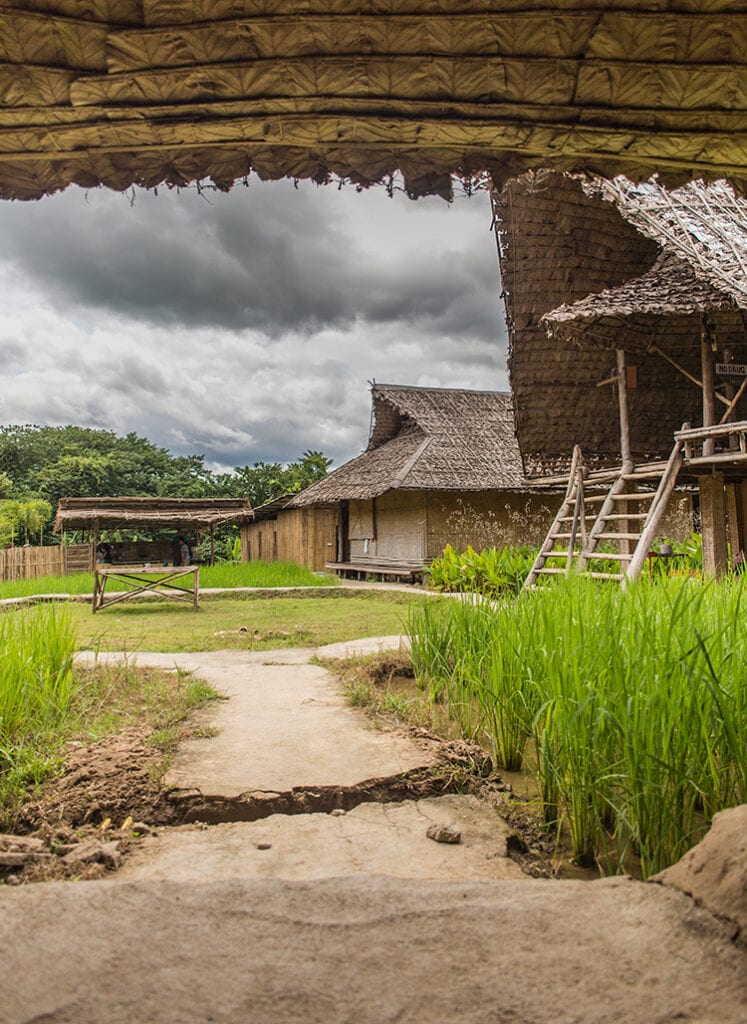 Pin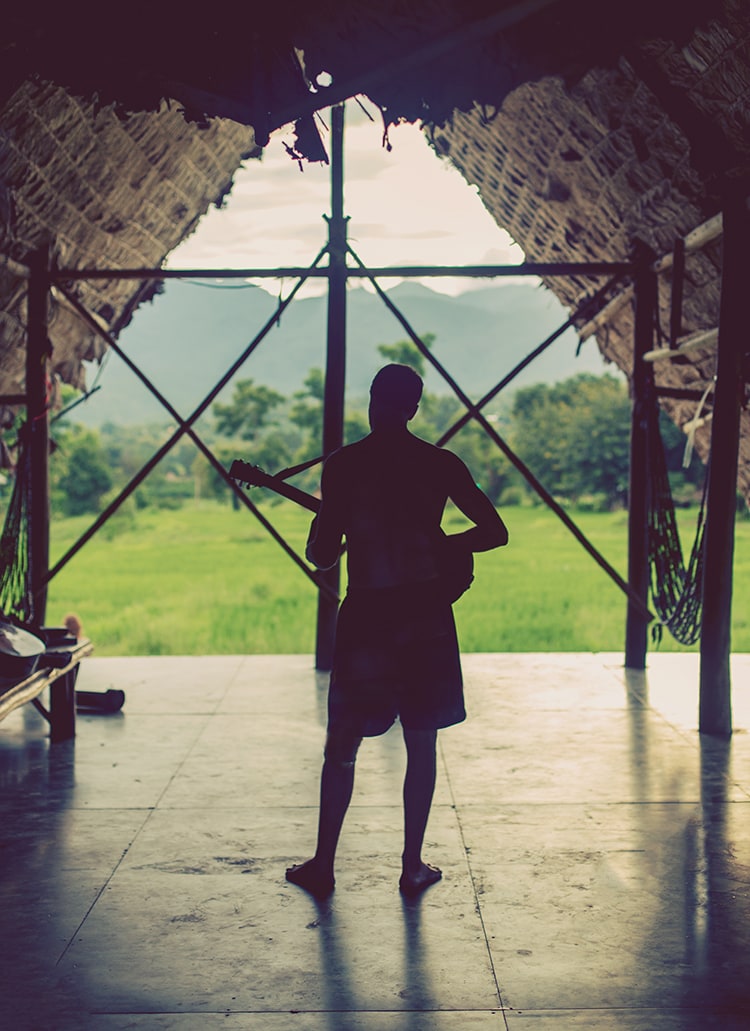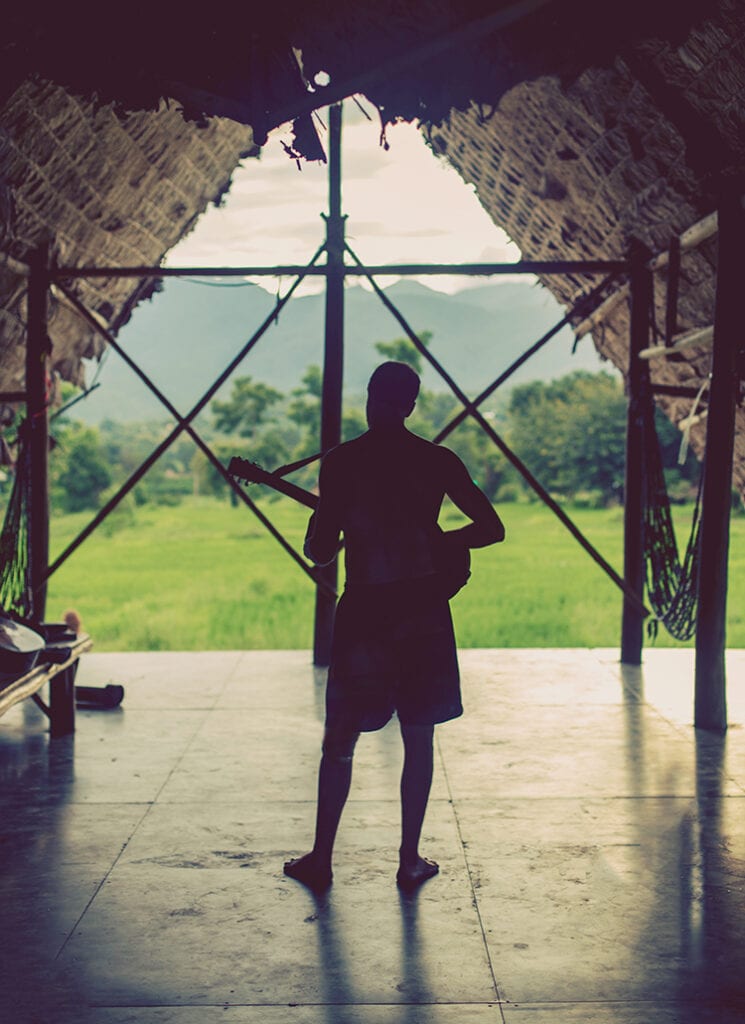 Pin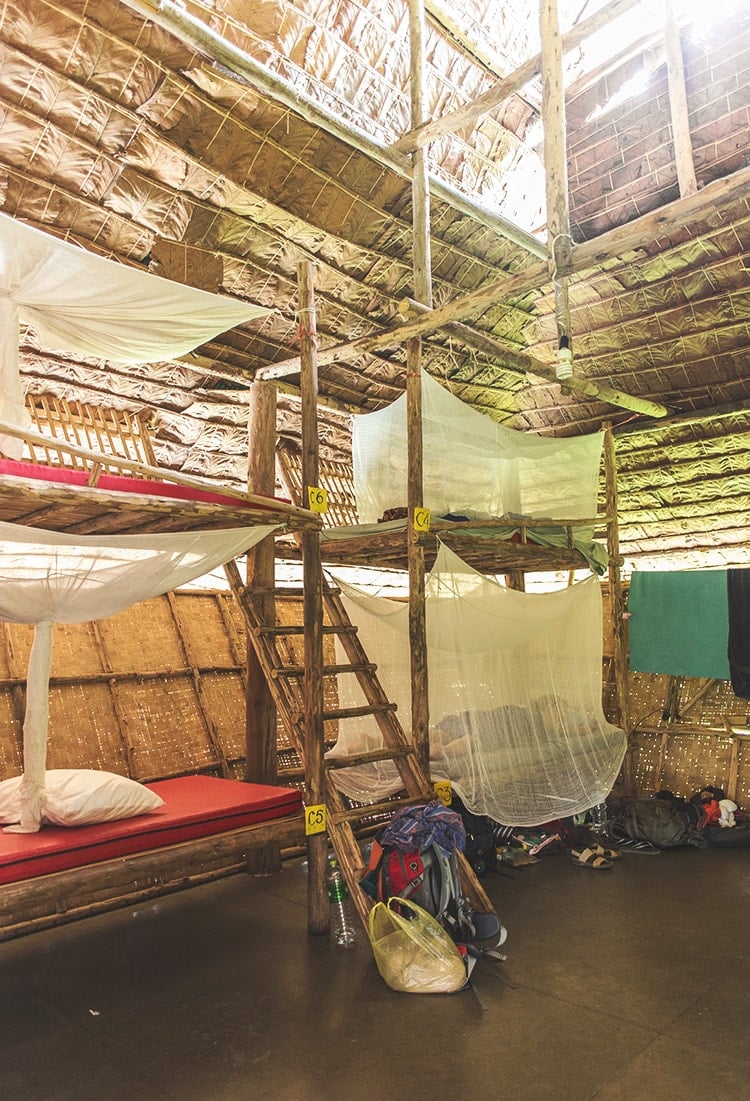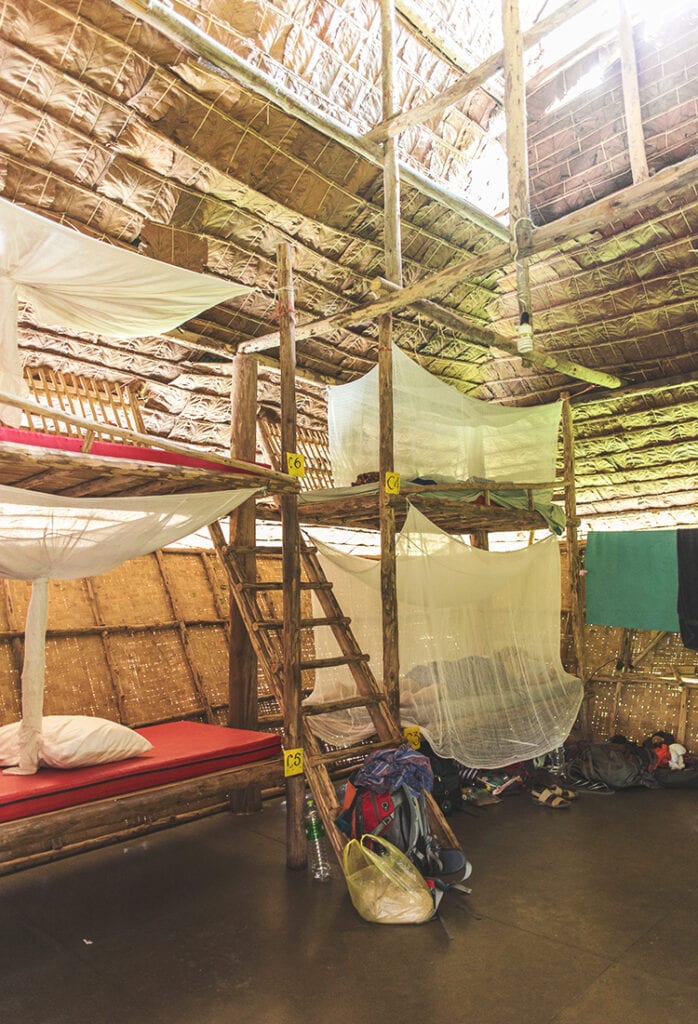 Pin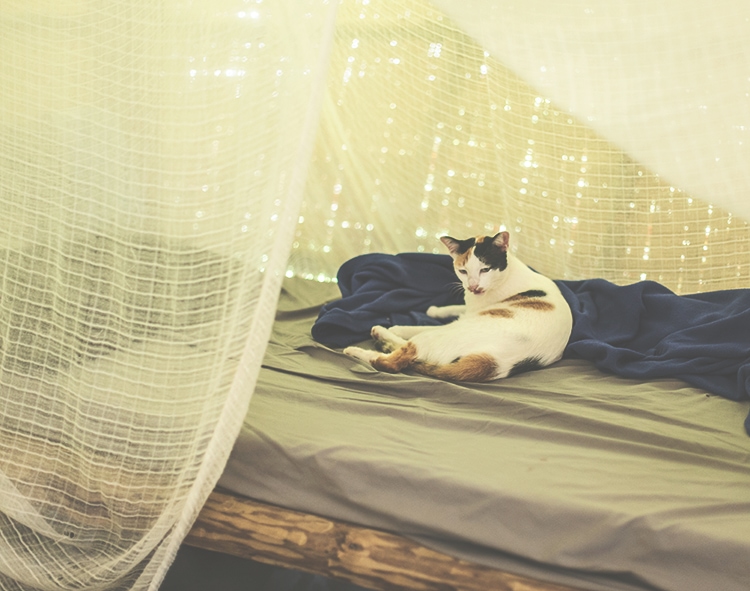 PinNature thrives here on so many levels. From the plant life to the animals and insects to the weather that is in constant metamorphosis, its presence is always felt.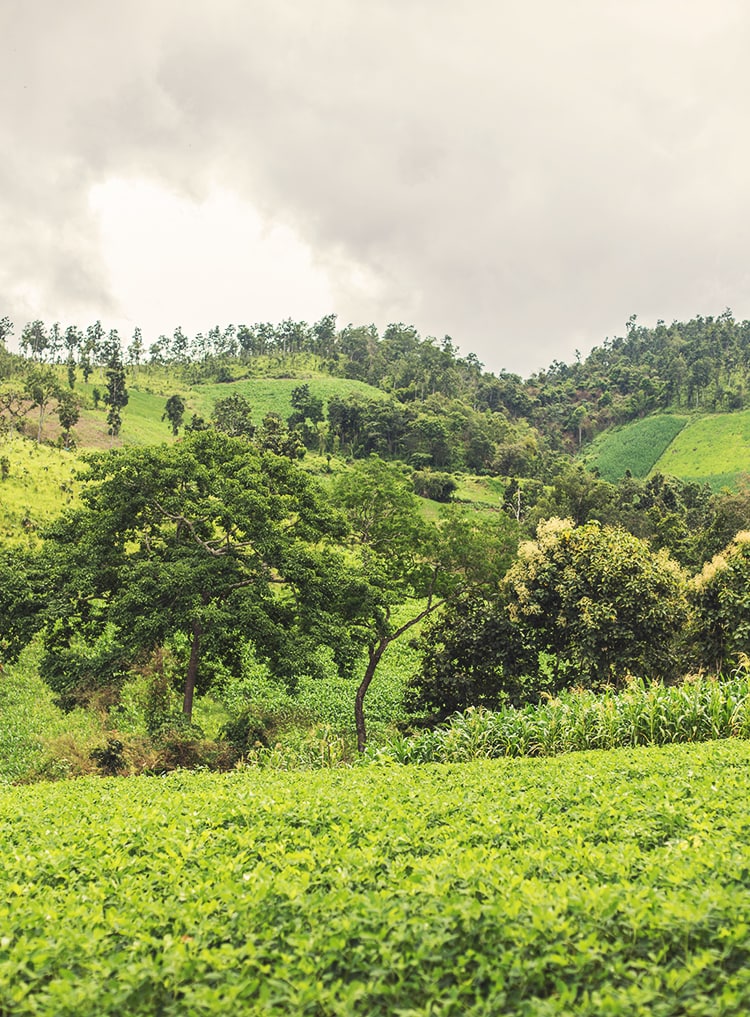 Pin
The first bathroom I walked into had its own ecosystem—a frog, snail, cricket, lizard, moth and colony of ants surrounded me at once and each day I discover a new species. I'm now used to getting attacked by mosquitos in the outdoor shower and flicking off giant ants crawling across my keyboard while I type.
When I went to drop my laundry off, the owner was carrying around what appeared to be a housefly on steroids with a broken wing who chirped when she pet it. I asked what it was and she yelled "bug!". "Oh okay… What's his name?" I asked. "Bug!" she repeated. Fair enough. Still no idea what it is.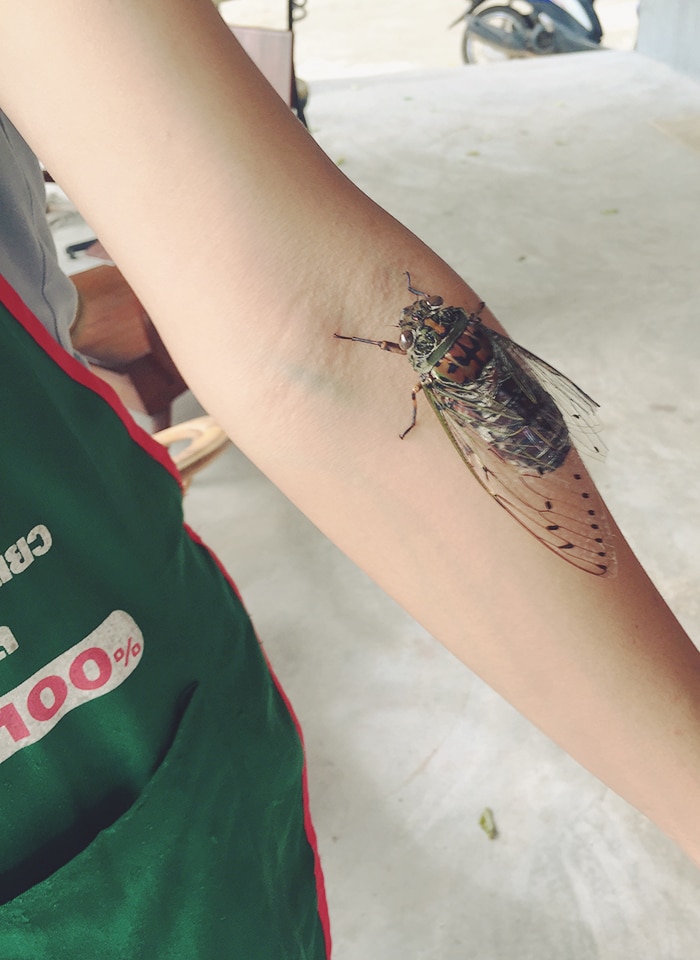 Pin
The climate is consistent here from day to night and a welcome break from the stifling heat of the south. Clouds, sunlight and rain swirl above the valley in frequent intervals, just as alive as the land beneath them. A cool breeze travels off the mountains and provides natural air conditioning, circulating the scents of street food, fruit shakes, burning trash smoke and damp earth. It's my favorite smelling city of Thailand so far.
Pin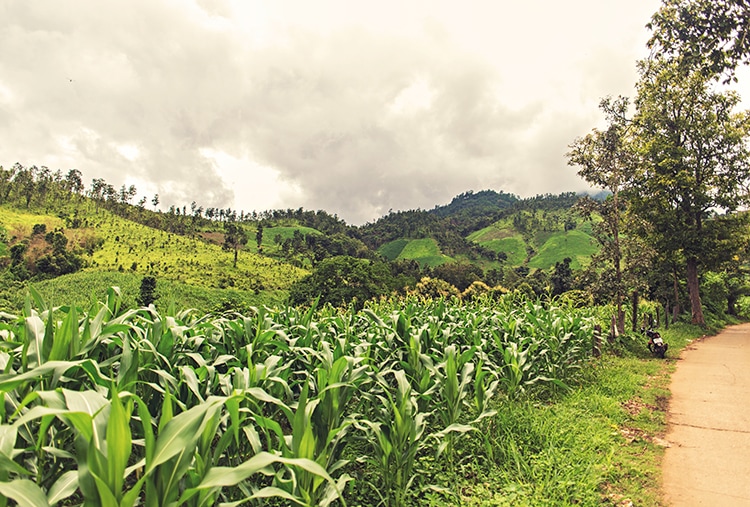 PinThe day after settling into my hostel I met an American girl, also from San Francisco and we formed a quick bond. The sights around Pai are best accessed by motorbike, so we both rented one and with a map in hand, set off to explore. The drive through the countryside was breathtaking as we passed rice and corn fields, villages, elephant camps, temples and crossed rivers and valleys, surrounded by steep lush mountains.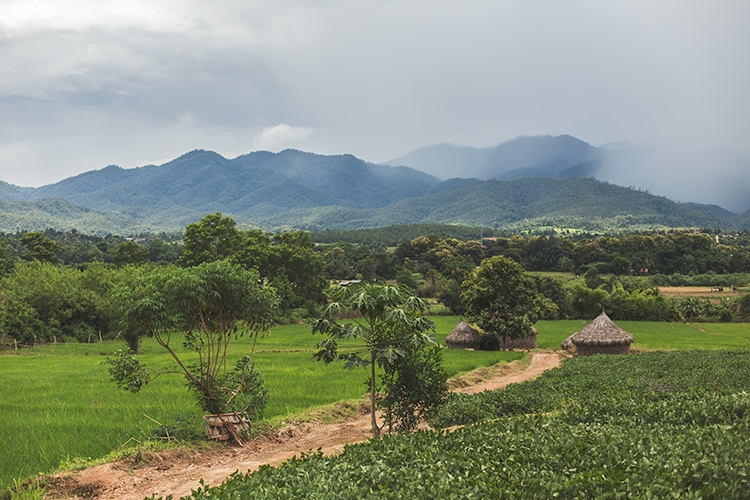 Pin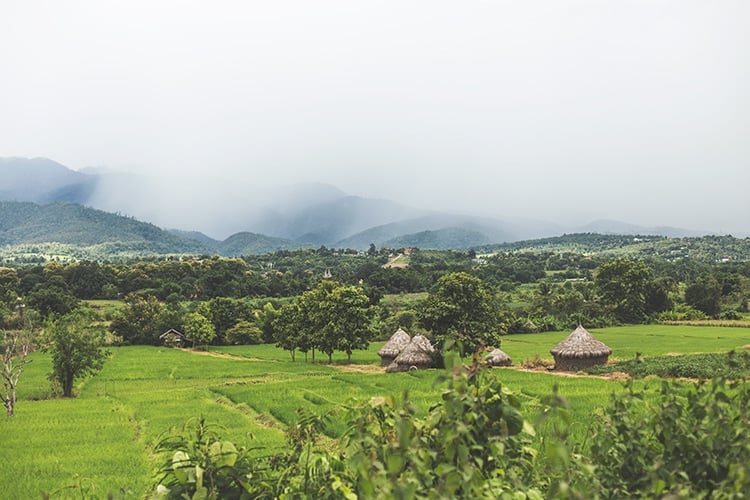 Pin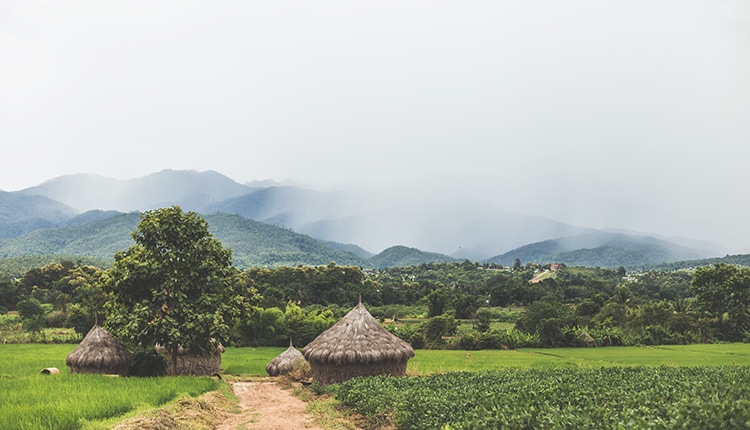 PinPai is known as a hippie town where, like Koh Tao, tourists come to visit and never leave. My hostel mates are friendly and welcoming and there's a close knit family dynamic. They lounge in the loft all day, jamming their instruments and singing, napping in hammocks, playing card games and laughing at drunken events from the night before.
Pin
Most of them are wrapped in bandages, sometimes from fresh tattoos but usually from scooter accidents. They said those wounds are a right of passage in Pai and I prayed to avoid that initiation.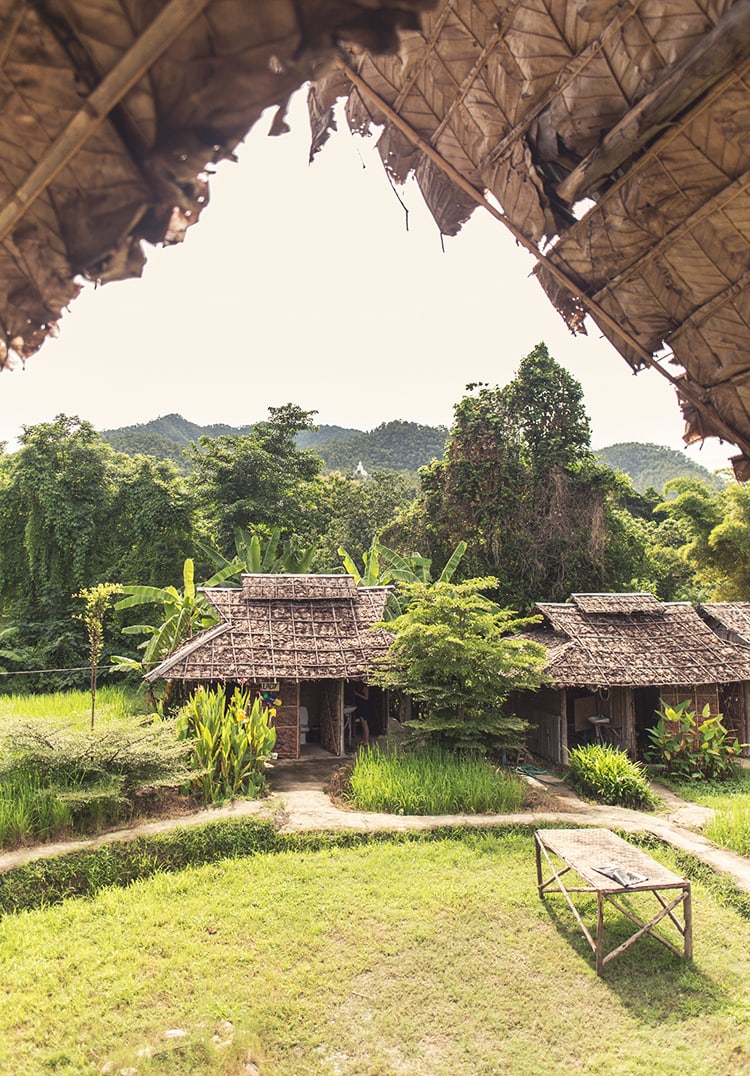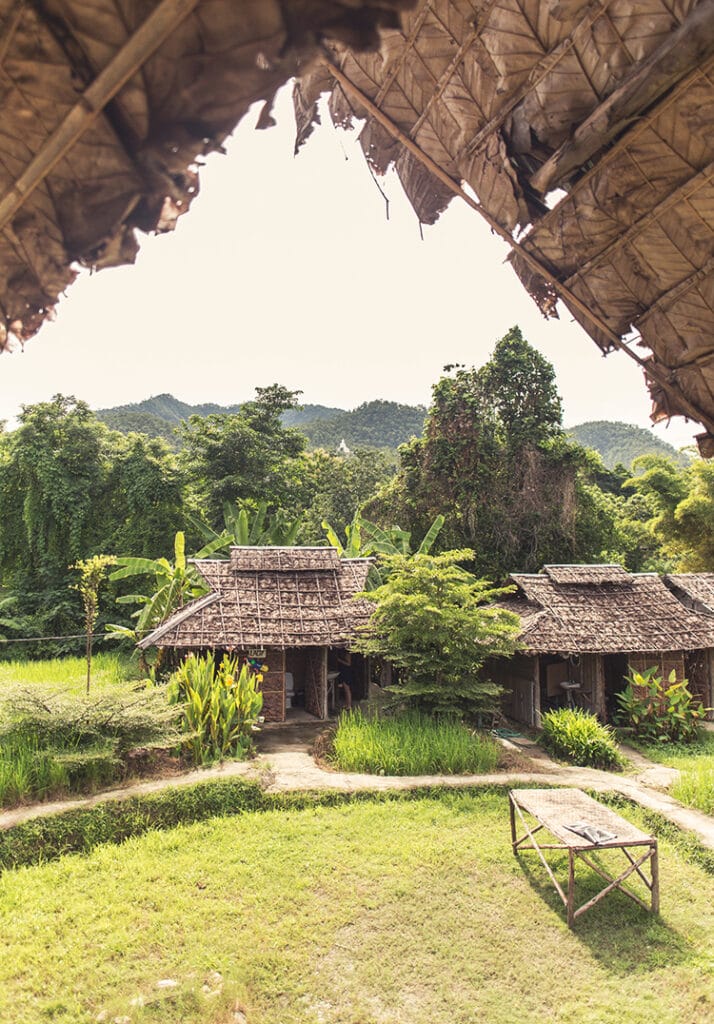 Pin
On the first outing, I left my camera in the dorm by mistake and had to settle for these iPhone photos.
My new Californian friend and I hiked the Pai canyon then jumped off rocks beneath the waterfall to cool off.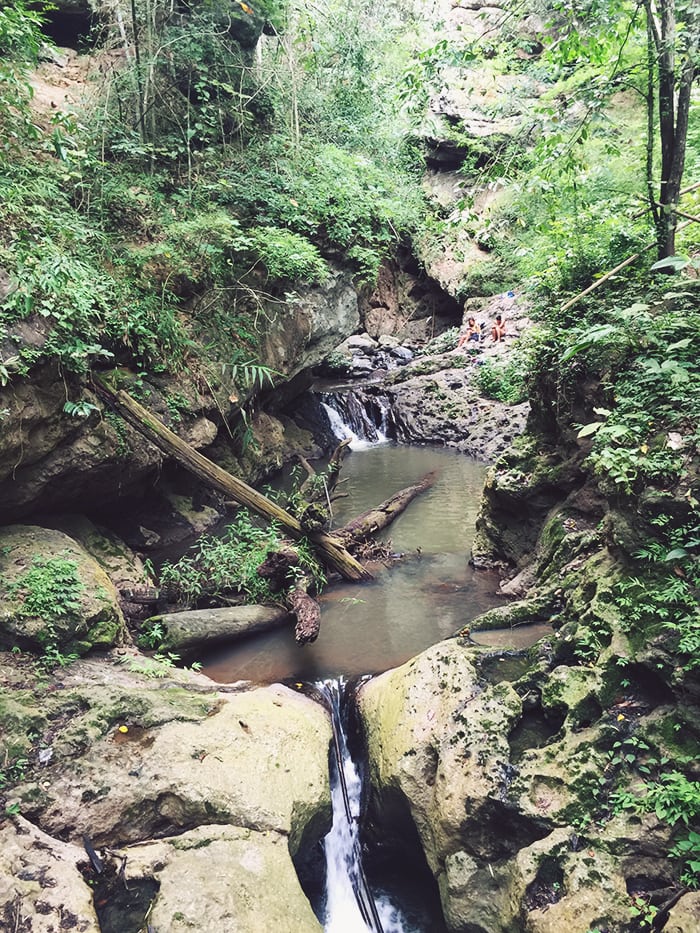 Pin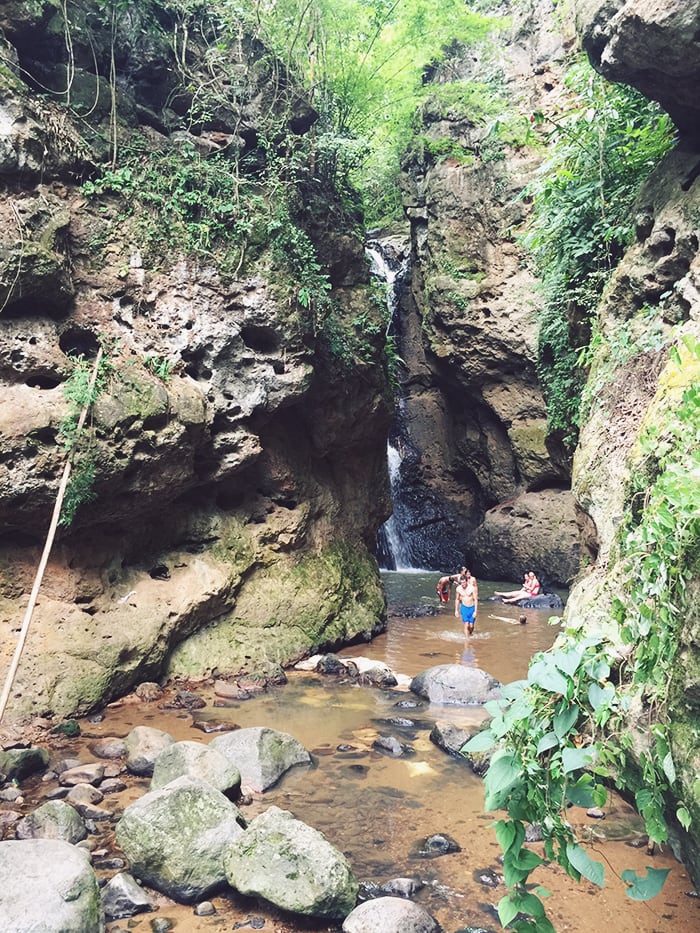 PinThe events of the next several days blended together into a single span of time spent exploring, adventuring, meeting new friends and never remembering what day it is or how long I'd been here.
Typically I'd roll out of bed at around 8–9am, climb into the loft with my laptop and catch up on business, sip coffee with the group, snack on toast and bananas and decided on plans for the day. By noon I'd wrap up with work and head into town on my scooter to grab lunch with a friend on our way to a new location. We'd drive to waterfalls, hot springs, villages and temples—whatever sounds fun that day.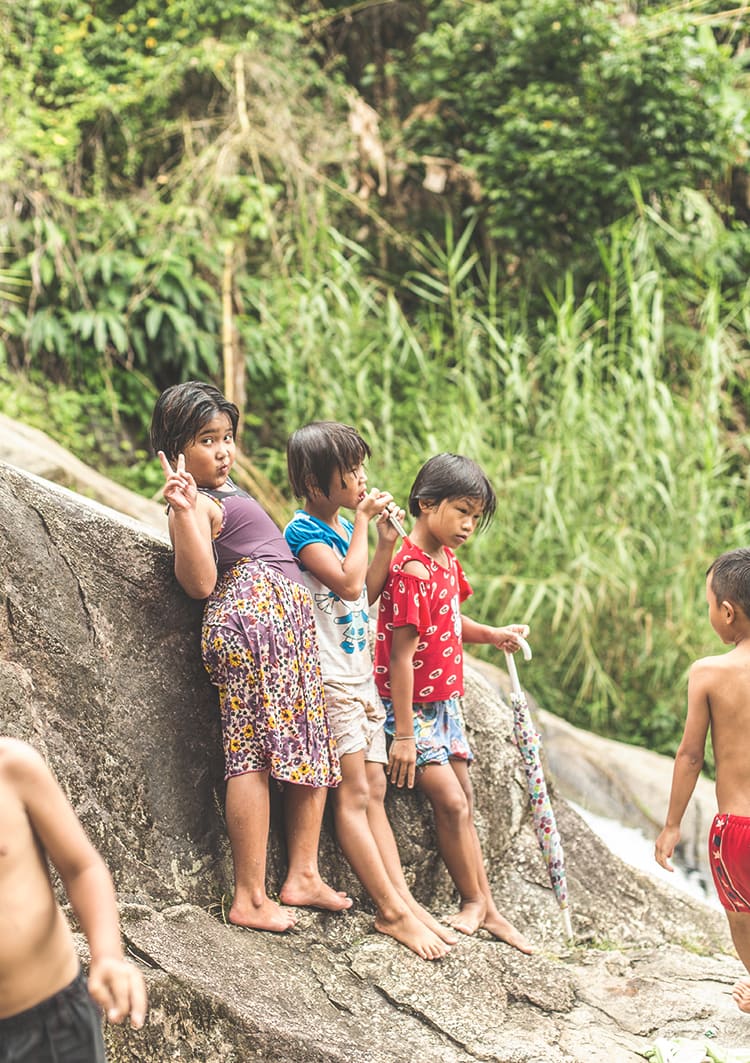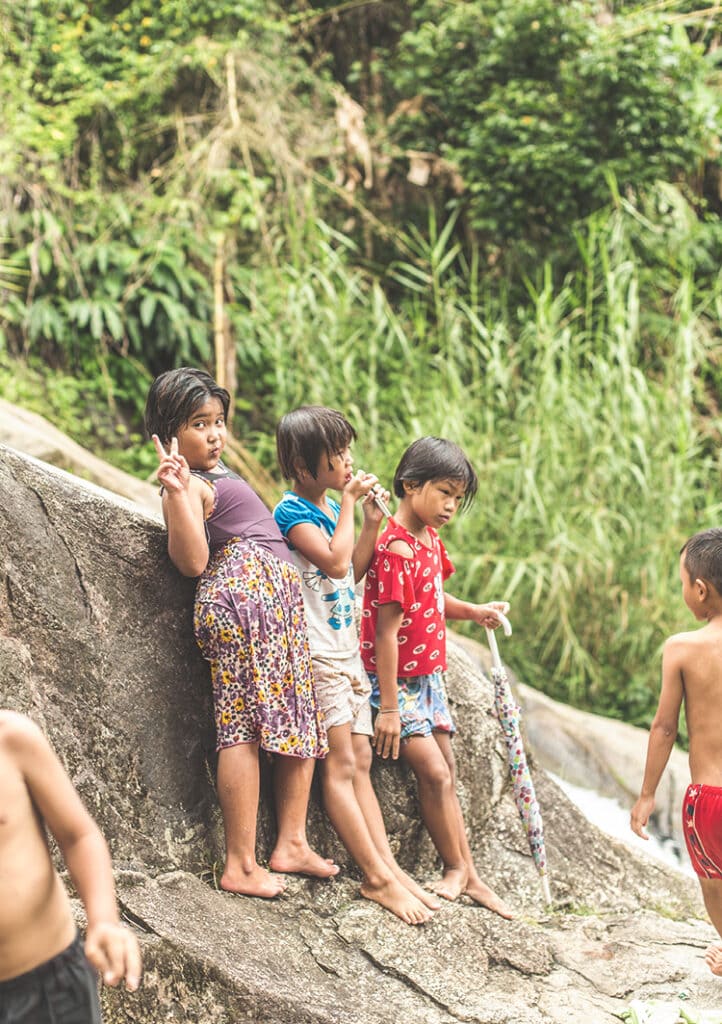 Pin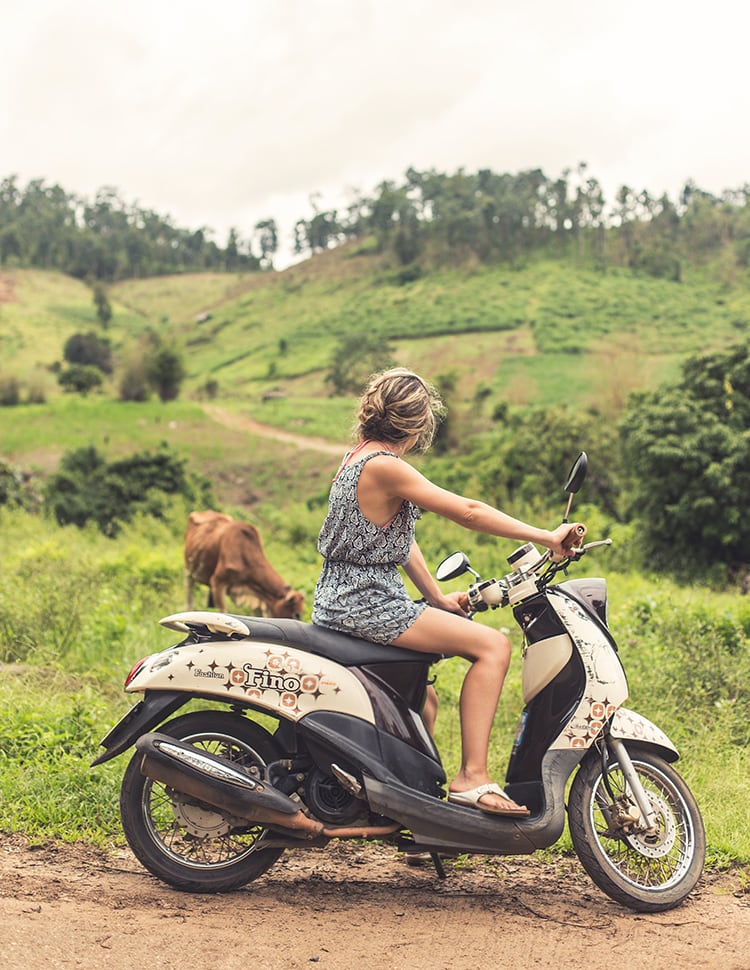 Pin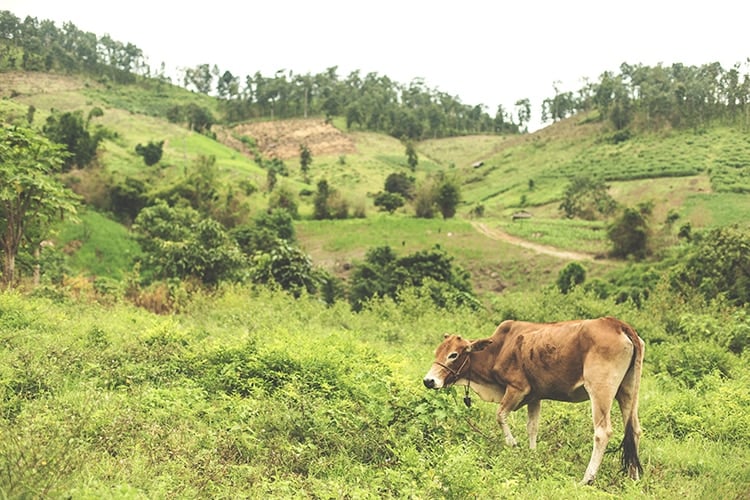 Pin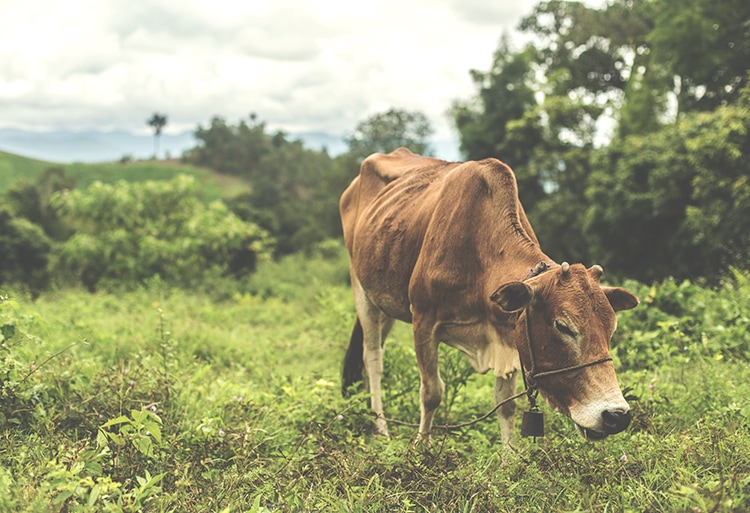 Pin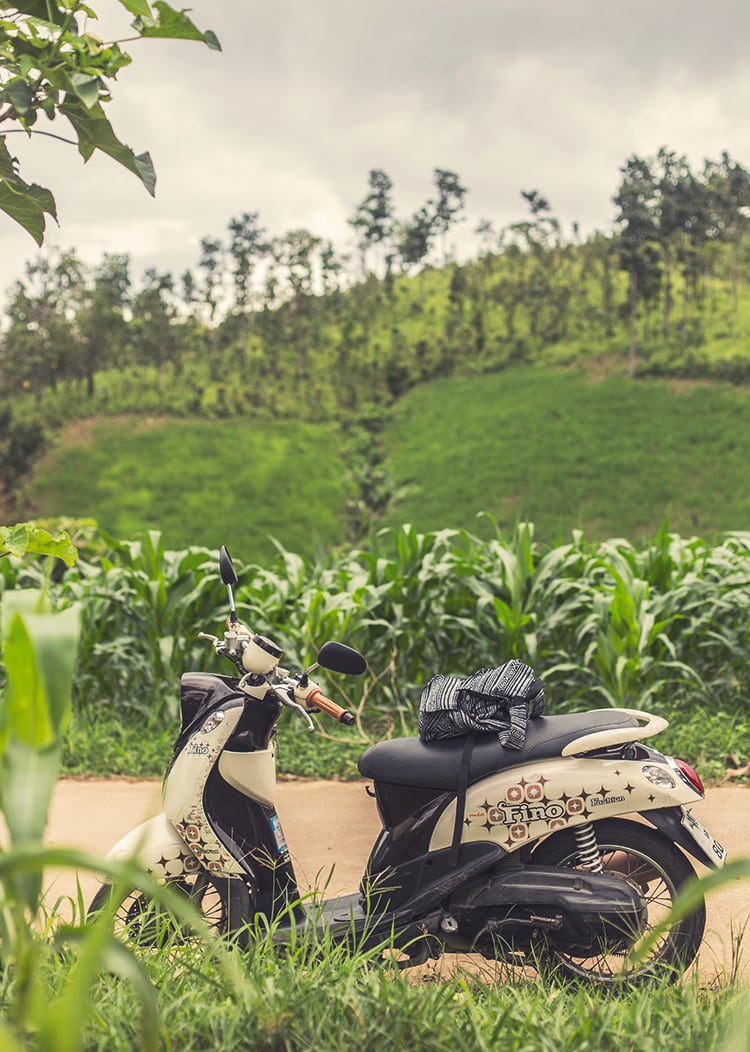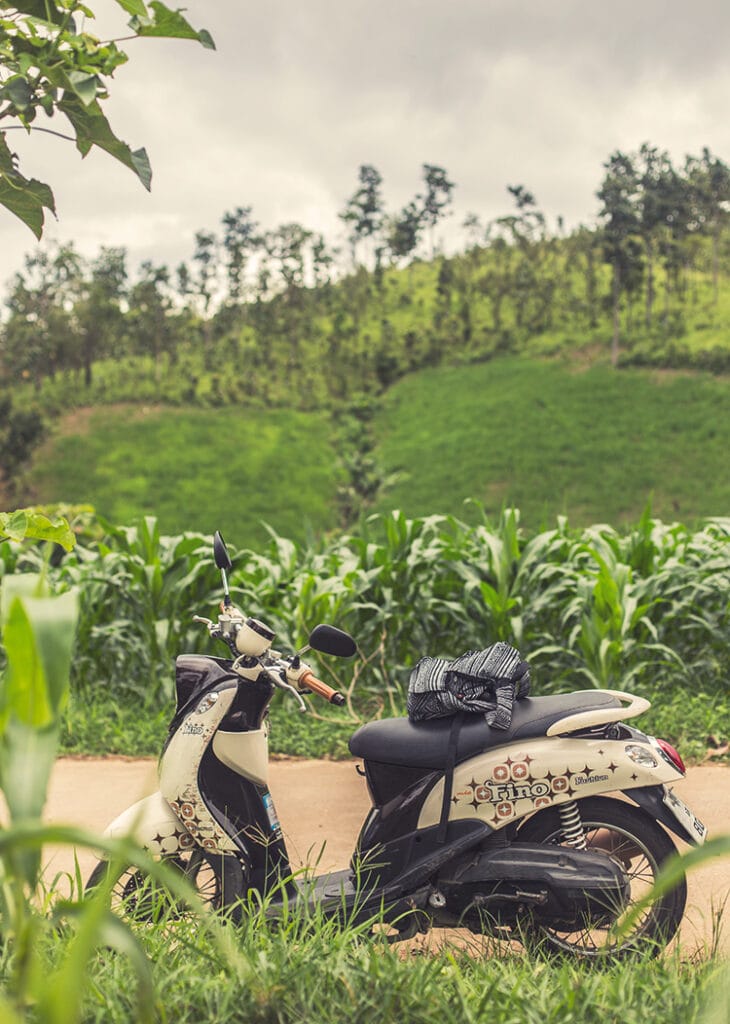 Pin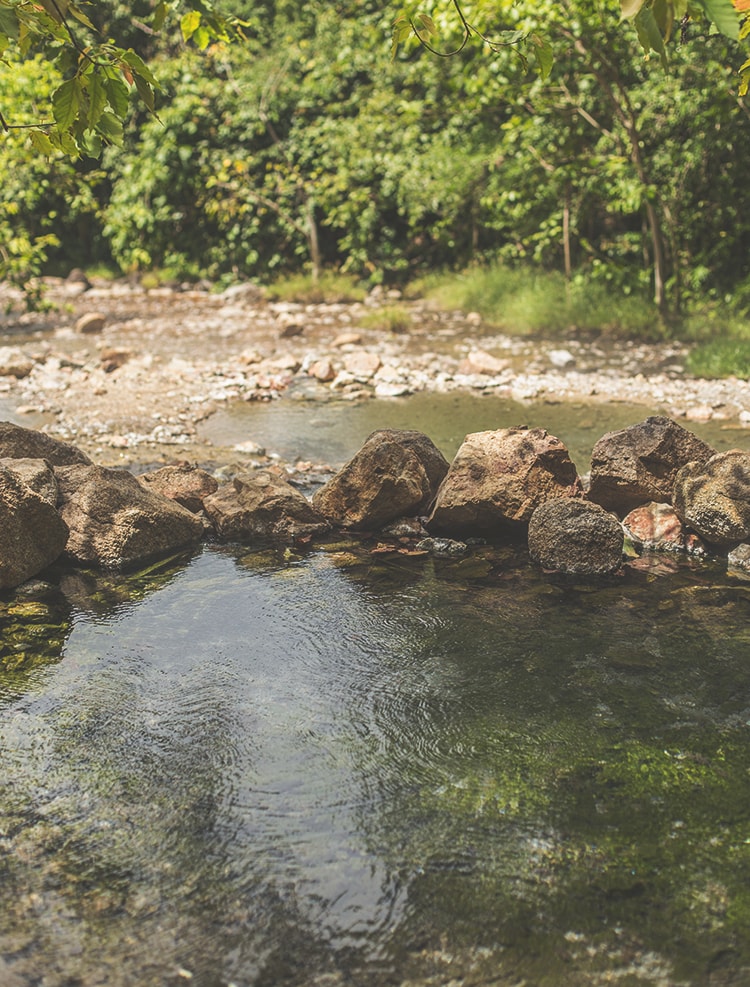 Pin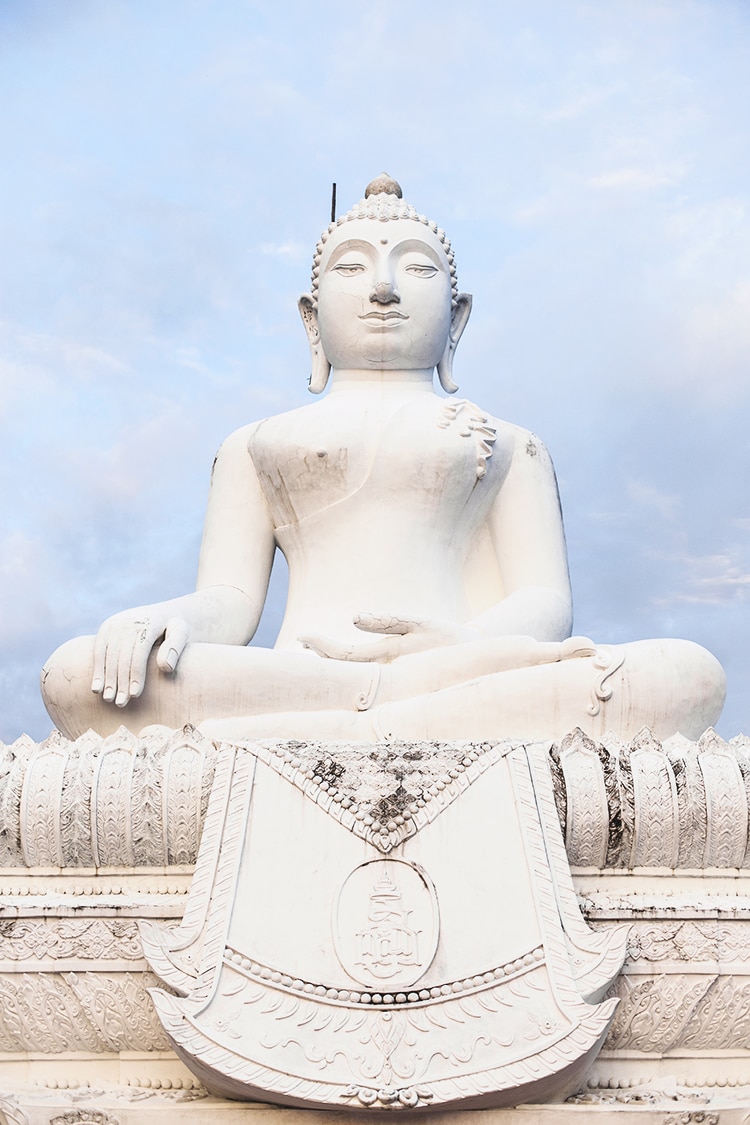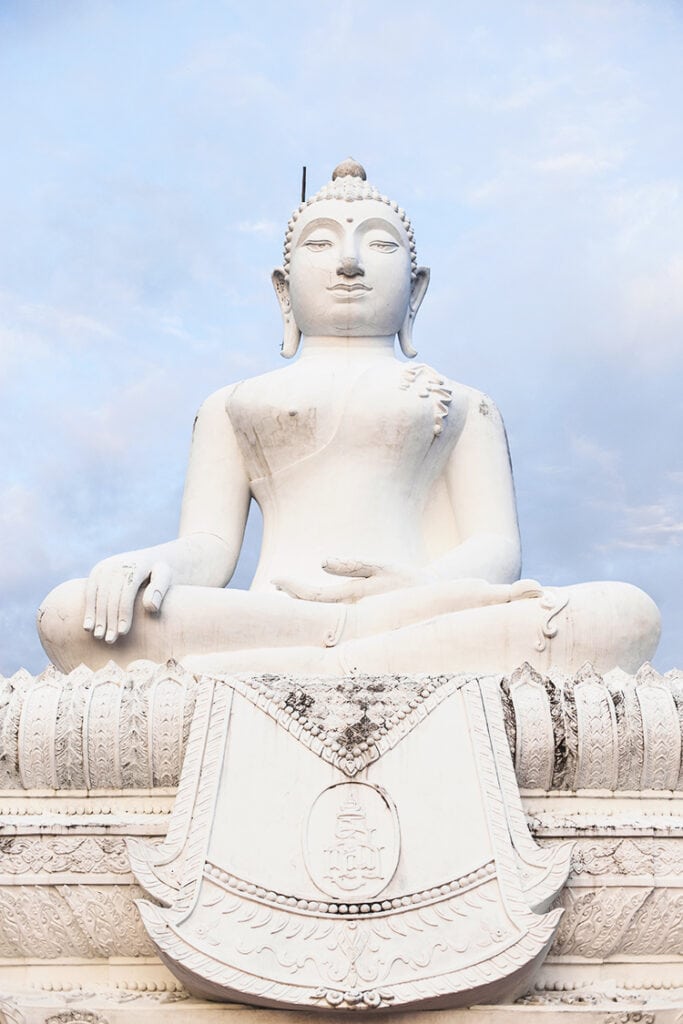 Pin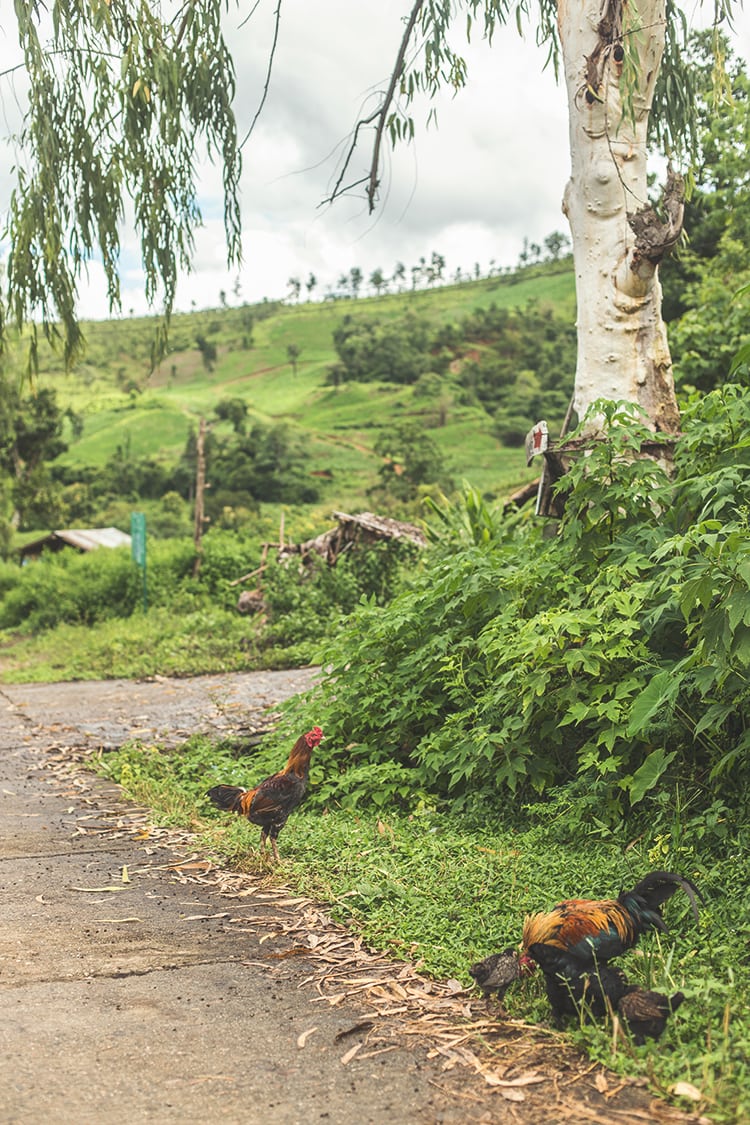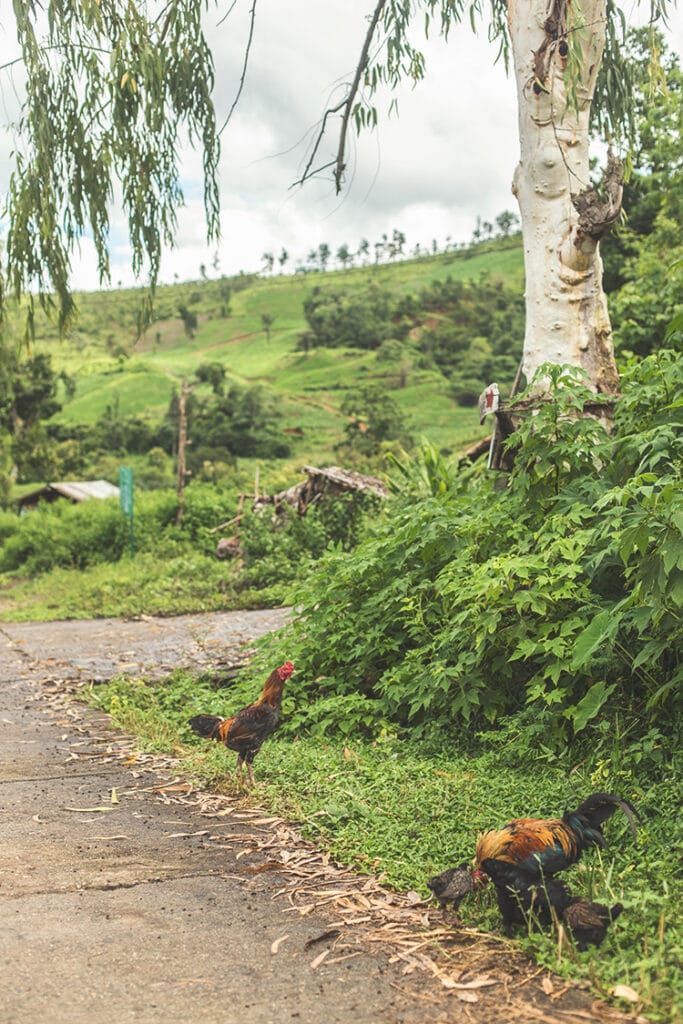 Pin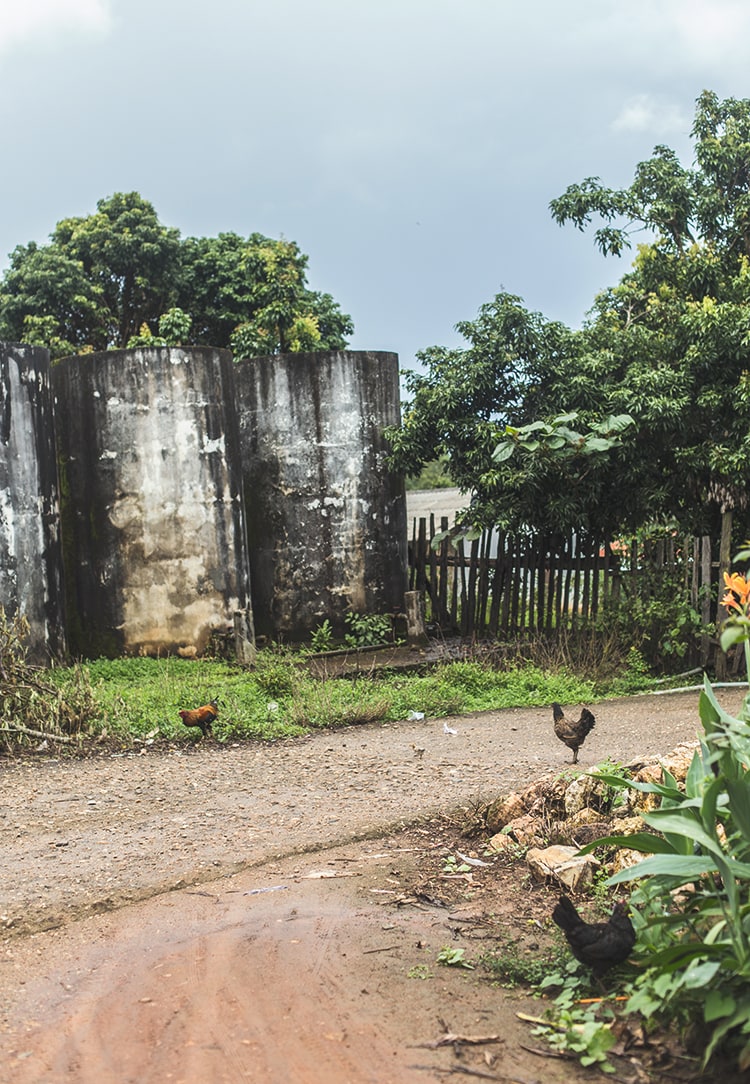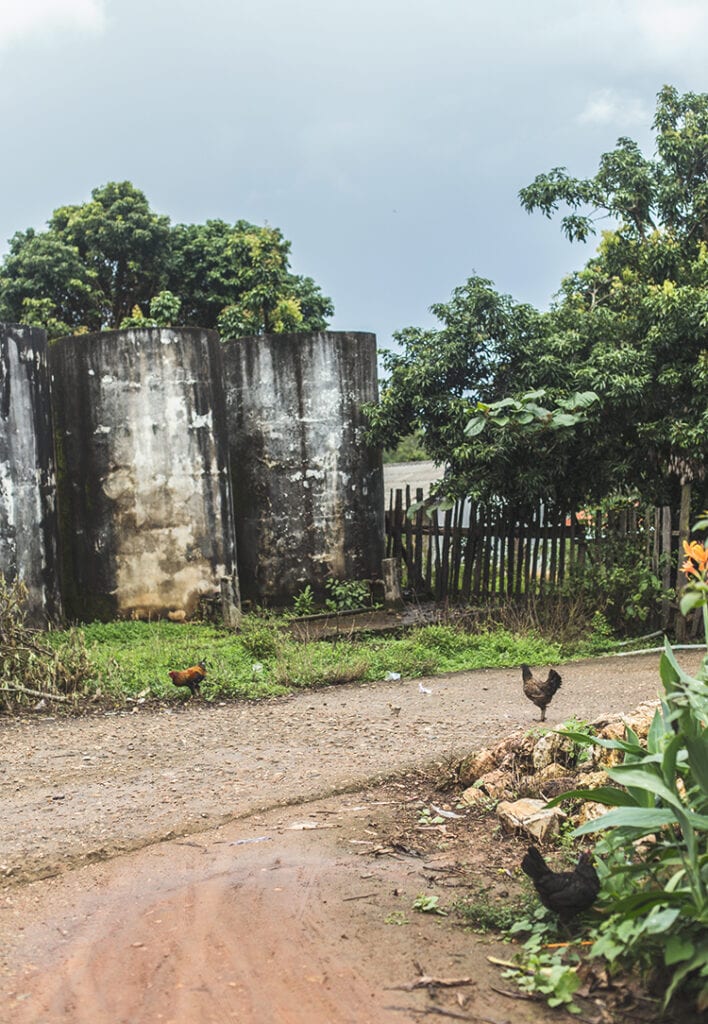 Pin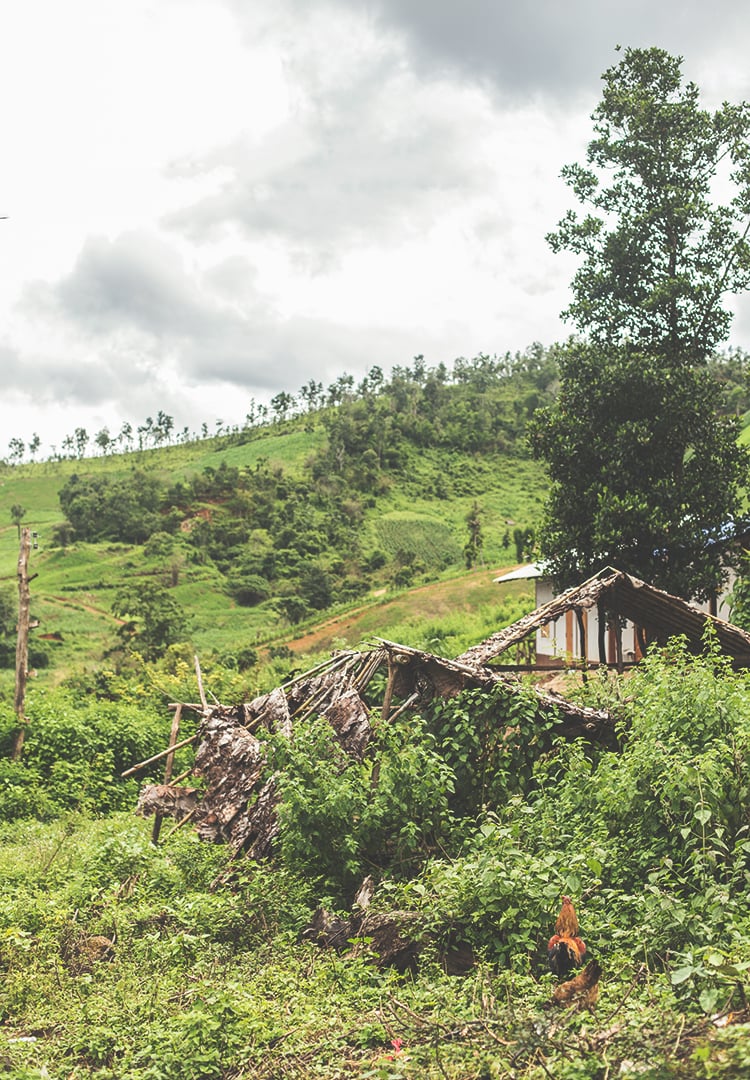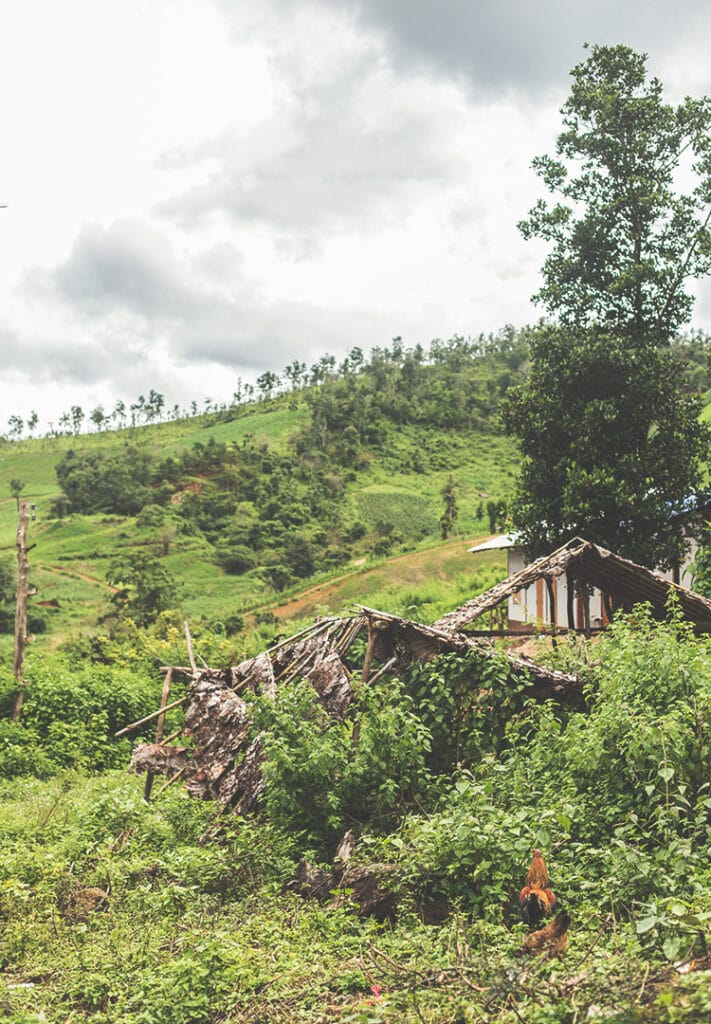 Pin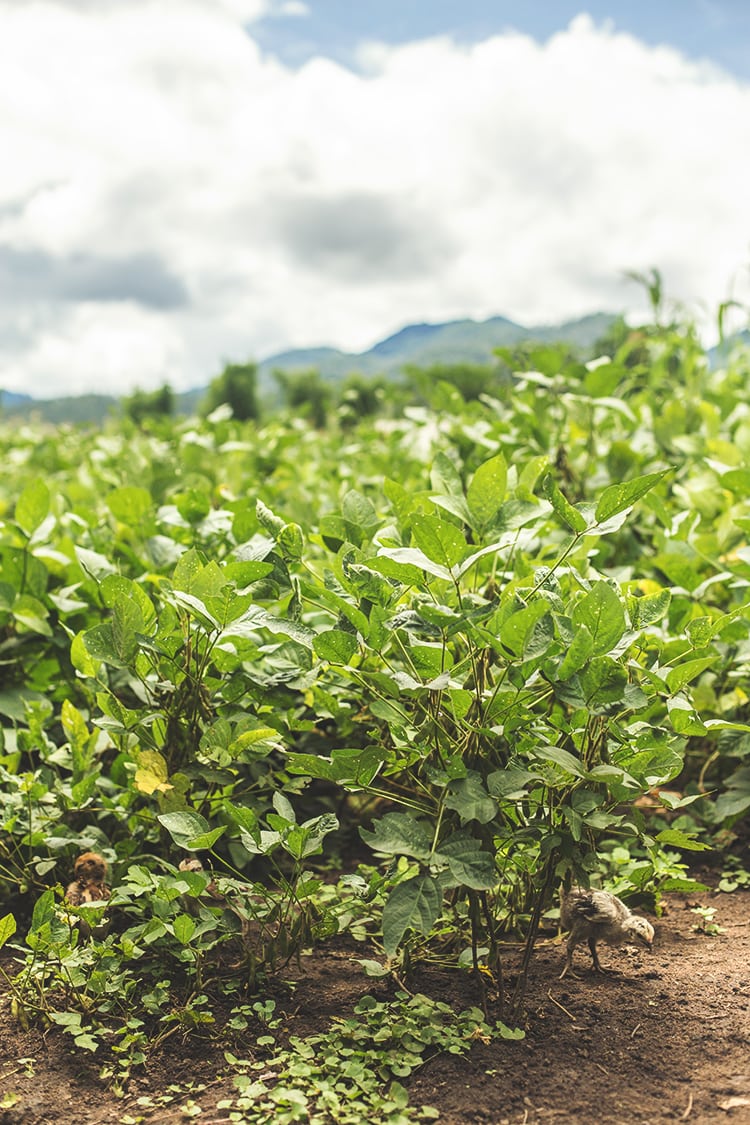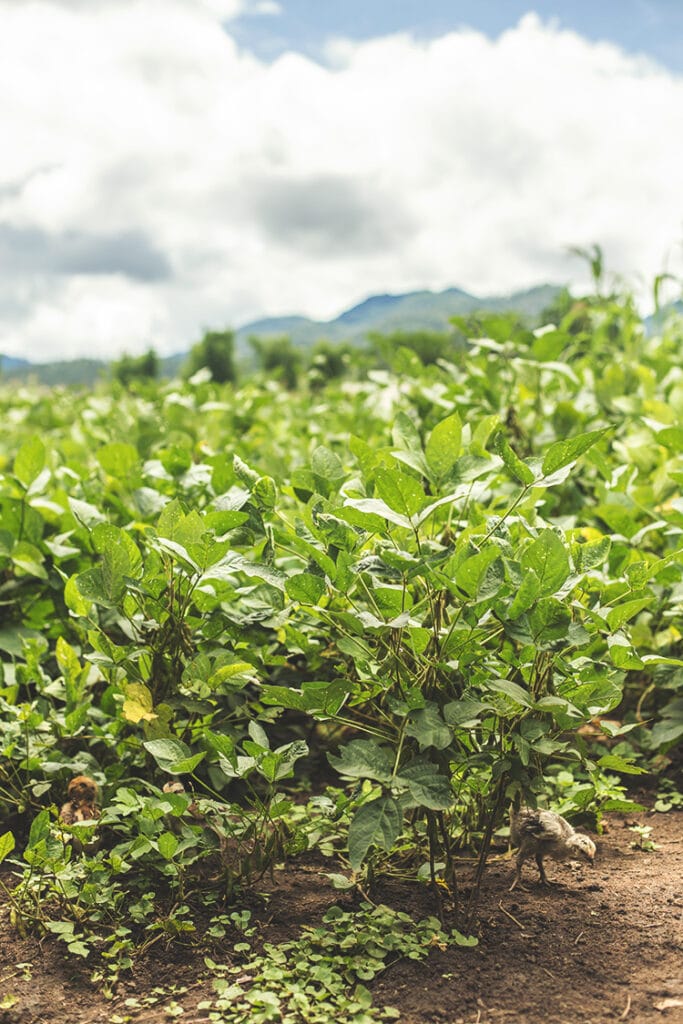 Pin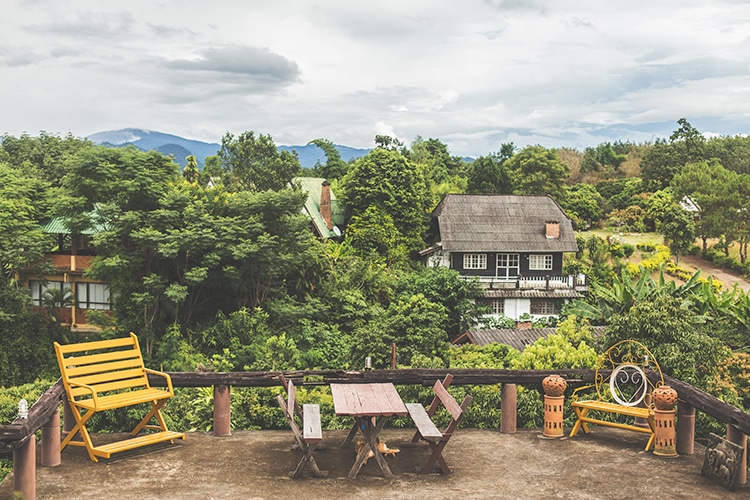 Pin
Before sunset we return, resting up for the long night out. We ride back into town, strolling down the main road sampling street food and stepping into shops.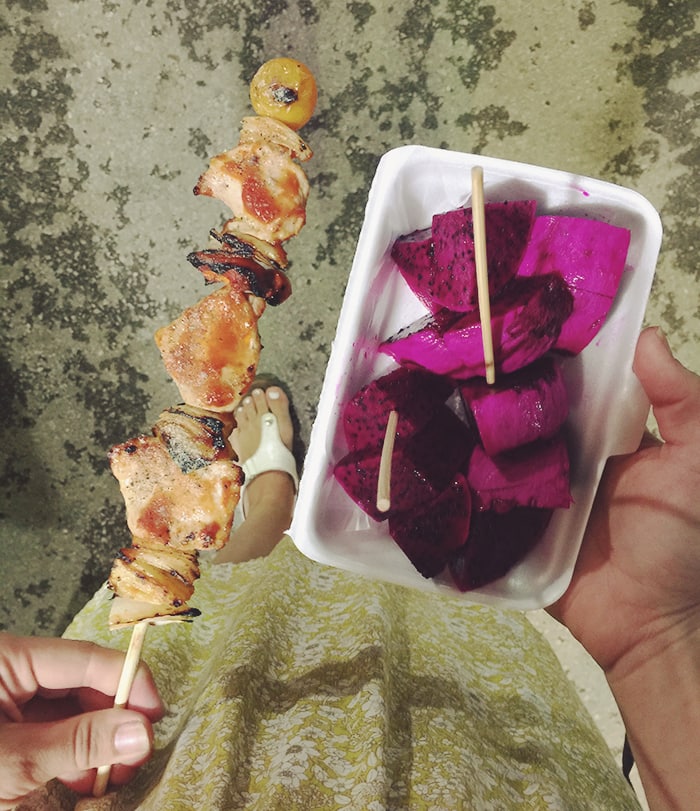 Pin
(Street food skewers and dragon fruit slices for $1. I eat all day everyday here.)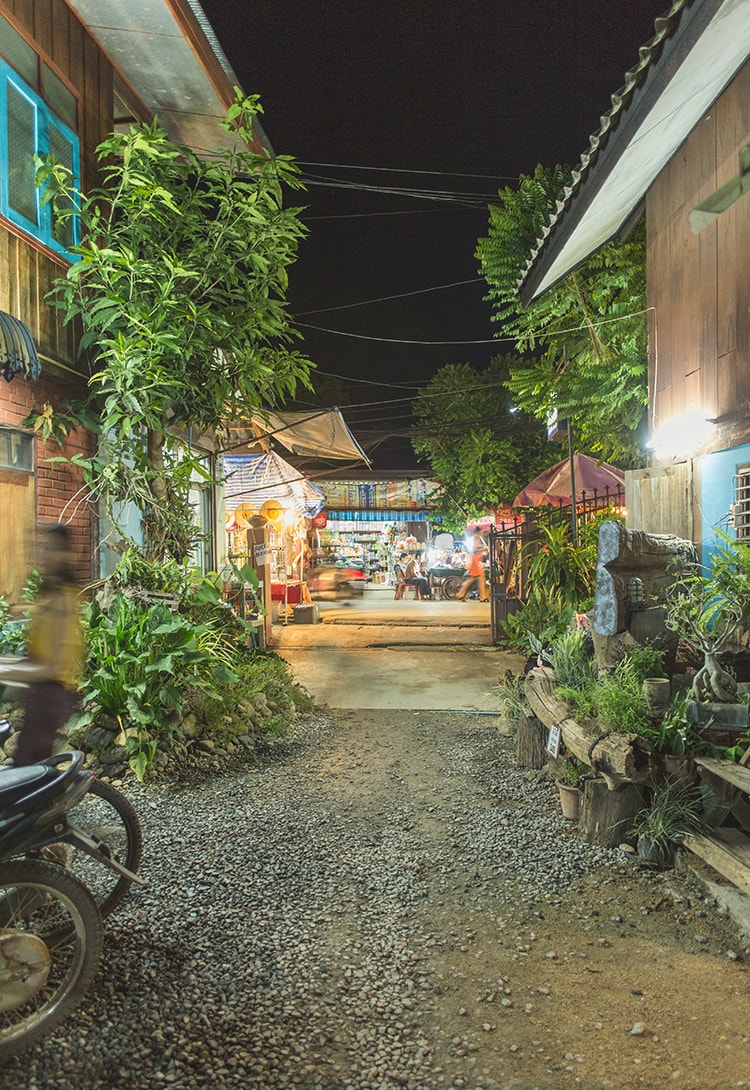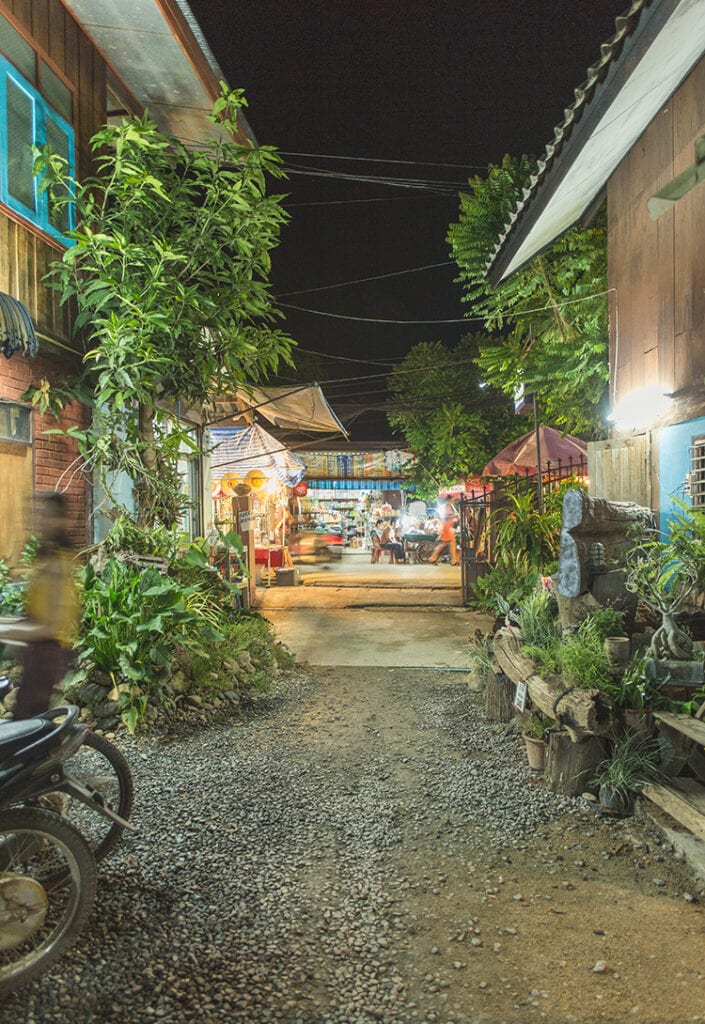 PinPai is a small town and everyone ends up at the same places, so we always run into people we met earlier that day.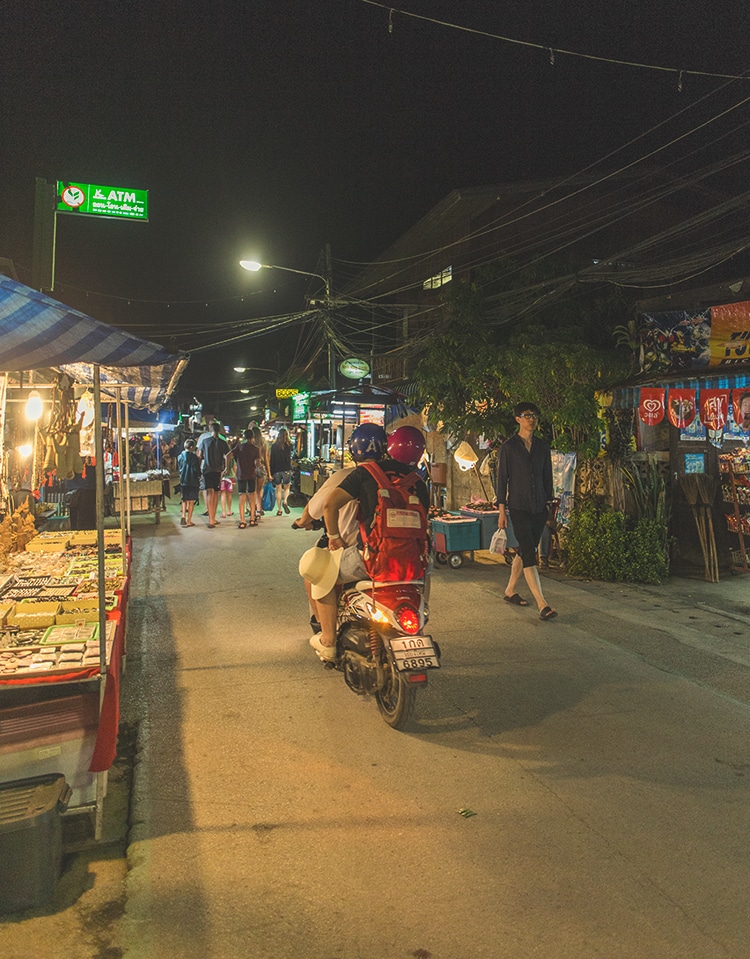 PinWe stop into the busier bars for a drink and leave with new friends each time. As the night rolls on, the crowd ends up in the same bar together and we all head to the last open bar at midnight when the city enforces the noise ordinance. Between 2–4am I call it a night and return to my hostel to get as much sleep as possible before repeating the cycle. It's definitely not a lifestyle that can be sustained forever, but part of me never wants it to end.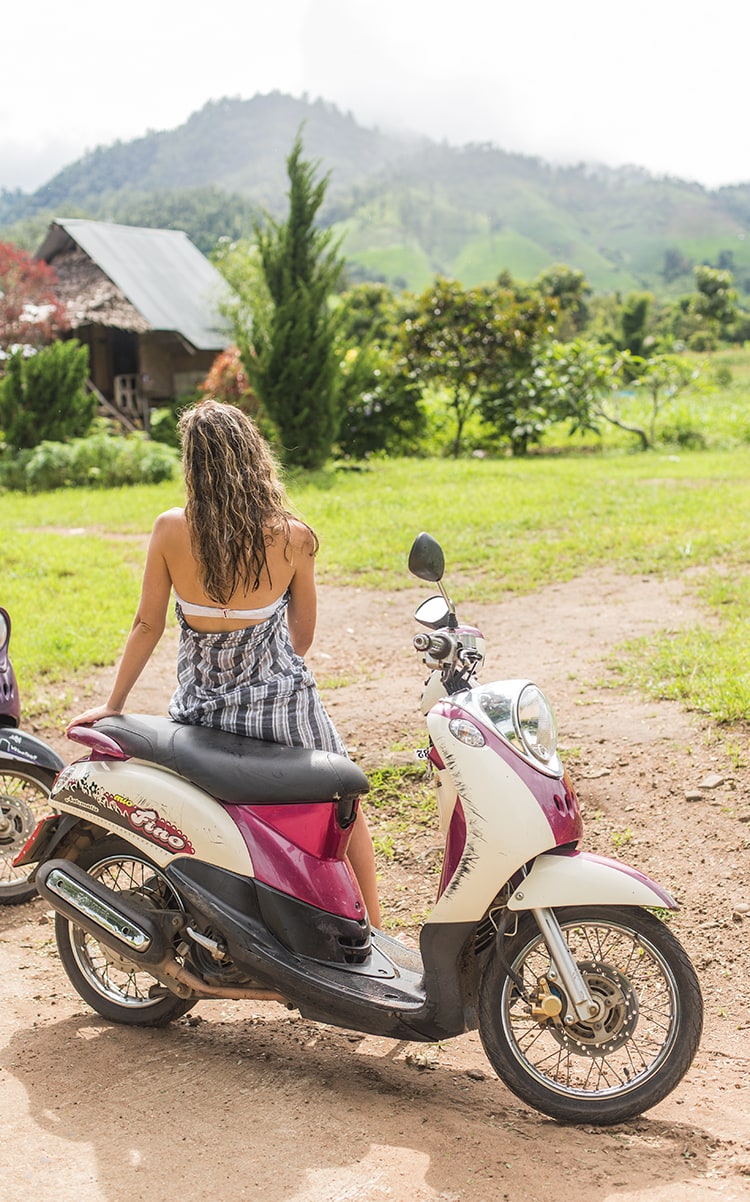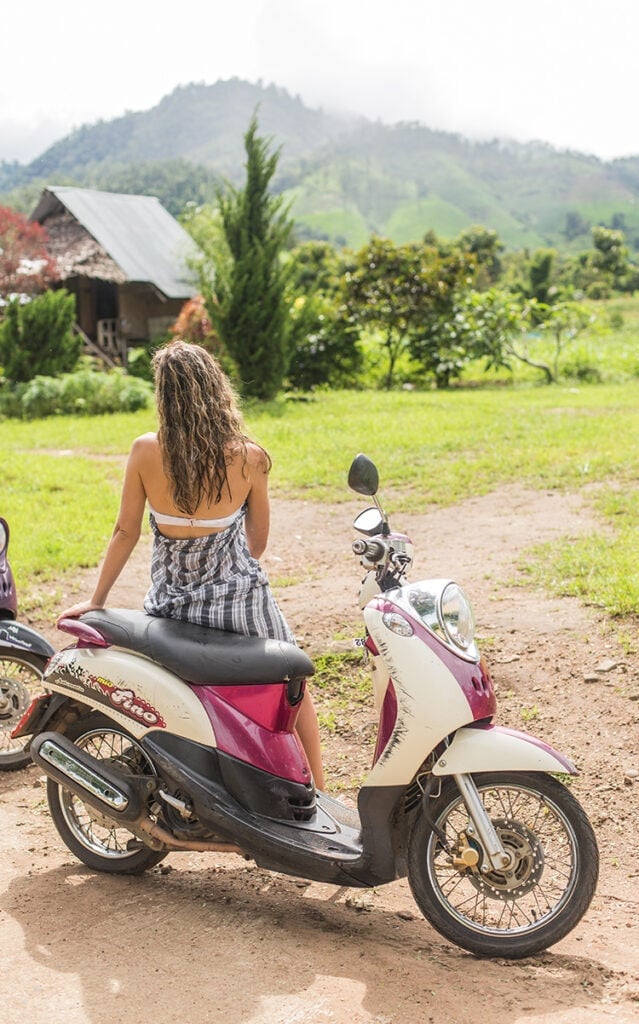 Pin
My last day with the scooter was spent swimming and sliding down waterfalls with a Malaysian girl I'd become close to over the past few days. On our way back to the hostel I felt so lucky to have made it five days without injury unlike nearly everyone else in town.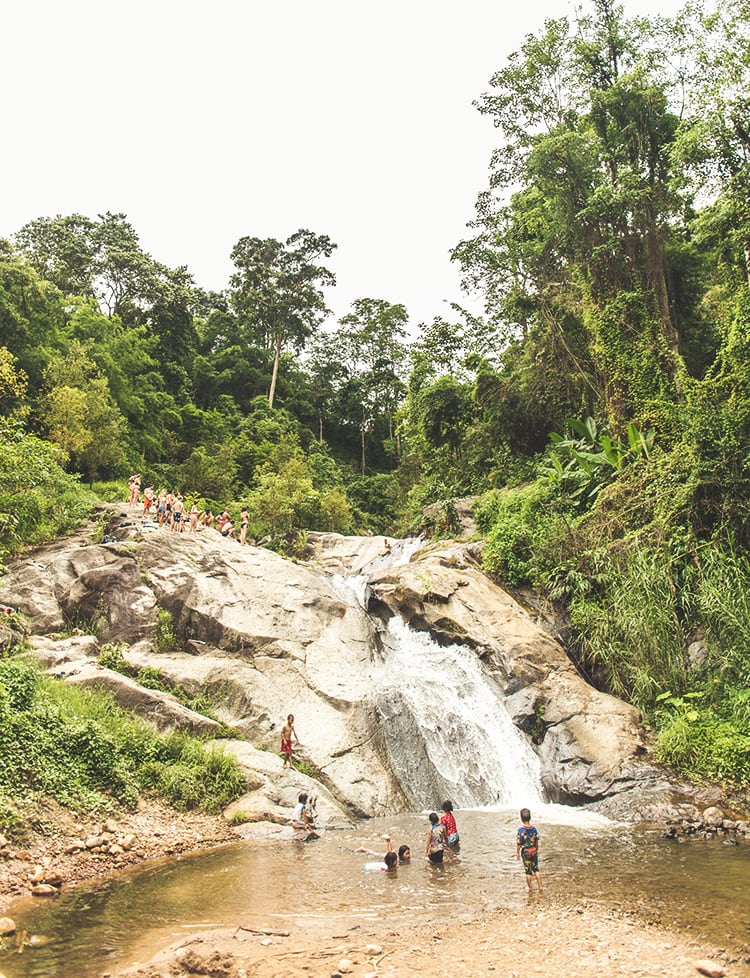 Pin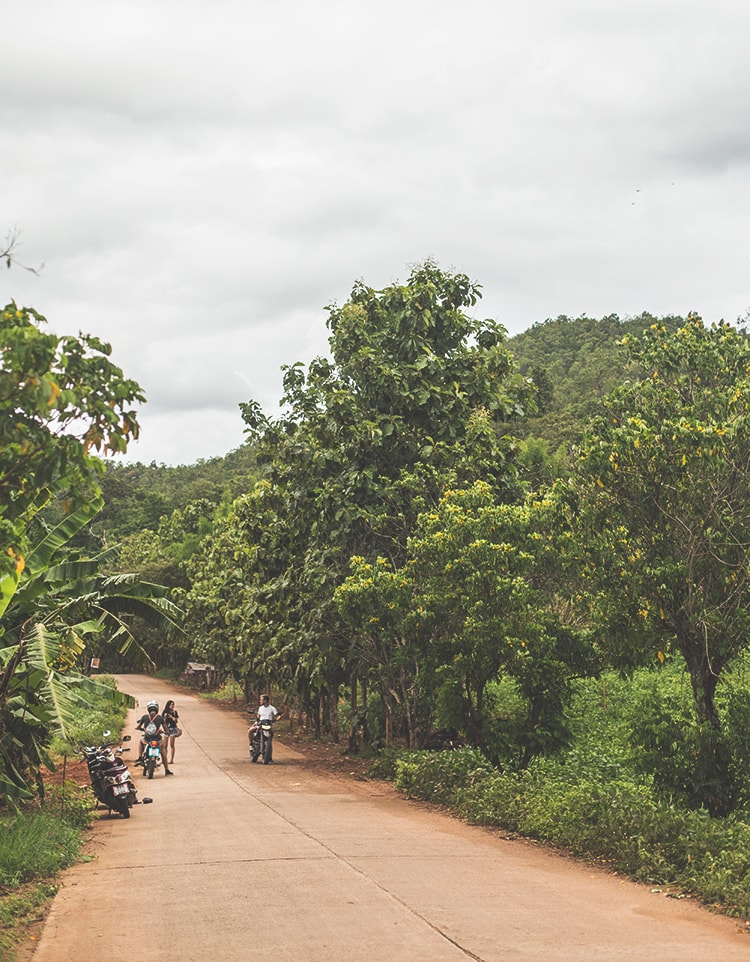 PinThe road in front of Spicypai is a mix of crumbling and loose gravel, and as I turned my scooter in to park, the front tire caught a rock and kicked it sideways, dropping the bike and taking me with it. A bystander ran over to pull it off me and I was left with bloody hands, knees and a chunk of skin missing from my foot. Damnit… I was so close! Back home these injuries wouldn't be a big deal but here the smallest wounds become infected and take months to heal. I had just signed up for a 3-day trek through the jungle, away from civilization and medical care, and there was no turning back. I decided to stick with the plan and tough this one out.
I spent the morning before the trek lounging in the loft with a few others. We sat in silence together watching the sunlight pour in as the cloud wall grazed the mountains, exposing the wet earth below. Bon Iver played through a speaker and I felt the hairs on my skin raise. In this moment of magic, time stopped and I understood—this is why people never leave.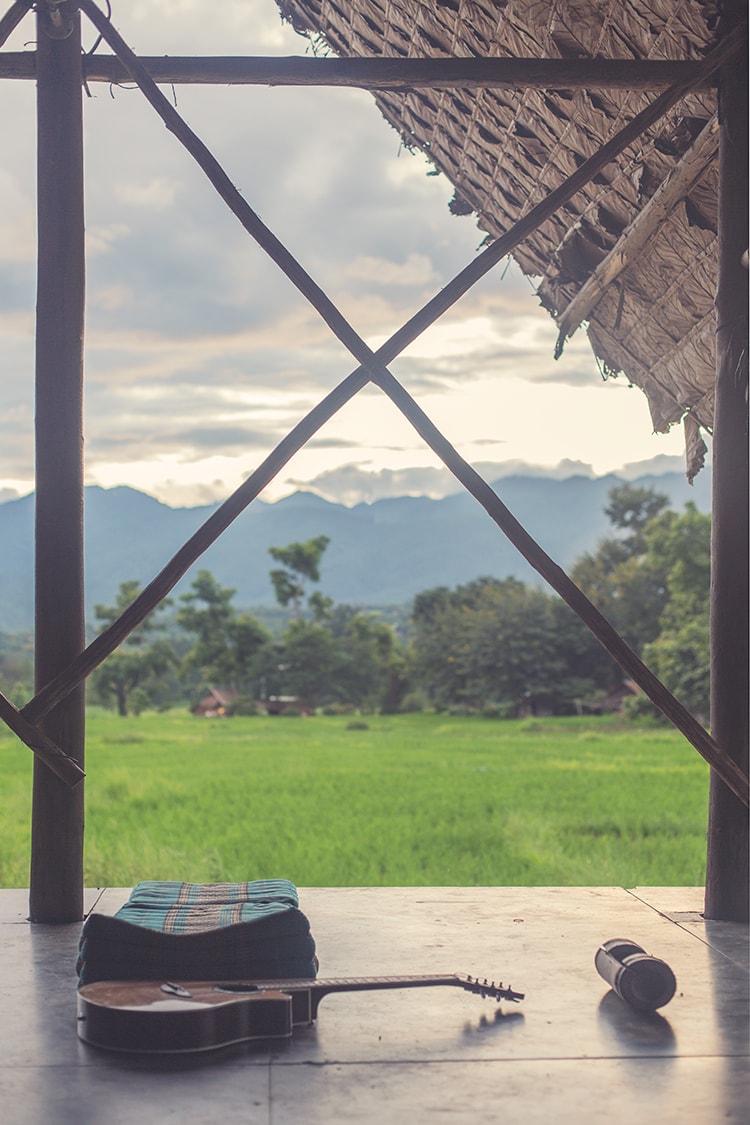 PinIt's hard to put into words, the beauty and energy and spirit of this small town. So I take as many photos as possible but even those can't possibly do it justice.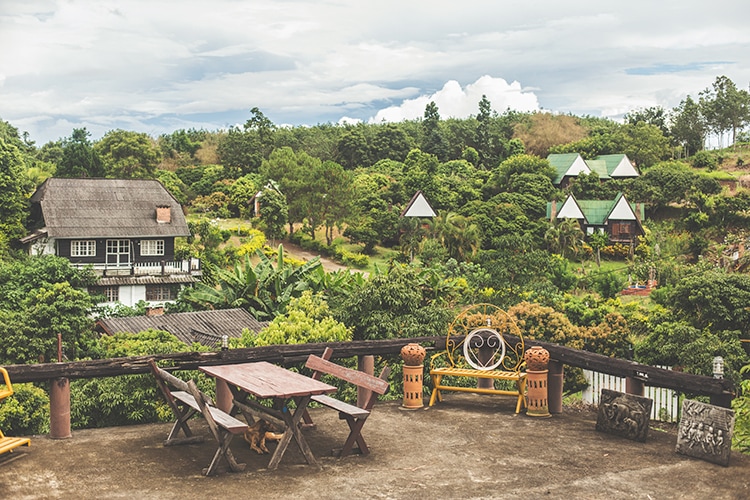 Pin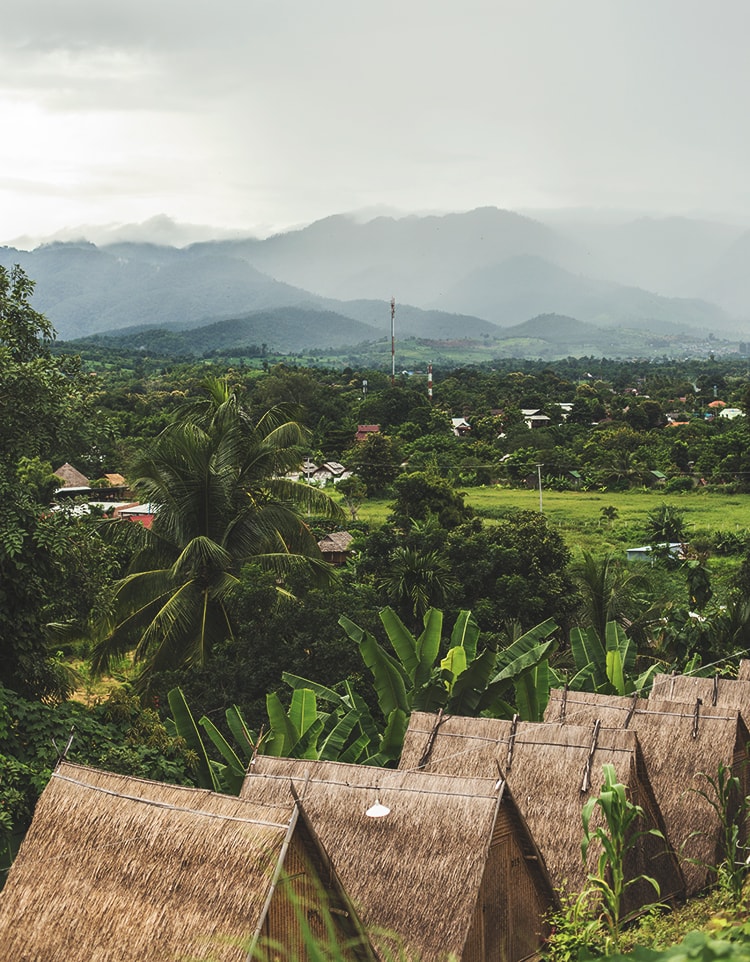 Pin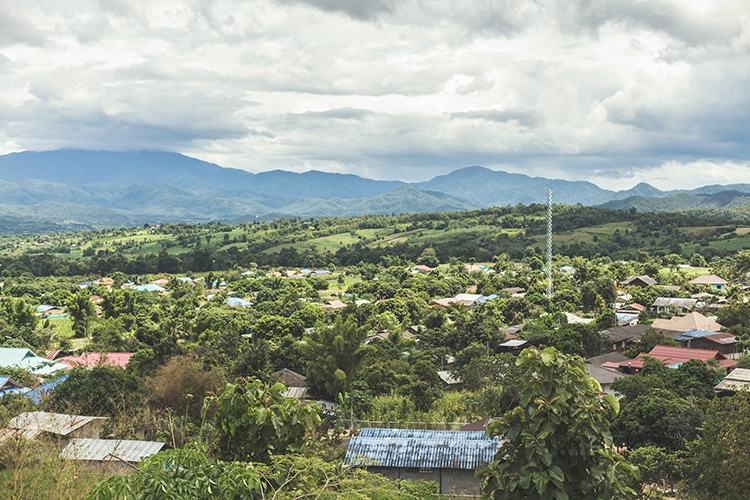 Pin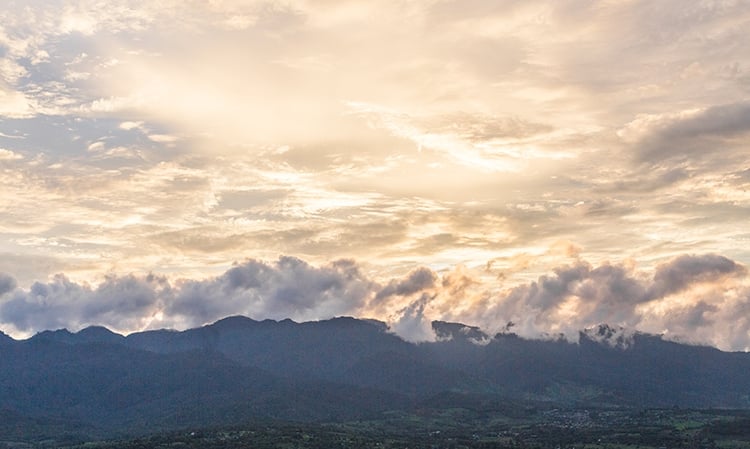 Pin Tomorrow I'll catch a bus back to Chiang Mai to take care of a few things before my Thai visa expires next week then it's off to a new country. I have some of my favorite stories and images ever captured from my trekking experience to share next. I'll need a few days to sort them out and recover from the journey, but the best is yet to come…