The day has finally arrived… our sunroom is DONE!
It's been five long weeks of work… let's do a quick recap.
The befores:
Before we bought the house:
After we threw some furniture in:
Phase 1: Building a secret cat outhouse:
Phase 2: Tearing out the ceiling panels, adding insulation and a new humidity resistant drywall ceiling (with recessed speakers and lights)
Phase 3: 'Wood' tile flooring
Phase 4: Building the beds, coffee table and console table
Phase 5: Accessorizing
And that is where we left off last.
Now that we're all up to speed…. I present to you, our finished Sunroom:
Disclaimer: No, I did not place my cat there for staging purposes. That is "her spot" and she can always be found either right there or in my lap. She put up a fight when I tried to make her move so I could take these, lol.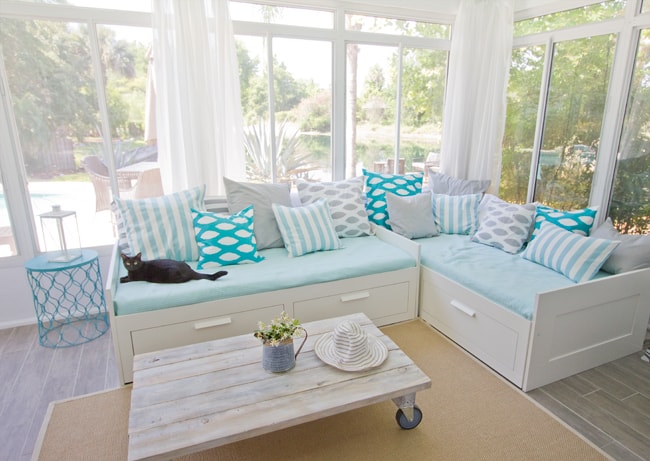 Pin
I am beyond happy with these pillows. I purchased 14 (double sided!) custom covers from Etsy seller FestiveHomeDecor, in various sizes ranging from 16×24 to 26×26 for $295 shipped. The selection, quality and service were amazing. You won't find a better pillow shop on Etsy… I've looked!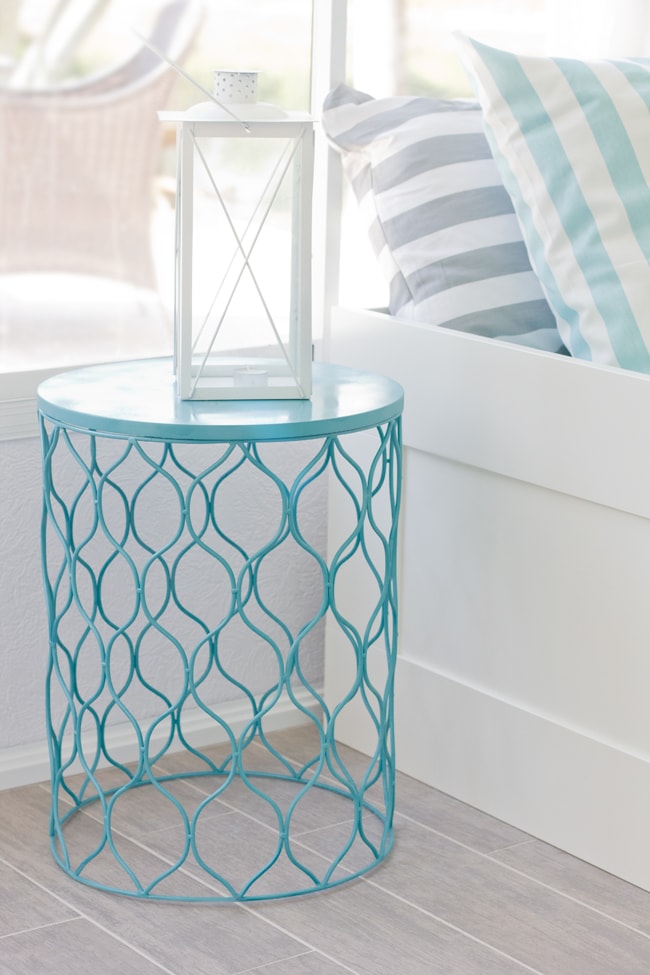 Both the lantern and table started out as black… <3 spray paint
These baskets are my new favorite thing:
I had been looking everywhere for some wire baskets that were the perfect size to tuck neatly underneath this narrow console table, when I stumbled across these bicycle baskets on Ebay. The look and size were perfect, and they even combined shipping and got them to me within 3 days so I could have them in time for my party. Couldn't be happier!
And this chair cover…
Holy crap.
Can you believe I managed to put this together with some hemming tape and an iron?
It took me 9 straight hours… but I pulled it off somehow. Surely my biggest accomplishment to date. *pats self on back*
I originally didn't include a cost breakdown since there were so many random trips to the hardware store for miscellaneous things that I know I forgot to record, but I racked my brain to come up with this list for you:
Cat Outhouse: 75
New ceiling + insulation: 921
Floor tile: 756
Floor tile installation: 430
Lighting/wiring: 70
Misc. electrical: 45
Fan: 137
Paint/tape/caulk: 51
Beds + mattresses: 700
Sheets, pillows, bedding: 215
Pillow covers: 295
Metal side table: 35
Spray paint: 15
Rug: 30
Blue lanterns: 20
Coffee table: 70
Console table: 20
Chair slipcover: 85
Curtains/rods: 100
Baskets: 40
Vase + flowers: 20
Ballpark Total: $4130-ish. I would say $4200 would be safe for the small misc. stuff I'm missing.
Apparently $4200 is the magic number for us… our kitchen, master bathroom, and now sunroom renos were all right around this number. Strange! But I'll take it.
That pretty much covers it! Right now this is everyone's favorite room in the house. Summer is around the corner and we'll be spending most of our time out here enjoying the weather. In fact… I took those after shots about 5 minutes before our official summer kick off party began yesterday.
Looking forward to many more this summer!
This room has been featured on House of Turquoise, Centsational Girl, Hooked on Houses and Young House Love!