This day is finally here! Our kitchen is D-O-N-E. It's been many months in the making, so let's do a quick recap…
Here's how it looked when we moved in:
Pink walls…
Beige formica counters…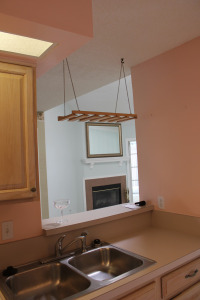 Outdated chrome and brass fixtures…
Empty, unused walls and lack of counter space…
Whitewashed 90's oak cabinets…
Mismatched fluorescent lighting….
White linoleum floors…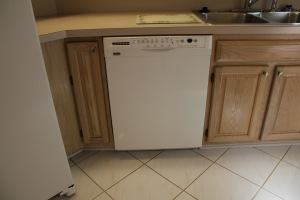 and the list goes on.
Last summer we made a few big updates including recessed lighting, new tile floors, granite counters, stainless steel undermount sink, glass subway tile backsplash, and a built in bar area which nearly doubled our counter space!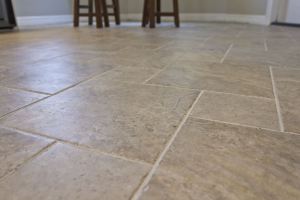 Tile: Giotto Grey, from Lowe's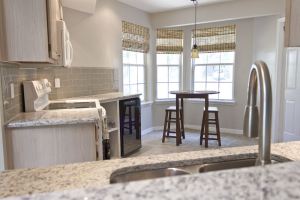 Granite: Kashmir White, from Lowe's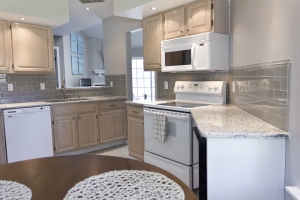 Subway tile: Special order from Lowe's, Emser's Lucente in Morning Fog
We lived with it like this for a while… when last month I finally decided to bite the bullet and paint our cabinets. In addition, we had open shelving installed on the big empty wall. Here's what the kitchen looked like in the midst of all this…
And now, finally, every last detail is in place and our little kitchen is ready for it's big debut:
I was debating between oil rubbed bronze or brushed nickel pulls, and I'm SO glad I went this route. I picked up the entire set of 16 on Ebay for under $80 (after my Ebay bucks)!
We also ditched the old exposed hinges and opted for concealed "soft-close" hinges, which apparently is this new technology that allows you to just gently push the door in and the spring loaded hinge will slowly pull the door closed on its own (they've had this for drawers for a while, but the guy at the cabinet place said this has only been around less than a year for cabinets). The hinges were under $3 a pop each, so for around $100 we were able to do the whole kitchen. SO worth it.
These open shelves… oh my goodness. They must be my favorite thing in the house.
I had so much fun accessorizing them…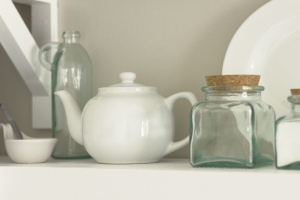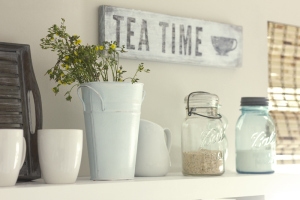 DIY wooden sign tutorial coming soon (the flower bucket was a diy makeover as well).
How cute is this lil guy? It's an owl coin bank from ZGallerie. Brad and I always seem to have loose change on the counters, so this was the perfect solution for the kitchen.
Still loving my white canister set I scored at Goodwill for $4!
I did another fun project to fill a wall… a white chalk board using DIY chalkboard paint and an old frame…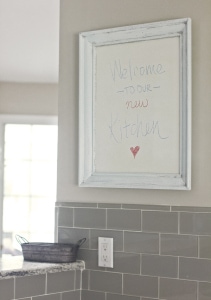 The metal bucket holds our colorful chalk
Tutorial on this also coming soon.
I had been searching for the perfect phone charging/organizing station to put on our counter, because this is how it was looking every day:
Not cute.
I had brought home a wire basket from Hobby Lobby (on sale of course) with no idea what I was going to use it for… when suddenly it clicked:
Bingo! This does a good job of not only covering the outlet, but it serves as a perfect place to stash the long charger wires and keep mail/coupons/takeout menus/etc. Problem solved.
And that is our new kitchen! I wish I was better at keeping track of costs…. but the rough estimate in my head tells me everything came in at under 5k (we had a ton of gift cards to Lowe's to put towards our granite install, so that helped a lot).
Stay tuned for DIY wooden sign and chalkboard tutorials 🙂