Are you ready for some kitchen talk? Let's do this!
I gave a quick preview in my Before Tour video if you missed it, but now it's time to get into the details and walk you through my thought process. Let me remind you that this is a flip house, so there's a slightly different approach. I need to keep things relatively neutral to appeal to potential buyers, however I also want to challenge myself creatively and try new things. And there's the whole limited budget part, which has always forced me to come up with creative solutions.
Step 1 of any new room design is to gather inspiration, so naturally I looked to Pinterest.
This was the photo that first sold me on black cabinets (by Blair Harris):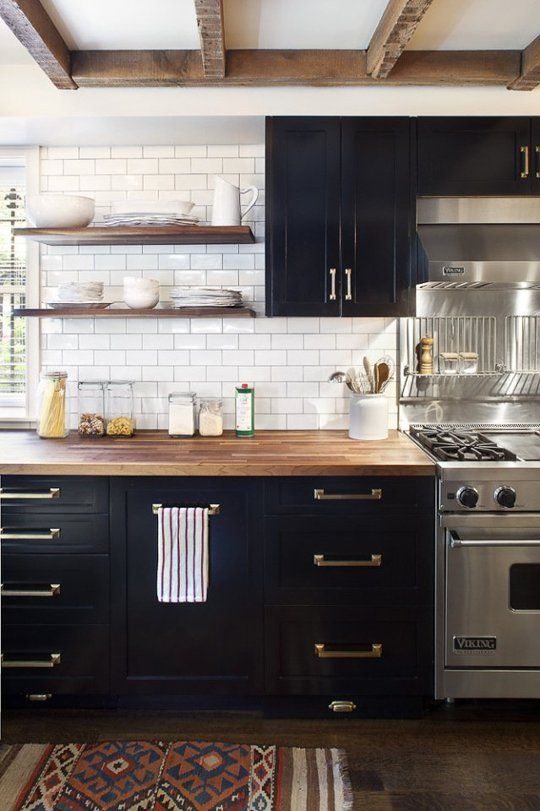 Pin
And this masterpiece from Studio McGee reaffirmed that decision: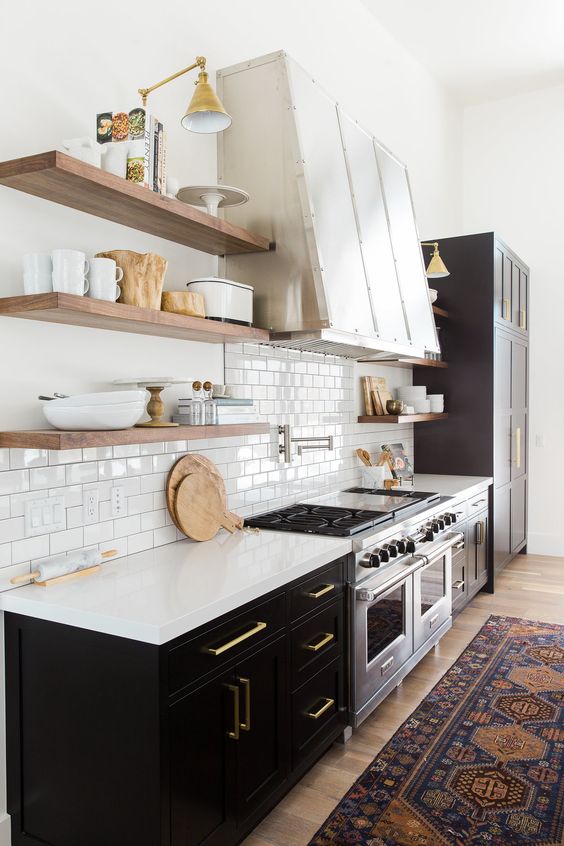 Pin
Another angle from the above kitchen: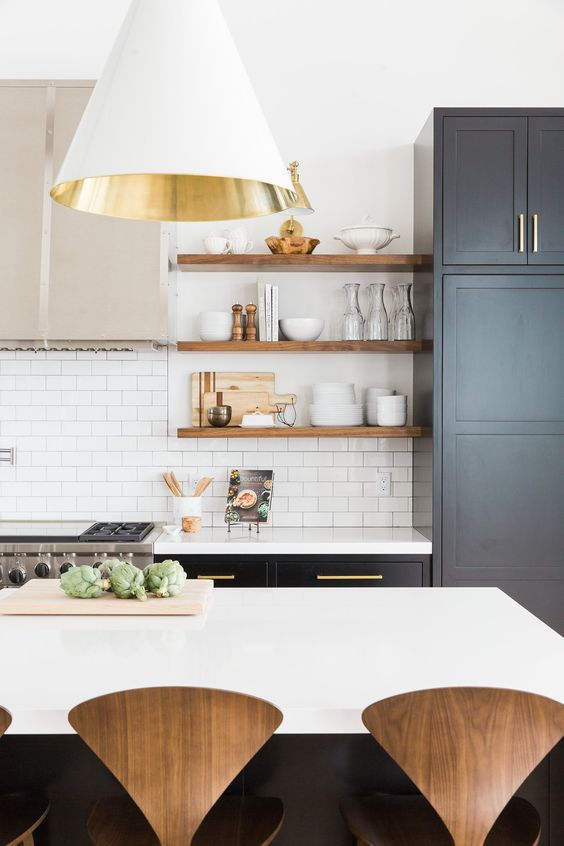 Pin
There's something so inviting about this rustic and warm kitchen by Barbara Westbrook: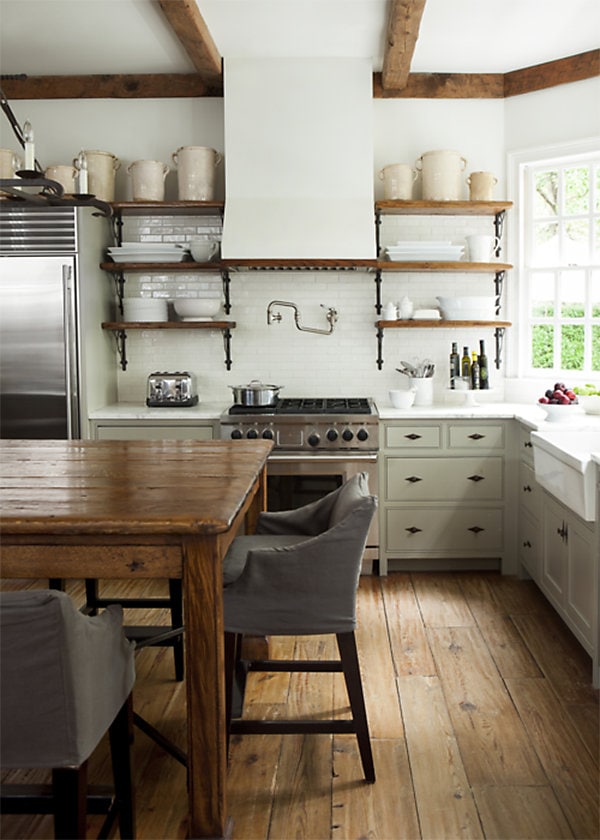 Pin
While the navy cabinets are a bit too niche for me, I love everything else about this space as seen on Fixer Upper: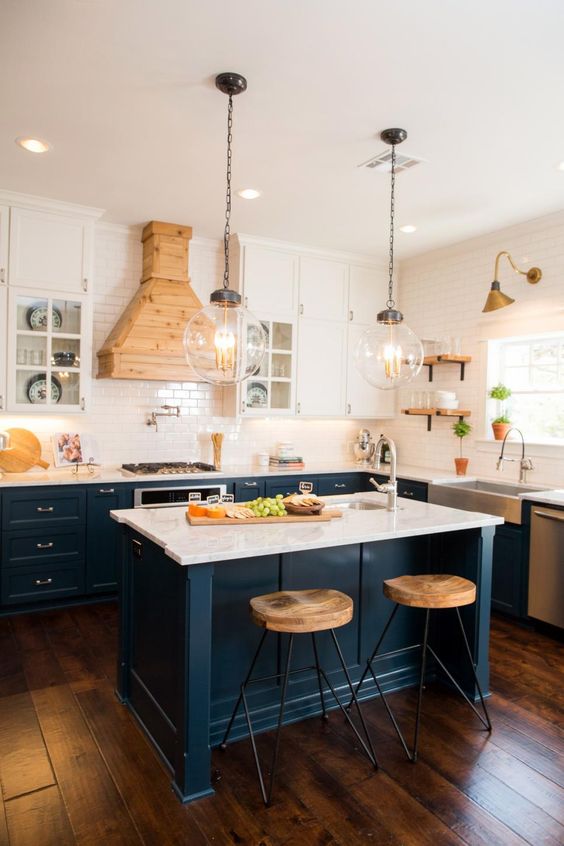 Pin
I can't get enough of these black windows and light fixtures: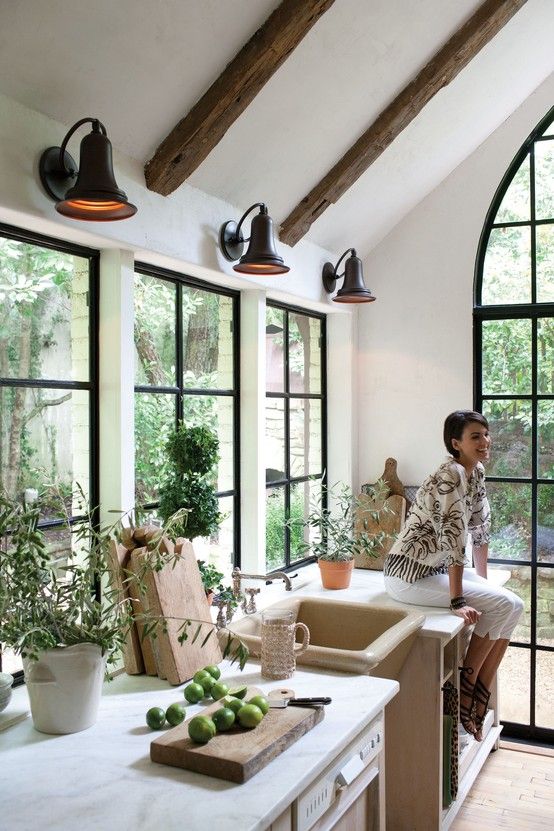 Pin
Shanty2Chic never ceases to amaze me with their DIY plans…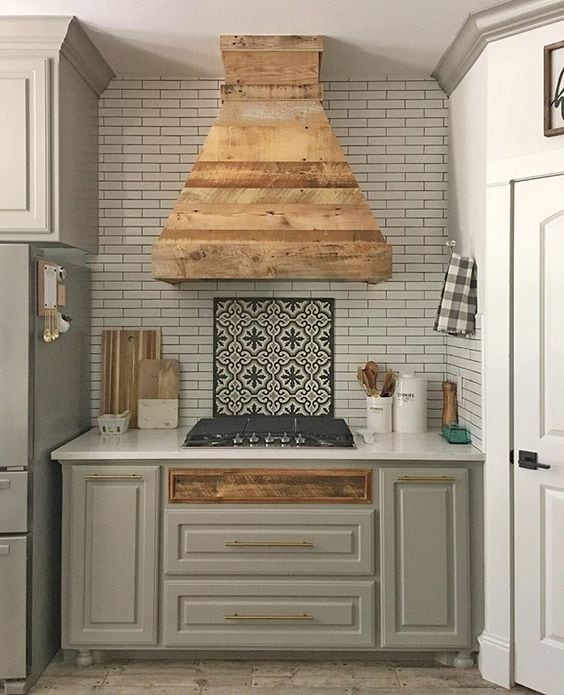 Pin
These folks found a way to bring big style to a small kitchen: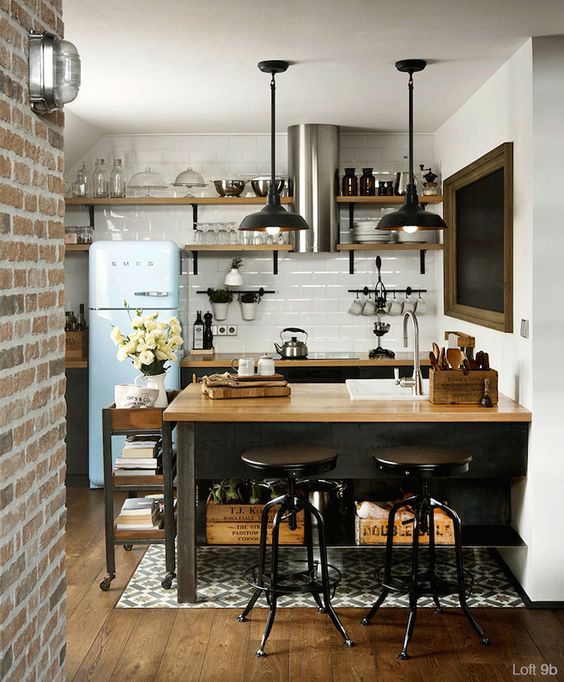 Pin
So simple yet elegant: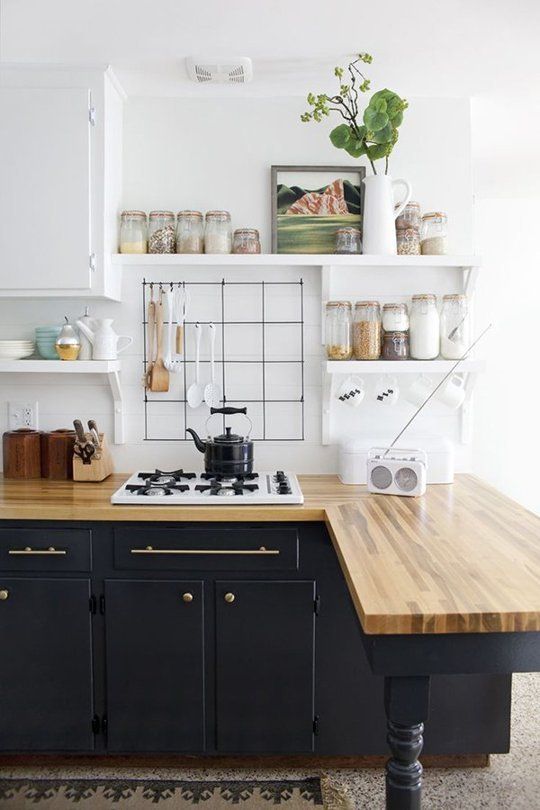 Pin
Another clean and classic design combo by Elizabeth Lawson: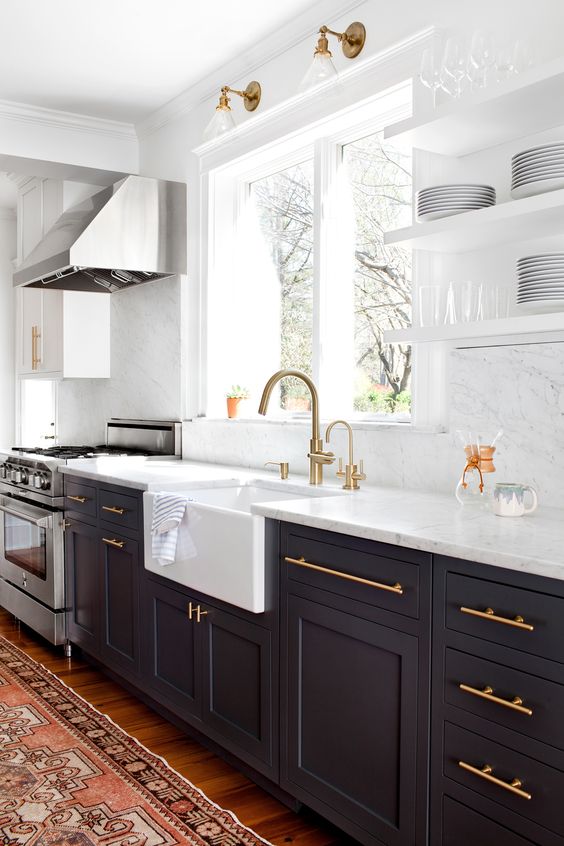 Pin
Notice a theme? It's all about the black, white and wood. High contrast with mixed metals and lots of warmth, with some rustic touches thrown in. Now let's rewind to what I first walked into: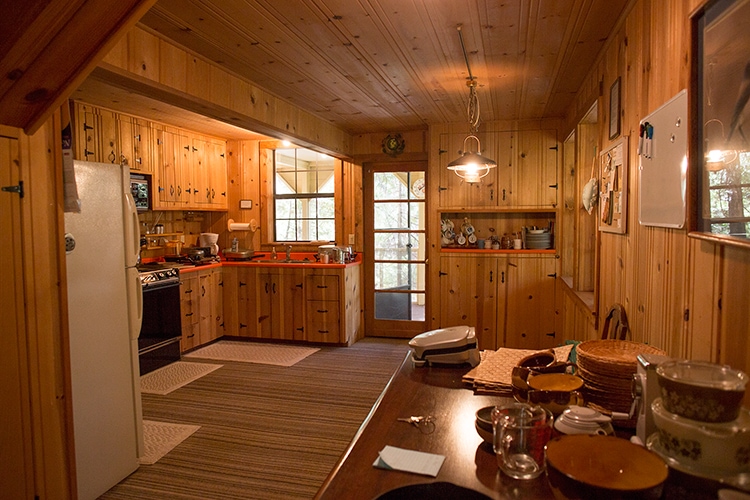 Pin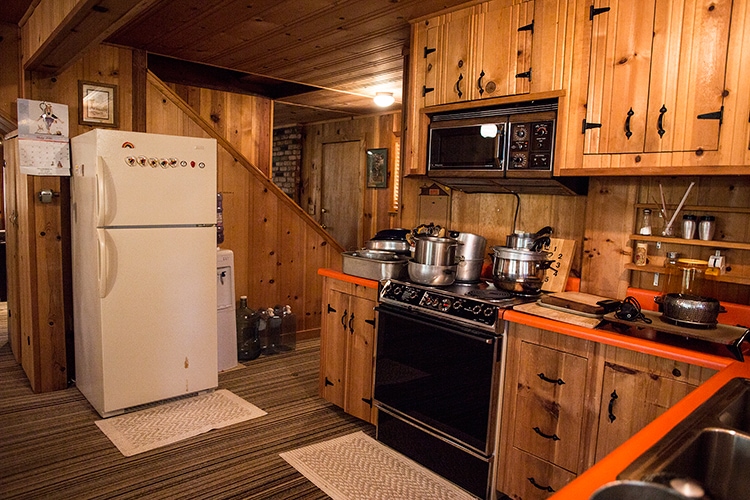 Pin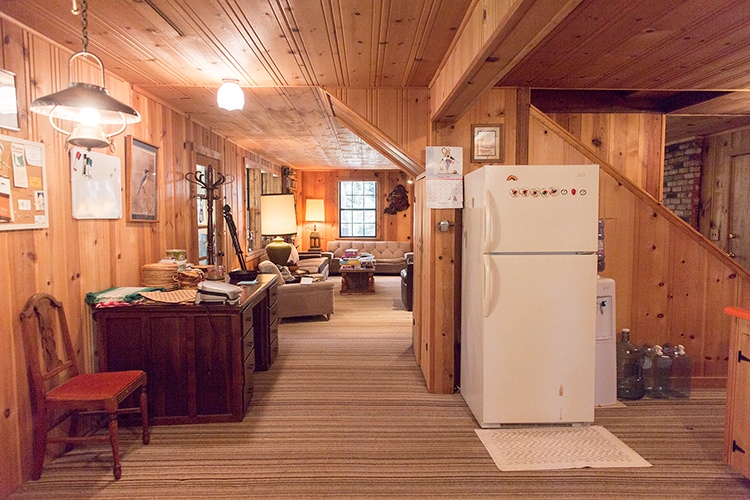 Pin
Not the most functional layout with the fridge blocking the walkway to the bathroom/stairs and very limited counter space. I realized right away that the door had to go so that the back wall could be one solid expanse of cabinets/counters, the stove could be relocated to that wall, and the fridge would move in its' place to free up the pathway.
Then below the window on the right wall, I'll add a built in bench with a table for an eat-in area that can double as a work surface:
Pin
Up against the bench on the right side, I'll add another wall of lower cabinets for extra storage and counter space (which will serve as more of a buffet/bar area—excuse the poorly lit photos):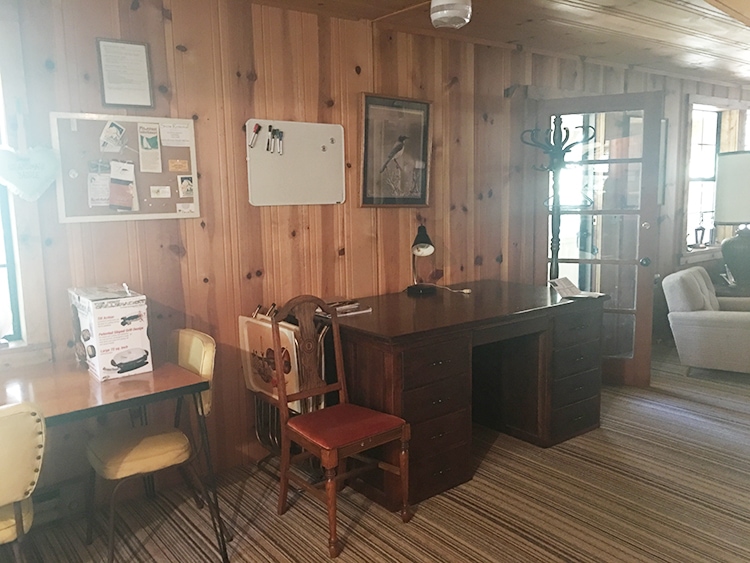 Pin
There won't be any upper cabinets aside from a small one on top of the fridge, just two rows of open shelving between the fridge and back wall, and on the back wall above the stove I'll build a vent hood from reclaimed wood flanked by two wall sconces.
Let's look at a few progress shots. The sink is the only thing that will remain in its original place, underneath the window: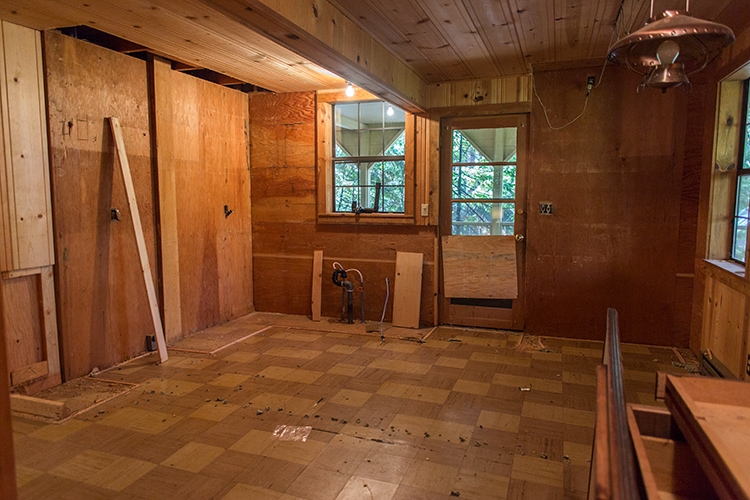 Pin
Pin
Here's how it looks today, just about ready for patching up the framing, adding a gas line and rewiring the electrical: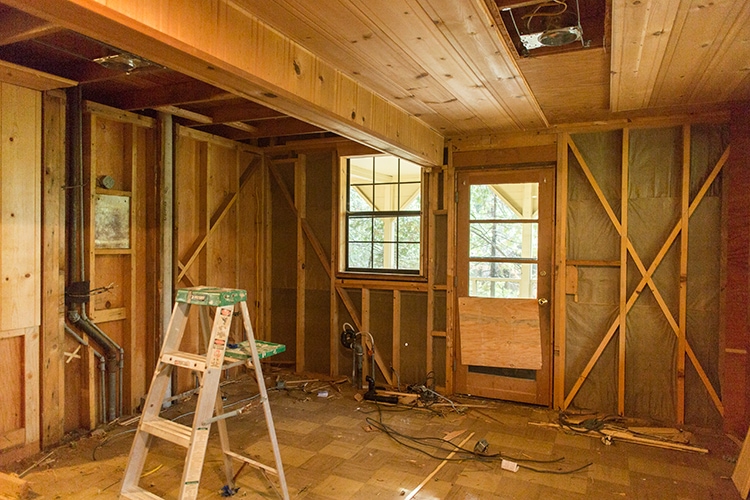 Pin
Fortunately, my contractor was able to locate replacement pickwick pine boards for the ceiling (they were damaged during removal) so I can have those patched rather than having to use drywall.
And here's my design plan: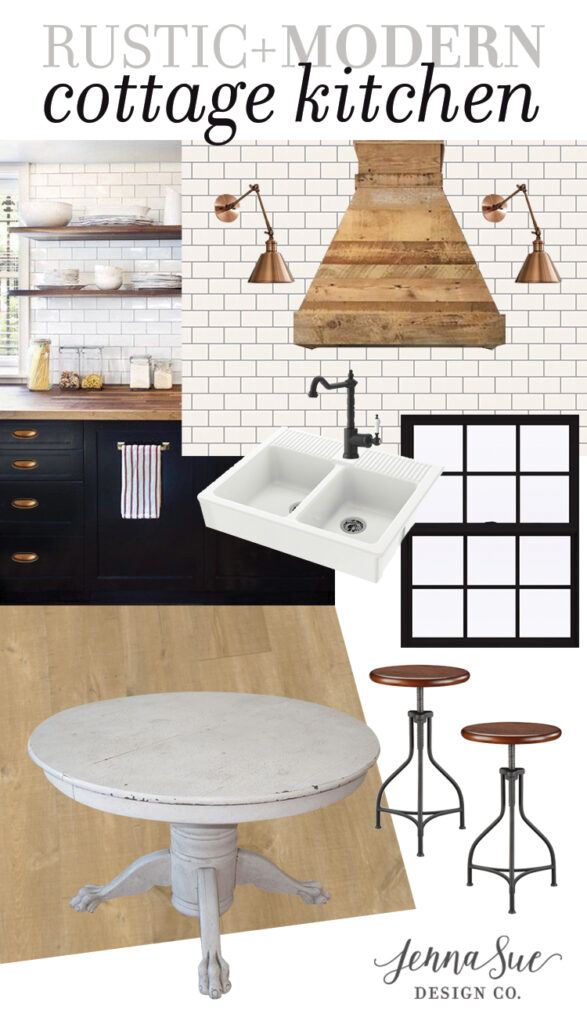 Pin
Let's talk materials!
Lowe's was my first choice for cabinets. I used them for my last kitchen, had a great experience and knew they'd deliver again. I briefly considered Ikea but needed something a bit more custom, and didn't have the time or desire to deal with delivery/assembly.
The most affordable option for a true black finish in the style I wanted actually ended up being the same brand/style I used before—Kraftmaid Durham Maple Square in Onyx: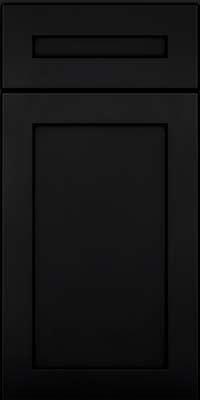 Pin
The top drawer is solid a though panel, they'll look just like my old kitchen: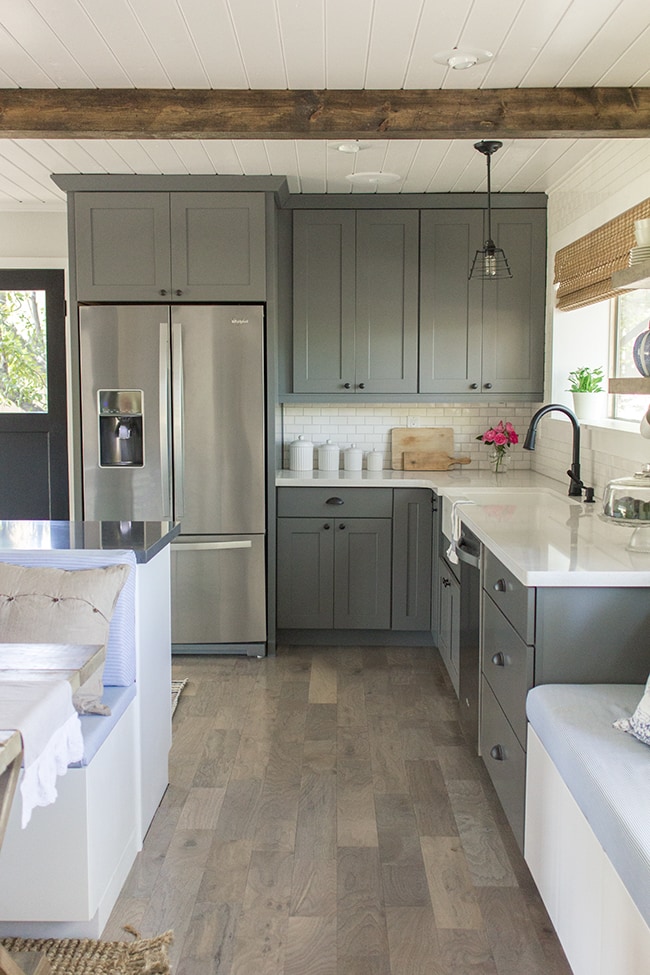 Pin
The appliances will be stainless because let's face it, it's easy and that's what buyers want. For the countertops, the choice was obvious—you can't beat the affordability of butcher block, and they just happen to look amazing next to black. I was going to use Ikea until I discovered that Lowe's just began stocking them—here's a shot I took in the store: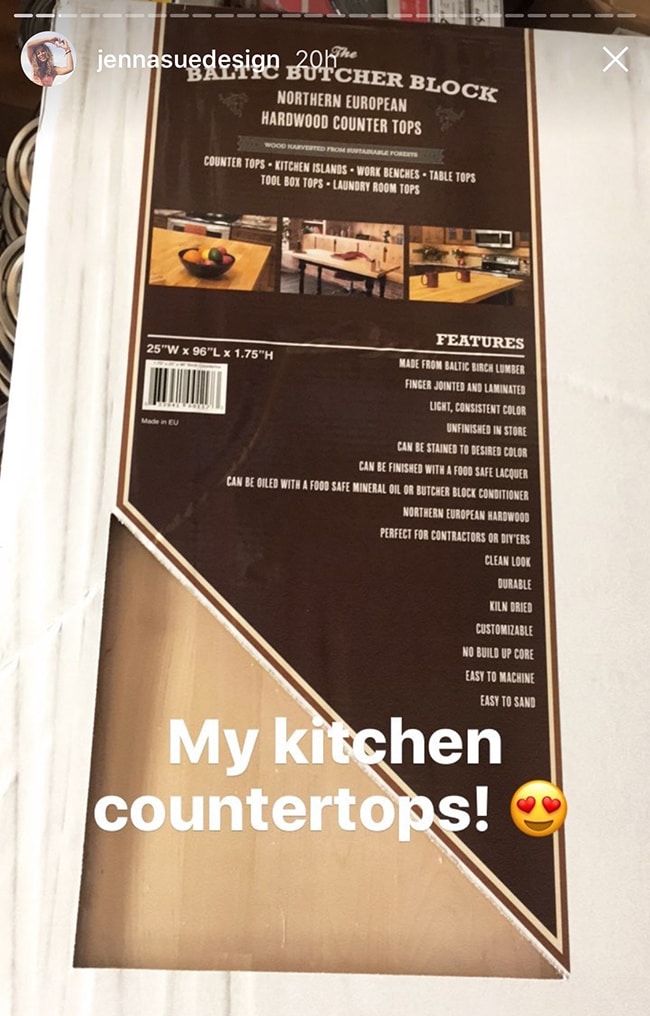 Pin
They're a bit more expensive than Ikea, however, they come unfinished so you can easily stain them to your liking, and I'm already using Lowe's installers so they can take care of everything at once rather than having to road trip to Ikea and pay a $250 delivery fee and separate installation. Plus they're thicker and better quality. Sold!
The farmhouse sink and faucet, though, still goes to Ikea. You just can't compete with the Domsjo sink and Glittran faucet combo: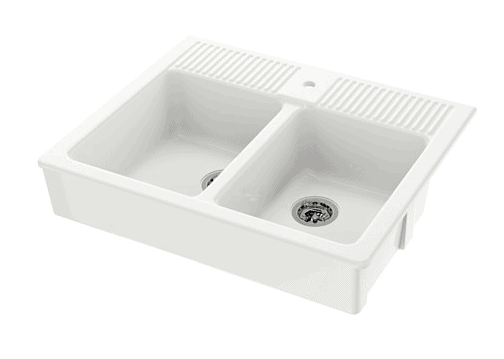 Pin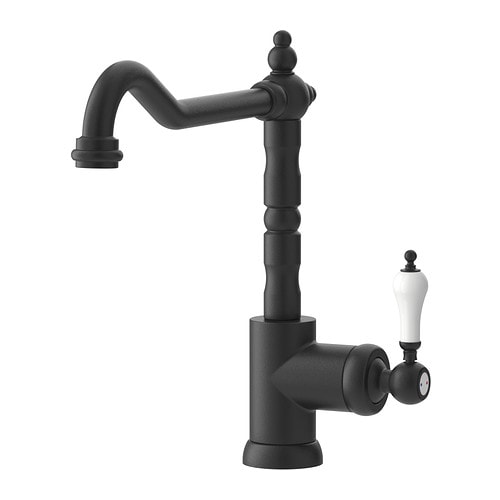 Pin
I've debated on the backsplash, but always come back to simple white subway tile sheets. They're timeless, affordable, and keep the space feeling light and open. Just like my last kitchen, I'll run them from counter to ceiling to elevate the room (my ceilings are just under 8′). White subway tile is also the perfect backdrop for the custom range hood I plan to build…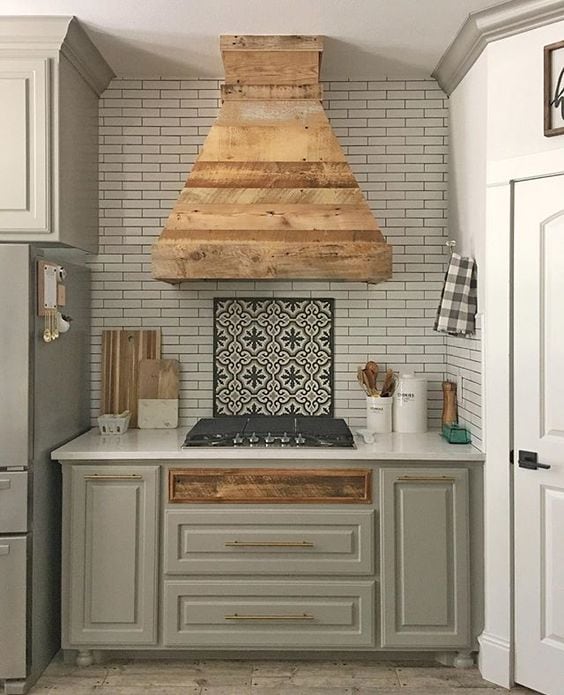 Pin
I decided early on that this would be included in the design plan, and did a happy dance when Shanty2Chic revealed that they'll be releasing build plans for this one soon. I'm stalking their page to make sure I don't miss it!
Flanking the vent hood will be two wall sconces. I had a hard time deciding on the finish for these. Black is an easy and safe choice, but I wanted to add some warmth and dimension. Brass/gold hardware is having a big moment and would look stunning no doubt, but as mentioned earlier, I want to push myself to branch out and try new things.
I spotted these copper sconces on Wayfair for just $68/ea—half the cost of the closest brass option I could find (the price has gone up a bit since) and couldn't get them out of my head: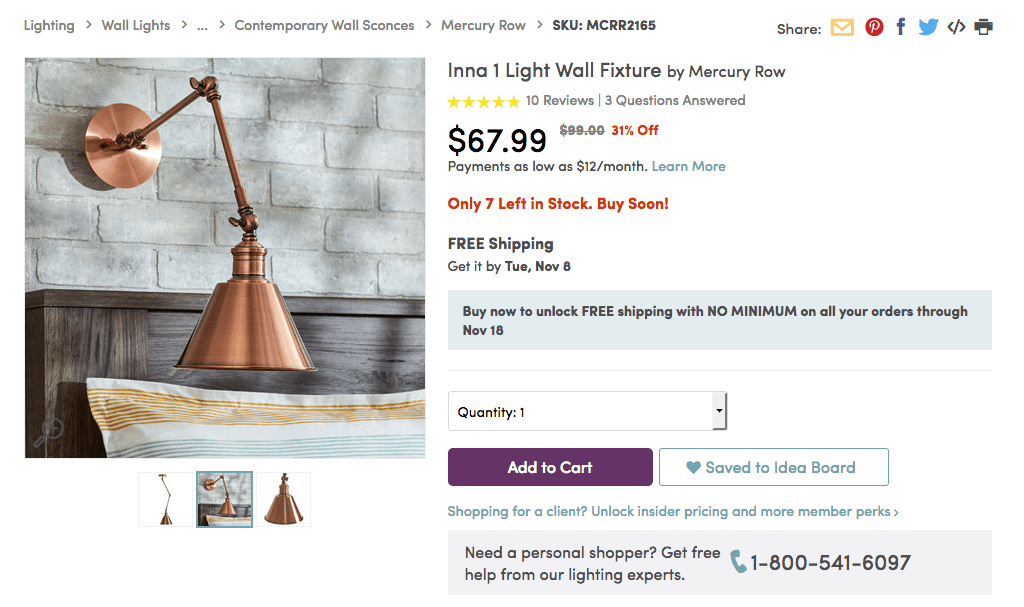 Pin
I don't see copper around too often so this is a great opportunity to do something different. There also isn't a lot of copper hardware out there but I found and ordered these surprisingly affordable cabinet pulls and knobs from ATG Stores: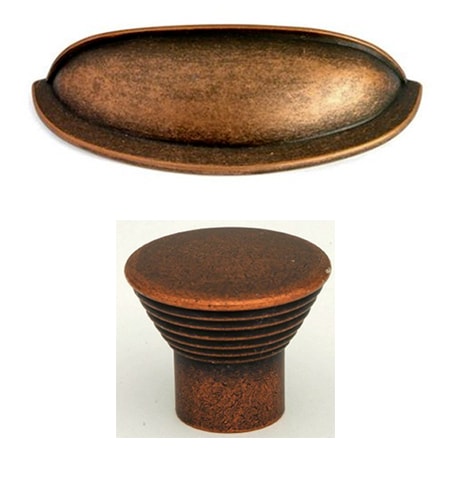 Pin
The built in bench seat under the window will be simple and built from wood with pillows to cozy it up, and I'm thinking something like this round table refinished in a soft gray: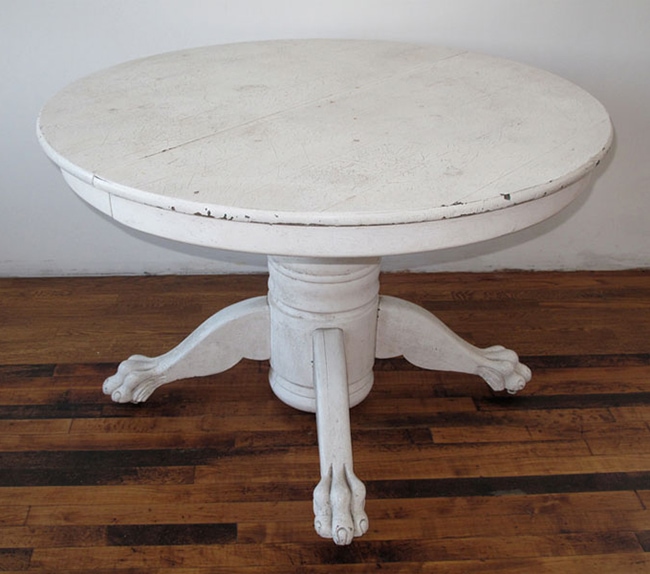 Pin
Since its a casual seating area and there's limited space, I ordered 4 of these stools which can easily be tucked in when not in use: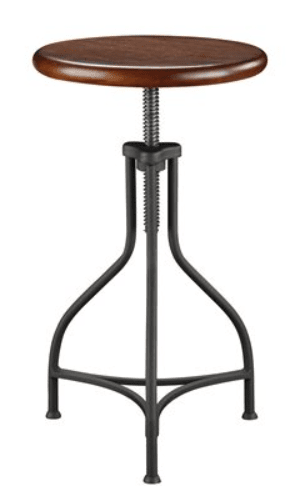 Pin
I recently had a change of heart when it came to the flooring. I've always defaulted to engineered wood due to the low cost and the fact that it's still (partly) wood, but as I was examining my original choice at Lowe's, I spotted something that made my heart skip a beat. Then I found out it was laminate. But it looked and felt more wood-like than the engineered wood, so I compared them side by side: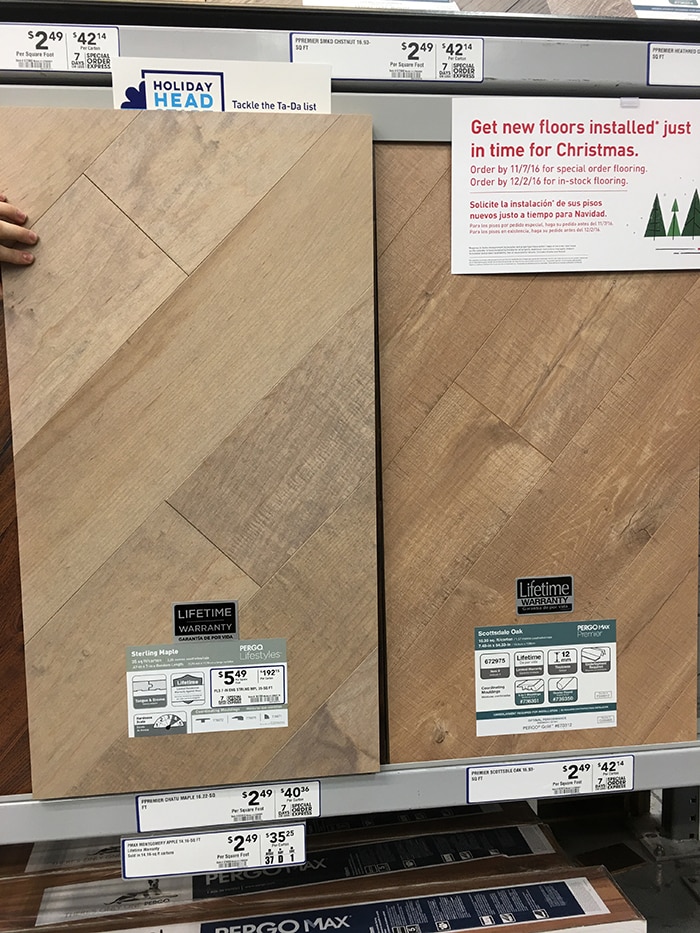 Pin
The Sterling Maple wood on the left is $5.50/ft compared to the Scottsdale Oak laminate on the right at $2.50/ft. The laminate had the 7″ wide plank I was looking for, while the wood was varying width. The laminate was also warmer in color and had a more rustic, hand scraped texture while the wood was smoother. Both are Pergo brand, are super durable and have lifetime warranties. Laminate has always been a product I've never considered using due to the perceived lower quality, but it has come such a long way and doesn't deserve that stigma anymore. So I've decided to stand up for it, take another risk and save a bunch of money in the process. I wish I would have found these for my last home—these floors are going to look amazing!
All of the paneling on the ceilings and walls will be painted using Valspar's Bistro White (along with the rest of the house).
On another note—after weeks of challenges with my contractor, I had to start over and I found a new contractor who has been awesome to work with so far, and I'm finally feeling much better about everything. The job is scheduled to be completed by the end of December (barring any extreme weather conditions) but I'm optimistic that the house will hit the market by February.
As the design and products are being finalized and ordered, I can already visualize the end result and the excitement and anticipation is building. I'm preemptively declaring that this will hands down be my best renovation yet (the character of this house makes it easy) and I just want to fast forward to January when I get to add all the finishing touches.
On Friday I'm heading back to the flip for a clawfoot tub makeover, more thrift shopping and meetings with contractors/vendors while the foundation work begins. As usual, I'll be live streaming the progress via instagram stories and snapchat (@jennasuedesign) so I hope you can tune in to watch!
Disclosure: Some of the products listed were provided via sponsorship—all of which I selected and fully approve of.