I had hoped to get started on building a fireplace mantel this week, but that project turned into trying to figure out how to relocate the TV to redoing all the wiring to replacing the entire fireplace surround to rearranging the whole living room and getting new furniture… and I got overwhelmed. So I'm going to ignore it for a while until we can come up with a good solution (I'm hoping the answer will magically reveal itself to me but no luck so far…)
In the meantime, let's focus on our master bedroom! I've drawn up this handy plan as a guide…
Now, most of what you see above aren't the exact pieces/colors I plan to use, they're just representations of similar pieces I hope to find.
Here's what the room looks like right this second:
I've only posted pics of this room once or twice–since then we've (temporarily) hung the headboard and added bedside lamps.
Excuse the sloppiness, I clearly didn't style it for you guys (sorry).
The only thing we did to the space was add flooring and furniture. That's it. Even the old owner's green high-water curtains are still up.
I've given a lot of thought to this space and I can't wait to get started. I think it will be a contender with the kitchen as my favorite room in the house (or ever).
Ready for the breakdown?
First let me show you my favorite inspiration photo from The Nester. I can't stop staring at it.
The cozy feeling you get from this photo and rich muted tones—that's what I'm hoping to recreate.
Let's start with the back wall: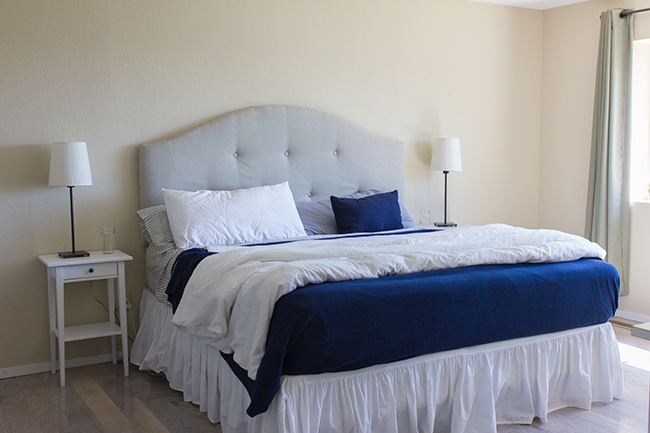 Pin
I bought two Pax wardrobes from Ikea which will flank the bed:
They'll reach the ceiling and I'll make them look built in with trim/molding. I also plan to do some sort of treatment to the doors (mirrors, panels, paintable wallpaper? haven't fully decided).
I'm ditching the nightstands and going with wood crates mounted to the insides of the wardrobe (there's just enough room, and it will be perfect to stash our stuff without taking up floor space). I may DIY these, or just stain the Joann's crates like I did in the studio…
Or who knows, maybe I'll even use woven baskets.
Also mounted to the inside of the wardrobes above the crates will be these fun accordion lights I bought a few months ago:
On the back wall in between the wardrobes I'll be using up the last of my tongue and groove planks and painting them dark gray (the same color as I used in the studio):
Now let's move to the window wall:
Of course I plan to swap the curtains, and also add bamboo blinds. Not sure about the color/pattern yet—we'll have to see how it unfolds. Below the window I'm picturing a comfy little chaise or settee…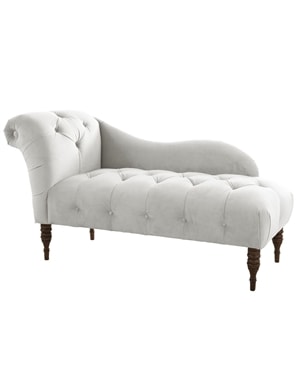 Source
Except all the ones I like are either really expensive or too deep (I only have a couple feet to work with). There's still upholstery foam leftover from our kitchen bench seats so I may just end up making something. Or just buy two chairs and call it a day.
I'll probably end up painting that wall a barely-there light gray.
Next to the sitting area I'll add a small side table and this lamp (which currently stands in the living room):
And if there's room on the right side of the curtains I'll hang some framed art.
Now for the next wall…
I plan to try out a new molding treatment—square panels painted in a deep gray:
I think I'll make them actual squares though, like this (but on a larger scale):
I also plan to replace the white Hemnes dresser with something wood and more vintage…
I'm having a hard time finding anything remotely similar on local thrift sites and stores, so I may be waiting for a while (or end up spending quite a bit). It will be worth it though.
I'm also thinking about refacing my Ikea mirror with a wood treatment (maybe stained plywood strips?)
And moving it to another wall, because in that corner I'd love a fireplace…
So romantic. It wouldn't be an actual built in fireplace though of course… just one of these electric guys:
Source
The TV will stay, so I plan to frame and hang a few pieces of art on the wall surrounding it.
And now for the last wall…
From left to right, we've got a linen closet, the bathroom, and the main closet. When we do our big bathroom remodel I plan to get rid of the linen closet and bathroom doors (we're gutting/rearranging the whole space), but for now they will stay as is and I have some artwork in mind to hang in the empty space between the two doors (or the mirror will go there once we get the fireplace in, whichever comes first).
But eventually, I'd love to add a sliding barn door over where the current closet is…
That might have to wait until the bathroom remodel though, not sure yet.
And for the floors—I plan to get a large natural woven rug (at least 9×12″). I'm waiting for a good sale at Rugs USA before I pull the trigger… I might just go with my old favorite, the Maui Chunky Loop…
Layered on top, there will be a plush sheepskin rug on either side of the bed:
And as for the ceiling… a sparkly chandelier is definitely in order.
I'd also love to try a ceiling treatment. I'm leaning towards the DIY wood beams we made for the kitchen (probably without the planks):
Or maybe I'll do some sort of wallpaper? Or just paint it a solid color? I think it just needs something. Any good ideas?
Here's some final bits of bedroom Pinspiration I've been drooling over…
(there's a lot more where of where that came from on my Pinterest!)


Keep in mind these plans are more of a guideline… things may change a bit once we really get into it (that's usually inevitable with any transformation). But either way, as long as we end up with a cozy space, I'll be happy.
If we don't come up with a game plan for our fireplace in the next few days, I think we'll go ahead and get started on the bedroom. First up is installing the wardrobes—so that's what you have to look forward to next week!