My final playroom DIY tutorial is a new favorite that anyone can do for less than $12 with just a few tools and a few hours!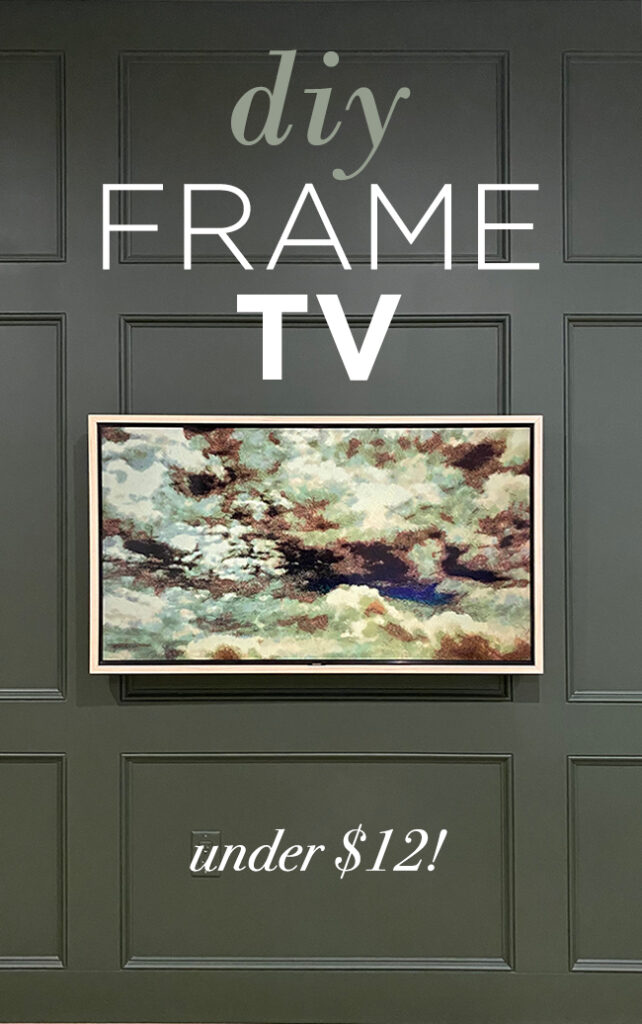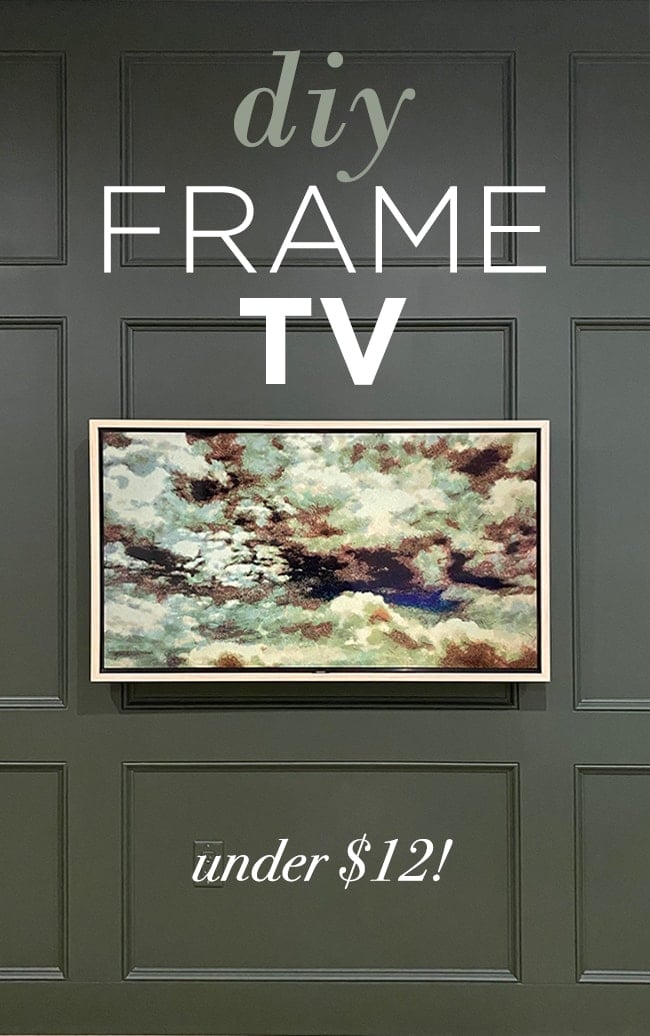 I shared this live in my Instagram stories last month and wasn't surprised that so many of you loved it and wanted to DIY your own. Like many of you, I'm in love with the concept of the Samsung Frame TV but not in love with the price.
We were in the market for a TV for our playroom (aka office/media room) and decided we'd wait until Cyber Monday to find the best deal. I believe the Frame TV's were only 20% off (still over $1k), which wasn't enticing enough for us to pull the trigger—especially after reading one too many unsettling reviews.
Instead, we landed on another 50″ Samsung TV on sale for $375, with all the smart features we needed, great quality and better reviews than the frame. We also ordered this low profile TV mount to make it sit as close to the wall as possible.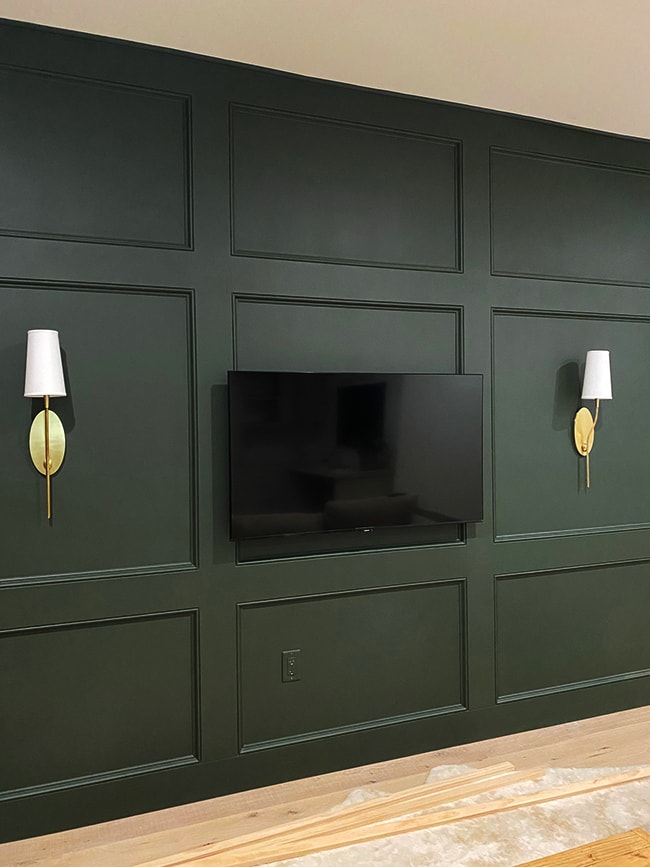 I remembered seeing a couple other DIY Frame TV's on Pinterest/Instagram (this one from Cass Makes Home is my favorite) so I knew I could build my own.
My design inspiration was this simple canvas floating frame we had built for my painting last year (remember that?) I debated on something fancier/antique looking like Cass made, but decided to keep it cleaner looking with natural wood to tie in with the floors, and contrast with the wall molding detail and gold sconces.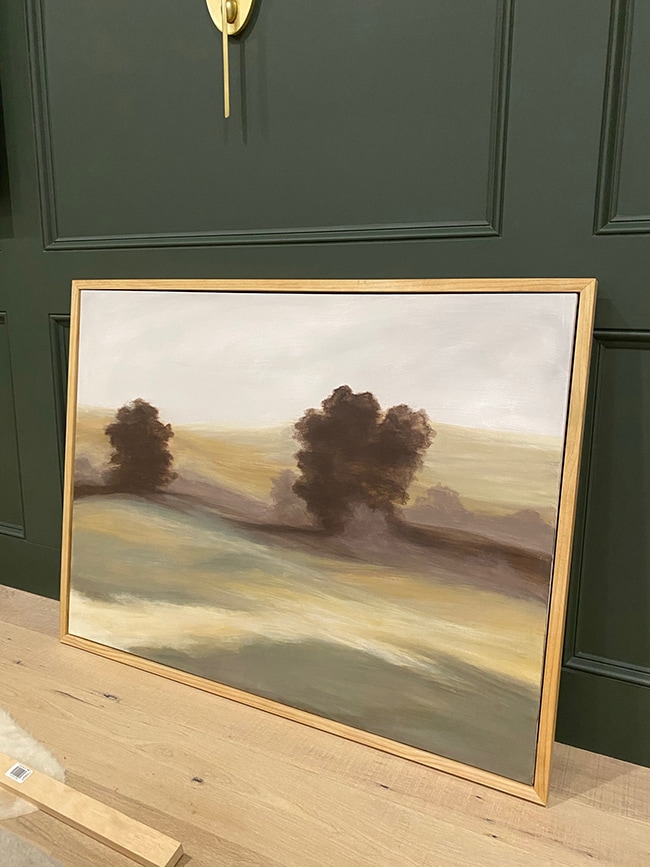 You can do this beginner project with just a few materials and basic tools! Here's what we used:
Tools: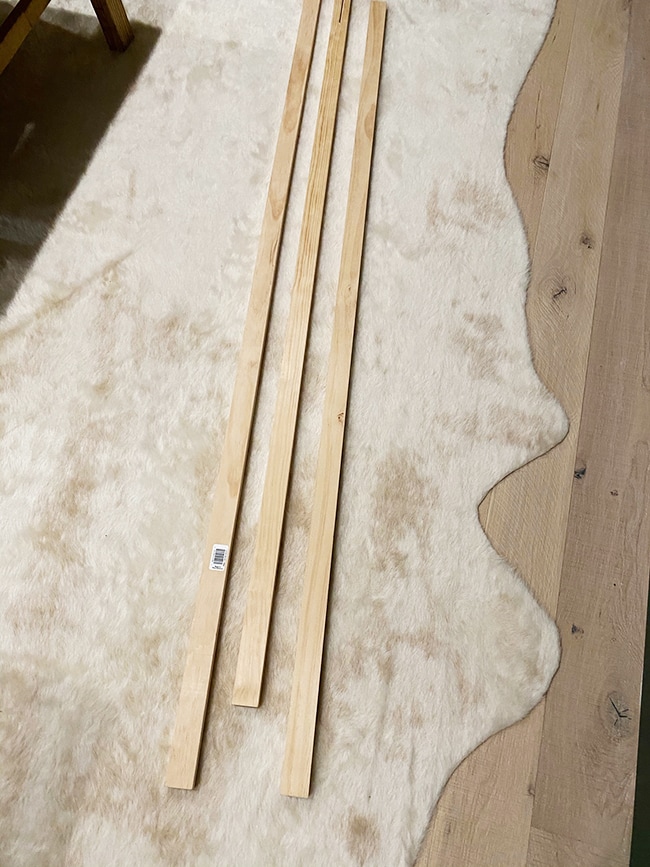 The first step is to measure your TV to find the length for each board. The edge of our TV had a slight bevel, so we needed to measure from the widest part. We then added an extra 1/16″ to allow for some wiggle room.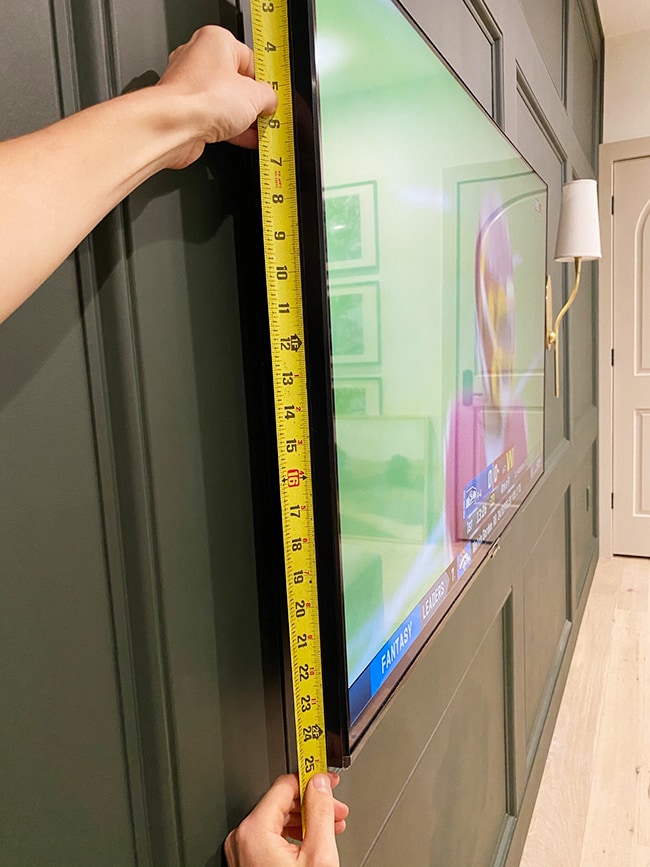 Each cut was mitered (at a 45º angle) for a professional look.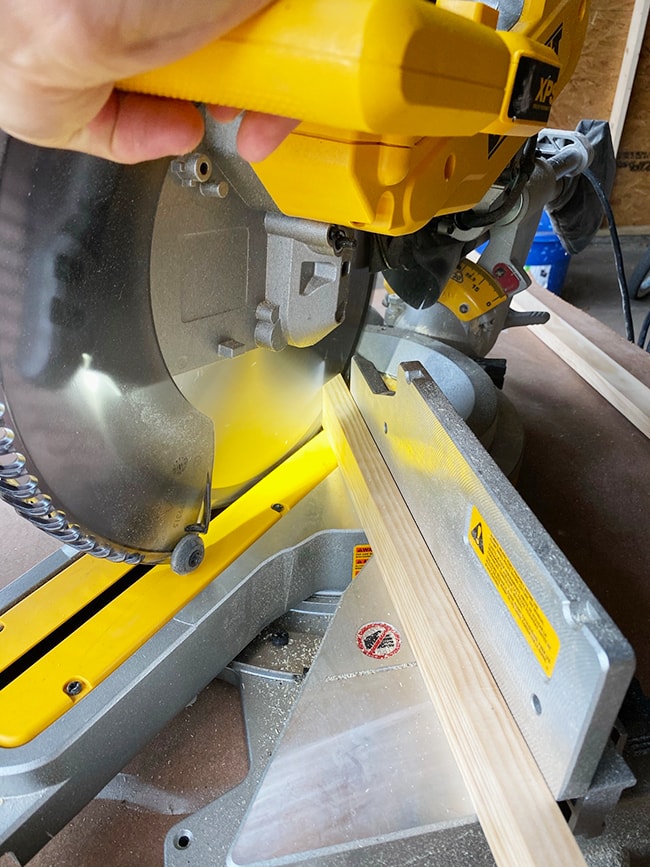 We started by cutting the top and right side to double check the fitment before moving forward.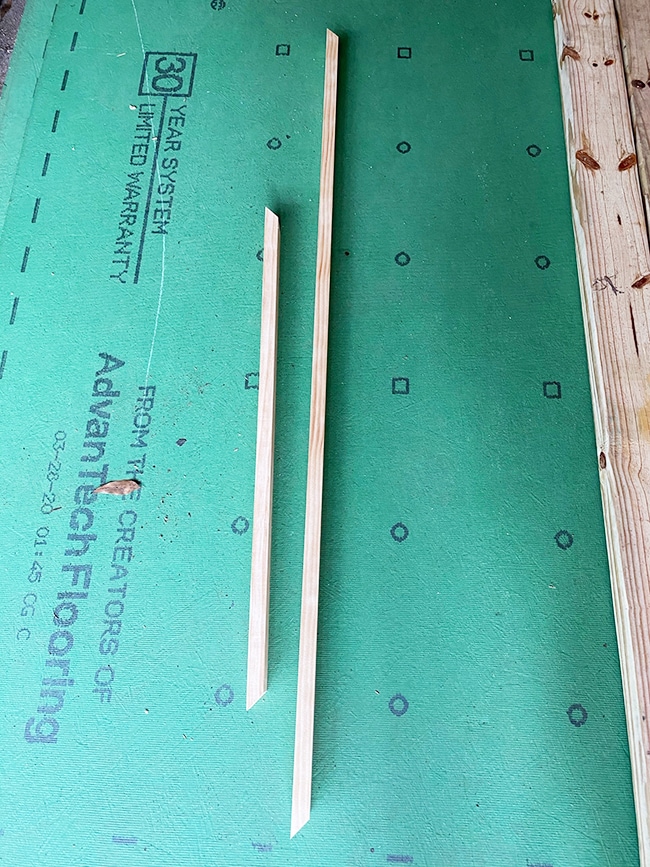 The corners fit together like a glove, but the right side appeared to be slightly too long, so we trimmed off the excess 1/16″ we had originally added on.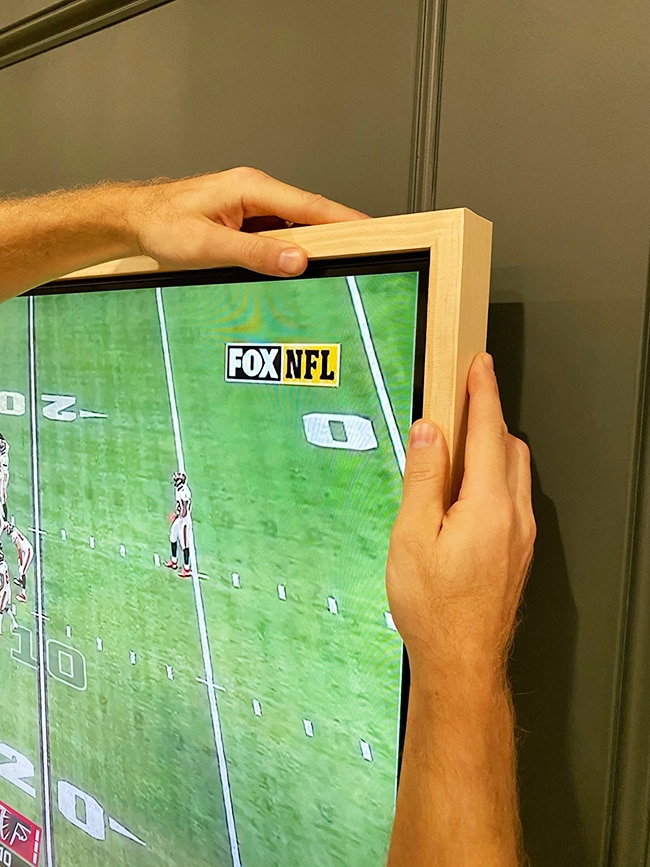 Then we cut the bottom and left side to match the other two pieces exactly.
Before building the frame, we had a small hiccup to work around—there was a sensor at the bottom of the TV that stuck down further, and in order for the bottom piece to line up flush against the TV, we had to chisel a small section out of the wood.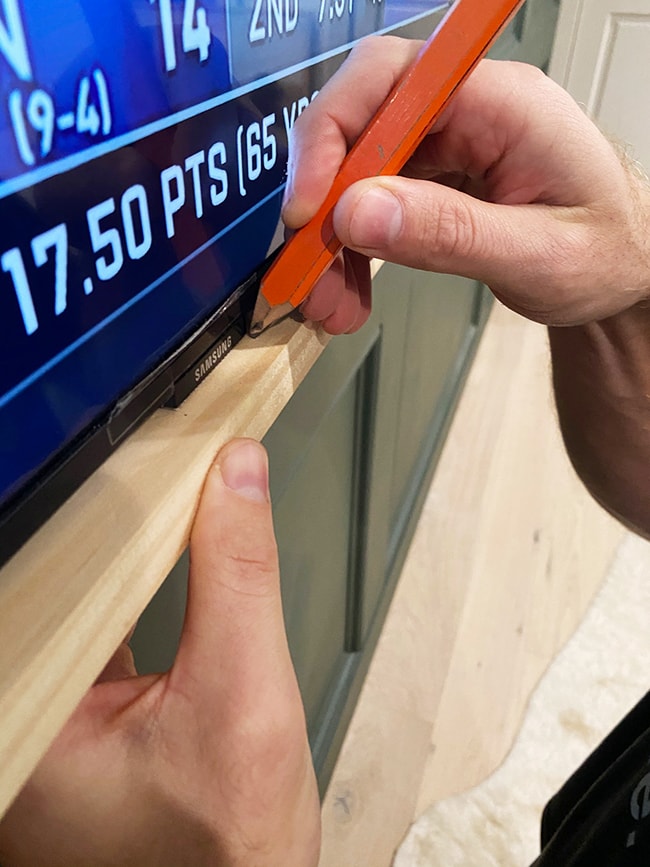 The groove was carefully traced, measured, and carved out (we used this chisel set).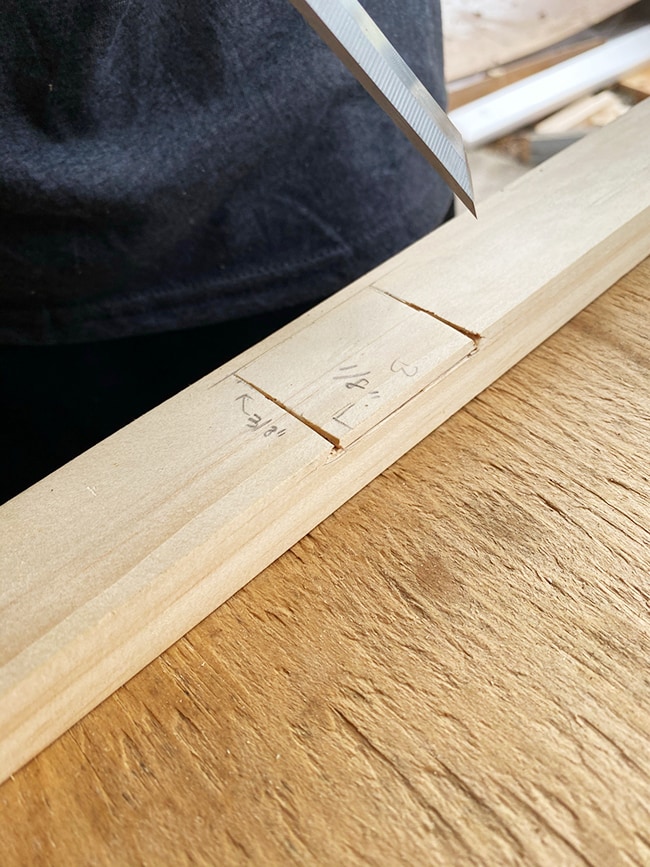 It took a few different attempts and test fits, but eventually we got the right shape and depth. It didn't look pretty, but it would be hidden by the TV so that didn't matter.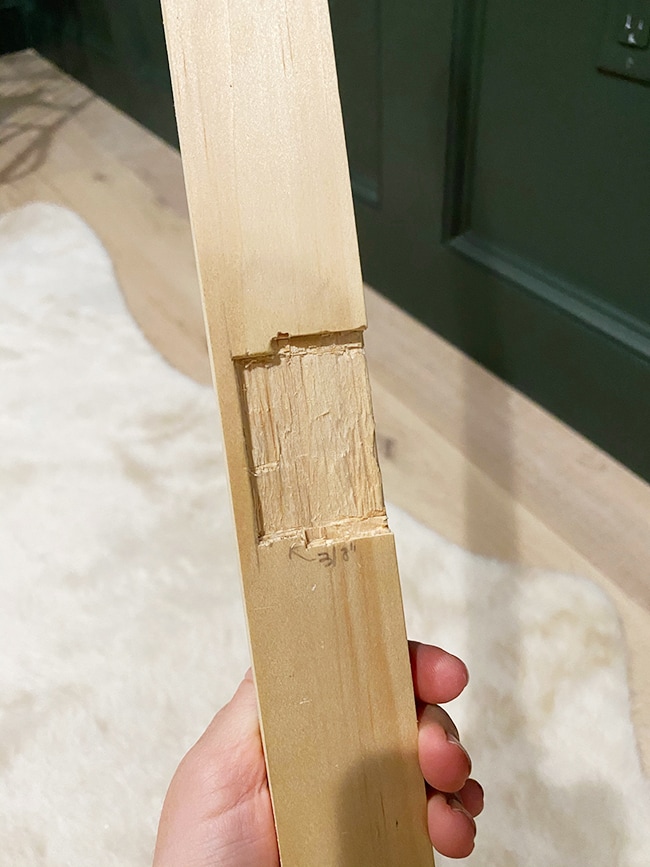 Now, it was time to build the frame! For our last DIY canvas frame we held the 1×2's in place by hand when nailing them together, which managed to work, but I decide to (finally) step up our game and get one of these corner clamps.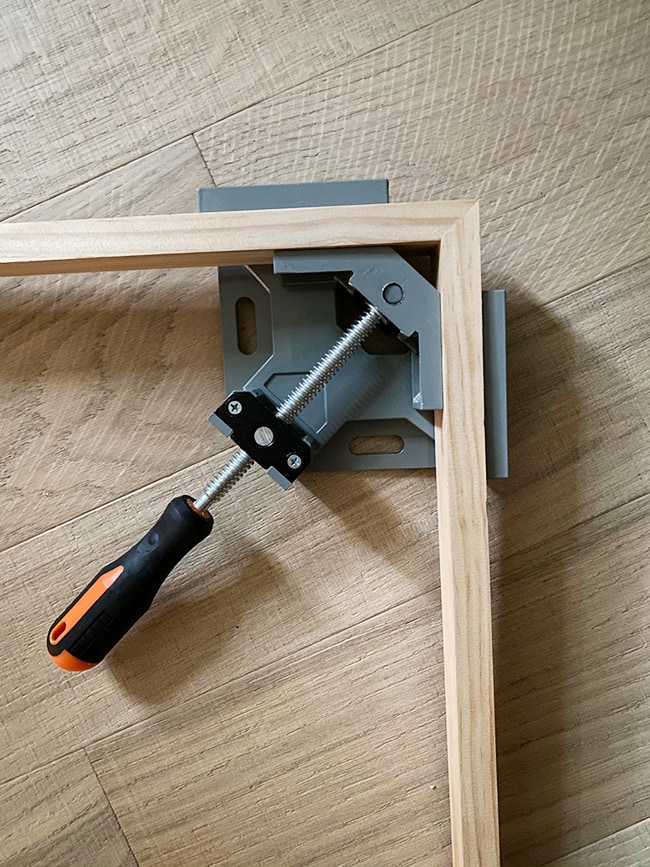 While it's possible to do this without one, it will make your life much easier (and it's useful for so many projects) so do yourself a favor and spend the $20!
Before nailing the boards, it's always a good idea to make the joints as strong as possible with wood glue: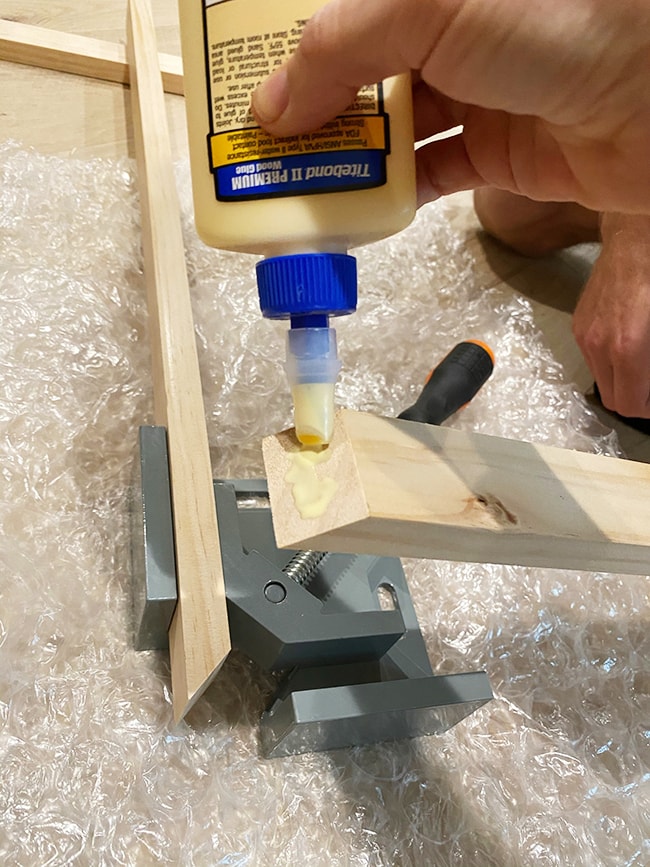 We used our 16ga nailer with 1.25″ nails, but honestly anything will work here. Two nails per board.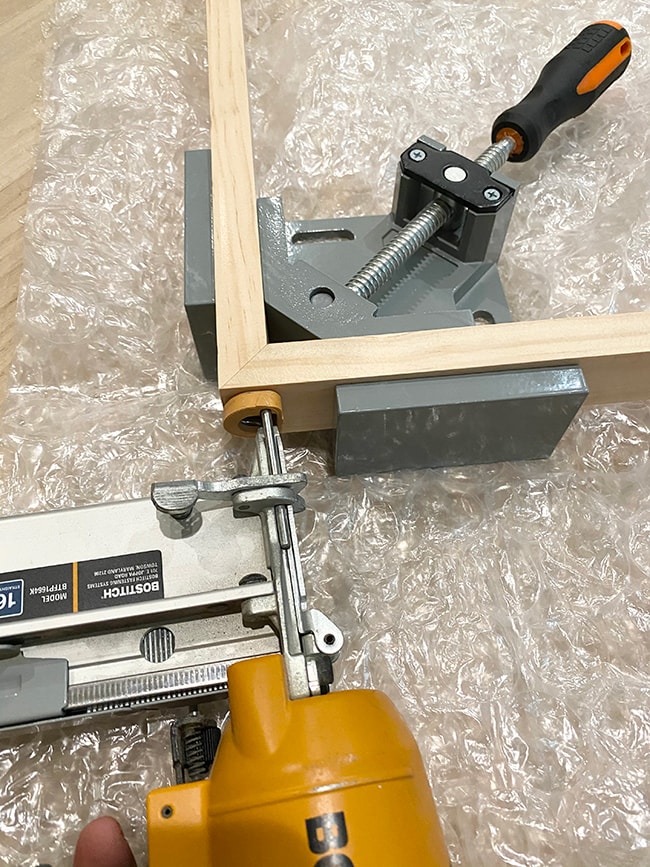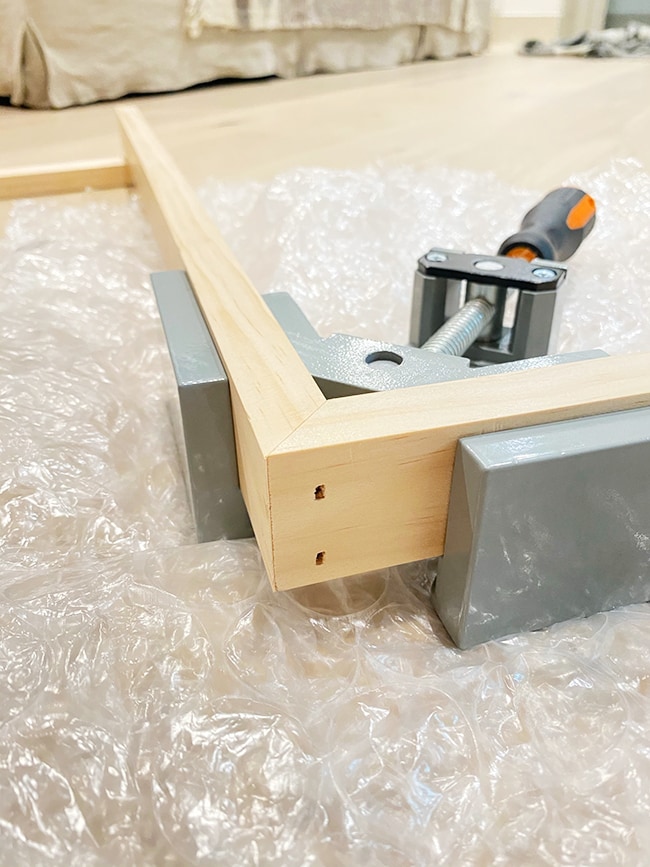 Important: make sure to nail from the top and bottom instead of the sides, so they aren't visible (or as visible). You'll use wood filler on the nail holes, but you'll still be able to see them up close so you want them to be hidden if possible.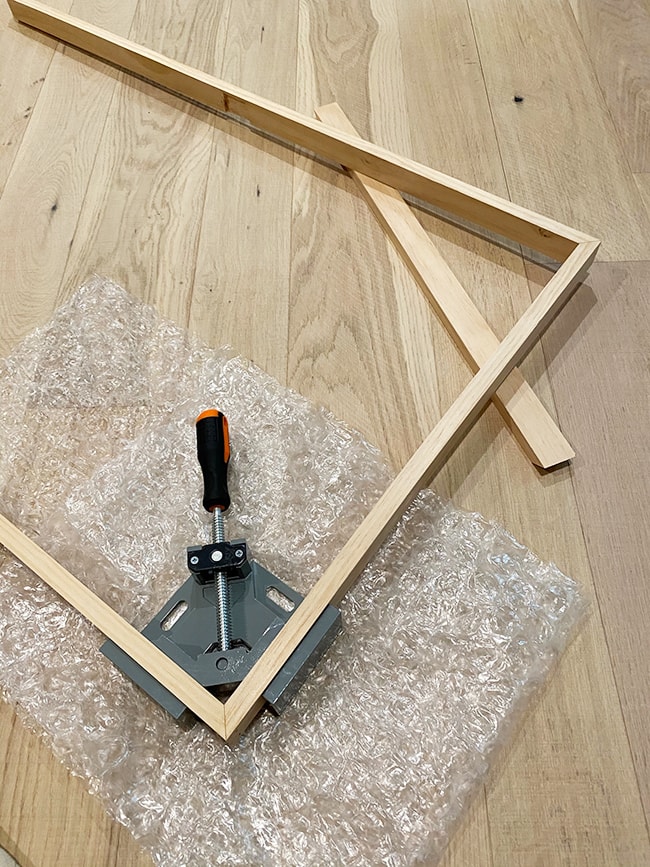 Once each corner was nailed together, our frame was done!
Now for the moment of truth… a bit nerve-wracking since we weren't able to test fit the frame before building it…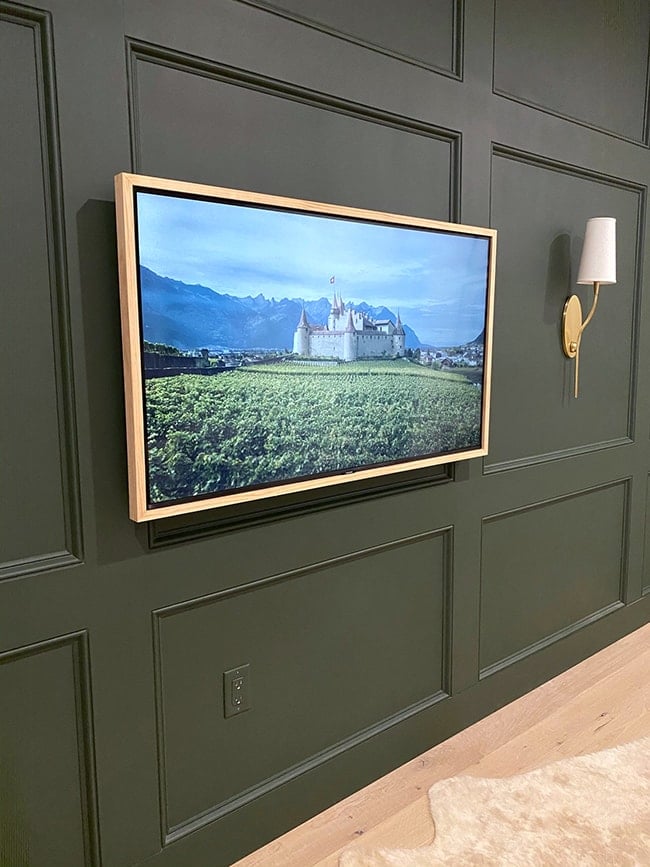 We were expecting the frame to be slightly loose, and planning to attach a small block hidden along the back of the top piece to keep the frame on the TV. Instead, it turned out to be really snug (we had to force it on) so we thought we had messed up… but then we realized that it actually worked out better, because the frame wasn't going anywhere—nothing else had to be done!
In hindsight if we didn't cut that extra 1/16″ off, the frame would probably slide on perfectly without being too snug. Most wood isn't 100% straight and even, so any slight warping would make the frame fit tighter. If you are following this tutorial, I'd still advise adding an extra 1/16″ to each board (please let me know your results either way!)
Finally, it was time to put the finishing touches on the frame. I used a natural colored wood filler on the nail holes: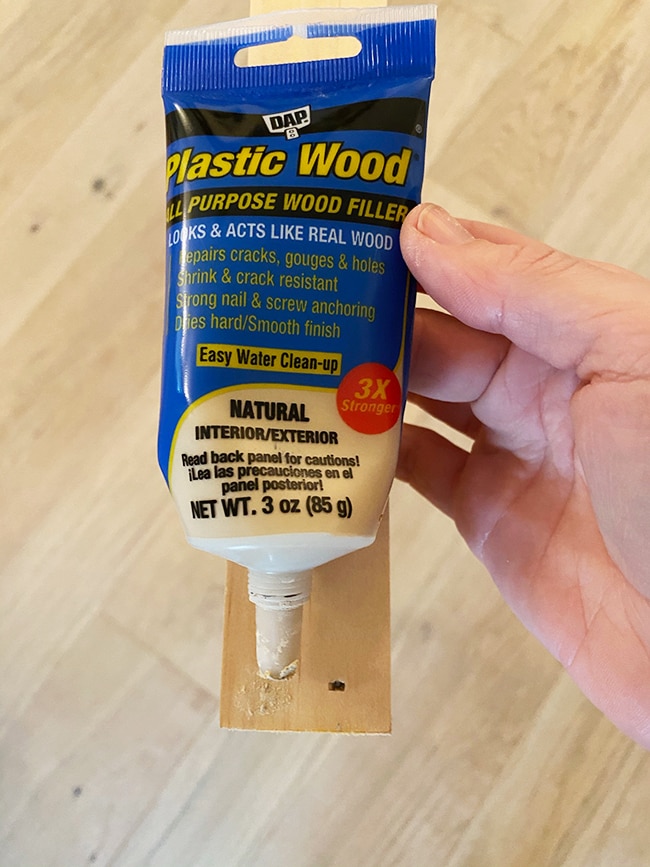 After drying, I sanded the holes and quickly went over all of the edges.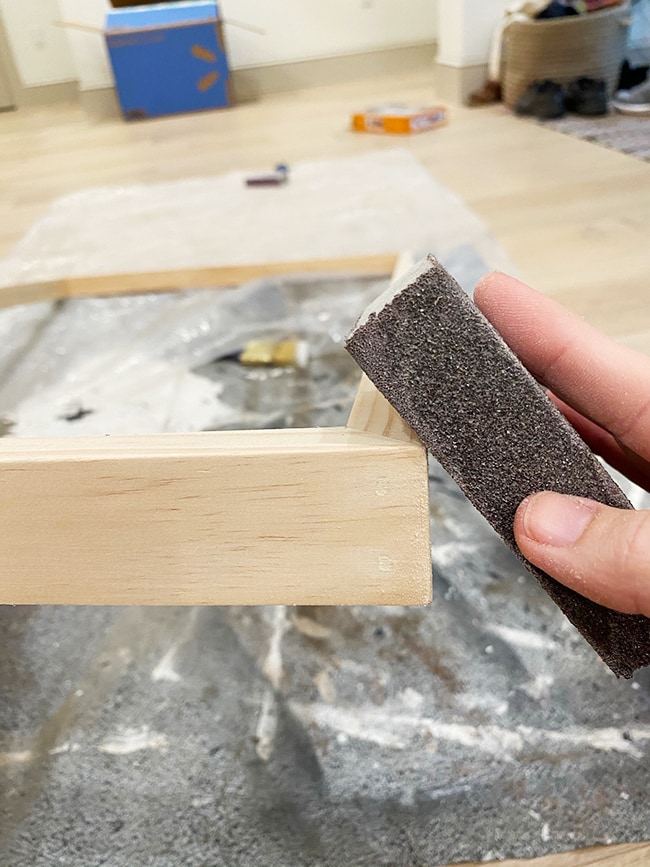 Then I finished it off with a coat of Minwax Tinsmith Gray, which is the same stain I used on our butcher block desk that matches our oak floors nicely.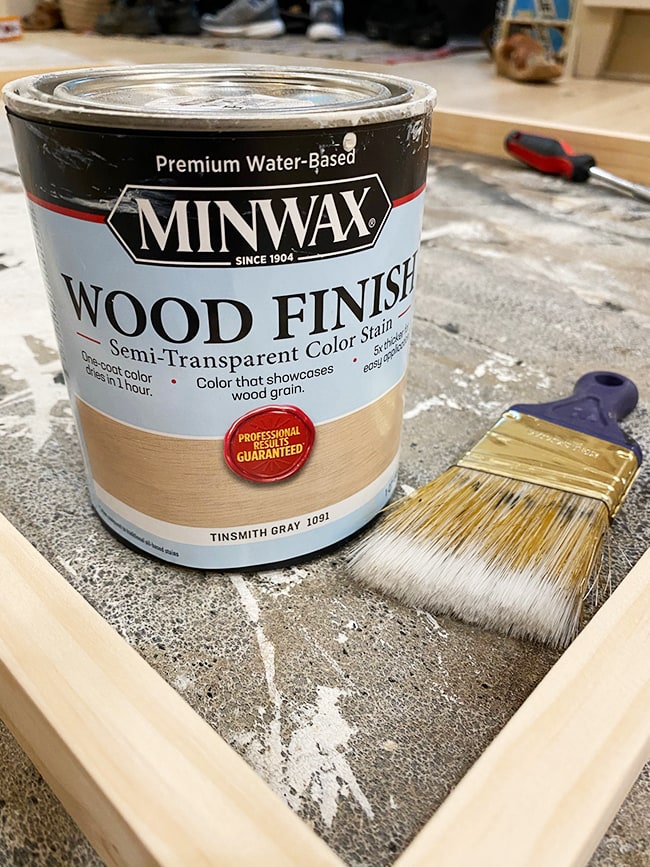 The stain is like a thick paint that brushes on and wipes off, removing the yellow-orange tones in the wood.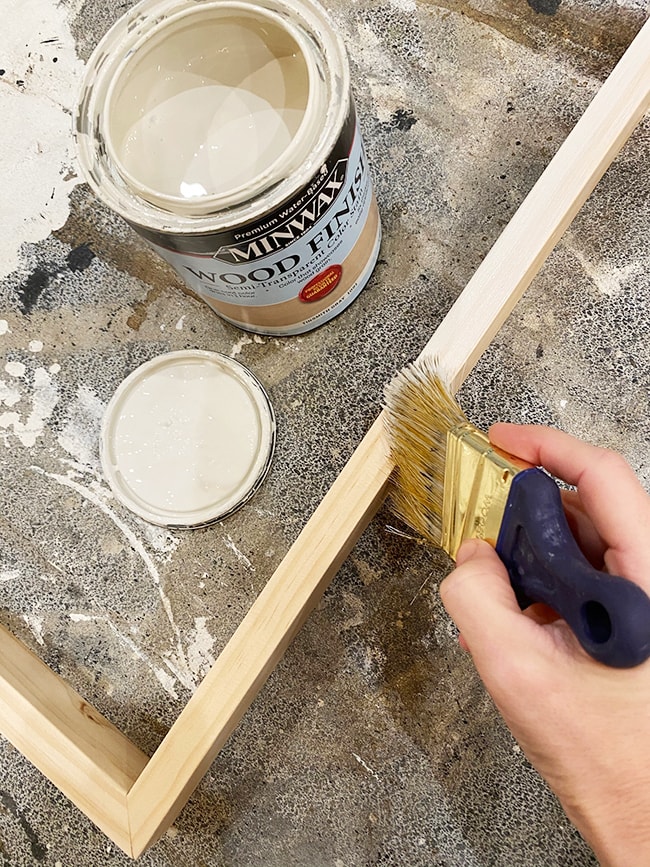 And here's the finished result!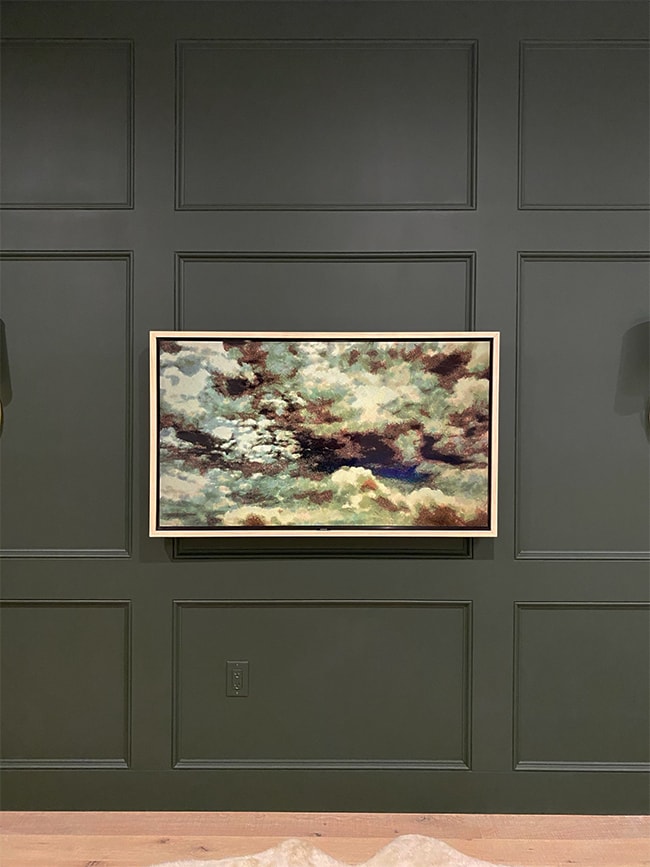 If you're wondering where our cable box/Roku/etc are—we don't have any! We stream our cable through a cable app on the TV. We can watch anything we want from apps like Netflix, Samsung TV, Amazon Prime, etc. Smart TV technology is a beautiful thing!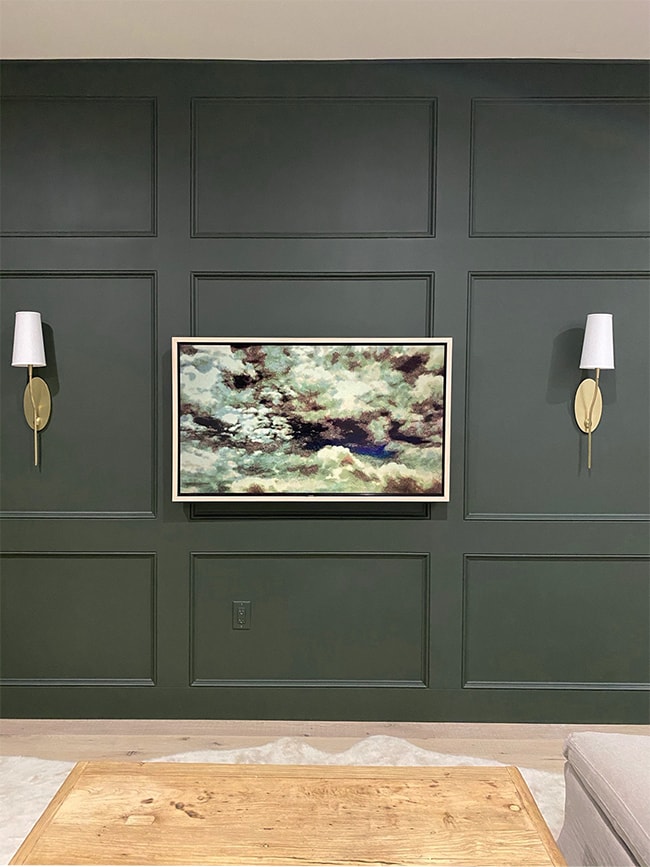 Speaking of beautiful things… we actually didn't even realize this until after we bought it, but our TV has an "Ambient mode" where you can choose from a library of photos (or upload your own) and it will automatically adjust the screen settings to display like art—just like the Frame TV!
This image is a stock photo I uploaded through the Samsung app (needed to upload your own photos, and bonus: you can also control your TV from anywhere with your phone!)
There is also an option to add a white mat border but I like this full screen version. It really looks like a floating canvas, don't you think?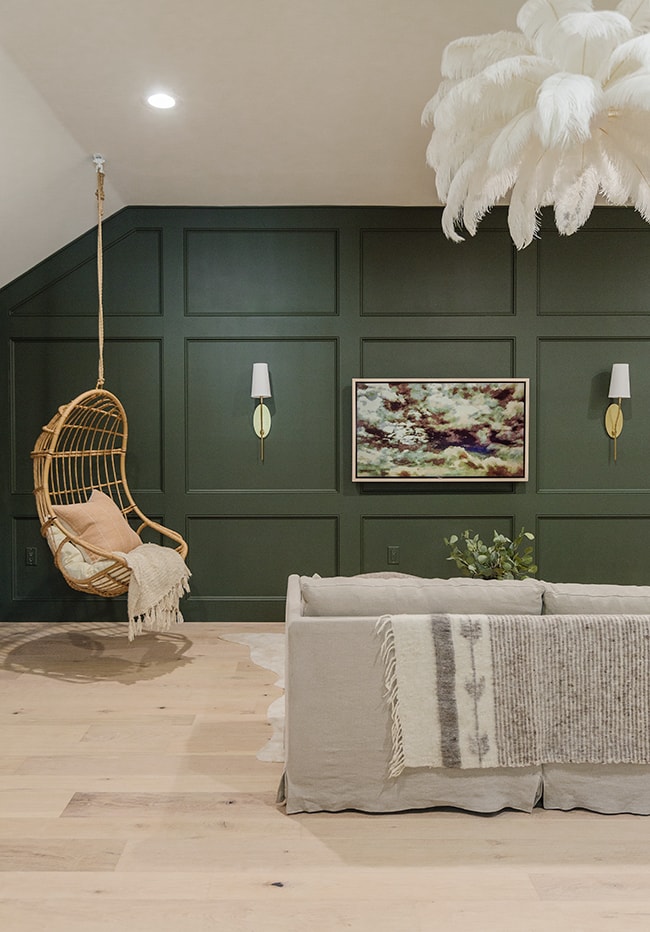 Here's how the TV looks from the side. It doesn't sit flush against the wall like the Frame TV but hey, it's also $900 less.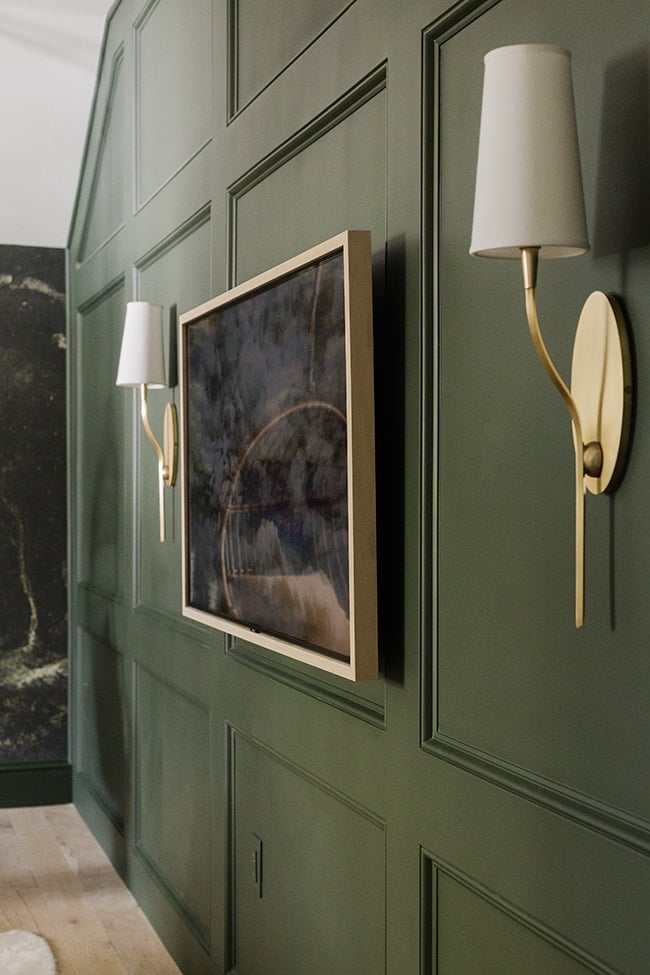 If your TV doesn't have Ambient Mode or something similar, you can still display art through apps like Apple TV, Roku, Fire TV and Chromecast on any smart TV (Blesser House has a great post on how to do that here!)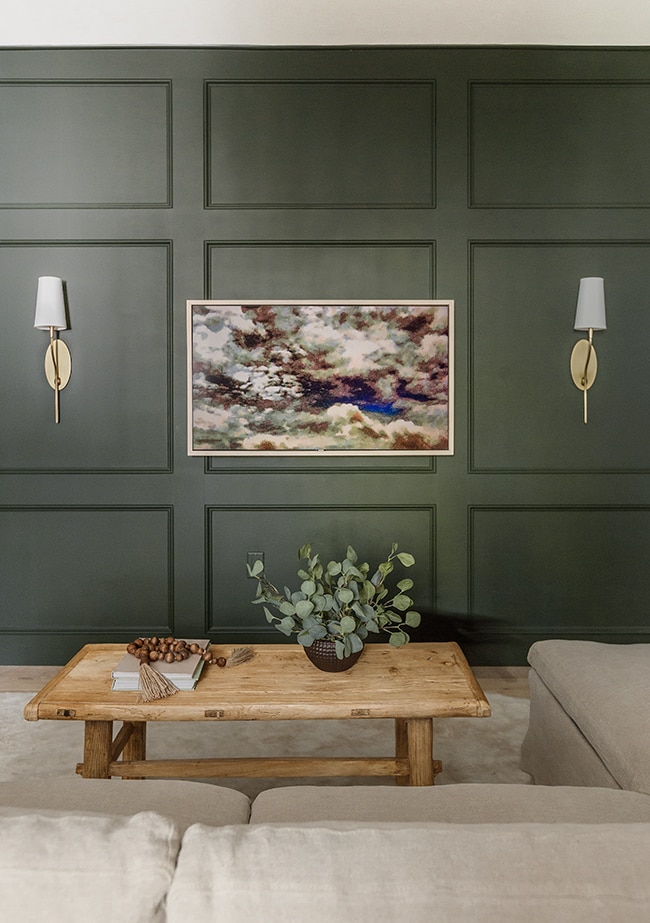 So what are you waiting for? Take a few hours this weekend and transform that big black box you've been wanting to upgrade. Then go and spend the $900 you saved on new light fixtures! 😉
Next week I'm introducing the plans for our latest big project at the Heights House—you won't want to miss this one!