This was the most fun I've had on a project in a while, and I'm excited to break it all down for you today! If you haven't seen my Instagram stories, go watch that first so you can see timelapse videos of the process in action…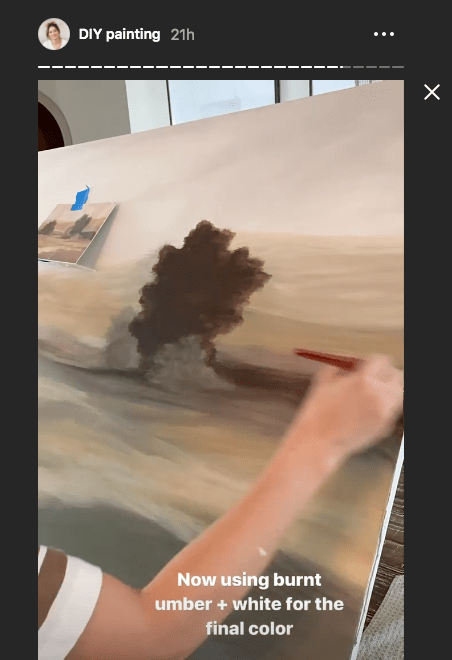 Pin
Let me preface by saying I am not a professional by any stretch of the imagination. I loved art as a child but haven't picked up a paint brush in 15 years! I didn't remember a single thing about painting before this, so I spent a couple days searching YouTube videos to get reacquainted with the basics. I found this video to be the most helpful, and followed a few of his tips which I'll share in this post.
When we built our DIY fireplace this past winter, my vision for the space included a large beautiful painting of some sort (the map was a placeholder).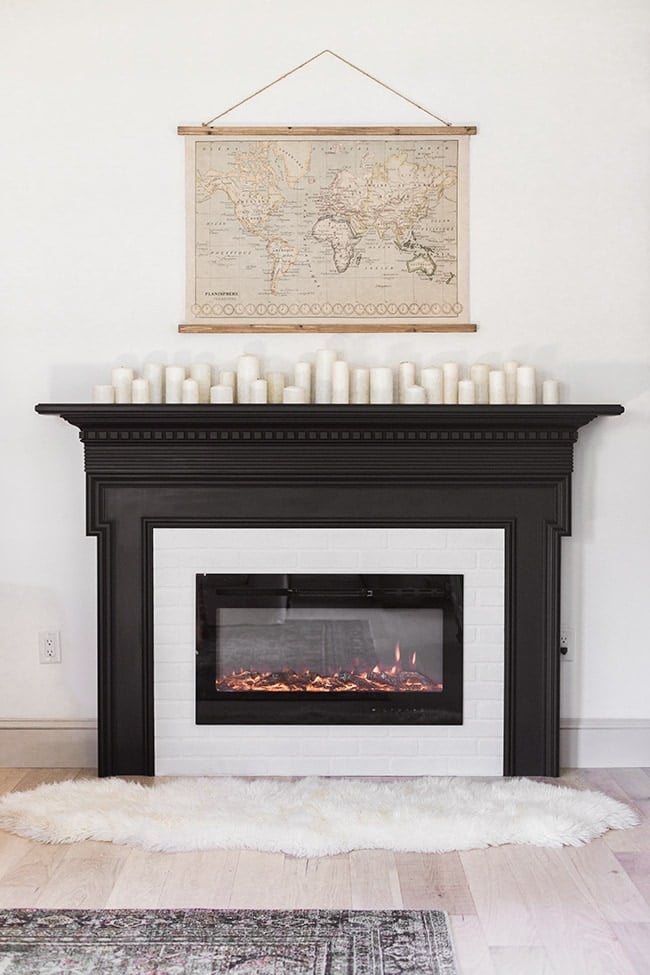 Pin
Over the past few months, my focus narrowed in on an abstract landscape piece. I'm sure you've all seen those Frame TV's and how they look like a stunning piece of art (that you can easily change with the press of a button!). They seem to be all over Instagram, and were definitely part of the inspiration behind my idea.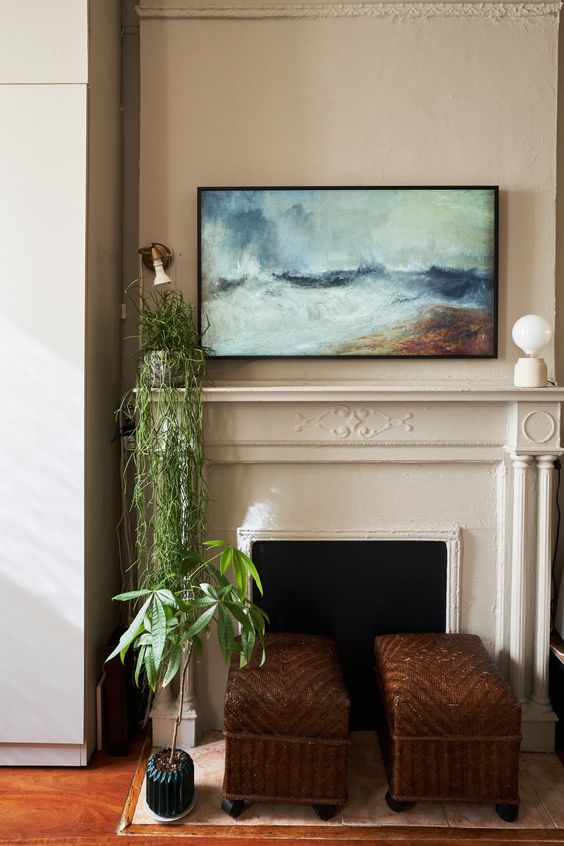 I've also been seeing these floating canvases everywhere lately, and decided it would be simple enough to recreate.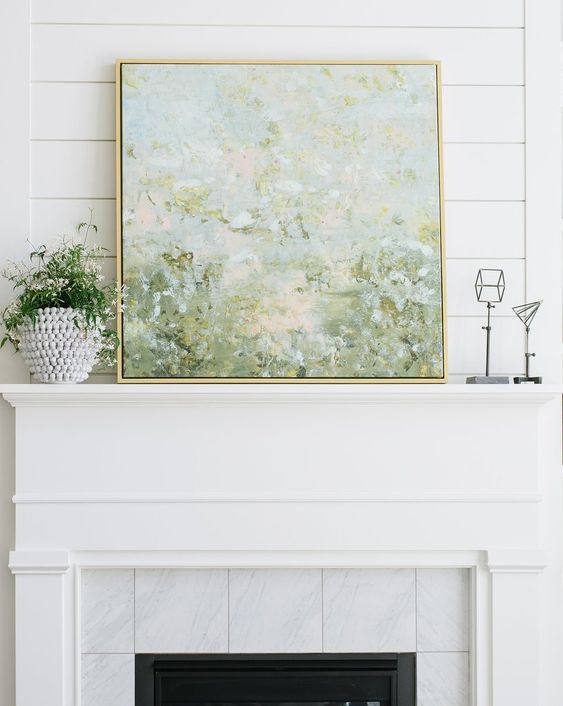 Before gathering any supplies, I spent some time browsing online and researching what to paint. I find it much easier, especially as a beginner, to have something to reference instead of making it up as you go along—but that's just me! After a long search, I settled on this image: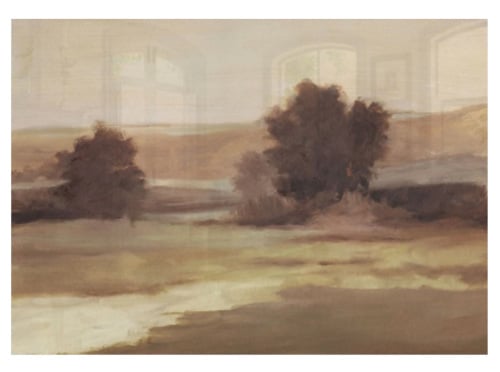 Pin
I loved the simple landscape, muted colors, and the brush technique seemed do-able for a beginner. Now, it was time to gather my supplies! The only thing I had on hand was a small set of inexpensive acrylics, and my trusty short angled brush used for DIY painting. Fortunately, I was able to borrow my MIL's easel and a few of her brushes. The only materials I purchased were the following:
30×40″ canvas (on sale for $11)
Gesso (don't skip this step!)
I was trying to keep costs down as much as possible so I didn't splurge for the good stuff, and only spent $25 on supplies. That way I wouldn't be too upset if it was a disaster 😉
On painting day, I rounded up a few brushes, choosing a small variety to cover my bases: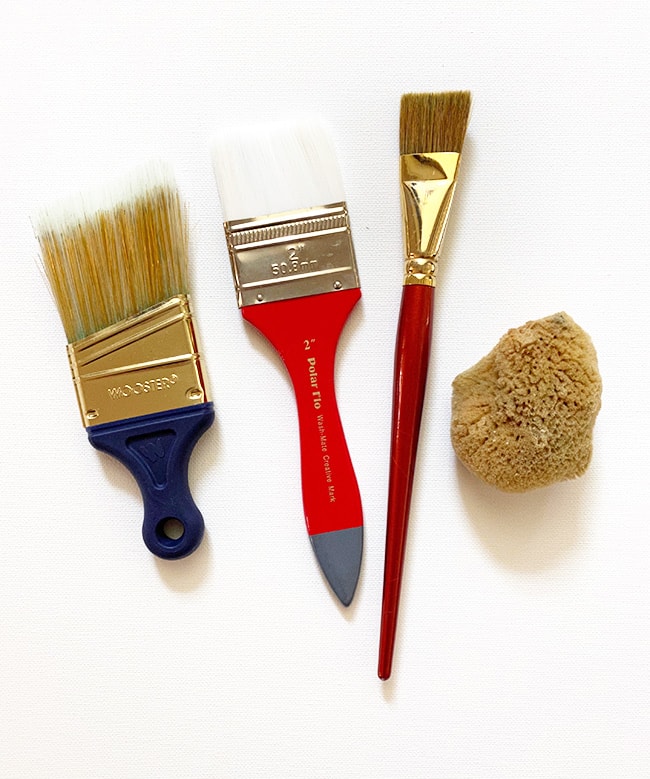 Pin
Then I set out my paints. Less is definitely more here—you can make almost any shade you want with just a few colors (I didn't end up using the red and yellow).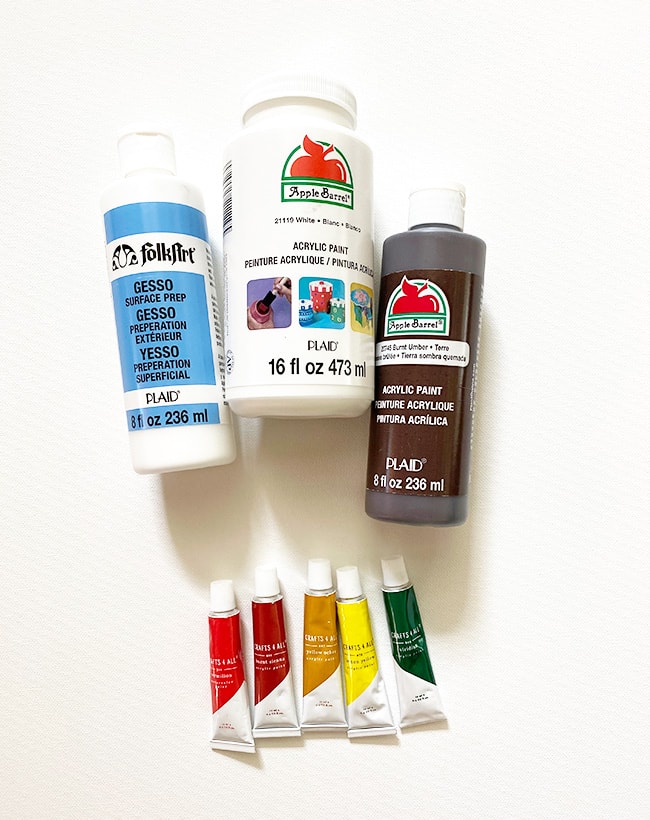 Pin
The color scheme was inspired by our living room rug, with shades of olive green, brown, beige and rust: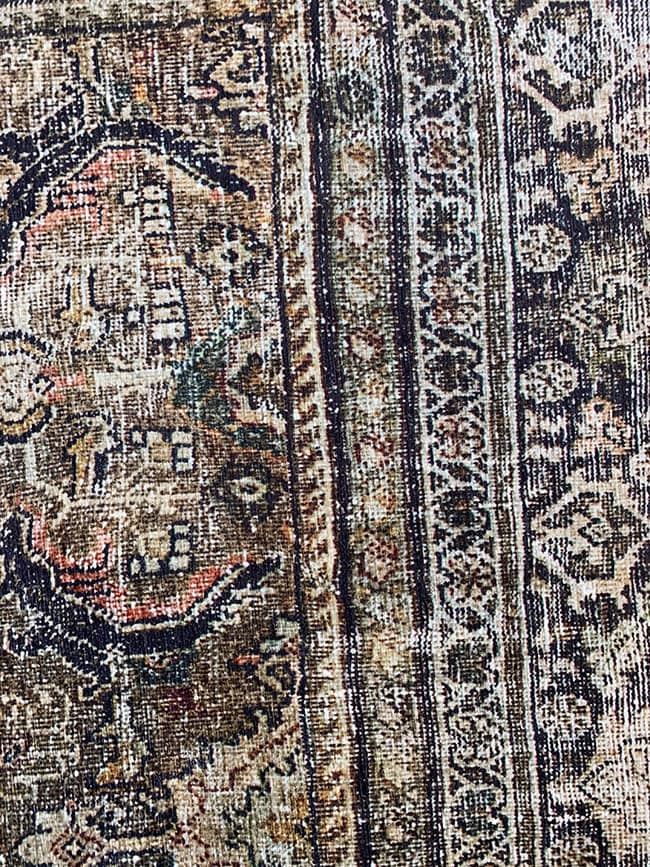 Pin
For my palette, I took a tip from a YouTube video and used a baking pan, paper towel (soaked in water) and parchment paper. This is supposed to keep the acrylics from drying out, plus it's easy cleanup (and free, yay!)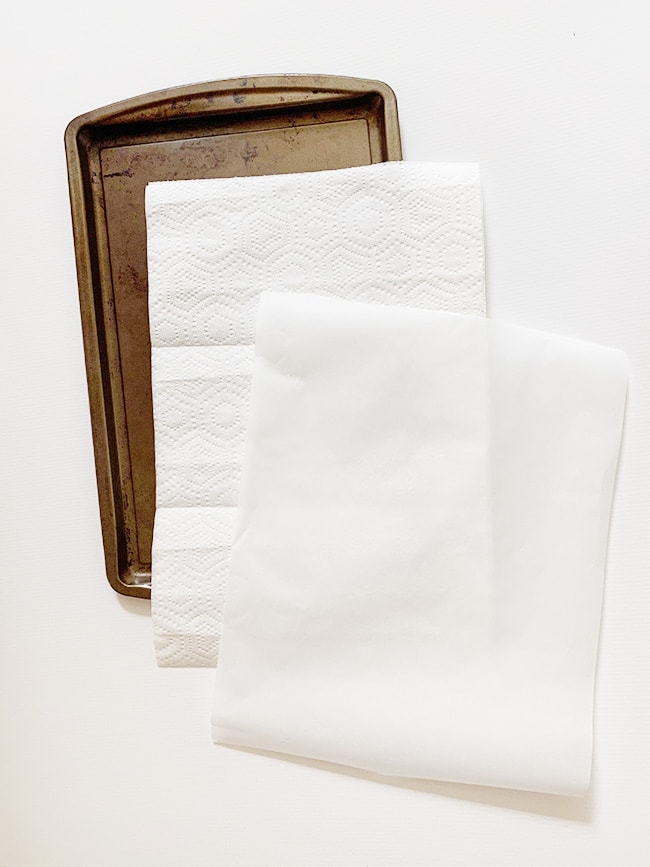 Pin
Here's my dining room table setup with everything laid out.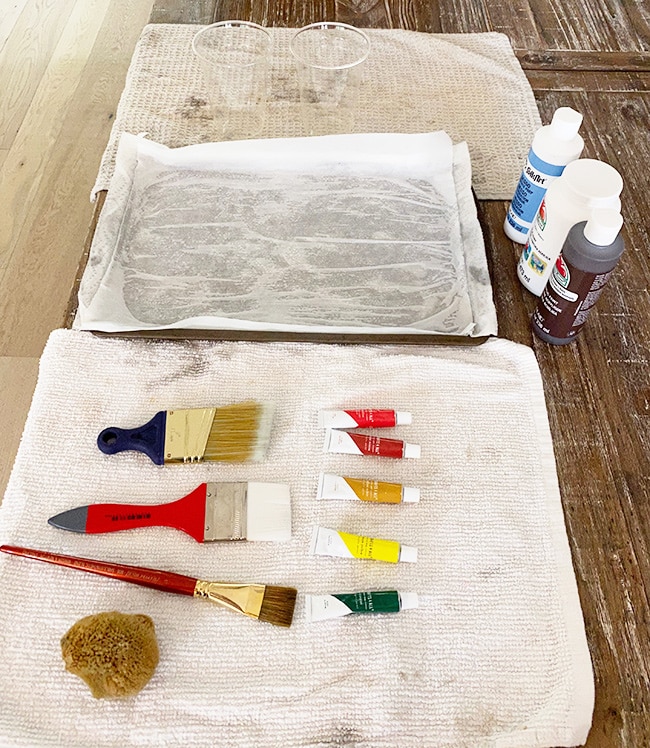 Pin
The easel was too small for the canvas so it was a bit wobbly, but I made it work.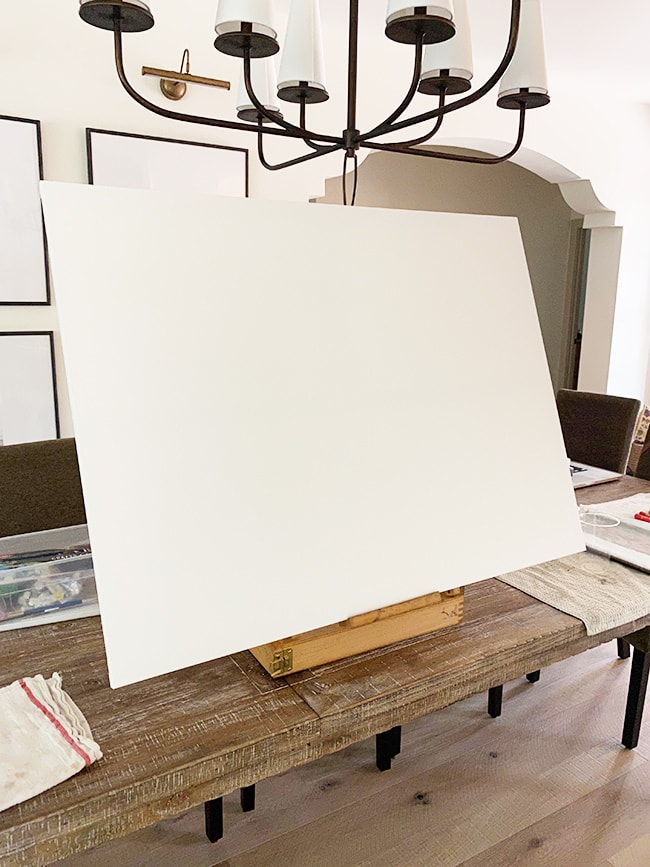 Pin
I also printed out my inspiration photo for easy reference.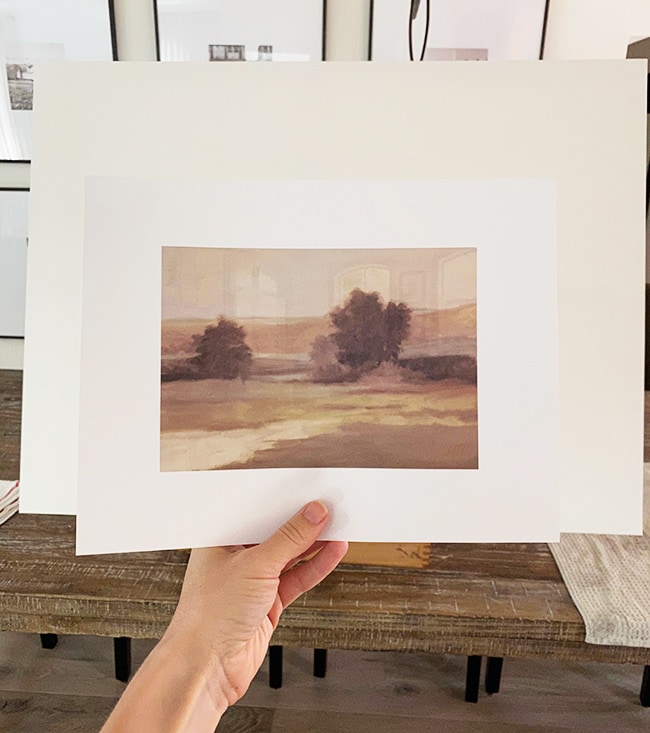 Pin
The last and most important step before getting started… put on some good tunes! My music of choice was Norah Jones ??
Okay, let's get started! Before picking up a brush, I did a light pencil sketch of the general shapes (dividing lines between different shades of color) but it turns out that was a waste of time since the gesso hides it (whoops, told you I'm a beginner).
So the real first step should be coating the canvas with gesso. I used my larger wooster brush for this.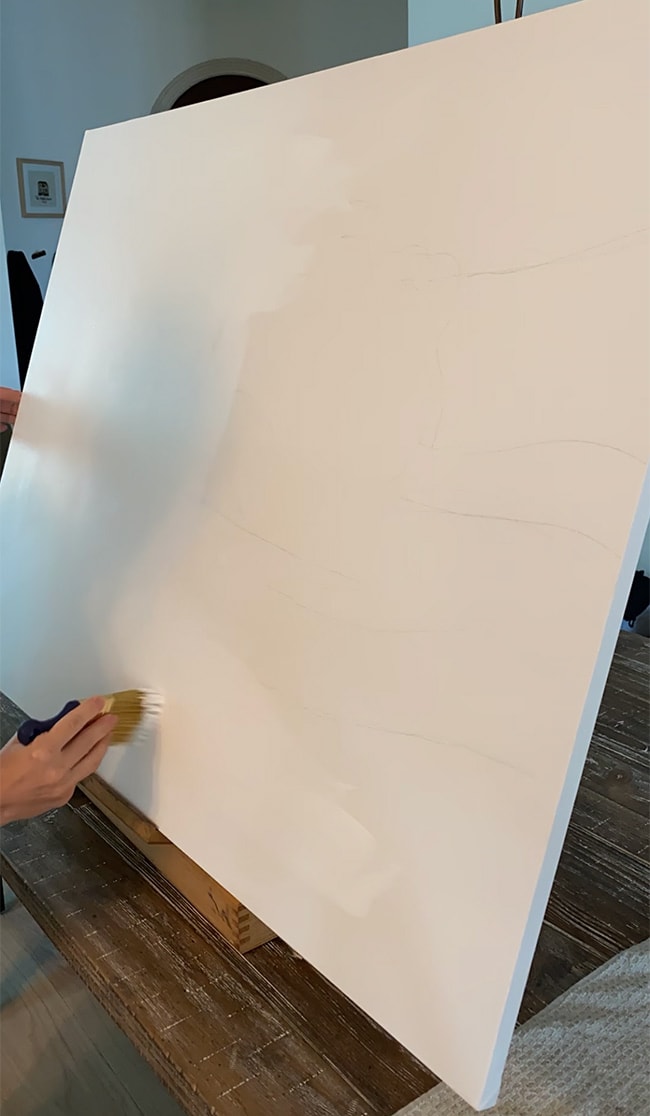 Pin
Think of gesso as primer—it coats the canvas and fills in the texture, leaving you with a smooth surface for your paint to easily glide across. I applied two coats, and then immediately started the 'underpainting'.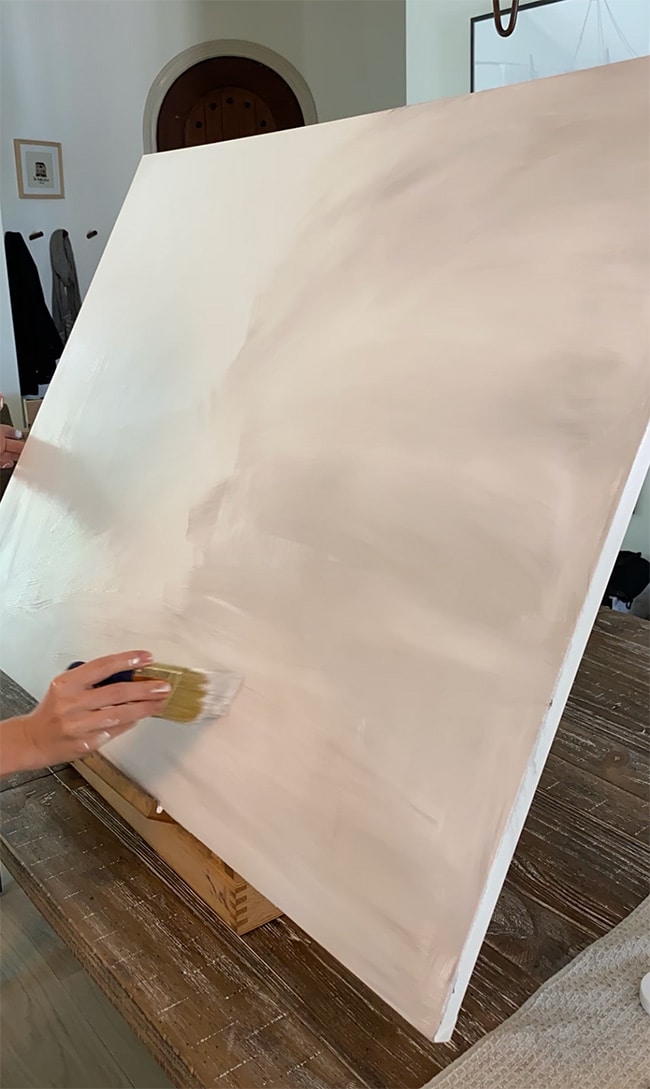 Pin
This is a base layer that builds up texture and depth using a transparent color (this article has a great explanation for why it's needed). I chose white + a dash of burnt umber for my underpainting. You don't need to spend too much time on this, you just want a nice varied layer to give depth and dimension to your final piece. Heck, you could even stop here if you wanted something super simple and abstract…
Pin
Before moving on, I figured I'd give my pencil sketch another shot. I definitely would not skip this step if you're a beginner.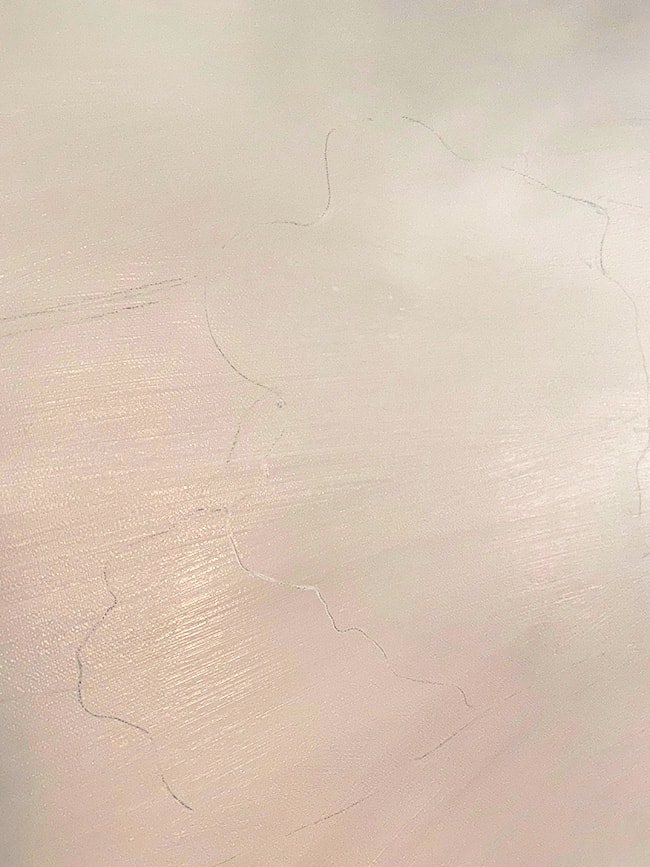 Pin
Now the real painting begins. I'm not sure if there's a best approach to this, but I decided to paint in different layers by color, starting with my mid-tone using a mix of white, burnt umber, and viridian. I mixed in batches as I went—the color does not have to be exact each time so don't worry about using precise amounts of each. Just continue to mix a little here and there and experiment!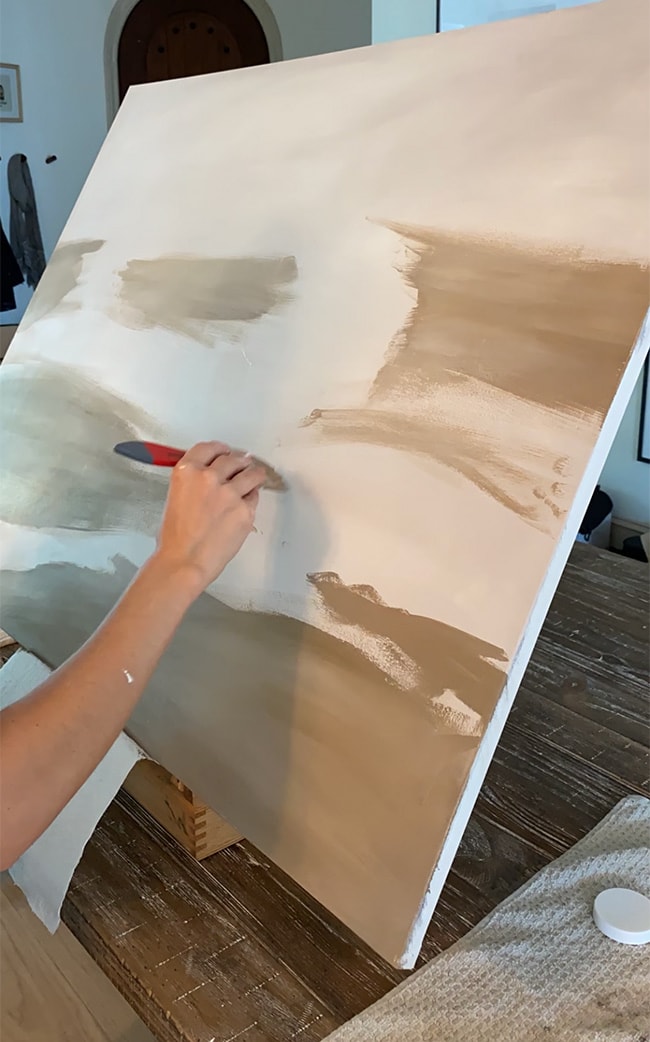 Pin
Then I started adding in some of the shadows, using more burnt umber (or less white). These are screenshots from the timelapse shared in my IG stories: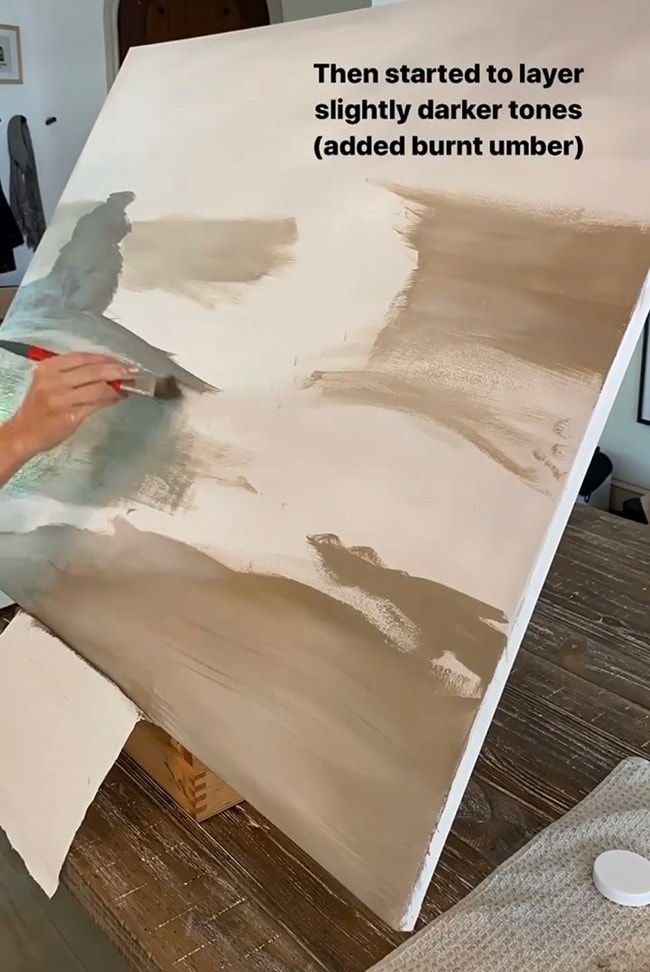 Pin
Once the shadows were filled in, I moved onto the lighter shades, using a mix of mostly white + yellow ochre (plus a bit of burnt umber and dash of burnt sienna in some areas).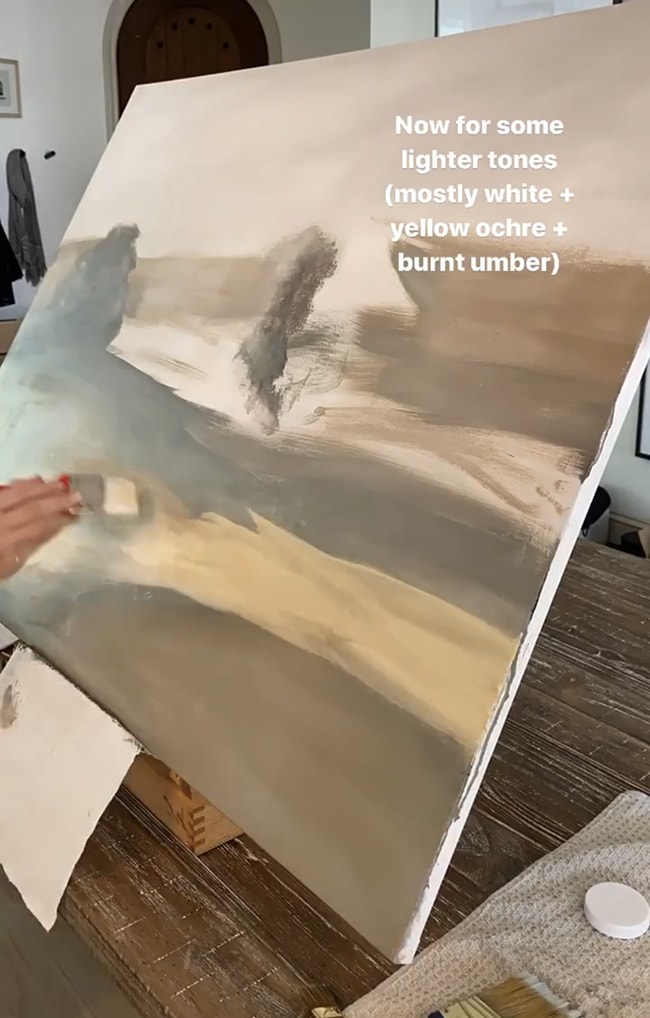 Pin
I found it helpful to have plenty of paint on the brush at all times, and not too much water as that could remove the paint to reveal the canvas underneath. You want to blend the colors together on the canvas a little, but not so much that they become completely muddled together.
Once I was pretty happy with the composition of the light and medium shades, I took a step back to evaluate.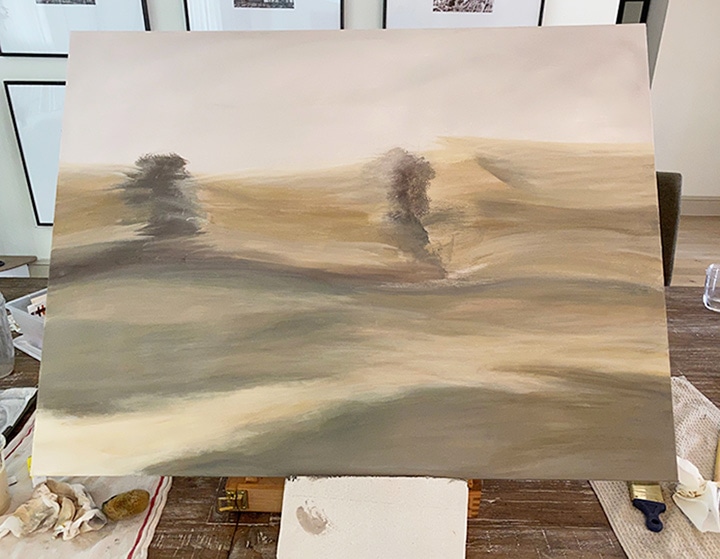 Pin
Works for me! Next it was time to move onto the darkest shades and paint the trees. This part was a bit less abstract than the sky and foreground, so I tested out a few different brushes to try and figure out the right technique.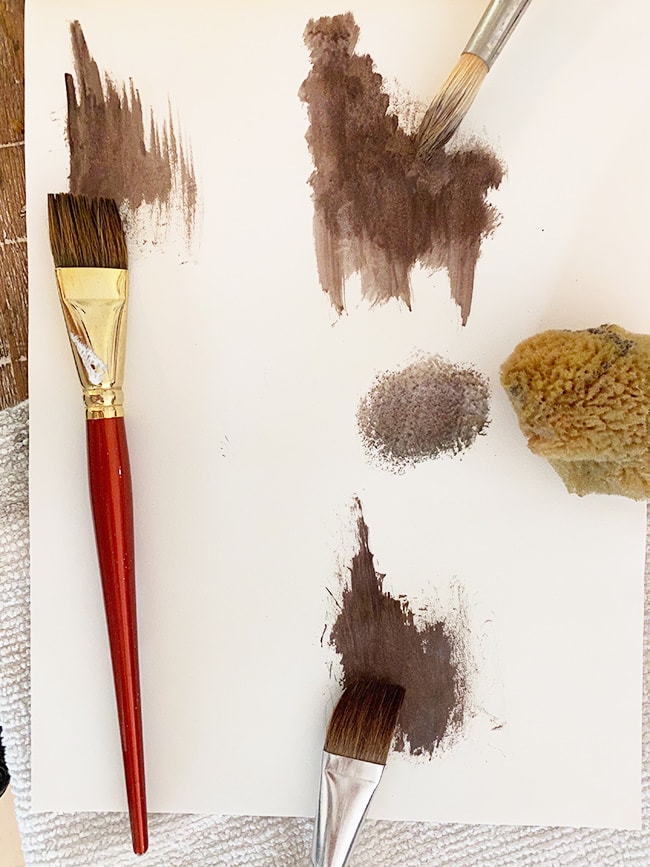 Pin
I'm sure there's a brush out there that's much better suited for what I needed, but the top right was the closest match so that's what I went with (if you're reading this and you're a pro painter, please recommend a good brush?!)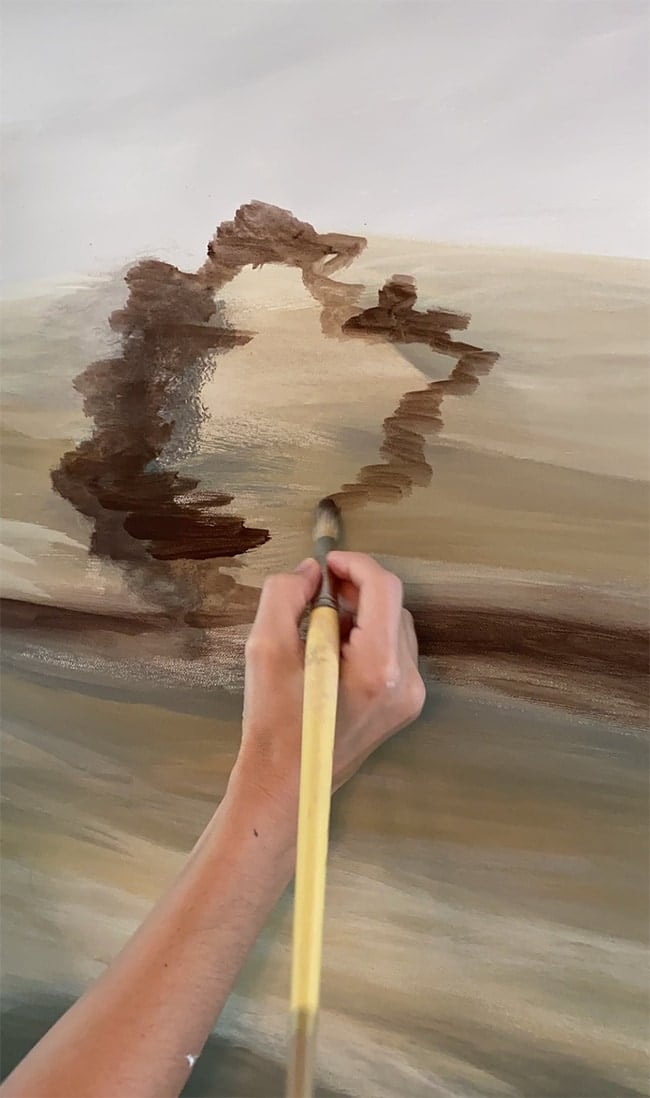 Pin
I began by outlining the shape of the tree using pure burnt umber (following my pencil guides), and tried to make the edges as 'smudgy' as possible. It was a little tricky with this brush. I figured out that a damp paper towel helped to soften the lines a bit.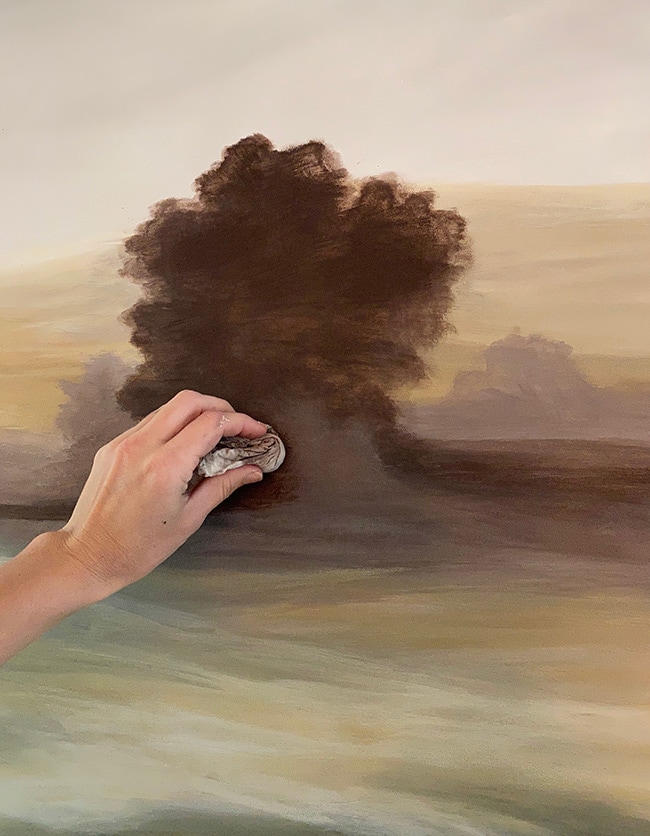 Pin
I also used the smaller paint brush for the areas with finer detail.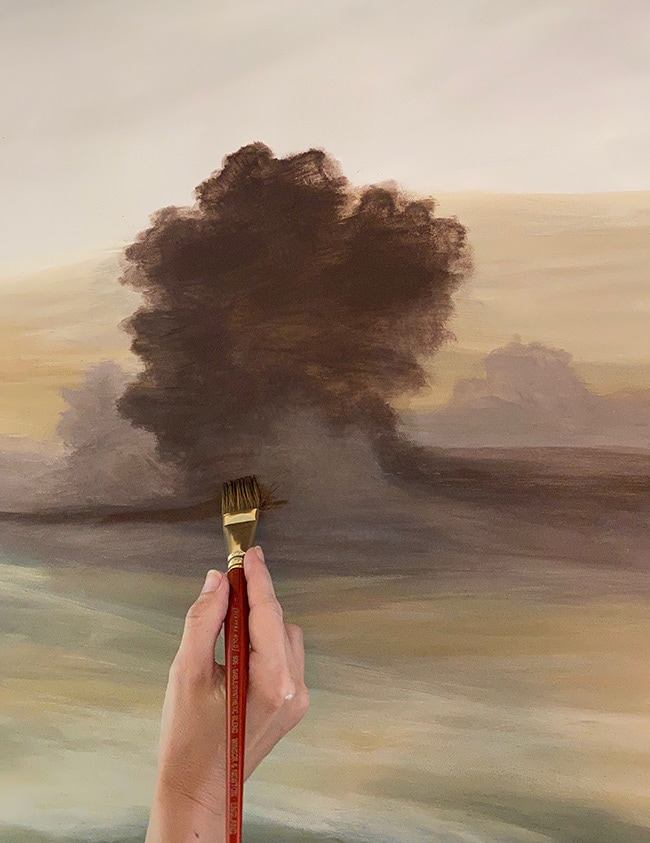 Pin
Around the trees, I used burnt umber mixed with a bit of white for the secondary dark shade.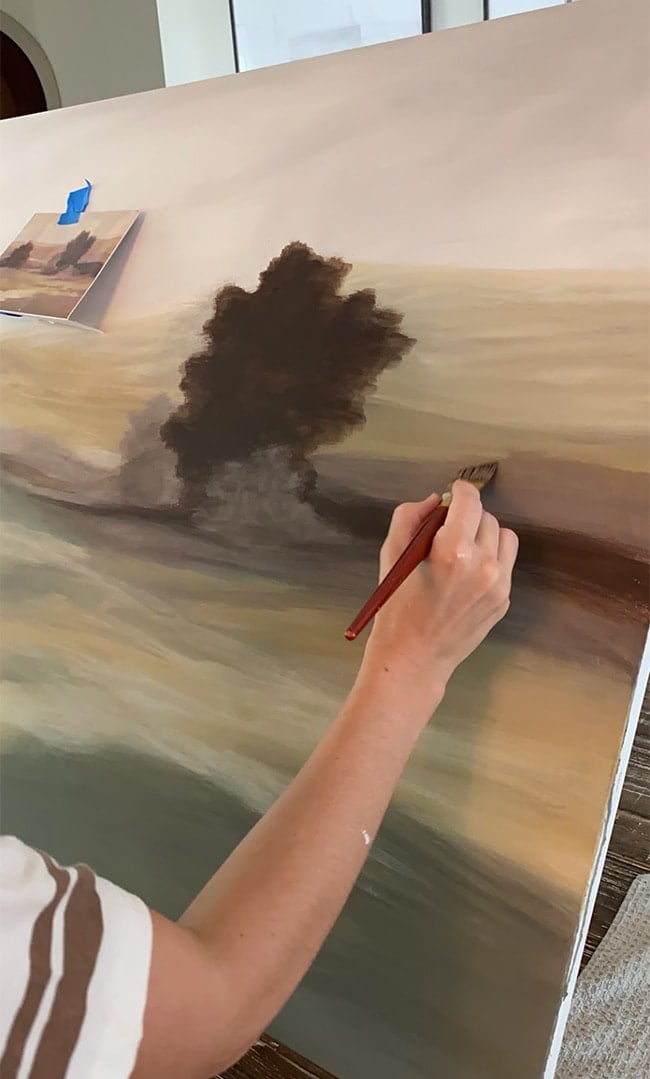 Pin
The last 30 minutes or so were spent going back over a few areas that didn't look quite right and making small adjustments until I was happy with it. It's hard to know when to quit, and you can spend days painting and repainting over your work if you're a perfectionist. I capped my painting time at around 3-4 hours to avoid this. Just keep in mind the words of the famous Bob Ross: There are no mistakes, only happy little accidents.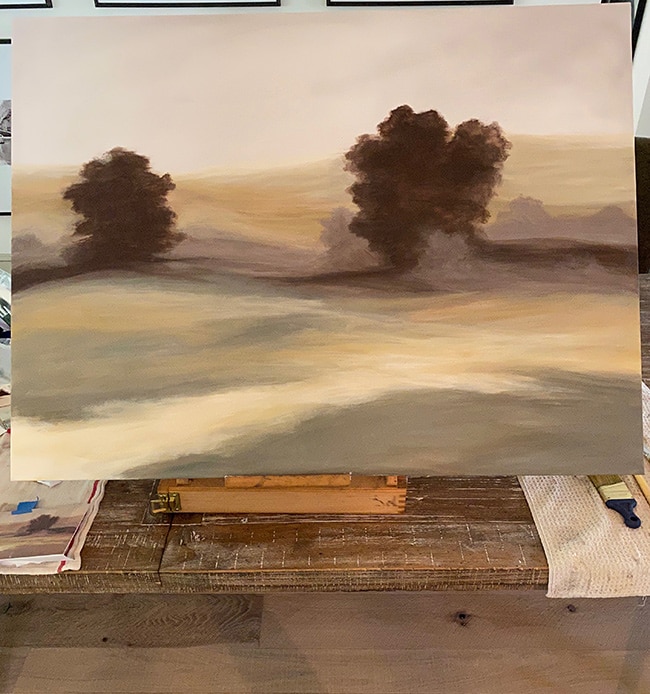 Pin
Ta-da! What do you think? Does it seem pretty doable? Here's a closer look:
Pin
My advice if you're just starting out—the more abstract the art, the easier it is. Anything goes and you won't stress about how realistic/proportional it looks. The trees were the most difficult part of this painting, so you could skip those and just have a nice hillside landscape.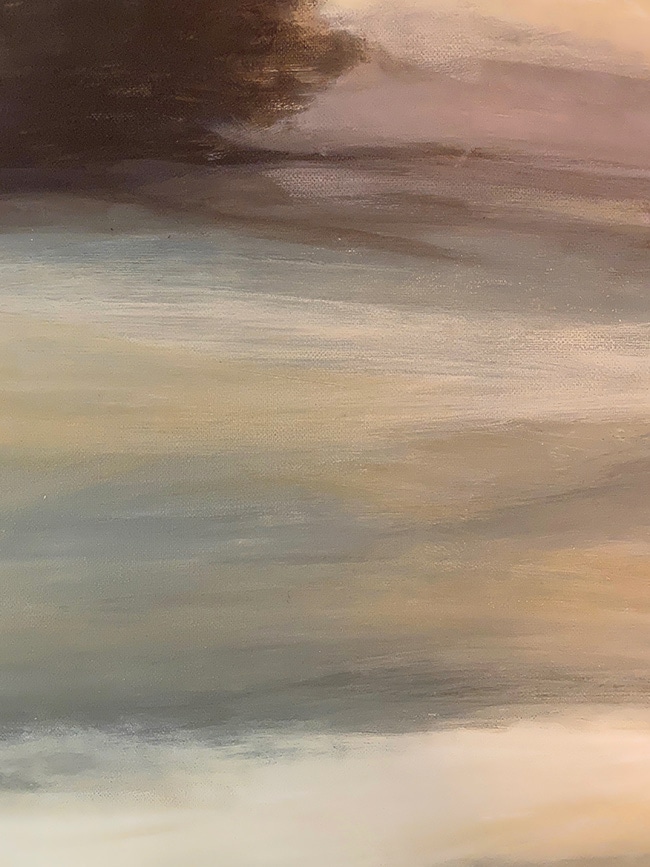 Pin
Another tip: start small. My 30×40″ canvas was a pretty massive space to work in, which means more room for "happy little accidents". I'd go with a more manageable 8×10″ or 11×14″ size to get the hang of things first.
The final step is to protect your painting with a varnish/sealer. I used a water based matte Polycrylic.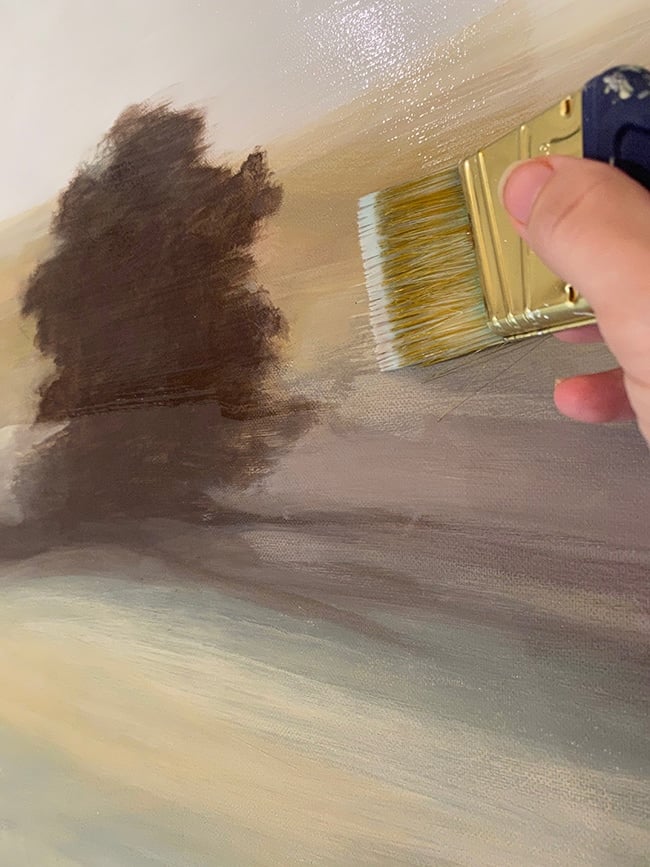 Pin
Hopefully Esmé grows up to love this painting and I can pass it down to her one day, so it needs to last a very long time! No one has to know it only cost 25 bucks to make ?
Pin
Up next: the simple $10 DIY canvas floating frame we built for this painting. I decided it needed its' own tutorial, so don't go anywhere cause I'll be sharing all the details here on the blog tomorrow!