Operation Heights House Curb Appeal continues with Part 2! Last week I shared our DIY wood shutters, which completely changed the look of the exterior…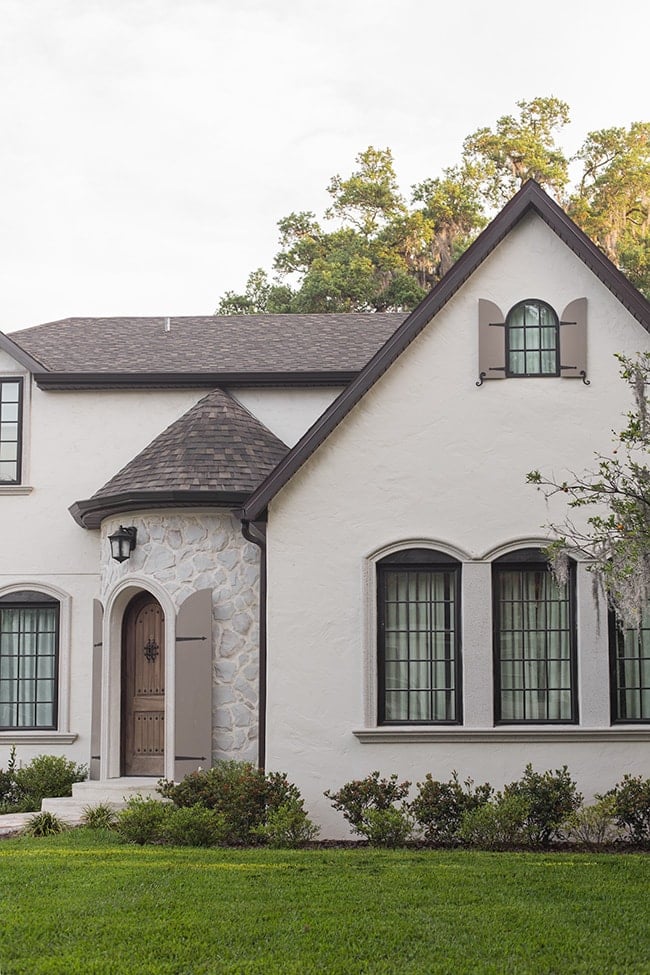 Pin
But we didn't stop there! Our latest project was super quick and easy, and involved relatively little DIY for a change. I considered building our own window boxes, but changed my mind when I found these pre-made planters at Lowe's. The rounded shape, color and size were perfect, and the price was right too. I ordered two to match the width of our front second story windows (36″ and 24″).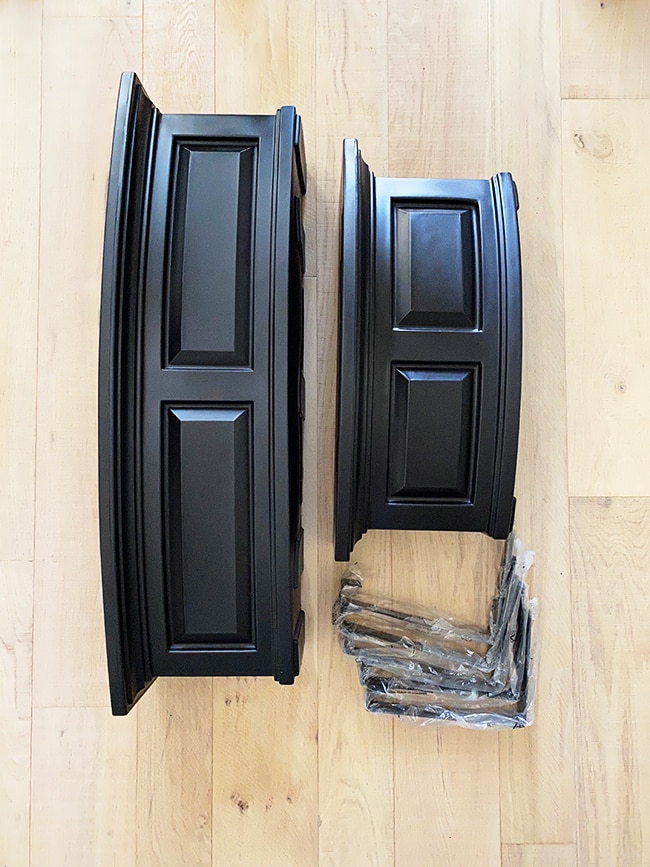 Pin
My vision for these boxes included beautiful cascading flowers like you see in those romantic old European balconies. Sadly, that is not an option here in Florida—at least not for inaccessible second story windows during a heat wave and drought. Of course real flowers would be our first choice but they wouldn't last us five minutes, and I figured no one would be able to tell the difference from the ground level. It's worth a shot at least!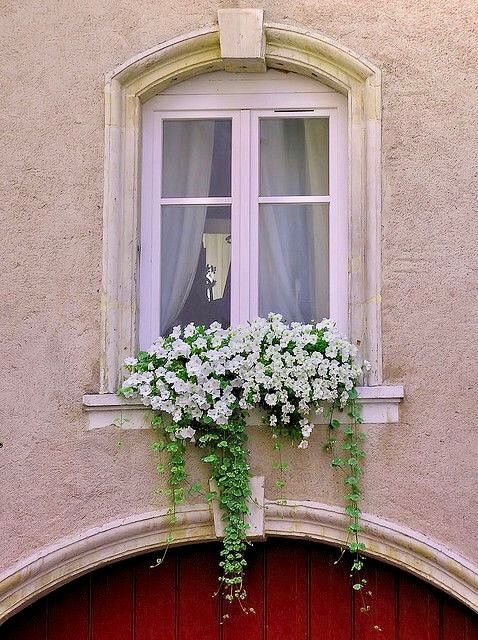 I partnered up with my favorite faux flower source once again, Afloral, and ordered ten wisteria stems along with five boxwood bushes for filler.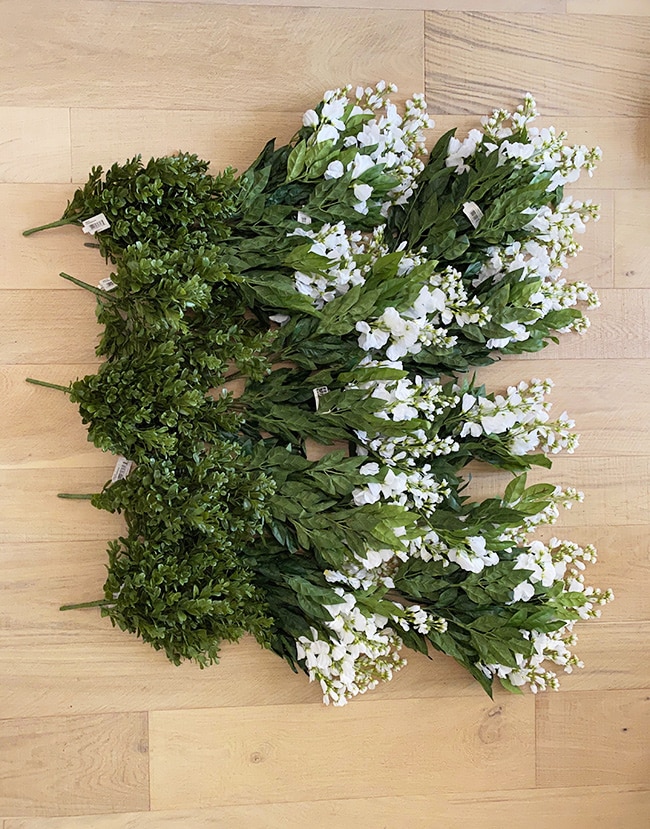 Pin
And for my supplies, I grabbed a package of floral foam, UV floral protectant spray, and industrial strength adhesive.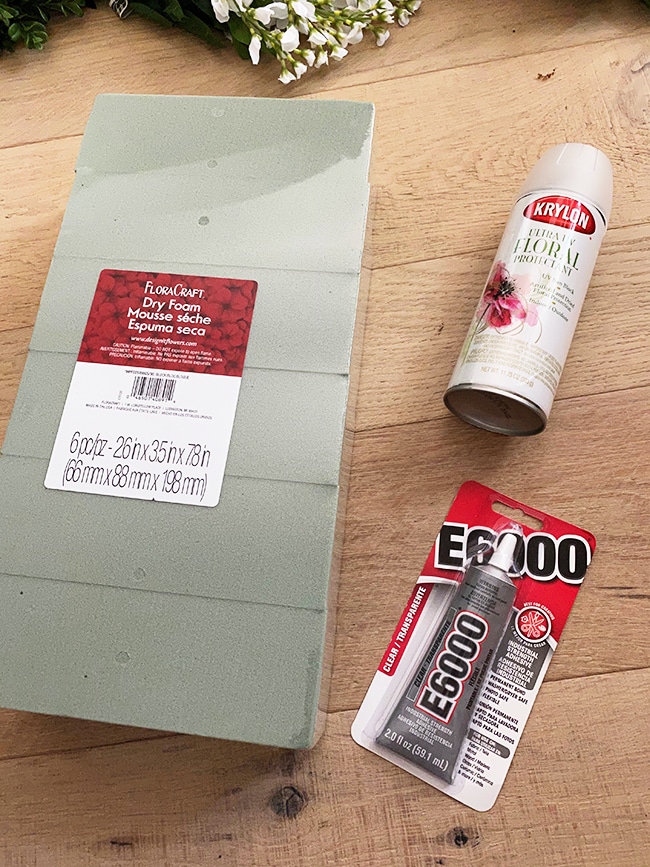 Pin
I couldn't find any information from the manufacturer on whether or not the foam is suitable for outdoors, but one review did say theirs has held up well in the elements. This stuff is pretty crumbly though, so you may want to try these styrofoam blocks instead. Time will tell how well it does 🙂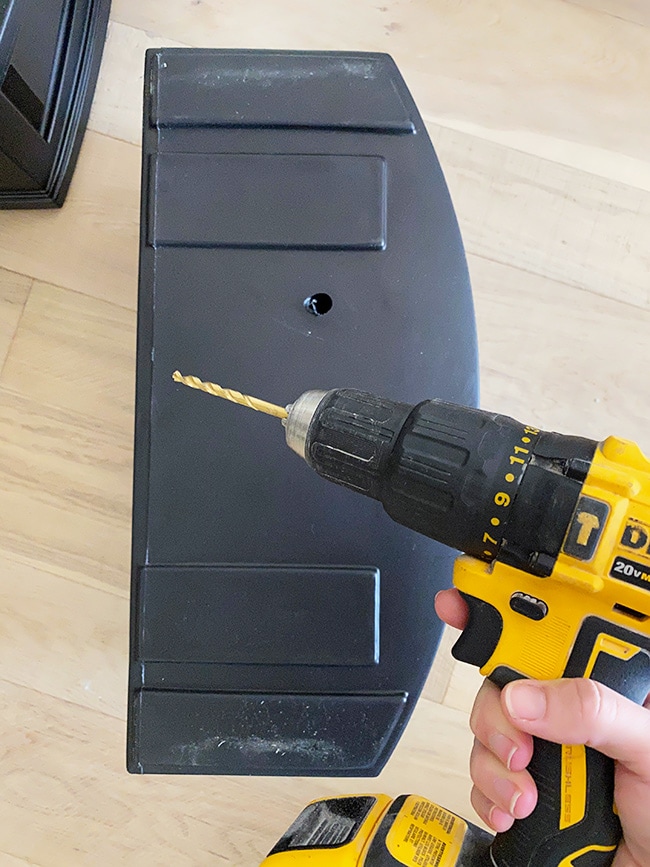 Pin
To prevent the boxes from filling up with water, I drilled small holes along the lowest point in the bottom of each planter.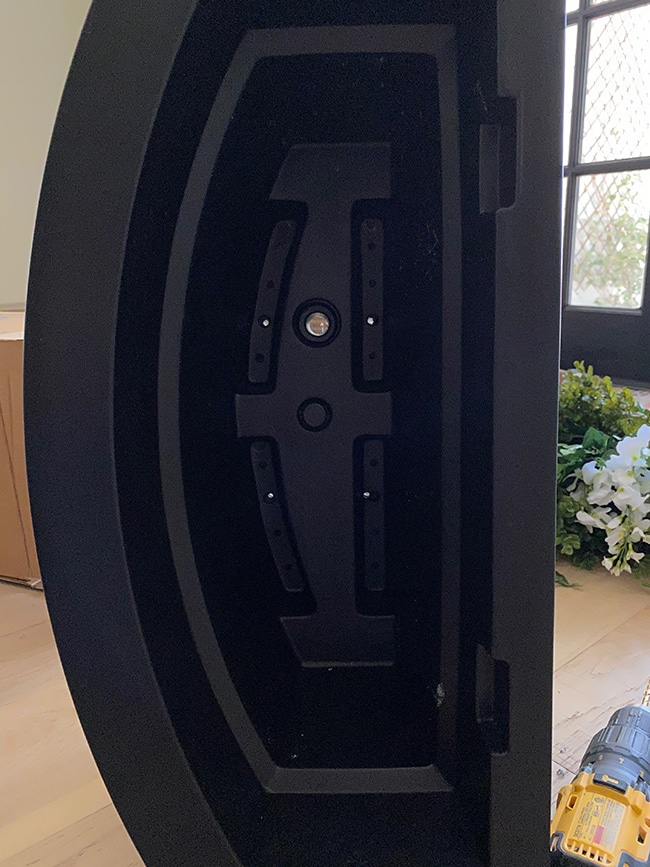 Pin
Then I laid out the arrangement for my foam blocks—3 for the big planter, 2 for the small.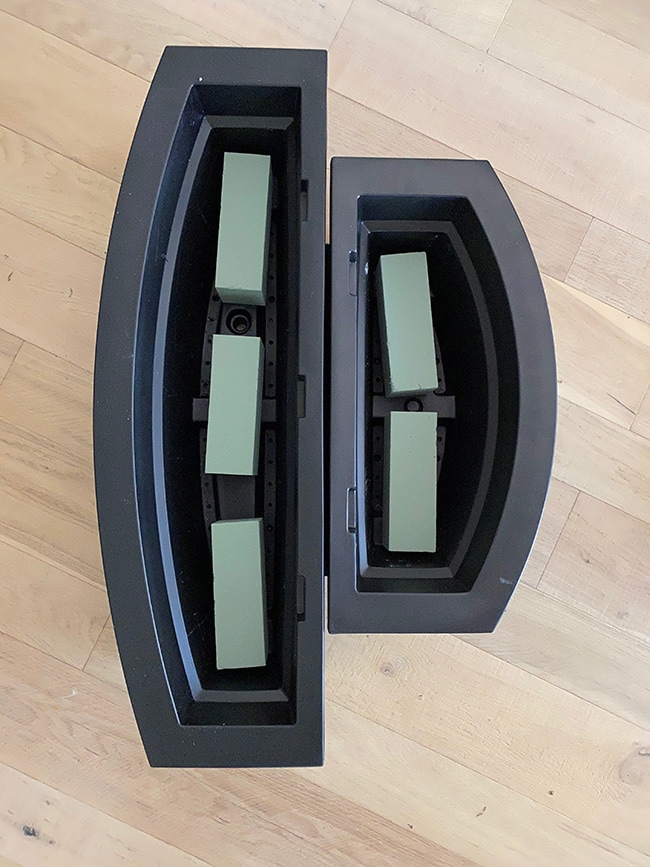 Pin
One by one, I added a generous amount of adhesive underneath each piece of foam.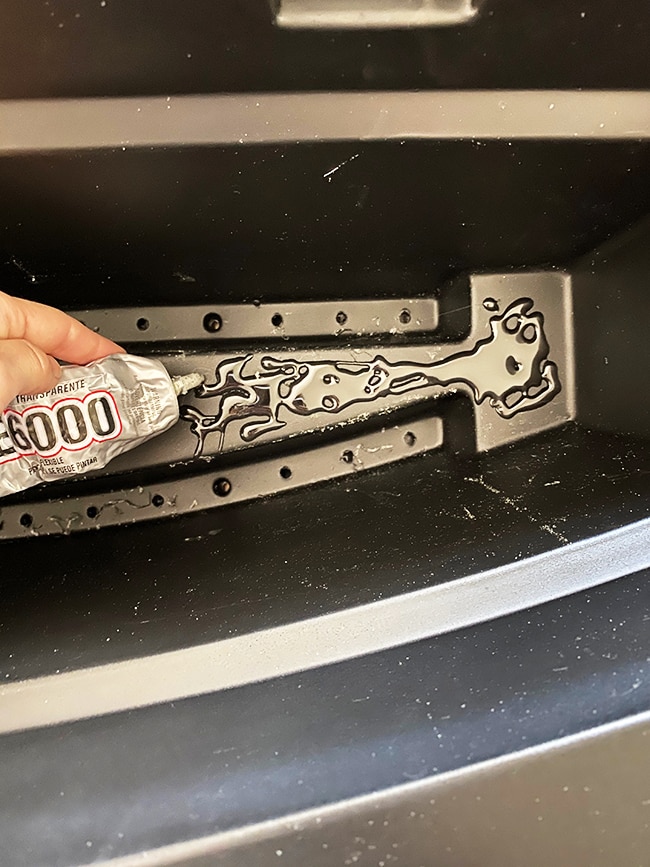 Pin
Then I let them dry overnight (recommended curing time for this glue is 24 hours).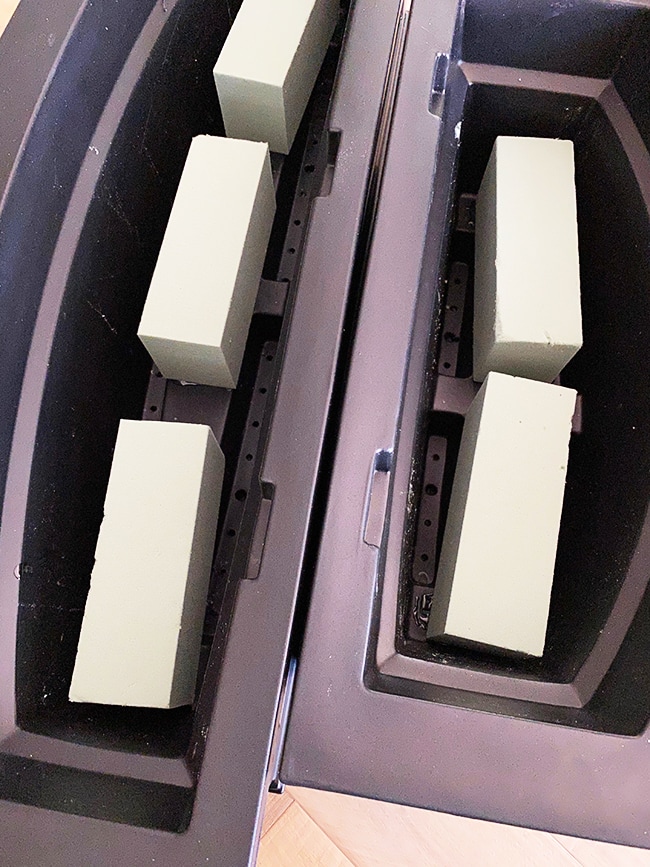 Pin
The next day I divided up my florals to get an idea of the arrangement for each planter. I ended up with one unused wisteria bush.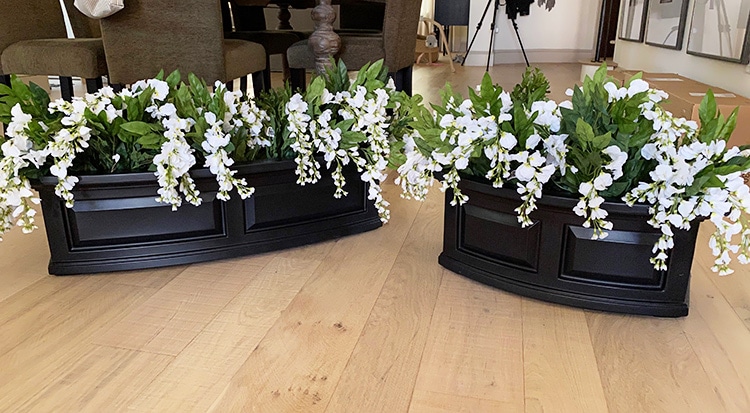 Pin
Starting on one end, I pushed my first wisteria into the foam.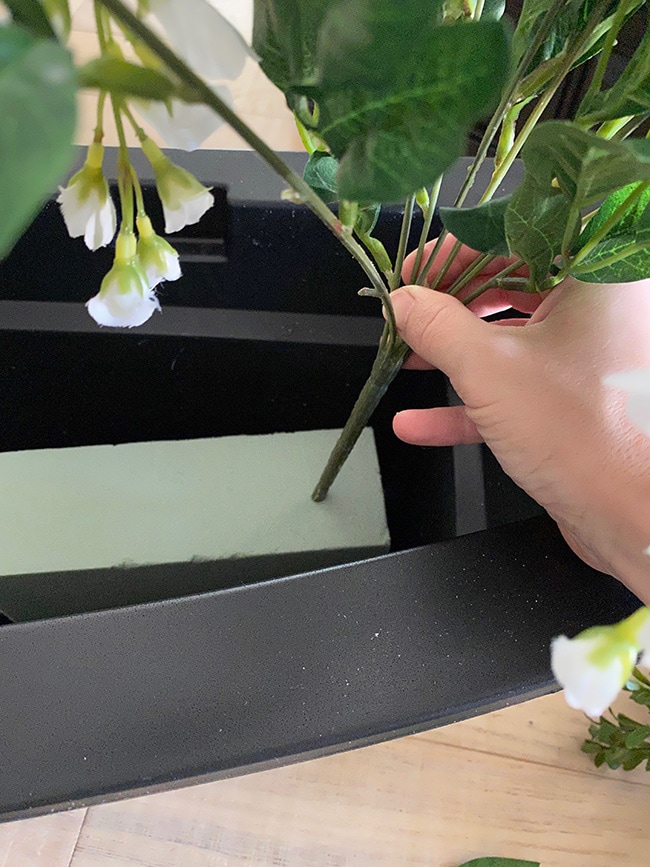 Pin
It ended up being a tad taller than I'd like…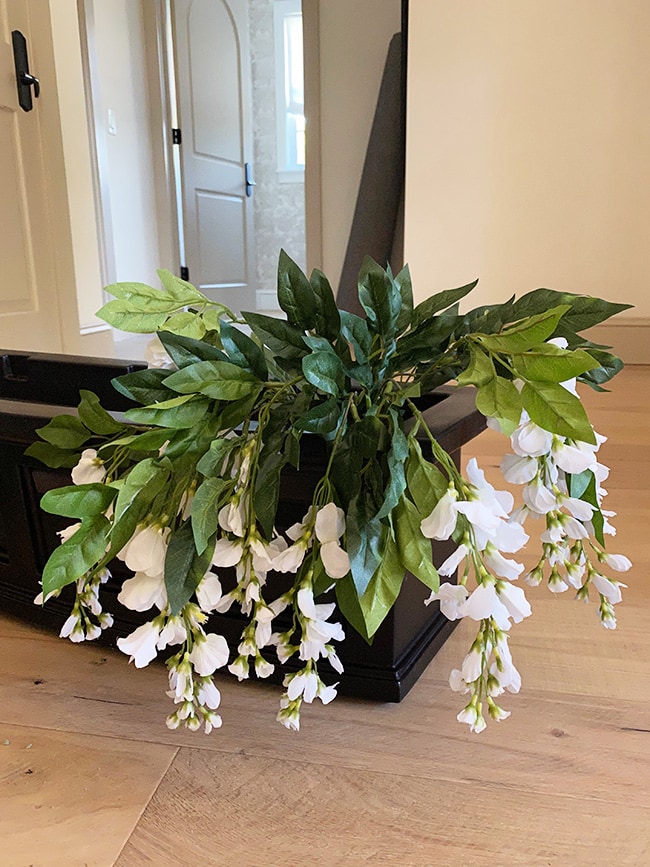 Pin
So I trimmed a few inches off the bottom.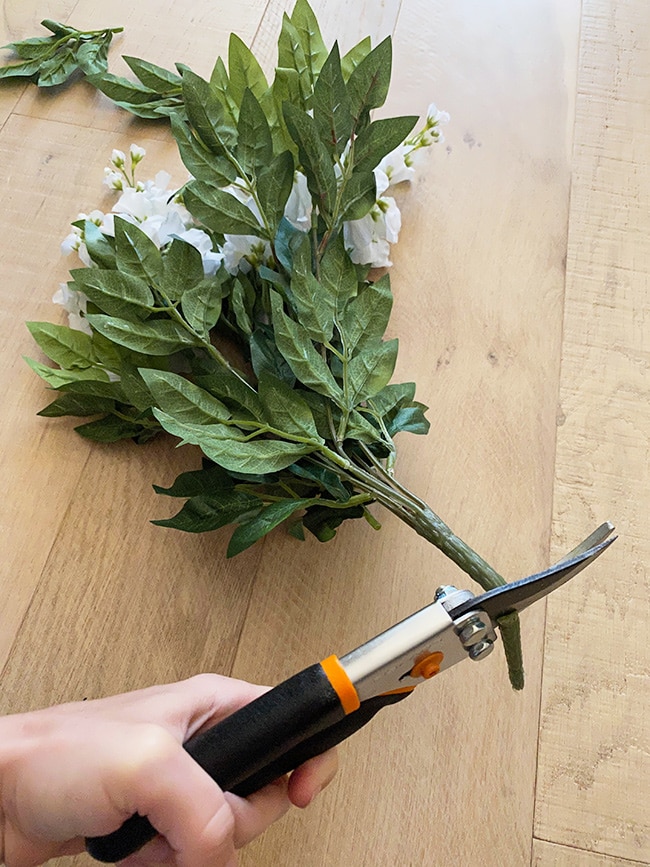 Pin
After putting it back permanently into place, I applied more adhesive along the outside to make sure it wouldn't go anywhere.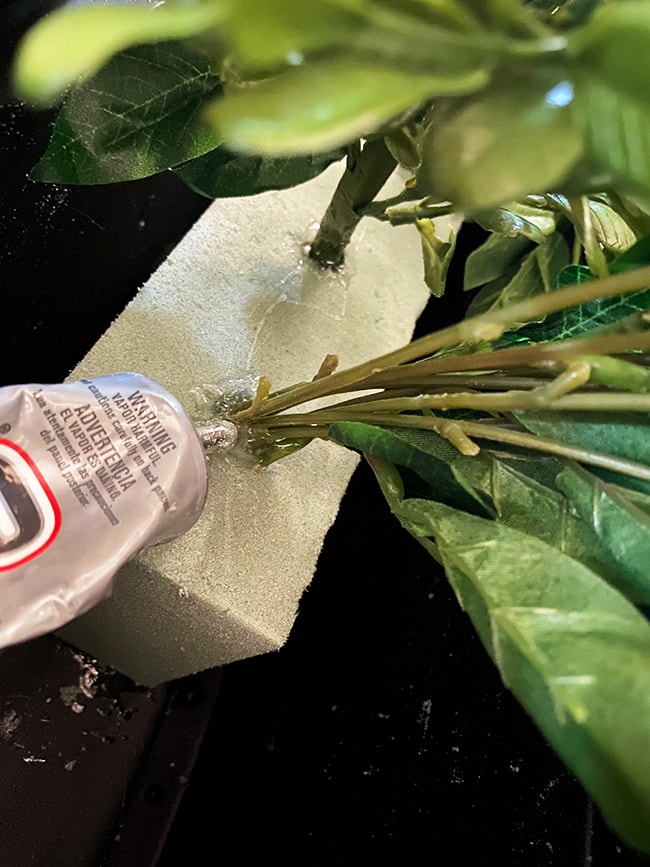 Pin
The process was repeated for the remaining bushes, using 2-3 stems per foam block.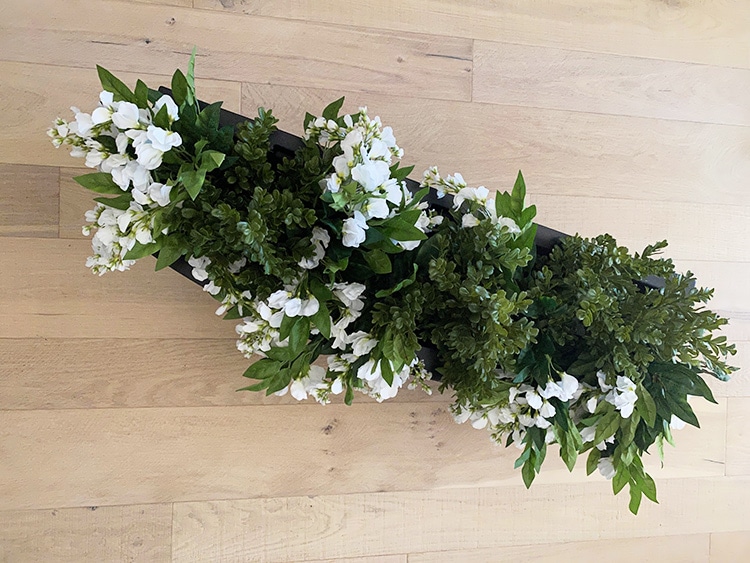 Pin
Then it was just a matter of fluffing everything until I was happy with the results: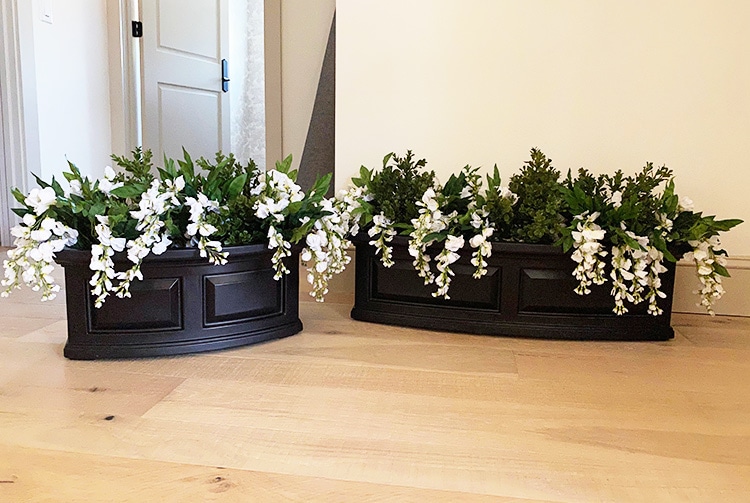 Pin
The final step was giving them a few coats of UV protectant spray, which will hopefully keep them from discoloring in the sun.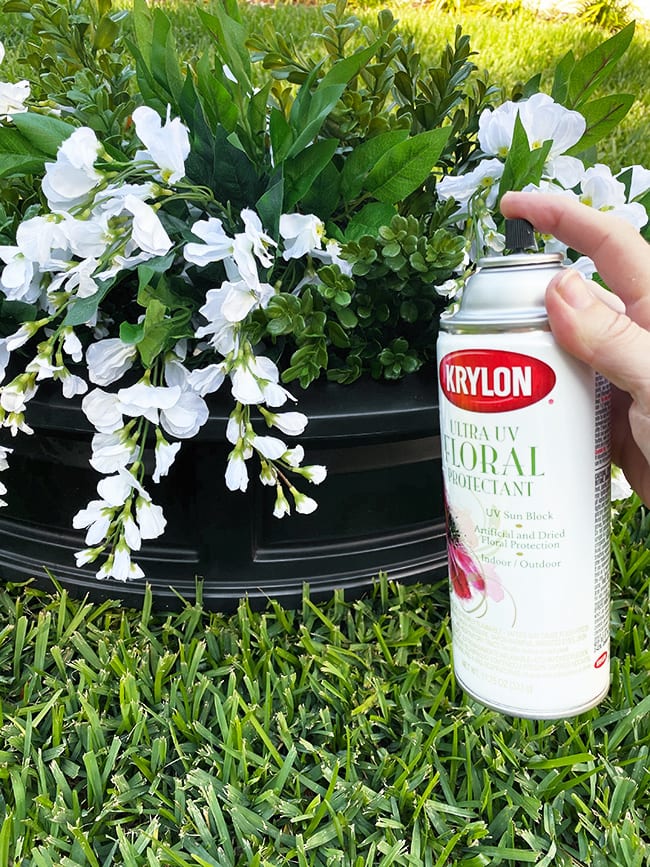 Pin
Meanwhile, Lucas attached the brackets that came with the planter. We positioned them right underneath the window, and the brackets were secured to the stucco with two concrete anchors.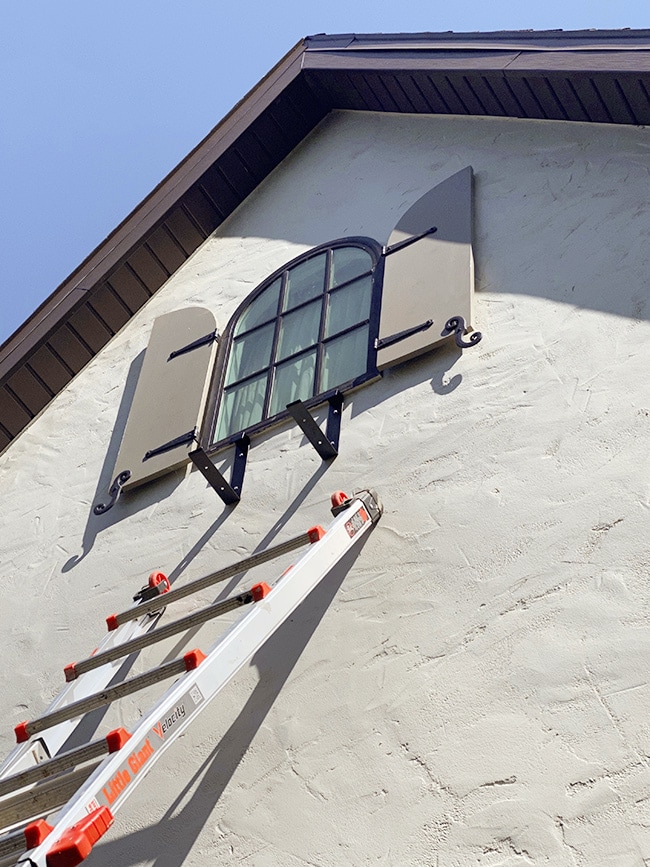 Pin
The flower boxes snap right into the brackets, no other screws or fasteners needed.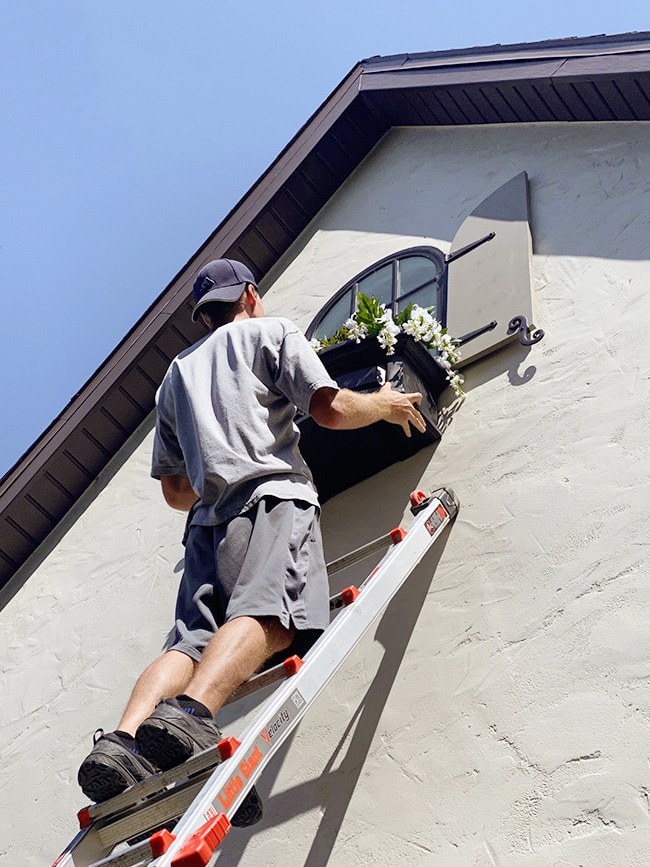 Pin
Not too bad, right?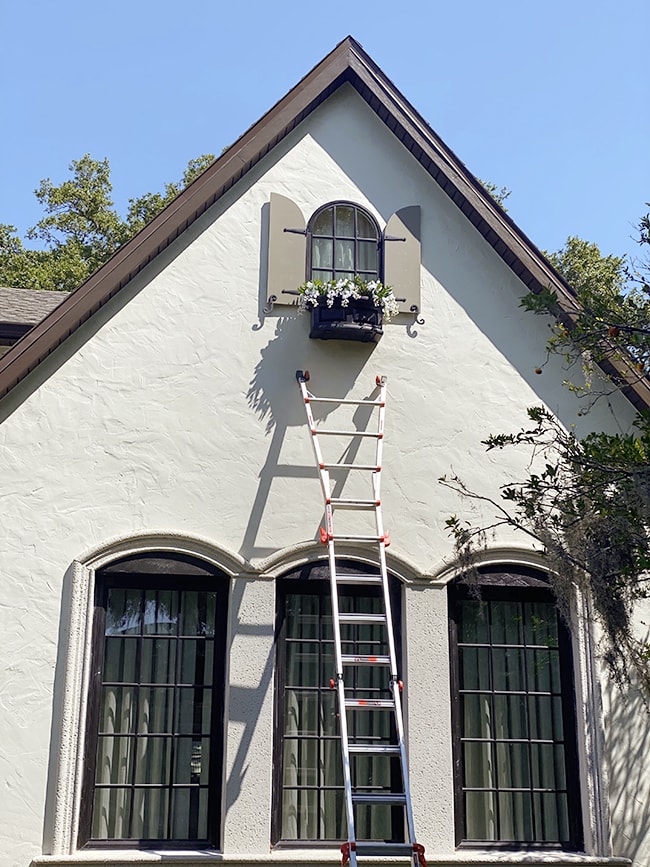 Pin
Here's a shot with better lighting. I know faux florals are not for everyone, but I really don't mind them in situations where real flowers aren't practical.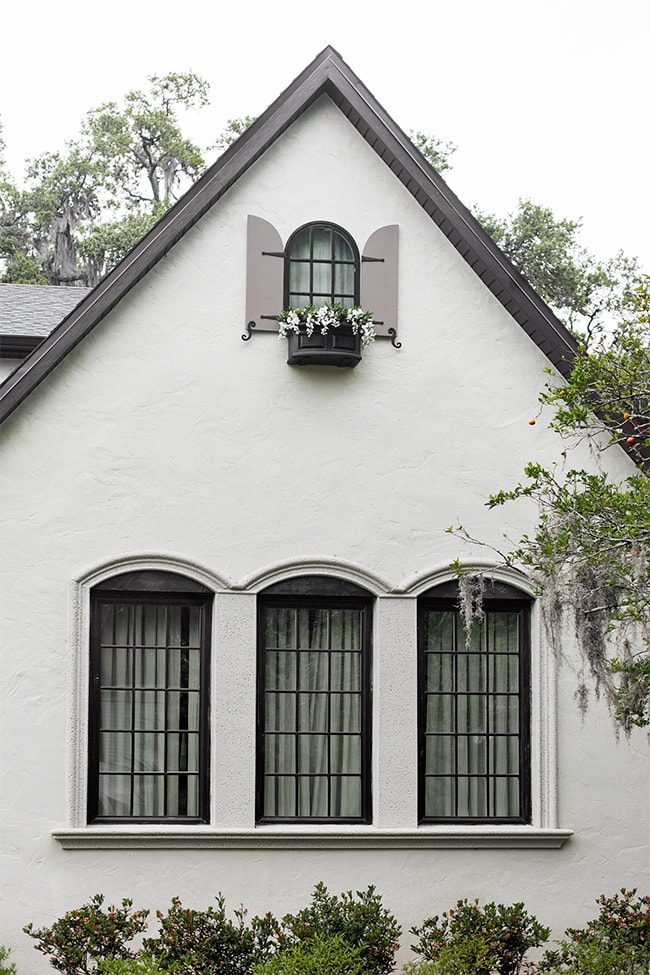 Pin
On Sunday it rained for the first time in weeks, so hopefully that means rainy season is finally around the corner. This summer I think we'll try planting real flowers and see how it goes. We have access from the house to the left window to water the plants but not the arched window.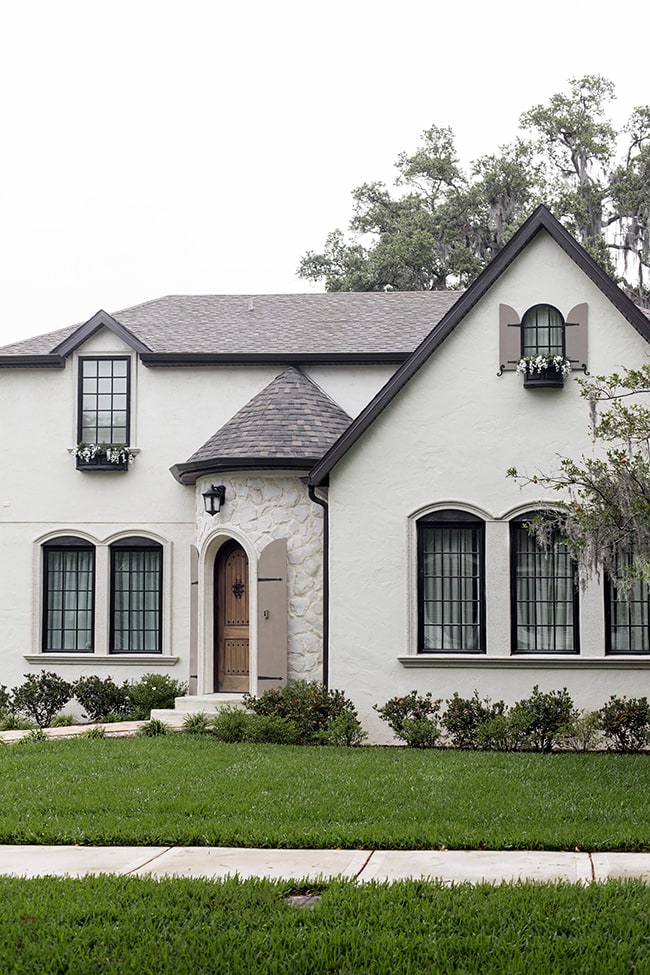 Pin
Someone on Instagram mentioned there's a species of hanging fern that is drought and heat tolerant so I'll look into that—anyone have recommendations for low maintenance flowering plants that will survive this tropical climate?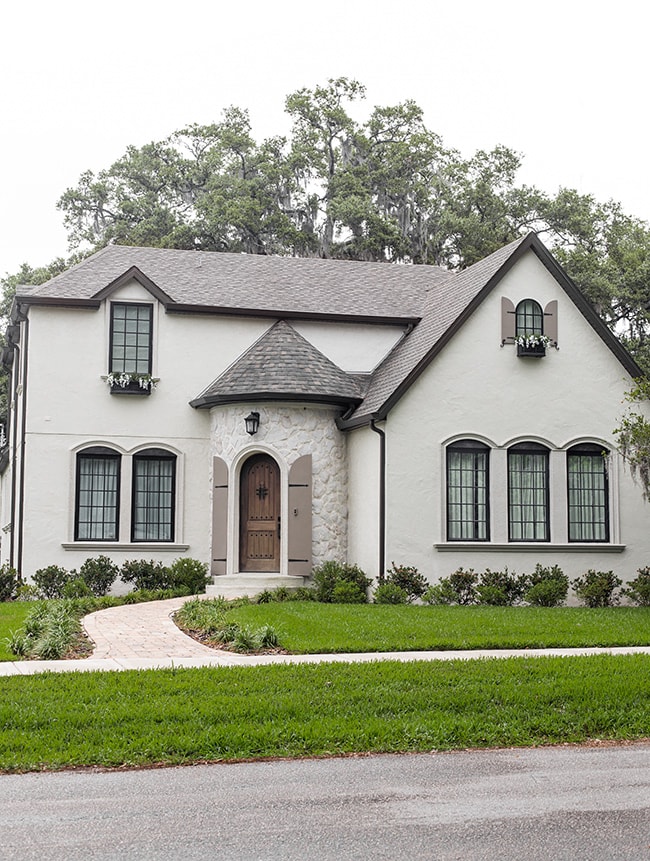 Pin
Our Ring doorbell was also reinstalled, and soon we'll plant a vine to climb the side of the turret.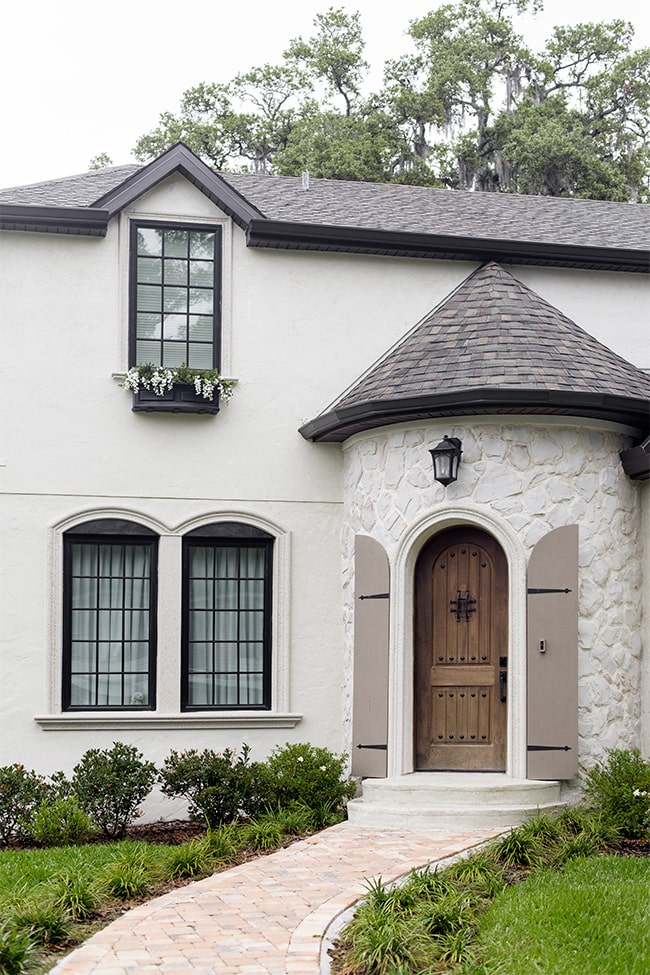 Pin
And I can't leave out one more detail—our Thank You sign from the Lowe's #buildthanks challenge! Did you catch this project on Instagram?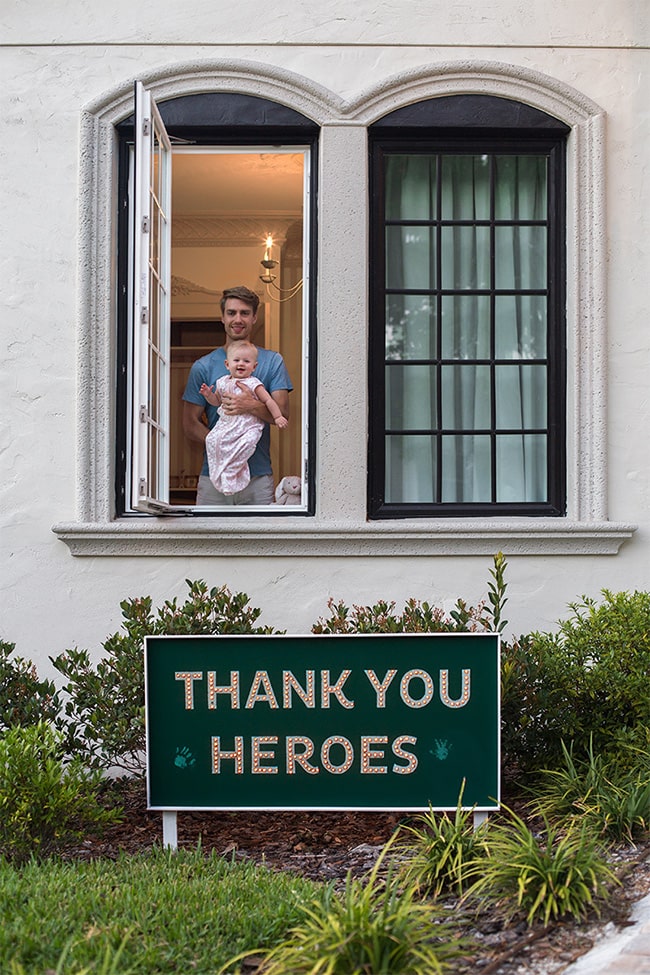 Pin
We had so much fun making this together as a family (Esmé's first DIY!) and hope it brings some joy to the neighborhood, especially to our frontline responders. My favorite part is that it lights up at night…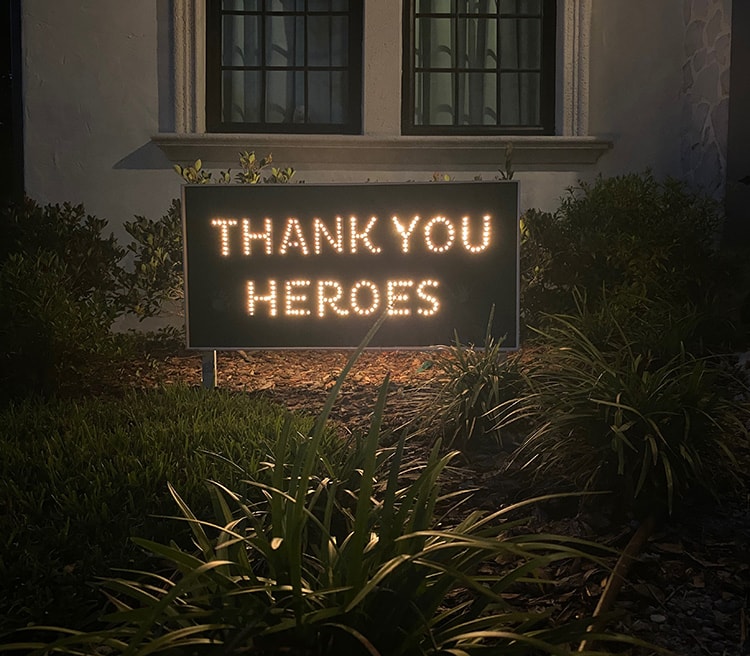 Pin
Did you participate in the #buildthanks challenge? It's not too late to join in and show your appreciation for everyone out there who is working to keep us safe!
This weekend I'll be swapping my drill for a paint brush, and taking on a fun creative project for the living room. As always, you can follow along behind the scenes over in my IG stories. Stay safe and well friends!