The sun is shining and the temperature is rising—it's safe to say that spring has arrived in Florida!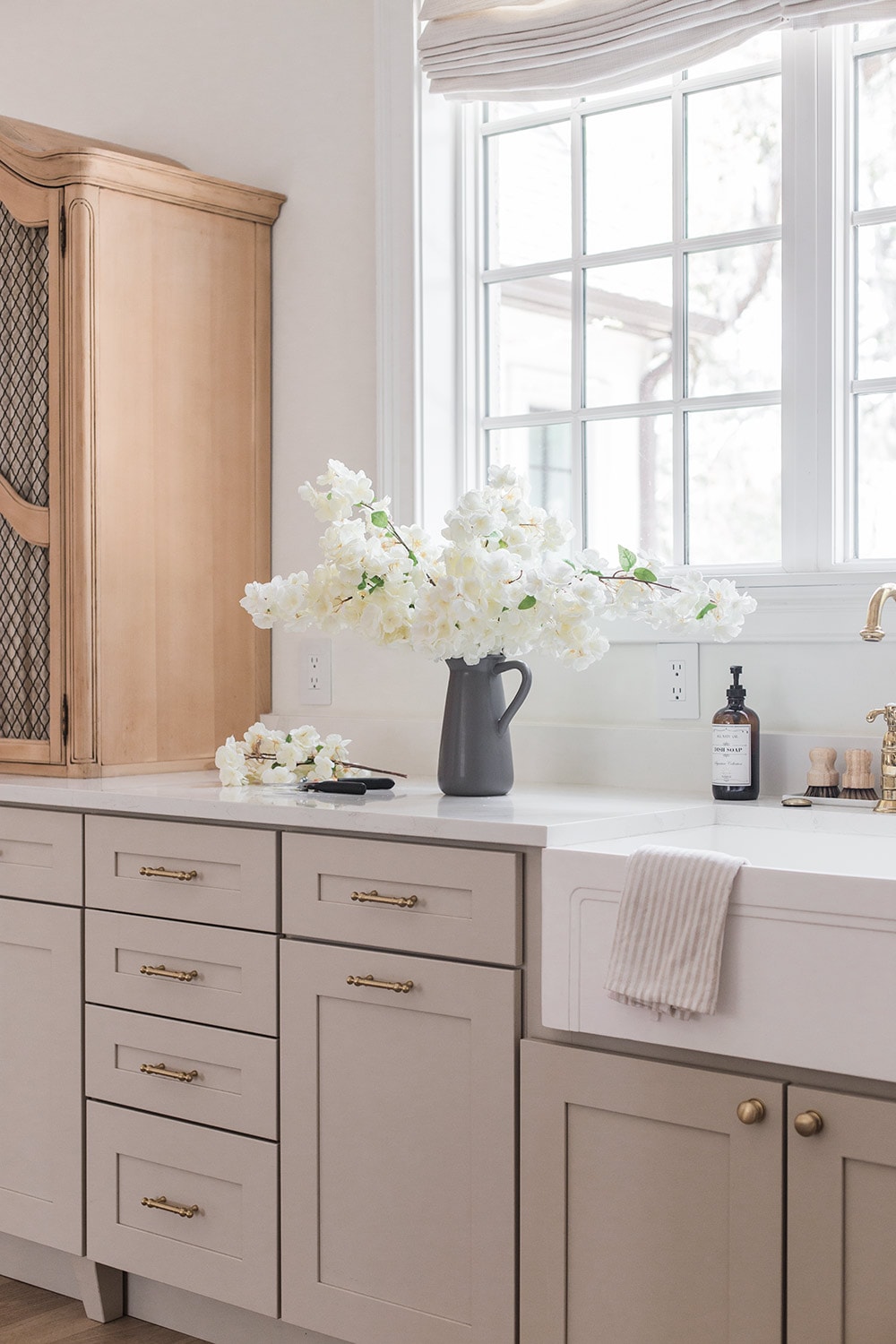 Whether it's sunny or snowing where you live, now is the time to brighten up your home with spring flowers. I've rounded up 18 of my favorite faux florals and branches, with real photos of them styled in our home and my reviews.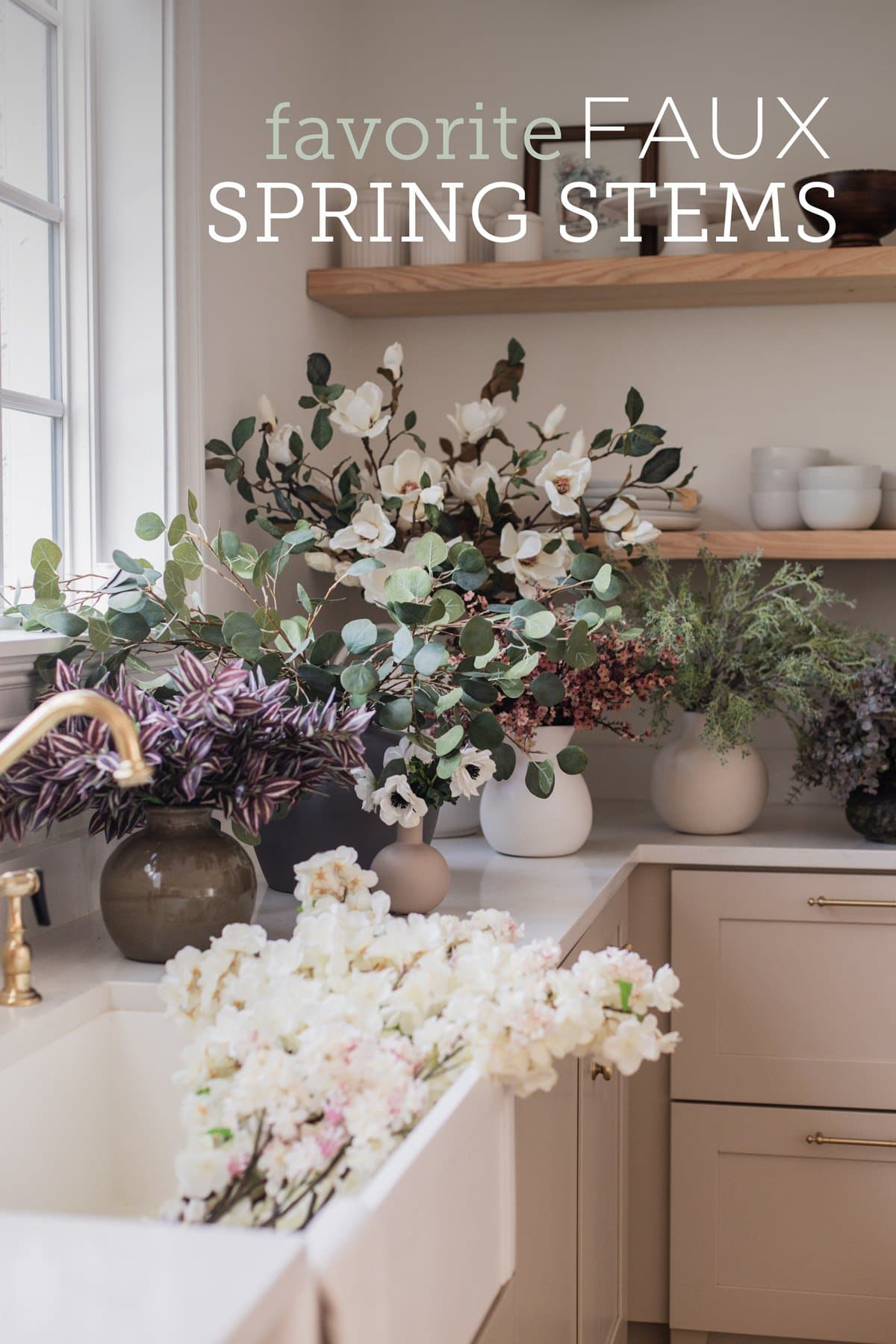 The best part? Most are budget-friendly (half under $10!), they require zero maintenance, and you can reuse them year after year. It's no wonder I love faux florals so much.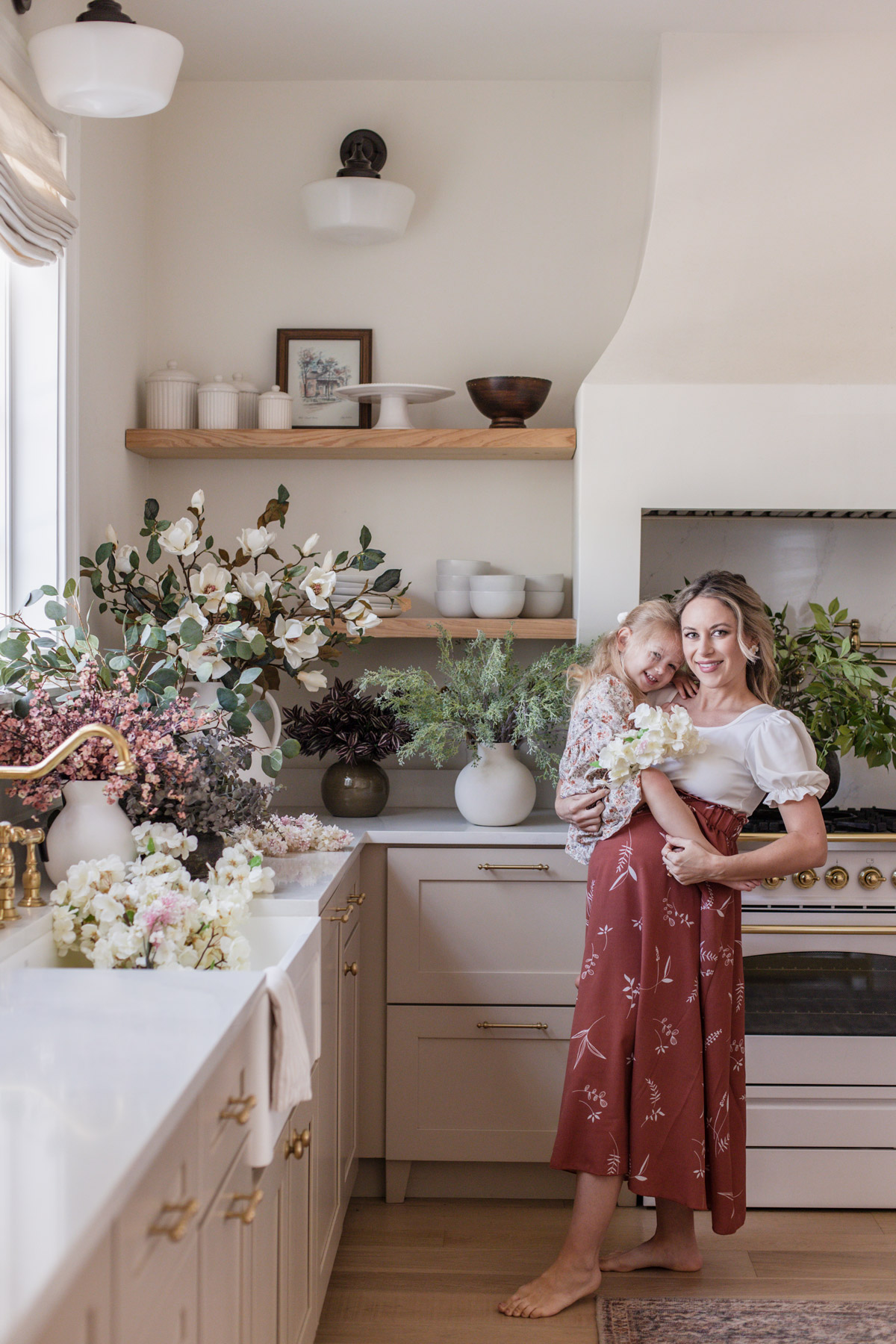 This year I'm sharing twice as many finds in two roundups—the first are budget-friendly favorites under $10 (per stem). Find them linked below, and tap on their name in the Table of Contents to see them styled in real life!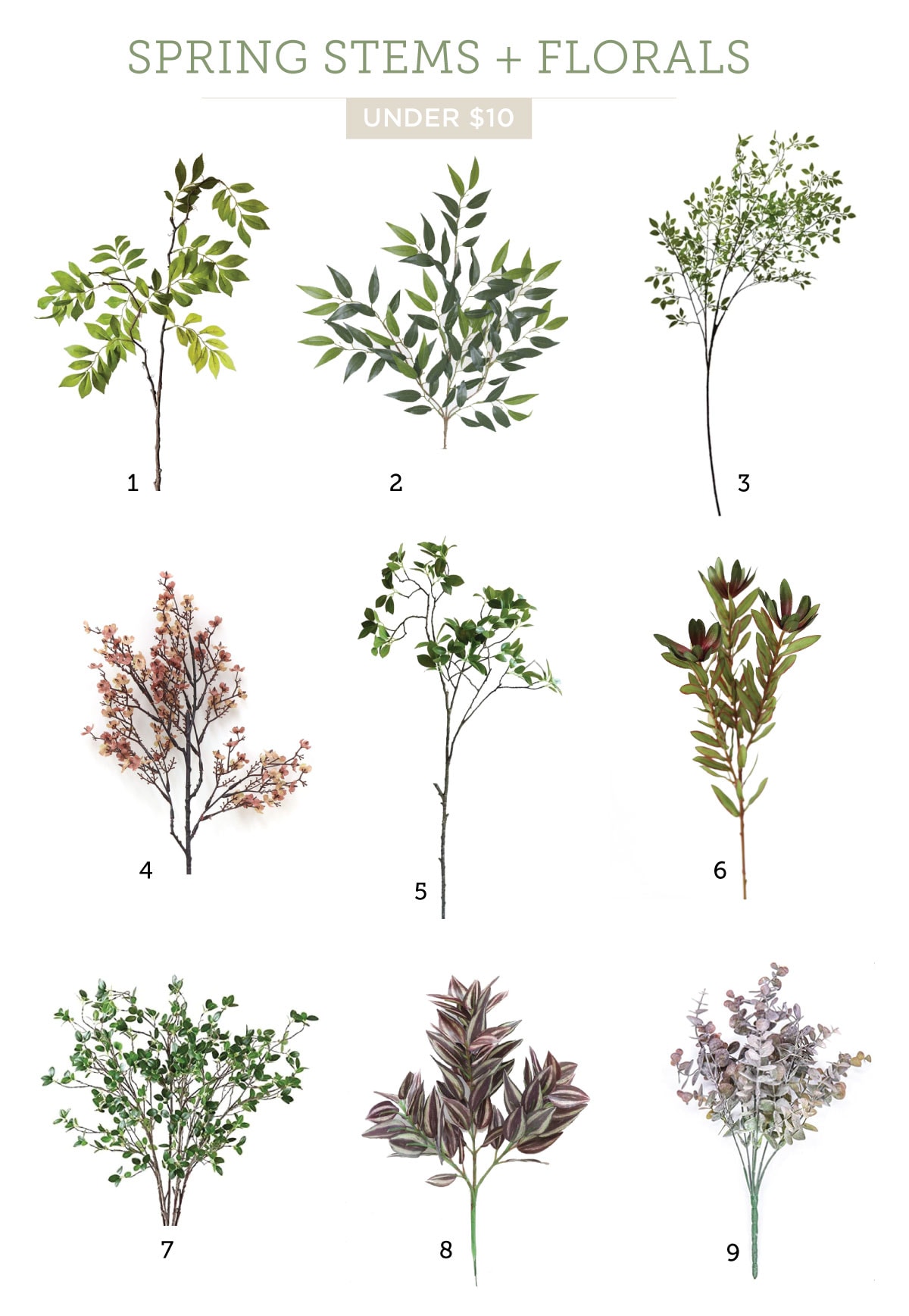 The stems on this second roundup range from $10 to under $40 (with a discount code) and are worth the investment to enjoy year after year. Here's what made the cut: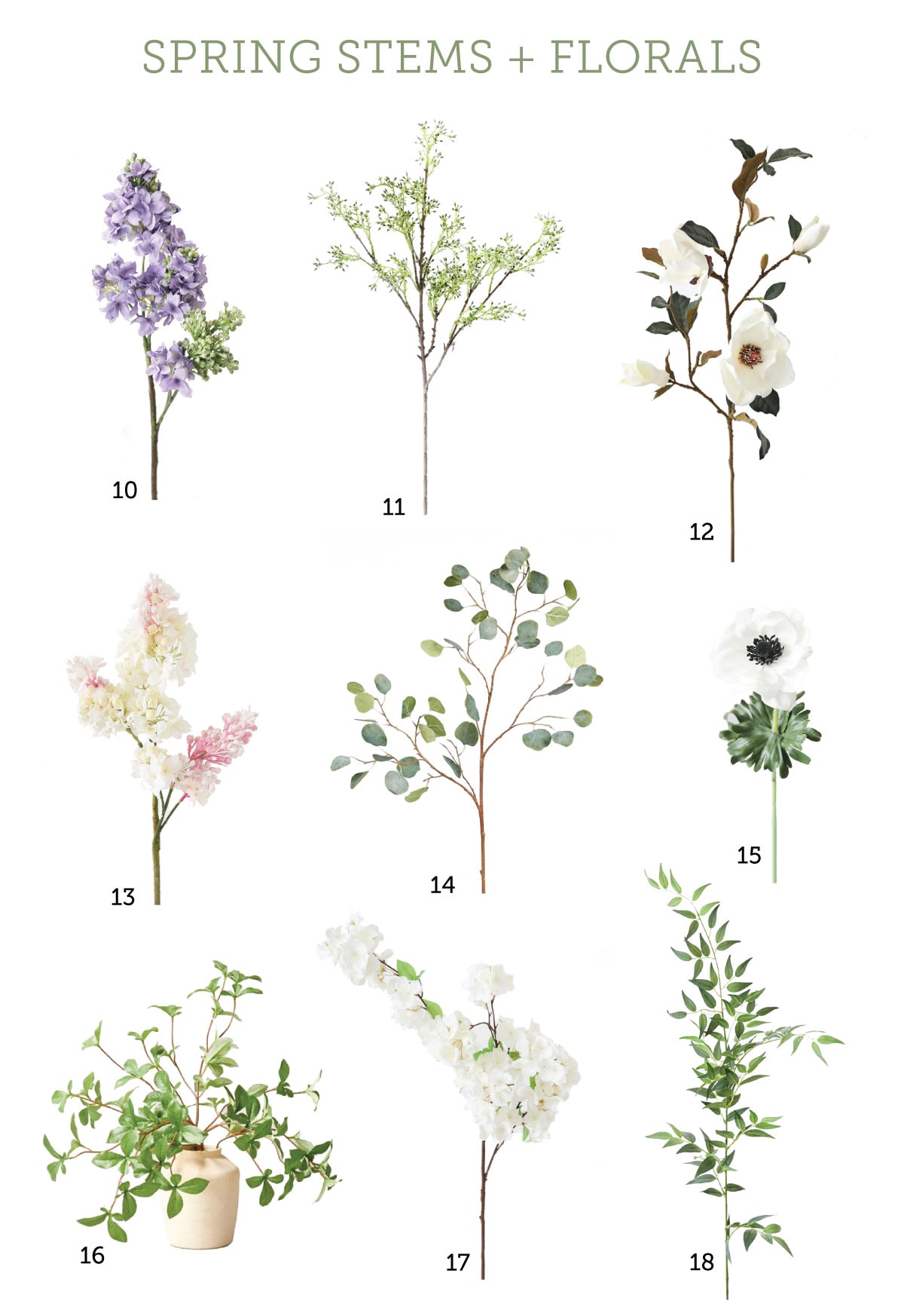 For all products marked with an *: Use the code JENNA20 for 20% off orders over $75 through 3/12!
Here's a closer look at each one, and how I styled them in our home…
1. Wisteria Branch
I think this is one of the most life-like stems on this list, up close and from a distance. The coloring is spot on.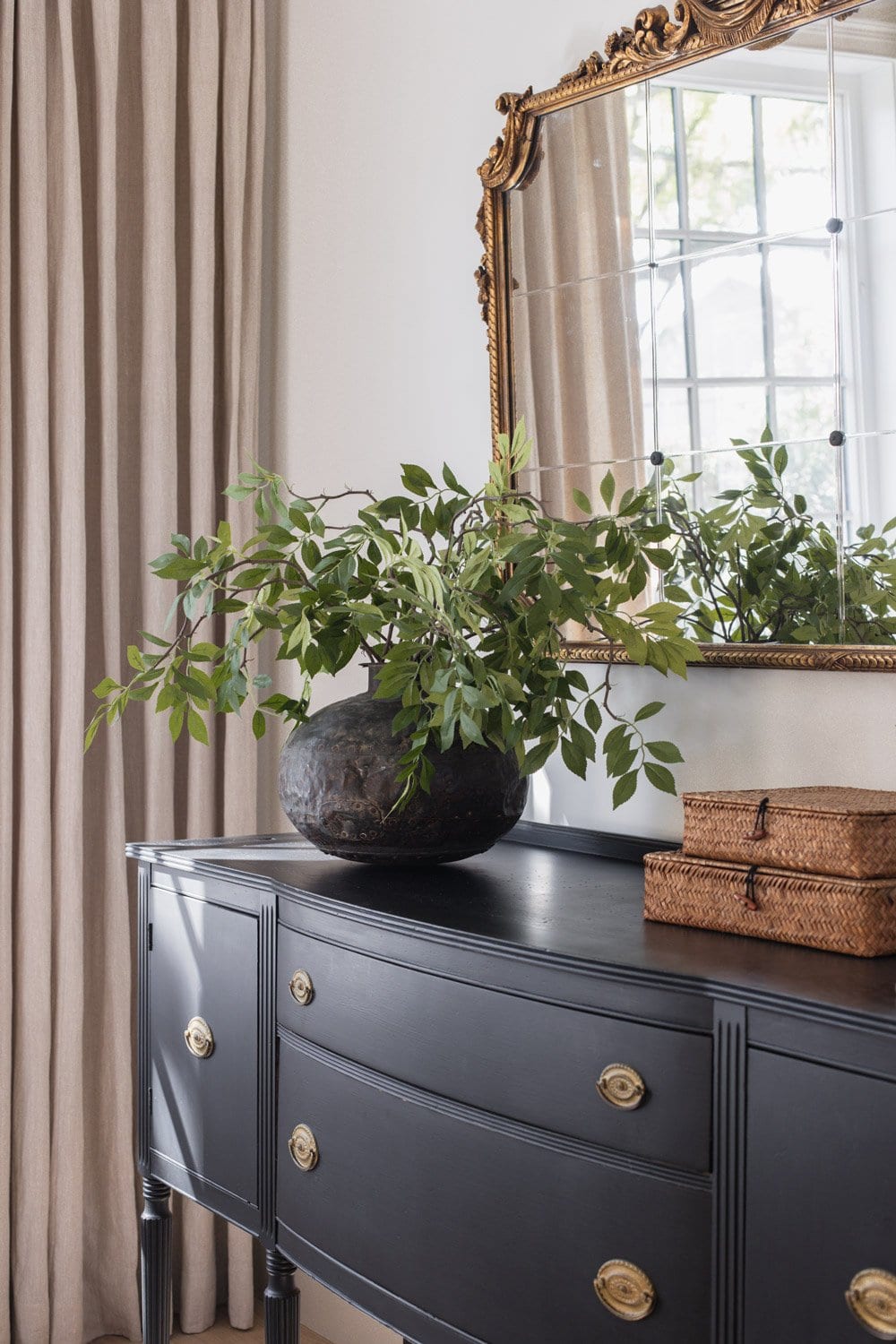 At just $6 for a 31″ stem, it's also a major steal. I used six stems in this arrangement. In case they sell out, I also found this seller offering them for few bucks more.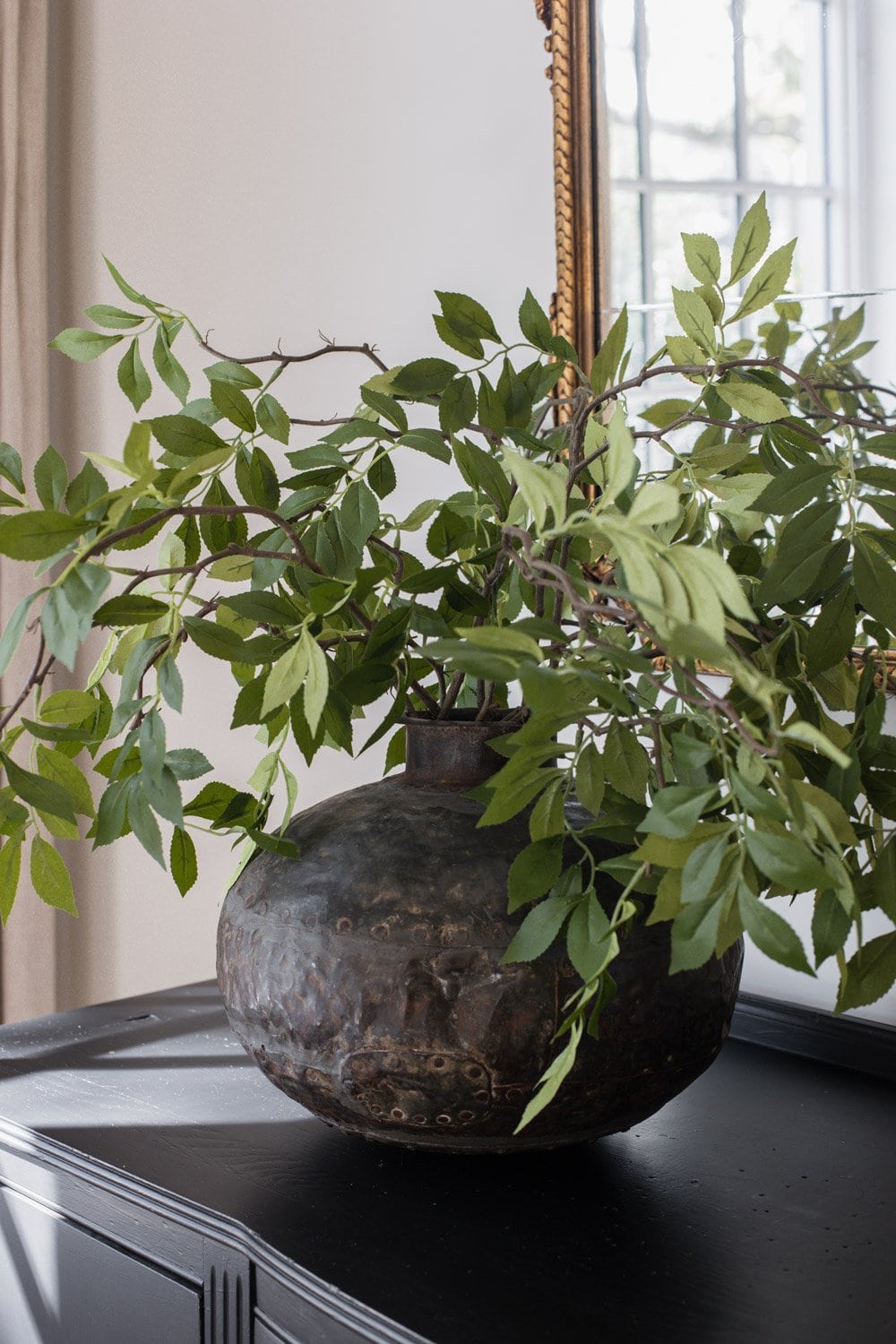 2. Smilax Stem
These are one of the best deals on this list at under $8/stem (with the discount code above), and the leaf color variation make it look very realistic in person.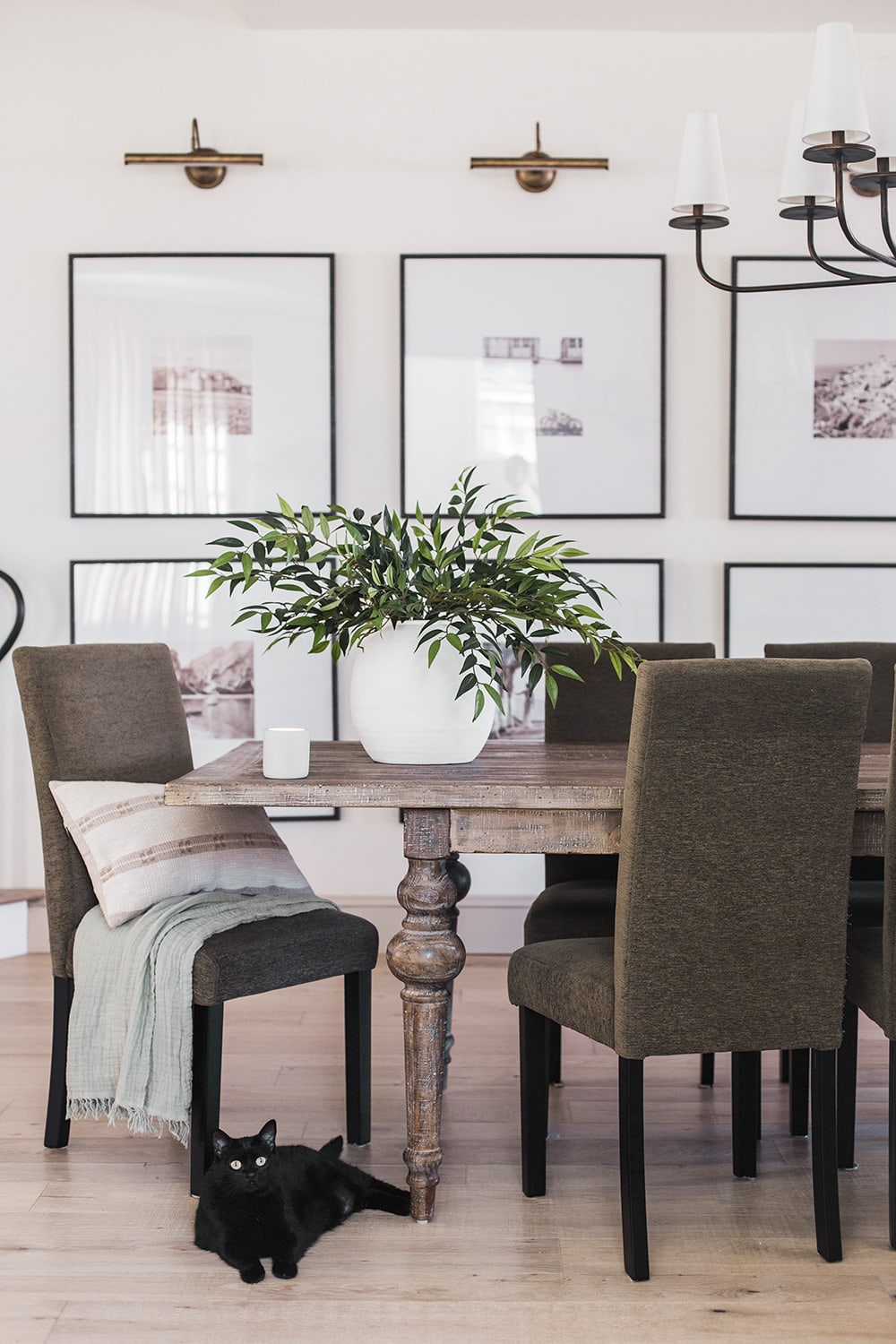 The branches are 27″ tall—large enough to fill out this big concrete vase. I used seven stems in this arrangement, but you can easily display just a few in a smaller vase.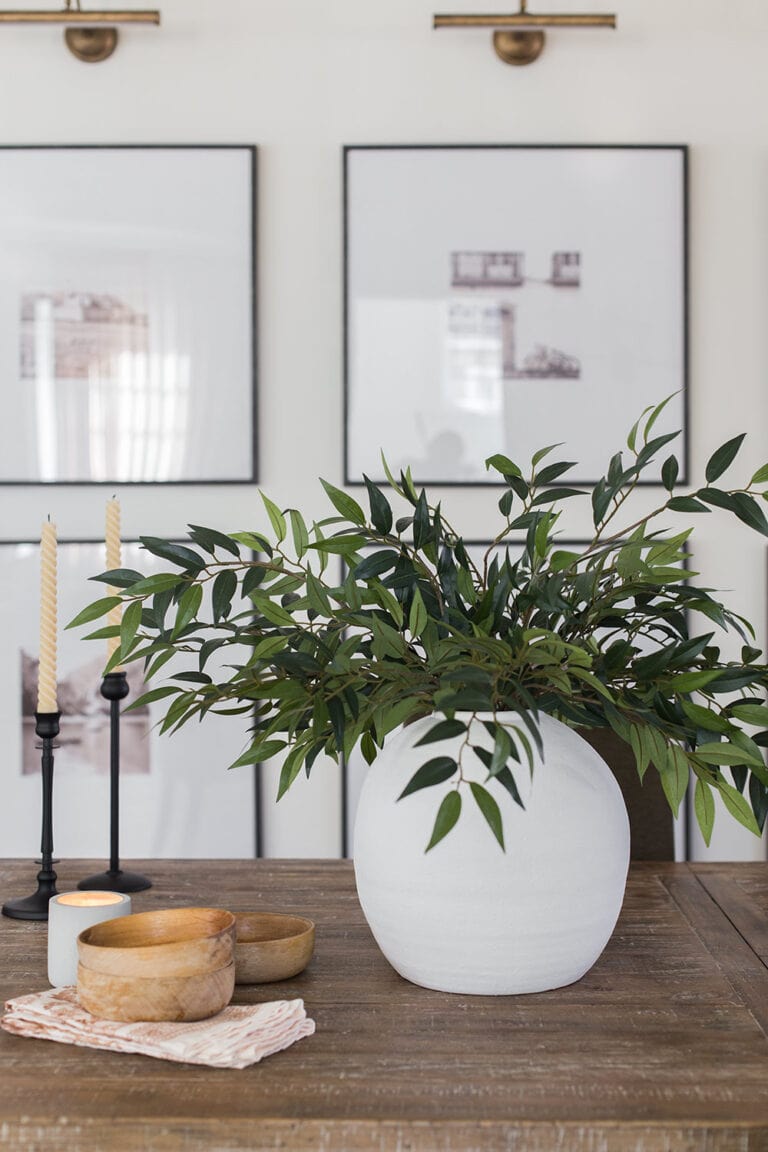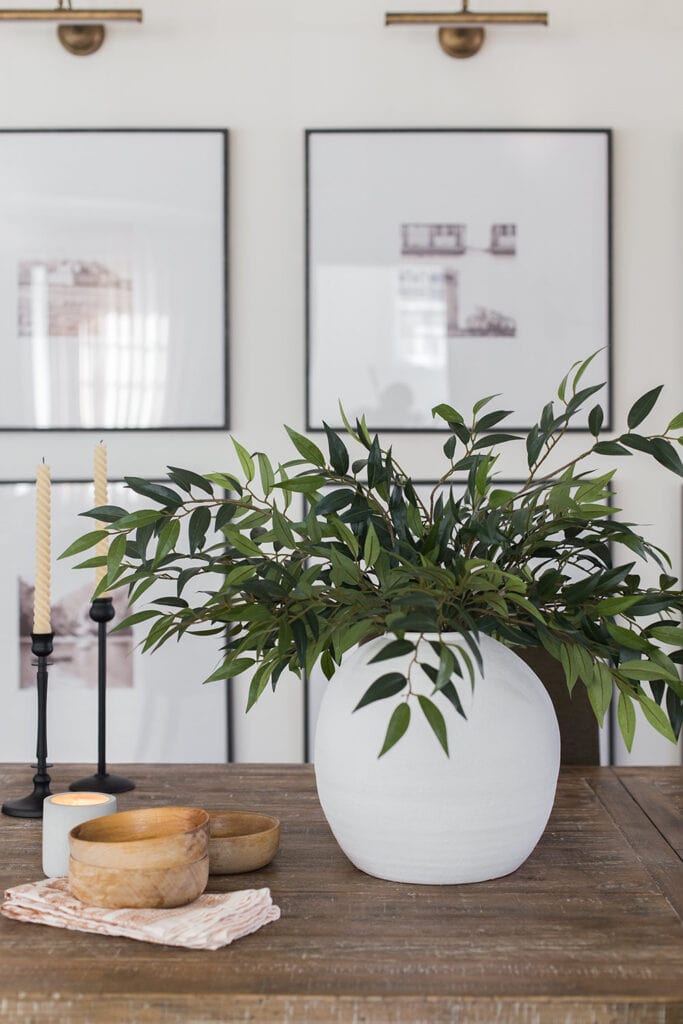 3. Nandia Stem
These inexpensive Nandia branches have been a hit on Instagram lately—and so popular they've been sold out/hard to get! I ordered a set weeks ago and they arrived just in time for this shoot.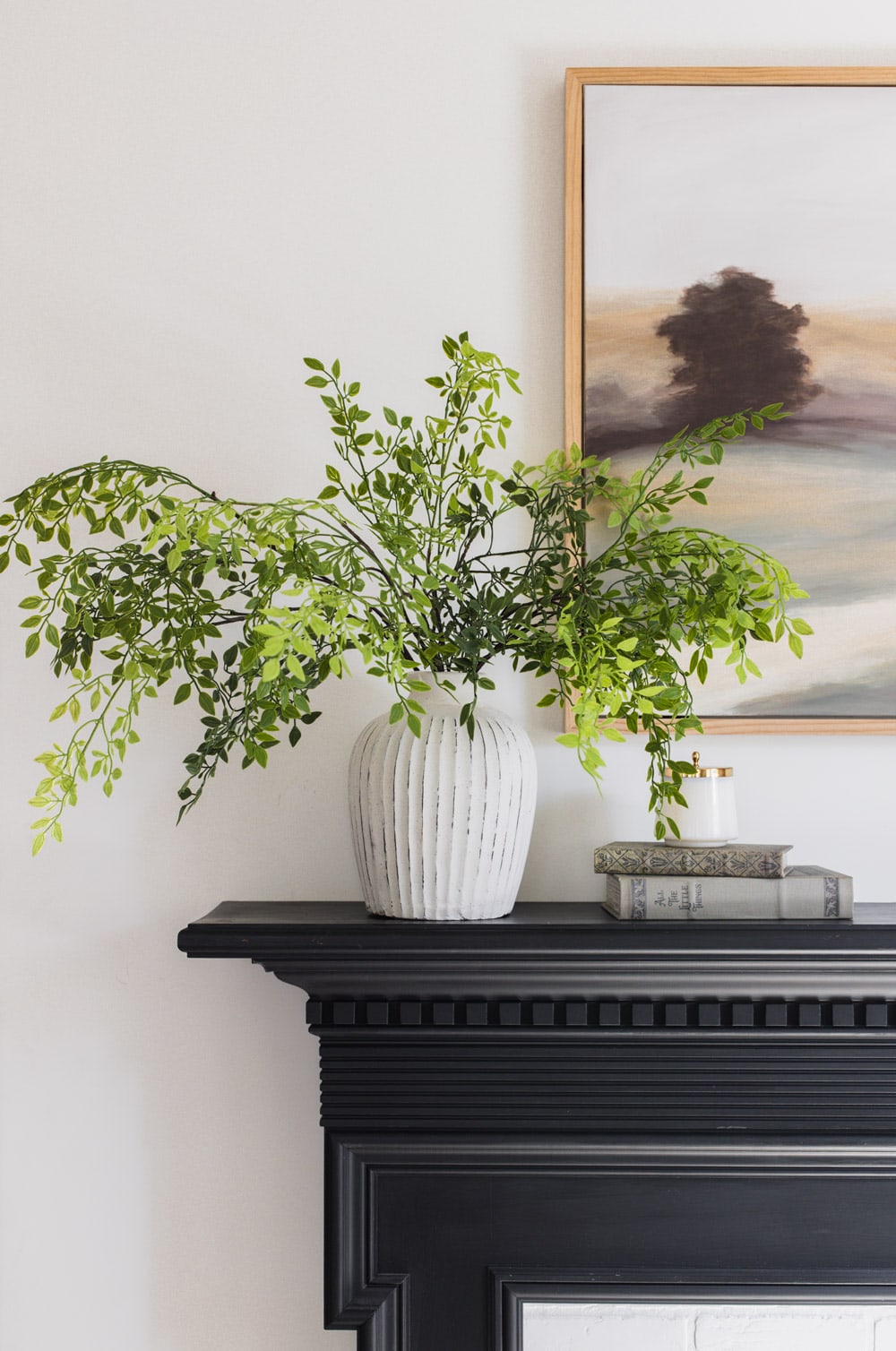 The leaves are plastic so they don't look super realistic up close, but the color variation is nice and I love the delicate wispy look. They're also very large and full—I only used three stems in this 11″ vase.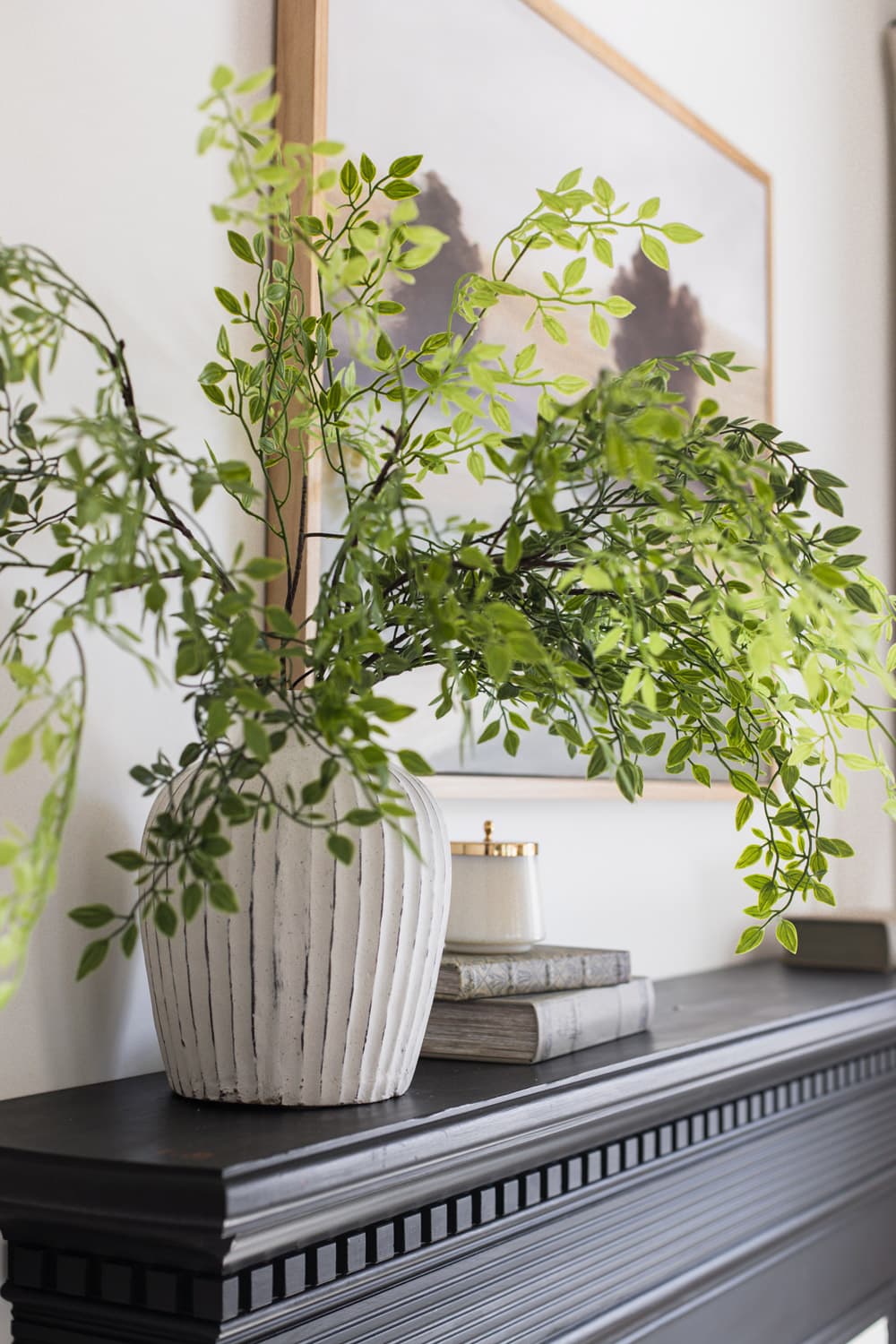 4. Baby's Breath
These are available in several colors—I have both 'Beige Brown' (which is really more of a peachy pink) and 'White.'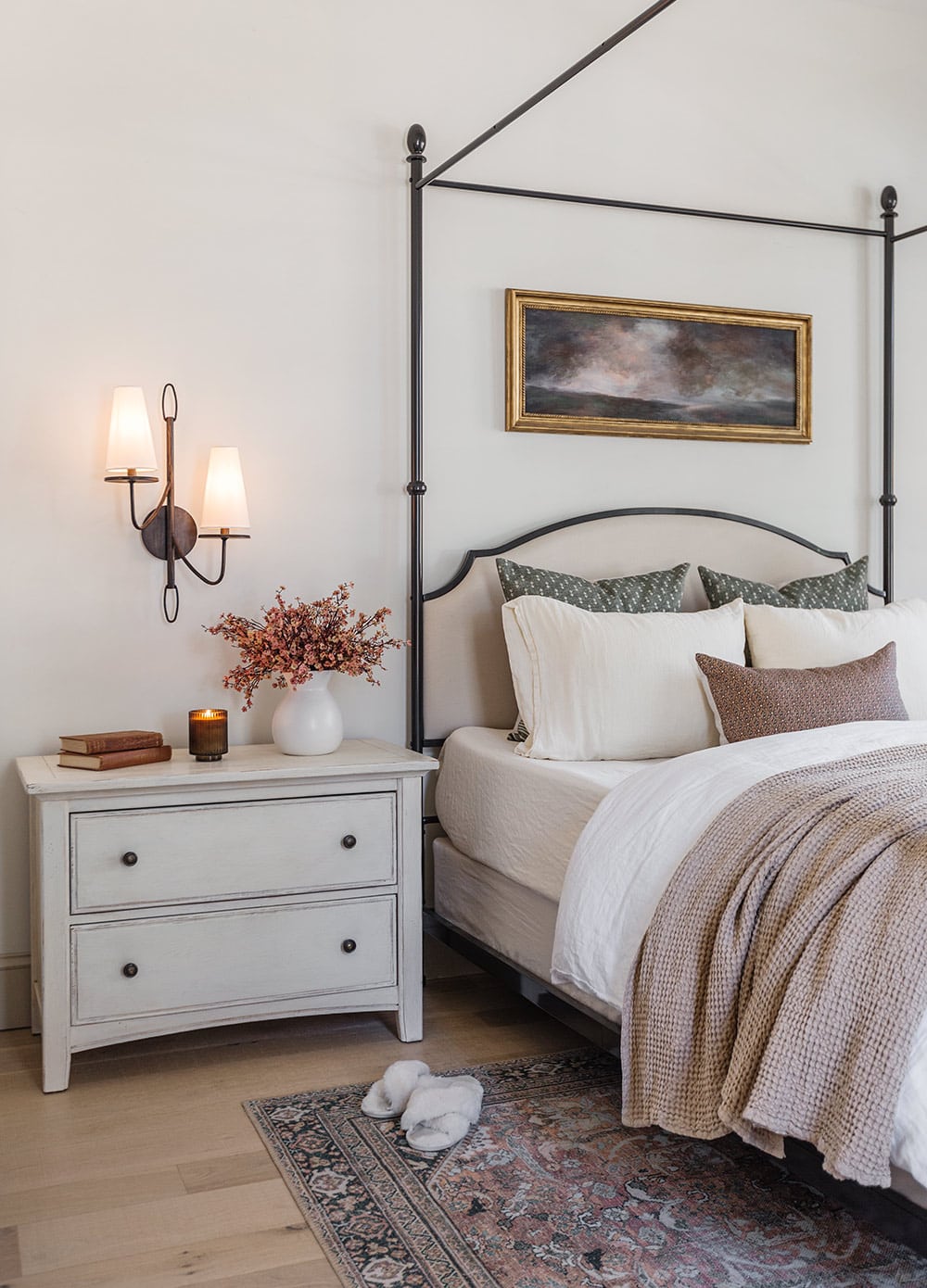 I used two bundles (12 stems total) for an extra full look in this $10 ceramic vase.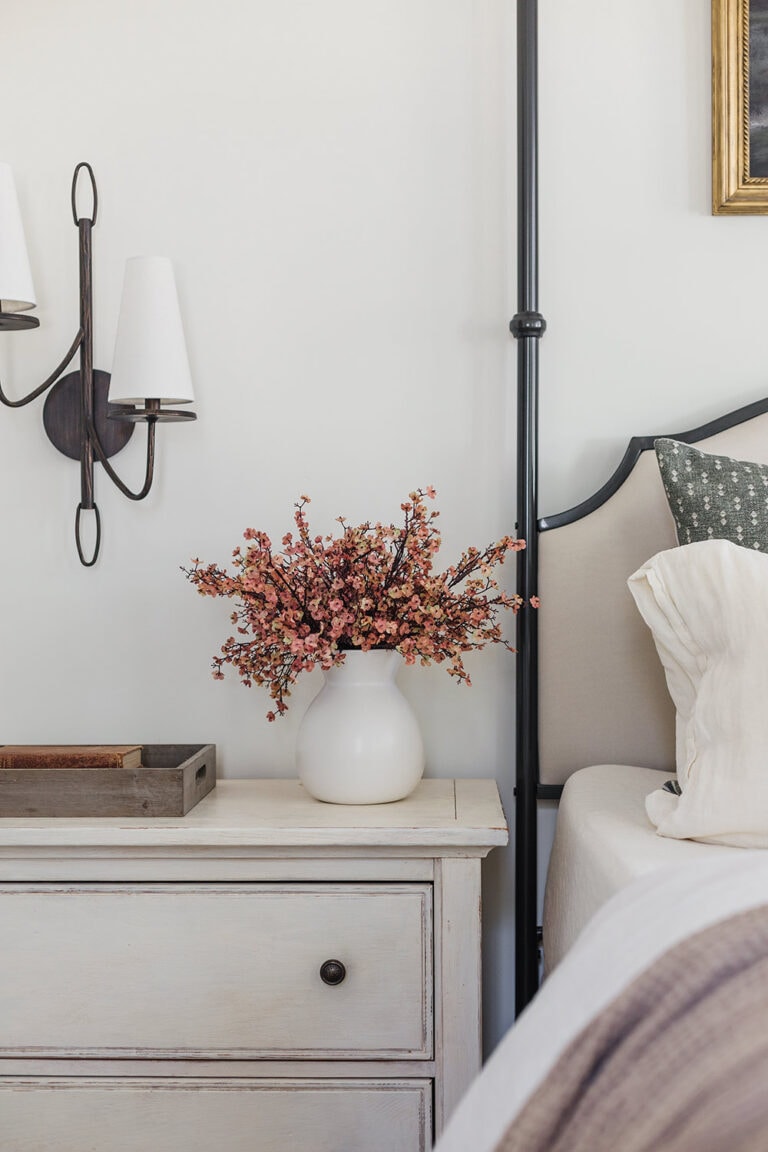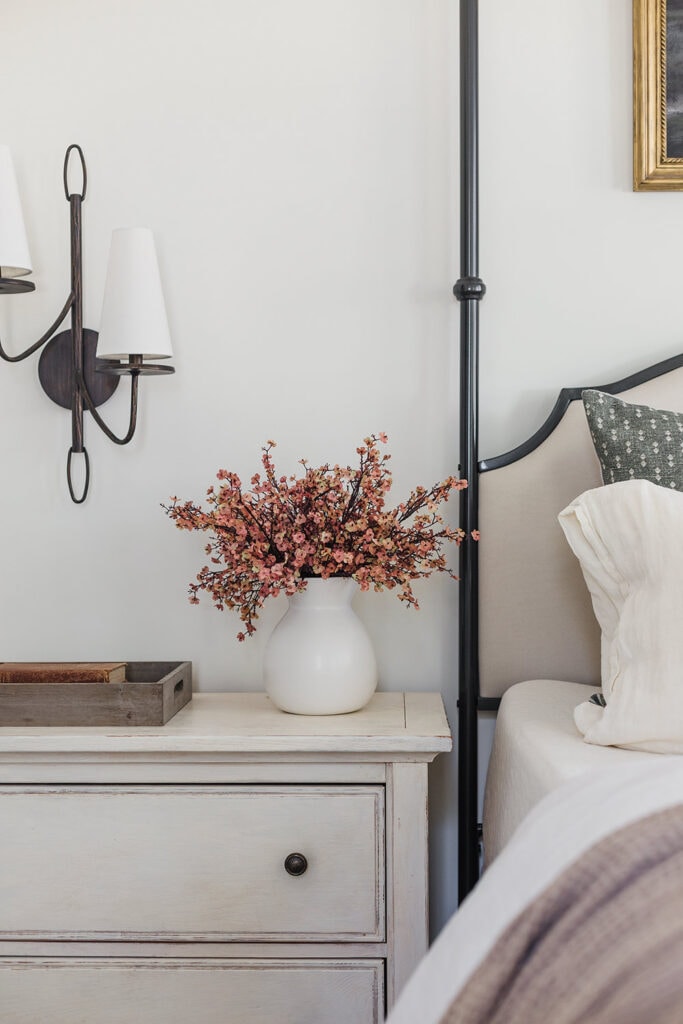 In the arrangement below, I used six stems in white. These look great on display all year long, and at under $3/stem, they have to be my favorite budget floral on this list!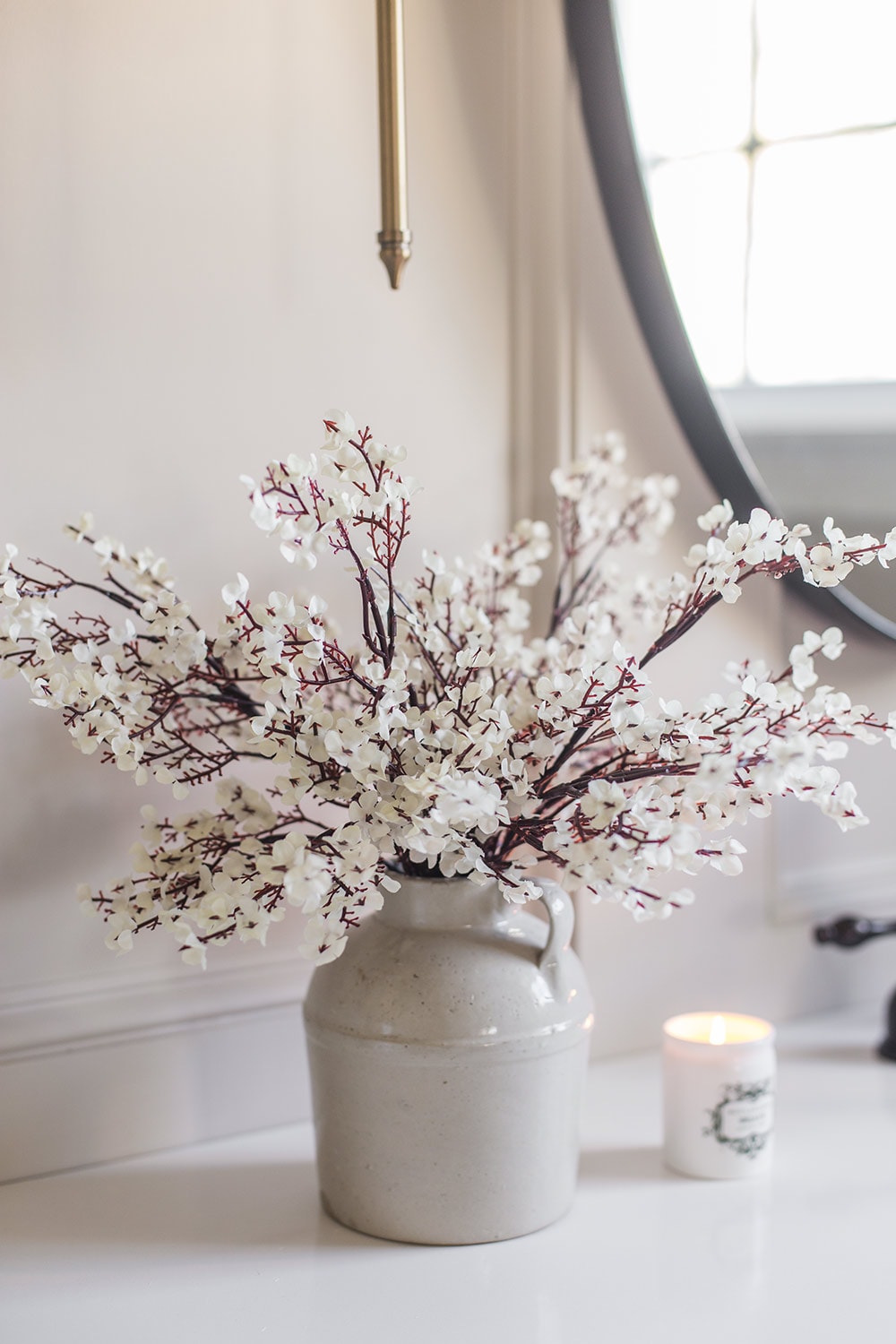 5. Large Eucalyptus spray
These are similar to the popular small leaf eucalyptus spray (same seller on Amazon), but with larger leaves—I prefer these to the aforementioned.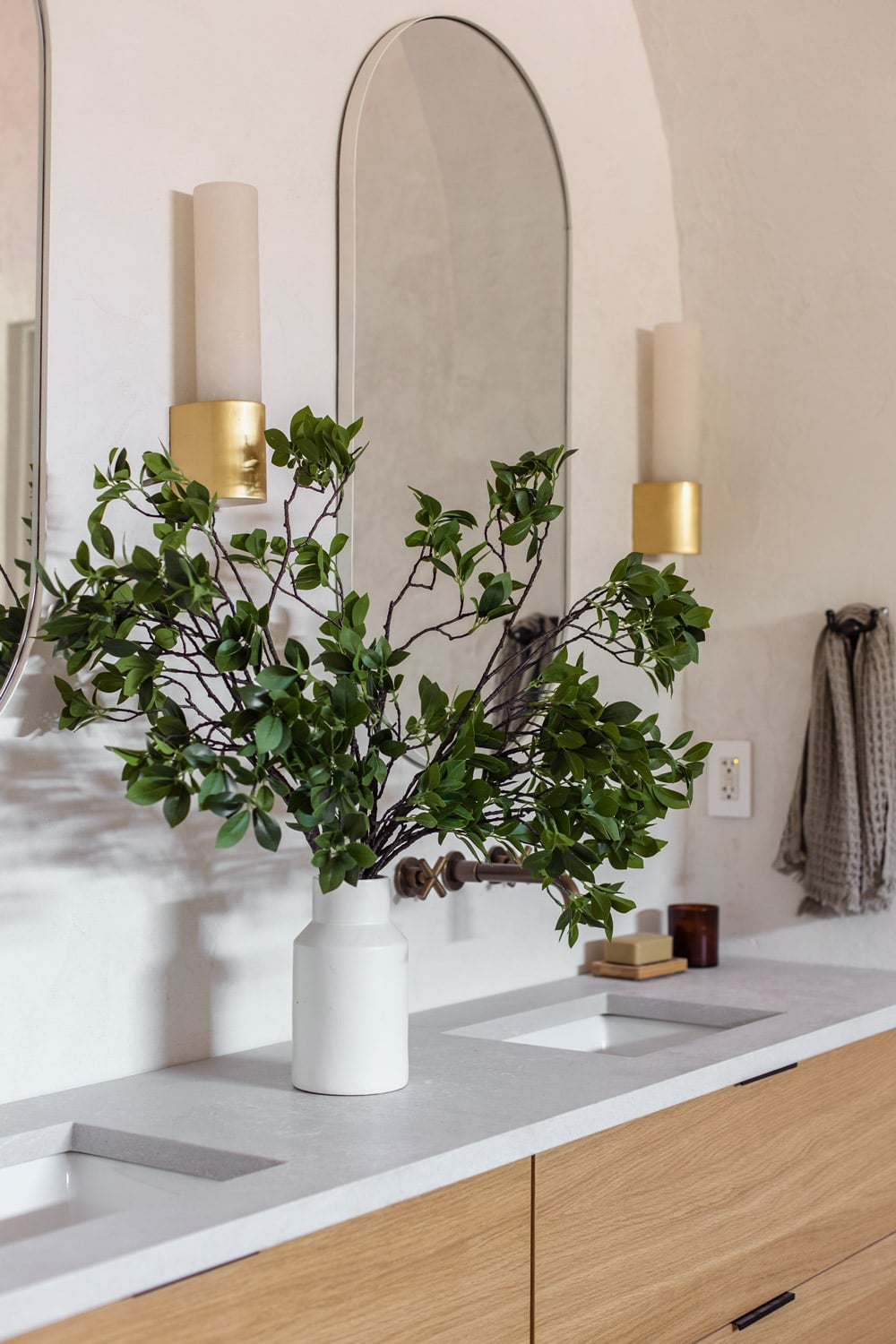 They're also very full and tall at 45″. I used four branches in this 9″ vase, but you could easily display just one, or cut them into sections to get more mileage.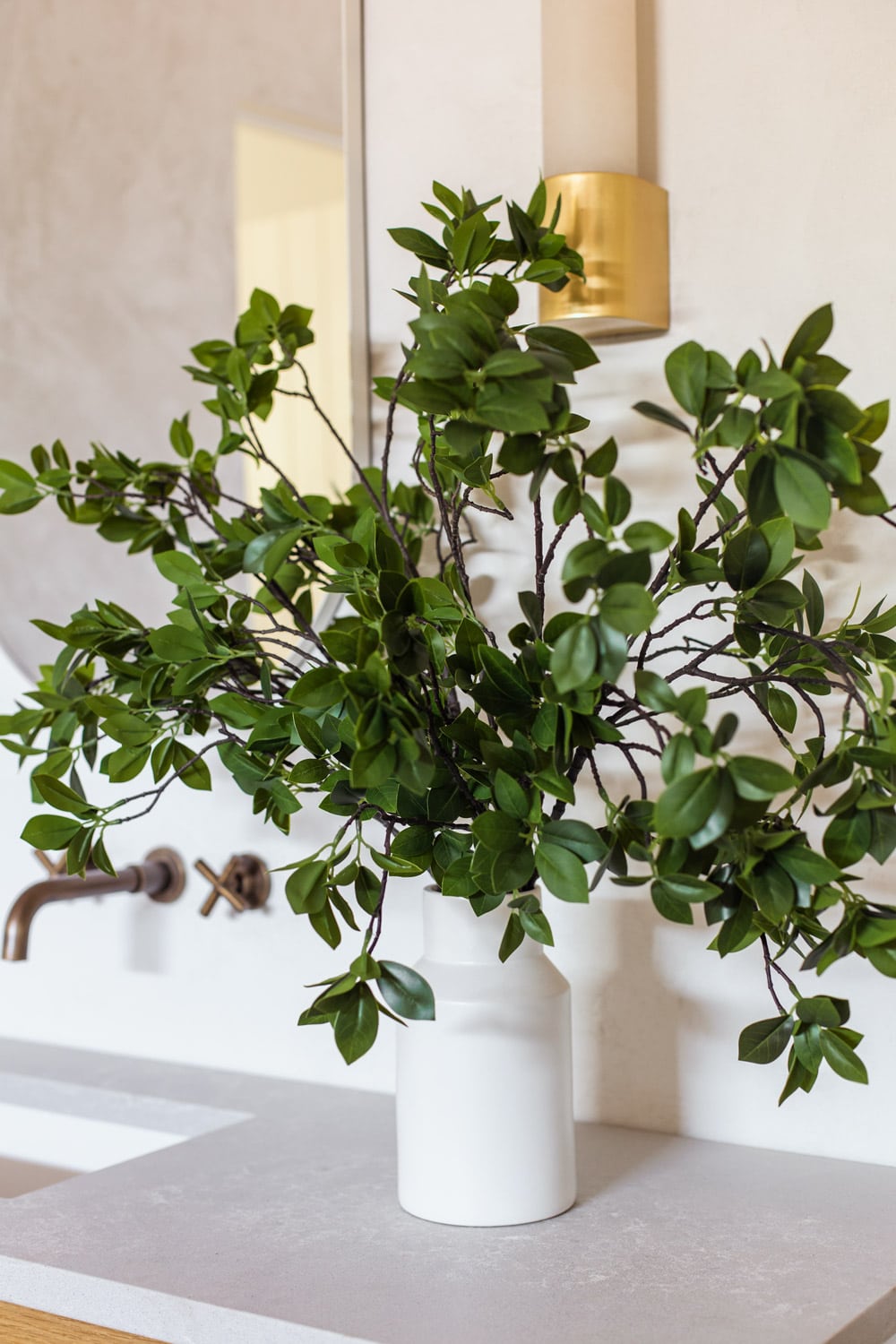 6. Wild Protega
I was drawn to the shape and color of these wild protega—not to mention the price at less than $8/stem (+ 20% off with my discount code!). They look very realistic in person.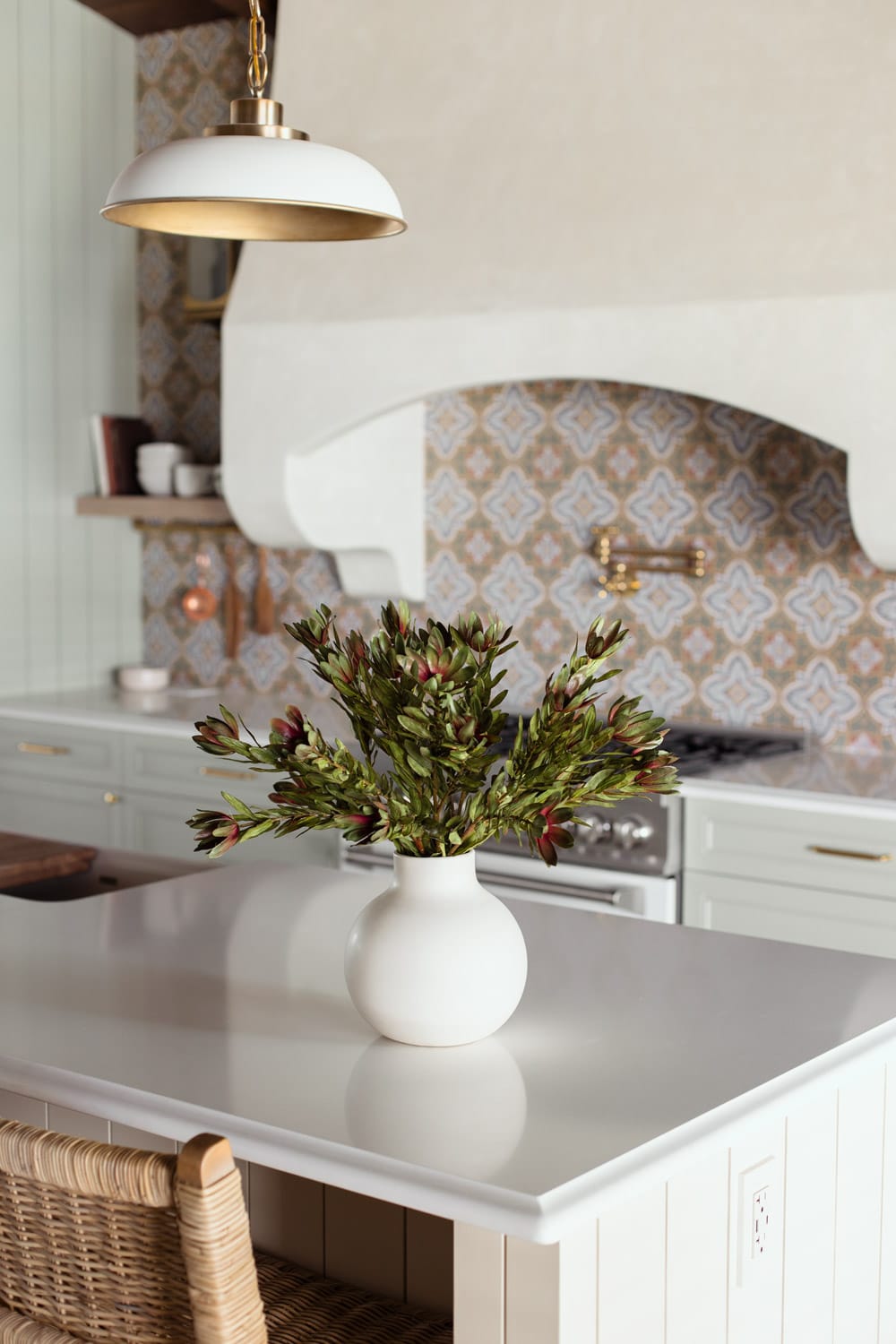 These would also be perfect for fall and winter arrangements—I could see them used on a holiday tablescape! I used seven stems in this ceramic vase below.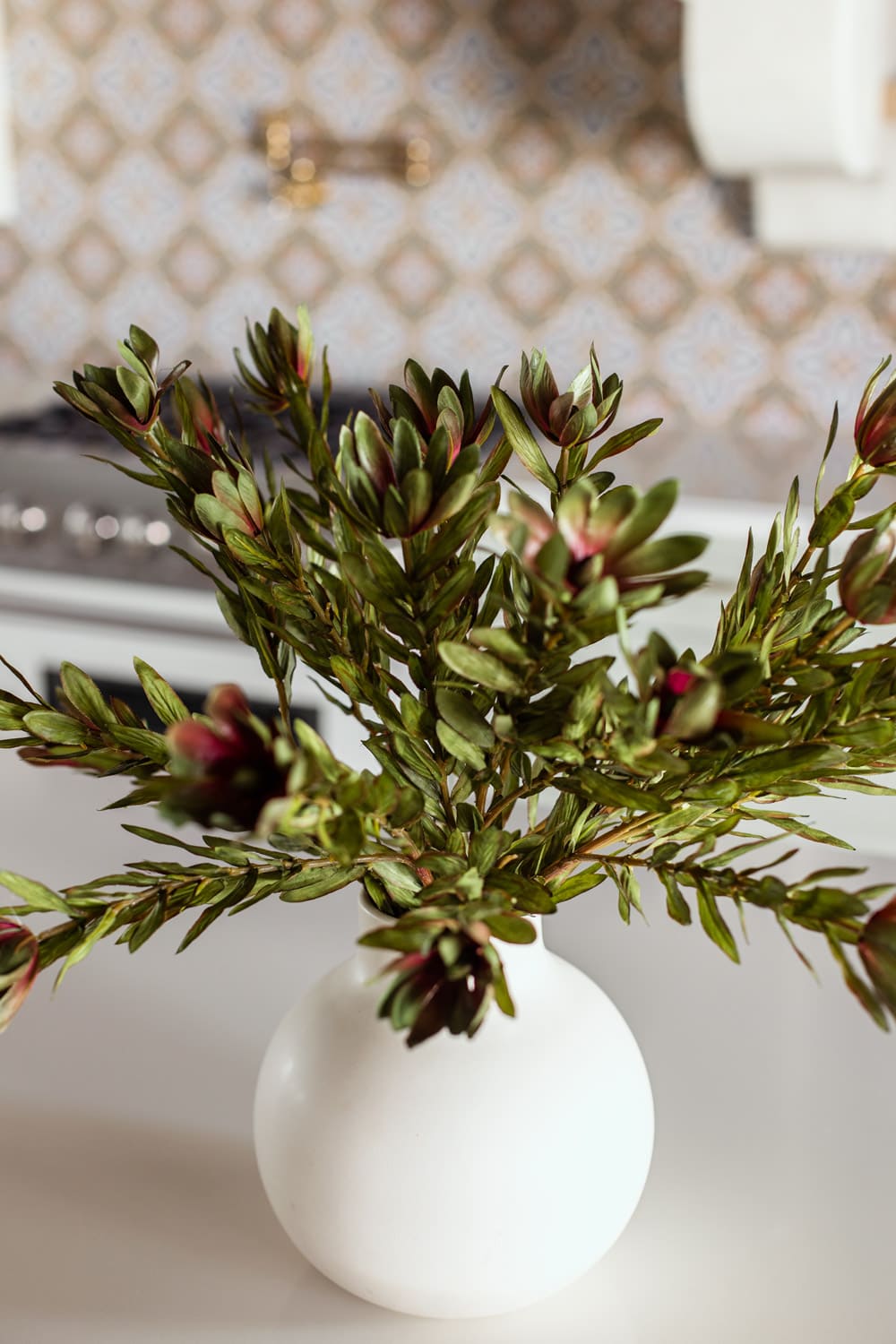 7. Small Leaf Eucalyptus spray
These are a well-known favorite on social media, and the 43″ length make them versatile to use in almost any vase.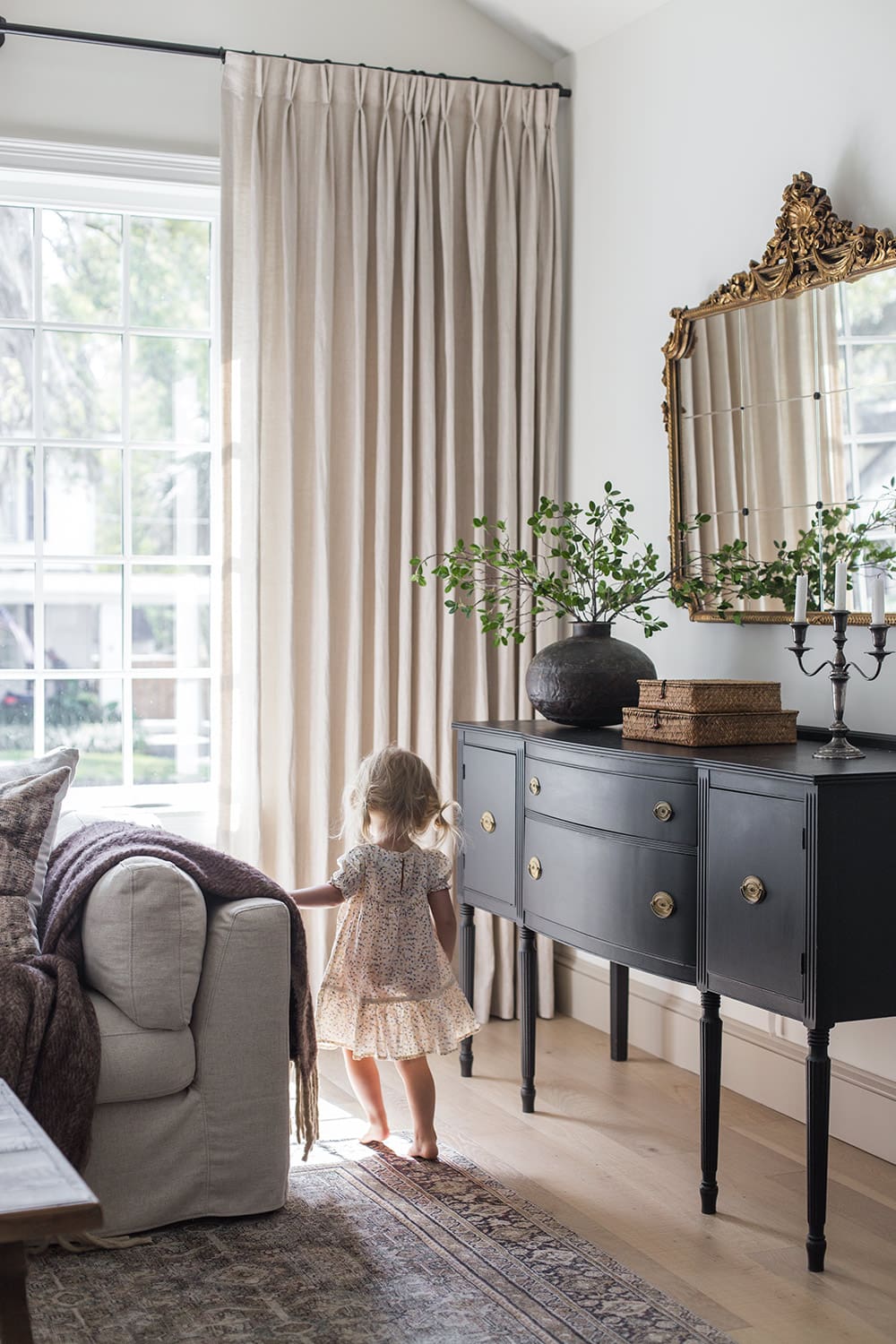 The leaf coloring isn't as realistic as others on this list, but the branches are and they look nice from afar. They also work well for a minimalistic arrangement—shown below with three stems in our Modern Mediterranean bedroom.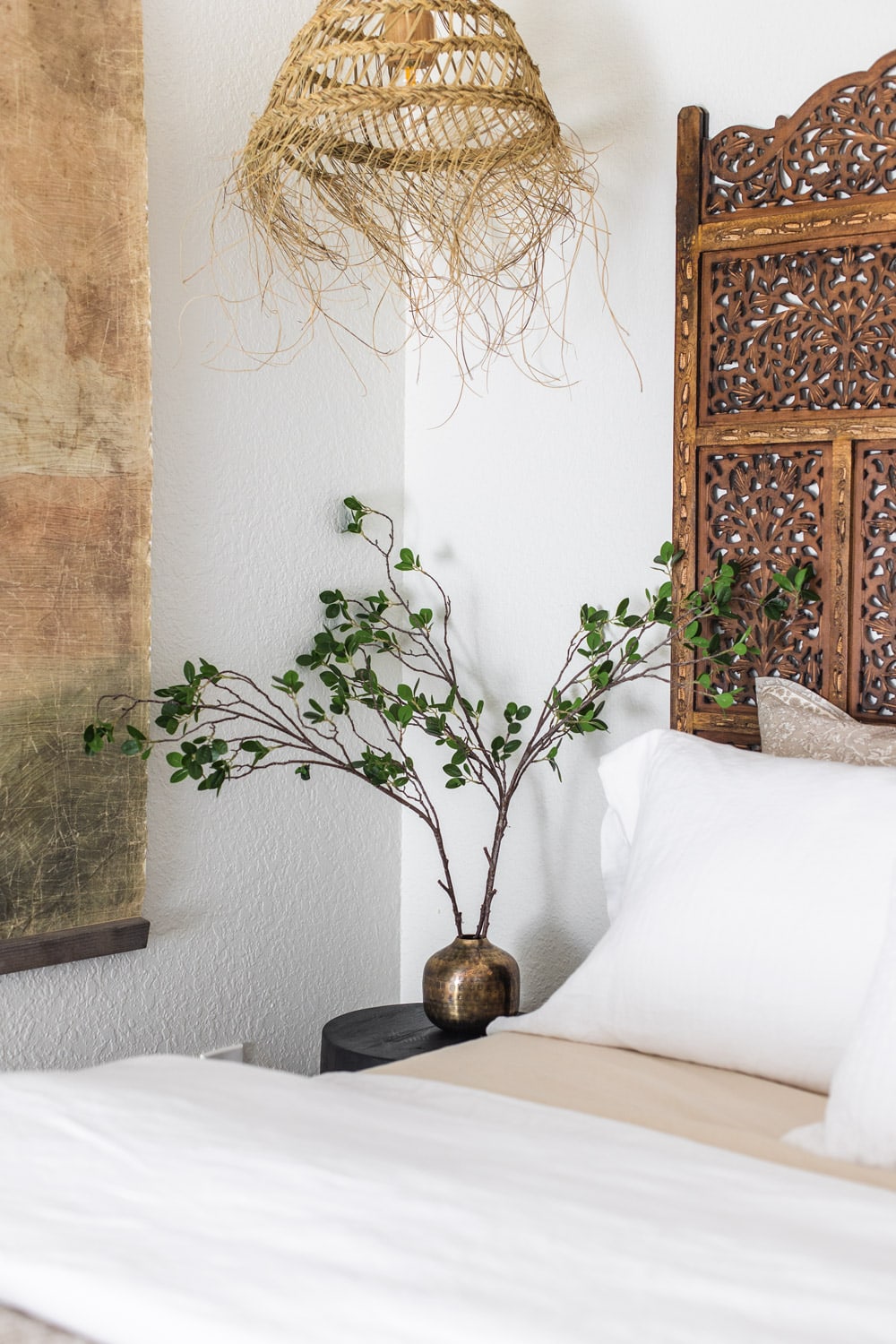 8. Mini Wandering Jew pick
I was drawn to the pretty plum coloring, realistic variegated leaves and price point of these—only $3.55/stem (plus 20% off right now!)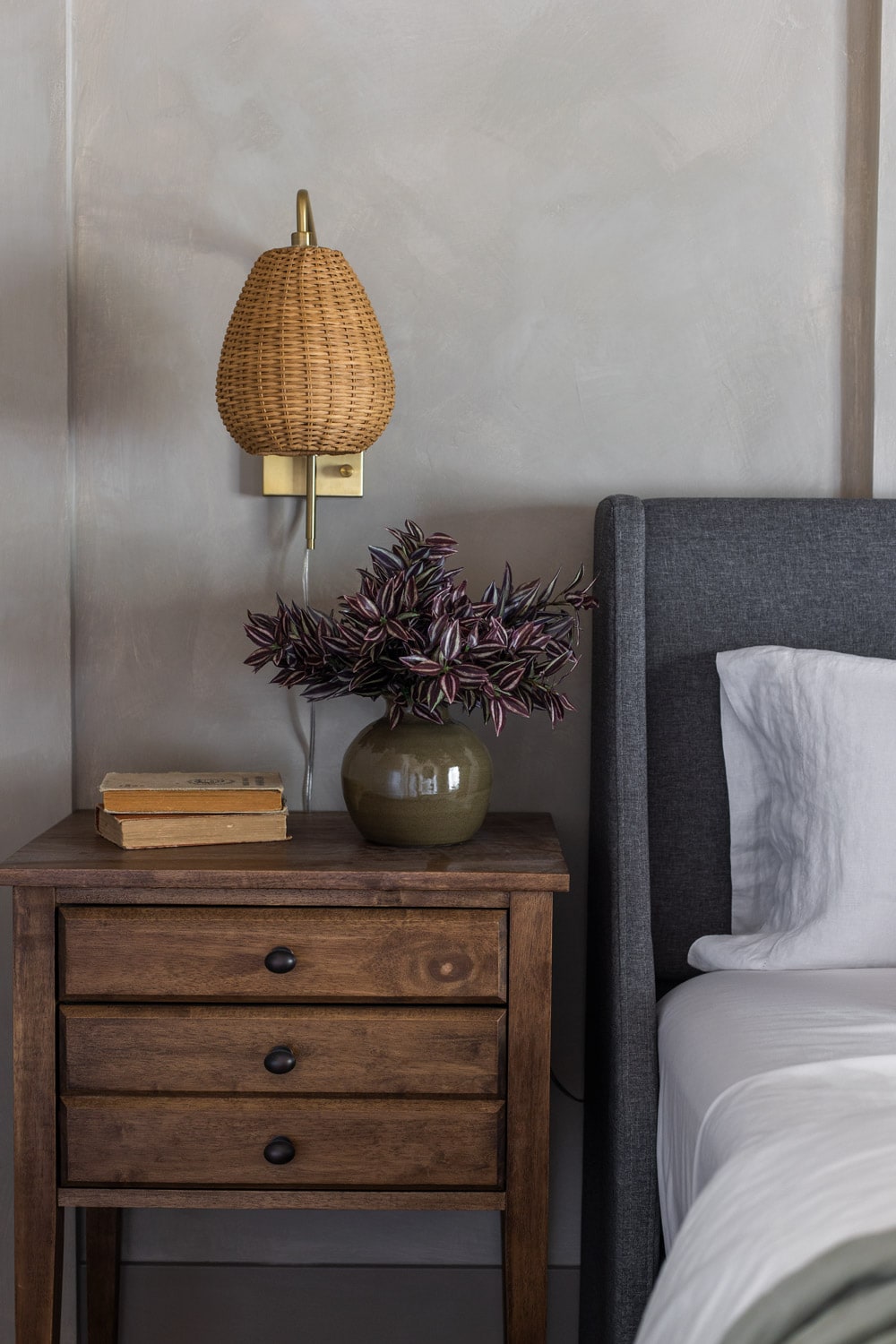 These are a great way to add a rich pop of color to a night stand, bathroom, kitchen or shelf. Shown below with 11 stems in this green glazed vase.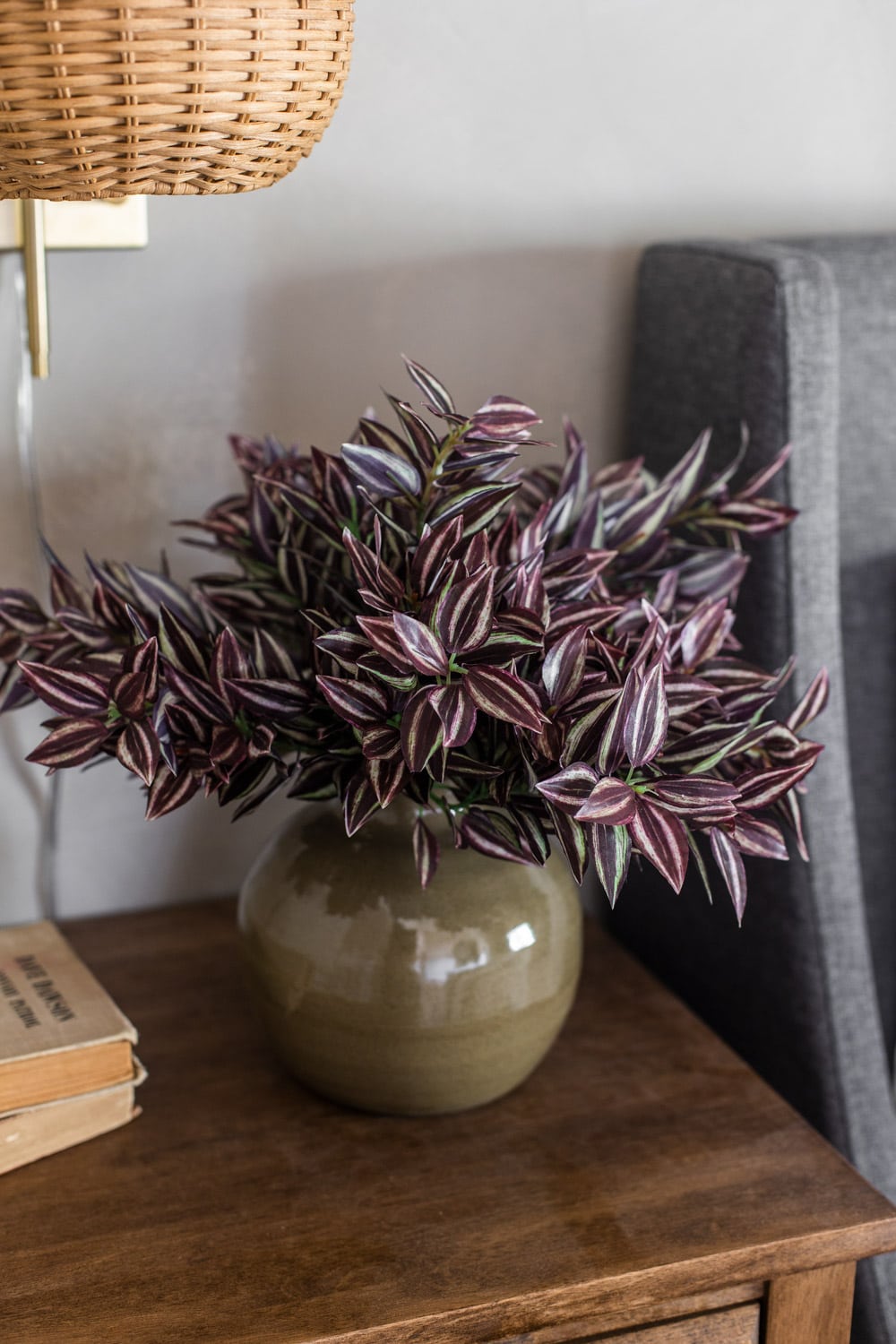 9. Purple Eucalyptus stem
These small eucalyptus bundles are a great budget find, and I love the touch of purple for spring (note: they are not as purple in real life as shown in the product photos!) I also found these eucalyptus stems, which are longer and a true purple. I have them in burgundy and love them!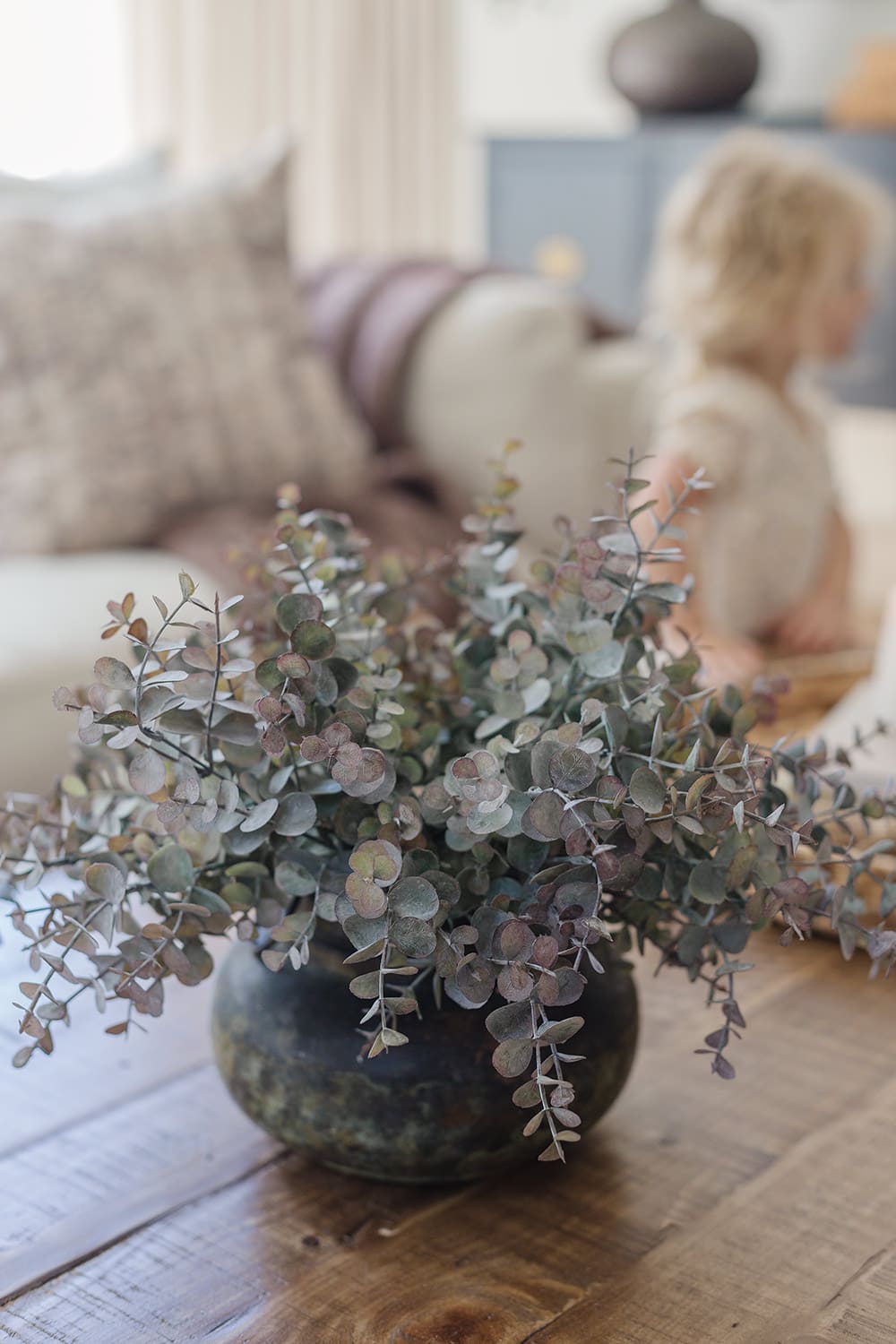 They look very realistic, and will fill out a short vase or small planter nicely. I used two bundles in an old thrifted vase.

10. Lavender Lilac Flower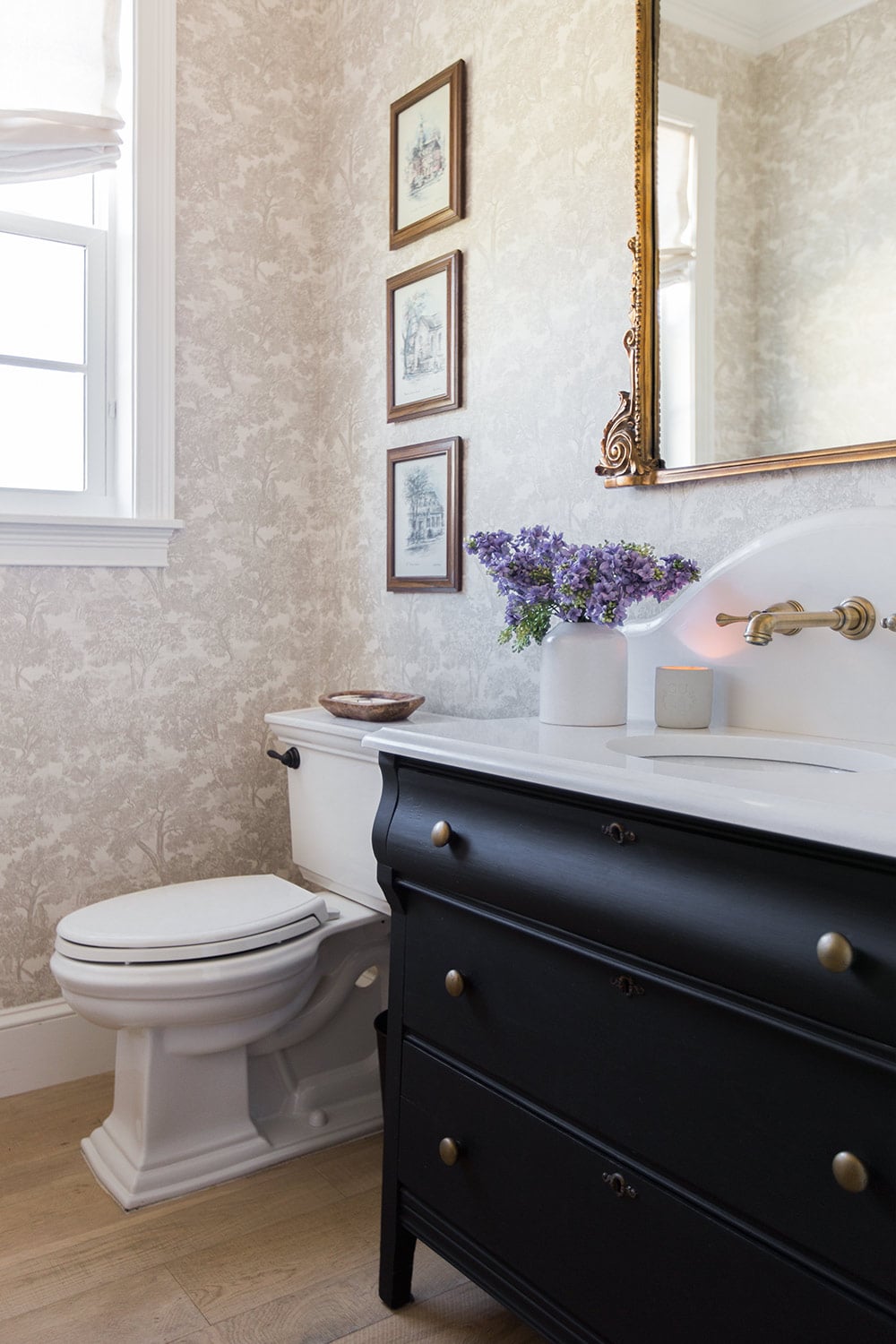 For a hit of spring color, you can't go wrong with these beautiful purple lilac stems. They're very easy to mold and shape into place, allowing you to get the perfect arrangement.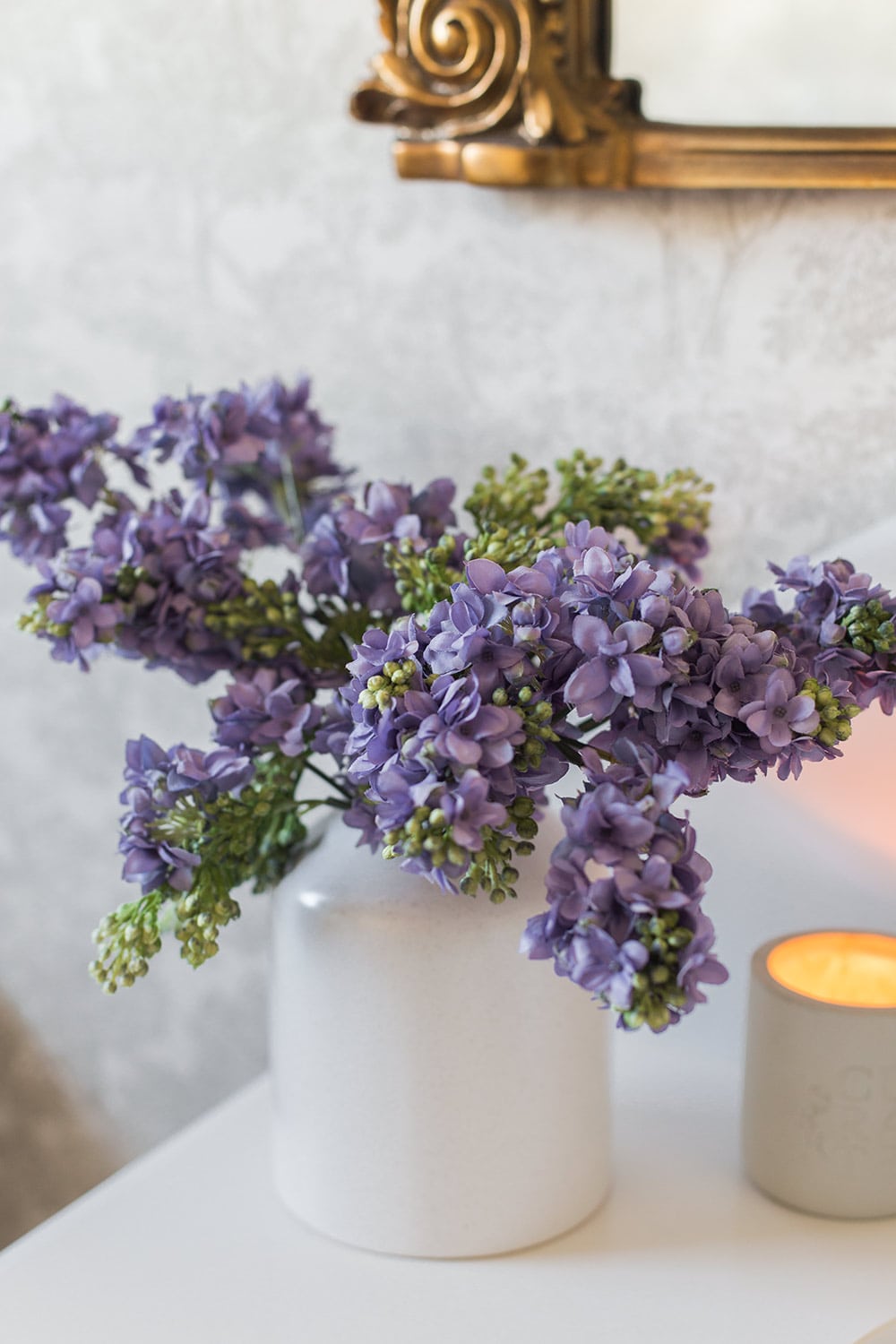 I used six stems in this speckled cylinder vase, but I'd recommend ordering at least eight for a fuller arrangement.
11. Seeded Eucalyptus Stem
I love the delicate simplicity of these seeded eucalyptus stems. They can easily transition from winter into spring and summer.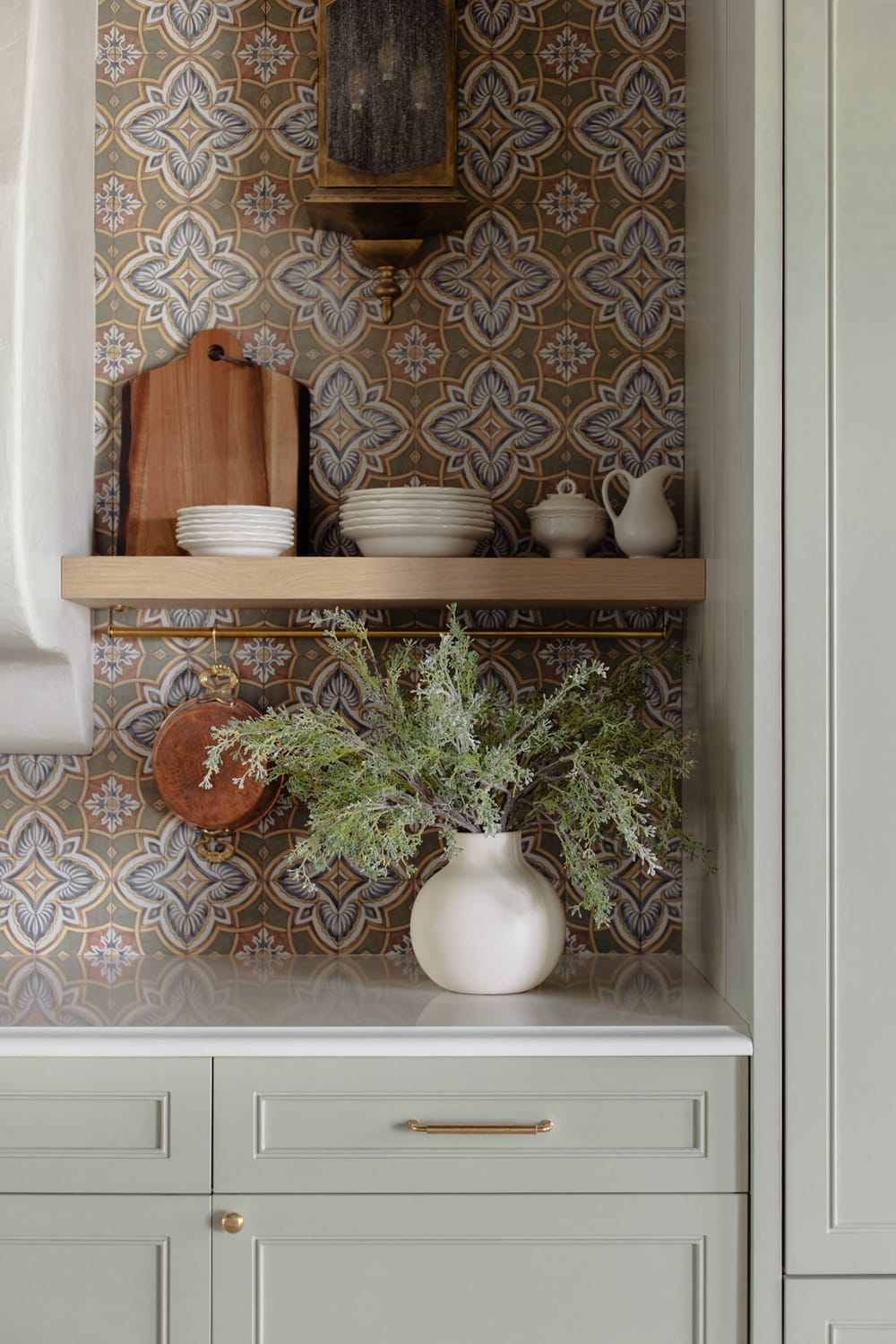 You can get this look with 7 stems in this ceramic vase.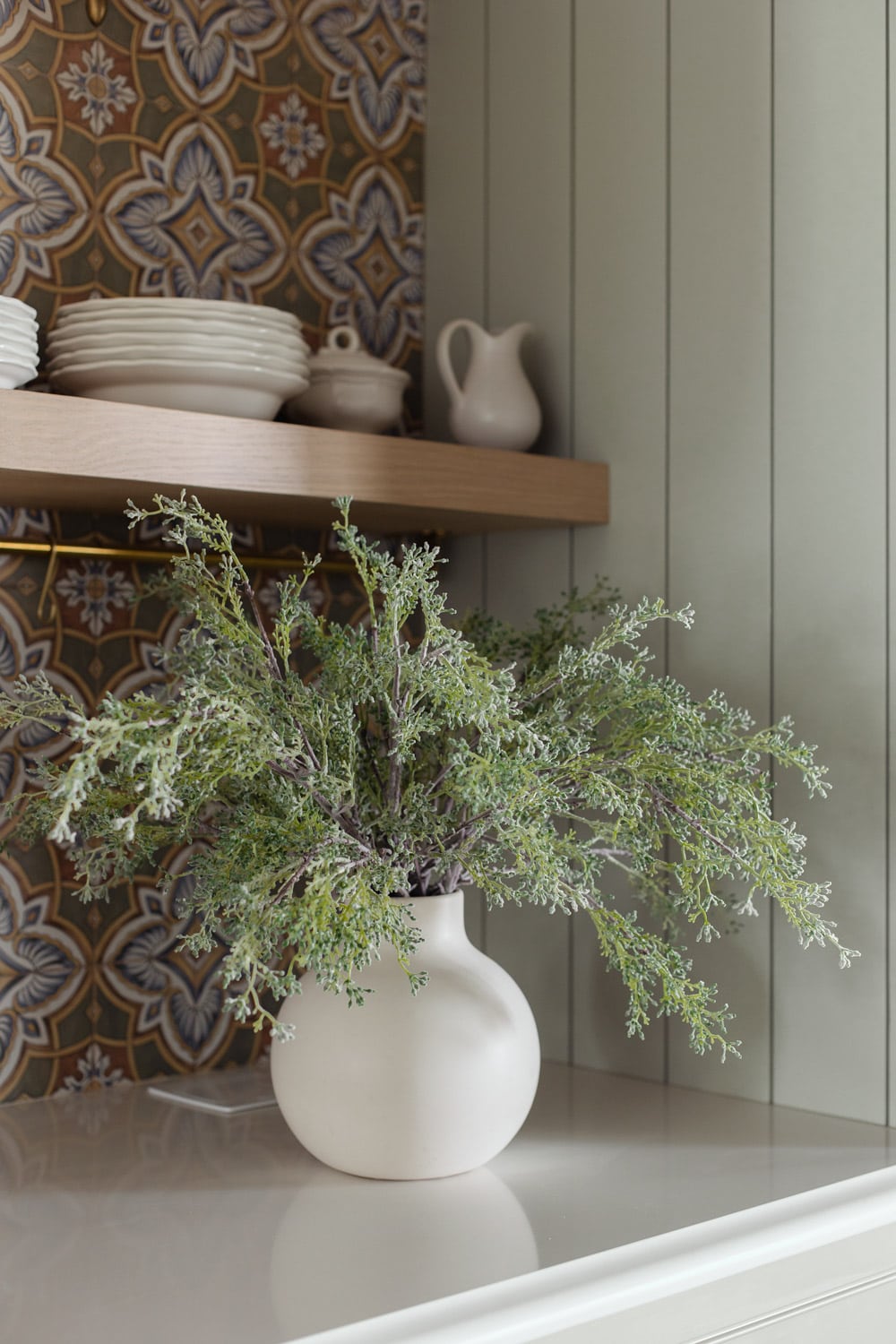 12. Magnolia Flower Branch
These magnolia branches are extra large and extremely realistic up close. Make a statement by displaying them in a larger space like a kitchen or dining room, or cut them down for a smaller arrangement in a bedroom/bathroom.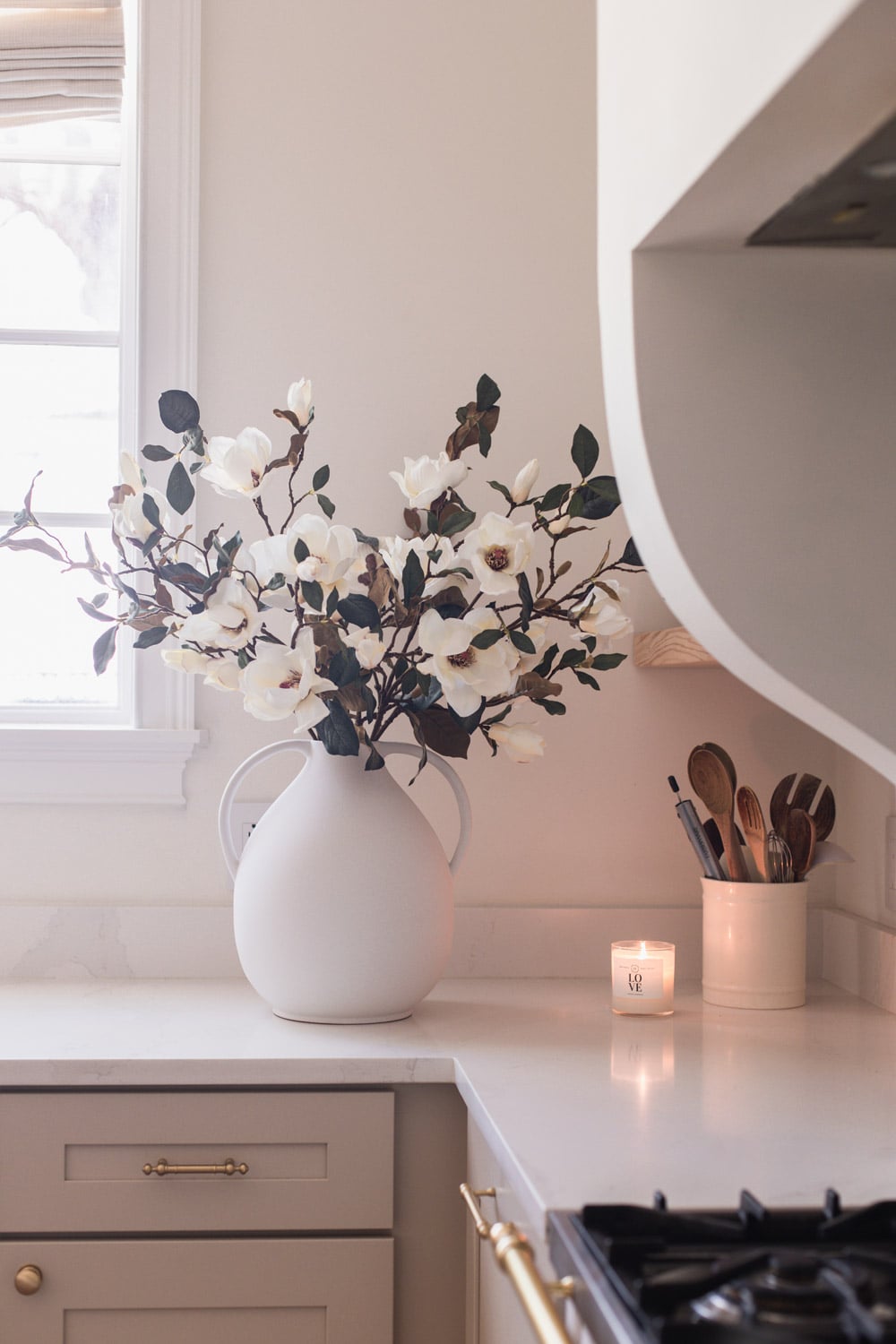 I used 7 stems in this large 14″ jug vase.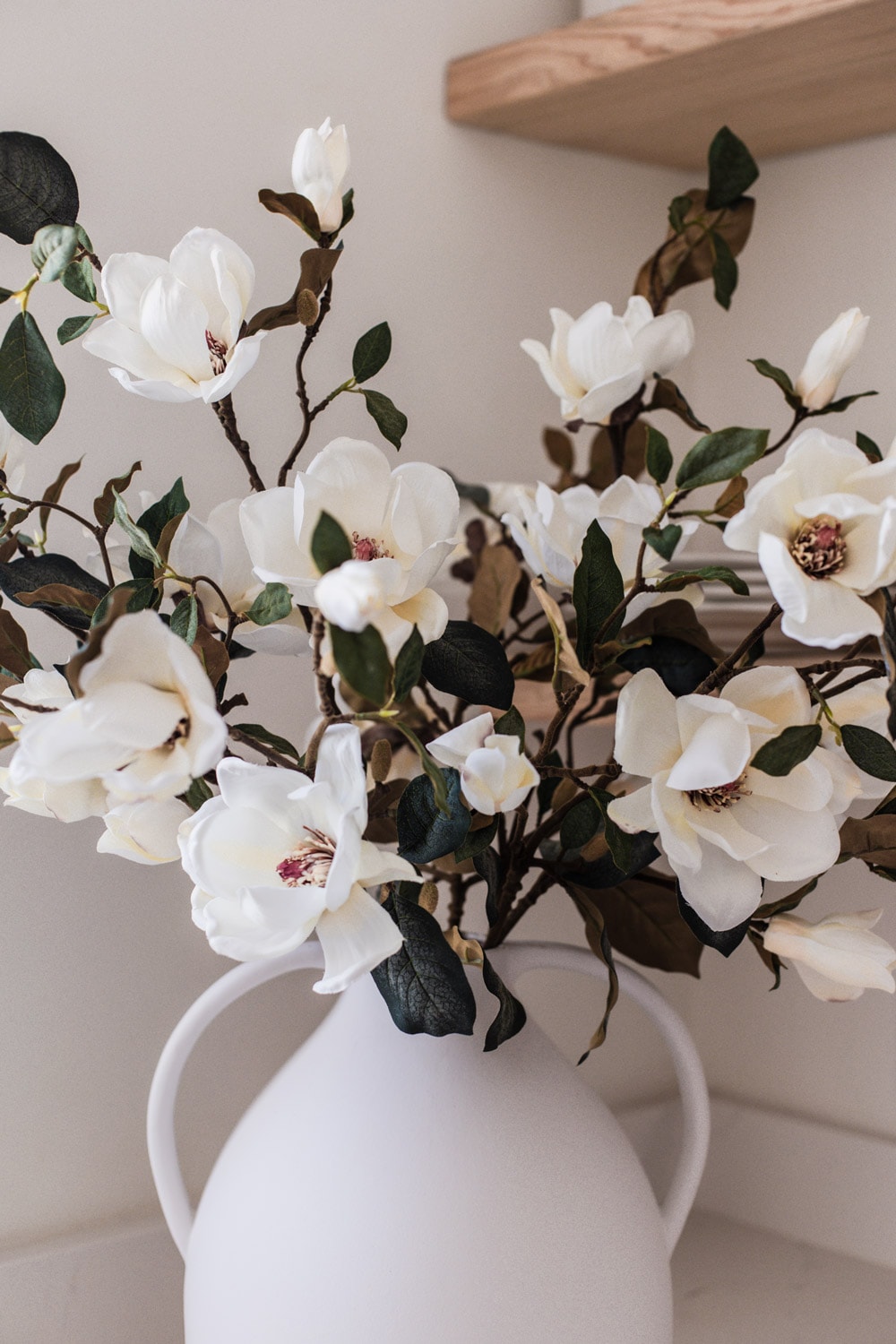 13. Cream Lilac Flower
These appear to be the same product as the purple lilac flower, but with an ivory/pink coloring. I think they're the most realistic looking floral, and my favorite to style.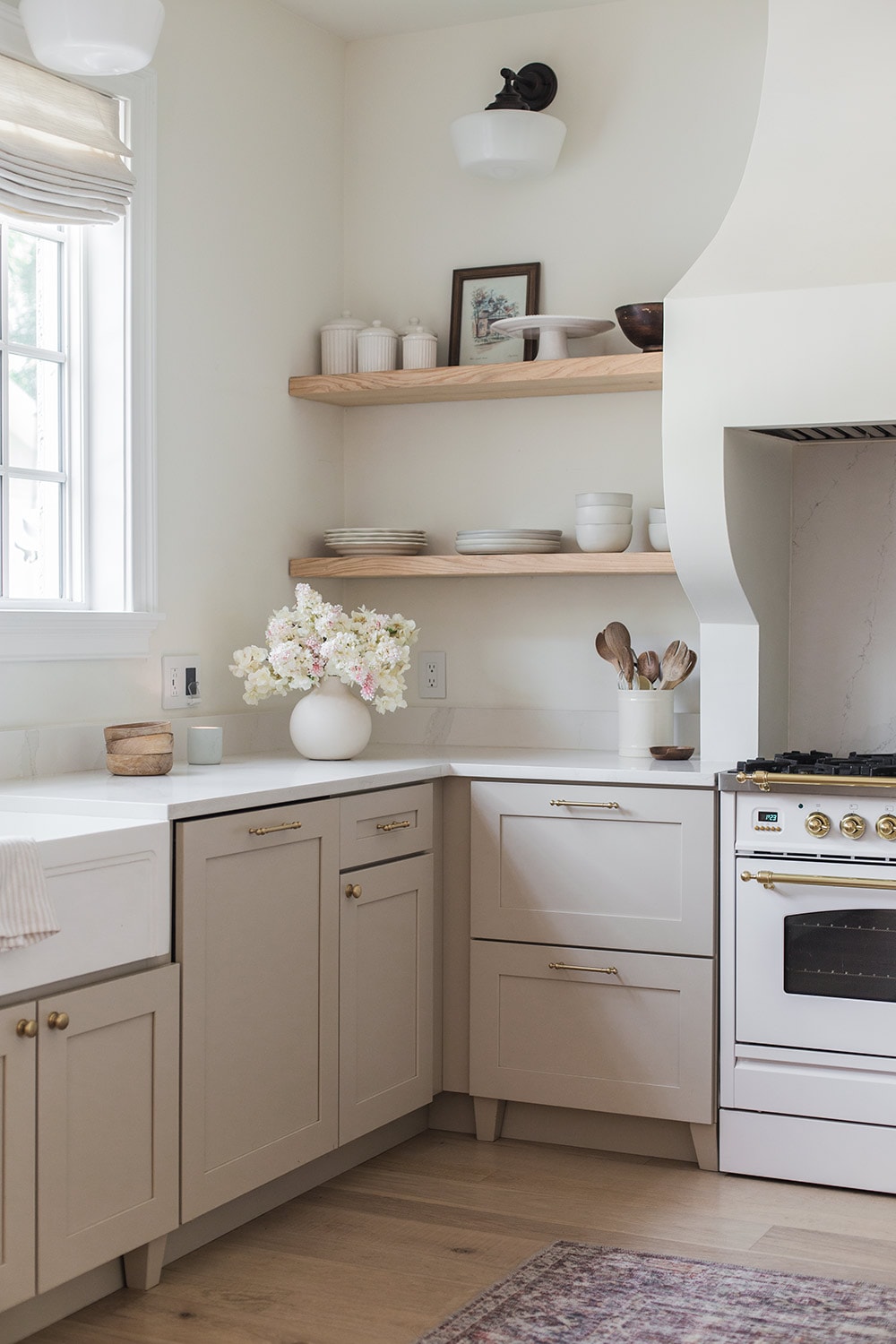 They're on the small side, so I'd recommend ordering at least eight for a fuller arrangement. I only had six, so I mixed them with a few faux cherry blossoms in this round ceramic vase.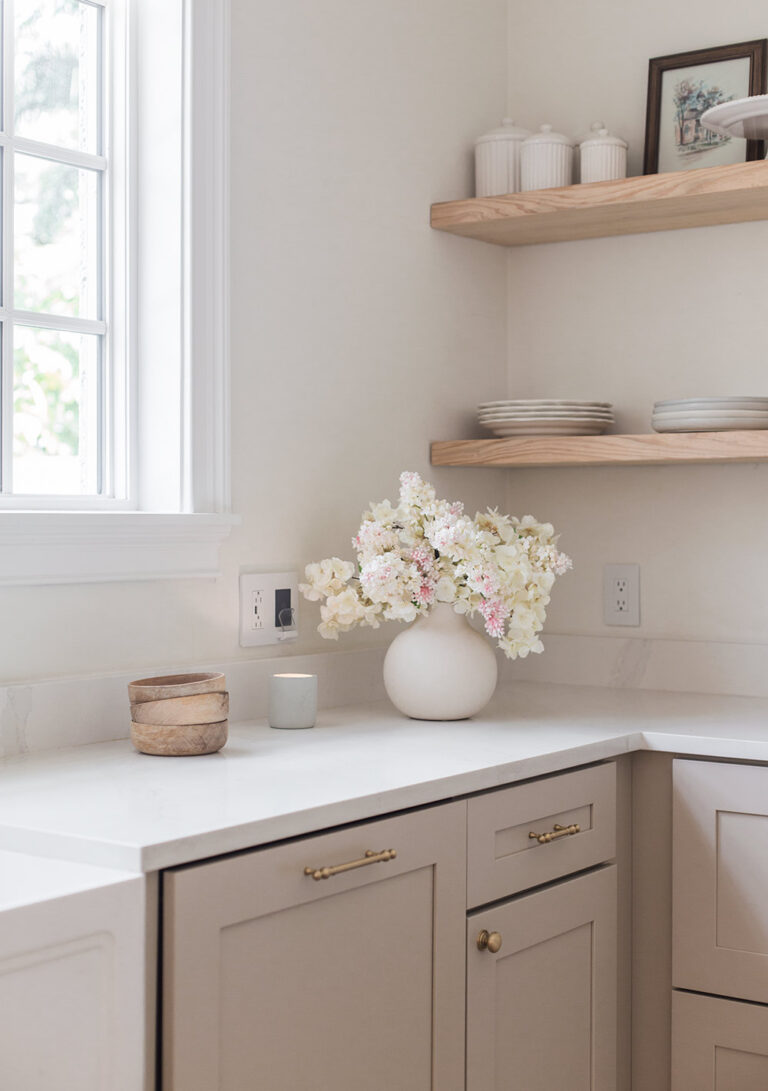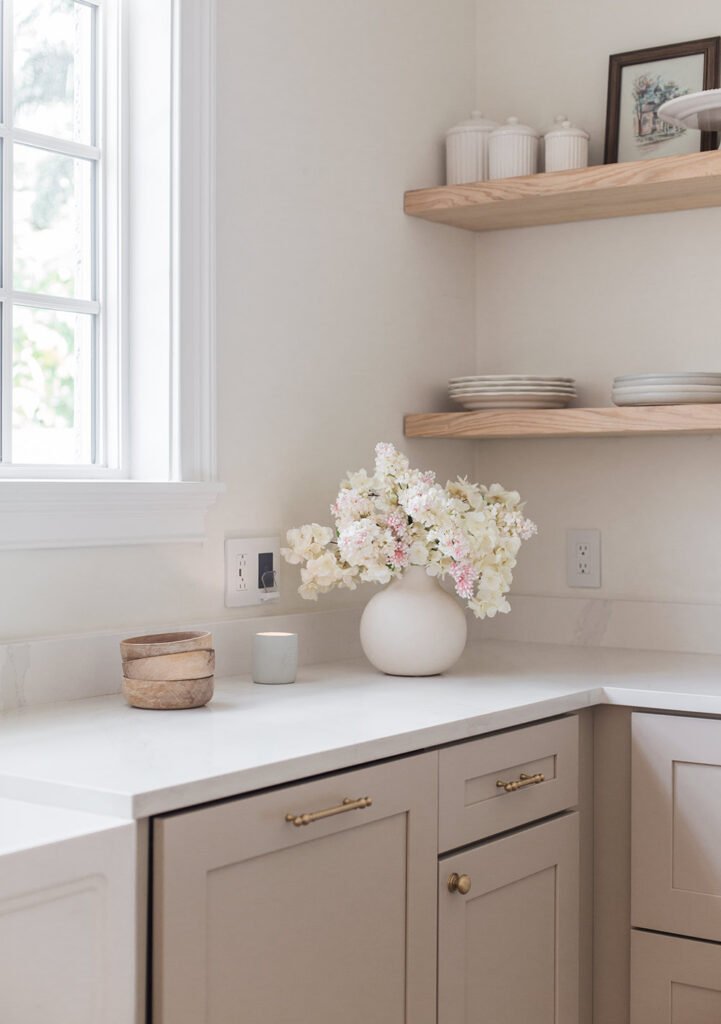 14. Silver Dollar Eucalyptus
These large eucalyptus stems are in the running for one of the most realistic up close. They're also very easy to shape for different arrangements.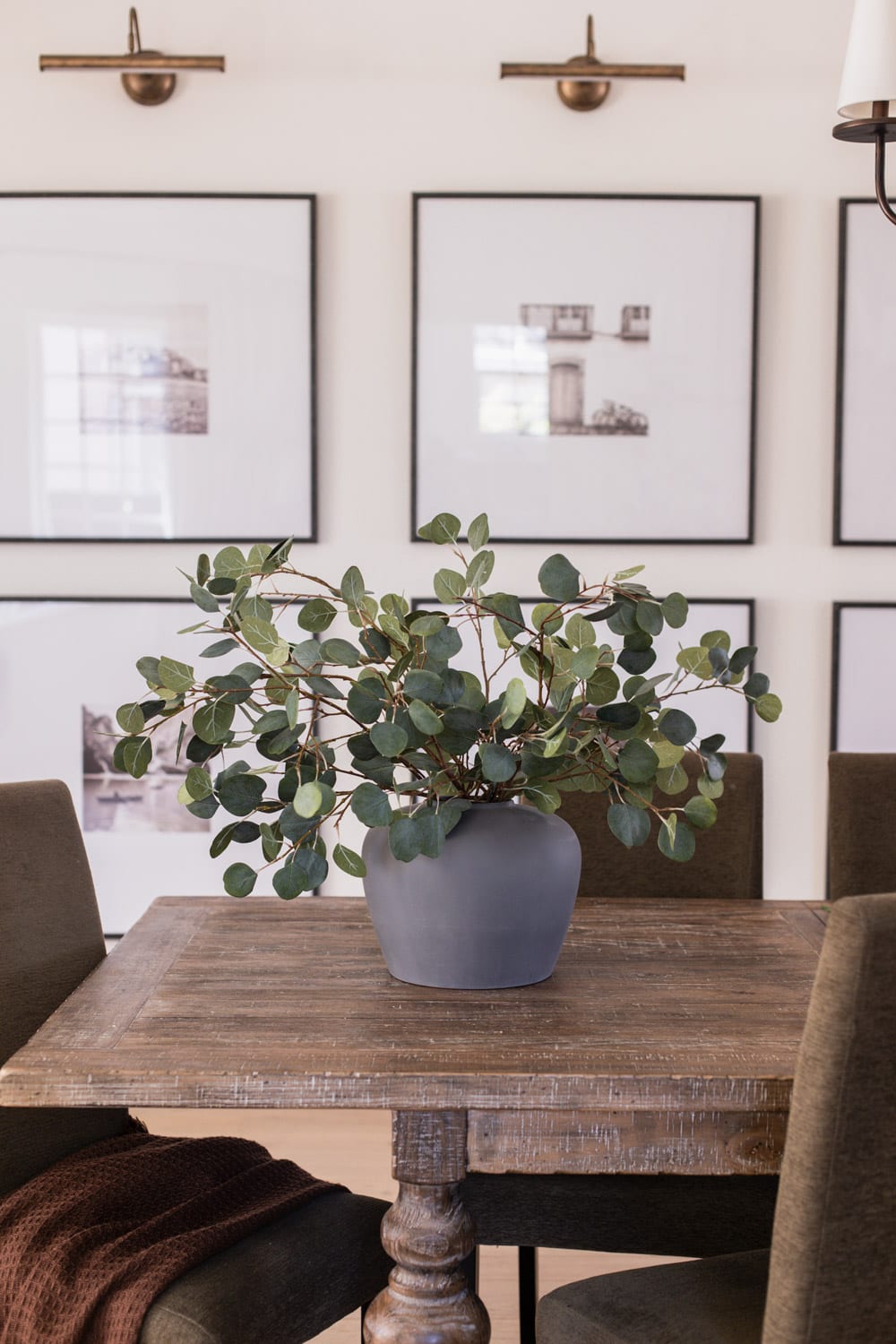 I displayed five stems in this large clay vase.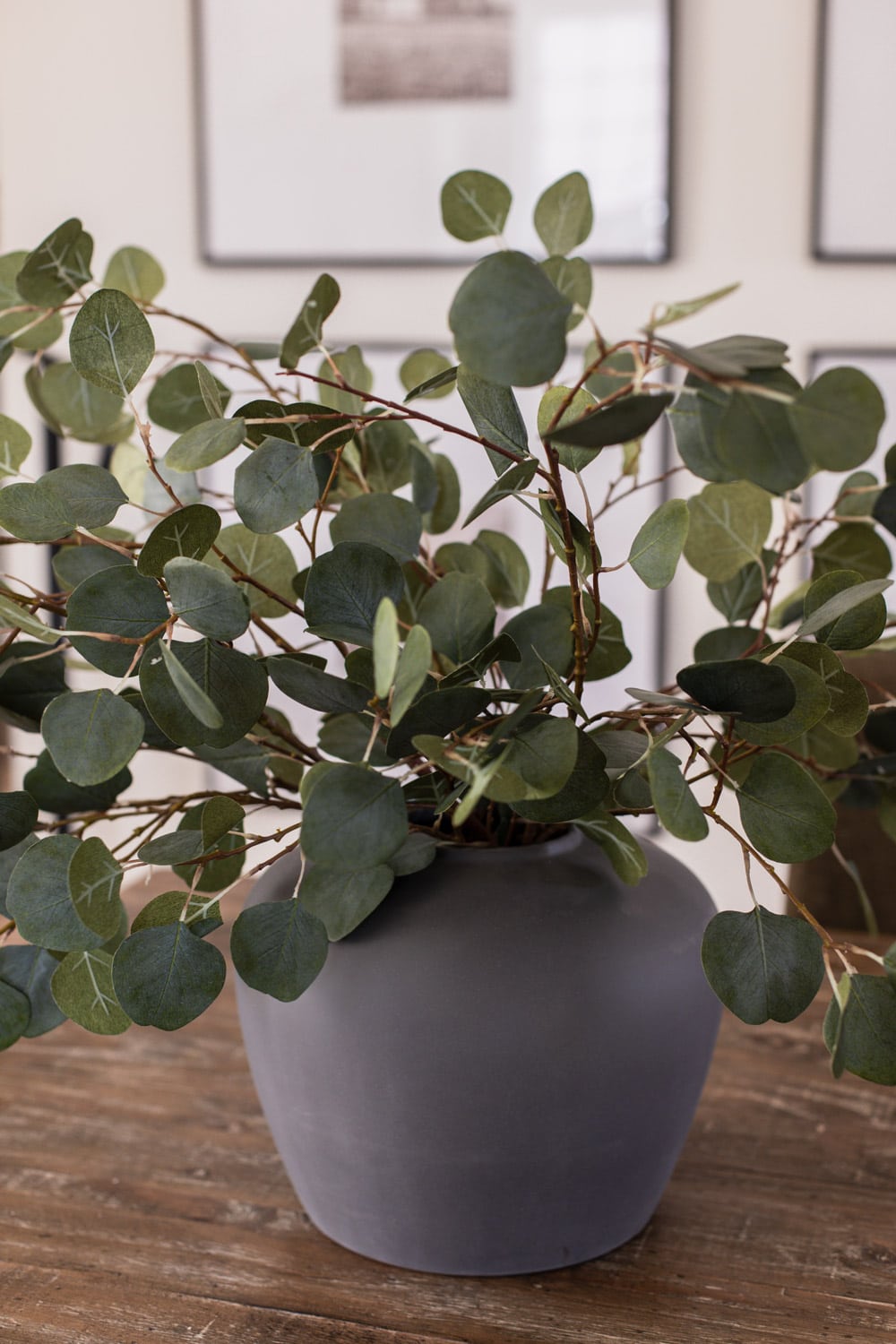 15. Real touch White Anemone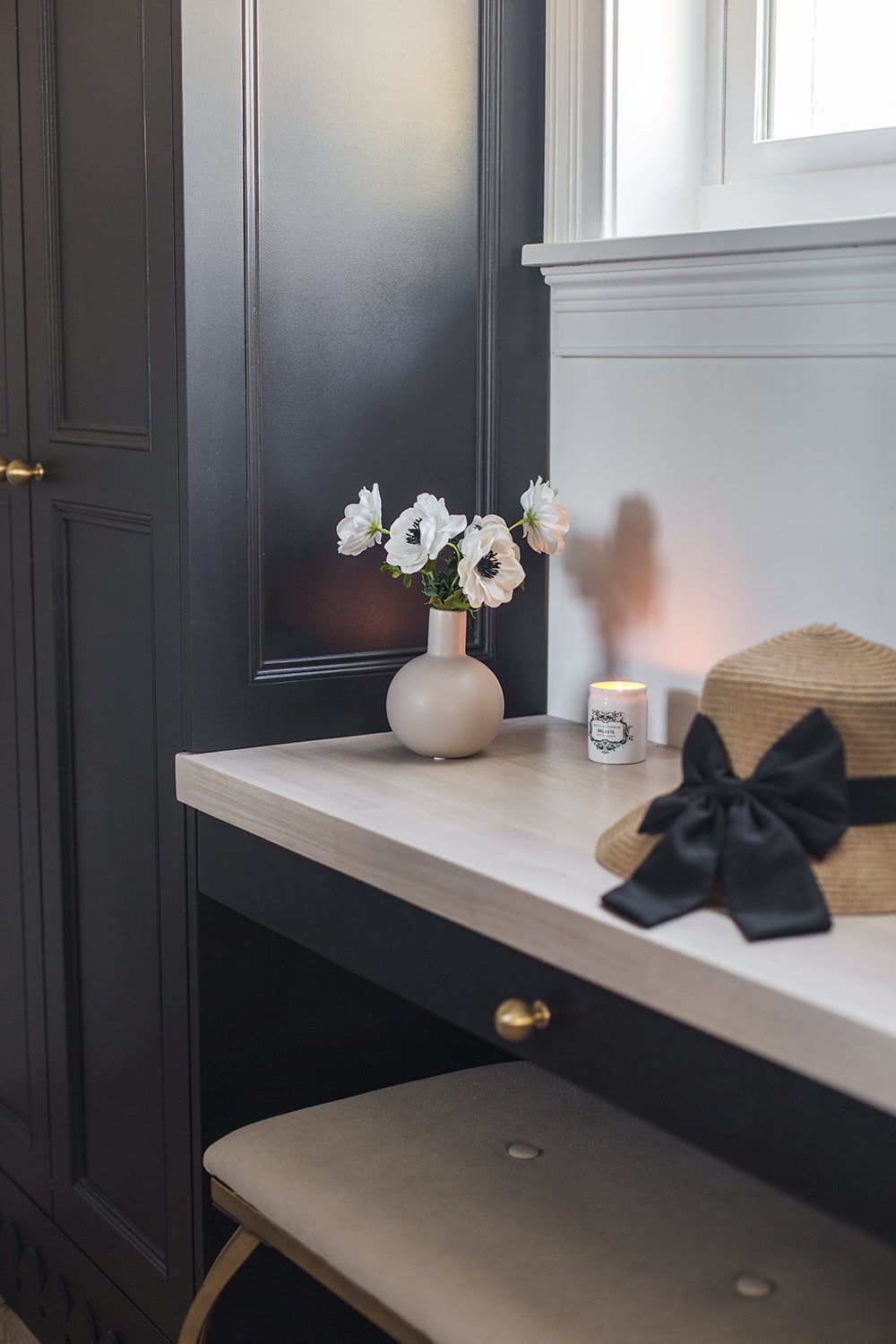 This small, delicate flower feels real to the touch, and is perfect for a small space (ie a vanity, desk or night stand).
I love the way it looks here in our closet nook, in this simple mini bud vase.

16. Gypsophila in vase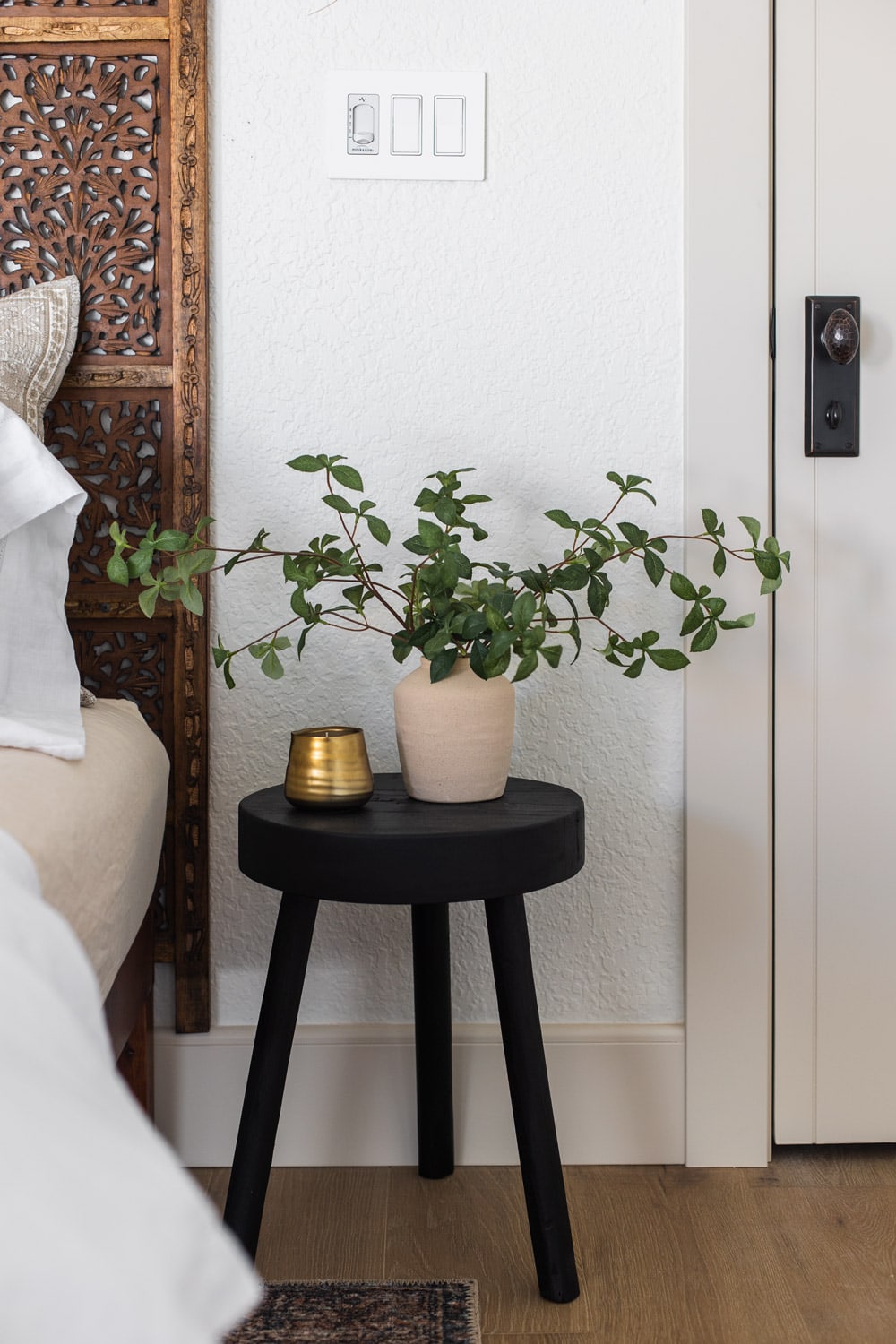 So this one is actually a pre-made arrangement in a vase, but I had to include it on this list! I recently purchased it (in medium) for our Modern Moroccan Bedroom makeover and am very happy with it.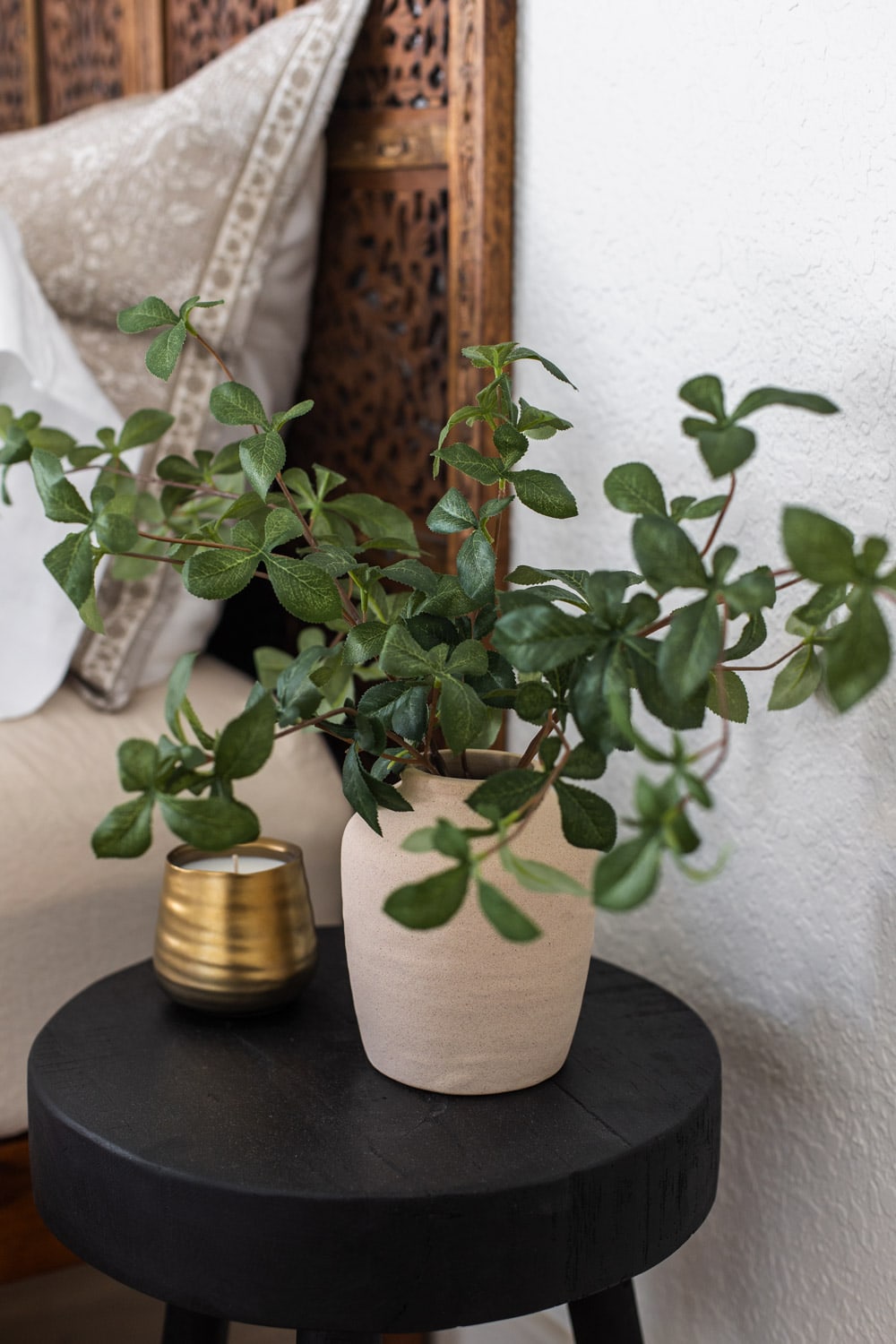 The product photos don't do it justice IMO—it looks more realistic in person than online. Display it on a night stand, a countertop or a shelf. Very versatile and a great find for the price!

17. Large Cherry Blossom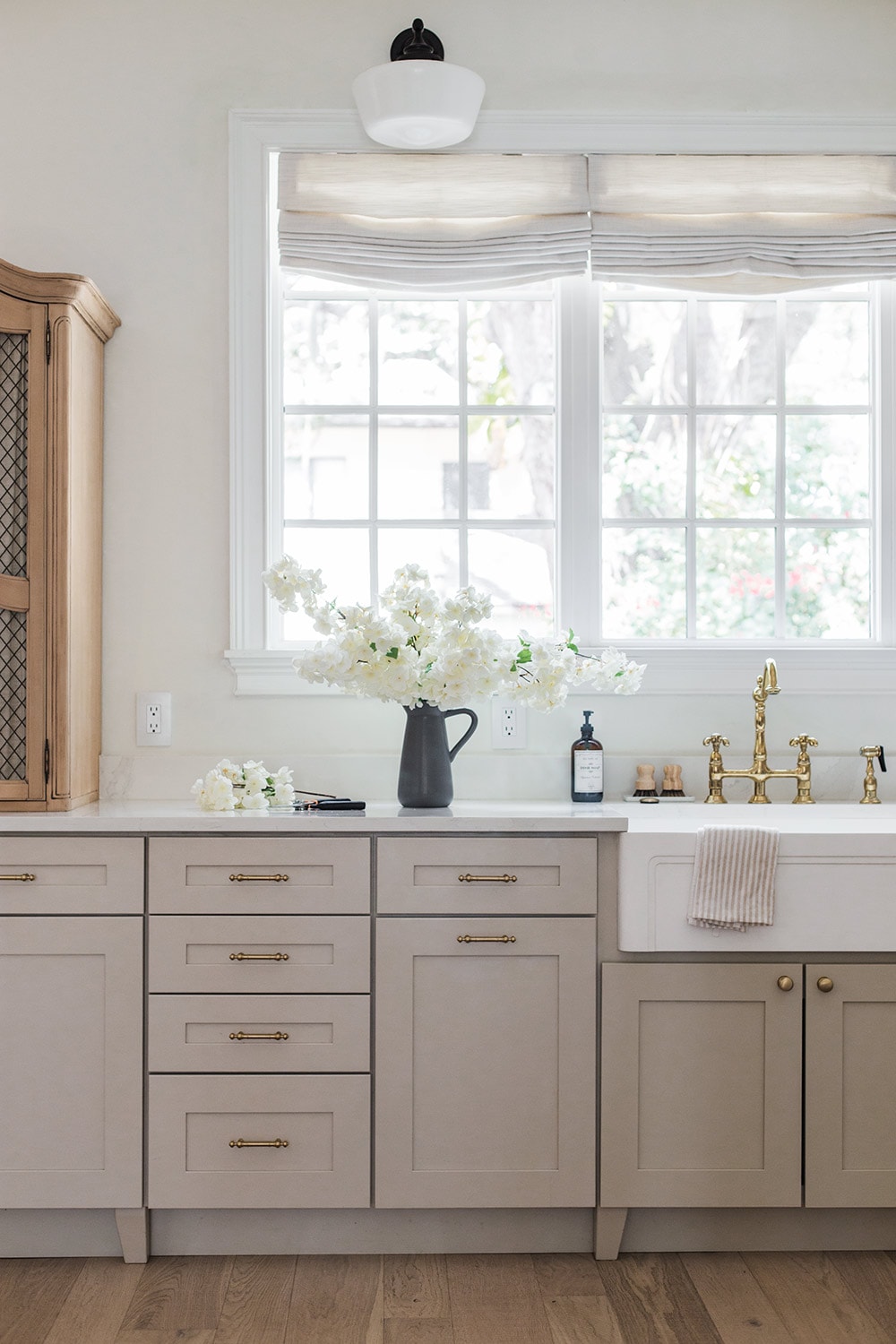 These extra long stems make a dramatic impression in open spaces (think dining table, kitchen, foyer). Cherry blossoms are synonymous with spring, and you can find them starting to bloom all over the world this month.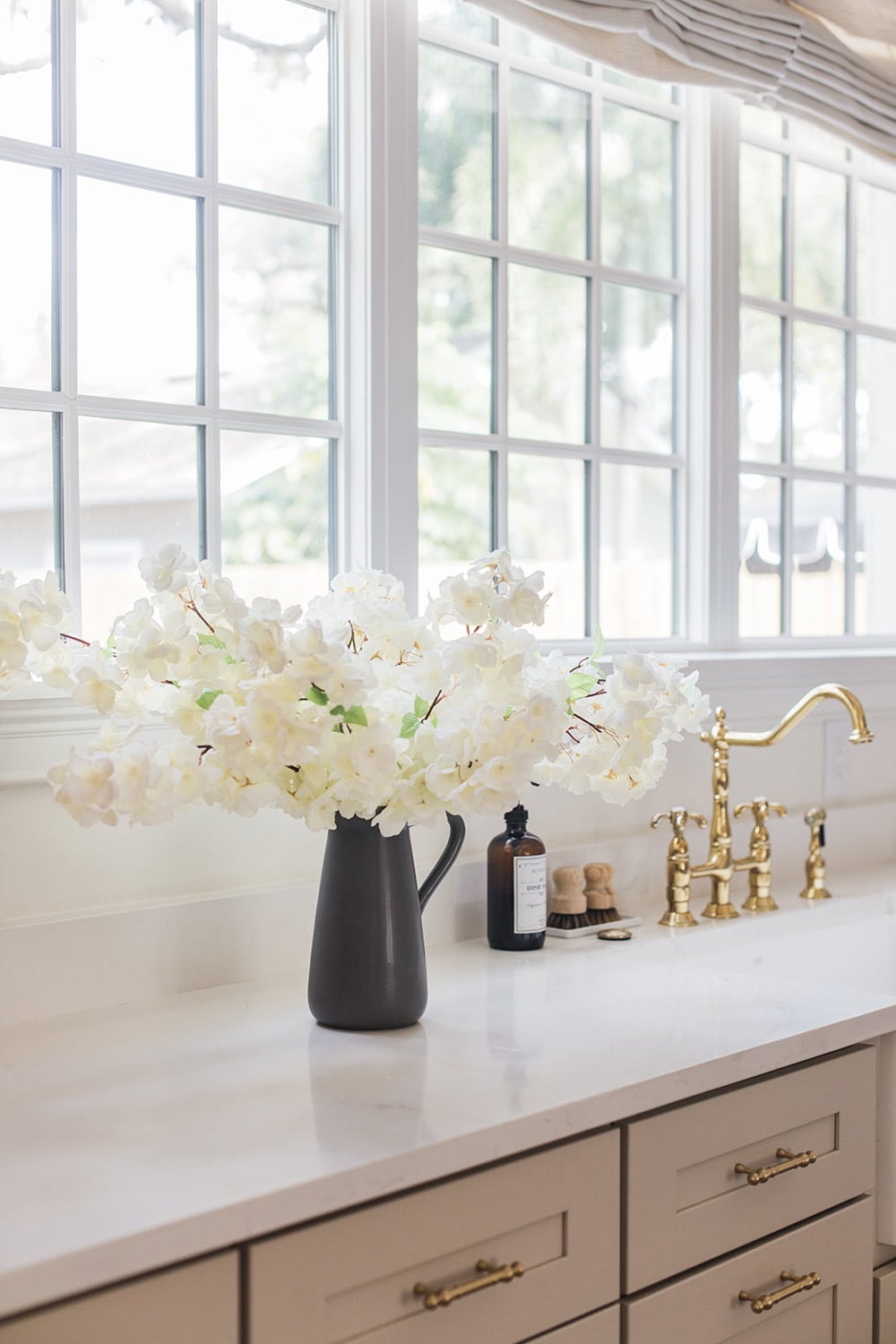 I used 4-5 stems in this arrangement (cut up into various lengths, shown in this glazed ceramic pitcher (on sale for only $7 with the code JENNASUE20).
18. Italian Ruscus
If you're looking for a statement piece—this Italian ruscus branch is it. It's the longest on this list at a whopping 49″, though it can be easily trimmed down for a smaller arrangement.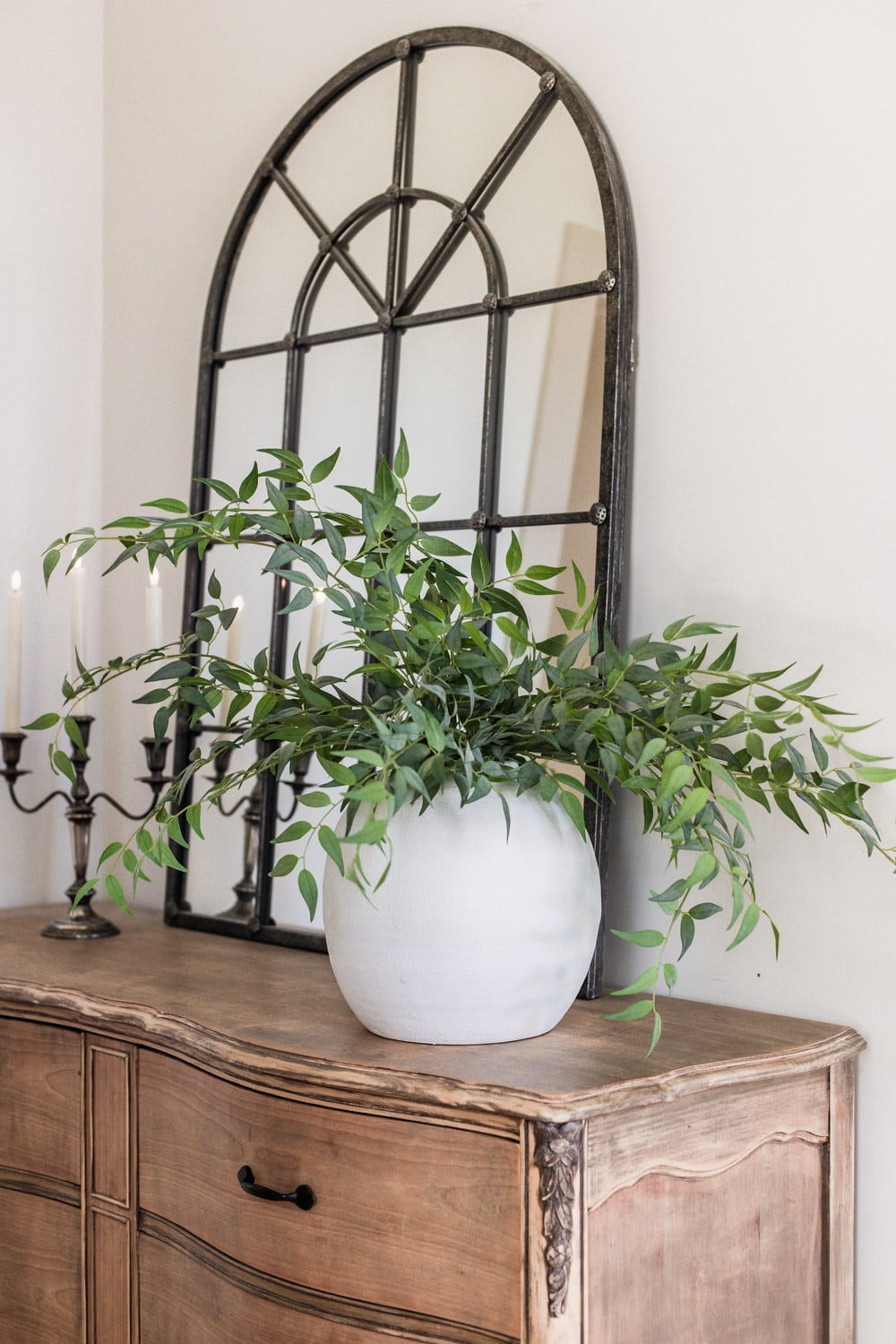 I cut down 7 stems to fit this large concrete vase.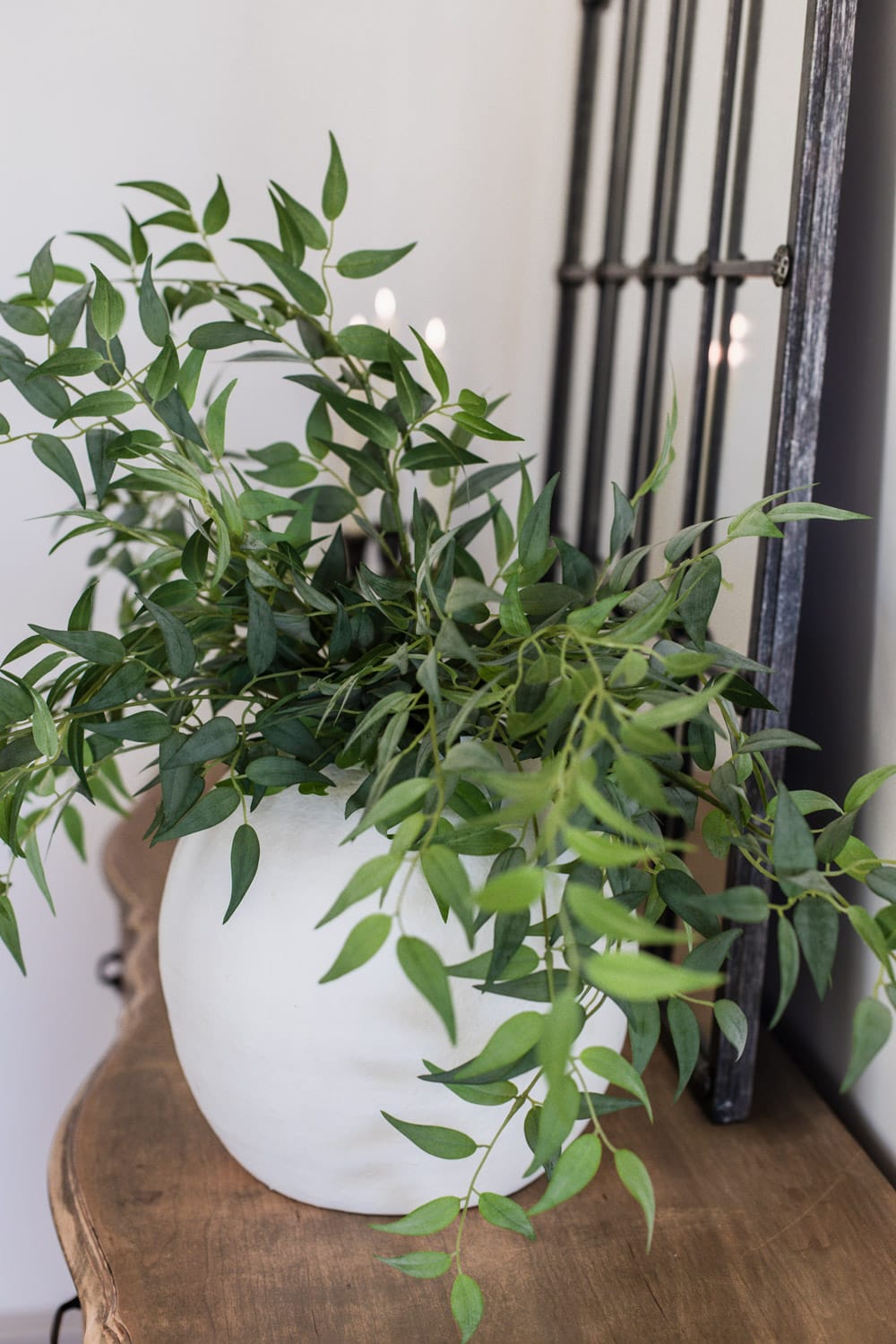 Vases
Shop my favorite and most used vases below:
And there you have it—all of the florals, branches and vases I'm loving this season. Do you have any favorites I should know about? Do tell in the comments!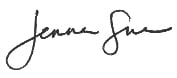 Like this post? Check out these other roundups: