For the past month, my life has been entirely consumed by turning our beach house into a vacation rental. This includes not only maintenance/repairs/code updates/small renovations, but also fully designing, furnishing and stocking a 4 bedroom/3.5 bath house for as little money as possible, as quickly as possible. Quite the challenge during a global pandemic where you can't simply go to the store to buy what you need or count on Amazon 2-day prime shipping…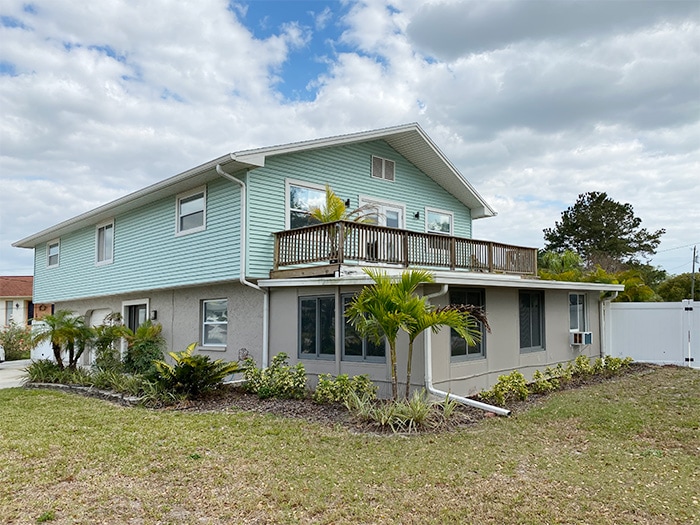 Pin
I'd like to think these added challenges have really honed my bargain-hunting deal sleuth skills, and after reaching the end of every search page on the internet, I've built up quite the selection of very inexpensive pieces that look high end.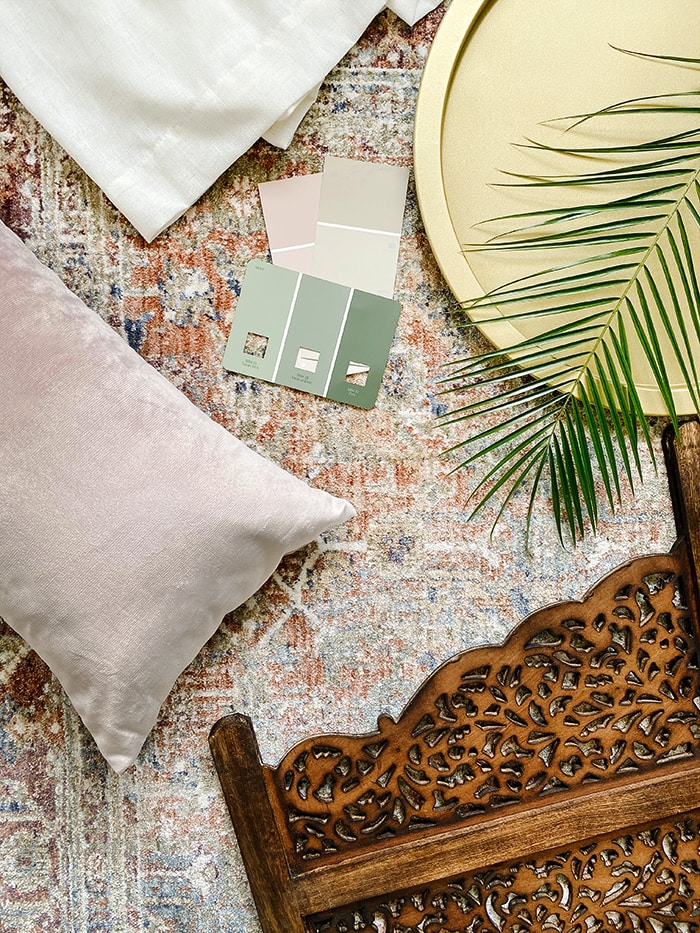 Pin
As mentioned in the previous blog post, I wasn't planning on posting much of this house since it's really not my style and we can't do any major renovations right now—however—I came up with three pretty awesome bedroom designs under $1k that I know you guys would love to see, and it would be terribly selfish of me not to share. Especially right now during these uncertain times, when low-budget decorating is something we're all focused on. This means you'll get to see the Before + After transformations as well—woohoo!
Let me preface by saying this: because we're so limited on time + money, we decided not to repaint any walls, change the carpeting, or do anything major like wallpaper/wall treatments, electrical work, etc. We did replace the fans but that is the extent of it—we're simply bringing in furniture/decor and that's it!
Bedroom 1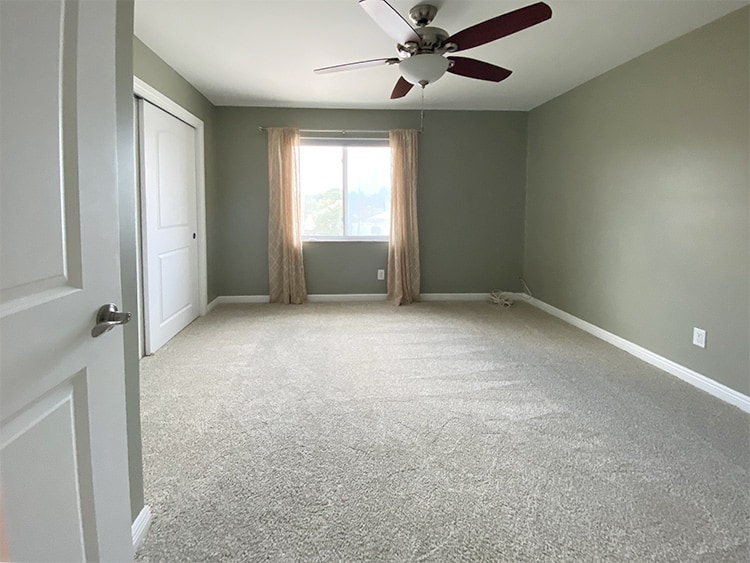 Pin
It's your standard bedroom size/layout, with a closet and a window.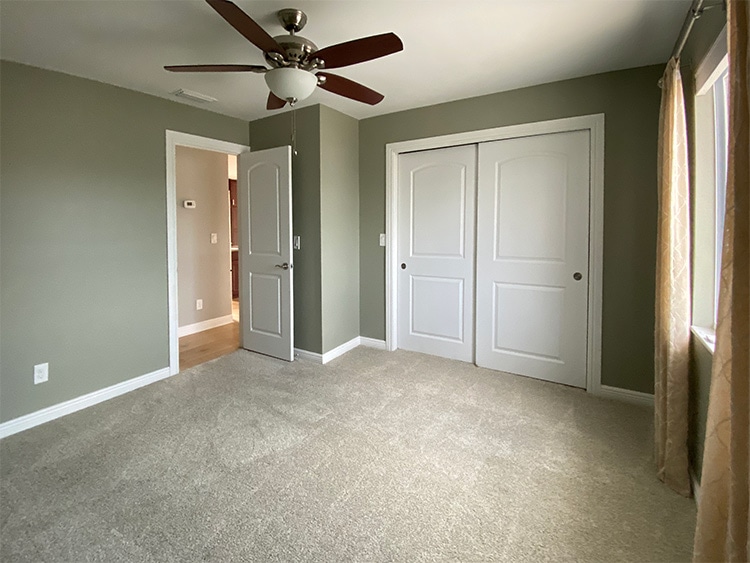 Pin
The measurements are approximately 12×12′, though the wide angle lens makes it look larger than it is.
Pin
The existing paint color is Porter Paints Smoky Slate at 50%, but I found Sherwin Williams Green Earth as a similar shade. Here's how they had it staged for the listing: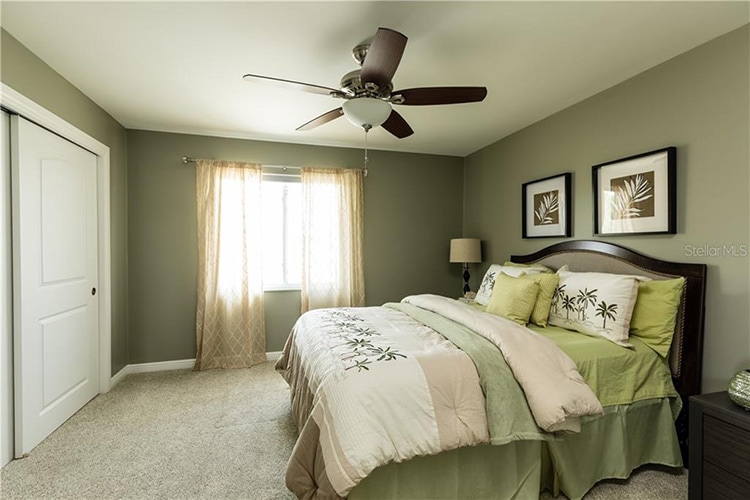 Pin
Ready for the new design?!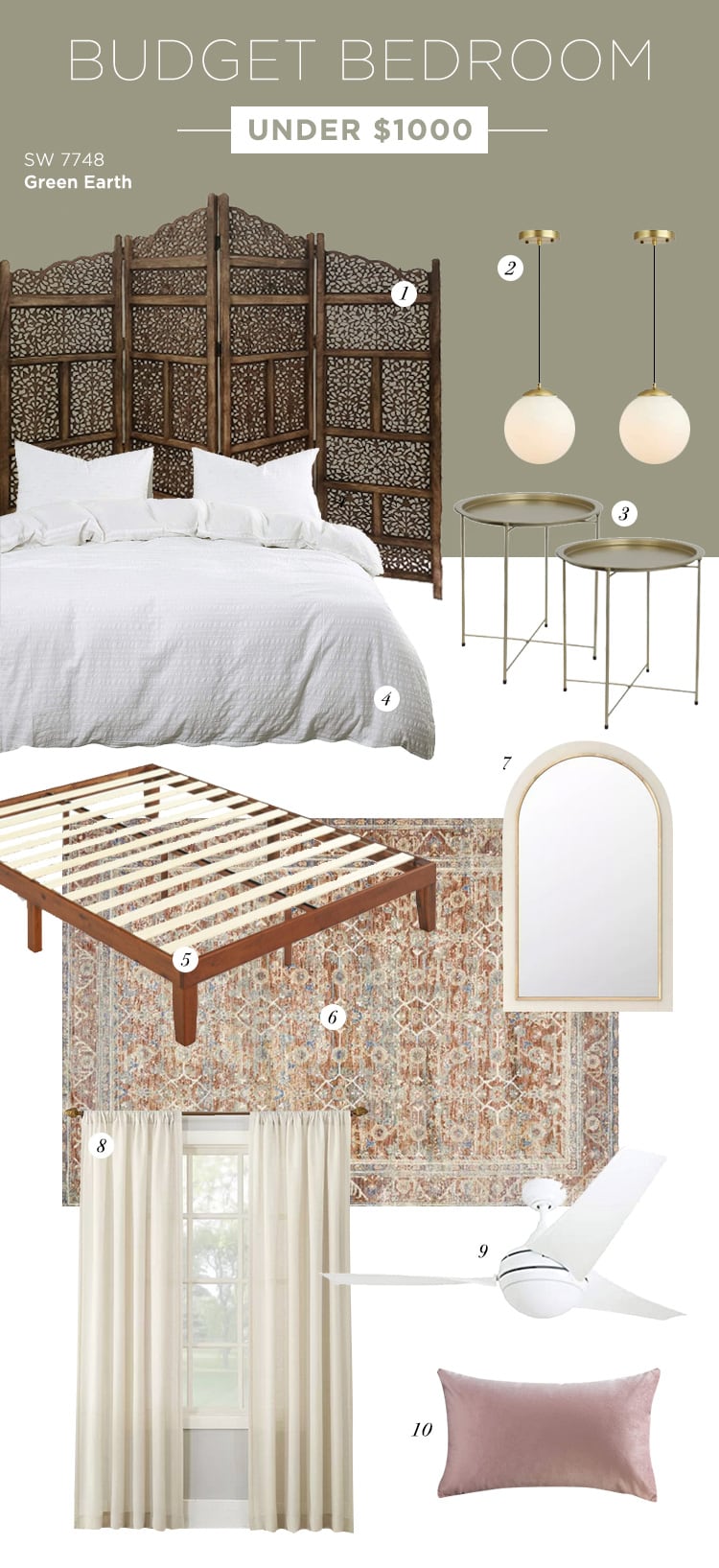 Pin
1 / 2 / 3 / 4 / 5 / 6 / 7 / 8 / 9 / 10
Be still my earthy-boho loving heart. I have to say, this is probably my favorite mood board out of the bunch—especially for a vacation rental where the design can be more fun and playful. It has a bit of the same Balinese-tropical vibe as our master bedroom at the Riverside Retreat, don't you think?
The focal point of this room, and the piece that inspired it all was this carved wood room divider that we'll be turning into a headboard. I first spotted it on Amazon for $255, and after some more digging, snagged it on Wayfair for $235. It takes up a big chunk of the budget, but this thing is a show stopper!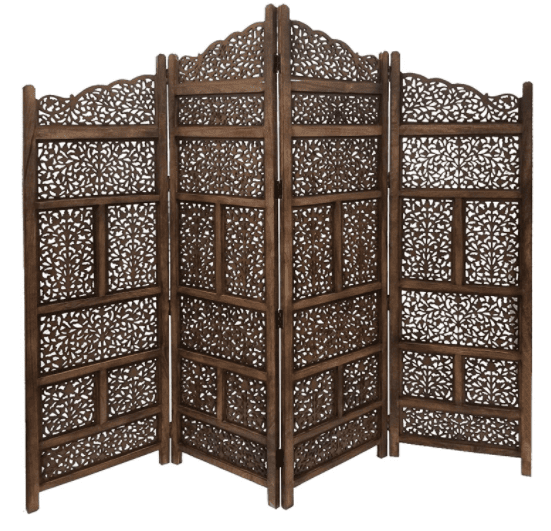 Pin
Because I wasn't using a traditional bed, I had to find a platform to put the mattress on. I liked the idea of sticking with wood, and this Queen platform bed was the best deal I found anywhere online at $117.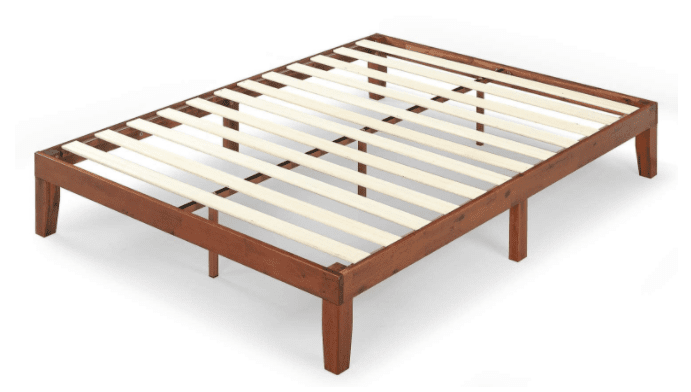 Pin
As soon as I found the headboard, I began looking for the perfect rug to help set the tone for the style of the room. I didn't have to look for long once I spotted this $195 terracotta rug on Overstock (made by my favorite rug brand, Loloi):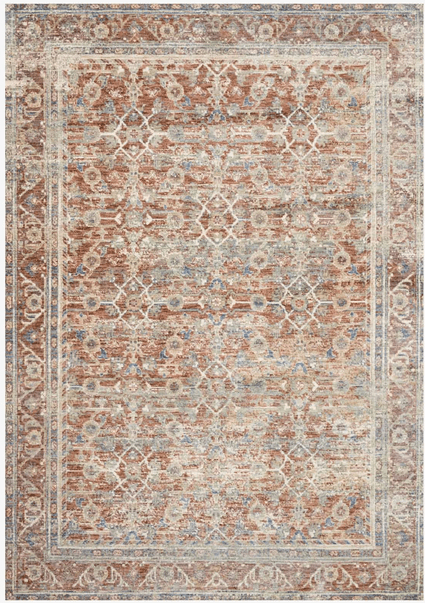 Pin
I was able to keep costs down by using simple $32 gold tray tables as night stands, since you don't need much bedside storage for a vacation rental.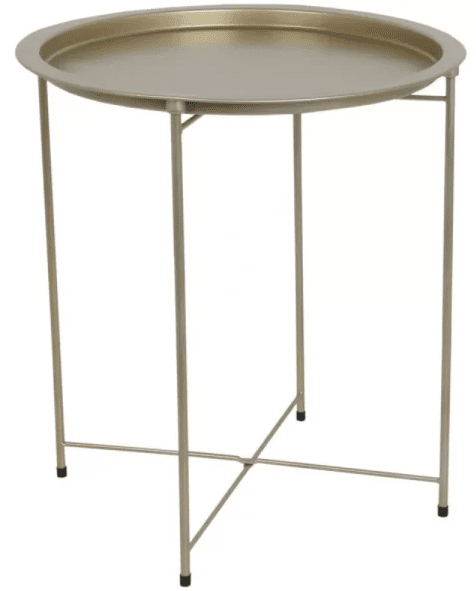 Pin
Rather than have table lamps take up most of the tray surface, I thought it would be fun to hang these $52 pendant lights from the ceiling. I almost used plug-in wall sconces instead, but decided hanging a sconce on either side of the bed would be an interesting way to draw your eyes up. We'll be using remote controlled puck lights instead of bulbs, so there's no hardwiring involved—and they look so elegant & expensive!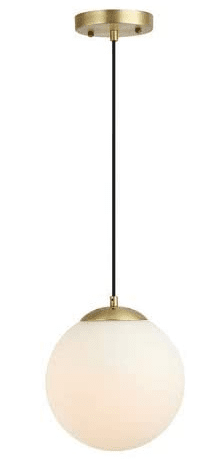 Pin
The only "permanent" change we did make was swapping out the old fan with something simple and low profile that blends in with the ceiling. I looked high and low for the most inexpensive fan that met all of our criteria (it had to have a light), and this one for $129 was it. We actually ended up replacing all of the fans in the house with this one, and wow what a difference that change alone made! In a perfect design scenario I'd install a beautiful statement woven chandelier in this room, but practicality has to come first in a warm weather vacation rental.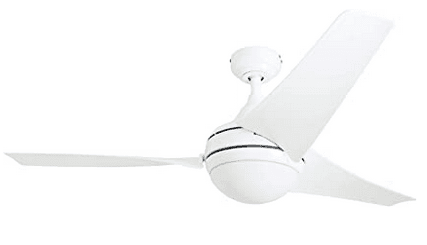 Pin
There's one empty wall in this room and I plan to hang a mirror I already own that's sitting in the garage, but I spotted this lovely arched mirror for only $60 at Target. The shape is perfect for the boho-style, and I'm digging the ivory border and wood accent strip. Target has the best mirrors!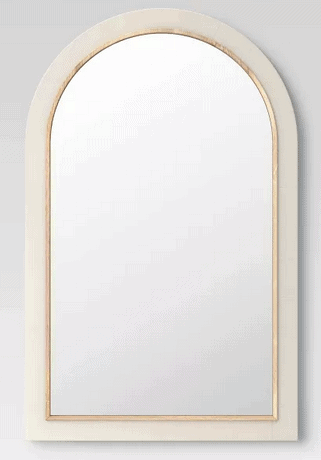 Pin
White sheets and linens will be used in every bedroom for that clean hotel feeling, and we're keeping things simple with the same $35 seersucker duvet cover set across the board (also using these in the Riverside Retreat). I chose it because of the low price and great reviews, but mostly because the texture means no wrinkles and no steaming for every guest!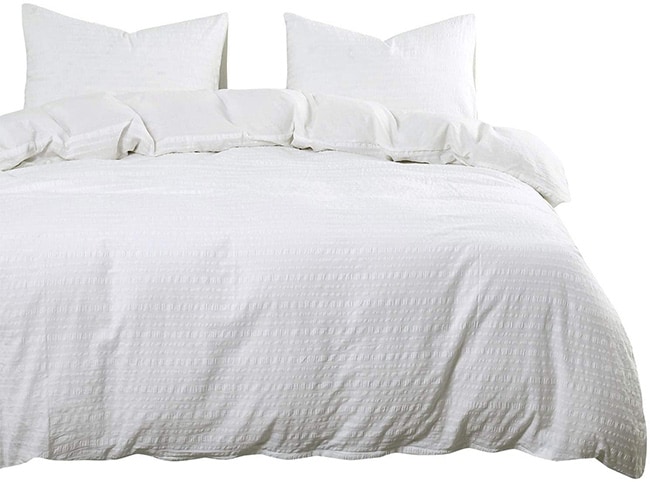 Pin
And I couldn't help myself and had to snag this $7.50 pink velvet lumbar pillow on Amazon.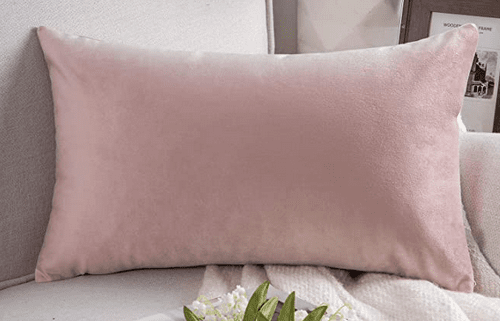 Pin
Non-custom curtains can be tough to shop for because they only come in standard sizes, and the ceiling height in this house is a non-standard 94″. I spent weeks searching for the lowest price nice linen look-a-like fabric at the right height, and eventually figured out that I could cut the tabs off of these 96″ curtains to get the length I need. The bedroom windows already have blackout blinds so this light-filtering fabric will work great, and they're only $38 a pair! I ordered them for the whole house.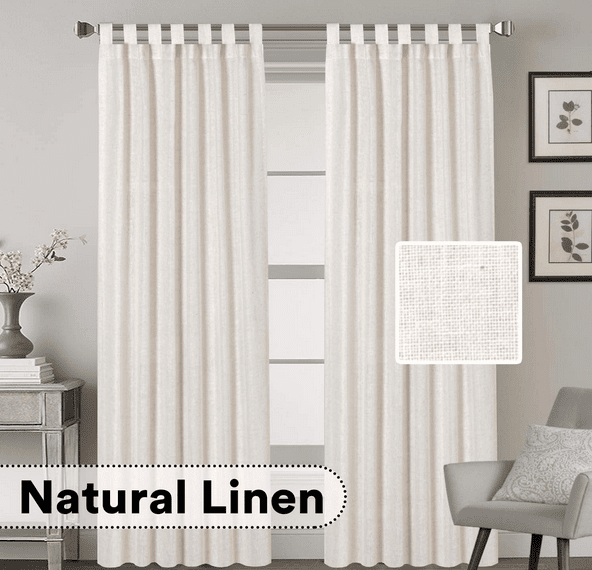 Pin
Total: $986
Note this does not include a mattress, pillow inserts or sheets, but for anyone wanting to copy this exact room, you probably already have those! In case you're wondering, I bought this mattress (my absolute favorite, it's so plush and affordable), this lightweight duvet, this sheet set and these pillows for every room.
Bedroom 2
This one is an interesting layout because it's long and skinny.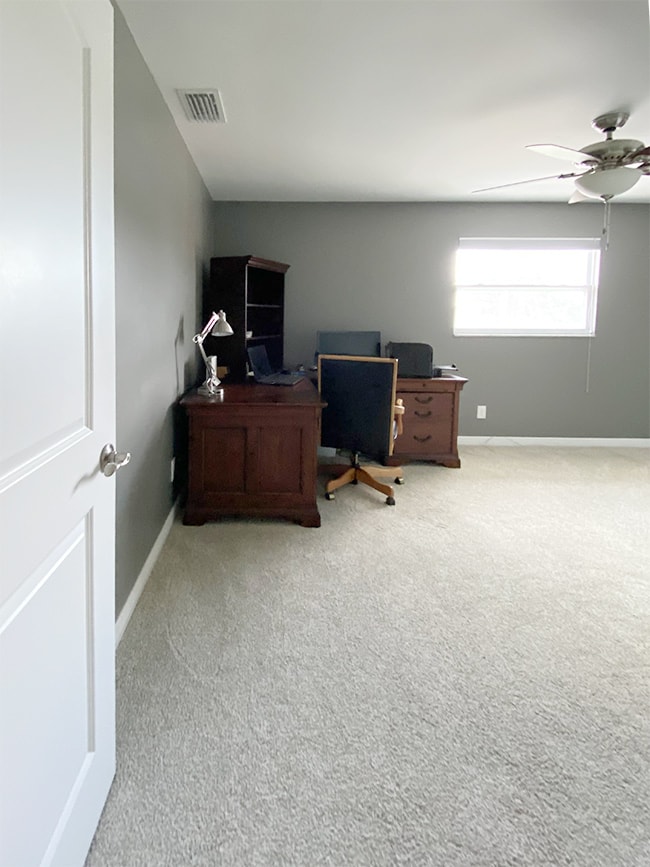 Pin
It measures around 11′ x 17′.
Pin
Again, excuse the wide angle photos that completely distort the room…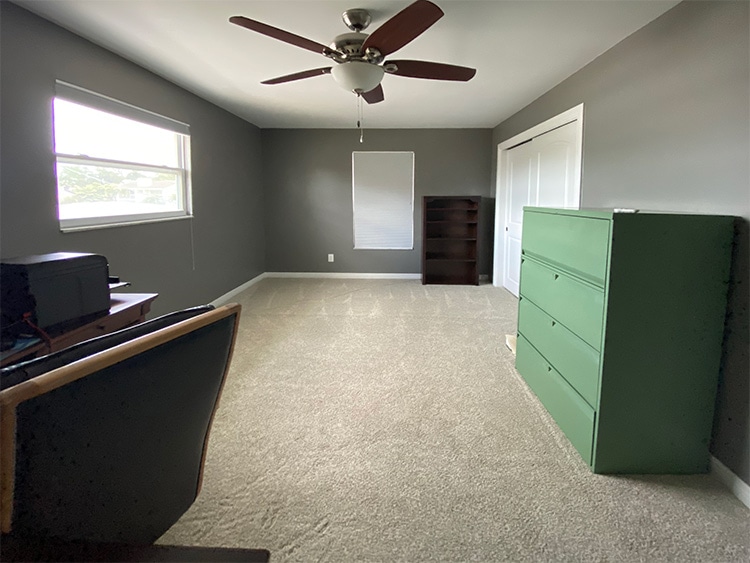 Pin
Because of this layout and the fact that we want to maximize guest occupancy, we decided to use a queen bed on one end and a pull-out queen sofa bed on the other (across from the closet).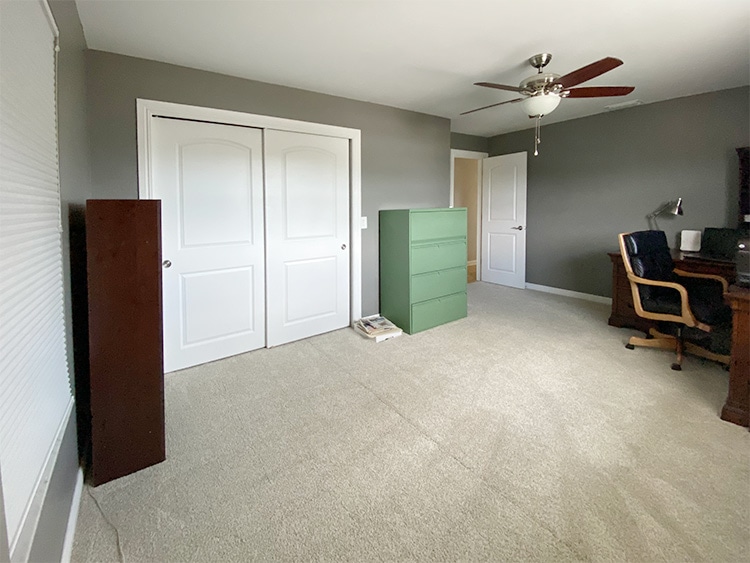 Pin
Therefore, the mood board has been modified quite a bit from our actual design, and I've included items that I would use if I were designing this as a guest bedroom in my own home.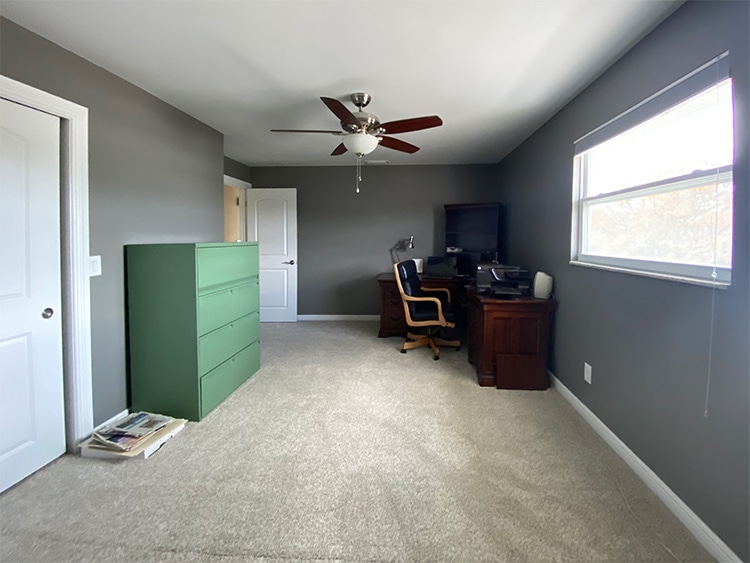 Pin
The wall color is Sherwin Williams Silhouette (which we are keeping).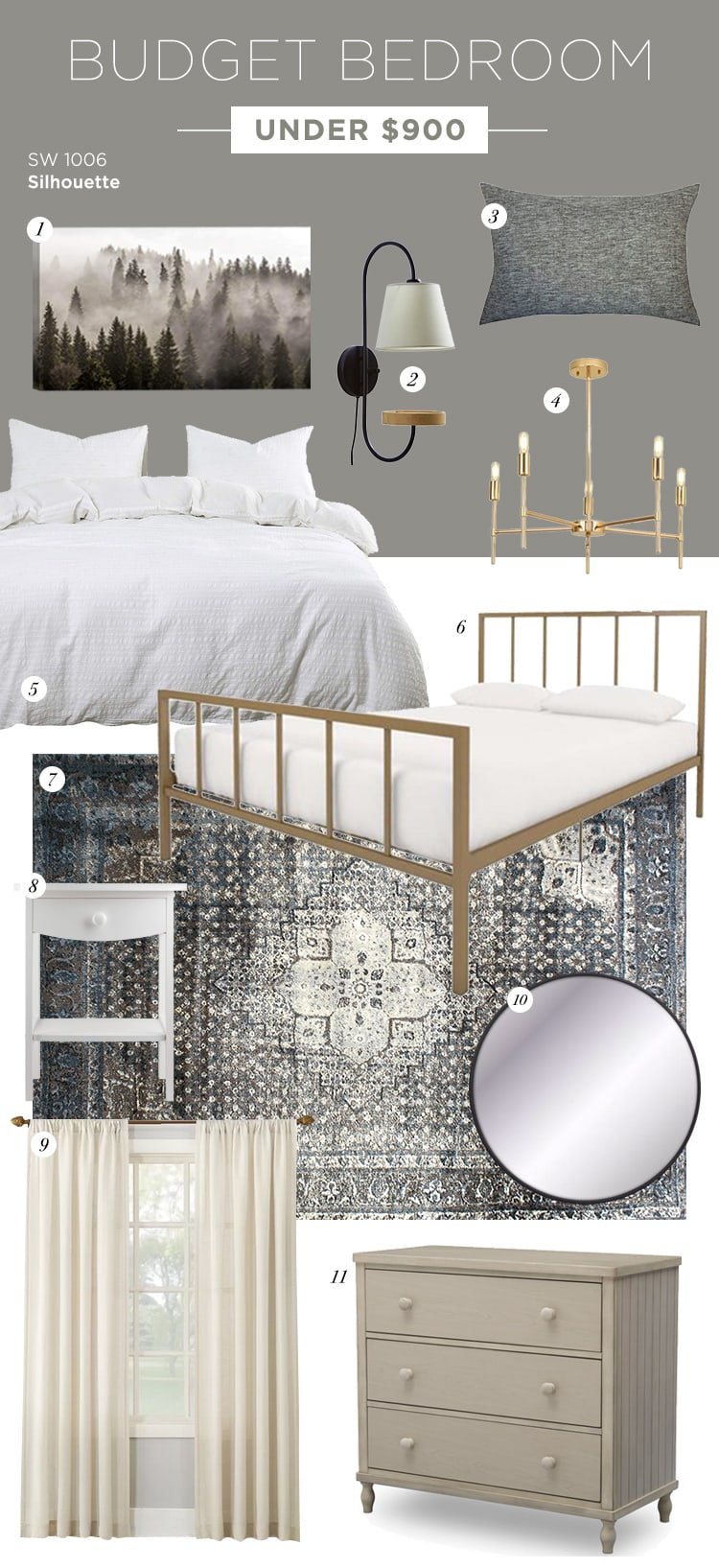 Pin
1 / 2 / 3 / 4 / 5 / 6 / 7 / 8 / 9 / 10 / 11
The first piece I ordered for this room is the rug, which I've had on my wish list for years but never had a chance to use. Aren't these colors gorgeous? And only $182 for an 8×10!
Pin
I couldn't believe my eyes when I spotted this Queen bed for only $117 (they raised the price to $129 now, but still a crazy good deal!) I was about to purchase a similar model from Wayfair but it was over $100 more, so glad I found this one.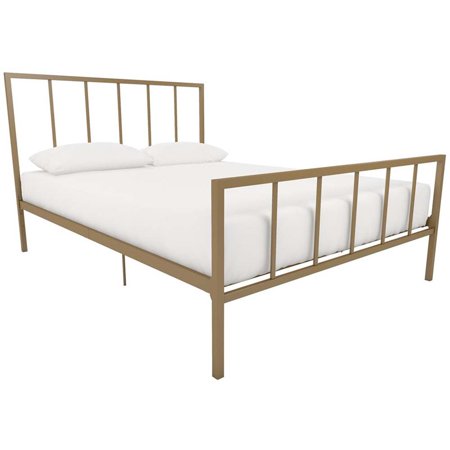 Pin
In this room we installed the same white ceiling fan as Bedroom 1, but if a fan wasn't necessary I'd totally get this $104 gold chandelier to add a little glam.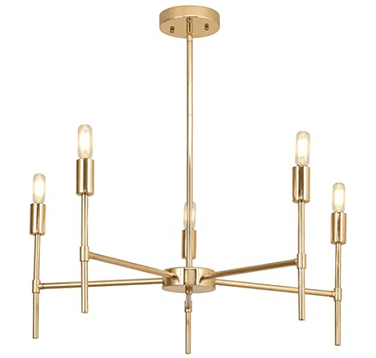 Pin
We did buy this wall sconce though (we'll be plugging it in instead of hardwiring) and our guests will love the fact that it has a built-in USB port and pad for phone charging—so clever. Not to mention, it's only $31 (I paid $42 and thought that was a great deal, lucky for you they dropped the price!)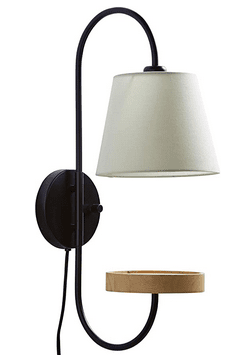 Pin
After an exhaustive search for a simple/inexpensive white night stand, I landed on this one for just $38. In reality we're using a different side table we already own (and only one since the bed will be in a corner) but this would be a great option for this room, and I did buy two of these for the master bedroom: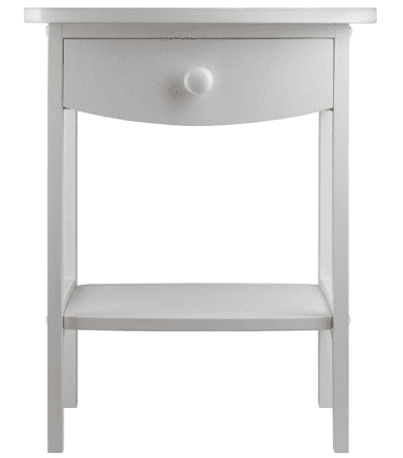 Pin
Above the bed this large canvas art for only $59 would look awesome (especially after adding my DIY $10 floating wood frame!)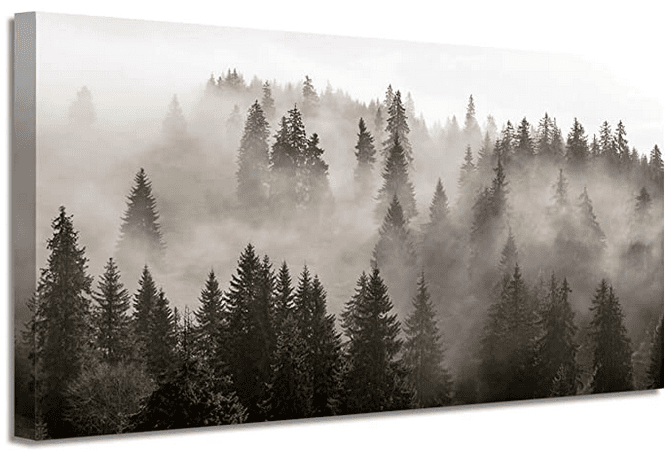 Pin
There isn't a great spot in this room for a dresser (and it's not absolutely necessary for a vacation rental) but if I were designing this room for someone's home, I'd be all over this $180 dresser. The weathered wood tone and detail on the legs are so good!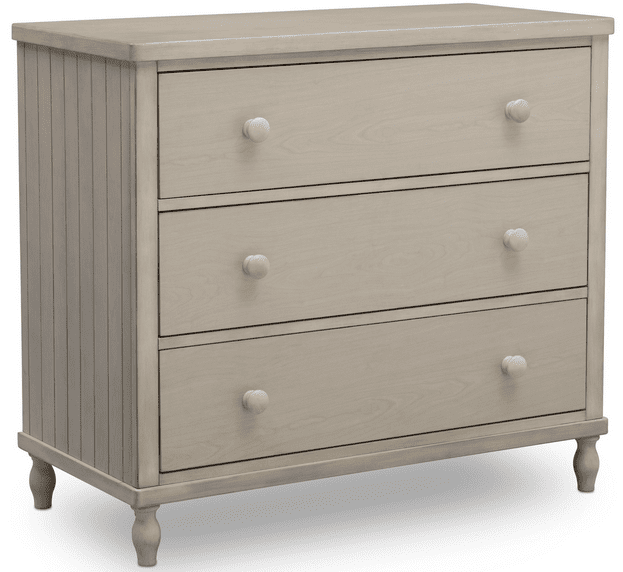 Pin
Above the mirror, a simple round mirror ($60 from Target, again) would be the perfect accent.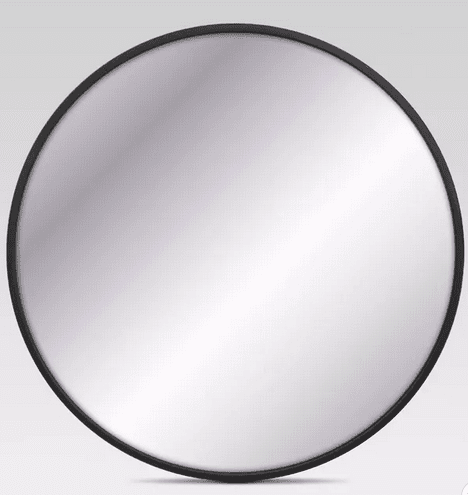 Pin
I'm using the same seersucker duvet set and linen curtains as Bedroom 1 because why mess with a good thing? I also found this $10 throw pillow cover with the same colors as the rug (also from Amazon, of course!)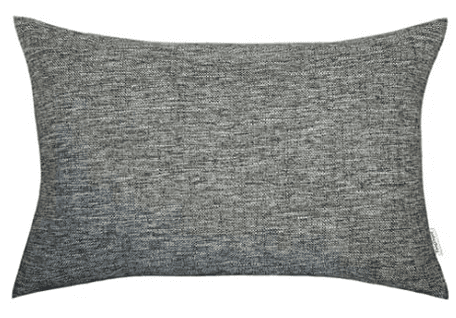 Pin
Total: $879
Wowza… good luck beating that price for a complete bedroom! It pays to bargain hunt!
Bedroom 3
This is the master bedroom of the house, and one design I really had fun with.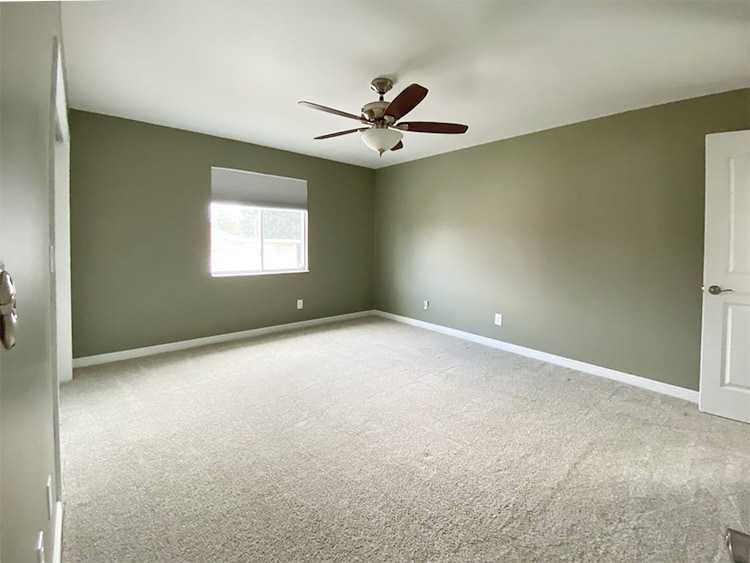 Pin
It's a pretty large room, measuring approximately 13′ x 15′.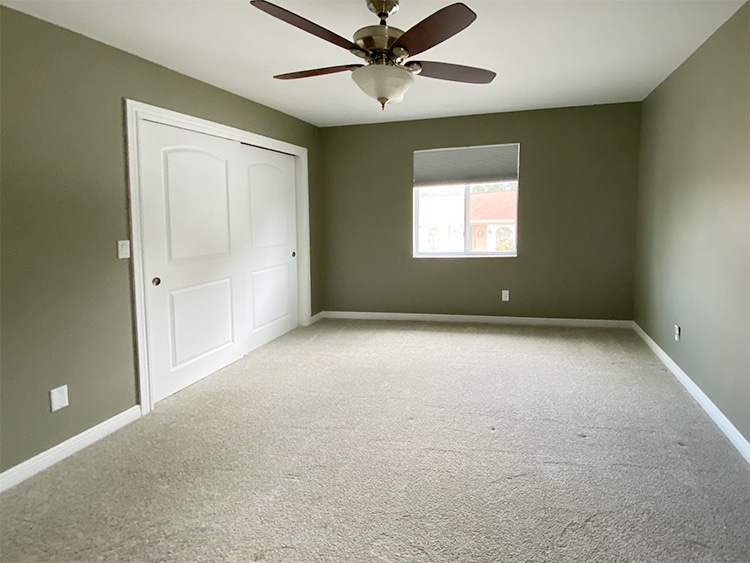 Pin
That meant there was plenty of room for a King bed—the first time I've ever used one in any house.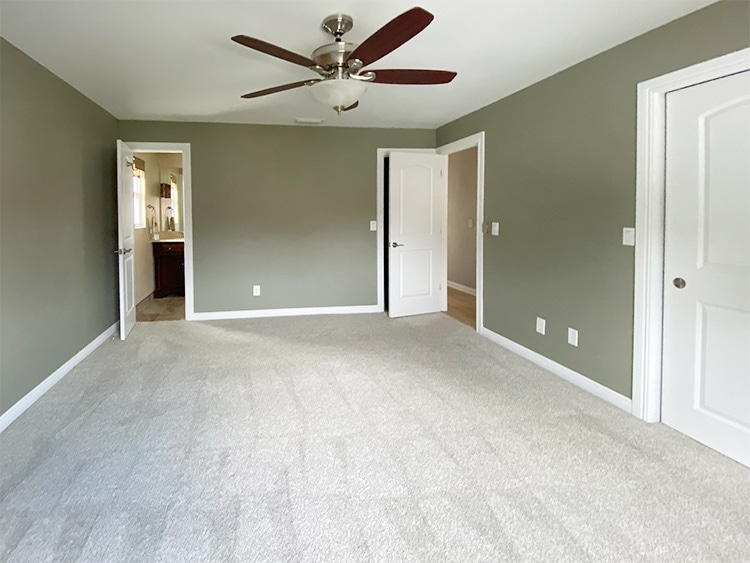 Pin
The wall color is Porter Paints Smoky Slate, which is the same color as Bedroom 1, but it's full strength rather than 50%. Again, we're keeping the wall paint, but I chose a slightly different color for my design board example.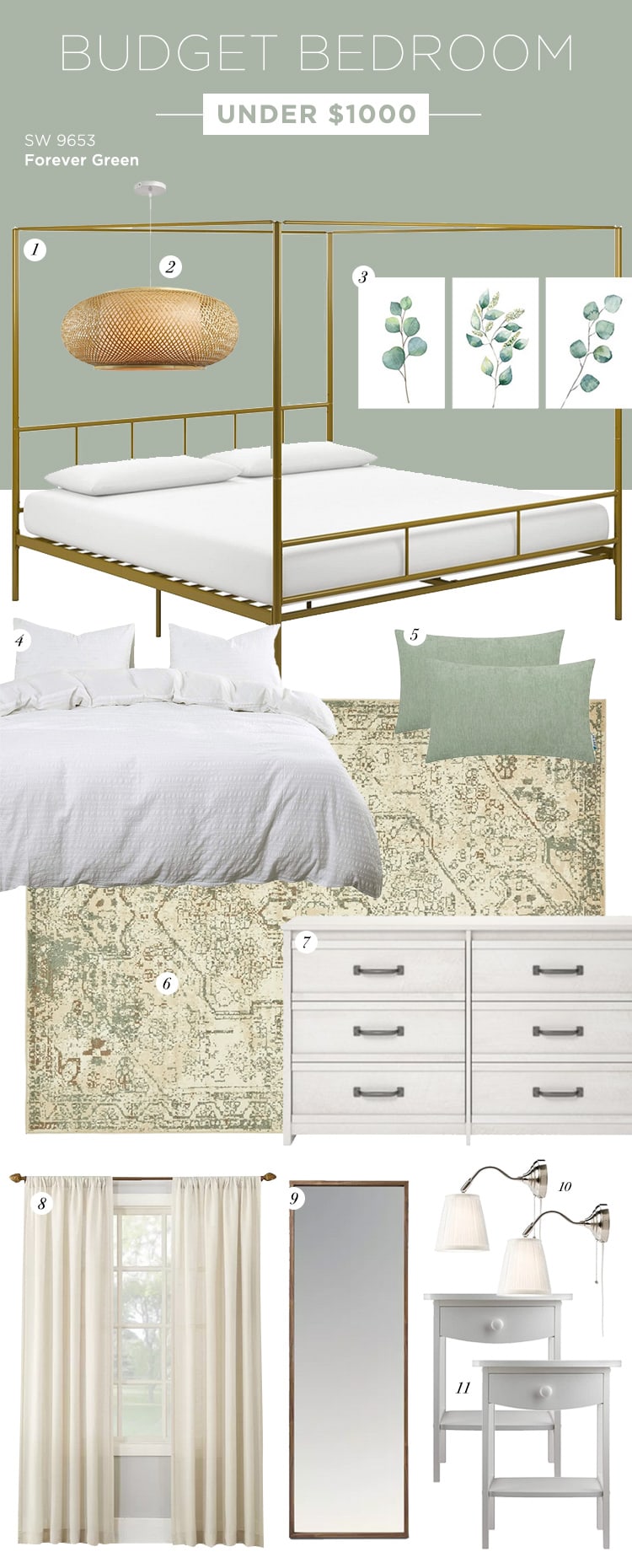 Pin
1 / 2 / 3 / 4 / 5 / 6 / 7 / 8 / 9 / 10 / 11
The only thing I knew for sure going into this room design was that I wanted a canopy bed. Something about them makes the room feel extra grand and special, and you certainly want guests to experience that "wow" moment when walking in. But these beds can be pricey (I've been on the hunt for one for our own room for years to no avail) so I spent lots and lots of time researching—I'm 99% sure I've seen every canopy bed in existence under $500. And at just $168, one stood out above them all…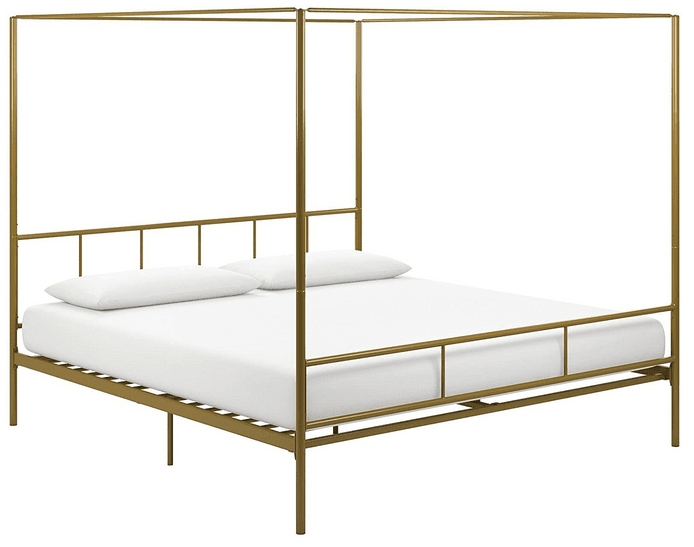 Pin
Unfortunately, the color/size is no longer available at that price but hopefully it will come back in stock! This bed is also on Overstock but the price is higher at $215 for a King. The Queen was available at Walmart for only $180 so you may want to bookmark this link if/when it comes back!
After choosing the bed, it was time to find a rug. Price was the deciding factor once again, and I settled on this neutral earthy rug to complement the gold bed (I opted for a 9×12′ to fill the room, but the 8×10′ size is only $149):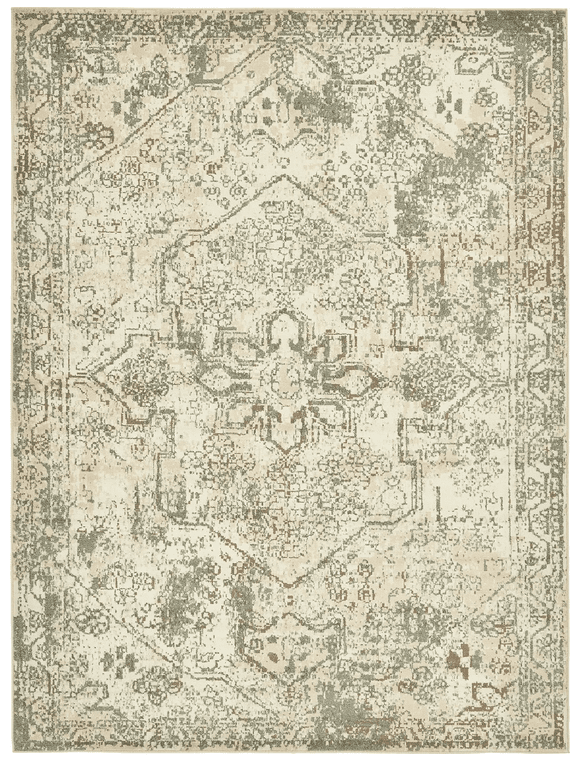 Pin
To bring some natural texture to the space, I would love to hang a woven pendant above the bed (we're stuck with a fan, but how gorgeous is this $80 light?)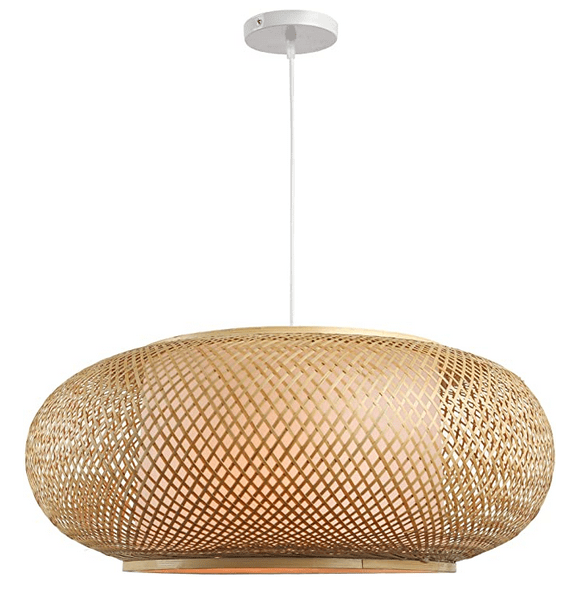 Pin
Every bedroom needs a mirror, and we'll be bringing in an existing floor-to-ceiling mirror I have in the garage. If I didn't have that one already, this $60 full length wood mirror from Target would be just right:

Pin
To break up the gold and green tones, I'm using simple white furniture, including these insanely cheap $38 night stands: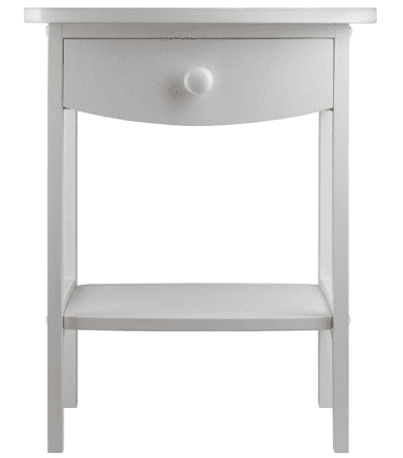 Pin
And I'm still hunting down a white dresser (trying to find one secondhand to save on costs/shipping and assembly time) but if I don't find one locally, I'm loving this one for only $210:
Pin
To hang on the wall above the dresser, I scored this large cherry blossom canvas secondhand for $50, but this botanical canvas set on Amazon is only $88 (and there's lots of designs to choose from!)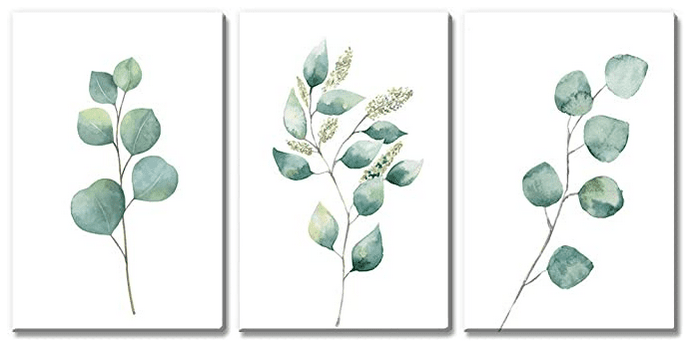 Pin
Above the night stands, I found these plug-in wall sconces for just $25 a piece. I love the simple curved design and white fabric shade—perfect for an elegant master bedroom.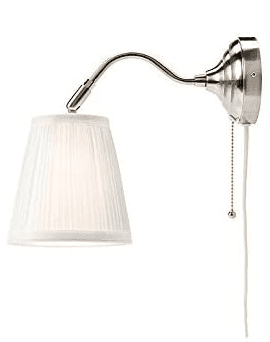 Pin
As mentioned, we'll be using the same white bedding and curtains as the other bedrooms, and I also found this $14 lumbar pillow set in a pretty sage green color.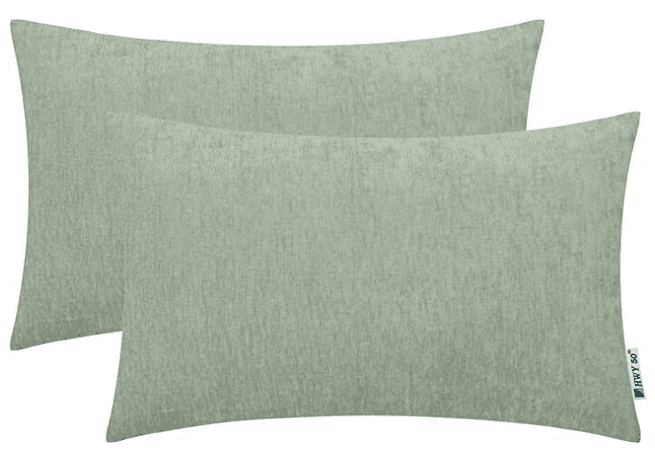 Pin
Total: $968
This room definitely feels the most sophisticated and master bedroom-y of them all, and I'm pretty proud of pulling it all together for under $1k! It's looking great in there already and I'm really excited to share the After photos with you soon.
Tell me, which room do you like the best? Did you find any new must-haves in this post? If I had to choose, my top three favorite finds would have to be the carved wood headboard, terracotta rug, and globe pendant lights from Bedroom 1. We plan on timing ourselves to see how long it takes to transform that room and will be capturing a timelapse from start to finish! I'll be sharing it on my Instagram so make sure to follow me there. Any guesses on how long it will take? I'm hoping we can get it done in under an hour!