Today (in the last guest bathroom post!) I'm sharing three simple and inexpensive ways to incorporate rustic wood in your bathroom. Natural wood is a requirement for me in every space I design—it brings a warmth, timeless and casual feel to a room that can't be replicated by anything else. And fortunately, it's usually the cheapest and easiest material to find and work with!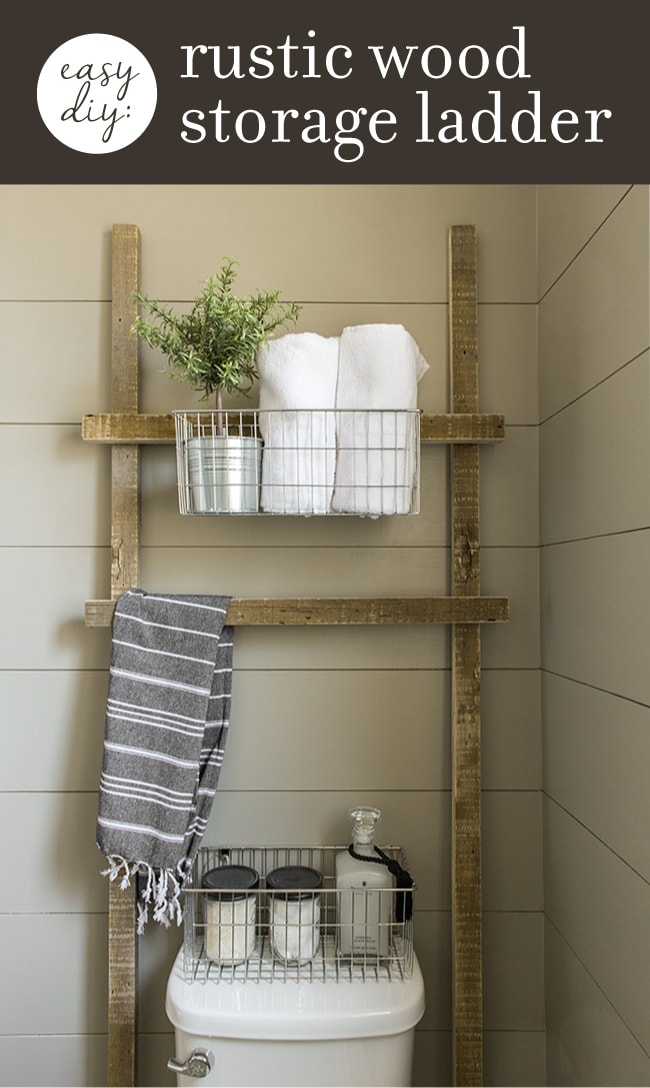 Pin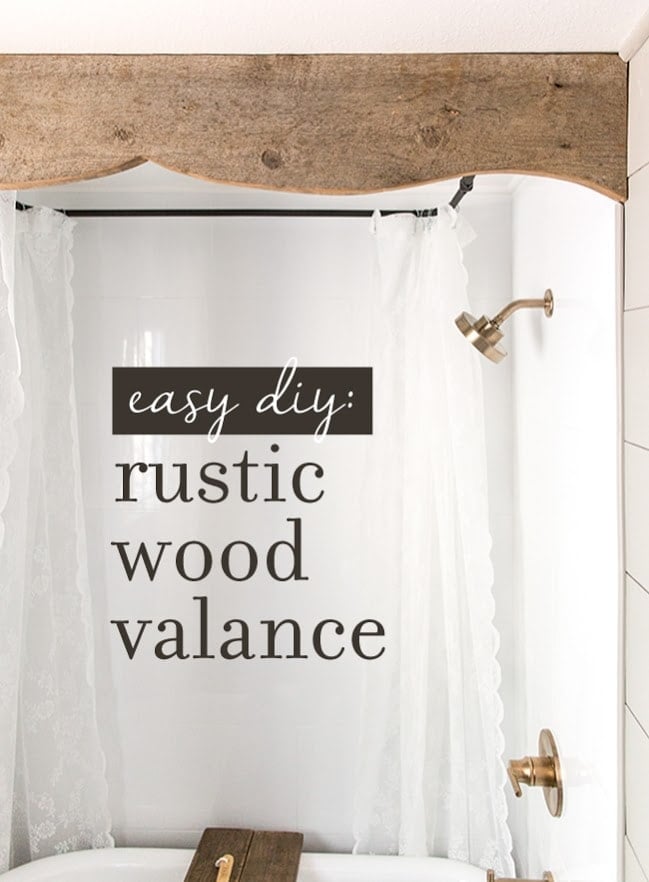 Pin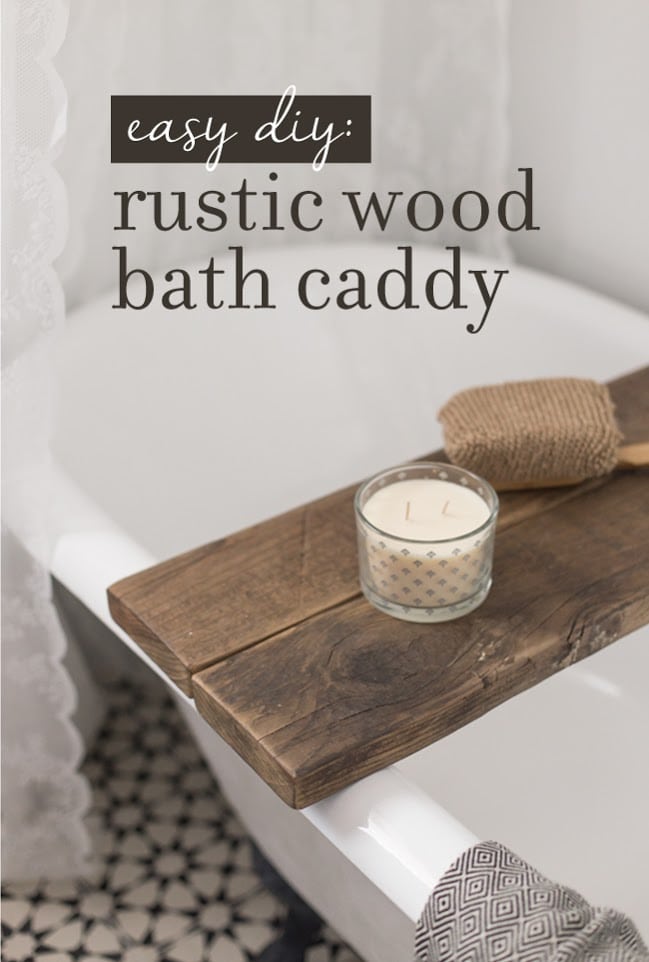 Pin
A rustic, aged look was one of the main qualities I wanted for this room, so using natural wood pieces was a no-brainer. Aside from the vanity, I came up with three accent pieces I could create by myself, in one afternoon, at a very little cost. If you already have a pile of old wood lying around (or heck, even new wood that you can make look aged) you may not have to spend a dime!
First up, this storage ladder: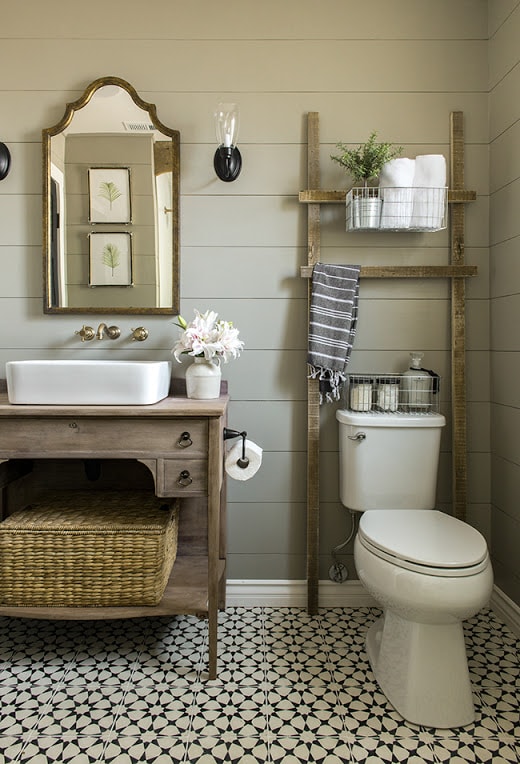 Pin
This was the only project I spent money on. I didn't have any wood pieces long enough, so I made a trip to the local lumber yard and grabbed a handful of pieces ($10 for everything) that could potentially work: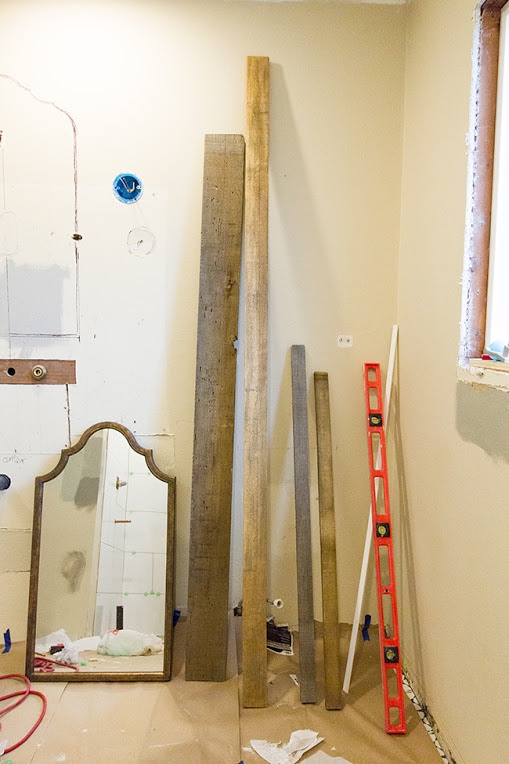 Pin
You can make this any size/shape/scale you need—it's completely customizable. I went with the widest piece of wood next to the mirror and ripped it down on our table saw into three pieces:
Pin
I used one for each leg, and cut two pieces to use as rungs from the third. You can add as many rungs as you want—I decided to keep it simple and stick with two.The width and height was based on the size of our toilet—I just measured it and added a few inches for breathing room on all sides.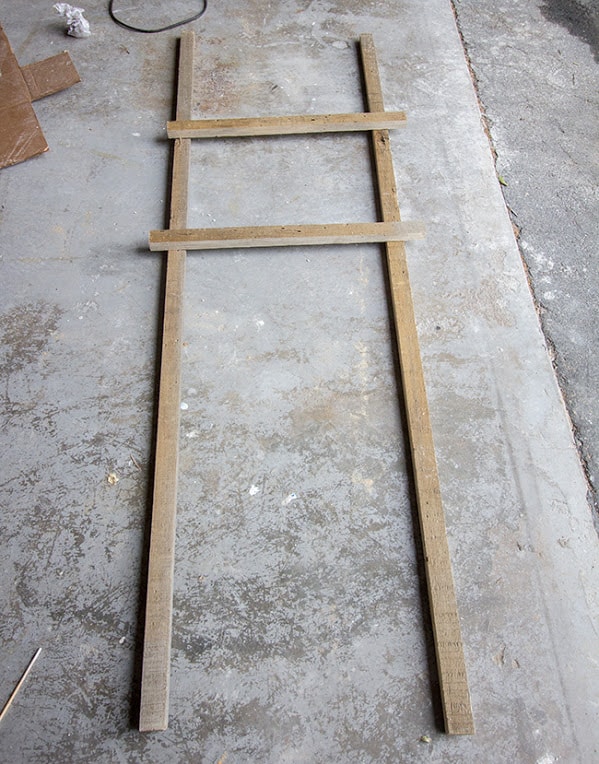 Pin
Before securing everything together, I quickly went over the edges with my hand sander to eliminate any splinters/rough edges. Then once I marked where I wanted the rungs (measuring the distance from both ends to make sure it was square), I dabbed a bit of wood glue and secured with finish nails: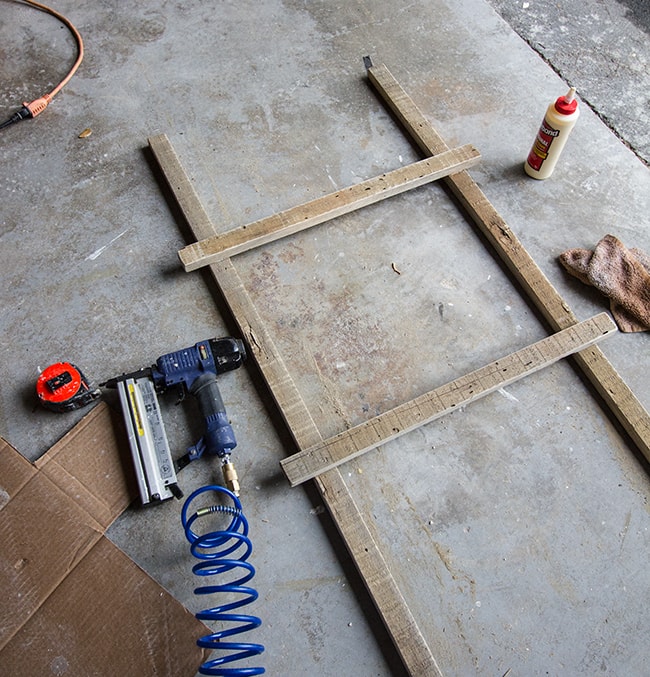 Pin
I actually ended up going back later and adding two screws from the back at each connecting point since the rungs didn't seem 100% sturdy once I added weight.
Pin
Love projects that are cheap, easy, nice to look at and serve a functional purpose!
This bath caddy project falls under the same category….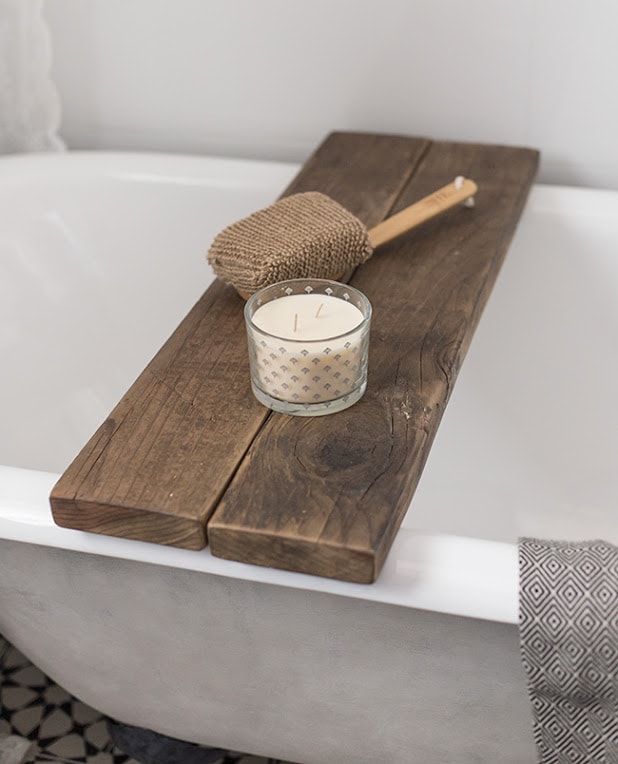 Pin
Our neighbor had left a pile of wood in the road after ripping out his deck, so of course I jumped on it. These 1×4's were calling my name: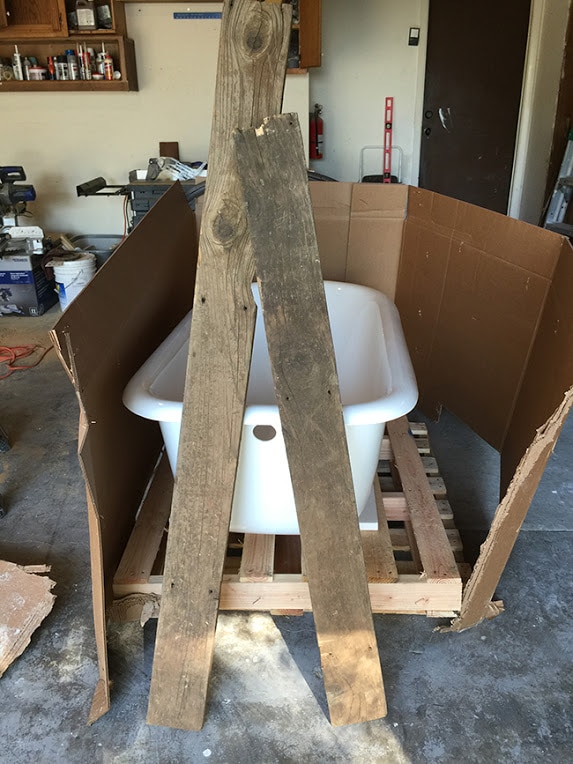 Pin
After measuring the width of the tub and adding an inch or so to each end, I cut my pieces to size and gave them a good sanding: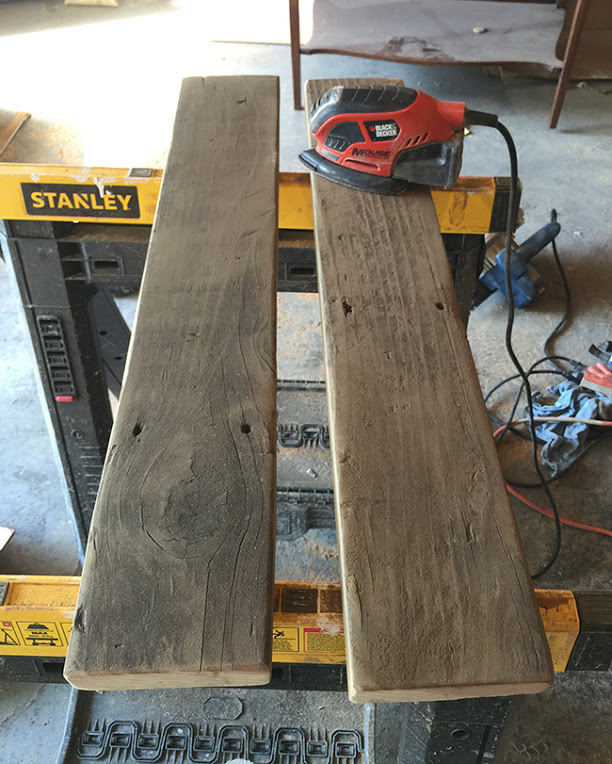 Pin
I filled the holes with wood filler (since it will be around water), touched them up a bit with stain and flipped them over to attach a couple blocks of wood from underneath (which were just cut from scraps):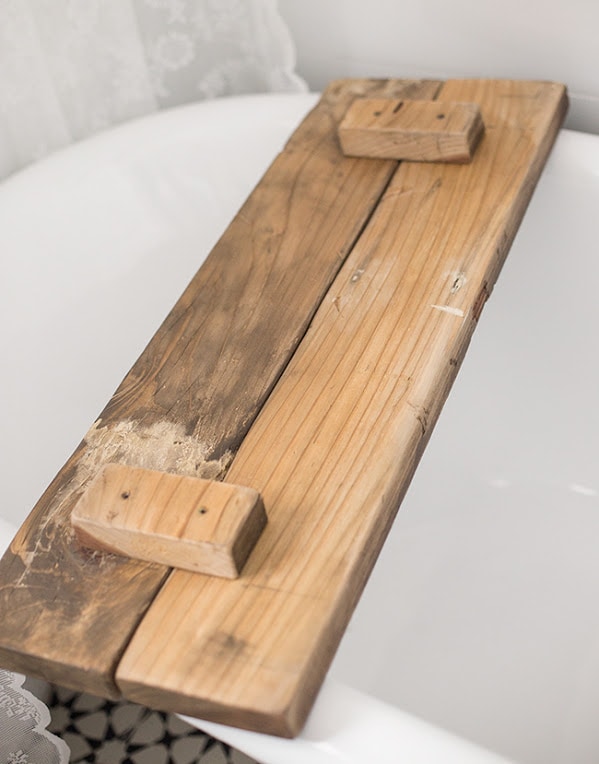 Pin
One screw in each board on both pieces is all it takes to hold everything together, and the blocks also serve as stops so the caddy stays in place and can't slide off the edge. Once it was built, I coated the entire thing with three coats of heavy duty (matte) furniture varnish to make it waterproof.
Pin
So simple and functional!
Lastly, this valance….
Pin
I love finding ways to add a unique details to a space—those are what really give it personality and leave a lasting impression. I had stumbled upon an old wood piece used as a valance on Pinterest and knew right away it was something I wanted to make for this room. I still have wood leftover from our laundry room barn door so this was another free project.
First I measured the distance between the two walls and cut my piece to that width.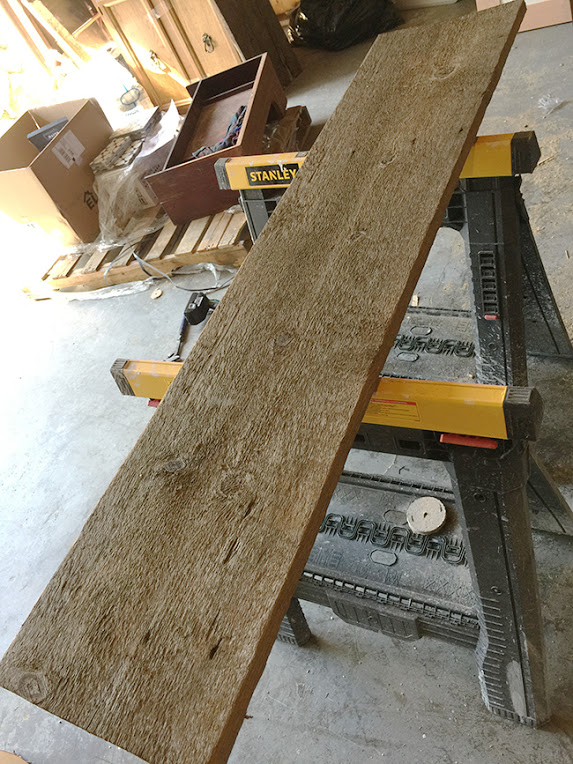 Pin
Then I decided on the overall height I wanted and ripped it down with my table saw. I could have left it as is, but I thought it would be interesting to carve a simple shape into the bottom.I cut a piece of cardboard to half the length of my board (so I could flip the template and have two equal sides) and drew a shape I liked.
Pin
FYI—this is the same process I used to make my DIY upholstered headboard way back when.
After cutting out my shape and lining it up on the board, I traced it with a pencil, then flipped it over and traced it onto the other side.
Pin
Then I used a jigsaw to cut it out (I don't have photos of this process as both hands were occupied!). Since I was going for a rustic look, I didn't worry too much about it being perfect.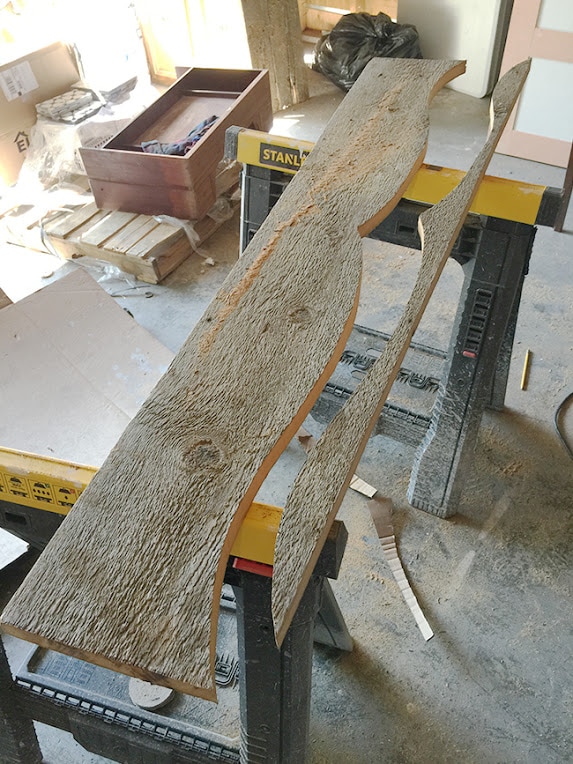 Pin
In the final step, I flipped it over and screwed down a small piece of wood (leftover from ripping it down). I made sure it lined up at the top but left a bit of room at the sides for the shower tile. This piece was then screwed into the studs in the ceiling in order to hang it.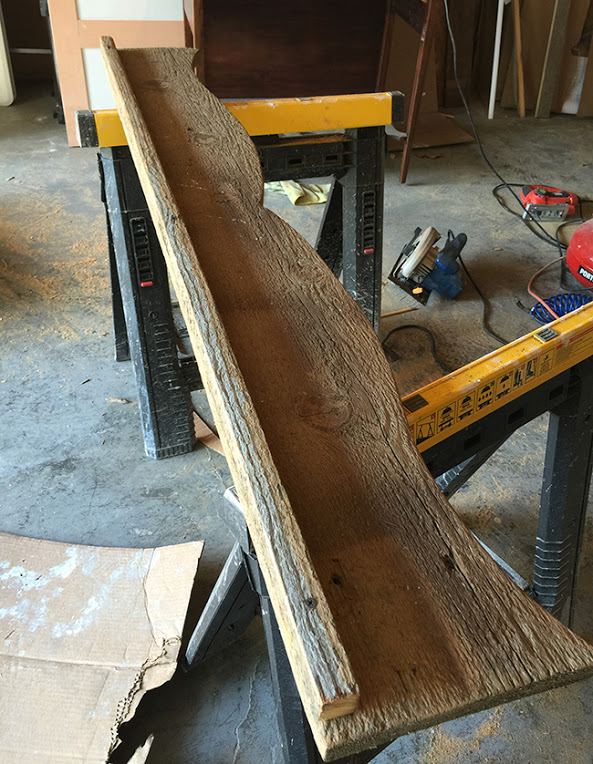 Pin
Not too bad, eh?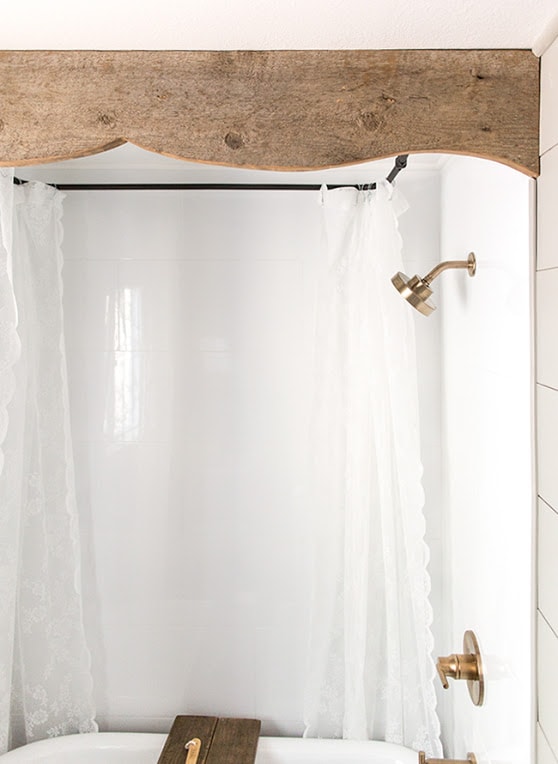 Pin
It makes the shower/tub nook feel like it's own separate little cave which I love. And it hides a lot of the shower curtain rail which I don't exactly want to bring attention to.
Pin
So there you have it, three great ways to add a rustic touch to your own bathroom—that anyone can do on any budget! What is your favorite? Will you be DIY'ing any of these in the near future? Find me on facebook or instagram and let me know!
Shifting gears for a second here… I've made a couple quick mentions of this recently but I have a big announcement coming Monday. It involves the future of this blog (and you!) so it's very important that you check back next week. That's all I can say for now, but I am so excited to share this next chapter with you guys. See you Monday 🙂