Today you're getting a double dose of reveal action with Bedrooms 4 and 5! Watch the transformation by clicking on the image below: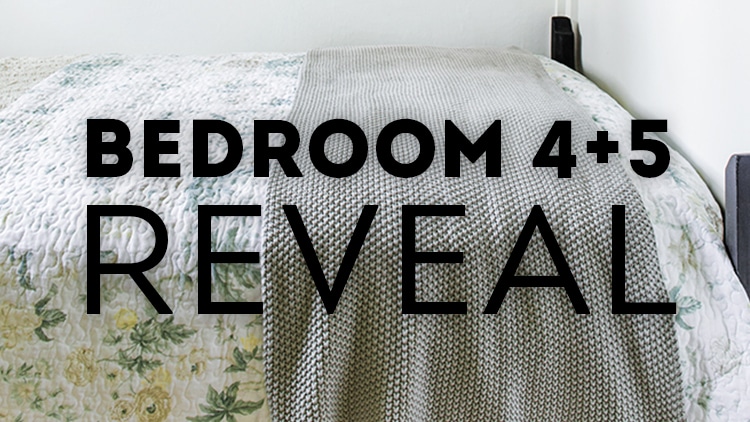 First up: Bedroom 4.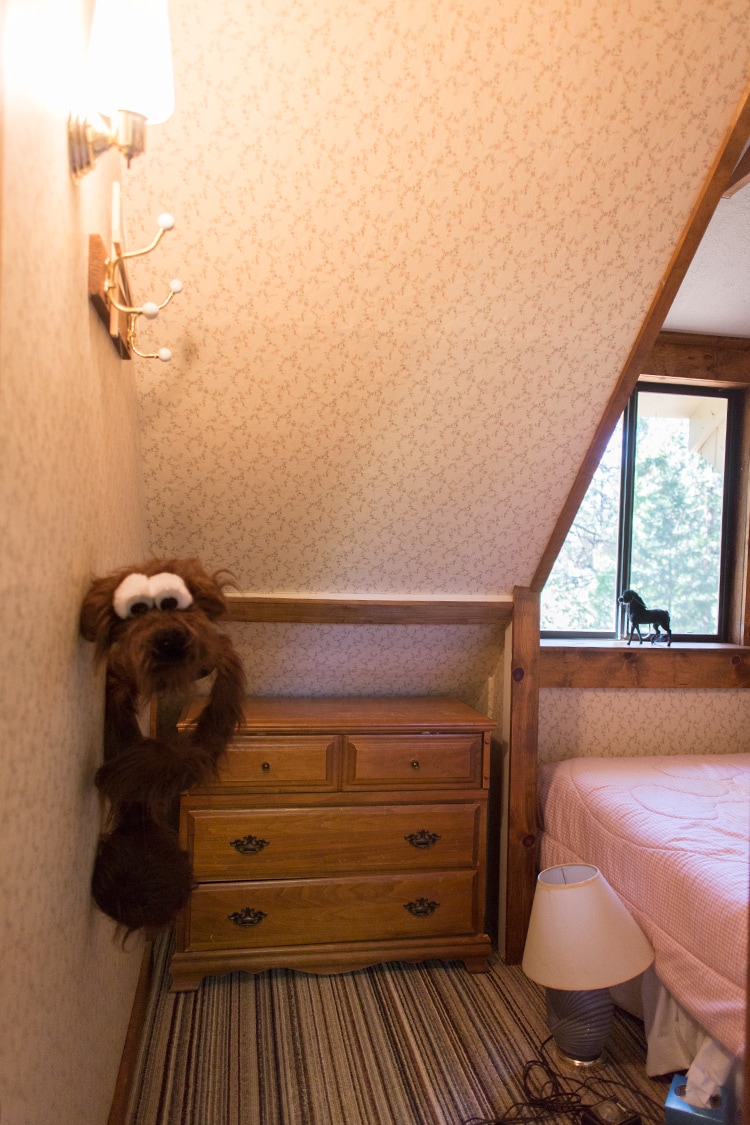 I have to admit, even the Before was pretty adorable.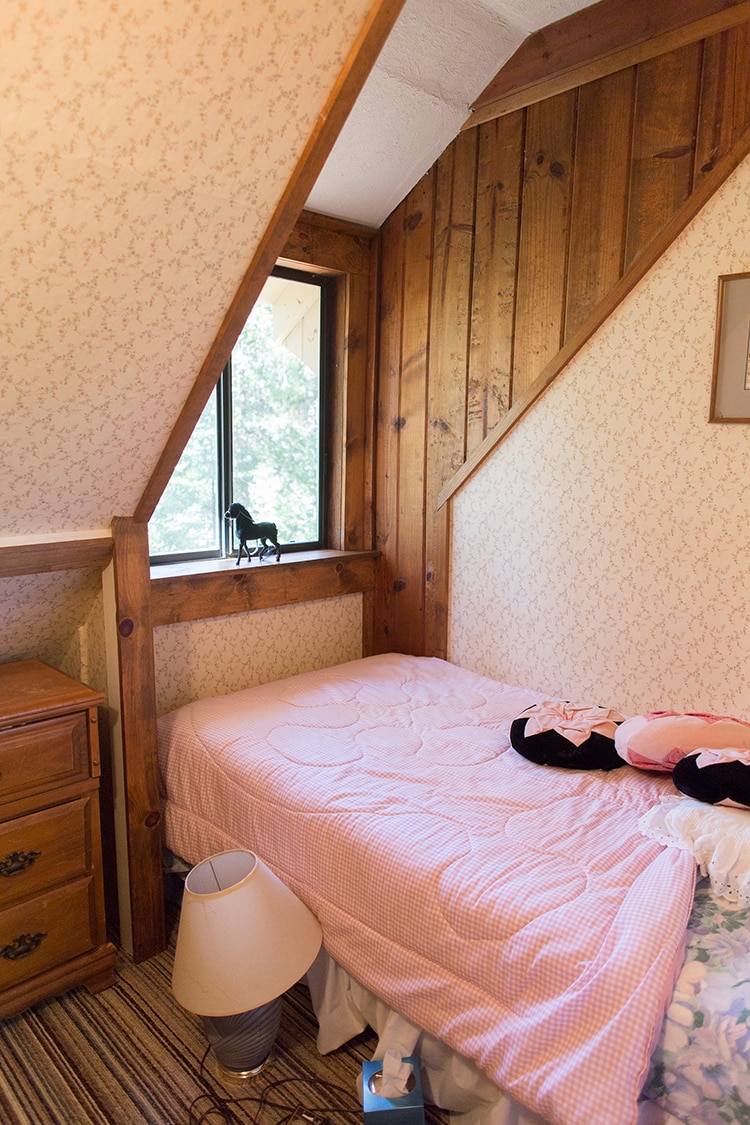 I didn't want to lose that sweetness, and at one point even considered leaving at least one wall of wallpaper.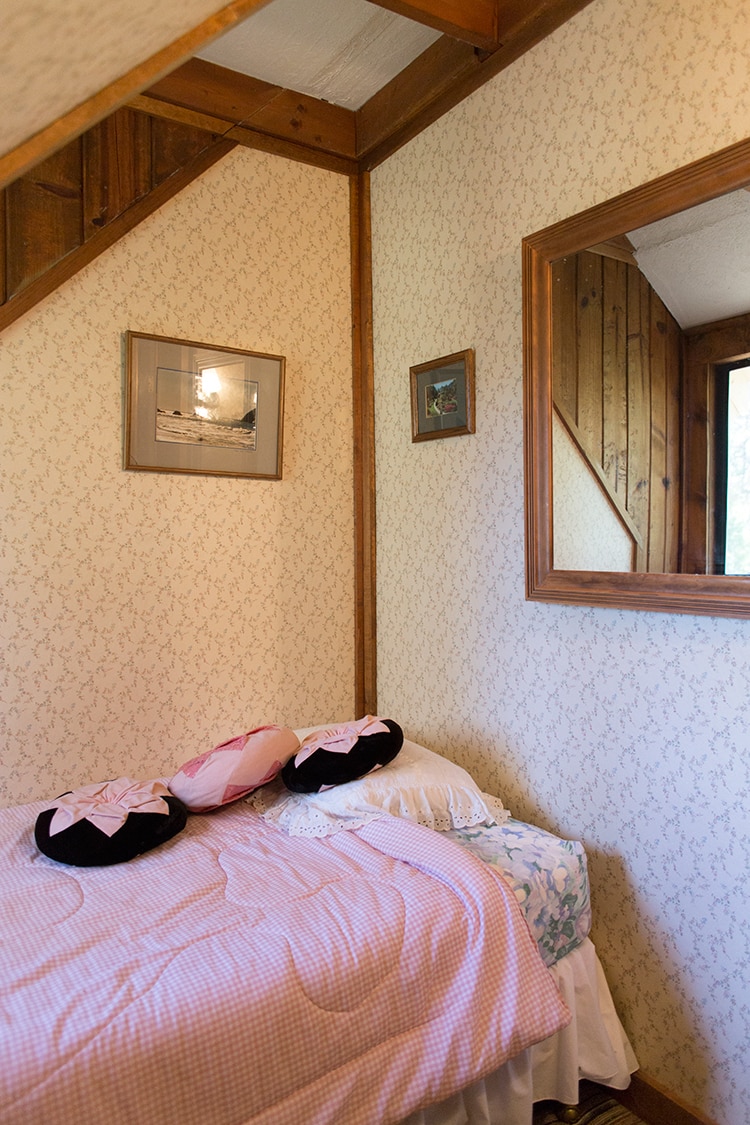 But in the end, decided it would be better to have a clean slate with white walls. The dresser fit perfectly, so I kept it and painted it a soft muted green with my favorite furniture paint: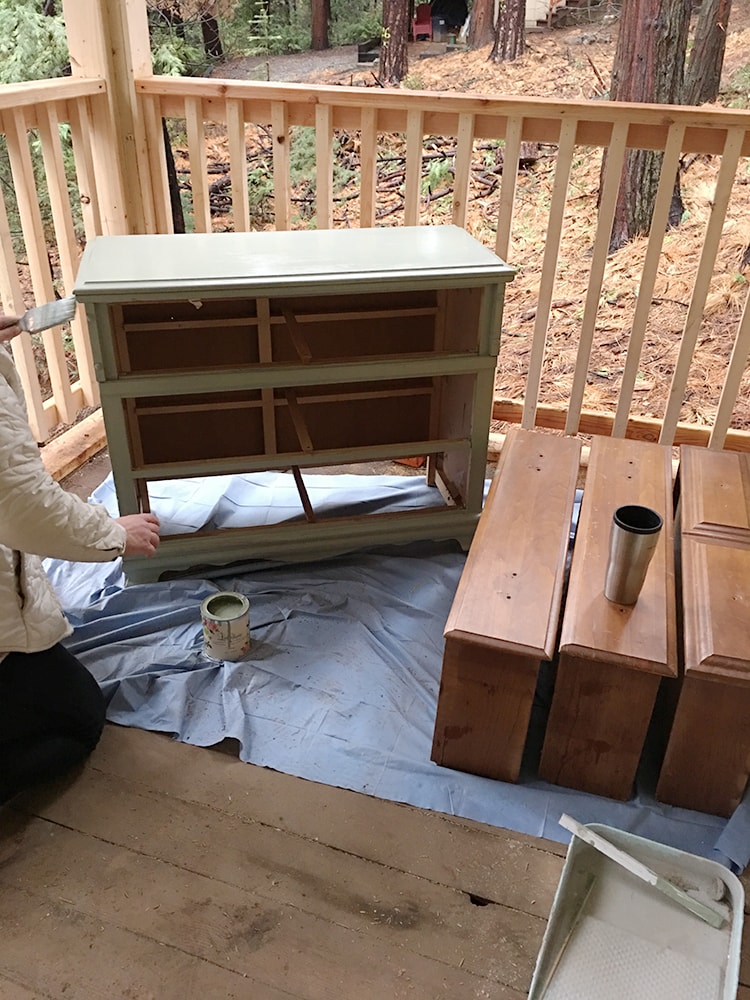 I also painted the wall paneling (in the only gray used in this house, Valspar Woodlawn Colonial Gray):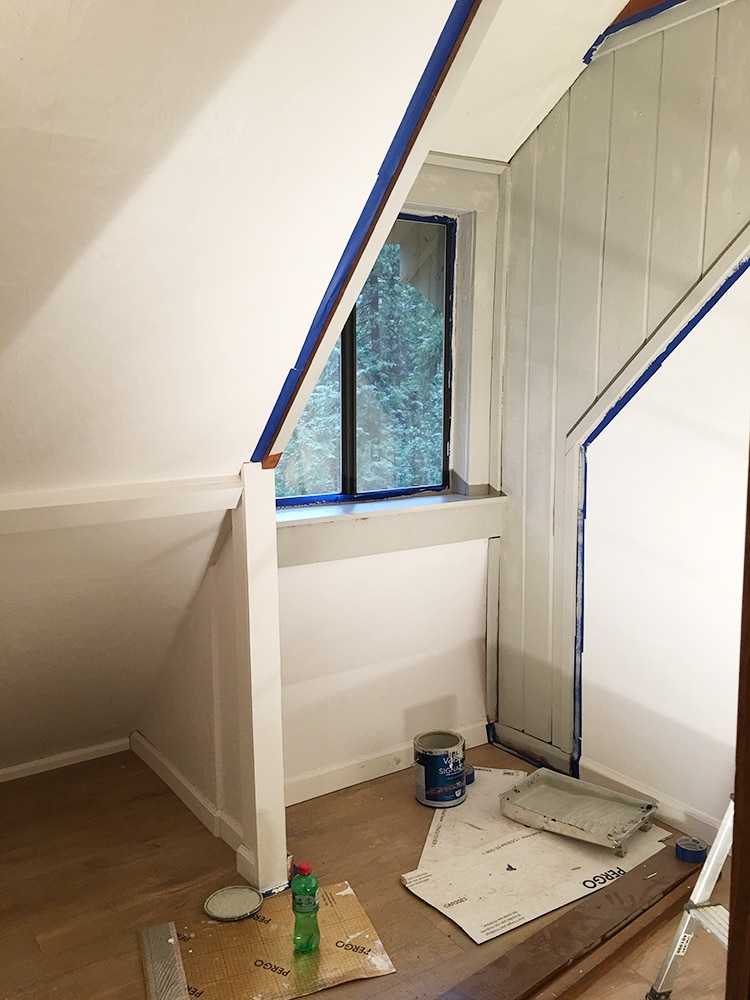 And before I knew it, sweet little Bedroom 4 was done!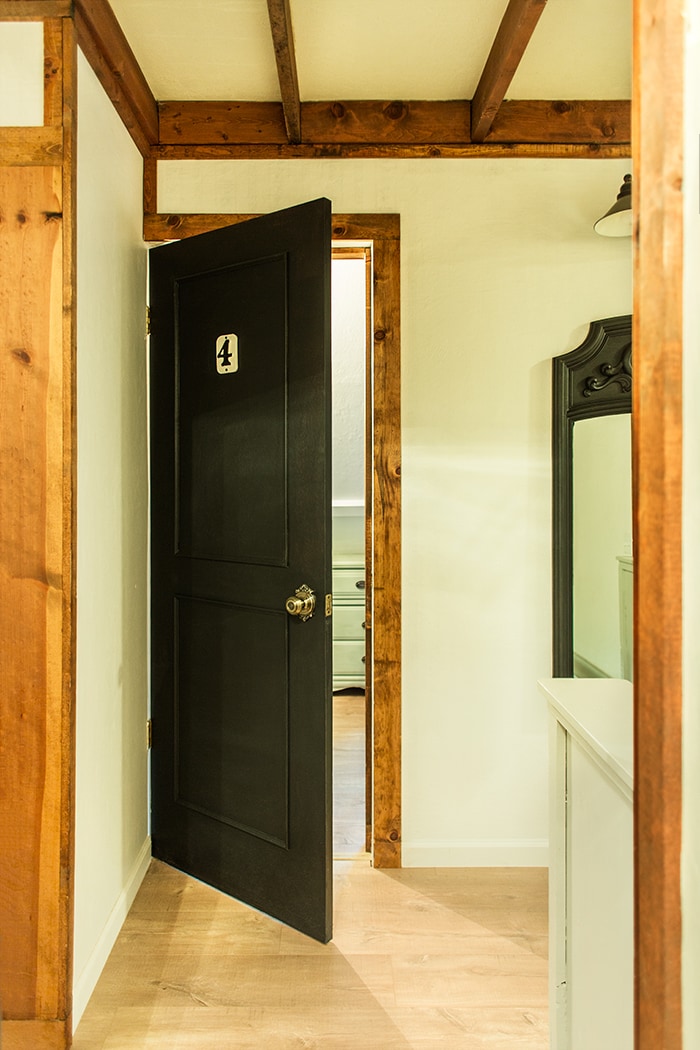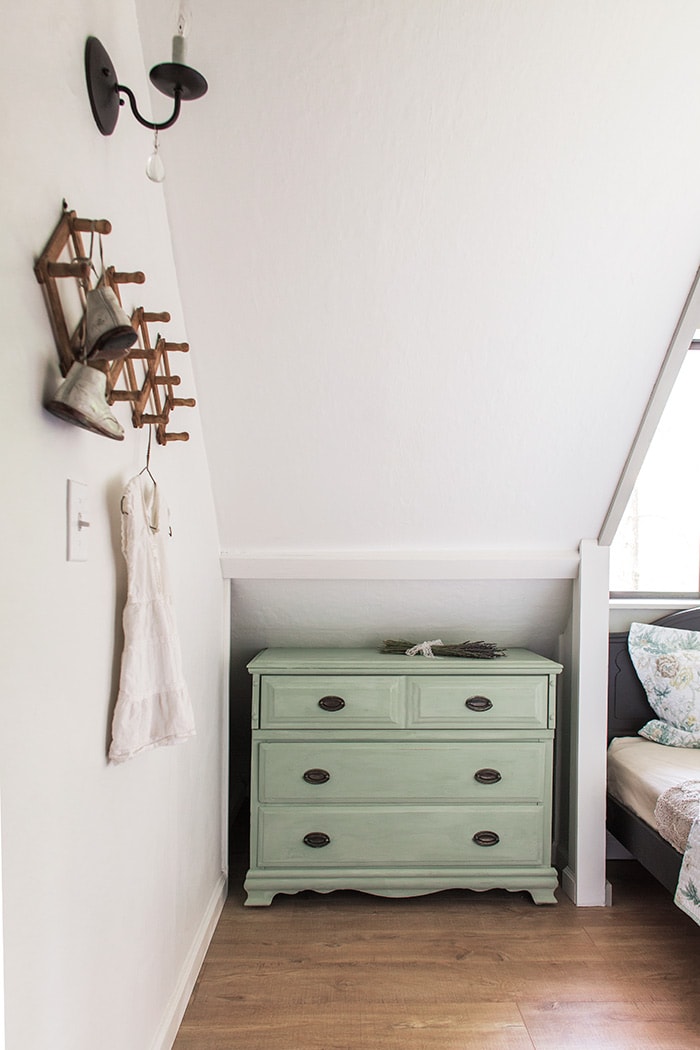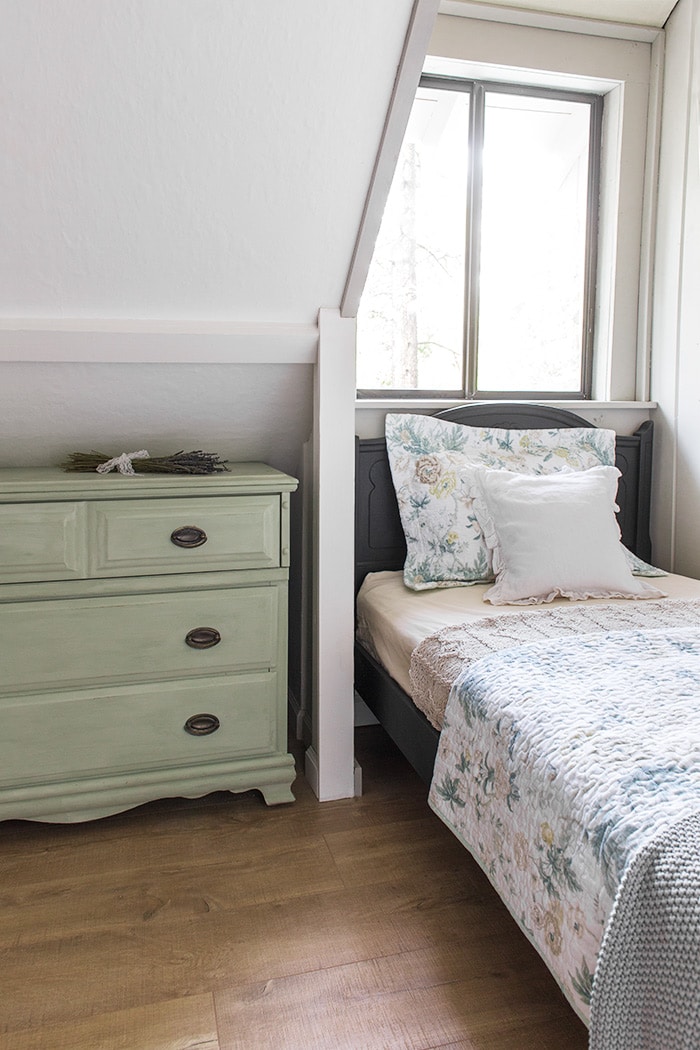 Much like the last two bedrooms, the design of this space was based on a floral quilt I found on Wayfair and fell in love with.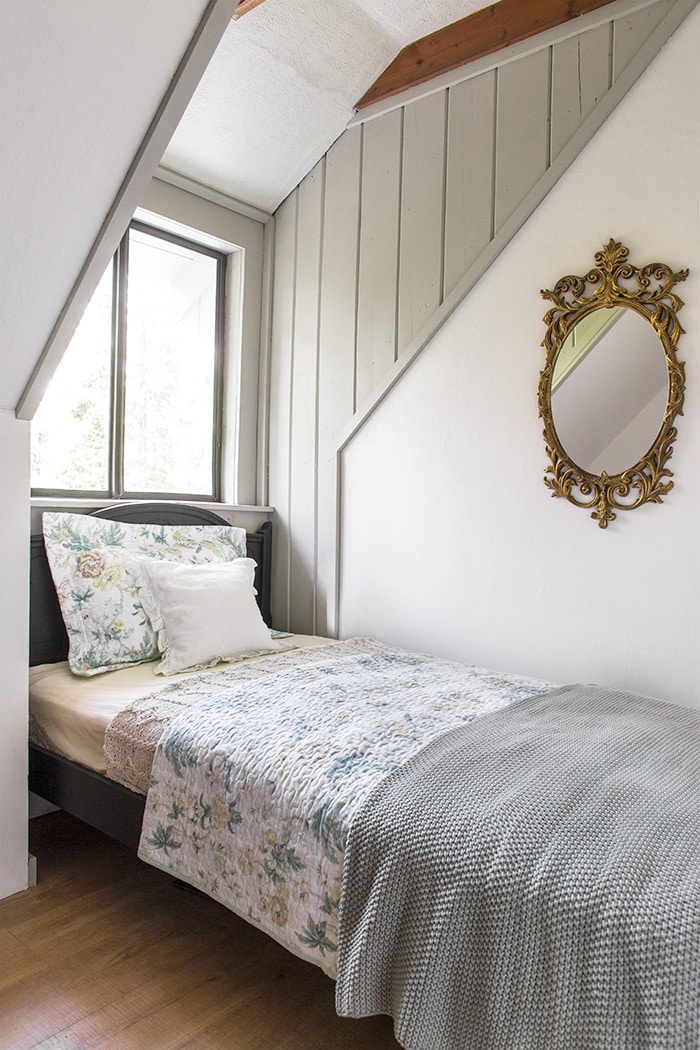 From there, I selected the green paint color from the dresser which coordinated quite nicely.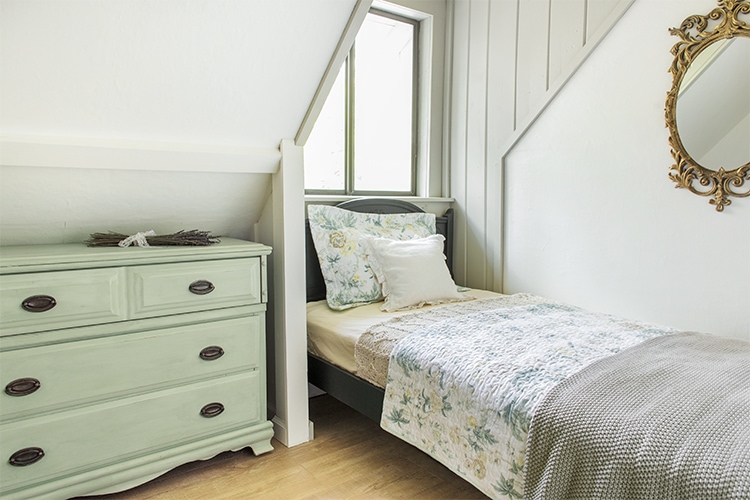 And the mirror was already in the house when I bought it. I can't get enough of that brassy gold!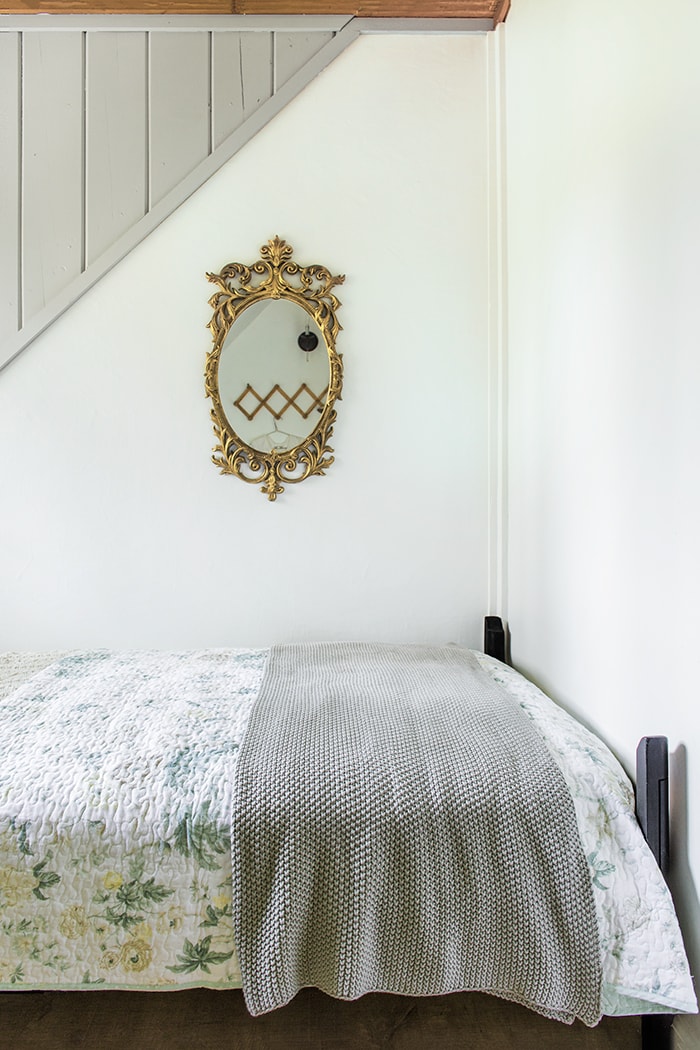 The throw is from Crane & Canopy and was pulled from storage.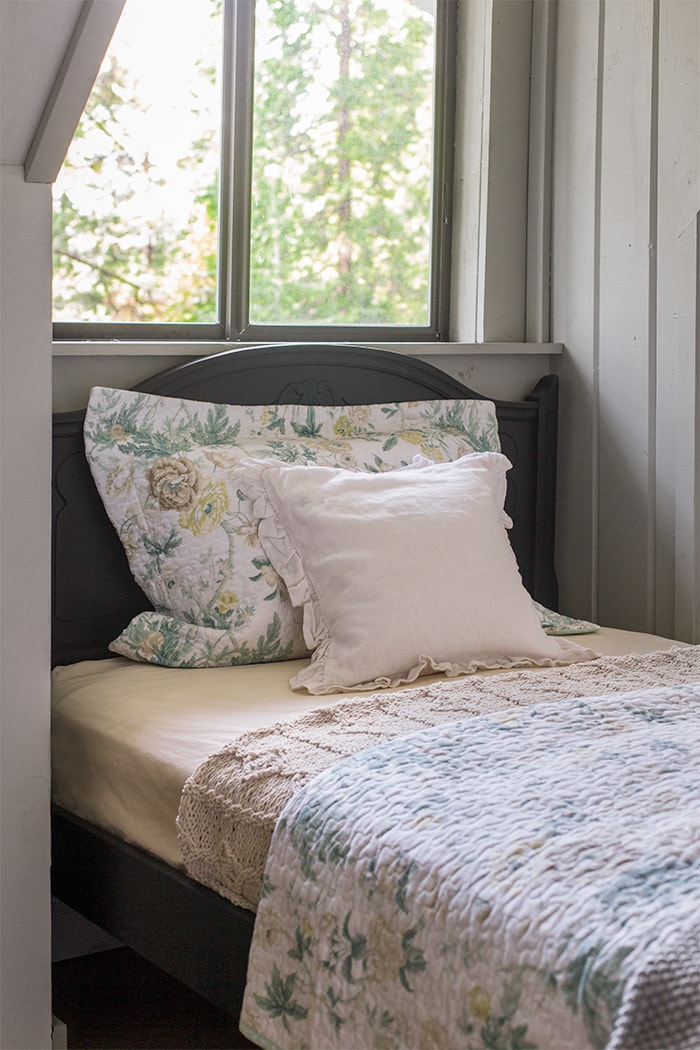 And the bed also came with the house, and was painted in Maison Blanche's Wrought Iron.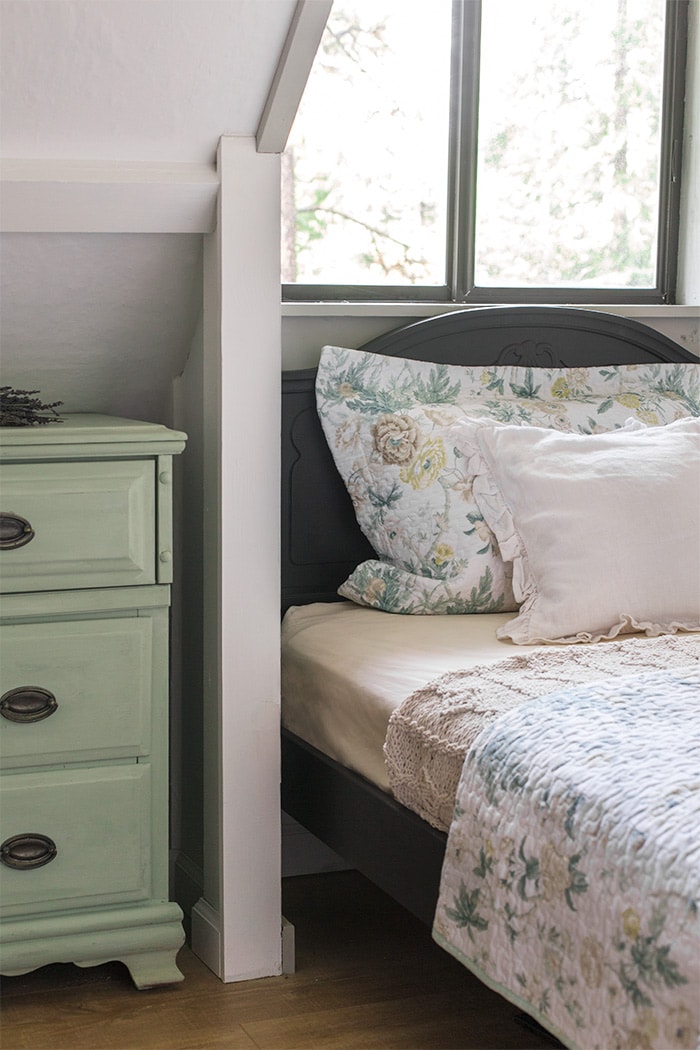 For the dresser makeover, I updated the old knobs with this brass set found at a thrift store for a couple dollars.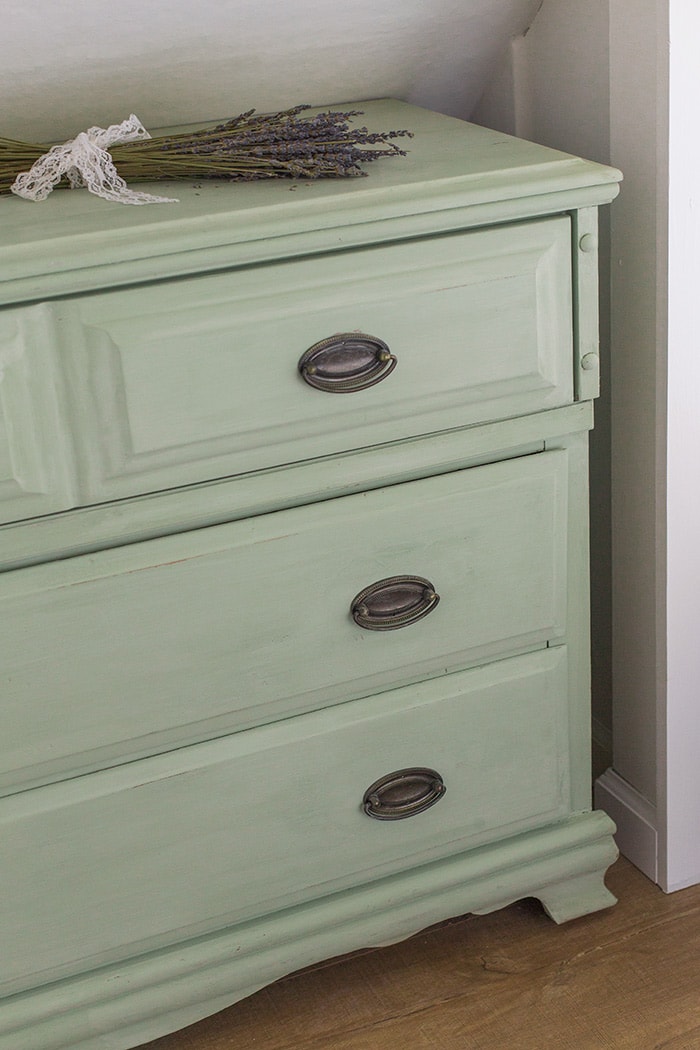 I also found this folding coat rack at the Restore for $1 and stained it (adorable accessories also thrifted).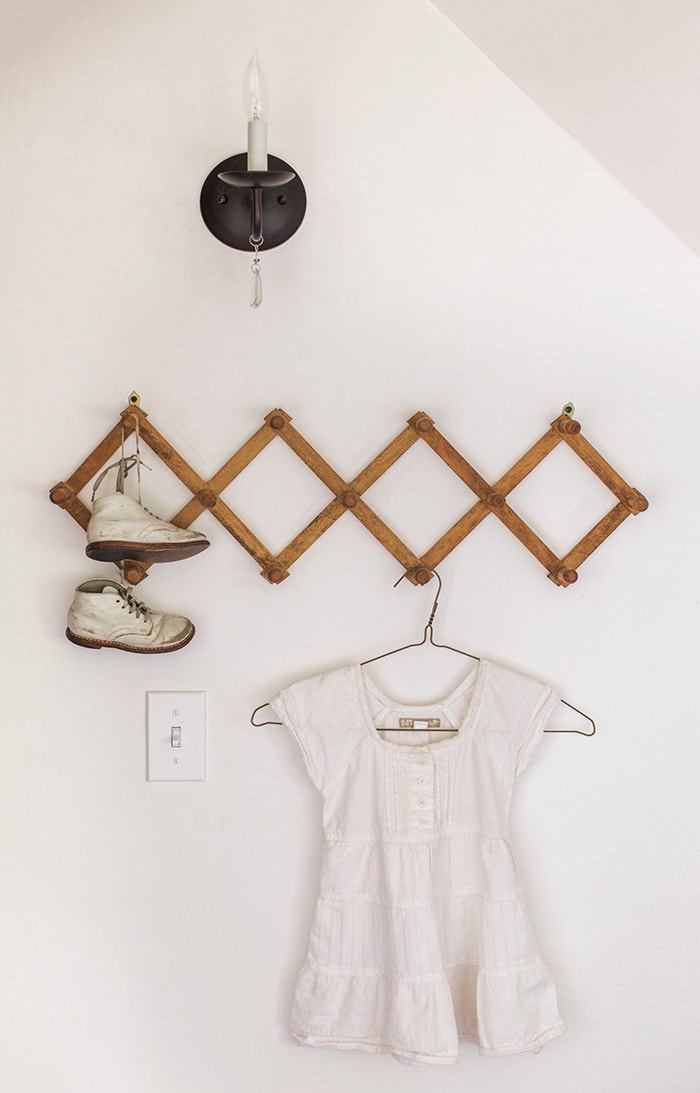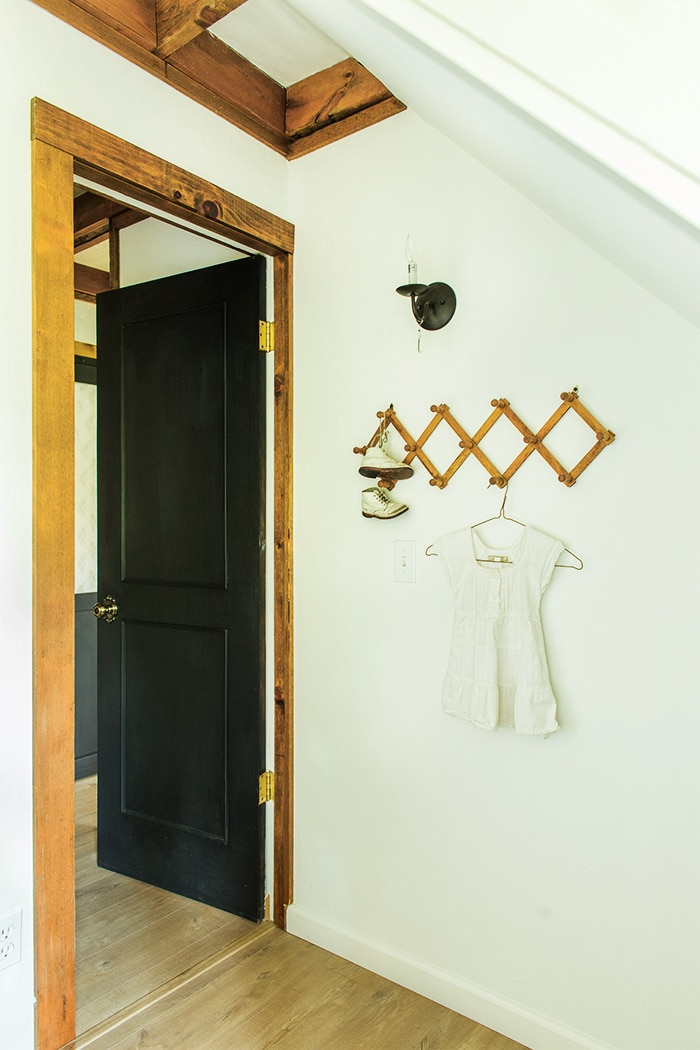 Come to think of it, this room cost me practically nothing!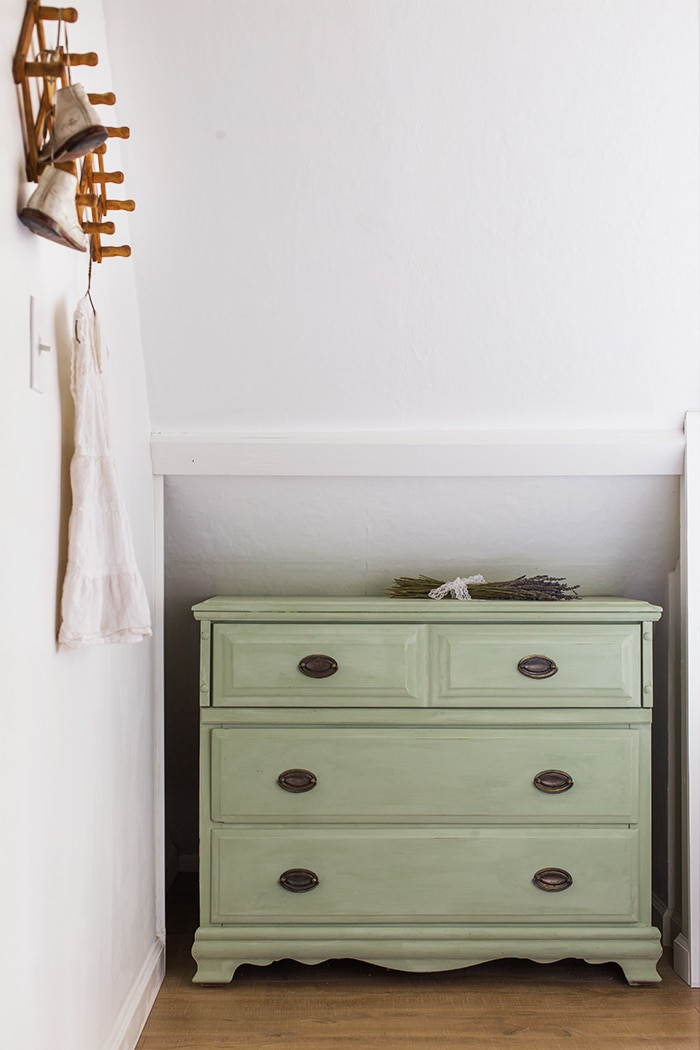 If only the kitchen/bathrooms/exterior could be so affordable…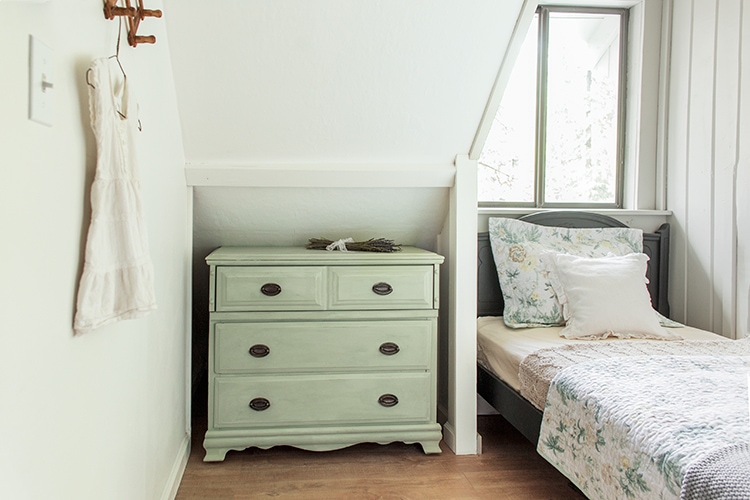 SOURCES
Wall color: Valspar Bistro White
Trim color: Valspar Woodlawn Colonial Gray
Black door color: Valspar Cracked Pepper
Dresser color: Maison Blanche Printemps
Bed color: Maison Blanche Wrought Iron
White pillow: H&M
Mirror: Inherited
Coat rack/accessories: Thrifted
Okay, ready for Bedroom 5? This one was a real gem…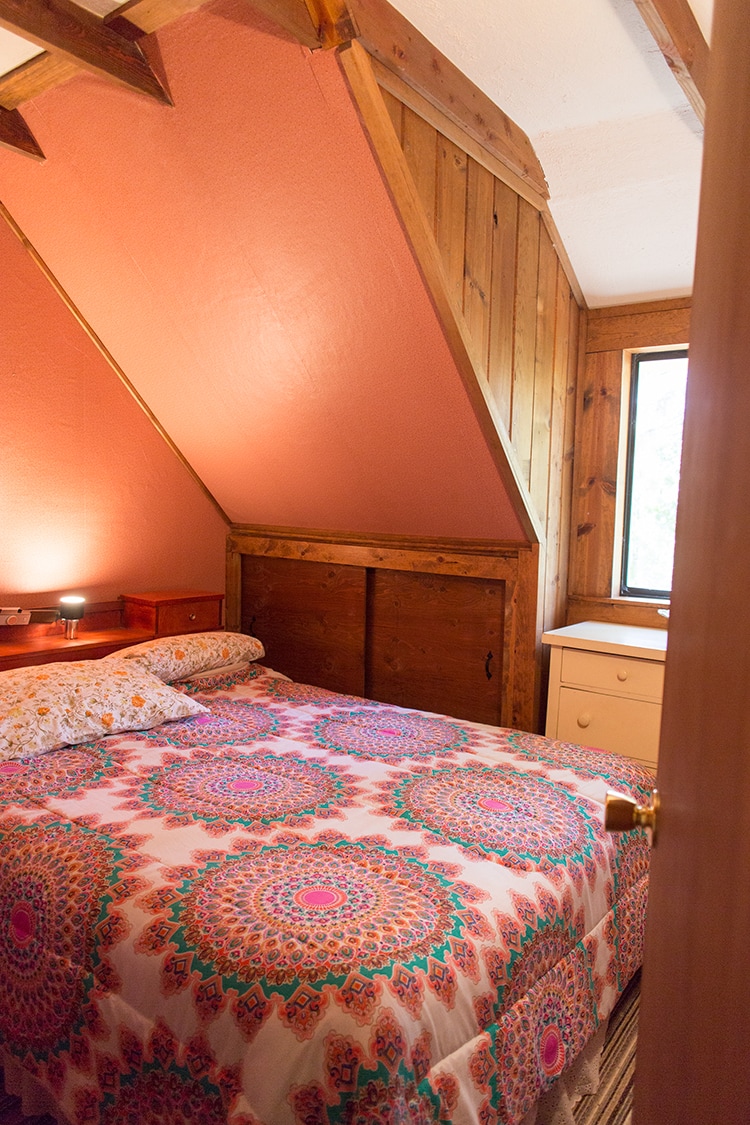 They committed to that mauve and maroon.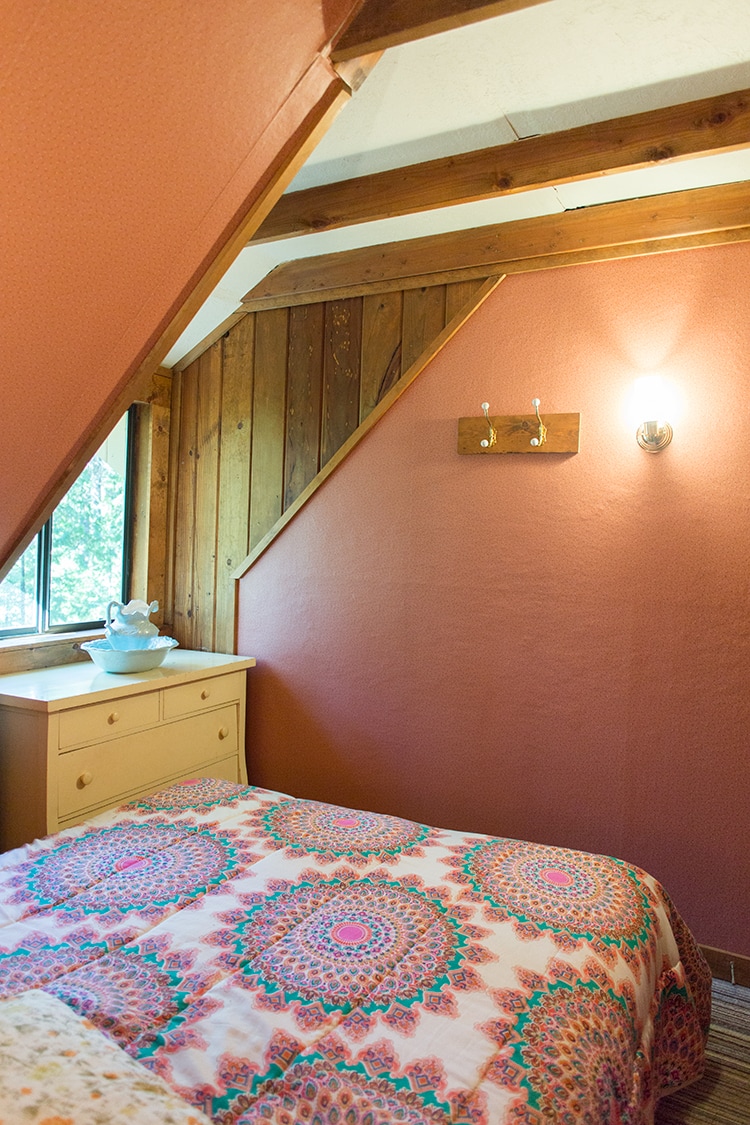 But at least I didn't have to buy a dresser!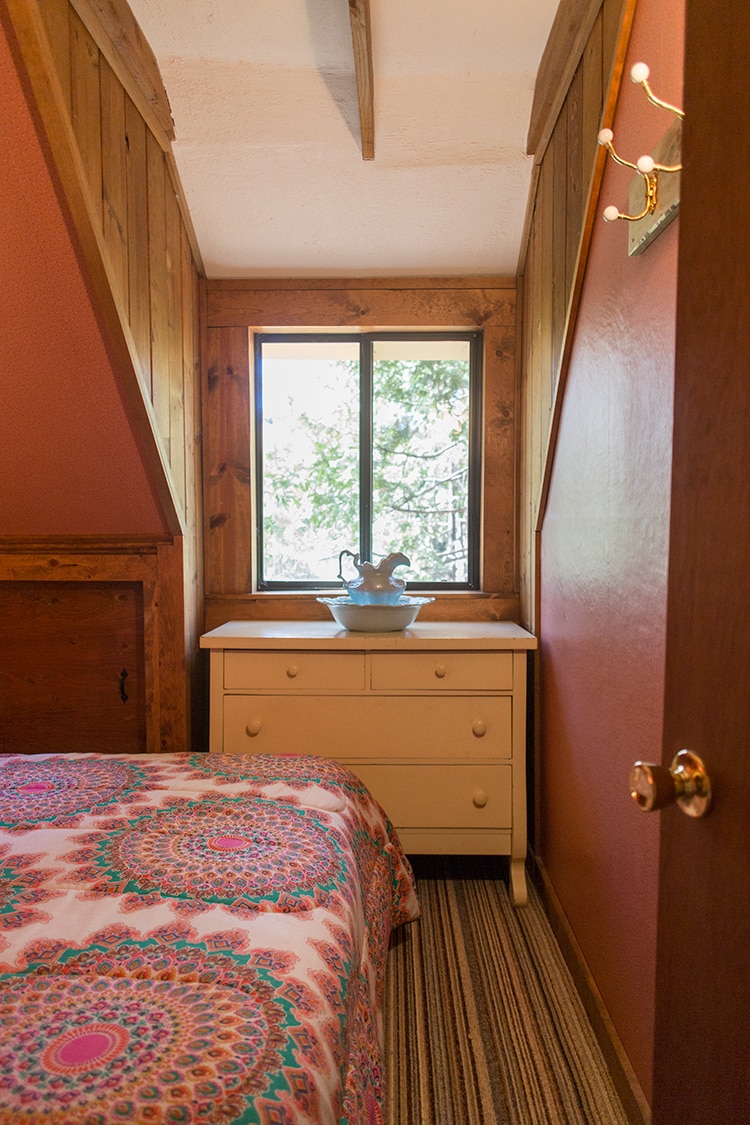 First came paint and flooring. I kept the mattress & box spring to save costs, and upgraded to a nice (and crazy inexpensive!) metal bed frame.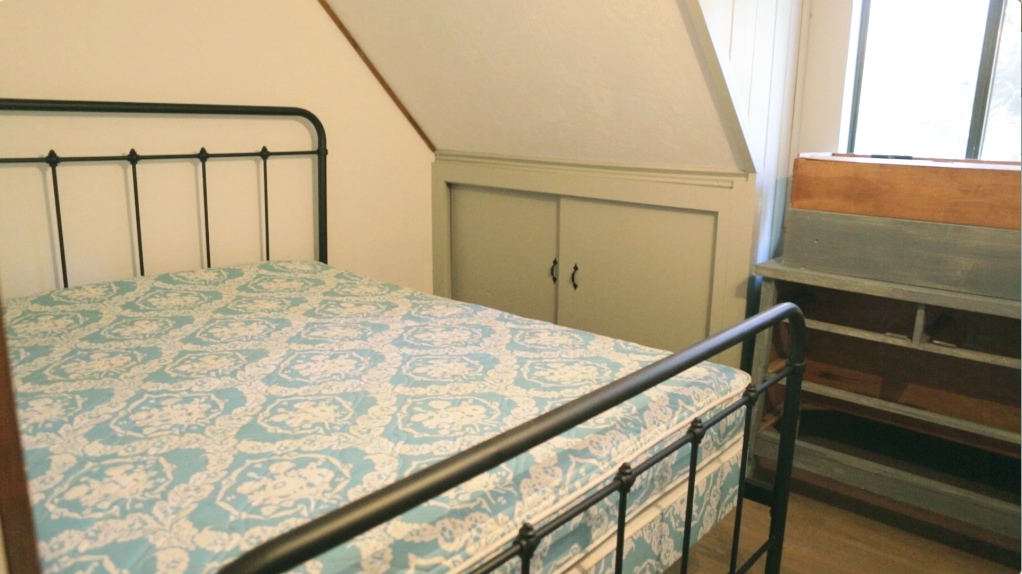 The dresser was given a refresh with Maison Blanche's Wrought Iron and Ebay brass ring pulls.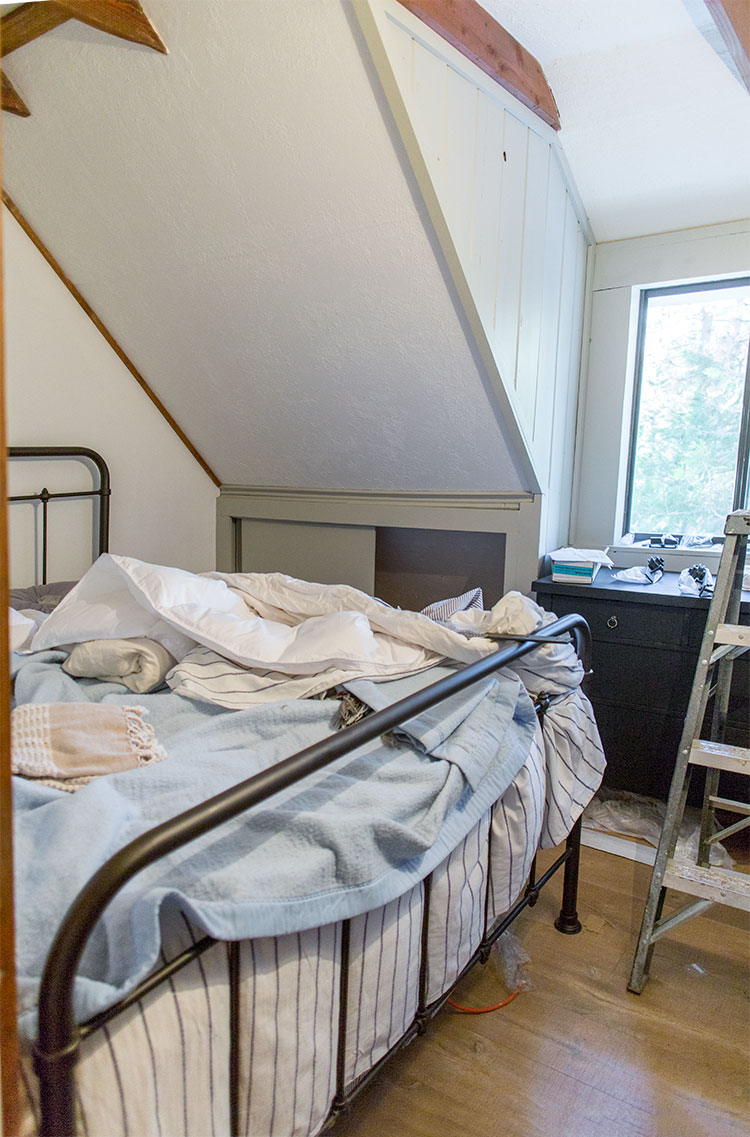 And here it is, all grown up and a long way from the 60's disco room…
I generally try to keep the color palette light and airy in these small rooms.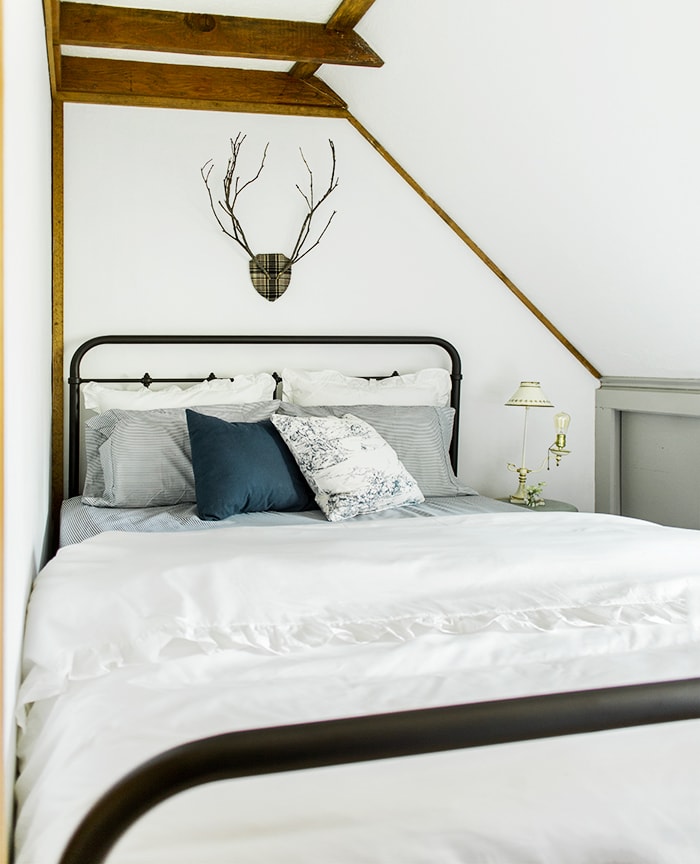 It expands the walls and gives your eyes a place to rest.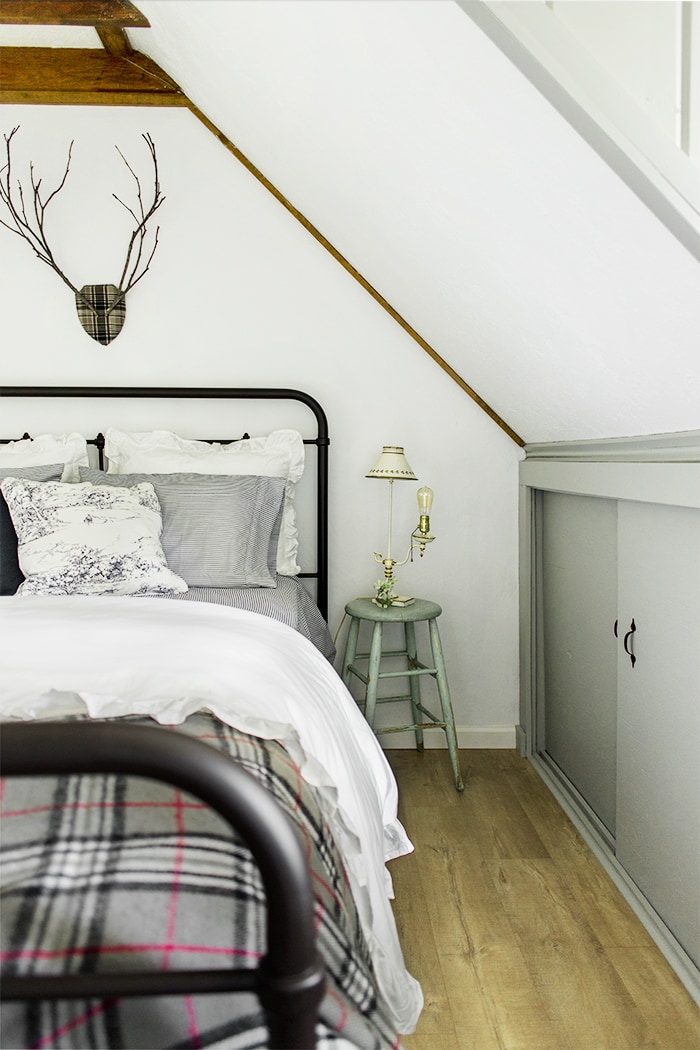 But then I love to mix in some black for contrast.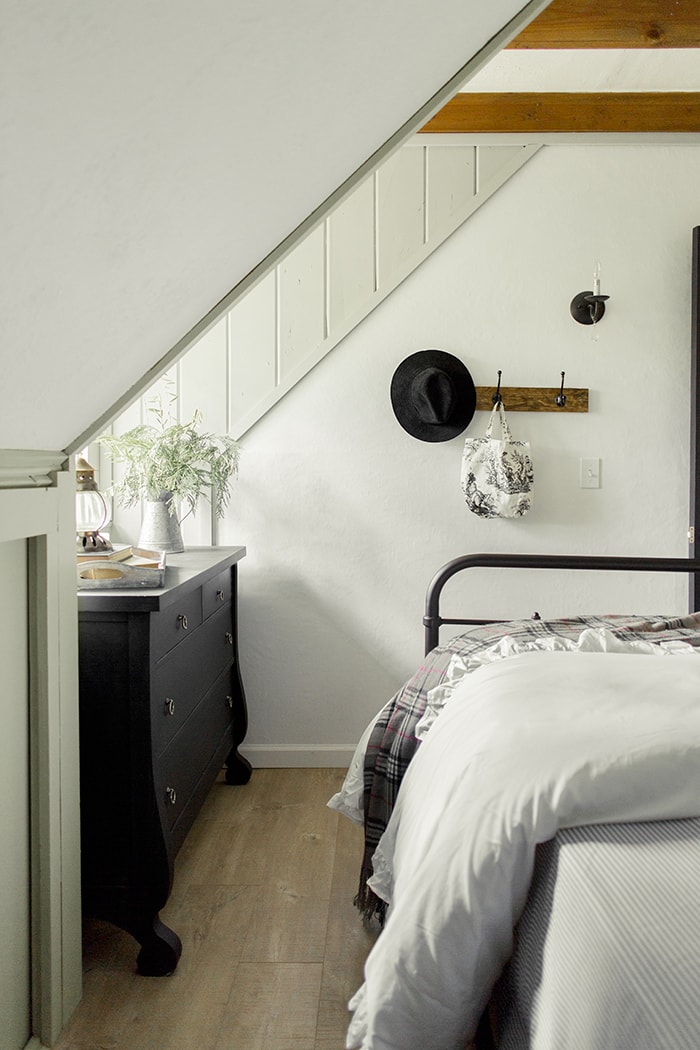 And sometimes pops of other colors… like this pale chippy green (shout out to my sis for letting me borrow her stool!)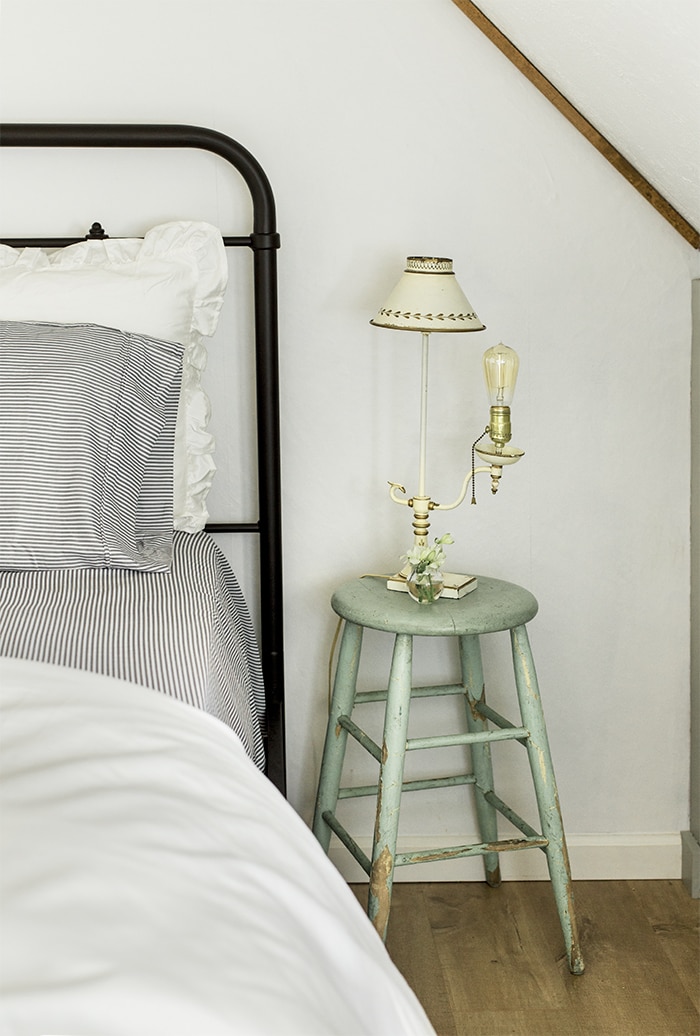 That vintage lamp was actually in Bedroom #2, so to save time and money I reused it here. It puts off a lovely warm glow.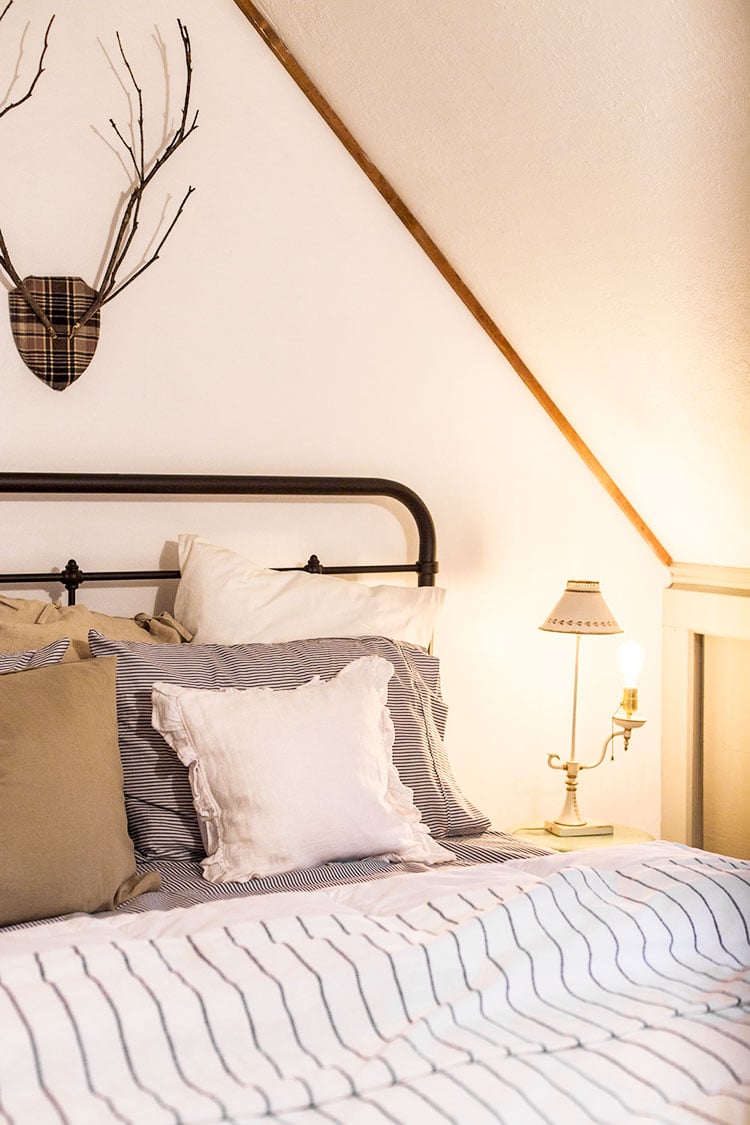 Let's talk about the bedding!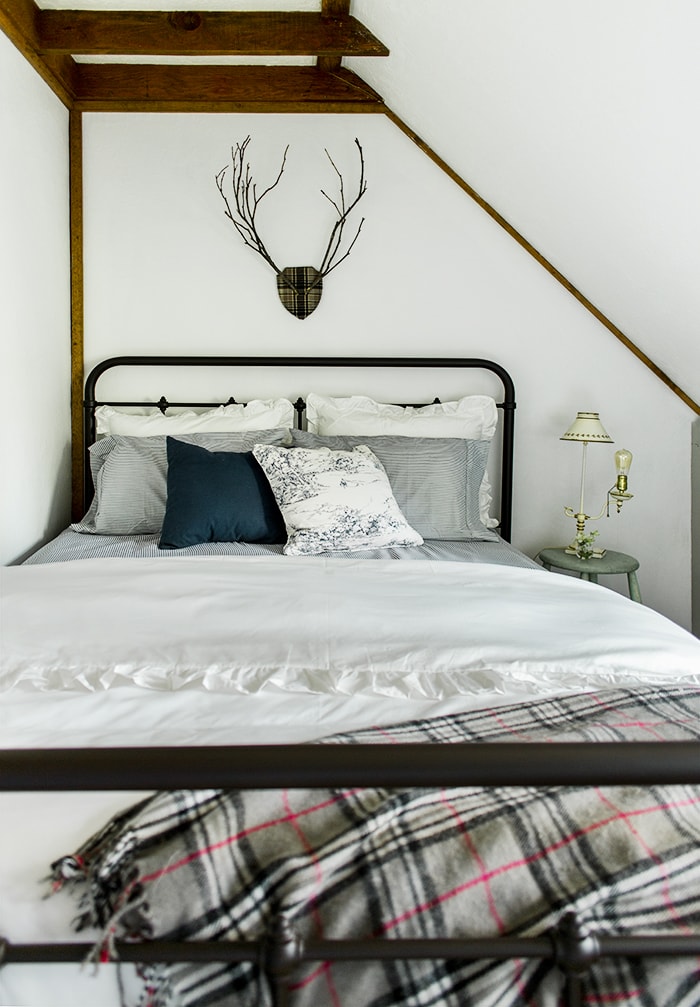 I tried a couple different configurations—starting with my striped Ikea bedspread, but the Country Living stylist moved it to Bedroom 2 so I used my white ruffle duvet set from Crane & Canopy. A full and fluffy duvet is also key—I found this goose down on Wayfair for $50 and ended up buying 3.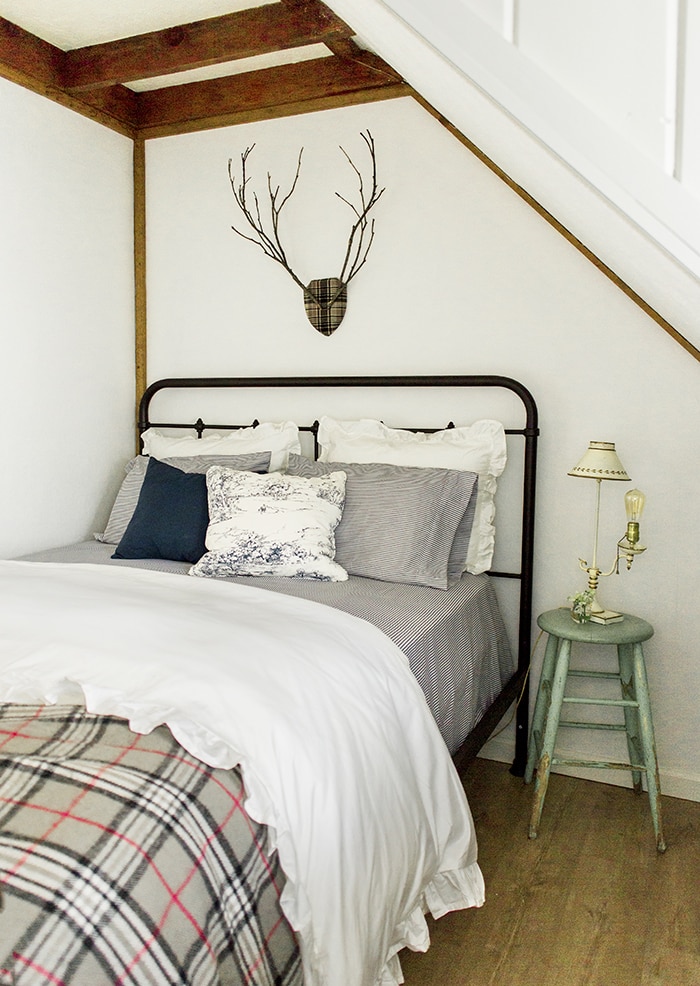 Absolutely love this set. It's so soft and versatile, and the ruffles make all the difference.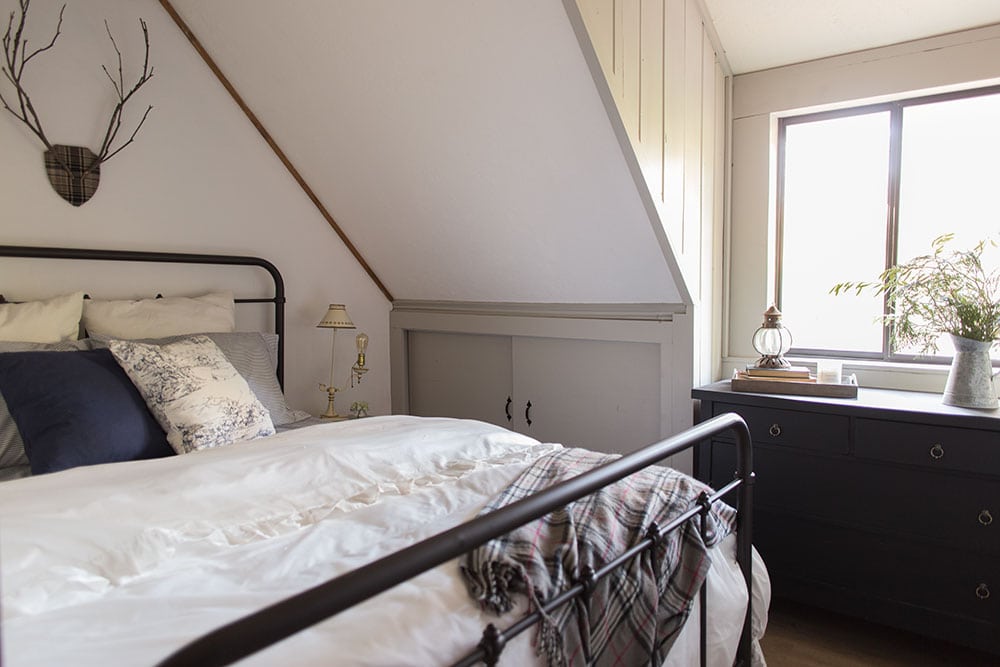 The sheet set is simple navy pinstripes found on Wayfair. Can't beat a classic (especially for under $30!)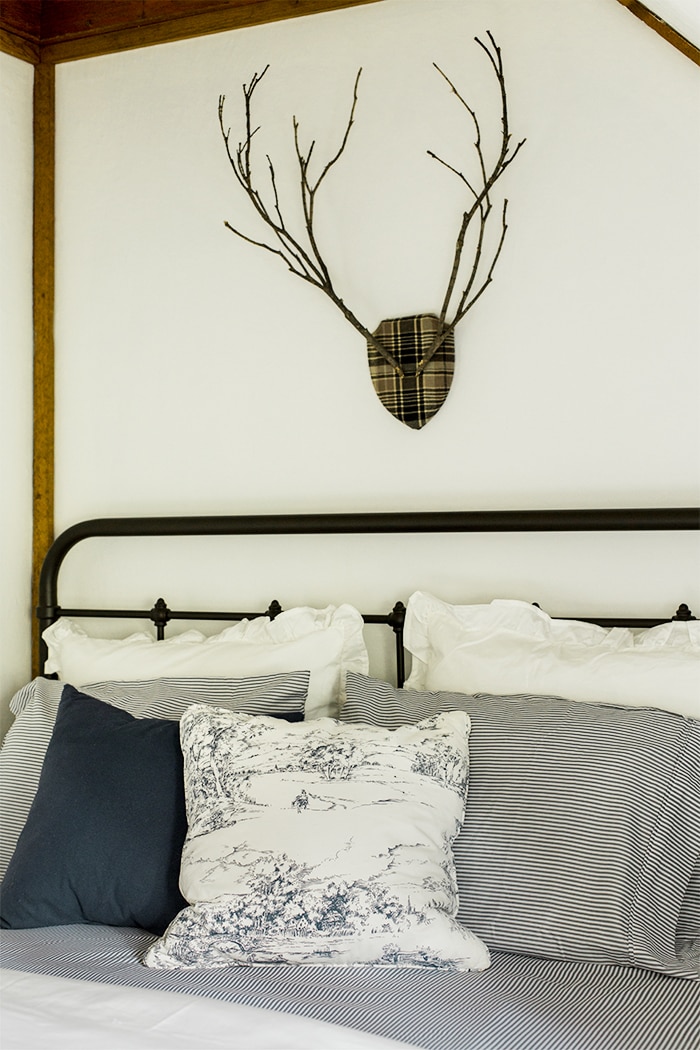 I added a solid navy and toile pillows pulled from storage (toile is from Ikea). And here's the first setup again…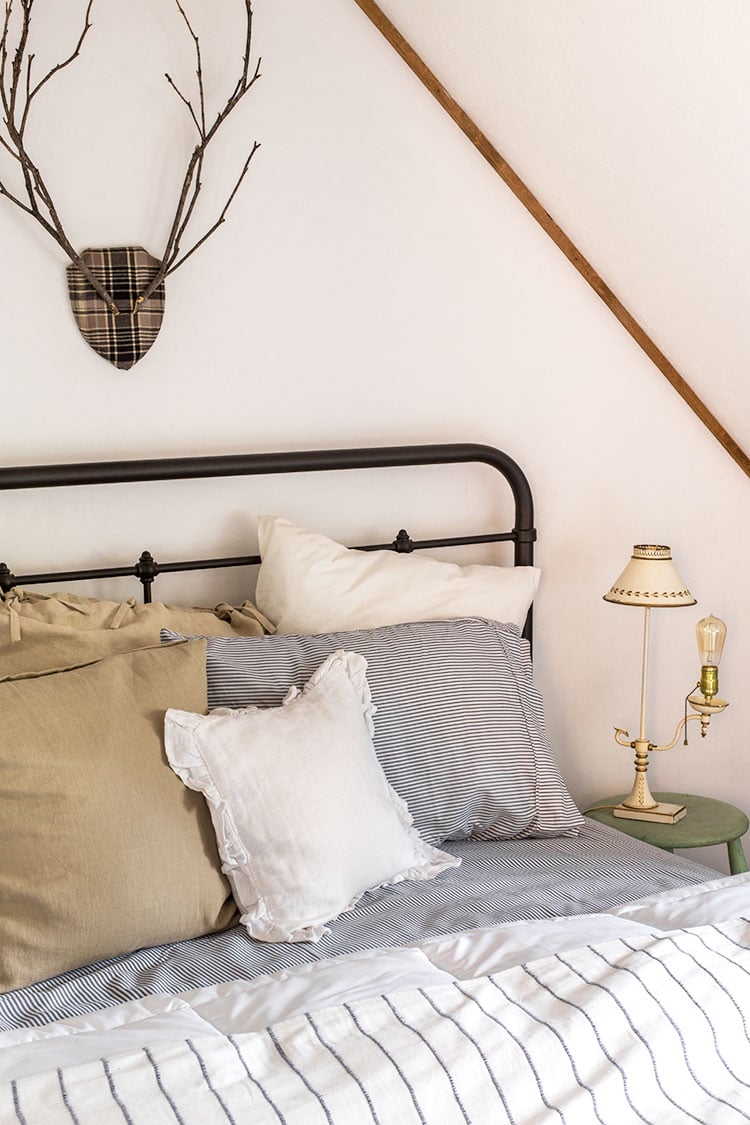 Details, details. Black and white always does it for me.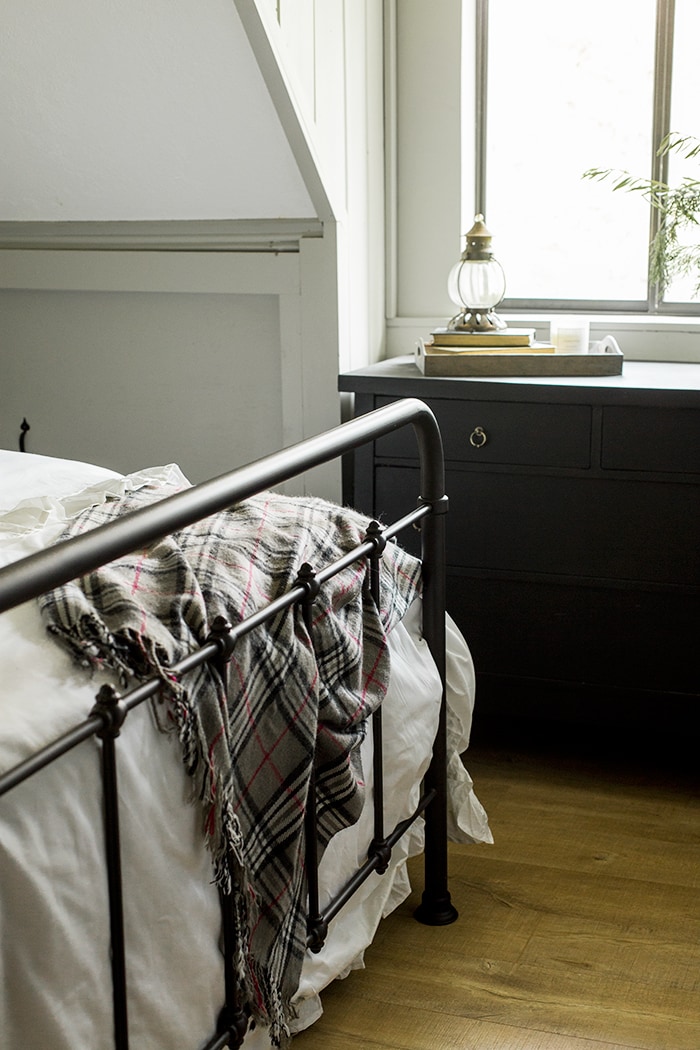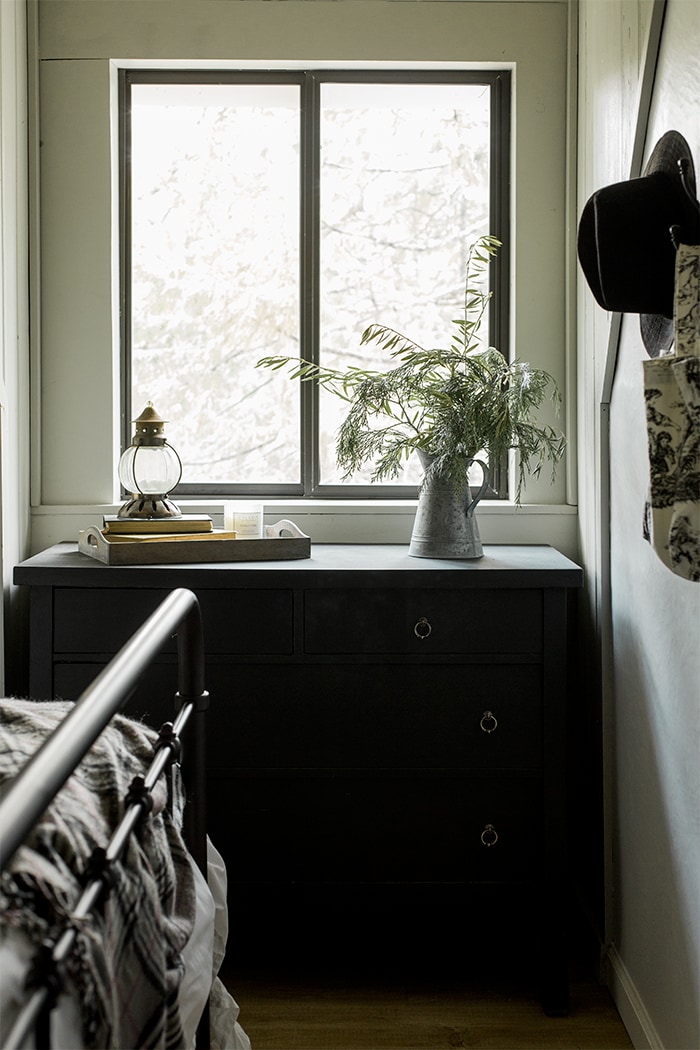 $0 spent on accessories in this room. All pulled from storage.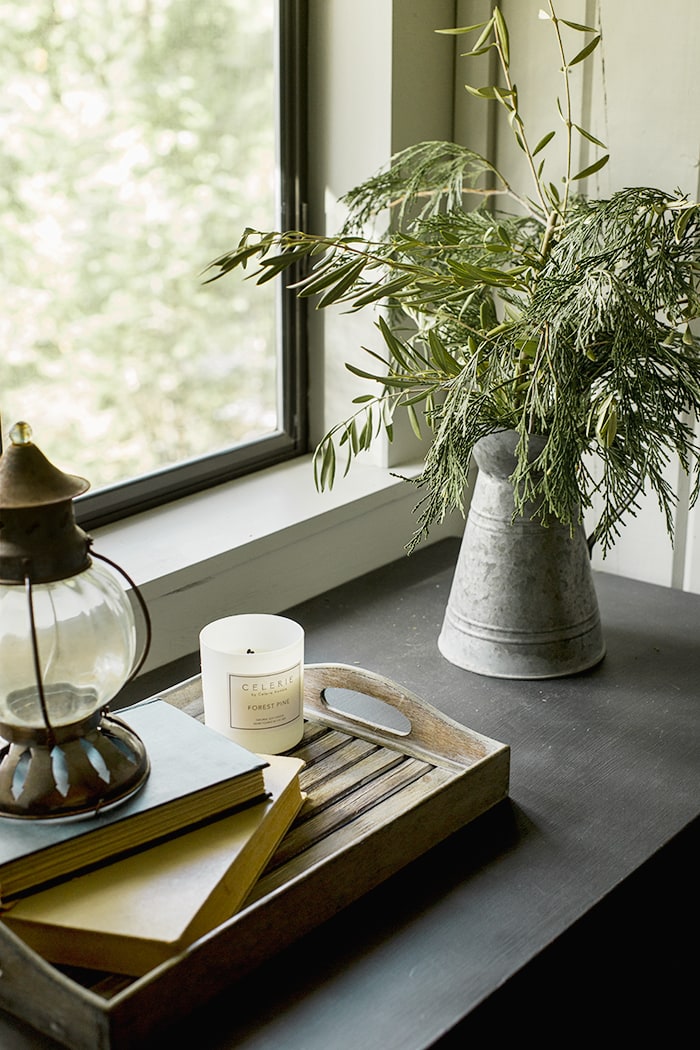 Down to the hat, bag and coat rack.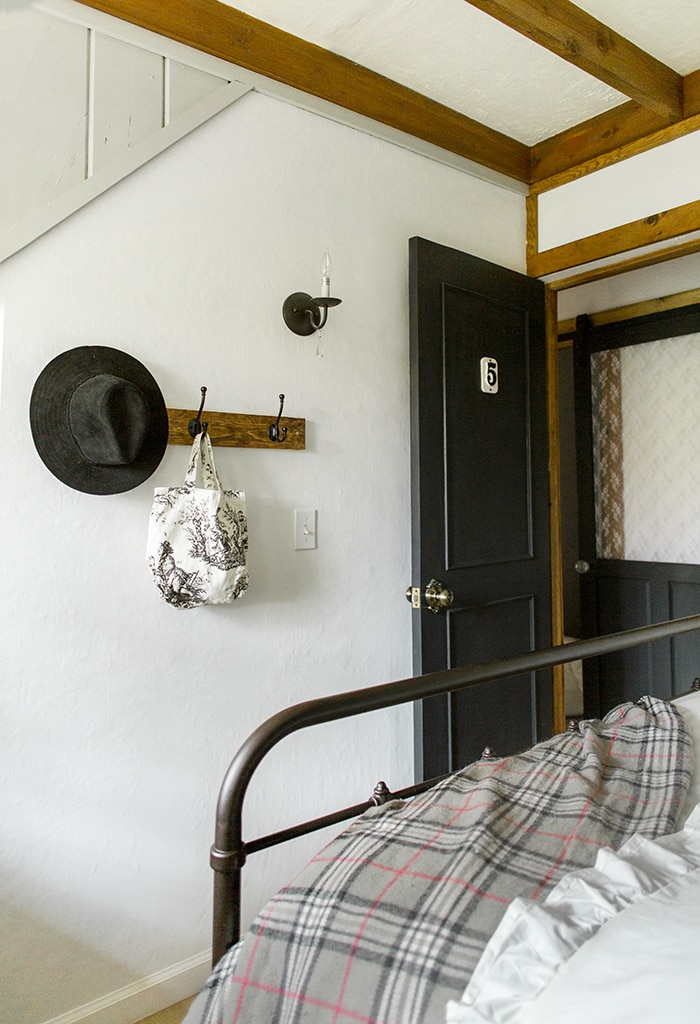 Last photo of the day!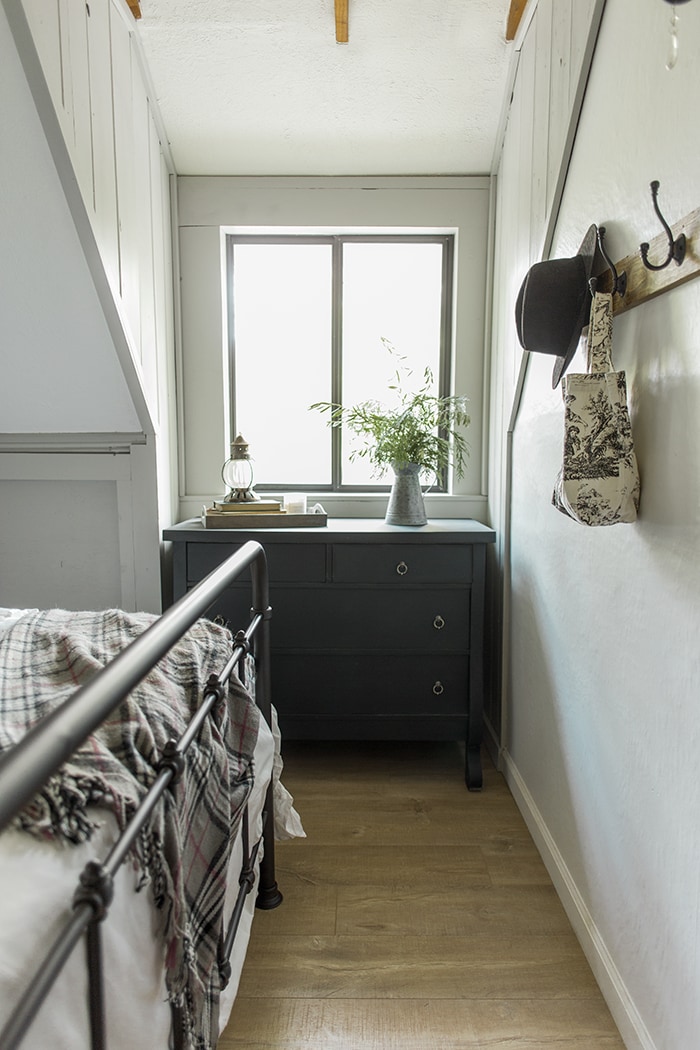 SOURCES
Wall color: Valspar Bistro White
Trim color: Valspar Woodlawn Colonial Gray
Black door color: Valspar Cracked Pepper
Pergo Flooring in Scottsdale Oak – discontinued color (Similar here)
Dresser color: Maison Blanche Wrought Iron
Stool: borrowed
Lamp: vintage
Toile pillow: Ikea
Ruffle throw pillow: H&M
Beige pillows: Ikea
Navy pillow: already owned
Throw blanket: already owned
Accessories: thrifted/already owned
Disclosure: Some of the products listed were provided via sponsorship—all of which I selected and fully approve of.
That wraps up today's reveals! Make sure to watch the Before & After video transformation for a more complete experience, and catch up on the entire Cottage House Flip series if you've missed any episodes.
Tomorrow is the LAST REVEAL, can you believe it?! Where has the time gone? Next week will be full of recaps and budget breakdowns though, so you won't want to miss that. See you back here tomorrow!