It's Bedroom Reveal Week and we're on Day 3, revealing the third of six bedrooms (halfway there!). Click below to witness the before, during & after transformation: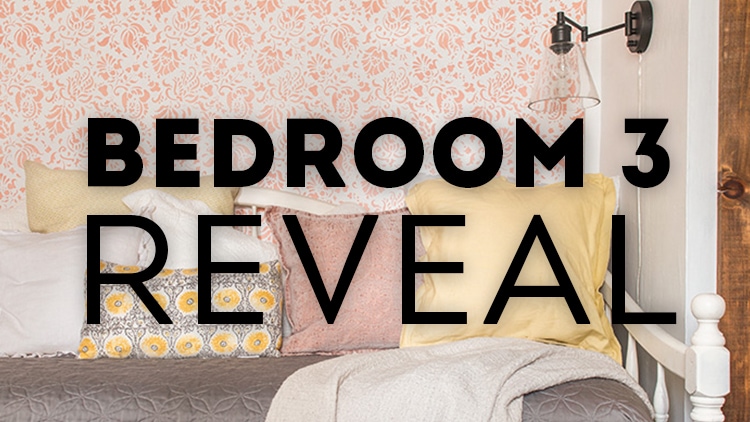 Once upon a time, before it was dubbed "Bedroom 3", we had this: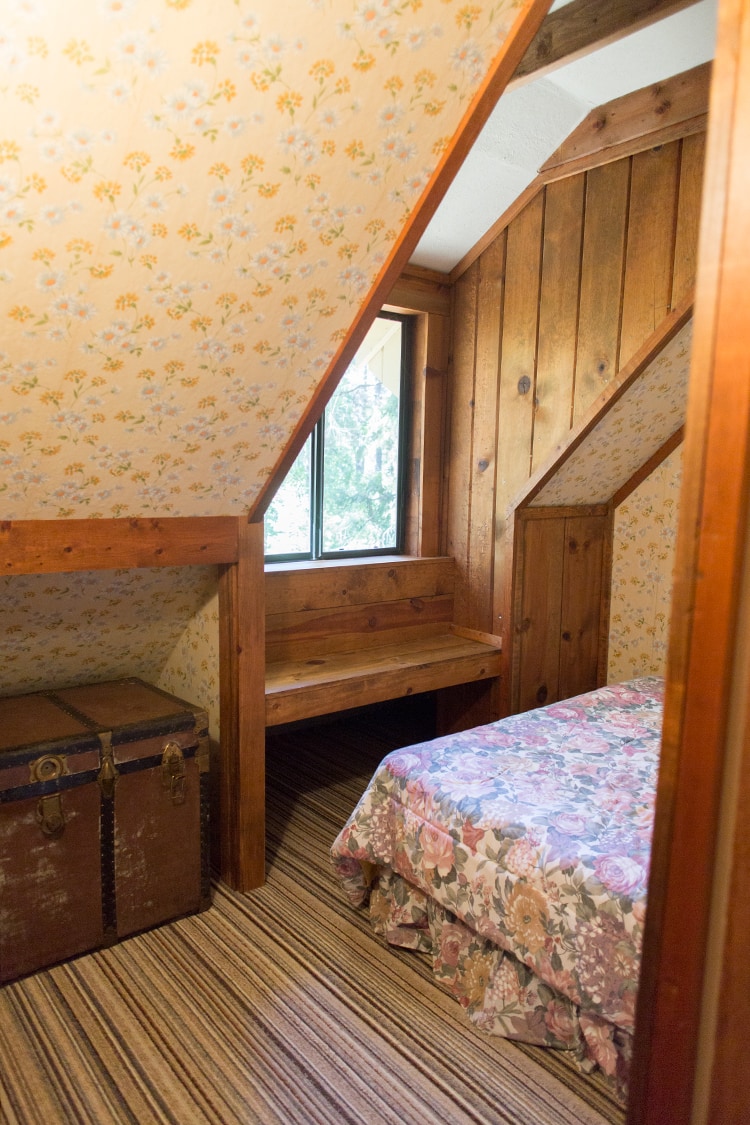 Lots of flowers, lots of stripes and lots of wood.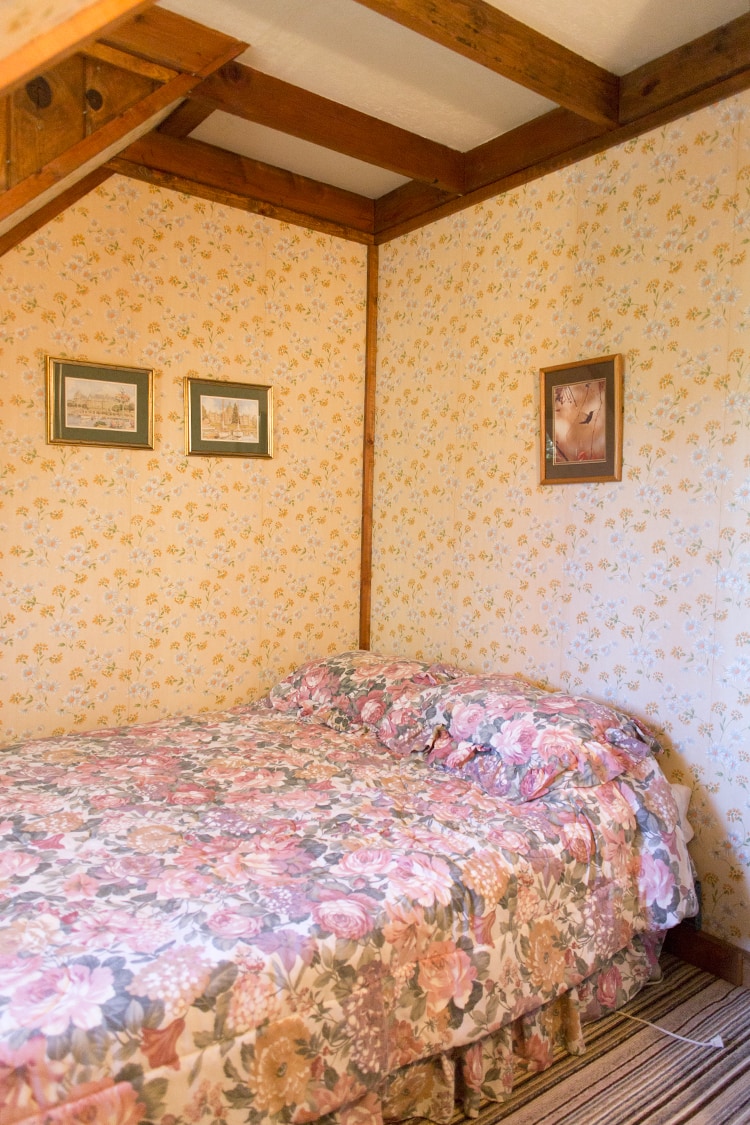 Whoa nelly. Not exactly the most relaxing place.
After the walls became white and the carpet was removed, I decided to pay homage to the floral motif, in a new and updated way: stenciling.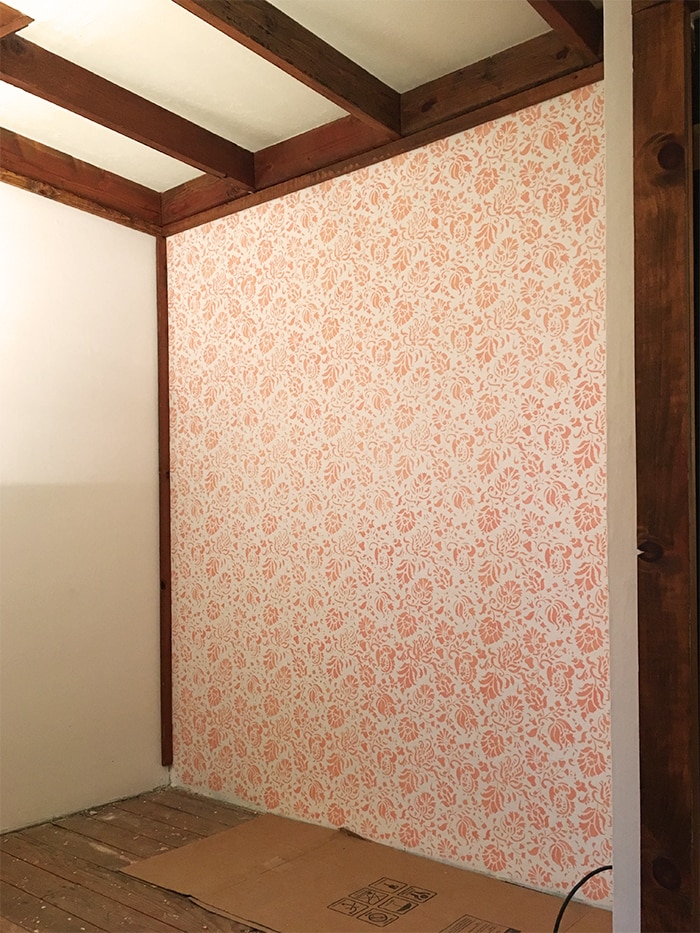 The wood wall paneling was a bit too heavy, so I lightened it up with the same light gray used throughout the bedrooms (and on the exterior of the home for consistency):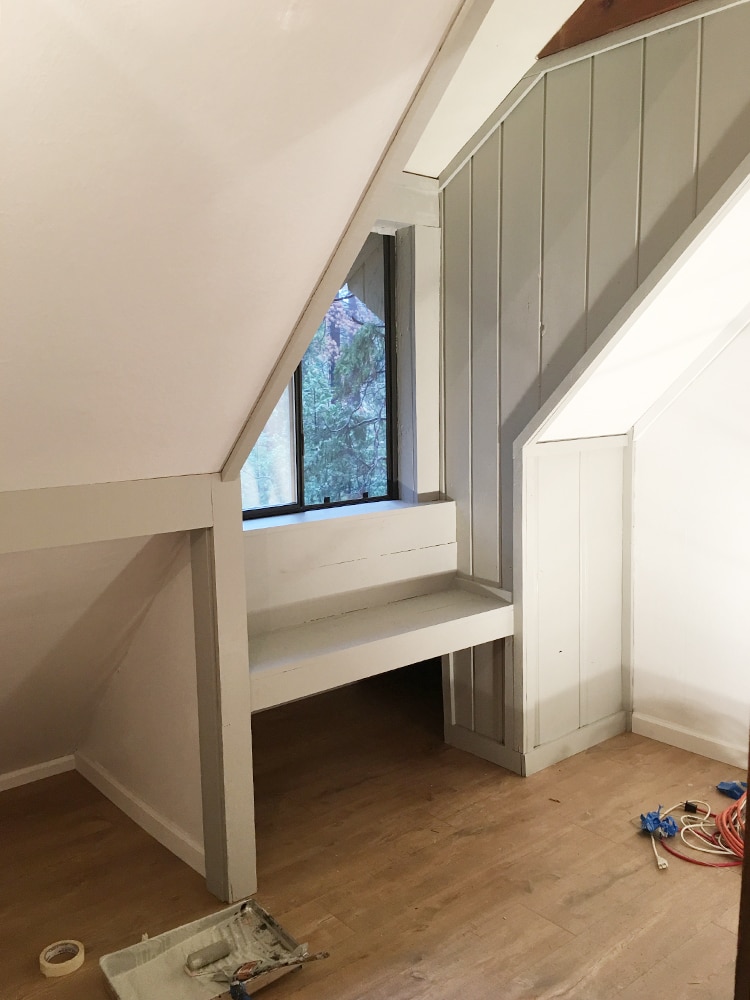 Ahhh. Much better. I also ditched the too-large queen bed in favor of a twin bed that fit perfectly against the stenciled wall, allowing room for a desk nook (I kept the awesome vintage trunk, of course!)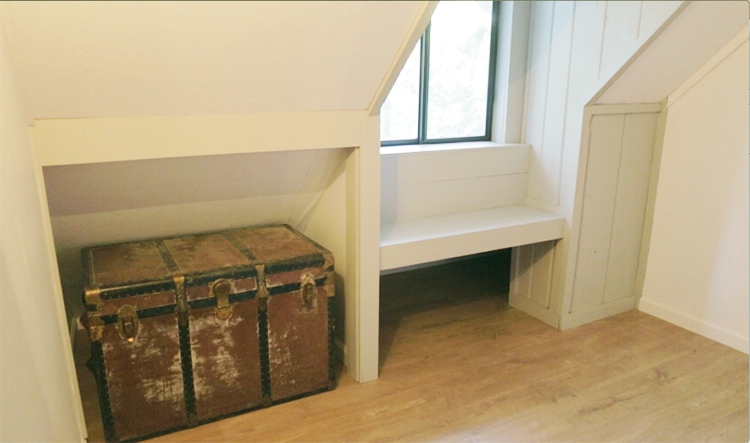 And now we have a sweet little room fit for a princess (or a prince, no judgment here):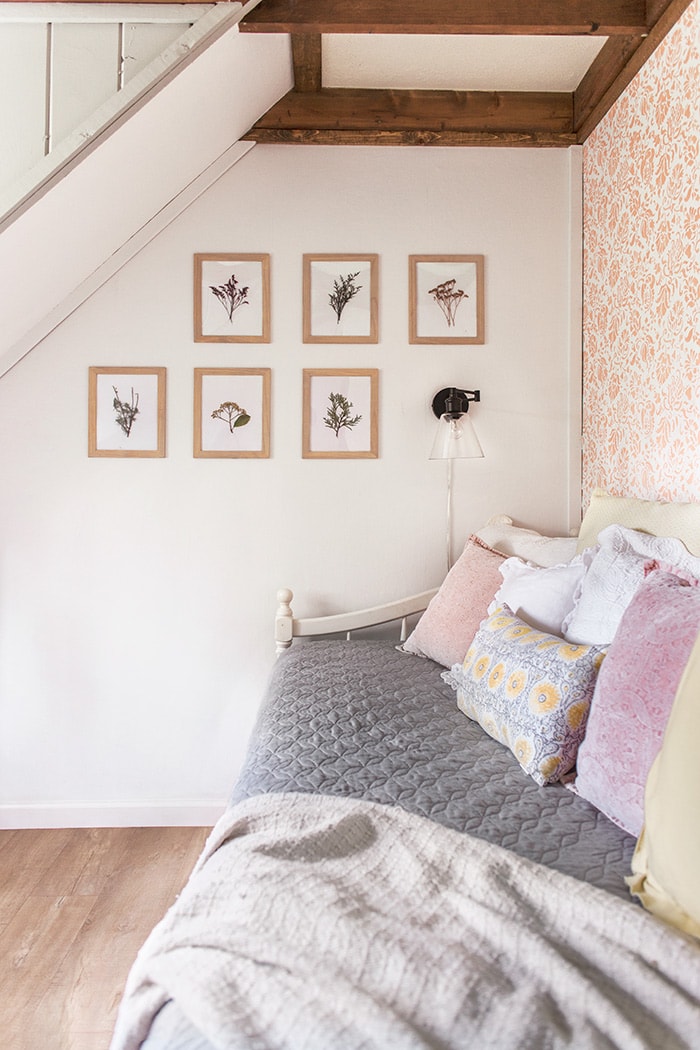 You may recognize the art as a DIY project from the master bathroom in my last house. They stayed perfectly preserved 🙂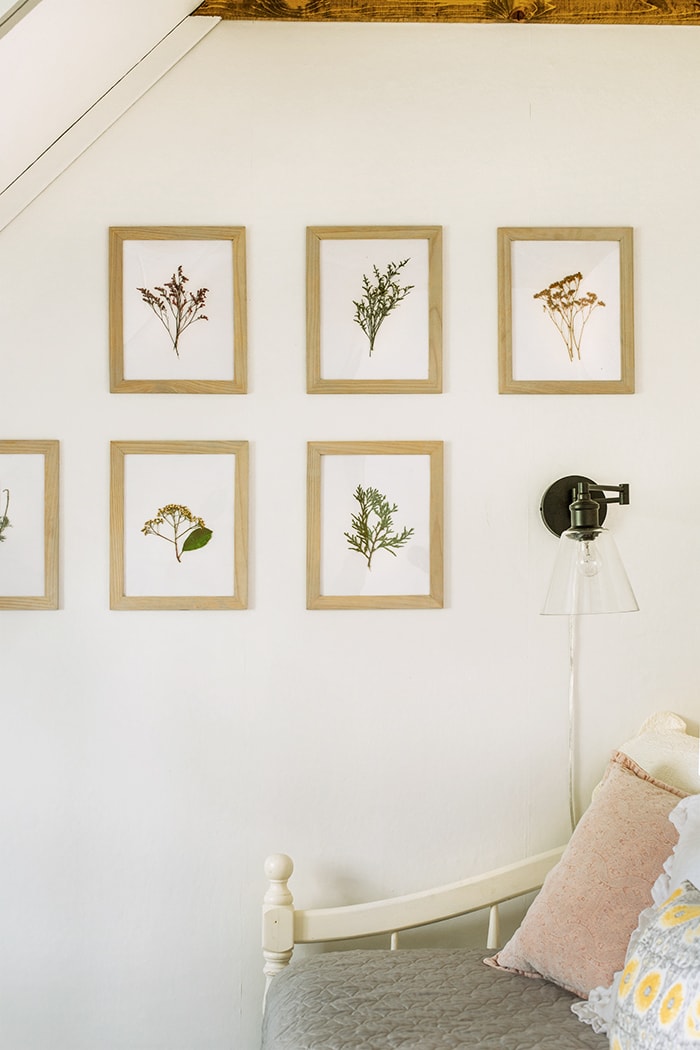 The Country Living stylist brought in these pale pink pillows (from Target, I believe) which worked out quite nicely.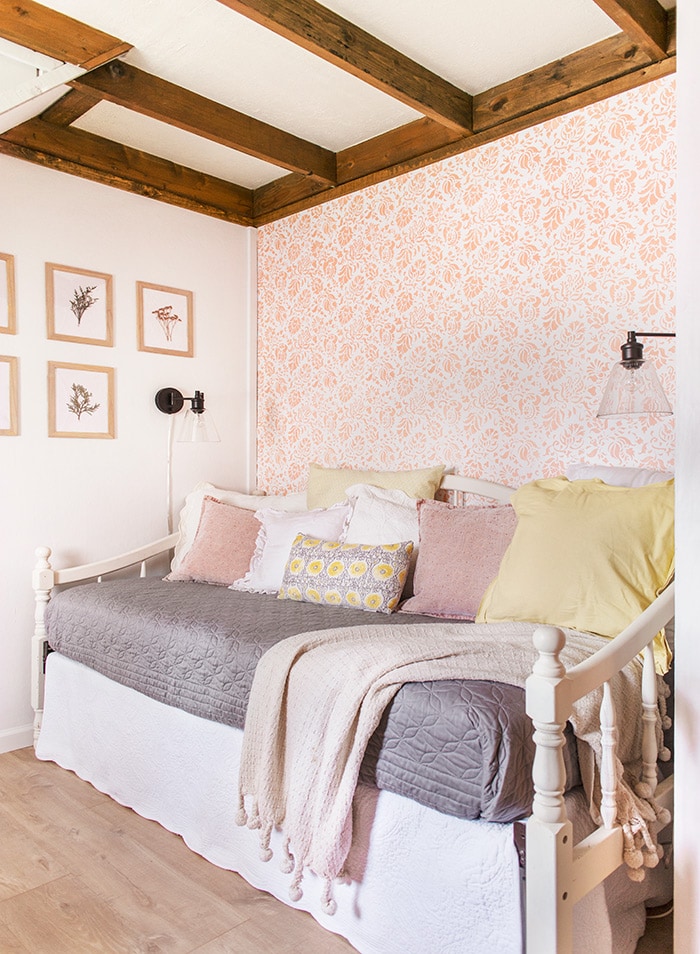 I mixed in a few yellow and white ones from storage and now we have a room perfect for Spring (who else is ready?!)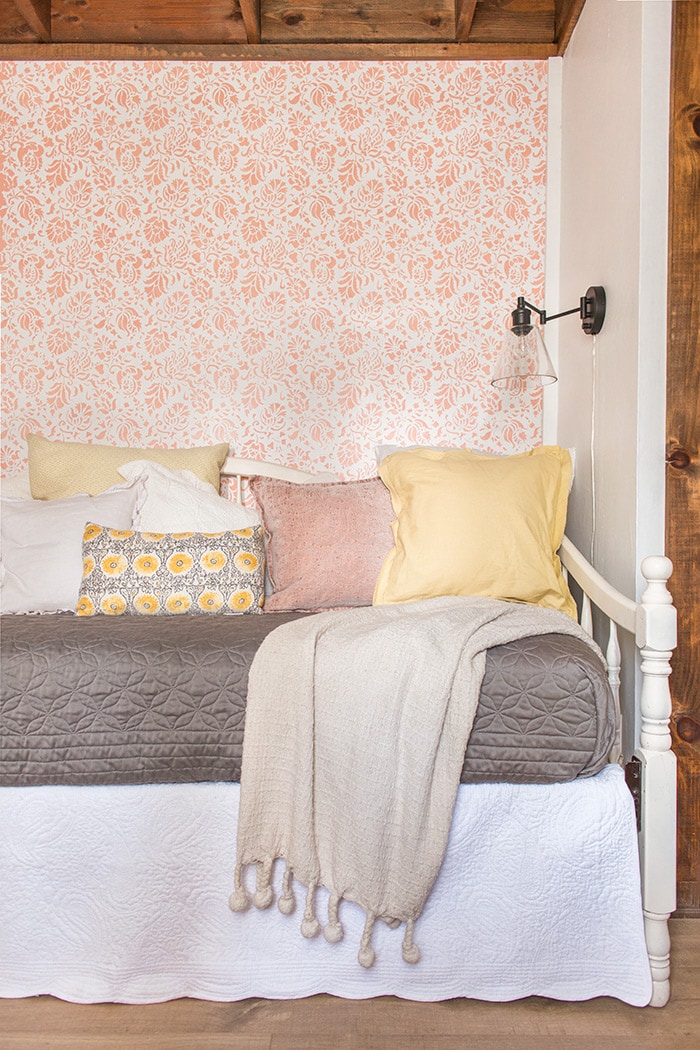 And this quilted bedskirt that I love so much… remember it from yesterday's reveal?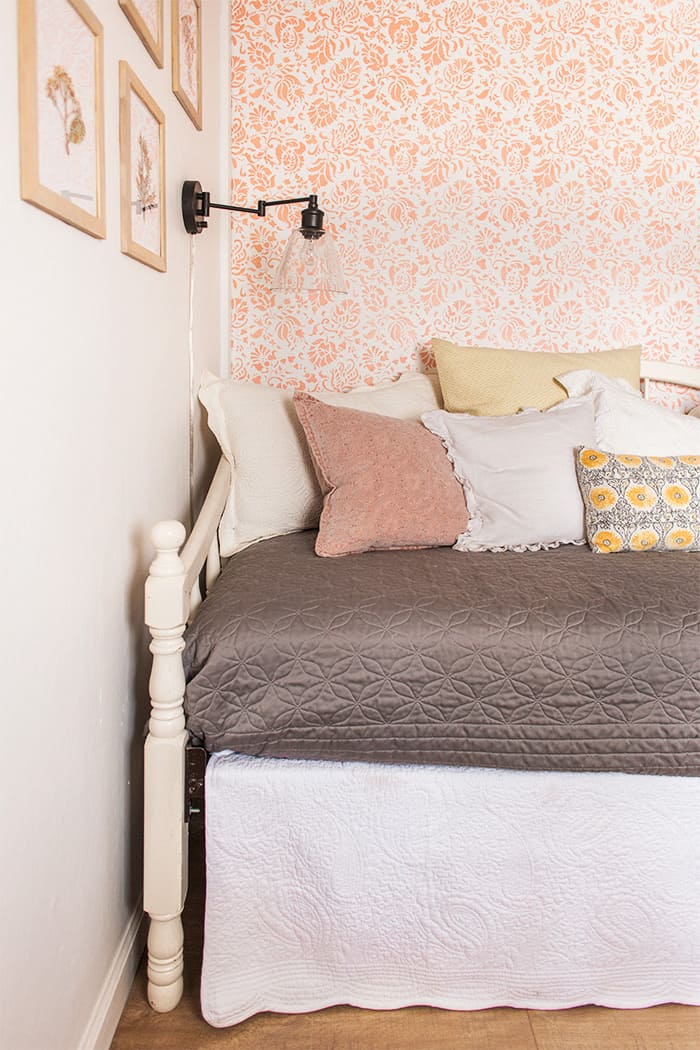 Yep. Can't get enough.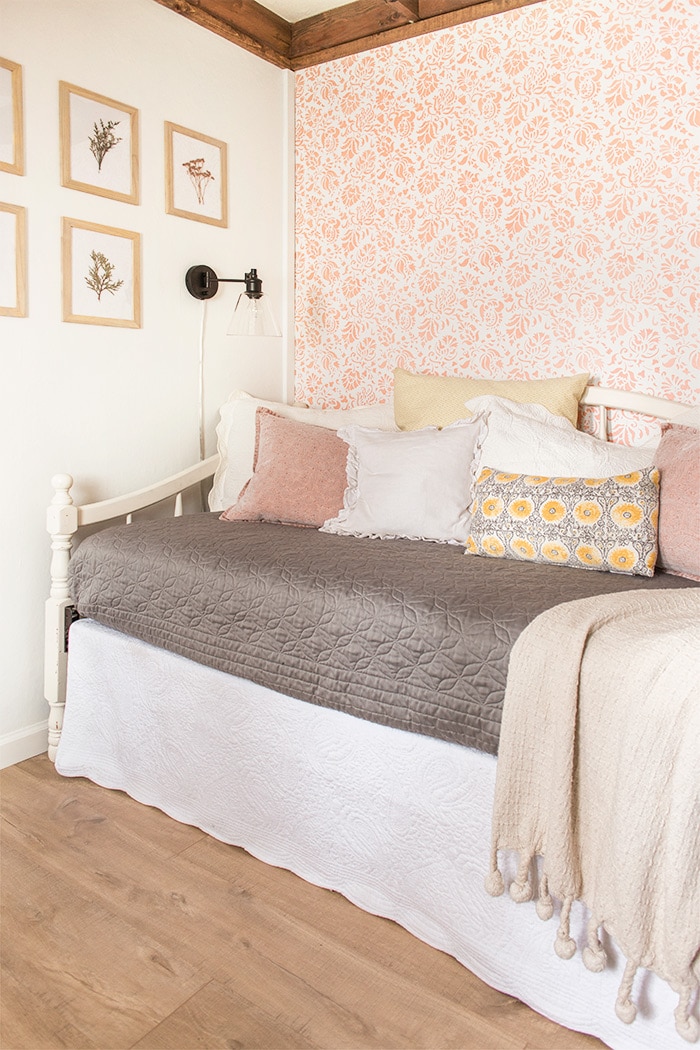 And shout out to my parents for letting me borrow their daybed! It takes a village.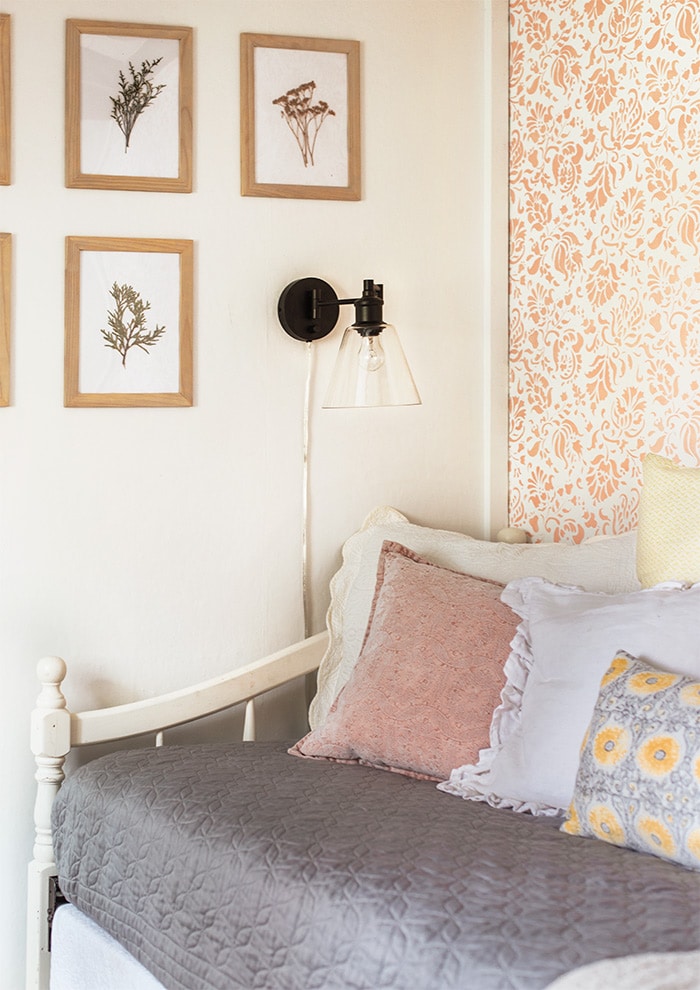 And these wall sconces! I can't stop using them everywhere.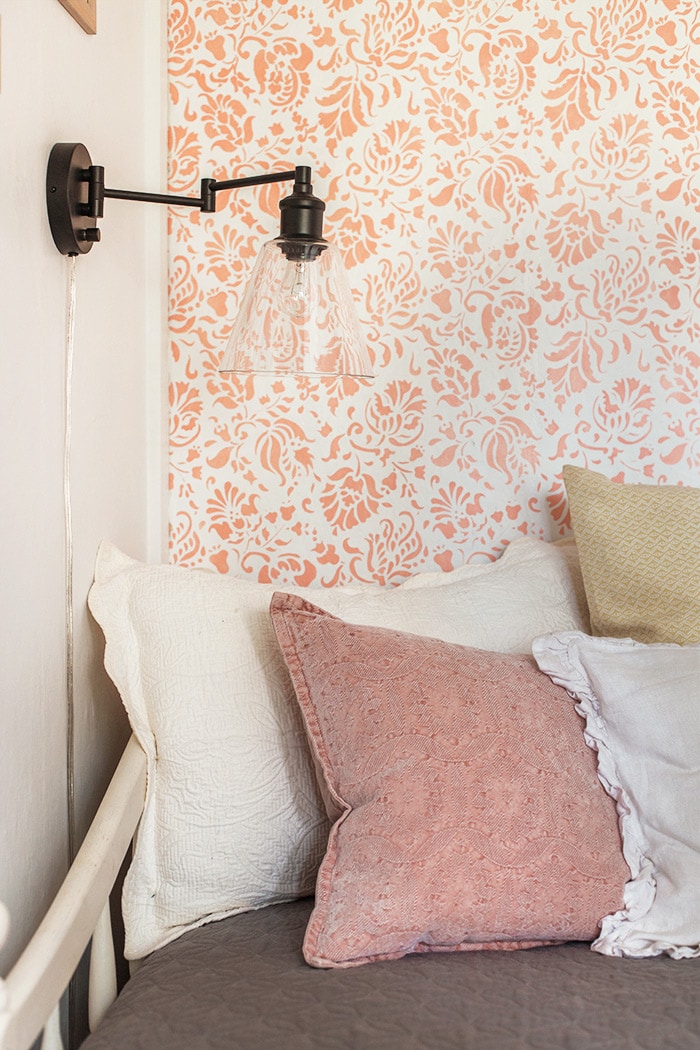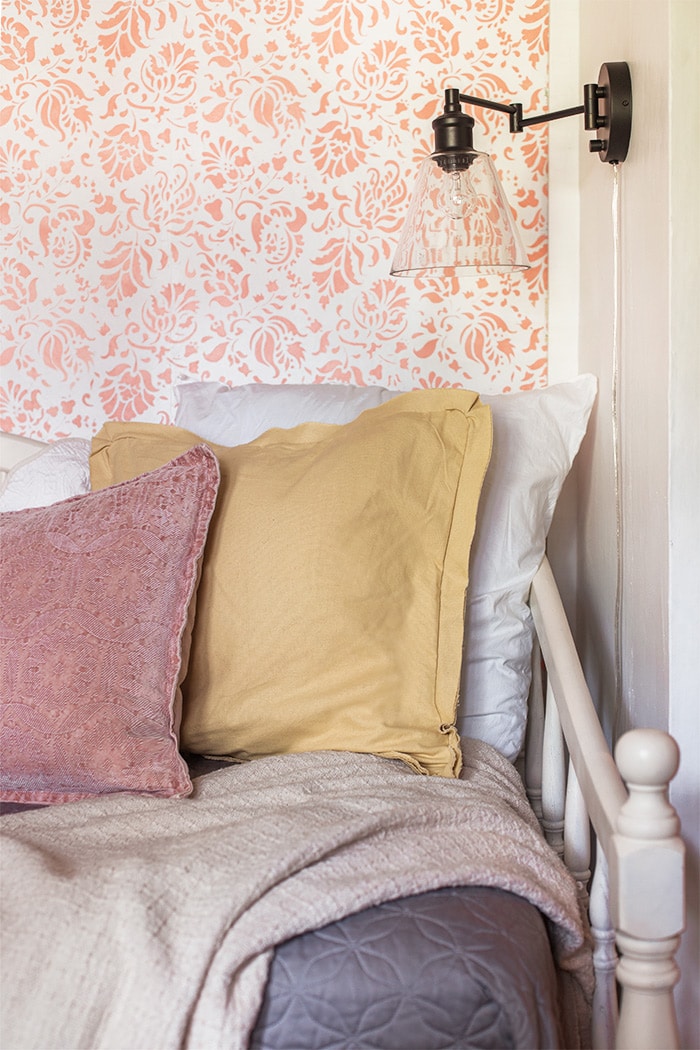 Going from a queen bed to a twin really made the biggest impact. I love when rooms can be dual purpose.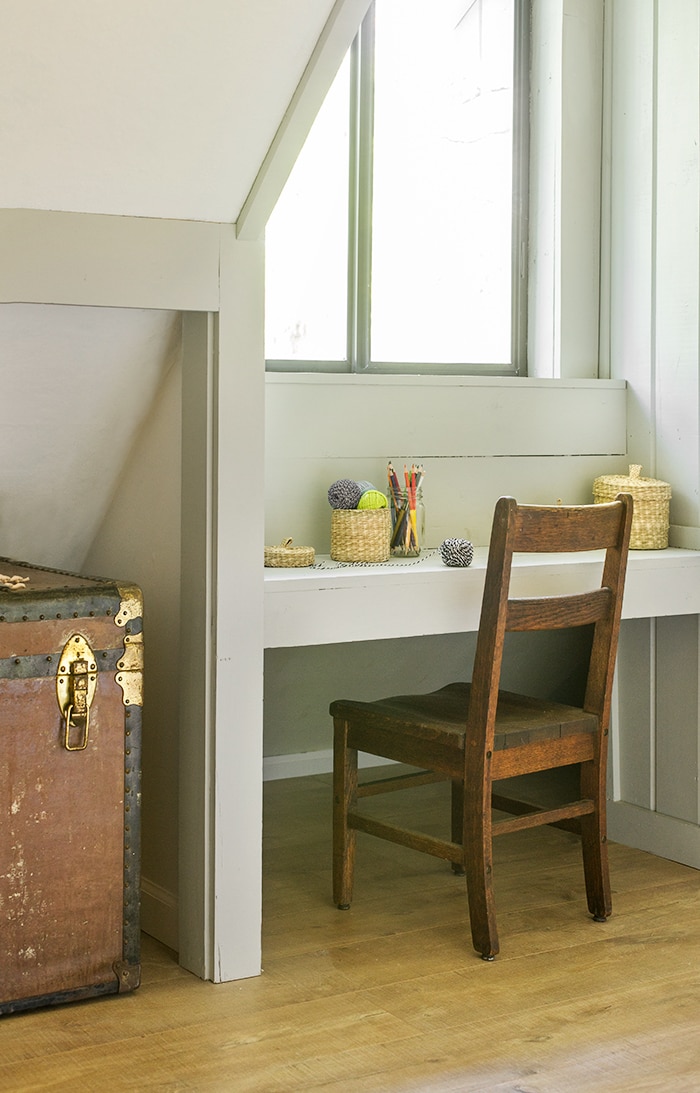 Thanks to Country Living, again, for the desk props! (except the baskets, those were mine from Ikea).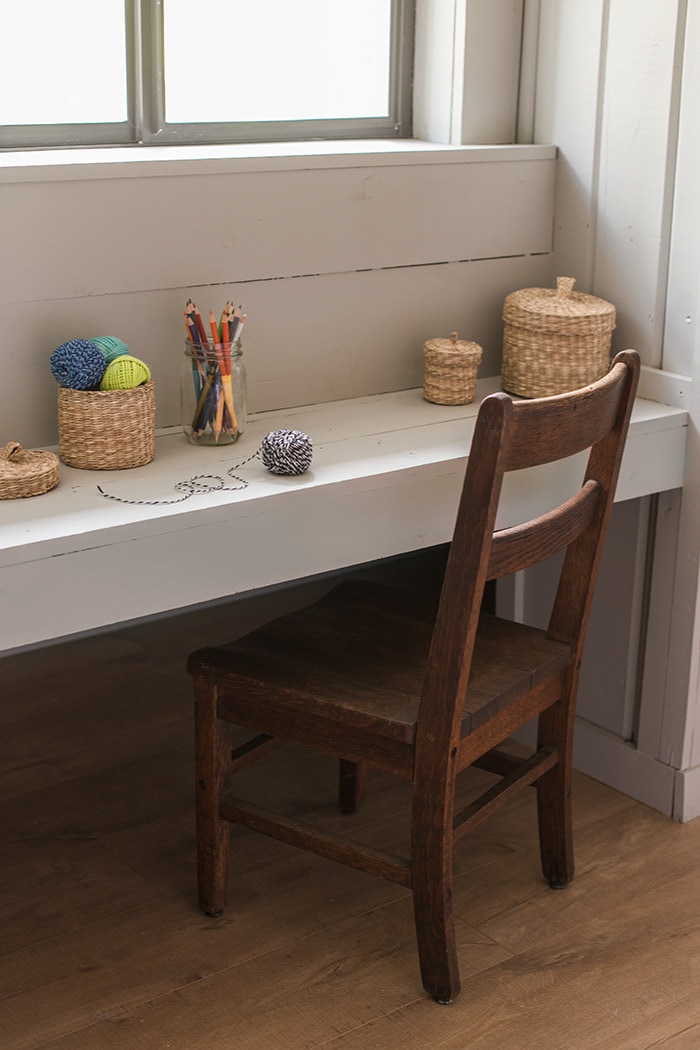 Ahhh… so much space to play in.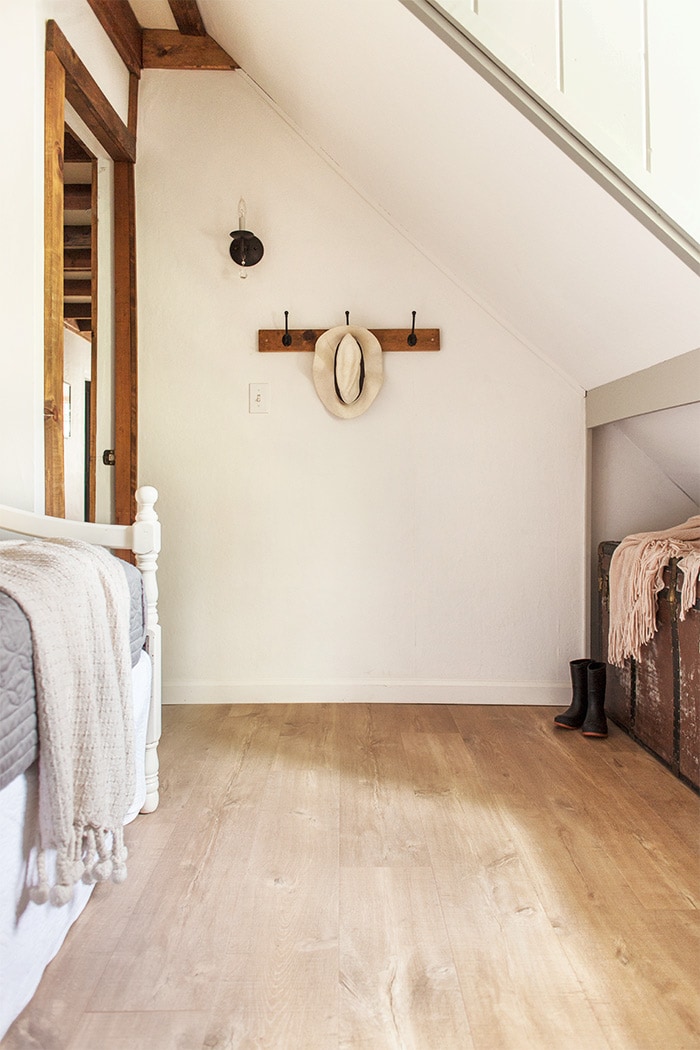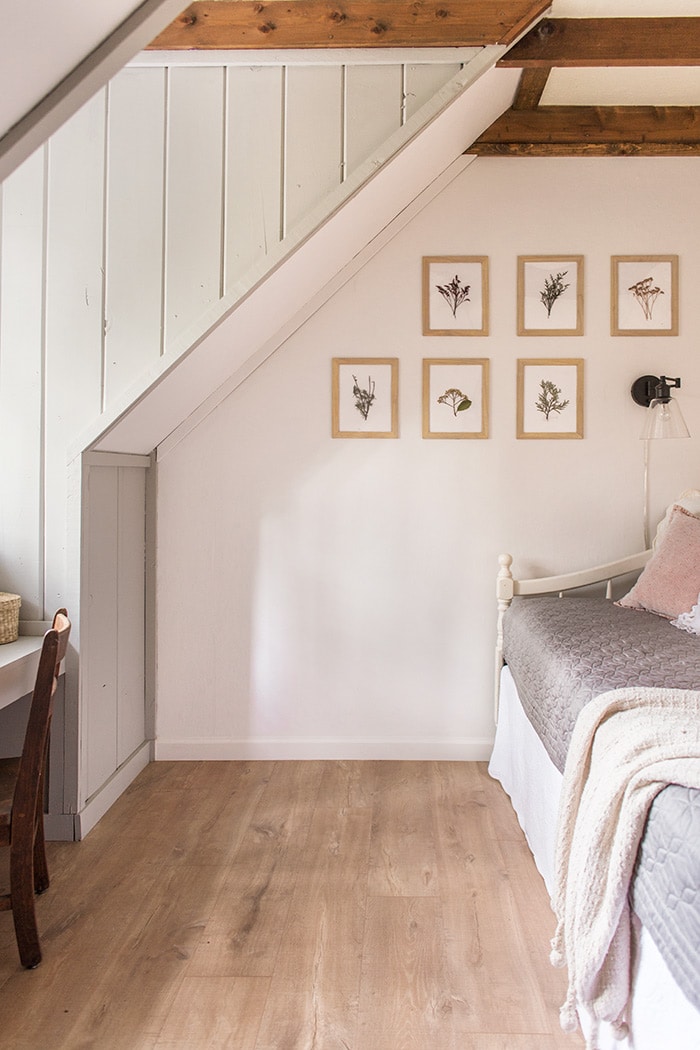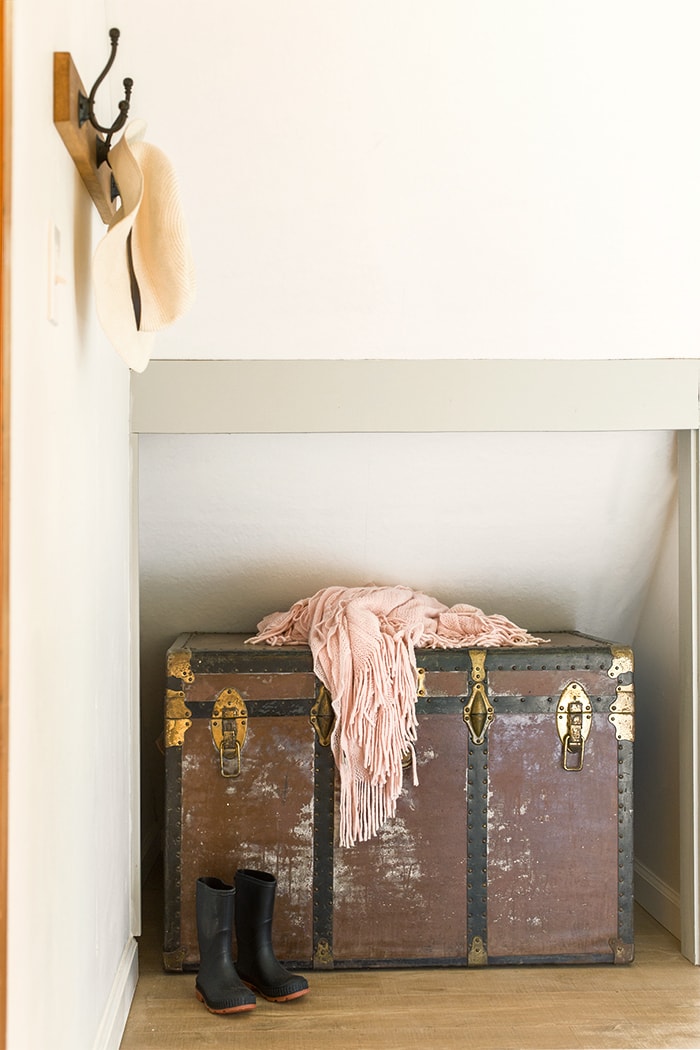 So long, Bedroom 3. Onto the next…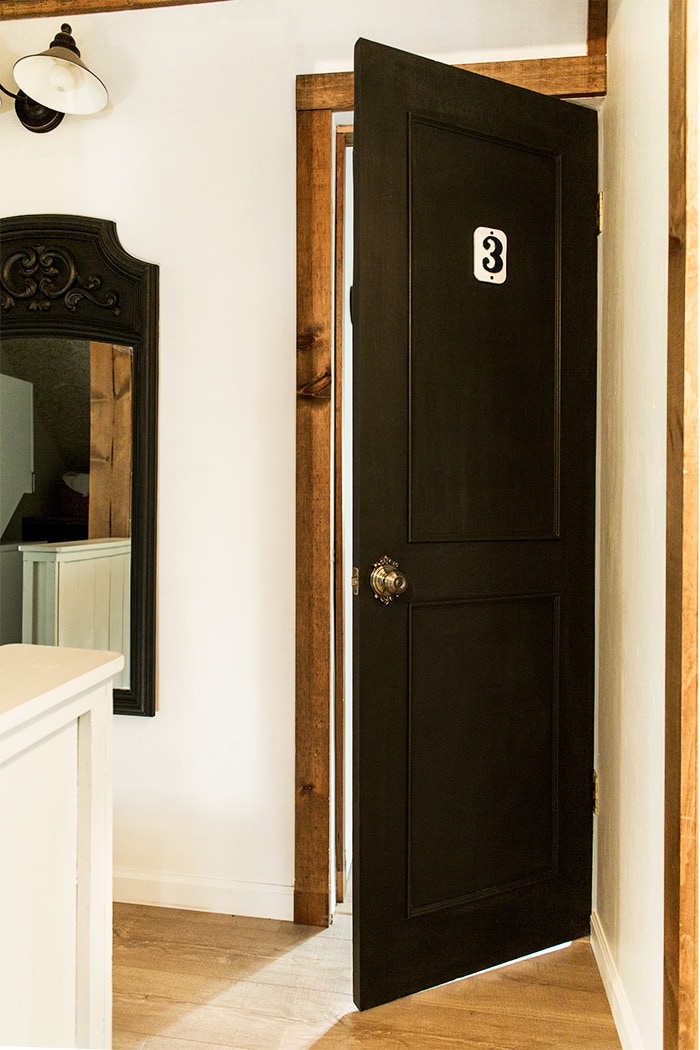 SOURCES
Wall color: Valspar Bistro White
Gray trim color: Valspar Woodlawn Colonial Gray
Black door color: Valspar Cracked Pepper
Pergo Flooring in Scottsdale Oak – discontinued color (Similar here)
Daybed: Borrowed
Chest: Inherited
Kids chair: Thrift store
Stencil (Paint color & DIY process here)
Gray quilt: borrowed
Pink pillows: Target
White & yellow pillows: H&M, already owned
Disclosure: Some of the products listed were provided via sponsorship—all of which I selected and fully approve of.
Just two more days left of reveals… I can't believe it's finally coming to an end! Make sure you're all caught up on the Reveal videos for the full virtual experience.
Tomorrow you're getting a two for one deal—Bedrooms 4 & 5 coming your way. Get ready!