The cat is out of the bag—The Riverside Retreat is going to be in Better Homes & Gardens!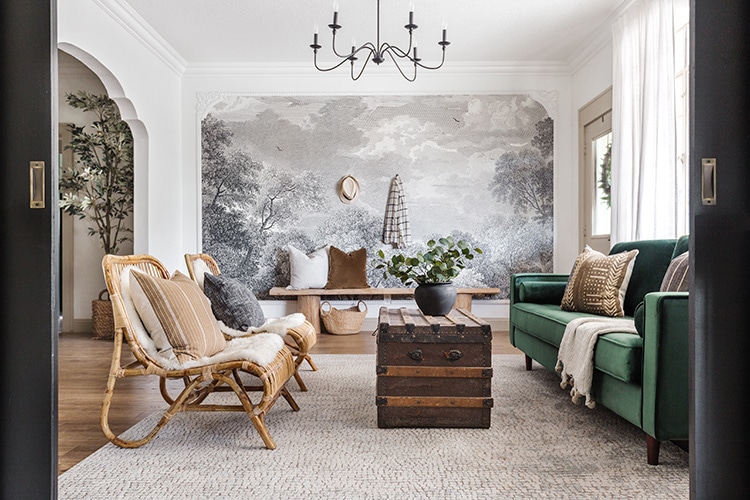 If you were watching my Instagram stories last week, you know there was something exciting happening at the house, and today I thought it would be fun to share a behind-the-scenes look at what goes on during these magazine shoots.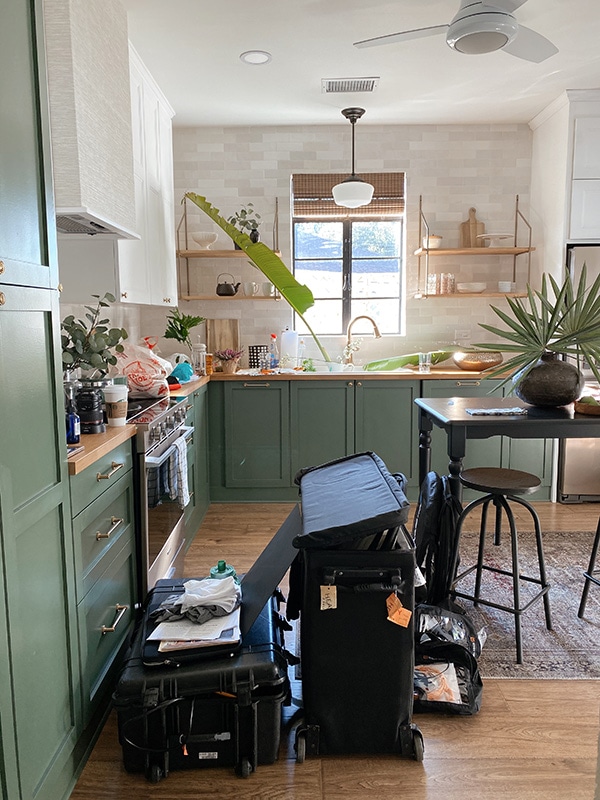 This is my third experience with a major publication shoot (the first was also with BHG for the Modern Farmhouse in 2014, and then the Cottage Flip with Country Living in 2017) and I forgot how much fun they are! It all came about when an editor from Meredith Corp. emailed me in October 2018, asking if she could pitch any of my projects to the national team (they're always scouting social media/blogs for new content!) This was right when we had started renovating the Riverside Retreat, so I told her to hang tight until we finished the house and we could submit the whole thing for a feature.
Fast forward to last summer after the house was ready—we had been keeping in touch and had two different titles interested in the story (Better Homes & Gardens and BHG Do It Yourself). It ended up taking several months to finalize the details and line up a crew, but we finally got it sorted out and a shoot scheduled for the last week of January.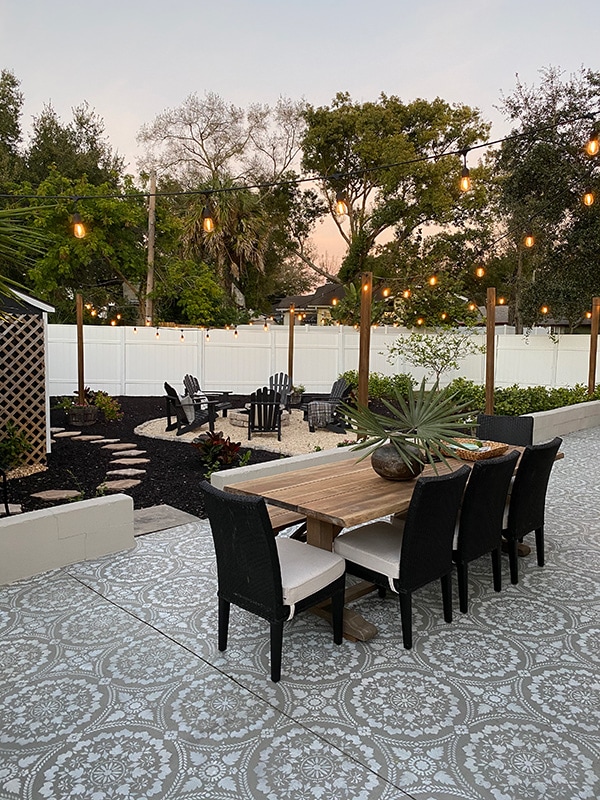 The date was locked in just a few weeks before the shoot so we were running on a fairly quick turnaround time to get the place photo-ready (we had AirBnb guests for most of January and only had a few days to get everything done). Several of you have been asking for updates on how that is going and overall, it's working out pretty well, but of course 2020 was very atypical so we're just waiting to see what happens when things to back to "normal".
There were a handful of fixes that needed to happen like broken blinds, table refinishing and lots of paint touchups. The kitchen cabinet paint has held up pretty well but there were a few scratches and this was the worst one—I'm not sure any paint could hold up to blunt force with a sharp object…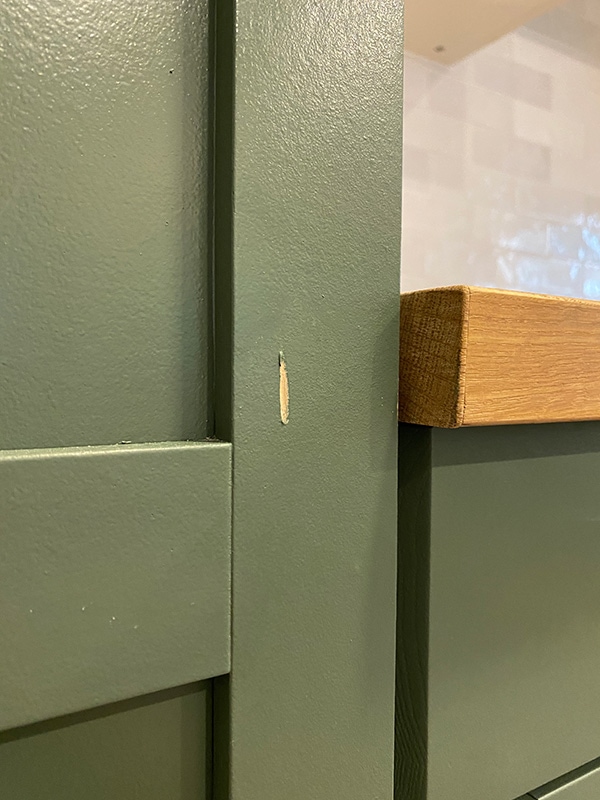 The outdoor table had melted candle wax that discolored the surface, so Lucas ended up having to plane down the wood to remove the wax and refinish the entire thing the night before the shoot.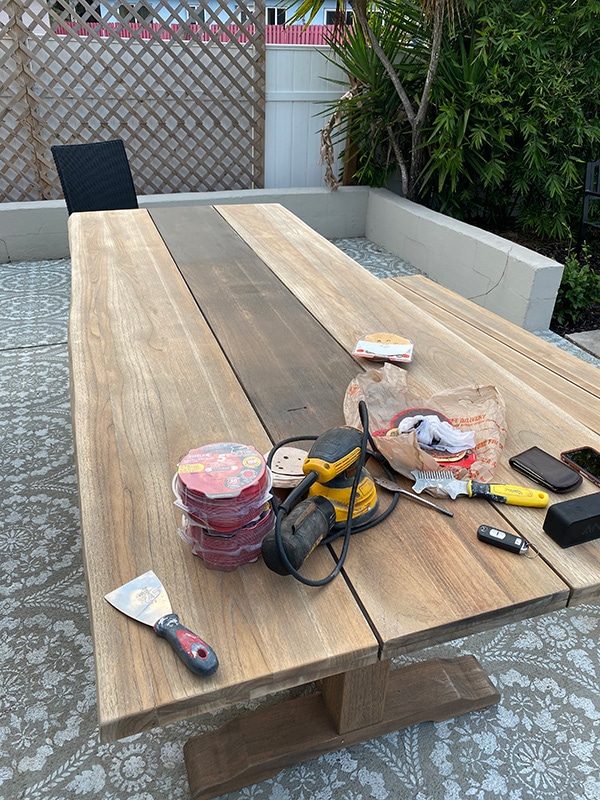 We also had to pressure wash the stenciled patio three different times (it's impossible to keep it spotless!) especially because this DIY project is the main story for Better Homes & Gardens. Overall it has held up pretty well, but definitely not perfect—check out this post from last year to see when I touched it up.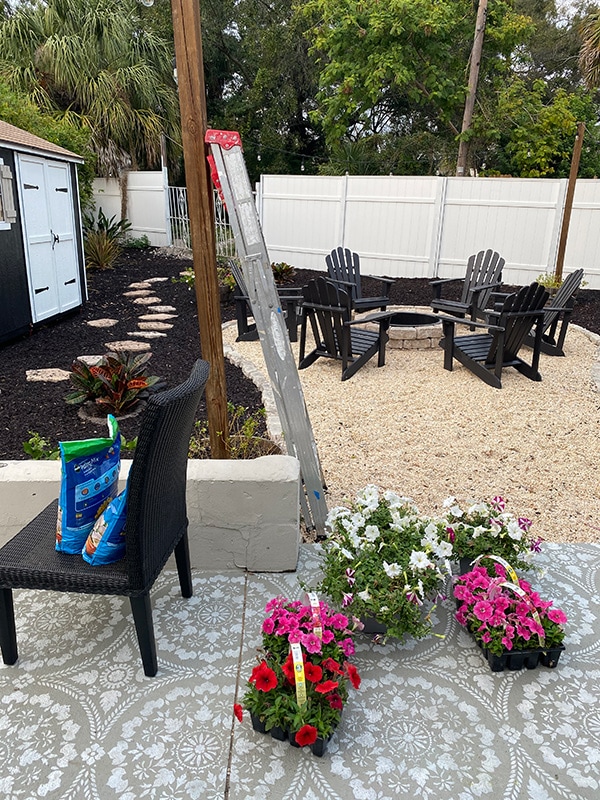 We also had to replant several bushes and flowers that weren't in perfect condition (for the third time, gahhh! Landscaping is the worst) and pressure wash the cushions. This was all happening the day of the shoot, just hours before they shot the patio—talk about cutting it close!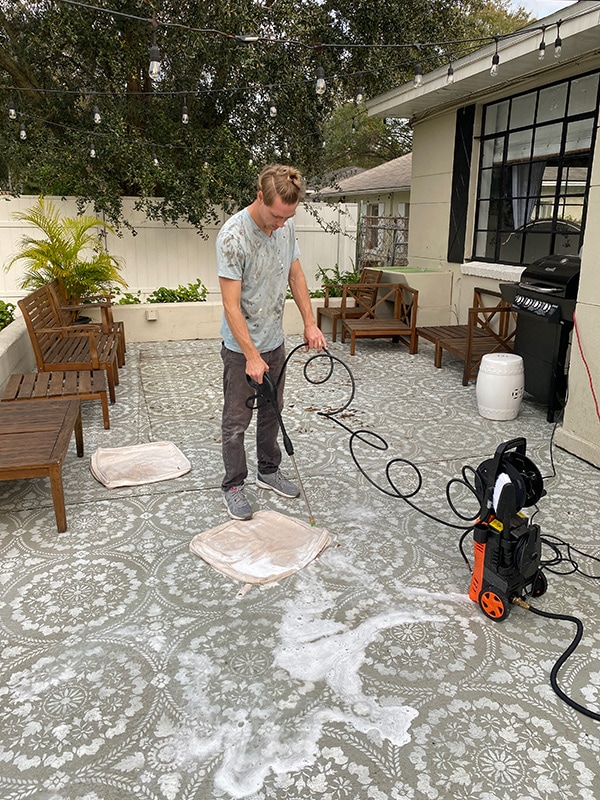 For this shoot, there was just one photographer and a stylist (in my previous shoots there was a photo assistant as well). It was only a two-day shoot (with extra Covid cleaning precautions and procedures in place) and these two absolutely rocked it—they were so much fun and wonderful to work with. I was able to join in for at least half the time, which worked out great because I had a ton of my own props to contribute!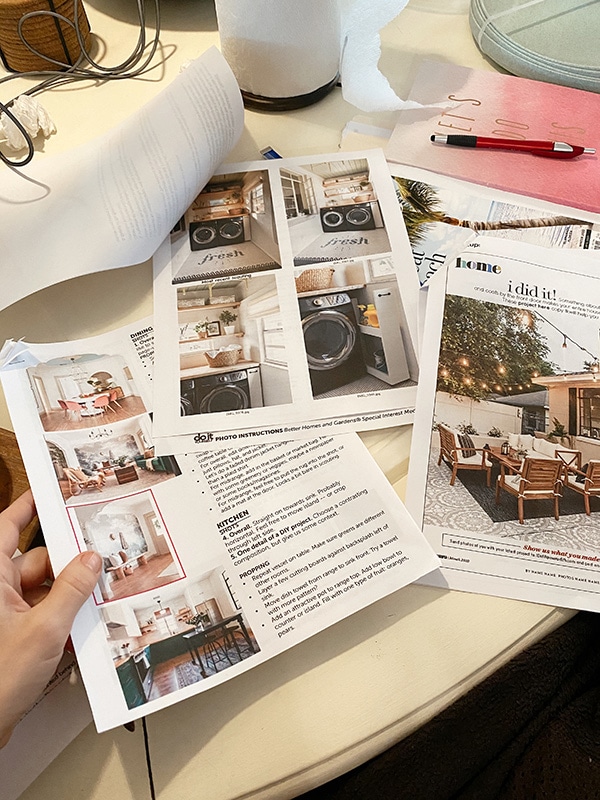 Before the shoot, the magazine puts together a call sheet which outlines the different shots they want to capture and provides styling direction. The stylist will order a bunch of different props and ship (or bring) them to the house.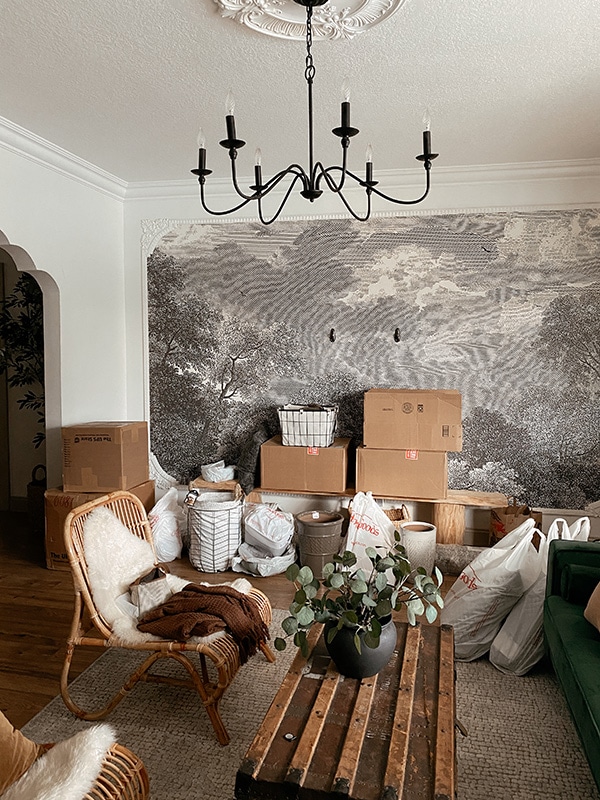 Kendra (the stylist) showed up the day before the shoot to scope out the rooms and shop for any last-minute props she could get locally (lots of plants, flowers, fruit and accessories).
On the morning of the shoot, we showed up early as the photographer set up his gear (my favorite part of these shoots is geeking out over all of the fancy photo equipment!)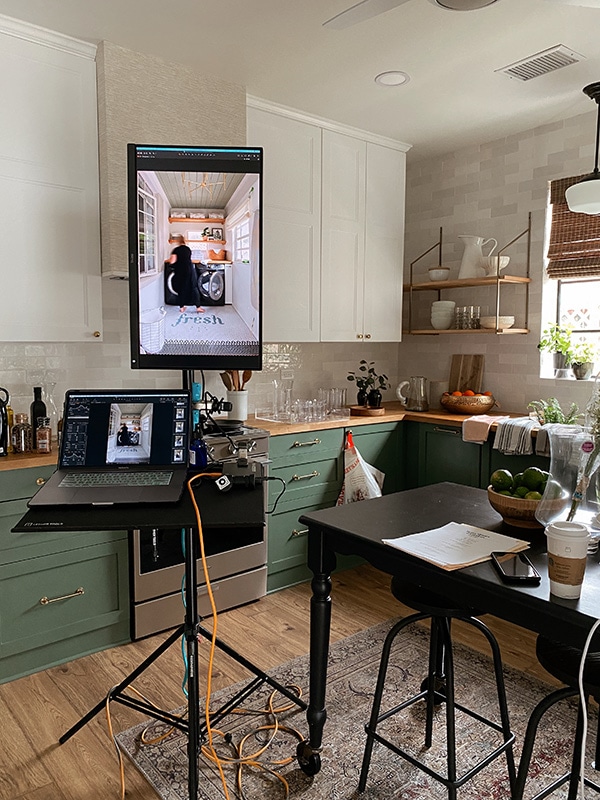 Working off the call sheet, they'll evaluate the lighting and start planning the shots based on the sun's position and time of day. A few images are top priority (like the laundry room) so they started there, followed by the kitchen, and then it was time to start setting up the most important shots on the patio.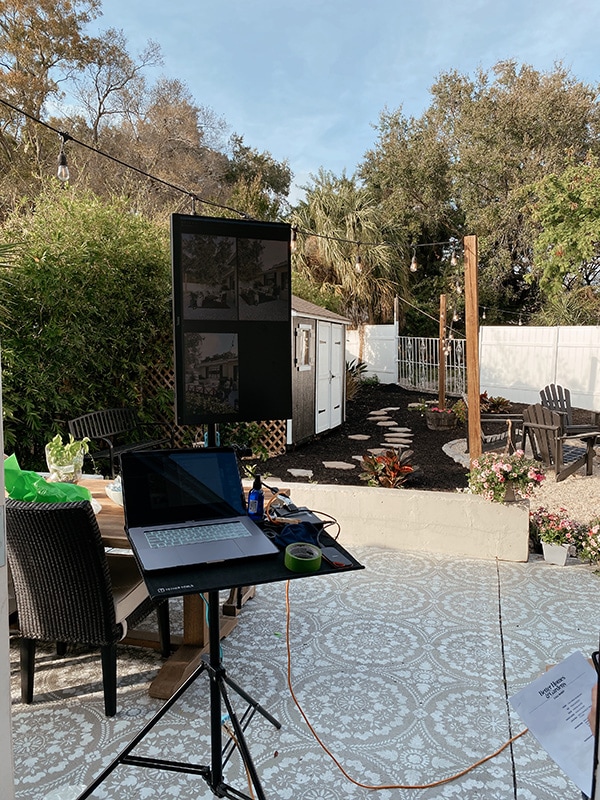 They took a few portraits/family photos out here and the outdoor scene definitely took the longest (a few hours) as they were chatting back and forth on the phone with the magazine editors to make small adjustments (like rotating the lantern and moving plants a few inches to the left). Every detail matters!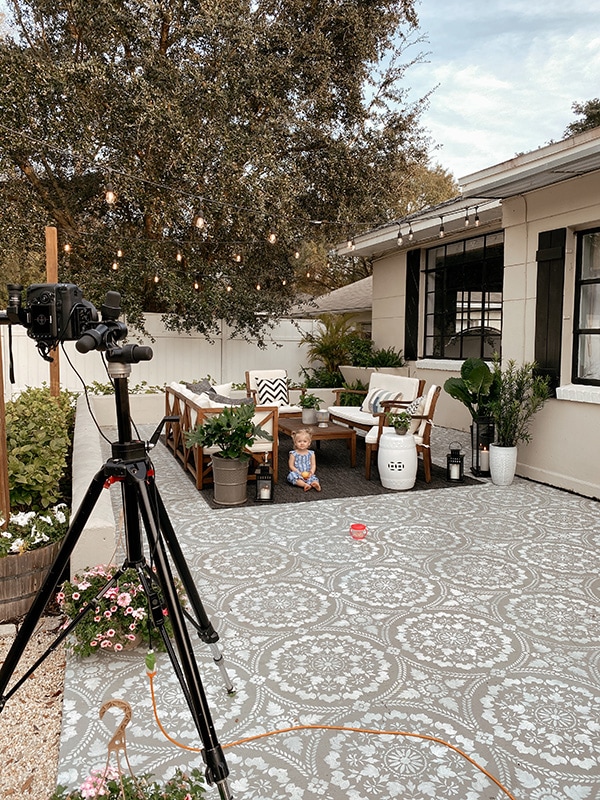 Eventually, we ran out of good lighting before getting all the shots, so they decided to meet early the next morning before sunrise to capture the golden hour light. Unfortunately, we had left everything outside and an unexpected rainshower rolled through and drenched it all! But by morning, we were able to clean it up and re-stage the scene like nothing had happened.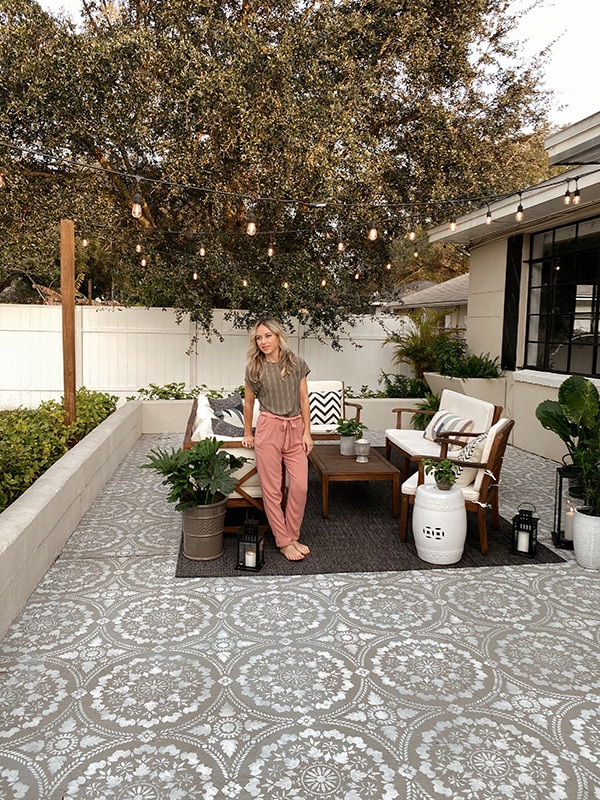 I've learned a lot from these shoots by watching the photographer and stylist work their magic to get the perfect shot—like propping up furniture with random objects to counteract the wide angle lens distortion…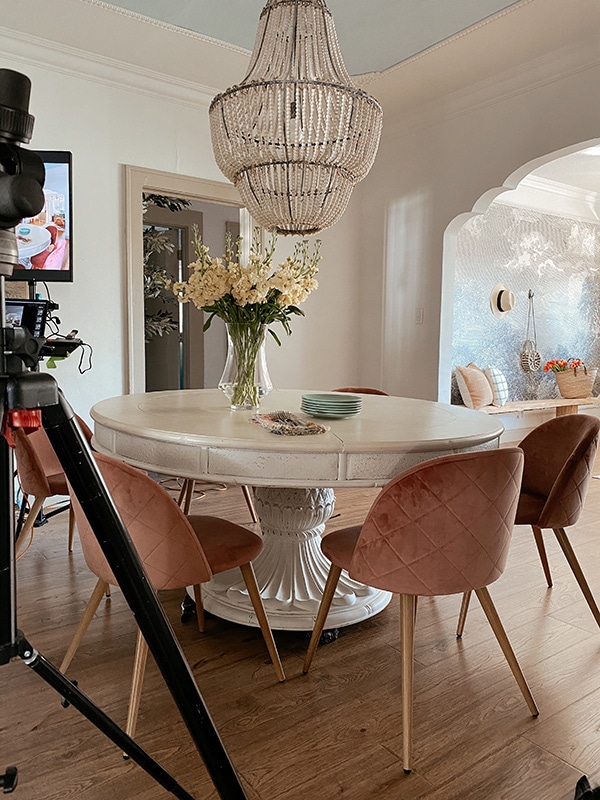 Objects in photos look very different than in real life, and each shot has to be staged individually. The crew will analyze every detail of each image and make adjustments until it looks perfect. Some shots can take up to an hour to get right (or more, I'd imagine!) and they might end up with 100+ frames to get the "one". This has taught me that you can't just decorate/stage a room once and take all the photos—you have to look at the composition and make adjustments to the furniture and objects for every shot (even if it looks strange in real life).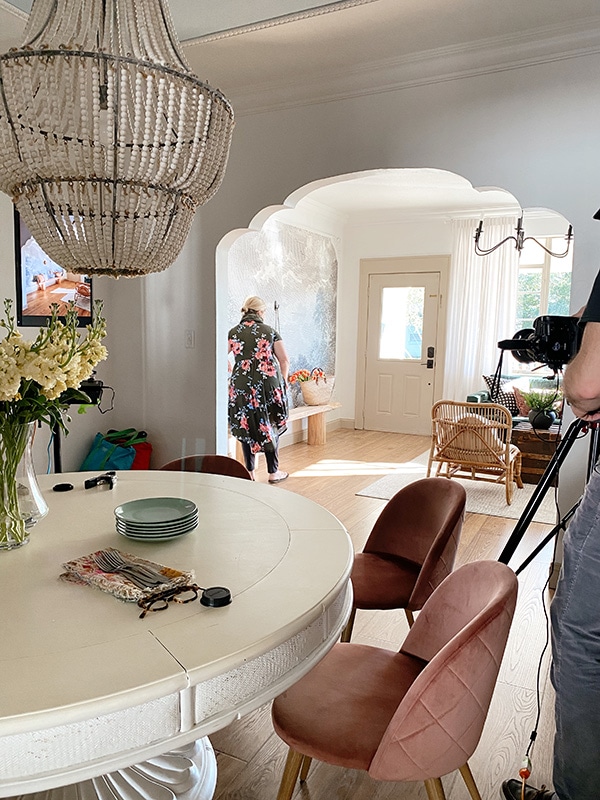 There were a few rooms not included on the call sheet, but Hector and Kendra are rockstar over-achievers and decided to show up at dawn for an unplanned third day to take photos of the whole house. They ended up taking probably twice as many photos than the magazine had requested and I can't wait to see them all. These two were such a dream to work with, and it's always so much fun to take notes from a professional stylist. I figured you guys would be curious about Kendra's job too, so I took the opportunity to ask a few questions:
How long have you been a stylist and how did you get started?
I have been styling for 10 years. I was searching for a new career after the financial crisis of 2008. A friend of mine was working at a photo studio. She asked me to come in and help out one week. I stayed for 5 years! Then I decided to go out on my own as a freelance stylist.
What are some of the publications/brands you've worked with?
Garden and Gun, Southern Living, Coastal living and Better Homes and Gardens.
Are there any memorable projects or experiences that stand out to you?
Recently I styled a great home in sunny Tampa, FL! The weather was awesome compared to North Carolina in January. The house was perfectly designed by a fun and friendly family. The photographer was very passionate and we got some really amazing shots of the home.
What are your favorite and least favorite parts of your job?
My favorite part of the job is the creativity. I love seeing how a space can come alive with a few flowers and perfect props in front of the right light and camera angle. I do not enjoy unpacking all of my props and putting them away at the end of a shoot!
Do you have a favorite styling tip or trick? 
A paint can always comes in handy to prop something up on. Especially a plant in a planter. Always makes the perfect height!
Thank you, Kendra! 😉
Three separate features are slated to appear—a whole house tour in Do It Yourself, and two different stories on the DIY patio and laundry room in BH&G. The patio feature is tentatively scheduled for June 2021 and I don't have dates yet for the other two, but hopefully this summer as well. I am beyond excited and humbled and grateful for this opportunity—we worked so hard on this house for two years and I am really proud of what we created!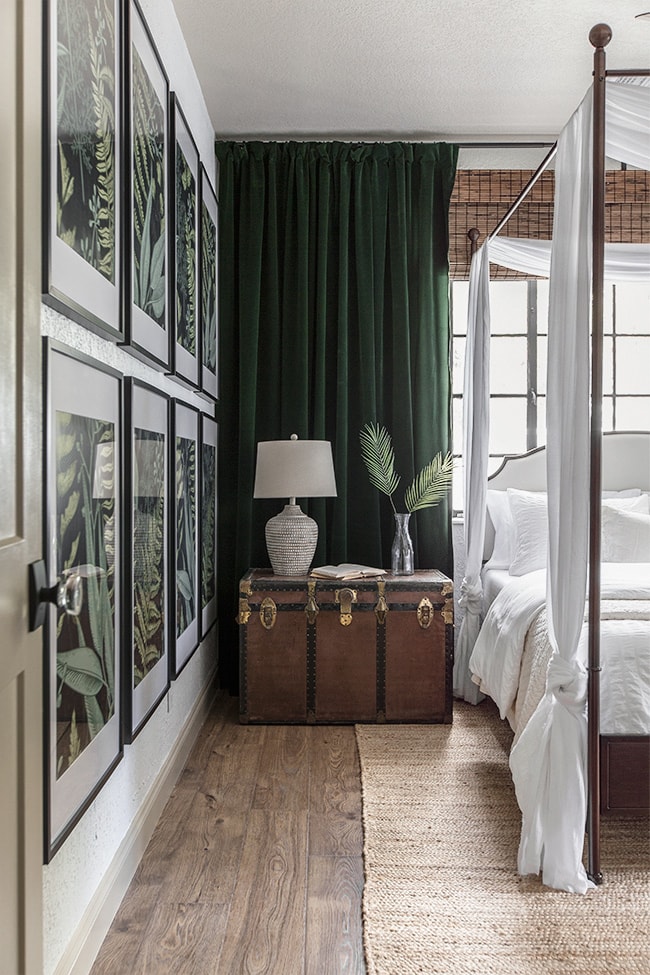 And now that the house is officially officially finished, I'll be sharing our updated Bunk Room along with a Before/After video tour here on Wednesday—you won't want to miss this! Make sure to follow the Riverside Retreat on Instagram for all the updates…