My favorite part of any house renovation is seeing the transformation side by side in a Before + After video. Today, the Riverside Retreat is almost unrecognizable from how it started… watch and see for yourself!
Who was here back in July 2020 when we finished the home and got it up and running as a vacation rental?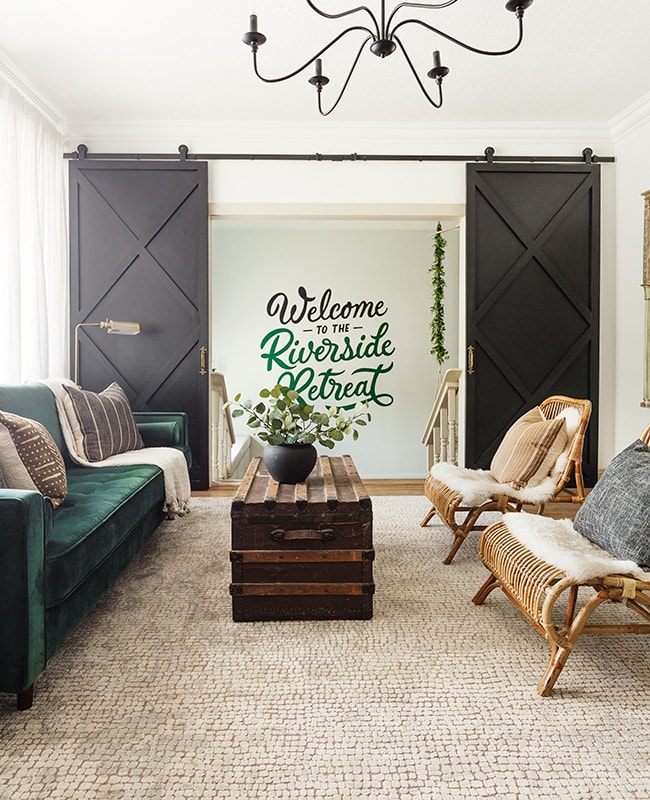 I shared the Before + After house tour on the blog, but there was one room that wasn't 100% finished…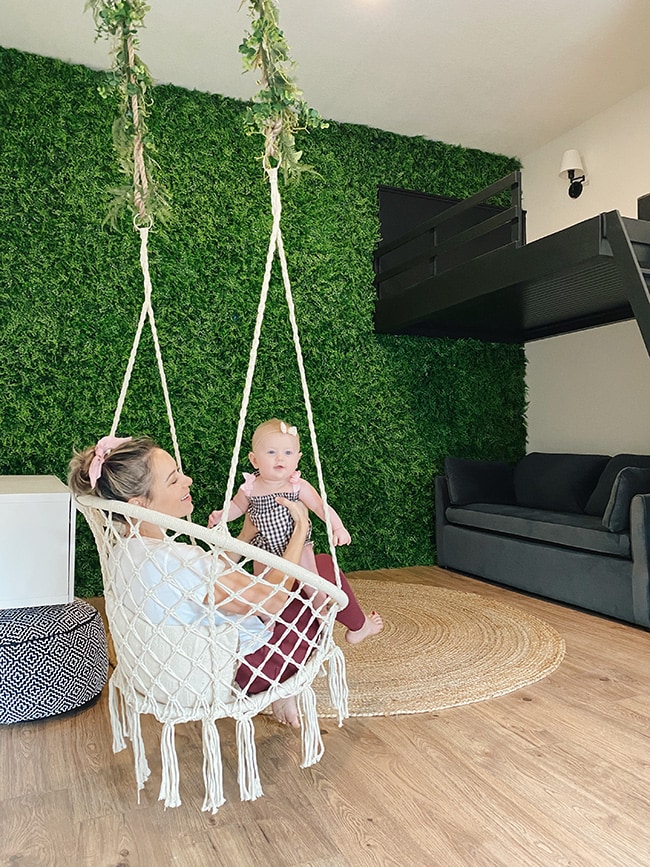 Remember the Bunk Room? Long story short, I was waiting on a custom neon sign that never got delivered and once the BHG shoot was confirmed I had to find a replacement ASAP. It arrived just in time, and now we can officially call this room (and this house) done!
But first, let's recall what this once carport-turned-spare room looked like…
And how it looks today!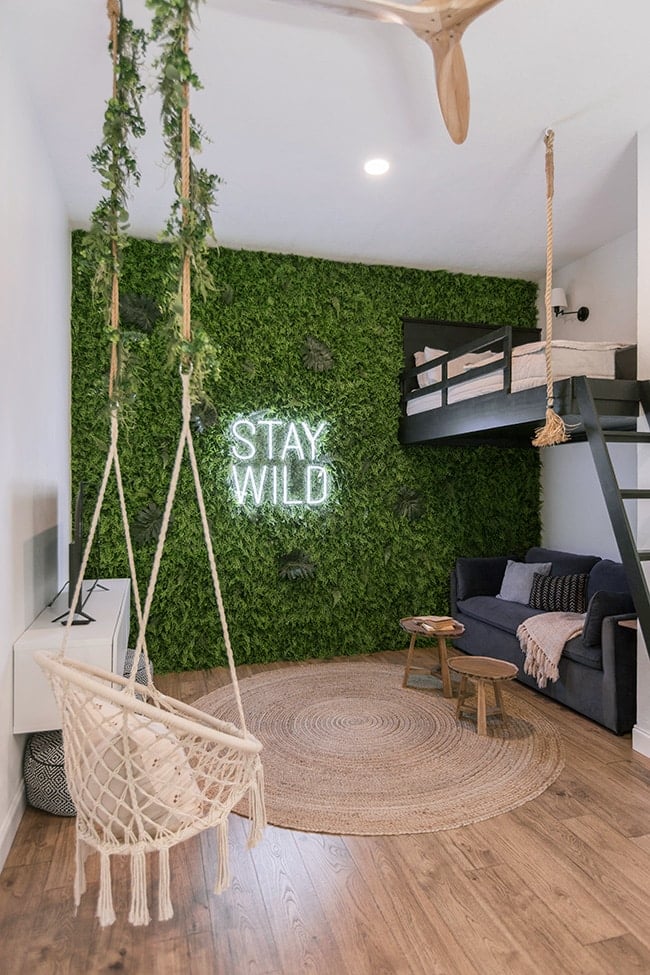 The new sign is from a seller on Amazon, and I was able to customize it exactly how I wanted. It's such a fun little surprise and guests have already loved taking photos with it (vacation rentals have to be Instagram-worthy, after all!)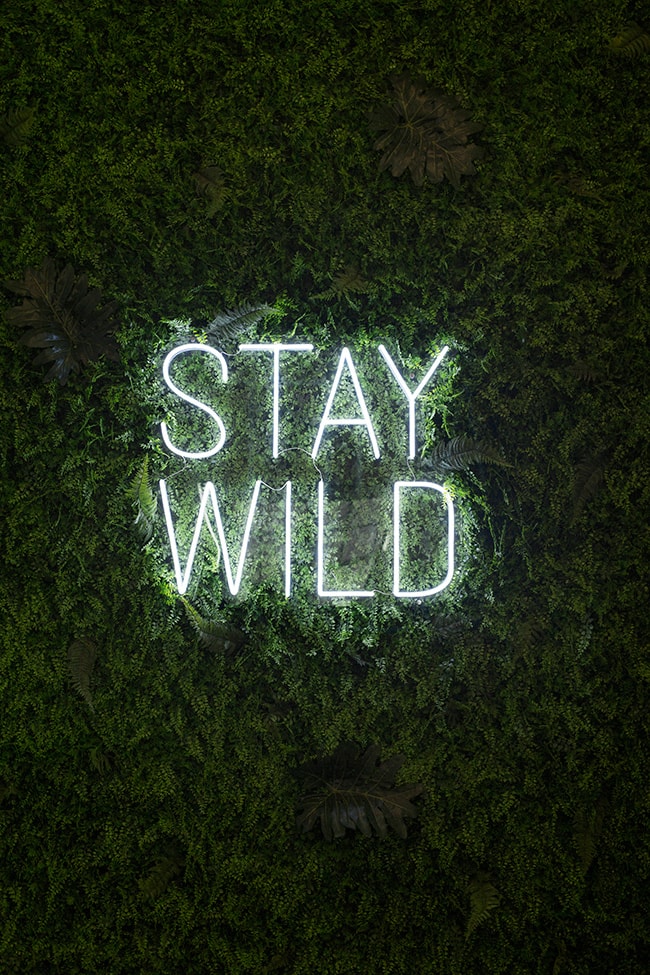 The Bunk Room has become a highlight of the home—a favorite hangout spot for kids and kids-at-heart, and certainly the most unique with the greenery wall, custom loft bed, hanging chair, wall mural and built-in reading nook.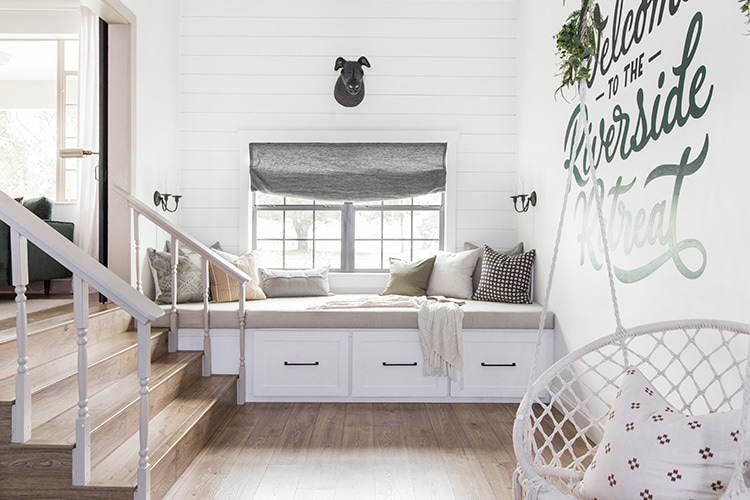 The reading nook was one of the first major DIY projects we tackled in this home, back in November 2018.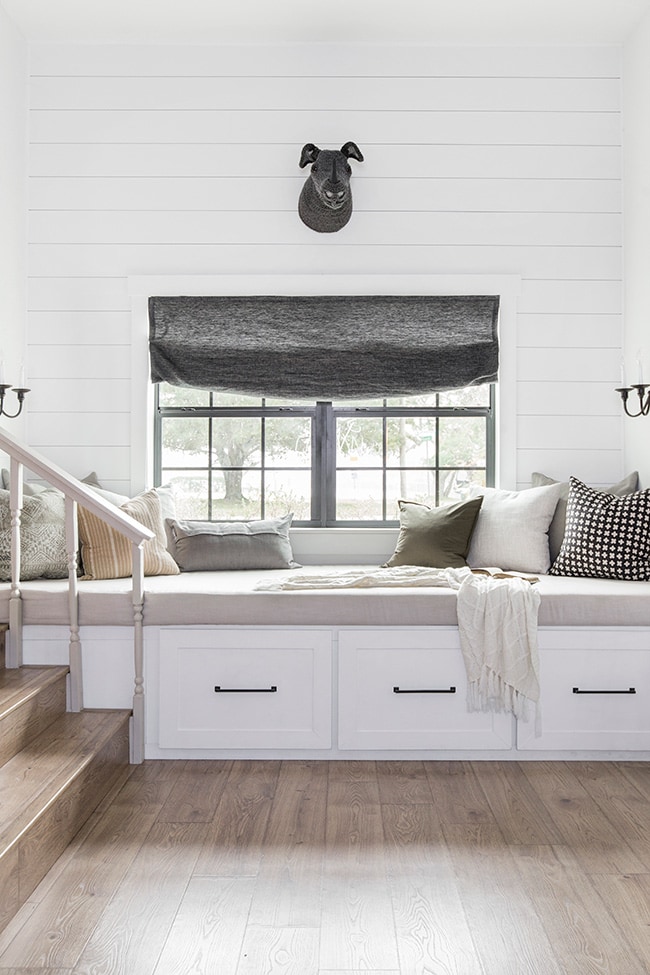 Fun fact—the crochet rhino bust was hanging in Lucas' room when he was a kid. It was sitting in storage collecting dust, so I thought it would be neat to have this 30-something year old relic on display!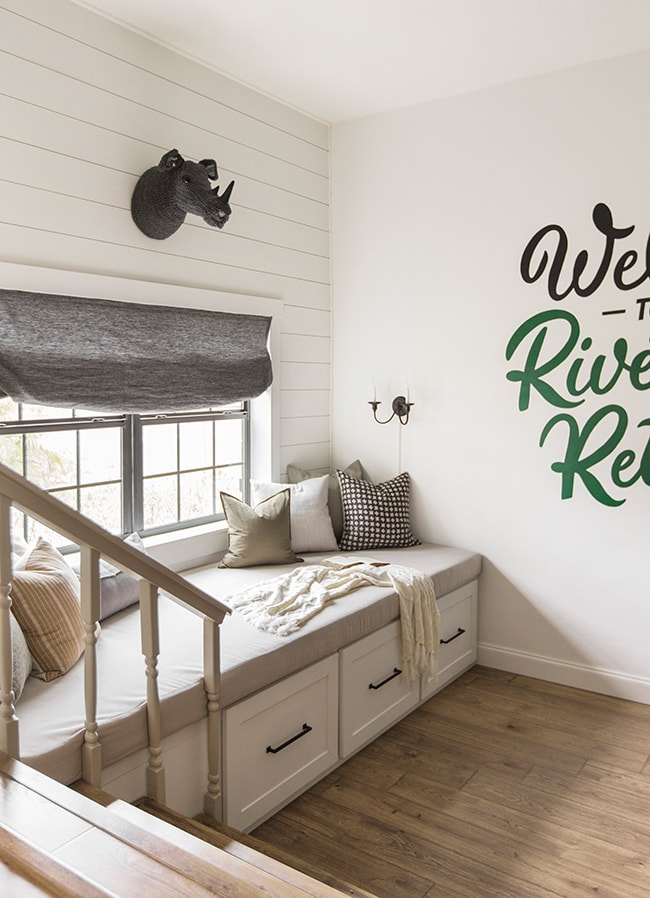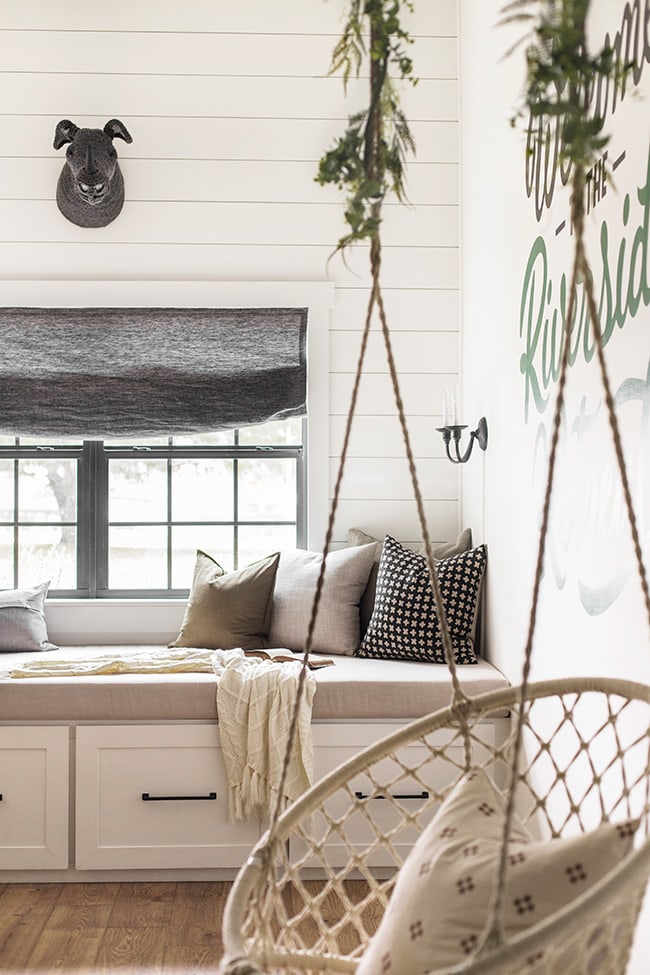 Building the bench seat from scratch was a learning experience that prepared us for tackling this loft bed…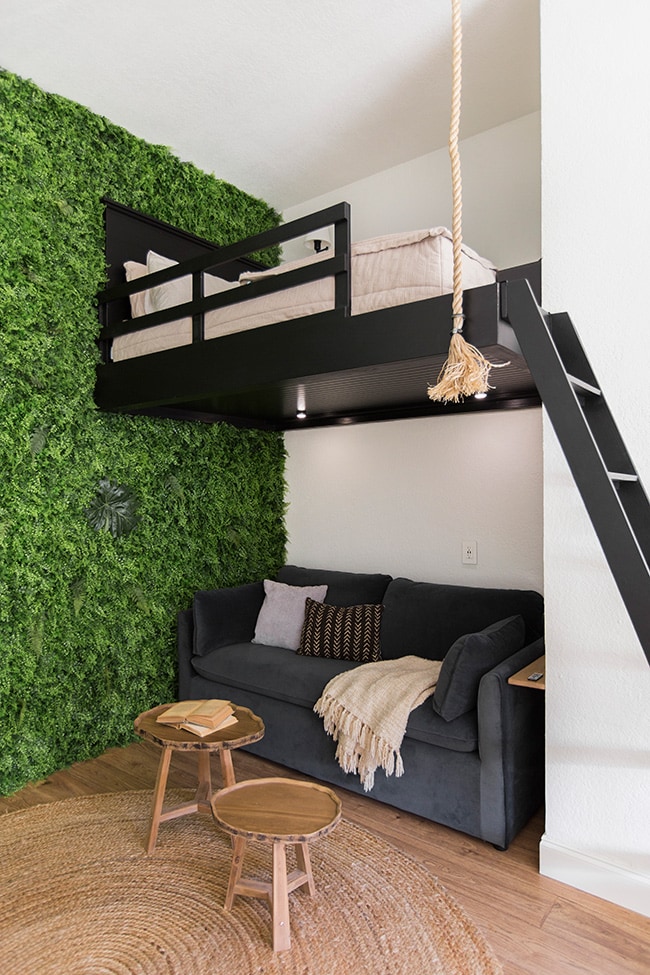 Happy to report that it's still going strong! For the bedding, I chose to use Beddy's (in naturally boho) which is an all-in-one sheet, comforter and blanket that zips together and fits over the mattress in one piece. Bunk beds are notoriously difficult to make, so this has been super helpful for our cleaning crew.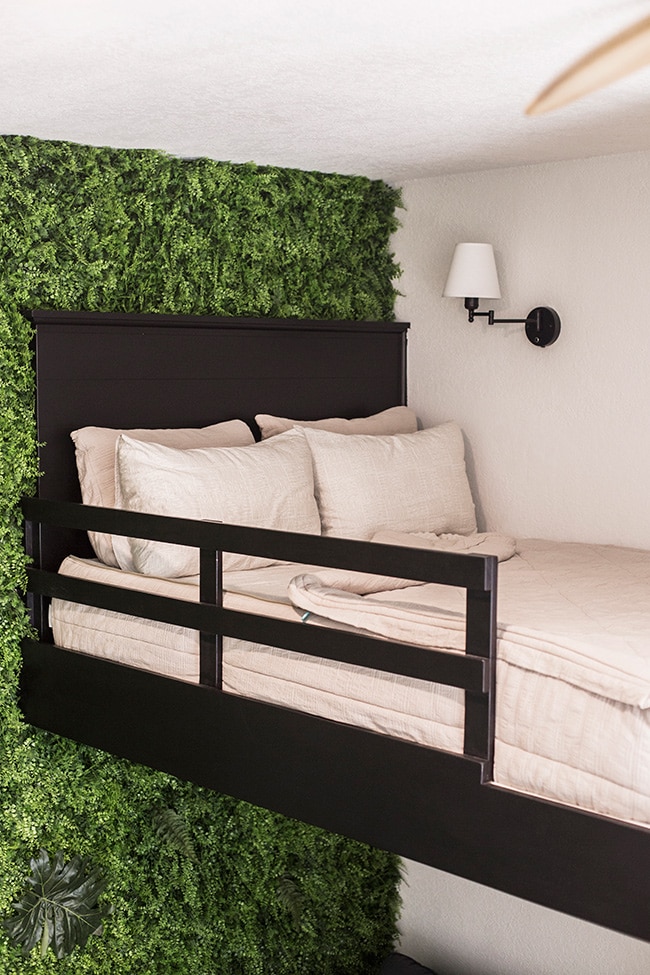 Guests have also mentioned how comfortable our sofa bed is. This is the Oneira bed from Article, and the compact size was perfect for this space.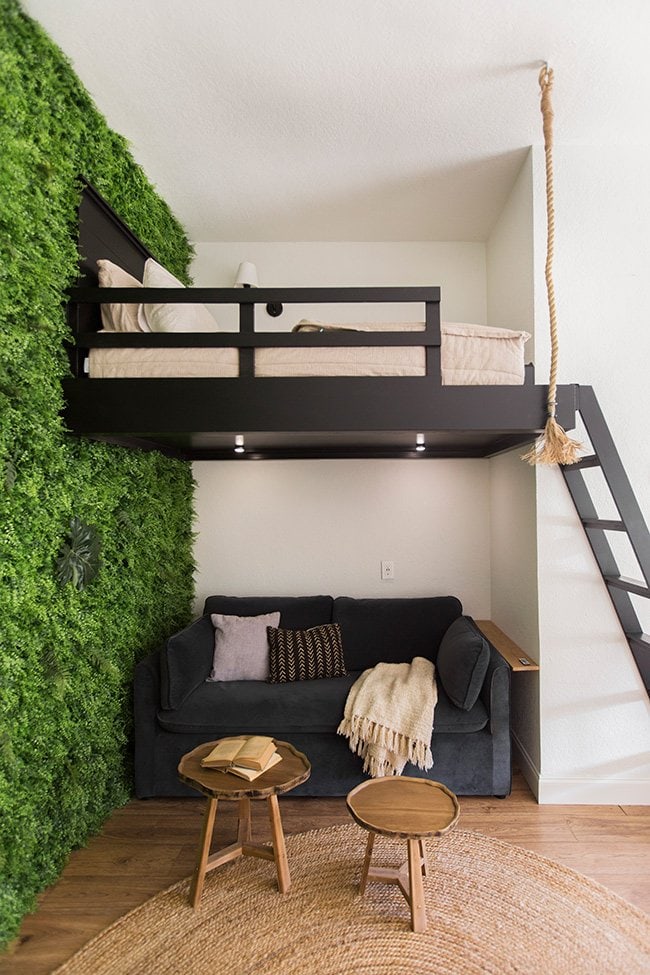 It has a plush memory foam mattress, and the dark velvet is low maintenance and easy to keep clean (I've used velvet all throughout the house for this reason—it's great for rentals!)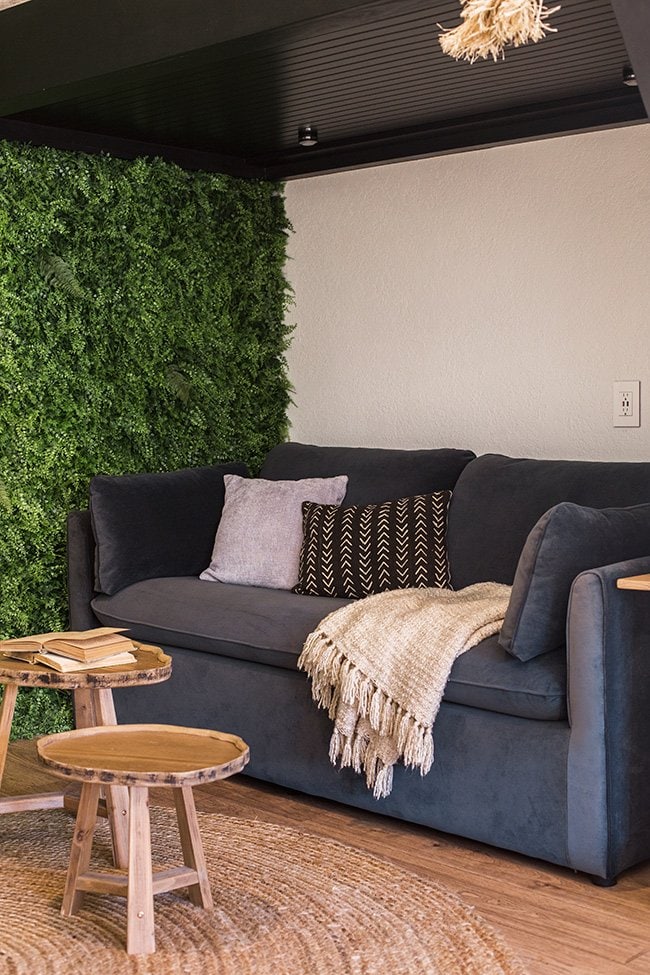 This room took the longest to complete (by far!) but it was worth the wait, and has to be the most memorable spot in the house.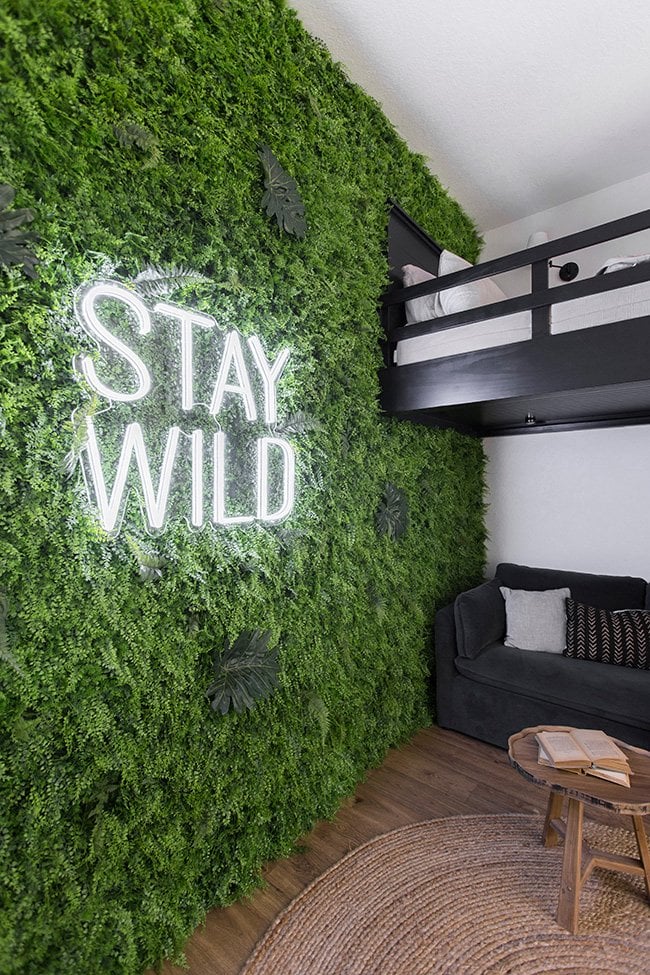 We've also been renting the house out for photoshoots and it has been fun seeing the different spaces used as a backdrop for products, brands and lifestyle.
Though the renovation is over, I'll continue to share updates and periodically use the space for blog content and my own shoots. I love that the house is getting put to good use in different ways and bringing joy to others. Two years of hard work and serious sweat equity is all starting to pay off!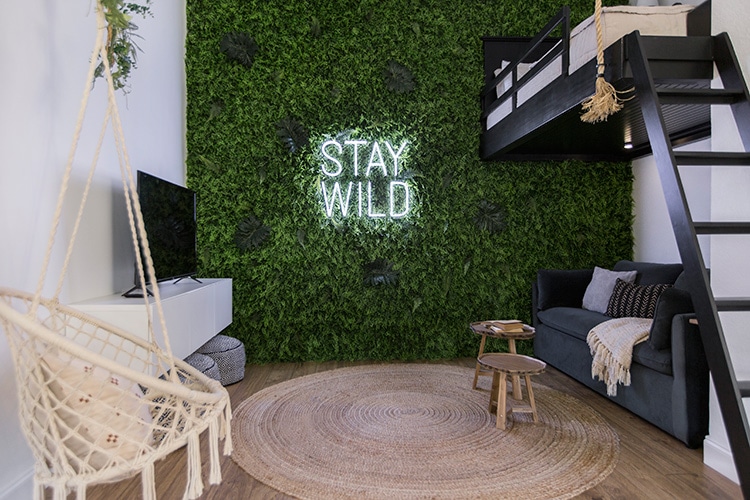 Does this renovation story inspire you to invest in your own vacation rental? It's certainly not for everyone but I think we've found our niche. Make sure to follow The Riverside Retreat on Instagram to stay up to date, and book your next stay with us here on AirBnb!