If I had to guess what I'm most often asked about—apart from paint colors—it's where I source my curtains and blinds. Over the years I've run the gamut from dirt cheap DIY shades to pricey designer drapes, and have learned what to look for (and avoid) when shopping for window treatments.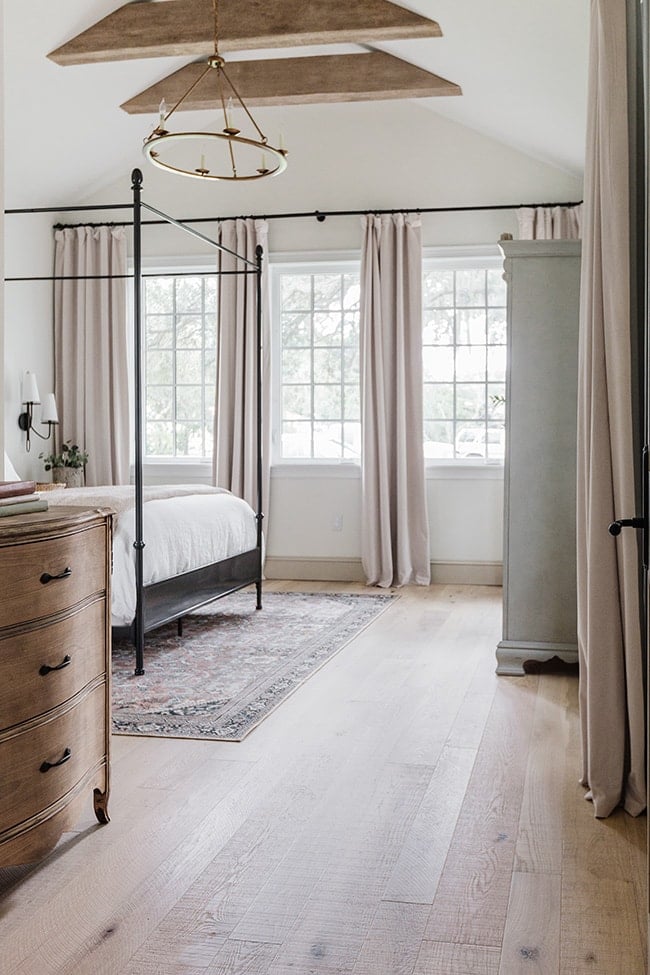 For this roundup, I'm focusing on budget-friendly sources, which can be more elusive if you're after a polished designer look. Pricing for window treatments can vary wildly, but so can quality and style. There really are so many factors to consider, and a lot will depend on personal preference. The items I've sourced are all ones I've either used in my own homes, or have on my candidate list for future projects.
Most options are customizable by size/color and the curtains are all available in at least 8′ lengths (don't even think about using 84″ curtains unless you have abnormally short ceilings!) I will also share some keywords I look for (and avoid) when searching for curtains, plus tips to get that designer look.
Click/tap on any one to shop: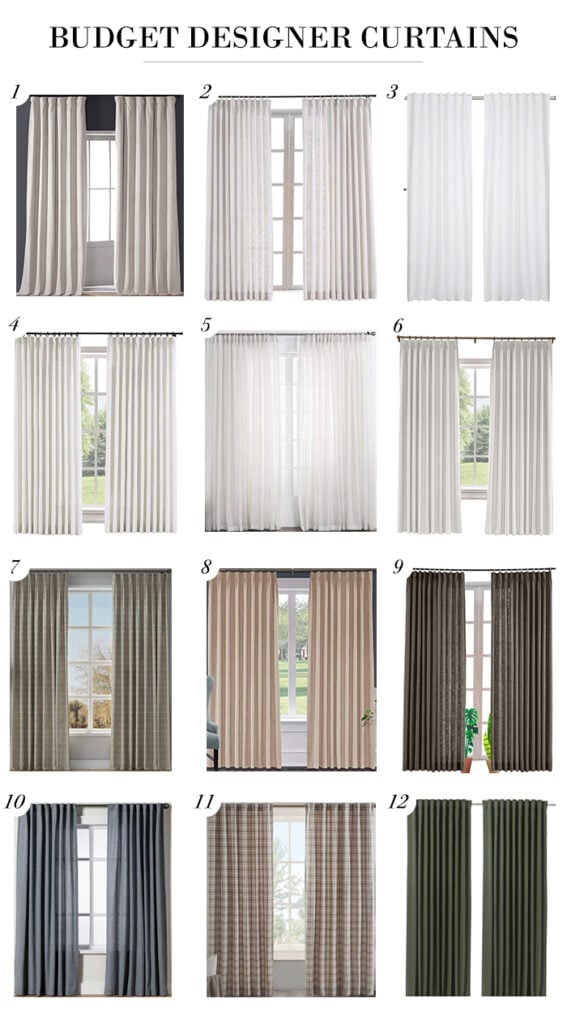 1. These are the velvet curtains in our bedroom, and the ones I'm asked most about. Ours are Alabaster Beige and the fabric is really nice—most importantly, they're blackout so we don't have to use blackout shades as well.
2. I've seen other bloggers use these and they look really nice. I love that they're available in wider sizes as well, which is necessary for pinch pleat!
3. These are a good super low-budget option that I used for the living room at The Riverside Retreat (I used two panels per side to make them fuller). Simple, no frills and provide some privacy.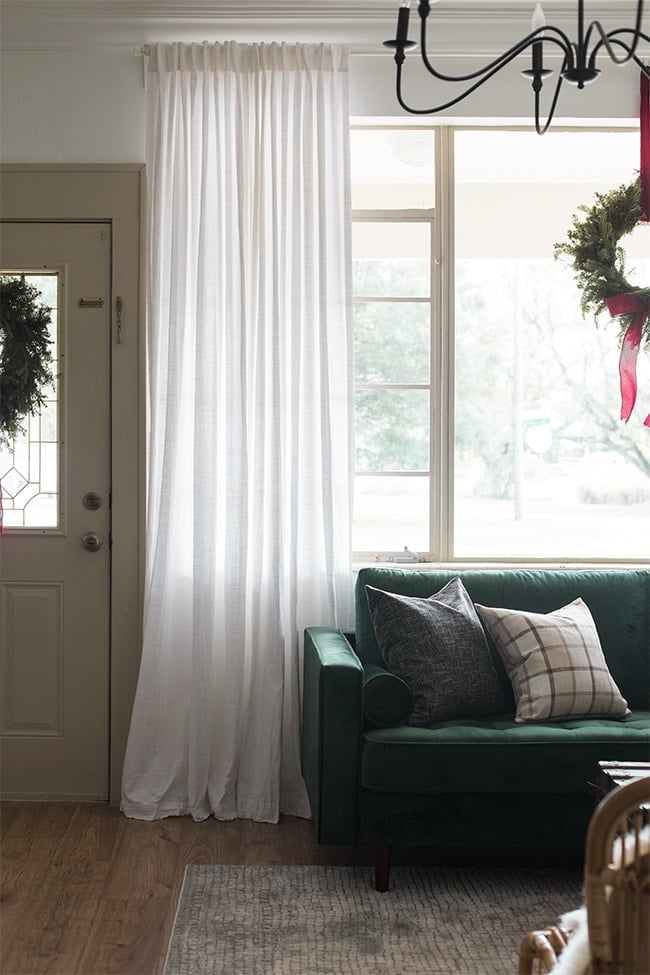 4. A blackout pinch pleat with a linen fabric-look, available in several sizes and colors. Lots of helpful reviews with customer photos.
5. A semi-sheer pinch pleat, maybe the best price for semi-custom pinch pleat panels I've seen.
6. Here's another blackout-lined linen pinch pleat, very similar to option 3.
7. I love the subtle stripe pattern on this jacquard pinch pleat. The fabric looks nice from the review photo.
8. Lots of color options for these blackout pinch pleat drapes. The fabric looks similar to the ones in our bedroom.
9. A really nice neutral deep brown pinch pleat with a linen texture. The price point is also one of the best I've seen, comparatively.
10. You can't beat the price for these at $30! The denim blue chambray with the stitched detailing is really nice. I'd order two sets to make them fuller.
11. Another cute budget option from Target—I'm a sucker for anything plaid (especially curtains!)
12. Ikea is one of the best sources for budget window treatments. This deep olive green pair is beautiful (and blackout so you can use it in a bedroom).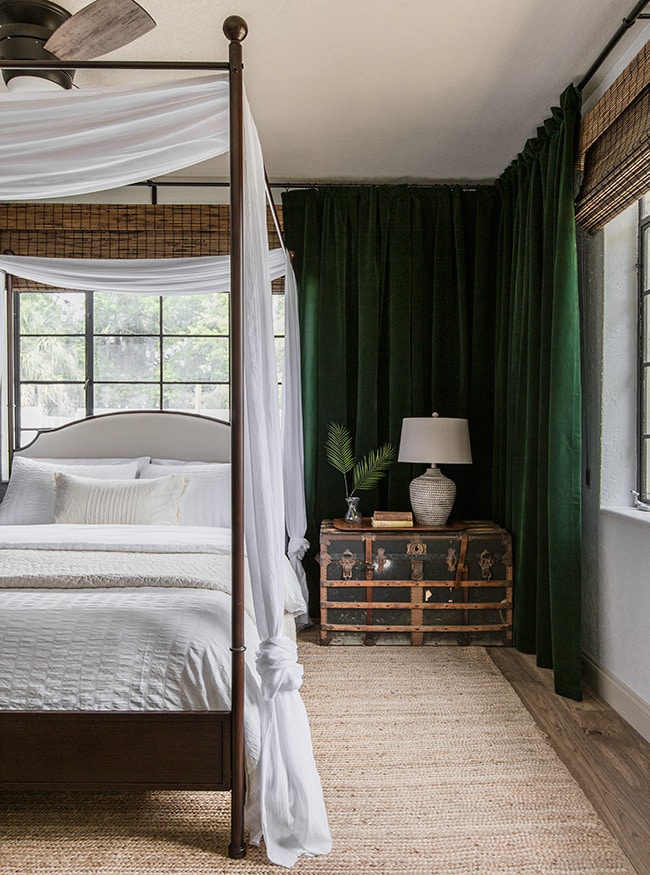 What I look for when ordering curtains:
Wider widths (especially for pinch pleat!) at least 2x the width of your window (per panel) for a full look when closed.
Length within 4-6″ of the ceiling height: this will vary depending on ceiling height, but for 8′ ceilings I prefer to hang my rods directly below the crown molding (or within a few inches of the ceiling if no crown molding).
Customer photos: product shots can be pretty misleading, and it's hard to know exactly what the final product will look like installed. I'm often hesitant to order if there are no real-life customer photos.
Linen fabric: real linen is quite pricey, but you can get linen blend or faux linen fabrics that have a similar feel. Velvet is also classic (just make sure it's not shiny polyester!)
Blackout or room darkening: Blackout for bedrooms, room darkening for living spaces (unless they're also paired with window shades). Heavier weight fabrics just feel more substantial and expensive.
Pinch pleat or back tab: Pinch pleat is certainly the most popular in the high-end design world, but it also comes at a cost. I also like to use back tab panels and hang them with curtain clips and rings. Either way—curtain rings are my hanging method of choice.
What I avoid when ordering curtains:
Sateen, silk or cheap polyester—anything with a sheen
Sheer or semi-sheer (usually, there are a few exceptions)
Grommet or rod pocket style
Anything smaller than 50″ wide
Anything shorter than 90″ (for standard 8′ ceilings)
Large scale patterns (these can look distracting)
Budget tip: If you love the look of pinch pleat but not the price tag, try making your own! You can make no-sew pinch pleat curtains with regular panels (or fabric) using pleating tape, pleat hooks and iron-on hem tape. Note that you'll need 2-3x the width of fabric of regular curtains to achieve the same fullness.
Let's move onto window shades! Click/tap on any one to shop: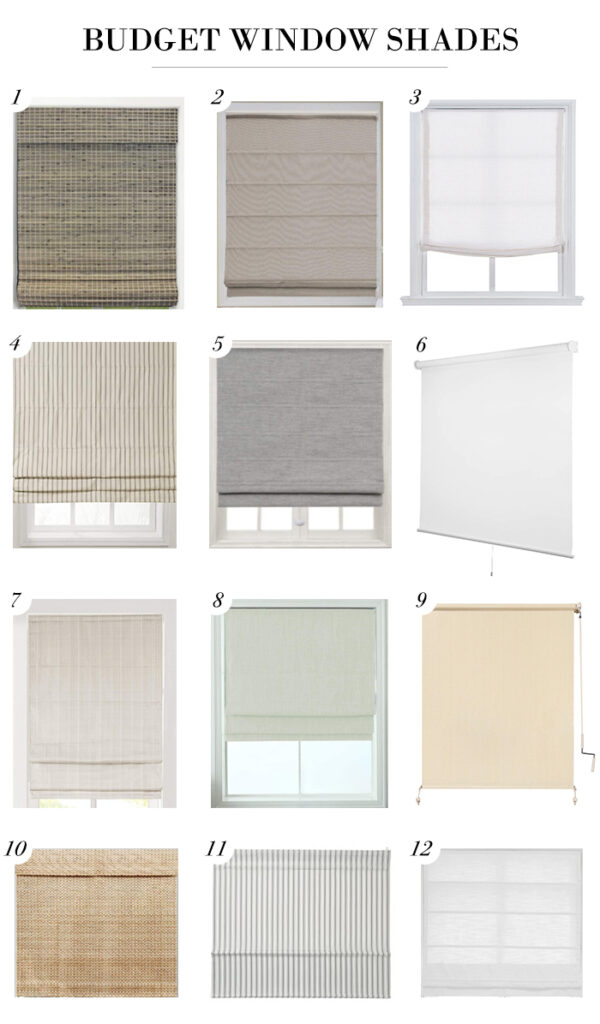 1. I've used this budget bamboo shade in both the kitchen and main bathroom at the Riverside Retreat. Love the fact that it's cordless, easy to operate and you can't beat the price. Guests have broken both of our expensive custom shades in that house but these have survived!
2. This is a recent addition to our playroom and I couldn't be happier. Completely customizable, great fabric, blackout and a perfectly tailored fit. It looks much more expensive than it is.
3. Possibly my favorite window shade ever—I've used it in three bathrooms and our closet (in white). It's often out of stock and there used to be more size options, but it's a killer price if you can make it work!
4. I just love a good striped roman shade! It comes in every size and there's plenty of real life reviews/photos.
5. This fabric and style look high quality. It's also blackout lined, customizable and cordless.
6. I searched forever for an affordable, simple blackout shade in an extra large width for our In the Clouds bedroom, and landed on this one. These have stood up to frequent use without any issue, and still look great!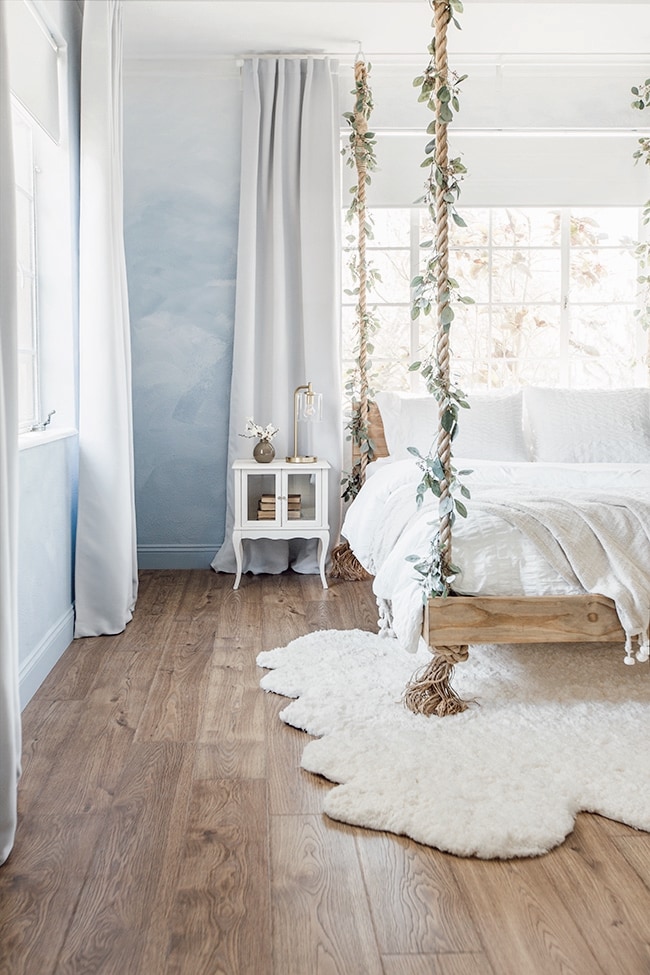 7. This one is only available in a few widths but the woven fabric and subtle stripes are nice.
8. Simple design, nice fabric and cordless.
9. This is actually an outdoor shade I used for two large bedrooms window at the Riverside Retreat. It offers privacy (but not blackout) and a nice woven texture at a really affordable price.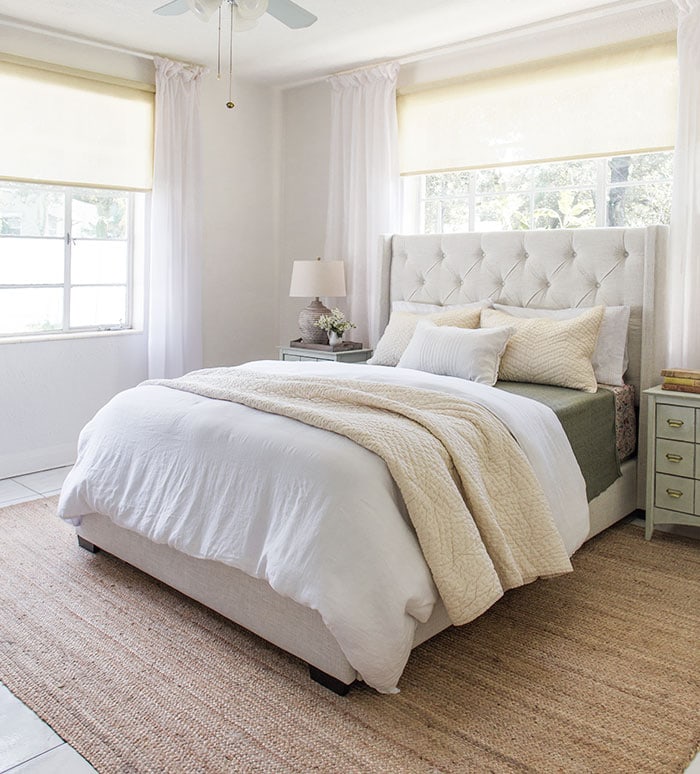 10. Another budget woven shade option, available in any size with lots of different textures to choose from.
11. Ikea has a few roman shade options as well, and this striped look is my favorite.
12. Simple design, several colors, fully customizable size with optional liner.
What I look for when ordering window shades:
Cordless
Privacy lined or blackout (with a white/off-white liner, especially if the window is visible from the outside)
Inside mount: for a custom, tailored look (there are few exceptions)
Customer photos of real-life examples
What I avoid when ordering window shades:
Sateen, silk or cheap polyester—anything with a sheen
Large scale patterns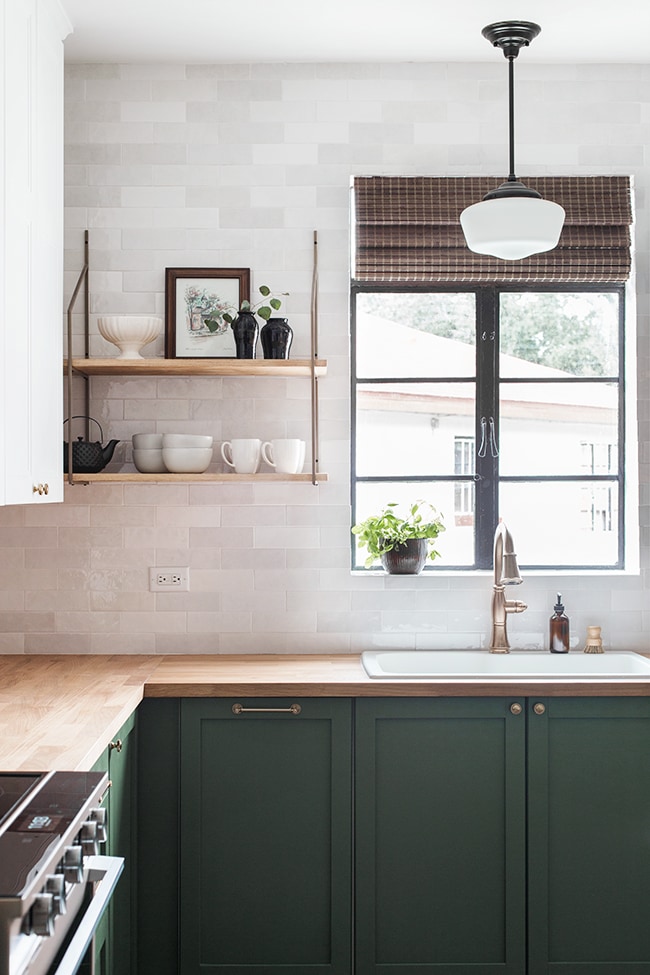 My favorite sources for budget window treatments:
I hope this post is helpful to anyone looking for more affordable options without sacrificing style! The product selection online continues to grow, so I'd love to know if you've found any other great sources and I can keep this list updated.
Coming next week… the big closet reveal!