Another week in the books, and time is officially flying here in Florida! Part of me likes that because I'm so anxious for progress and our future plans… and the other half of me is screaming 'Slow down! I'll never get to relive these youthful days again!'
The internal struggle is real. But the show of life goes on, and in this week's episode we get our hands dirty on #demoday and talk about where we're at with the Bungalow!
Some exciting news to come out of this episode—we were interviewed for our first podcast! The hosts invited us on as guests after we met them at an investor meetup last month, and no one was more surprised than us! We're still so new at this, so we're thinking this will be our "Before" interview, and we'll return a few years down the road after we're 'seasoned investors'. It was a fun interview—we talked about how we met, what our strategy is and our plans for the future, and a lot more. You can listen to it here!

In other house-related news—finding a qualified and reliable contractor has been a struggle for us here in Florida, and certainly the cause of some stress over the past couple weeks. I know firsthand how critical a good GC is to these renovations (especially on a timeline and budget) and we were worried we'd never find one. At one point we thought that our only option was to be our own GC and hire individual subcontractors for the work, but last week we ended up finding someone who we feel good about. It's a trial and error process, especially when you're new to an area. Now we have a team in place and a schedule we feel good about, so we're hoping all goes smoothly!
On another note, we've been playing around with the kitchen layout and came up with another option. In the Before Tour last week, I showed you our original idea:
Please ignore all of the finishes—the Homestyler software is very limited so this floor plan is purely for spatial planning!
Anyway, I didn't love the idea of being able to see the fridge from across the house when you walk in the front door (even if it blended in with the cabinets), but the options were pretty limited with this layout.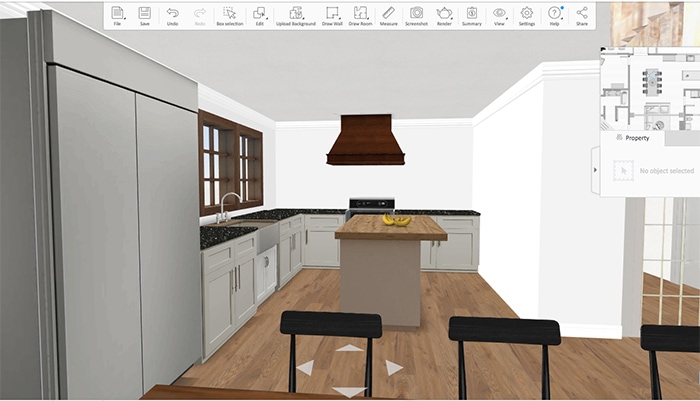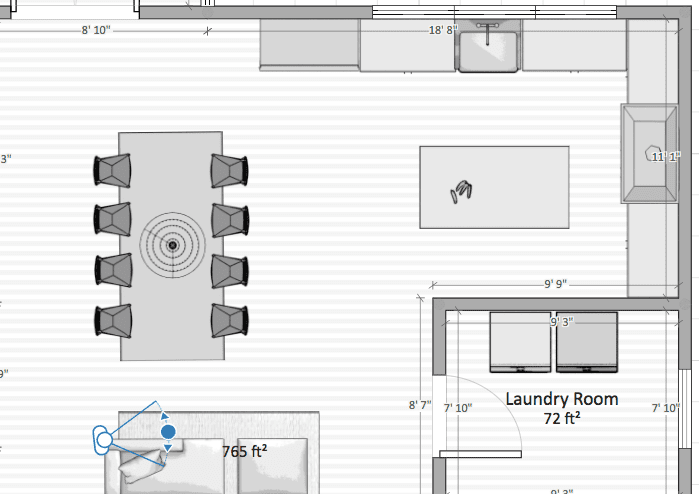 Until… I decided to think outside of the box (literally) and move part of the laundry room wall to accommodate the fridge…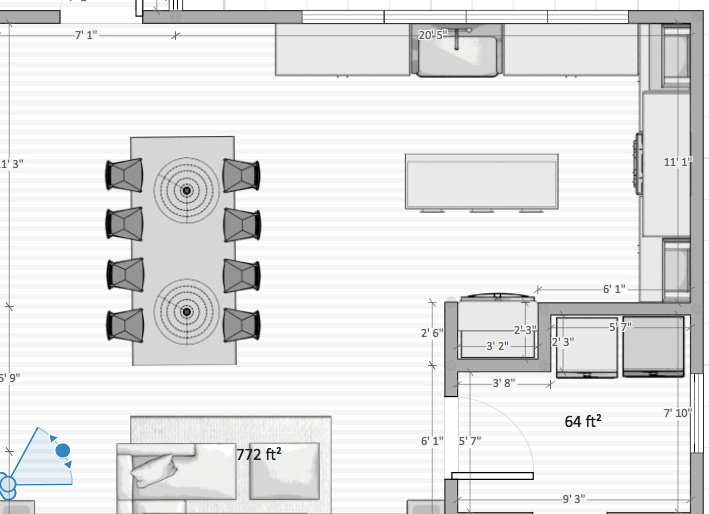 This plan leaves the perfect amount of space for a washer & dryer, and now you can only see the fridge if you're in front of it. Plus you get that triangle workspace flow.
We're pretty sure we like this idea better, especially if we can't afford a $10k fridge with integrated panel doors (we can't). I don't like stainless steel, but it's much easier to live with if it's not constantly in my face.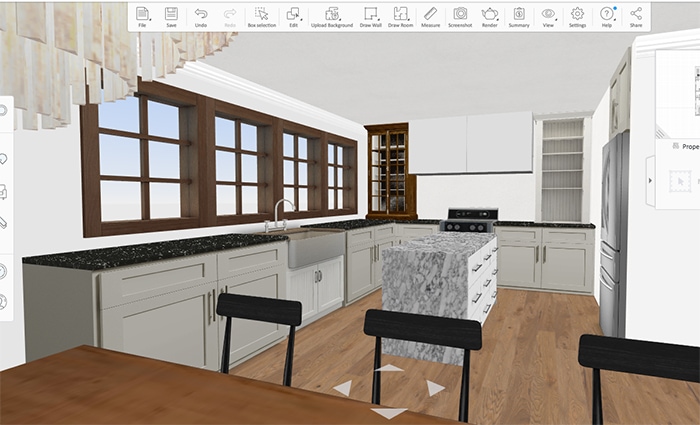 Oh yeah, and we've been having fun dreaming up ideas for the back oven wall (despite the mismatched mess you see above, we think the end result will be pretty spectacular). The jury is still out on whether or not a small island will fit/make sense in this space. Now we just have to figure out what to do with this big open empty wall!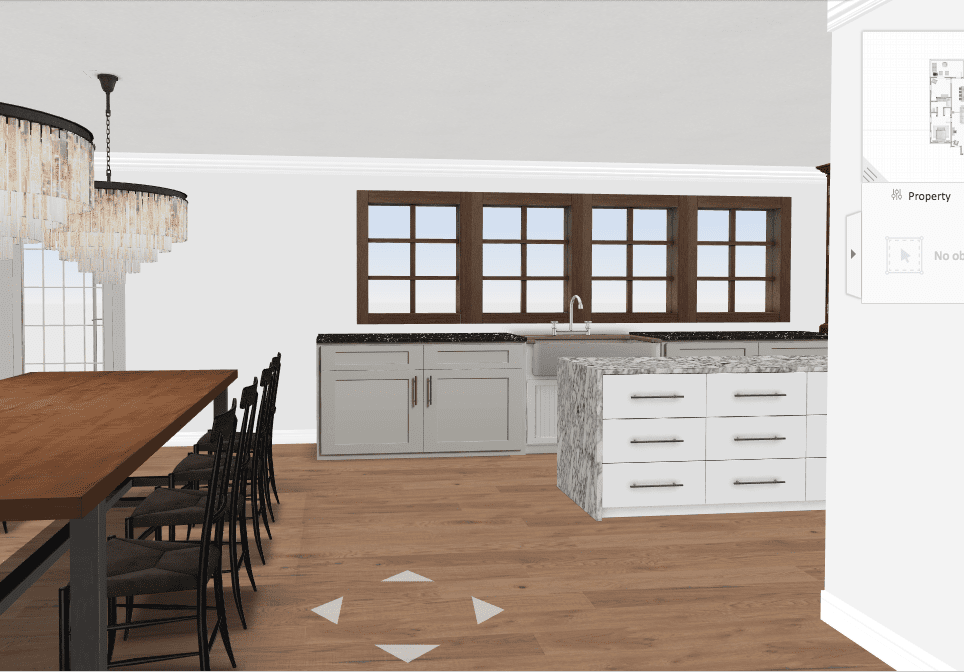 More cabinets & windows? Open shelving? A sconce? Nothing at all? We need to decide pretty quickly since cabinet production takes so long and it will hold up other things. We're hoping to meet with Lowe's this weekend to get an idea of what our options are. If anyone has any awesome ideas, shoot them my way!
As for the Bungalow, we're still under contract (I told you this was going to take a while!) and currently in our Due Diligence period. This is the time where you get your inspections done, estimates for repairs, etc, after you go under contract. It was easy with the Heights House—we bought the house as-is and there were no major surprises with the inspection.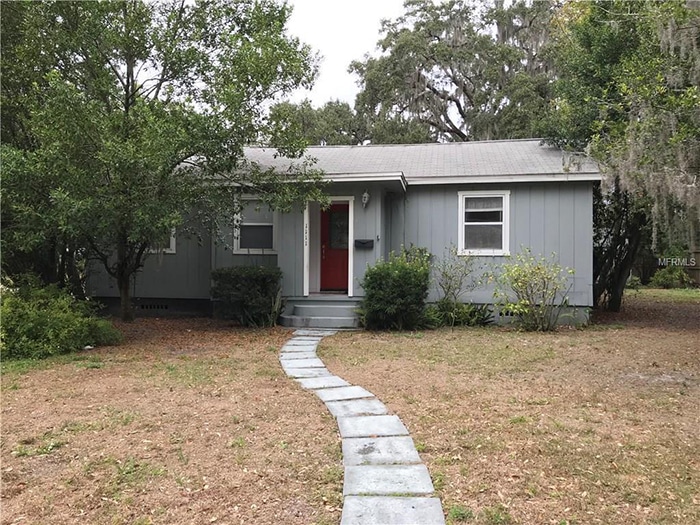 Commercial deals, however, are quite a bit different. Before submitting our offer, we had pretty limited information about the property (an estimate of annual cash flow and expenses), but during due diligence, the seller is required to give us all of the actual records—rent roll, copies of the leases, all expenses and costs and anything else on file. We were also able to walk through each of the 5 units with our contractor, and got a thorough inspection.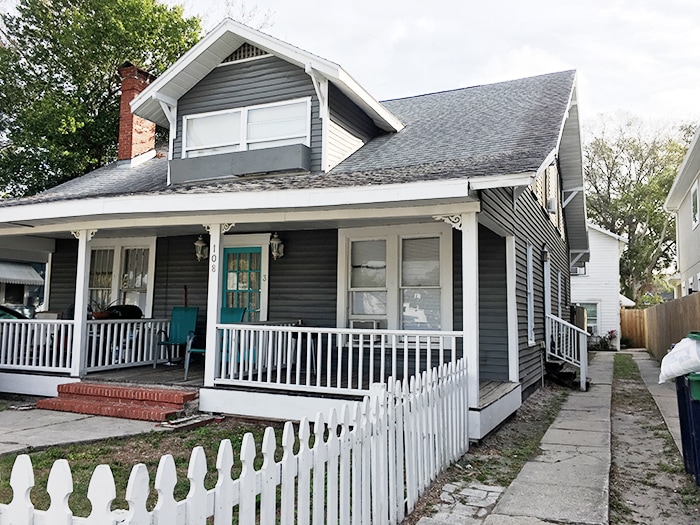 We knew the electric on this 1925 build property was in bad shape, but yesterday the quote came in at $55,000 to rewire it! That is just insane. So, now we have to go back to the seller to ask for concessions and do some renegotiating. We still very much want this deal because the numbers work, so we'll see what the seller agrees to do. Keep your fingers crossed for us! If all goes as planned, the Bungalow will be ours by the end of March.
That's all the news for this week! As always, I'll be sharing daily updates over on my Instagram stories if you want to stay on top of The Heights House progress. You can also find me on Facebook, occasionally Snapchat, and of course there's a whole lot more on my YouTube channel.
It's nearly 90° here in Florida—sending some of our hot February air your way!