Another week of demo on The Heights House is in the books, and boy it feels like this past year went by in the blink of an eye and I'm right back at the Cottage House Flip again! Funny how the sound of saws and the smell of drywall dust never leaves your memory.
The week started off strong with fast progress on deconstructing the house—the kitchen being the biggest transformation: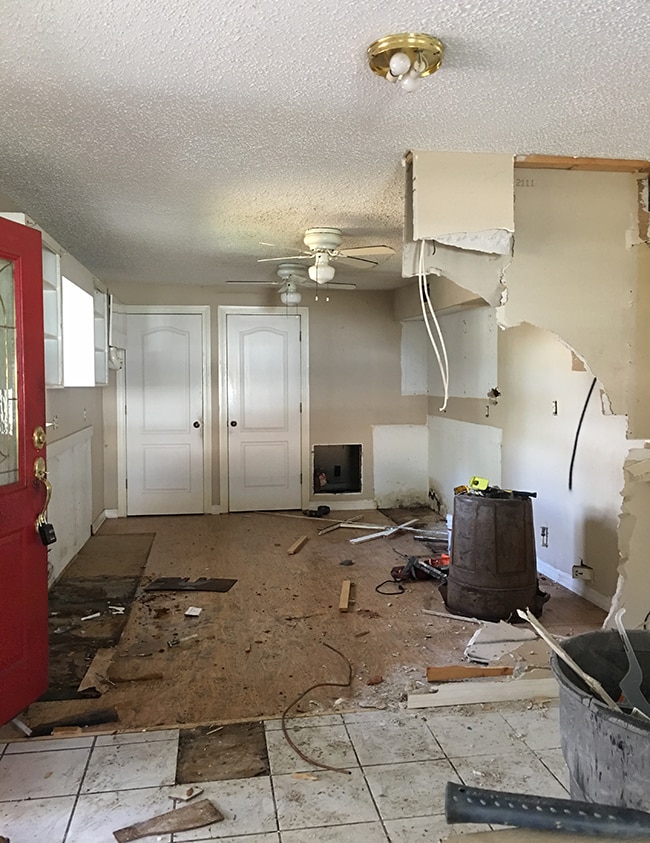 Pin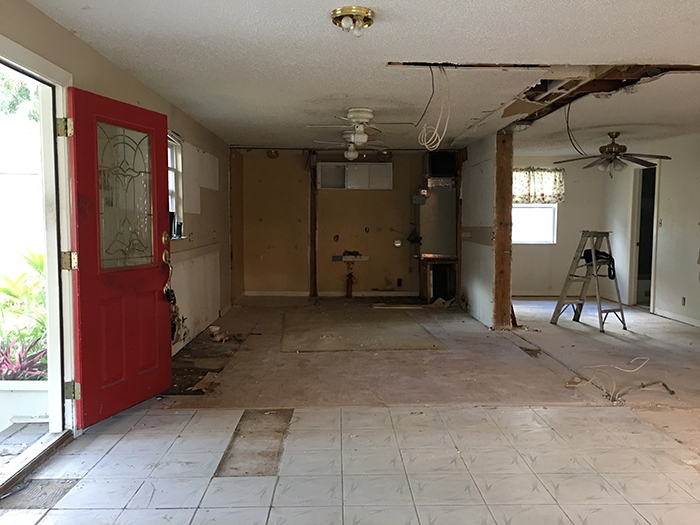 Pin
Ahhh… so nice and open! And we said goodbye to the hallway and half bath—here's the view from the sunroom/back door: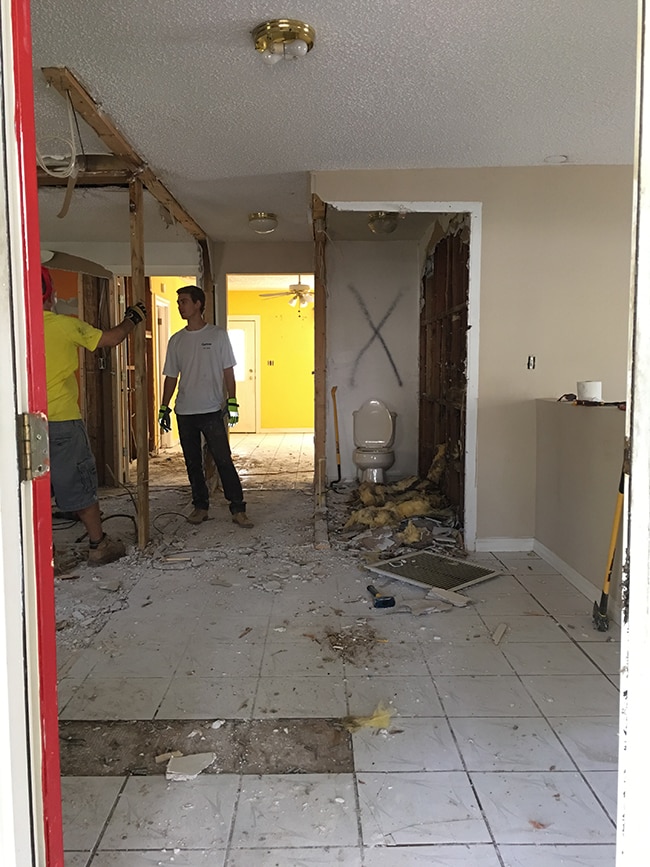 Pin
Now we have room for a huge dining table: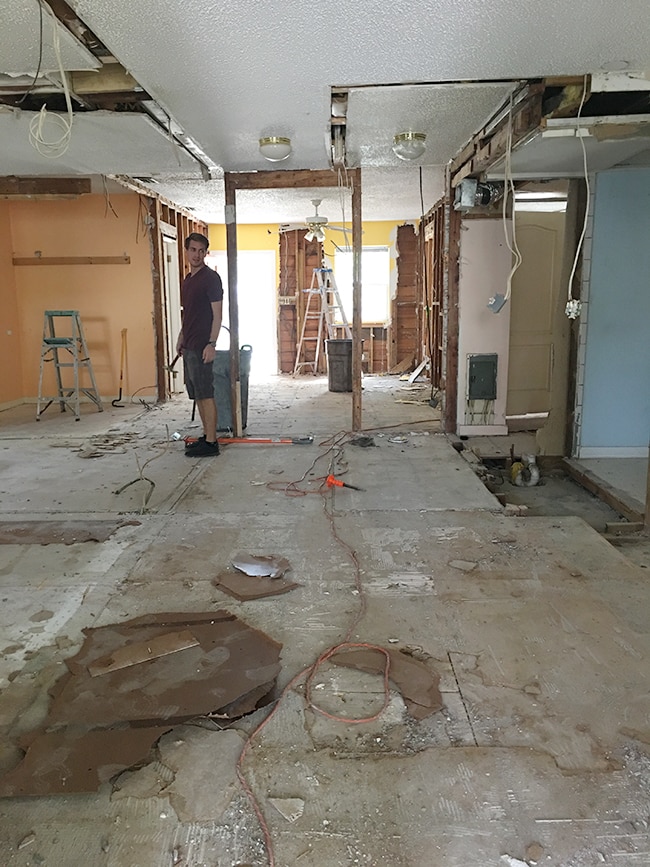 Pin
Here's the view looking towards where the new dining table will be (you can see into the master closet and bathroom) and to the right is where the new third bedroom will be.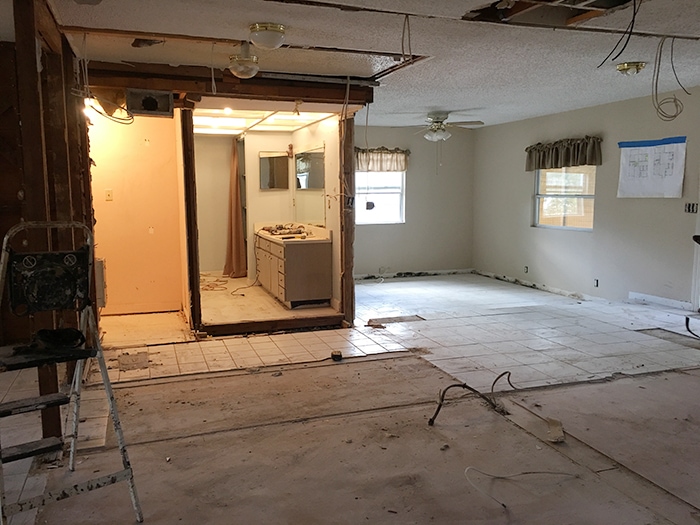 Pin
There was a step down into this room before, so they had to build up the subfloor to make it level with the rest of the house. Next they'll add a wall to enclose it.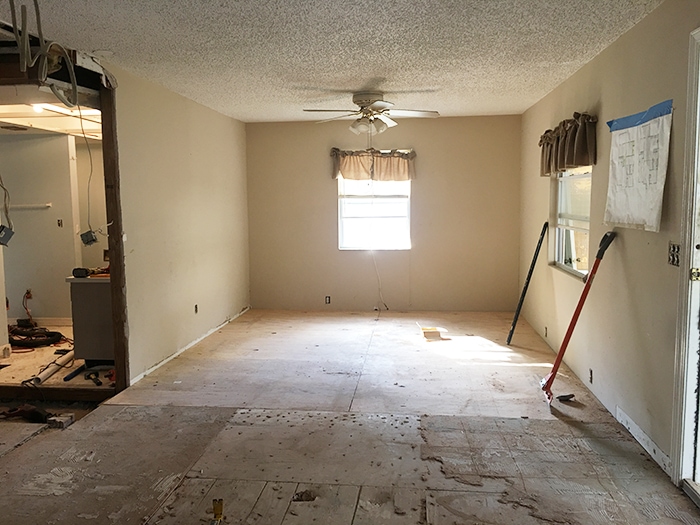 Pin
The view from the back wall of the kitchen, looking towards the dining room and the living room/front door on the left: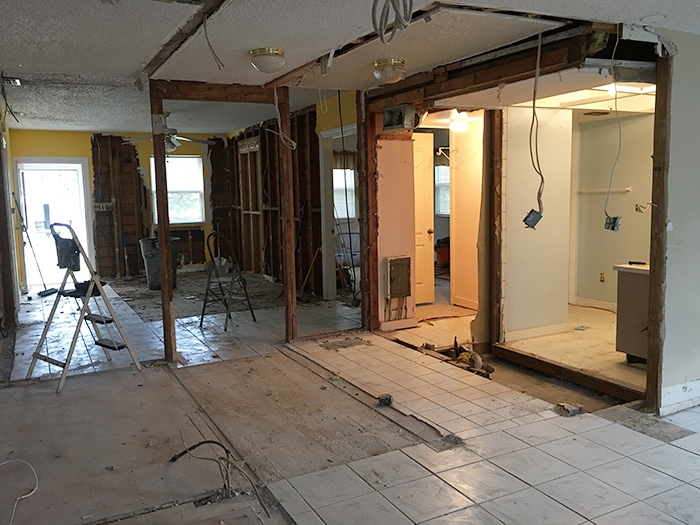 Pin
This was taken a few days ago from the front entrance, looking into the living room, dining room, and the kitchen on the right: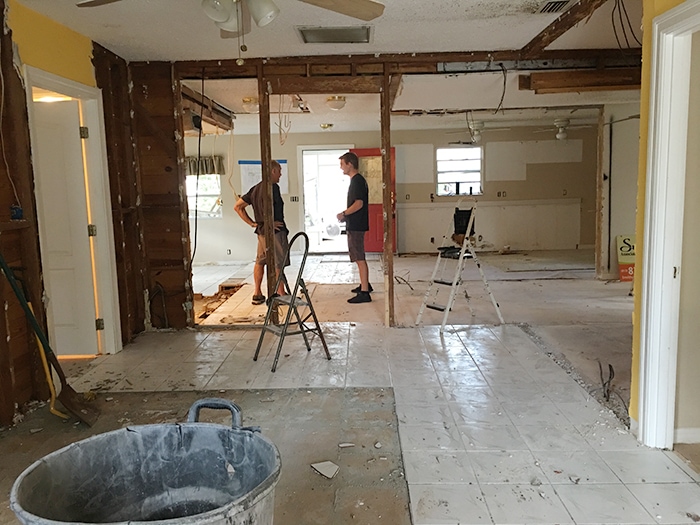 Pin
And a shot looking at the front door, which will be moved a few feet back to where the current screen porch door is, so we can create a small foyer/drop zone area: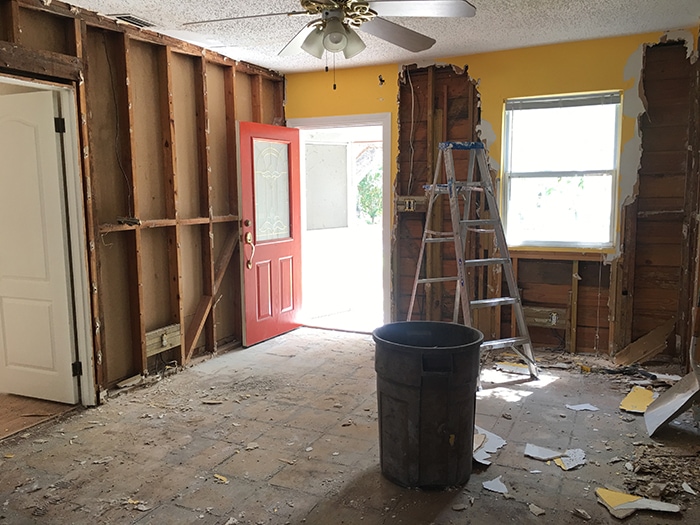 Pin
The only big surprise is the floor, which has proven to be quite tricky to remove. It was a mix of tile and vinyl, with various underlayment that was haphazardly glued, nailed and screwed into the subfloor with approximately 2,391 stripped screws. Eventually they decided it was easier to just tear the entire subfloor out. Today they began that process, only to find that the joists are rotted (termite damage) in sections of the house.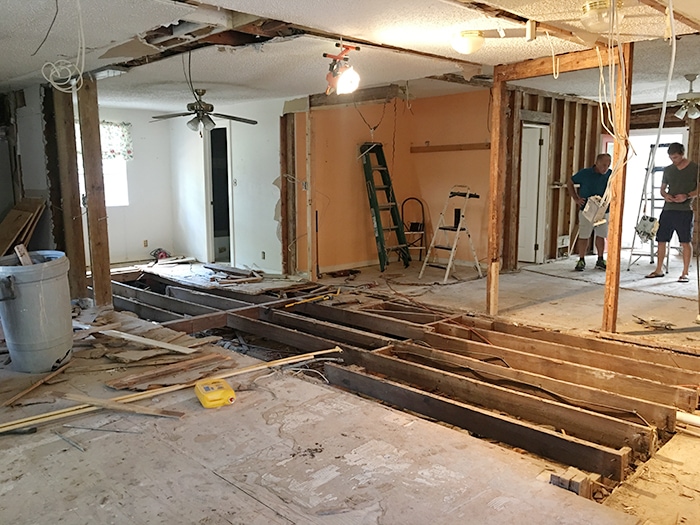 Pin
These boards & subfloor will all need to be replaced, and will set us back thousands in labor and several days (at least) in our timeline. Fortunately, this is a house we are moving into and plan to keep long term, so the setbacks are slightly easier to swallow.
To decompress from the stress and take our minds off all the not-so-great stuff… we decided to have a little fun in this week's vlog, with our first big shopping trip to Lowe's! Click to watch:
This week's episode shows a few clips of the demo progress, and also takes you down the Lowe's aisles with me as I point out my favorite products and paint colors, and Lucas plays "Name that Object!" (he's still learning about all this DIY stuff—I think it's cute). We had fun with this one, and hope you enjoy watching! I'm still trying to convince Lucas to do another round at Target 😉
It has been over a year since I've shopped at Lowe's, so I was pleasantly surprised to find a few new products in stock and some long-time favorites still standing. For those wanting more details, here's a recap of some of the items I called out in the video:
MDF (Medium Density Fiberboard): This material is super versatile and a great substitute for wood. It's smooth and takes paint well, lightweight and great for building furniture. I've used it many times—remember this DIY paneled wall?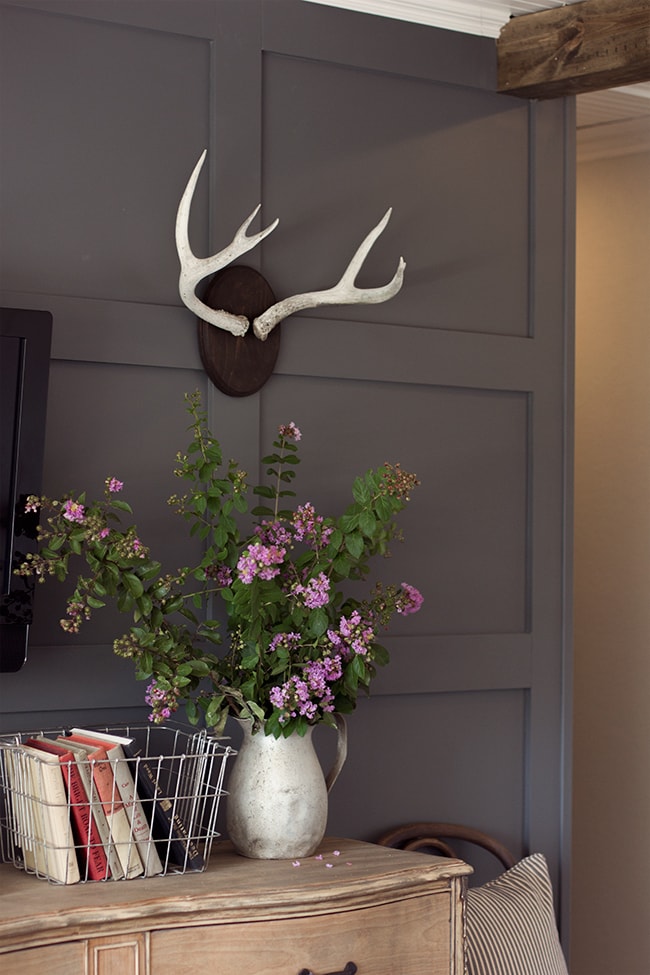 Pin
Or this DIY cabinet?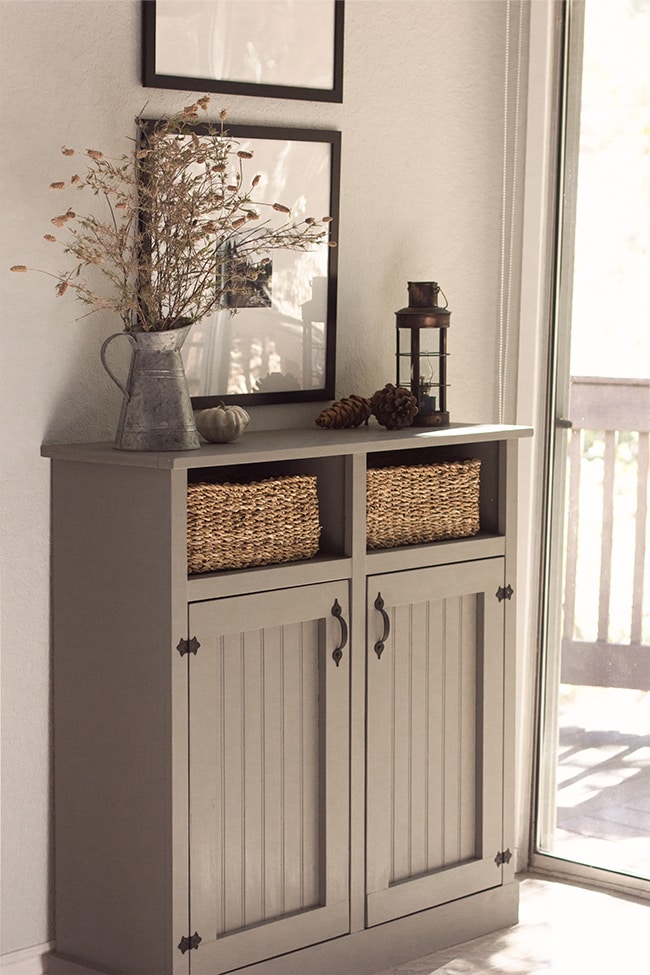 Pin
Brought to you by MDF, baby! You can buy it in strips or 4×8′ sheets and cut to size. It's quite affordable and there's no need to worry about warped wood or pesky knots like you do with pine!
Honorable mention: these 4×8′ sheets of thin hardboard for only $8 are perfect for covering up textured walls (this is what I did for my paneled wall). They're super smooth and paintable, and would be great for craft projects, too!
Next up: Lowe's has officially jumped on the shiplap bandwagon! They come in a variety of sizes, finishes and price points. It's about time, guys! I think the selection is quite nice: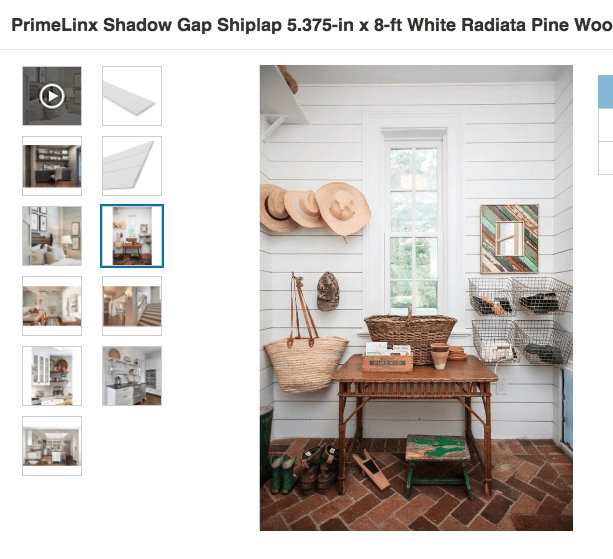 Pin
I'm not currently in the market for a tub, but this beauty sure caught my eye: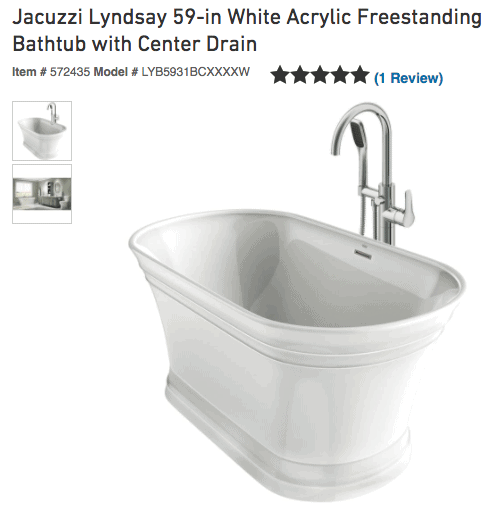 Pin
When it comes to lighting, it seems that Lowe's has been stepping up their game. They still carry my all-time favorite bang for your buck indoor/outdoor sconce: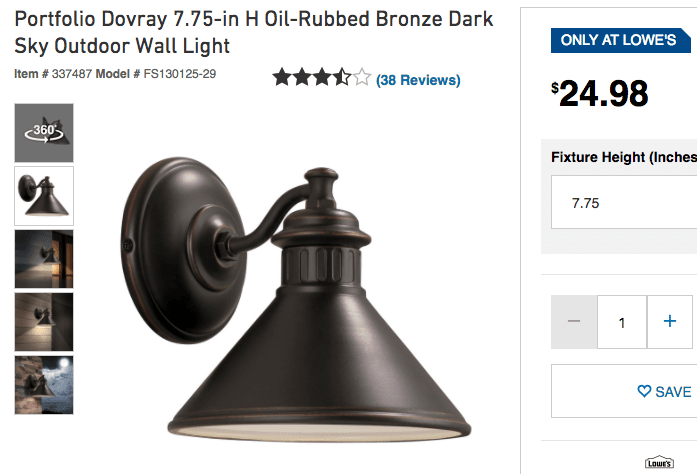 Pin
Remember them in my old laundry room?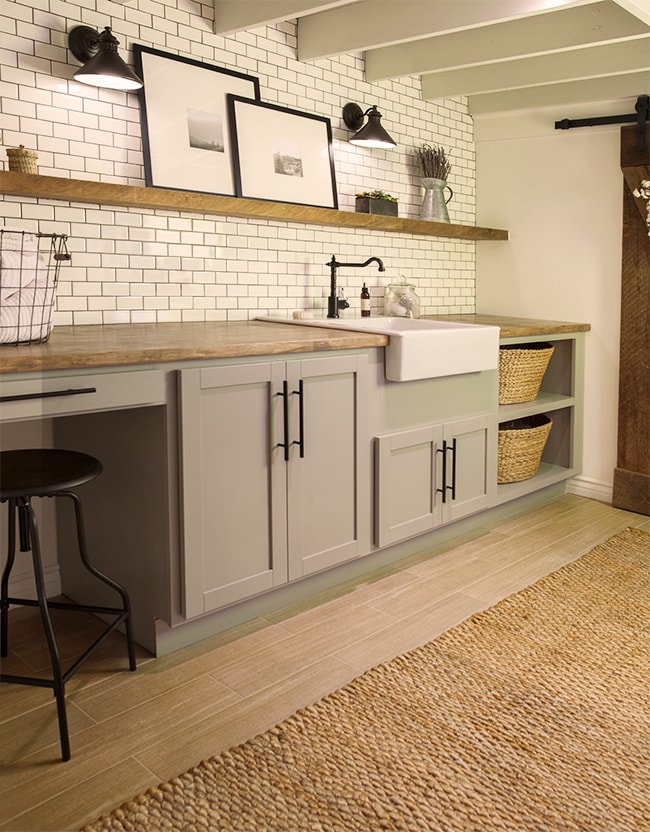 Pin
Good to know they're still alive and well. I've also fallen in love with their reasonably priced crystal chandeliers: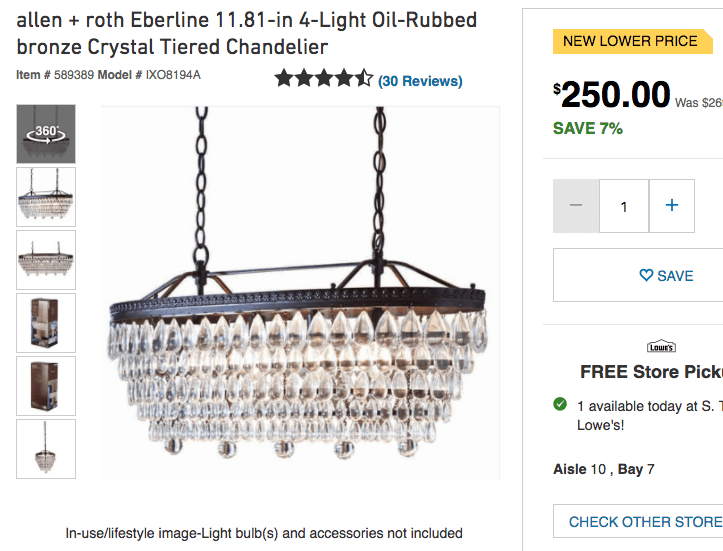 Pin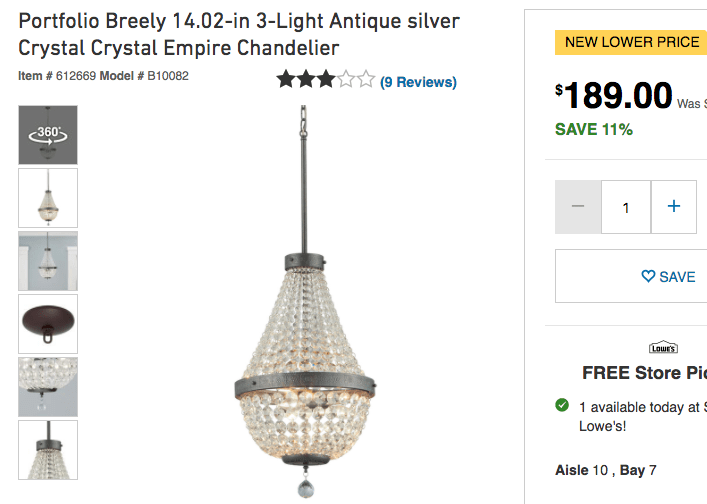 Pin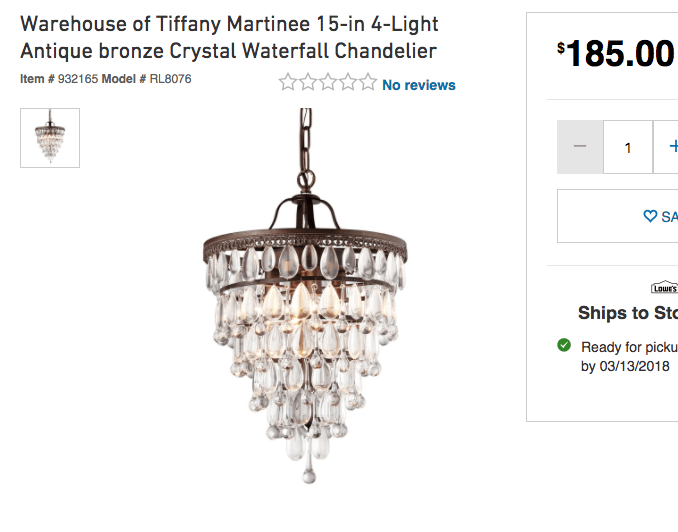 Pin
And of course, perhaps my favorite of all—the one I used in the Cottage House Flip! $169, what a bargain.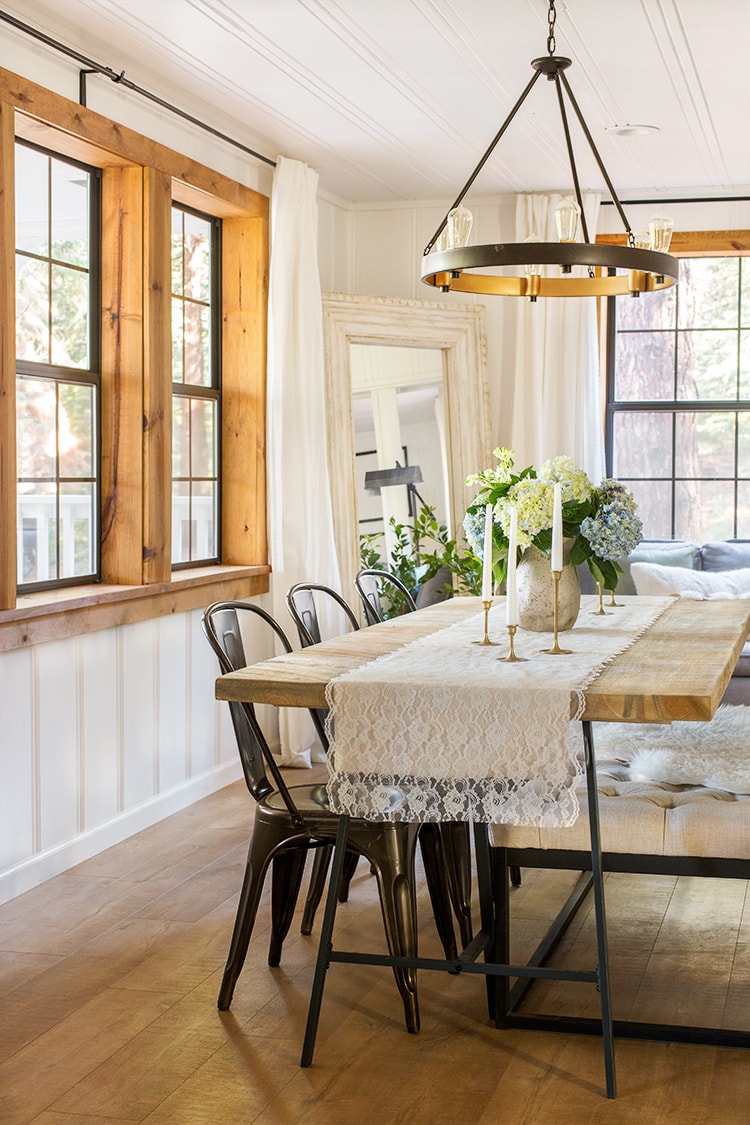 Pin
As for paint colors, I've used nothing but Valspar Signature for years. My go to colors are Valspar's Cracked Pepper (rich black), Bistro White (neutral white) and Woodlawn Colonial Gray (pale gray) [UPDATE! I just found out that Woodlawn Colonial Gray is now called Soulful Gray]. These were the only colors I used for the Cottage House Flip, both interior and exterior: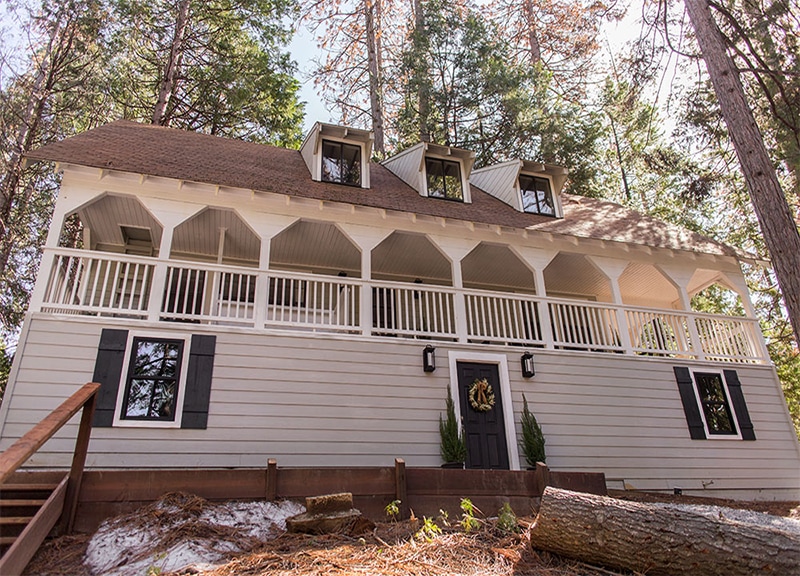 Pin
I loved them so much that I'll be using them again for The Heights House (if it ain't broke, don't fix it—right?) By the way, do yourself a favor and get this brush to paint crisp lines and save yourself hours of taping!
Lowe's has introduced a few new types of tile since last year—this Epoch ceramic mosaic caught my eye: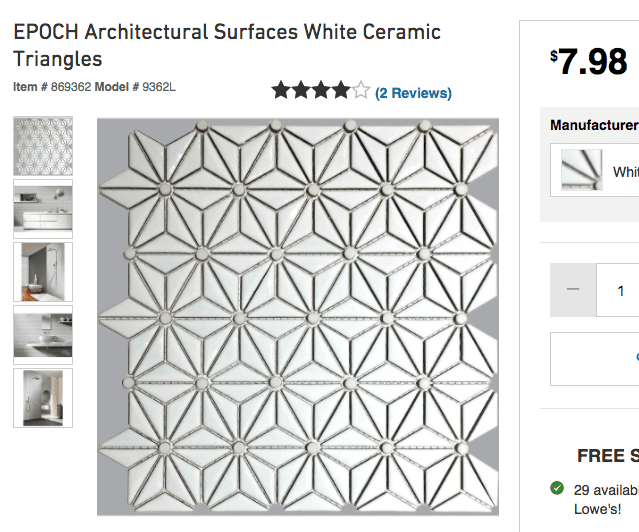 Pin
I love that you can customize it with grout color—it would look really neat with black or gray (or green, tan or blue…)
And how cute is this hand-painted looking porcelain tile?!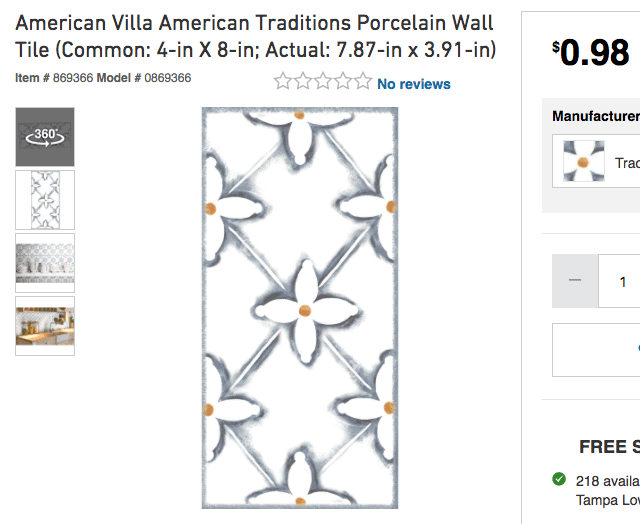 Pin
It comes in two different colors, and look at that price! Less than a dollar a piece—Bravo, Lowe's. Now, please start carrying more patterns and sizes!
Our original plan for the flooring in The Heights House was engineered hardwood throughout. That is, until we walked in and saw this Pergo laminate: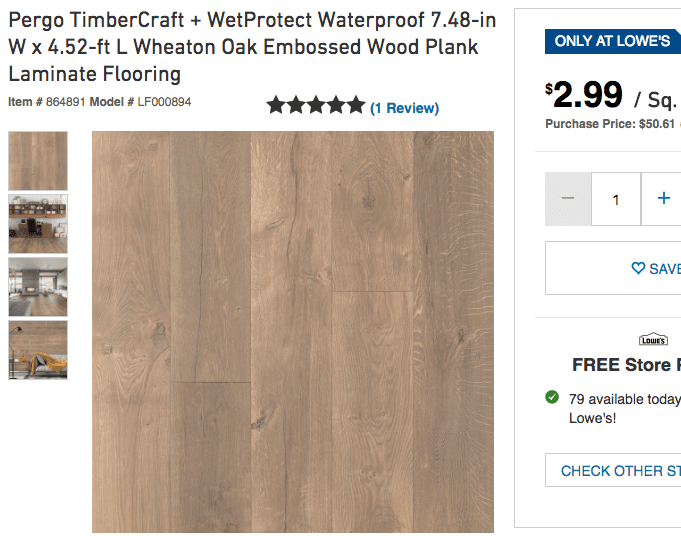 Pin
Honestly, it looked so much nicer than any of the real wood samples they had. I love the 7.5″ wide planks and the textured surface. Not to mention, it was half the price of anything comparable in wood! You may recall that I used Pergo laminate in the Cottage House Flip: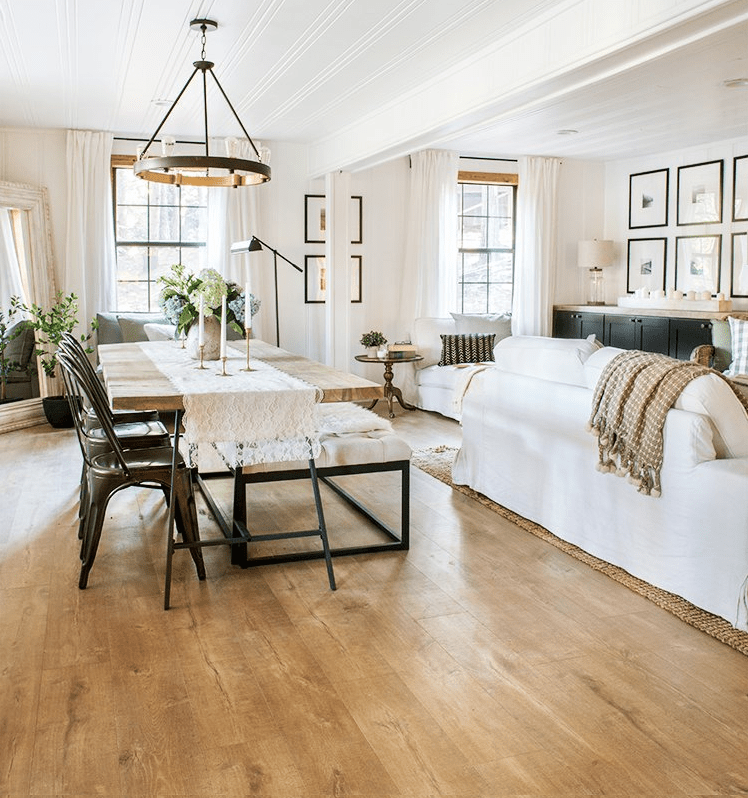 Pin
Unfortunately, they discontinued that color (Scottsdale Oak) but guess what—they have even more colors now! I was immediately drawn to the Wheaton Oak, but I also ordered a sample of the Brier Creek Oak, so we'll be deciding between those in next week or so. It's hard to find photos online, so if anyone has any experience with these, let me know!
In the vlog I showed you the cabinet color & style we chose for the kitchen, but soon I'll do an entire Kitchen Plan blog post so I'll be sharing everything then! We've made a lot of decisions but still have few more to make, so hopefully in the next month it will all be finalized. I'm probably the most excited about the kitchen in this house—I think you'll understand why after the Kitchen Plan is revealed 😉
And last but not least—did you catch the whole door debacle I posted about on Instagram? A few days ago I found this antique beauty at a local salvage yard: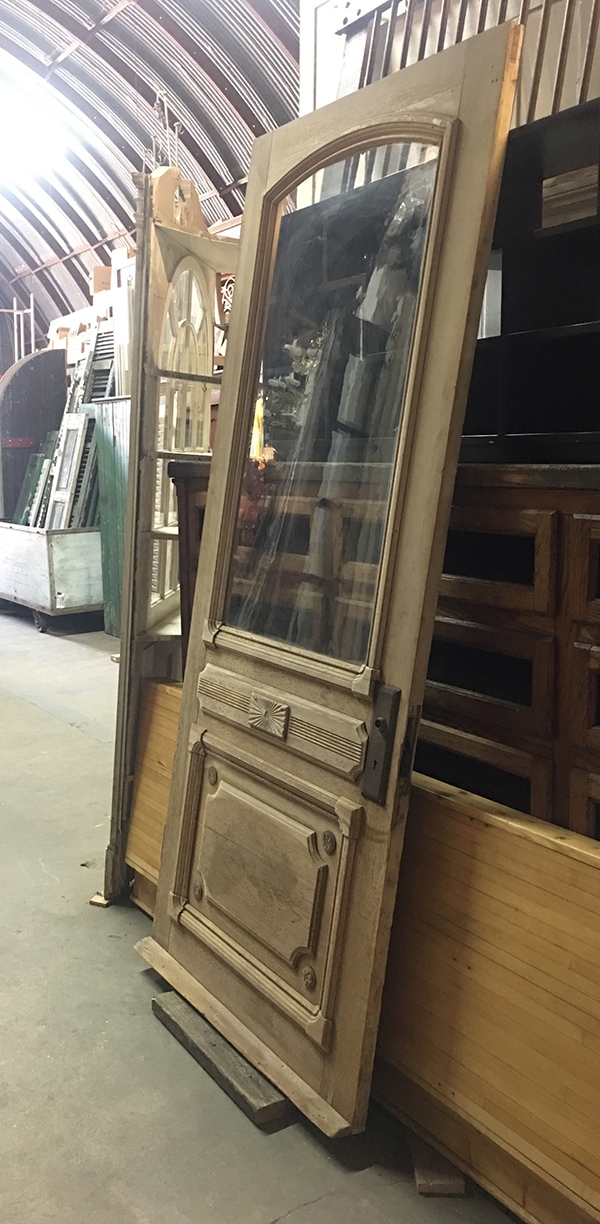 Pin
It was love at first sight, and I thought it'd be perfect as a laundry room door (it needs to be cut down a few inches to fit) BUT it was listed at $245—more than we were hoping to spend. Feeling internally conflicted, I left the salvage yard and posted it on Instagram to get your feedback.
Within hours I was bombarded with hundreds of messages from you guys insisting I go back and buy the door. It was just the push I needed to make the call, and the next day, the door was all mine!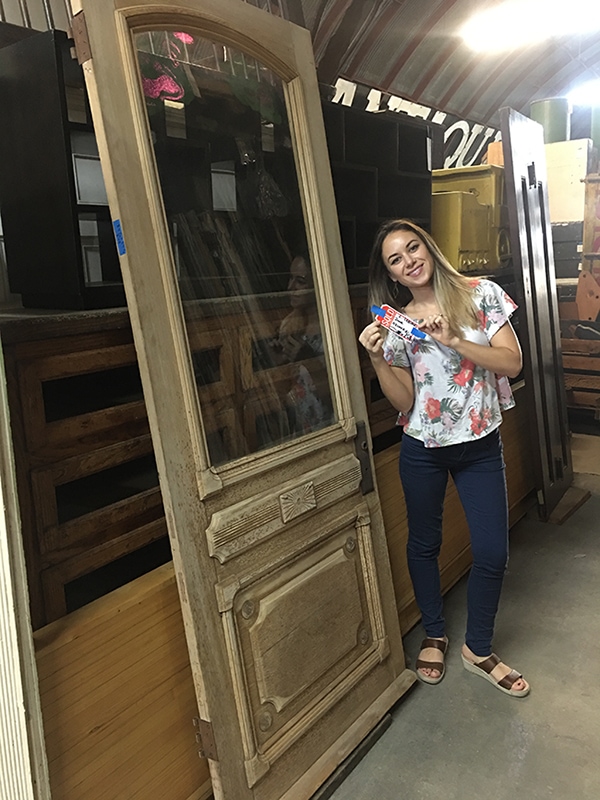 Pin
We even talked them down to $230 delivered! #SoWorthIt. Glad I didn't pass this one up and live with the regret forever. This is the first official purchase for this house, so I think we're starting on the right track!
I'd love to think that by this time next week, there will be a lot of new and exciting updates to show you, but now comes the phase of necessary but boring stuff like plumbing, electrical and HVAC. I'll make sure to update you on our progress, but tell us what else you'd like to see! More shopping? More design/inspiration? More about Real Estate Investing? A video Q&A? We're all ears over here.
Happy March, people!