Ahhh fall, my favorite time of year. It has always held special memories of cozy evenings by the fire, holiday anticipation, and now our wedding anniversary. Last year at this time we were still settling into our home and learning how to survive with a newborn, and this year we're learning how to survive life during a pandemic with a toddler.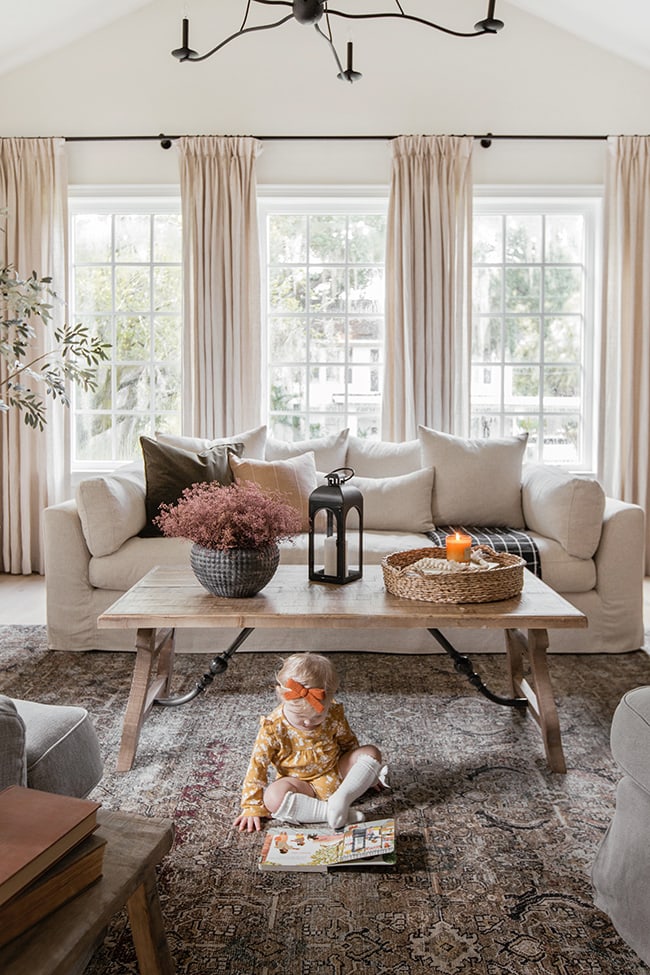 But the colors and sounds and smells of fall always remain constant, and decorating for the season has become more comforting this year than ever.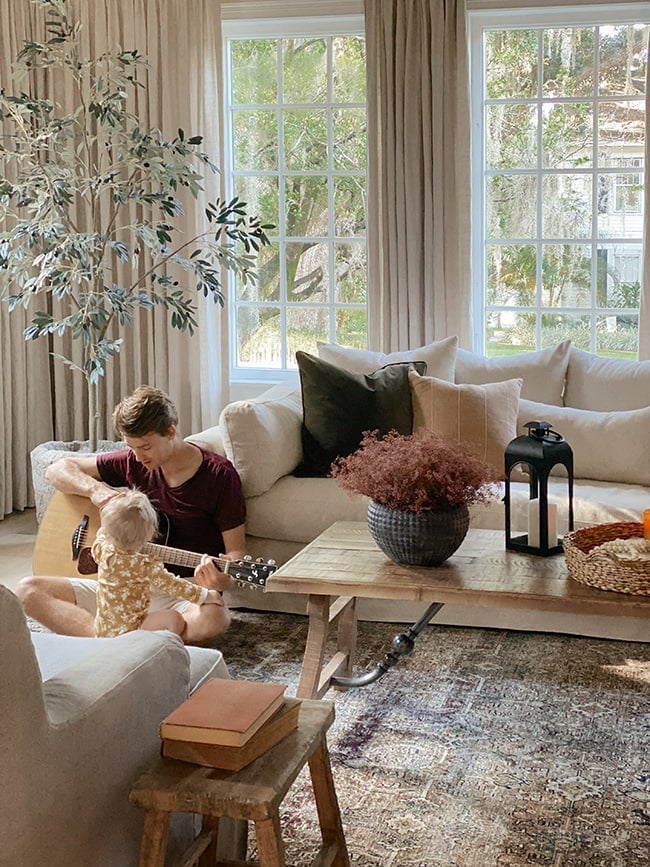 Earth tones are my go-to palette year round, so I didn't have to change much around here—a few new pillows, throws, candles and stems to change the entire mood. This preserved mauve stardust might be my favorite new plant (update: it looks like it's out of stock! I found similar options here and here.)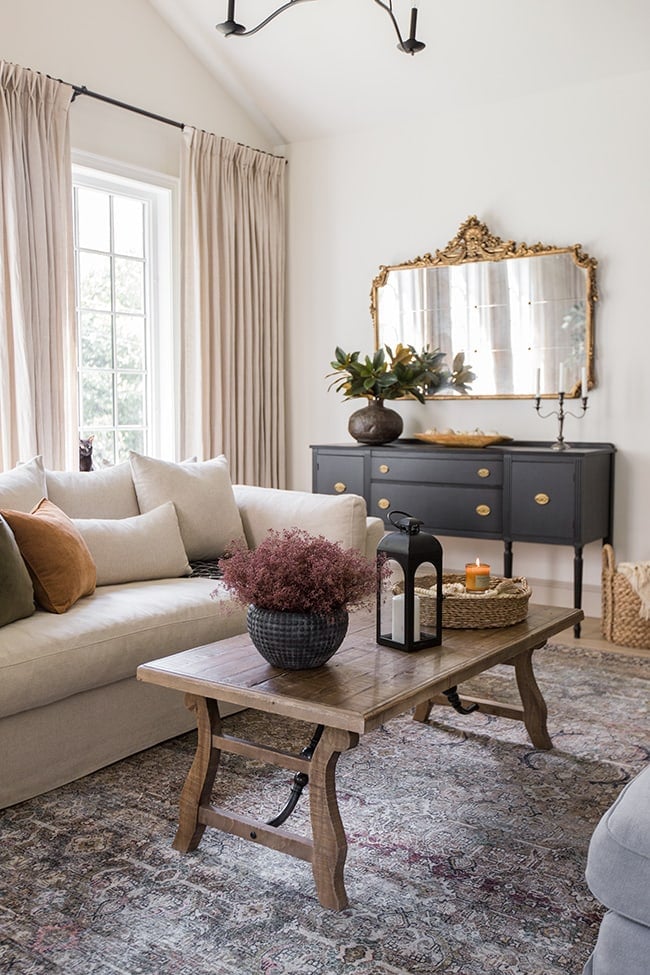 In the living room I brought in the lantern, basket tray and planter from my BHG patio shoot (I painted the planter black and brushed it with dust to make it look aged).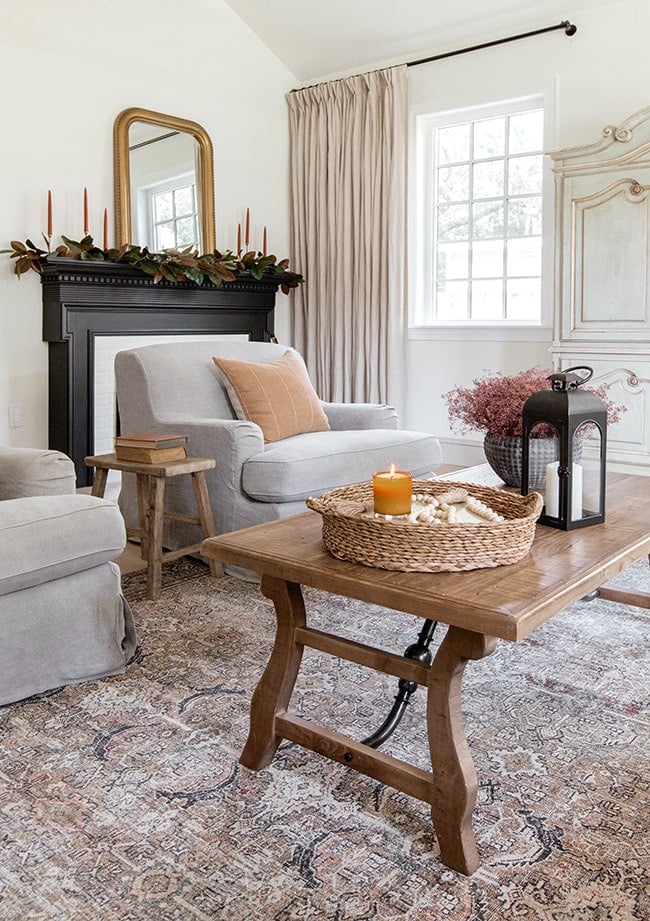 Family photo books, faux painted pumpkins, a fall candle and $12 beaded garland sit inside the basket: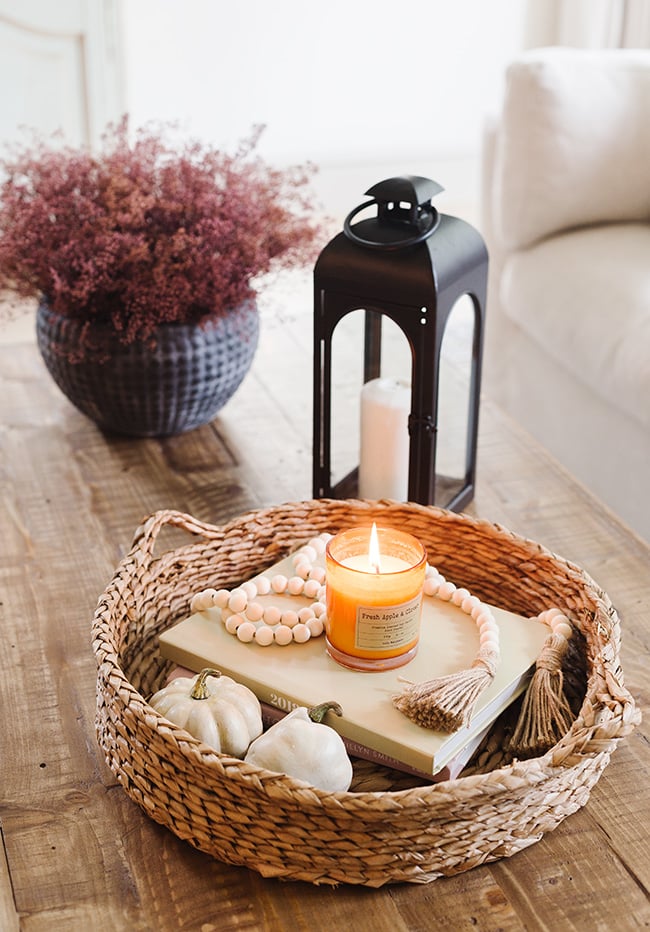 On our sideboard, I swapped out eucalyptus leaves for faux magnolia stems (on clearance!) and filled a wooden dough bowl with small pumpkins and gourds.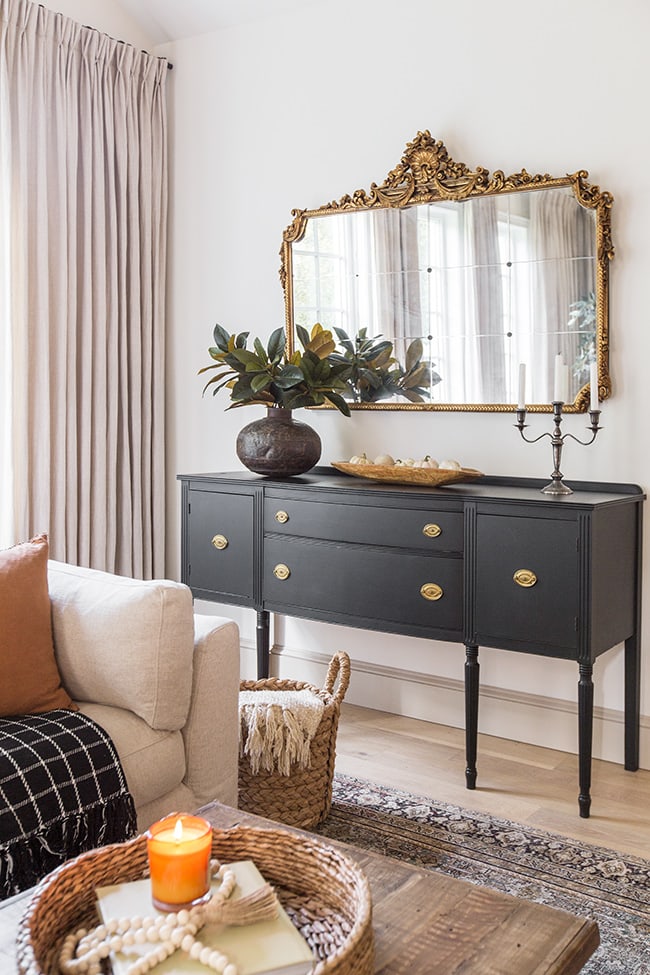 I can never have enough pillows and blankets, so I picked up this $20 chocolate knit throw along with a classic black/white plaid throw ($19!)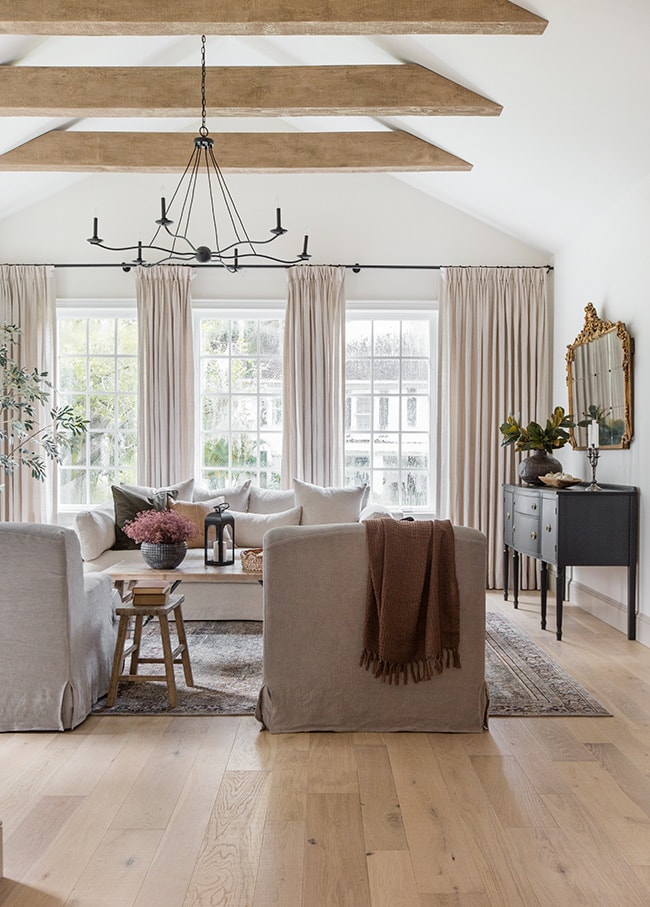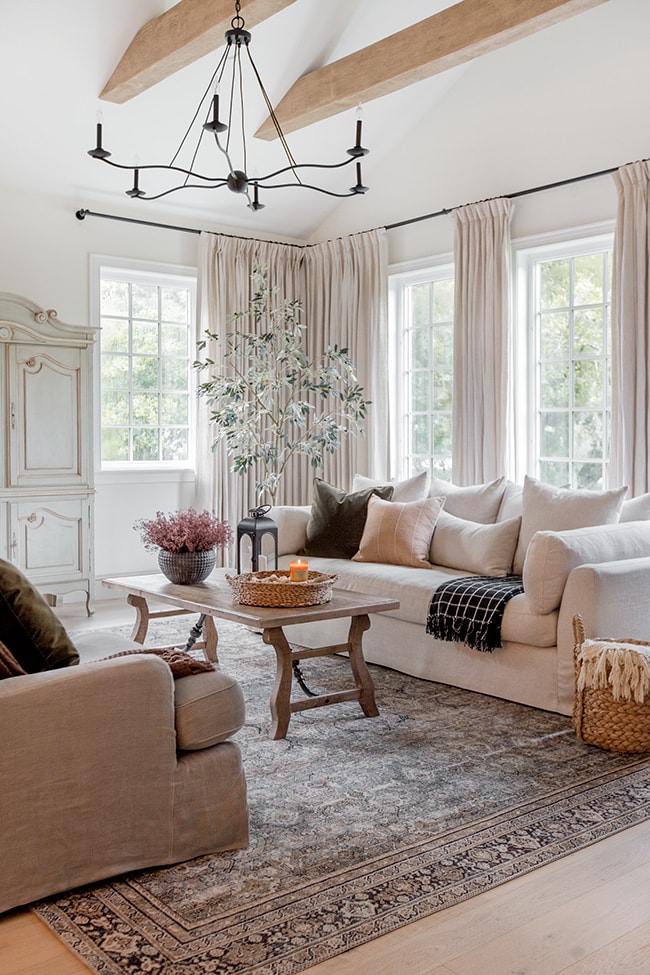 These two and their sweet bond…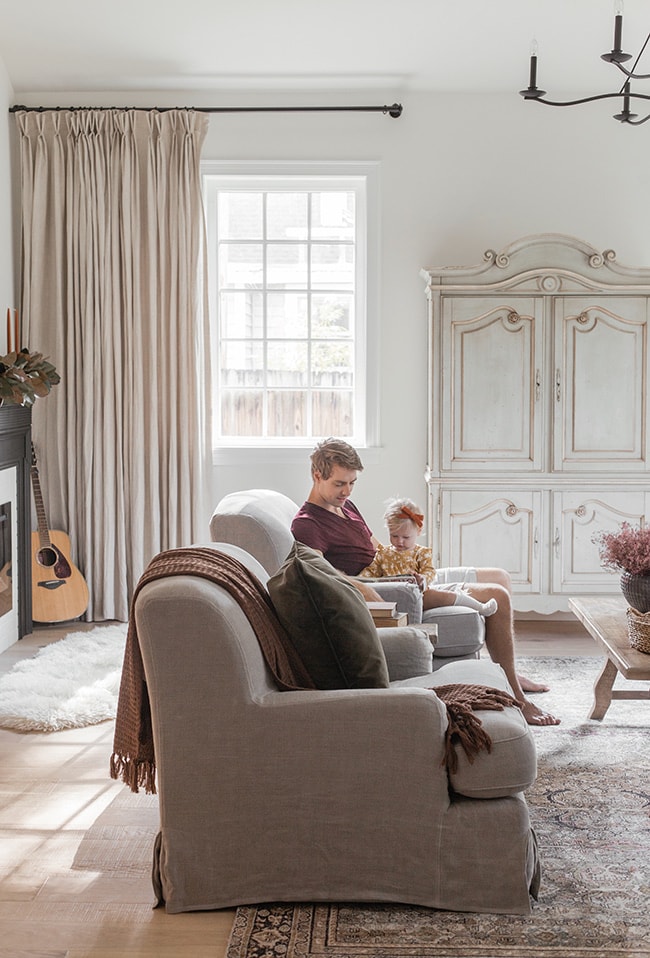 Melts my heart! Esmé has become obsessed with books lately—so much that she refuses to sleep, shoves her favorite books in our face constantly yelling "Buh! Buh!" (her word for book) and cries like the world is ending if we don't read to her.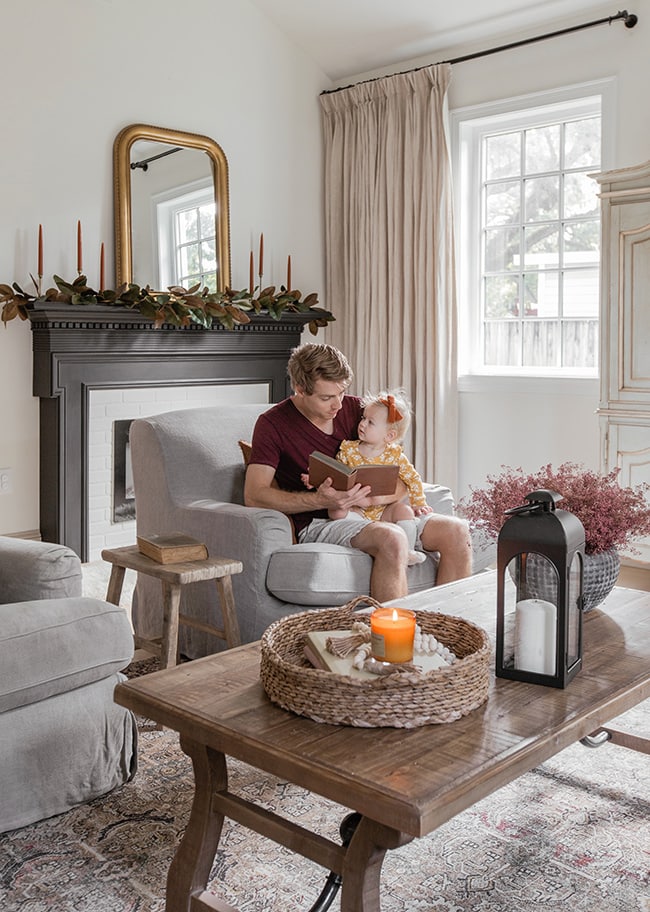 We can't help but laugh at her tantrums—we're just happy she loves books so much.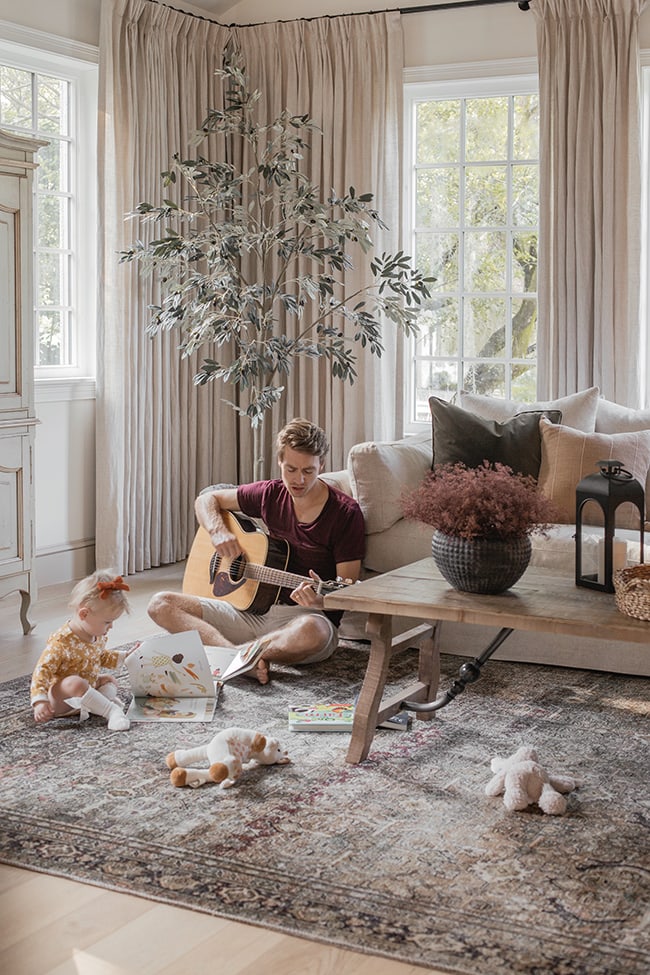 Hopefully next year it will be safe enough to take her to a pumpkin patch, but this year, we're making do with a few pumpkins by the fireplace…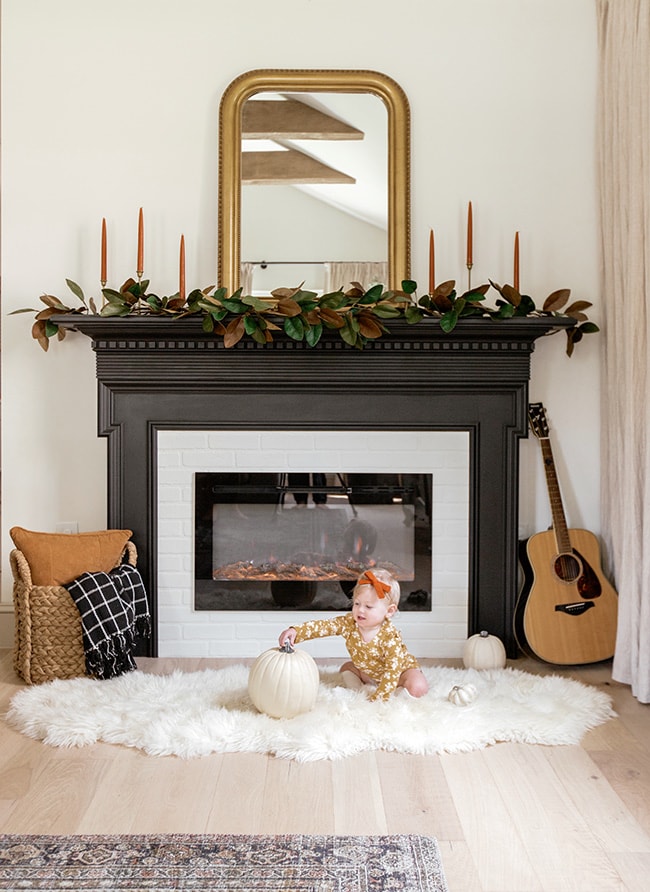 Still loving our DIY fireplace we made back in January! We have fun getting cozy on the rug and watching the flames change colors.
I swapped out my painting for this vintage replica mirror for a simpler mantel look (unfortunately it's out of stock now, but here's a similar one that I like even more).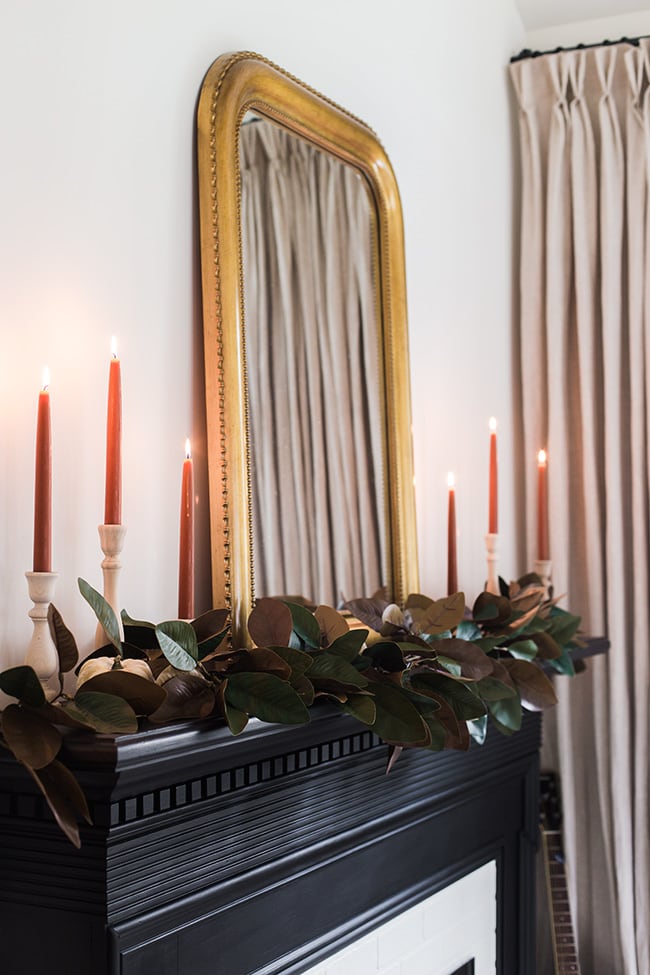 These amber taper candlesticks are an elegant seasonal alternative to white, and I love how they look in wooden candle holders (I ordered them in 3″, 6″ and 9″).
My favorite of all though are these magnolia garlands. I looked far and wide for the most realistic garland (that didn't cost a fortune) and this one was the winner, hands down. It looks and feels like the real deal. I twisted three of them together to make the garland extra long and full.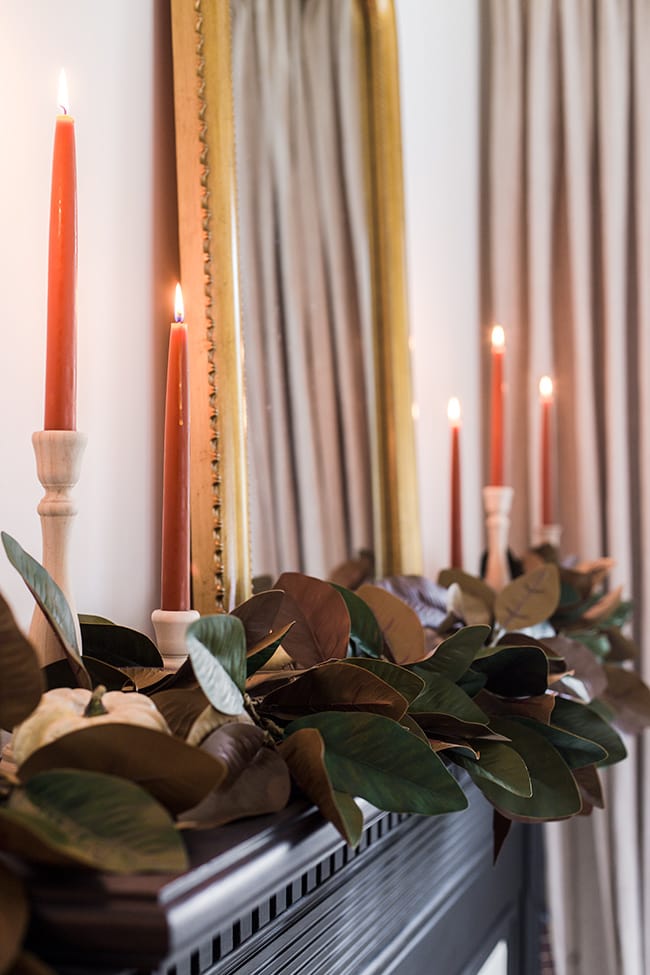 And that wraps it up for the living room…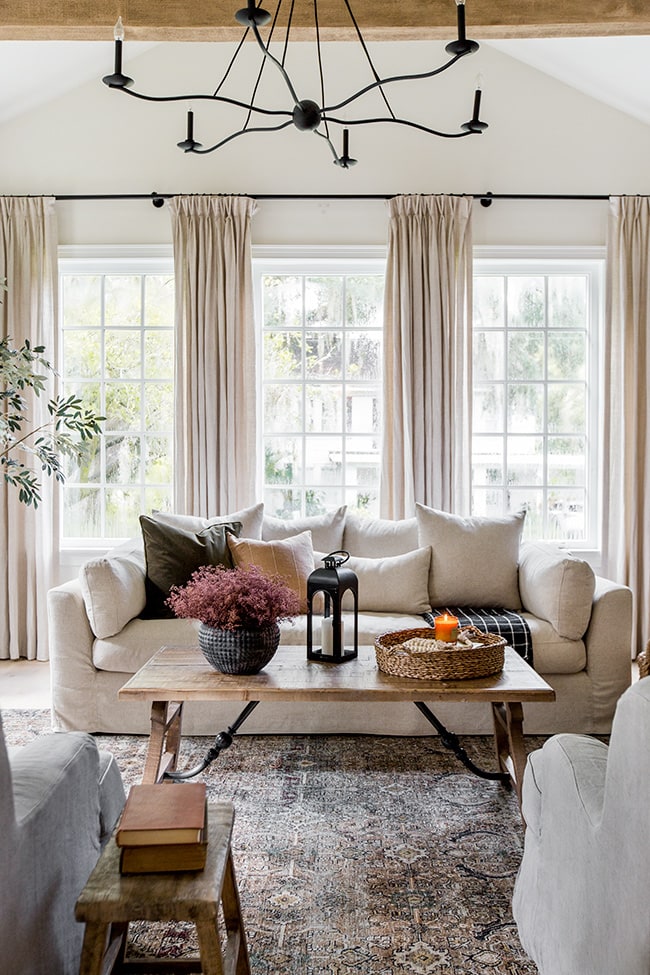 Adjacent to the living room is our dining area. Admittedly this table has become our drop zone for tools, toys and trash… but I managed to clear off one end for a few quick photos (I missed a toy… can you spot it? ;))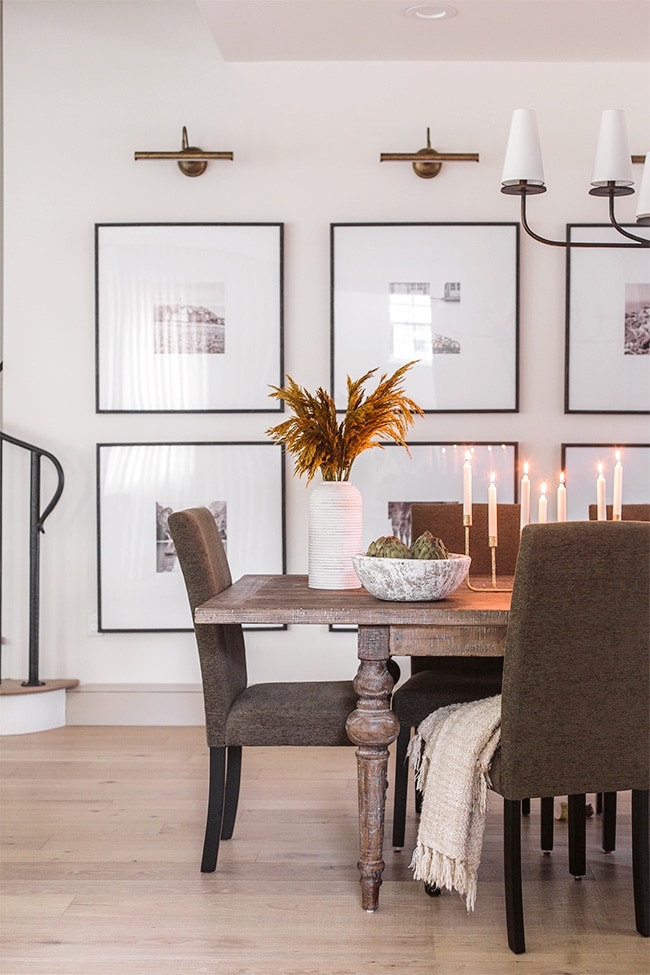 Nothing says fall like golden pampas grass, and the gold candelabra is a favorite new find.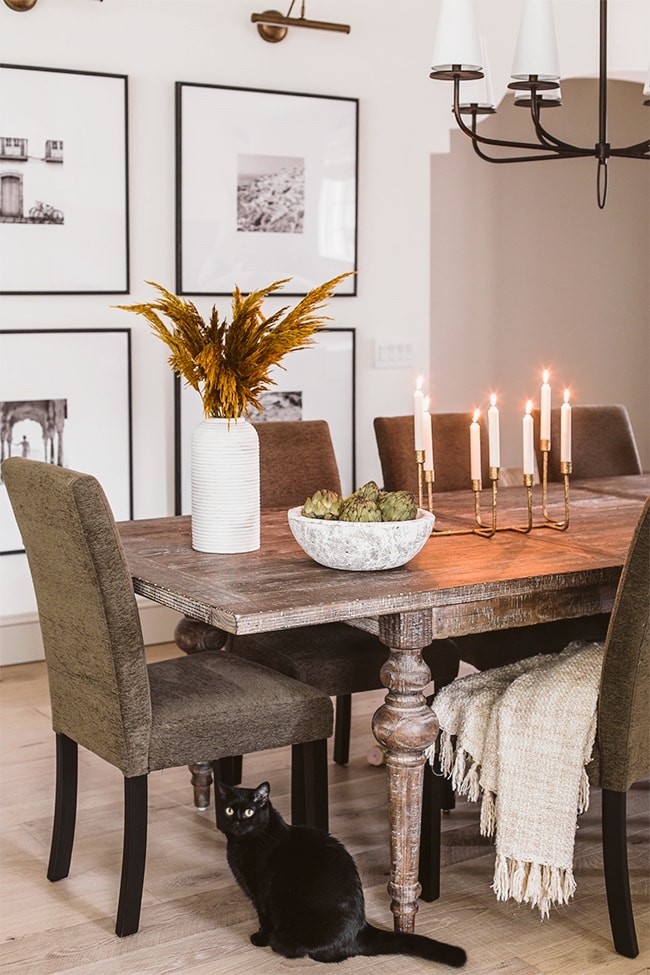 If you followed along with my DIY planter stories on Instagram, here's how the bowl turned out! I made it from a hypertufa mix then added a layer of grout. I'm obsessed with it…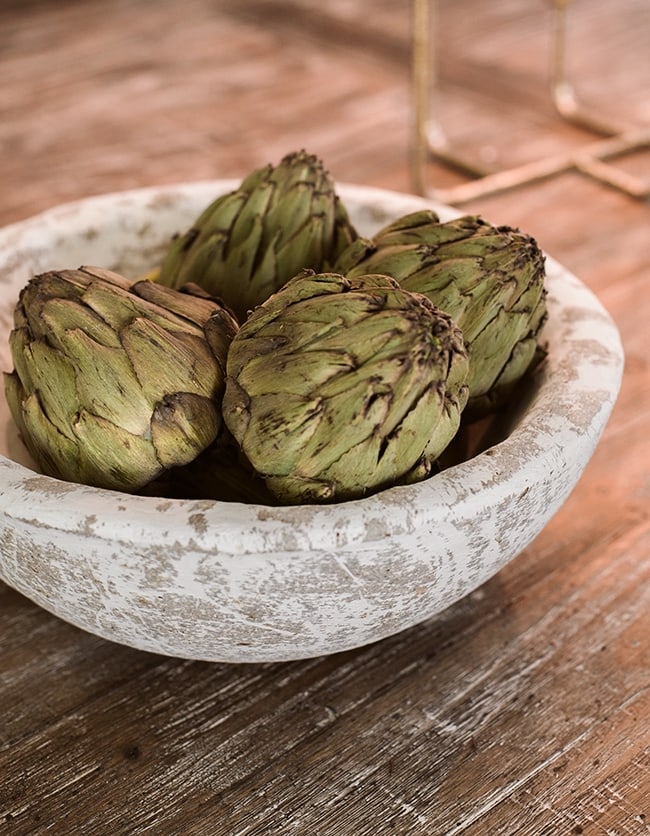 On the other side of our dining room is the kitchen.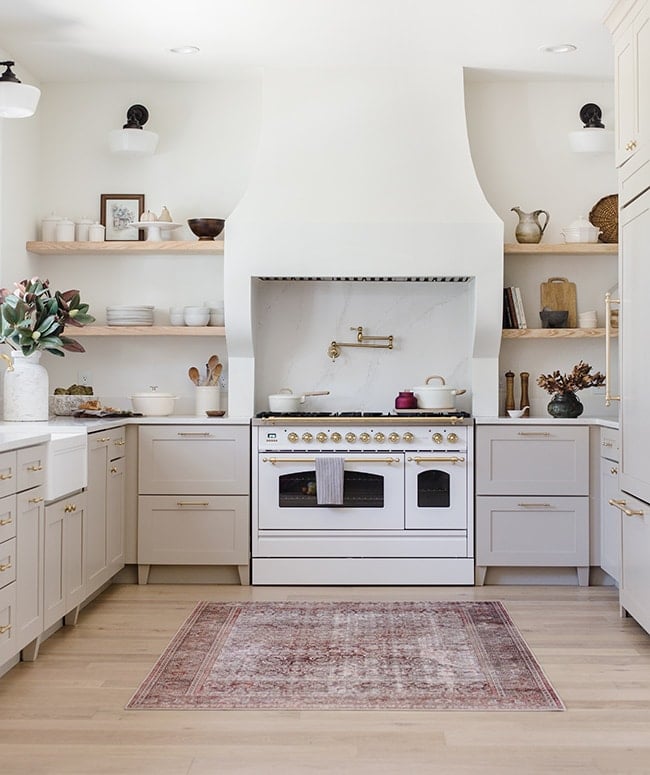 Did you notice there's a new rug in town? It's the Layla Cinnamon/Sage in the 5×7′ size and, as per usual, Loloi did not dissapoint.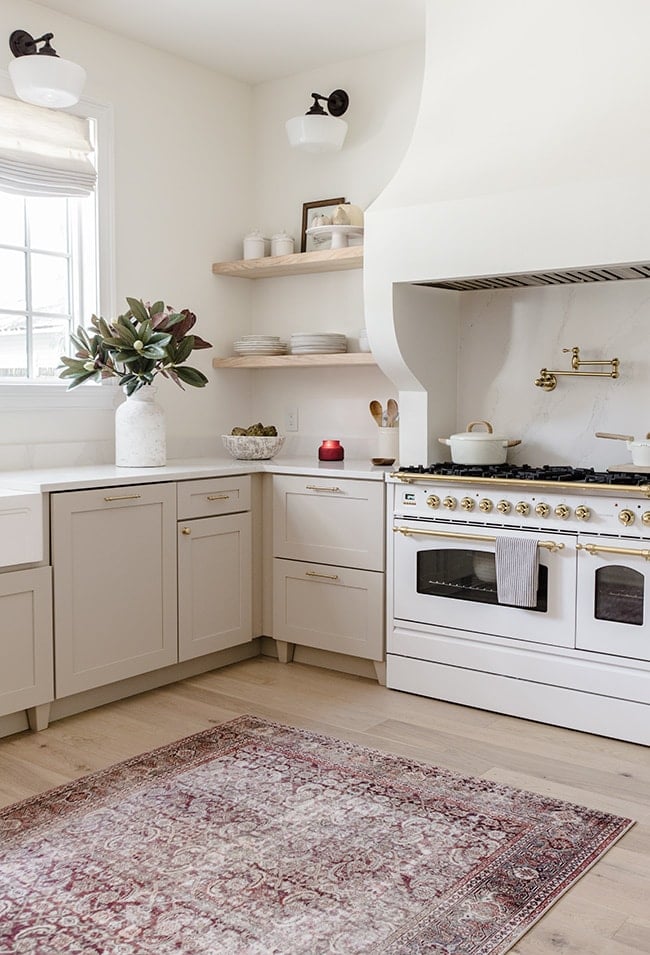 Changing out a kitchen rug is the quickest way to change the mood to a new season, and this one will last through both fall and winter with its rich burgundy and brown tones.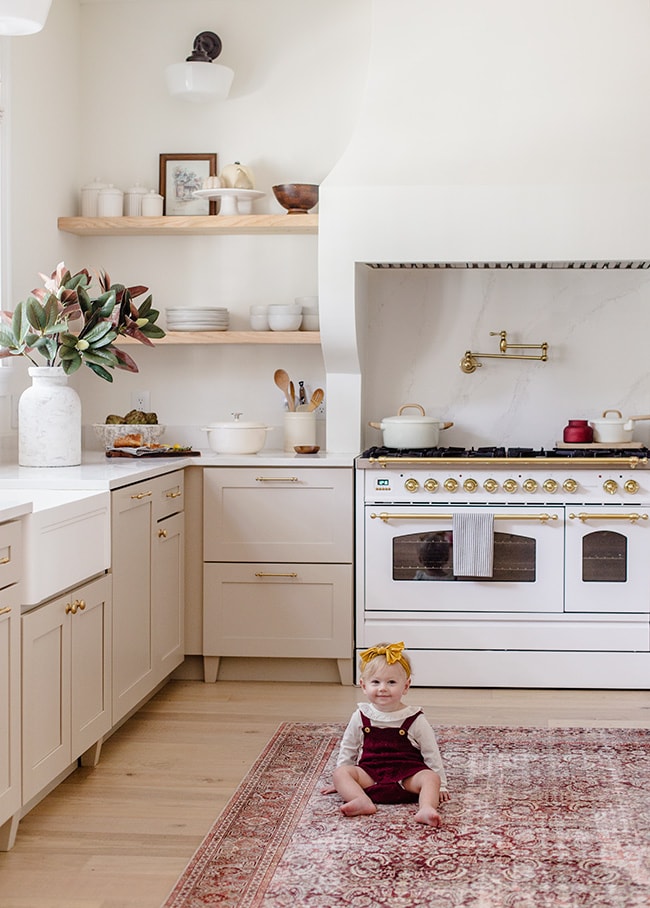 We're hosting Thanksgiving this year, so I figured it was finally time to update our old mismatched set of pots and pans. I found this 7 piece set on Amazon for only $99 and think I might just leave them sitting out all the time…
I also splurged for a new dutch oven, which was 10% of the cost of a Le Creuset but looks just as nice with fabulous ratings.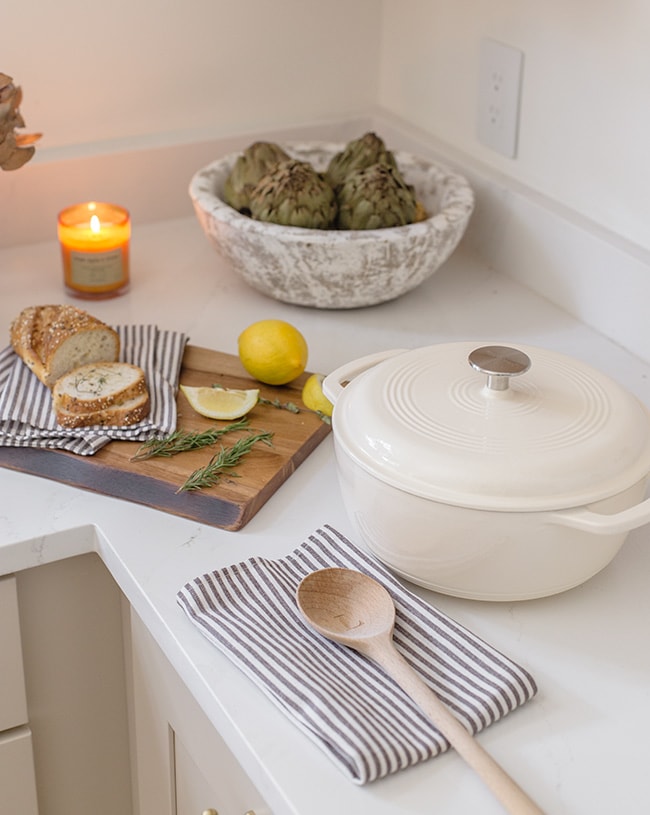 The striped napkins and wood cutting board are also from Amazon.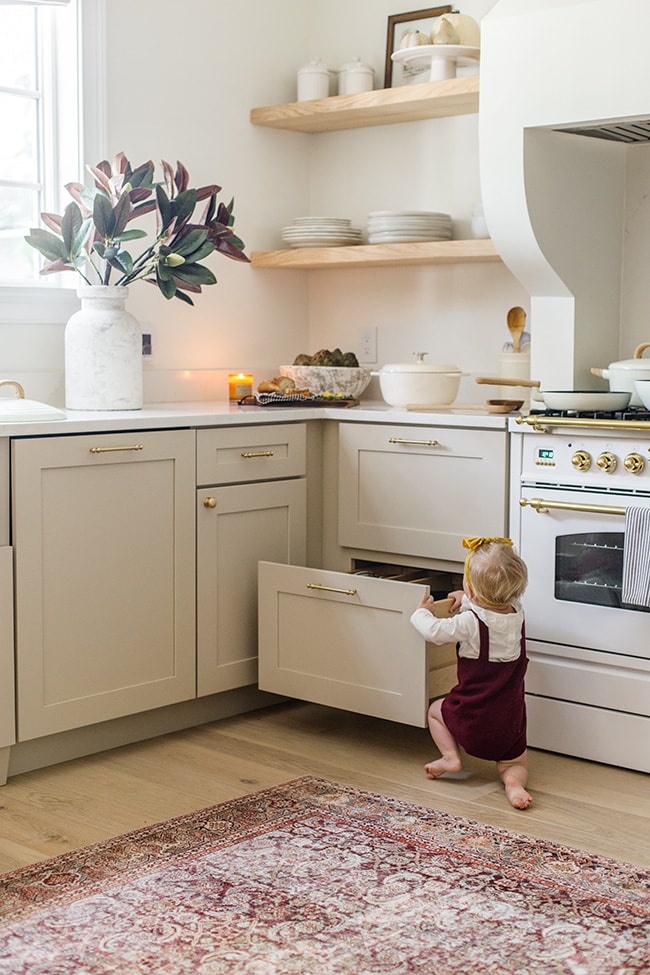 I hope you don't mind all the baby photos… I'm trying to hold onto her littleness by capturing all the moments.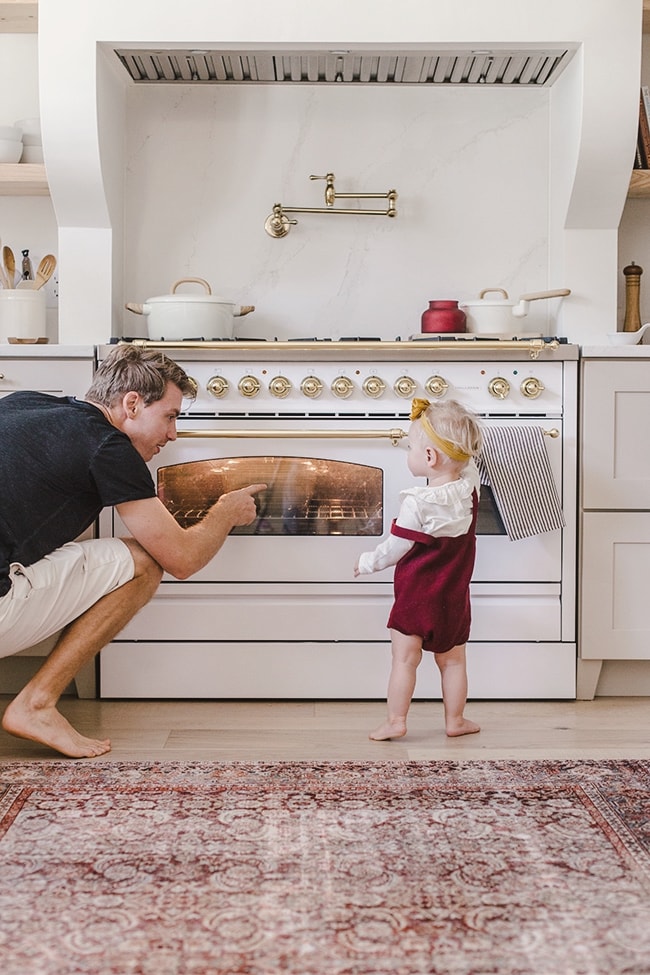 I never want to forget the pitter-patter sound of her crawling into our room from the kitchen, looking for her mama.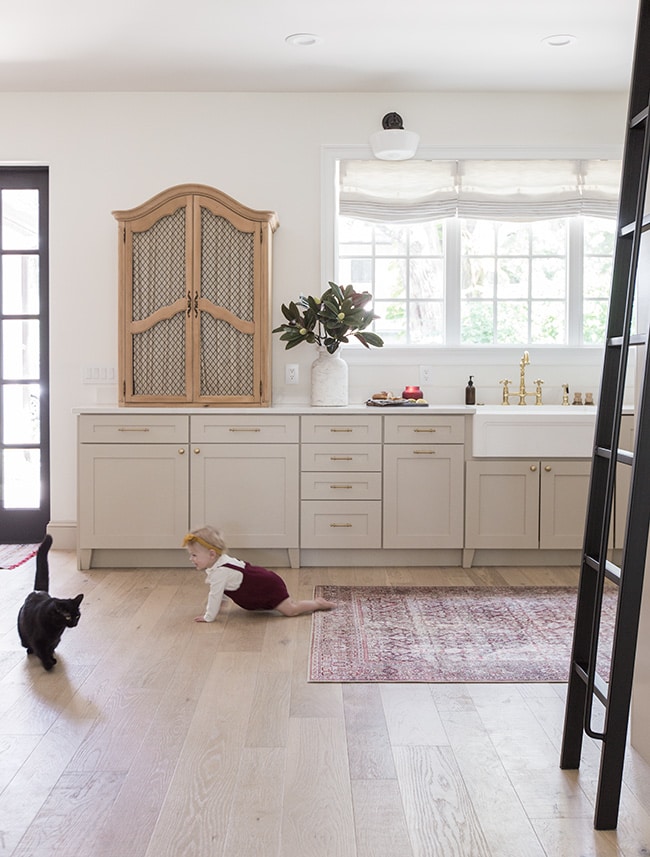 The crawling days might be over soon, because she took her first steps during this shoot! It was completely unprompted—Lucas set her down and she was standing there, watching Susie…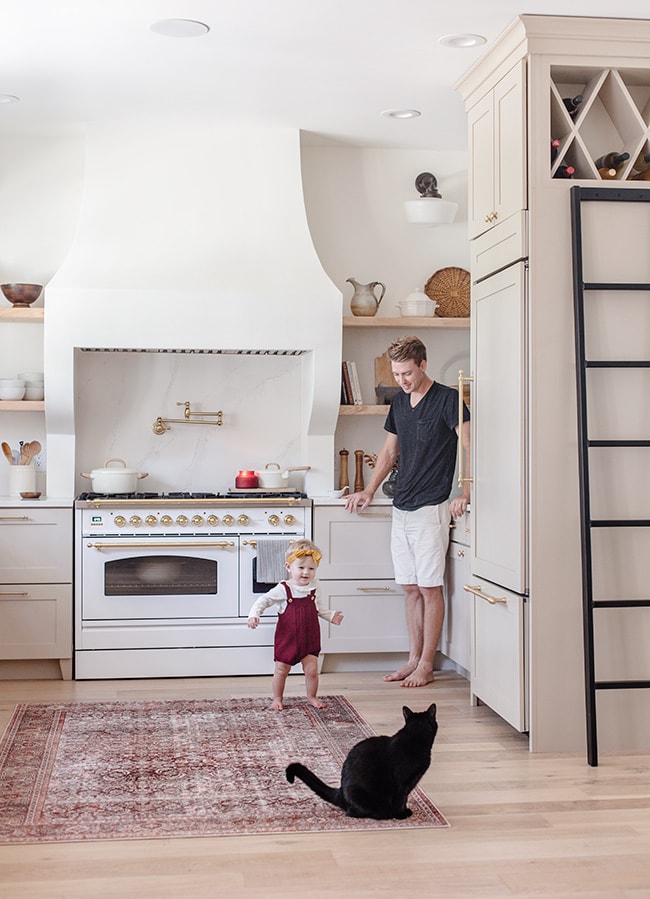 Then she took a couple steps, and I was quick enough at the shutter to capture it (including Lucas' shocked expression…)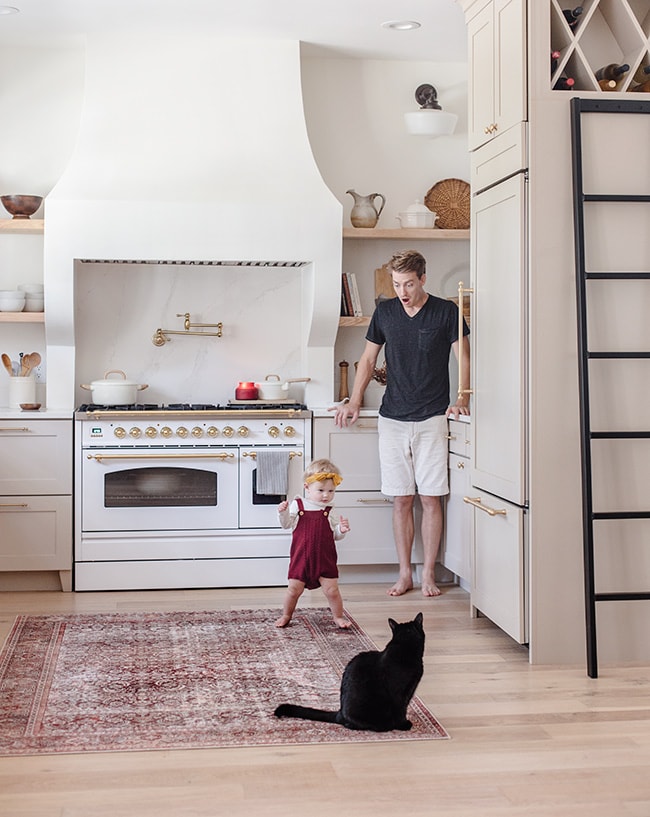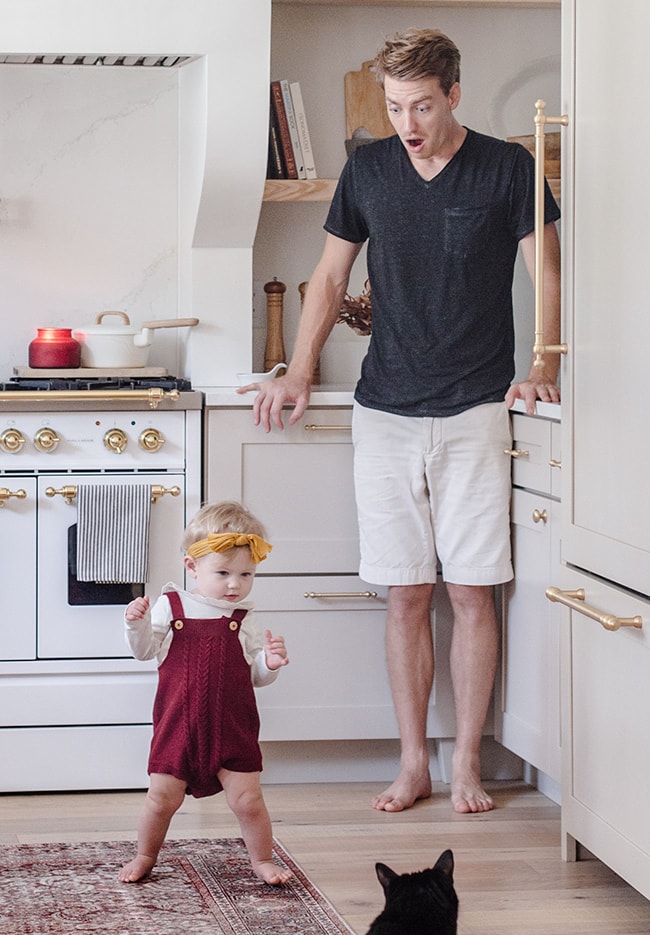 It was such an exciting moment and we're still buzzing from it. Later we were able to capture it again on video (luring her with a raspberry) but she quickly got over it, so we'll see if this was a fluke or if she's officially ready to walk. I'm not sure if we're ready for this!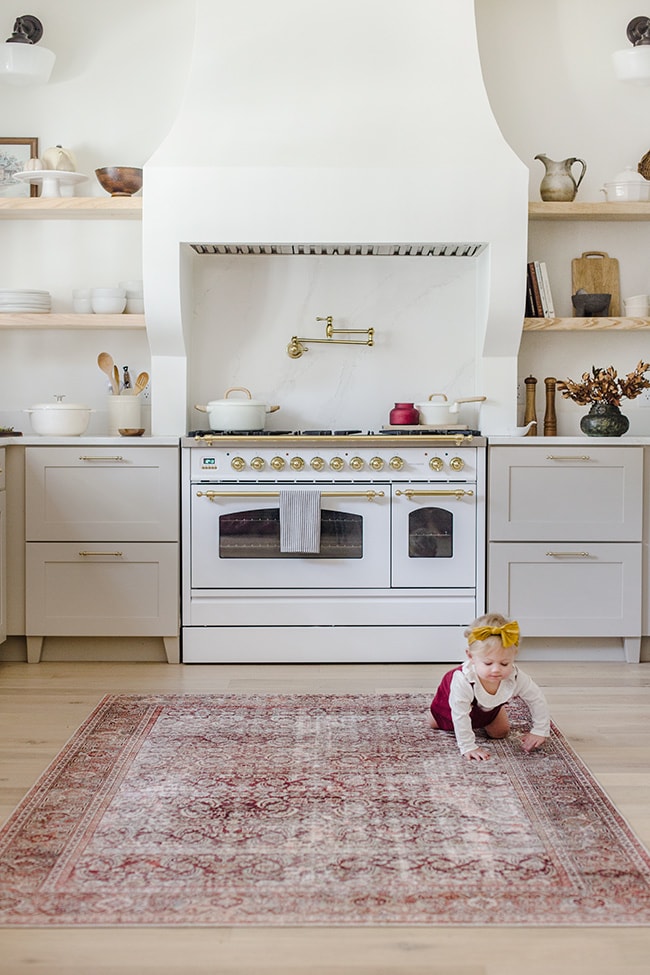 Just a few more of the kitchen because I couldn't stop snapping photos…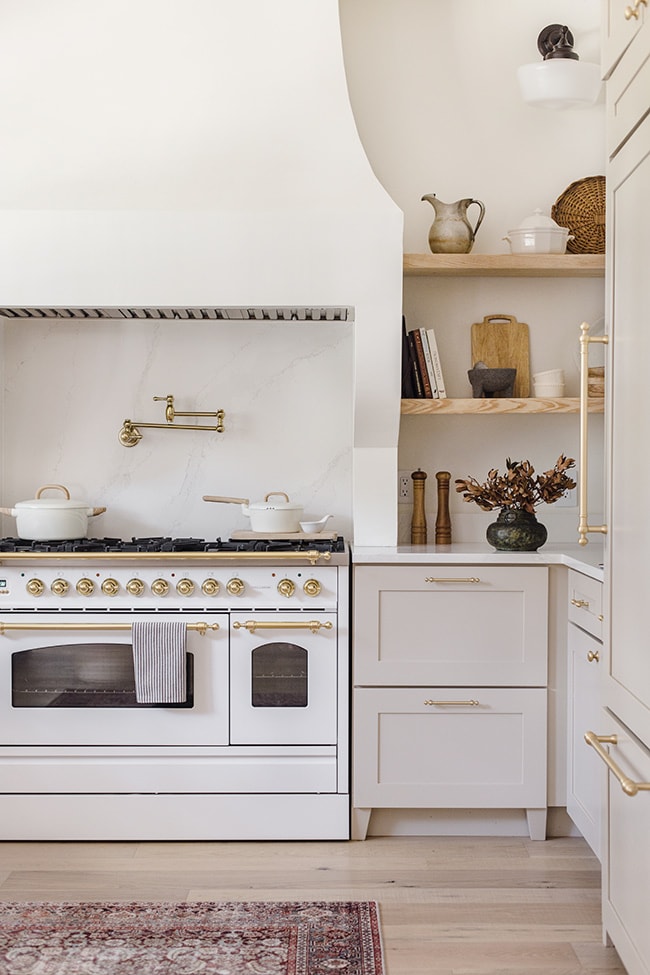 PSA: I snagged the last of these magnolia branches but they're finally back in stock! These are the most realistic looking stems out there and worth every penny! (I used three of them in this vase).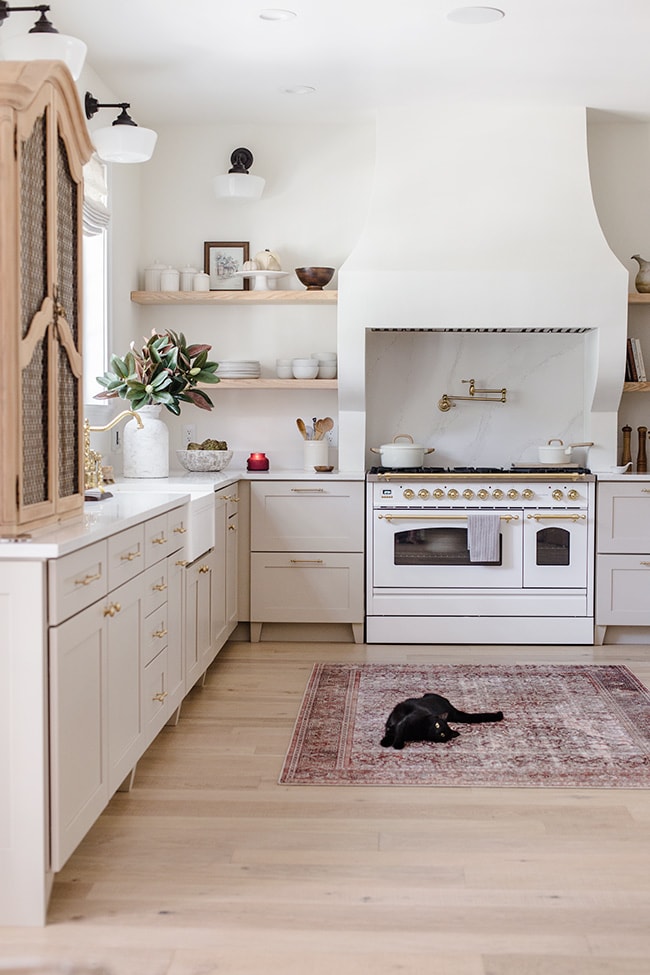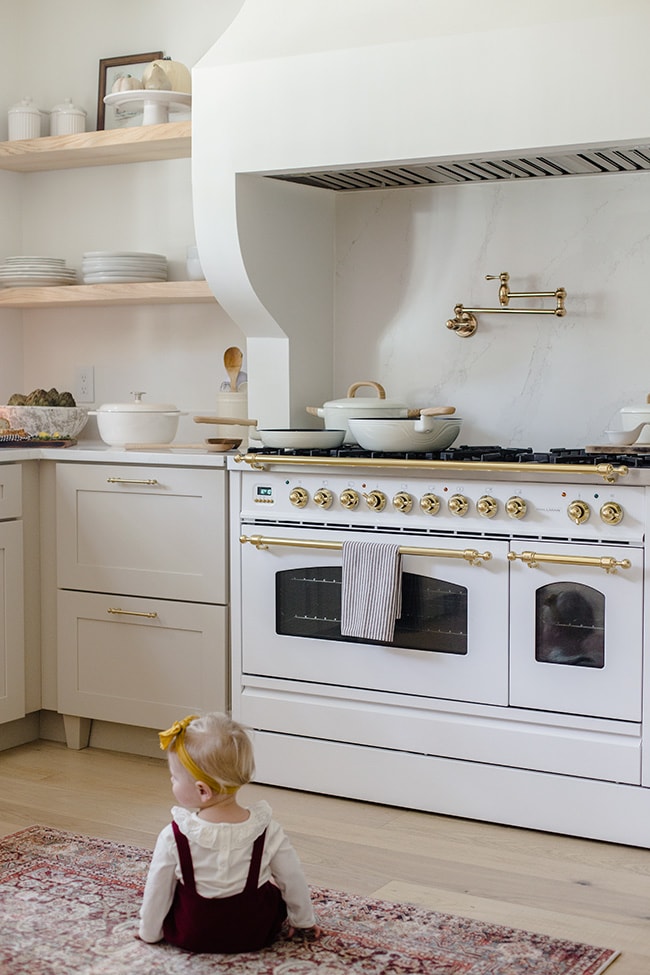 I still have more but this post is long enough, so I'll save those for Instagram!
In our powder bath just off the kitchen, the warm neutrals fit right in with the season.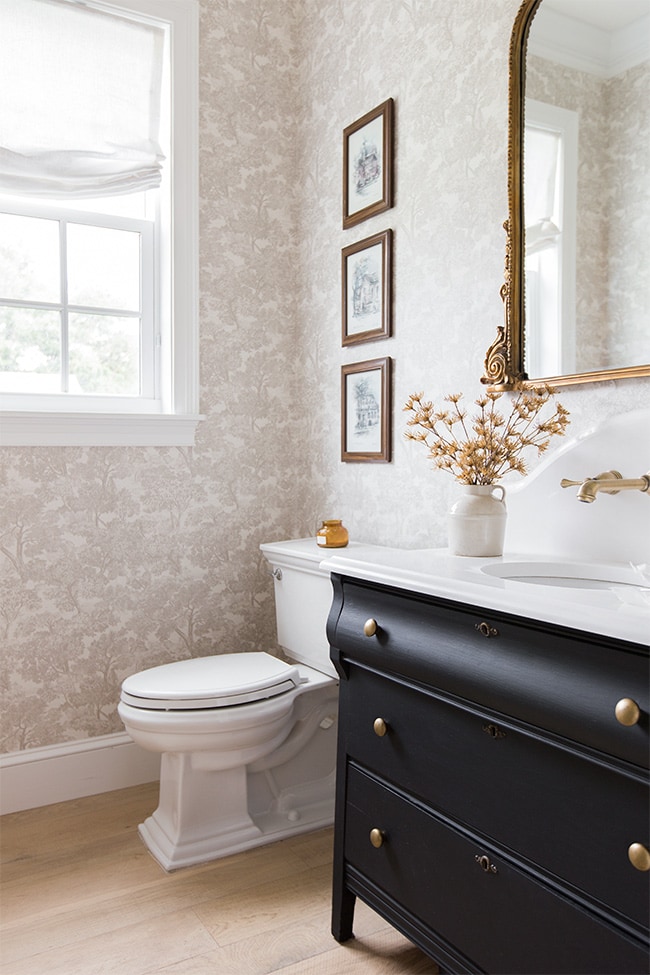 I added these Queen Anne's lace stems for a touch of fall.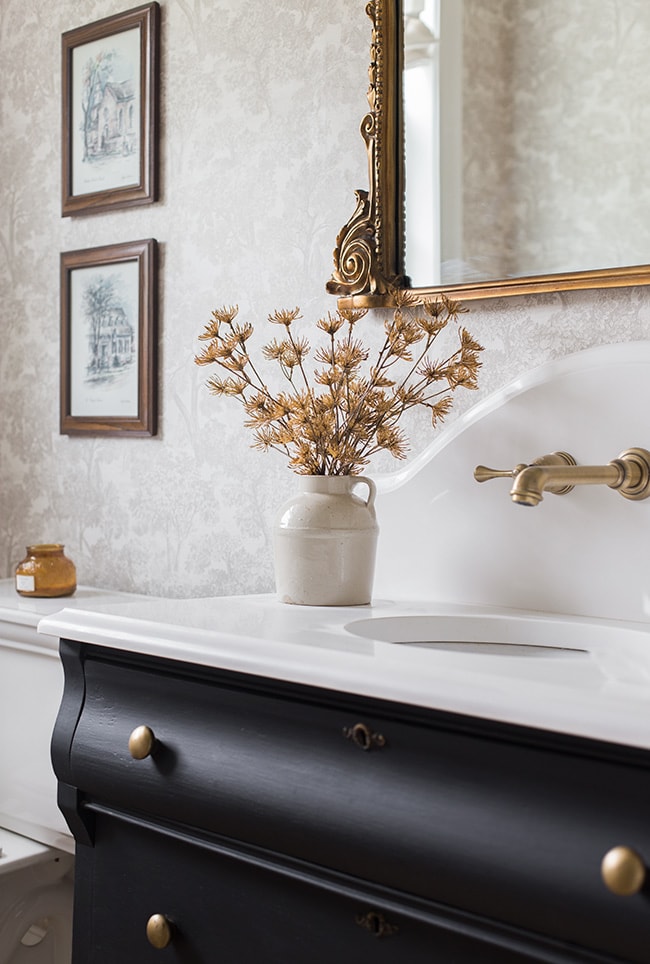 I love using the striped linen cloths as dish towels, hand towels and dinner napkins. Triple duty!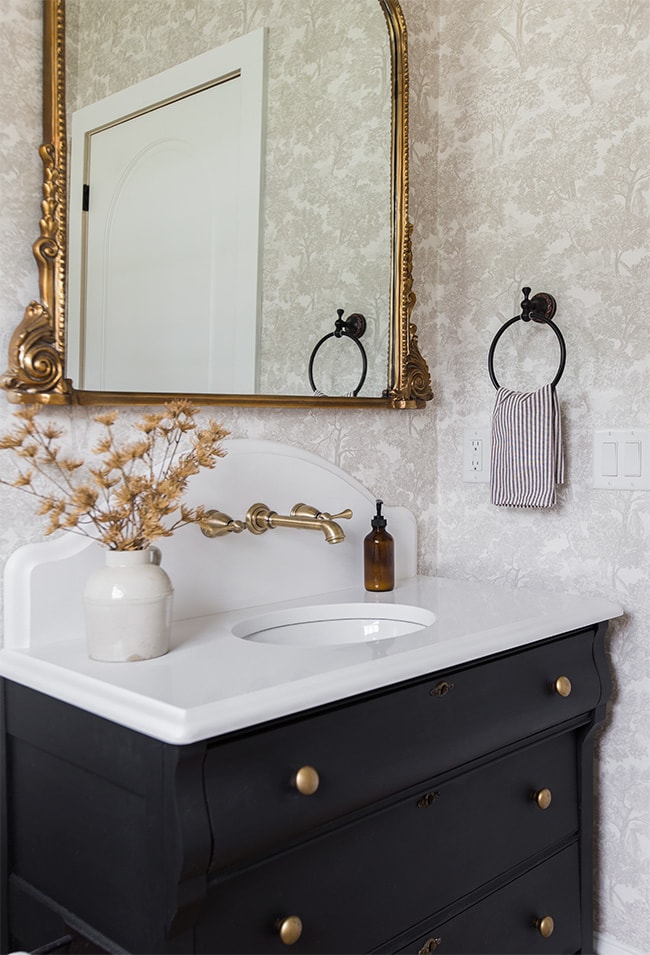 Last but not least, our master bedroom which you've already seen! I revealed it on the blog last month, but have to include it here since it has all the fall vibes (and it's still my favorite room in the house).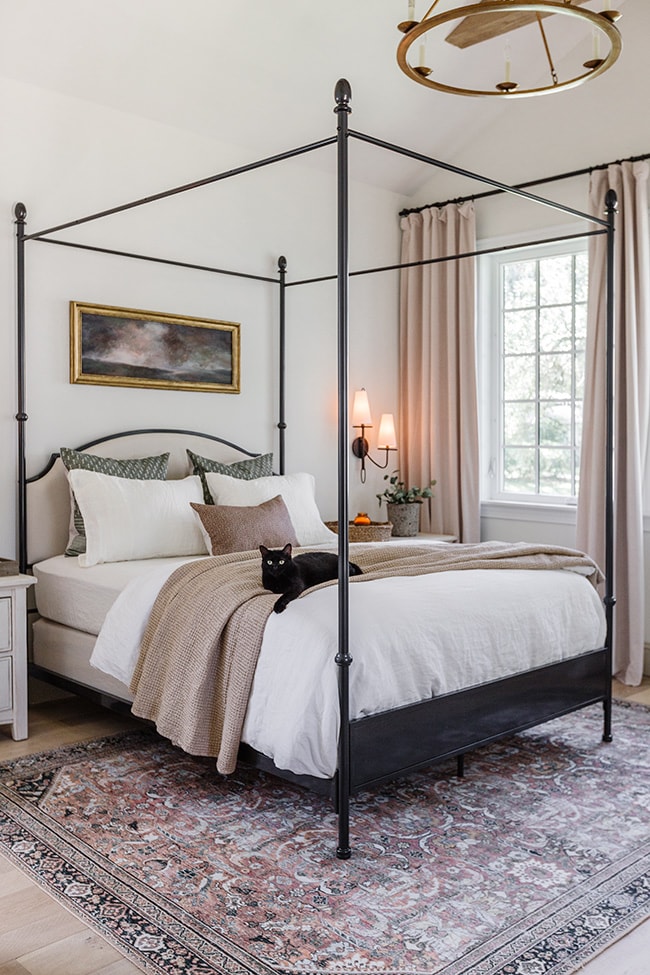 You can find all of the photos and sources in the reveal post.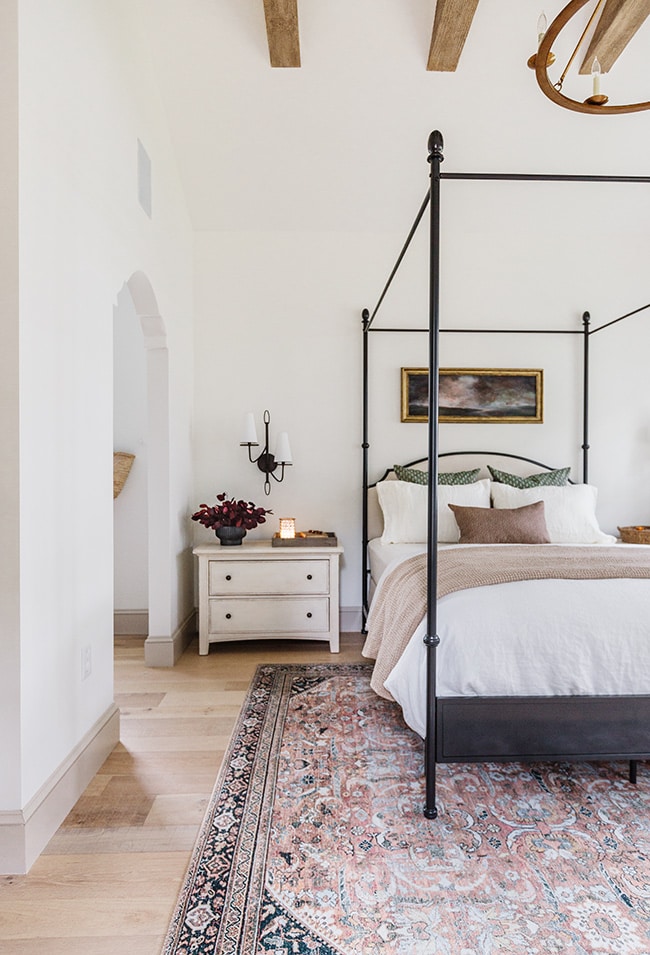 But there is one bedroom update! I finished my second DIY hypertufa planter a couple weeks ago and here she is…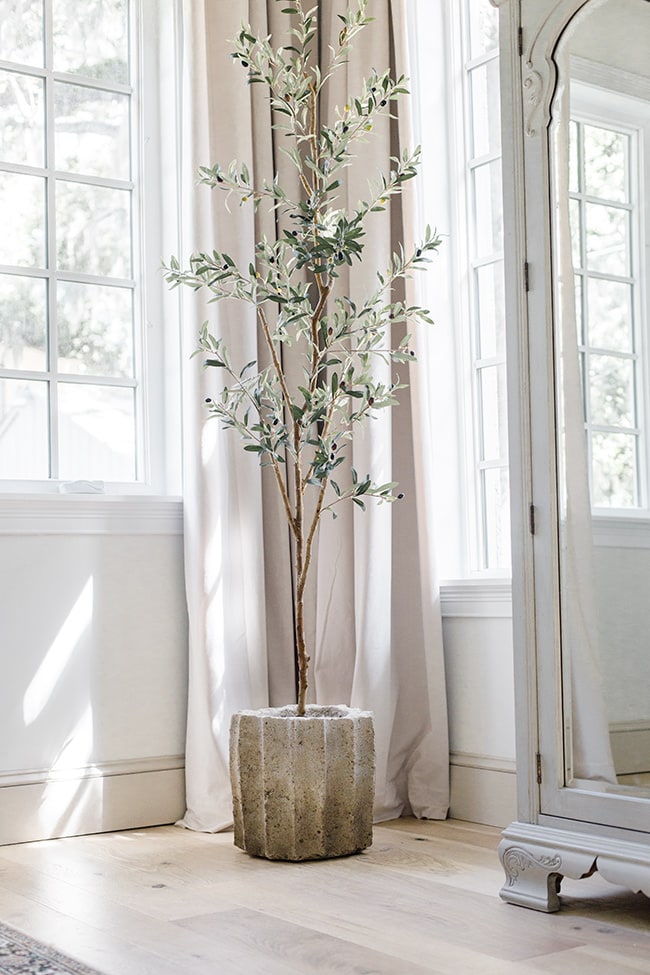 With this one I added a subtle white and brown paint wash to make it look even more realistically aged, and I just love the way it turned out. The fluting detail is my favorite part! (for those wondering, there are felt pads at the bottom to protect the floors).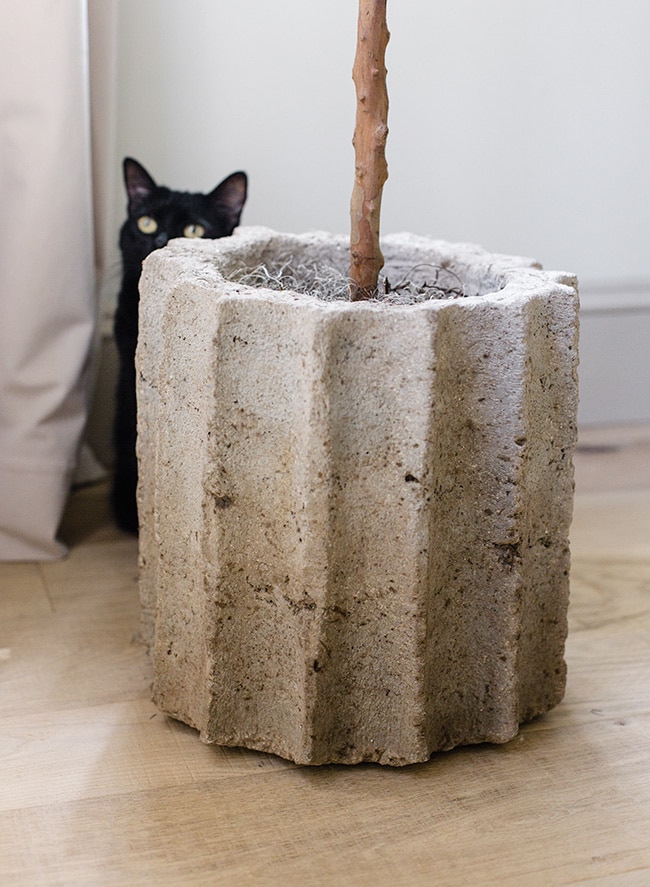 Want to shop the fall items you see in this post? You can browse my Amazon lists here: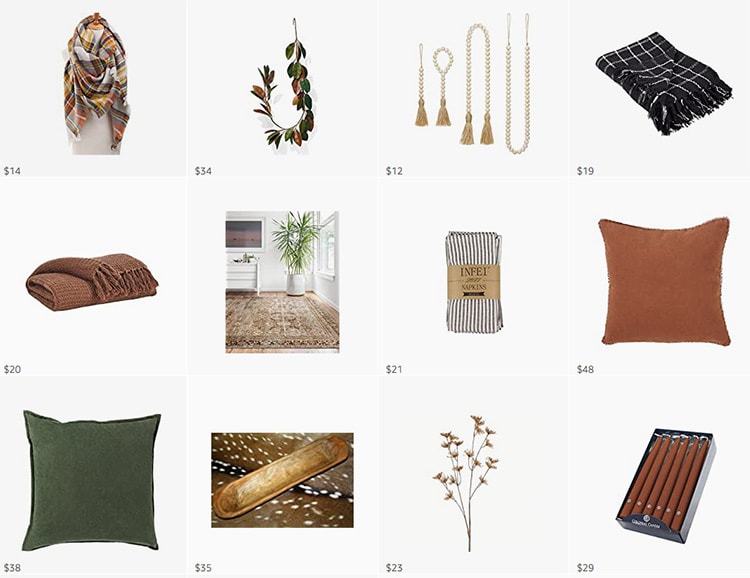 You can also get direct links to more items below:
And as always, you can find a complete source list on the Shop the Heights House page.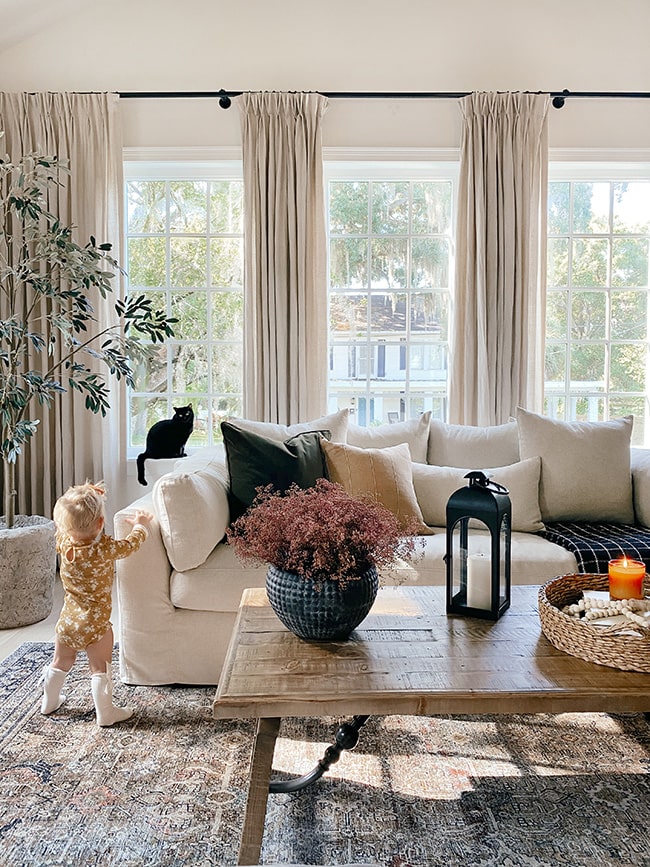 This weekend we're finally getting back to work on our office/play room, and I'll be sharing updates on Instagram so make sure you're following me there!