2021 is finally here and I think it's safe to say we're all looking forward to a clean slate! Many of our project plans this year are focused on organization, which I need to stay sane and productive. Clutter causes distraction and stress for me—anyone else feel the same?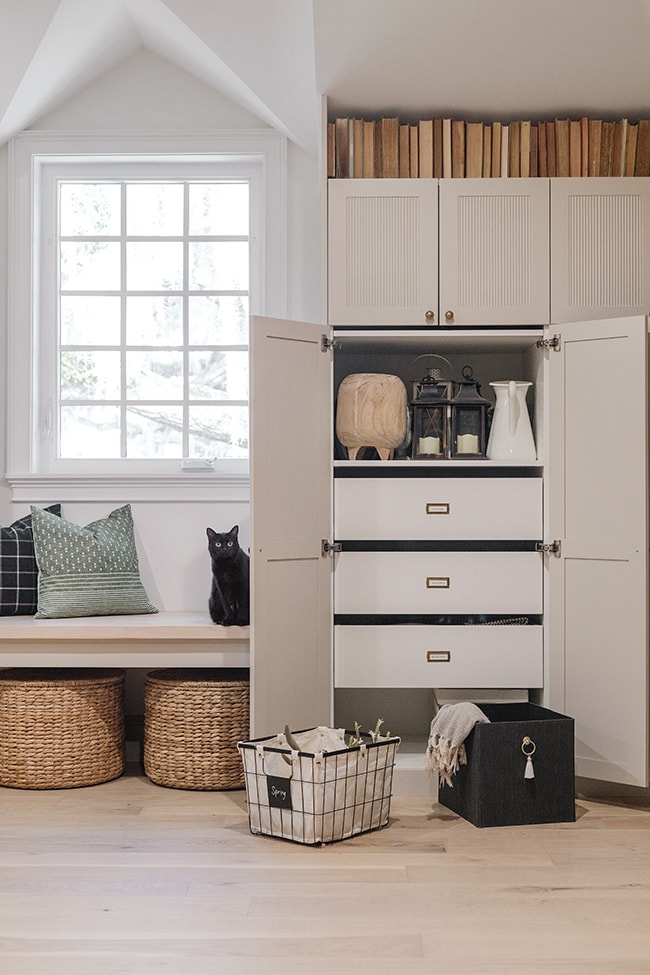 We have a long way to go before our home is in tip top organized shape, but this month we're starting small with a handful of storage solutions that have already made me sleep easier at night. For this post, I've partnered with BHG Live Better to share my favorite budget-friendly organization products from Better Homes & Gardens at Walmart.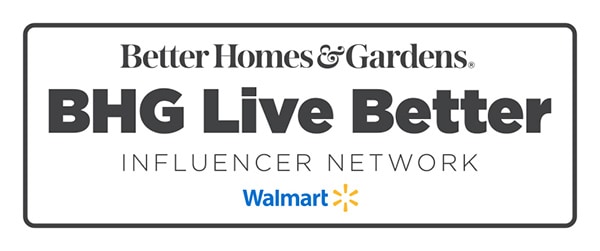 First up: a peek at our playroom storage! These cabinets were designed to hold all of my decor, craft materials and office supplies. I'll be revealing the room in a few days, but here's a sneak peek at what's behind the closed doors…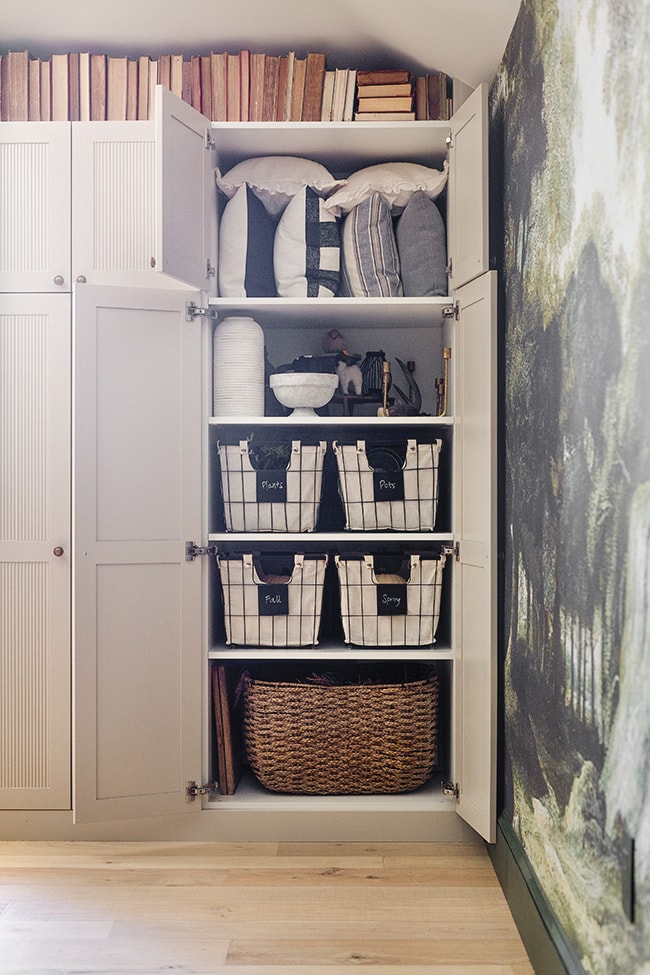 The far right cabinet holds throw pillows, tabletop decor, and baskets filled with smaller and seasonal decor. I've owned two of these wire and cloth bins for several years, and added two more to my collection last month. I love the style (the fabric is removable/washable) and the cute chalkboard labels on the front!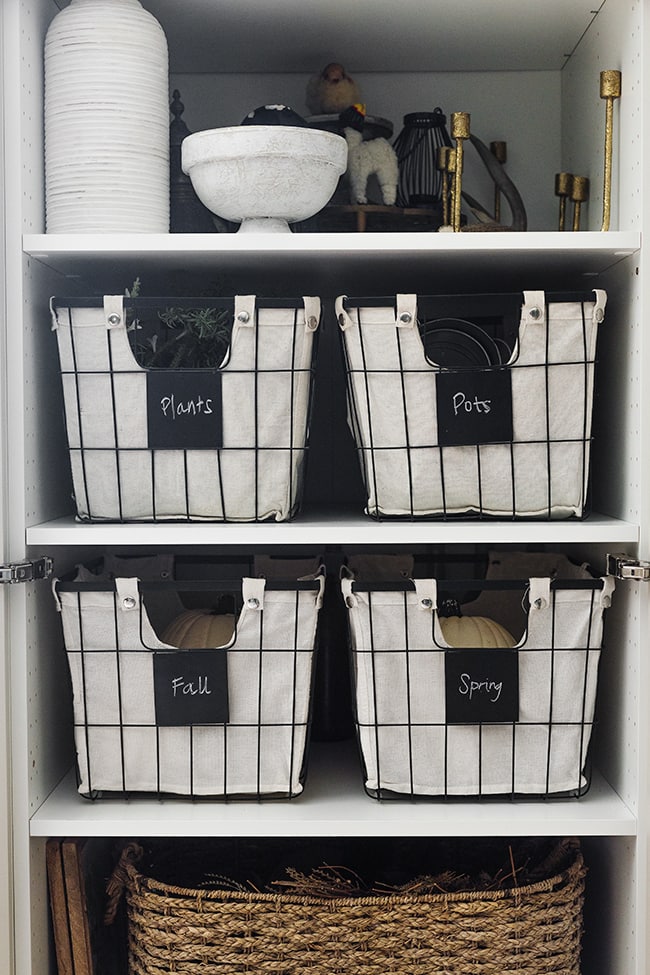 In the next cabinet over, you'll find more pillows, vases/lanterns, and drawers which I added adhesive bookplate labels to.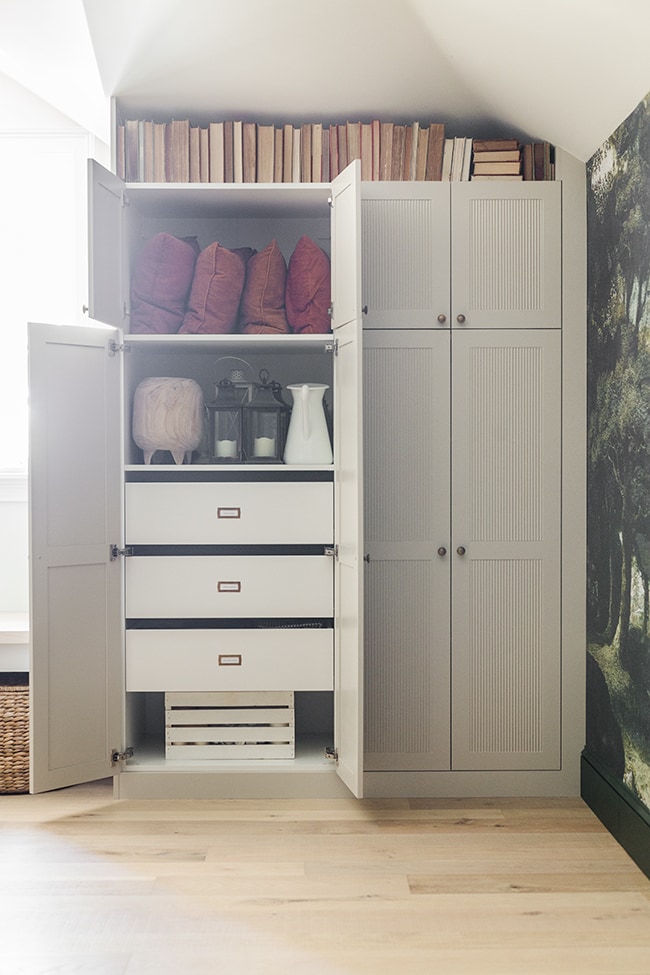 The drawers hold smaller containers/jars, trays and wood objects, and pillow covers.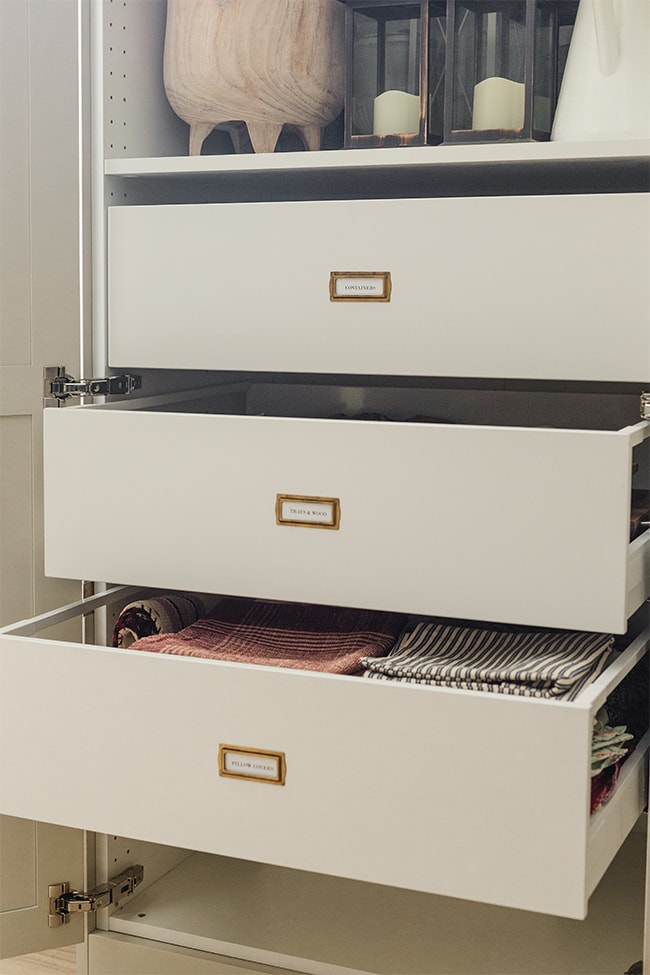 The last tall cabinet holds more throw pillows (surprise, surprise!), three more drawers, bins and crates with craft supplies.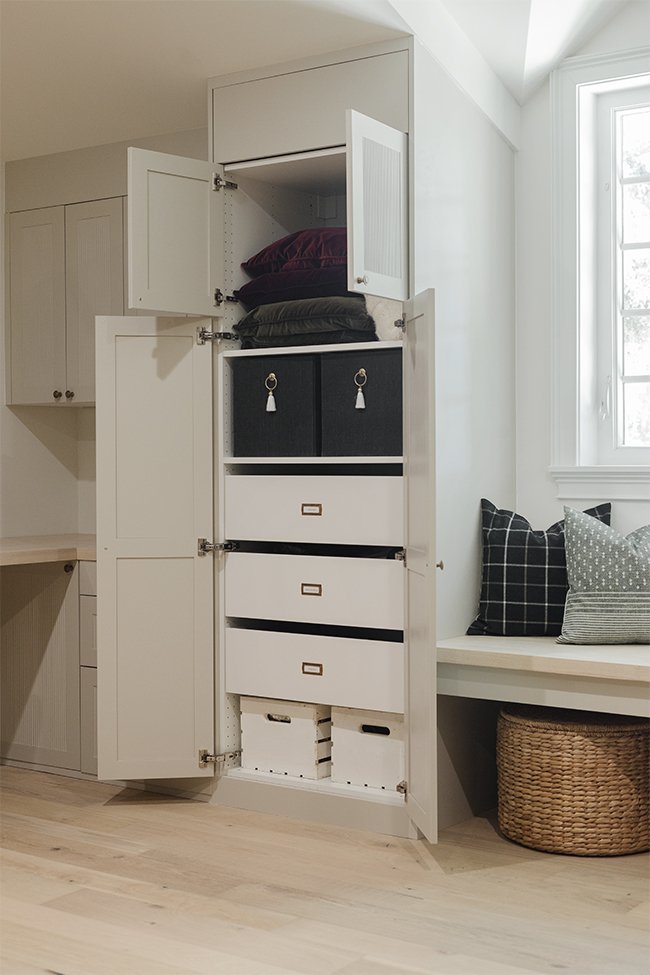 The drawers are filled with faux greenery/florals, and the fabric bins hold my design samples/paint decks.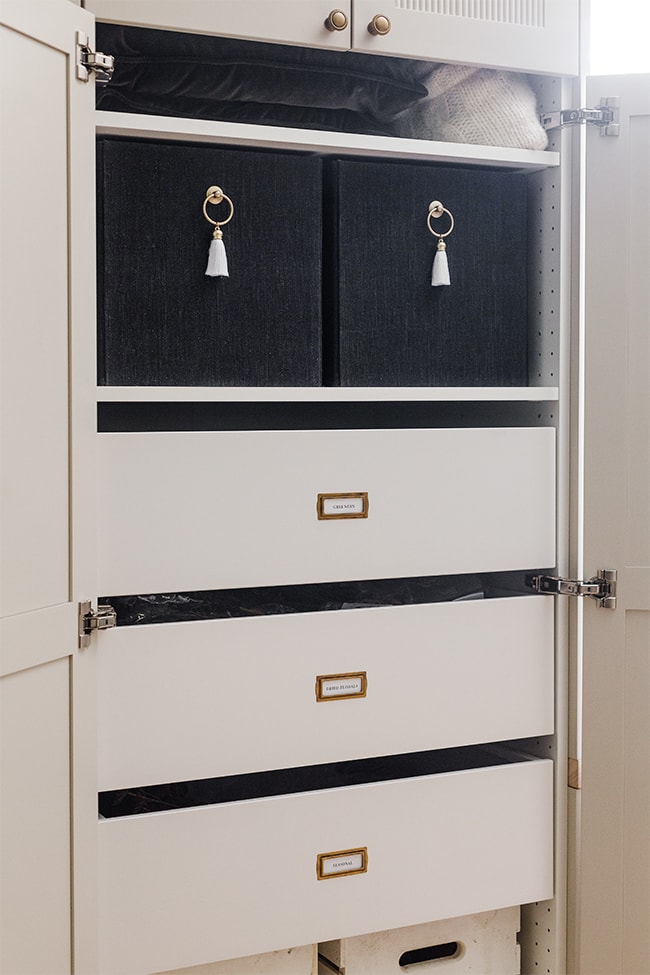 These storage bins are my favorite—they're large and sturdy, I love the black textured fabric and the gold ring and tassel is a fun touch. Plus, they're only $11 each!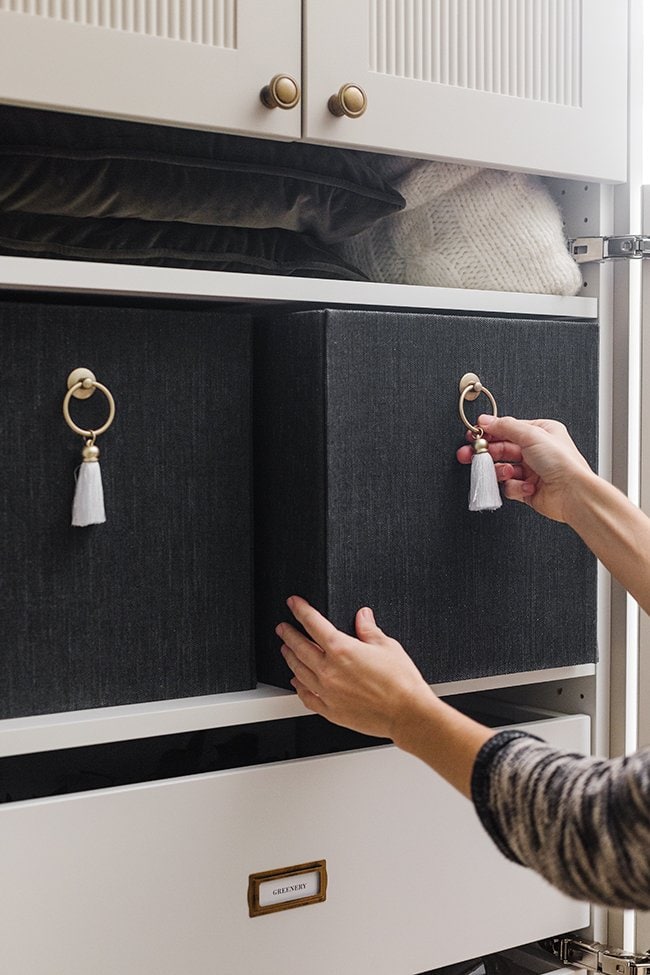 On the far left cabinet I used a set of two small hyacinth baskets to store envelopes, notepads and stationery.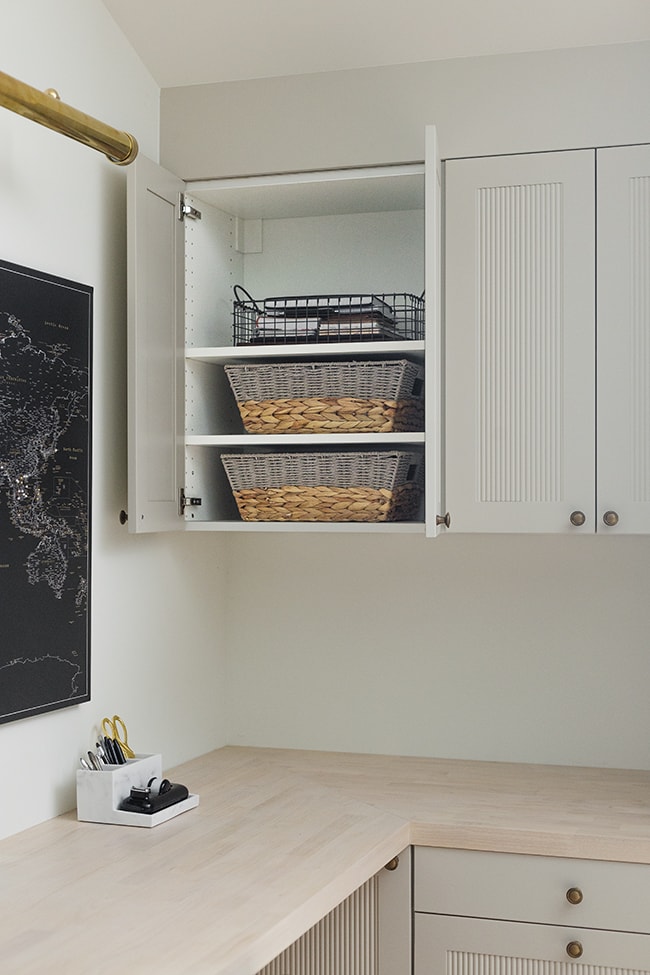 On the top shelf, a wire serving tray does double duty as a notebook/journal holder. You don't have to stick with office/storage bins for organization—get creative and repurpose baskets and containers from room to room as needed! Our cabinets aren't completely organized yet (we're still trying to recover from the holidays before we tackle that) but it will come with time as we use the space and figure out what works best for our needs.
One of my favorite ways to utilize hidden space is underneath the bed. I made sure to buy a platform/raised bed for this purpose, and ours was just the right size to fit two of these rolling storage bins:
We've had a chilly winter (by Florida standards) so it was time to break out our winter clothes and keep them somewhere easily accessible.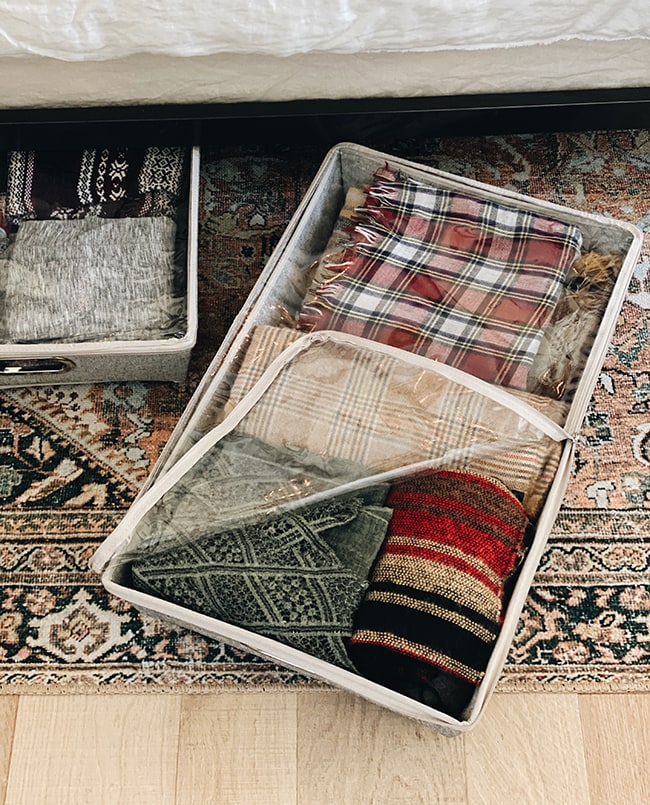 These bins are the perfect size to store our scarves, hats, gloves and warm socks. They zip up neatly and easily slide out of sight on wheels.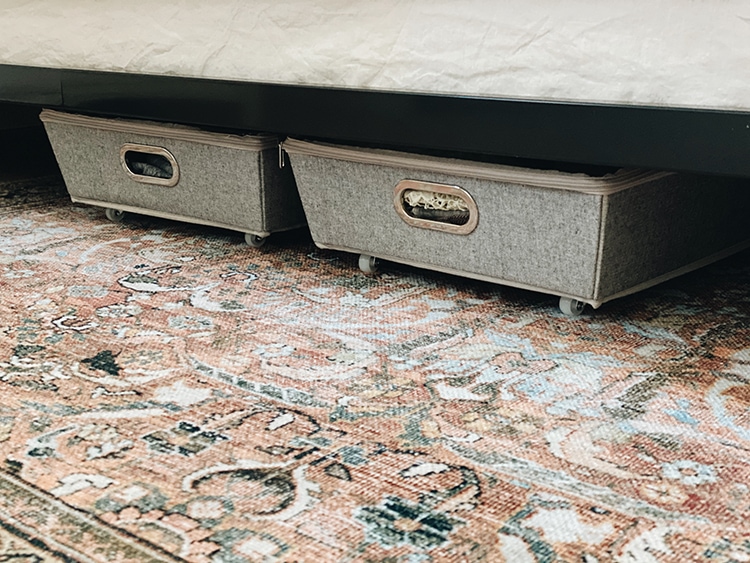 The biggest impact was definitely felt in the kitchen. Our current pantry is a repurposed bookcase which looks pretty clean…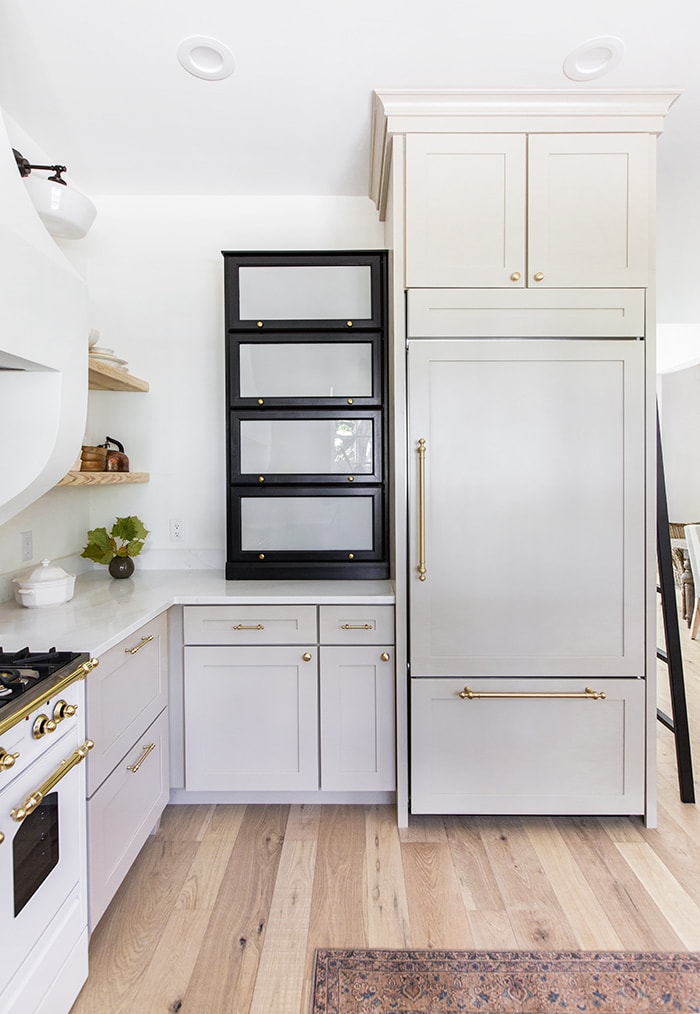 Until you open the doors…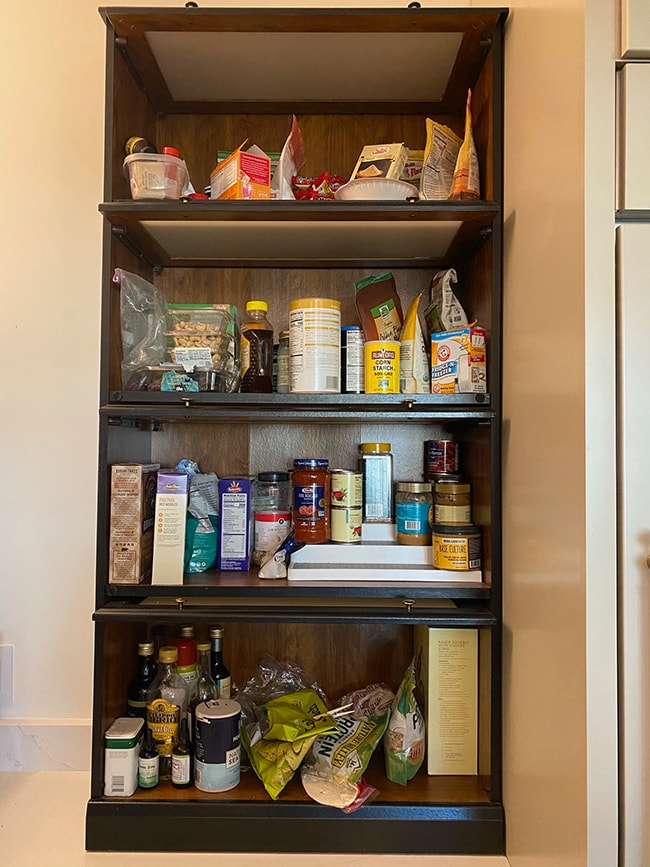 One day we'll design our laundry room/walk-in pantry and have more storage space, but in the meantime, this cabinet was an eyesore. I spent an afternoon planning and shopping online for a better system, and this is what I came up with…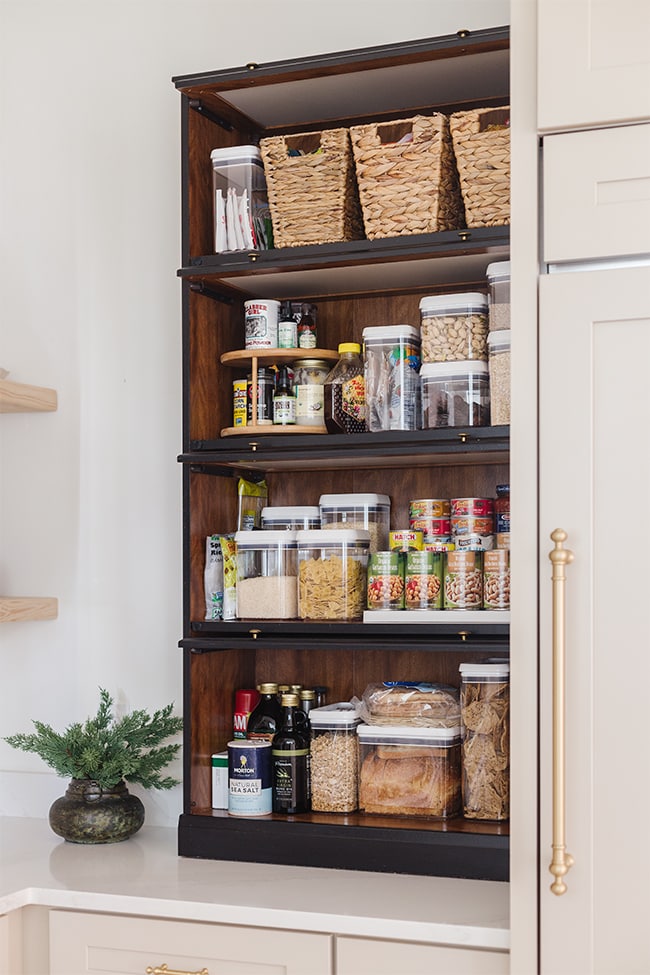 It's a breath of fresh, organized air! The biggest change was making the switch to clear canisters for our dry food storage. Better Homes & Gardens has a full line of stacking canisters in all shapes and sizes, with lots of great reviews (at great prices). They really help to maximize the small space and keep everything neat and tidy.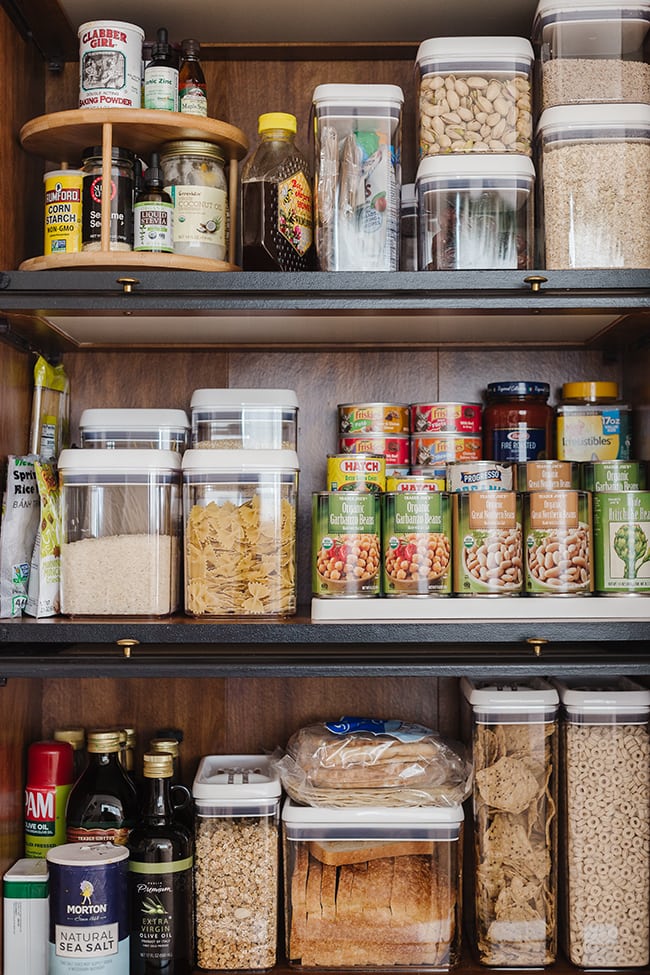 The flip top lid creates an air tight seal when closed, keeping perishable food like bread, chips and cereal from becoming stale.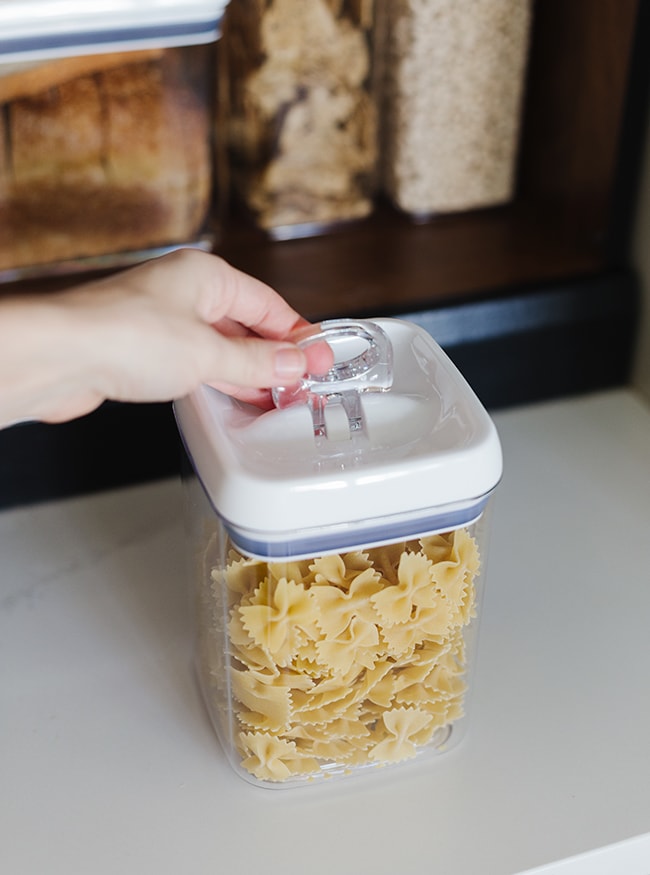 There's really no way to figure out exactly how many and which sizes you need beforehand, so my tip is to buy more than you'll need (multiples of every size) and either return or repurpose what you don't use (I gave my extra canisters to the in-laws who now have an organized pantry too!)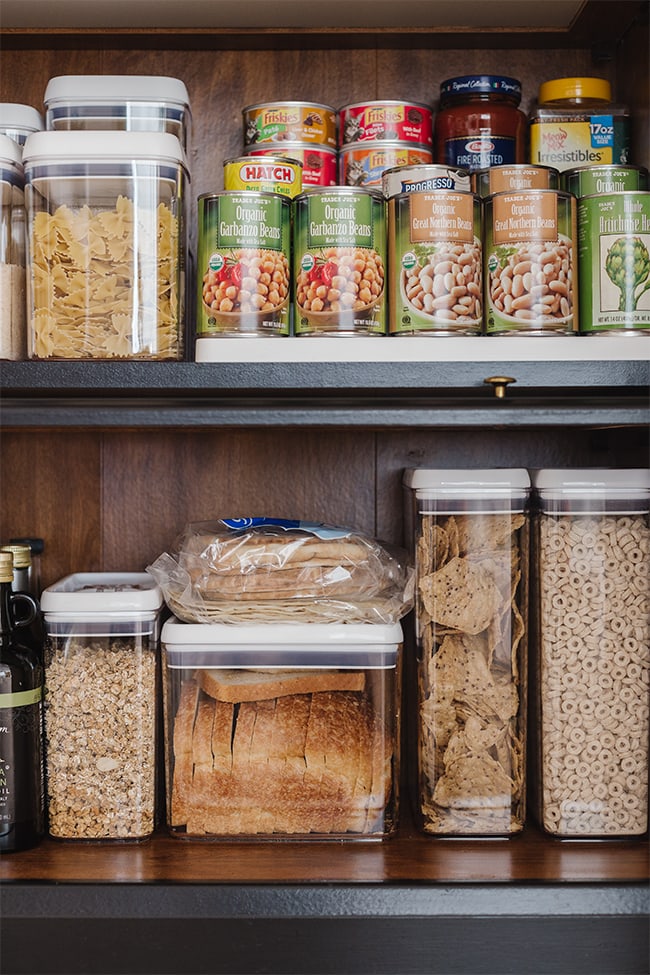 Here's what I bought:
Qty 1 – Bagel canister
Qty 1 – 11.5 cups (set of 4)
Qty 2 – 18.6 cups
Qty 6 – Set of 3
You can also buy a 4 pack and individual smaller bins which come in handy for snacks. There's lots of combinations to work with your needs. On the top/least used shelf I picked up a few hyacinth baskets to store baking items and special seasonings, and I also added this wooden turntable which has proven to be super useful to easily reach smaller jars.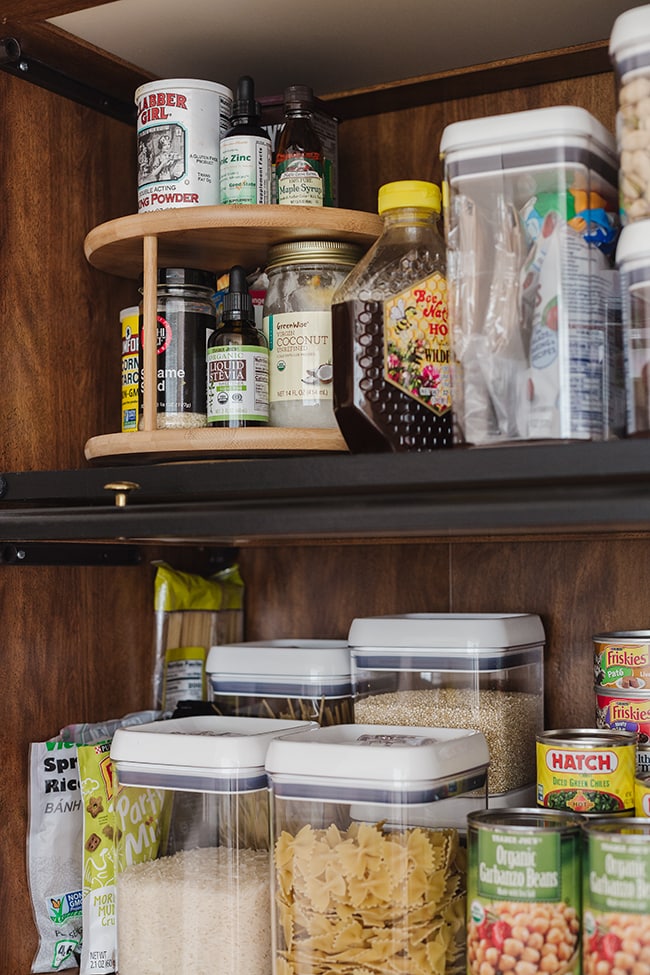 You can also shop the items I used in the carousel below:
Countdown to the official playroom reveal on Thursday!