There's so much progress happening at the Heights House as we near the finish line (which means a LOT to catch up on!) and today I wanted to update you on one of my favorite parts of the exterior—the back patio: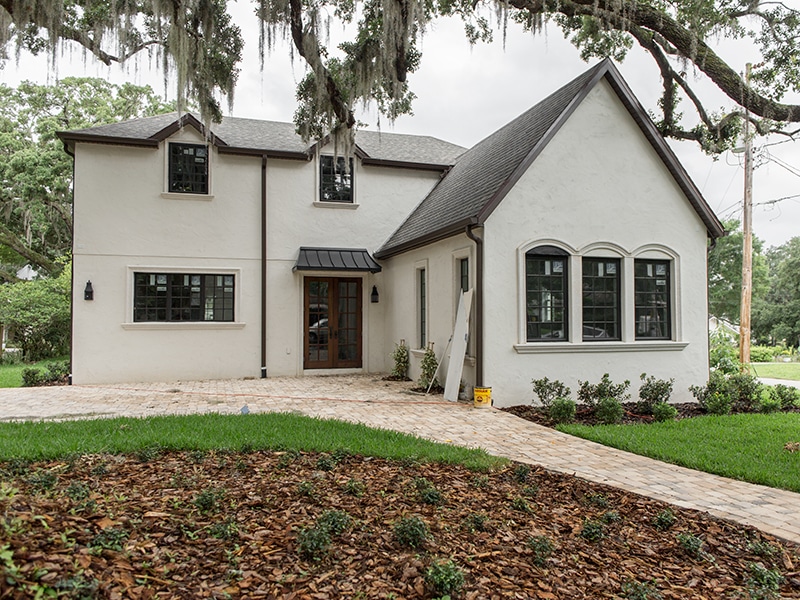 Pin
Specifically, our custom metal awning that so many of you have asked about in my Instagram stories.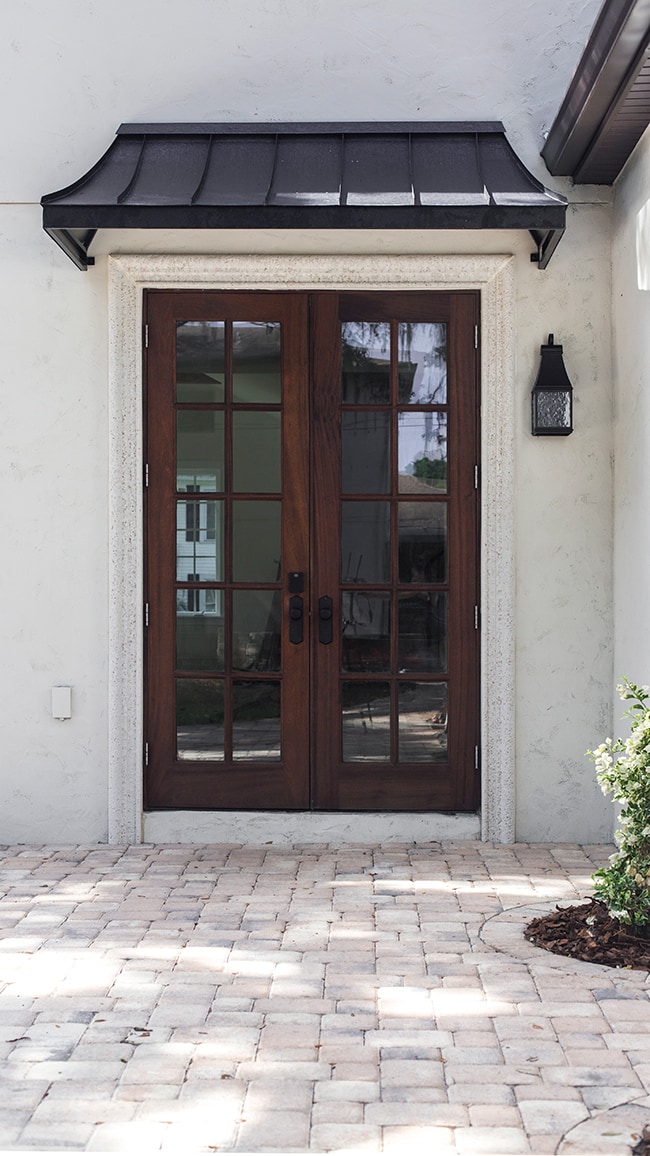 Pin
The decision to add an awning came about months ago, after realizing we needed some form of shelter from the rain, especially since this will be the main door we enter the house through (our driveway is detached). The newly installed wood doors were also warping a bit after getting drenched in a few Florida downpours, so we couldn't waste any time.
My first thought was to go with the cheapest/quickest solution, so I bought this fabric awning on Wayfair for only $236: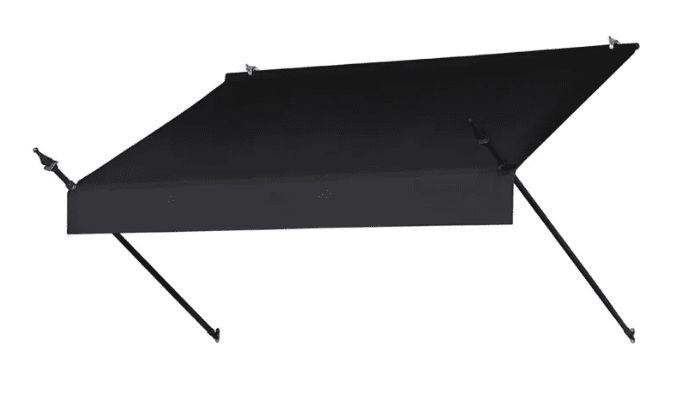 Pin
The problem was, we measured the width of the doors before the trim was installed, and didn't think to account for the added width. Our awning ended up just a few inches too short!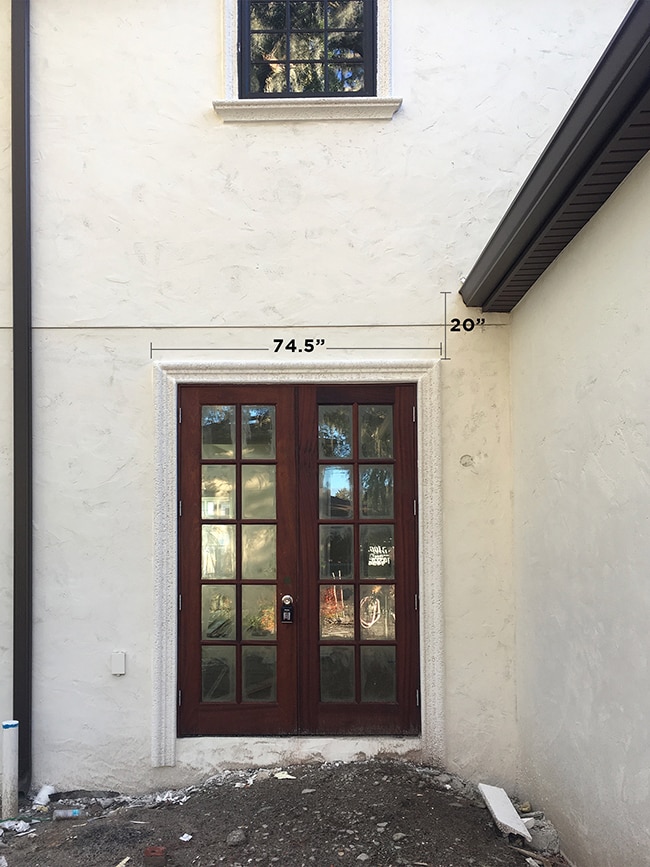 Pin
We were also limited in height by the roofline on the right side, and came to the conclusion that custom was the way to go. But where to begin?
I started looking around at local places, but most had very limited options (only fabric) or styles that wouldn't fit the design of our house. Then I spotted this image online and tracked down the source: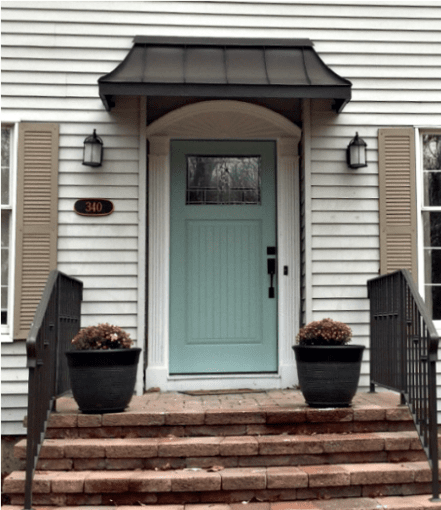 Pin
It came from Design Your Awning, which is a smaller shop located in Louisiana, specializing in custom metal awnings (aluminum, steel and copper). I fell in love with the Juliet style (shown above) and immediately requested more information on their site. They responded the next day and I sent over the dimensions for a quote: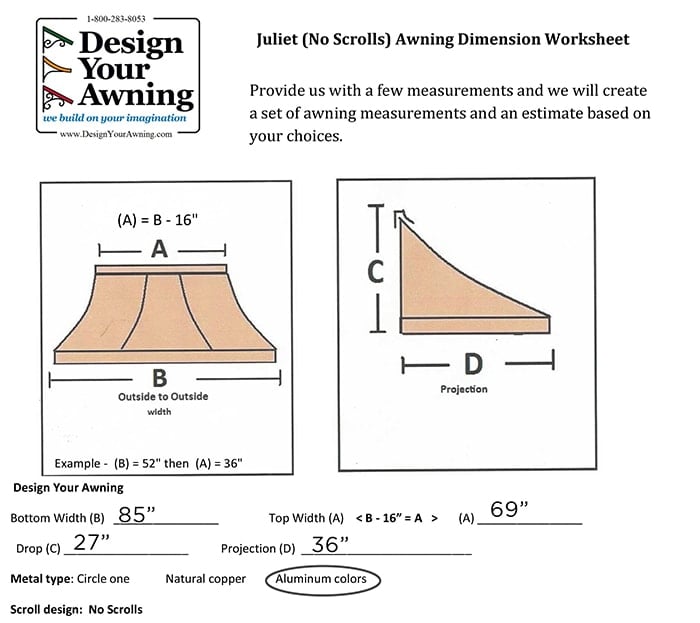 Pin
After receiving the quote, I reached out to a couple other companies (there aren't many out there who offer Juliet style awnings!) and their quotes were much higher than Design Your Awning. Design Your Awning was also the fastest to respond and most helpful, so it was a done deal. After learning a bit more about the project, the owner (Kenny) offered to step in as a sponsor—so a huge thank you to Kenny and the Design Your Awning team (and to my readers for supporting businesses that make these posts possible!)
After sending Kenny a few photos and confirming final details and measurements, they started production on the awning and a few weeks later, they sent a photo of the completed awning in their warehouse:
Pin
Just like my inspiration photo! It was perfect. I approved it and they shipped it right away, emailing a packet with detailed installation instructions so I knew what to expect.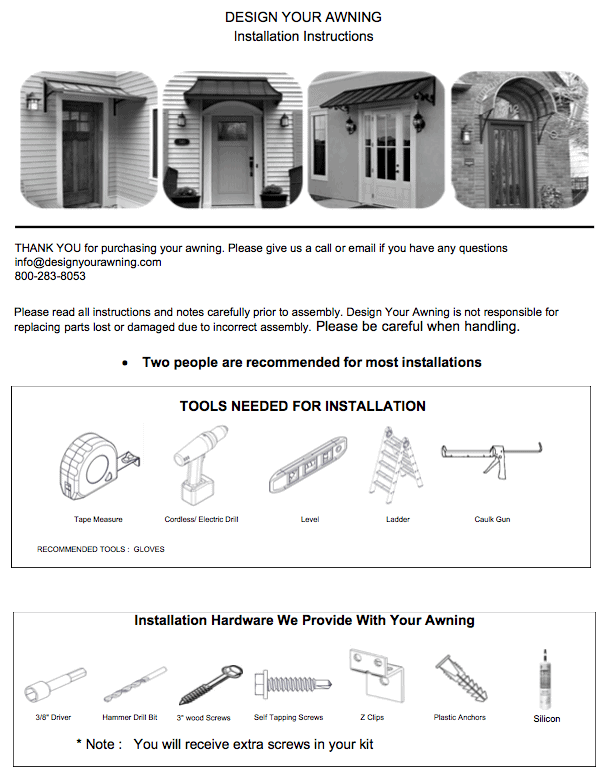 Pin
The awning arrived shortly afterwards, securely packaged in a crate.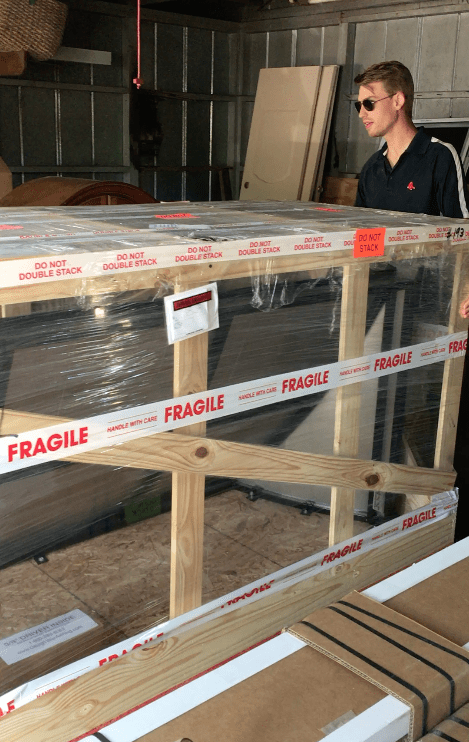 Pin
Everything needed to install it was included in the package (apart from basic tools like a drill and tape measure). I wasn't sure if Lucas and I would be able to tackle it on our own, but fortunately the awning is surprisingly light and we could easily lift it into place, with Lucas holding it steady by himself.
Pin
The awning came with Z clips, which we secured to the wall (using the anchors and screws provided). We just had to measure to determine the height first.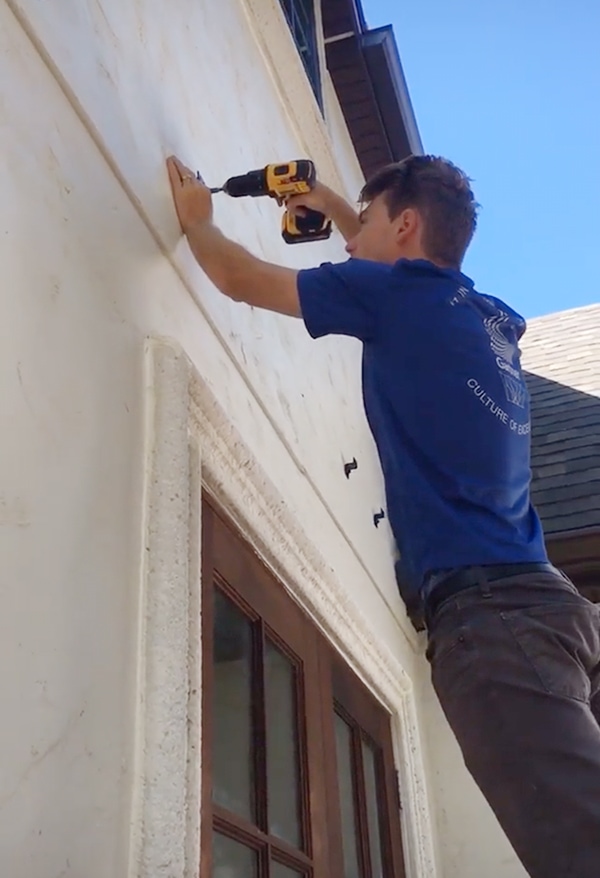 Pin
Once our top row of clips were in, we checked to confirm they were level.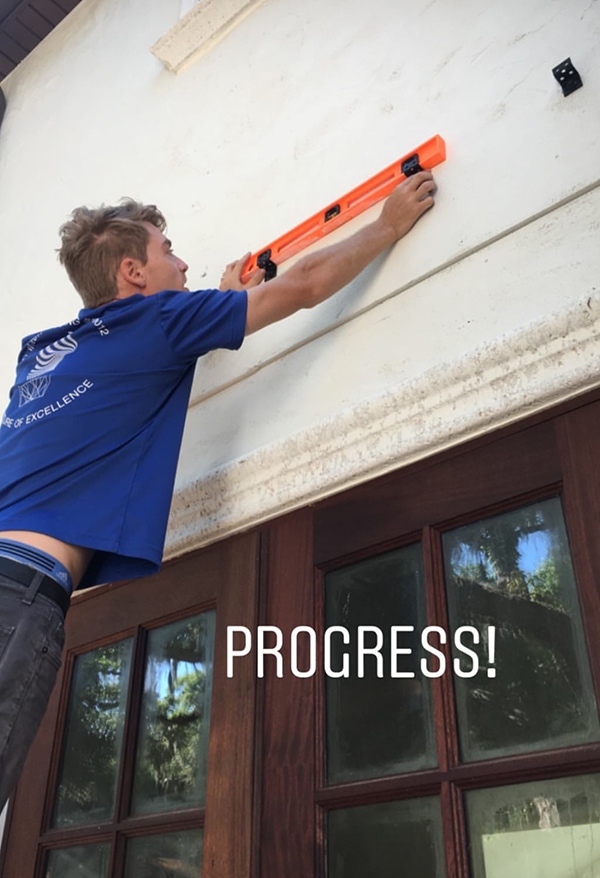 Pin
Then we lifted the awning onto the clips, centered it in place, and attached the lower clips.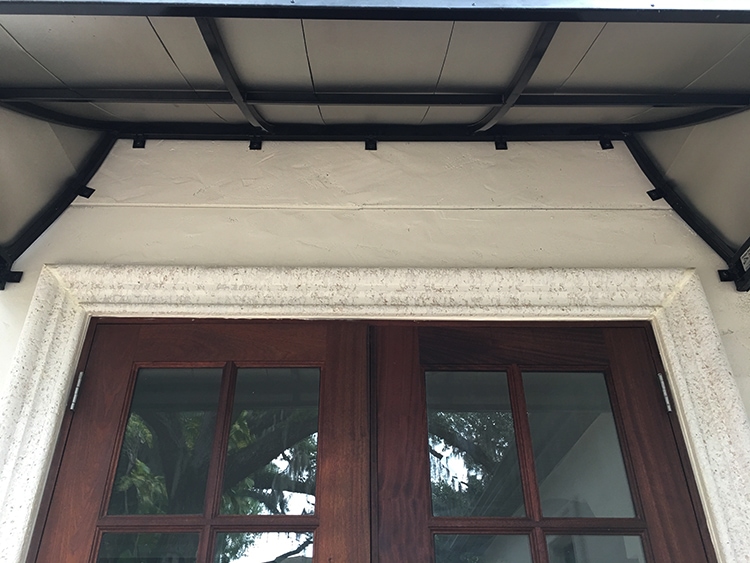 Pin
Simple as that!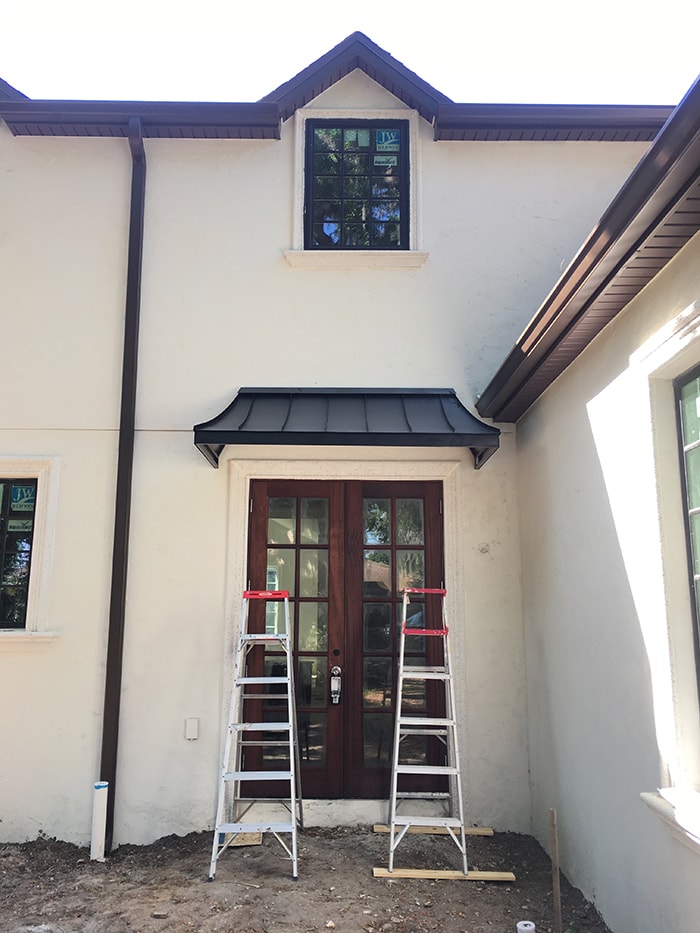 Pin
The final step is to add a bead of silicone where the awning meets the wall, but ours is a bit tricker since we have an expansion joint in the stucco which leaves a gap along the lower portion. We'll need to add a strip of foam tape to seal it, but so far no sign of leaks or drips underneath the awning after two months.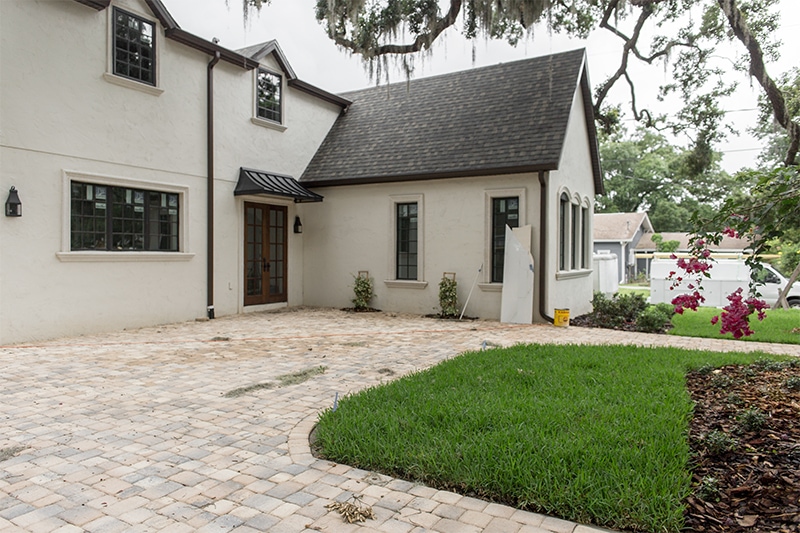 Pin
The awning has a 50-year life with no maintenance, and even though metal is a larger investment up front, I'm so glad we went this route instead of fabric! Here in Florida especially, the constant sun and rain exposure would have meant having to worry about replacing it. And of course, this looks much nicer and complements the European style of the house so well.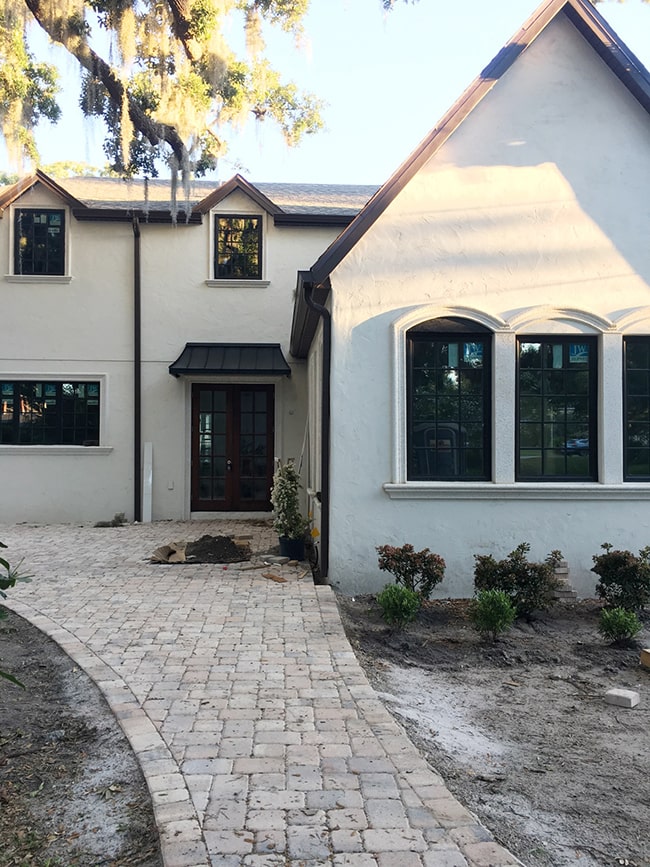 Pin
Last month we finally got our pavers installed, and landscaping was finished shortly after. I'll do a separate post all about our landscaping plans soon, but the exterior is so close to being completed…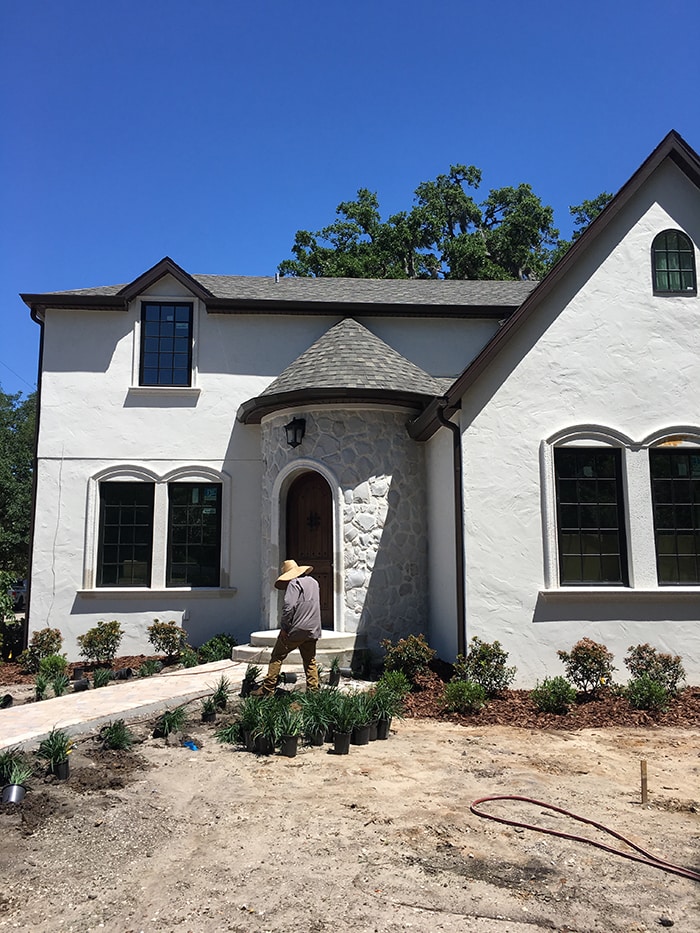 Pin
One of my favorite landscaping features is the half moon bumpouts we added on the back patio to plant white bougainvilleas. Soon we'll add large trellises against the house—hopefully these babies grow fast!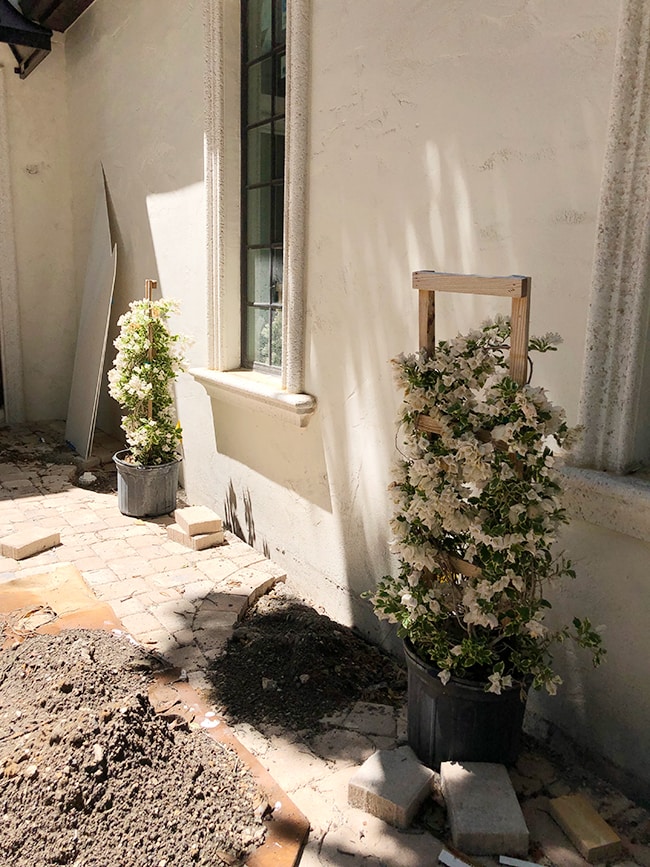 Pin
For now, last major thing to do on the exterior is the window/door trim paint, which means I can finally paint the rest of the window arches black 🙂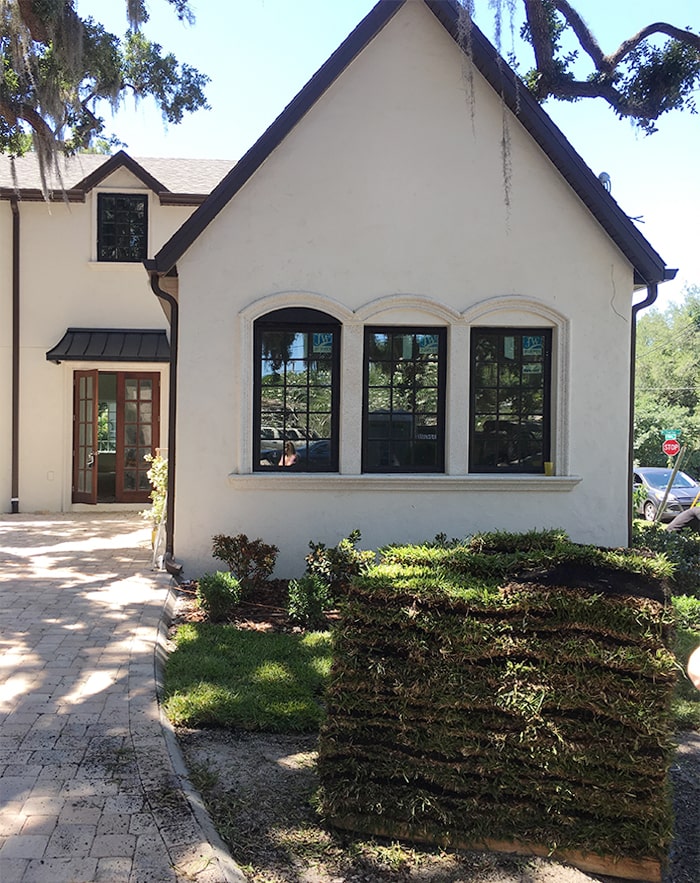 Pin
Even though the house will soon be officially "finished"—we still have a long way to go in adding our own personal touches, custom details, and filling it with things we love so it truly becomes our home.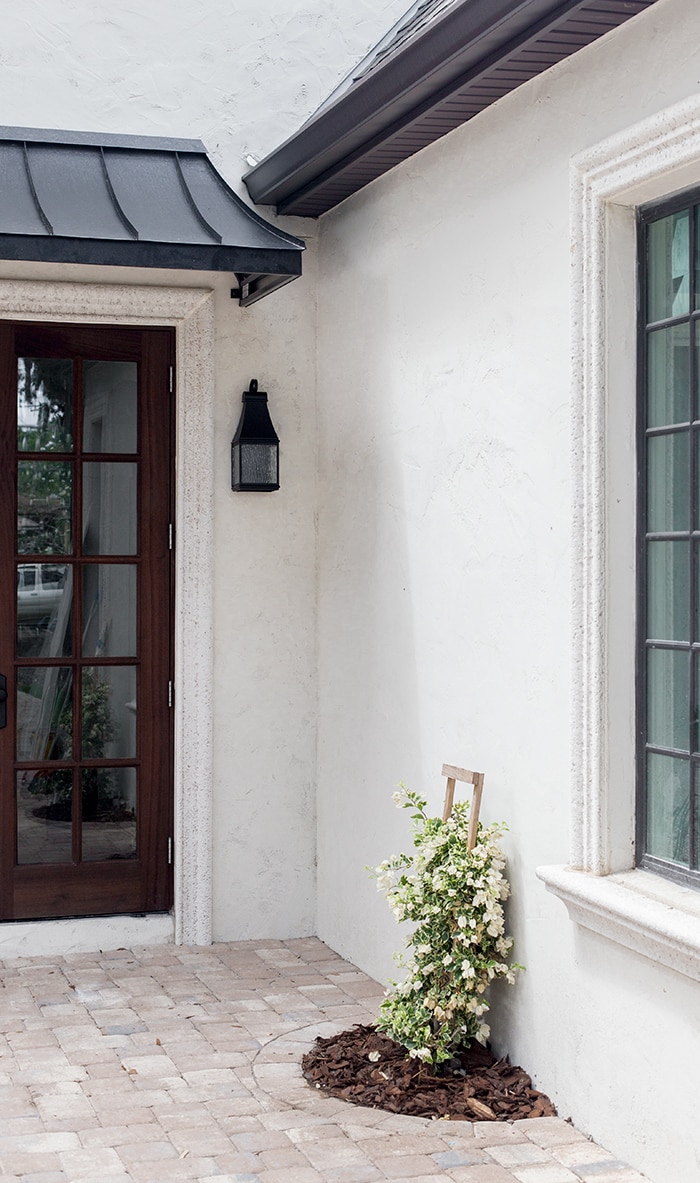 Pin
We've now entered the 'rain every day season' which has delayed completion yet again, but ready or not, our baby shower will be held on this patio in a few weeks…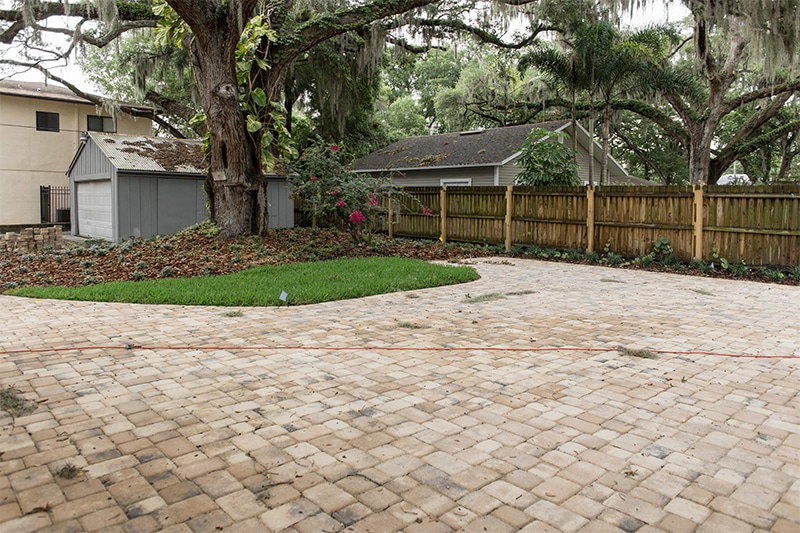 Pin
Send all the positive vibes that we can get electricity and move in by June! We could really use some good luck around here 😉