I don't think I've ever been more excited about anything house related (and that's saying a lot) than this latest and greatest undertaking of ours.
If you're just joining the party, here's the deal: back in February, we bought a modest little house in a great neighborhood, a month after moving to Tampa.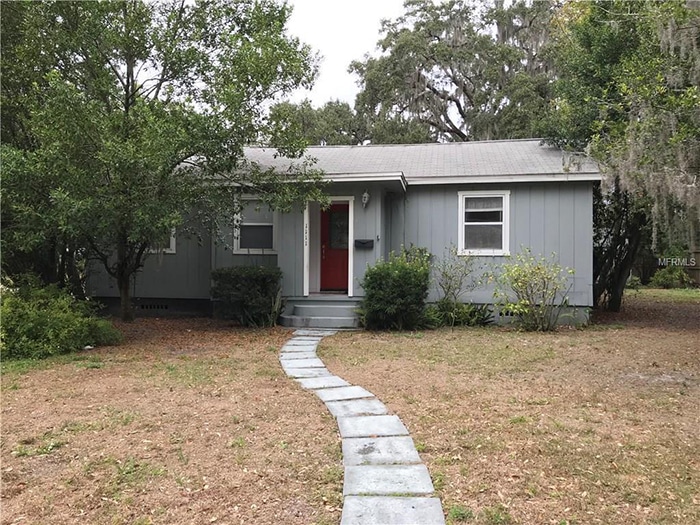 Pin
It was going to be our primary residence, and we had big plans for a major transformation. Five weeks into the renovation, it caught on fire.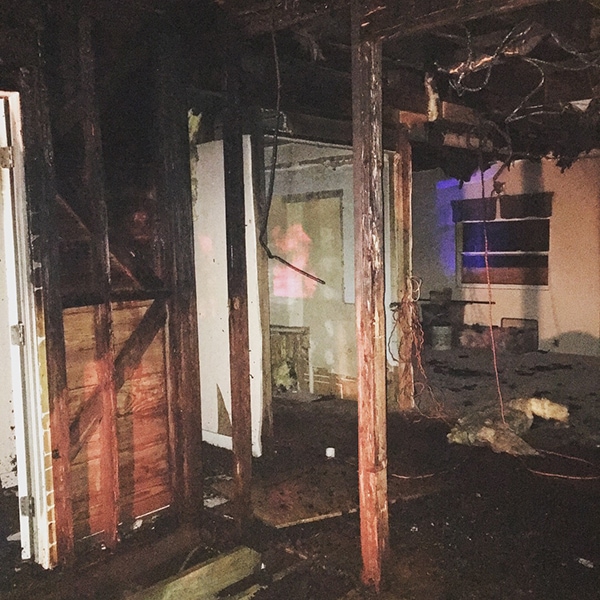 Pin
Insurance couldn't pinpoint a cause and declared most of it to be a loss. We were faced with a major decision: try to salvage what was left, or tear it down and build new?
After crunching the numbers, we determined that financially we'd be much better off to start fresh. Insurance would cover a good portion and we'd pay out of pocket for the rest, but in the end we'll have a significant amount of equity since the neighborhood can support it. The median price per square foot is $230 in this area, and we expect to see a near 50% ROI, which is pretty much unheard of in any market. Just to clarify, there is no mortgage on this property (I explained more about financing in this post) so we will be refinancing once the new house is built, paying back our investors and using the equity towards more investments. This is a very common wealth building strategy used by investors.
This is also a perfect example of why you should buy the worst house on the block. Our house was the neighborhood eyesore, surrounded by homes triple the value. Because of this, we won't have to worry about over-spending, since we'll get every dollar back (and then some).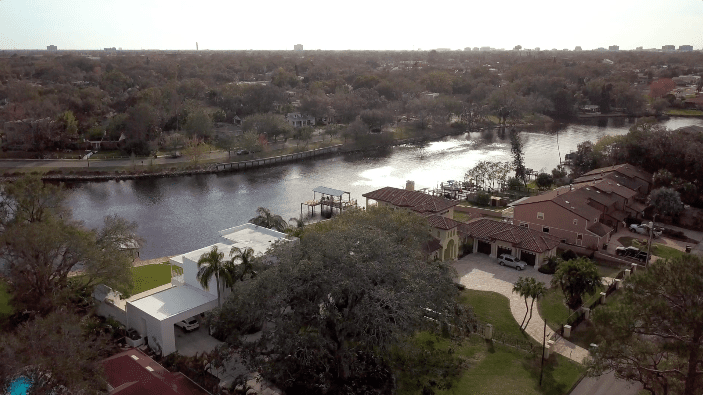 Pin
Speaking of the neighborhood, there's a lot of custom homes in a range of architectural styles which is what makes it so unique. Like this medieval castle across the street…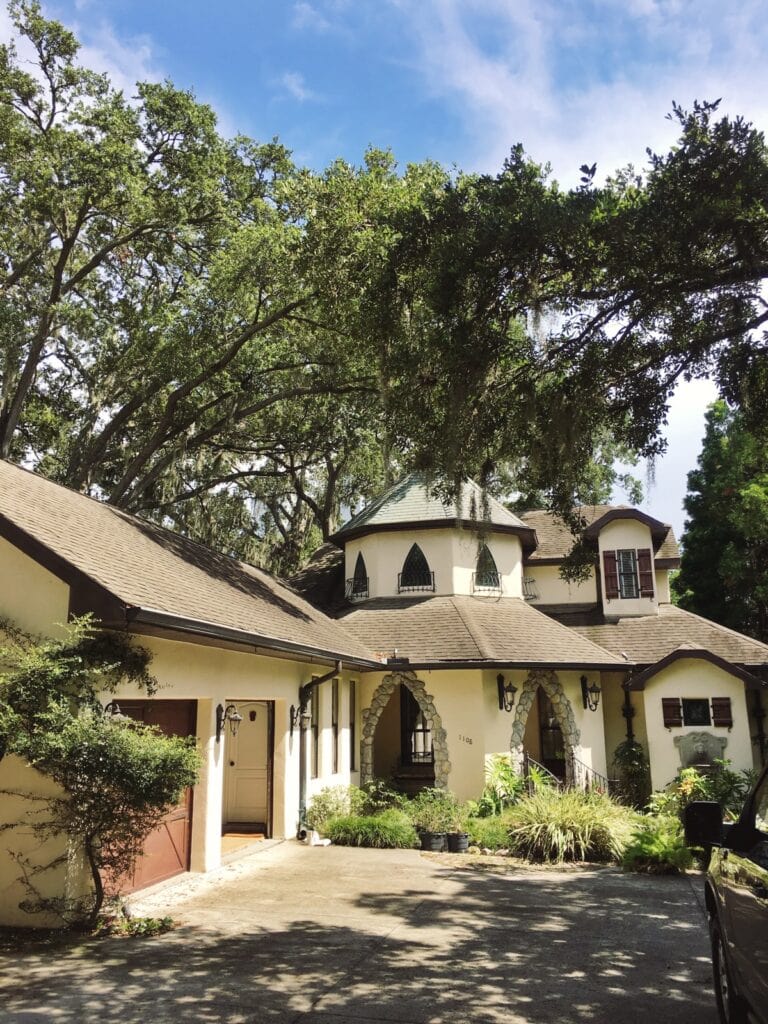 Pin
We don't have to worry about sticking to a specific design style to 'fit in' with the neighborhood, although ours does share some characteristics with the castle across the street. A friend who we met at a local real estate meetup is a custom home builder in Tampa, and offered to take on this project for us after hearing about the house fire. Juan is a great guy with a hardworking team and attention to detail, and we couldn't be more excited to work with him! He'll be documenting our build on his Instagram so make sure to follow him there for a behind the scenes look.
Let's talk design, shall we?!
Months ago, this photo popped up on Instagram and it was love at first sight: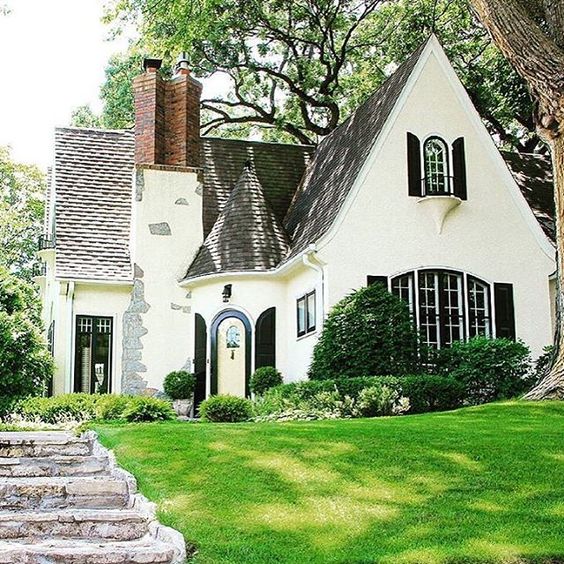 This to me is pure perfection. I wanted to scoop it up, exactly the way it is, and plop it right down onto our lot.
If only it were that easy. Throughout the weeks of meetings with our builder and architect, my bubble would get burst, little by little, as we ran through the details. That extra steep gable roof? Not hurricane-friendly, and that pitch costs exponentially more than your common 8/12 roof (I've learned a whole lot about roofs throughout this process). A fireplace in Florida? Forget it, not worth the expense and maintenance. Arched windows? How about tripling your window budget.
We did our best to strike a balance between design and practicality, and had to make a lot of tough decisions about where to cut costs. Let me tell you, designing a custom home from scratch is a daunting and overwhelming task—especially if you're not an architect and have no idea what you're doing.
Before we began renovating the original house, we took measurements and mocked up the floor plan using the free Homestyler software to help visualize the new design. Below are those original plans—you can read more about it in the Before Tour post: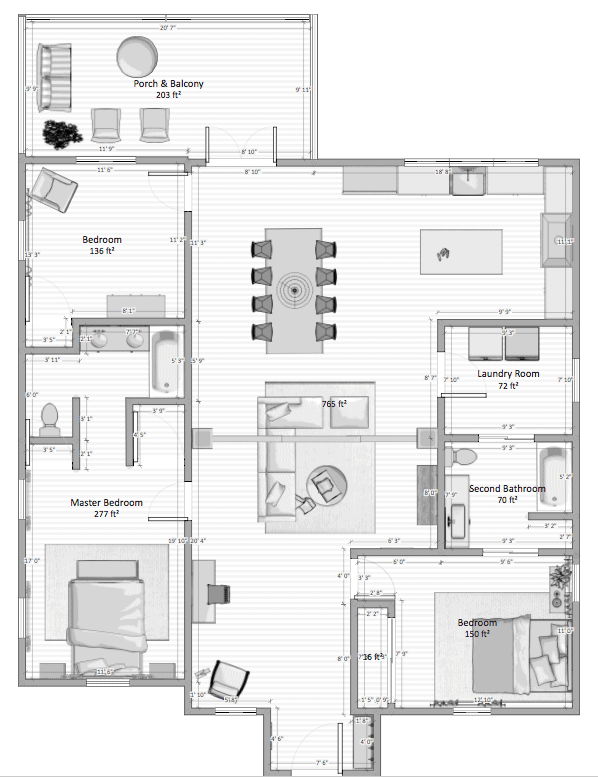 Pin
We liked a lot of things about this floor plan, so we decided to use it as our starting point for the new house. Specifically, we kept the location and layout of the kitchen facing the backyard, an open dining area just off the kitchen, living room near the front entrance, and two bedrooms separated by a bathroom on the left side of the house. The biggest change we made was adding a second story, and going in a completely different direction with the exterior façade and architectural style.
We presented our updated floor plan to our architect, who then made the necessary adjustments for the house to be structurally sound, code compliant, and fit within our budget. The quaint cottage tudor I had originally envisioned morphed into more of a French country style since we had to compromise on the roofline and add a second story, and this photo became our second main source of exterior inspiration: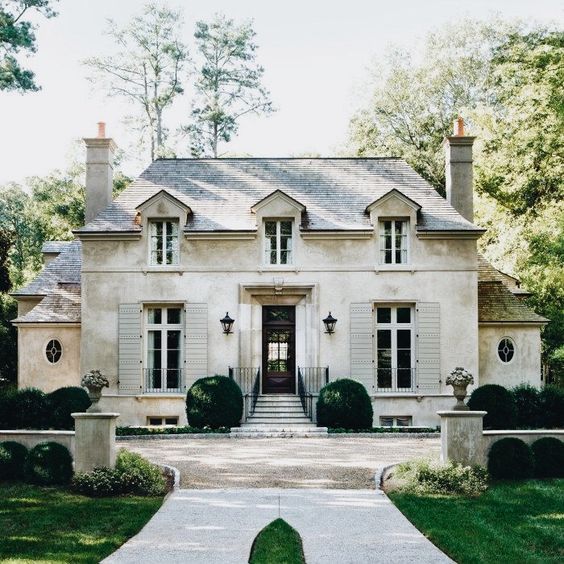 Pin
And what we ended up with was a love child of our two inspiration photos (if their baby had to live in Florida on a budget).
Okay, you ready to see these plans?! Drumroll please…..
Front: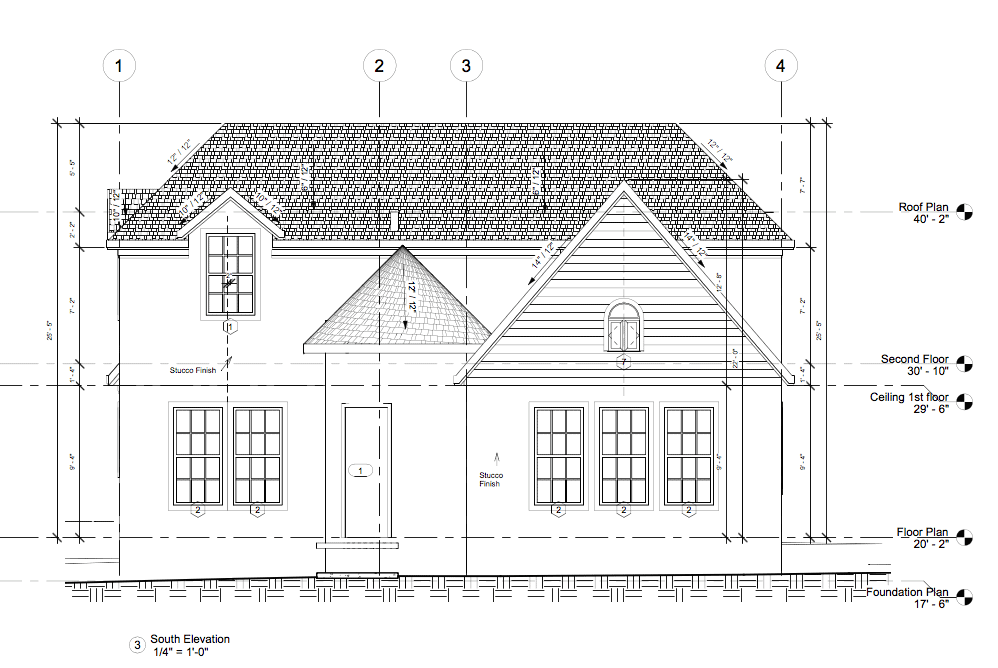 Pin
Back: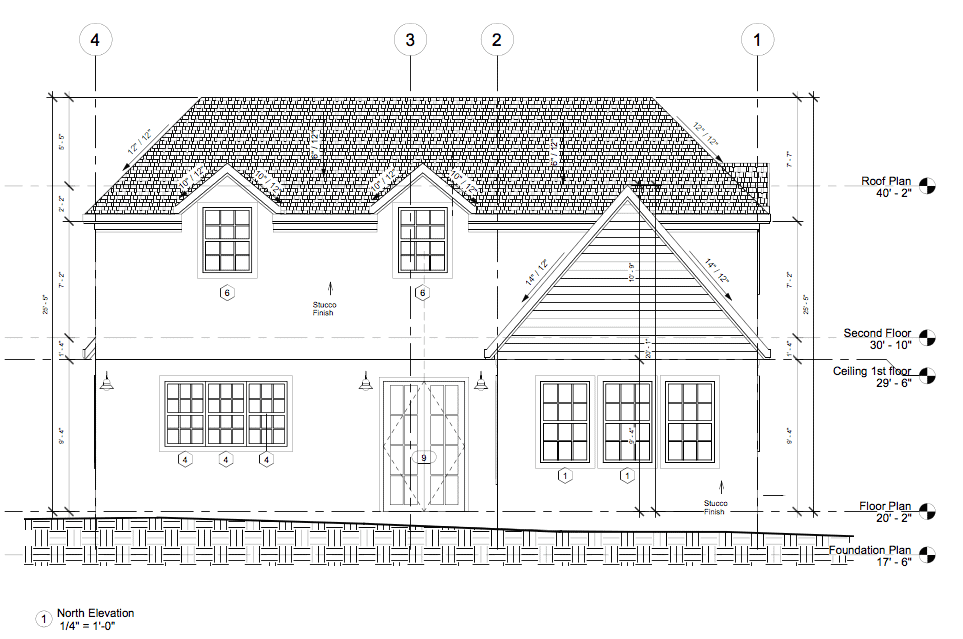 Pin
Left and right side: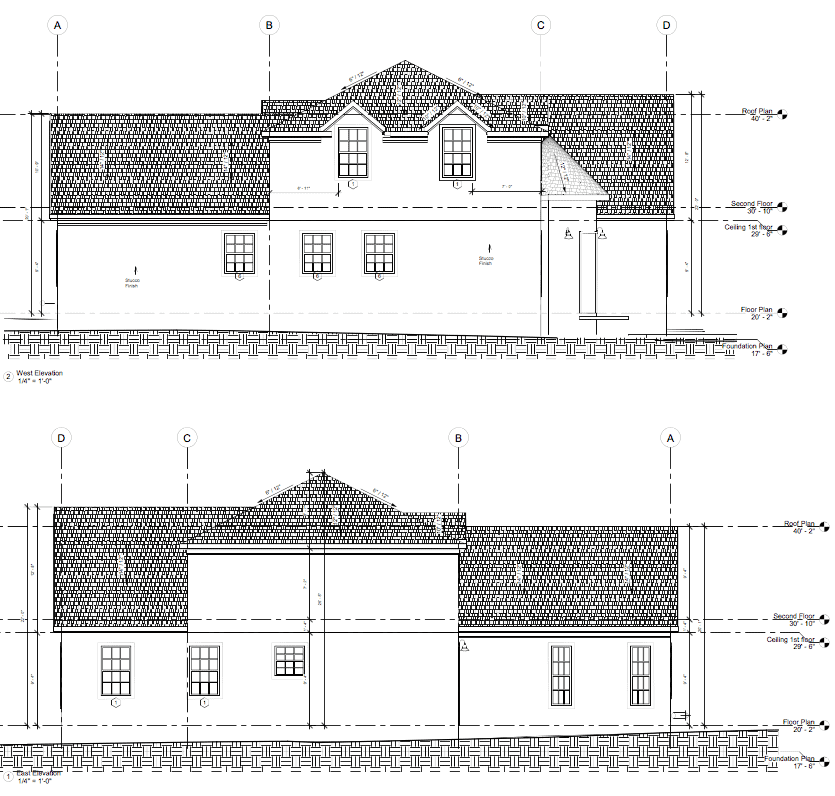 Pin
These technical drawings are hard to visualize, so I did a little photoshop magic to the front…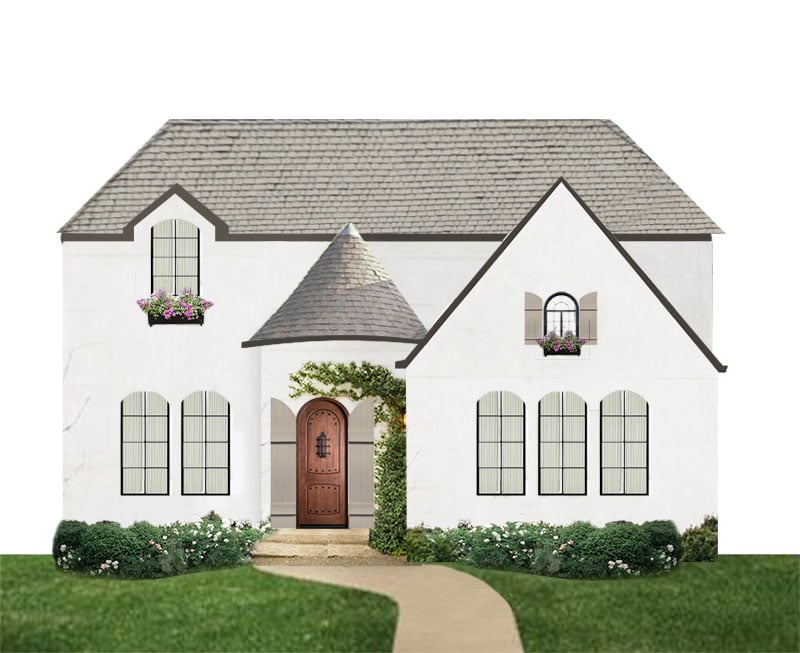 Pin
Much better! Let's take a peek inside the first level: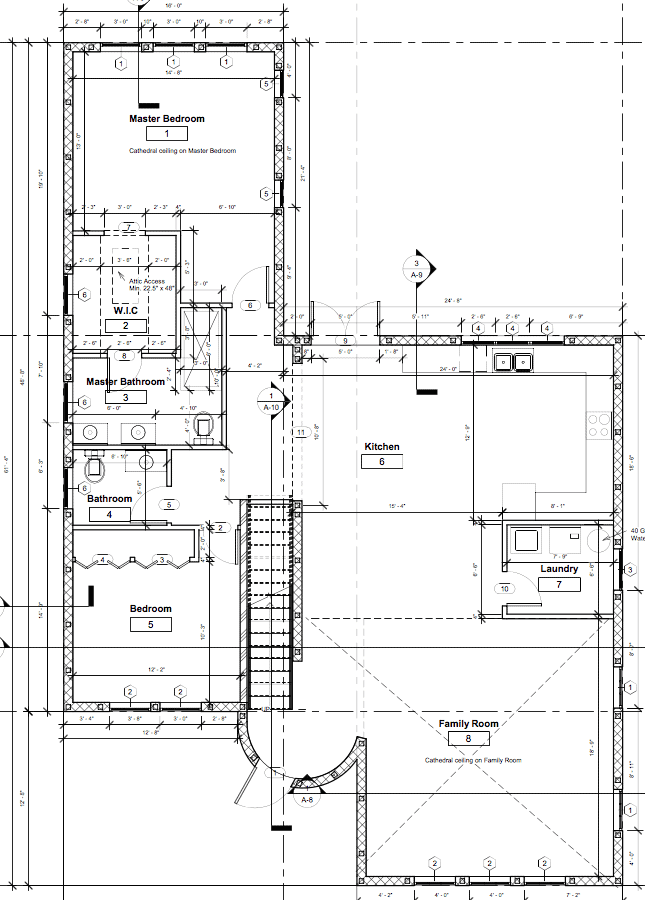 Pin
And the second level: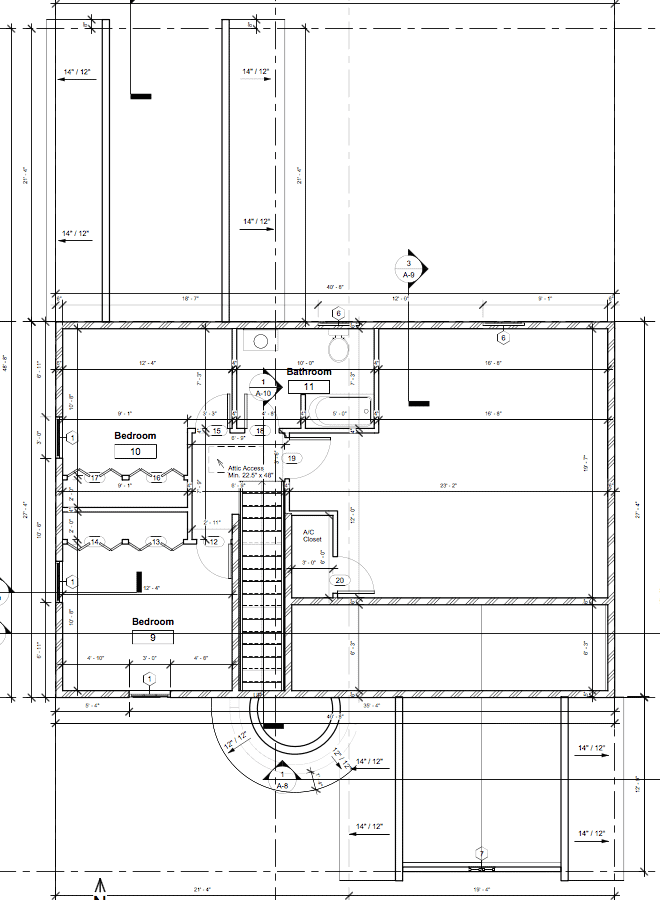 Pin
Again, these plans aren't the easiest to read, so here's the Homestyler version we mocked up (not 100% accurate but close enough):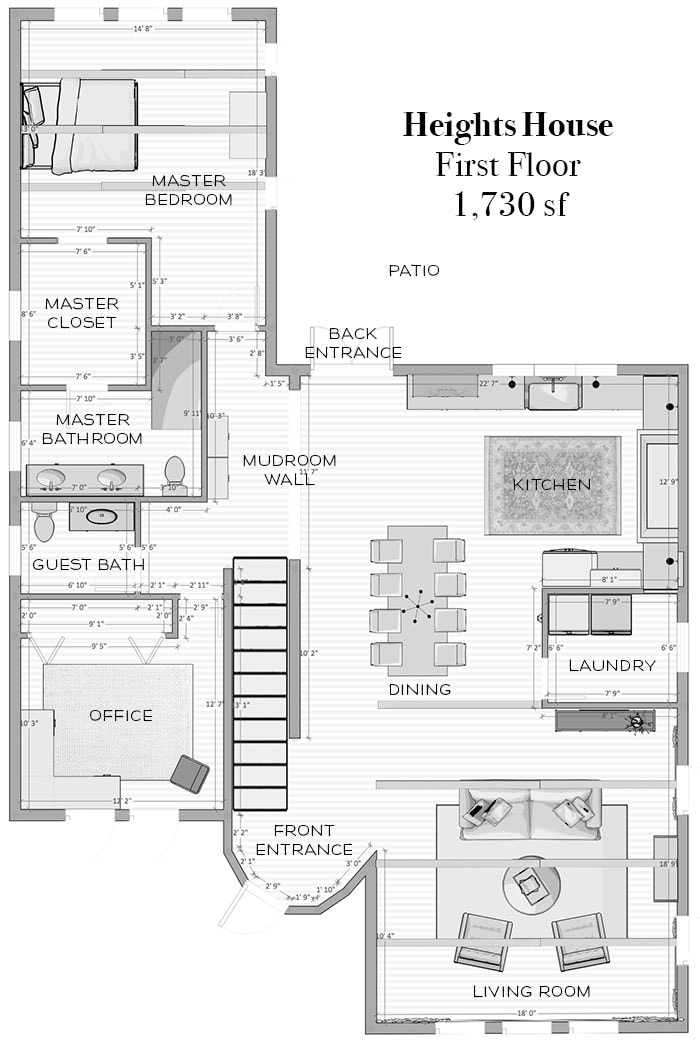 Pin
Second floor: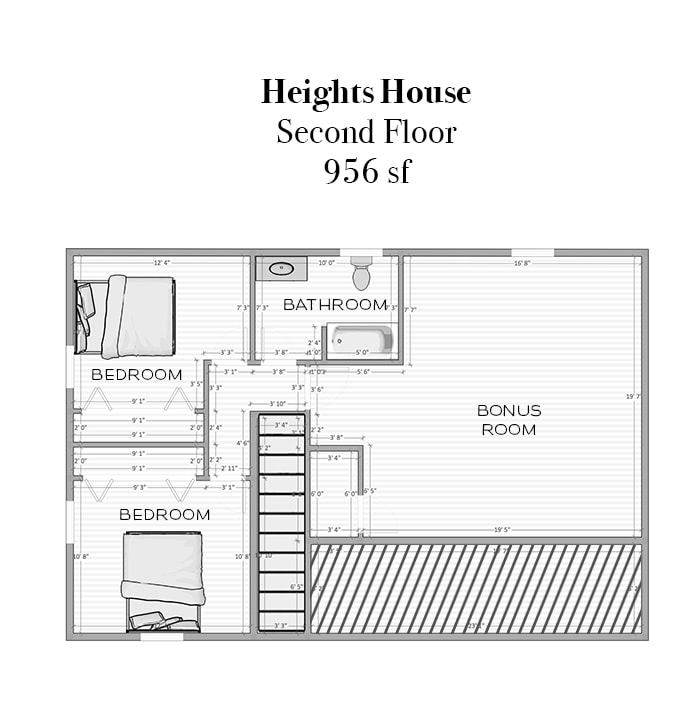 Pin
So much to talk about! I'll be breaking down the details and design plans for each room over the coming months, so for now let's just get the basics out of the way. The floor plans are pretty self explanatory, but one thing they don't show (that I'm most excited about) are the cathedral ceilings in the living room and master bedroom. Those horizontal rectangles indicate the (faux) beams we'll be adding to both of those rooms—though the sizes/positions shown are not accurate, they're just there for reference. The ceilings throughout the rest of the house will be 9'4″—NO MORE SHORT CEILINGS FOR ME!!! After living with so many sub-8′ ceilings, I'm over the moon about this.
There is no garage in the plans because we have an existing detached garage in the back (it was not harmed in the fire). The back door entrance by the kitchen will therefore be the entrance we use regularly. Eventually we'll build a big patio back there, but that won't be until after the house is complete.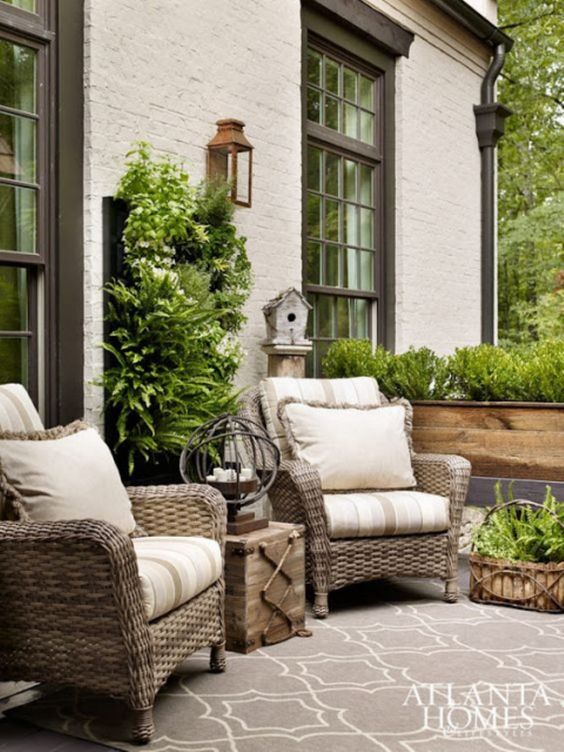 Originally we planned to add two small bedrooms and a bathroom upstairs and keep the house closer to 2,000 square feet. We don't need any more space than that, and we certainly didn't want to pay to build extra square footage we didn't need. We later found out that building code would not allow us to leave half of the upstairs unfinished, and we were required to build it out as if it were livable space—it was either that or eliminate the second floor entirely. So, now we have a 2,700 square foot house with a big bonus room. I'm sure I'll find a use for it someday 🙂
The exterior will be smooth stucco (I wanted to do painted brick but it's insanely more expensive) painted in a soft white. I'd love to clad the turret in stone (like the fireplace in the photo below) but haven't priced that out… it might have to wait until later. I also haven't chosen a paint color yet, but I'd love an earthy tone like this: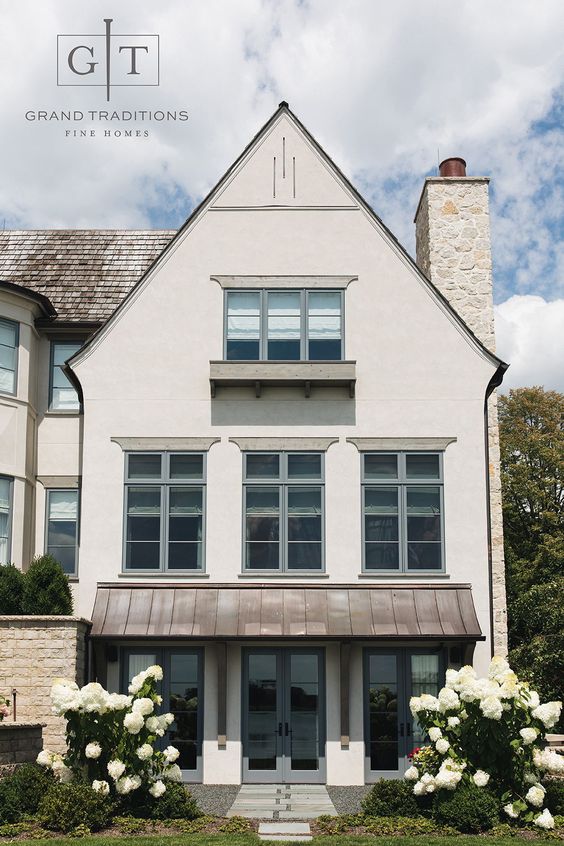 The accents (shutters & trim) will be a taupe/greige color (haven't chosen that yet either) and the windows and potentially gutters and roofline detail will be bronze/black. More color palette inspiration…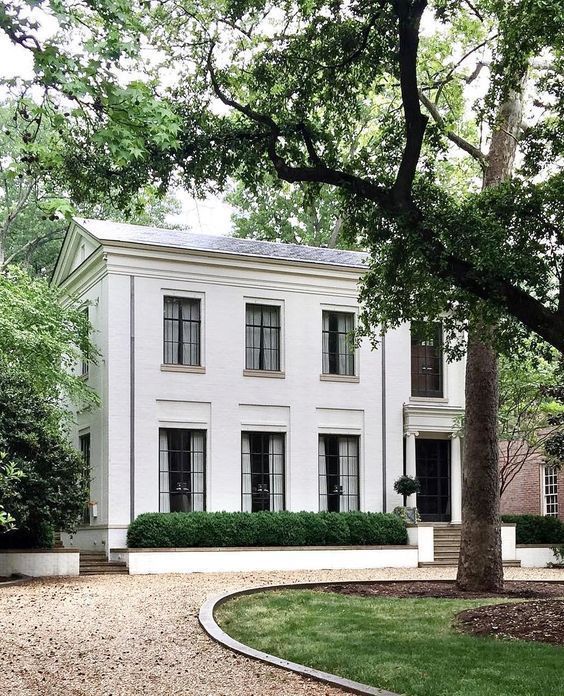 Pin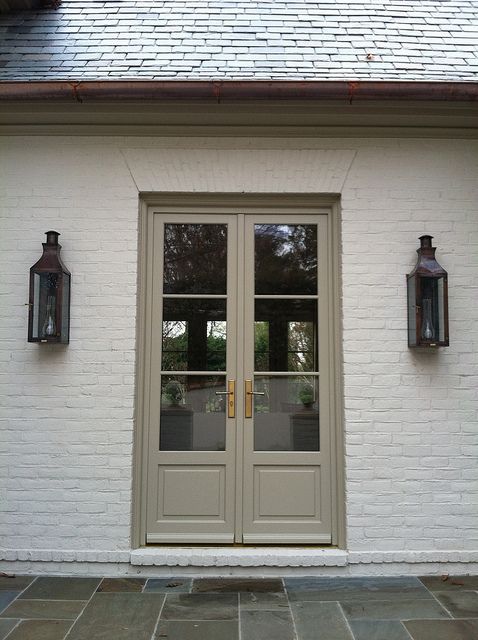 Pin
We're calling the overall style 'French country cottage tudor' and it will be heavily inspired by our travels through Europe last year. The plan as of now is to use light wood floors, white walls, some shade of greige for the doors and trim throughout. Here's a glimpse into overall plans and the inspiration for each room (don't take the photos too literally, they're just representations of the overall feel I want for each space).
Foyer: we'll add custom built-ins to a wall next to the back entrance near the kitchen. I'm thinking either black, dark gray, or some shade of green for the cabinets.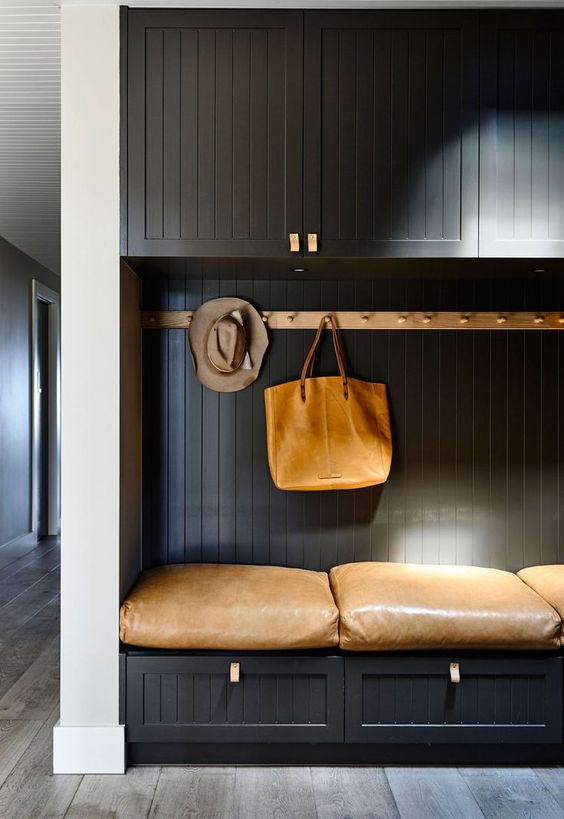 Kitchen: The focal point will be an extra large custom range hood surrounding a 48″ gas range with a matching white fridge. No uppers, mushroom colored lower cabinets (still deciding on color), marble-looking quartz counters, a large bank of windows above the sink, an antique wood armoire to hold barware.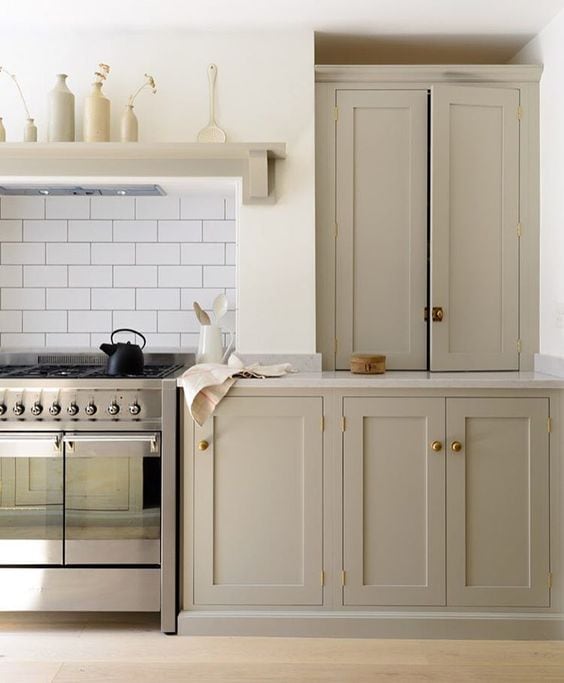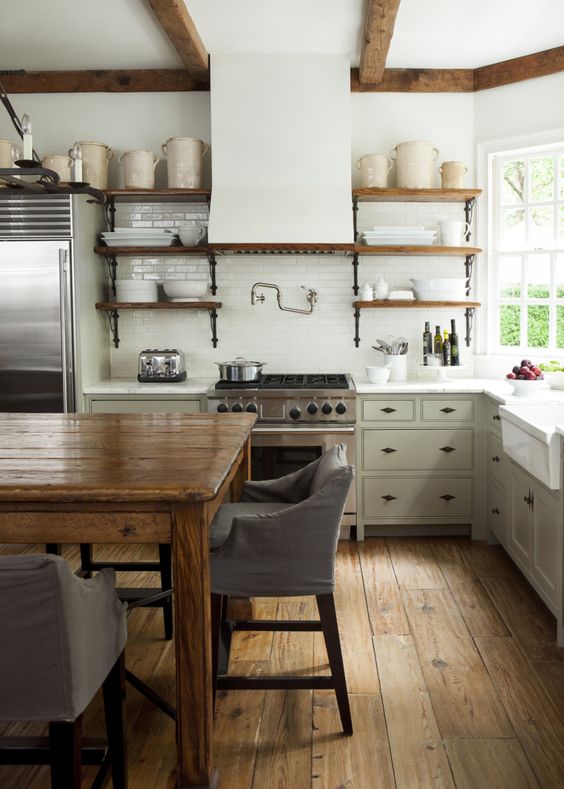 Dining room: This will be an open area between the living room & kitchen. I picture a large table with plenty of seating, cozy chairs and a statement chandelier (the next photo shows the style of beams we'll be using in the living room & master):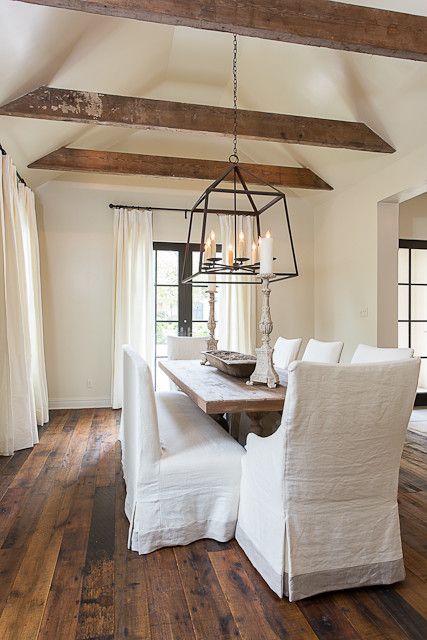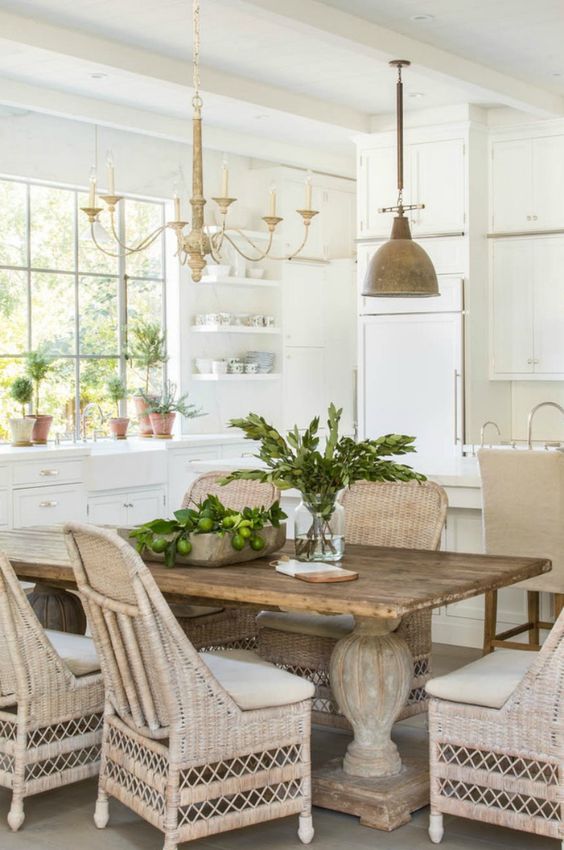 Living room: The star of this show will be wood beams stretching across vaulted ceilings, lots of windows and light, an earthy/subdued color palette with a California-meets-European feel.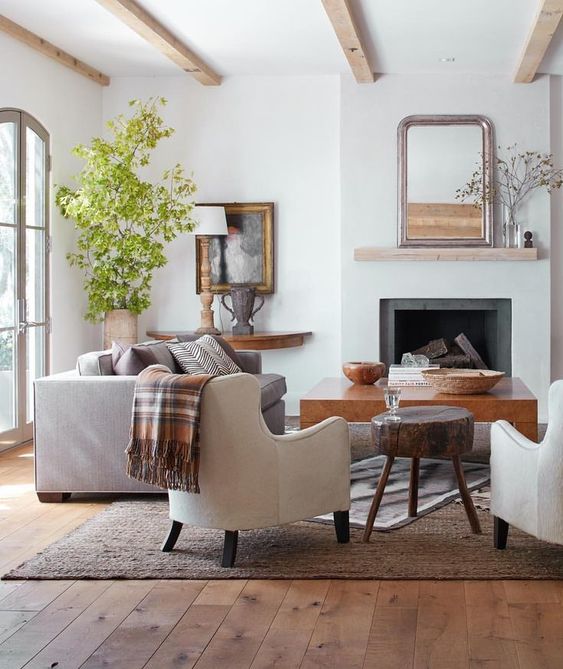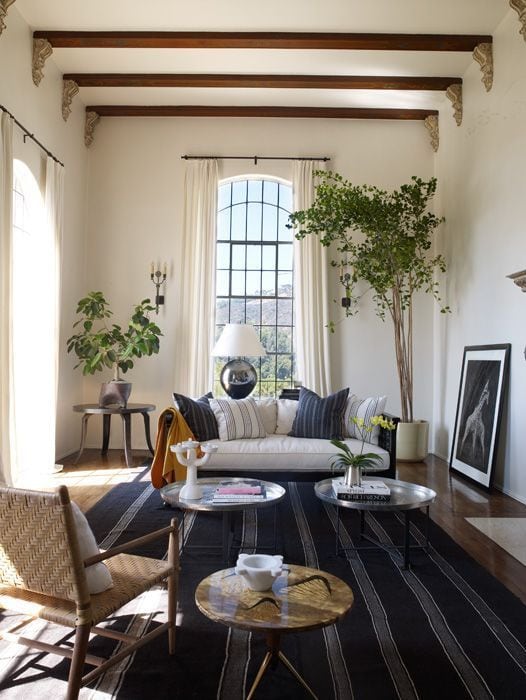 Master Bedroom: More vaulted ceilings & beams, a canopy bed, tall windows and curtains, lush fabrics and textures, statement chandelier. Peaceful and calm.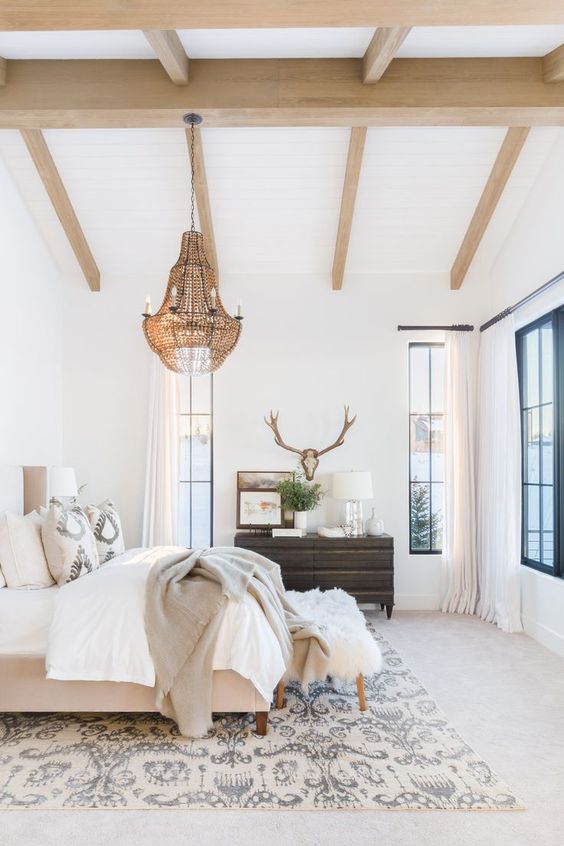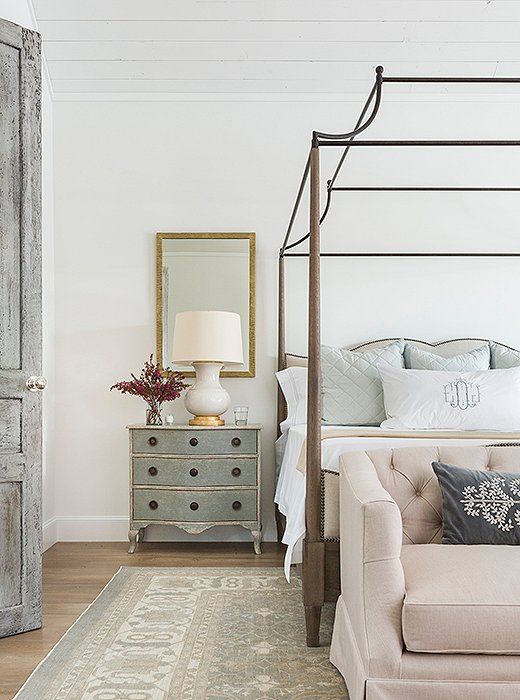 And… that's pretty much all I've figured out. I hate rushing room designs, especially when the house hasn't even been built yet and I haven't had a chance to walk around and get a feel for the space.
I thought renovating an entire house on a deadline was a lot of pressure, but this is a whole new level. You have to make decisions about things you didn't even know existed, and if you mess up, it's all on you. There will undoubtedly be a lot of mistakes and regrets throughout this process, and things we'll have to go back and change later—either because we didn't realize it before it was too late, or we didn't have the immediate budget to make it exactly the way we wanted.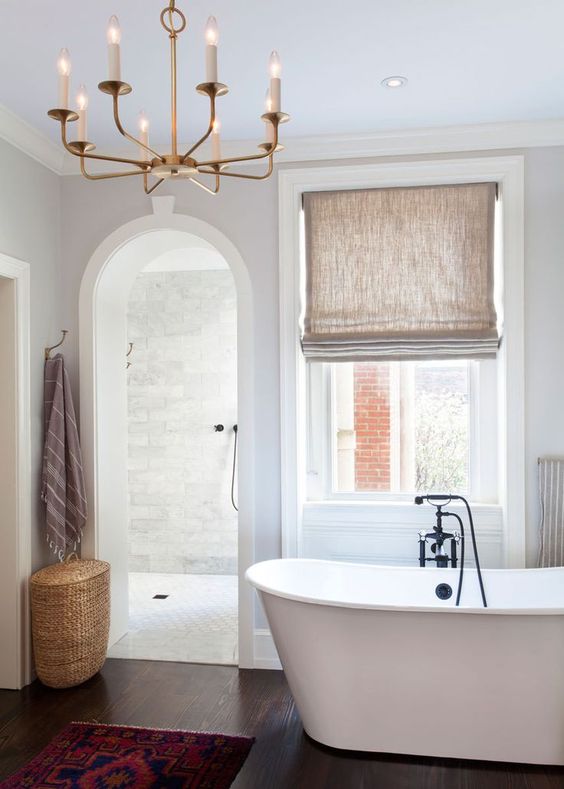 Right now our goal is simply to get the house built and stay (reasonably) within our budget, which means we won't get everything we want—far from it, actually. I wish we could build an empty shell and slowly complete the rooms over time, but a lot has to be finished and functional for it to pass inspections, and also to appraise at full value for the refinance. Normally it takes me weeks or even months to work out the design for a single room (I'm all about those details) but that's not possible with this house. To be honest, I've been so consumed with projects at our current house, the Bungalow, work, client e-design and planning our wedding (in 2 weeks!) that I haven't had one day to dedicate to planning our new build. Eek.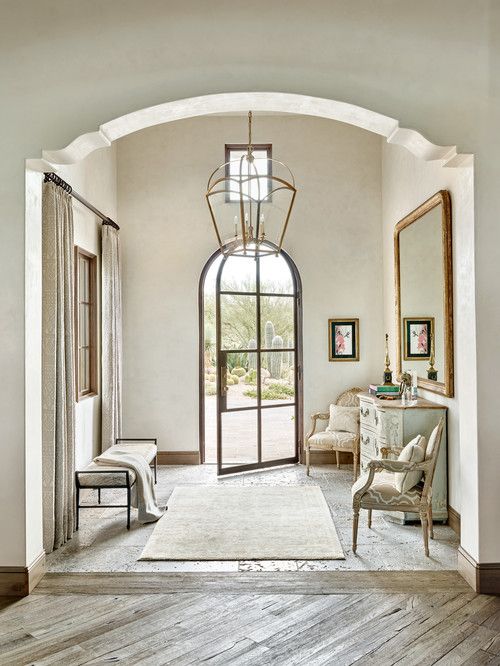 Okay, rant over! Just trying to keep it real over here. We feel so blessed to have this opportunity that I didn't think we'd get for years, but with it comes a lot of pressure. If you've ever built a house before, I'd love to hear any tips/advice you may have! We really need all the help we can get.
Let's now remember what the house looked like after sitting vacant all summer…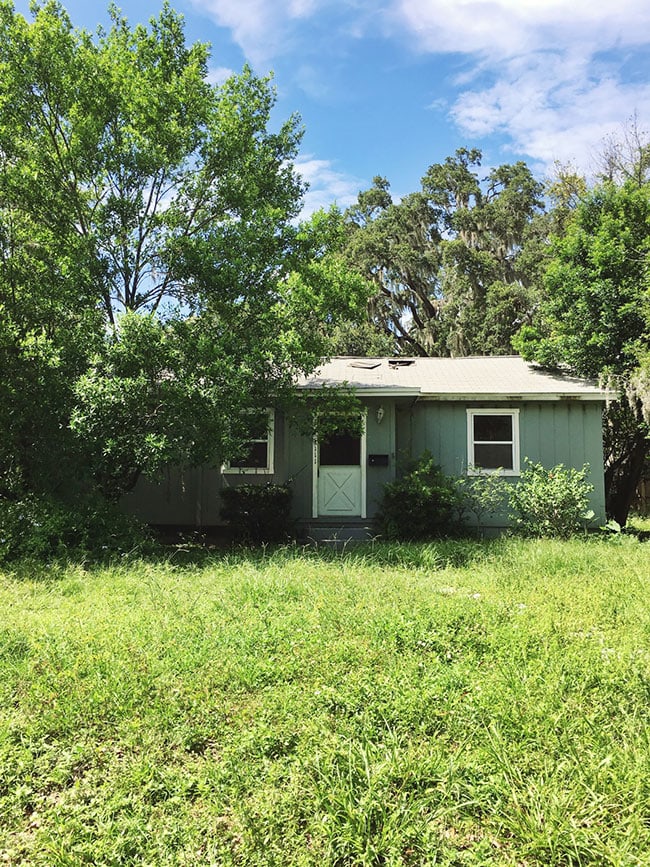 Pin
And then as it was being demolished last month…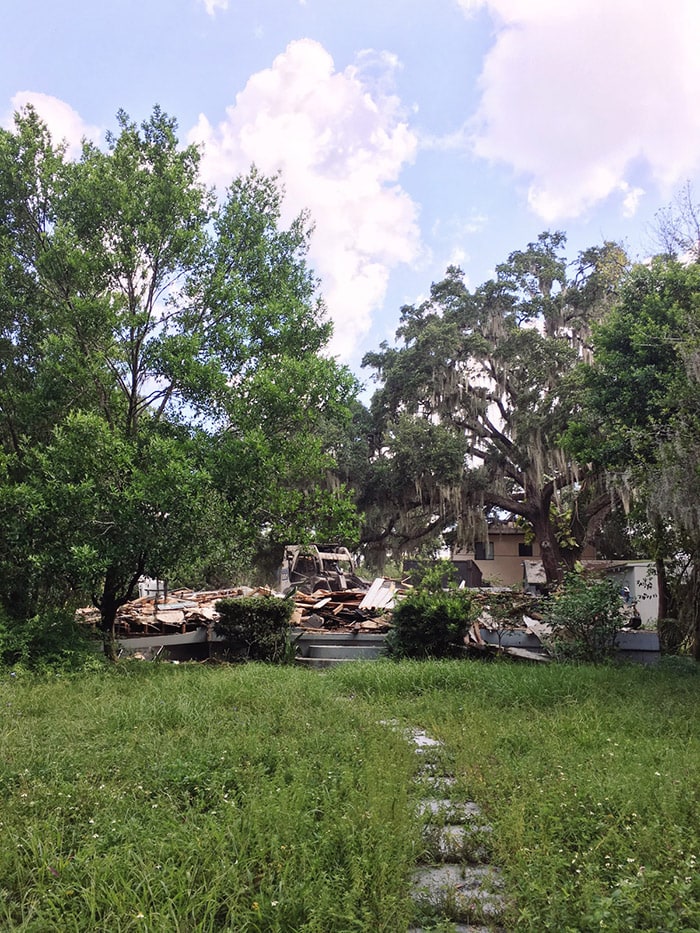 Pin
And last week, right before we broke ground…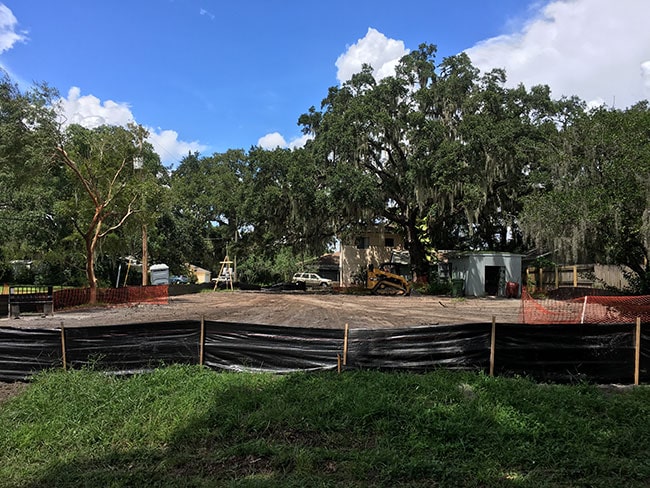 Pin
Here's how it looks today: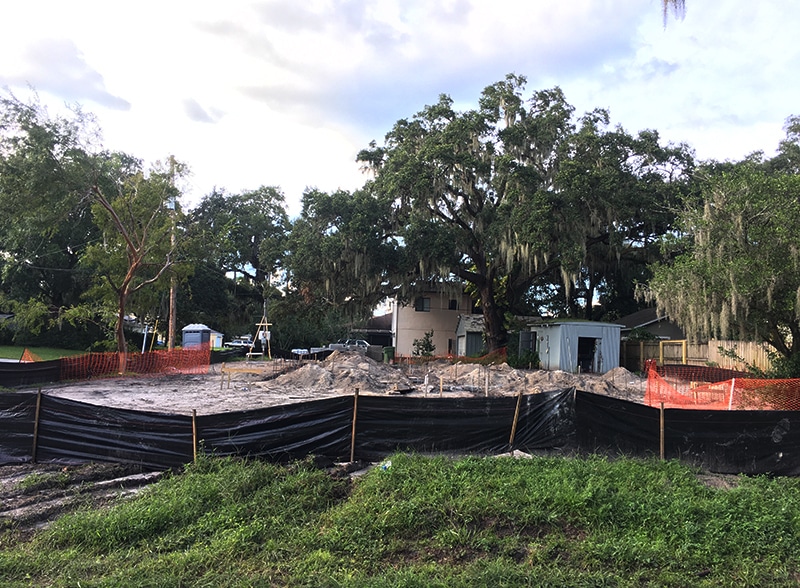 Pin
We can already see the outline of our future home as the concrete footers have been poured: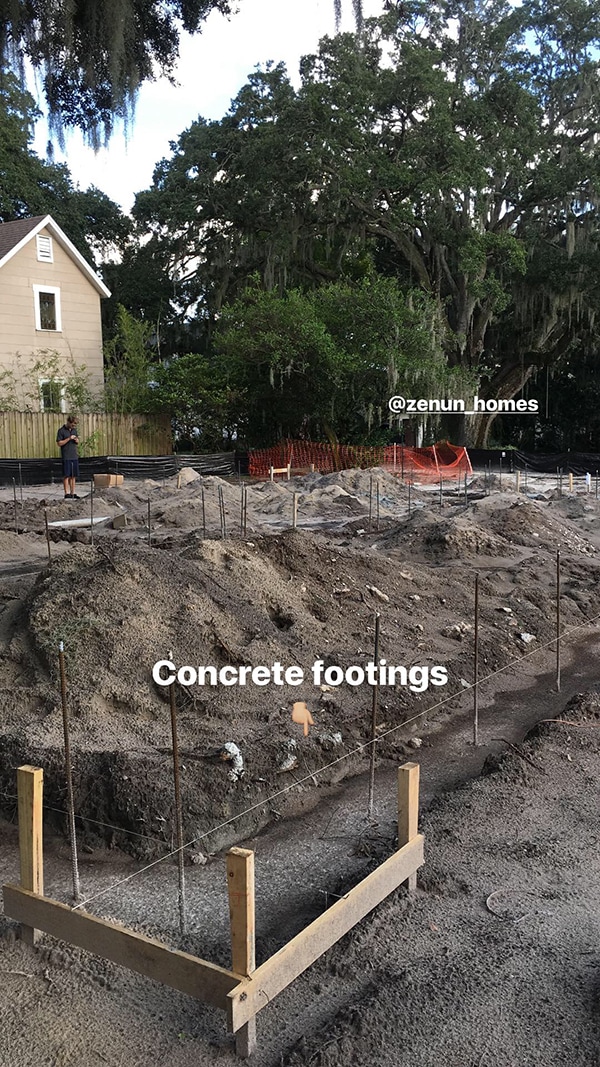 Pin
Let's hope hurricane season is kind to us and we stay on track to finish by April!
I'll be sure to document and share on this blog as much as time allows, including everything we learn that could be helpful to others in the same boat (I've got a big post all about choosing windows, coming up next!) In the meantime you can see what's been inspiring me lately on Pinterest, and stay up to date on Instagram & Facebook. And go follow my builder to watch the construction progress and make sure he stays on top of our timeline 😉