This post is a paid collaboration with Lowe's Home Improvement. All opinions are my own.
Those of you who have been following this story for the past few weeks on Instagram know just how much of a milestone this project has been for us! After over a month of planning, prepping and overseeing the install of our new floors, I've put together a guide for those who are just starting their flooring journey: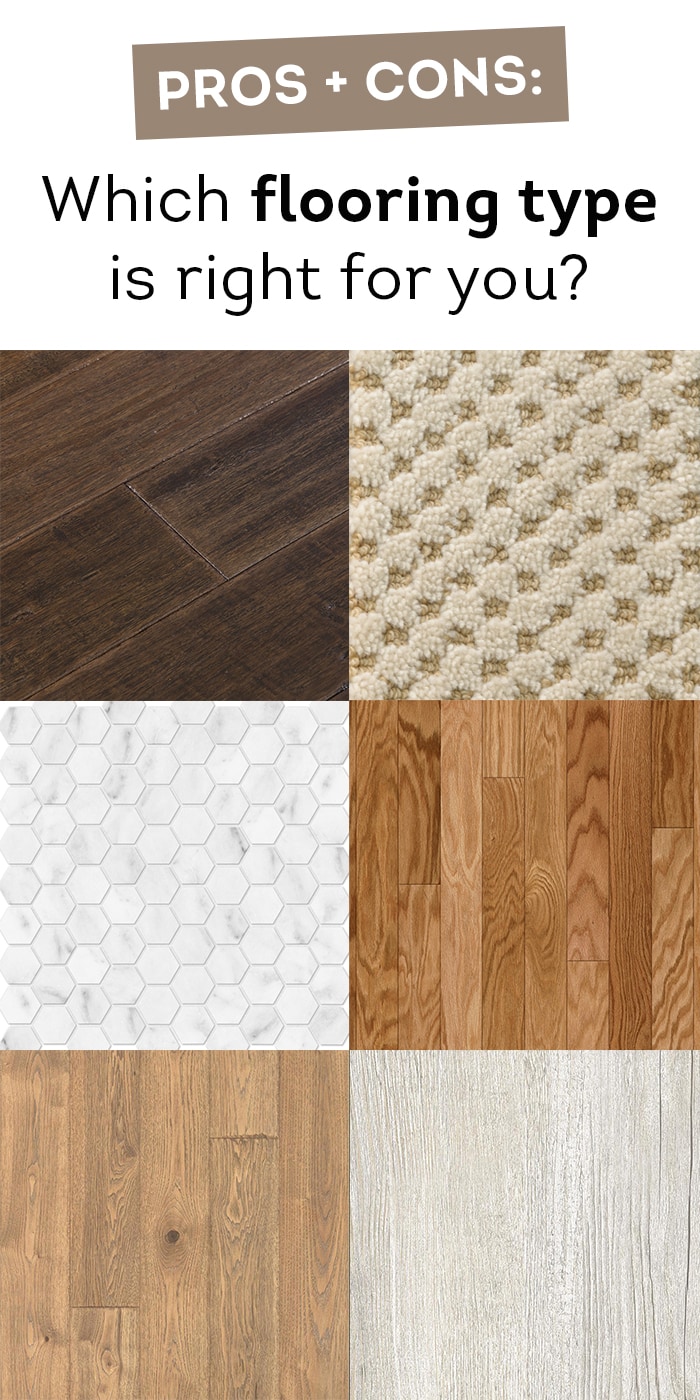 Pin
Choosing flooring is one of the biggest decisions and house projects to tackle, so I've partnered once again with Lowe's to walk you through the entire process, and help you make the right choice for your own home. Come shopping with me as I pick out our new floors!
We moved into our current house (the Riverside Retreat) back in July, and immediately started considering our flooring options. The existing floors were a disaster—each room with a different type of tile, cracked and missing grout, uneven transitions and slippery surfaces (hello lawsuit). It all had to go.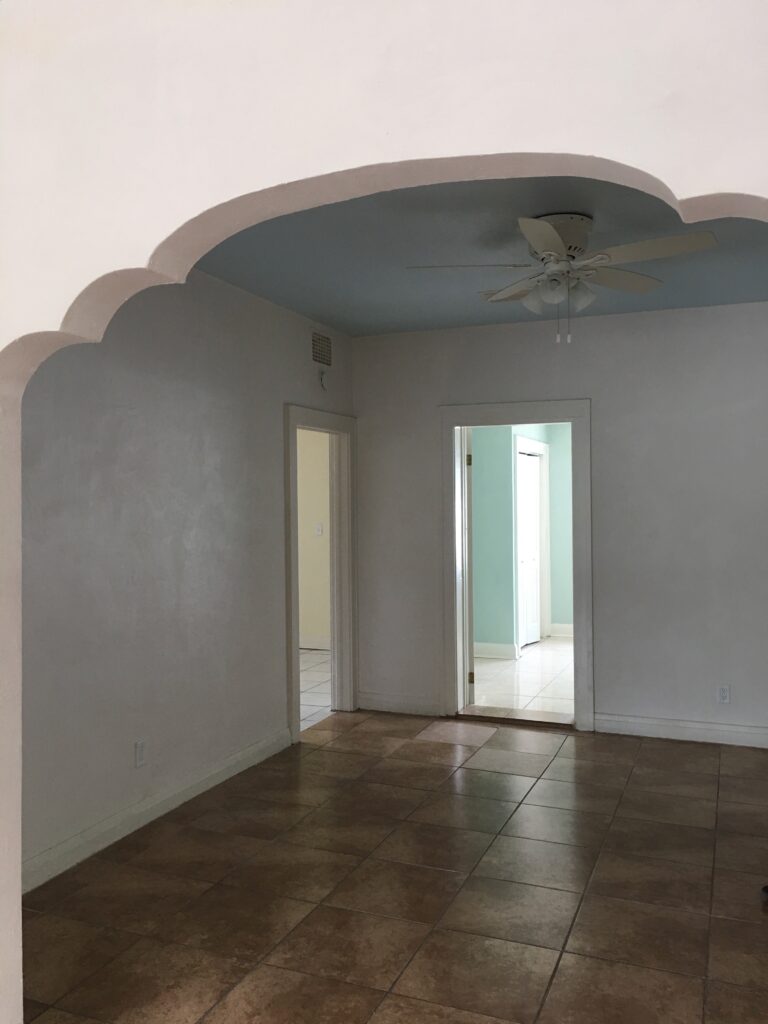 Pin
We plan to live in this house until our new build is ready to move into next year, and will be renovating it to use as a vacation rental once we move out. Replacing the flooring is a big job and it's not ideal to do while you're living in the house, but we didn't have a choice with our timeline so we just wanted to get it out of the way as soon as possible.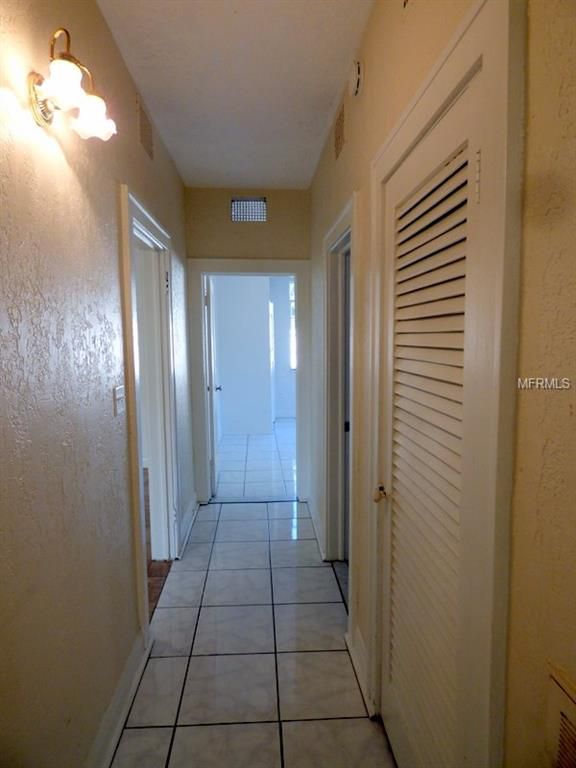 Pin
As real estate investors, our priorities for flooring were very specific: durable, low maintenance, and budget-friendly. And as a designer, it goes without saying that it has to look great too.
There's endless flooring options out there suited for every type of need and preference, so it's no wonder I get this question on repeat: What type of flooring should I choose?
The right answer is as varied as there are options to choose from, so I'm going to break down the different types, including pros and cons along with my personal experience & thoughts on each.
Solid Wood
All things considered, I don't think you can beat the look of real hardwood. It's so classic and inviting, can warm up any space and it'll go with any decorating style. It'll last forever and can be refinished over and over again. In a perfect world with an unlimited budget and no maintenance to worry about, I'd choose hardwood all day.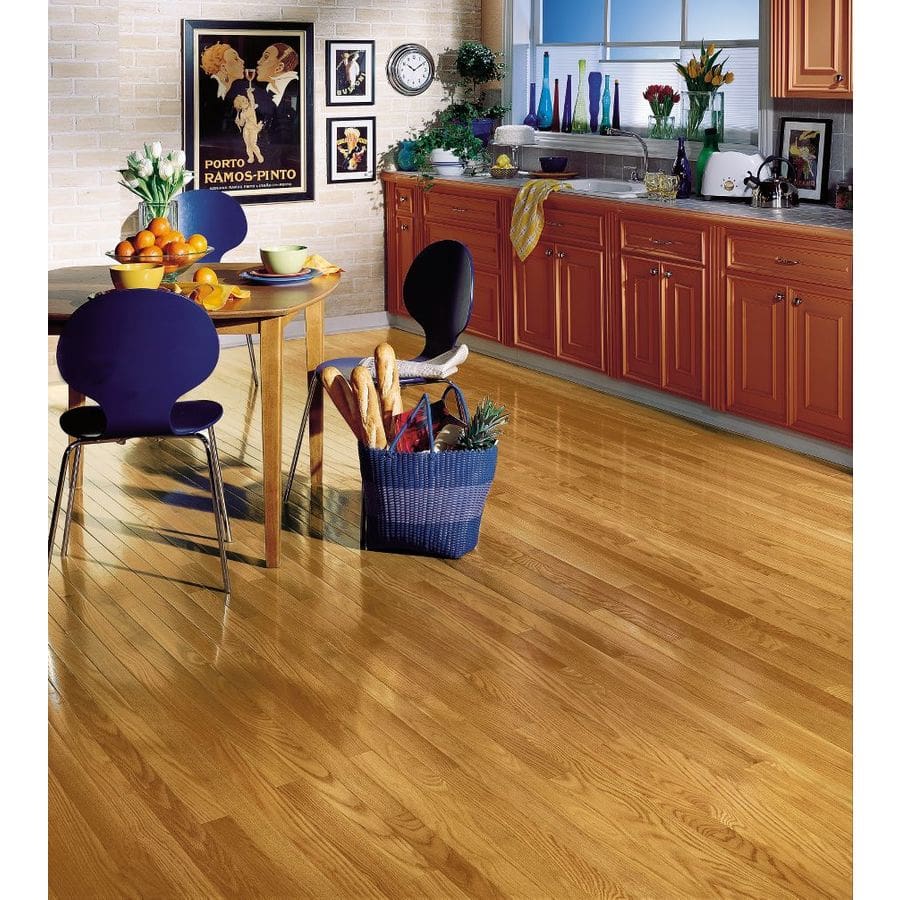 Pin
But in the real world, there are some negatives. First off, it's not ideal for wet areas like kitchens, baths and laundry rooms, and you shouldn't even use them at all here in central Florida. The wood buckles and warps in the humidity, and if you talk to most local homeowners who decided to install them anyway, they regret it within months.
If you live in a cooler/dry climate it can make sense, but you do have to consider the maintenance (wood gets scratched & damaged!) and cost of upkeep. And the price for a good quality solid wood can be steep. If you love the look and feel of real wood, consider the next option…
Engineered Wood
Engineered wood is simply a layer of real wood on top of a composite. It's the best of both worlds! I used this in my first 3 houses and would generally choose it over solid wood.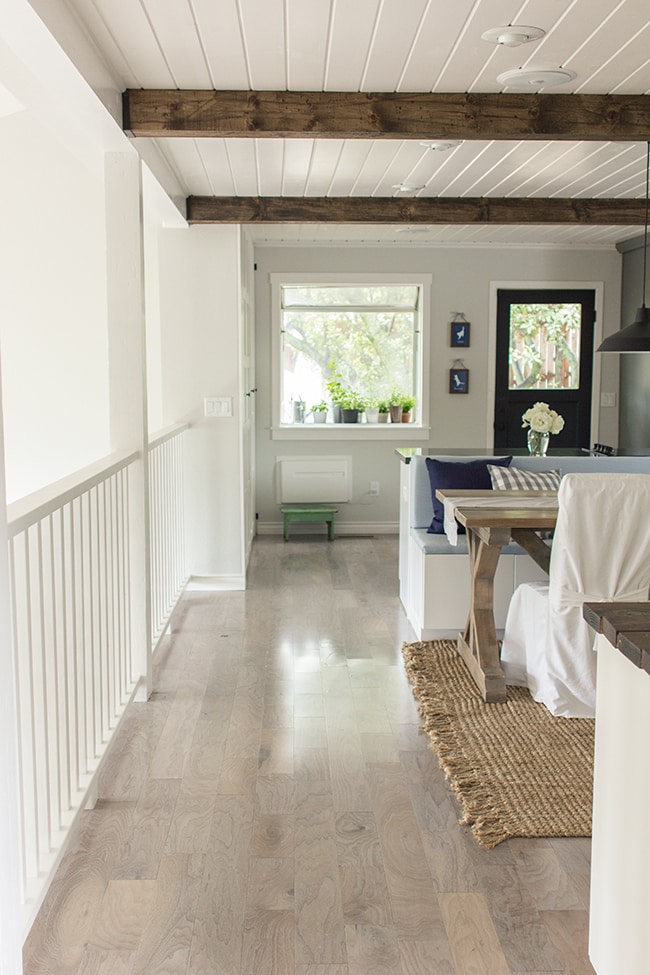 Pin
There's plenty of species, styles and price points to choose from and they can be installed different ways—floating, glue down or nail down. Cost varies but they're generally more affordable than solid wood, and you can find some really nice options in the $5-$8/sf range (or less).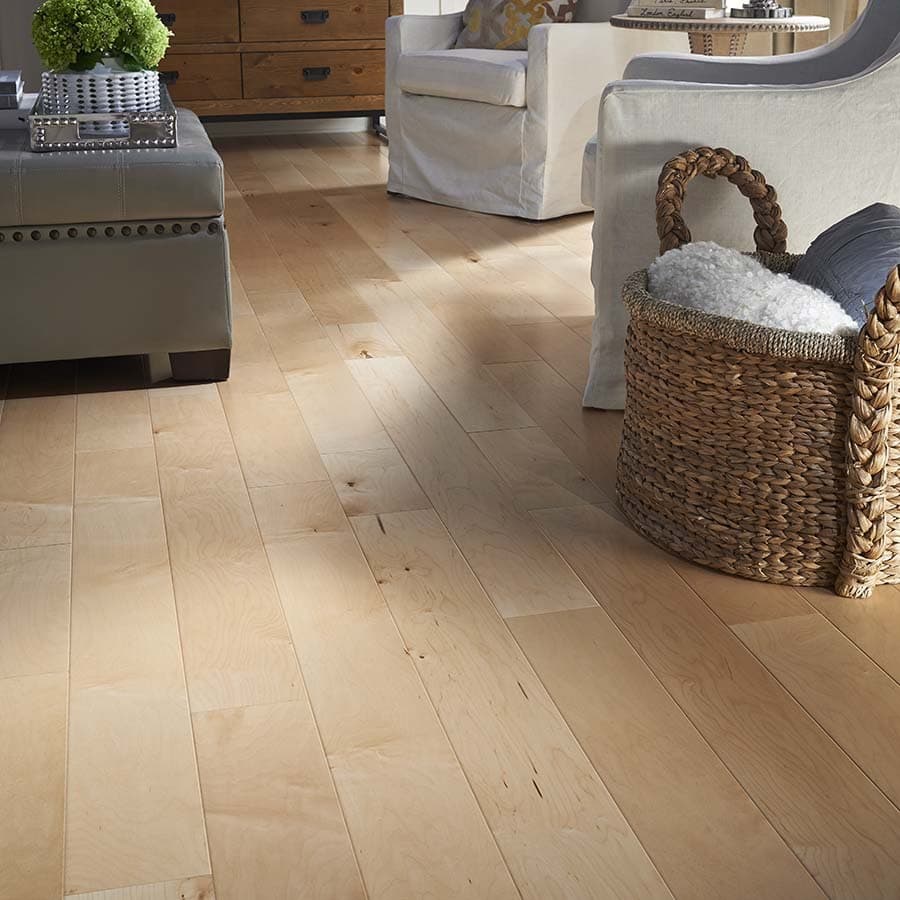 Pin
The average person won't be able to tell that it's not solid wood (nor care, really). Since the top layer is real wood, you can usually refinish it at least once or twice so they'll last a long time. I'll continue to use engineered wood in homes where looks & quality matter most.
Tile
When it comes to design, tile certainly offers the most variety of choices. You'll never run out of new materials, patterns, shapes and sizes to discover and it gives you the most creative freedom. Tile can steal the show and it's the best choice if you want to make your flooring a focal point.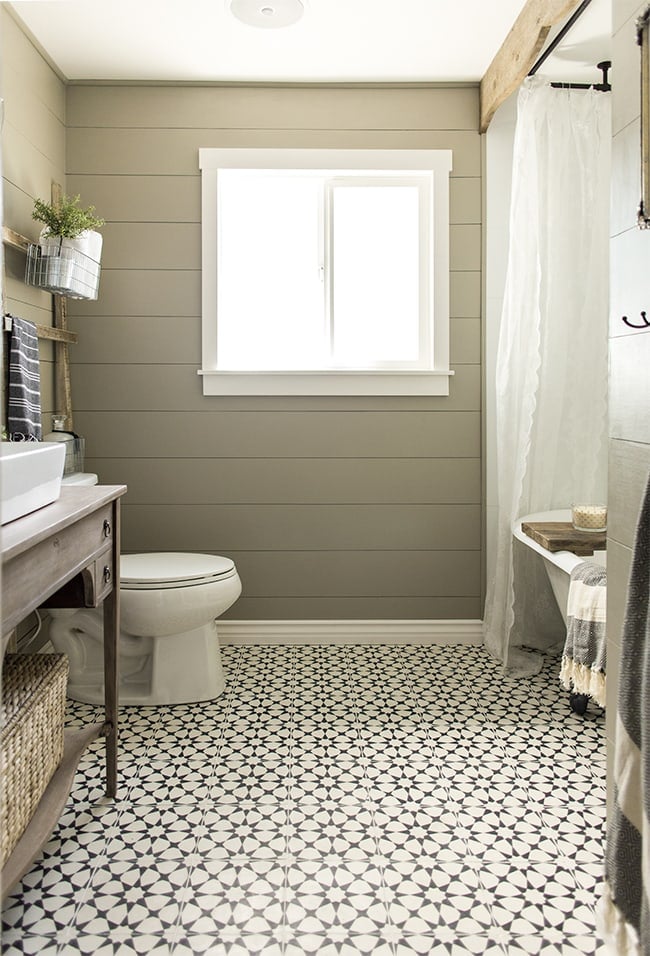 Pin
Here in Florida and in other warm/humid climates, tile flooring throughout the home is very common as it's impervious to water and weather, durable and relatively low maintenance. But there's also some drawbacks.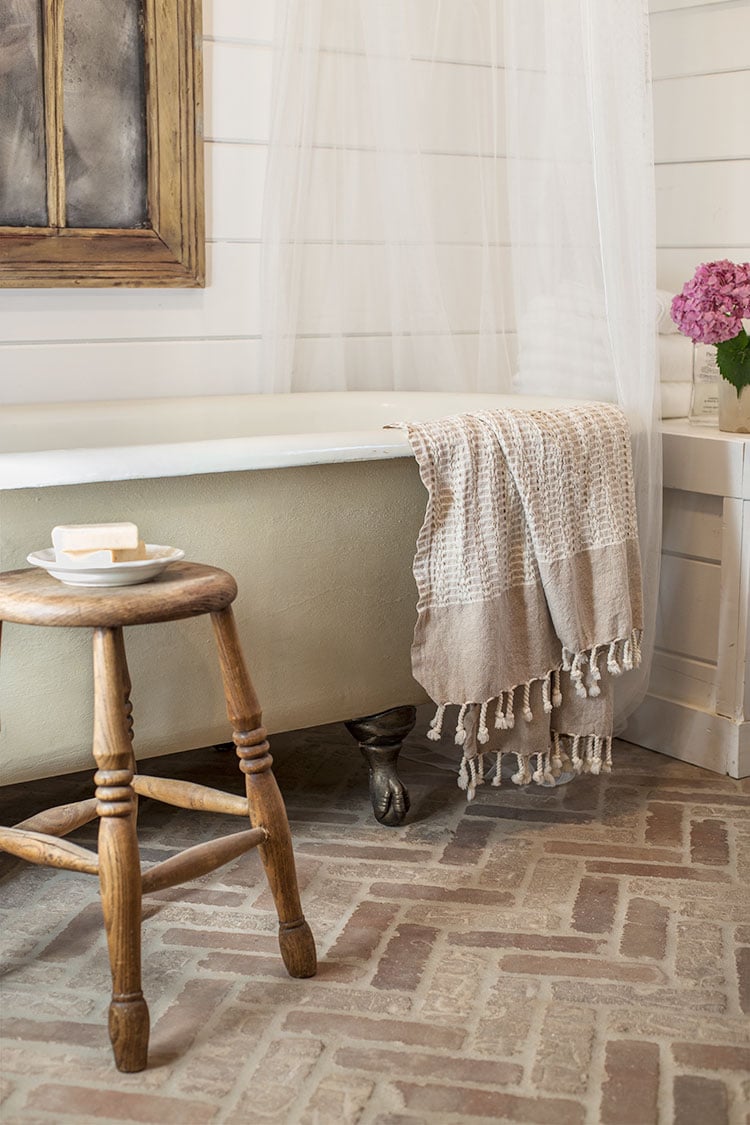 Pin
Installation is more involved than other flooring types after you factor in all the extra materials needed (cement board, thinset, grout, saw & tools) and labor costs add up fast if you hire out—suddenly that affordable tile you found isn't so affordable after all. There are some scenarios where it can look beautiful, warm and classic (like brick pavers and rustic French limestone) but often it will make a room look and feel cold, especially bedrooms & living spaces.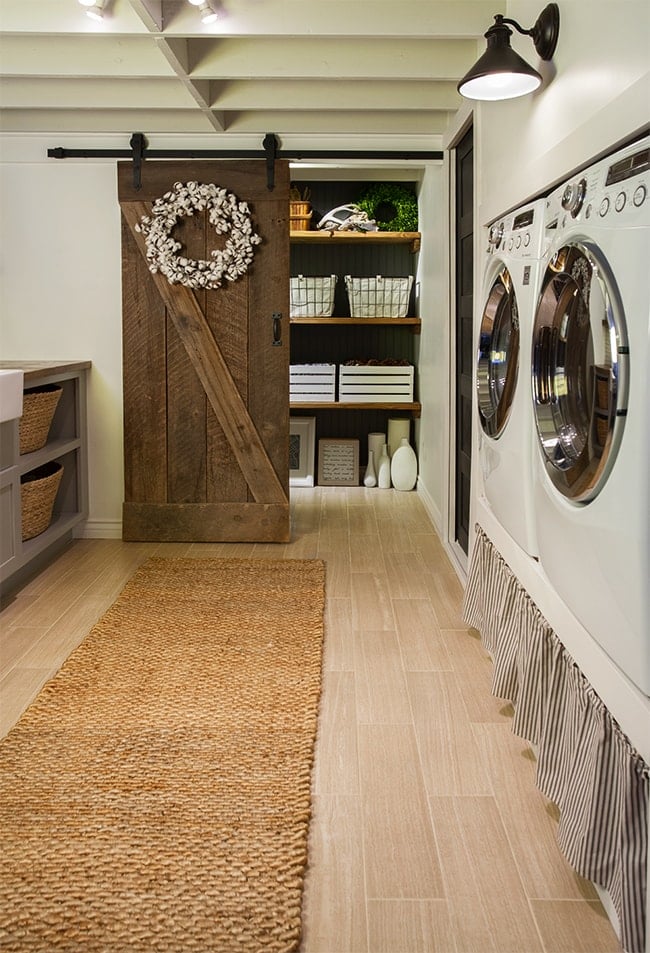 Pin
And removing tile? The worst. Trust me, we just lived through a whole-house tile removal and it was not a fun experience. I'll be second guessing any thoughts to use tile in large areas after this.
With that said, tile will always be my favorite choice for bathrooms, laundry rooms and other utility or indoor/outdoor areas. You just can't beat it as a design feature!
Luxury vinyl tile/planks
LVT or LVP is a buzzword in circles of real estate investors & house flippers these days. These are thin strips of flexible vinyl with a printed photograph layer that glue or stick down. You can find it for as low as $1/sf, and to the untrained eye (or in photographs) it can look like real wood.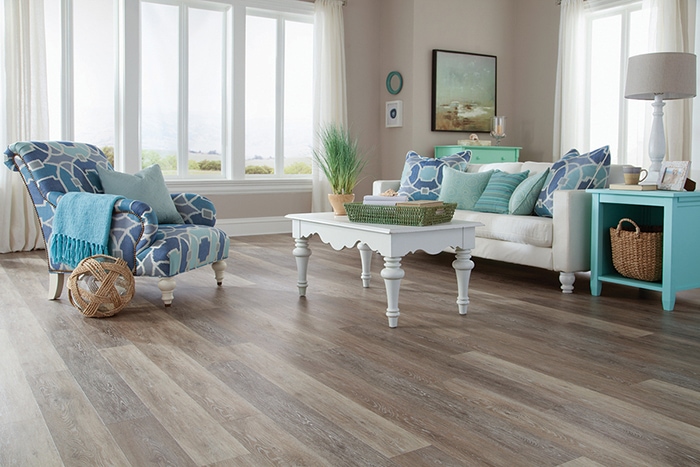 Pin
Peel and stick vinyl has been around a long time, but the recent addition of this new "luxury" variety has changed the game and provided a range of options for those needing a cheap bang for your buck solution. It's a DIY friendly installation, too.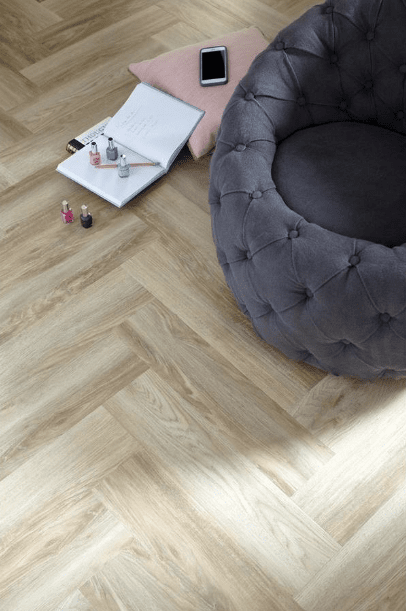 Pin
There's plenty of styles and levels of quality with vinyl and I wouldn't be opposed to using it in the right scenario (like inside a tiny house or trailer), but I'm not sure I'd use it in my own home, considering there are higher end options at a comparable price point. If you're considering this for an investment property, you should always keep in mind the comparable homes in the neighborhood and what's expected for resale.
Carpet
Most of us have lived with and have our own opinions about carpet, but for me, the cons far outweigh the pros.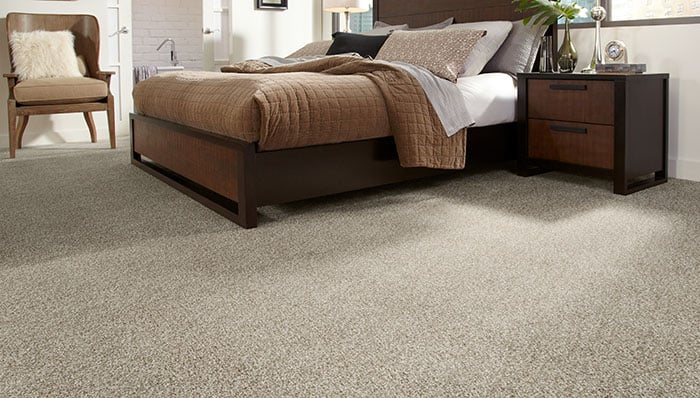 Pin
It's one of the most affordable initial investments—but it's also not a permanent solution. So much maintenance and upkeep and constant worrying about stains and damage. You'll spend a lot more to regularly deep clean and/or replace it every several years than paying slightly more for a permanent floor.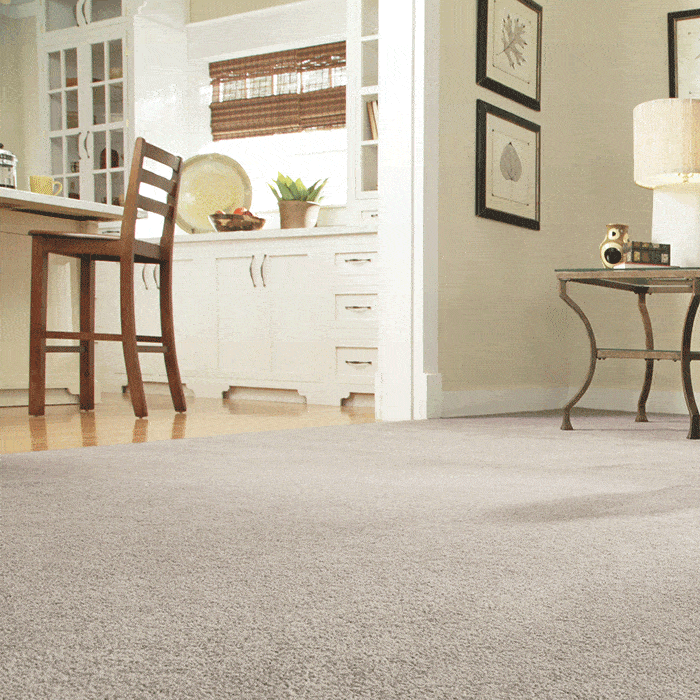 Pin
It's soft and comfortable underfoot… but that's what rugs are for, right? And from a design perspective, I don't think it will ever look good as a solid surface. I just can't get past these drawbacks, so I'm fairly confident in saying that you won't see me installing carpet anytime soon (unless it's a temporary solution that I'm forced into due to budget constraints).
Laminate
Laminate is the happy medium between engineered wood and luxury vinyl. Like engineered wood, the base is made of a composite wood (think MDF), and like vinyl, the top layer is a printed photograph of wood under a protective layer of plastic.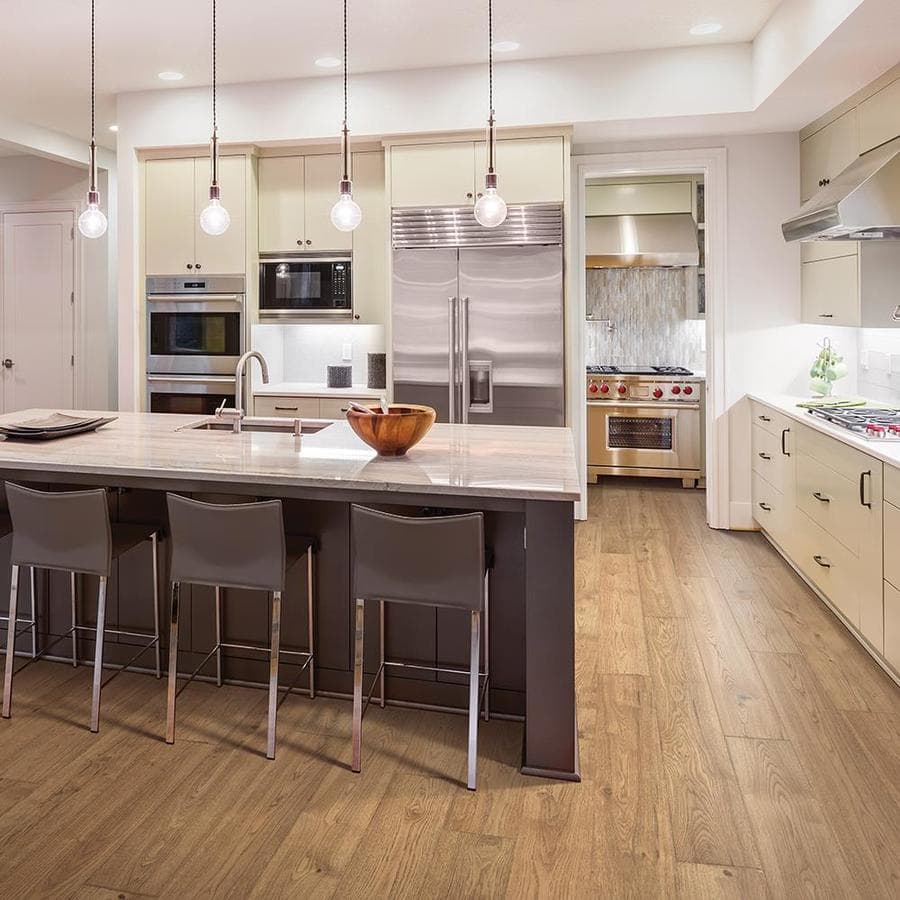 Pin
Not all laminate is created equal, but there are a handful of higher end options that give engineered wood a run for its' money, like the Pergo TimberCraft line. Looking at these next to the displays of engineered wood in the store, I was much more drawn to the look of the laminate.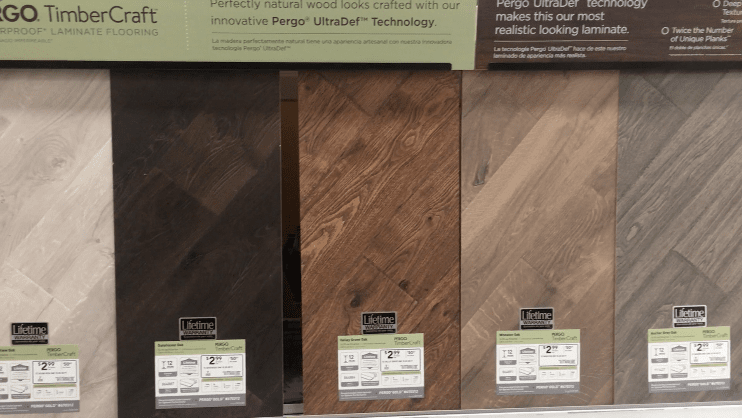 Pin
There were more color options, it had a nicer texture (matte finish with an embossed grain) and I love that it's a wide plank (those tend to be pricey with real wood). But there are major benefits beyond just looks—price point, for one, at just $2.99/sf. Durability and maintenance are probably the biggest differentiator. I can't speak for other types of laminate, but the Pergo Timbercraft line is waterproof, scratch resistant and pretty much indestructible. I used them in the Cottage Flip and was so pleased with the results (this color was discontinued, but they have a wider selection now):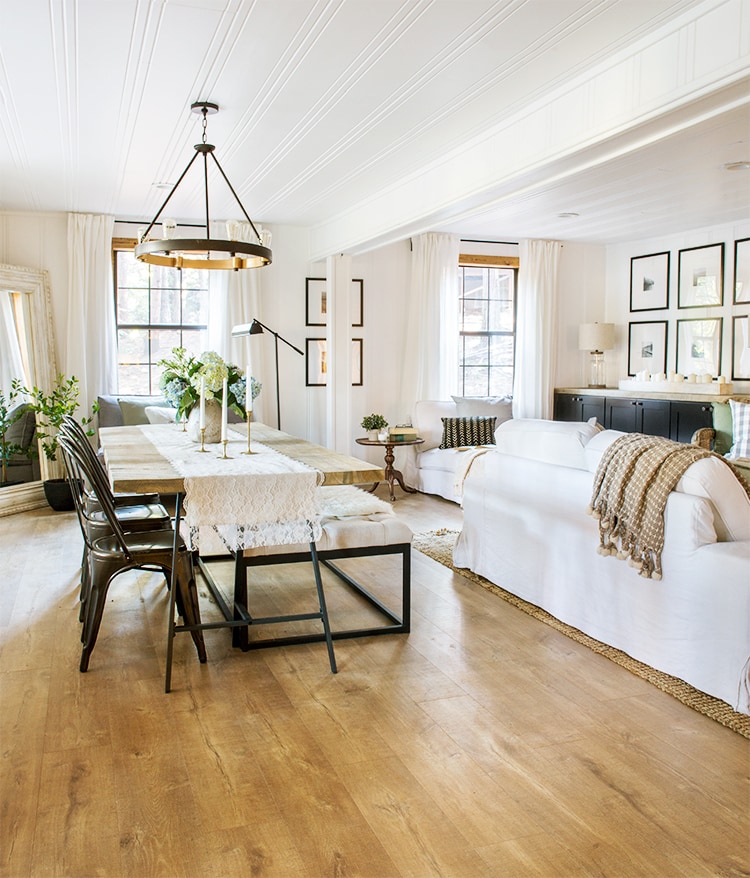 Pin
The Pergo laminate was also the only flooring type that met all four of my requirements: durable, low maintenance, budget-friendly and beautiful, so it was a pretty clear winner for this house. It'll withstand the heavy foot traffic of a vacation rental, and we won't have to stress about any potential issues later thanks to Pergo's limited lifetime warranty.
Pin
Note that with a decision as major and permanent as this, I'd always recommend seeing samples of the flooring in person, as you can't accurately assess the product based on photos alone. It rarely looks exactly the same in your space as it does in other houses online!
Lowe's carries small samples of wood you can buy in the store, and I also ordered a larger sample of the Brier Creek Oak from Pergo's website to try out at home. At the time we were deciding on a paint color for the trim, so seeing them side by side helped solidify my choice: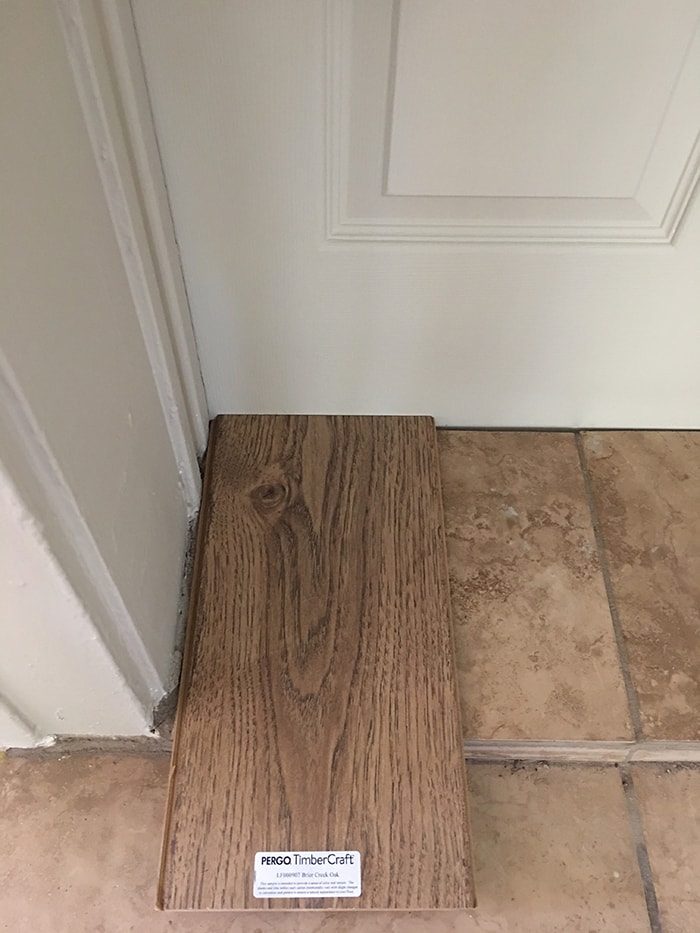 Pin
Pro tip: you should always take your flooring into account when choosing a paint color! The undertones matter and you want something that complements each other (please think twice about using gray floors with gray walls, it's so hard to get right).
Once we felt confident about our choices, we talked to a Lowe's associate in the flooring department and he got us on the schedule right away. A few days later, someone dropped by to take measurements of the house and they determined the amount of flooring, underlayment, baseboard and transition pieces needed.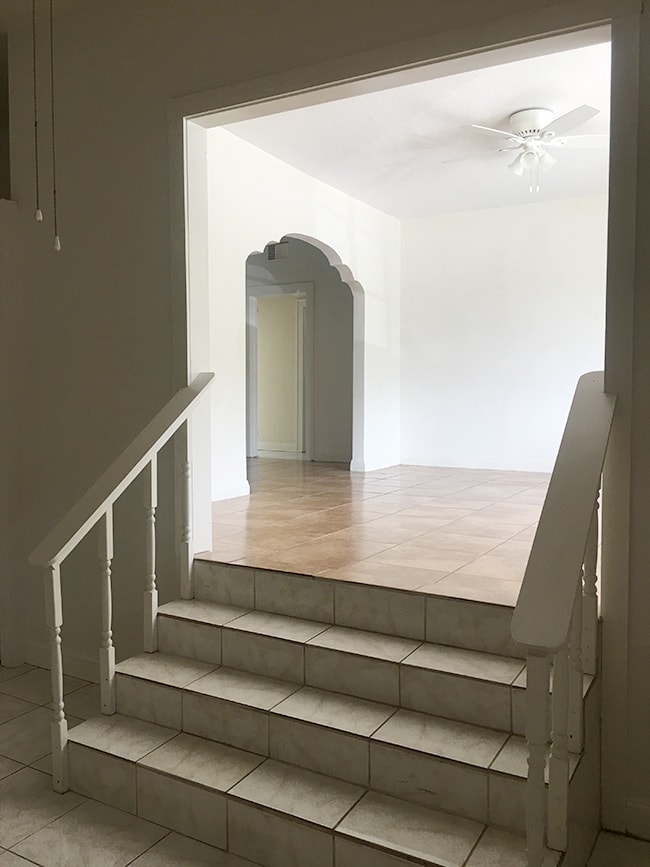 Pin
A week later, our floors were delivered and we received a call from the installers to schedule demolition of our old tile (Lowe's handles that part too, whew!) If you ever plan to move out of your house one day, please think of the poor future buyers before you cover every inch in cheap tile.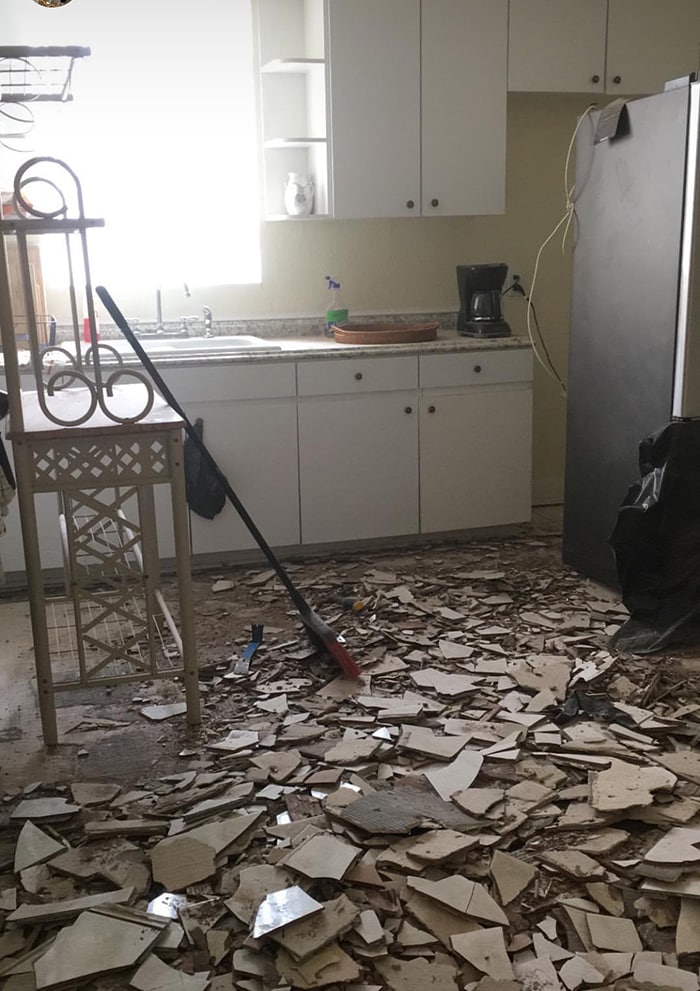 Pin
I wish I could say that once the tile was gone it was all smooth sailing, but sadly, it was just the start of The Great Dustpression of 2018. If you followed my Instagram stories through those dark times, you may remember the horrors.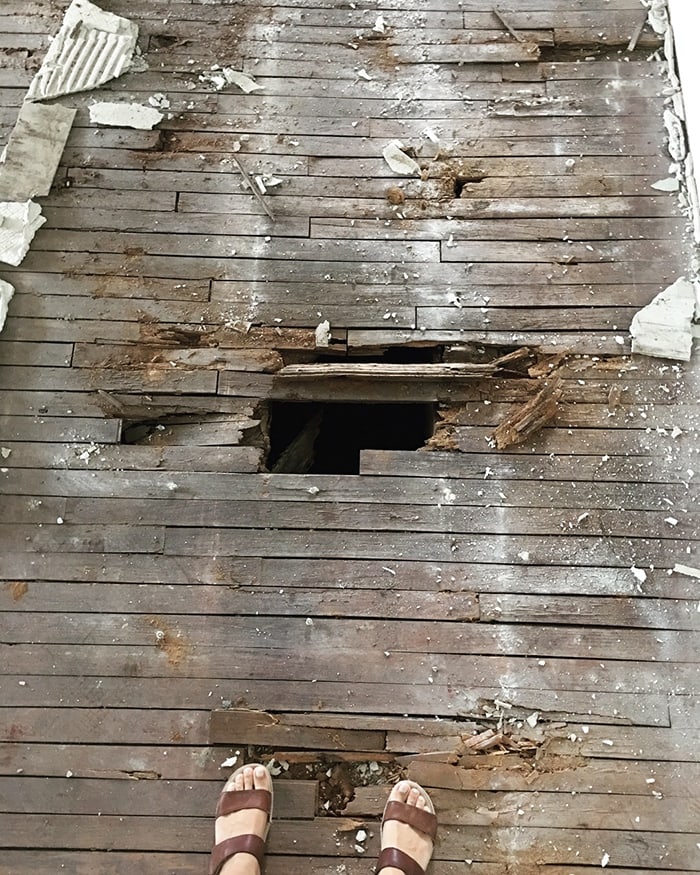 Pin
It took us over two weeks of living like this to finally repair the joists & subfloors so our Lowe's crew could come back and do the install, but that just made install day feel like Christmas morning…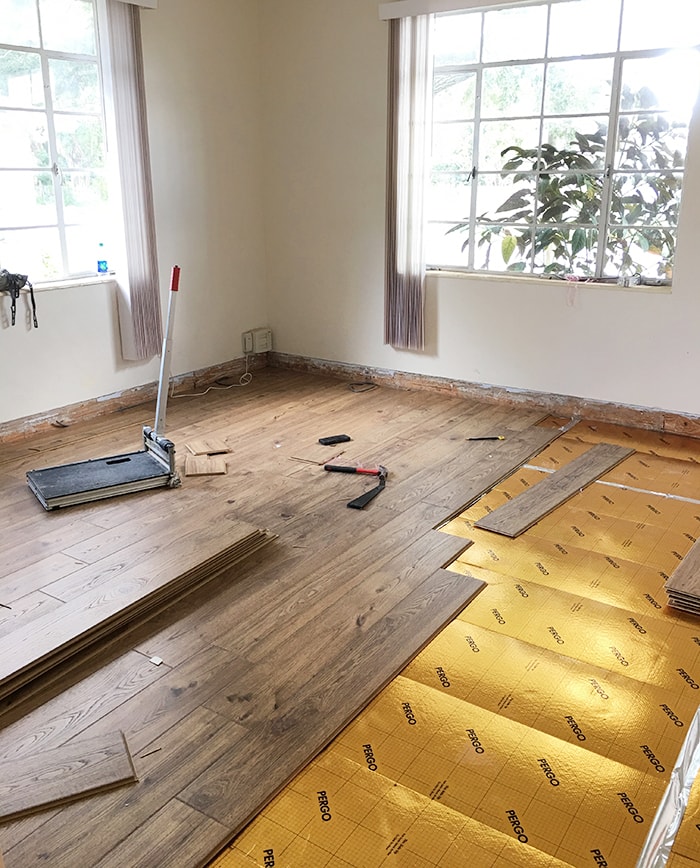 Pin
I was overjoyed, practically in tears watching each board go in. They did have to add leveler in some areas, which is expected with an old house that settles over time.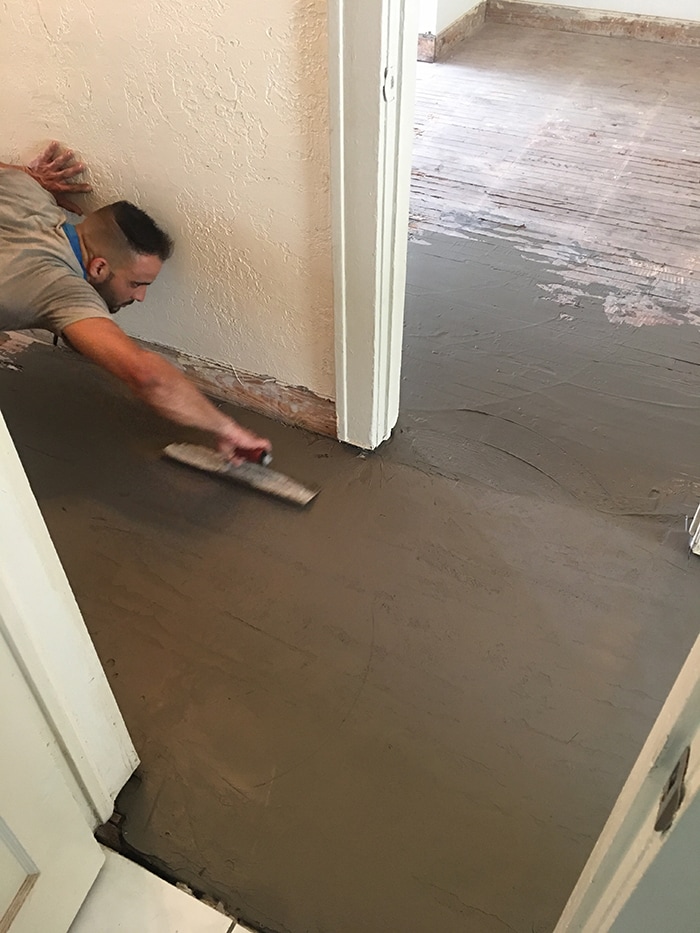 Pin
The floors are floating, which means they simply lock into place, no glue or nails required. The planks were laid on top of the Pergo gold underlayment, which acts as a moisture and sound/thermal barrier (you can use this underlayment with other types of laminate, too).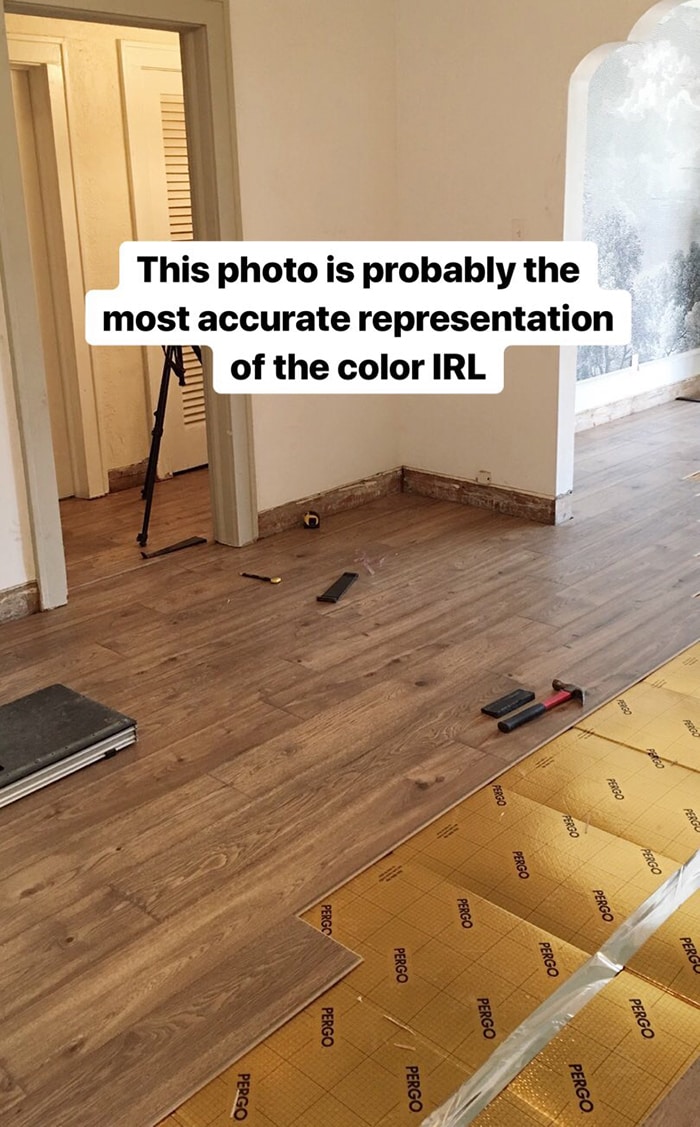 Pin
Even with the extra prep work, the crew worked fast and they were able to finish 2/3rd of the house in one day! Hallelujah.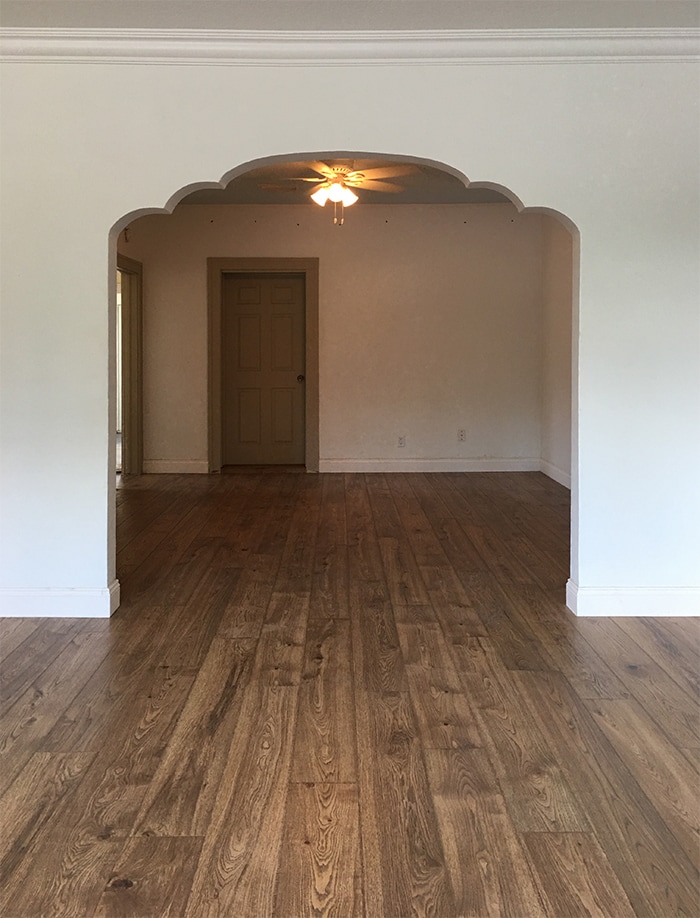 Pin
We decided to take advantage of the waterproof nature of the floors and continue them into the kitchen. Since this house doesn't have an open layout and we aren't changing any walls, we wanted to make the rooms flow together as much as possible.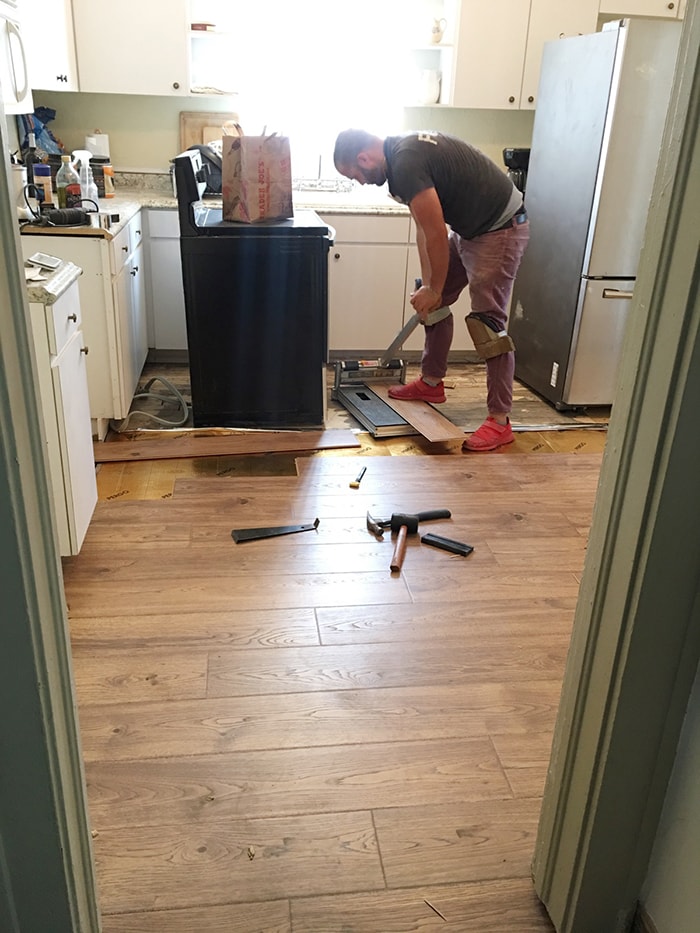 Pin
The kitchen needs a complete remodel, but these floors are a great start!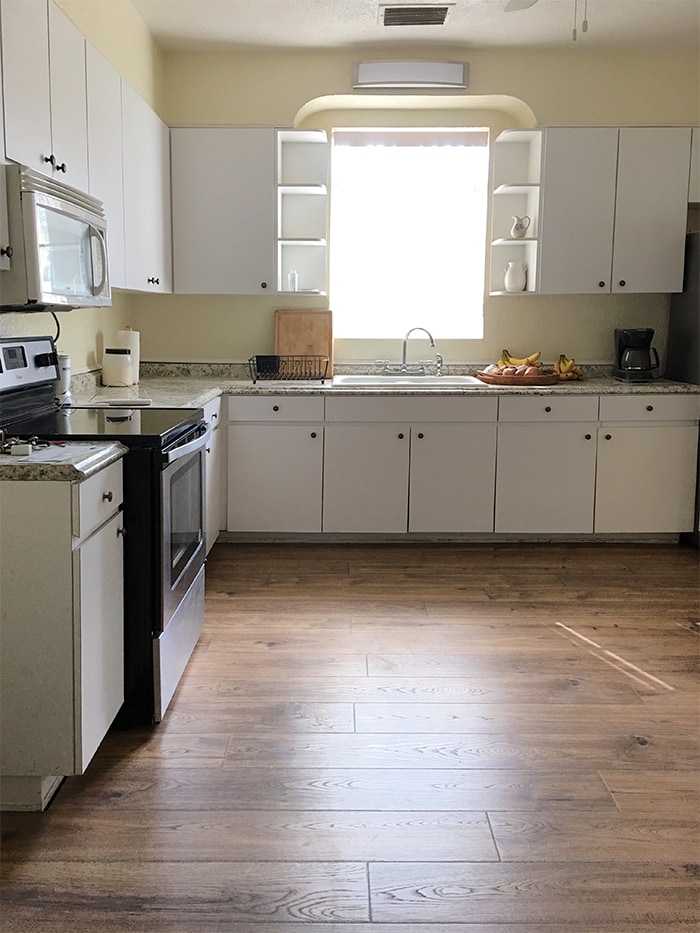 Pin
As mentioned earlier, it's tough to get an accurate assessment of flooring online since photos can vary so much between different lighting, cameras and monitors, but this shot is probably the best representation of how they appear in real life (under incandescent lighting):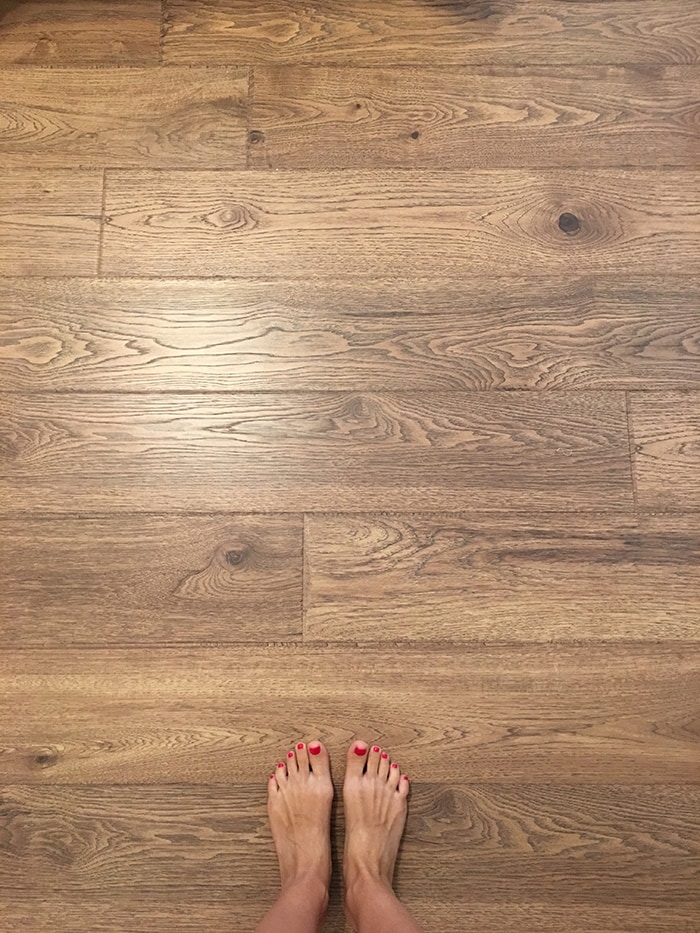 Pin
Here's a closer look showing the wood grain texture (you can feel it too). I love that the edges of the wood are beveled to define each plank so they don't all blend together (which, according to Pergo, also helps make it waterproof):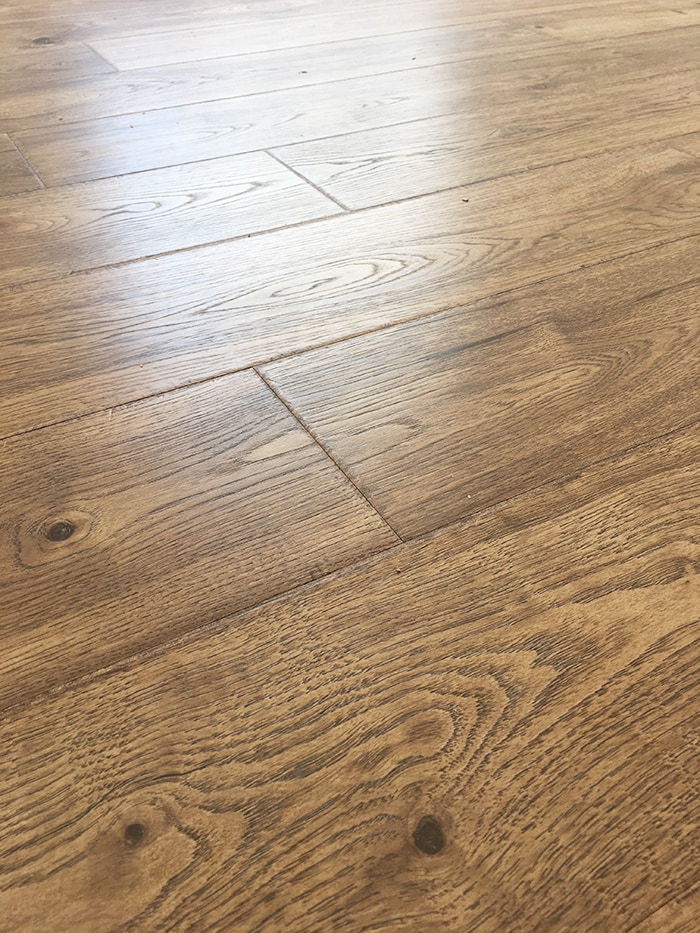 Pin
I almost went with the Wheaton Oak, but I'm glad I opted for the Brier Creek Oak instead. I love the warmer natural tone and minimal color variation. It feels very earthy, which is just the look we want for the tropical-jungle-chic vibe we're going for.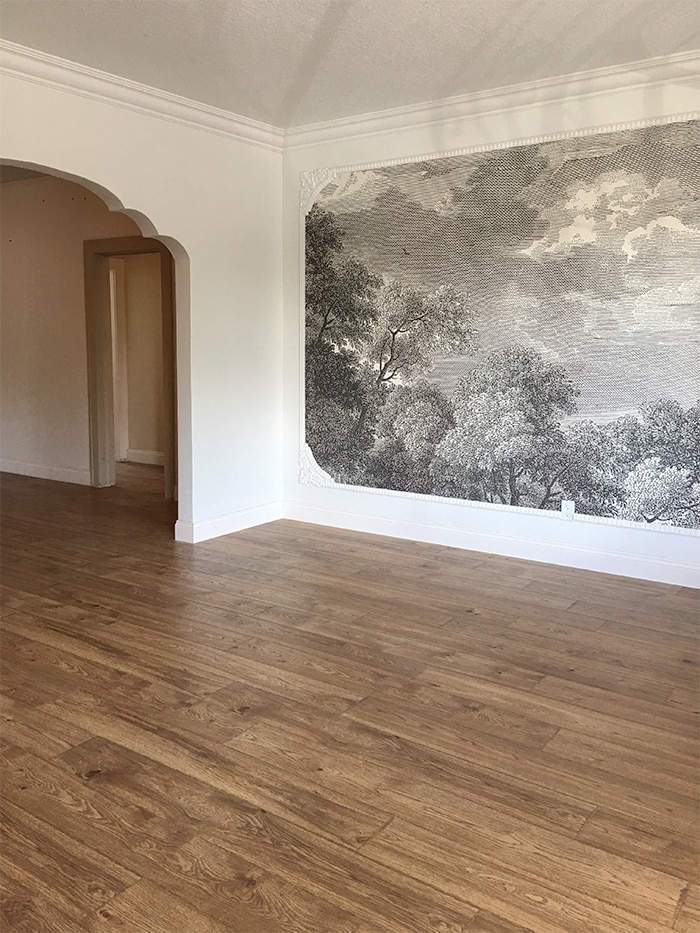 Pin
The floors were installed in only two days, and the baseboard install took another day. We still have to paint the new baseboards (in HGTV Home by Sherwin Williams 'Loggia') but it already feels like we're living in a different house!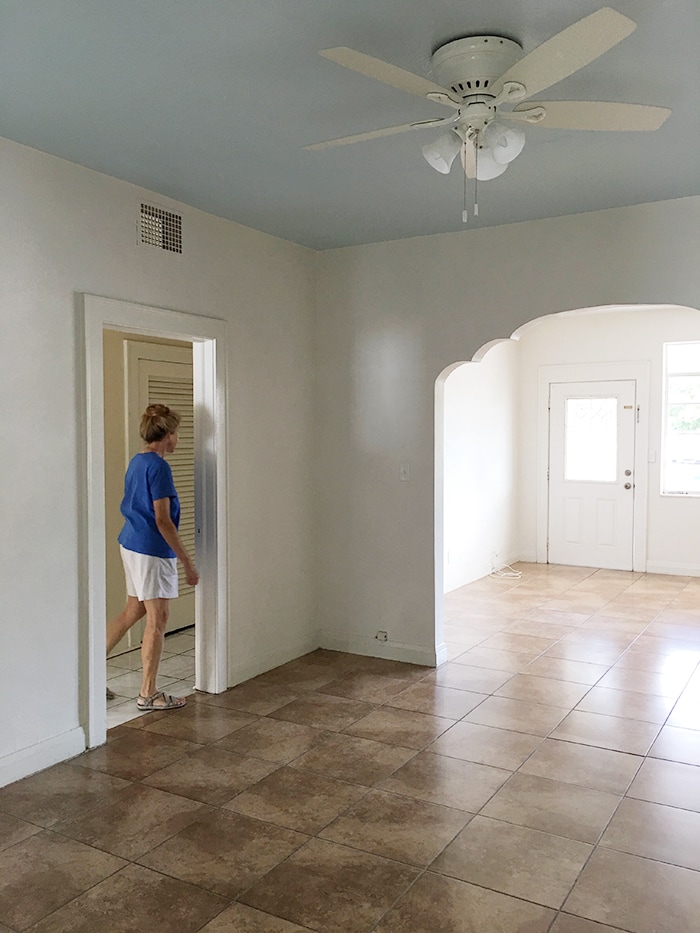 Pin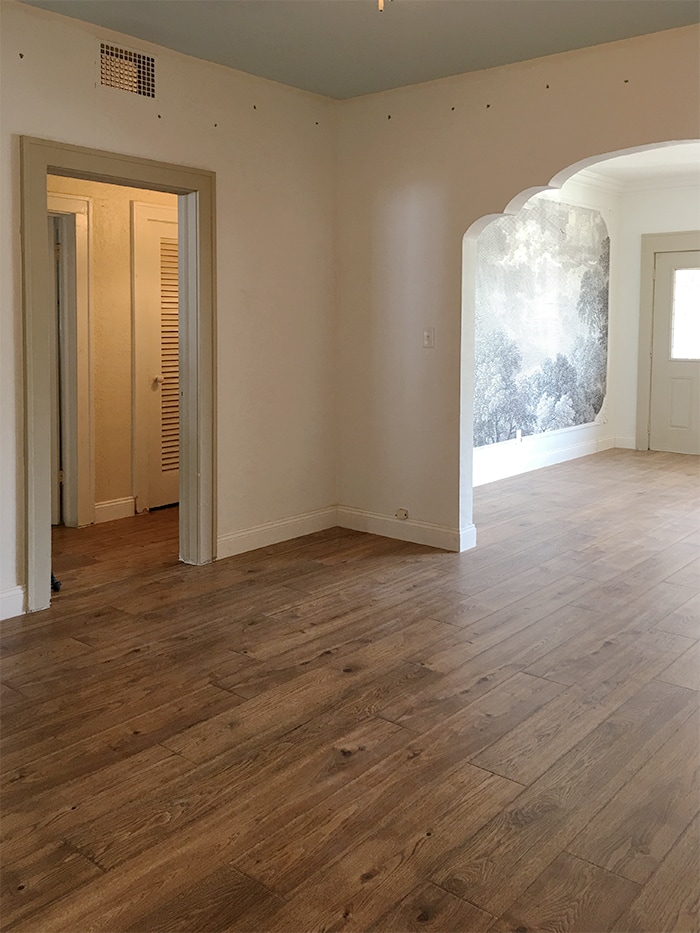 Pin
Lowe's has been great to work with throughout this process (and patient with us through all the unexpected subfloor issues) so we couldn't recommend using their install services enough. With big projects like these, it's always nice to let someone else handle all the ordering/coordinating and get it done as quickly as possible so you can return to normal life. Even if our normal life looks like this right now…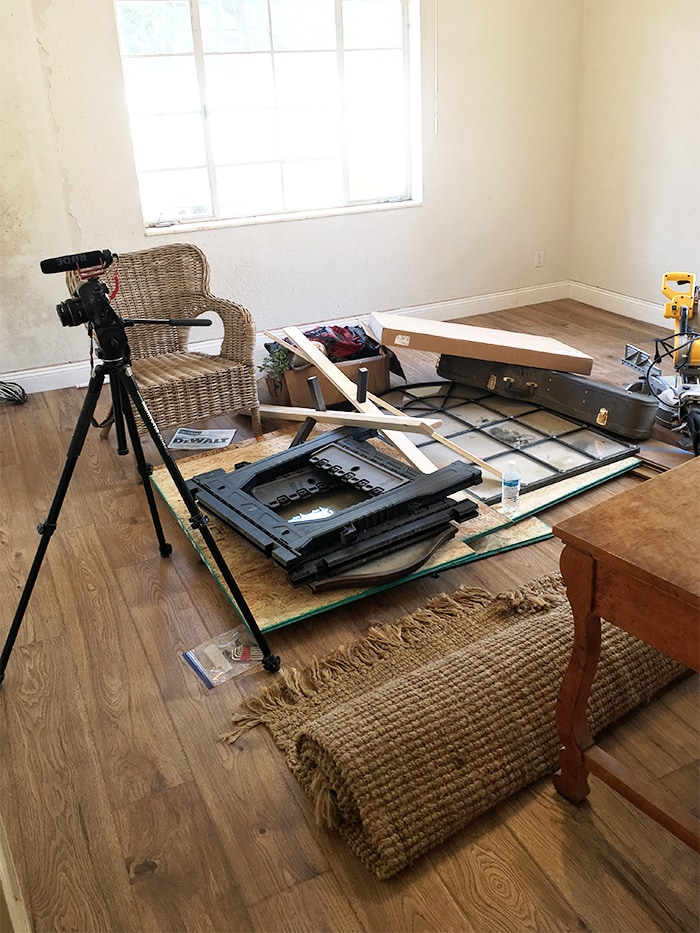 Pin
The house feels so much more warm and inviting, and I can't wait to start layering in furniture and accessories next (spoiler alert: we just got a new sofa & dining table!) and show you all the other projects we have in store. Think we can finish this whole house before our new house is built? 😉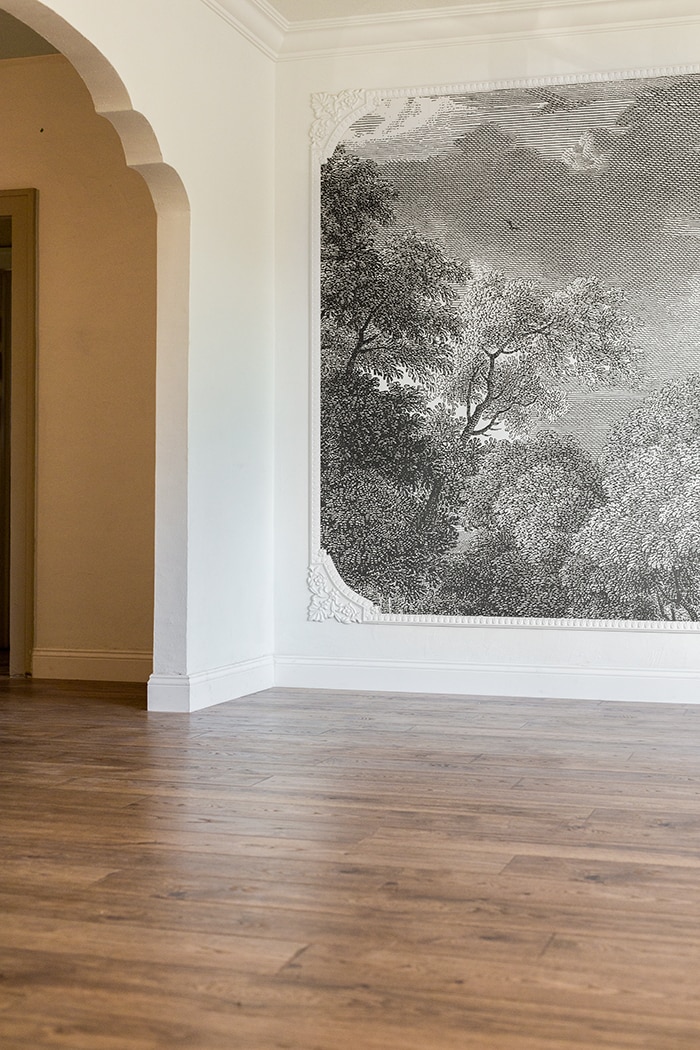 Pin
Thanks again to Lowe's for sponsoring this project and the install crew for staying on top of our deadline—I'd say it was a major MISSION ACCOMPLISHED ?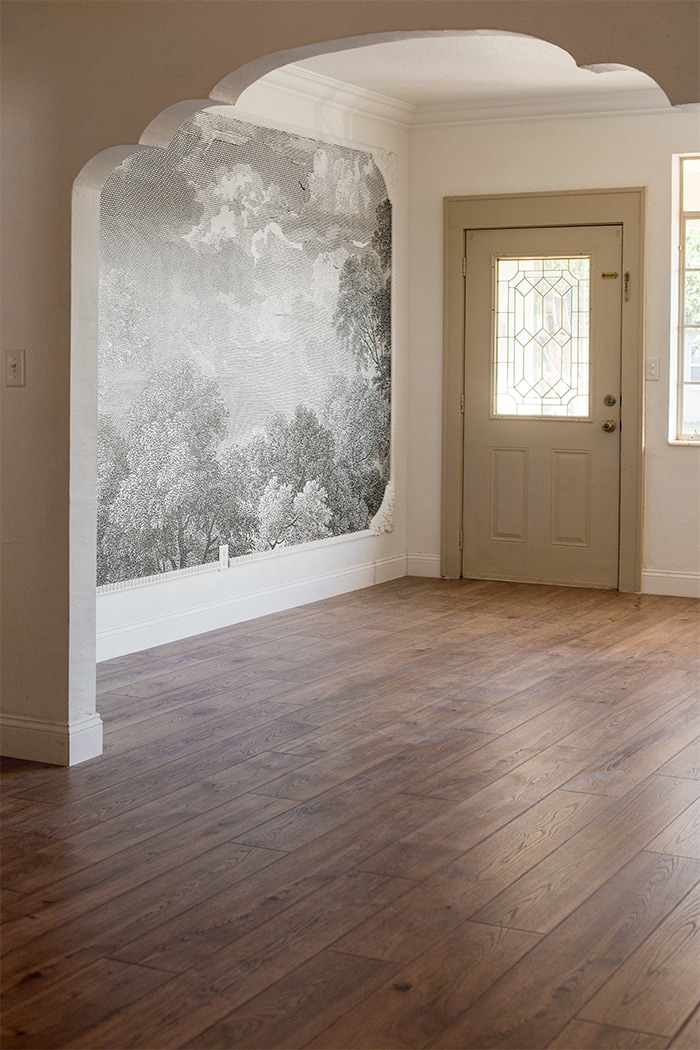 Pin
With one week to go before our wedding, having these floors finished is such a weight lifted off our shoulders. But in the midst of the flooring install we've been working hard on the laundry room (and preparing for several other projects) so I should have some updates to share soon! I'll try my best to squeeze one more post in before the wedding, but in the meantime you can follow all the latest happenings over on Instagram and Facebook.
Happy (almost) fall y'all,