Stopping in for a quick (yet important) weekly update: We've chosen the paint colors & new flooring for the Riverside Retreat!
Whenever I begin a project, paint and flooring always come first. These are the foundation of every design—the rooms' canvas, if you will. They're decisions that have to be made before you can choose décor and accessories—and they're perhaps the most important, which is why I'm thrilled to be past this hurdle so we can move full steam ahead!
As explained in the Before Tour, I knew right away that I wanted white walls and some shade of beige/taupe/mushroom for the trim and doors. After extensive research online, I narrowed my trim color samples down to the following (all Sherwin Williams);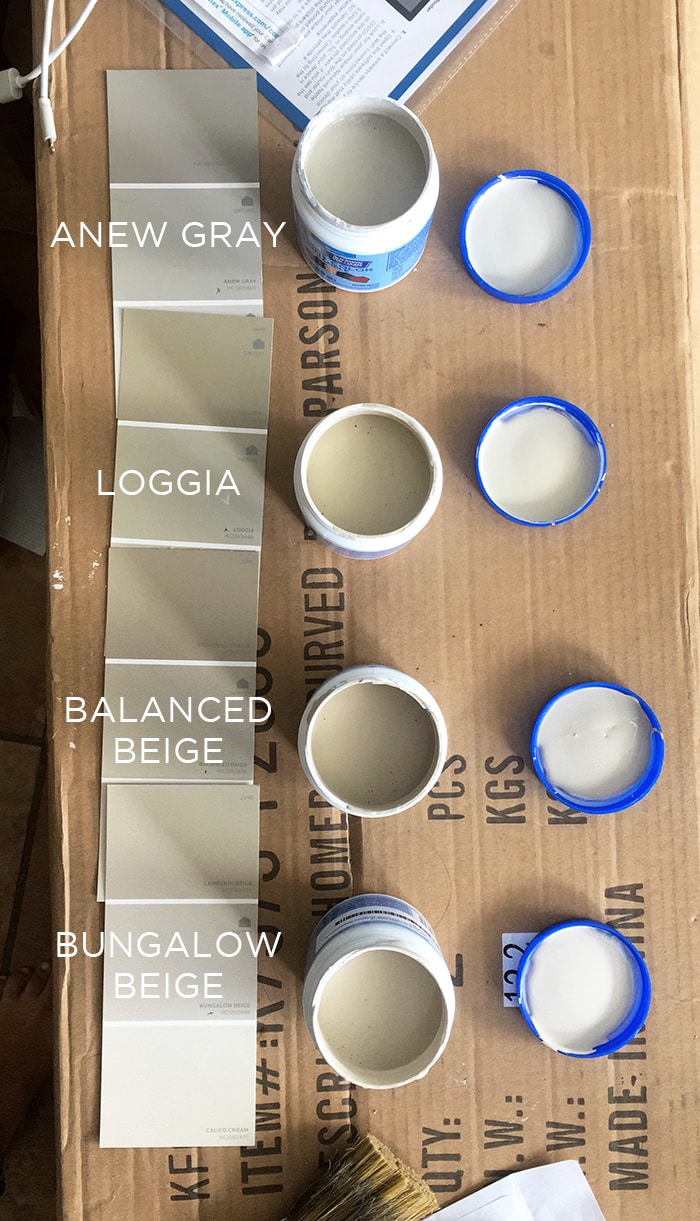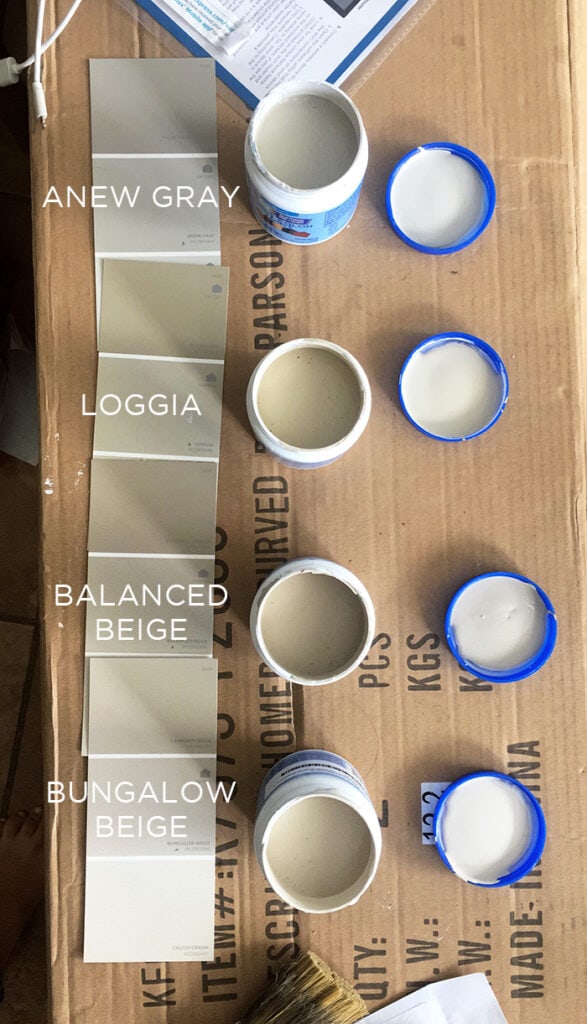 Pin
And here they are, same order, in different lighting situations: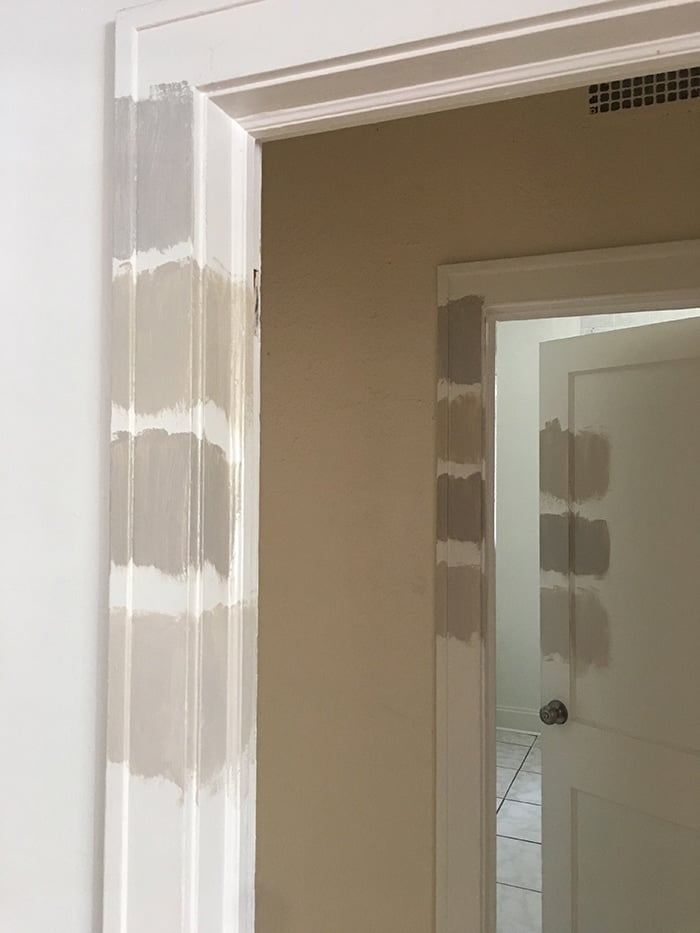 Pin
All so different, right? Promise me you'll NEVER buy any paint without testing samples first. It has taken me years to finally convince myself of how necessary this step is, and if these photos don't prove it, I'm not sure what will!
All of a sudden the clouds came out, and look how gray everything looks: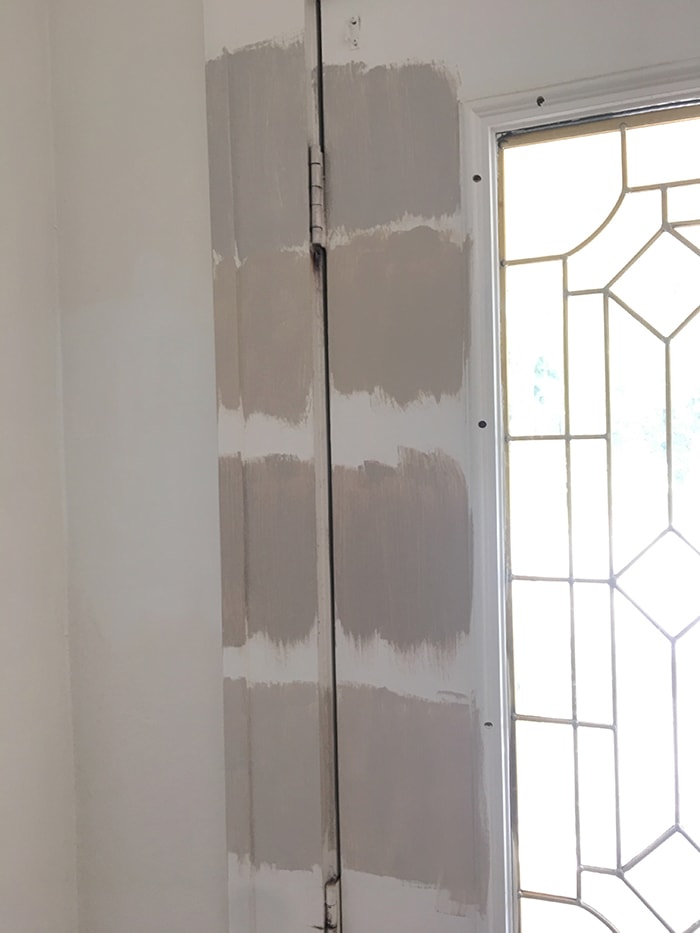 Pin
You've got to think of every paint color as a range of shades. There is no single 'perfect color'—the swatch that you love on one wall in a room will look completely different just a few feet away in a shadow, or five hours later when the sun is at a different angle, or when a lamp is turned on. That's why you need to get samples up on every wall and study them over the course of a day, with every possible combination of light. And from there, pick the one that works more often than the others. It's a compromise.
With that said, I went back and forth on Loggia and Bungalow Beige for a while, until deciding with certainty that Loggia was the winner.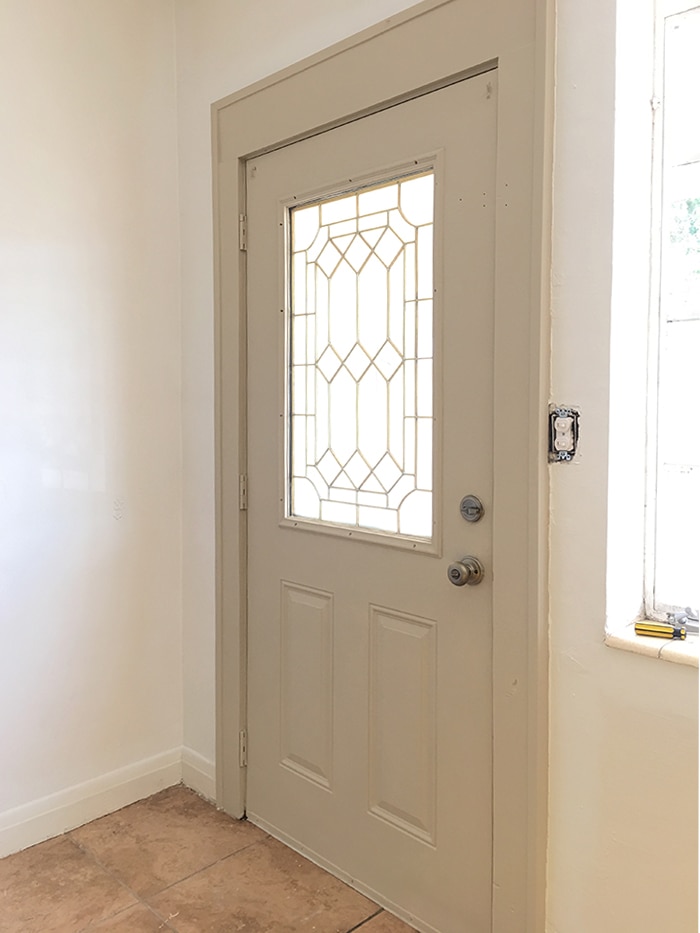 Pin
This was shot in the morning, at about the 'beigest' it looks. We'll be painting all of the doors, door trim, windows and baseboards. Here it is next to the freshly painted windows (looking a little more gray in the late afternoon):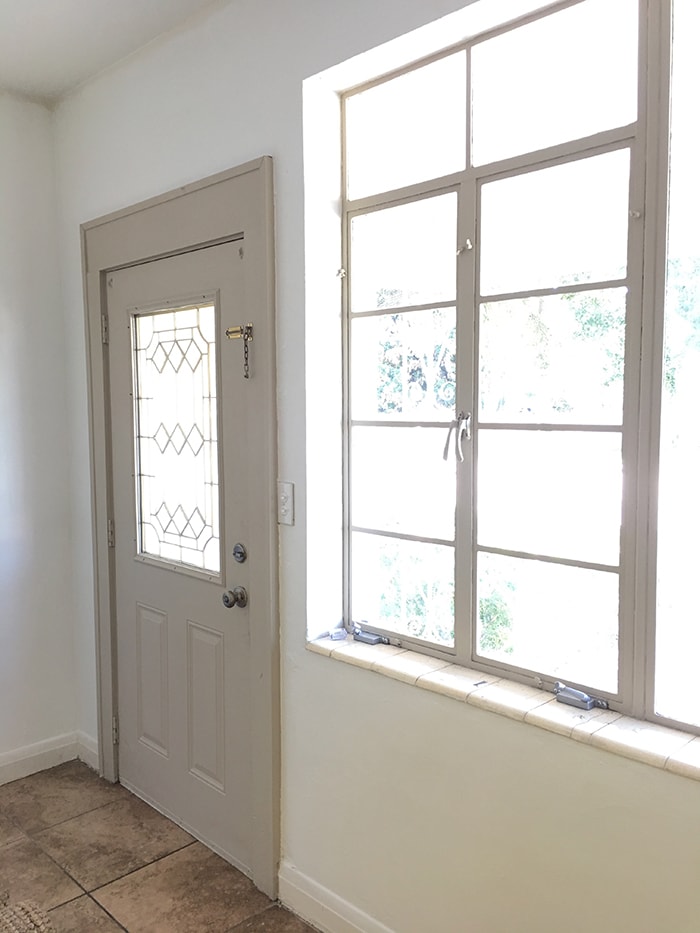 Pin
As for the walls, they were already white but a creamy-gray white, and since we were painting the trim, I wanted to brighten them up to get that nice crisp contrast. I chose SW Pure White, and you can see the difference here with the existing white in the center (see how much darker they are in the shadow on top?)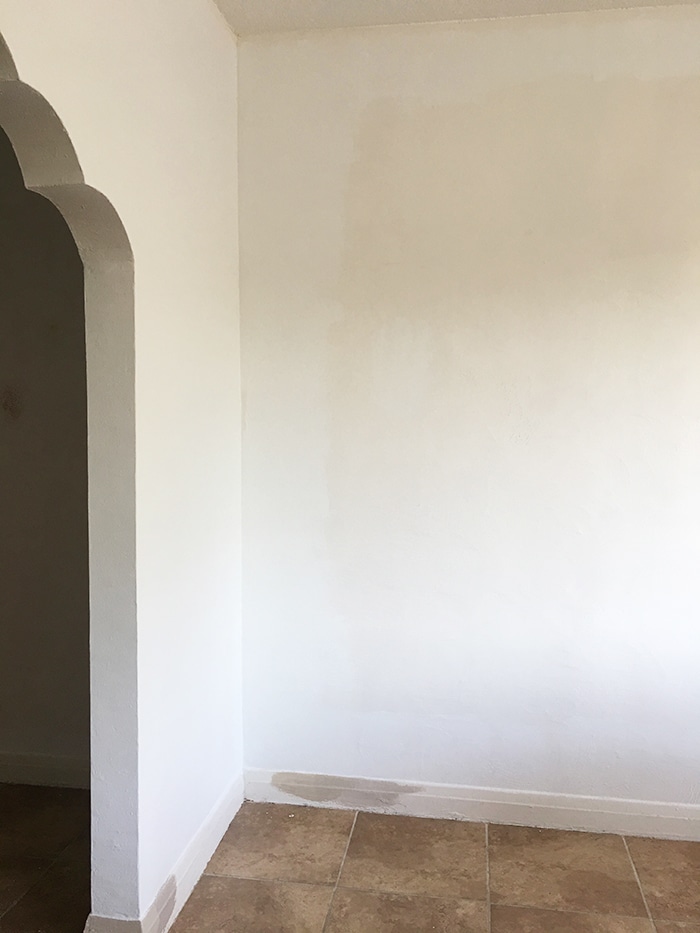 Pin
I'm not sure what the original color was, but it looks mighty close to this swatch of Alabaster: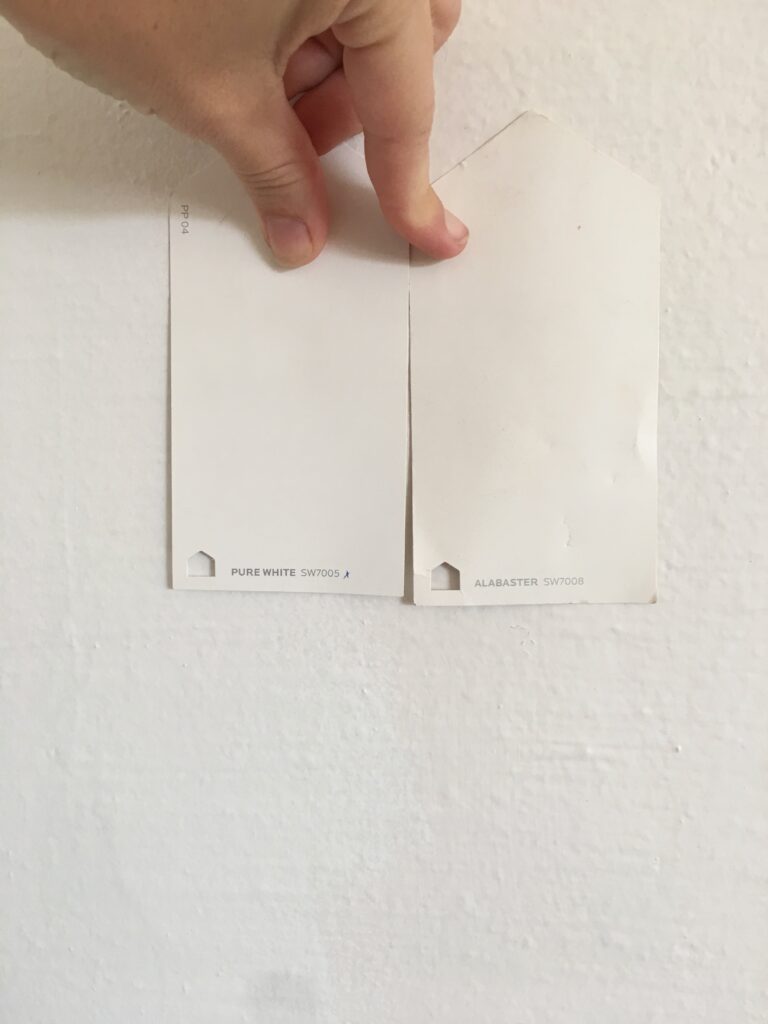 Pin
Perhaps the most exciting news from the weekend—we're getting all new flooring! We decided to go for it now and get it out of the way. The current tile floors aren't in great shape—apart from the fact that they're not even matching throughout the house. They're loose, cracked, grout missing and uneven transitions which make them a tripping hazard. So relieved for them to be gone!
We decided on Pergo Brier Creek Oak and we'll be working Lowe's for the install: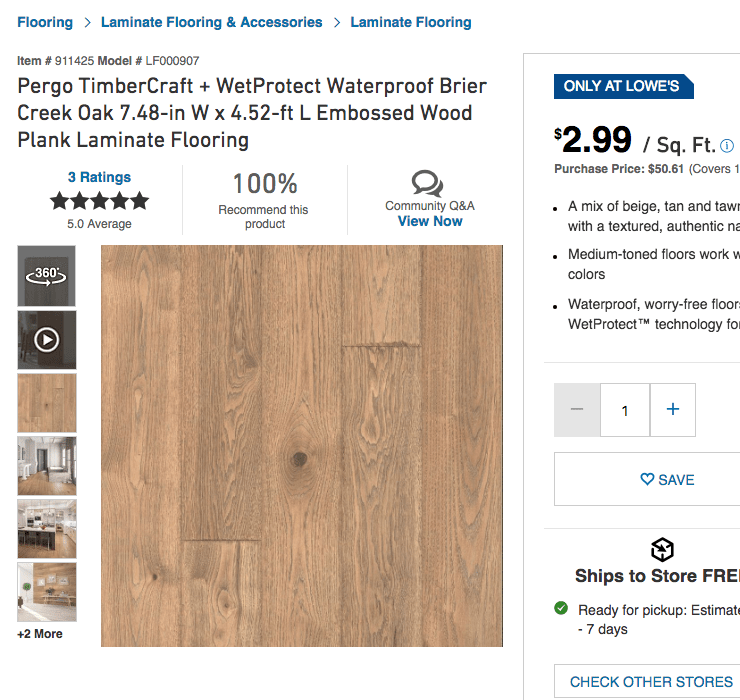 Pin
You may recall that this is actually the flooring I had chosen for our last home (the one that caught fire) so I figured I'd go ahead and use it now. Not sure if I'll use it again for our new build, but at least this way I'll be able to test it out first! I have used Pergo in a similar color (now discontinued) in the Cottage House and loved it, so it was an easy choice this time around. I'll be sharing a lot more about the selection & install process next month once they're in!
Here's a sample next to the new trim color—you should always take your floor color into consideration when choosing paint!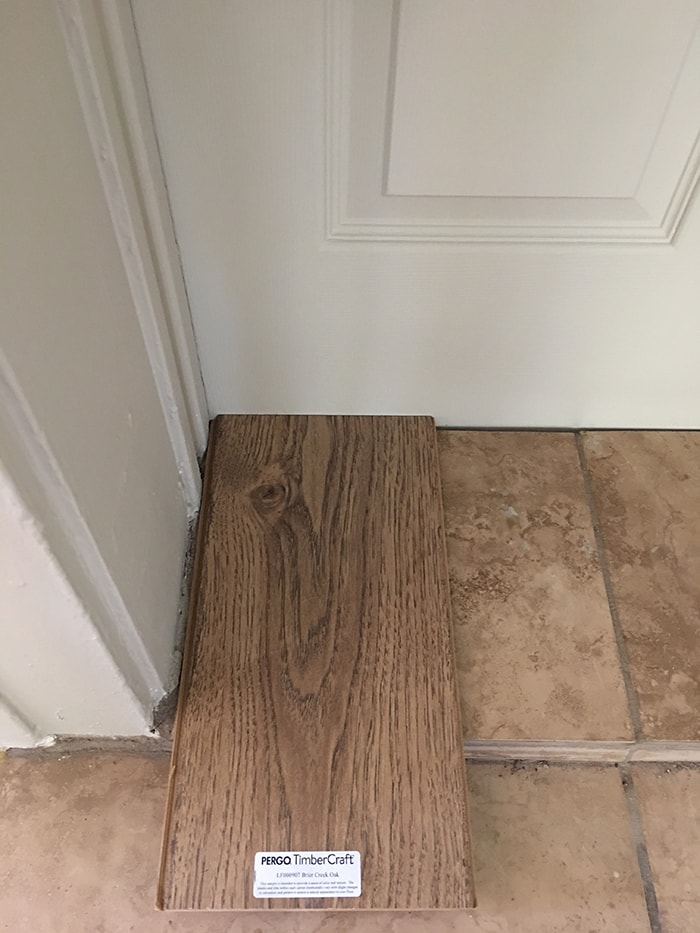 Pin
We're laying the laminate in the whole house except for the bathroom. Unfortunately, the entire house is currently tiled and allllll of it (over 1600sf) will have to be removed before the floors can go down. We haven't decided if we're going to attempt to tackle it all ourselves or hire it out, but demo will begin this weekend. There's a few dips and slanted floors in some of the rooms, so there's also a decent chance we'll need to repair some of the subfloor (hopefully not the floor joists). Follow along on my IG stories this weekend to watch the live demo action!
Within the next week we also plan to start adding crown molding in the living & dining room, along with some fancy molding accents on the dining room ceiling and a living room wall. There will also be a wall mural and painted ceiling involved—I haven't done anything like this before so I'm looking forward to the results!
In other house updates: no word on the new build permit, and we're still going through the eviction process.
And another update a few of you have been asking about—remember my Destination Design story?
Well, Janice got a little surprise of her own—her husband was sent home from deployment early! It was too short of notice to finish the house (which is currently in the middle of construction projects) but he still got quite the surprise when walked in the door, and now we can breathe a little and not try to force an impossible timeline. Ideally, I'd still return to finish this month, but the to-do list somehow keeps growing and I'm not sure we'll be able to squeeze everything in within the next few weeks. I'm doing my best to keep the ball rolling and hope to be able to share the Afters with you soon!
Cheers to a productive August,