It's been two weeks since we moved into the Riverside Retreat, and while the house is still full of unpacked boxes, I took some time over the weekend to focus on the most important room in the house—our bedroom!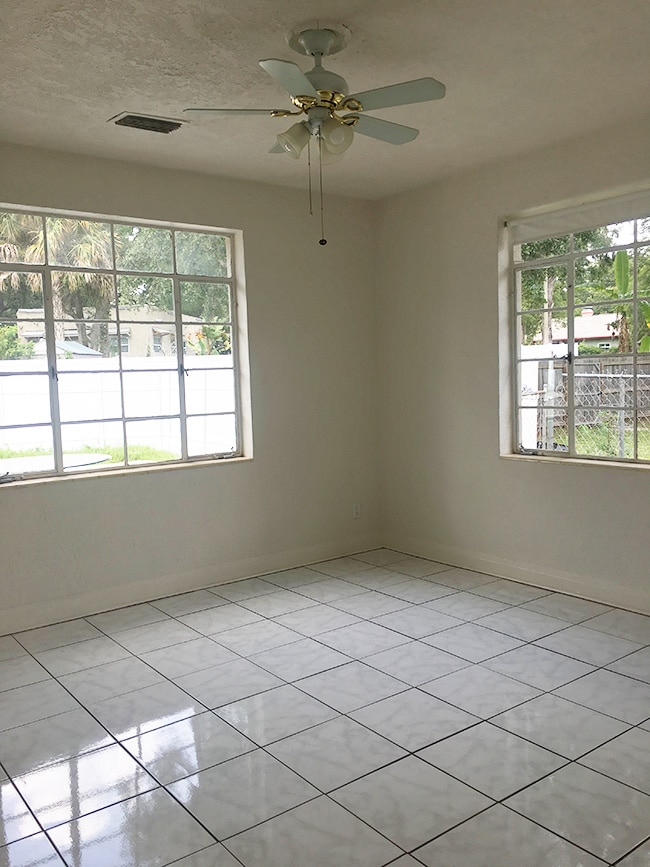 Pin
Our room was the only place of calm in our last apartment, and with this house about to undergo perpetual construction for the next several months, having a clean and cozy space to curl up in at the end of the day is necessary for my sanity!
We were able to transfer most things from our last bedroom into this new one, but with the increasingly hot Florida summer weather and old drafty windows, we needed to switch over our bedding to something lightweight. In perfect timing, The Company Store reached out to see if I wanted to try some of their linens (um, yes please!) and that prompted this little bedroom refresh & photoshoot.
I think the best way to find the right combination is to switch things out one at a time. Here's the first 'draft' of our new bedroom…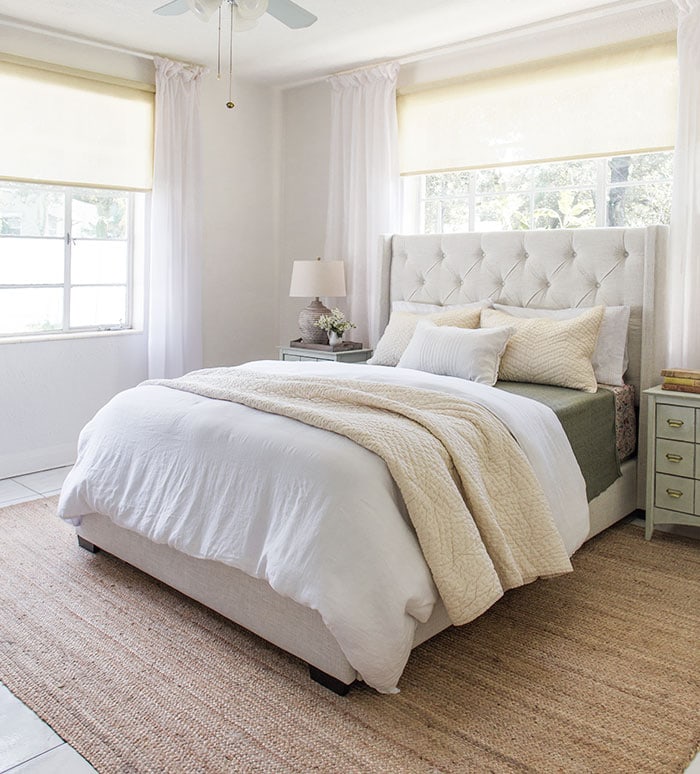 Pin
I used the same bed, rug, night stands, lamps and duvet (those sources linked in the One Room Challenge Reveal post) and layered in lightweight Company Quilt and Shams (in buff). They're pure cotton and even softer than they look.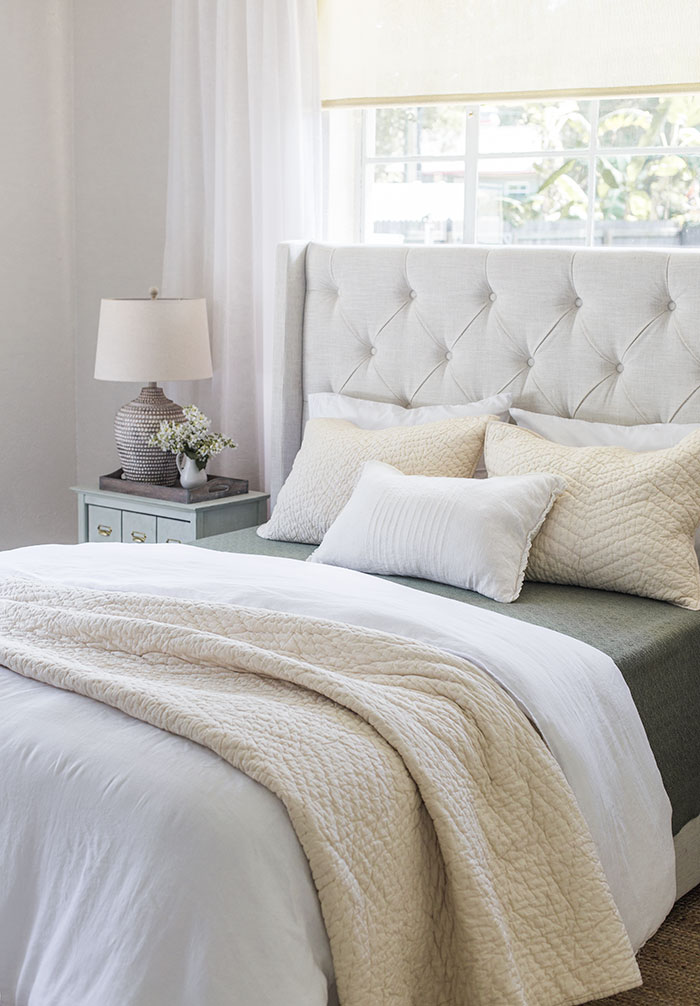 Pin
Loving these textured earthy neutrals.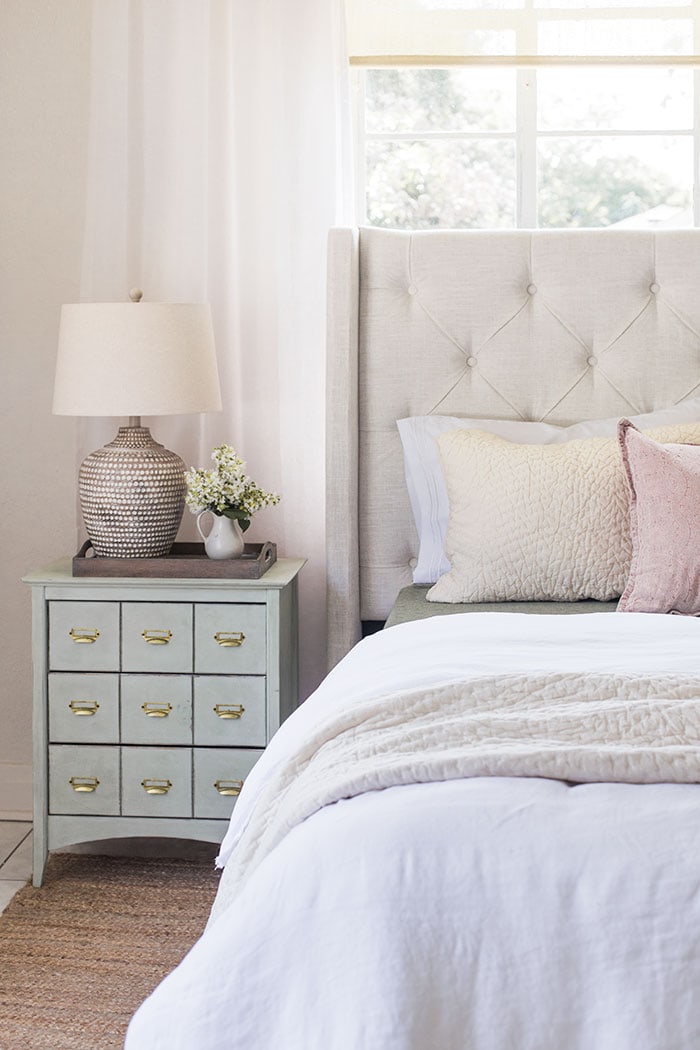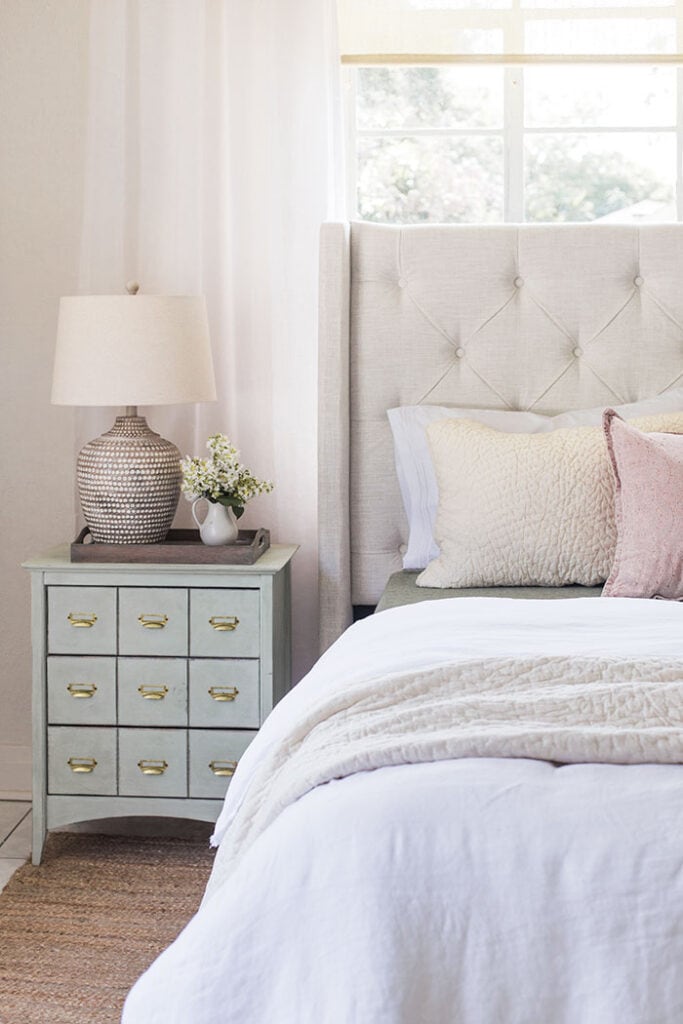 Pin
The windows are original and beautiful, but they are so not energy efficient and turn this bedroom into a greenhouse. I needed to solve that ASAP without spending a fortune. Roller blinds seemed to be the cheapest option, and I ordered fabric samples from a few different places, but it still ended up being over $200/shade for anything halfway decent. I was almost ready to settle for cheap vinyl, until I found these outdoor shades on Amazon for only $50.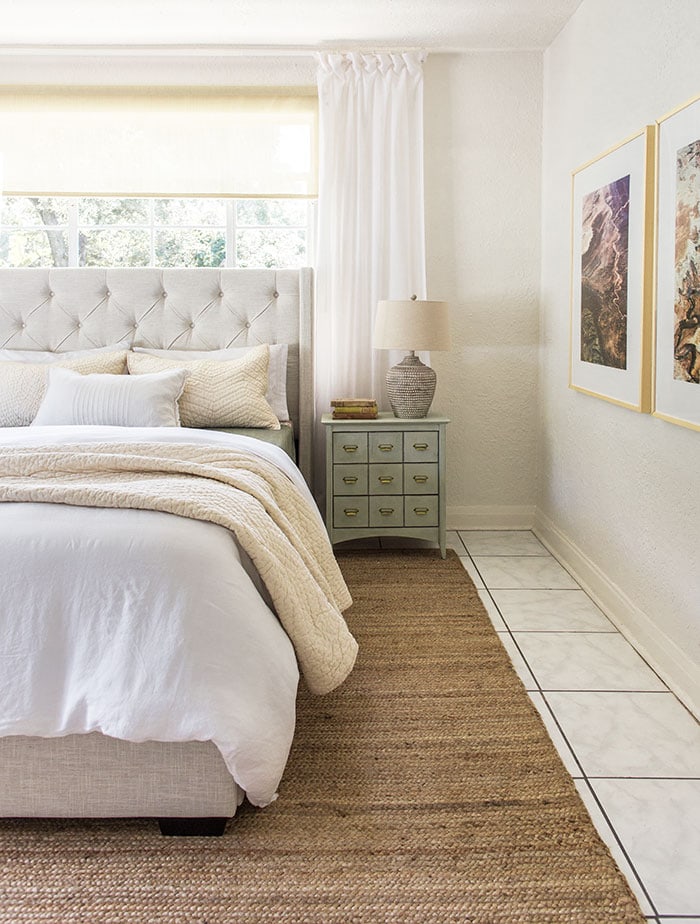 Pin
BEST FIND EVER. I even highlighted them to my Instagram stories since so many of you were asking (please don't buy them all, I need two more!) Mine are 6×6′ (they're a few inches larger than the window, mounted on the outside) in Sesame. They're woven and super durable (made for outdoor use) but look like they could be expensive indoor fabric. I'm adding these to my arsenal of interior design secrets (shhh).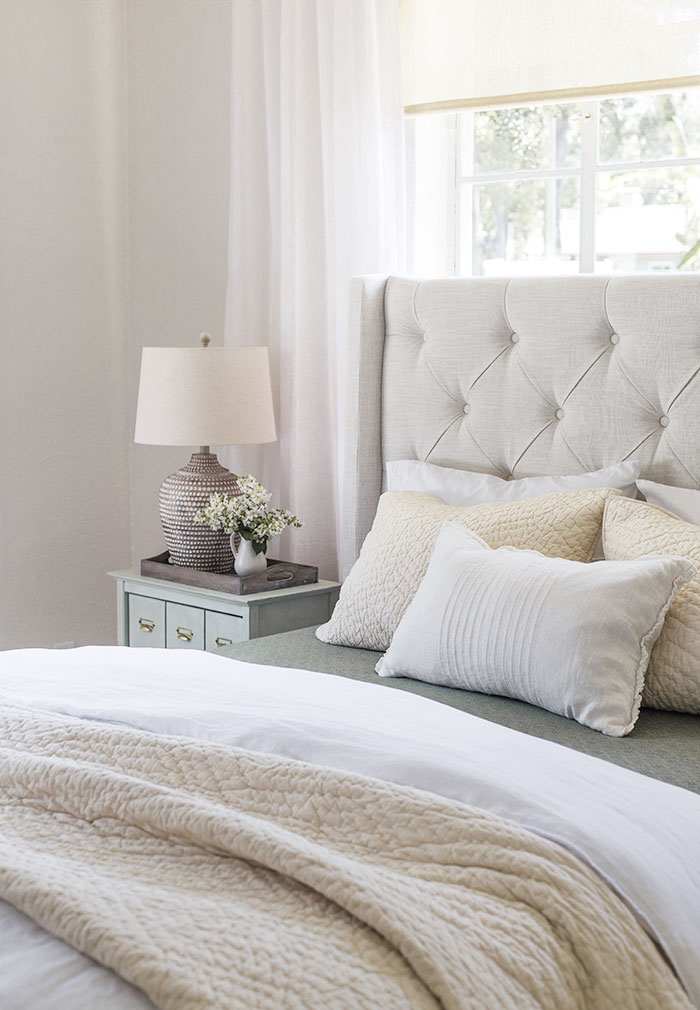 Pin
Next I decided to swap out one of the nightstands for a desk.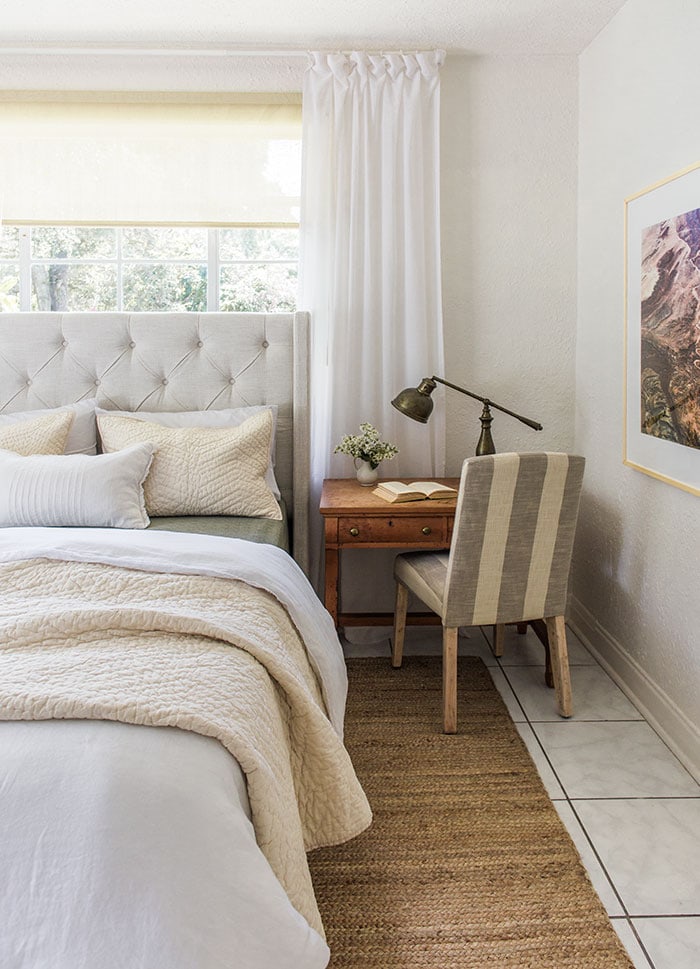 Pin
Oh yeah, I'm liking this way better. The desk is vintage and the chair is from Home Pop (from our last bedroom). Lamp is also an old Wayfair find.
The curtains I searched high and low for—there's not a lot of options for 9′ ceilings! I wanted something semi-sheer that had a linen look, and these from Amazon were the most affordable option out there. I'm actually pleasantly surprised with the quality. They're thin, but the perfect amount of sheerness and a great faux linen texture. PSA: These cotton duck curtains are a great alternative if you want something less sheer, and they're only $16/panel!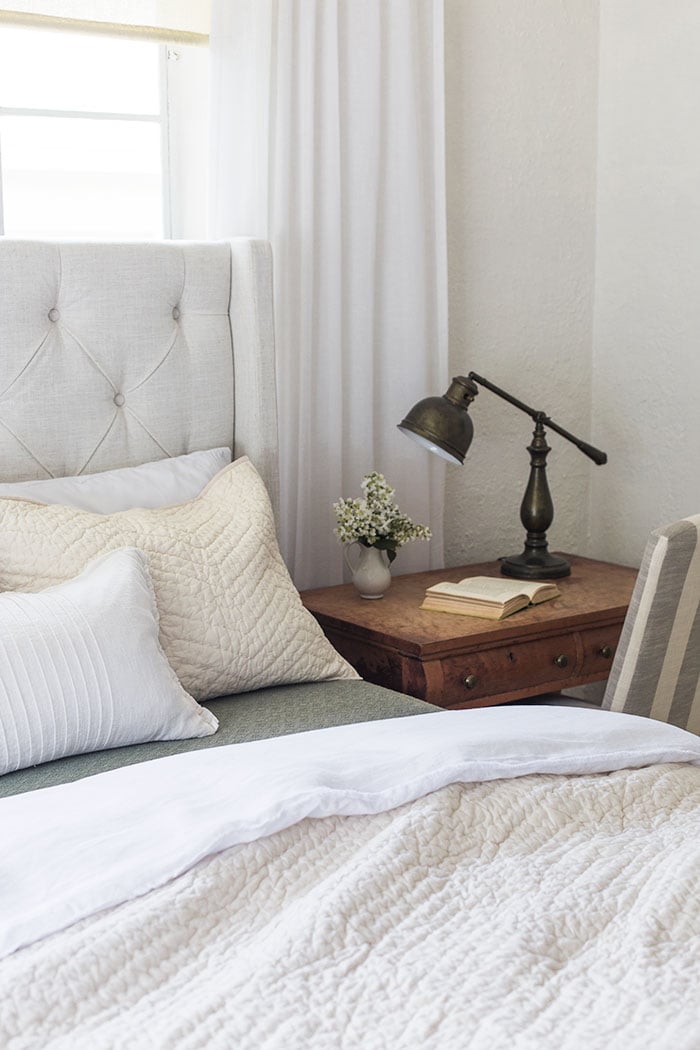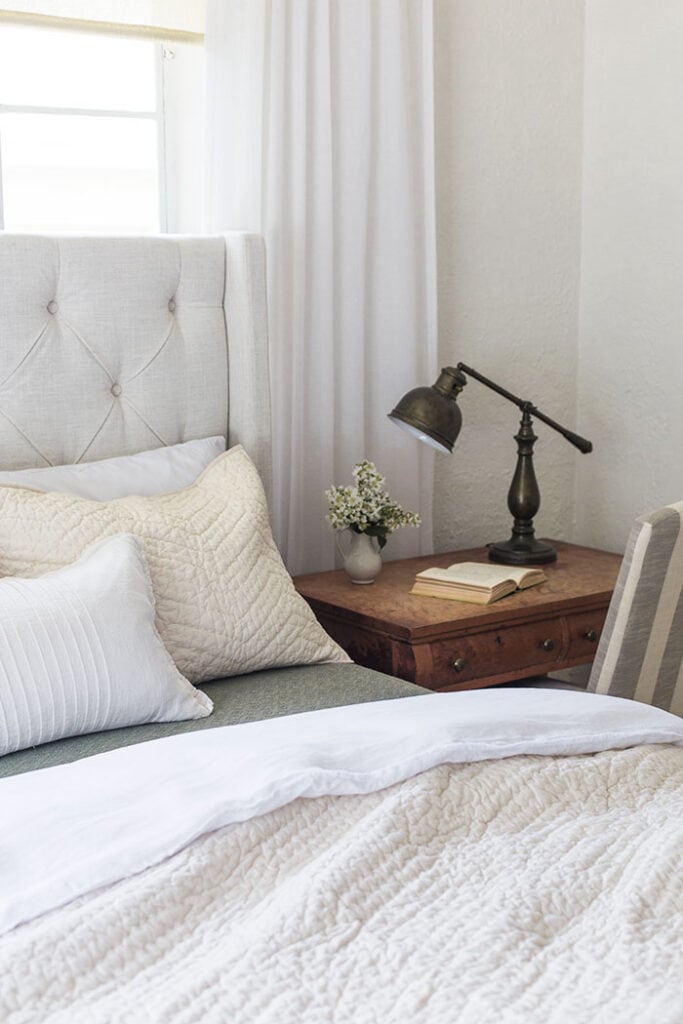 Pin
This has to be my favorite color palette for summer… whites, creams, warm wood tones and sage green. Yes please.
Time for another switch! Going all neutrals now with ivory euro shams and linen sheets…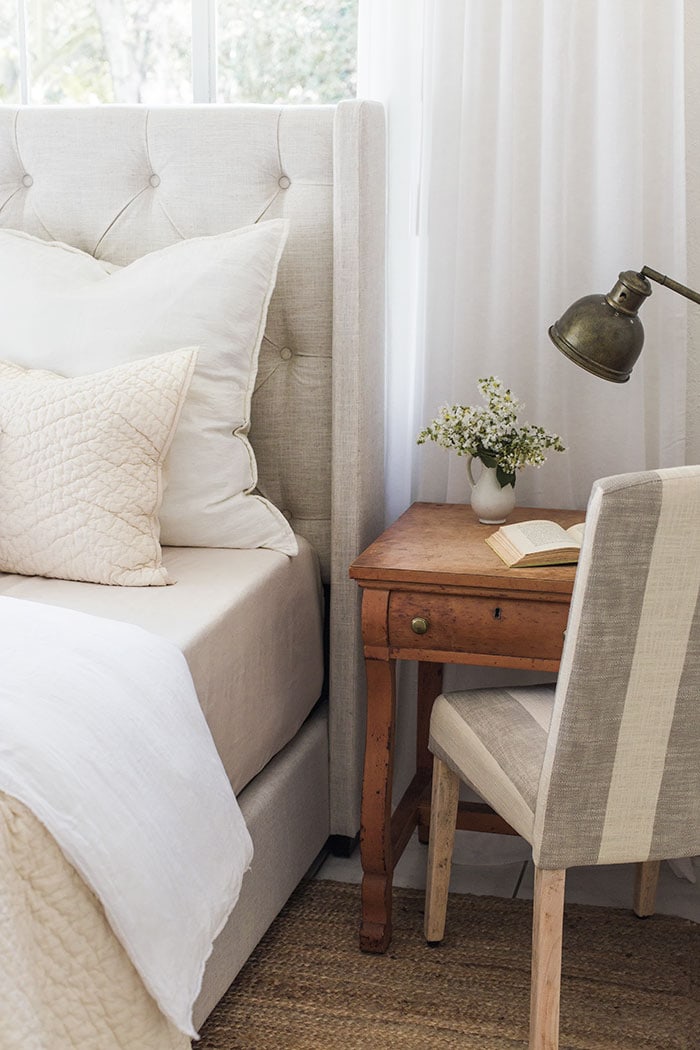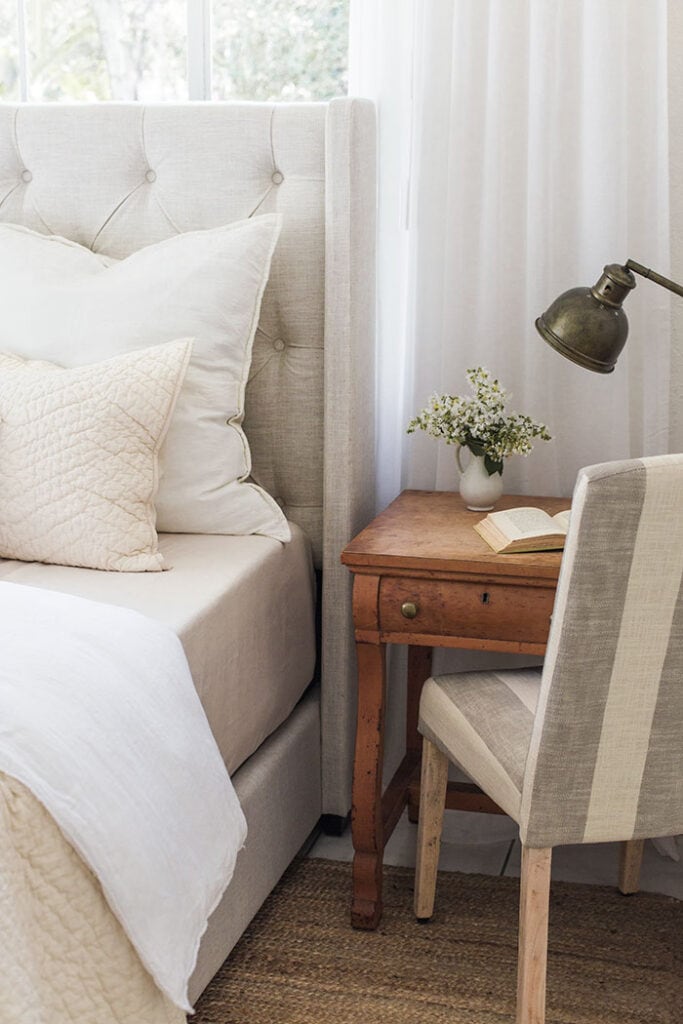 Pin
Favorite look yet. I wasn't sure about mixing so many shades of white/ivory/beige, but I'm sold! Although a pop of black for contrast never hurts…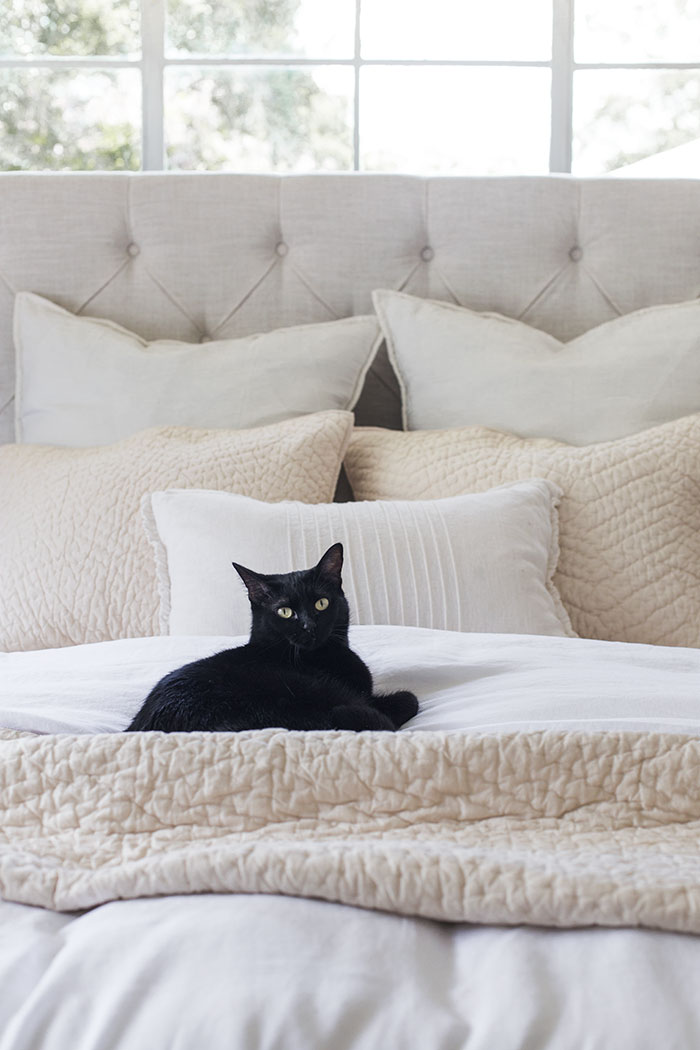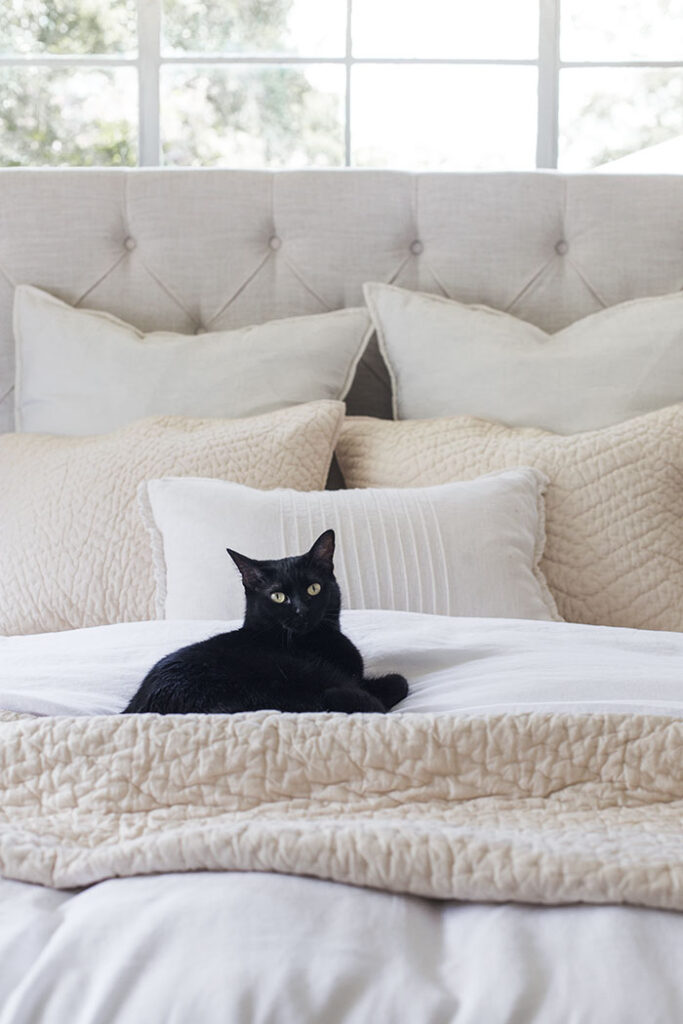 Pin
Lesson learned: don't be afraid to mix those light neutrals. Also, beige has officially surpassed gray as my favorite neutral.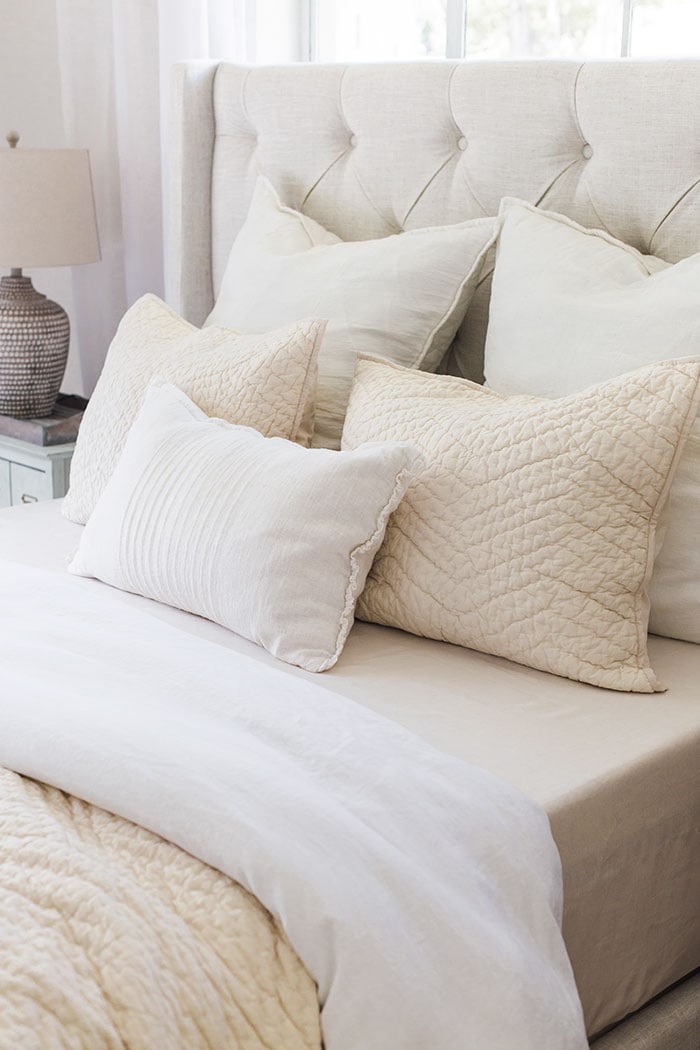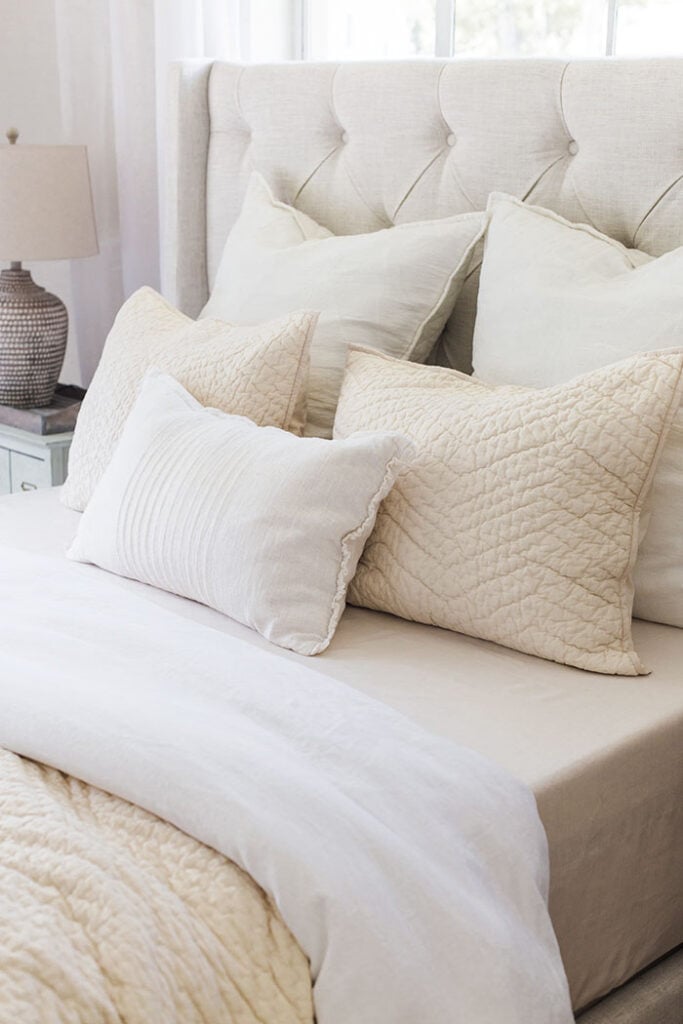 Pin
The linen sheets are from The Company Store (in parchment) and I chose them after reading all the great reviews. Our bed tends to get hot with the mattress topper (I'm already a hot sleeper) and I've learned that linen is the best choice for summer bedding because it stays cool. It also feels luxurious and wears so well over time! PSA: the sheets are on sale ending tomorrow!
As soon as Susie discovered new bed linens, she found her spot and refused to leave.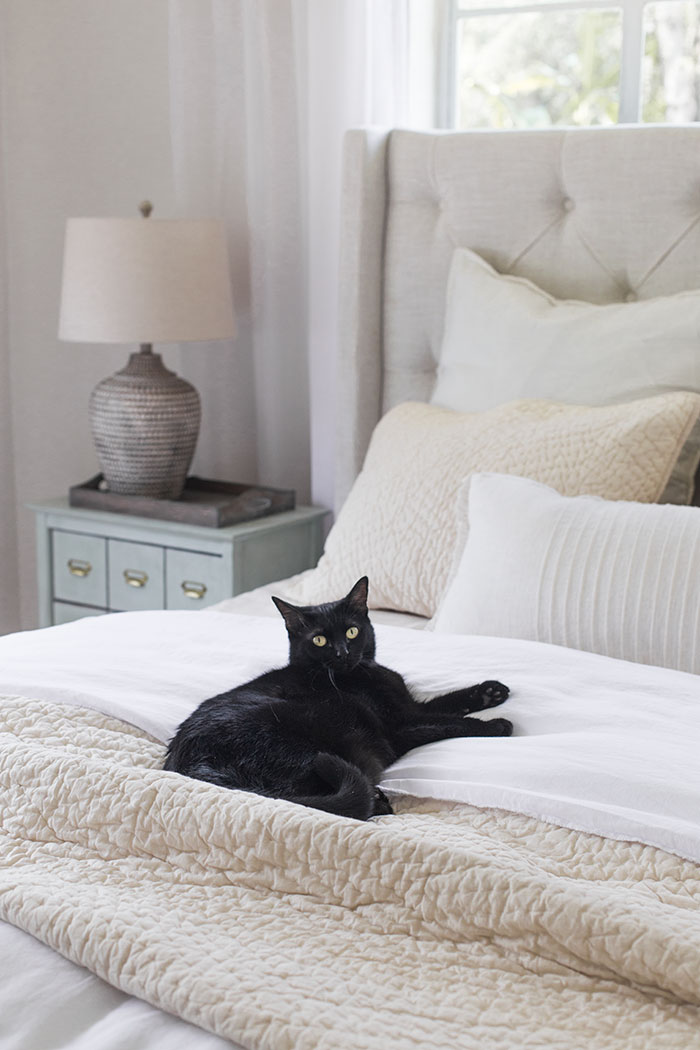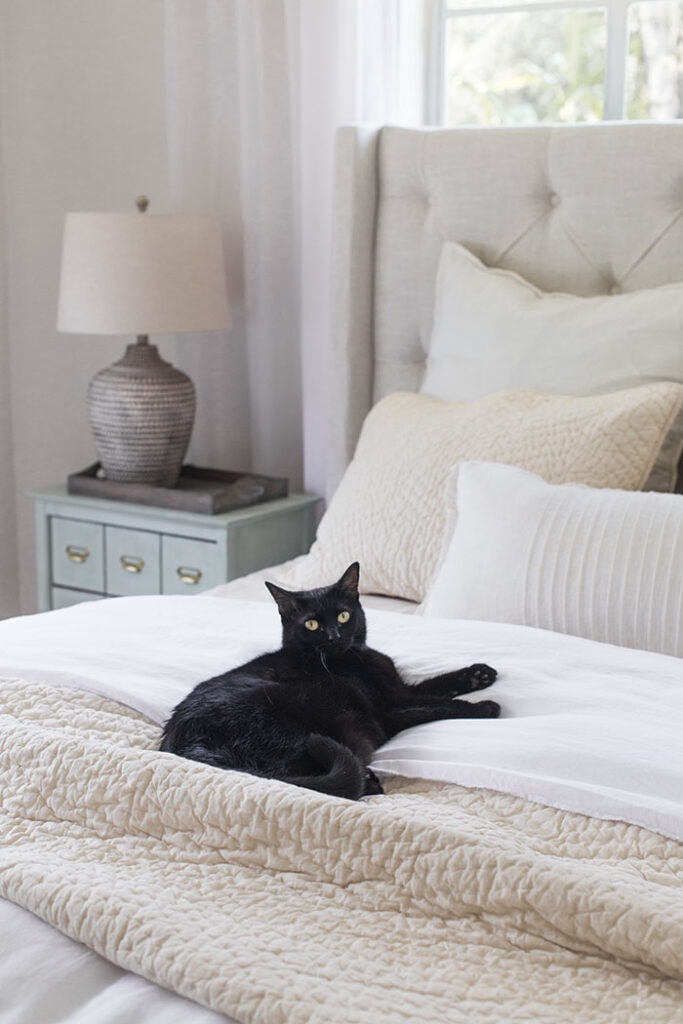 Pin
I don't blame her—in fact I'm curled up with her in that spot now as I type this. I've never treated myself to nice linens before and I feel so spoiled with these!
Another bedding tip? Get a larger sized quilt. We have a queen bed but I got a King so it would drape to the floor on both sides. This gives it that extra cozy 'bedding store catalog' look.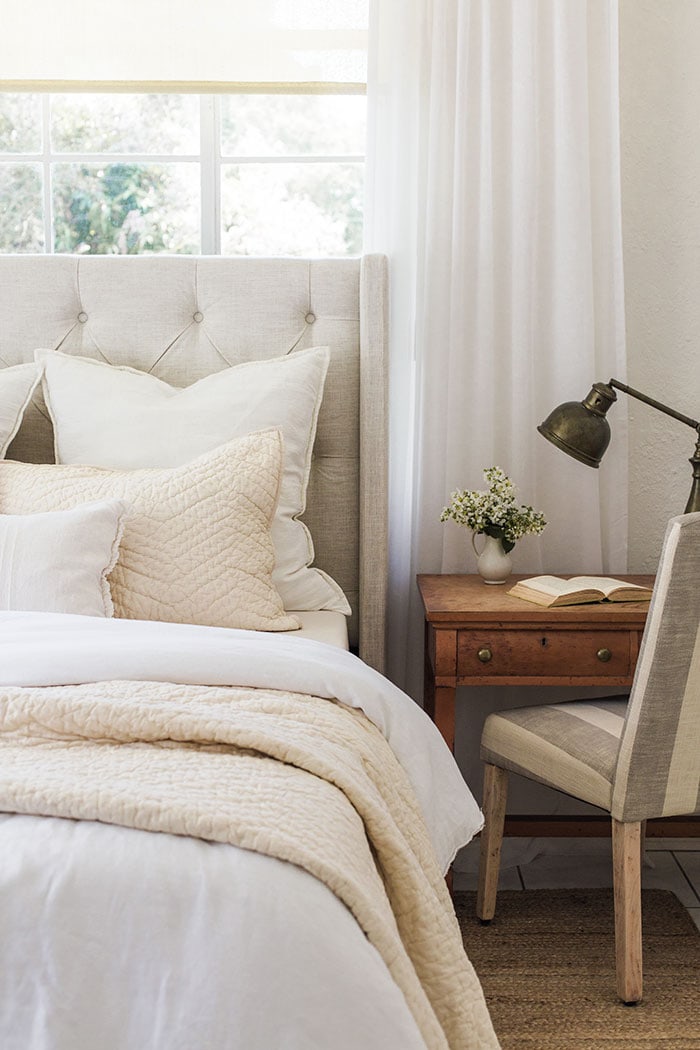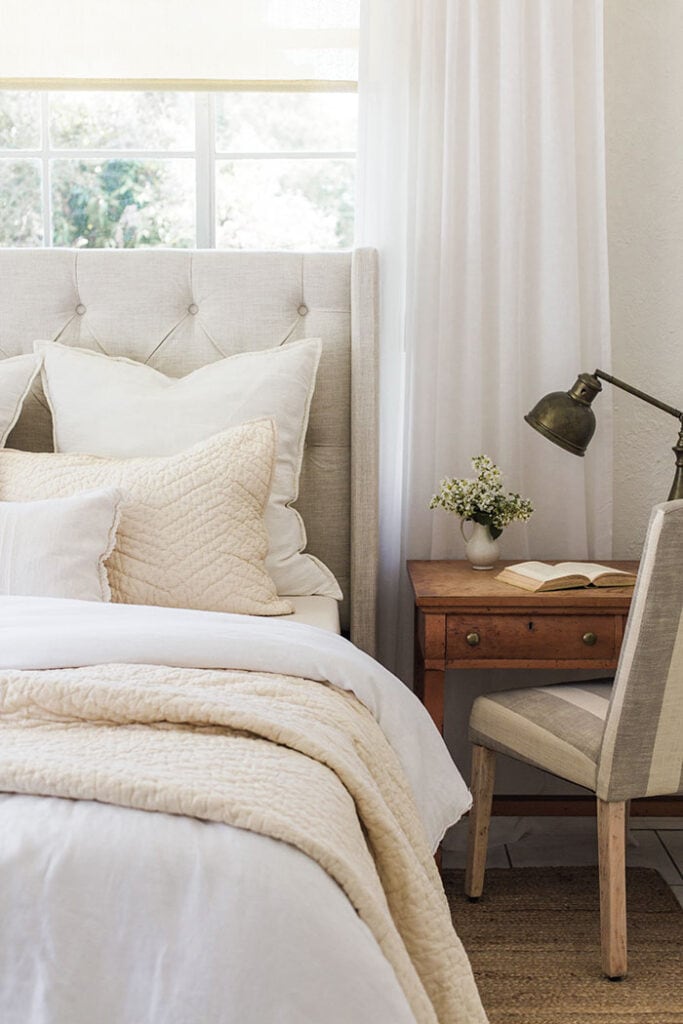 Pin
Alright guys, now it's time to level up—green velvet has just entered the building.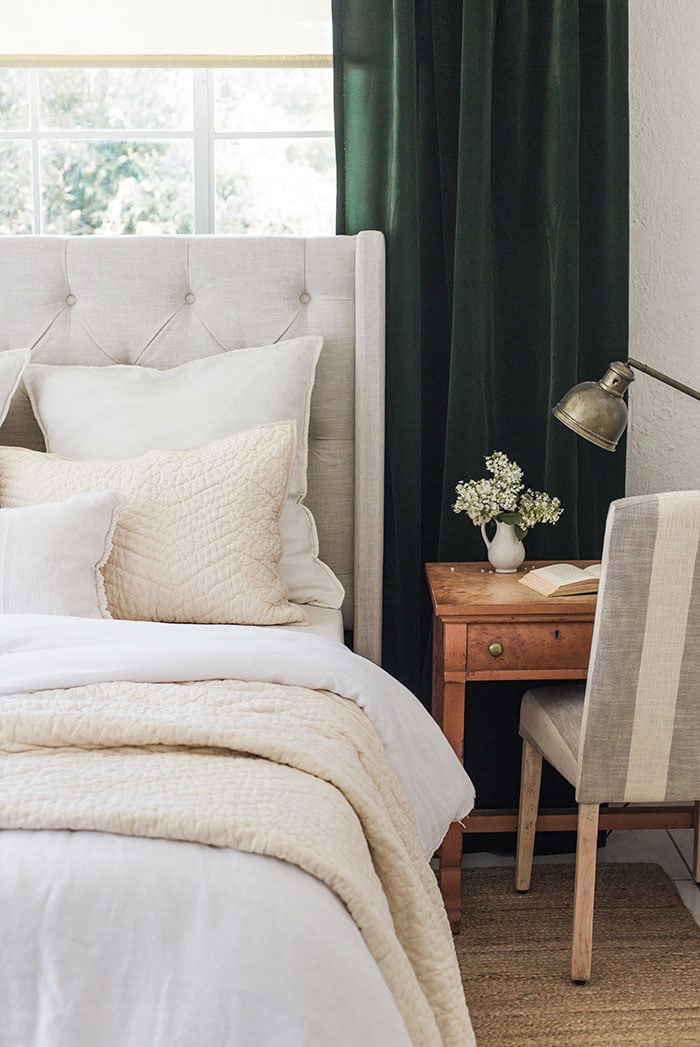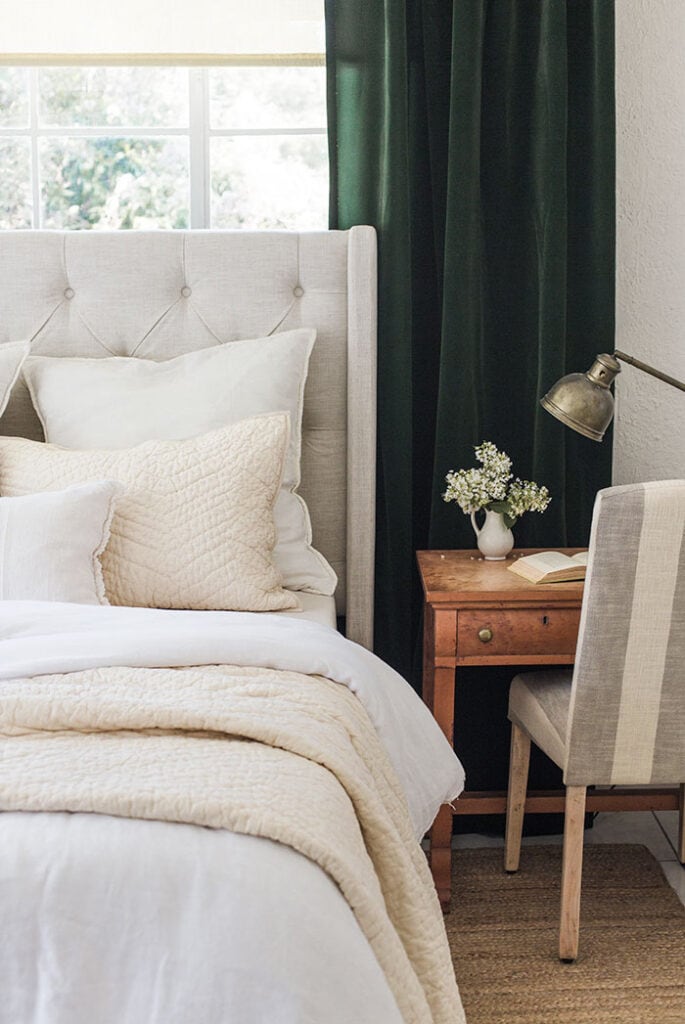 Pin
Holy guacamole.
Confession: these are my first non-white curtains. How have I lived 33 years without green velvet?! It's about time things change around here.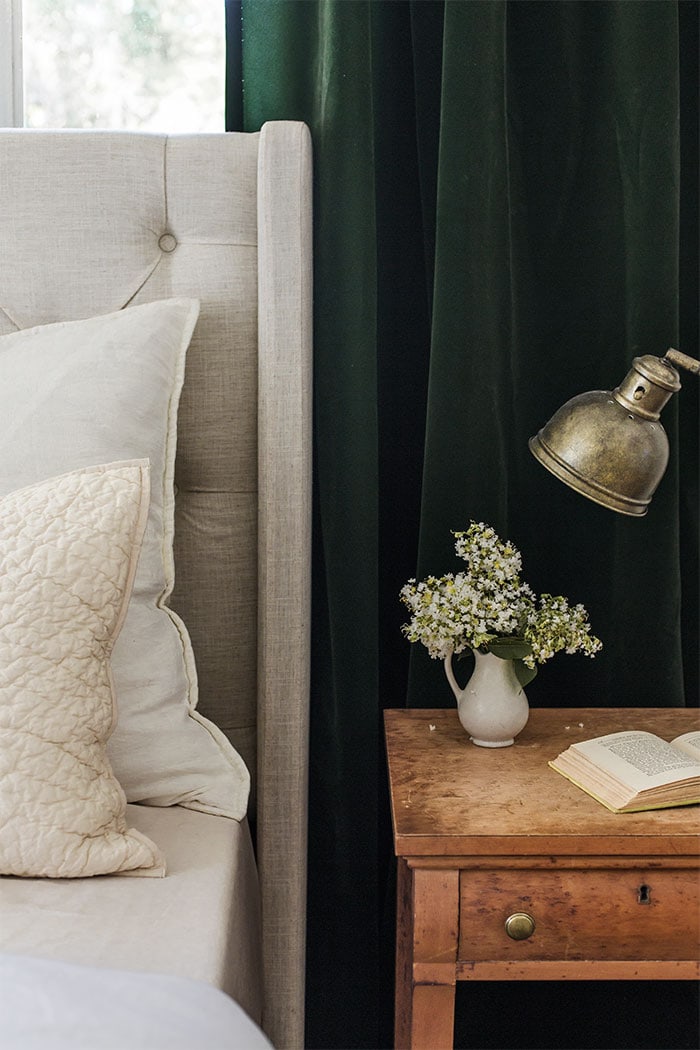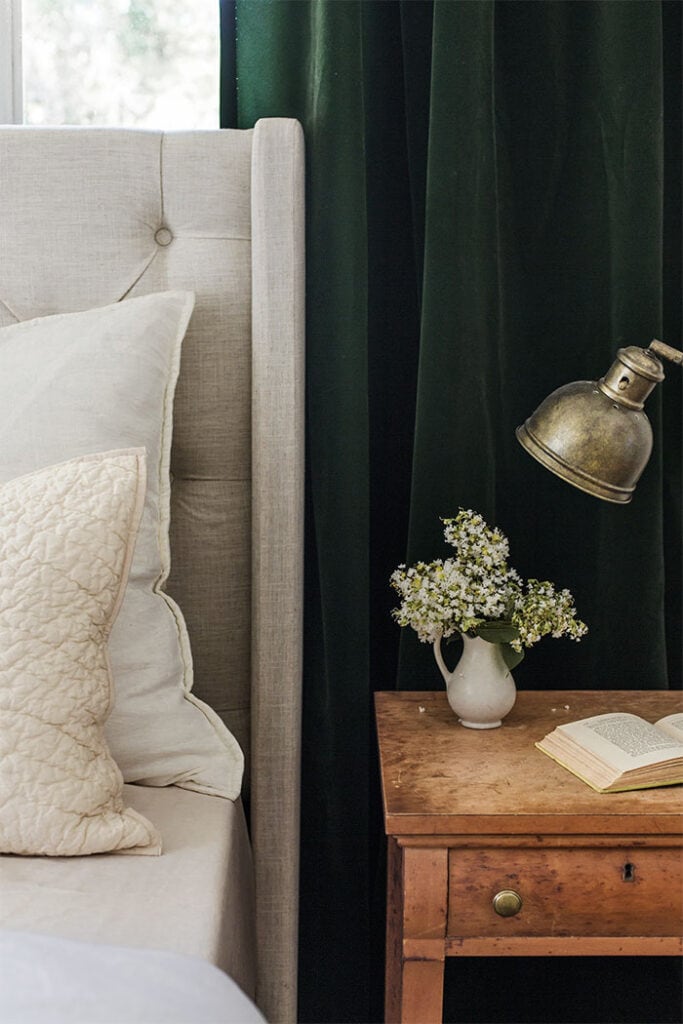 Pin
So rich, so elegant, so Scarlett O'Hara. SO IN LOVE.
I shared these on my Instagram stories a few days ago and have been bombarded with questions about them. Well folks, today is your lucky day. After weeks of trial and error, I can confidently say I found the best (affordable) custom green velvet curtains around.
I didn't get it right on the first try. 9′ green velvet drapes that don't look cheap AND are affordable are incredibly difficult to find. I searched for weeks, and settled for these on Amazon: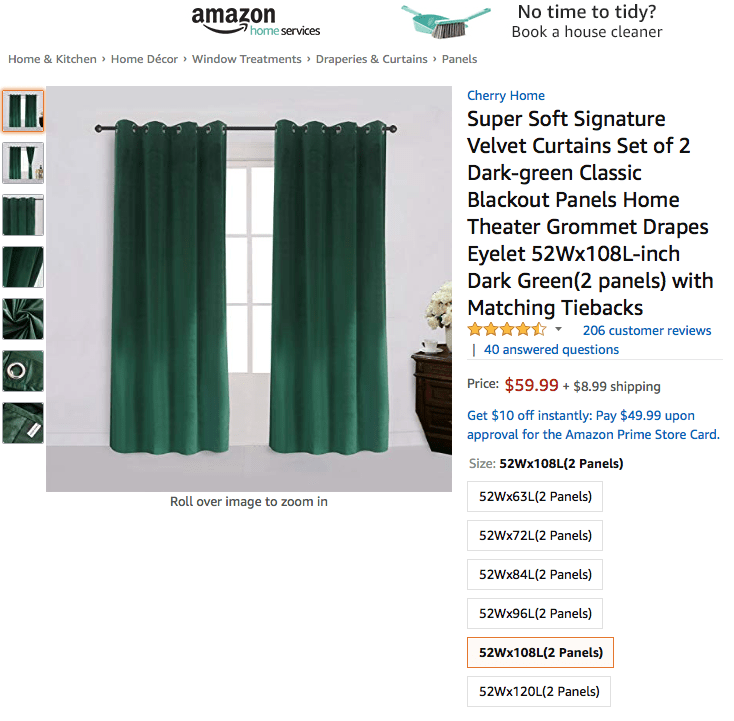 Pin
Big mistake. They were shiny and cheap looking.
I continued my search online without any luck, until finally stumbling upon a shop called Lushes Curtains that makes custom velvet panels at very reasonable prices. I ordered two 6′ x 9′ flocked velvet panels in green (rod pocket), and they were absolutely perfect. Here's a side by side with the Amazon panel: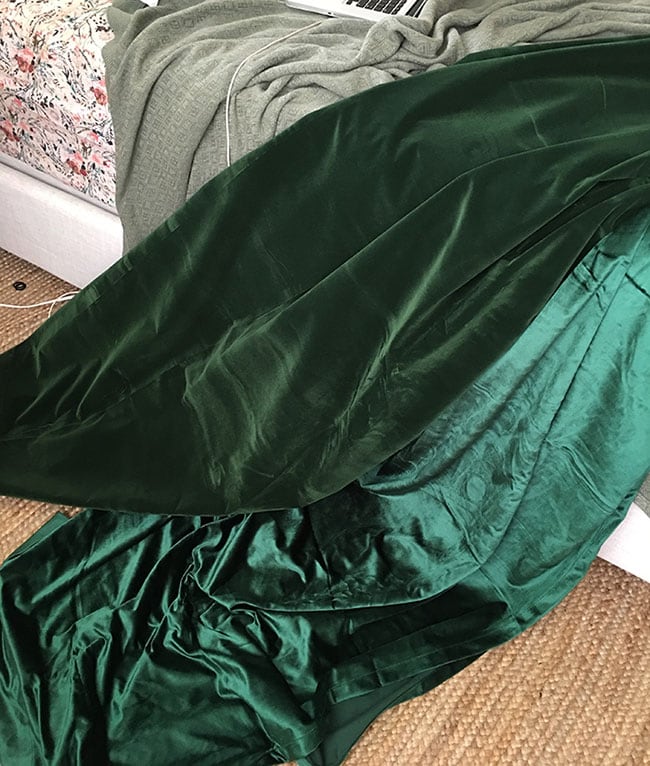 Pin
Doesn't the matte velvet look so much more elegant? I think so.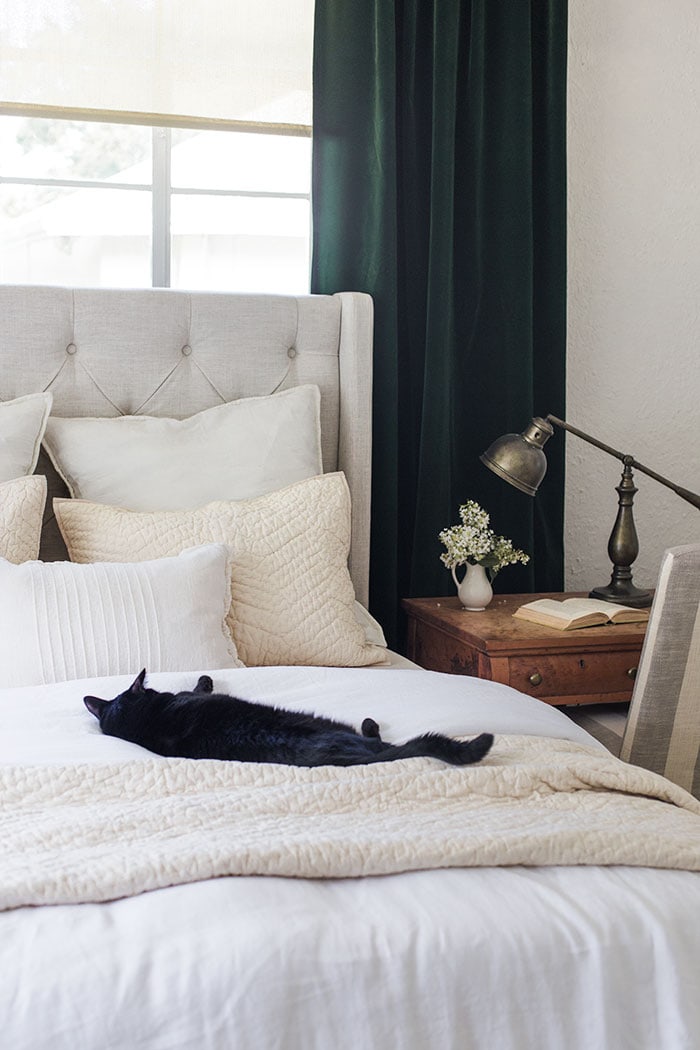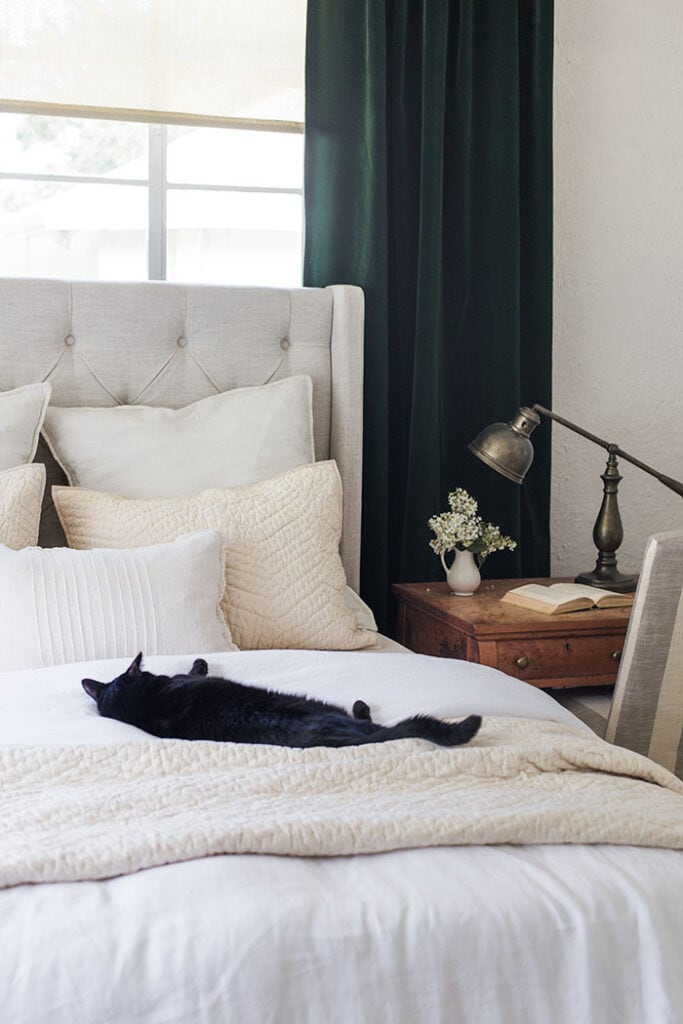 Pin
I got mine unlined, but they're still thick enough to block out most of the light. Combined with the roller shade, it's just right. I paid $45 shipped per panel (after finding a 10% off coupon code online) but I just found a 15% coupon code: LC15. I'll be using it to buy two more for panels the other window!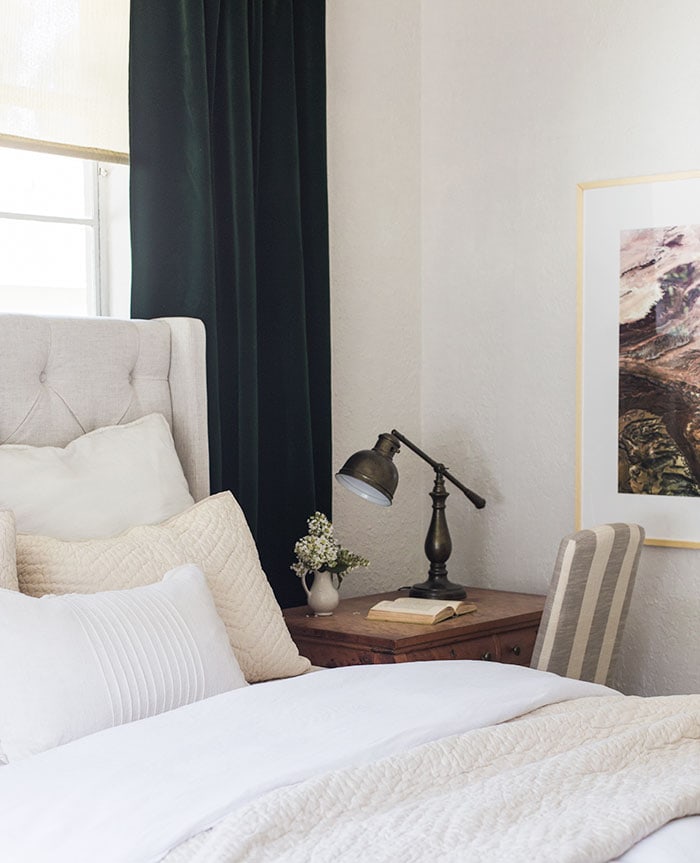 Pin
The sheer white curtains will be moved into the living room. These window treatments are the only things that will stay as is in this room—we've got some fun plans in store over the next several months! For now, I'm just gonna enjoy this little piece of luxury while it lasts.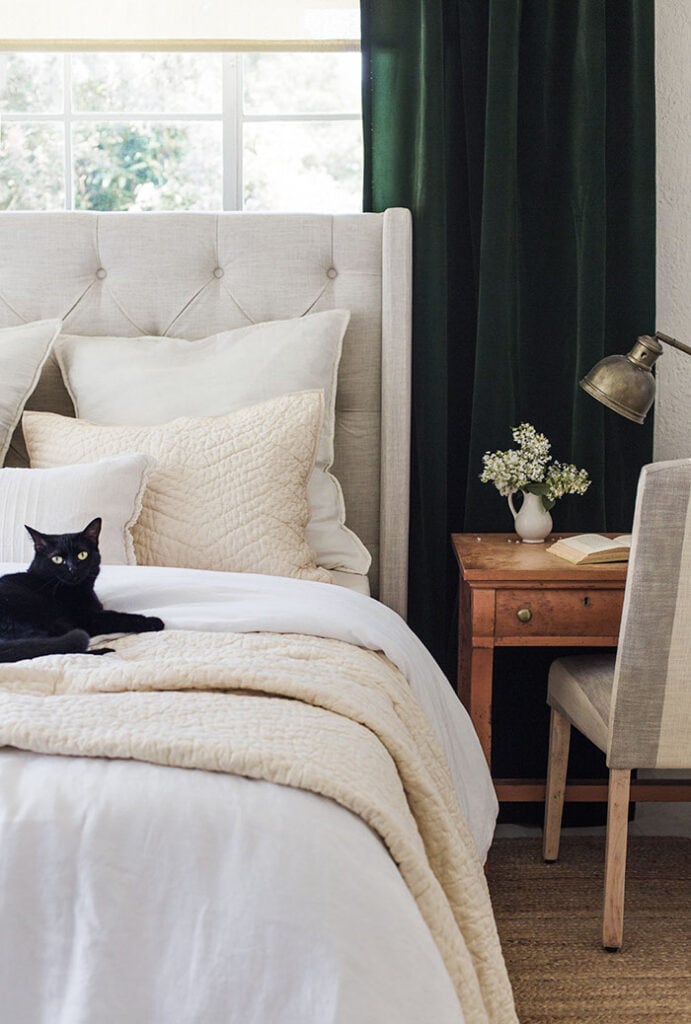 Pin
Tell me, what's your favorite look? Are you feeling the green velvet or do you prefer the light neutrals for summer?
We owe you all a vlog update on everything that's been going on (things have been a bit crazy over here) so I'll be back soon with more! In the meantime, stay up to date with the latest news on my Instagram & Facebook,