Six weeks of design and DIY have come down to this moment!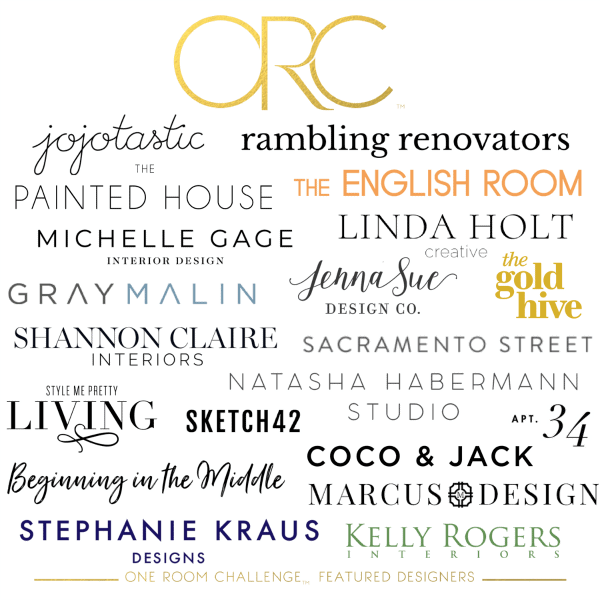 Pin
Now is the time to get caught up before you scroll down: Week 1 / 2 / 3 / 4 / 5
Watch the Reveal Video below!
It's a little crazy to think back to the beginning of this challenge when I was dreaming up a design for the great room of our new home, and had to suddenly abandon those dreams when it caught on fire.
At the time I was crushed—our lives had been dedicated to this renovation, and what were we going to do now? Do I back out of the One Room Challenge at the last minute without a Plan B? Those questions were quickly replaced with determination to continue on and make lemons out of lemonade. We were living out of boxes in a cramped, temporary apartment that had suddenly become not-so-temporary since we lost our home. So I decided we needed a sanctuary to get us through these next several months—a space that would make us feel like we were home.
Enter our bedroom: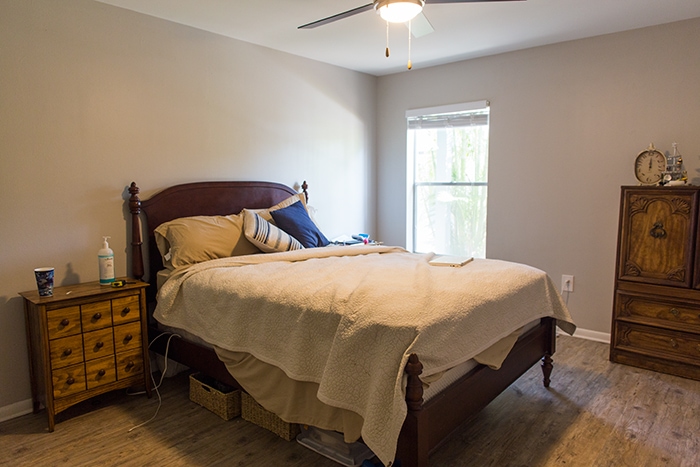 Pin
It's your typical apartment bedroom.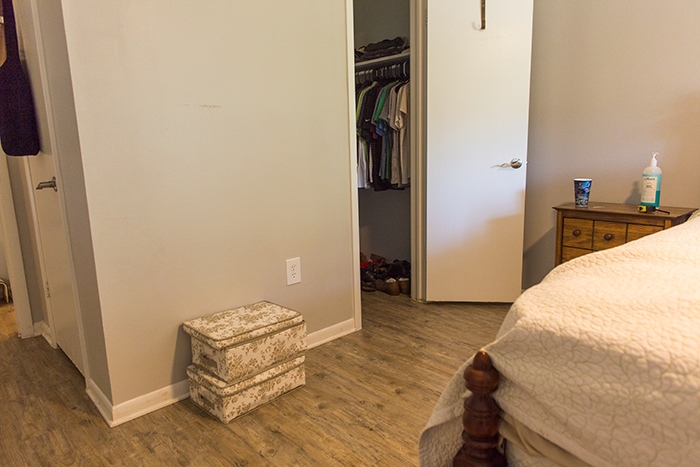 Pin
Vinyl floors, gray paint, a single small window.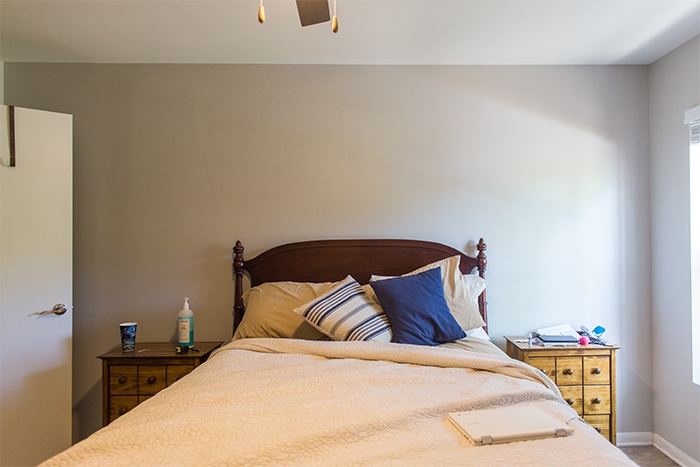 PinPin
Being an apartment, I couldn't make any permanent changes like paint or trim (bummer).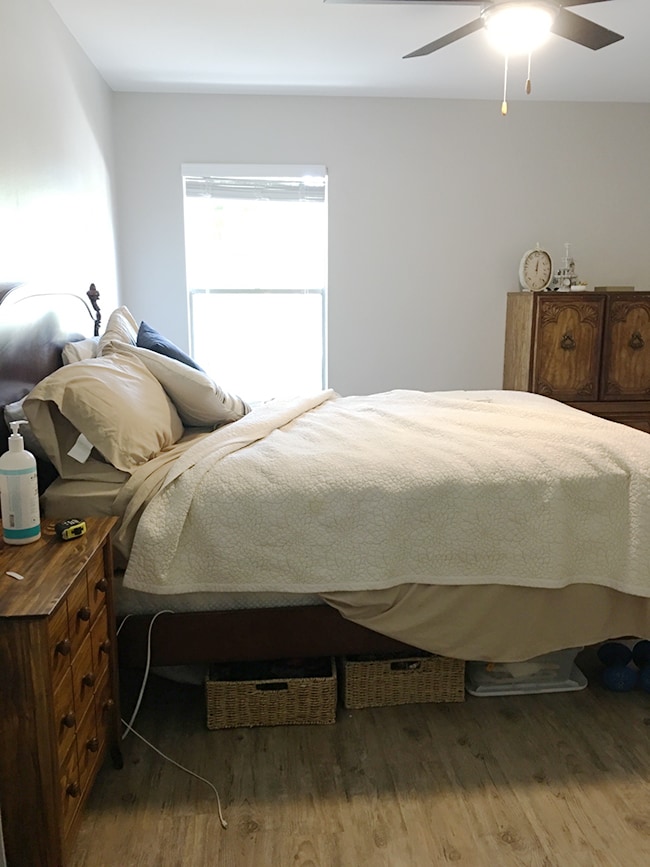 Pin
We had no furniture when we moved to Florida in January, and ended up finding all of the pieces shown here second hand online.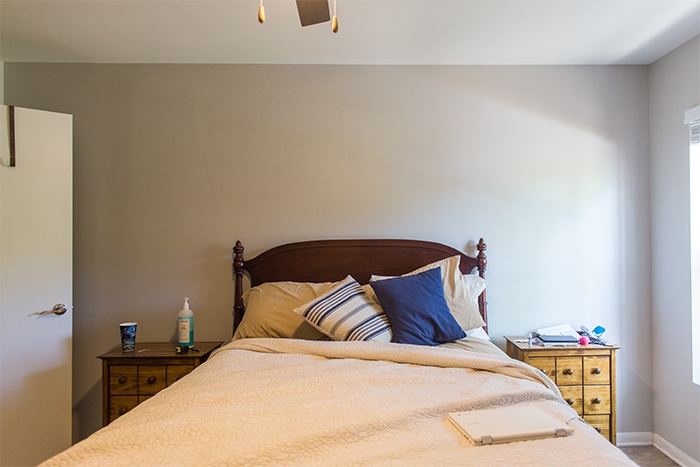 PinPin
Ahh… feels like just yesterday I was waking up to this cold, gray abyss.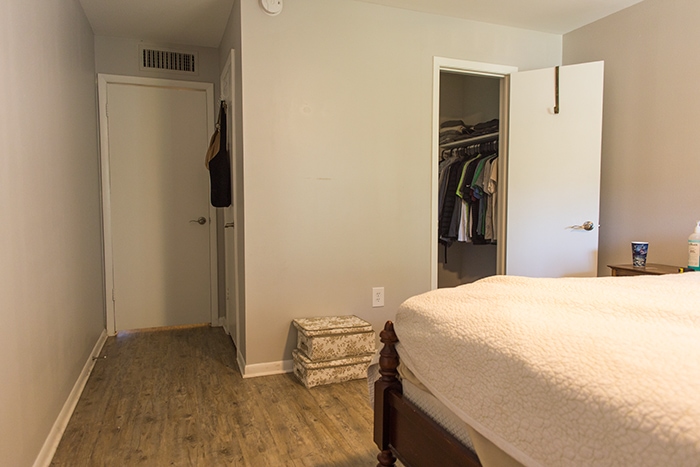 Pin
Here's the game plan I put together: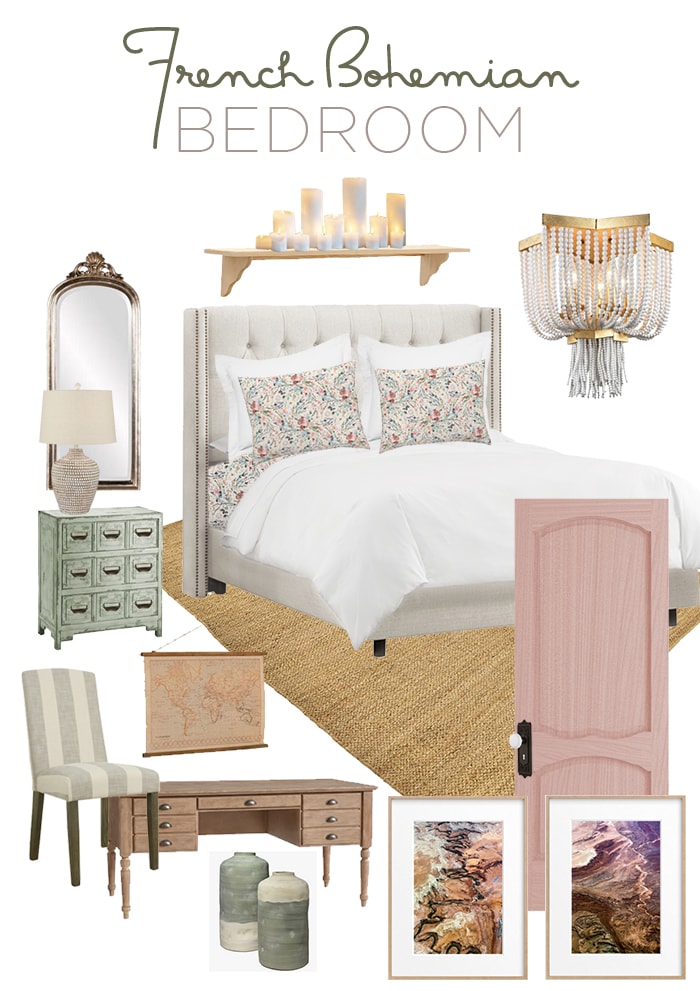 Pin
And now I present to you, our romantic, restful oasis…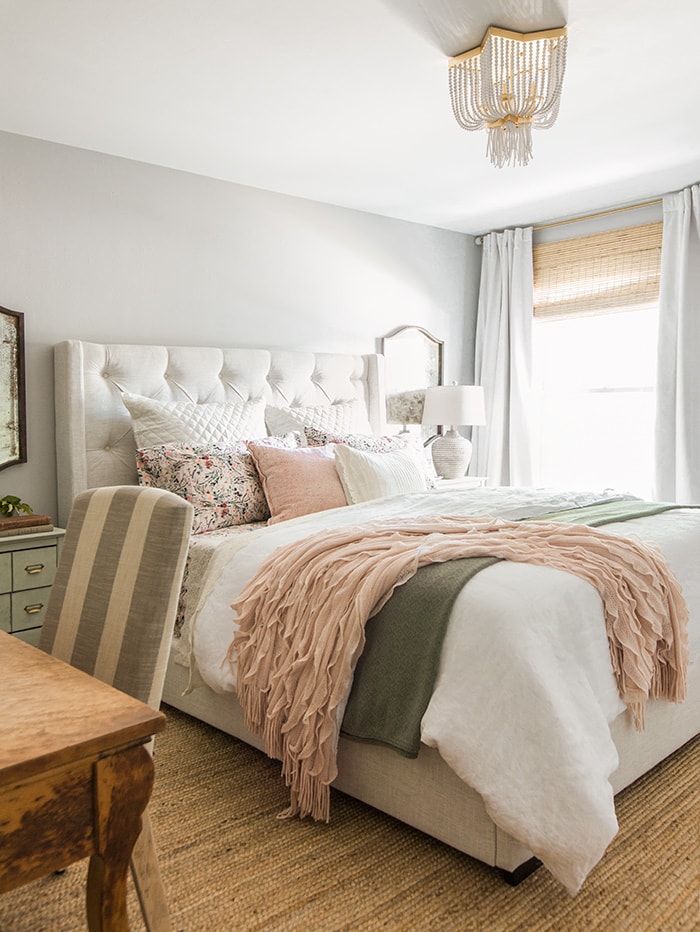 Pin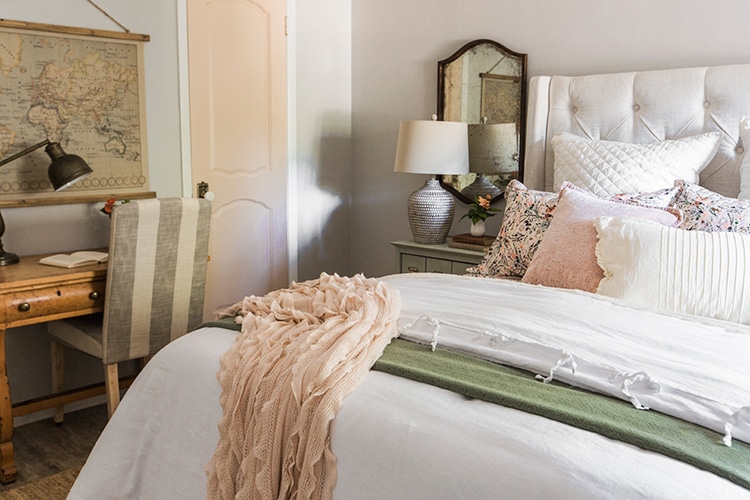 Pin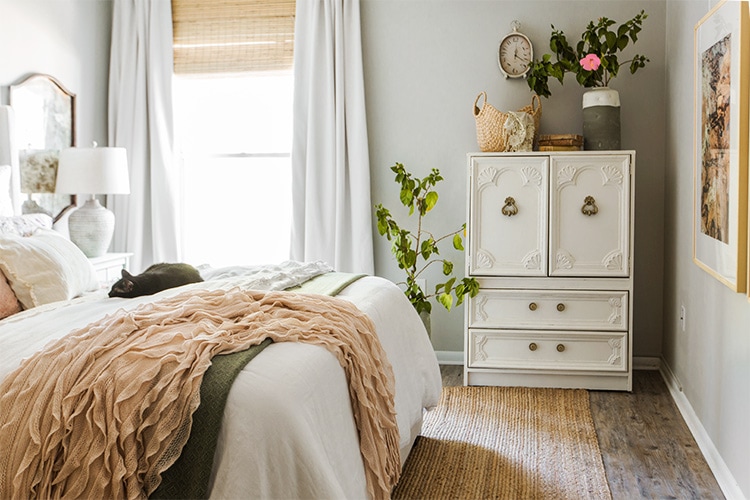 Pin
It really is a completely different room.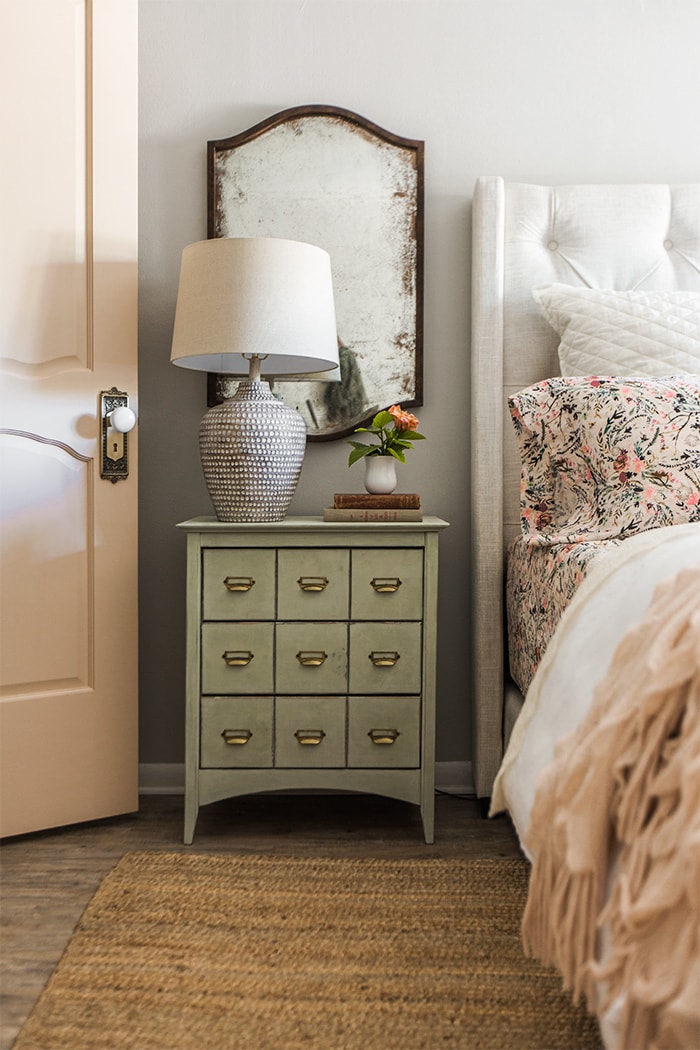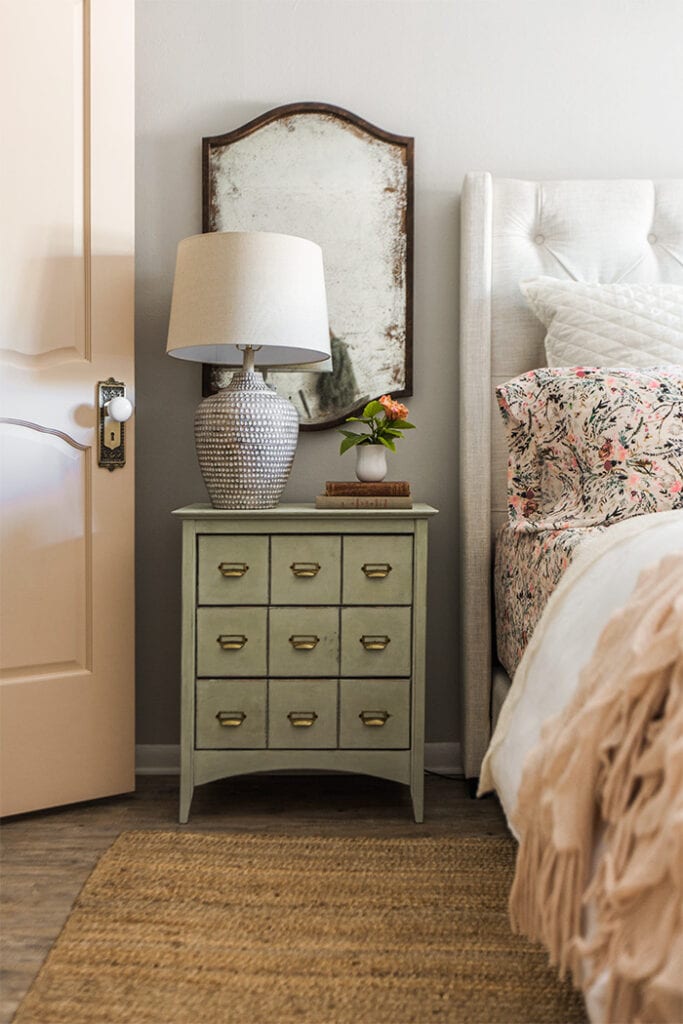 Pin
These nightstands underwent quite the makeover, too! You can find more details about them in Week 4.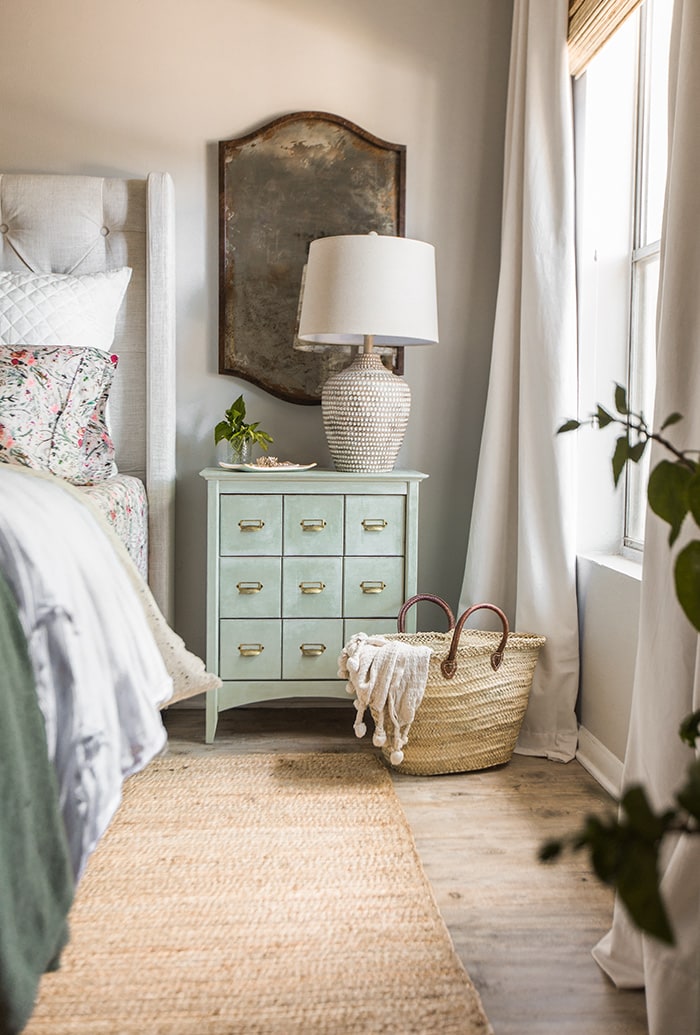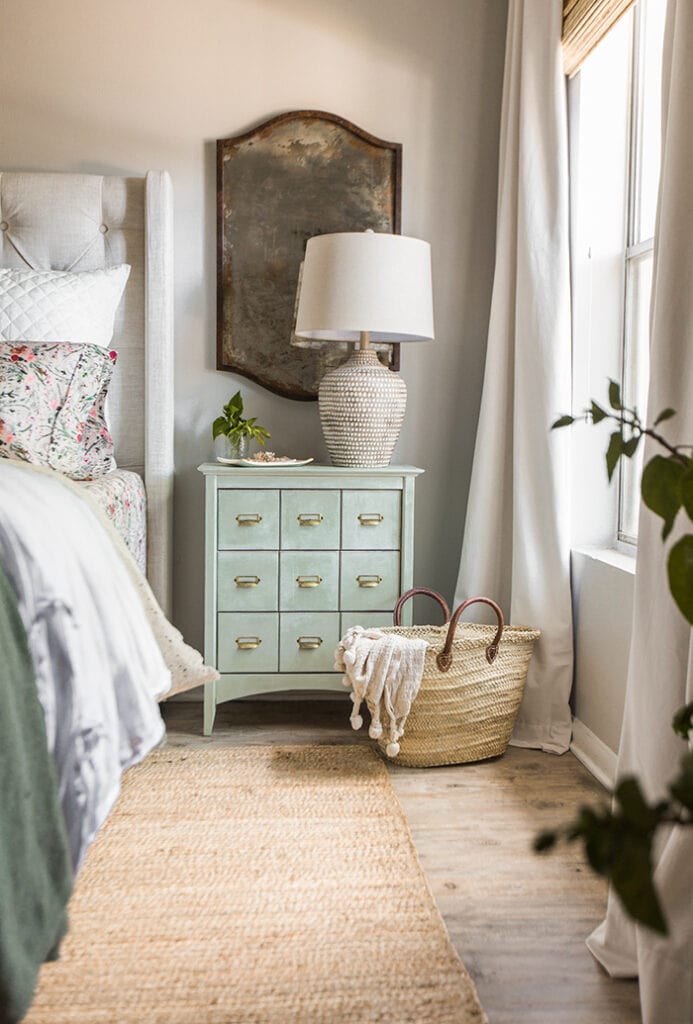 Pin
I was saving these mirrors for the reveal—what do you think? The original mirrors I had selected went out of stock, so I found these beauties from Bellacor and gave them a DIY aged finish (I'll post a complete tutorial on that soon!)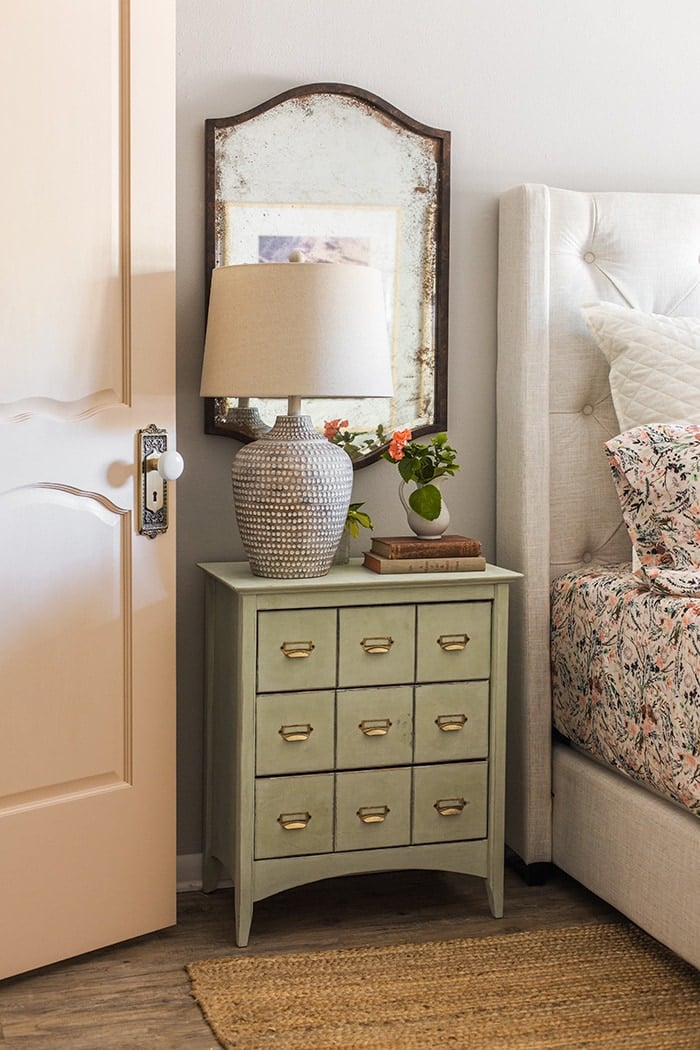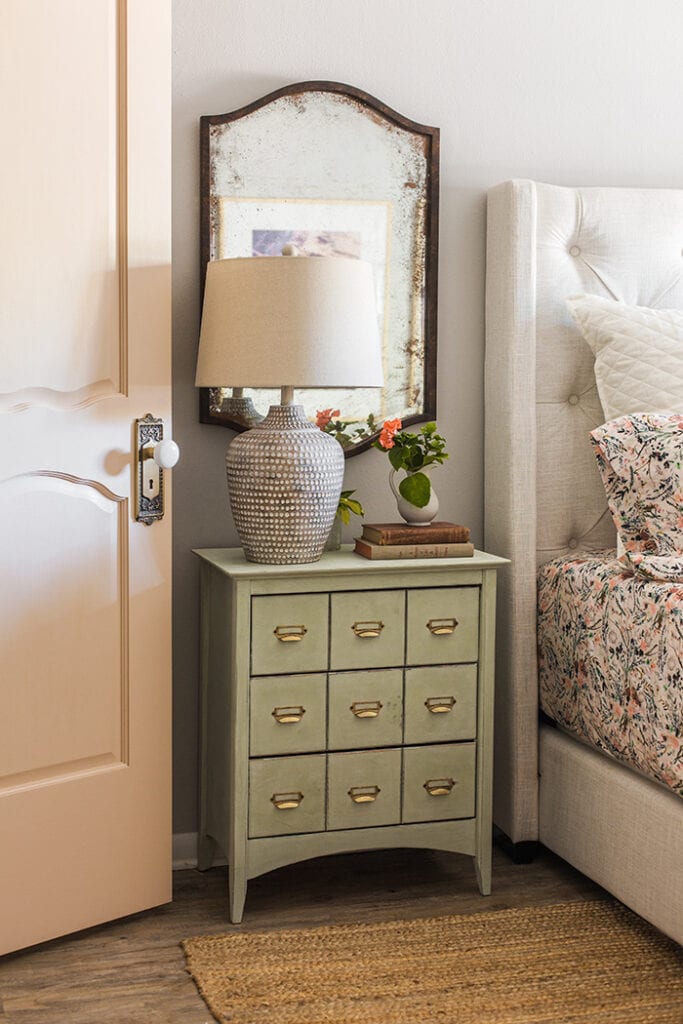 Pin
I love the patina look, and the shape of the mirrors even mimic the curves on the door. Speaking of this door…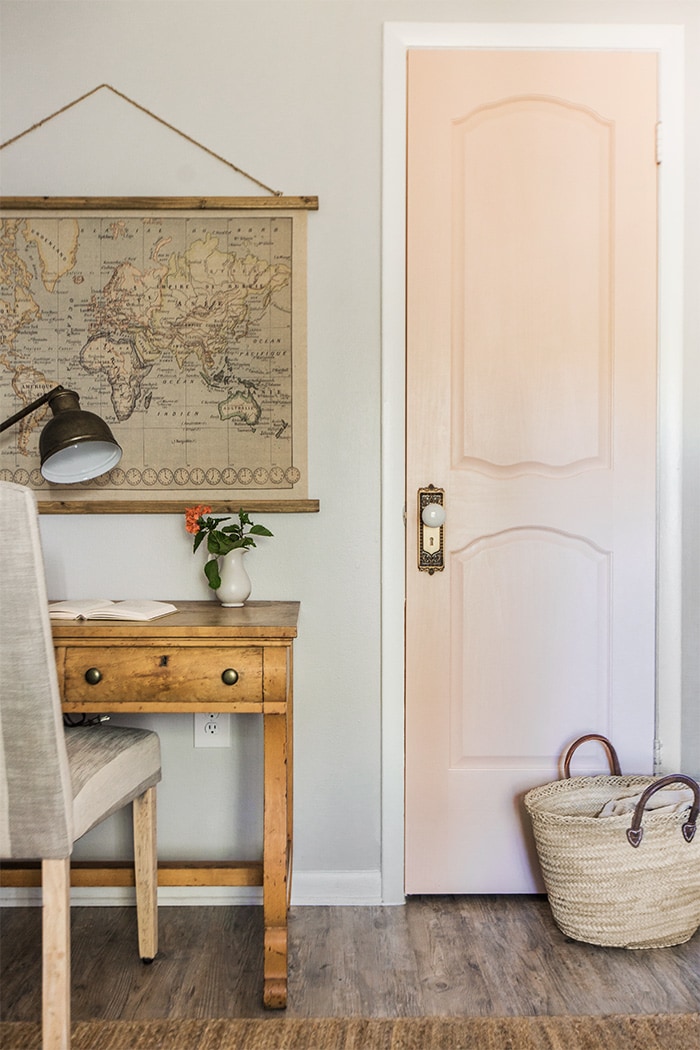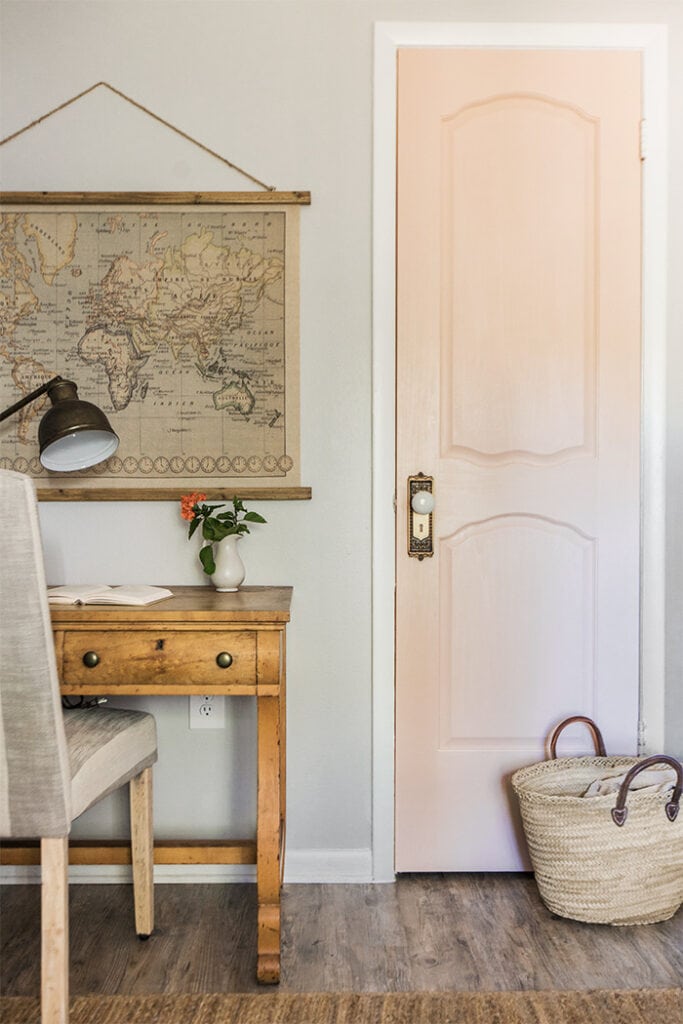 Pin
Be still my heart. It's from Metrie's "French Curves" line and is a match made in heaven for the antique door knob made by Nostalgic Warehouse (sold here). You can find out more details on both in Week 4.
And how about that perfect shade of blush pink? It's called 'Setting Plaster' by Farrow & Ball. It's always a little nerve-wracking selecting paint colors online, but the shade is exactly what I was hoping for. Don't you worry, I'll be taking these doors with me to our new home!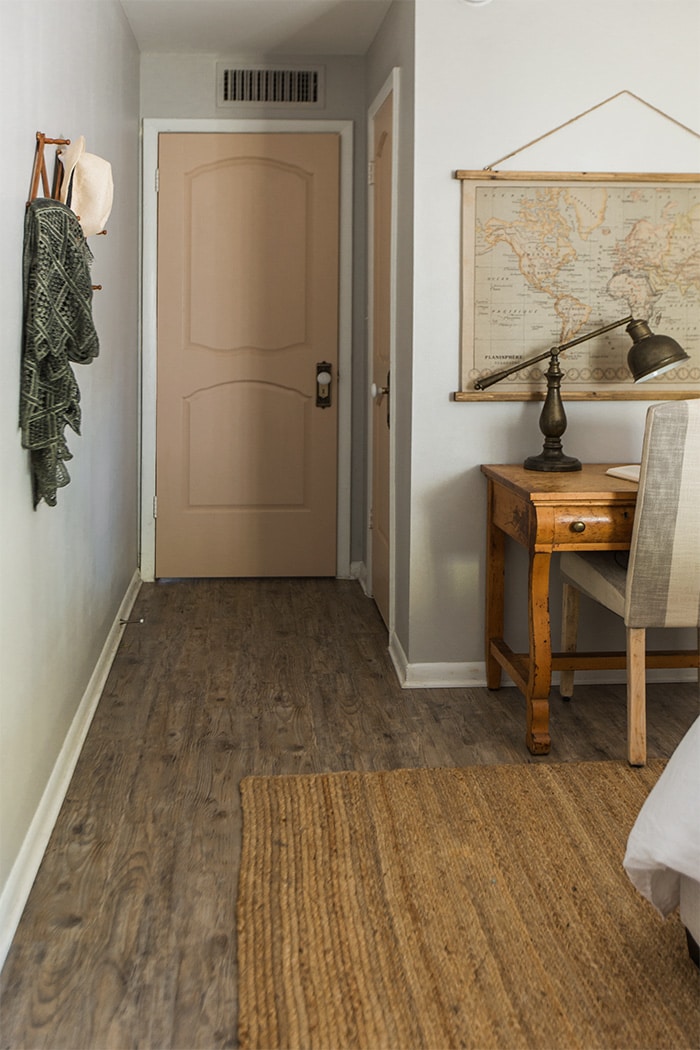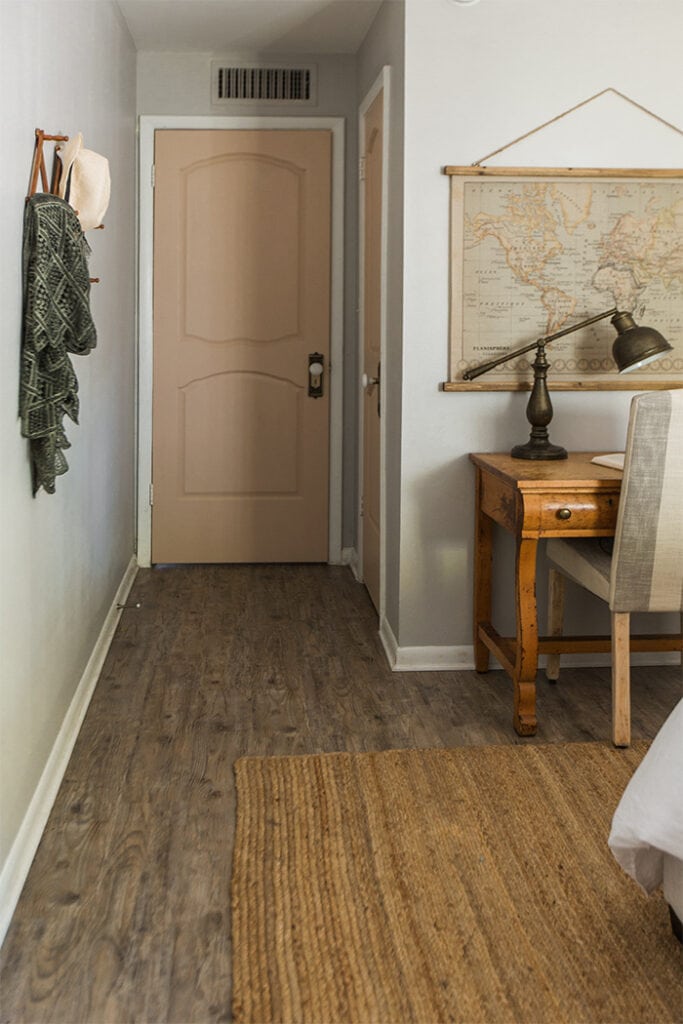 Pin
I spotted this very old antique desk on OfferUp a couple weeks ago, and it was mine for $50!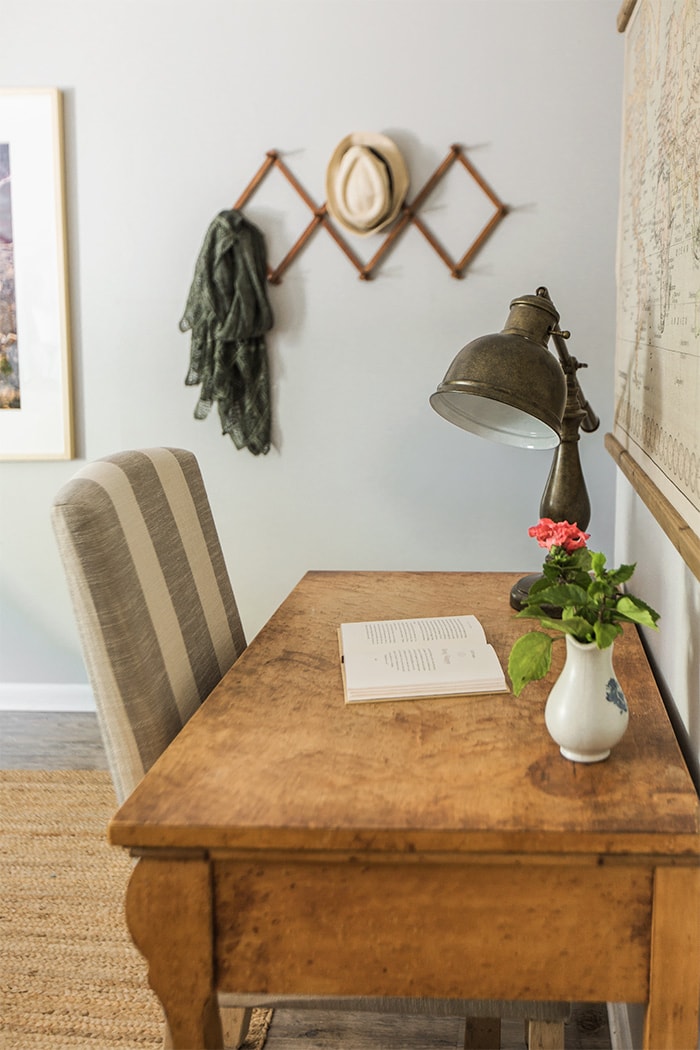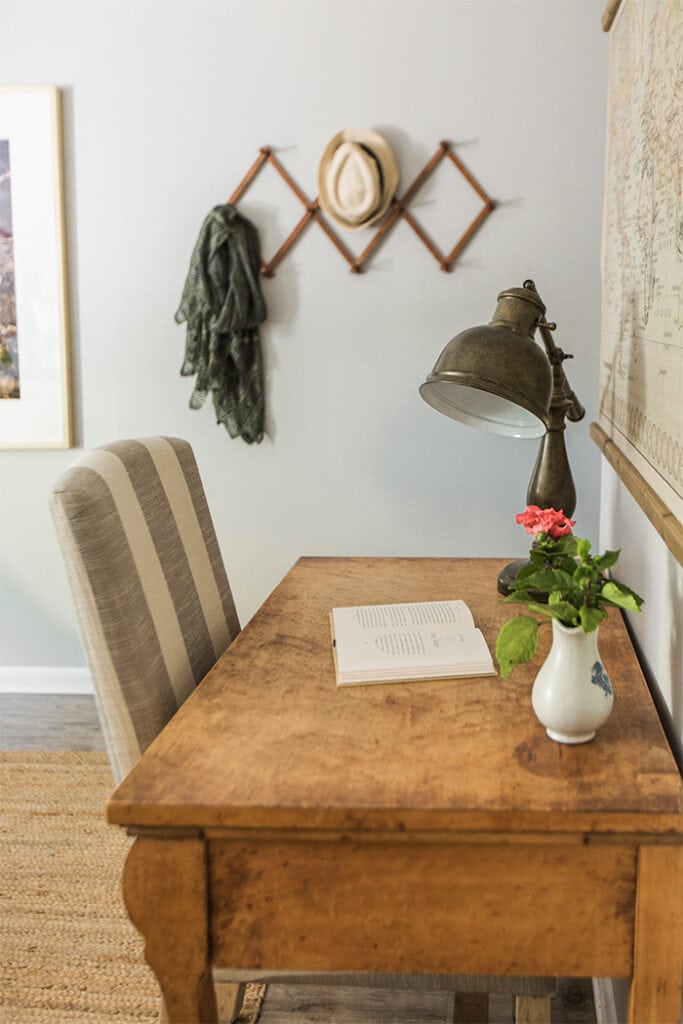 Pin
I love all of the history told through its imperfections. And how about that sweet striped linen chair from HomePop?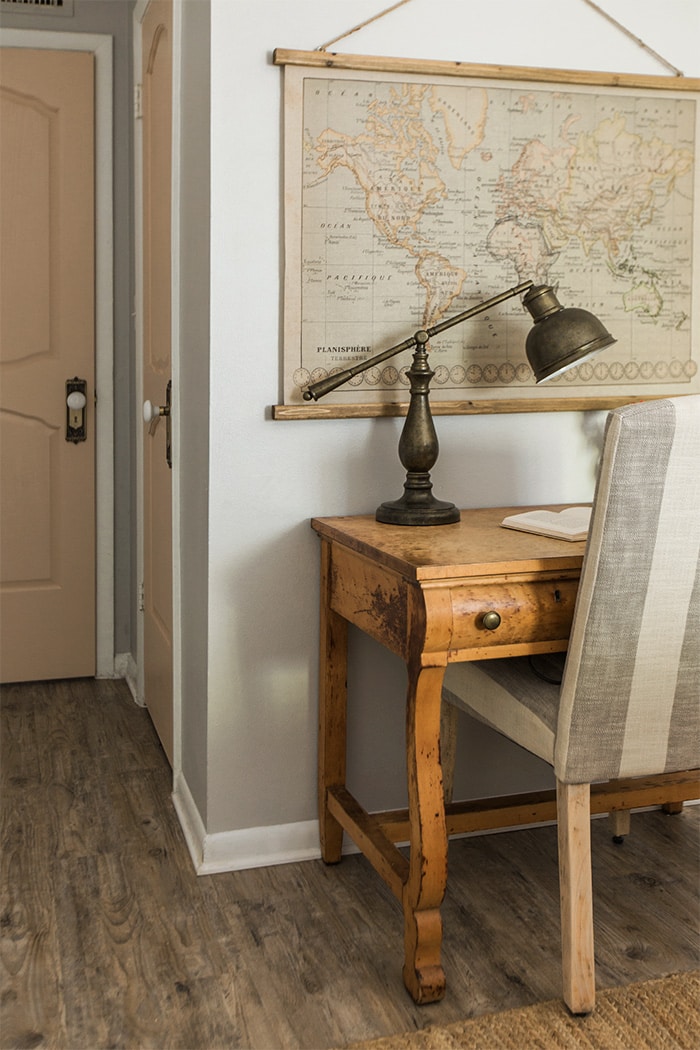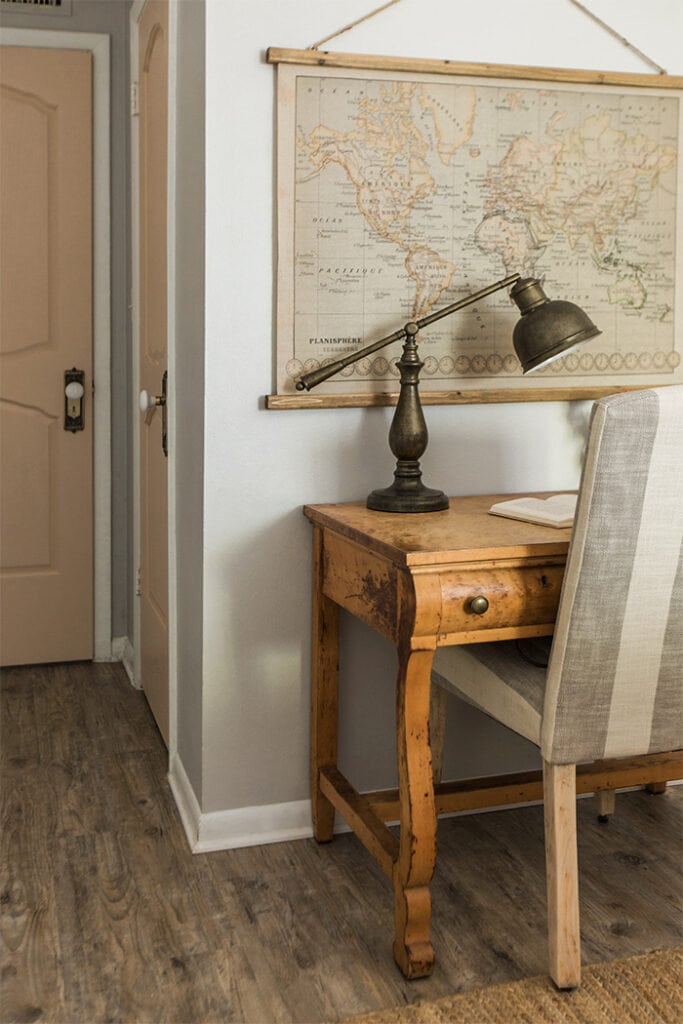 Pin
It fits right in with the style of the room, but I can picture these around our future dining table!
One of my favorite items in this room is this canvas map from Bellacor.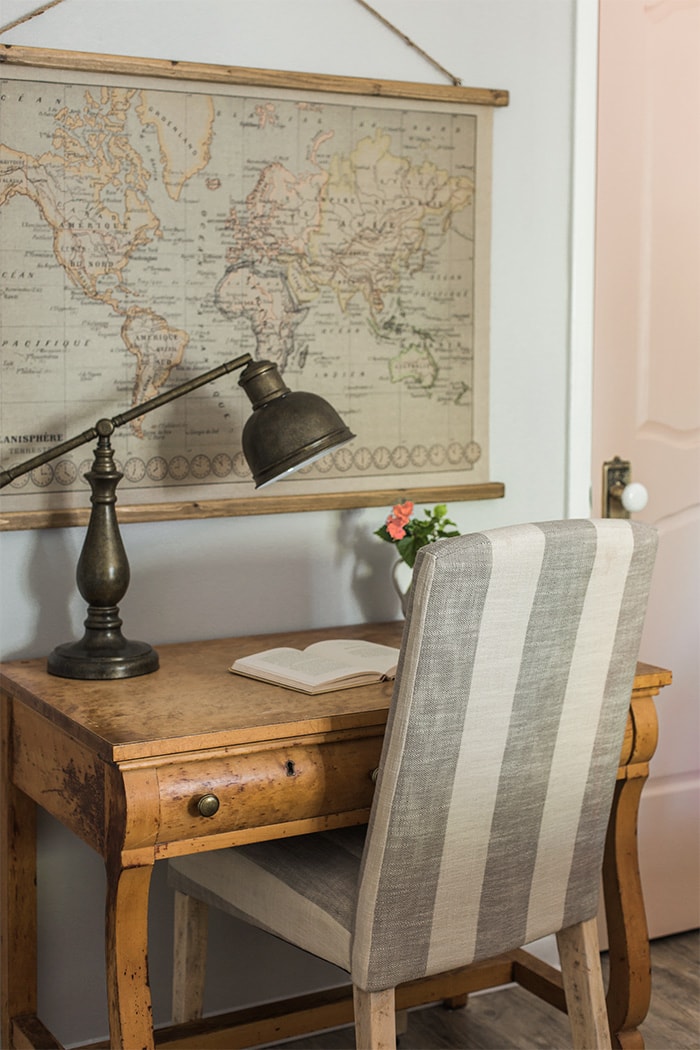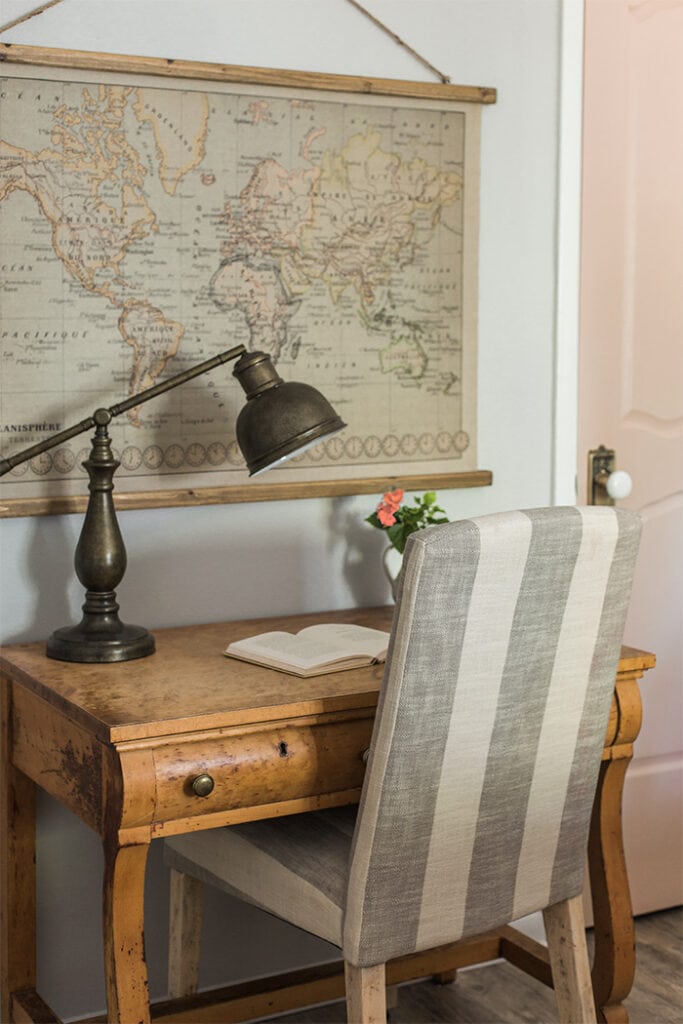 Pin
It's a French antique reproduction and the level of quality + detail was better than expected—especially for the price!
Another special piece in the room is this old wardrobe I made over back in Week 2…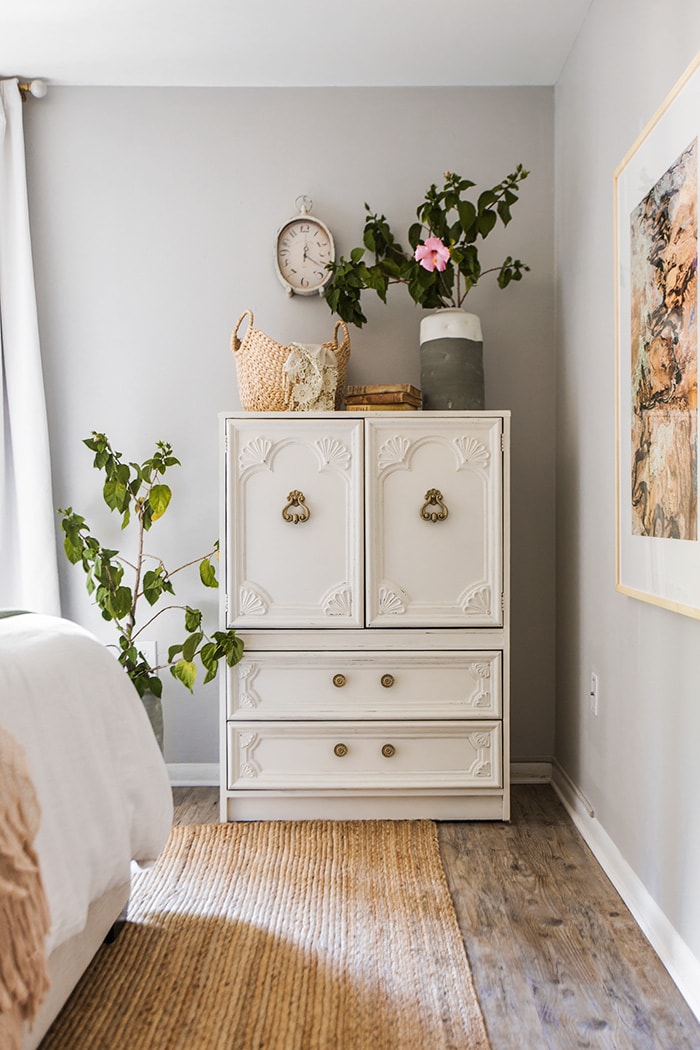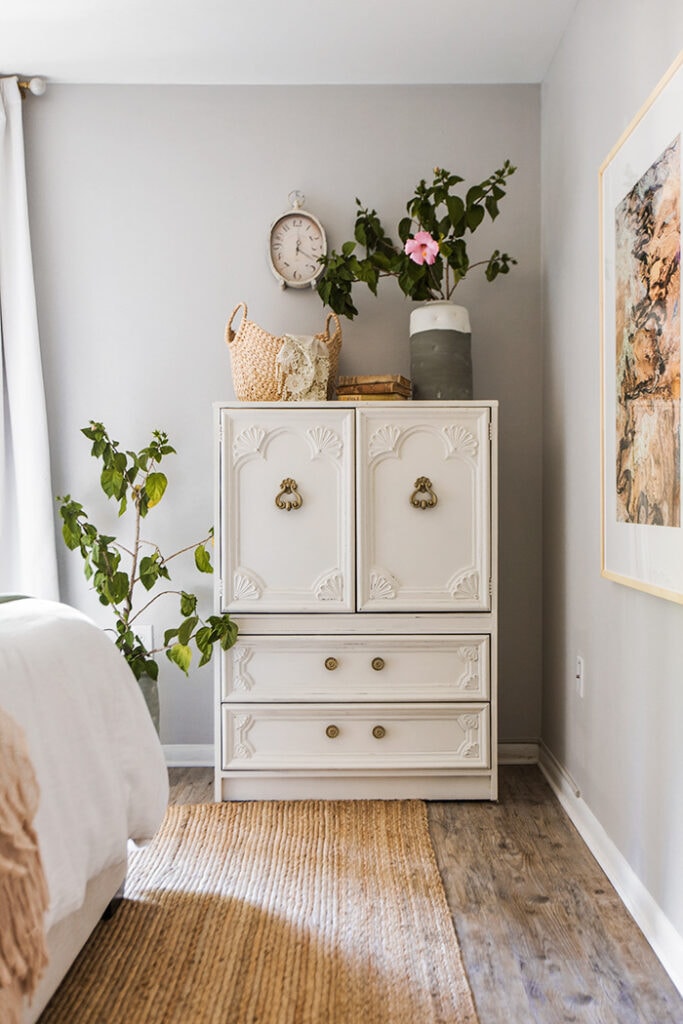 Pin
Ivory and gold, what a classic combination.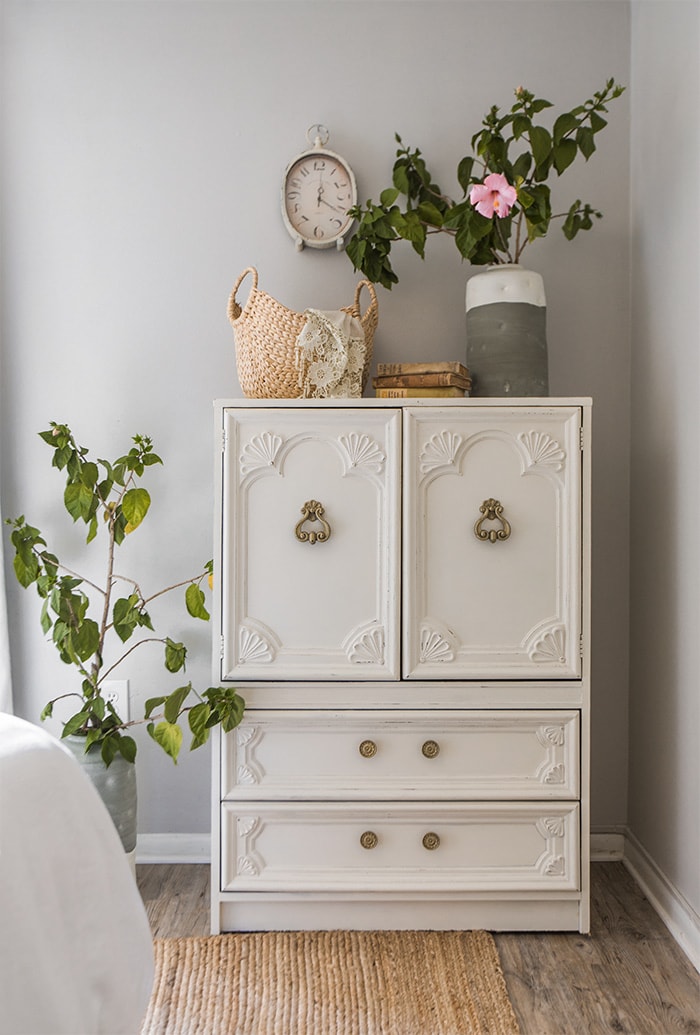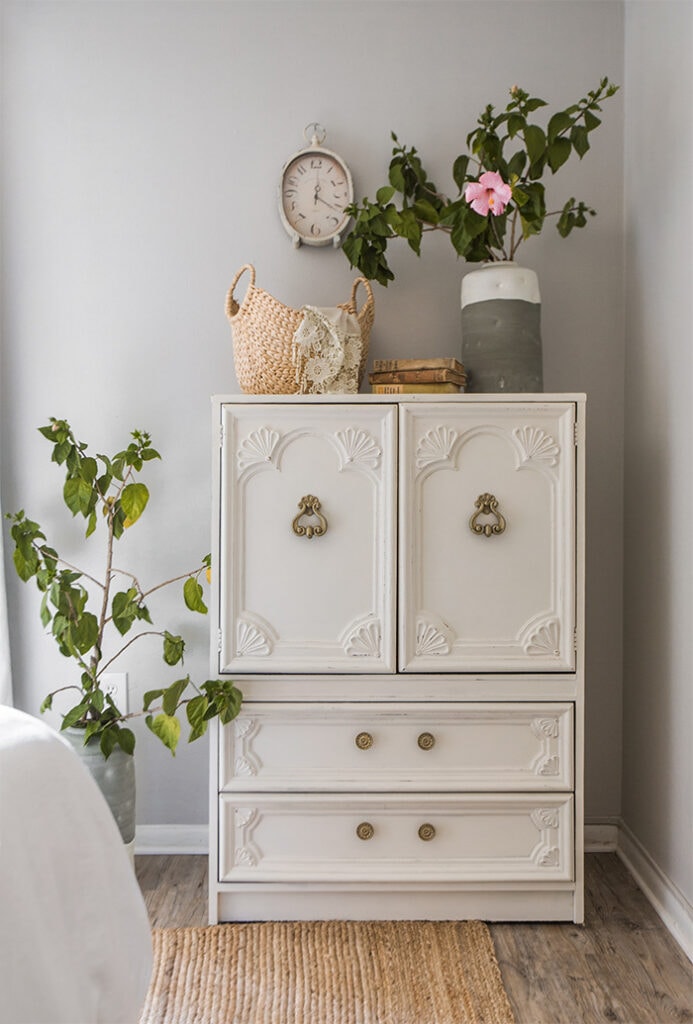 Pin
I found these handmade ceramic jugs on Lamps Plus of all places, and love the organic touch they bring to the room (large vases are a necessity to hold those branch clippings!)
Another great Lamps Plus find are these fun wood-like textured lamps…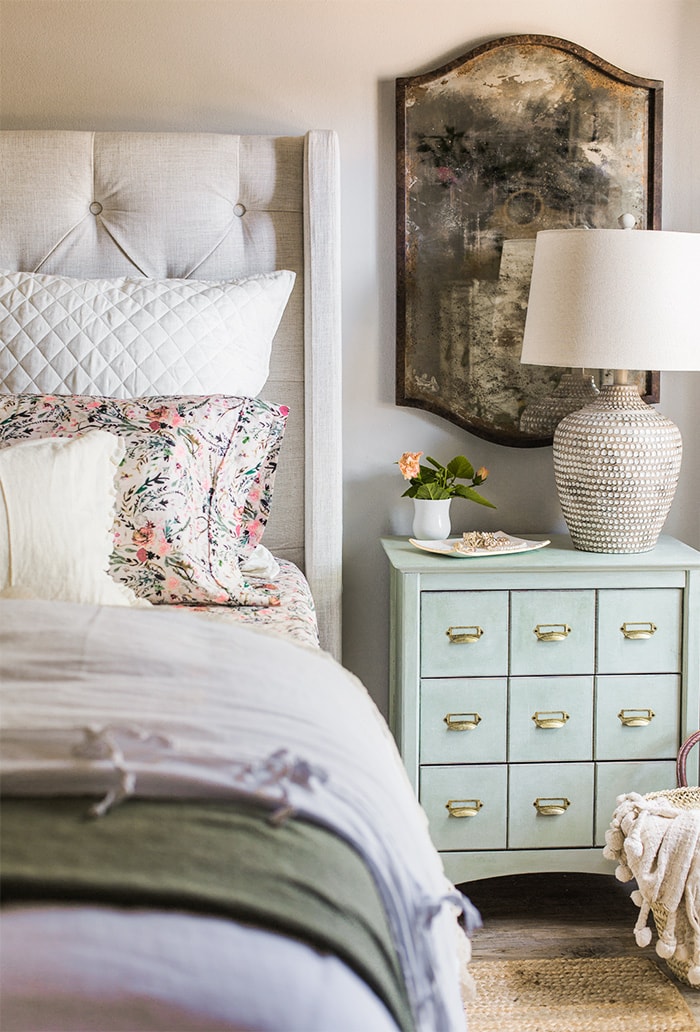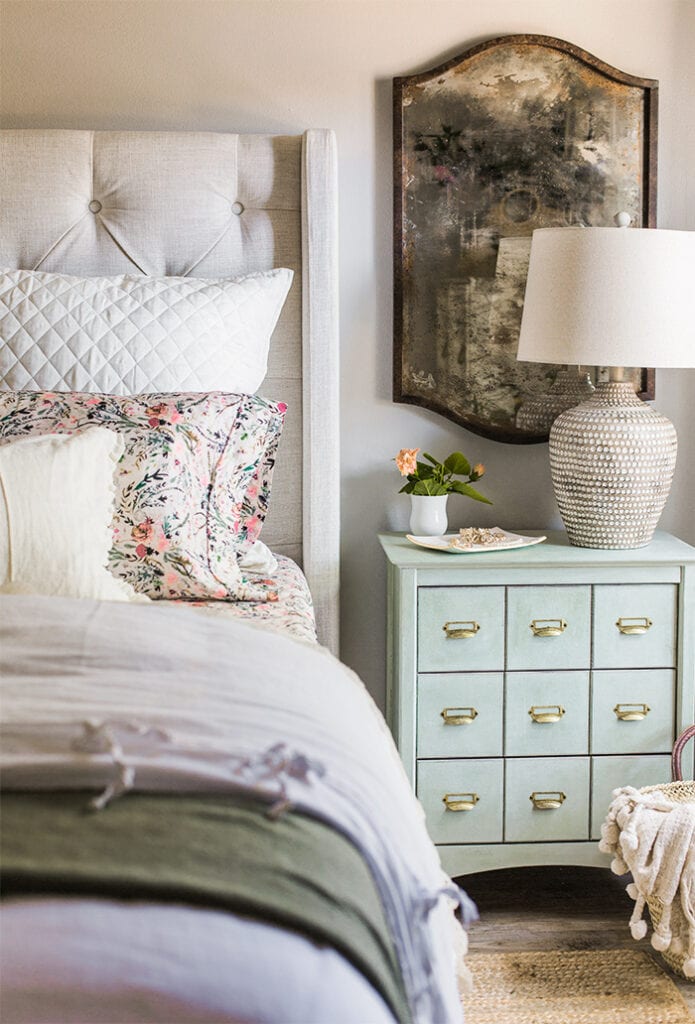 Pin
It's all in the details. Bringing in a little sparkle with this hand painted pink & gold tray from Jill Rosenwald: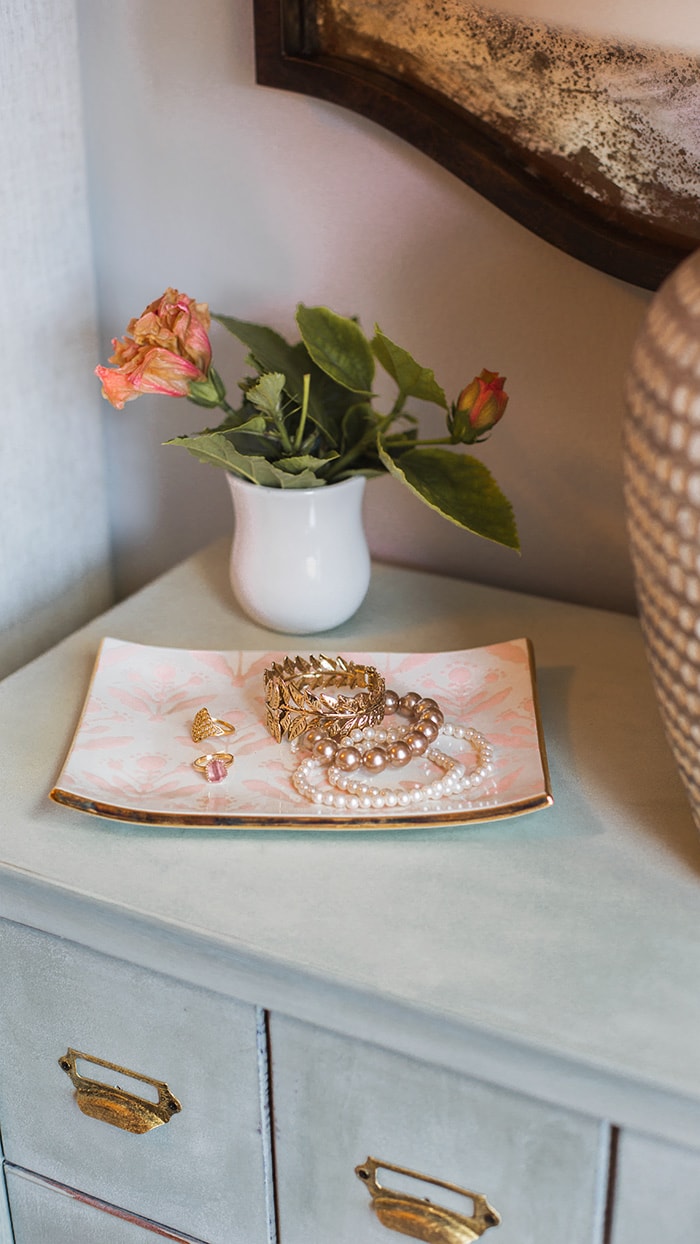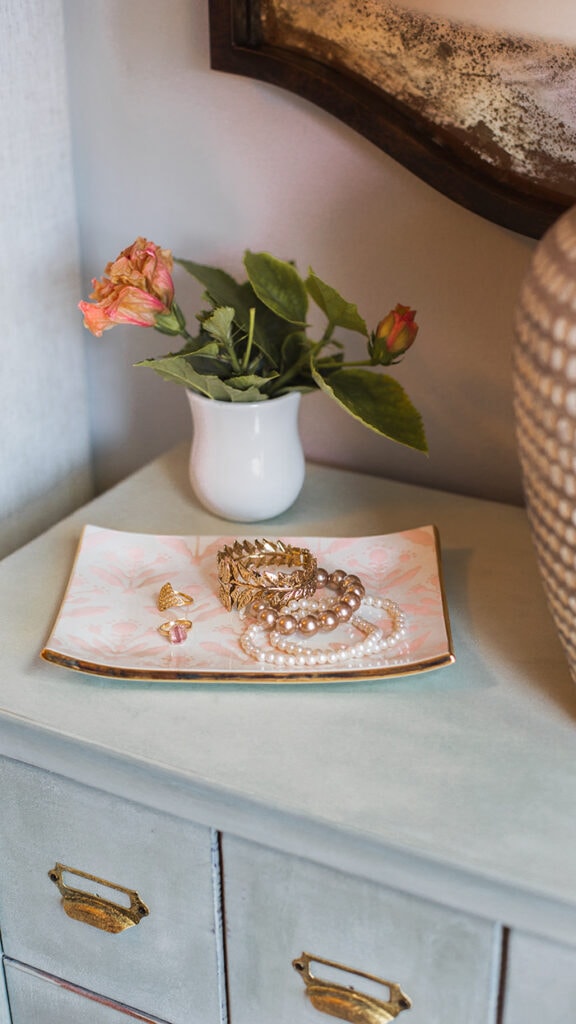 Pin
But the focal point of this room is this grand tufted bed from Overstock…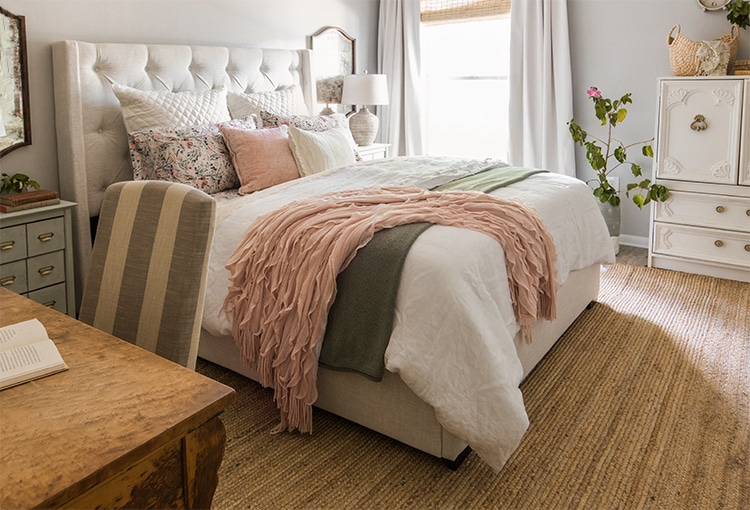 Pin
And the floral sheets from Roostery? Obsessed. In the running for my favorite thing in the entire room.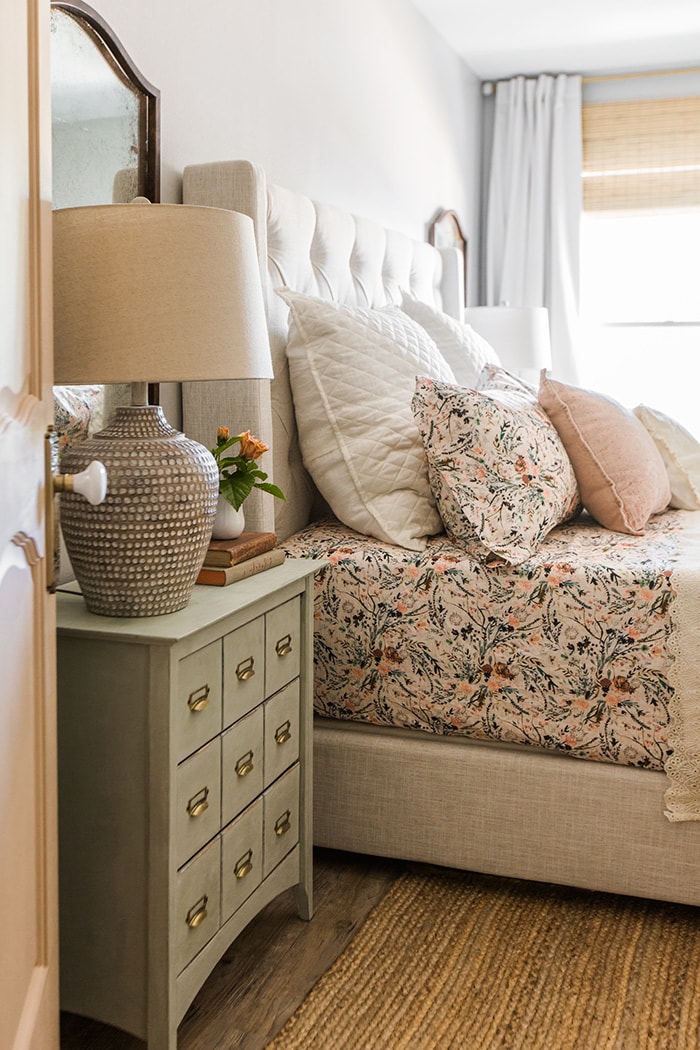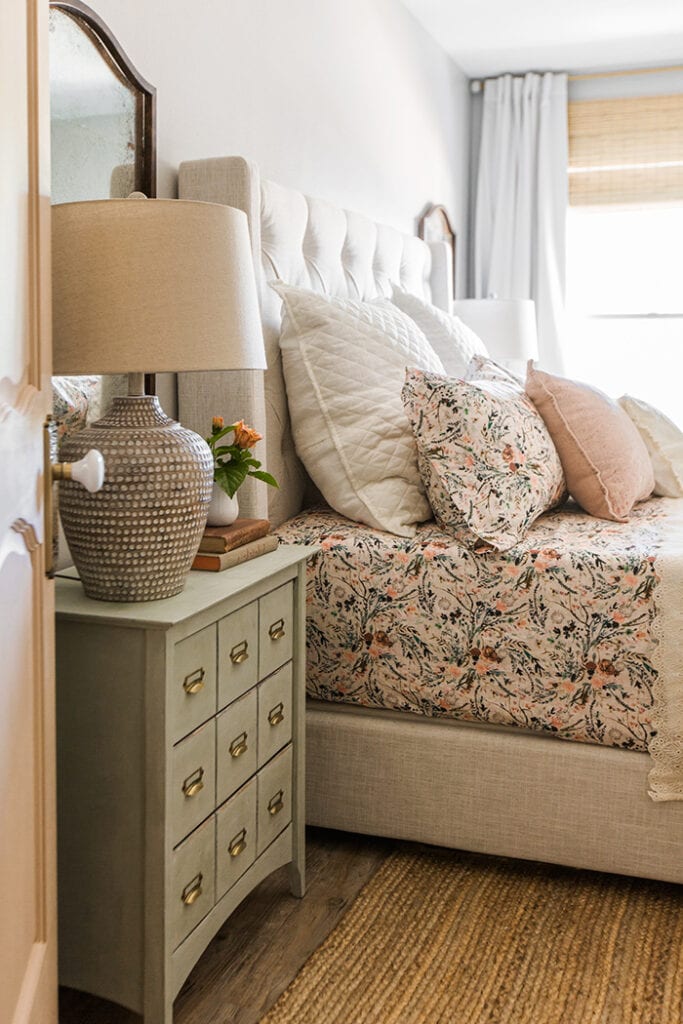 Pin
Last week I shared my tips for styling a bed like a pro and all of the elements I used to bring this bed situation to life. Like the necessary things you don't see—the low profile foundation, the memory foam topper, the extra fluffy comforter, and then the mix of linens like these quilted euro shams from Pom Pom at Home.
I love adding unexpected touches, like this lace bed scarf…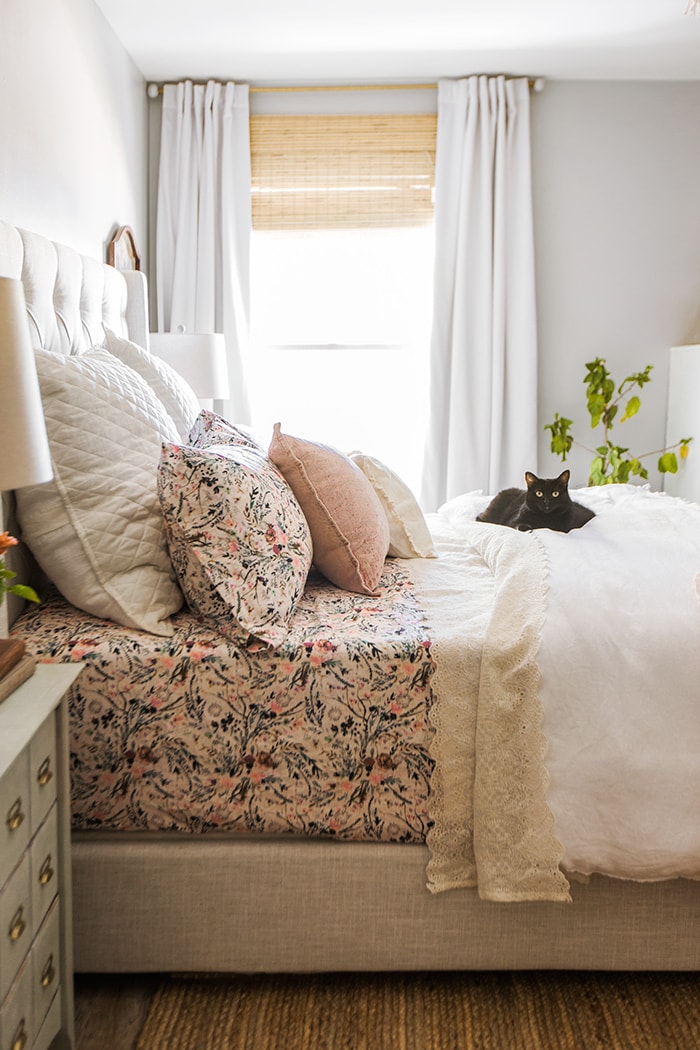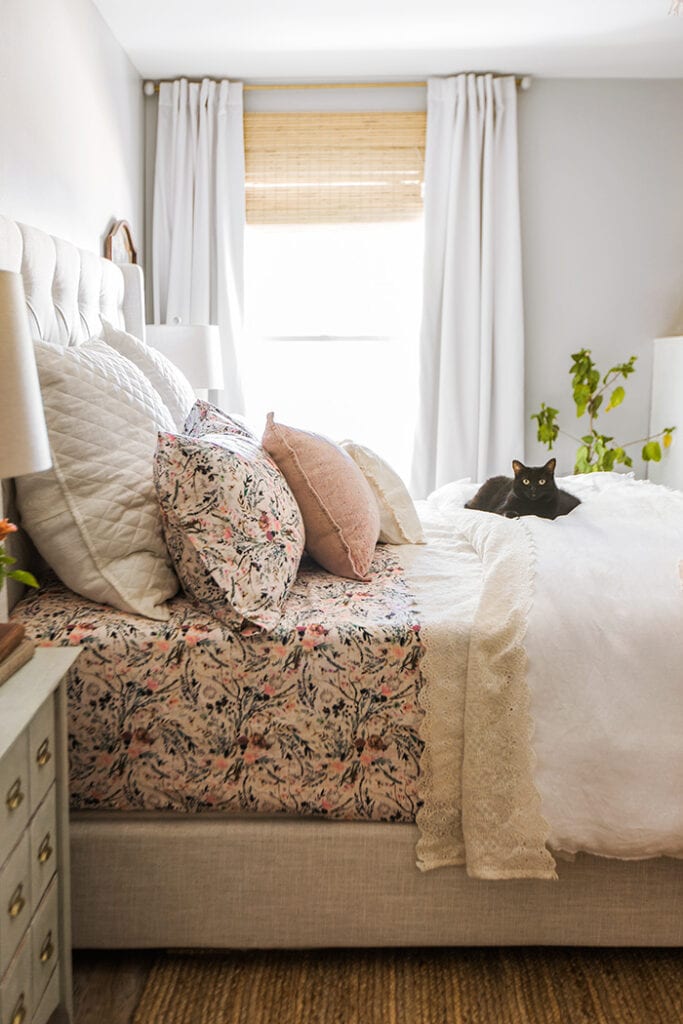 Pin
Linen has to be the most versatile and luxurious bedding fabric. I chose a classic white linen duvet cover, also from Pom Pom at Home. Susie can't get enough either.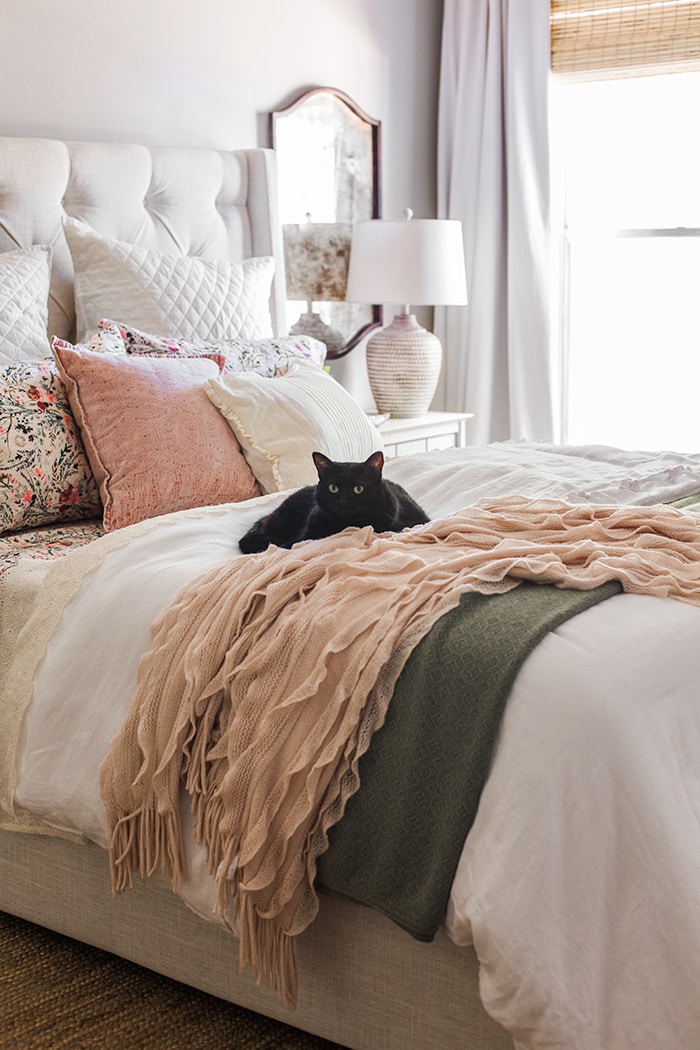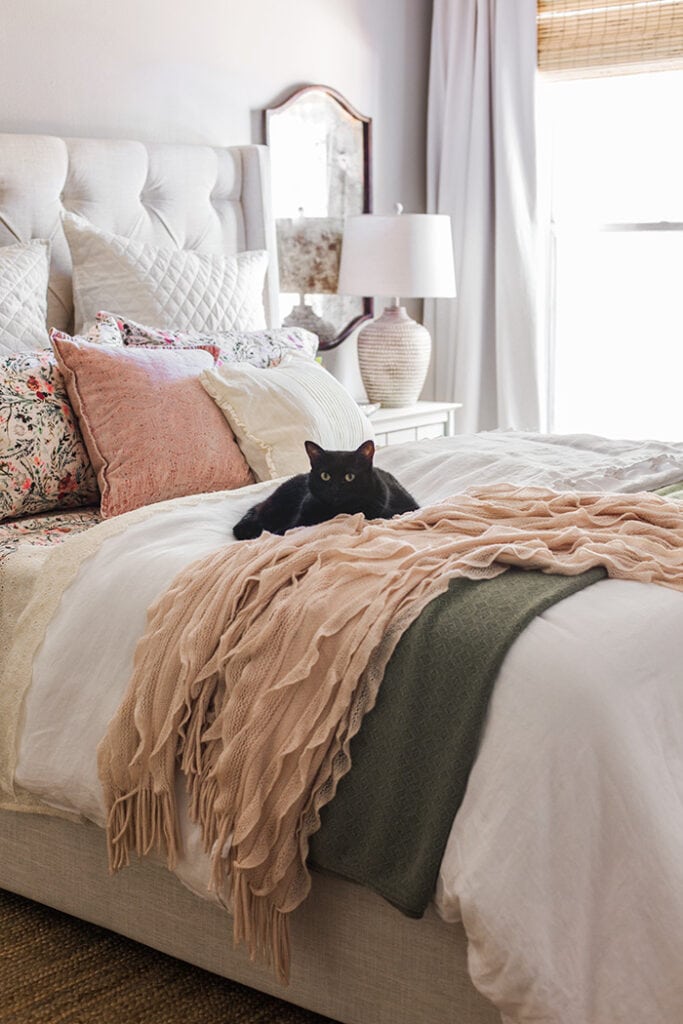 Pin
The pink throw was from 4 or 5 years ago at Kohl's, and the green quilt was a thrift store score.
One addition that immediately changed the feel of the room is this 8×10'braided jute rug from eSalerugs: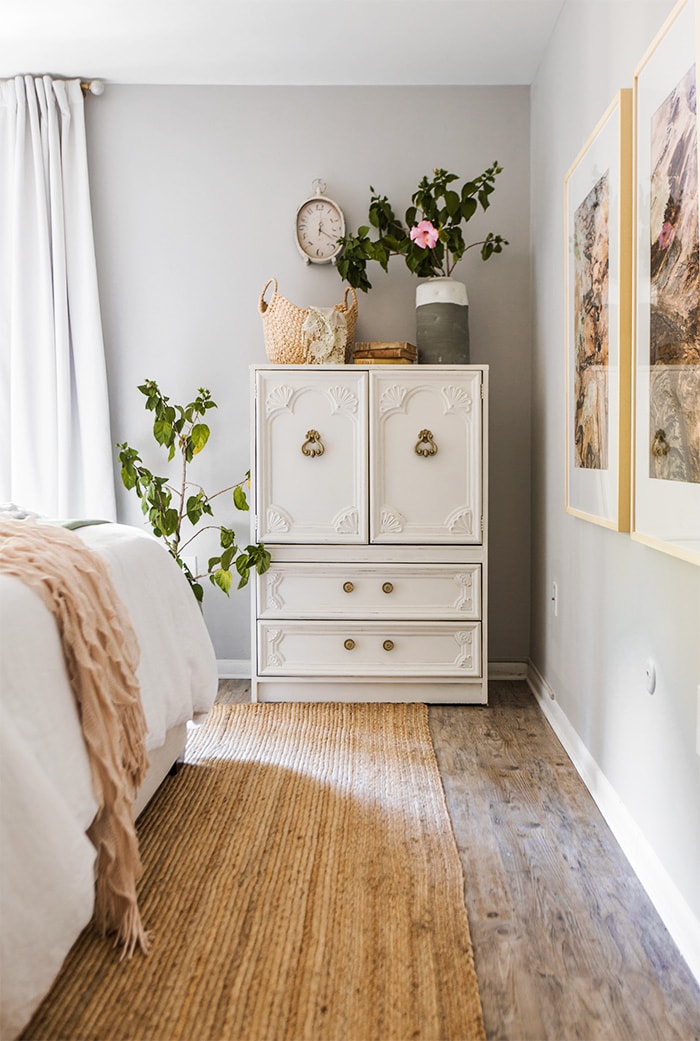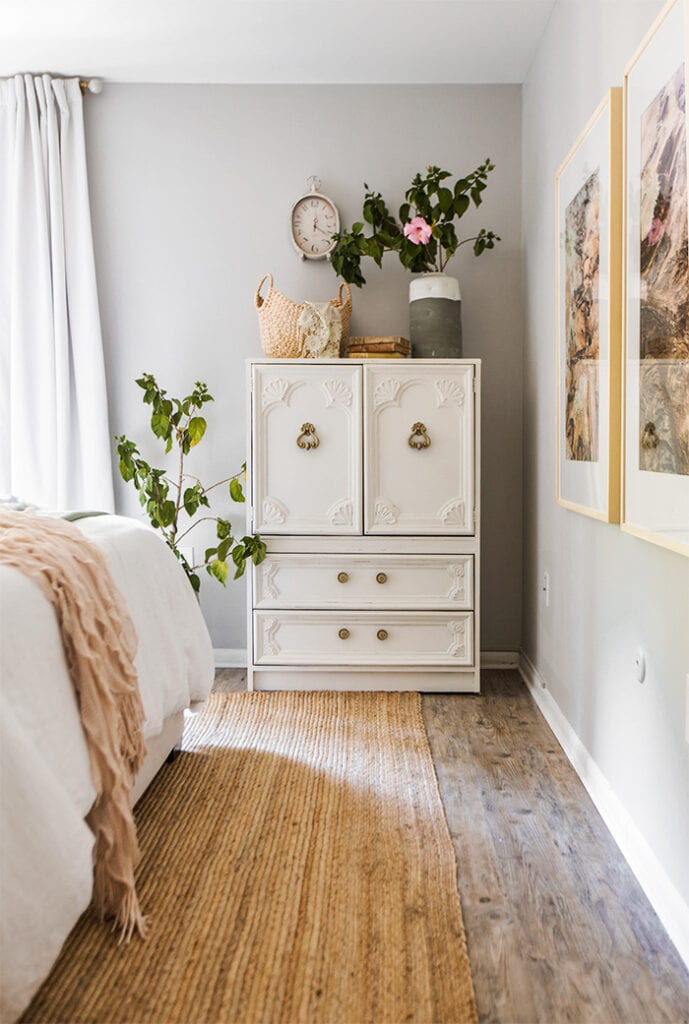 Pin
Rugs should be a requirement in every bedroom—it's the easiest way to make a space feel cozier!
Another huge impact with a small change came from the window treatments. The small window got a facelift with bamboo roman shades (hung high on the wall), and plush velvet white drapes hung up to the ceiling on a pretty gold curtain rod: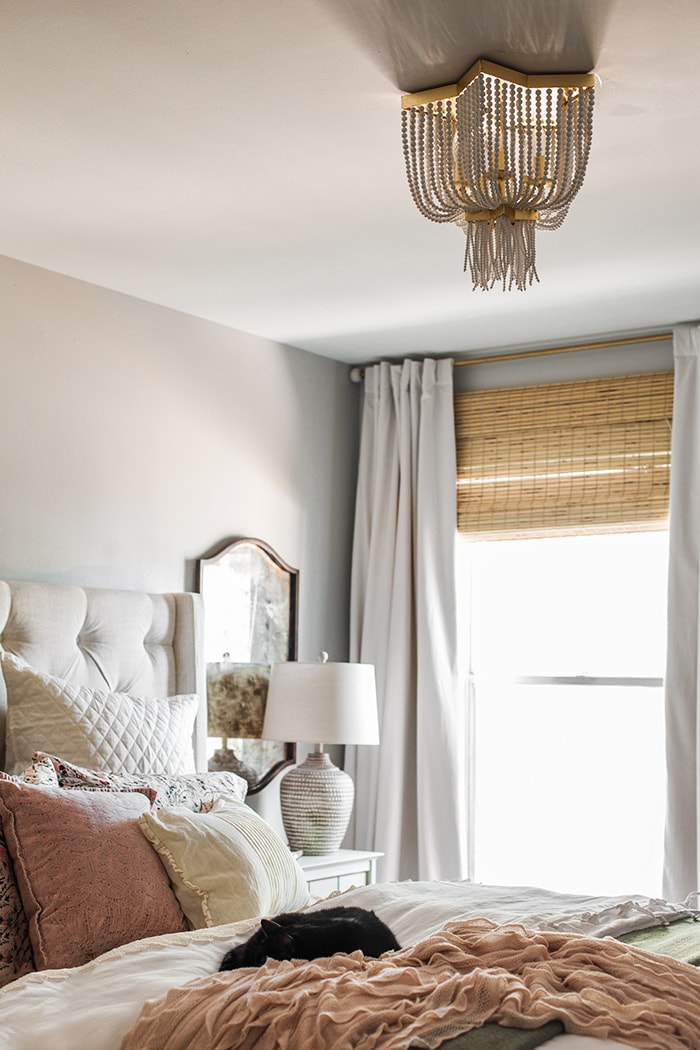 Pin
It's amazing what this trick will do to any window! And did you notice the beaded chandelier? Another unique Bellacor find that I love waking up to every morning.
These abstract art prints from Minted also greet us each morning…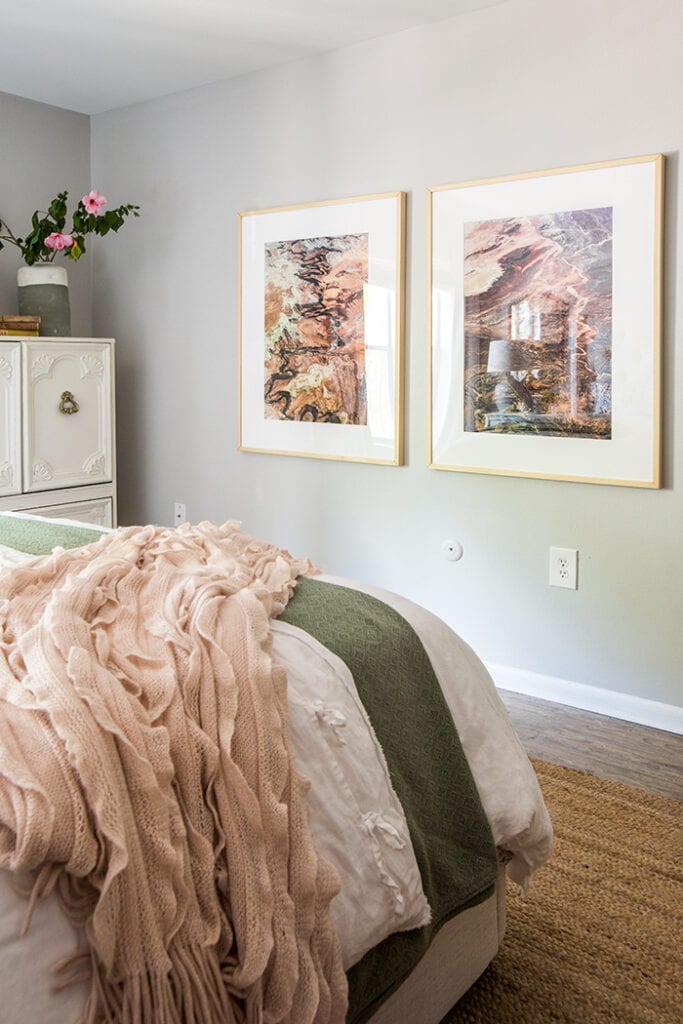 Pin
They're aerial landscape shots (my favorite) and I love the soothing color palette.
Well folks, that about wraps up the tour. It's a small space, but when you fill it with things that inspire you and bring you joy… it's really all you need.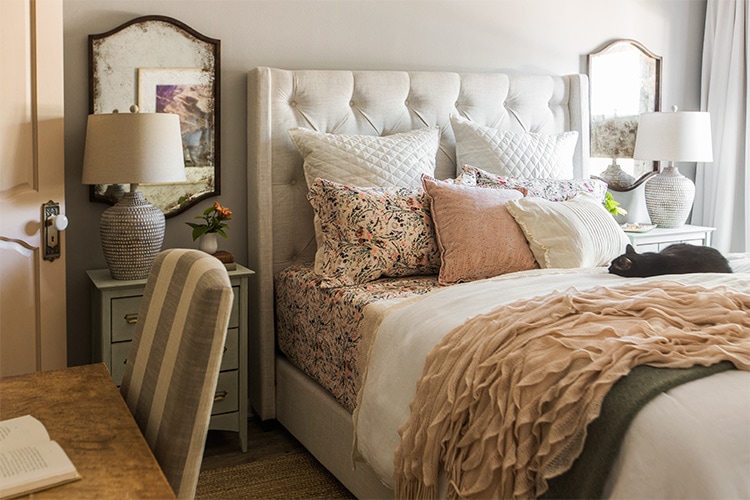 Pin
This is the first apartment I've ever decorated, and while I did put some effort into making changes that I'll have to switch back & take with me when we move… it was all worth it. Having a home you love is so important, no matter where you live, and it's always worth the effort to make it your own.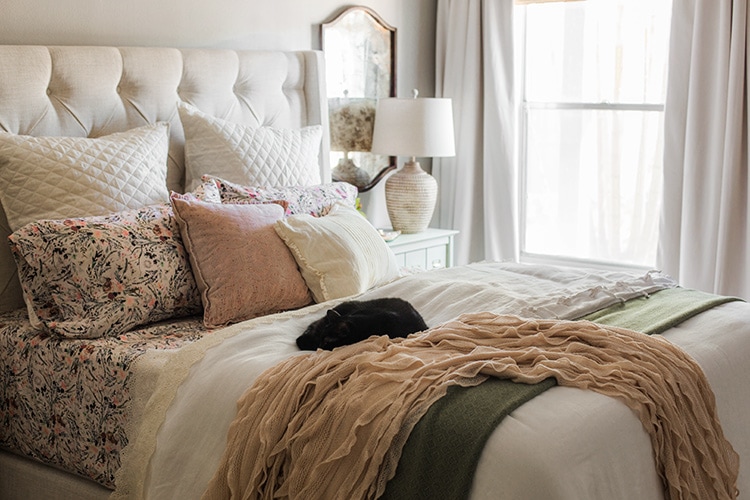 Pin
As always, I hope you found something of inspiration to take away from this makeover. Tell me, what is your favorite part? Mine has to be those doorknobs, followed closely by the floral sheets. Lucas' favorite is the bed and the map. But ask us again in a week and we might have a different answer 😉
The reveals don't end here—there's 19 other designers who are ready to show off what they've done!
Apartment 34 | Beginning in the Middle | Coco & Jack | The English Room | The Gold Hive
Gray Malin | Jenna Sue Design | Jojotastic | Kelly Rogers Int. | Linda Holt | Marcus Design
Michelle Gage | Natasha Habermann | The Painted House | Rambling Renovators
Sacramento Street | Shannon Claire | Sketch 42 | Stephanie Kraus | Bisou Style
Media Partner House Beautiful | TM by ORC
I've been pretty consumed with this project for the past few weeks, but I owe you guys an update as to what else has been going on with our houses, and life changes in general. It has been a rollercoaster over here and many things still hang in the balance, but I promise I'll share some news soon 🙂