Who is ready for another week of the One Room Challenge?!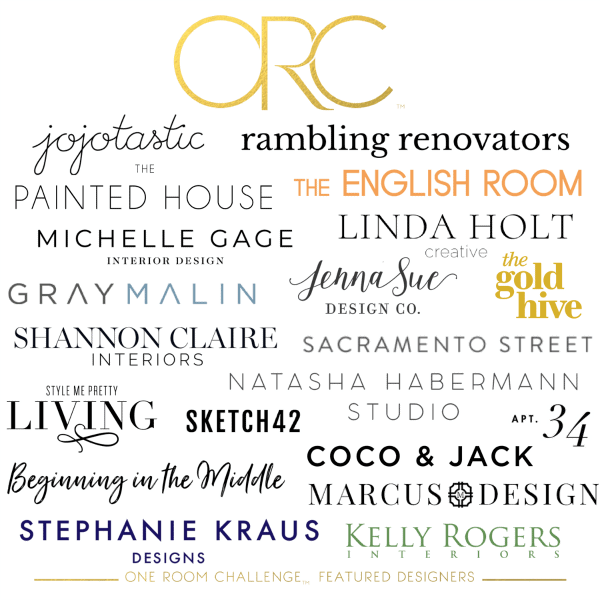 Pin
In case you missed the first week, you can get the scoop here.
I'd love to show you a bedroom that is 1/6th of the way to a big, beautiful reveal… but instead it's a mess of paint products, tools and tarps—and we've been sleeping on a mattress on the living room floor with our confused cat for 4 nights. Speaking of, did you catch our Spring Home Tour on Instagram?
While on the surface we've taken a few steps backward, we've made progress in our new furniture flipping venture! Watch it all go down, including our furniture refinishing process and the Before + Afters in this weeks vlog:
And meet our first project: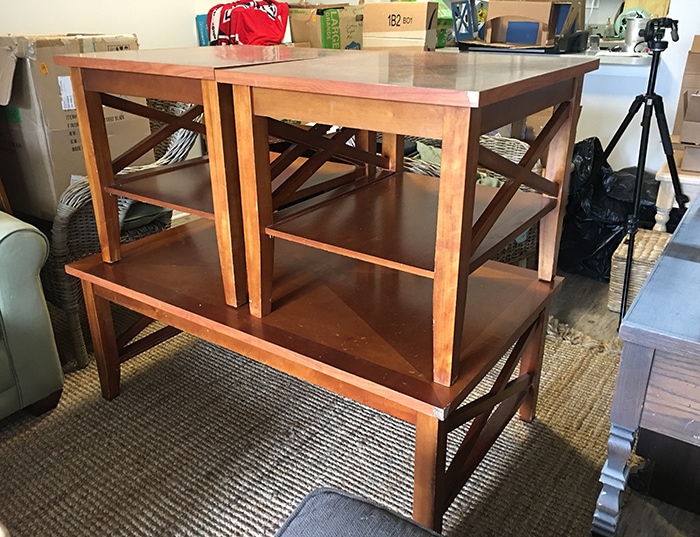 Pin
A $20 coffee and end table set (found on OfferUp) that had seen better days. The shelf on the coffee table was in need of repair, the wood was stained and the veneer had chipped off in several places. Nothing a little elbow grease couldn't fix.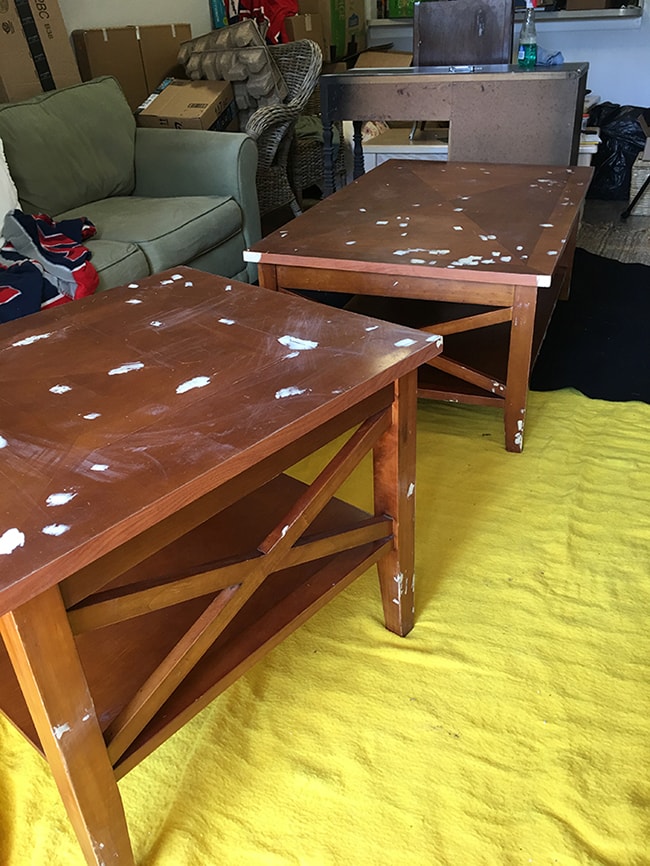 Pin
We were doing everything by hand at this point (I finally found my Mouse sander in storage a few days later) so it was a long and arduous process. It has been a while since I've refinished a piece of furniture, so my skills were a little rusty. Between patching, sanding, painting, sanding, fixing some mistakes, repainting, sanding, waxing and then fixing more mistakes, it took us three solid days to complete this set. Fortunately, there's no primer needed with this paint, so that saved us a huge step!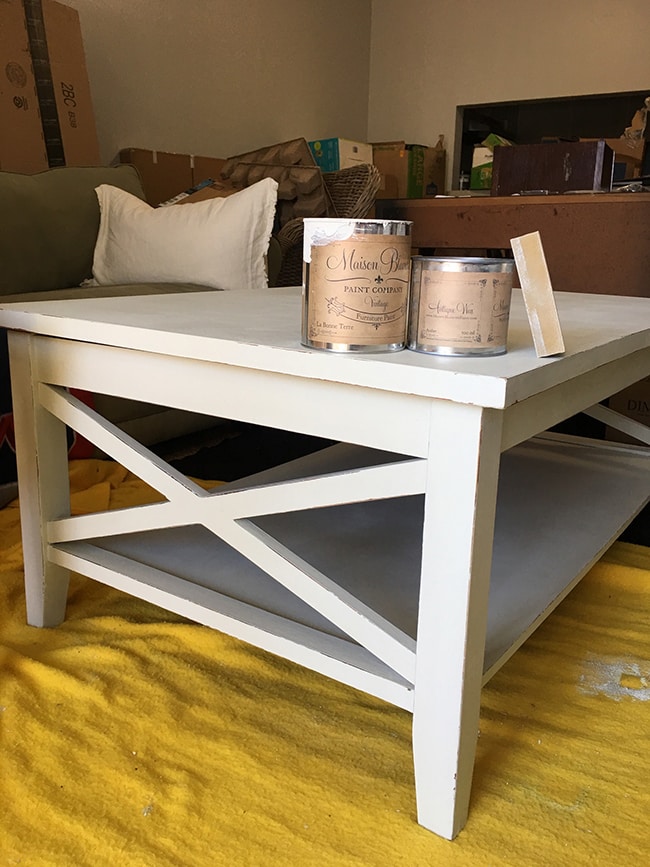 Pin
Still not the encouraging first experience we were hoping for. By the end of it we were rethinking all of our choices to embark on this new venture, but we had an entire apartment filled with old furniture that had to go.
Once the job was finished, I took the opportunity to clear out a corner of the living room for my first styled shoot in over a year! Oh the joy…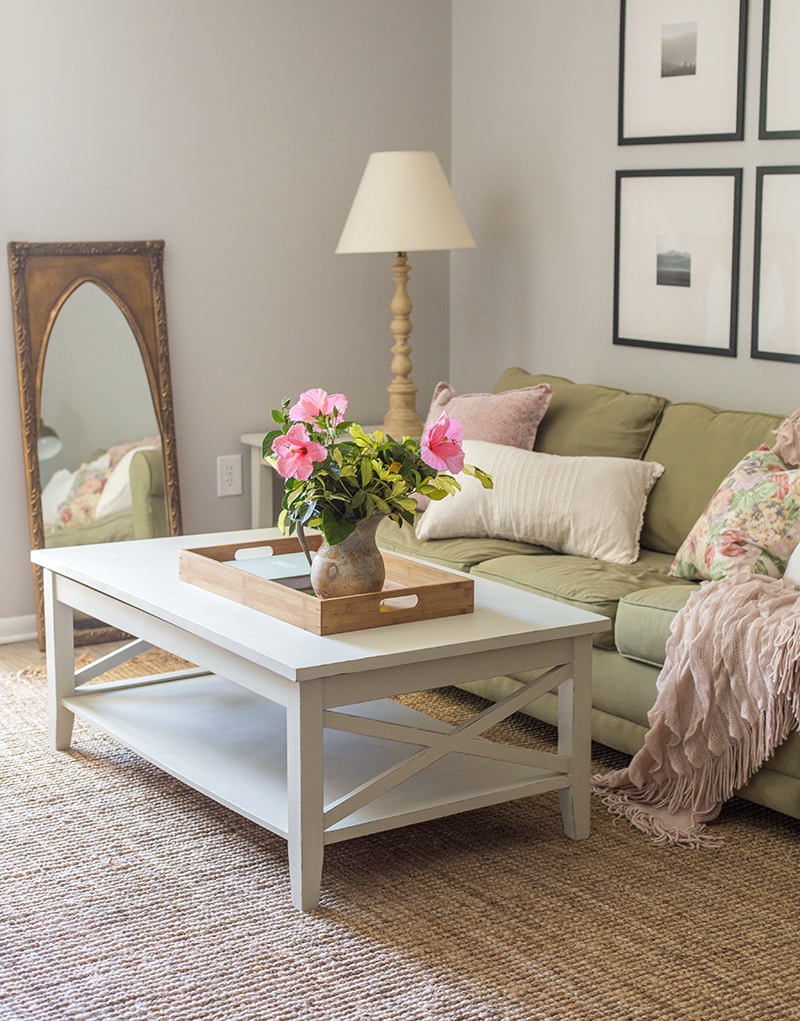 Pin
Seeing this happy completed space was an instant mood lifter. It's amazing how a little effort makes a huge impact on your overall well-being.  This is why I do this.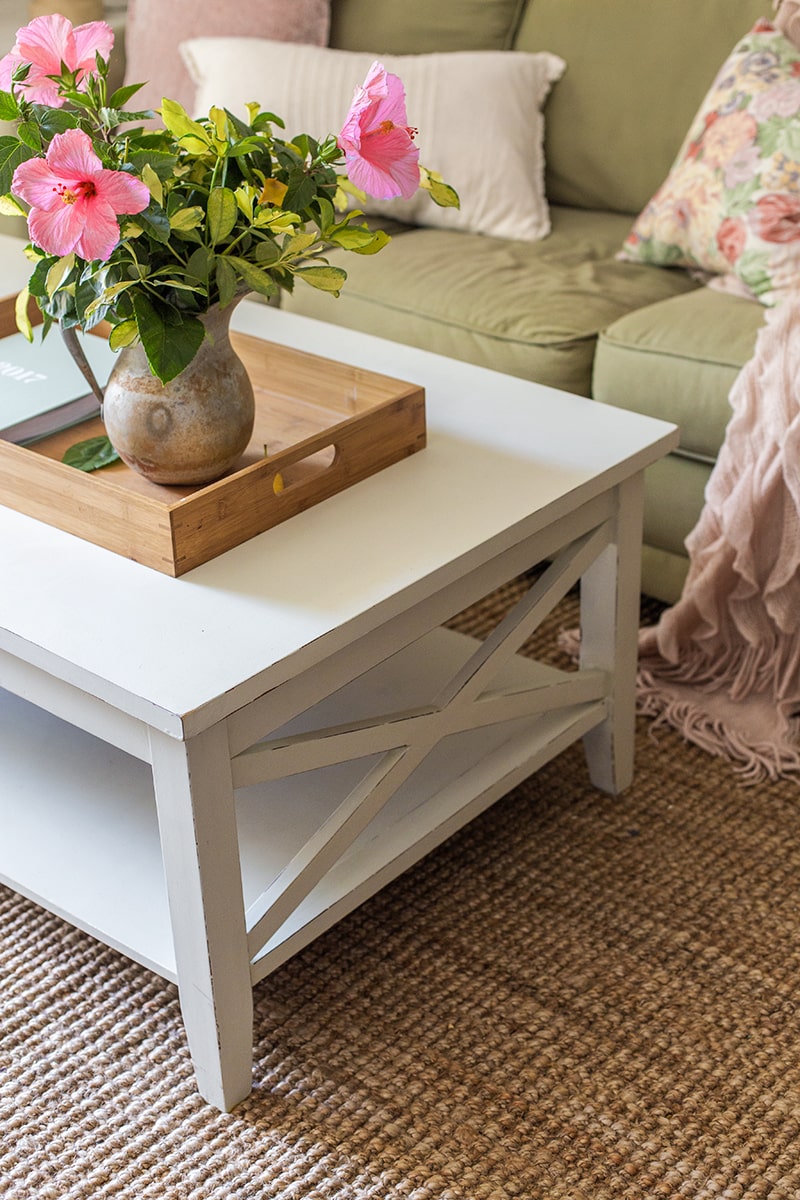 Pin
The pieces were painted in 3-4 coats of Maison Blanche La Bonne Terre (a soft white-grey putty shade), lightly distressed and sealed with Maison Blanche amber wax—PS, you can finally order Maison Blanche paints online!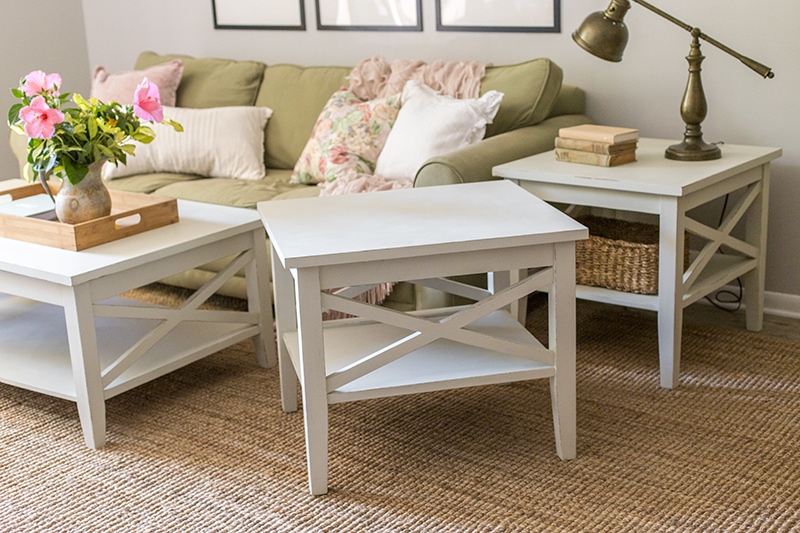 Pin
I listed the set on Facebook marketplace for $175 and was swarmed with messages—sold at full price within hours! It's amazing what well staged photos can do for a sale.
When you break it down, Lucas and I probably spent around 15 hours each from start to finish. That profit breaks down to $5.17/hr per person… folks, don't quit your day job to do this full time 😉
With our hopes slightly deflated after the first experience, we started the weekend with a new attitude and a plan to tackle two more items in our bedroom. This bed was our first purchase after moving to Florida—we found it on Craigslist for $60 and paid another $60 to have it delivered.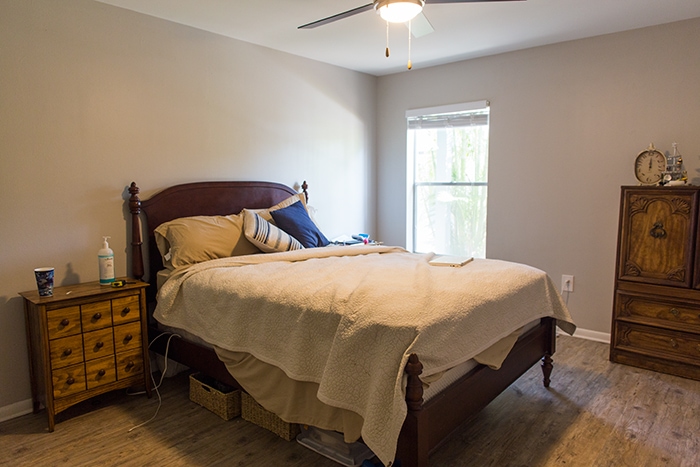 Pin
I just love the vintage charm and initially I had every intention on keeping it for the long haul, however 1) the new room design calls for something fabric and plush to break up all of the wood pieces, and 2) the frame is too long for our mattress so our pillows constantly fall behind it.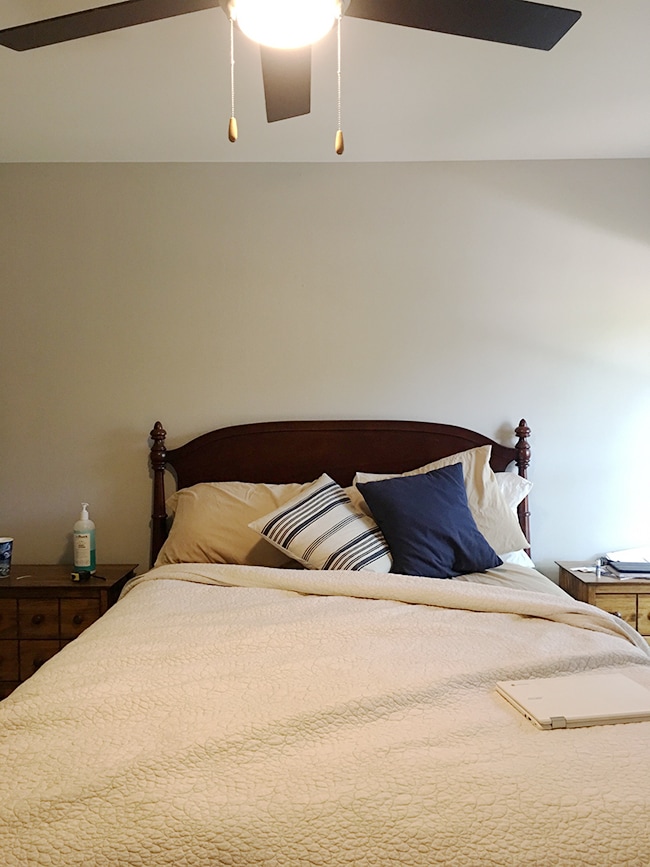 Pin
As sad as I am to see this bed go, there's plenty of other similar beds in the sea (I spot em all the time locally) and we have no room to store an extra bed, so I decided to let this one live its' best life and get it back out in the world with a brand new look.
This wardrobe I picked up for $45 on OfferUp. I couldn't resist that beautiful wood detailing.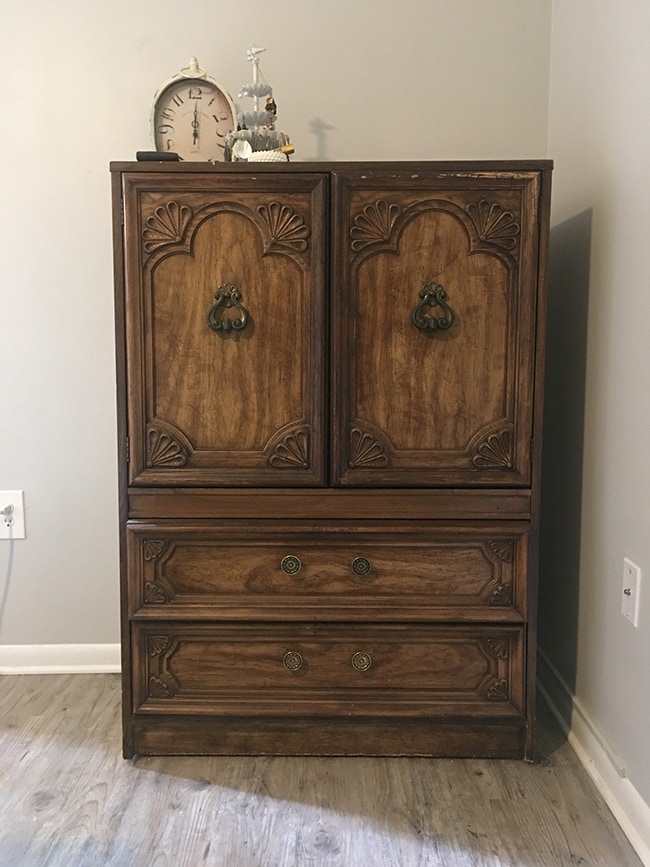 Pin
Don't be fooled by its looks, though—it's actually cheap veneer and particleboard that's falling apart in the back. But the front is irresistible and I wanted to make her shine.
Before getting started, we made a trip to Lowe's to stock up on a few essentials.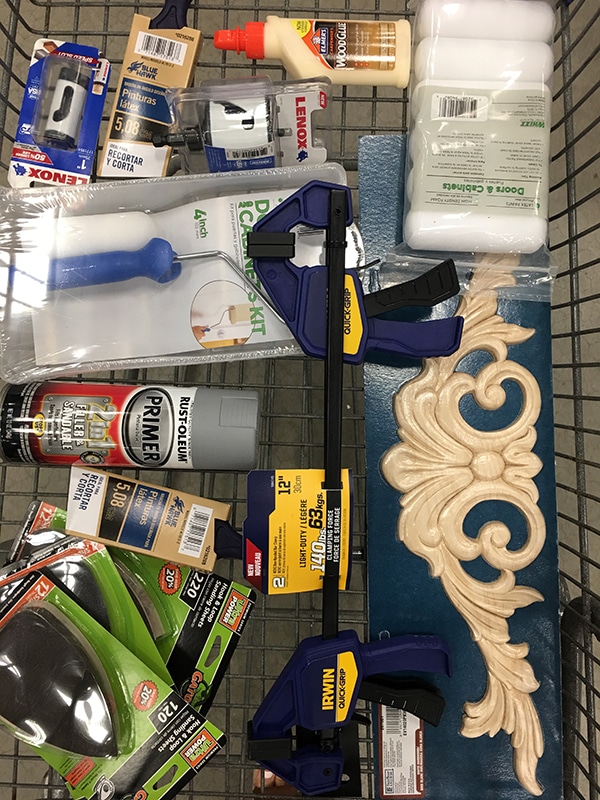 Pin
You can never have too many sanding pads or foam paint rollers (foam is required for a smooth finish!) I stocked up on 80, 120 and 220 grit for my Mouse (I've had the old version for 5+ years and it still works great!) along with my favorite paint brush in the world—the $5 short handled angle brush (smooth lines every time!)
The spray primer was purchased as a 'just in case' for tricky items with lots of small detail that would be tough for a brush to reach, but we haven't needed it yet. But the most exciting thing in that shopping basket is this dainty wood applique: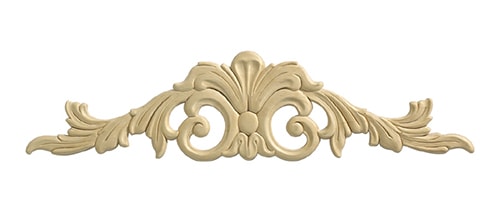 Pin
When I bought the bed back in January, an applique was the first idea that popped into my mind to give it that extra touch of charm. To apply it, I first sanded the surface of the bed for better adhesion. We then measured our center line, dabbed some E6000 glue to the applique (wood glue works just as well) and hammered in three small finish nails (we don't have our nail gun here but hand tools work just fine!)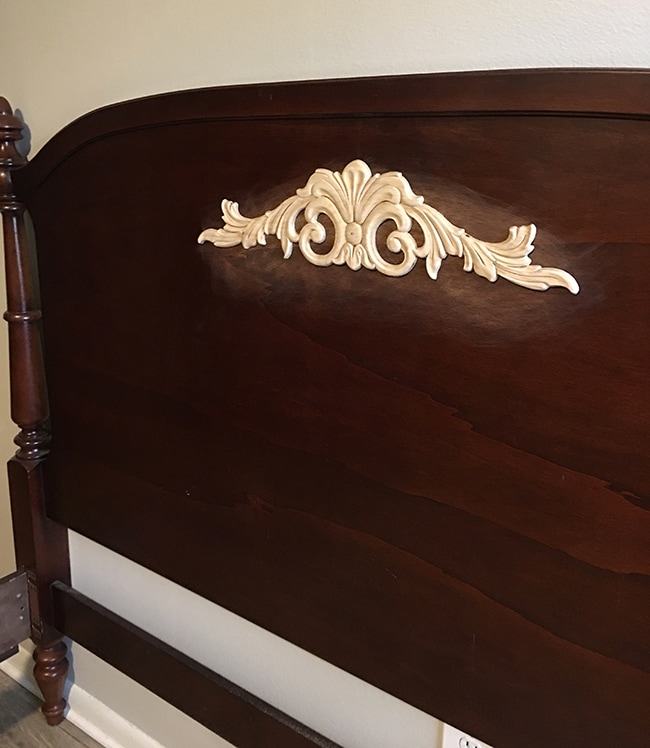 Pin
Super easy! And with that, it was time to start painting. The bed was in great shape and didn't need any patching, and there is no priming or sanding required with Maison Blanche paint (talk about a time saver!) Honestly if I was using latex paint and had to prime and sand all of the furniture—I'd never do it, it's just not worth the effort!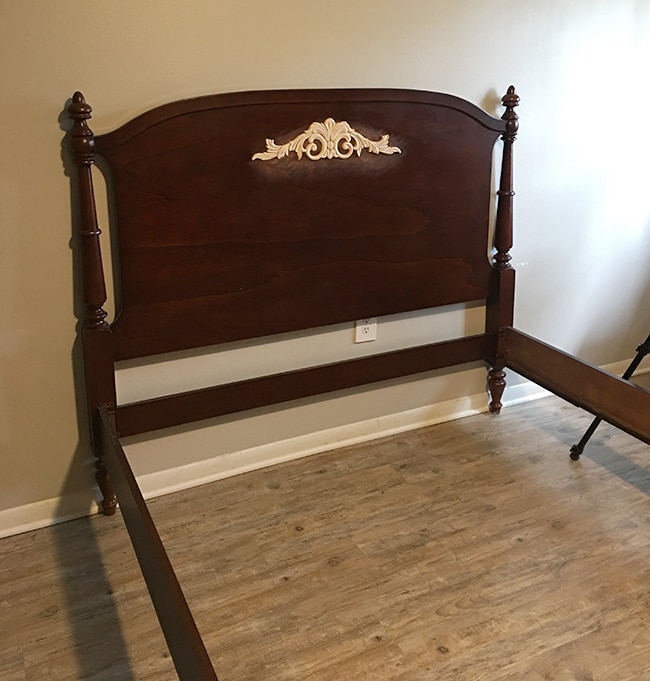 Pin
Lucas and I figured this would take all weekend and be as exhausting as the coffee table set, but this time it was actually enjoyable. Maybe our expectations were curbed? Or perhaps it was the lack of patching all the wood holes & trying to sand them smooth by hand? Either way, we finished painting both pieces entirely on Day 1!
For these makeovers, I decided to keep it simple and go with ivory paint from Maison Blanche. Bright white would be too stark for these vintage beauties, and when in doubt, you can't go wrong with a neutral hue. Here's the bed after one coat: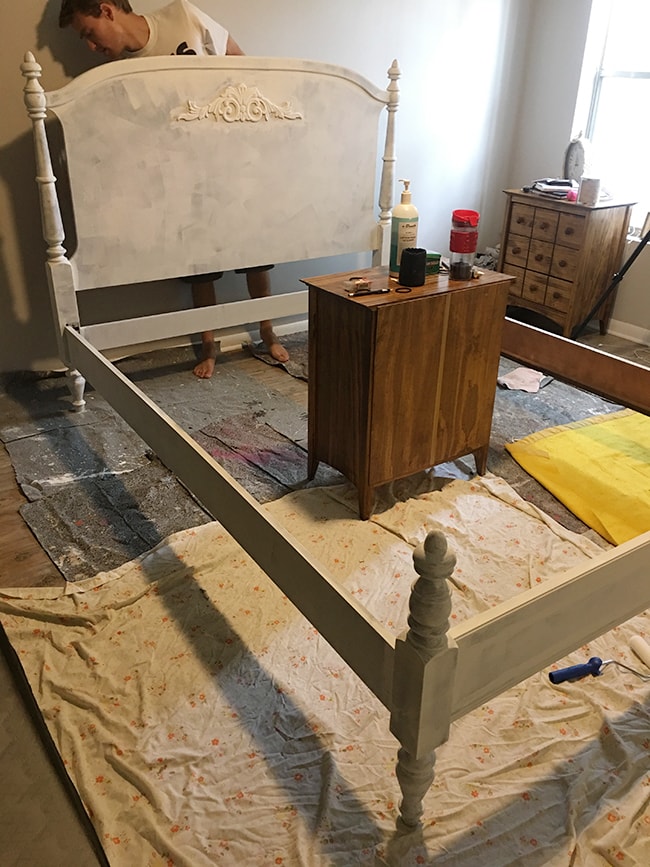 Pin
The best way I've found to paint furniture is to use the foam roller on the flat surfaces (basically anywhere it will fit) and come in with the brush to reach all the uneven crevices (like the spindles and around the applique).
Meanwhile, the wardrobe got its first coat of the same ivory paint (watch the video for a timelapse of this process!)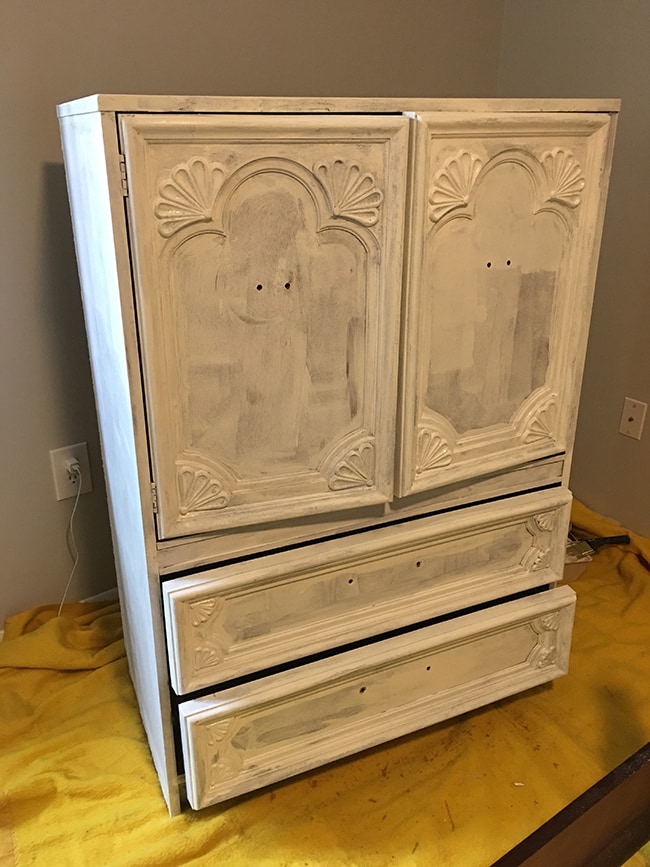 Pin
The surface of this piece is veneer that had some staining, bubbling and cracking. I spent a few minutes giving it a light sanding in some of the rougher areas to minimize the texture a bit. Very different surface than the bed, but it took the paint just the same.
The goal is to get a nice and even coat, and we let it dry for a couple hours in between. Before adding the next coat, I came in with a 220 grit sanding block and lightly went over the surface to eliminate any imperfections/dirt/fuzzies left behind from the roller. This makes the paint velvety smooth and sets it up nicely for the next round.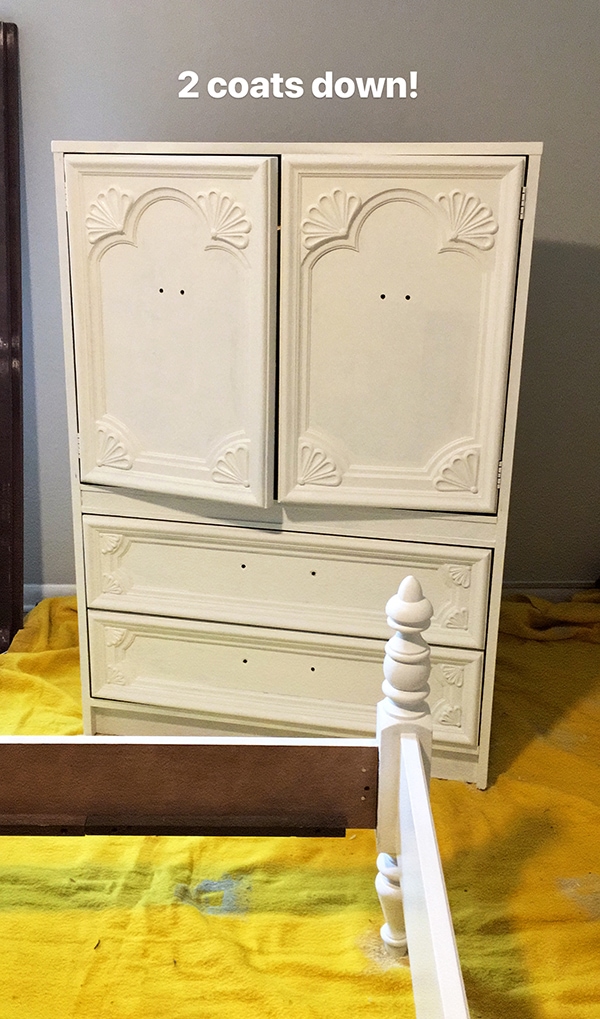 Pin
Depending on the wood type and how thick your coats are, 3-4 coats are needed for full coverage. Here's the bed after 3: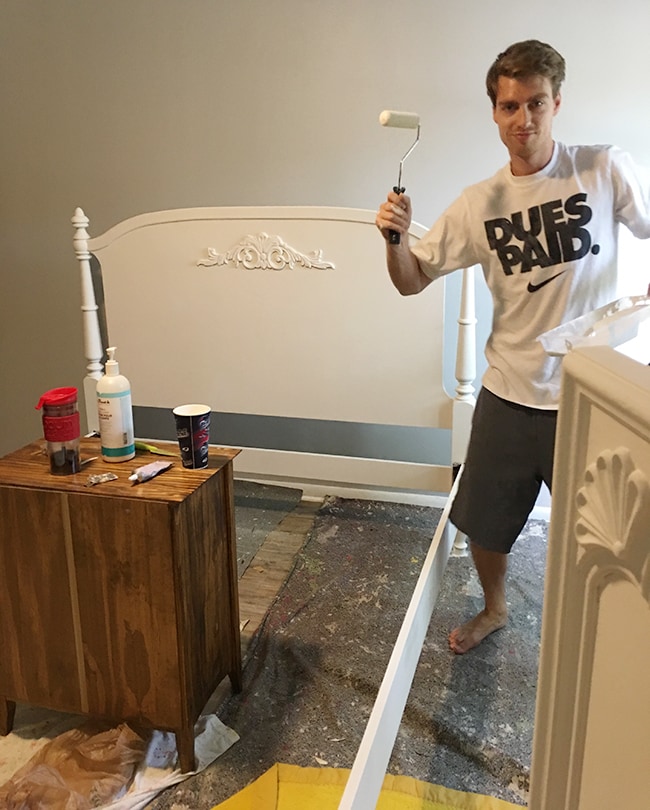 Pin
We gave the furniture one final pass to make our touchups, and we were done before dusk!
Now onto Phase 2—time to decide how to finish off the look.
The wardrobe was an easy call—with the inherently imperfect surface of the veneer and the antique detailing, it was just begging for a lightly distressed finish. This part is my favorite…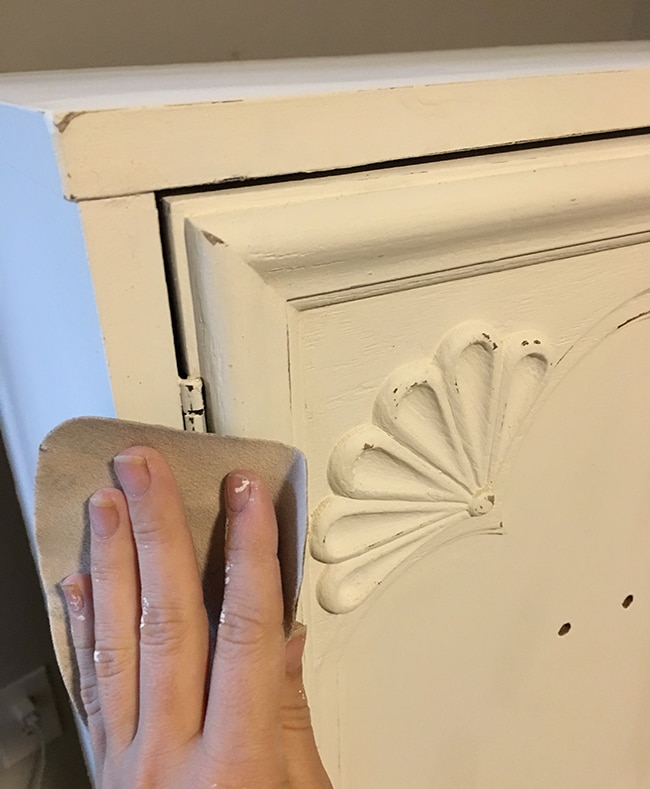 Pin
A gentle hand sanding with 120 grit paper does the job. I tried to create an even overall wear throughout the piece so it looked naturally worn over time.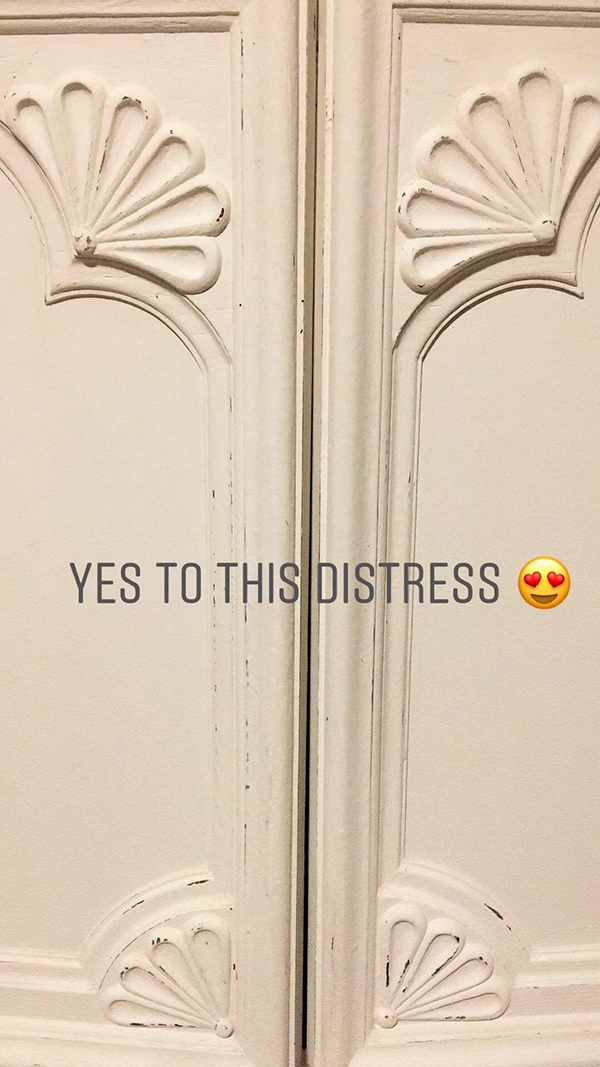 Pin
SO PRETTY. I just love it.
The bed on the other hand… I was on the fence. I normally lean towards adding some kind of distressing, because I prefer those "imperfect" pieces—who wants to constantly worry about accidentally scratching their painted furniture? Let's just embrace it, right?
But in the end, I will be selling this bed and I realize that some people prefer a cleaner look. Plus, they can always go back and add distressing later.
Distressing or not, all furniture needs to be sealed and protected. For indoor furniture like this that won't be exposed to a ton of surface wear or moisture, wax does the job. I wanted to simply enhance the natural ivory color rather than change it, so I used Maison Blanche's Amber wax for both pieces: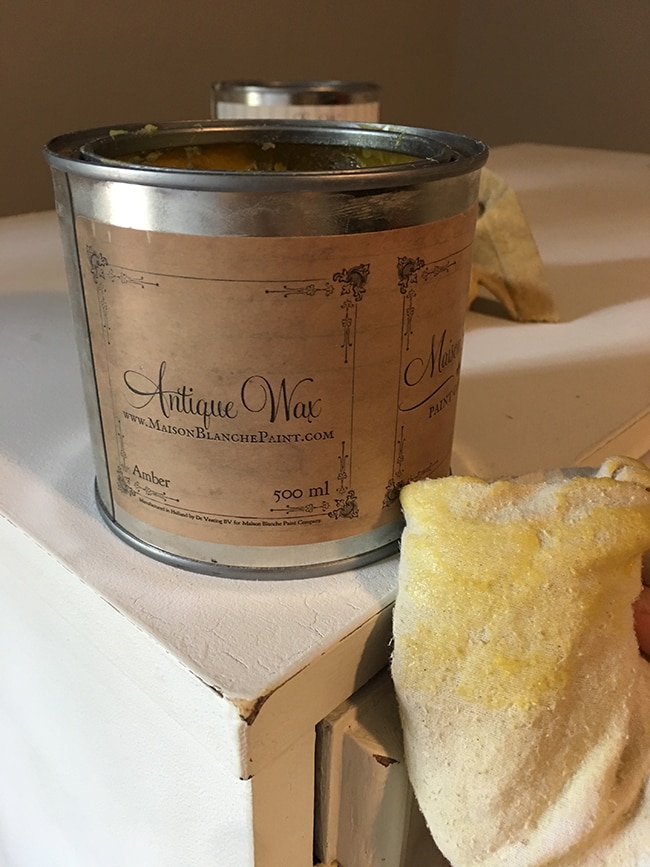 Pin
Wax will slightly deepen the paint color, so keep that in mind when trying to determine your final output. You can see the difference of the bare paint vs the wax below: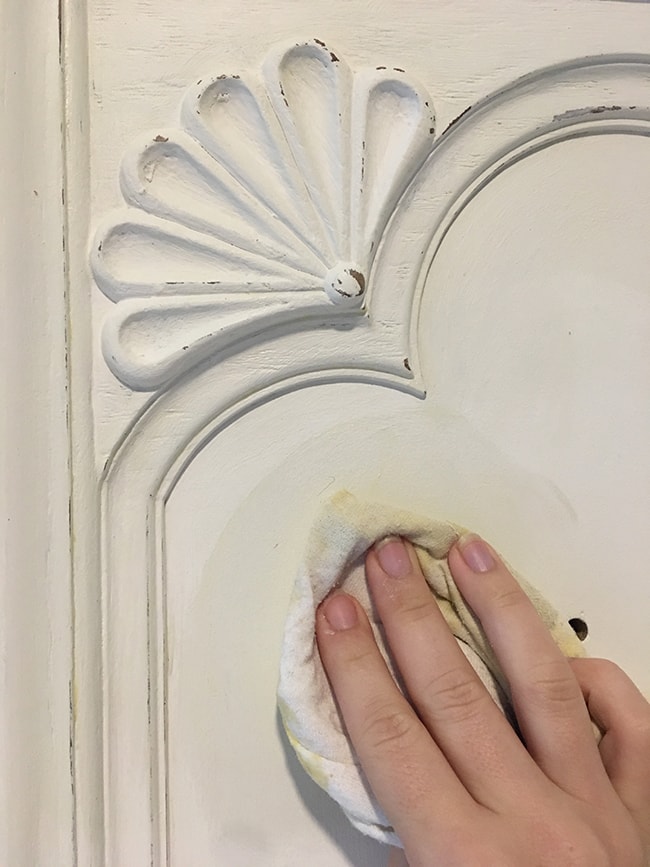 Pin
And here it is on the bed—before and after: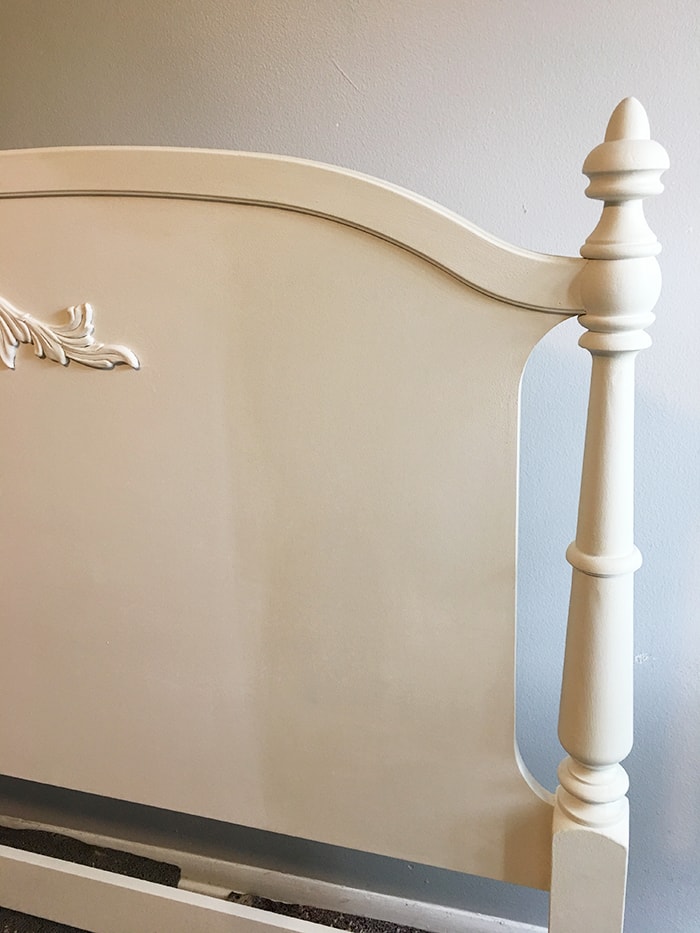 Pin
I gave the furniture two thick-ish coats (no buffing it out, just letting it dry in between the two coats). It will need to dry and cure for a while before subjecting it to use—I like to wait at least a few days.
I kept the existing wardrobe hardware and gave them a couple coats of champagne gold spray paint from Lowe's: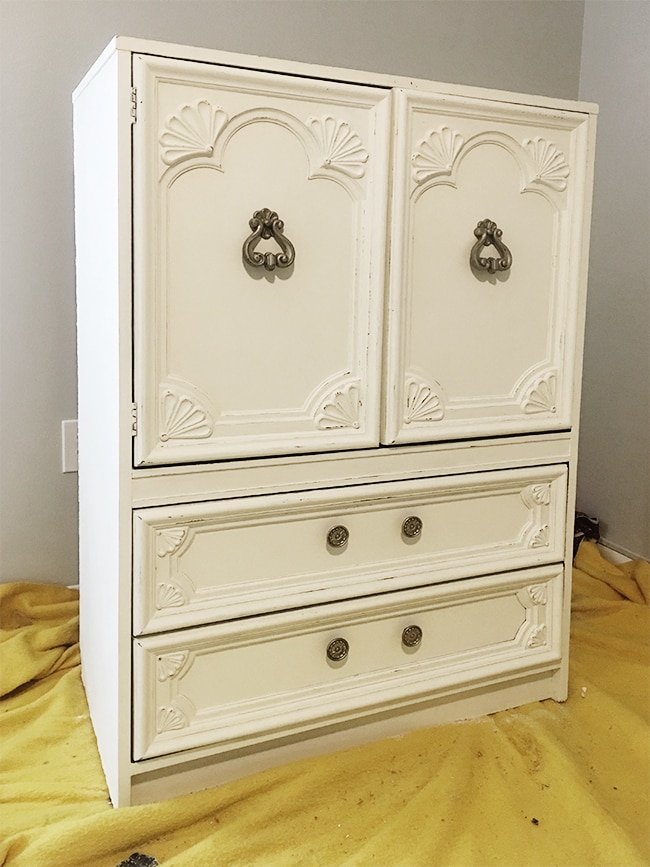 Pin
And here's the finished bed (excuse the lighting—it's difficult to see the true colors with so many different light sources!)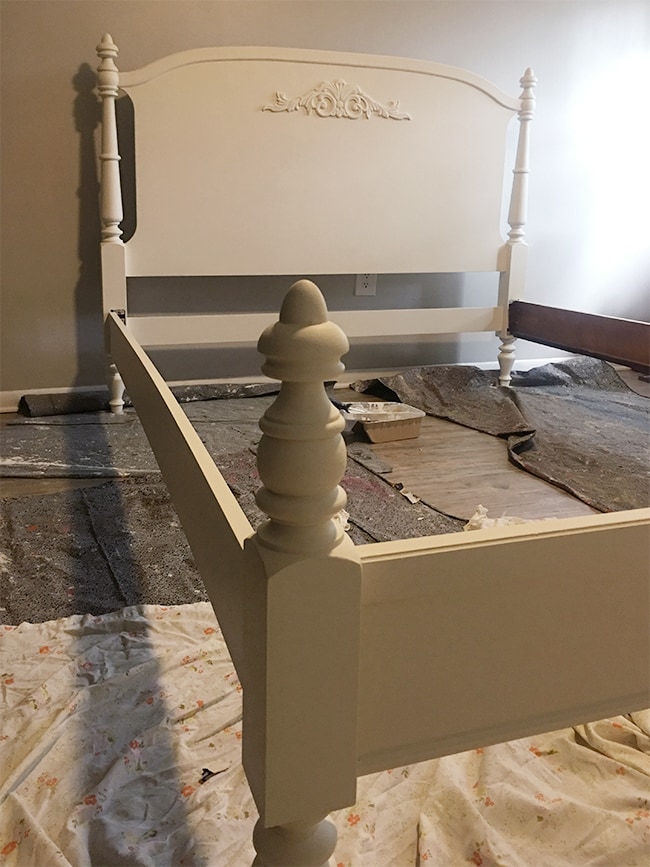 Pin
Not bad for a day and a half's worth of work…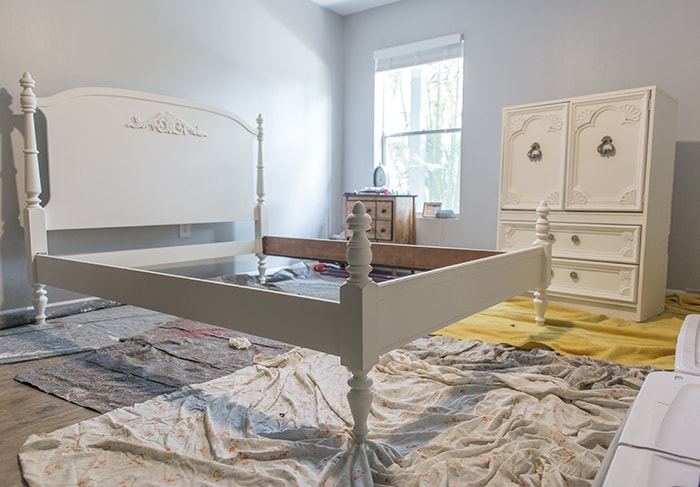 Pin
We're going to hang on to the bed for a few more weeks before selling it, but I don't think I can part with that wardrobe! No plans to let it go anytime soon 🙂
Honest opinions here—how much do you think the bed is worth? I thought I priced the coffee table set high at $175 but I had people fighting over it within hours, so I guess I need to raise my prices. For the bed I'm now thinking somewhere in the $300-$400 range. Let me know your thoughts below!
Next week I plan to finally tackle those wood night stands. I've been dreaming about this makeover for weeks. If you missed any of our furniture refinishing process/details, make sure to watch the video which explains and shows the process a lot more. And I'm always posting live updates on my Instagram stories for every project, so check there frequently! I'm starting to think that the more we do this, the more fun and easier it gets 🙂
Now head off to the other participants to see how their week went!
Apartment 34 | Beginning in the Middle | Coco & Jack | The English Room | The Gold Hive
Gray Malin | Jenna Sue Design | Jojotastic | Kelly Rogers Int. | Linda Holt | Marcus Design
Michelle Gage | Natasha Habermann | The Painted House | Rambling Renovators
Sacramento Street | Shannon Claire | Sketch 42 | Stephanie Kraus | Style Me Pretty Living
Media Partner House Beautiful | TM by ORC