It's Week 3, aka halftime at the One Room Challenge!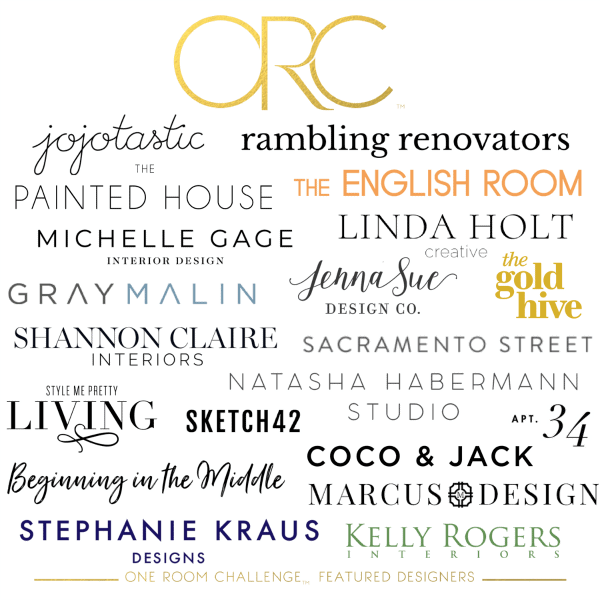 Pin
Make sure to get caught up with Week 1 and Week 2 before reading on! Not gonna lie, last week was a rough one. Not so much with the One Room Challenge, but our 5-unit bungalow (that we've been under contract on since January, ugh!) threw us a major curveball that has left us scrambling to save this deal. We're still in the thick of it and hoping to have a resolution within the next week… but we're not holding our breath.
On the topic of house updates—also still waiting to hear back from our insurance company with their estimate after the Heights House fire. This will determine our plans to repair vs rebuild the house, and basically our entire future rests on the news we receive about both of these properties. These first two deals as investors have been anything but a walk in the park. I'll say it again—real estate is not for the faint of heart!
Fortunately, the One Room Challenge has become a fun escape from the stress. I get to bypass all the intensive DIY and focus on my favorite things like decor, furniture, and accessories. There's one perk of living in an apartment!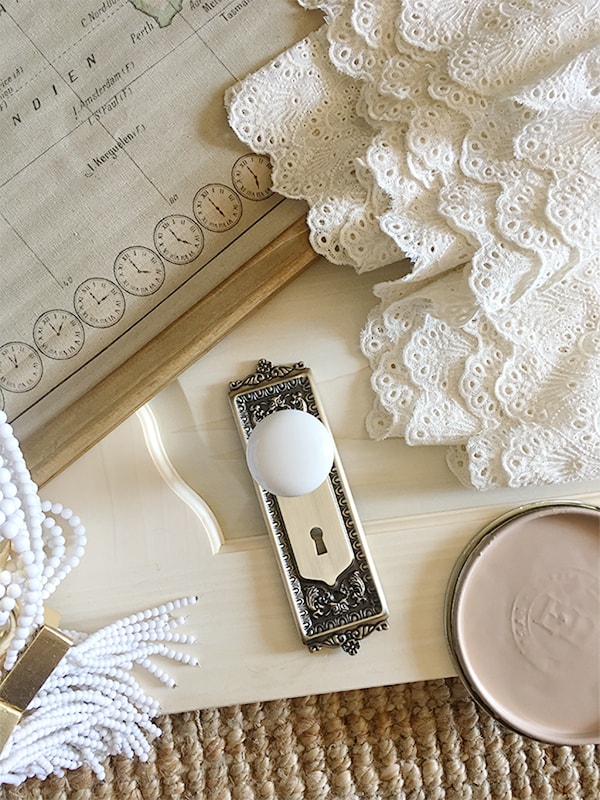 Pin
Last week, we had completed a wardrobe and bed makeover. Here's how it looked as of yesterday morning: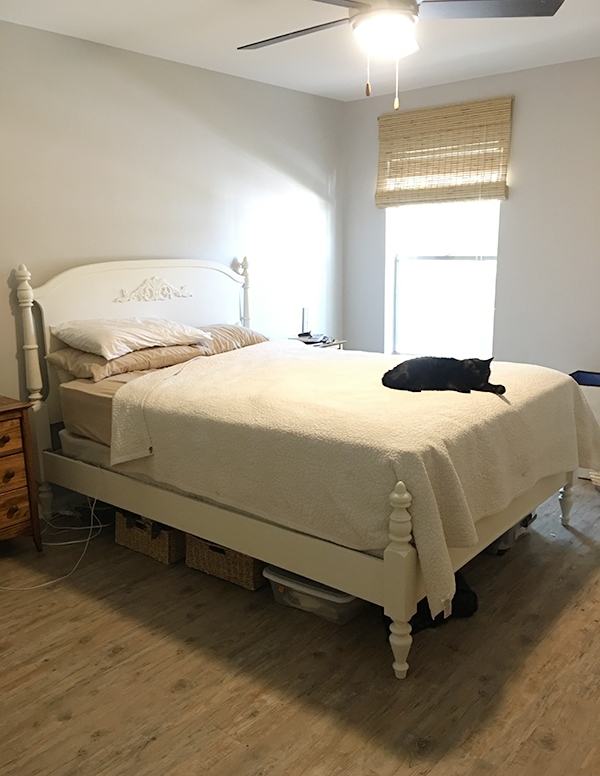 Pin
It's crazy how something as simple as painting dark wood makes the room feel so much lighter visually.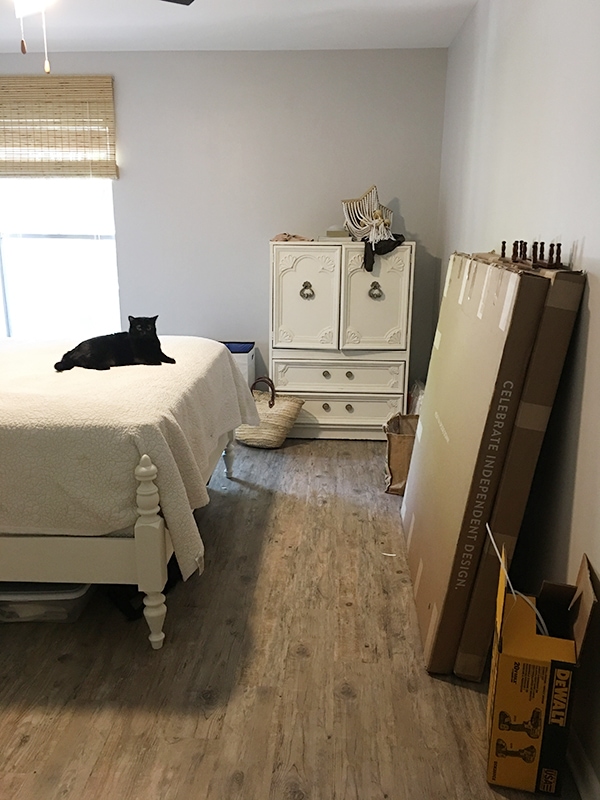 Pin
This also reaffirms my decision to swap out the bed with upholstered linen—there's just too many hard surfaces (plus, not feeling the matching bed and wardrobe!)
I can't wait to roll out my woven rug from eSalerugs which will instantly warm up the space. Inside those two giant boxes against the wall are my framed Minted photographs which will add some much needed personality.
This week has been like Christmas, with boxes at our doorstep every day. Starting with these gorgeous solid wood doors from Metrie: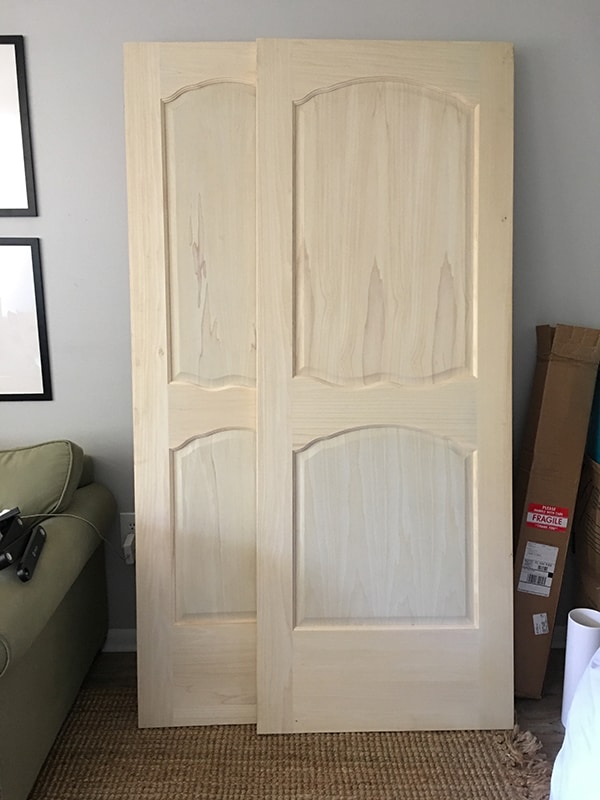 Pin
There are three of them in total—two closet doors and the entry door. They'll be painted in Farrow & Ball Setting Plaster: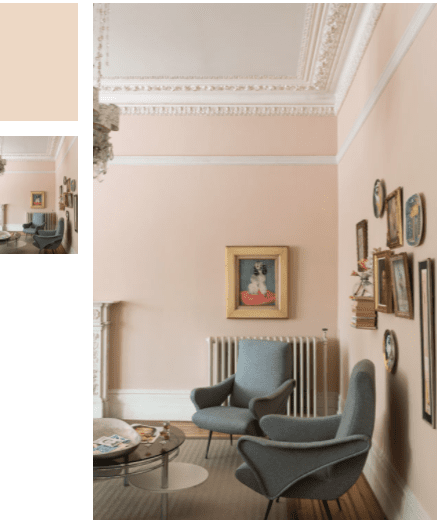 Pin
And… perhaps my most exciting unboxing experience yet (I may or may not have teared up in utter amazement)… these vintage reproduction handlesets: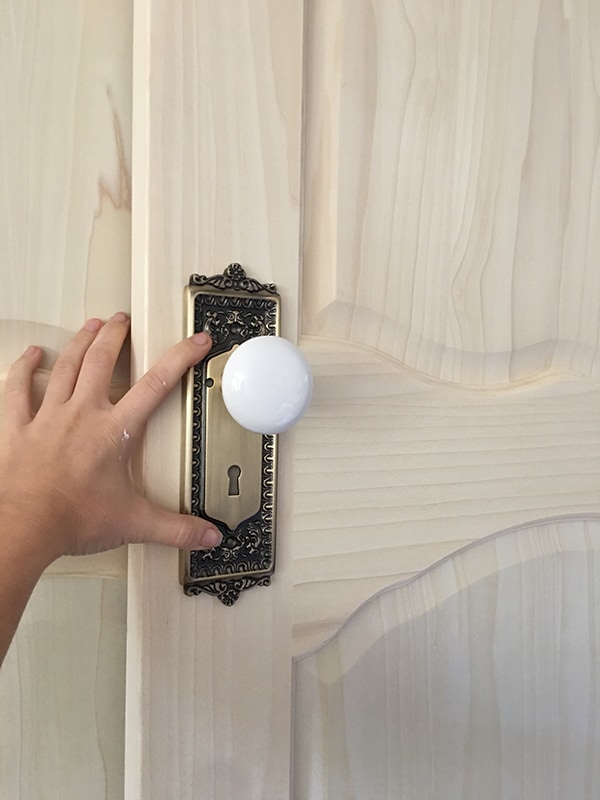 Pin
Just imagine that door painted a pale dusty pink, with these vintage knobs… I CAN'T EVEN HANDLE IT (haha… see what I did there?)
They come in several styles & colors (fancy crystal knobs too!) and they don't sell directly on their website, but I did find this combination on Amazon. Honestly I've never loved a piece of metal more and I don't know how I've ever lived without them. I feel like I could just mic drop and end this post here, give you some time to recover and regain your composure perhaps… but the boxes keep coming.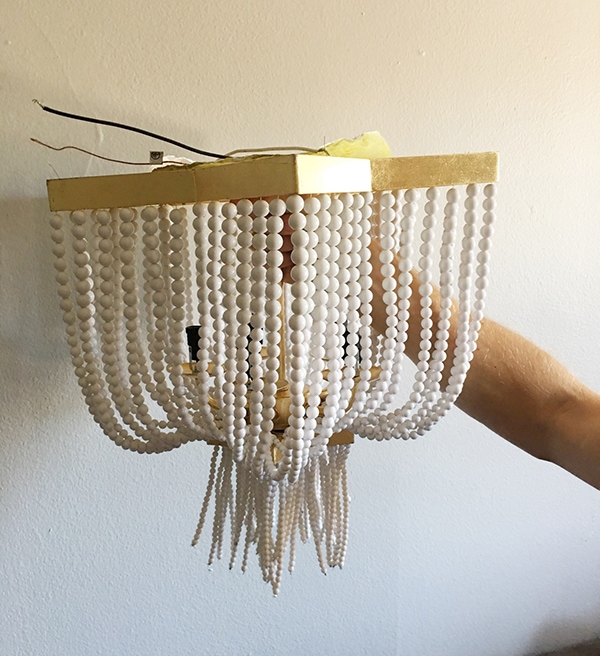 Pin
We never used our fan anyway. Can't wait to get this beauty installed!
How about this box of lovelies from Pom Pom at Home?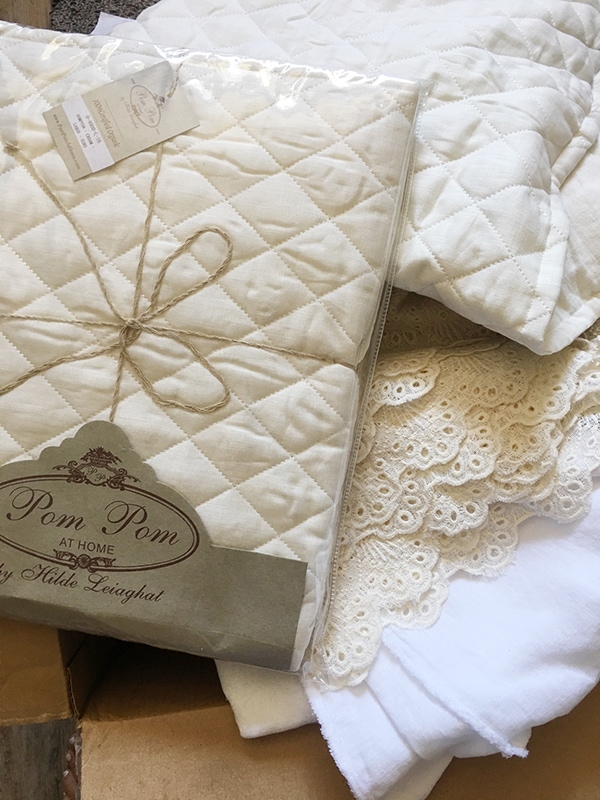 Pin
Inside we have two extra large quilted shams, a lace bed scarf, and a linen duvet cover. The bedding in this room will be so much fun to layer!
Next up… how great are these lamps?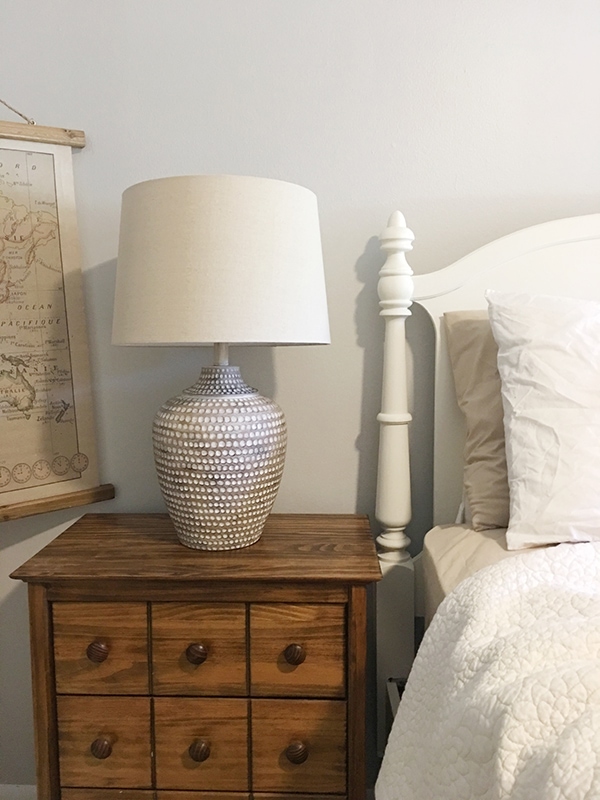 Pin
Choosing the lamps was a bit of a struggle—I went back and forth on several different options, but in the end I'm thrilled with my choice.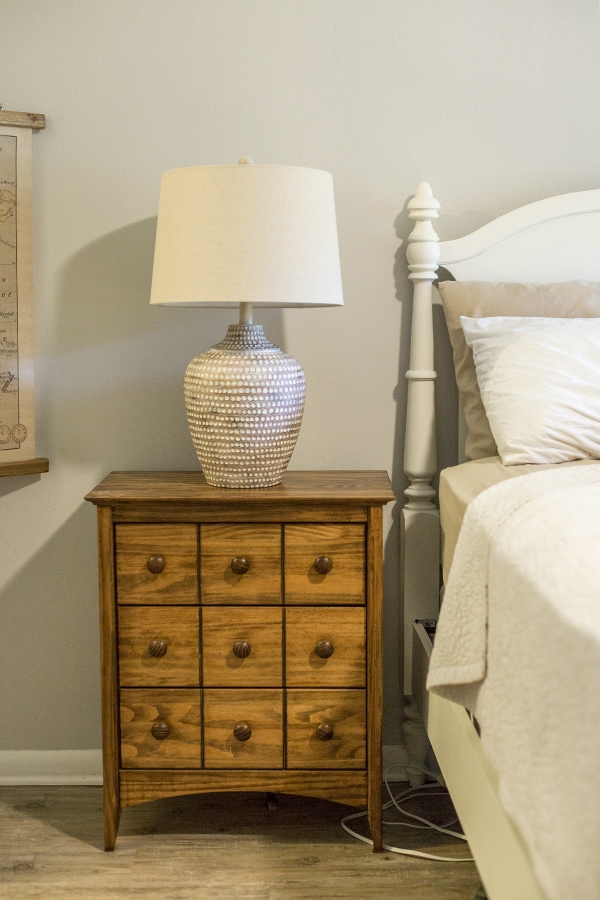 Pin
The night stand will be painted a light sage green and I felt like there needed to be a wood tone somewhere, so this one struck the perfect balance of look, size and price point. Highly recommended!
Oh, and that map trying to photobomb the lamp…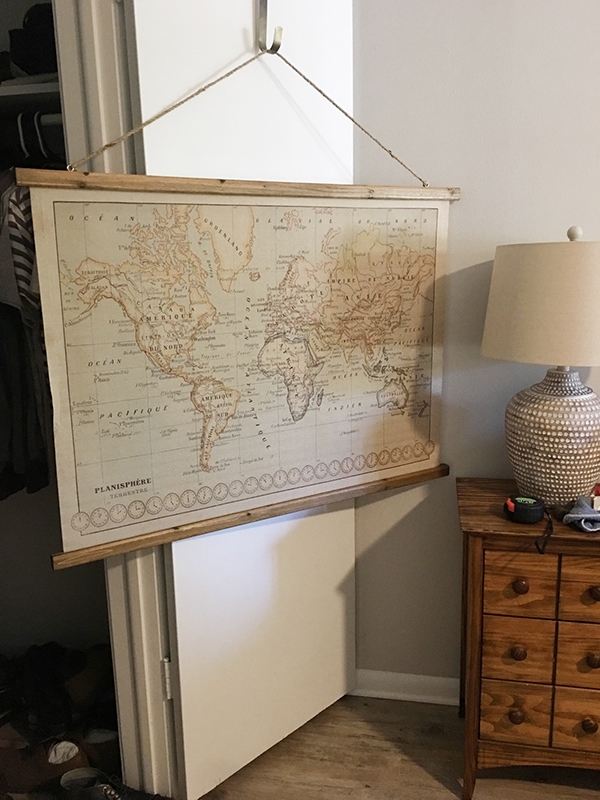 Pin
I thought it looked nice online but it's even better in person! It's a vintage French reproduction, with pretty, muted colors on thick, quality canvas. It's huge, too! I plan to hang it on a wall over a desk just to the left of this photo (still trying to hunt for a perfect used desk on Craigslist!)
And you may have noticed in the first photos, but ladies and gentlemen—we have window treatments! Behold the standard apartment blinds: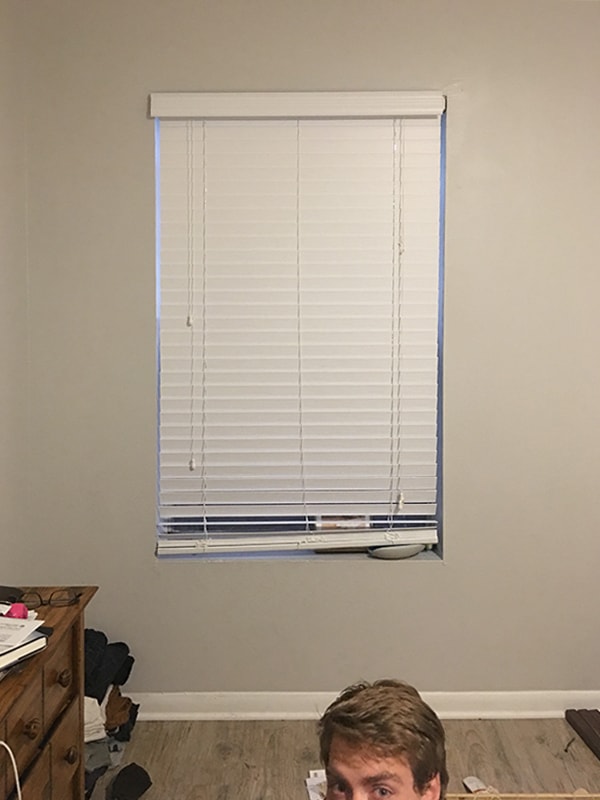 Pin
For the window treatments, I turned to Overstock. Since I can't remove the blinds (well I could, I'd just have to put them back…) I decided to add a nicer looking bamboo shade mounted on the outside. And while I'm at it, I may as well go up a size to give the illusion of a larger window.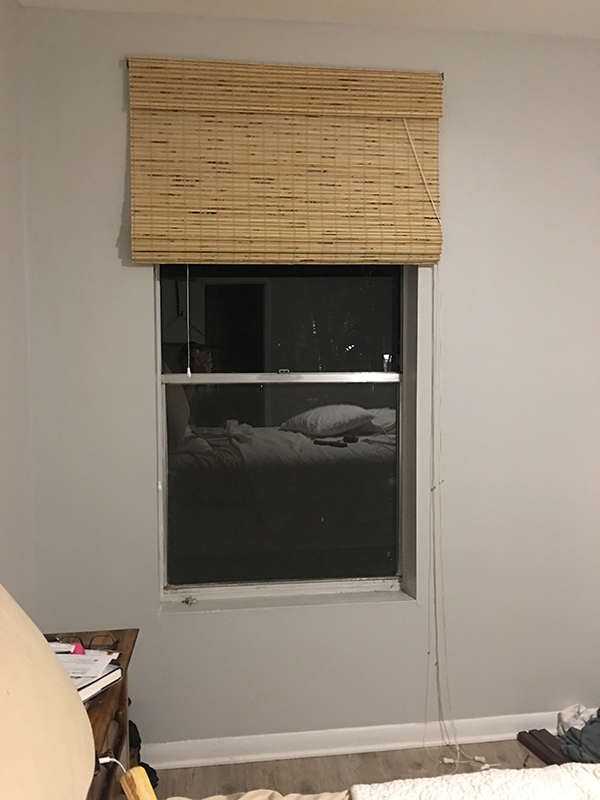 Pin
Hey, it worked! And no one will ever know…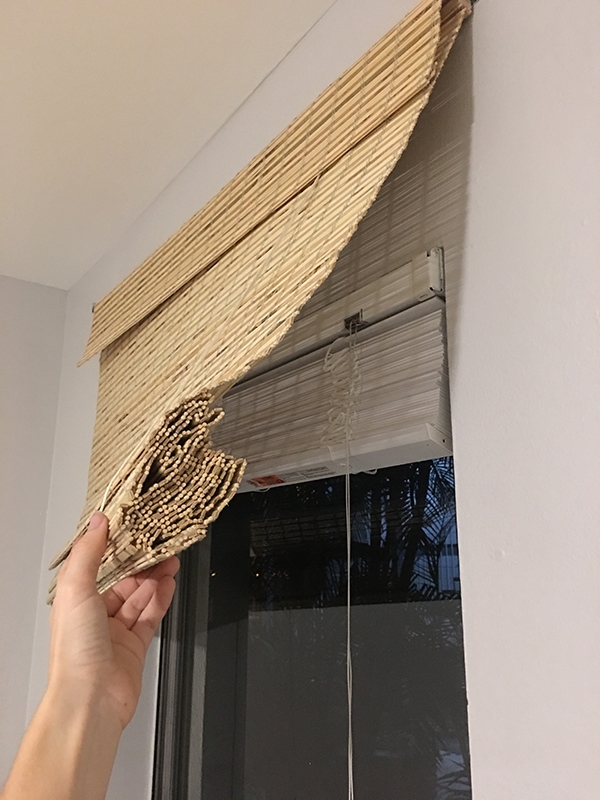 Pin
Bonus: now it'll be extra dark so we can sleep in on the weekends! (if sleeping in until 8am counts?) These bamboo shades have been my go-to window treatment for years. I especially like the coloring in this model, and at $44 (I got them in 39″w) you can't go wrong.
But wait—there's more! This bedroom desperately needed curtains to soften the space and help with that boho-french-romantic vibe I'm trying to achieve. Normally I just go for the inexpensive cotton curtains, but this time I decided to take the sophistication and luxury up a notch. Hello, white velvet drapes…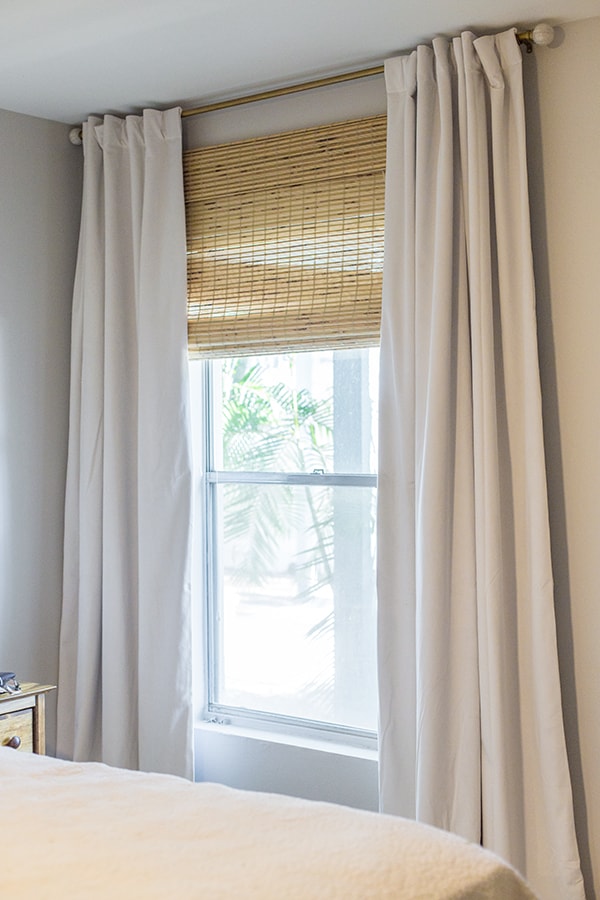 Pin
These pictures do it no justice. I wish you could reach through the screen and feel how soft and thick this fabric is (it's also blackout and fully lined—this room will be a cave!)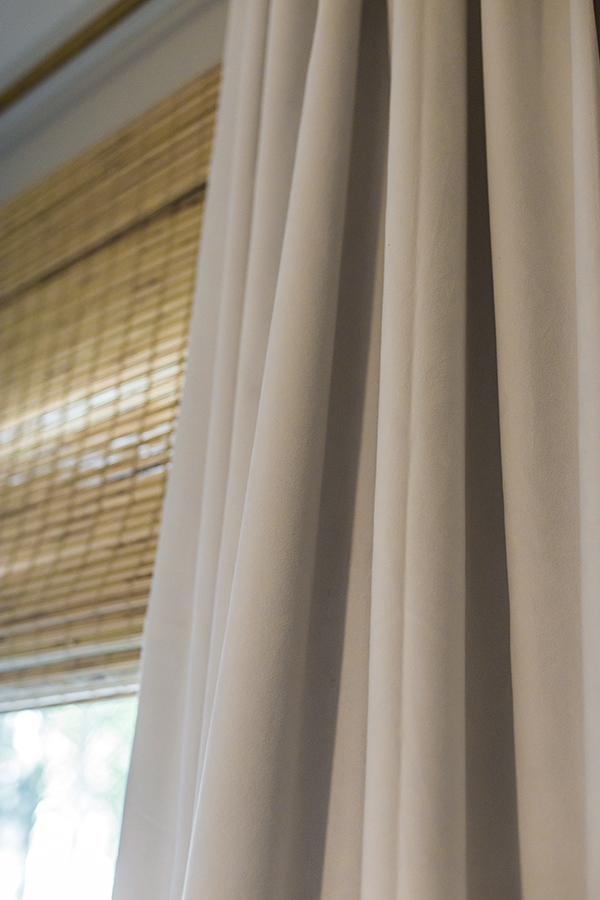 Pin
Lucas and I joked that between the lamps and window treatments, we finally feel like we have a grown up room again after over a year—can you believe it's been more than a year since we left on our big trip? And almost exactly a year since we got engaged 😀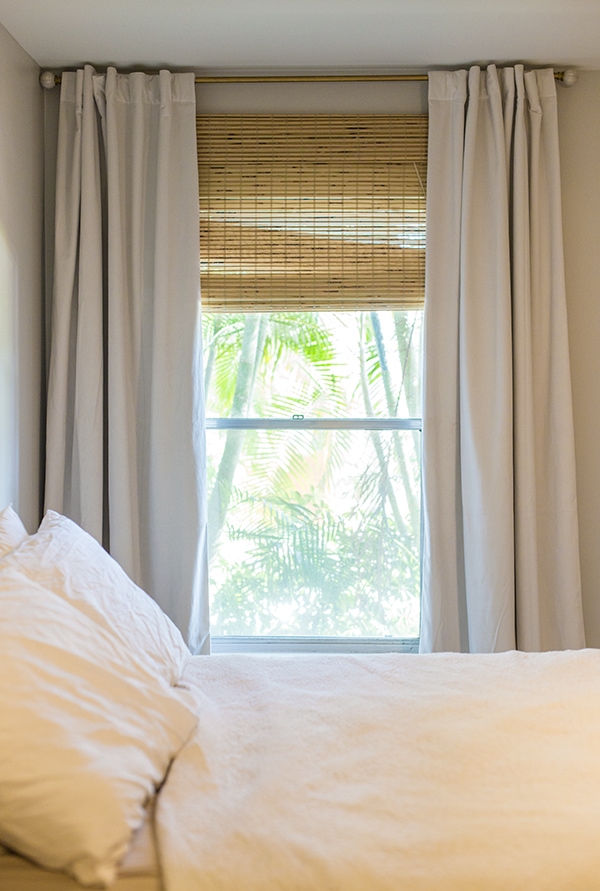 Pin
Here's how it looks at night with the new ambient lighting thanks to the lamp. I chose this decorative gold curtain rod to hang them:
Pin
The room is looking a little too stark right now… don't worry, this is temporary.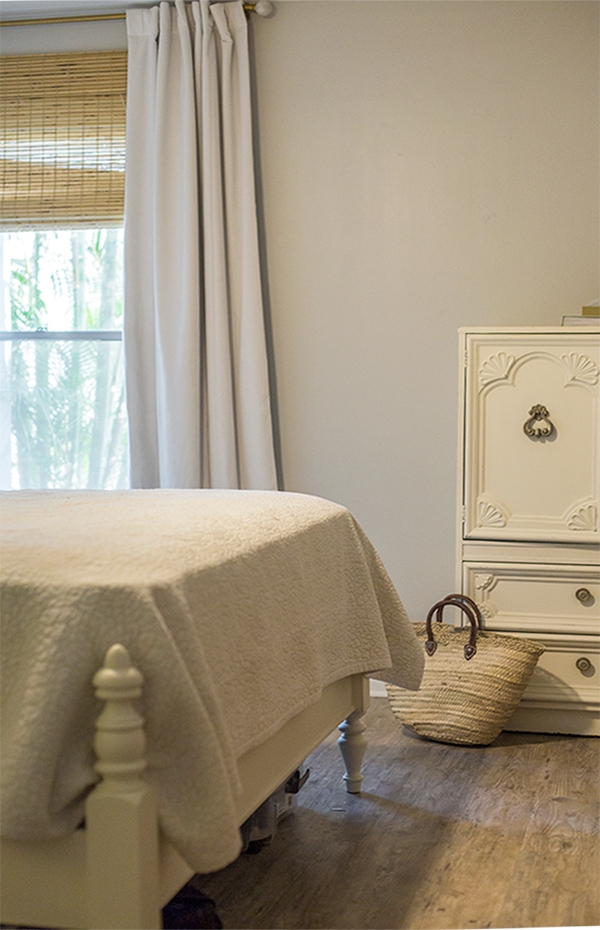 Pin
I was staring at that empty section of wall wondering if it needed something. Then I remembered I had this narrow mirror (it would be hung on the wall and repainted)…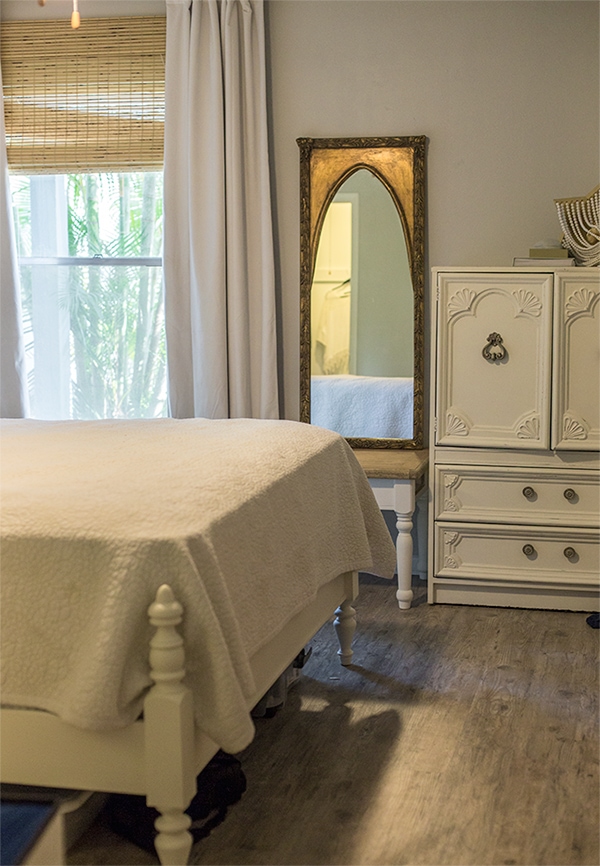 Pin
Too much? I can't decide yet. We don't have a full length mirror so it would certainly be functional. I think it'll be a last minute judgment call after some of the other pieces are in place.
Alright—enough unboxing for one post! Let's move onto our latest furniture flip. I had something pretty specific in mind for this coffee table set: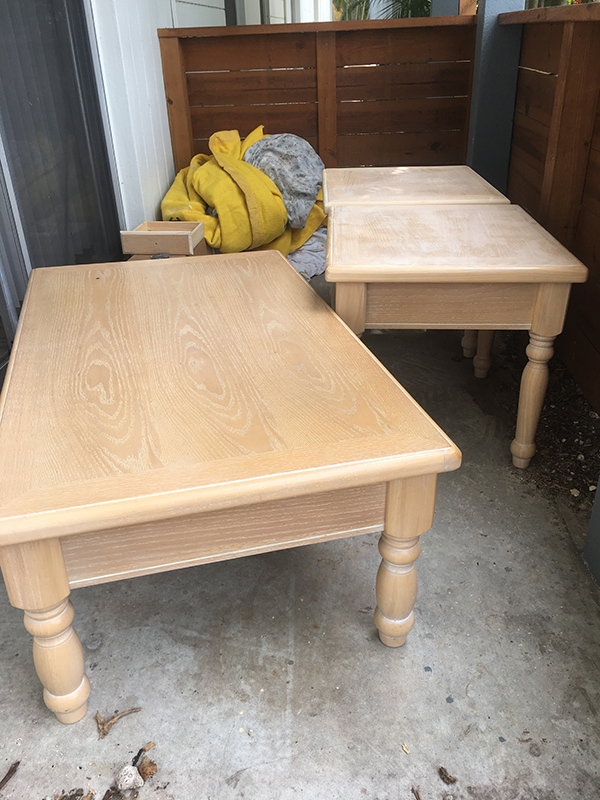 Pin
This was a $30 Craigslist score, and I figured that with a little sanding and elbow grease, I could transform the natural wood finish into beautiful weathered oak (Restoration Hardware style). I'd done it before with excellent results—I even published a step by step tutorial on the process! This should be easy, right?
Lucas was tasked with the job of sanding the protective finish off of the pieces. Poor guy was out there for the better part of a day and was 2/3 complete before our Mouse sander finally gave out (it was the old version from years ago, so we were lucky it lasted this long with all the abuse I've put it through!)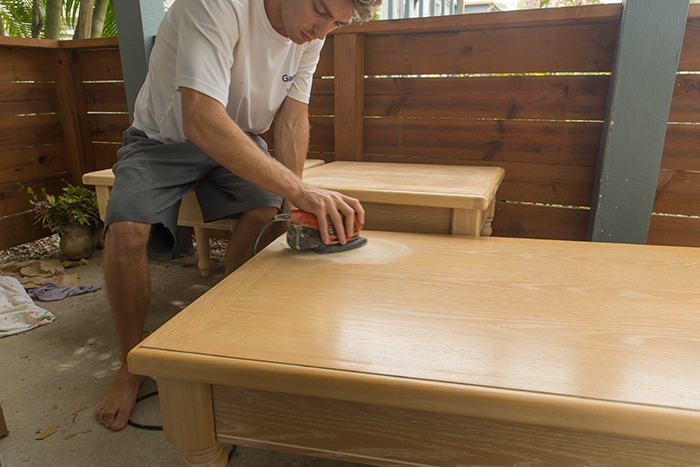 Pin
The next day I went to Lowe's and forked over $40 for a new Mouse, determined to finish the job. 
Pin
We finally finished sanding and I prepared my supplies—neutral colored lime paint and lime waxes.
Pin
It's not the exact color used in my tutorial, but close enough. The wood didn't have any pesky red tones so I figured it'd be much easier this time around. For those of you suggesting to just use a stain—that does not remove the original tone of the wood, it just adds to it. Paint is the way to go to neutralize your wood tones!
I mixed 50% water with 50% paint and began to brush. It got rid of the orange… just not evenly. You can see my test piece on the bottom compared to the original sanded top.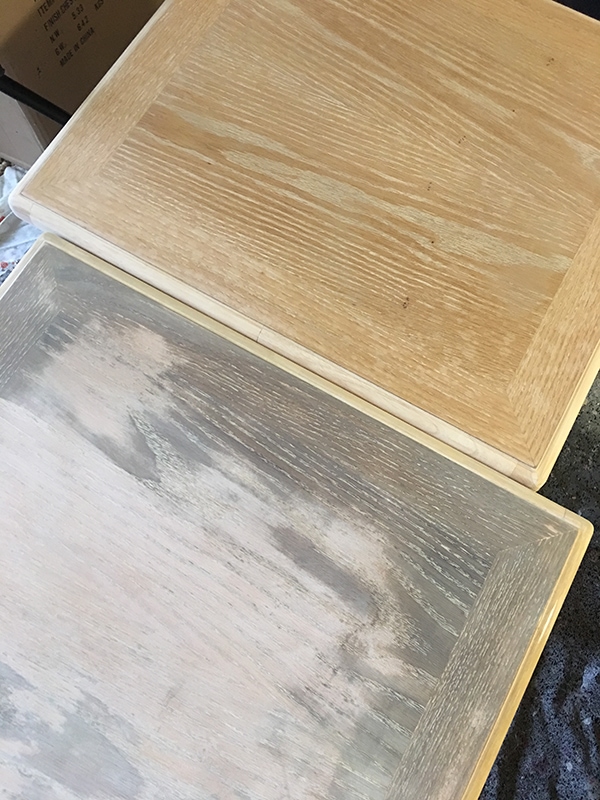 Pin
We figured the problem had to do with uneven sanding, even though we sanded for hours. Whatever finish they used on the wood appeared to be a mix of some sort of lime wax and a clear coat that seeped deep into the grain, and made it really difficult to sand away—not only that, but you can't even tell which parts were fully sanded until you applied the paint wash.
I tried to remedy the situation with more paint and a mix of liming waxes, but it just turned into a blotchy mess.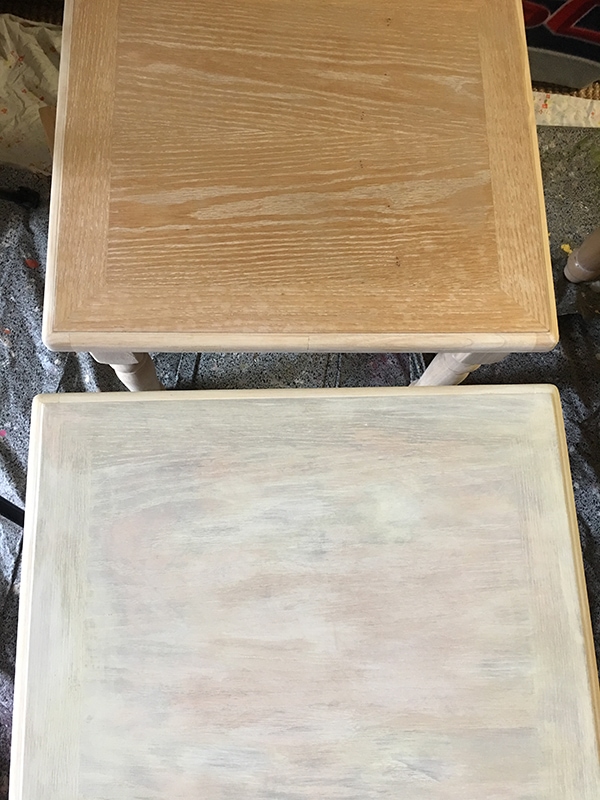 Pin
It's fine if you want a rustic whitewash effect I suppose, but that's not the look I was after. I could have continued sanding and experimenting, however, the table legs were in a much worse situation: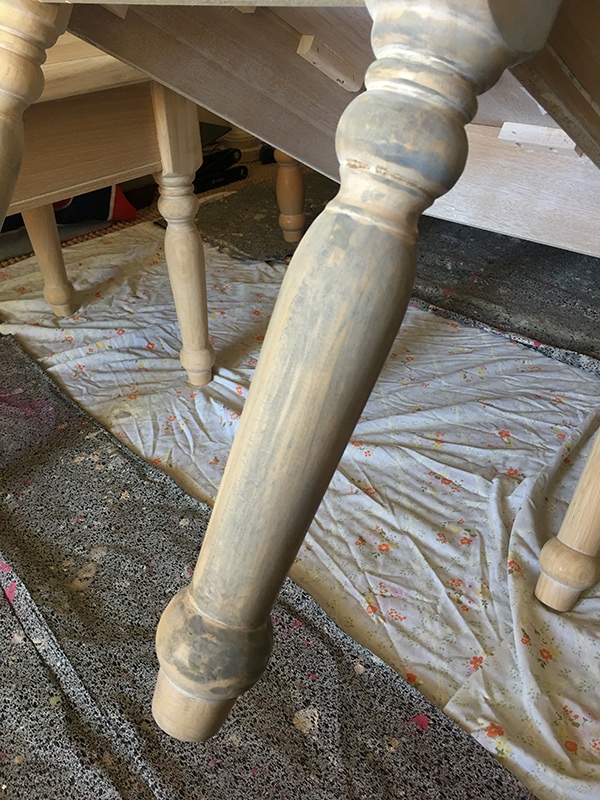 Pin
It was difficult enough to evenly sand a flat surface—but these curvy legs? Forget it! You can see the dark areas that were sanded more than the others after the paint wash was applied, and there's no way to get into those narrow grooves to take off the layers of whatever finish they used. Time to throw in the paint stained towel on Plan A!
I was still determined to keep some of the wood grain, so ultimately I decided to stain the top and paint the bottom. Oh if I would have just thought to do this from the beginning. Another lesson learned!
After a few more hours of sanding and resanding to make sure the tops were all nice and even, I ran back to Lowe's and picked up stain and poly: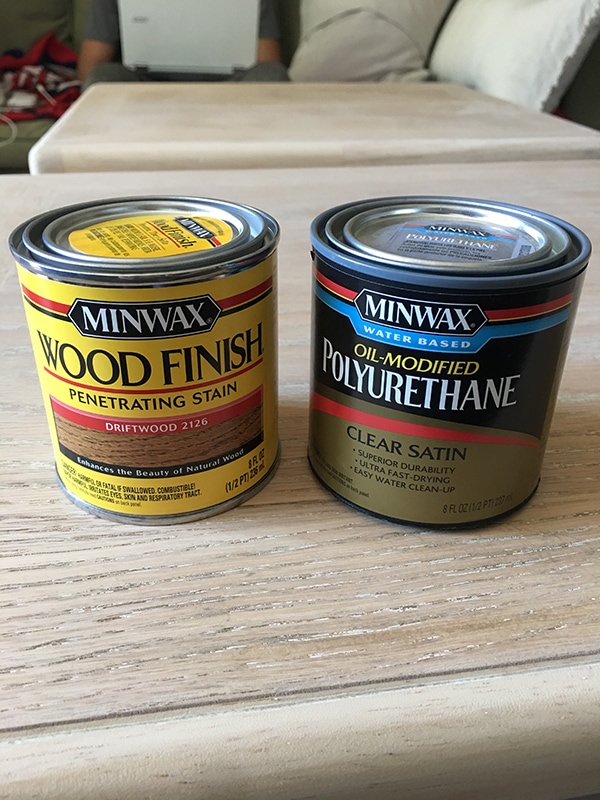 Pin
The color of the oak was so light and neutral that I knew it would take the stain well and look similar to the can. And I like to use a (water based) poly or varnish to protect heavily used furniture that's exposed to moisture.
I brushed it on and held my breath…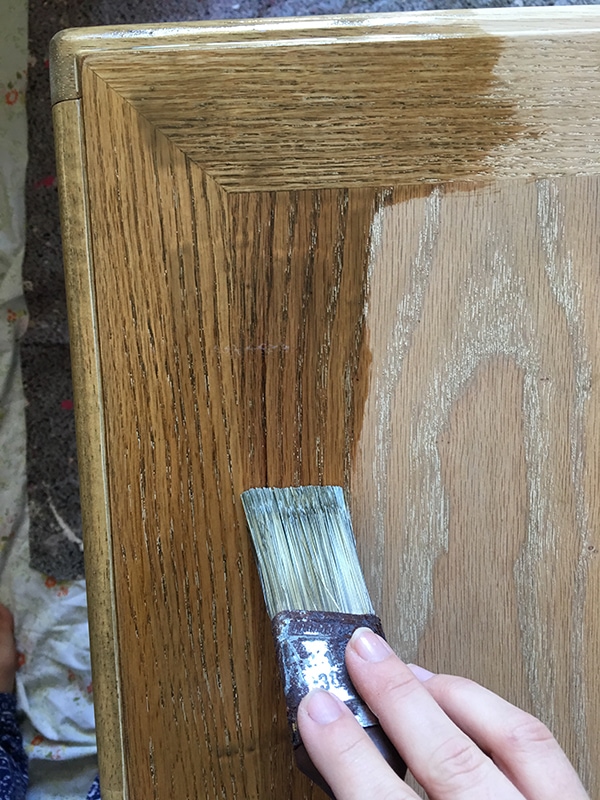 Pin
And they turned out as expected. Finally!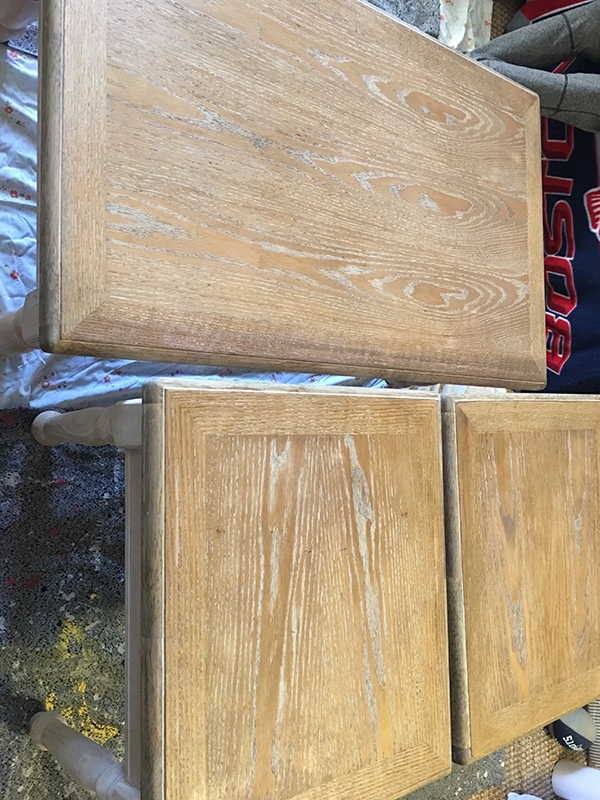 Pin
Then came the paint (Maison Blanche in ivory):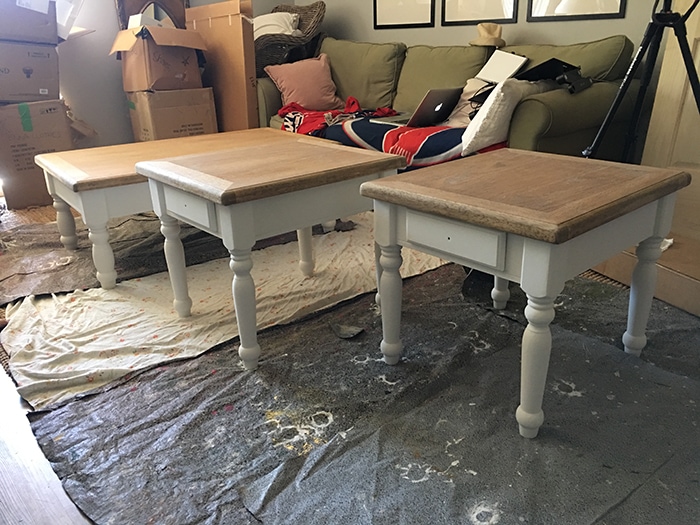 Pin
And finally, poly! This is how they look now as I type this post: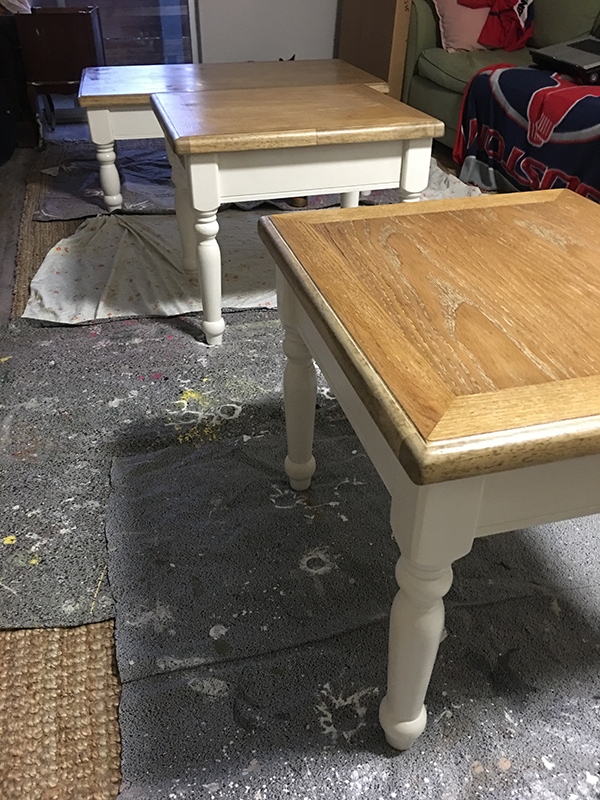 Pin
Just need to swap out the drawer hardware, have a little photoshoot and list these babies on Facebook marketplace. Fingers crossed for another quick sale. I'll be sure to update you next week with the results—or you can catch them in real time over on my Instagram stories.
Oh, and there's no vlog today (thanks to the failed DIY attempt) but I have something even better for you coming tomorrow. Just you wait… you're not even gonna know what hit you.
Now let's go see what everyone else is up to for Week 3!
Apartment 34 | Beginning in the Middle | Coco & Jack | The English Room | The Gold Hive
Gray Malin | Jenna Sue Design | Jojotastic | Kelly Rogers Int. | Linda Holt | Marcus Design
Michelle Gage | Natasha Habermann | The Painted House | Rambling Renovators
Sacramento Street | Shannon Claire | Sketch 42 | Stephanie Kraus | Bisou Style
Media Partner House Beautiful | TM by ORC