And so it begins… welcome to Week 1 of the Spring 2018 One Room Challenge!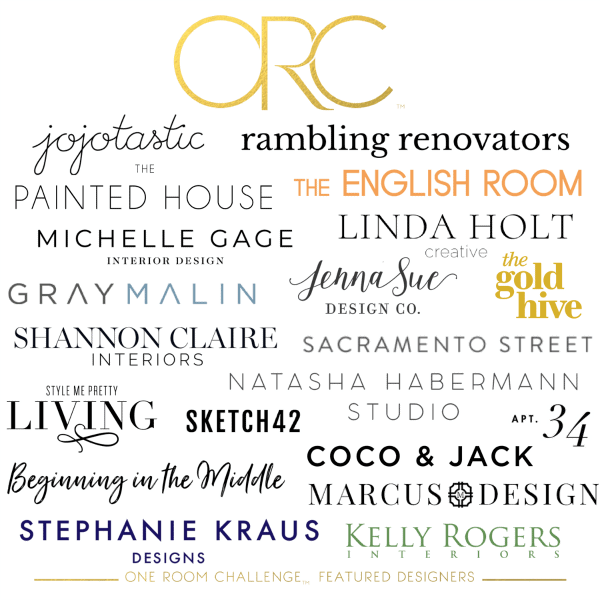 Pin
Last week I made the announcement that I'd be participating again, but I didn't reveal which room. Any guesses….? Watch this week's vlog and find out!
Originally, I was looking forward to using the great room at the Heights House…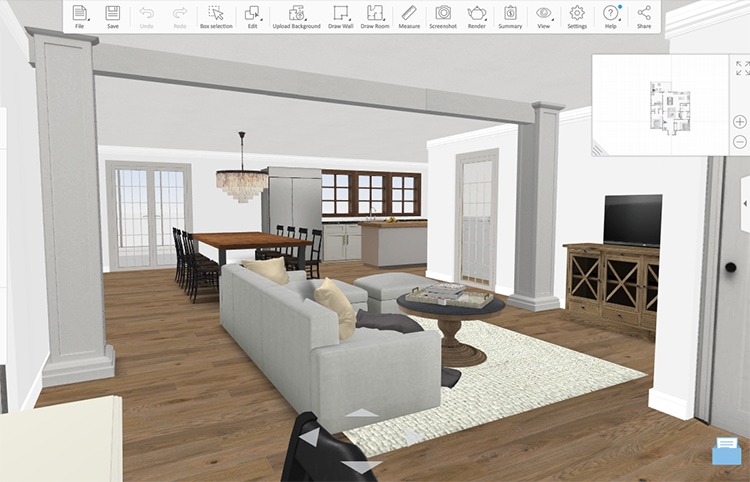 Pin
You can imagine the pressure of scrambling to figure out a Plan B when the house was destroyed just two weeks before the event was scheduled to begin! Do I drop out of the ORC and leave everyone hanging? Can I find a new room and come up with a design plan on such short notice? Well, they don't call this the One Room Challenge for nothing—bring it on!
I'm excited to announce that the room I've officially decided to make over is…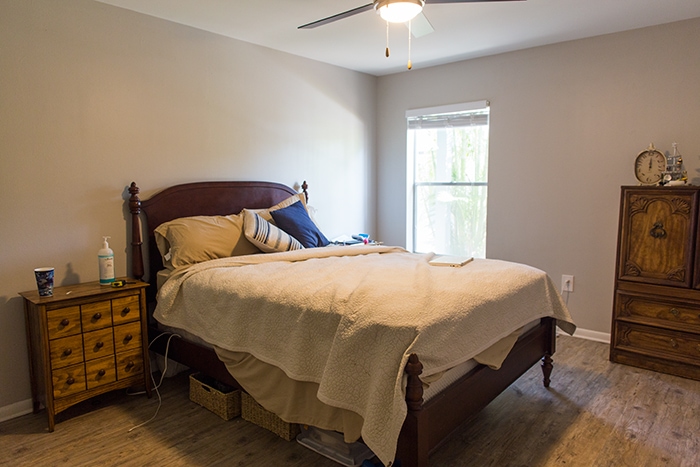 Pin
Our bedroom! We've been living in a temporary one bedroom apartment since we moved to Florida in January, expecting to move into our house in July when our lease was up. Well, that's not happening anymore, so we might as well make the space feel cozy while we're here!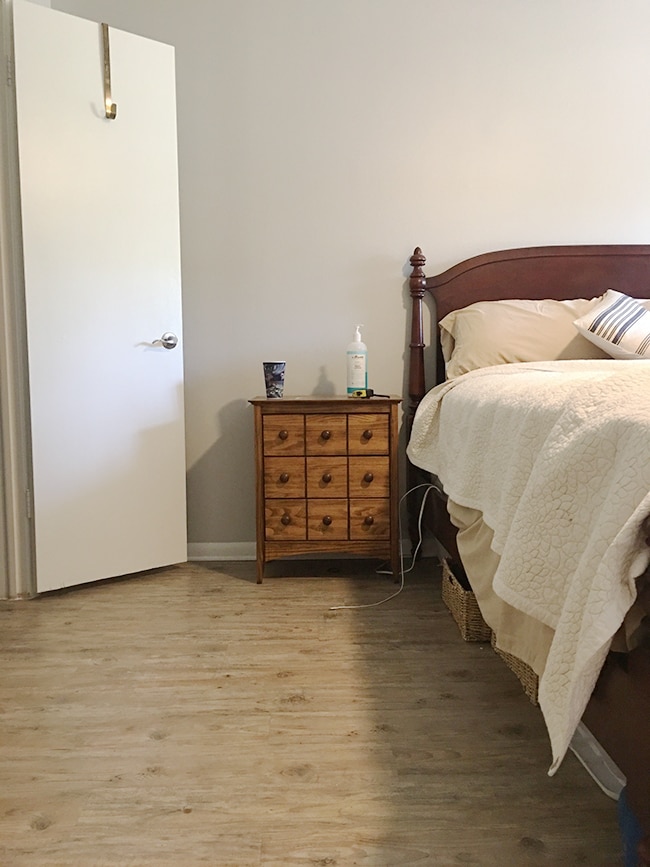 Pin
We've been so busy focusing on the renovation of our house that we haven't bothered to make this apartment feel like home at all. We moved in with nothing but an air mattress, and I bought a few pieces of used & inexpensive furniture online, with the hopes to eventually refinish them.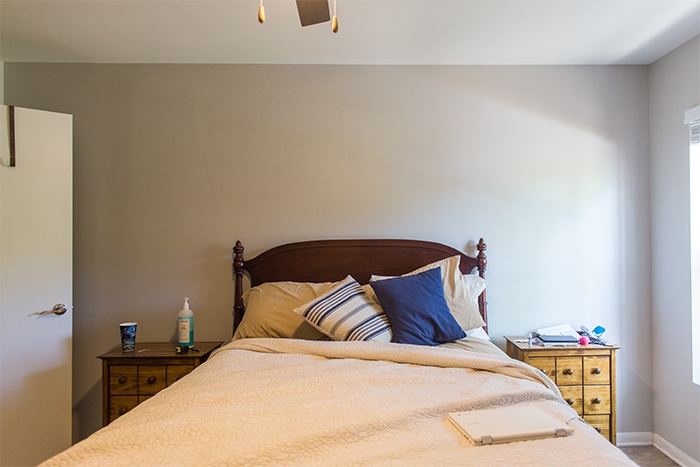 Pin
I found the bed on Craigslist (I believe it cost us around $120 delivered?) and haven't had the time to paint it, but I think it's better suited for a future guest room.
The night stands were an OfferUp score for $80 and they have so much potential—they'll be the first item I tackle in here! Above them, flanking the bed I'll hang two pretty vintage mirrors.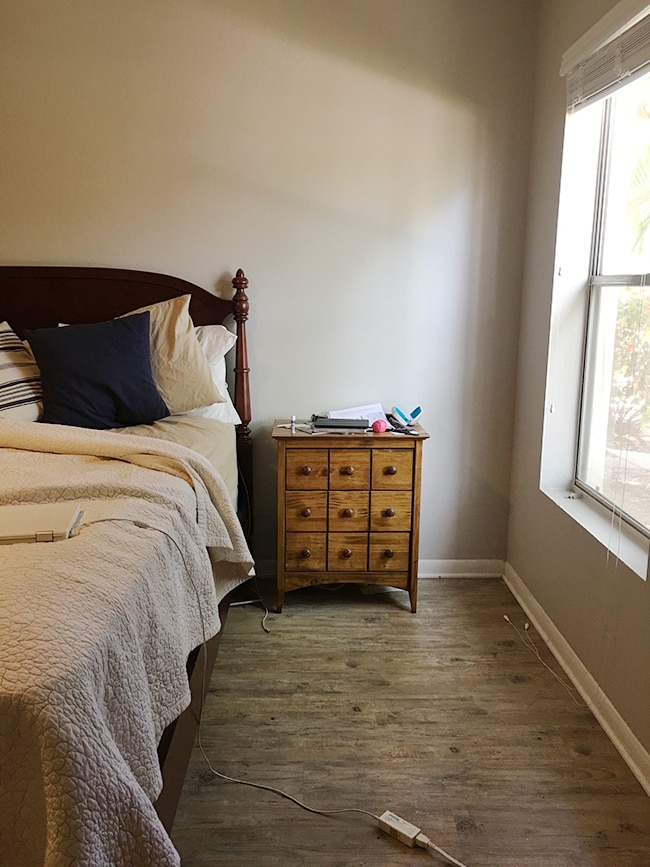 Pin
This beauty was just $45, also found on OfferUp—how gorgeous will it look with a few coats of paint?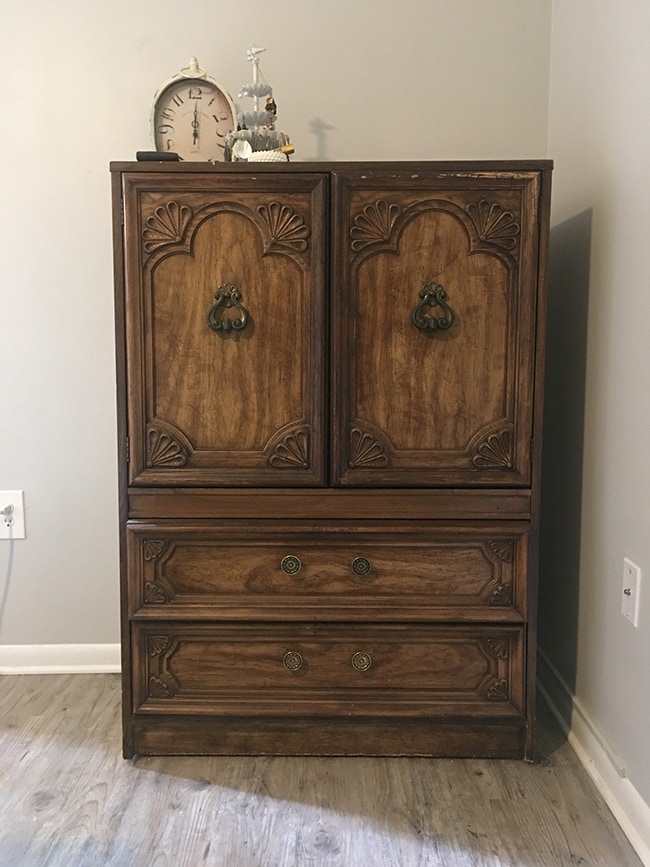 Pin
On this empty wall I plan to put a small desk & chair so we don't always have to work from our bed: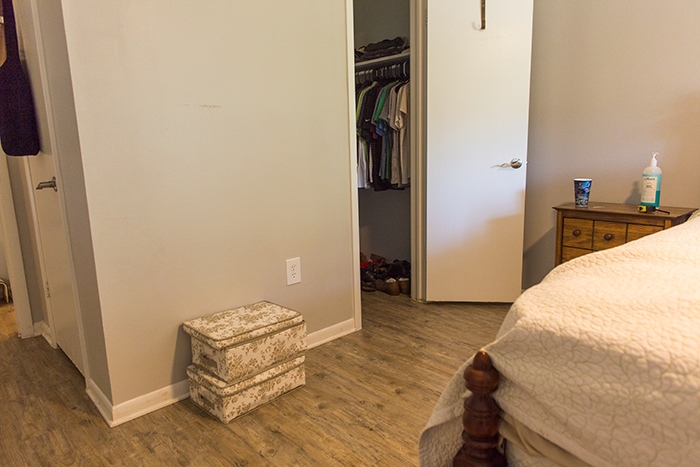 Pin
I also plan to swap out all three boring hollow cores with custom solid wood panels from Metrie: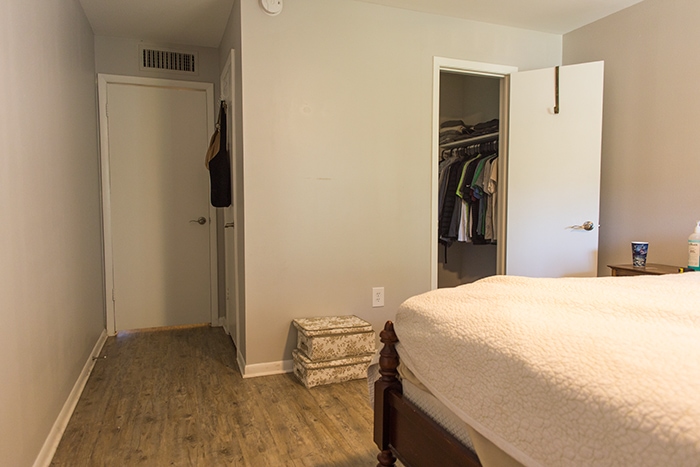 Pin
On the empty wall across from the bed, I'll hang some large scale art along with a vintage coat rack: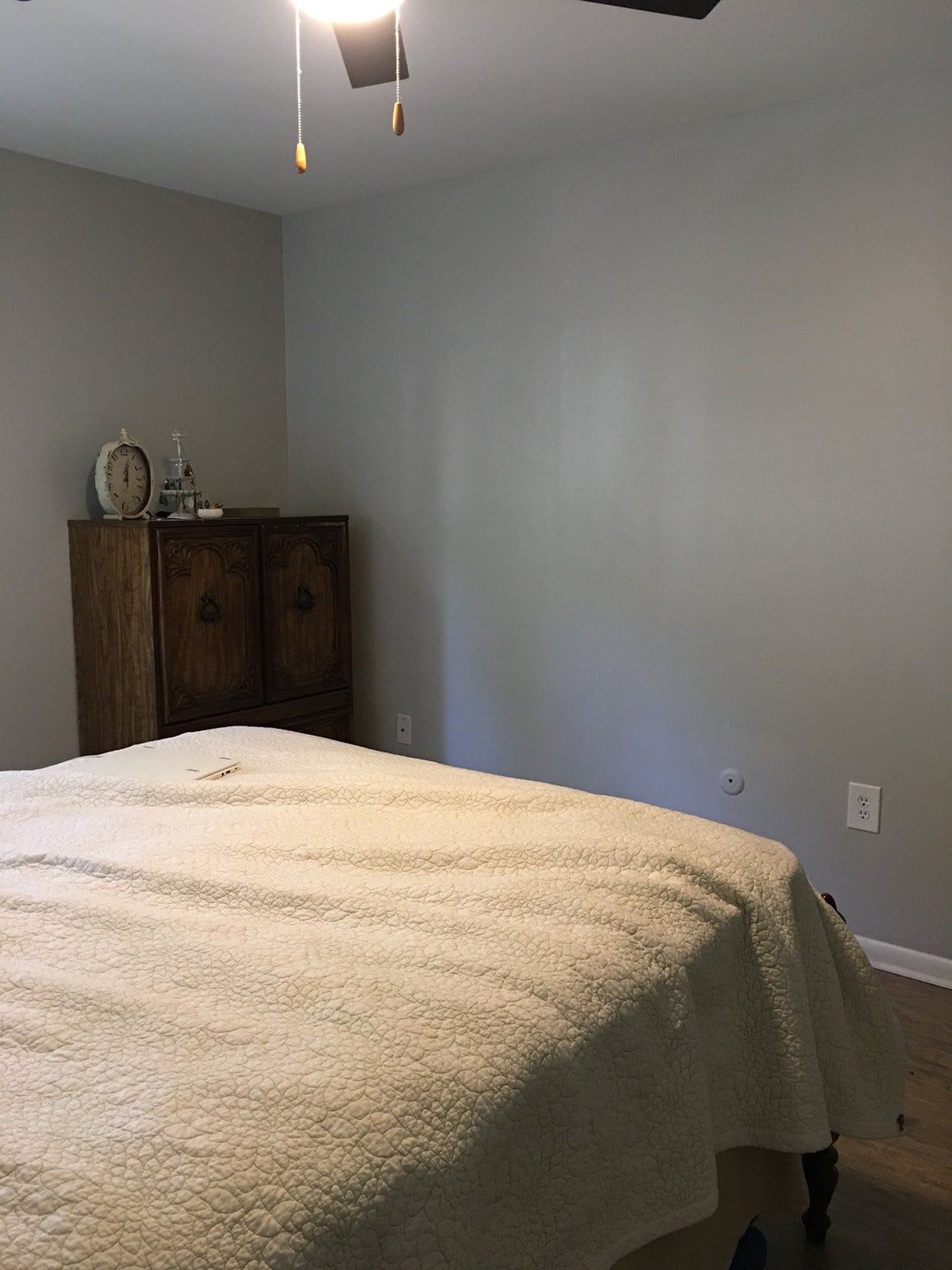 Pin
The window will be updated with some new blinds and curtains.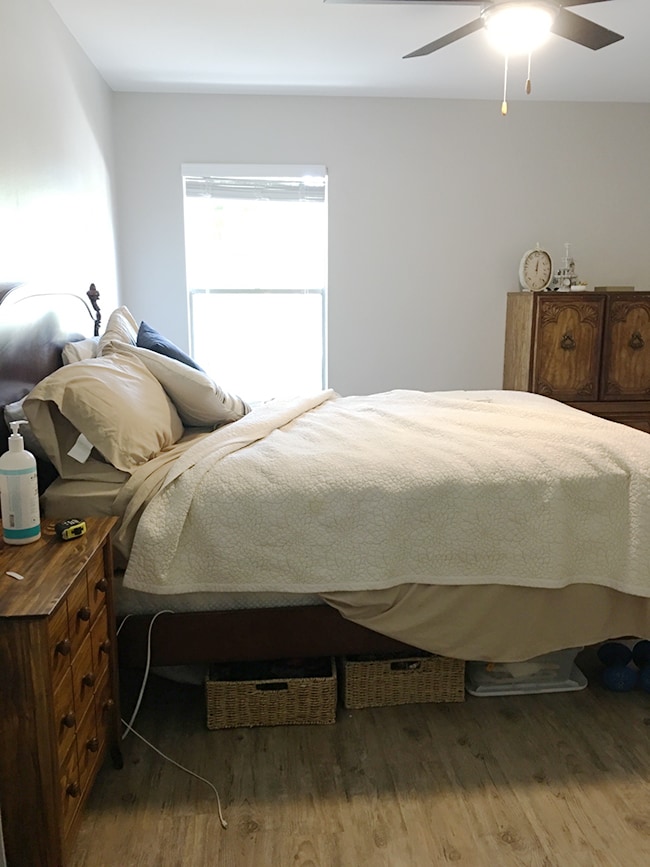 Pin
Above the bed the plan (as of now) is to build a small shelf, and the fan will be swapped out with a beautiful beaded chandelier.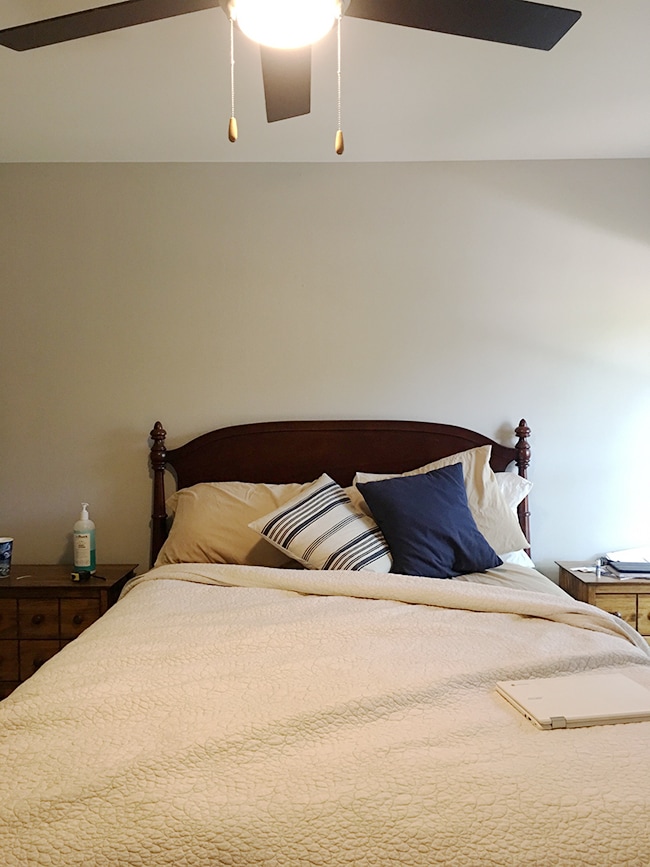 Pin
I was really hoping to go all out with picture frame moldings, trim and paint on the walls, but my apartment manager vetoed the idea so I can't do anything permanent. That's the biggest challenge of all for me—not having complete creative control! This is the first apartment I've ever decorated so it will be interesting to see how far I can go without making any permanent changes (I'll have to remove the chandelier, blinds/curtains, doors & shelf when we move out).
On the flip side, this could be inspiration for my fellow renters out there who are dealing with restrained designing too! I'm determined to make this work, and to make these temporary walls feel like home as we spend the next year rebuilding ours.
Here's my vision board for this space. I'm dubbing it the "French Bohemian Bedroom"…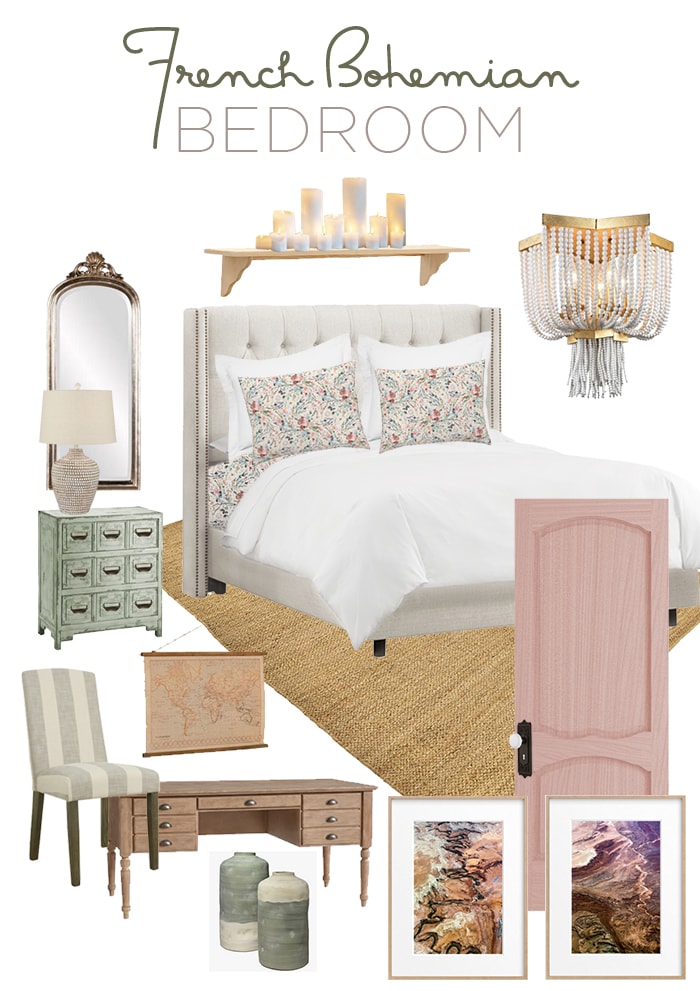 Pin
(Coming up with descriptive names is my favorite :D)
Here are some of the key elements I'll be using:
Floral sheets from Spoonflower/Roostery
Bedding from Pom Pom at Home
Rug from eSale Rugs
Doors from Metrie (painted in Farrow & Ball)
Door knobs from Nostalgic Hardware
Chandelier from Bellacor
Art from Minted
Chair from HomePop
Mirrors from Bellacor
Lamps from Lamps Plus
Hanging Map from Bellacor
Blinds from Overstock
Curtains from Overstock
Vases from Lamps Plus
DIY night stand makeover
DIY desk makeover
DIY wardrobe makeover
DIY wall shelf
I'm really looking forward to seeing how it all comes together, and to share my progress with you all each week! It feels amazing to be back in my zone, dreaming up room designs and brushing up my DIY skills.
Did you know you can get in on the action, too? Take this opportunity to finally tackle that space you've been putting off, and join us as a guest participant! It's a great way to stay accountable and we can all cheer each other on!
Make sure you check out the 19 other participants and see what room they're working on…
Apartment 34 | Beginning in the Middle | Coco & Jack | The English Room | The Gold Hive
Gray Malin | Jenna Sue Design | Jojotastic | Kelly Rogers Int. | Linda Holt | Marcus Design
Michelle Gage | Natasha Habermann | The Painted House | Rambling Renovators
Sacramento Street | Shannon Claire | Sketch 42 | Stephanie Kraus | Style Me Pretty Living
Media Partner House Beautiful | TM by ORC
I'm off to see them now—this is gonna be a great season… I can feel it!