If I had a dollar for every time someone said "I can't believe you found that secondhand, I never get that lucky!" I could buy a lot more of this stuff 😉 The truth is, there is some luck, but it's mostly effort, a little creativity and passion. Today I'm here to kick off an exciting new series, and share my best tips in thrifting (and flipping, if you want to earn a little cash while you're at it!)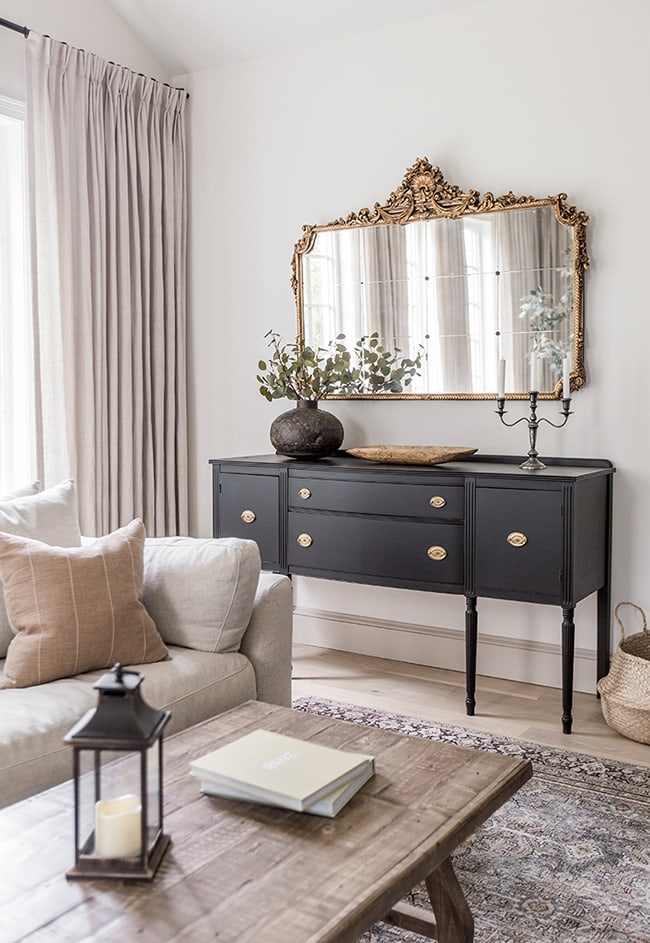 I've been a bargain hunter since the beginning—thanks to my mom who dragged me with her to every thrift store in my childhood. My love for secondhand really took off after I bought my mountain farmhouse home in California, and suddenly had a large home to fill on a tight budget. It was in a small town with very little retail shopping, but it did have a few thrift stores, and an amazing monthly flea market (much of my favorite decor to this day came from there).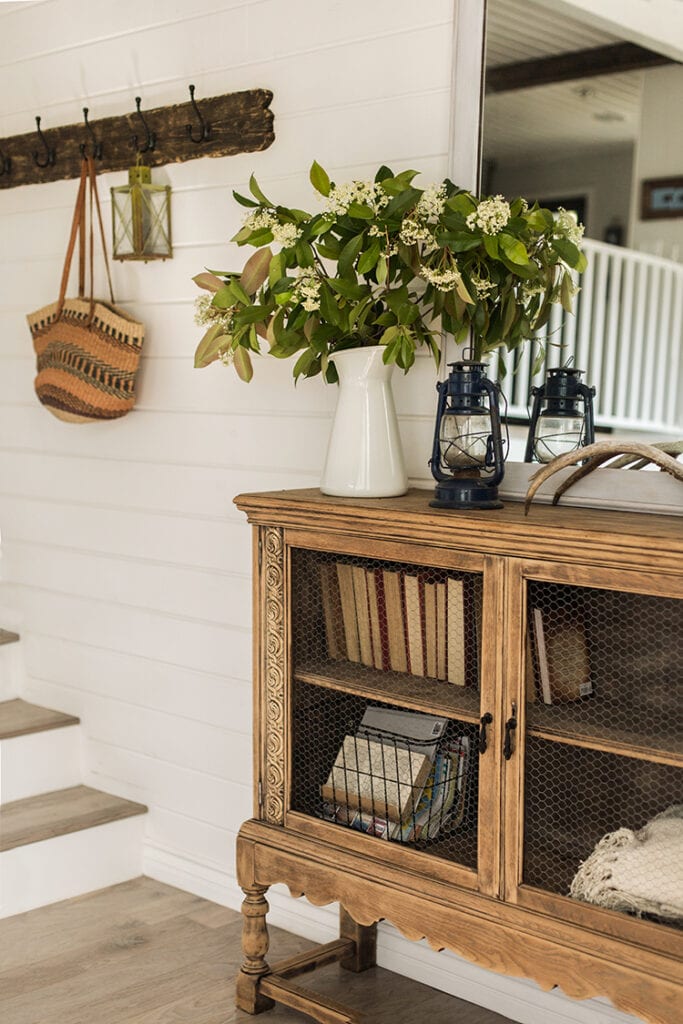 With the launch of Facebook Marketplace and apps like OfferUp and Letgo, buying and selling today has never been more convenient or accessible. I can search for items within a certain radius and quickly scan through results to find what I want in minutes. And I can post and sell an item just as quickly. Technology has opened up a level playing field for all of us, and with a little practice, we can use it to our advantage!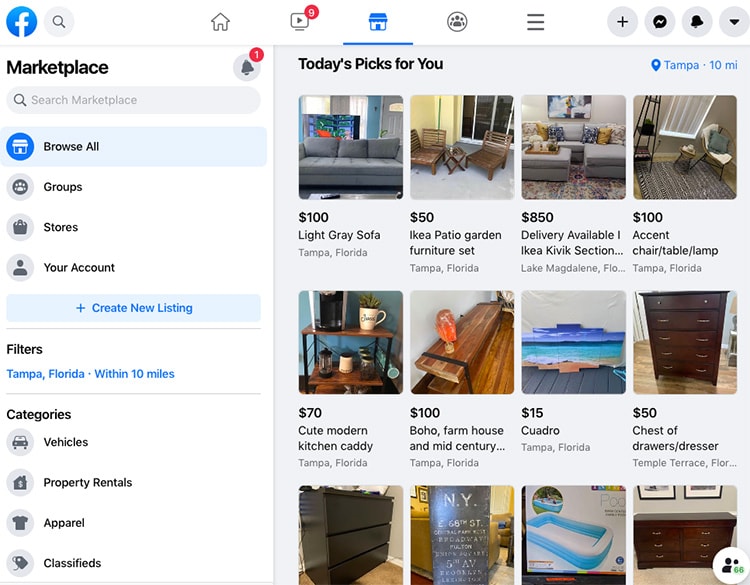 Of course, there's still the good old in-person shopping. You tend to find the best deals this way since it's not in front of hundreds or thousands of potential buyers, but it does require a significantly larger time commitment. The returns typically aren't as great for selling in person either, unless you consign it or sell through your own shop, but you may have to wait months for something to sell. Even still, there's nothing quite like the thrill of rummaging through a garage sale and finding that diamond in the rough. It's one of my favorite Saturday morning activities!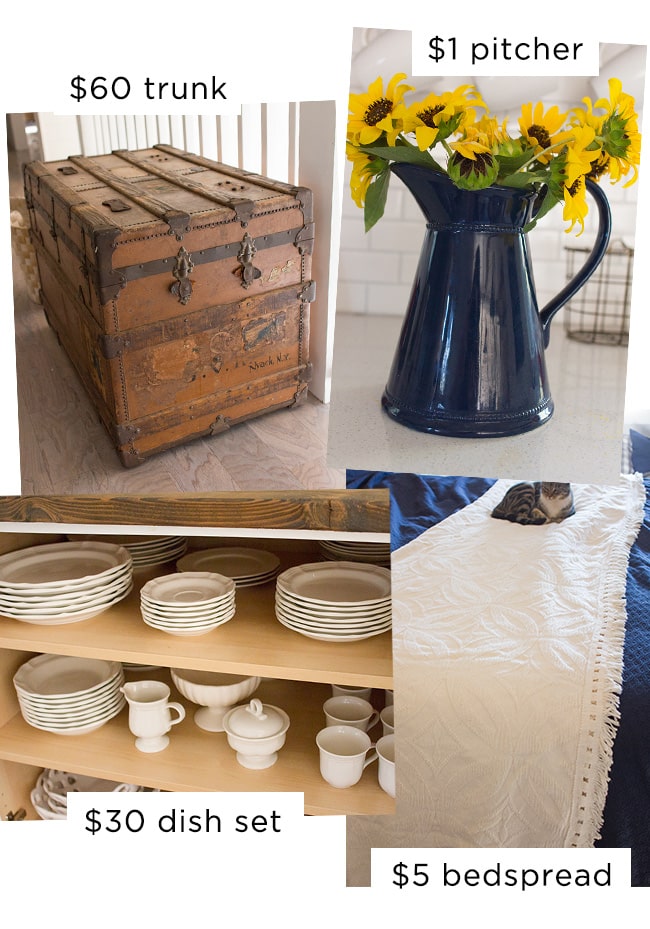 When we first moved to Florida a couple years ago and had nothing but time on our hands (before we bought any houses) we spent many weekends garage sale-ing, and even embarked on a little furniture flipping hobby. That didn't last long once we both began working full time and focused on renovations, but the passion has always remained.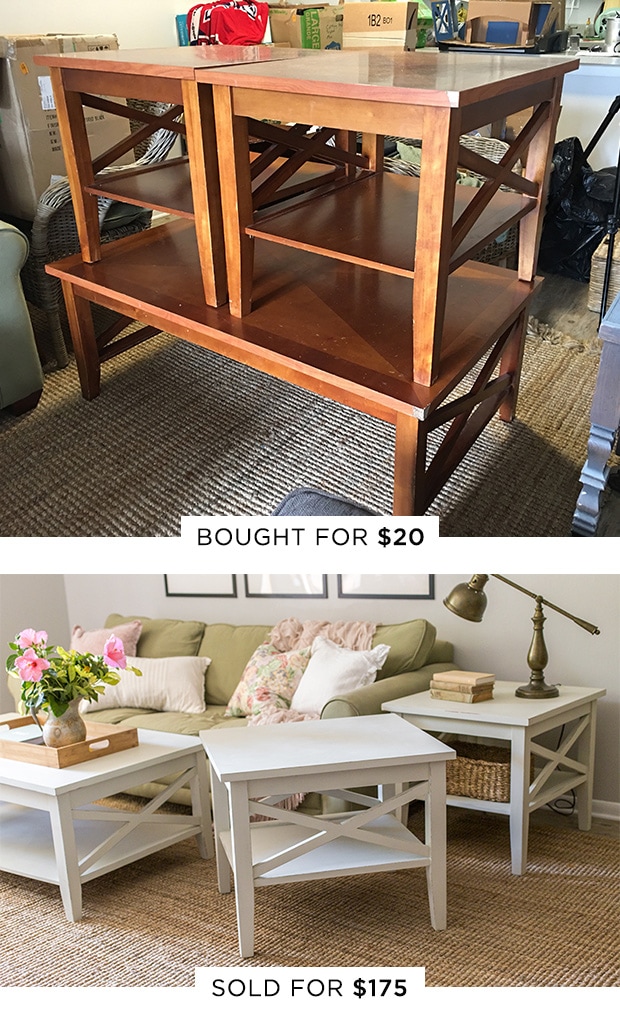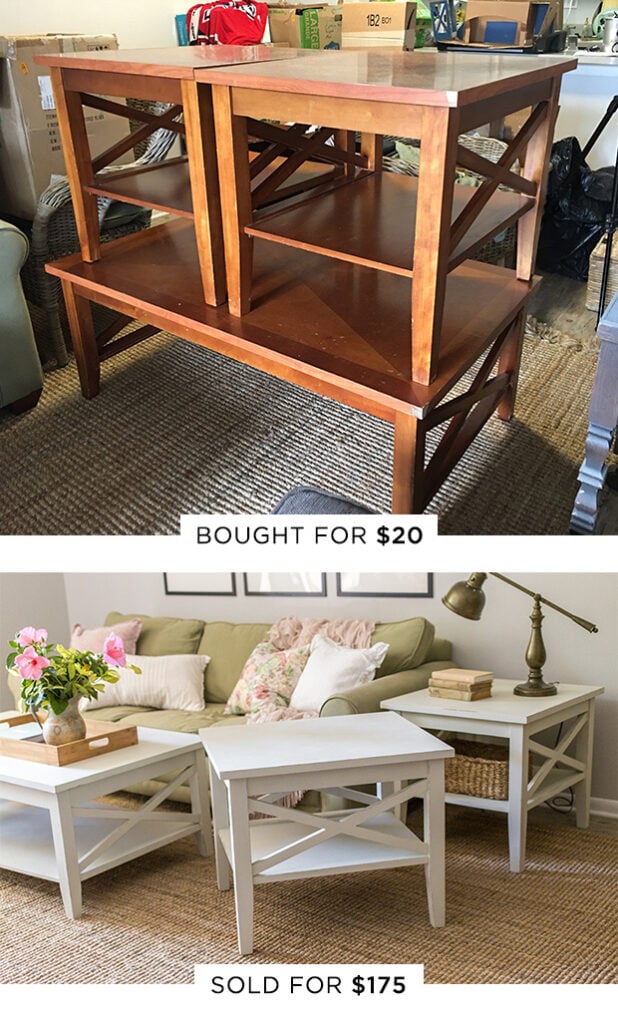 Recently, I spent nearly the whole quarantine glued to Facebook Marketplace in search of deals for the beach house, and realized how much I enjoy the thrill of the hunt. This pandemic has also really made me miss shopping in thrift stores (anyone else?)
During this challenging year, many of us have found ourselves with a little more time on our hands, in need of some extra cash, or craving a fun creative outlet to take our mind off the world for a while. Bargain hunting/furniture flipping checks all of those boxes, and I want to create a space where anyone who shares this hobby can all come together, learn from and inspire each other.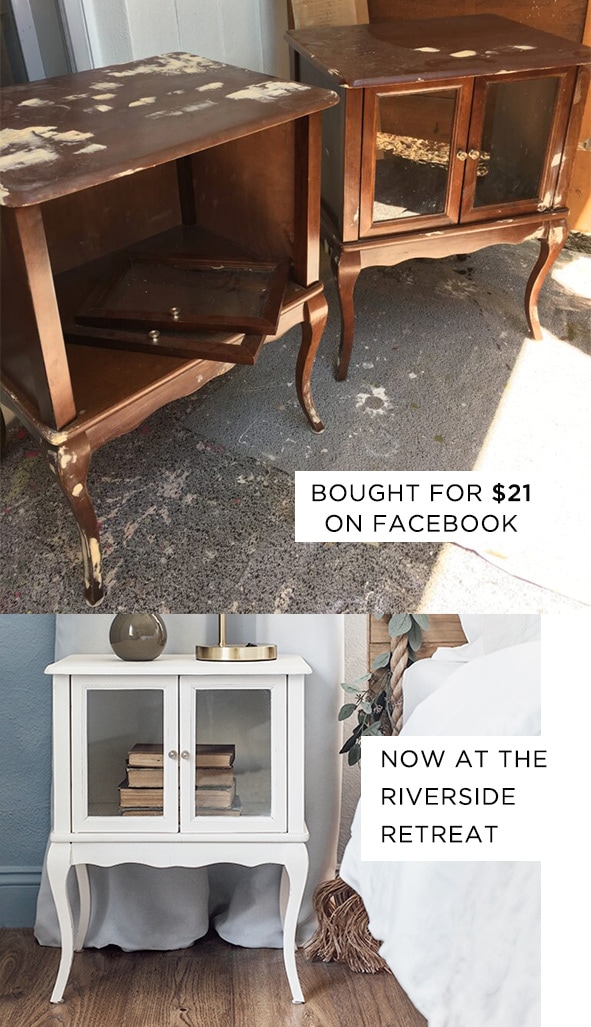 So I've decided to start a new blog series: Furniture Flip Friday. It won't be every Friday, but as often as I can, I'll check in and share my latest secondhand finds (whether in person or online), a transformation (anything from painting it to completely repurposing it), how/where I sold it and my profit. Fair warning: I might fall in love with some of these items and won't be able to part with them, but my goal is to sell most of them—hence the 'flip'—and bring value to those of you who want to do the same. And it doesn't have to be furniture by any means—all home decor is welcome.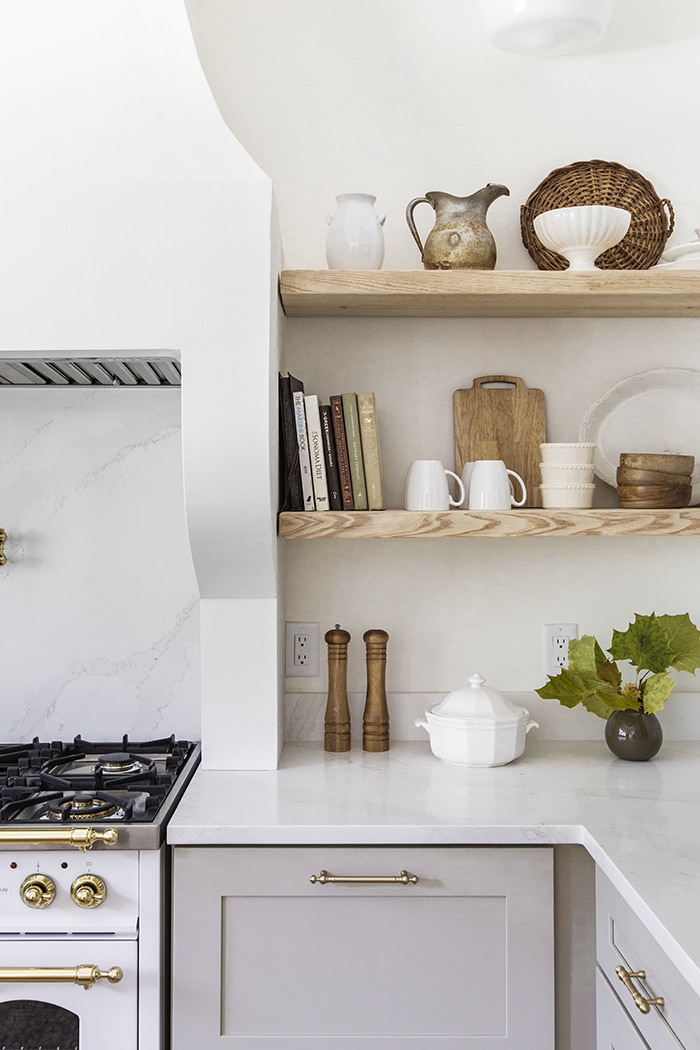 To help you get started, I've compiled my best furniture flipping tips and guidelines below. Note that every market is different, and trends are always changing, so you'll have to stay on top of things. If anyone has any other tips to share, please comment and I'll add them in! This is a team effort 🙂
Places to buy in person:
Yard/garage sales (this requires the most time/effort, but it's usually where the best deals are!)
Thrift stores
Consignment stores
Flea markets (if you have good ones in your area—the ones here are junk or overpriced)
Places to buy & sell online:
Facebook Marketplace and local buy/sell groups (my personal favorite)
OfferUp
Letgo
Craigslist
eBay
Poshmark (I've only bought clothing here, but you can find home decor as well)
Etsy
1stdibs and Chairish (high end items and antiques)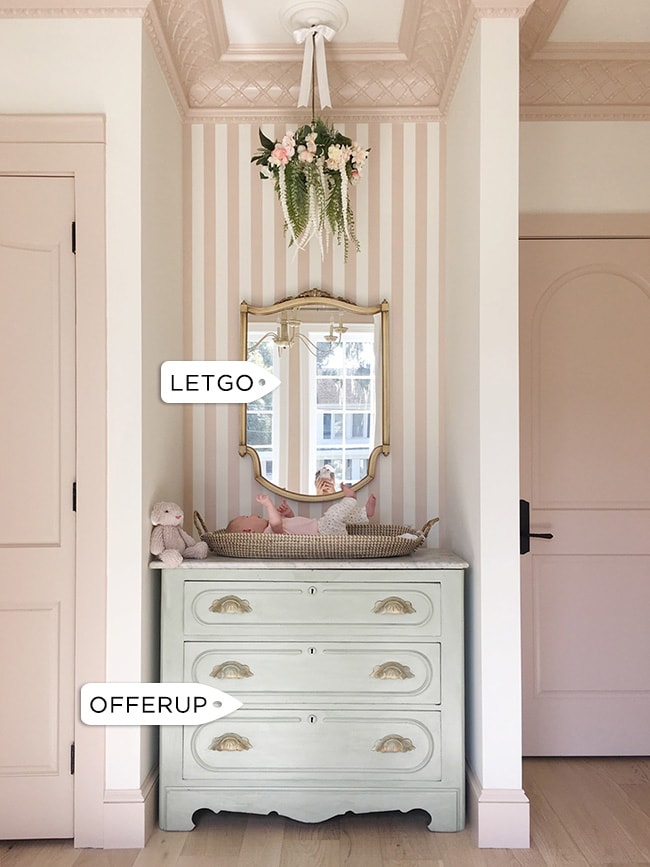 Tips for selling for top dollar
1. Know your market. Take a few minutes each day to browse through Facebook Marketplace, or as often as you can. You'll get a sense of supply and demand, and general pricing in your area.
2. Do your research. Follow well-known interior designers on Instagram and study their work. Flip through a Restoration Hardware or Serena & Lily catalog to stay ahead of high-end trends (analyze EVERYTHING: colors, textures, materials, scale, etc). Notice patterns that are repeated in these spaces. It takes a while for a trend to become popular among the masses, and it pays off to know what to anticipate and to be a first mover in the space.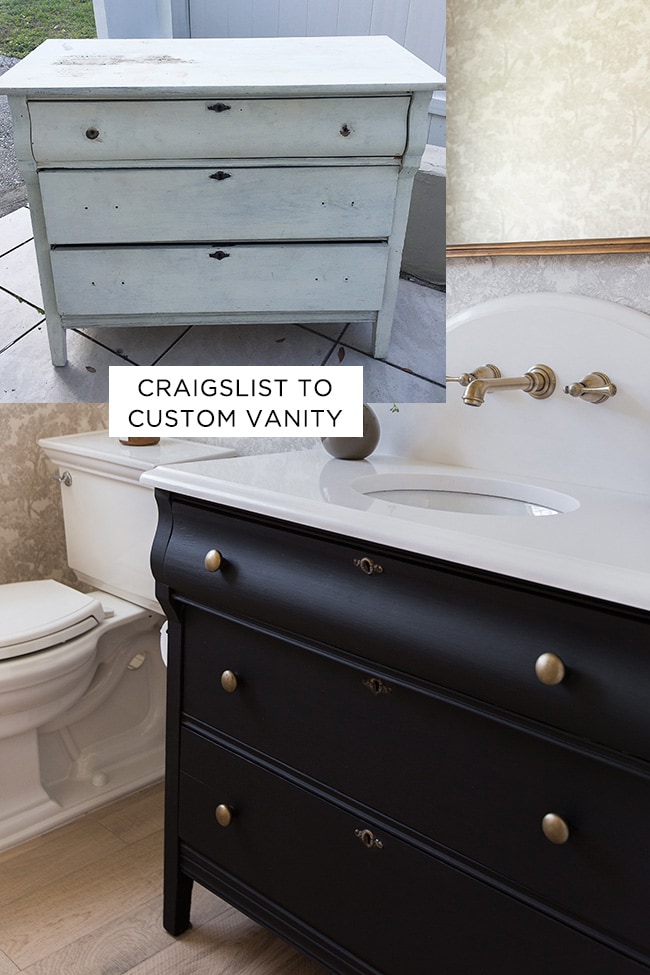 3. Think outside of the box. Spend some time on Pinterest looking at budget DIYs and furniture transformations. Eventually, an idea will be sparked and you're off to the races. Tip: my DIY library has plenty of high-end look for less beginner projects to start!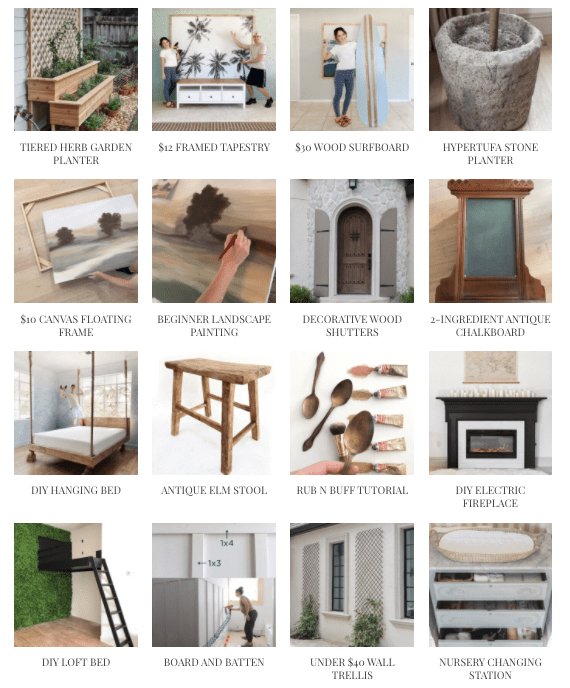 4. Know your keywords. You'd be surprised at how many different ways there are to say the same thing: cabinet, hutch, buffet, vanity, sideboard, console table, TV stand, media cabinet, dresser, night stand, side table, end table, accent table, bench, desk, etc etc. People mislabel and misspell things all the time, so if you want to do a thorough search, you have to know all of the possible terms one could use. You'll start getting "lucky" and find those hidden gems when you go the extra mile.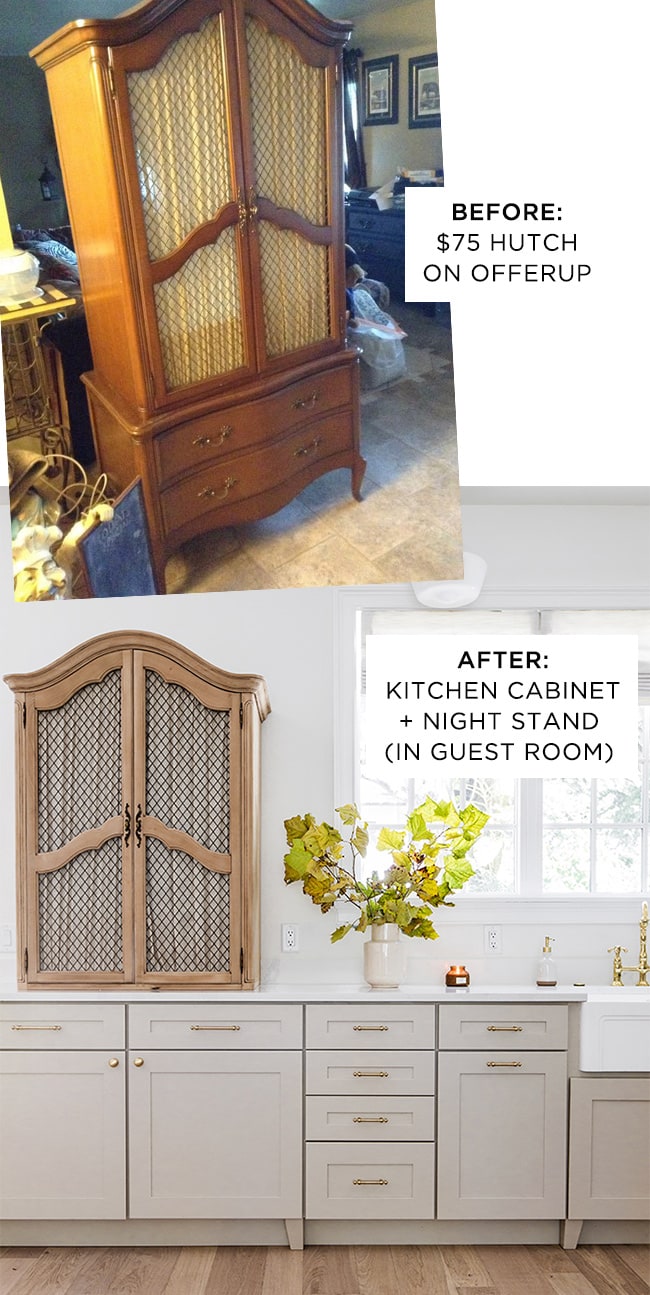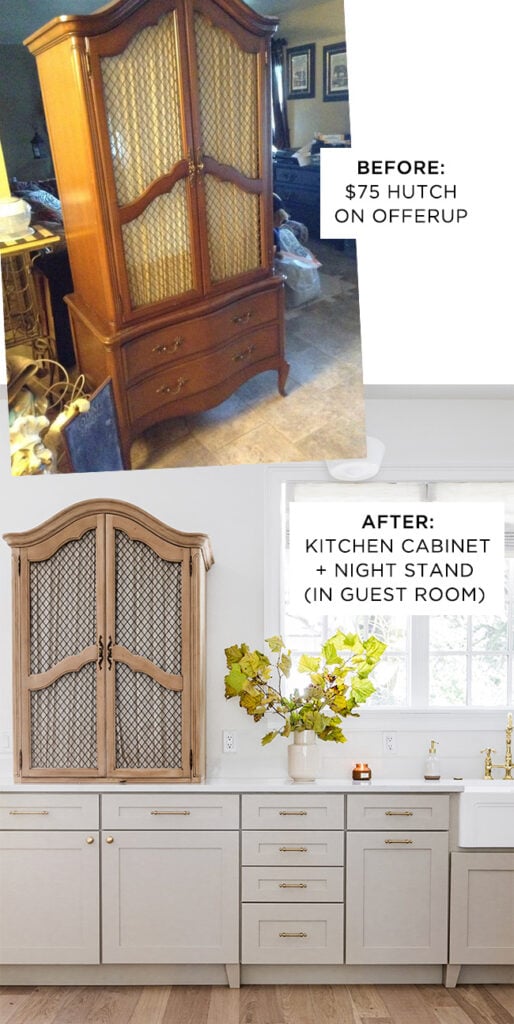 5. Start small. It can be intimidating to tackle a complete restoration of a large piece of furniture (including the materials investment) only to have results below your expectations, and/or no interested buyers. Start small with a low cost item/investment (how about a vase, lamp, or repurposed art?) to build up confidence as you improve your DIY, photography, and buying/selling skills.
6. Narrow your focus. If sorting through pages of unlimited listings sounds confusing and overwhelming, start with one specific type of item that piques your interest and zone in on that. Get to know it inside and out—become an expert at it. You may discover that you're successful in a certain niche and don't need to venture outside of it. If something works and you enjoy it, you've hit the jackpot!
7. Photos sell. This might be the most important tip of all. Your photos matter just as much as (sometimes even more than!) the item itself. Consider investing in a DSLR camera (or a phone with portrait mode) and take time to stage the photo so it looks like it's in a magazine. Make sure to capture full shots of the item in a room, along with detail/close-up images. You don't need to be a professional photog, but you should follow a few basic guidelines to make sure your item is represented as best as possible. I always get at least *double* the inquires when I do this, vs posting a few quick unedited iPhone photos—and it sells at a higher price.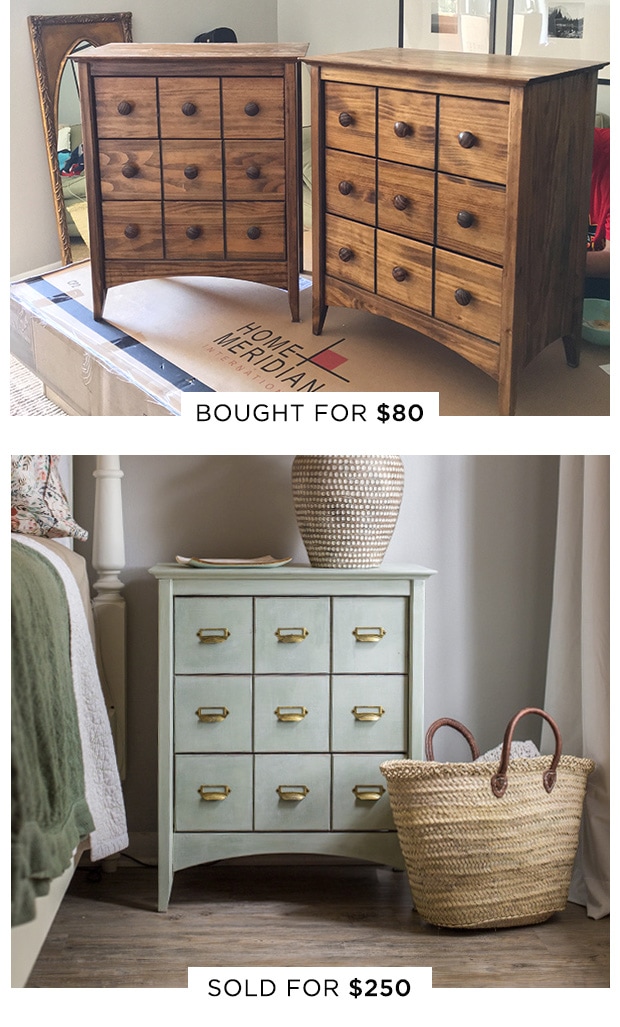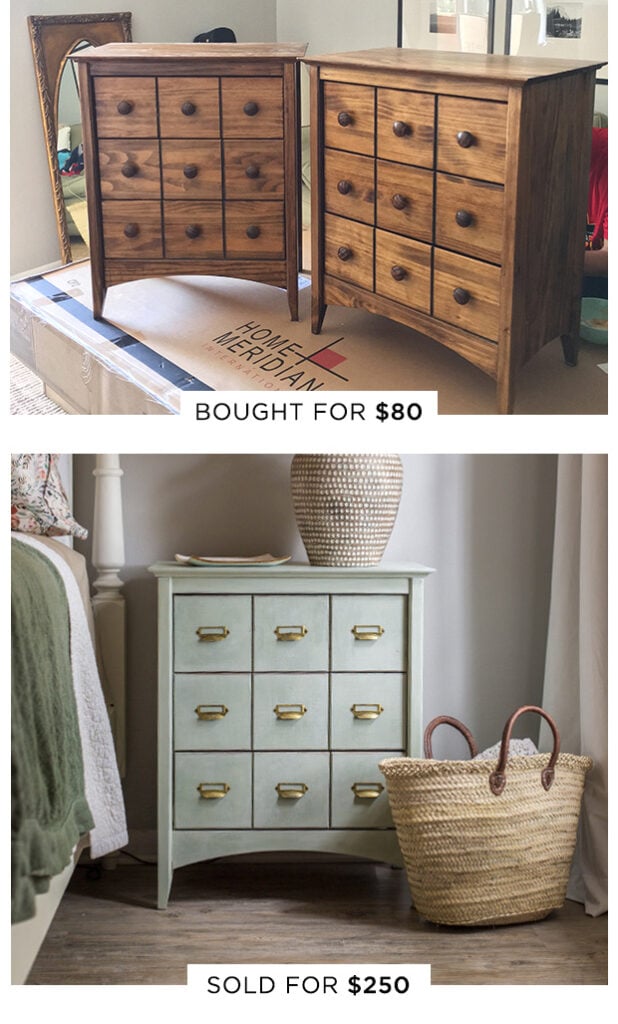 8. Buy low, sell high. This goes without saying, but it pays to know which platforms to buy and sell on. If you visit your local marketplaces often enough (both in person and online) you may start to notice patterns. There are "free stuff" Facebook groups, as well as a free section in Craigslist. You can find free furniture just driving around the neighborhood, or ask your local neighborhood Facebook group if anyone has anything they want to get rid of. Knowing where to sell is just as important. Insider tip: see if there's a buy/sell Facebook group specific to the more affluent neighborhoods in town—most larger cities should have this. I always have the best luck here, and my items tend to sell within a few days at asking price.
9. Learn to negotiate. Unless it's obviously underpriced and you can't live without it, try making an offer below asking price first. Usually sellers are willing to negotiate. Be respectful of their time, respond to messages promptly and don't leave them hanging (I often get at least 10-20 potential buyers who ask questions, pretend they're interested and then disappear. Don't be one of those).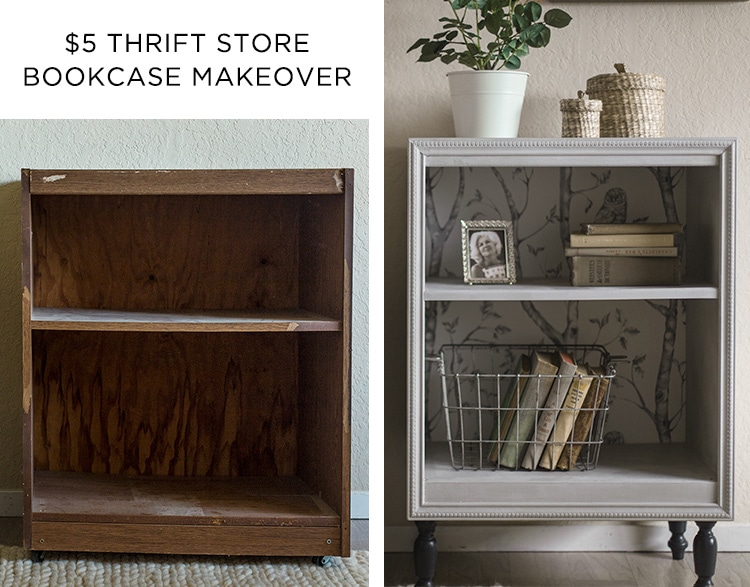 10. Start high. I've left so much money on the table by listing something for less than what it was worth. I'm still learning and it can be hard to predict what people will pay, even if you're on top of things. Start by listing the item higher than what you feel comfortable with, and see what happens. If there is no interest after 24 hours, you can easily drop the price (oh the joys of technology!) Decide what your bottom line is, and continue to drop the price every 2-3 days (or wait it out, if you aren't in a rush to sell). If there's still no interest, you may want to wait another month or two to re-list and get fresh eyeballs on it.
11. Offer delivery. People will pay for convenience, especially if it's a larger item (like furniture) that won't fit in a car. I'm fortunate to have access to my in-laws truck right now, but before that, I had to pass on buying large furniture that couldn't be delivered (which was 90% of listings). If you want your item to be available to everyone and have the means to transport, it's a great service to offer (yes, you can charge for it!)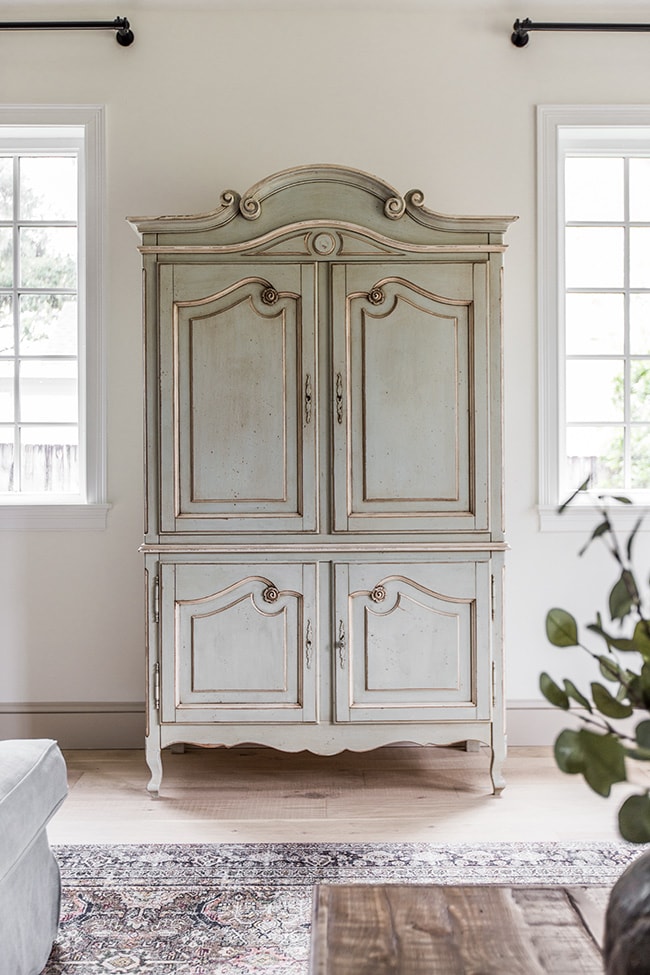 12. Set your expectations. You should be doing this because you enjoy the process, not just the results! If you're motivated enough and committed (and can devote many hours to it) you can turn this into a profitable business. Or, you could end up breaking even or even losing a few bucks, so make sure you're okay with that before starting. Just like anything else: it takes practice to master the art, so be patient and enjoy the ride.
What type of items should I be buying?
This ultimately comes down to personal preference, your skillset and what you enjoy working with most. Some folks have experience refinishing furniture and can just do that all day. Others may have a knack at finding underpriced trendy decor and have fun staging/photographing them to sell. Some of you might be great at spotting potential and repurposing something to give it new life. Your specific location will also determine the type and style of furniture/decor people are looking for.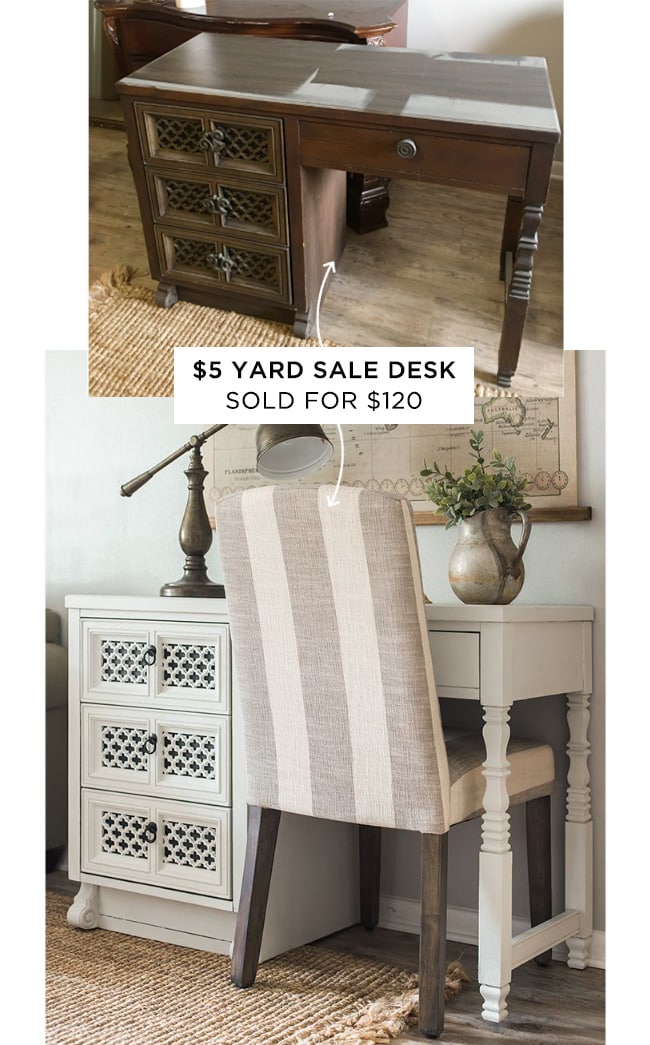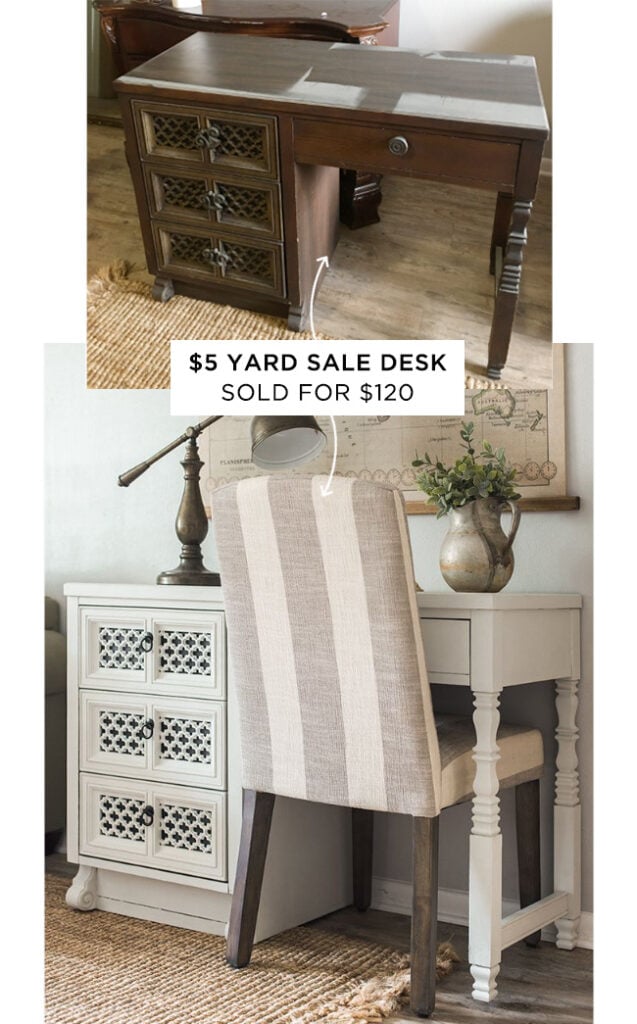 In my area, I've noticed the following trends as a general rule of thumb:
High demand/resale value:
Anything high end (think Restoration Hardware, Pottery Barn, West Elm, etc).
Unique, one of a kind items
Coffee/side table sets
Night stand sets
High quality desks
Outdoor furniture
Low demand/resale value:
Shabby chic style
Overdone farmhouse style
Outdated antiques
Anything too plain/common (Ikea)
Sofas
Armoires
Mirrors
Textiles
Knick knacks
Wall art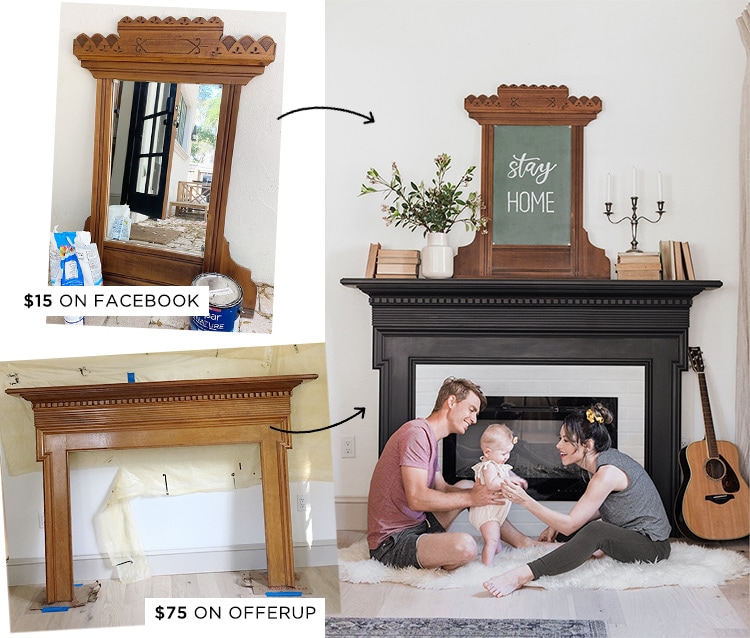 Leisure shopping trips have been put on hold for many of us during these days of social distancing, which makes online shopping that much more enticing. Porch pickups (where you don't interact with anyone else) are very common, and if that's not an option, you can still take precautions. Wearing a mask, keeping your distance, bringing hand sanitizer/sanitizing spray and not entering someone's home are all measures you can take to stay safe.
If you have more specific questions or want me to dive deeper into any of this, let me know and I'll address it next time! I've been at this a while but there's still a lot of variables and some luck involved. Each sale is a learning experience.
Now it's your turn…
Post your secondhand scores and current flip projects on Instagram with the hashtag #furnitureflipfriday, and tag me @jennasuedesign so I can share them and we can cheer each other on! Don't worry if it's not finished, we want to see the progress shots too. On Fridays I'll reshare them here on the blog and on my Instagram. I'm aiming to post an update at least once a month of what I've been working on and what you guys are up to!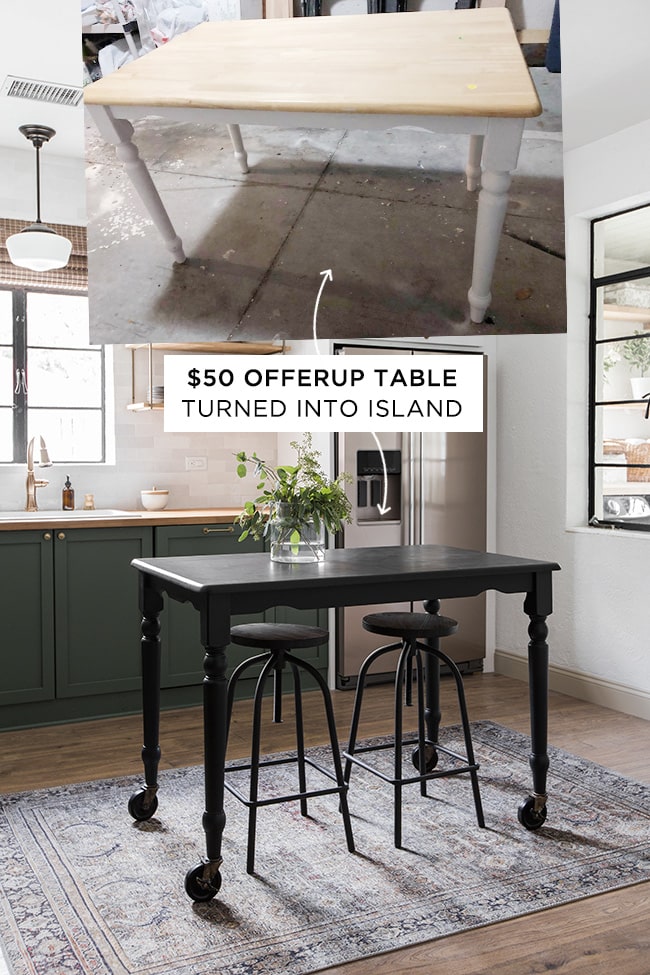 Make sure to include details like what the item cost, the cost to refinish and what you sold it for (if applicable) so we can learn from each other and get inspired! Remember, this can be anything at all home/decor related you find secondhand—it doesn't have to be a big furniture refinishing project.
Whether you love chasing deals, need a DIY/creative outlet, or just want a way to make a few extra bucks, I hope you'll join in on the fun!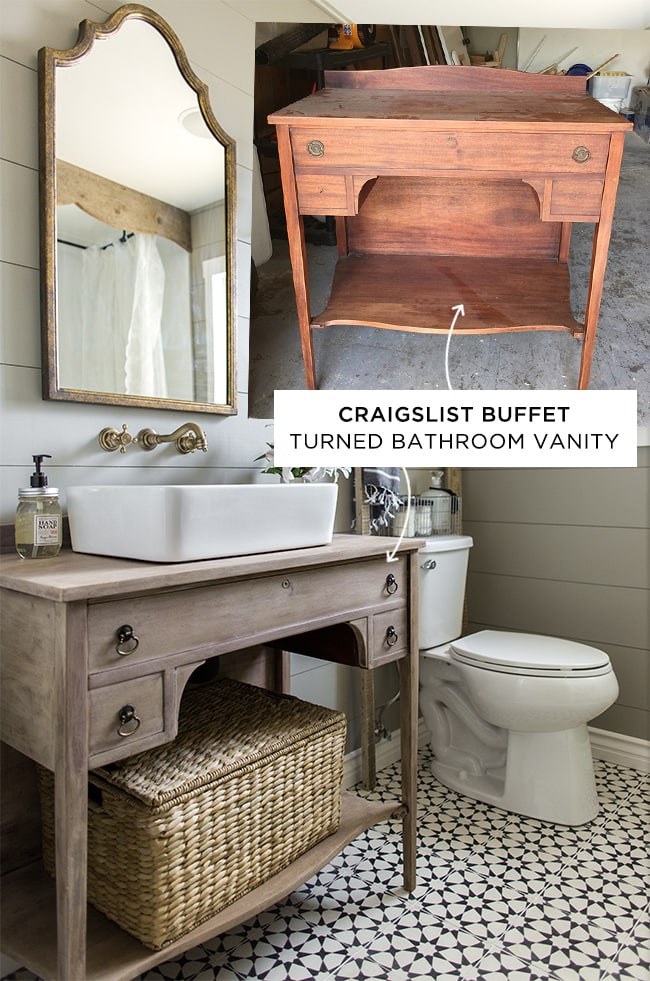 Now here's where things get interesting…
To help kick things off, I'm going to choose a city somewhere in the US, dig through the local Facebook Marketplace listings and share my top finds. I'll be looking for underpriced items you could easily flip, and also unique and cool pieces in general that you can keep for yourselves if flipping isn't your thing. I'll be posting them here on the blog Monday and you have to move fast, because the best deals are usually gone within hours. Set your alarms for Monday morning, folks—the early bird gets the worm!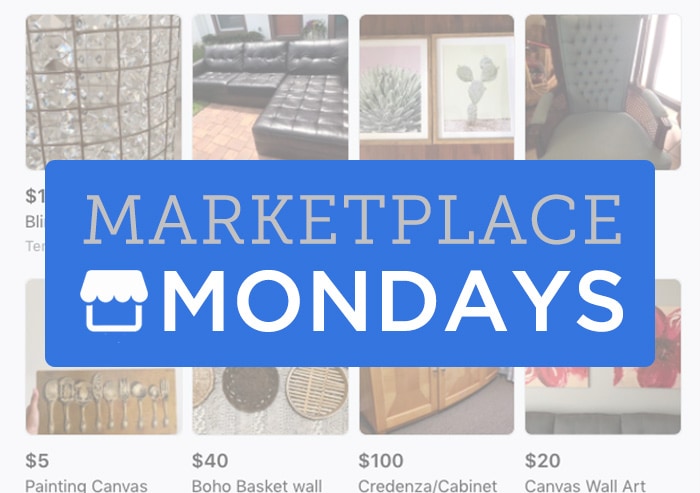 So the question is… which city should I start with?! Drop your city below and the place with the most requests will kick things off! Again, this won't be an every-Monday thing, but as often as I have time for. And if you want me to do more of these, leave a comment, tag and share it up on Instagram. Start using the tag #furnitureflipfriday (even on past projects) and let's see how long we can keep this going! Who's in??