Last week after sharing my sconce finalists for the bonus room, I got a request to source more budget lighting options and realized I've never done one of these roundups. Lighting is one of my favorite things to shop for, and there's unlimited options at all price points (which can make decisions daunting!)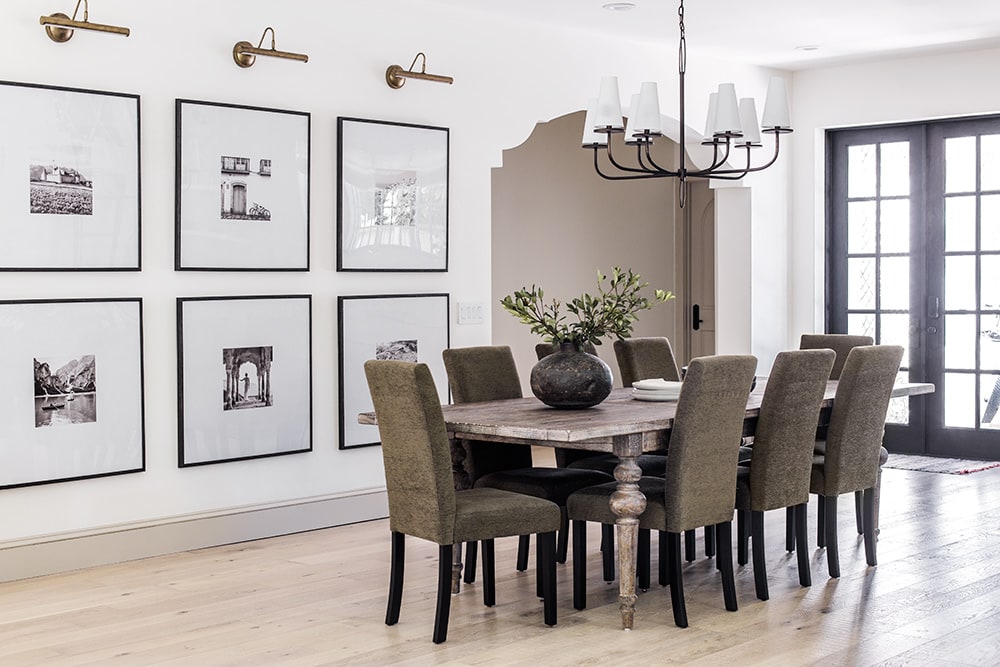 To keep things simple, I created a 'Budget Lighting' board on Amazon with all of my favorite finds under $200 (which I'll continue to update as I come across them, so keep checking back!) I've found that Amazon has the widest selection and generally the best price point out of anywhere else online, and the free 1-3 day shipping with Prime has been a life saver when I'm on a deadline to finish a room…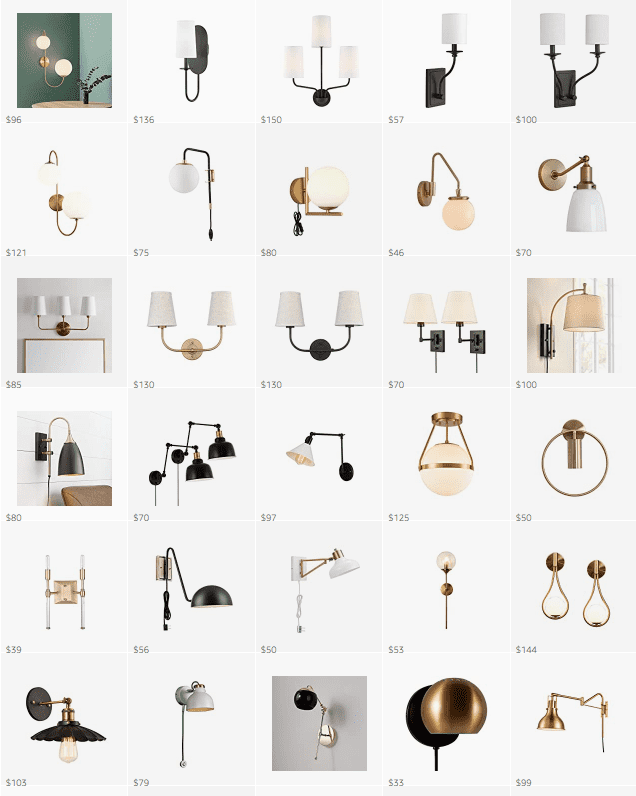 After spending the last few days digging through hundreds of pages of search results, I am blown away at some of these options that look just like products you'll find at Restoration Hardware, Pottery Barn, Anthropologie, etc, for a fraction of the cost. And the great thing about lighting is that you can easily change the color using Rub n Buff if you don't like the finish. This is one category where you can definitely save vs splurge, and still get the same high end look.
So far there's 175+ lighting options on my list (and counting) but I want to highlight a handful that made my jaw drop, then drop again when I saw the price. Heads up: the prices/availability tend to fluctuate—last time I shared a great budget sconce used in a bedroom, the price tripled within 24 hours so get these while they're hot!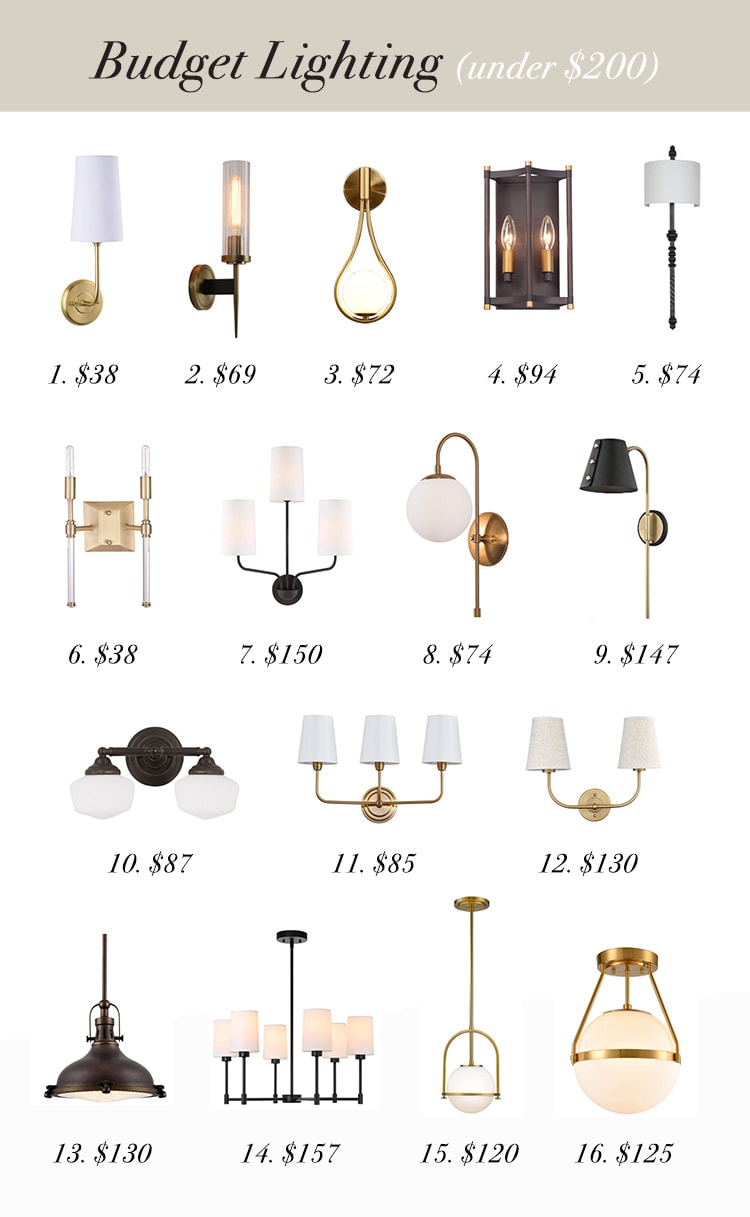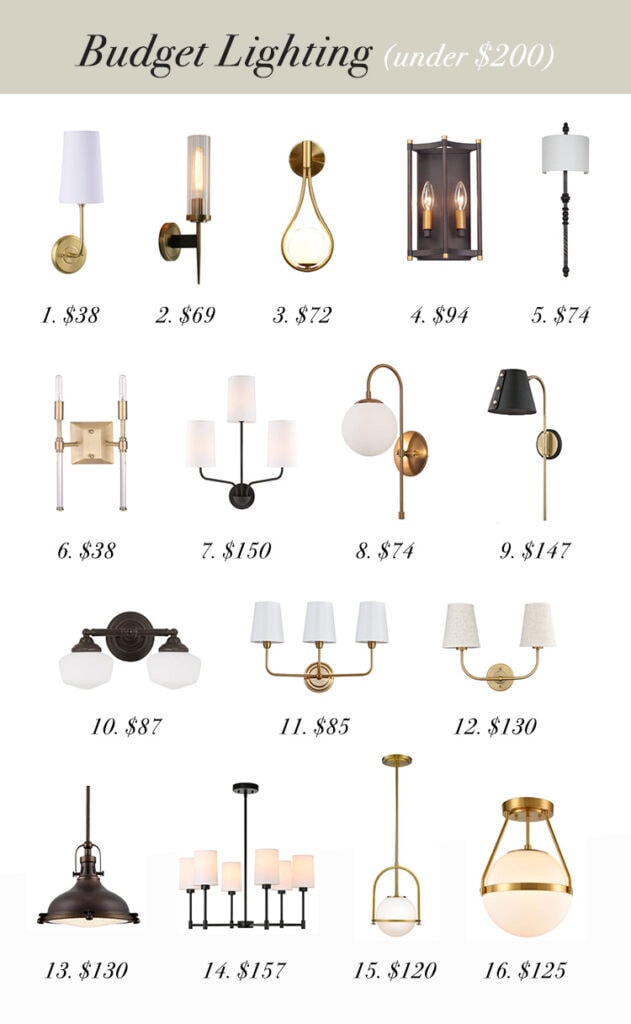 1 / 2 / 3 / 4 / 5 / 6 / 7 / 8 / 9 / 10 / 11 / 12 / 13 / 14 / 15 / 16
What I love about these: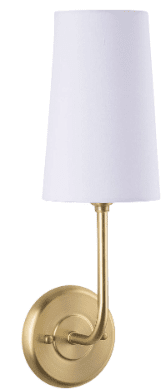 Simple, classic, and you can't beat $38! This one is perfect for small spaces, like flanking a vanity mirror. Also available in nickel.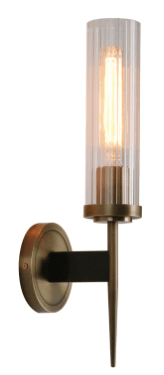 2. This is a close match to Restoration Hardware's $550 Lambeth sconce, and I think it looks better! There's also a two light version here. This is in my top 3 favorites!
3. I love the raindrop shape and elegance of these. They'd look gorgeous flanking a bed or in a bathroom.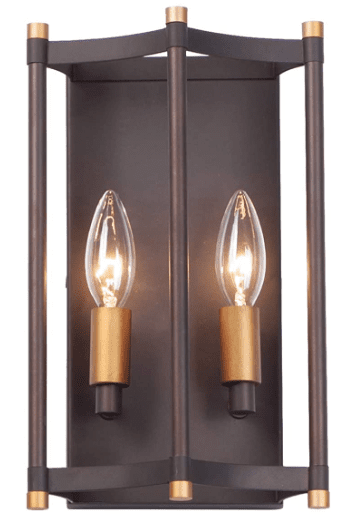 4. I have a major weakness for lanterns (especially indoors!) and can see this beauty installed anywhere from a hallway to a kitchen, bathroom, dining room, bedroom…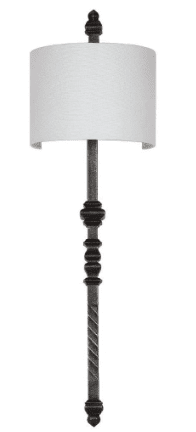 5. I'm completely obsessed with the rustic European iron look of this fixture, and it's huge (40″!) I can picture these in a hallway or dining room (psst, keep scrolling to see them in "real life"!)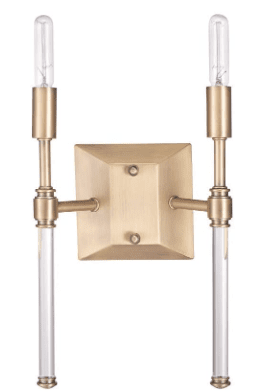 6. How on earth is this crystal and gold masterpiece only $39?!? I'm tempted to redo a bathroom just so I can use it. You might want to hurry up and snag a couple before someone realizes they made a typo on the price…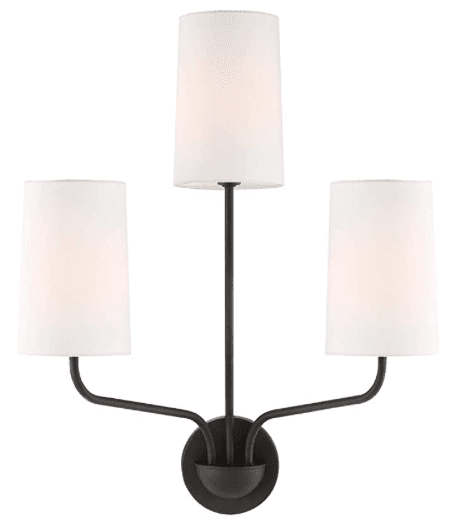 7. Judging purely on beauty, this one might be my favorite of all. So sleek and stunning. I'd use it in a living room, hallway or dining room.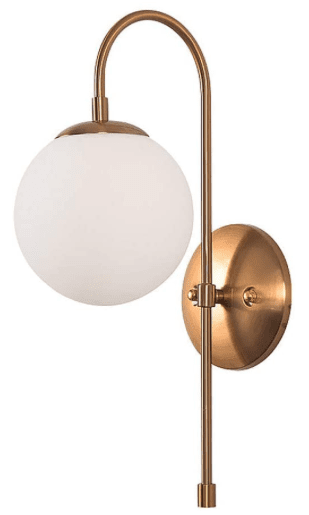 8. I'm digging the curve and frosted globe of this mid-century sconce, which could really work with any style room. Perfect for over the night stands or above the bathroom vanity.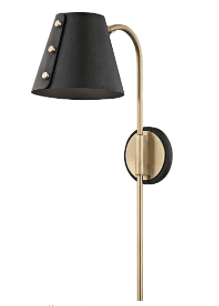 9. The detailing on this black + gold beauty is so good. Mitzi is a reputable brand with higher quality pieces so it's one of the pricier items on this list, but still very reasonable at $147.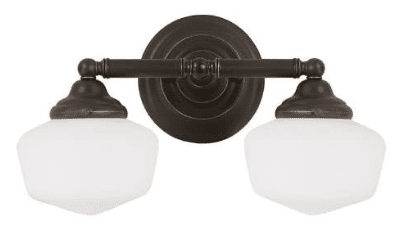 10. Affordable + stylish overhead vanity lights are harder to shop for, and I looked for a long time before choosing this one for our bathroom renovation. The schoolhouse style is timeless and goes with anything vintage. Easily one of my favorite vanity lights under $100.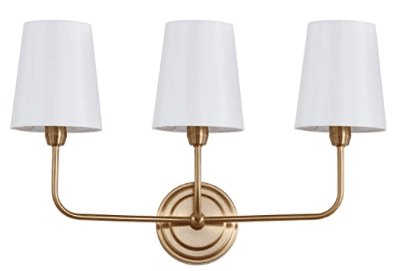 11. Another great option for the vanity if you need lots of lighting. And the price is SO good!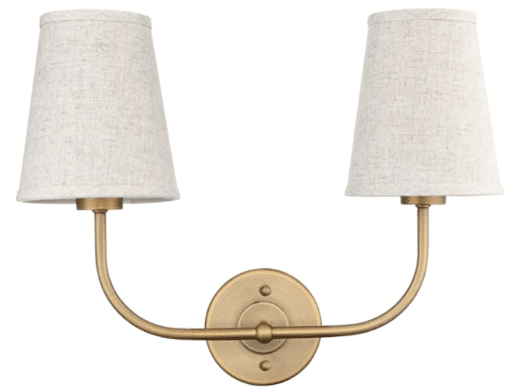 12. This one is extremely versatile and looks more expensive than it is. You can literally use it anywhere! The linen shade is a nice touch. Also available in black and brushed nickel.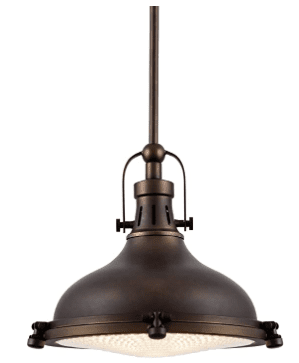 13. This pendant has a cool industrial look that would work great over a kitchen island (I'd hang two or three together). Also available in nickel.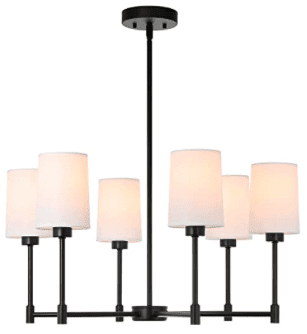 14. Chandeliers like this under $200 are hard to come by—but here it is! I love the modern twist on the traditional candelabra, and would use this in a bedroom, dining room, above a kitchen table, or in an entryway. Also available in brushed nickel.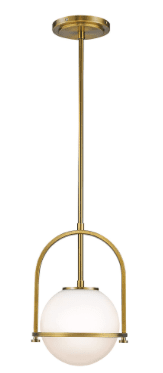 15. This pendant style has been trending recently and it would look gorgeous above a kitchen sink or 2-3 above an island. It's a duplicate of this $270 Hinkley light.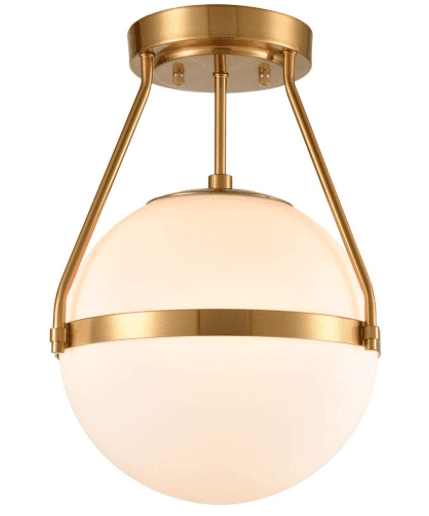 16. Another lovely gold + glass globe style in a semi-flush mount. Use these to replace your old hallway lights, or in an entryway.
I could keep going but let's try something new! Last week I put out a call on Instagram to submit photos of your spaces in need of new lighting. I chose a handful, made a few selections for each from my list and Photoshopped them into your rooms to help you decide. This is what I always do when I need help visualizing, and I figured it would be a fun way to see some of these budget lighting options in "real-life". I couldn't get to all of your submissions unfortunately, but we can always do another round if you guys want to see more!
Let the Photoshopping begin…
This reader wanted something to replace the cage sconces above her vanity mirrors: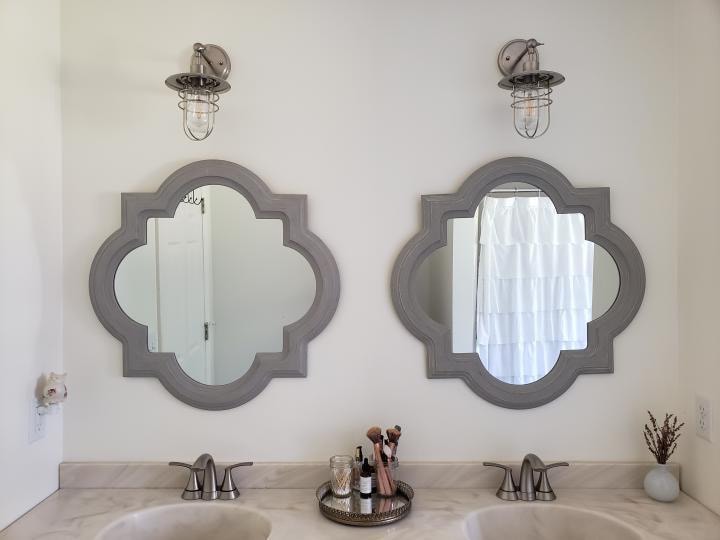 Since the mirrors stand out quite a bit, I'd lean towards something simple with glass or a white shade. How about these globe sconces?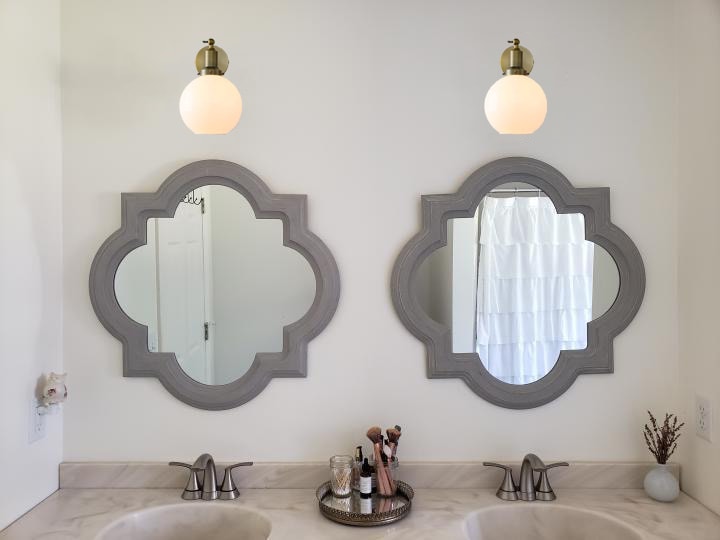 Or these vintage schoolhouse lights?
These white metal sconces could also work: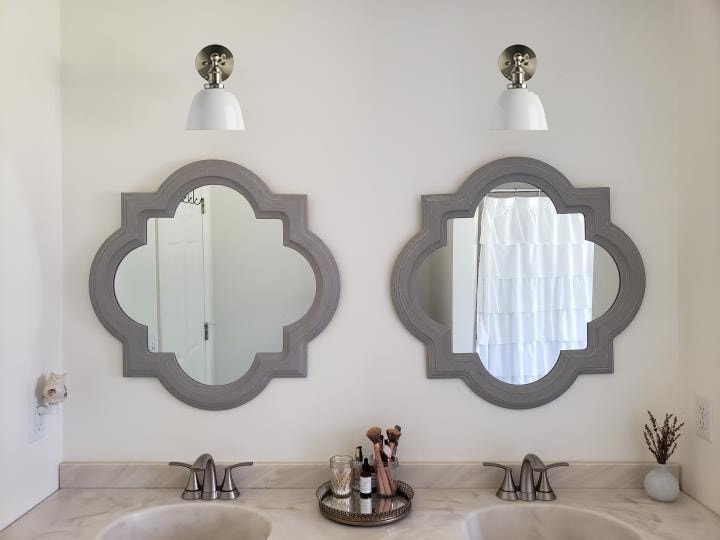 Next up is someone considering adding sconces to flank the mirror above her fireplace: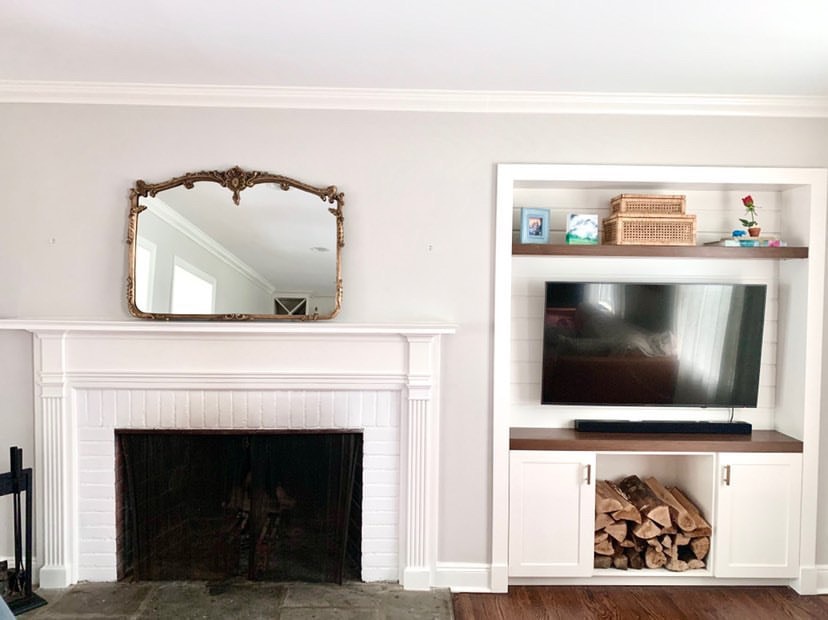 Since the space is so neutral, she can take this in many different directions. I would go with black to contrast the gold mirror. How about these traditional black iron + fabric shades?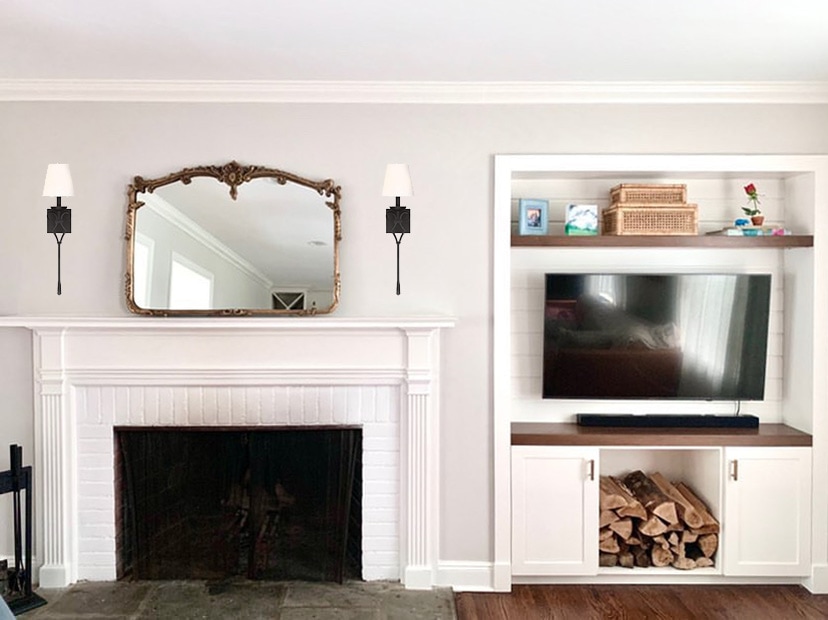 These are similar but simpler and a bit more modern, and only $45!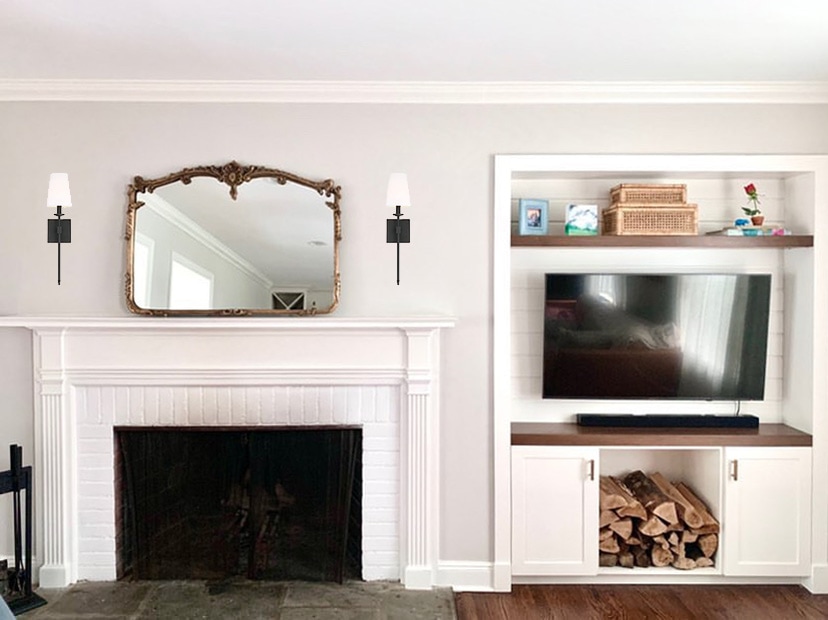 Then there's the classic swoop design and the most affordable option at just $30/ea: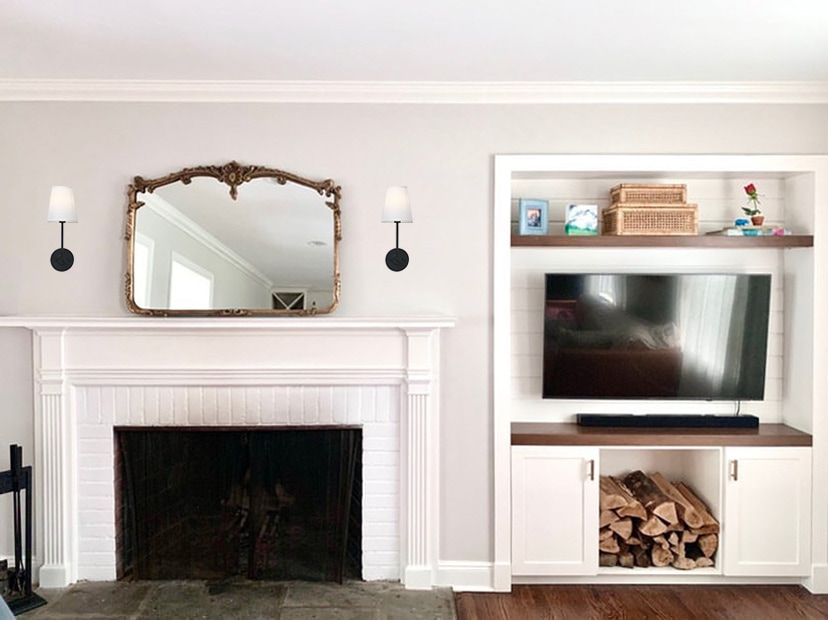 The next reader was looking to update the chandelier over her kitchen table: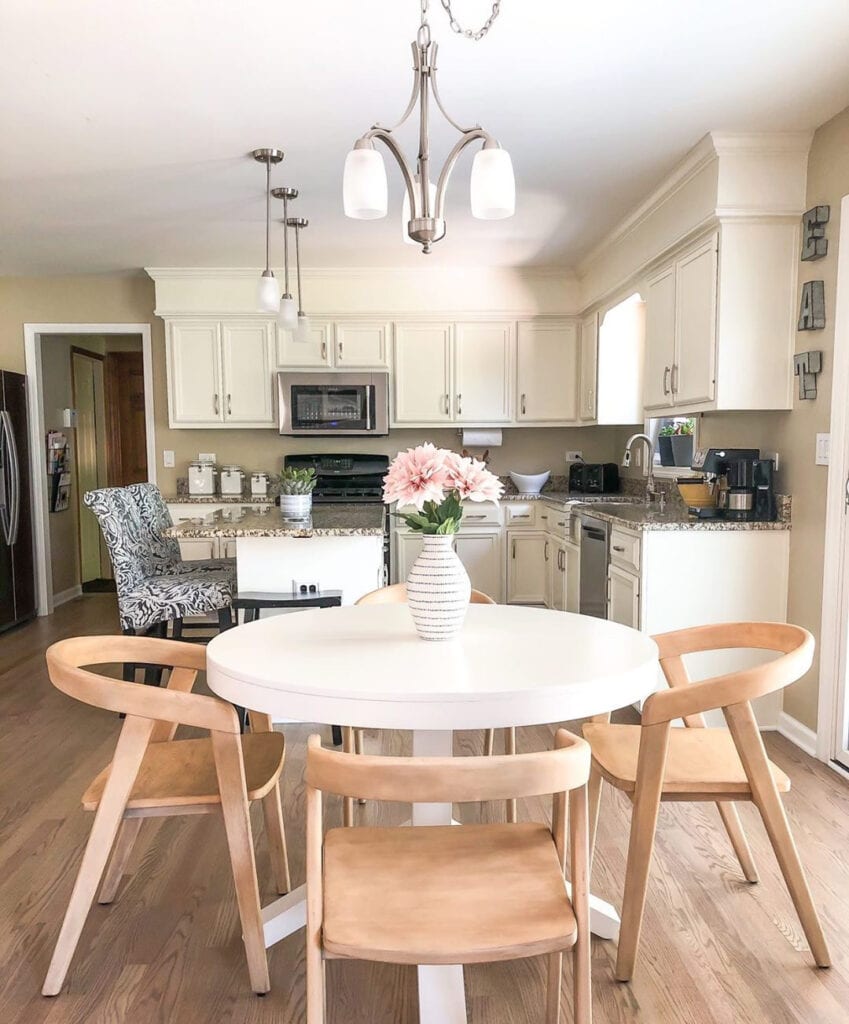 You can never go wrong with a metal lantern. I would consider re-coloring it gold with Rub n Buff if the black is too heavy…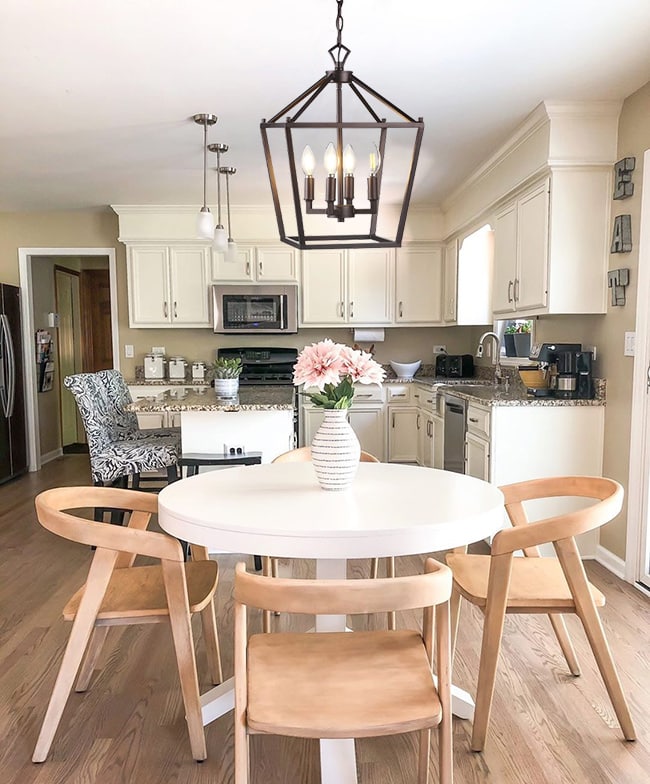 Or, just spend a little more and get this one: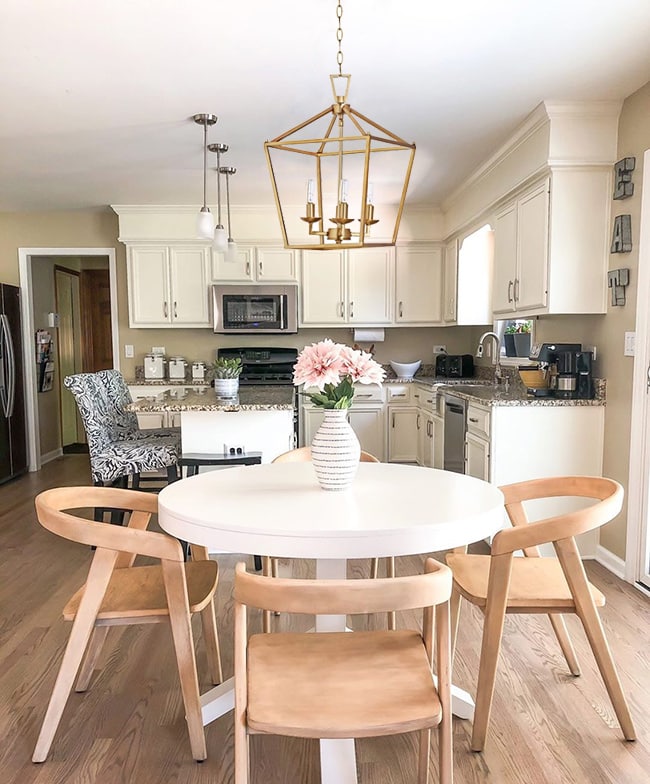 If lanterns aren't your thing, how about a nice white drum shade with a bit of gold peeking through?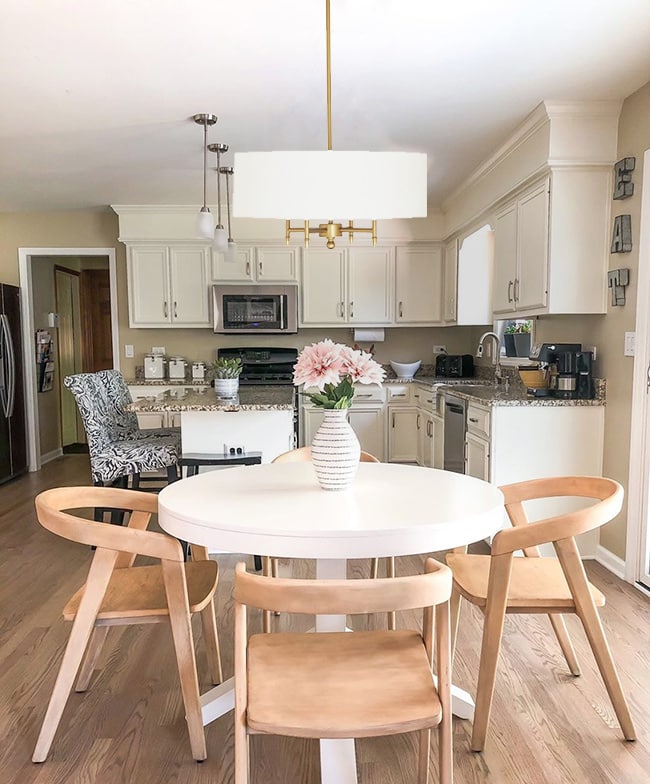 Here's another fireplace, and this reader wants to add sconces around the TV: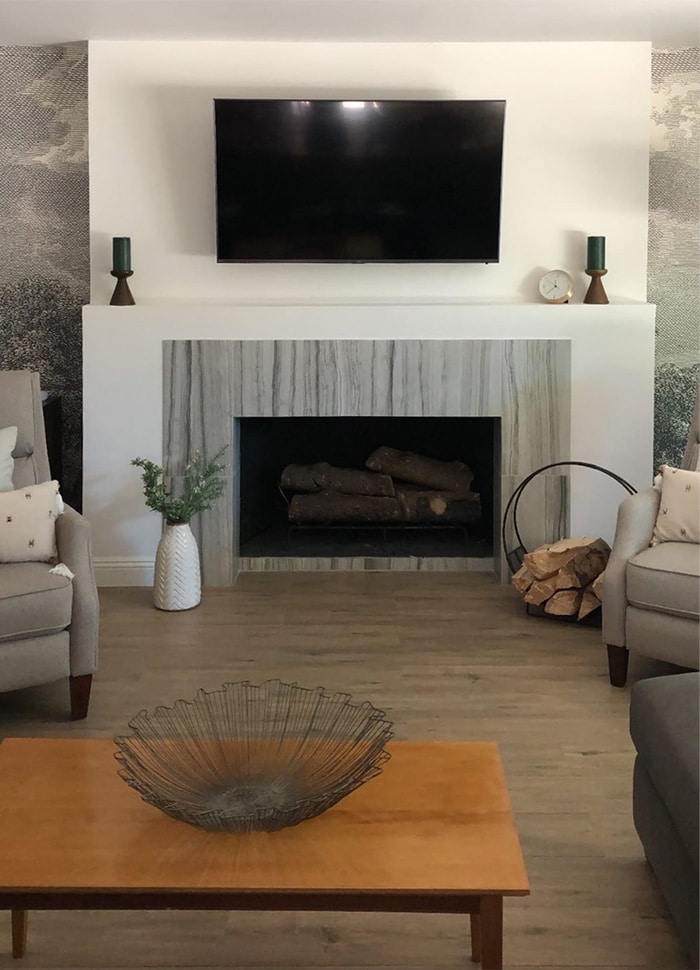 There's not a ton of wall space so I'd go with something small and slim. I'd also use gold to add warmth and balance all the black and white tones. How about these Restoration Hardware knockoffs?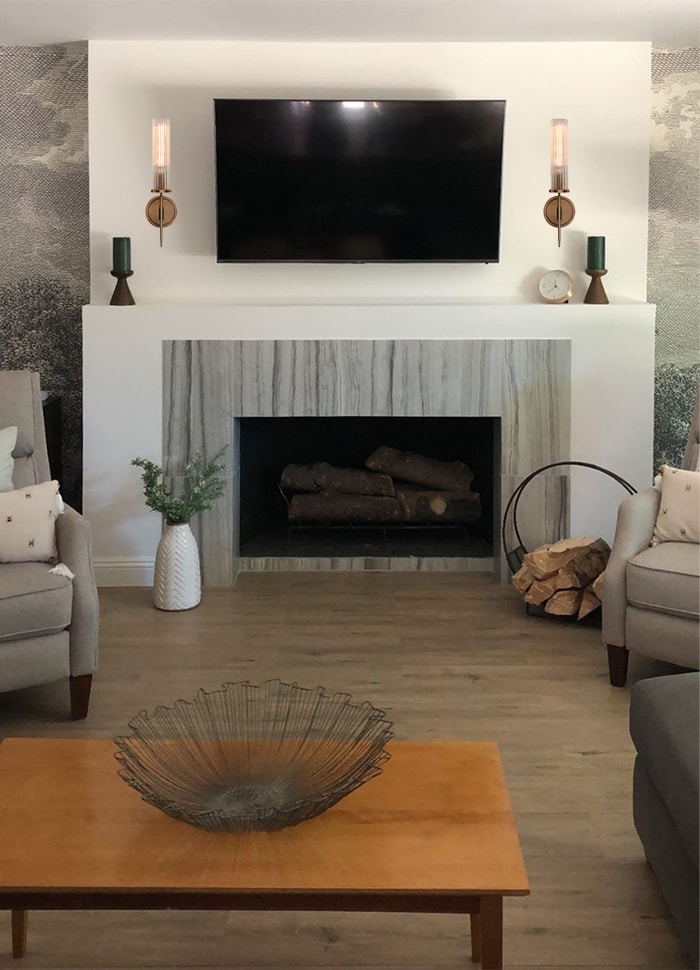 Or this pretty mid-century modern style: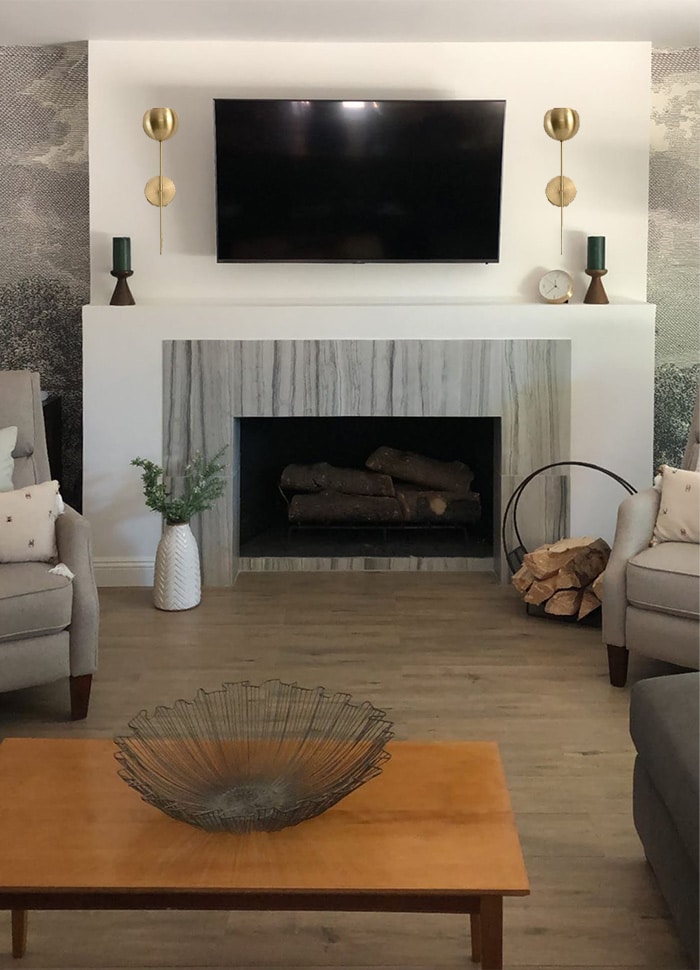 Or this classic design, which I'm still considering for our bonus room: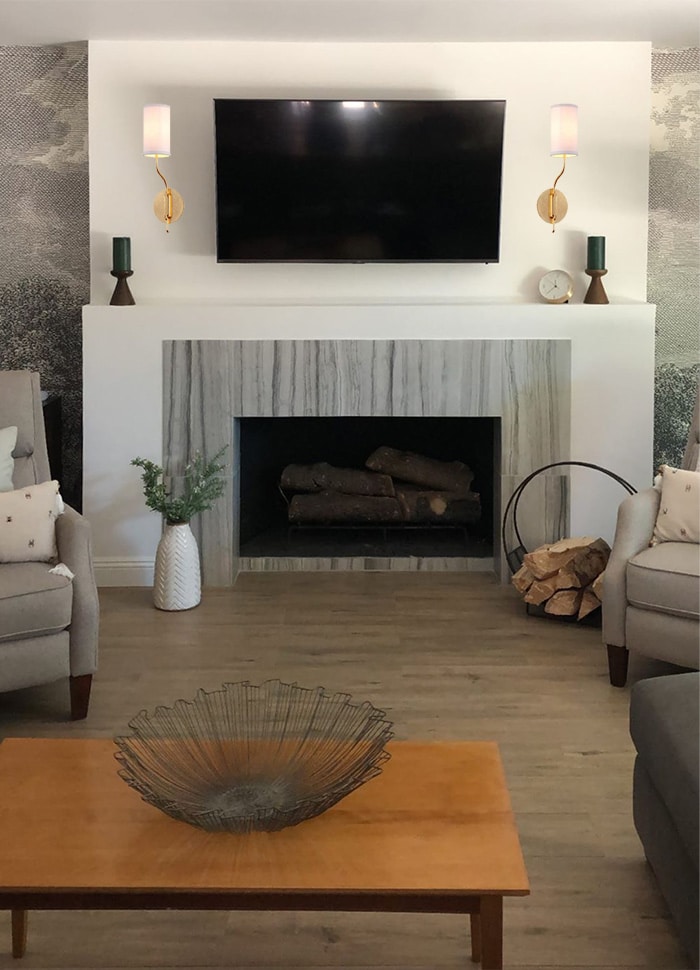 Here we have the common builder-grade glass shade in the foyer…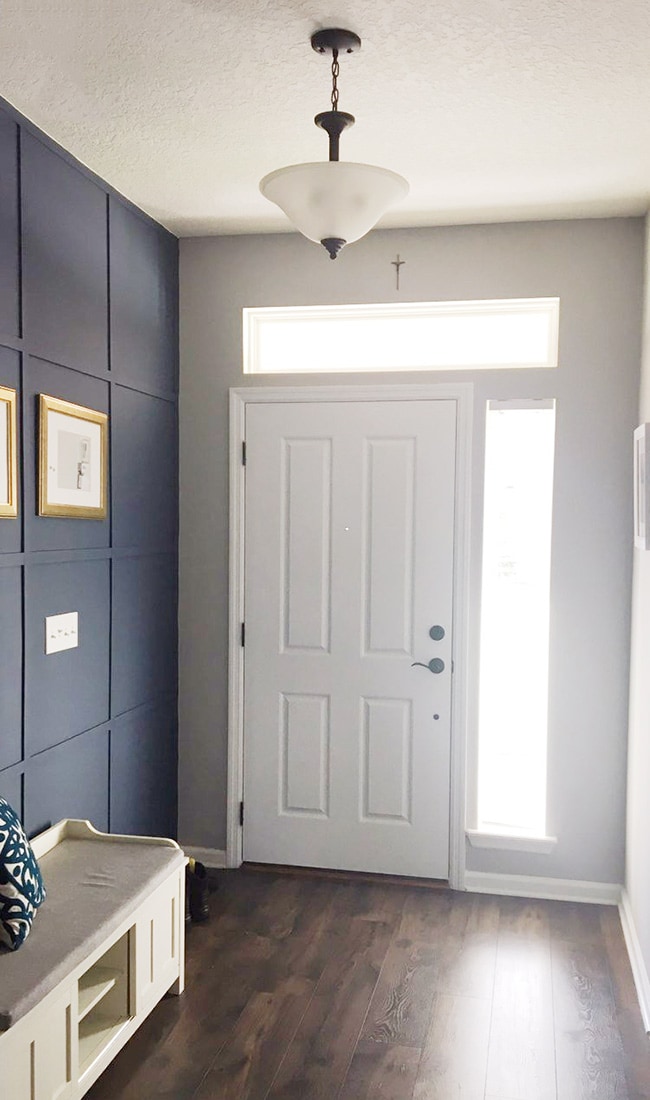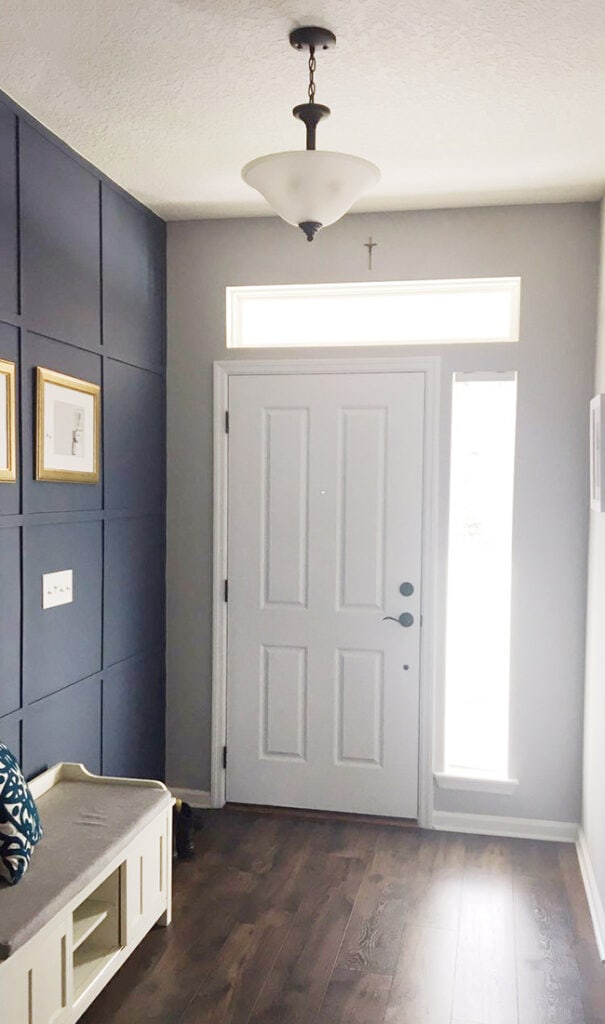 I'm thinking something more lively in here, to play off the fun navy wall and gold frames: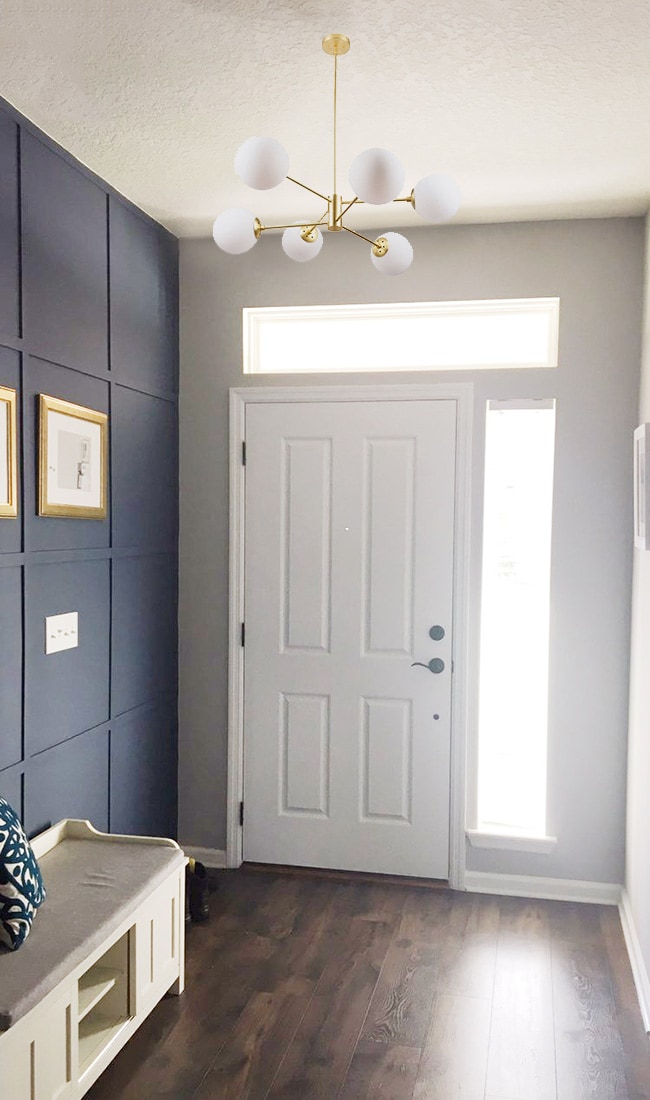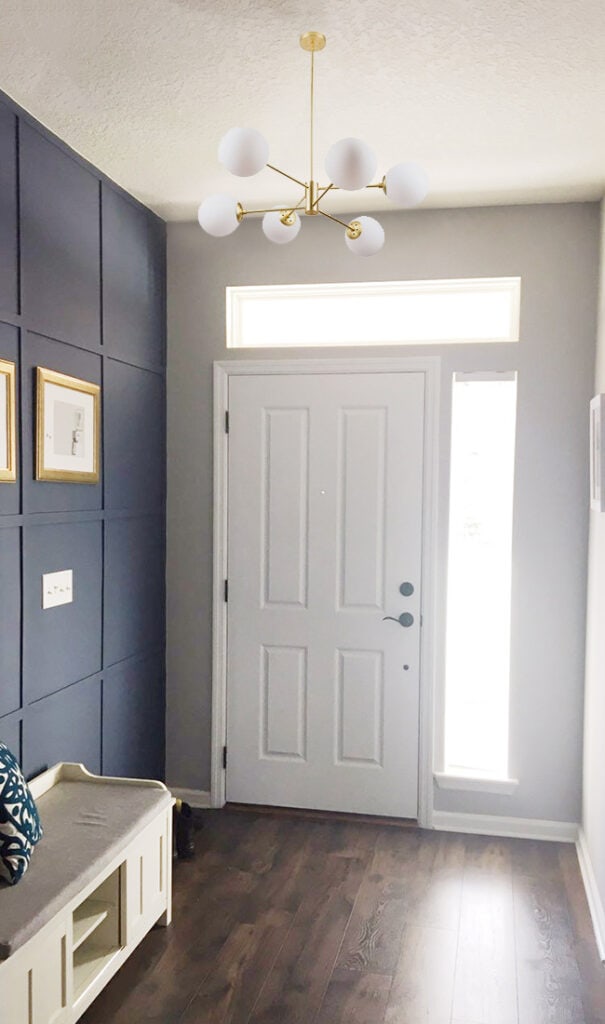 Or you could go with a more traditional style: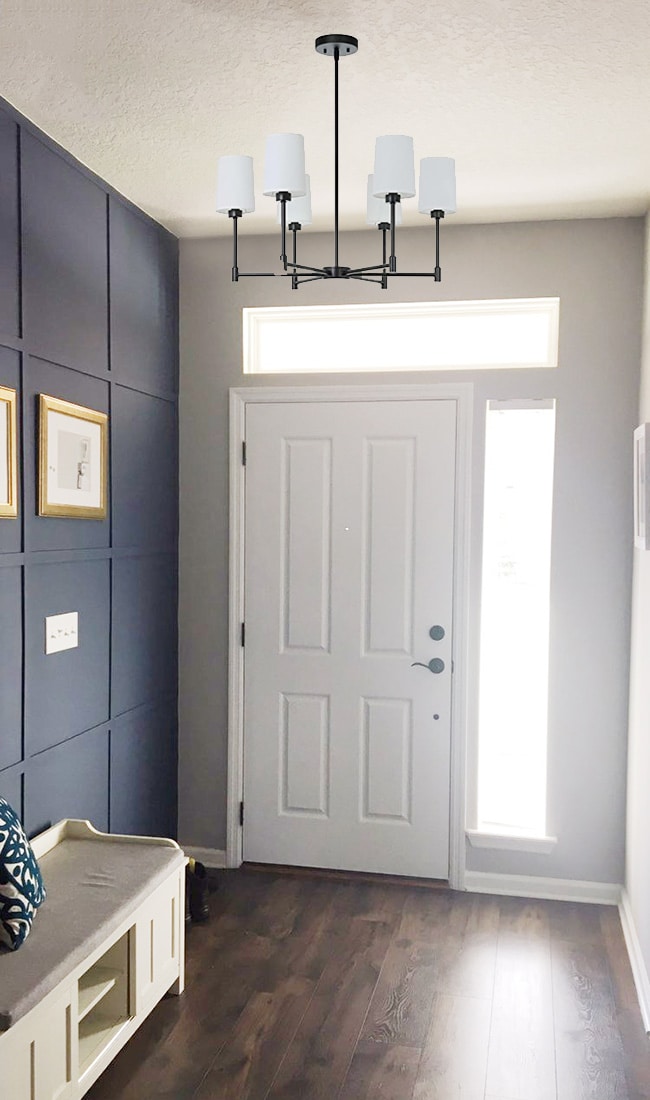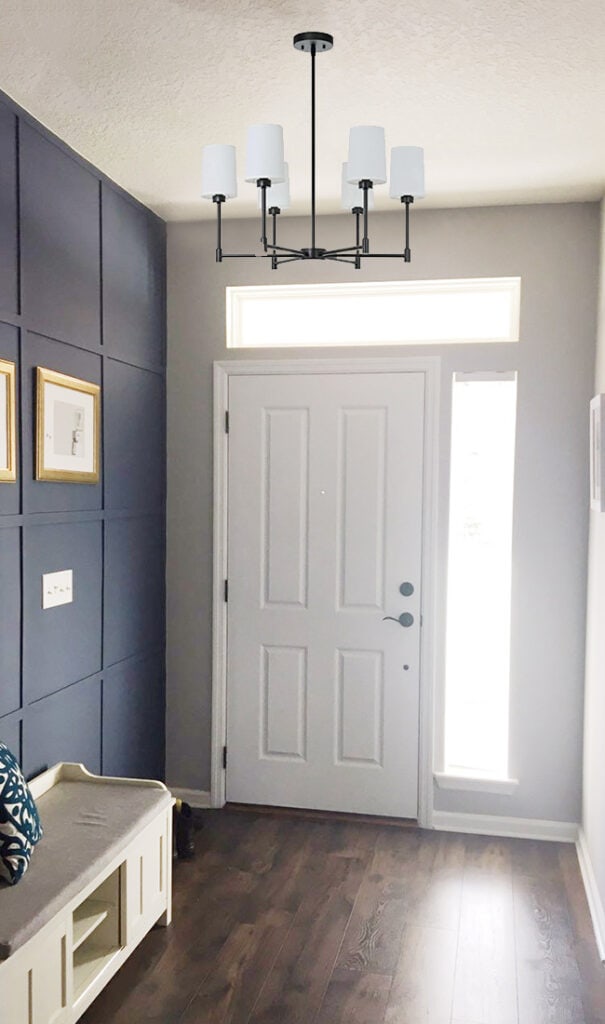 Here's another eye-catching gold and white glass option, that goes nicely with the picture frames: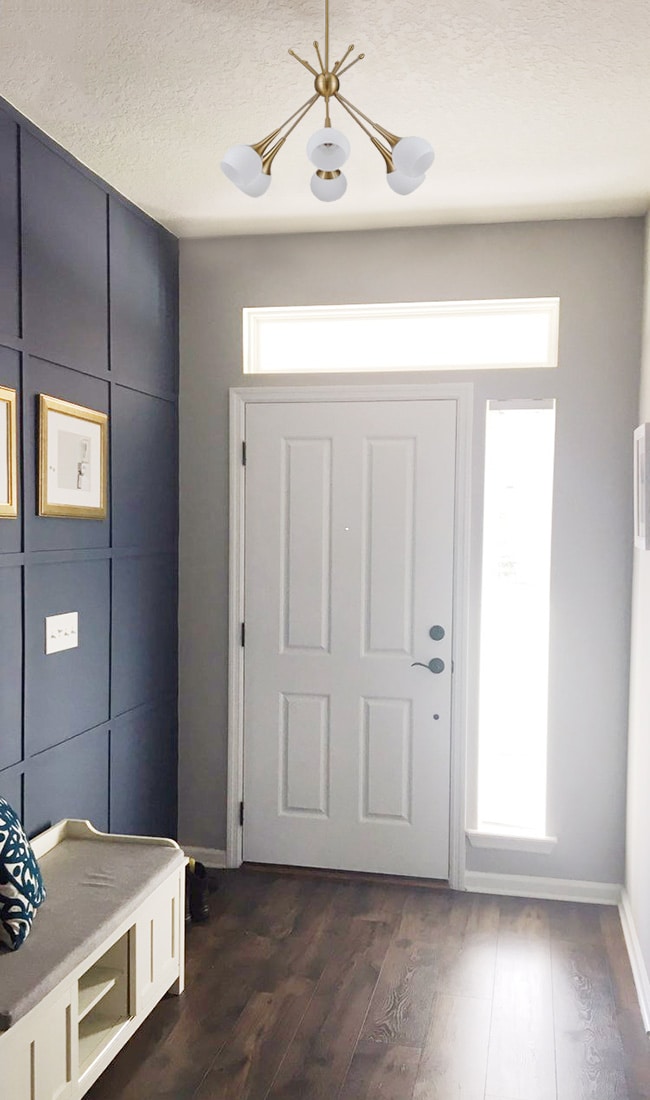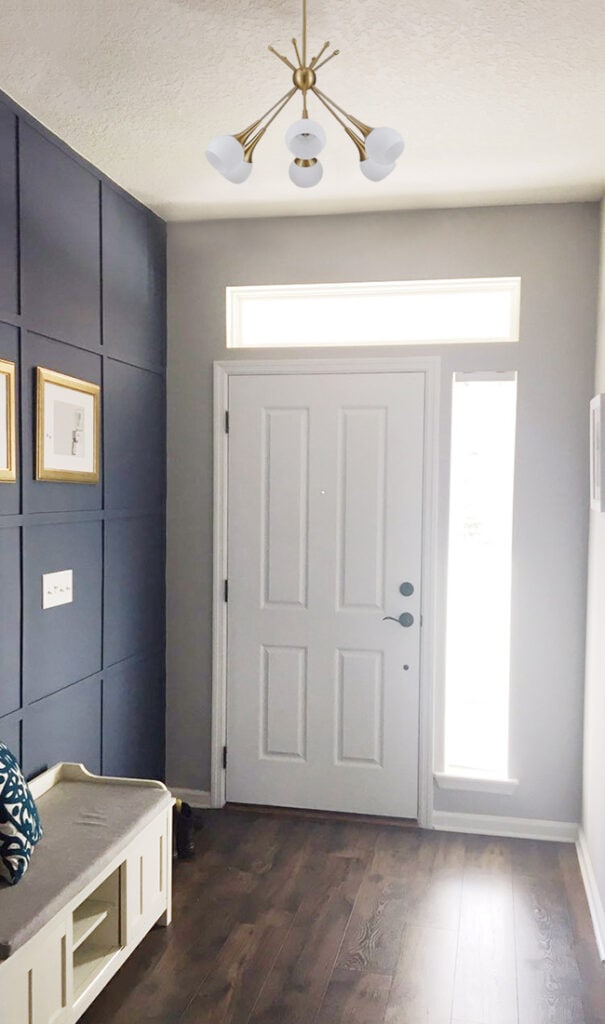 This reader is in the middle of a bathroom renovation and stuck on lighting to go above the vanity: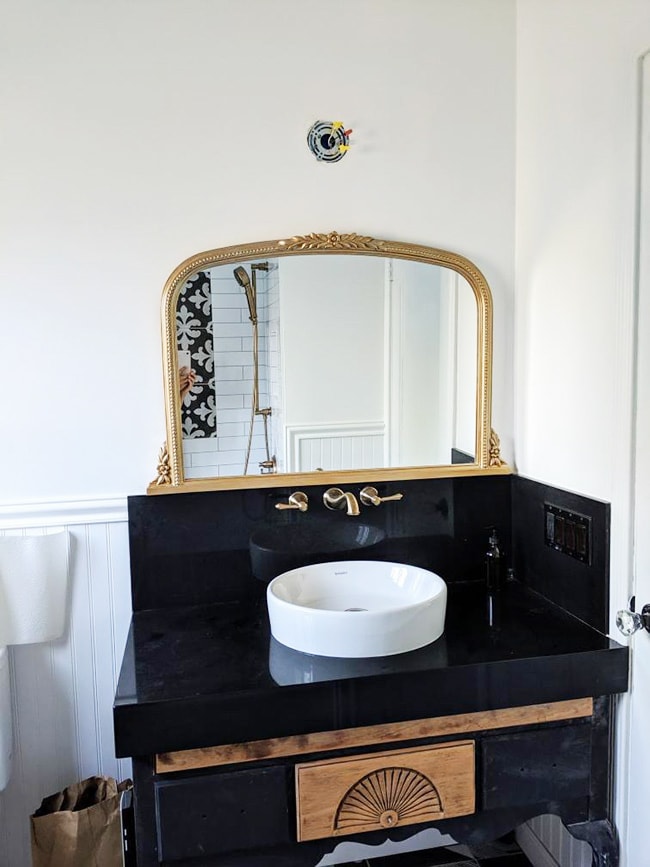 I'd choose something classic/vintage to match the vibe of the room. We have these sconces in our Heights House kitchen and love them!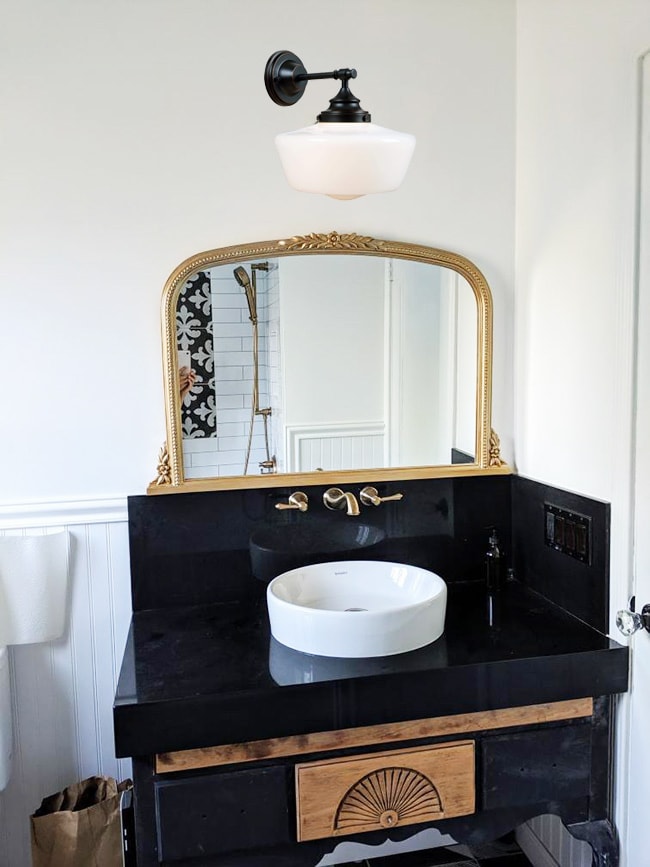 Here's a double light option that is more sophisticated: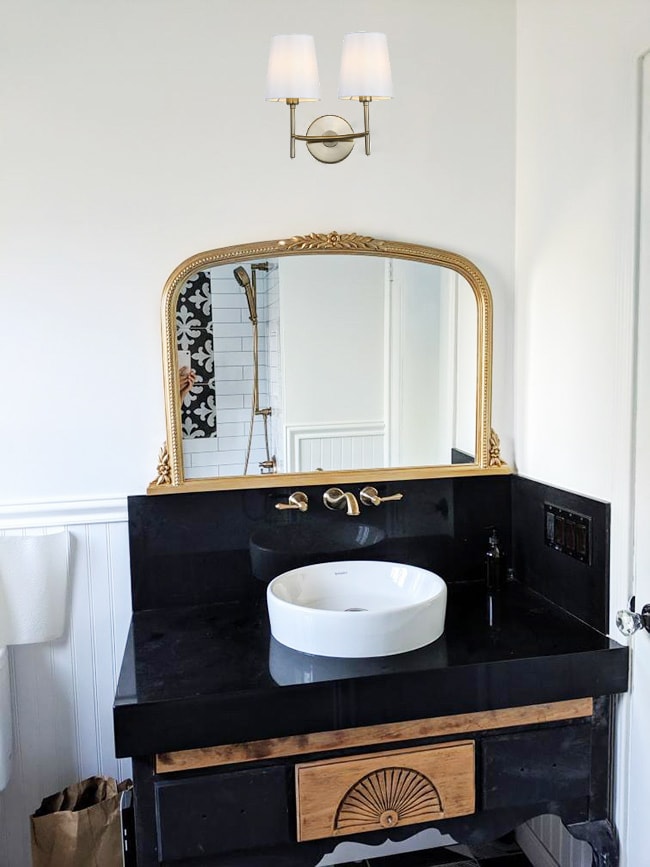 And I had to try my own personal favorite! It just looks good everywhere: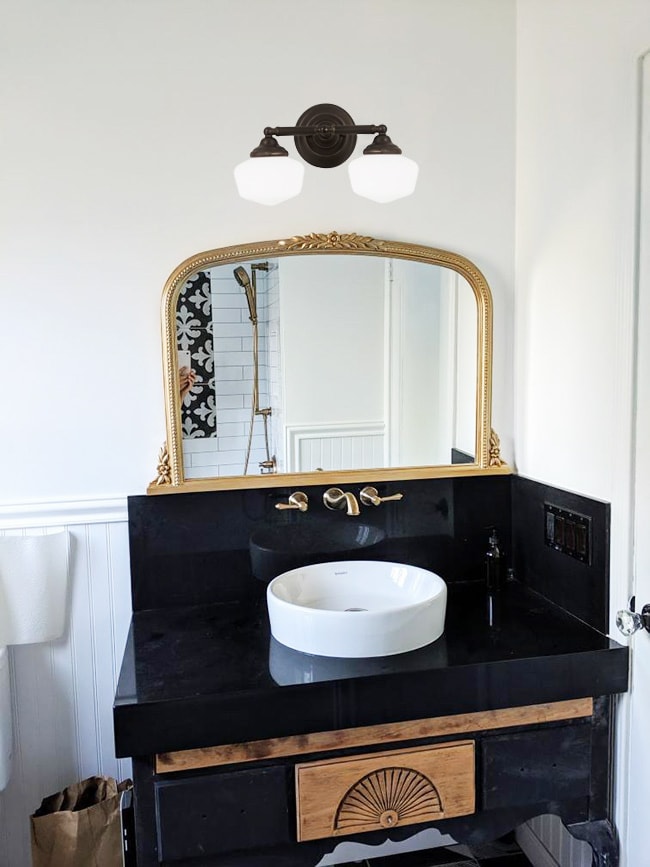 How about this show-stopping dining room? She wanted to see how sconces would look flanking the art:
It was hard to narrow it down to three choices since literally everything looks amazing in this room, but I had to test out these golden globes from my favorites list…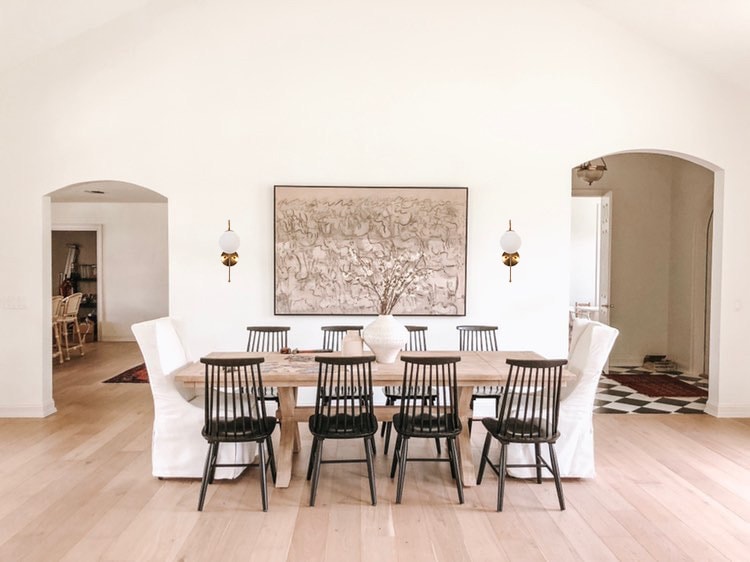 The double candelabra style would be very elegant:
And another from the previous list—yes please!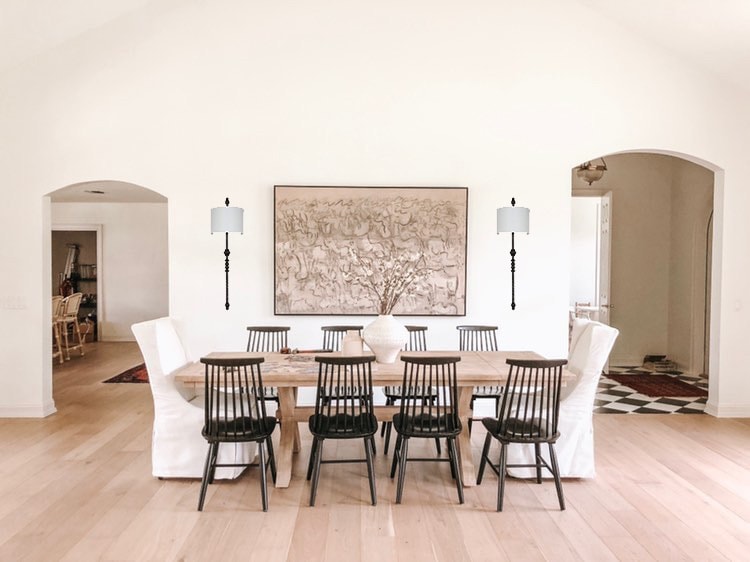 Alright friends, that's all the time I have for now! Was this post valuable/helpful to you? Let me know, because I think it would be fun to make this a regular/semi-regular feature with a different category each time. You guys already know that bargain hunting is my jam, so I'll use any excuse I can to keep it going 😉
In related news… don't go anywhere because I'll be back Friday with a new blog series! This one is a long time coming and I have a feeling you guys will love it (hint: it has to do with thrifting!) See you back here in two days…